Feather tattoos are equally important among men and women, because their symbolic meaning make them relevant for both the sexes. Feathers have commonly been used as tattoo designs since distant past and they have a deep rooted, significant meaning associated with them, when used as tattoos, both among men and women. These designs continue to be popular and sought after ones till date, between both the sexes. Feathers have always been the object of fascination for human beings, as they are associated with birds, the exquisite flying creatures which stand for freedom, independence, triumph and liberty and these tattoos, which incorporate beautiful feather design, symbolize the power of birds. In fact, feathers can not only add an amazing beauty to a tattoo design, but also give it an absolutely new meaning and significance for the bearer.
They are gaining more and more popularity these days. There is no question about that since these tattoos are extremely gorgeous to look at apart from the fact that these are extremely meaningful. You just have to choose the design that really fits you because every design may convey a different meaning, depending on the composition of the design. In case you are one of those people out there who are thinking of having tattoos on your body, then a feather art may be a great subject for you. If you are still unconvinced about having these tattoos, then the information below may help you finally decide of having them.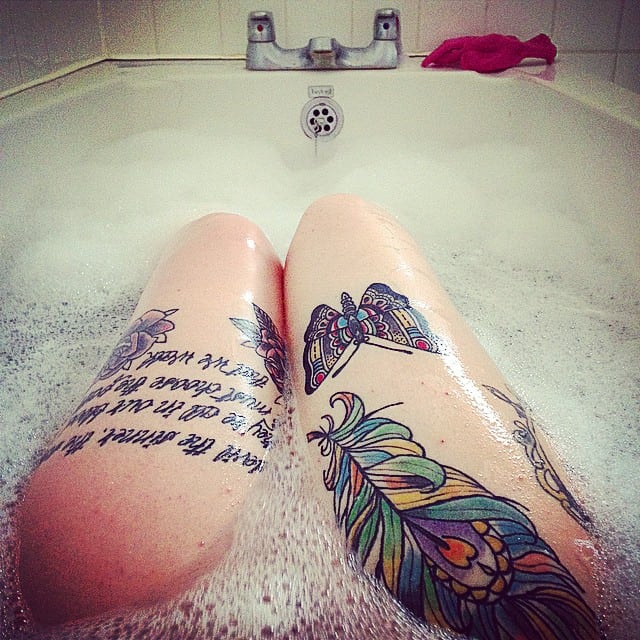 Feather Tattoos Meanings And History
Just like the other tattoos, the feather tattoos also have their own rich history. These tattoos were always associated with the Native American people. As a matter of fact, the Native American people were making use of feathers when they were performing rituals in the past years. They strongly believed that the feathers represented the birds' spirits, which had something to do with their tribe. This is the main reason why it is normal for you to see this art on Native American people. When they have to make thank you offerings to the birds, they used to wave some feathers on top of the fire.
To acknowledge the bravery and courage of the Native American warriors, the feathers of eagles were given to them. This is why most of these warriors were having a feather art on their body. The feathers were also used by the ancient people in communicating to the world of spirits. When you see some feathers going your way, it simply means that a dead loved one of yours is missing you. Before, these tattoos were only very popular among men. But today, there are already great numbers of women who have discovered the greatness of a feather art.
Some Beautiful Designs
Needless to say, there are a number of designs that you can choose from a feather tattoo. Yes, you can have so many choices. Even so, this does not mean that you can have them all. Keep in mind that in choosing a tattoo design, you need to know the significance of the tattoo because it will look great on your body if it matches our physical appearance and your unique personality as well. Here are some of the gorgeous designs that you can take into account:
3D Feather Design –This is the most modern design that you can choose. It will have a 3D look, and there is no way it will not look great on your body. This is also a very colorful design. As a matter of fact, it will look like a cotton candy that is engraved on your body.
Black and White Feather Design – Who would not like to have the all time favorite black and white feather art by the way? It may be a traditional design, but this does not mean that it will not good on you in these modern times.
Feather and Quotation Tattoo Design –This is among those widely preferred design. This is simply because there are so much you can say with this particular design. You can incorporate your favorite quotes on the image of a feather, or even some things that have significance to you like your birthday or the anniversary date of your relationship with your partner. Everything can be incorporated in your feather art actually. You just have to be very creative, so that the final tattoo product will extremely look so amazing.
Miniature Feather Design – As its name suggests, this particular design involves a number of smaller feather images that are engraved on your desired body parts. This will look good if incorporated with some other beautiful sub designs like smaller birds and the like.
Celebrities
The greatness of a feather art is also not new to the celebrities who are very famous in the entire world. If you are very curious about these celebrities, then here are some of their names that you should know:
Leona Lewis–Leona Louise Lewis is 31-year-old British animal welfare campaigner, songwriter, and singer. Just in case you don't know, she is a big fan of a feather art. In fact, she has this very gorgeous tattoo located on her left shoulder. It is just a very simple and colorful feather art.
Samantha Maria –Another celebrity whom is captivated is a fashion icon named Samantha Maria. She has a very beautiful Native American feather art located on her foot. In fact, she has featured this tattoo on her YouTube videos.
Eleanor Calder –Eleanor Calder is a 24-year-old British model who also has a very gorgeous feather art. She got it tattooed right there on her right arm. The design is just a feather alone that is colored with black.
Victoria Magrath – Victoria Magrath is a 27-year-old Lifestyle Blogger whom is living in the United Kingdom. What made her very interesting is her feather art that is located on her left arm. Just like Eleanor Calder, it is just also a lone feather that is colored with black. The design is very simple, but it cannot be denied that it looks great on her.
Cultural Significance
In Native American cultures, feathers represented the spirit of the birds they belonged to and these feathers were used by them in their ritualistic ceremonies, for the purpose of purifying and energizing the environment with their positive spiritual energies. Feathers of different birds had their own different meanings. For instance, eagle feathers were presented to warriors as they stood for bravery and courage, besides having the ability to help the recipient soar high in life, in worldly as well as spiritual sense. This is the reason these tattoos were seen mostly on the bodies of military forces. At the same time, these feathers were of tremendous spiritual value in Native American culture, as they represented wisdom and spiritual communication.
In some cultures, a fallen feather depicts a departed soul, while others take it as a sign of birth. It is also said that feathers stand for the communication of a person with the departed souls as they convey the messages from the spirit world.
Christianity has said about the feathers being related to great virtues and an image of a signet ring bearing three feathers was a symbolic of charity, faith and hope, with each of the three feathers representing one of these virtues.
In ancient Egypt, feathers were used in worshipping the Gods and a feather stood for the wisdom of the Egyptian Goddess Matt, the Goddess of truth and justice. It was believed that she compared the weight of the heart of the deceased with that of a feather, while carrying out the mummification process. If the heart was as light as the feather, the soul was deemed as pure and the spirit was considered fit for further evolution and could move freely into the next phase of afterlife.
According to Celtic mythology, the people with superior powers wore cloaks adorned with feathers for some special ceremonies. In the legend, Morrigon wore a cloak of raven feathers to get transformed into a bird, which gave her a power of higher reasoning to understand the world in a better way.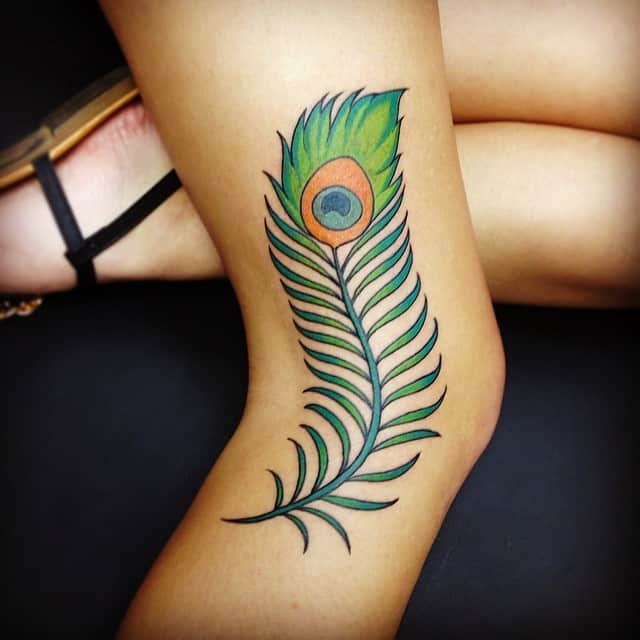 Besides the designs of feathers and the birds they come from, the color of the feathers have their symbolic meanings too. For instance, white stands for purity, yellow for smartness and red for passion. Just like feathers are associated with spiritual heights, liberty and freedom, they are all about dreams, higher intelligence and spiritual uplifting. They stand for movement of soul and ability to float despite all kinds of obstacles. Would you like check our collection of Anchor tattoos?
As different birds have different types of feathers, there is an equally vast variety available in terms of tattoo designs for people to pick from. But this must be done after proper research about the deeper meaning to be signified by the feather art. Besides the regular designing, some modifications can go a long way in enhancing its beauty and overall look. There have been examples of use of vivid colors and adornments such as beads to make these tattoos even more impressive.
This art equally important among men and women, because their symbolic meaning make them relevant for both the sexes. While men love to have them adorned because they mean power, freedom and strength, they look great on women too. When it comes to the exact placement on the body, there are a number of options where these tattoos can look good. They can be adorned on back, side, chest, arm and foot, and can look really attractive as like lion tattoos.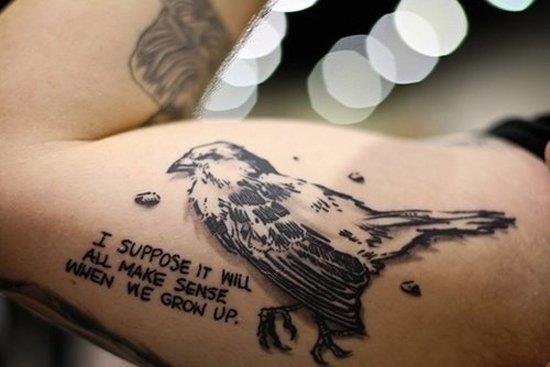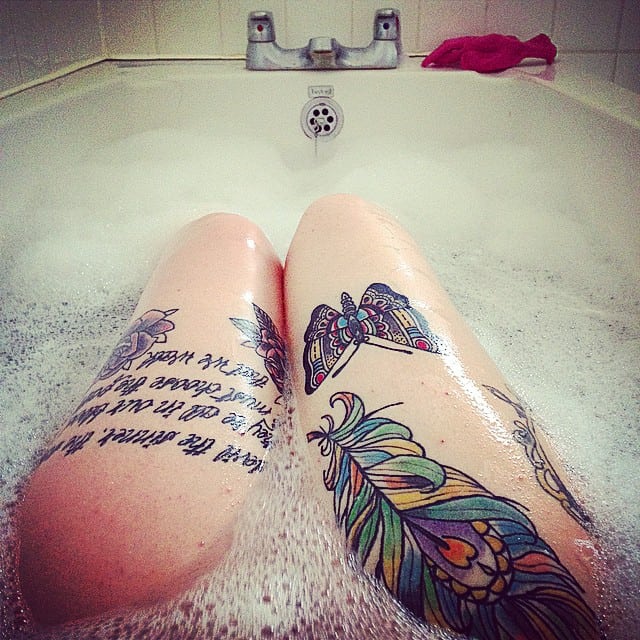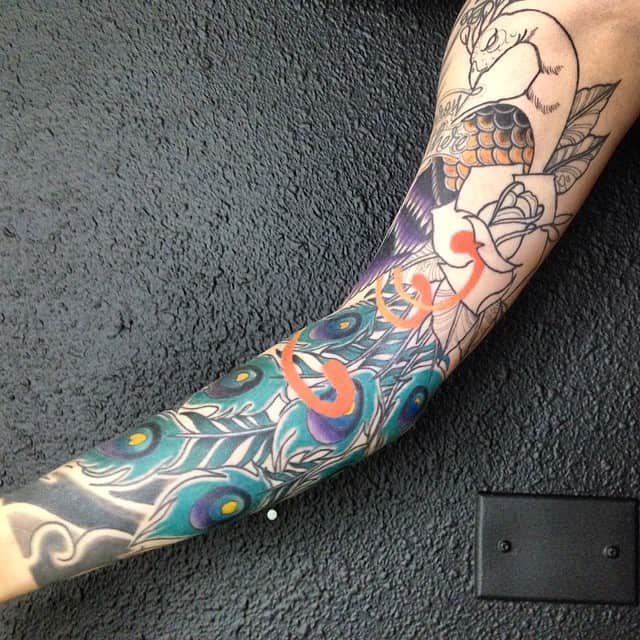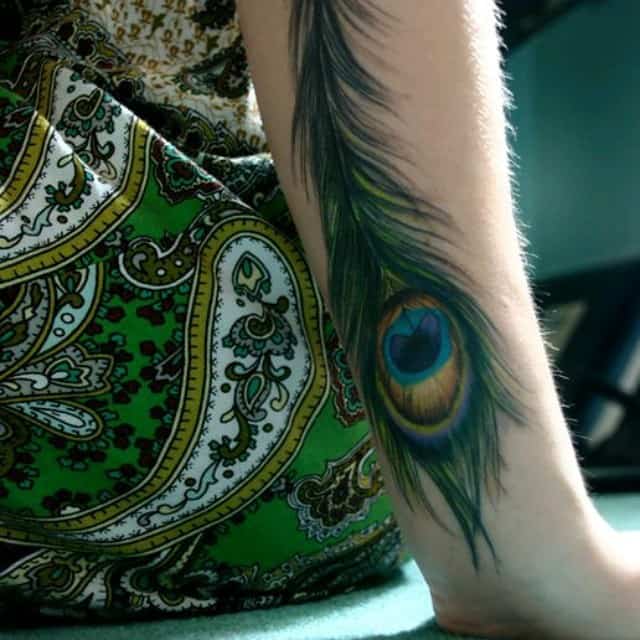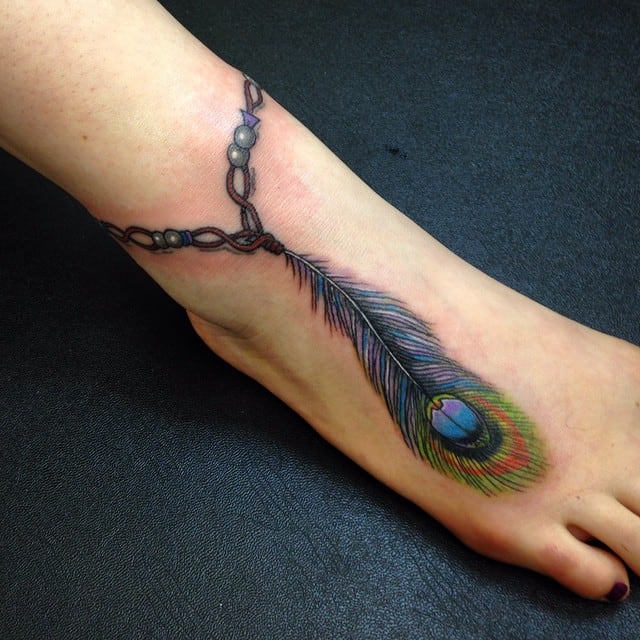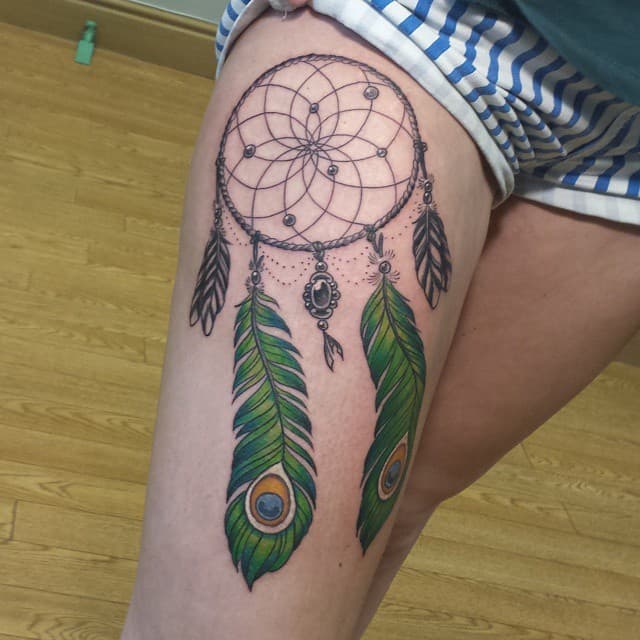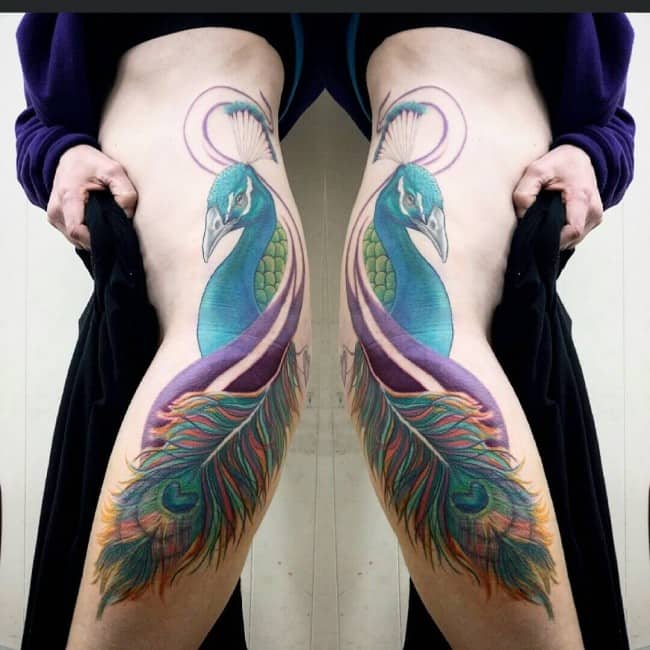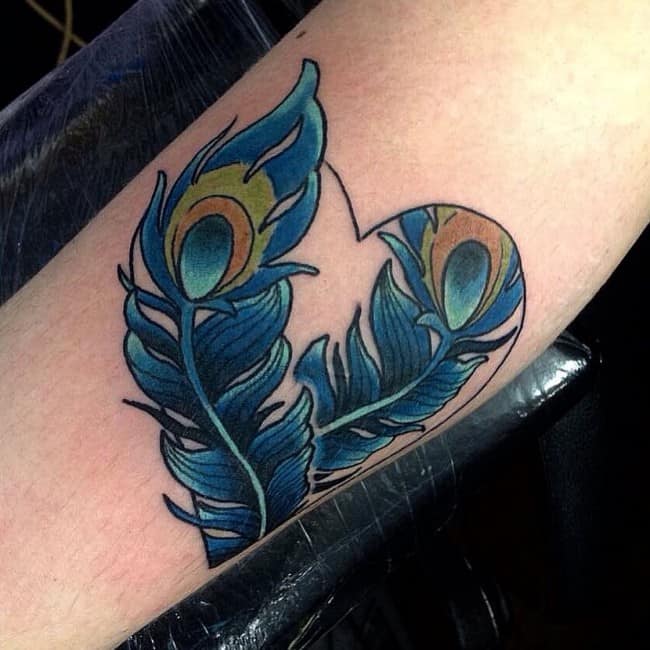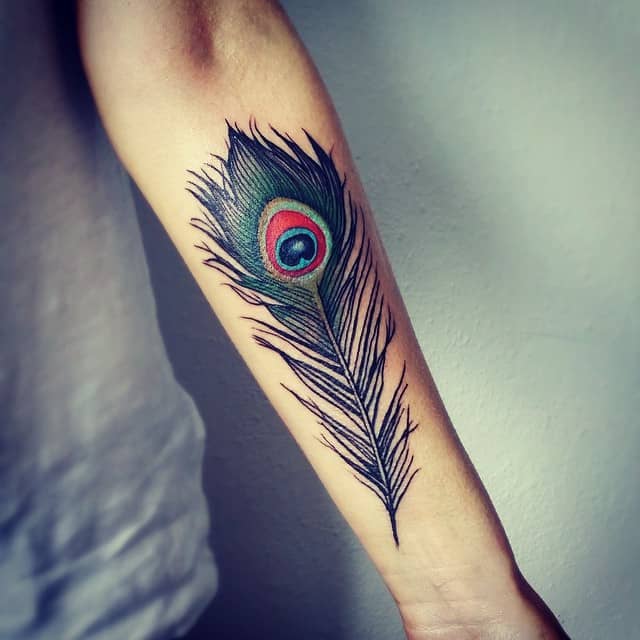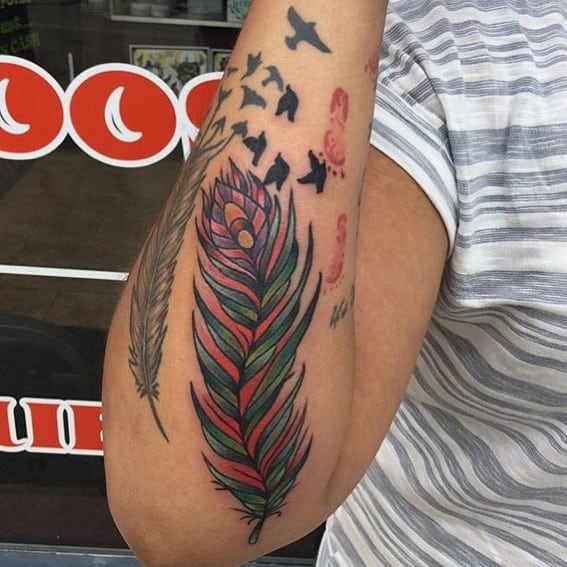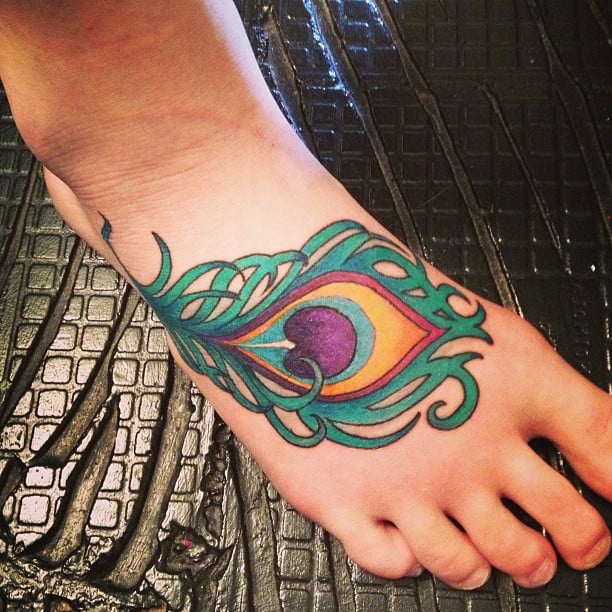 They are all about giving freedom to the individuality of a person and establishing him as an individual in his own right. In Native American culture, feathers were used as a protective talisman, which is the reason why these made an integral part of dreamcatchers, as a hanging on the bottom part, as they were considered effective for trapping bad dreams and negative energies, and providing protection from nightmares. The culture also regarded the feathers as a symbol of nature and revered them for the same reason.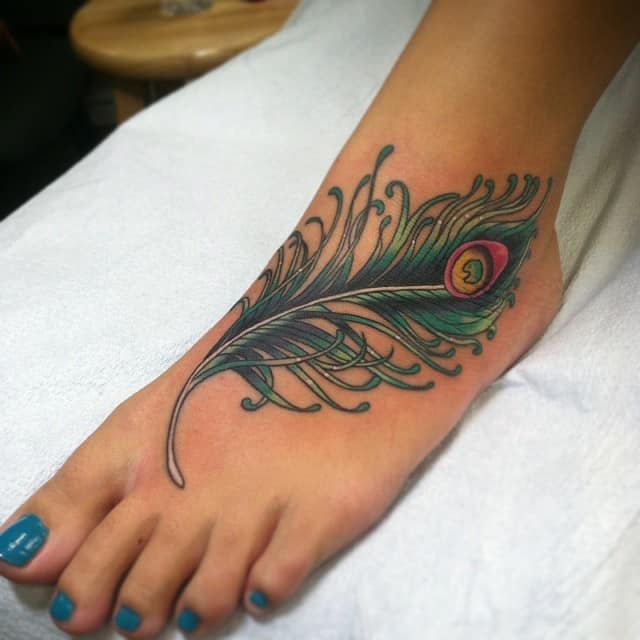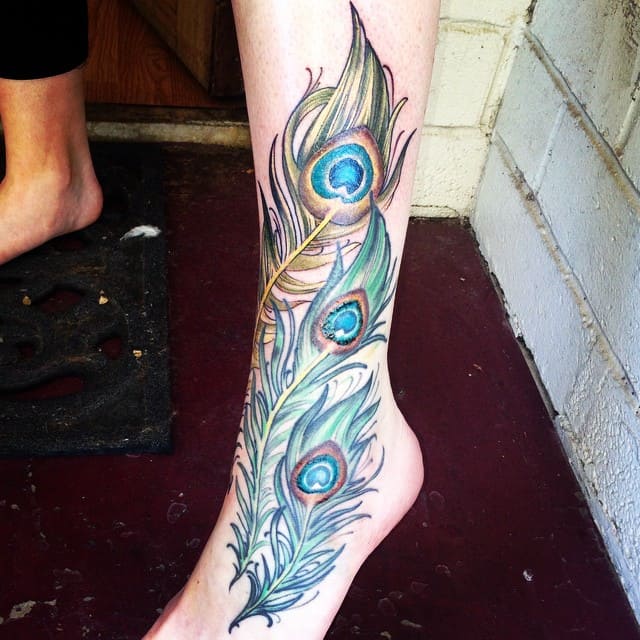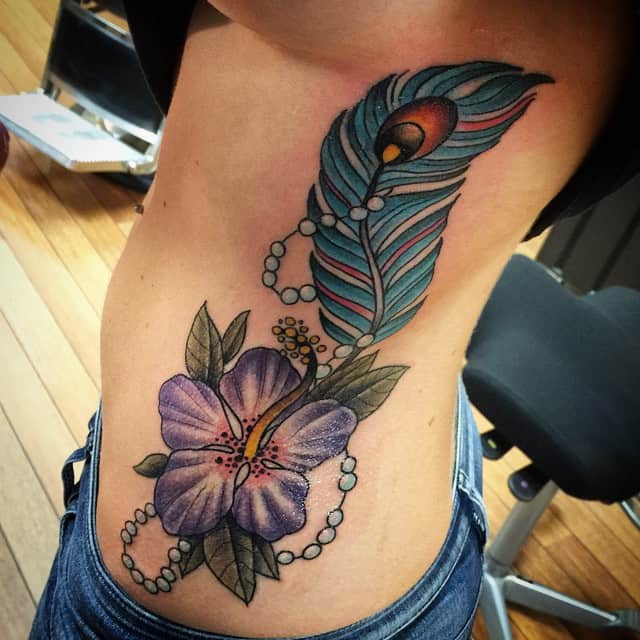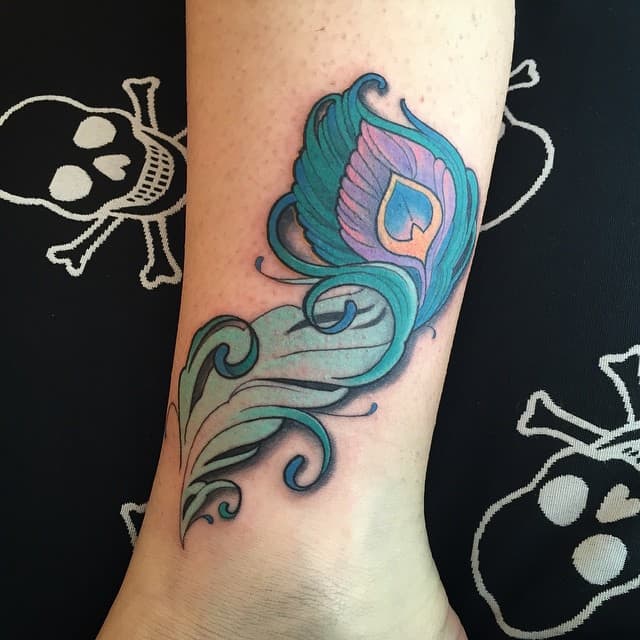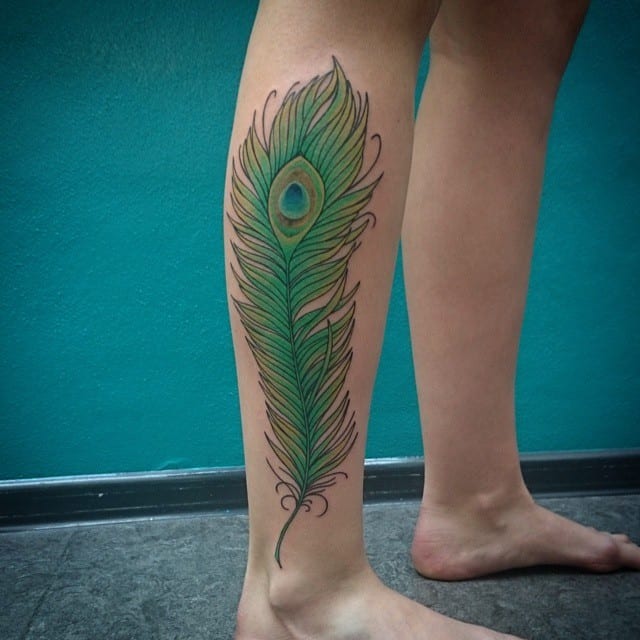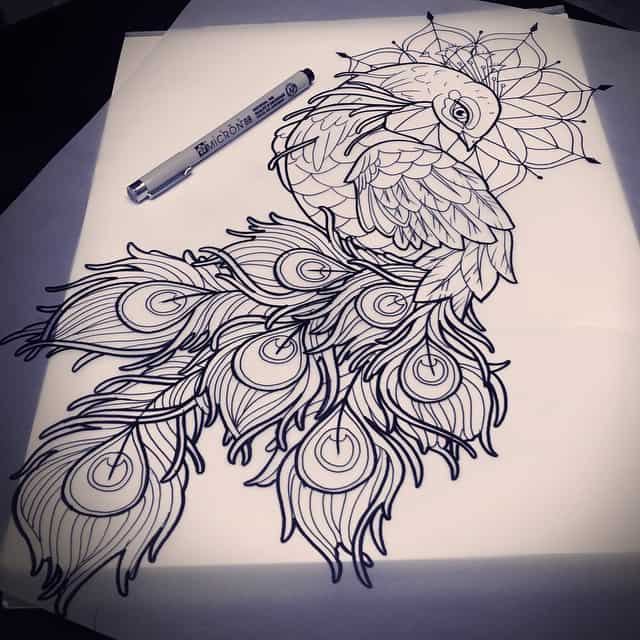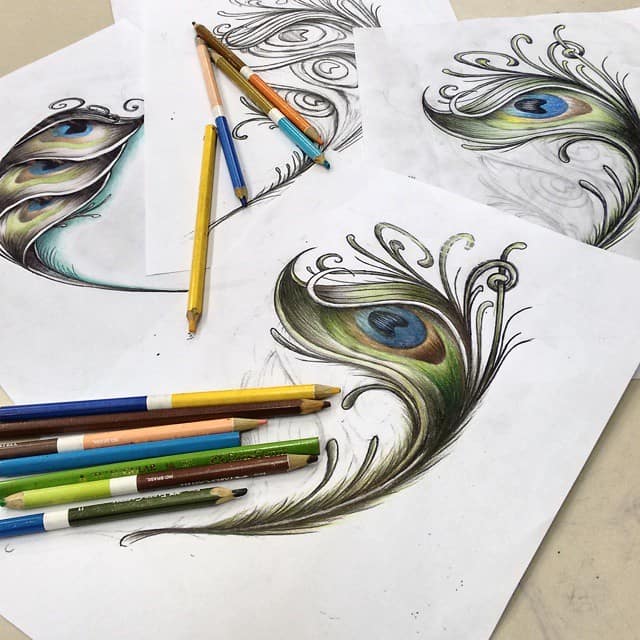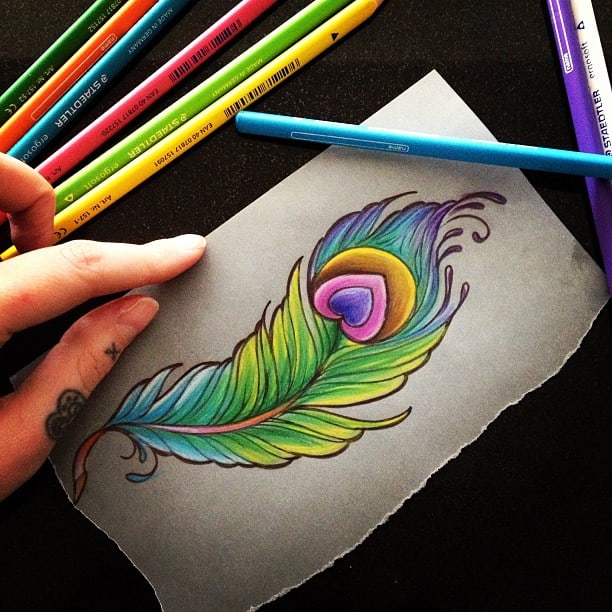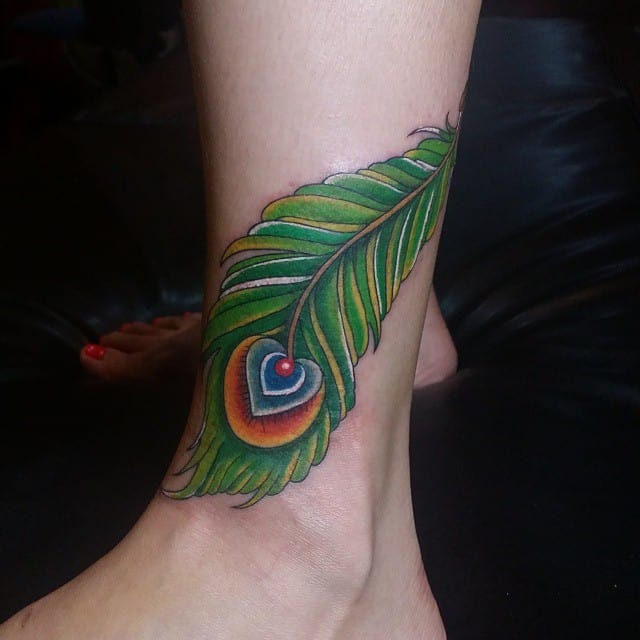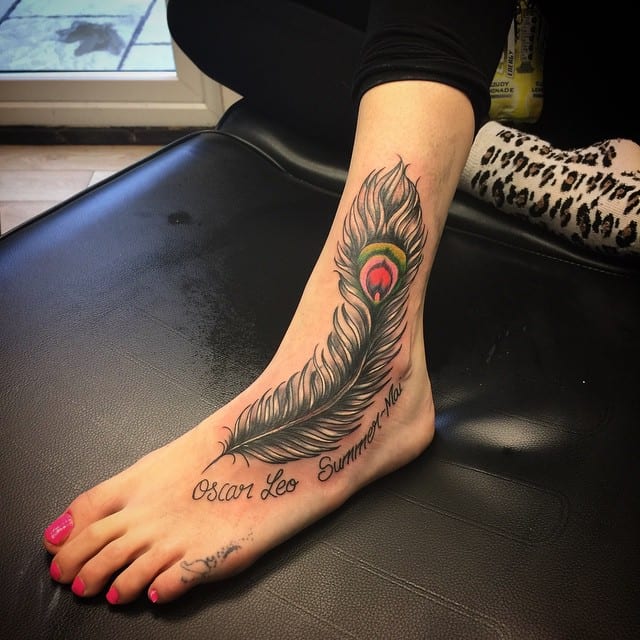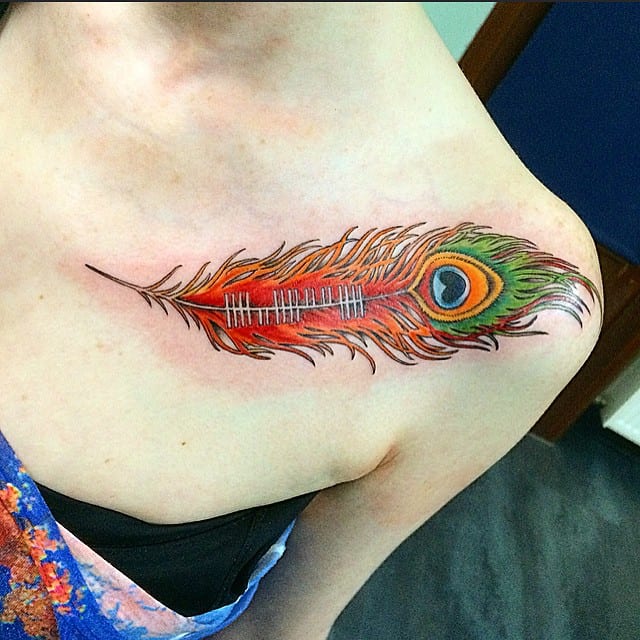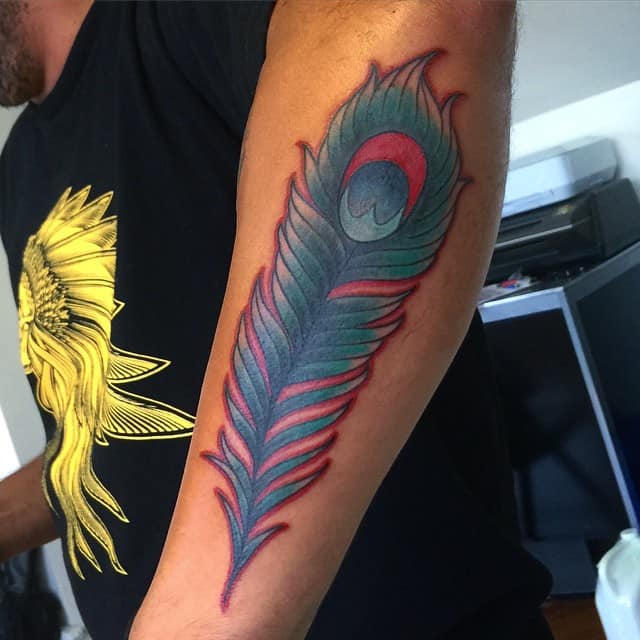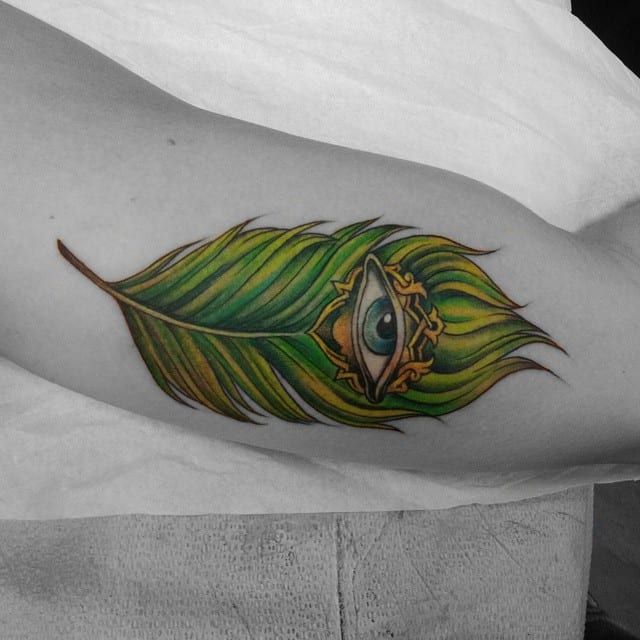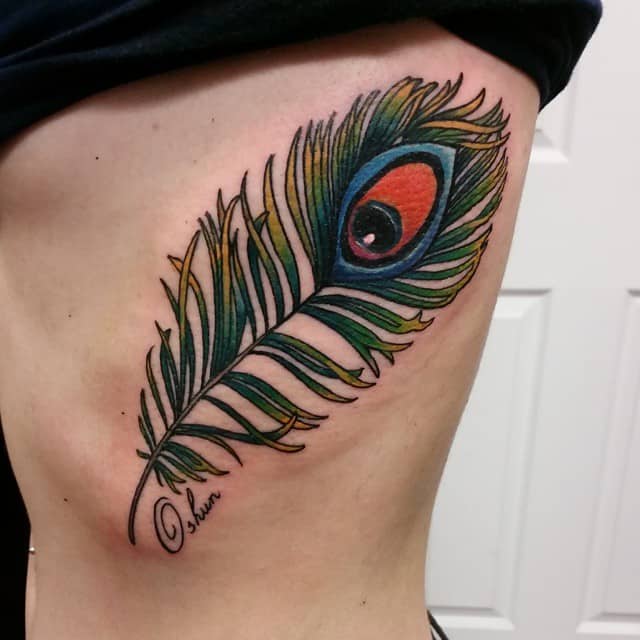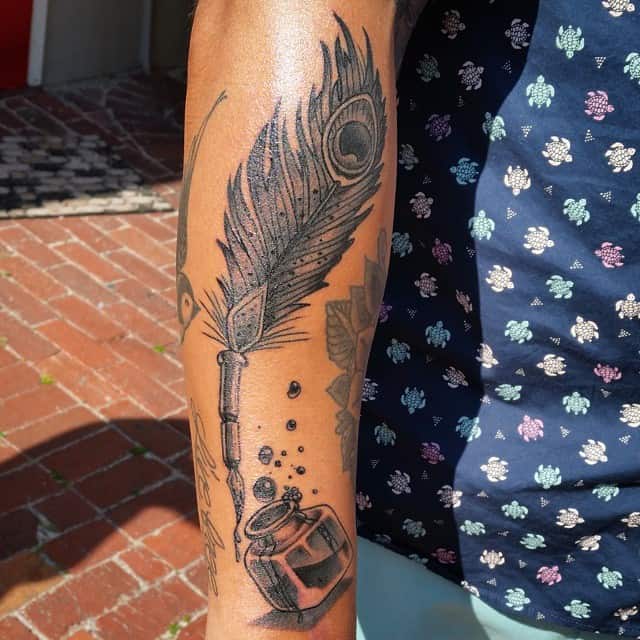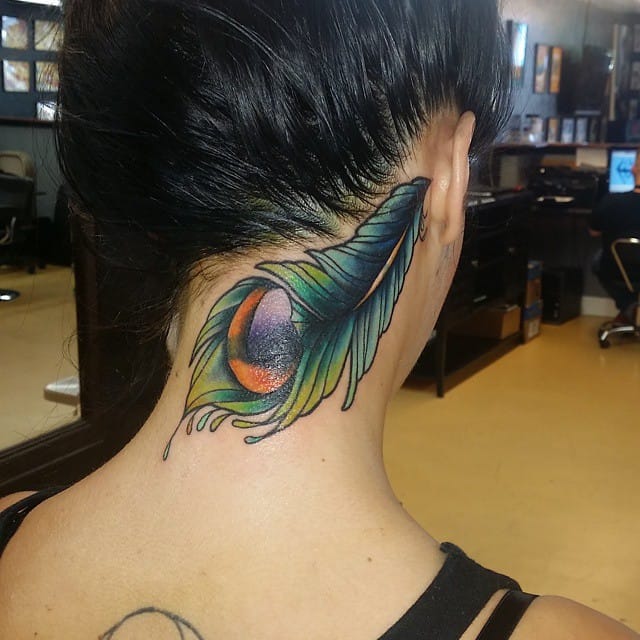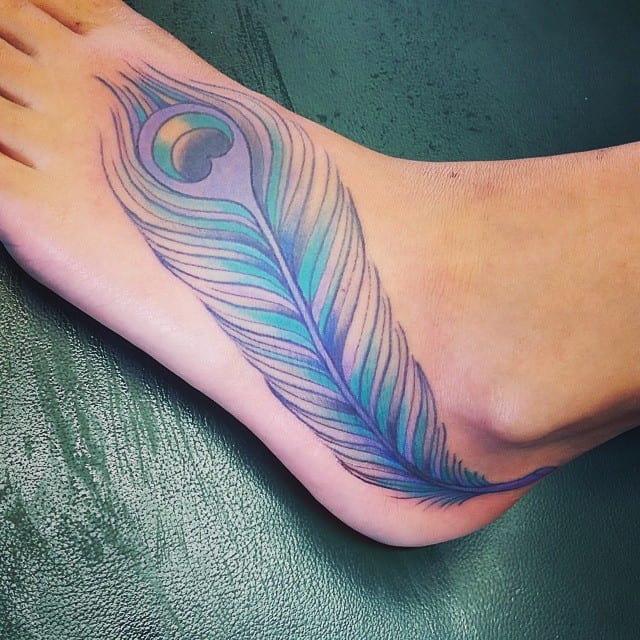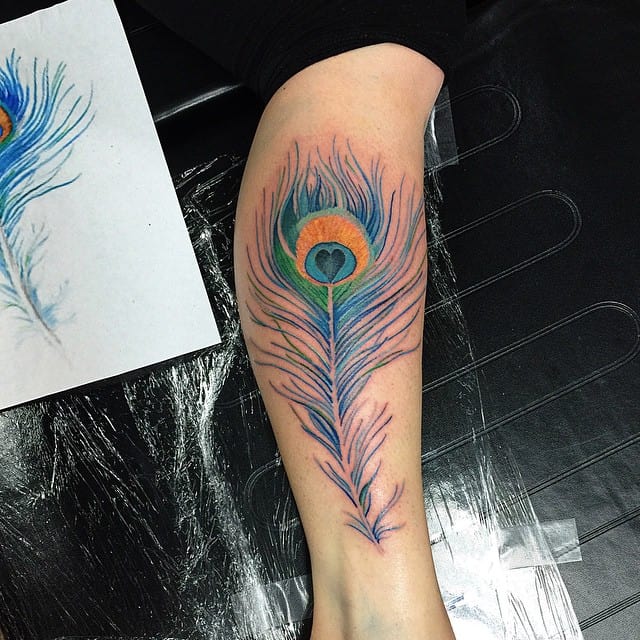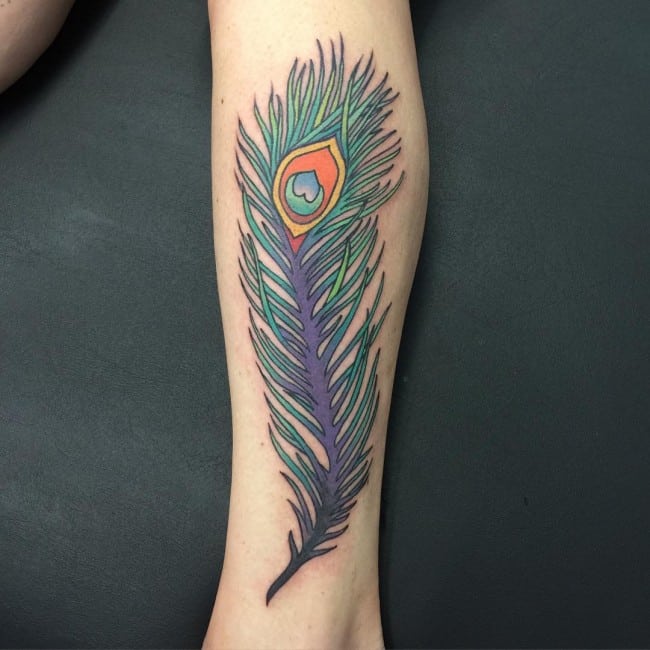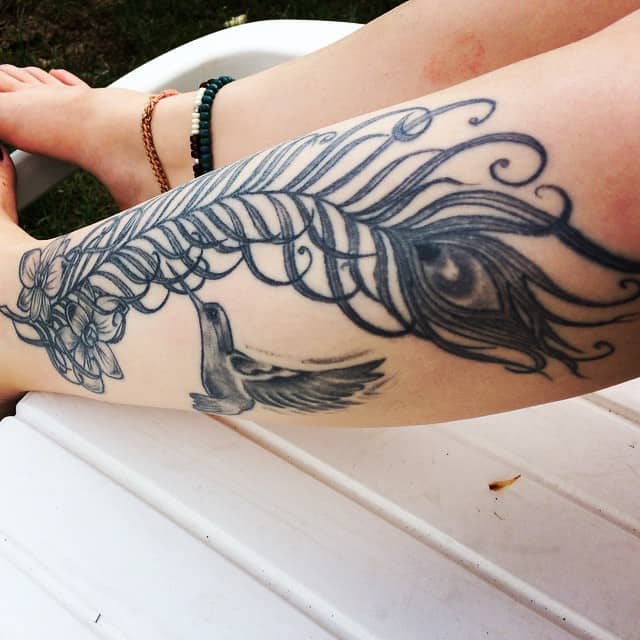 Placement Guide
Just in case you do know, the placement will also matter to achieve its greatness. Even so, it is all up to you where you wish to put it. But of course, it would be great to think about its placement many times before getting a feather art inked. In this regard, here are some common placements of this tattoo that you might want to take into account:
Tattoo on Wrist–The number one body part that you can place is your wrist. You can have it in both of your left and right wrists. But if you only want one feather art inked, you can decide whether you want it on your left wrist or right wrist. There is no way it will not look great on that placement.
Tattoo on Back of the Neck – If you want to be out of ordinary, you can place  right there at the back of your neck. The fact that people would still go towards your back in order to see this tattoo really makes it more interesting.
Tattoo on Back of Your Ears – Another very unique yet worth considering placement is at the back of your ears. People will surely get very interested to know you if you have such tattoo at the back of your ears. Of course, it can also make you more gorgeous.
Tattoo on Feet – Yes, it would also look great right there on your left or right foot. In fact a lot of ordinary people and celebrities are having this art on this particular body placement.
Final Words
Feather Tattoos are definitely gorgeous body arts that you can engrave on your body.There are so much gorgeous designs that you can choose from these tattoos, so there is no way you cannot have the one that will really serve its purpose to your own self. Just make sure to put your feather art on the right placement on your body.