Tattoos have become one of the most common and popular forms of body art today and objects used as inspiration for creating tattoo designs may range from religious symbols to objects in nature such as flowers, plants, birds and animals. One of these is owls, which make a perpetual source of fascination for the human race and this is what accounts for people's interest in this amazing animal and its increasing use in this form of art. Like all other tattoos, owl tattoos too have a deeper symbolic significance, which bears an influence on the decision of the bearer to have such a design etched on oneself.
Owls are some of the most common and most gorgeous animal tattoos that are worn by a lot of individuals in the entire world. There is no question about that since owl is a very unique kind of a bird that is very interesting to be engraved on someone's body. Apart from the very common subject for tattoos like rose design, lotus design, elephant design, lion design and many others, owl is absolutely a perfect tattoo subject. This is a very gorgeous tattoo that is also extremely meaningful. This is the main reason why the number of people who are wearing these tattoos is rapidly increasing day by day.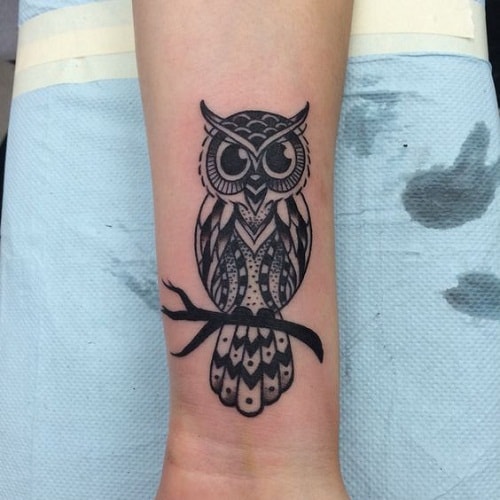 Owl Tattoos Meanings
Of course, there is no question about the fact that owl arts are extremely meaningful just like the other kinds of tattoos. This goes to show that these are not only for display purposes. They have some deeper purposes that can be served through the excellent hands of professional tattoo artists. In case you do not have any idea about the meanings and symbolism of these tattoos, then here are some of them that you should take into account:
Death – An owl is greatly being associated to death simply because the owl bird is believed to be a symbol of death. Just in case you do not know, owl is being branded as the "Angel of Death". Thus, it is no longer surprising why the owl is considered to be the protector of those people who were already dead. As a matter of fact, there are lots of people in the world that strongly believe that owl is capable enough in communicating to those dead people. One other terrifying thing is that when you dreamt of an owl, it is said to be a sign of death pertaining to the dreamer or to the dreamer's loved one.
Wisdom – You may not know it, but an owl is believed to be a great symbol of wisdom, intelligence, and education. Hence, it can be the perfect body art that you can wear if you want to tell the other people on how intelligent you are, or the level of education that you have attained. The common believers of the fact that they symbolizes wisdom were the Native Americans. These people have this belief that the owl is the sacred knowledge's protector.
Freedom – Freedom is one other thing owl is symbolizing. There is no question about that since owl is also a bird, and birds are known to be the great symbols of freedom because they can fly wherever they want to. No one is dictating them where to go. As long as they are capable enough of flying to far places, then they can definitely do such. In case you want to show how free spirited you are, or you just wish to be as free as the birds, then engraving them on your body is definitely a great thing that you can do.
Vision – It is also known to symbolize vision. What do you think is the main reason for this? Well, it is simply because the owl has a very big eyes, that even a very tiny thing can be seen by this bird. It is also very silent and organized, especially when it is chasing its prey. It can flap its wings silently, so that its prey cannot notice that the owl is behind it. Believe it or not, the owl was also extremely useful to the ancient weather forecasters. Through this bird, weather forecasters can already tell the weather conditions.
Rarity – Another thing that an owl is representing is rarity. Well, it is actually a self-explanatory one. It is simply because an owl is a very rare kind of bird. It is one of those endangered species of birds in the world. Furthermore, owl is very rare to be seen since it seldom goes out from its habitat. And when it goes out, it is only during nighttime because they can only see when it is dark. How rare is that to you?
Cultural Views
Owl is regarded as a mysterious creature, with its nocturnal nature and unusual behavior, as it is the creature of the dark, which avoids coming out in the daylight. Its physical appearance is equally intriguing, with large, brilliant eyes and sharp sense of hunting, making it s source of perpetual amazement. Owl occupies a significant place in various cultures around the globe, such as Hindu, Celtic and Egyptian cultures. Here are some deeper symbolic meanings associated with an owl, according to different cultures and countries:
Native American culture – The owl stands as a symbol of wisdom and intelligence in various cultures and societies, particularly the Native American culture. It is revered as a creature related with intellect and education, which makes owl a preferred design among both, men as well as women, who hold wisdom in high regard. They are also seen as the symbol of protection of knowledge. Perhaps, the use of owls in ancient times for making predication about the weather is the reason behind them being regarded as knowledgeable creatures.
Angels of Death – In some parts of the world, owls are considered to be the Angels of Death as the belief is that they accompany the soul in its final journey from death to afterlife. In fact, there is also a belief that these mystical animals can communicate with the departed souls. For this reason, it is considered ominous to see an owl in dreams as it is supposed to point to the death of the dreamer or someone close to him.
Religious Significance – There are some places around the globe where owls have a religious significance too. For instance, Hinduism reveres owl as the carrier of Goddess Laxmi, the bringer of wealth and riches. On the other hand, it is associated with Athena, the Goddess of Learning, in the Greek culture.
Symbols of vision and hope – Owl comes across as a symbol of hope that one has the ability to find way in great darkness, just as the owl traverses great distances through murky and mysterious nights. It stands as the testimony that there is always light in the darkest of darkness, one just needs to enhance one's vision and expand one's horizons to get to it. In this way, owls stand as the ultimate symbols of vision and hope.
Purity of the soul – The owl bears a close association to the moon and the night, which is the reason why it is regarded as a creature of great intuition. It is regarded as the guardian of the sacred and stands for the purity of the soul.
Symbols of independence and wisdom –  To some, this bird signifies freedom, as do other winged creatures which have the ability to fly free. In short, owl can be regarded as the symbol of independence, wisdom, vision, protection, mystery and rarity. In this way, owl designs are used in tattoos to stand for one of these meanings, according to the perception and purpose of the bearer.
Popular Designs
There is a great variety available in terms of designs as the creature itself is so elegant and beautiful, which makes them one of the most attractive options of tattoo designs. There is a kind of magical aura around this mysterious creature which makes tattoo lovers revere this design to such an extent. Here are some common designs which make a hot favorite among the talented designers as well as discerning tattoo lovers:
Barn Owl Design –  Some tattoo designs depict various varieties, each one standing for a different meaning. For instance, a barn owl stands for mystery and is preferred by those who want to carry an air of mystery and intrigue around themselves. The snowy owl is a creature of great dignity and elegance, with its beautiful white feathers and prominent physical features, this particular owl designs is quite eye catching and is bound to be noticed by the onlookers, which fulfills the true motive of bearing the tattoo.
Hourglasses with Owl Design – Some people establish a link between the owl and time, which is why clocks or hourglasses are used as a popular combination in the owl art tattoos. There are some people who get a baby owl design etched, which represents their love for their children. Some even have the name of the children added to the design.
Tribal Owl Art  – This make another popular choice for featuring owl designs. The Native American culture takes owls as a sign of impending death and misfortune. Tribal owl tattoo designs can sometimes stand for their fear of the gravest and may be seen as a symbol of protection by the bearers.
Celtic Owl Art –  Similarly, Celtic owl art tattoos too stand for the danger of death. However, at the same time, some people of this background relate owls to wisdom, and for them owl represent wisdom and intelligence. It is entirely their personal view which has a bearing on the meanings.
They can bring hope and internal strength to the bearer as they always give them the inspiration to look for light in darkness and success in struggle. Some other design elements such as flowers, birds, key, religious symbols and texts cam be incorporated into the basic owl design to customize its meaning according to the thinking of the bearer. This tattoo design has a lot in it, when designers and bearers look at it in terms of creativity as they can have it made attractive, vibrant and colorful, with rich use of colors, rather than conventional black and grey designs. It totally depends upon the bearer whether he wants the latter or the bold and colorful one, but both the designs can look equally good.
They are a classic example of adding meaningfulness to eye catching and attractive designs, and tattoo lovers can ask for nothing more. Perhaps, this is the reason that this tattoo design is getting global in terms of popularity and it is equally loved by all the age groups and both the sexes.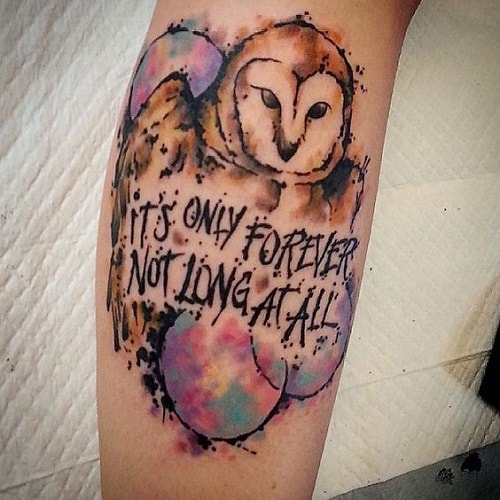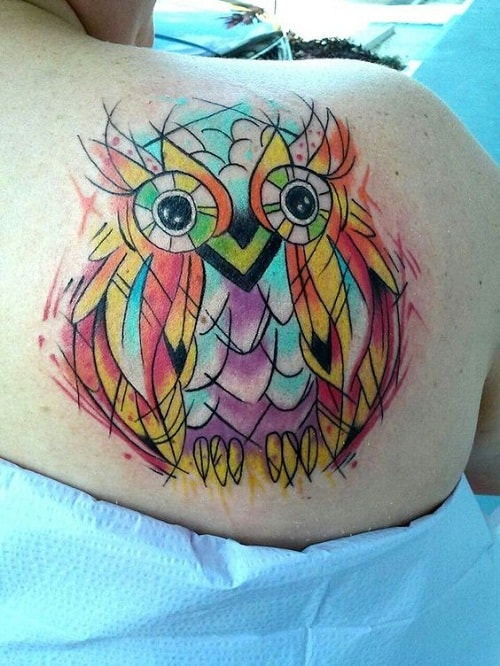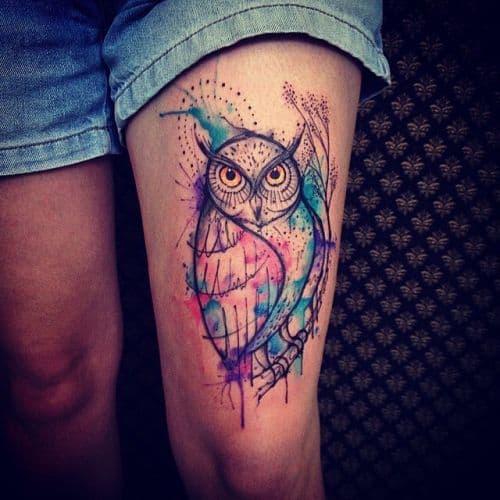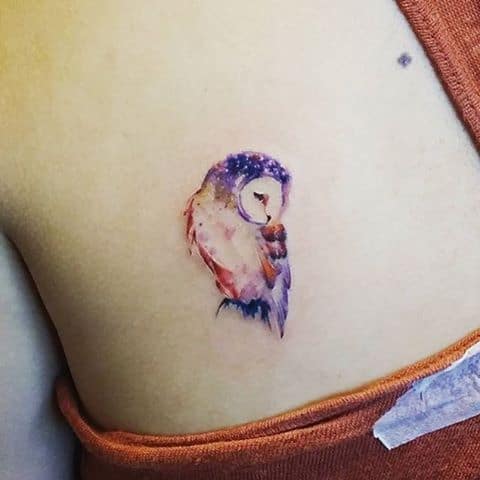 Since owls are related with mystery and mysticism, these creatures make a widely popular choice among young tattoo enthusiasts around the globe, both men and women. This art come in a variety of sizes, big, medium and small and can be placed anywhere on the body, depending upon the size of the tattoo. A large tattoo with great detail looks good on the stomach, rib, shoulder, thigh, back, spine, chest, while smaller ones can be seen on the arms, legs, wrist, neck and ankle. Hips and shoulders are other suitable places to show off owl designs. Dragon, phoenix, fish, lion, celestial objects stars, moon, birds and many other elements such as flowers, dreamcatchers, feathers, anchors, arrows, compass, musical symbols, heart, infinity symbol, trees can also be used to enhance the designs or it depends on the bearer.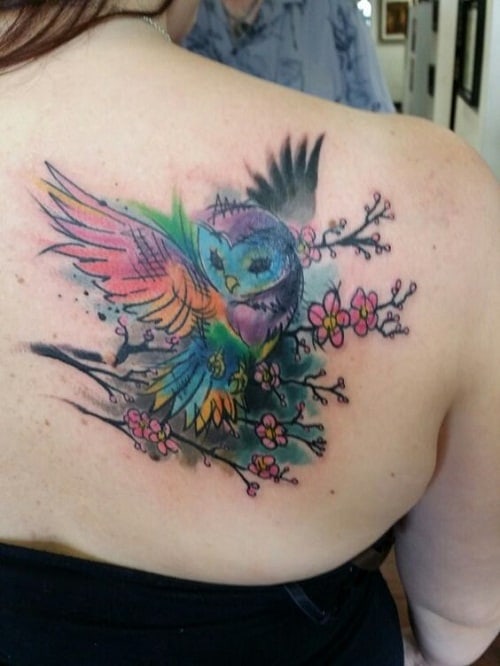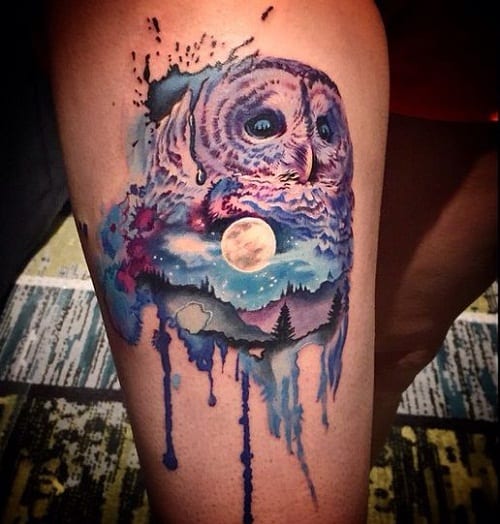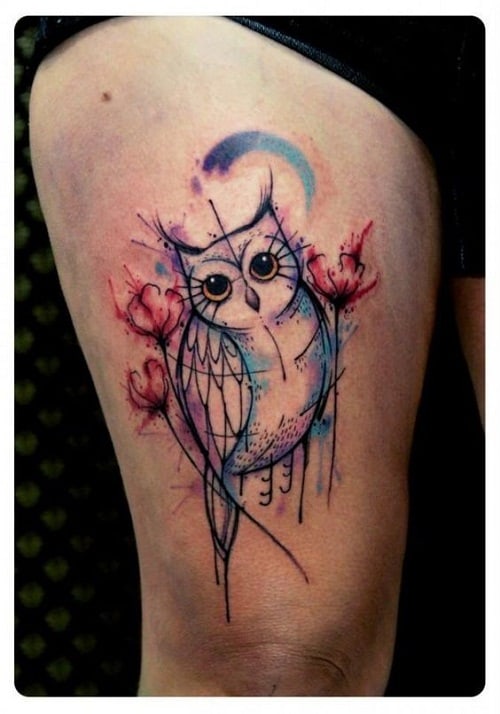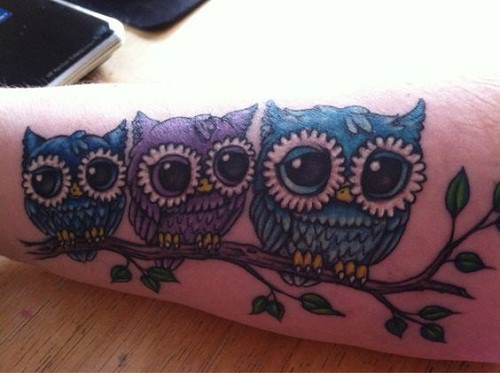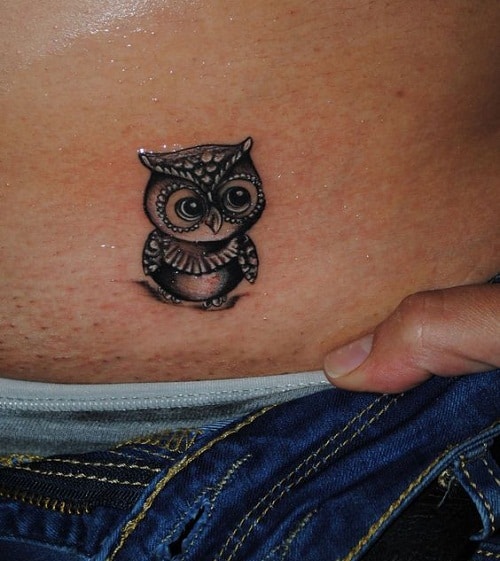 Celebrities Views
The greatness and the gorgeousness of the owl tattoos are not only known to common people, but also to a number of famous personalities in the world. Have you known some celebrities who have an owl art inked? If you haven't, then here are some of the names of those celebrities who are quite fans of this particular gorgeous tattoo:
Jordan Hinson – Jordan Hinson was baptized by the real name of Jordan Danielle Hinson, and she is a 25-year-old American actress. Jordan is a very gorgeous woman, and she looks even more sophisticated because of her owl art that is located right there on her left bicep. The design is just a simple owl bird.
Taryn Manning – Taryn Manning is a 37-year-old American actress, fashion designer, and singer-songwriter. She is also a big fan of an owl art. She has it engraved right there on her right shoulder. The design is so cute, which involves an owl bird that is holding a mic.
Asami Zdrenka – Asami Zdenka is a very famous Japanese-born singer, who is a member of the famous group known as Neon Jungle. She has a beautiful image of an owl engraved on her left arm, which is accompanied with beautiful red roses.
Beautiful Designs
Of course, owl art tattoos also have a number of things to offer when it comes to designs. It is rest assured that all of these designs are extremely gorgeous, making you really beautiful when talking about physical appearance. If you are already seductive in the eyes of many people, you will definitely enhance that level of seductiveness within you once you have these designs. In this regard, here are some of the common beautiful designs that you can consider:
Celtic Owl Design – One very popular and extremely gorgeous design is the Celtic design. As its name suggests, this design originates from the Celts people, who were known to be the residents of Europe during the Medieval times and Iron Age. According to these people however, an owl is symbolizing fear of death. In case you are brave enough to show that you fear death, then you can have the Celtic owl design engraved on your body. It is even known to represent danger. Thus, it takes a considerable amount of courage to have this design.
Tribal Owl Design – You will also not regret it when you choose the tribal owl design. Well, who would not love having a tribal tattoo, by the way? Aside from the fact that it is very gorgeous, it can also be extremely meaningful. An owl art is greatly being associated to a number of tribes and cultures in the entire world. And for most of them, this tattoo has a bad meaning. For the Native Americans, such tattoo is a sign of the coming death or destruction. And for the ancient people in the Latin America, Caribbean, and the Mayan people, an owl art is symbolizing misfortune.
Barn Owl Design – The barn owl design is another common but very beautiful design that you can take into account. This can also be very meaningful. It is well loved by many because of the fact that it represents mystery. In case you want to appear like very mysterious to the other people, or you simply want other people to get intrigued with your very unique personality, then you can choose the barn owl design. It can surely attract the opposite sex, making it very advantageous for you especially if you are looking for a partner.
Snowy Owl Design – One other gorgeous design that you can take into account is the snowy owl design. It is a very eye catching design, so you will definitely become the center of attraction when you have it on your body and you are standing in a large crowd. The prominent physical features of the snowy owl are some of the things that made it extremely gorgeous and eye catching. The snowy owl is known to be symbolizing elegance and dignity.
Baby Owl Design – It is also very common to see a baby owl design engraved on a number of people's body. This is definitely a gorgeous design, and this is the common choice of many mothers and fathers in the world who love the idea of tattooing. Well, there is no question about that since such design will tell the world how much they love their own children. In case you are a very loving parent to your children, then why not tell them that you love them very much through your baby owl art.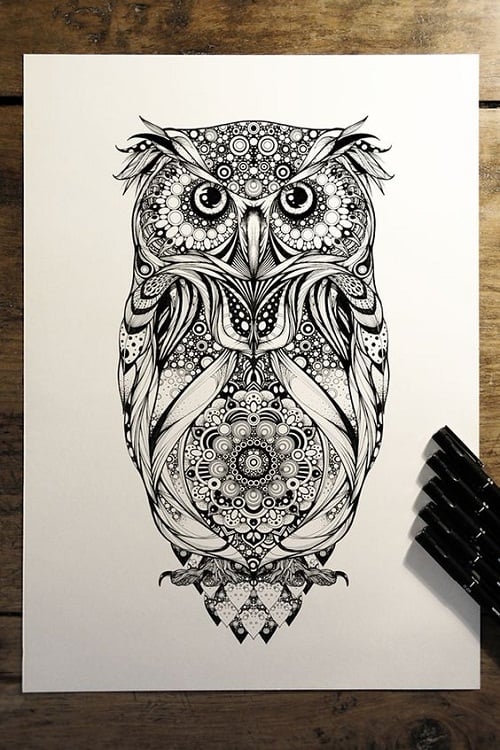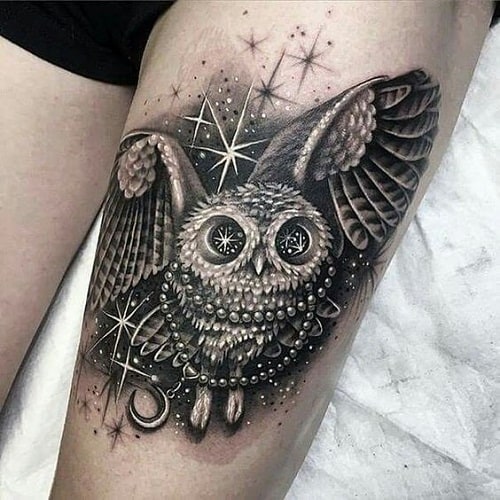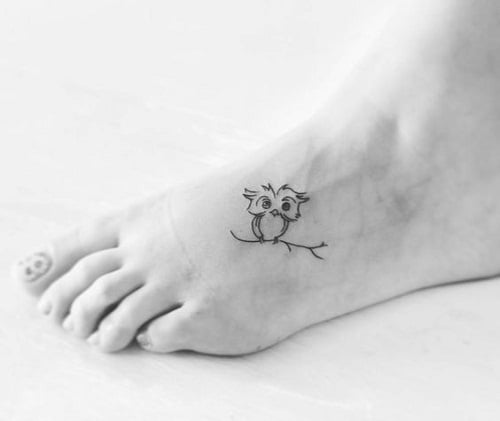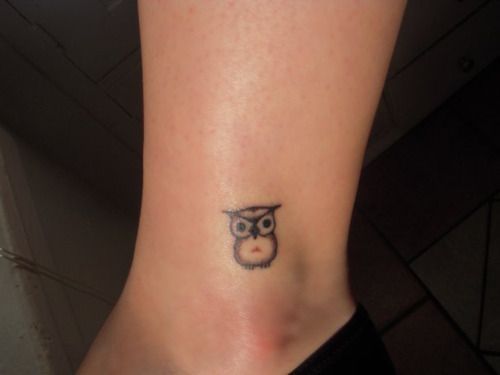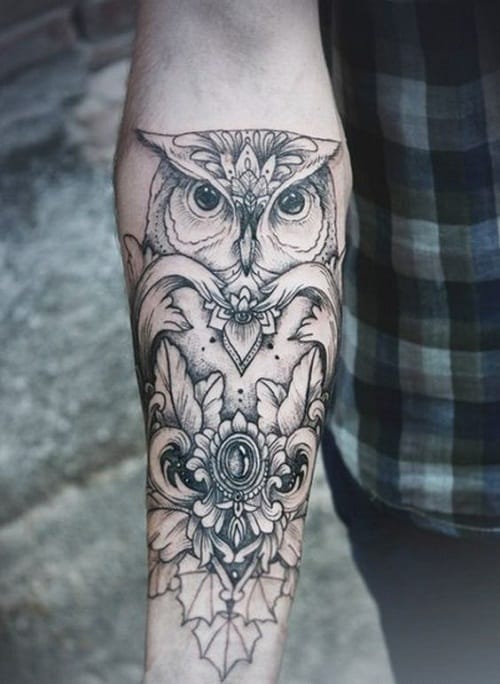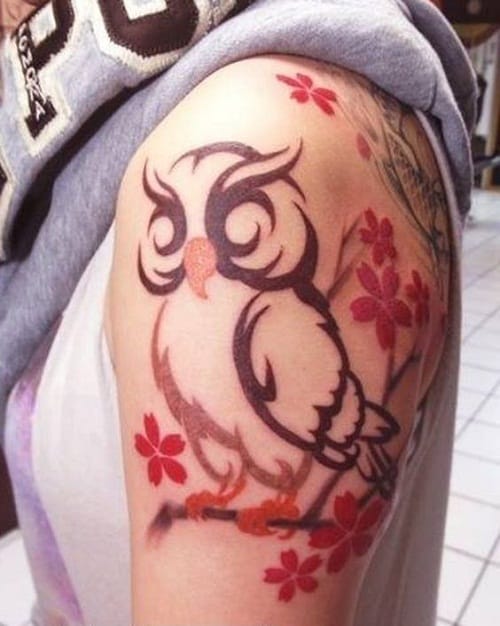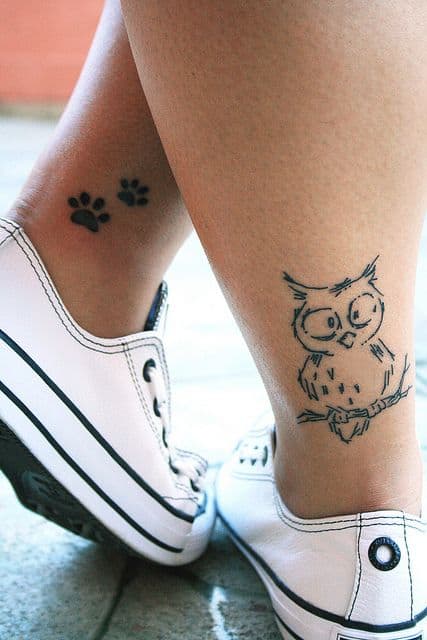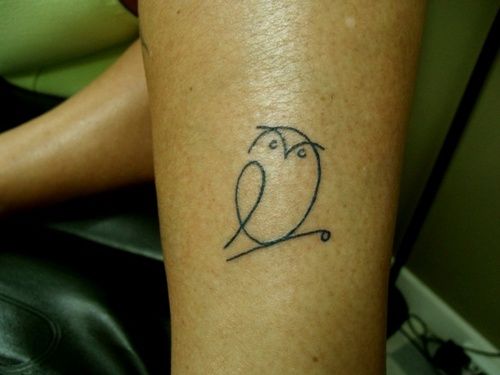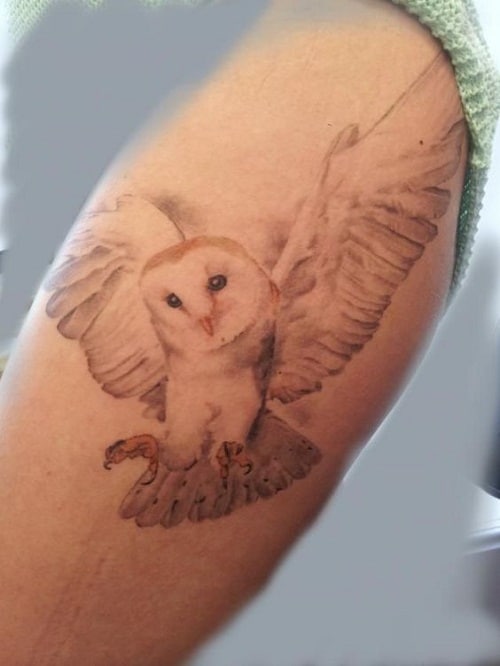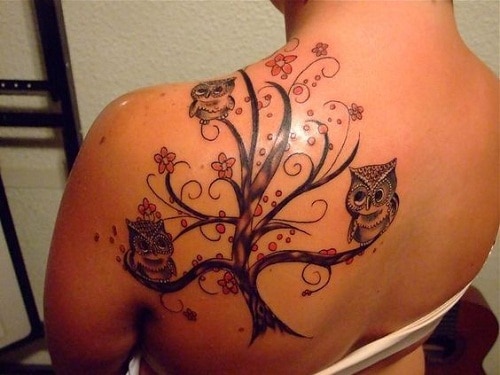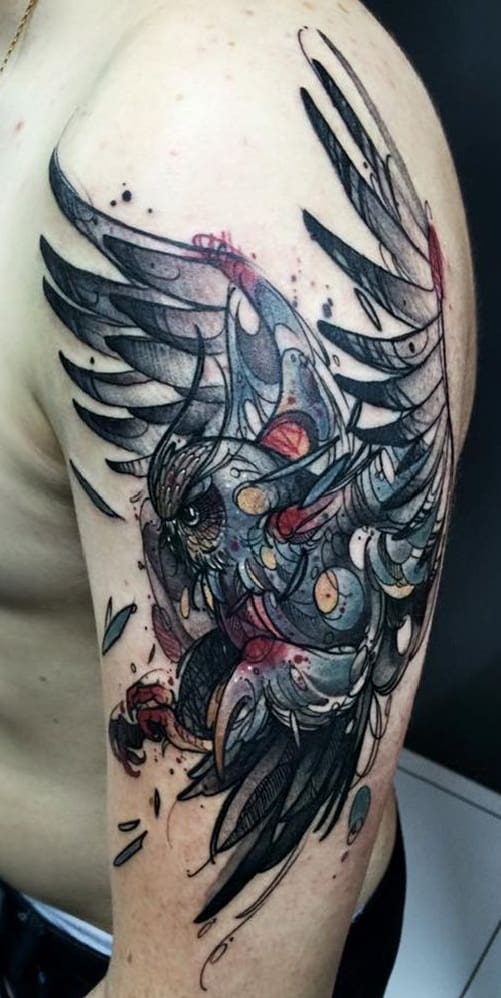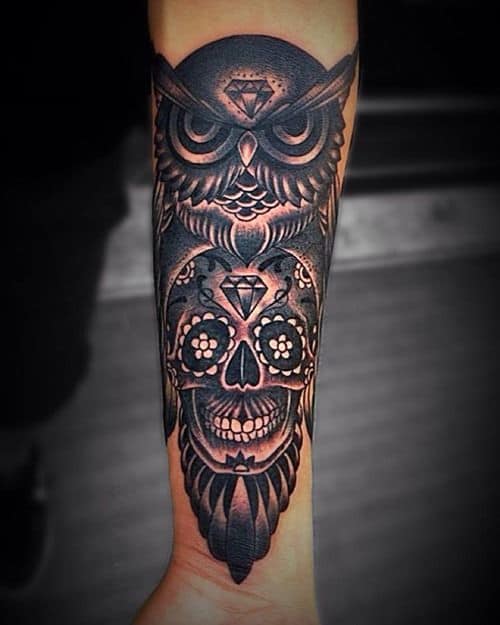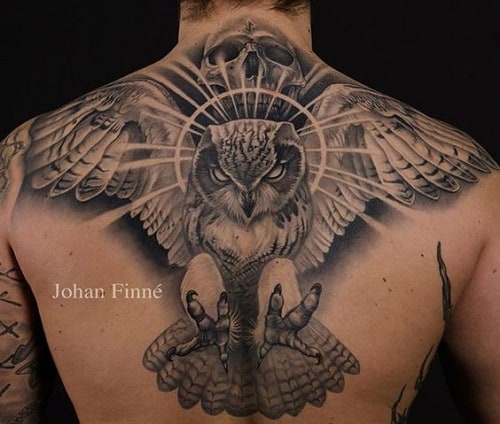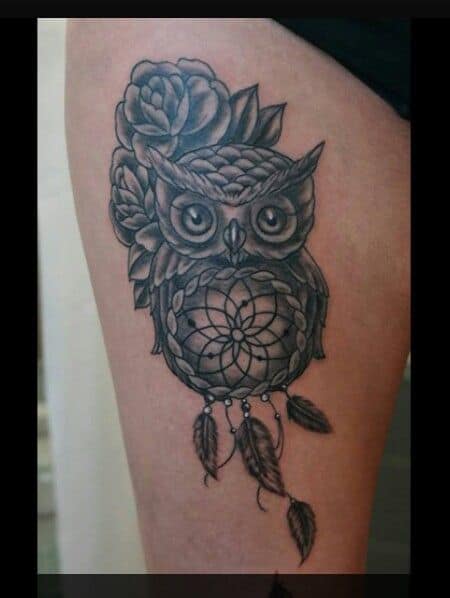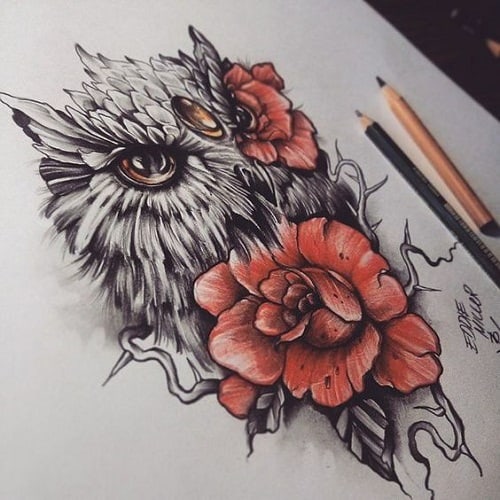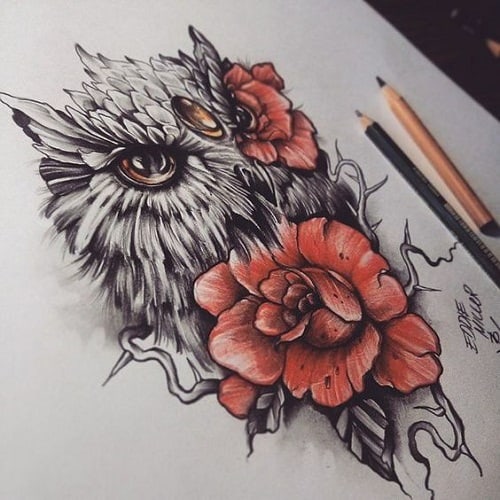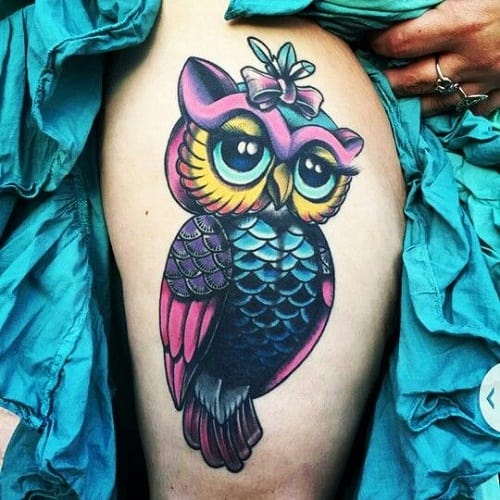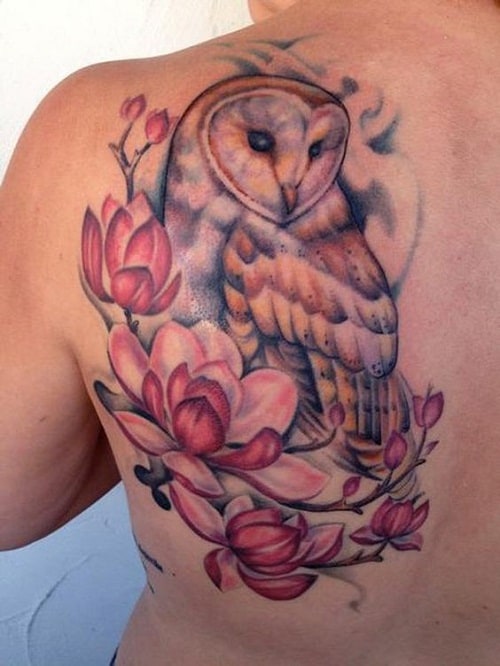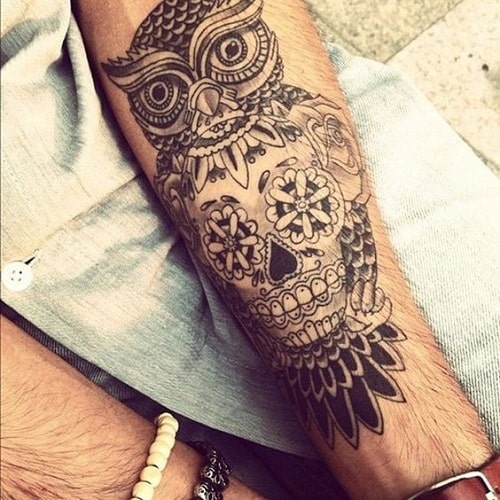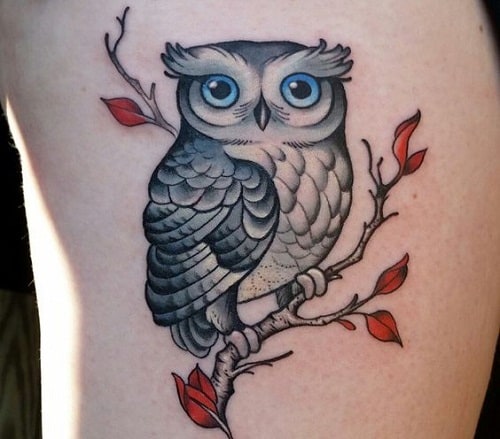 Placement Guide
Just like the owl tattoo, it is very important that you know the best placements for such tattoo. In this regard, here are some of the common placements:
Summary
Owl tattoos are absolutely worth considering tattoos that you can engrave on your body. These are available in various extremely gorgeous designs. There is no way you will not love these tattoos since these are also well-loved by many celebrities in the world.
Owls have been regarded as creatures of mystery and mysticism as they come out in the dark, while some even believe them to be related to death. But owl is also related with knowledge, wisdom and vision. All the deep symbolic meanings as well as eye catching appearance, together make owl tattoos a hot favorite among tattoo lovers. They can be featured in various sizes and designs, on different body parts. These vibrant designs have today become a much loved option for both men and women.