Memorial tattoos are a wonderful way to honor the memory of someone in your life who has passed.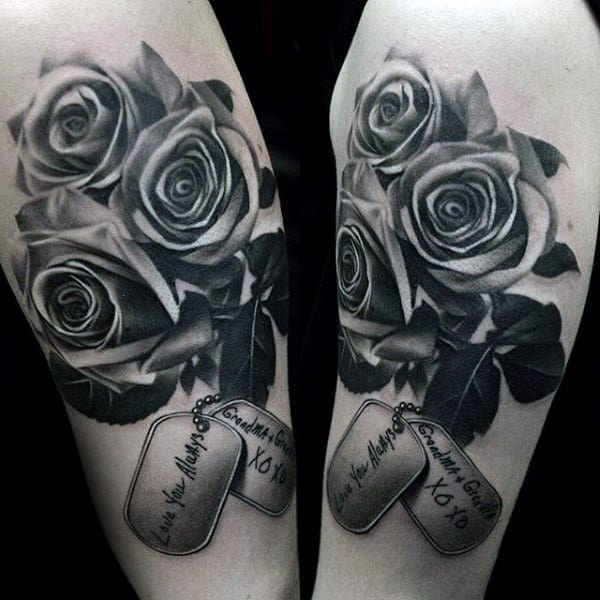 In this article, we'll discuss some of the best memorial tattoo ideas and share our favorite designs.
Why get memorial tattoos?
Few things can be more life-wrecking than losing someone you love. We all try to cope in different ways, all while trying to remember the best of the person.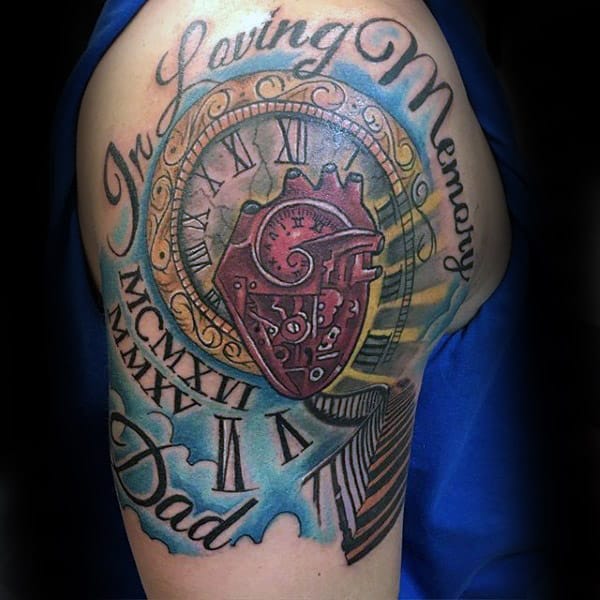 Remembrance tattoos are just that: a way to make sure the person is always with you, and a testament to the fact that they are always present in your memory.
Memorial tattoos are most often dedicated to grandparents, parents, children, and significant others. Remembrance tattoos for pets are a common sight, too.
Recommended: Want to see more sea turtle tattoo? Check out our guide!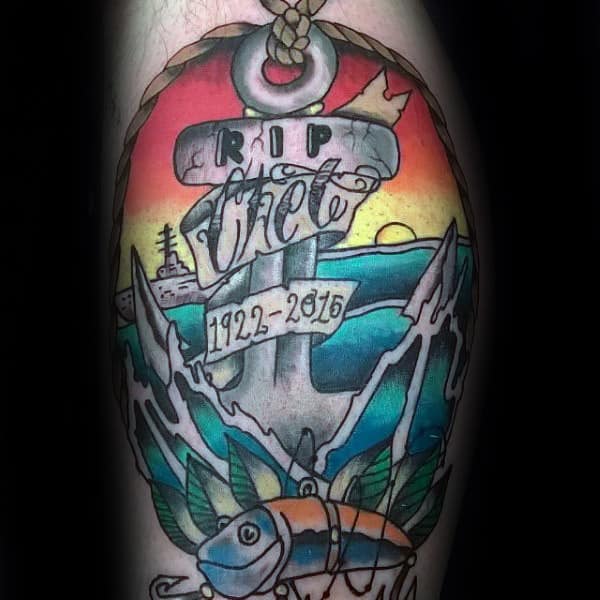 Memorial tattoo designs
Memorial tattoos are perhaps the most personal kind of body art. By definition, they have a deep emotional meaning for the wearer. As such, only you will know what design will reflect your loss and remembrance.
Below, you'll find some of the most popular choices and themes.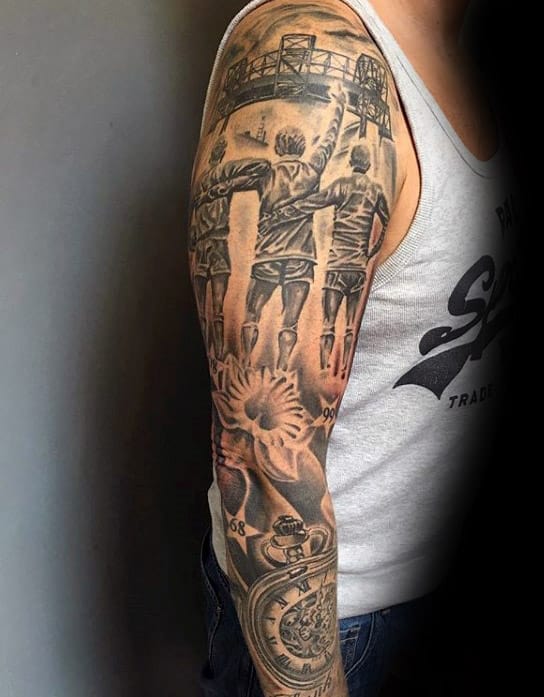 Simple designs
Many memorial tattoos consist simply of a name and/or dates. They're a good choice if you're looking for a small, minimalist tattoo.
Small designs like these make for very discreet tattoos that fit on small spaces, such as the wrist, the finger, the ear, or the neck. You can easily hide and reveal these as needed.
You can make the design more complex with the addition of further elements, such as symbols or writing.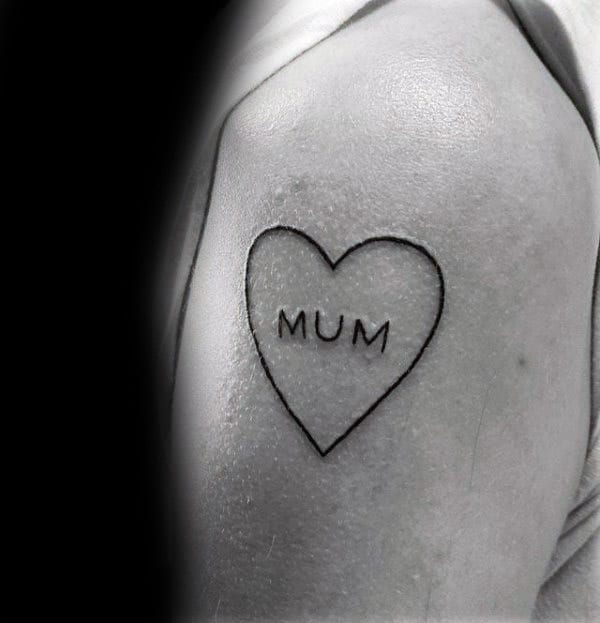 Heart
Heart tattoos are a popular choice for expressing your love for someone who's gone.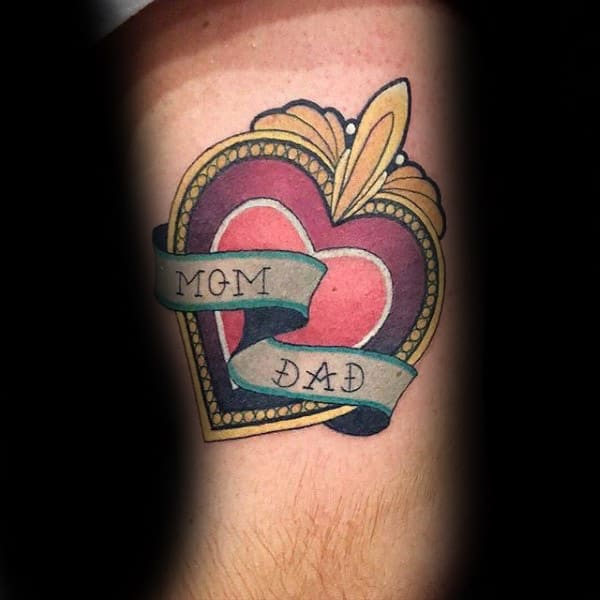 These tattoos are most often done in the old school style, which involves bold outlines and a solid fill, using a limited color palette.
Ribbons are a popular addition, wrapping around the heart and adorned with writing. The writing is typically a name, date, a single word (such as 'love'), or a short quote.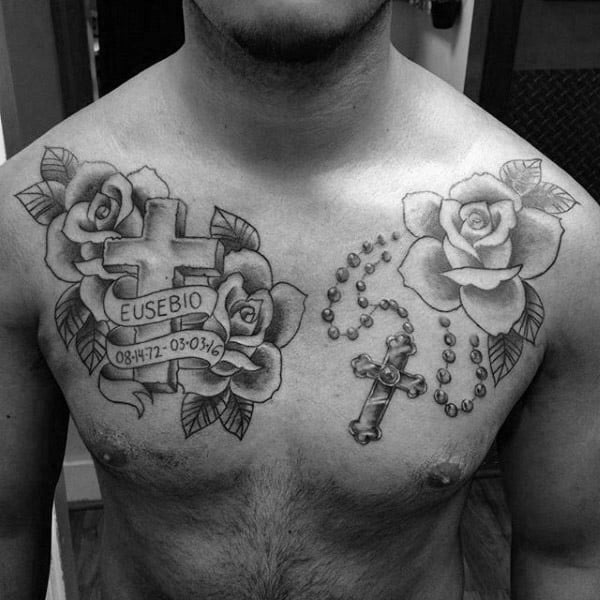 Anchor
Anchors are often a key element of a memorial tattoo. The symbolic meaning of the anchor is that of stability, strength, and safety.
In relation to a person, the anchor represents a loved one that grounds and protects you.
The most common stylistic choice for anchors is, again, old school. For a more contemporary look, consider a 3D anchor tattoo.
A simple black outline will also work great, especially for those looking for very small designs.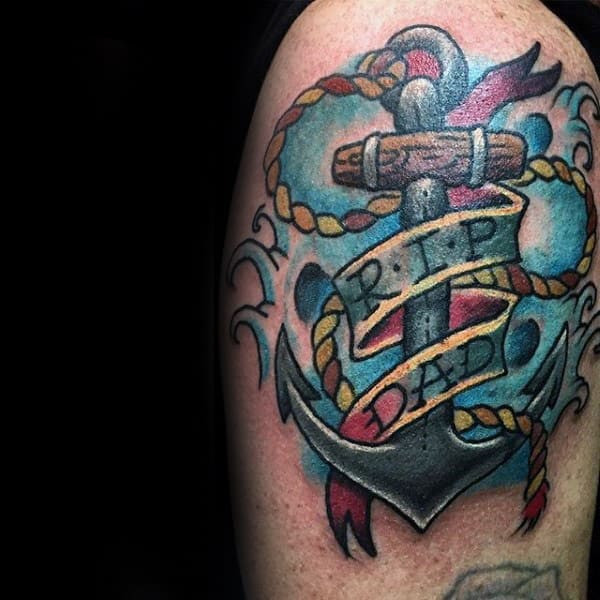 Like with other symbolic memorial tattoos, names, dates, and important quotes can be a great addition to an anchor design.
Cross
The symbol of the cross is definitely the most popular representation of religious imagery in tattoo art.
As the main symbol of the Christian religion, a cross is a popular choice for followers of this faith. Crosses are common memorial tattoos for men.
Recommended Article: Our guide to hummingbird tattoos is well worth a read!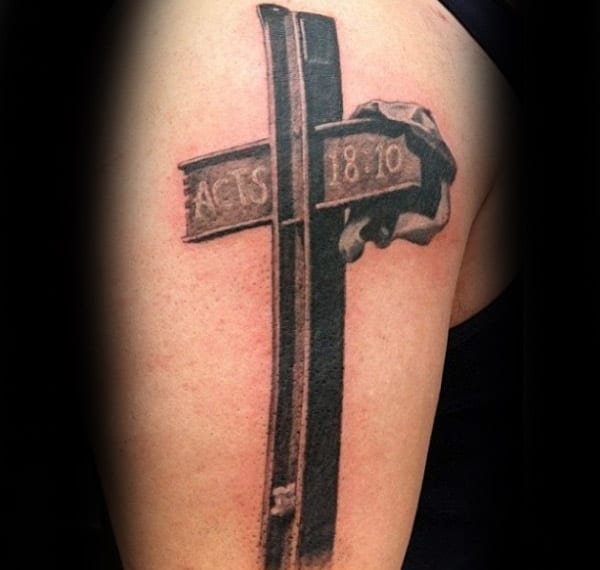 There is a lot of variation in terms of the style of the cross. For a minimalist tattoo, consider a simple, small black cross, with a name and a date beneath it.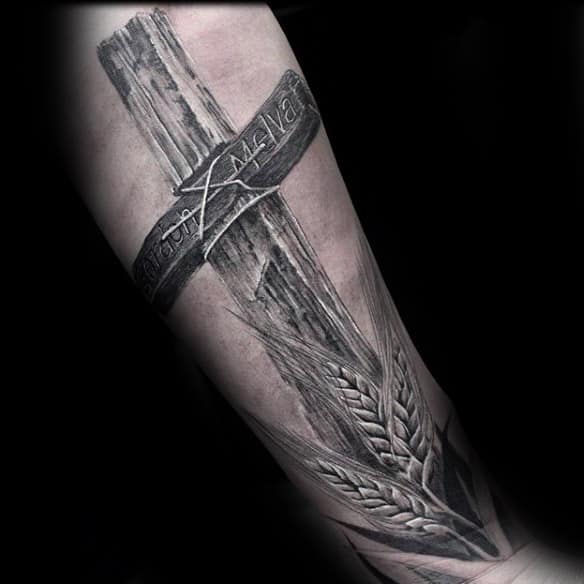 More complex tattoos may include other elements, such as flowers or a longer quote. Additional religious imagery, such as a dove or a rosary, are also common choices.
The most elaborate cross memorial tattoos often involve 3D imagery of stone crosses, just like those found in the cemetery. The name of the person and the dates of birth and death are often directly on the cross, to look like an engraving.
A Celtic cross is another variation. It's distinguishable by the circle around the middle (where the two lines meet) and often, Celtic patterns within. This version of the cross is used primarily by Christians of Irish descent.
The patterns on the Celtic cross resemble the Celtic Knot. They have no apparent end or beginning, which highlights the symbolic meaning of the eternal nature of life and death.
Angel
In some faiths, the souls of people who were good during their time on Earth become angels in heaven (or any form of an afterlife). They are also associated with guardianship – invisibly and eternally looking after the living.

As a result, angel imagery makes for a common element in memorial tattoos. It usually expresses the idea that having led a good life, the person who died is now watching over you from heaven.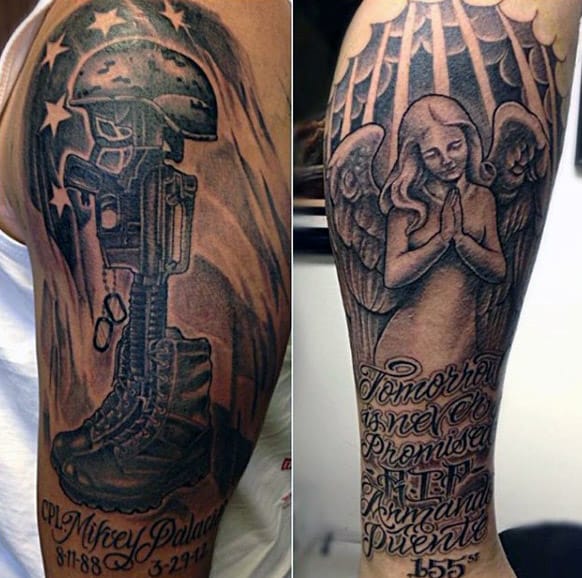 An angel memorial tattoo doesn't necessarily need to have a religious meaning. In secular (non-religious) symbolism, angels often represent guardians and the dead, too.
Wings
Rather than depicting an angel – which makes for a large and complex tattoo – many people opt for adding wings to their design. The wings in this case usually carry the same symbolic meaning as the angel.
Wings with a name or a quote are often enough. However, winged hearts or crosses are also popular choices.
Floral memorial tattoos
Flowers are not only beautiful additions to memorial tattoo art, but also highly meaningful symbols. Roses, for example, make for popular adornments to cross tattoos.

Larger floral memorial designs often feature lilies. These flowers are a common gift for grieving families.
In this context, they are symbolic of hope despite the devastating loss.

Similarly, white roses are symbols of loss in some cultures, with particular ties to the death of someone young.
Portraits
Memorial tattoos sometimes feature a portrait of the lost loved one.
Nowadays, portrait tattoos usually take on the 3D style, aiming for full realism. They are usually rendered in black ink, to give the impression of a black-and-white photograph.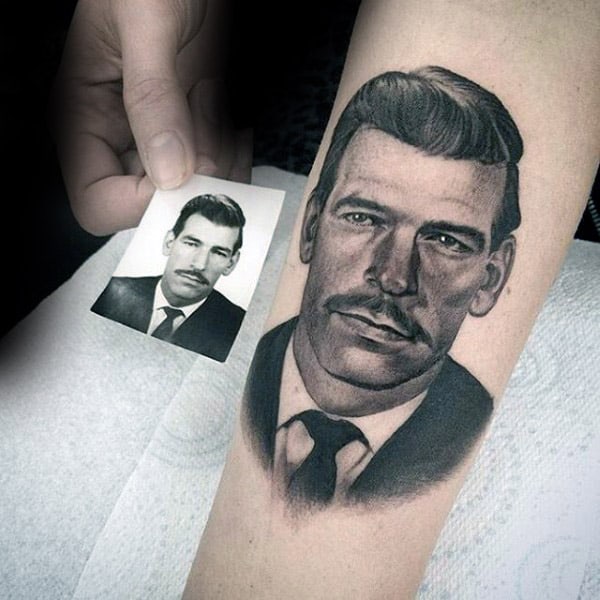 The two main considerations to keep in mind in regards to portrait tattoos is size and expertise.
Because there is a lot of detail involved in accurately rendering a face, you should expect the tattoo to be at least medium in size. Scaling it down too much will result in a lack of realism and poor ageing.
The best placements for portrait tattoos are relatively wide, flat spaces. For example, the back, chest, side, shoulder, or bicep will work perfectly fine.
Recommended Reading: Don't miss our guide on horse tattoos!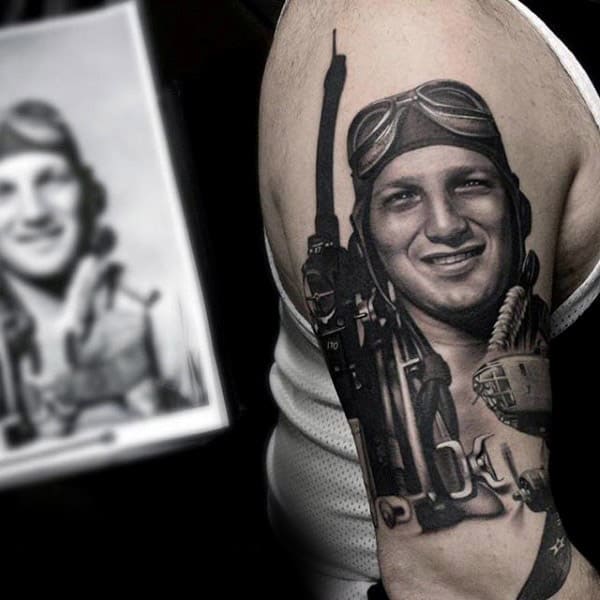 Because realistic portrait tattoos are notoriously difficult to get right, it's important to find a tattoo artist with experience in this field.
Look for artists with a portfolio that contains examples of previous portrait work.
Individual references
If you're looking for a less obvious design to reflect your loss more indirectly, you could start by thinking about the most important memories you have of the person.
If you associate them with any particular activity or object, use that as the basis for your tattoo design.
Memorial tattoos for pets
Our pets are a significant part of our daily lives, and it's no wonder that many people grieve for them just like they would for a human.
The two most common ways to honor your four-legged friend in a tattoo are portraits and paw prints.
Dog and cat portrait tattoos are almost as difficult to render as human portraits, so make sure you choose an experienced artist. Bring your favorite photograph of your pet, so the artist can use it as a reference.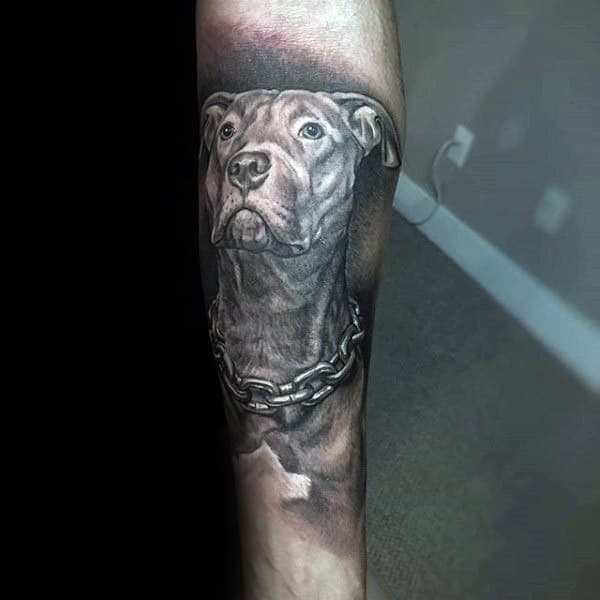 Many people opt for the 3D option, as it makes for the most realistic image of the animal.
For a more light-hearted approach, consider cartoon-style designs that play on some part of your memories of your friend.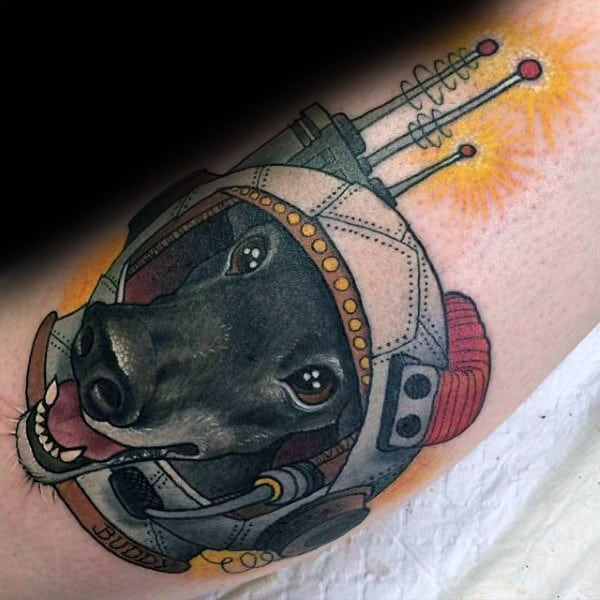 Paw print tattoos can be very simple and minimalistic, or they can incorporate other elements that make them more expansive. Quotations are a popular choice, as are names and dates.

Examples of memorial tattoos

This memorial tattoo design is likely a reference to specific memories of the person who's gone.
Rendered in beautiful 3D, it only reveals itself as a remembrance tattoo through the date, barely visible on the left.
These kinds of designs make for highly personal testaments to the unique memories we have of those we love.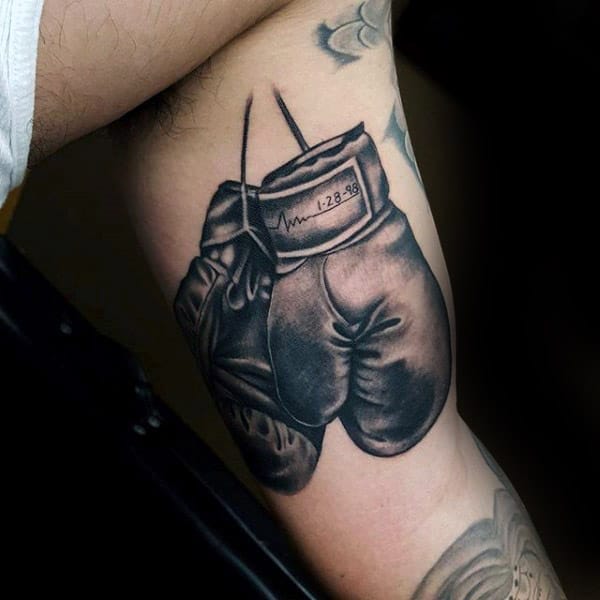 The boxing gloves in this design are again a reference to the person's passion in life.
Perhaps a memorial tattoo for a brother or a friend, this design's use of a minimal date along a pulse line speaks for itself.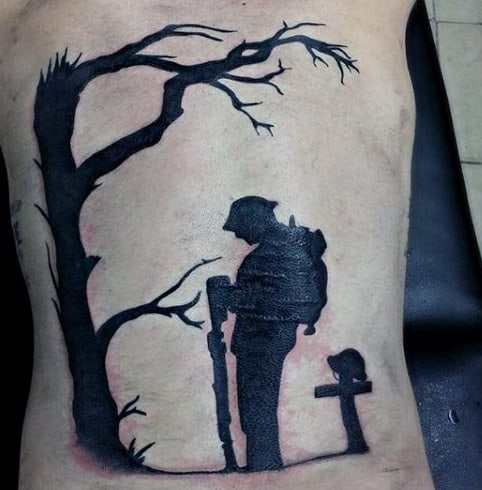 Perhaps unsurprisingly, military themes appear often in remembrance tattoos. Sometimes, they're a testament to a fellow soldier who lost his life. The parents of fallen soldiers also often get military-themed memorial tattoos for their son.
This particular design is simple, but not simplistic – combining a minimalist style with a powerful message. Interestingly, the soldier's back is turned to the cross, which suggests that despite the heavy losses, life has to go on.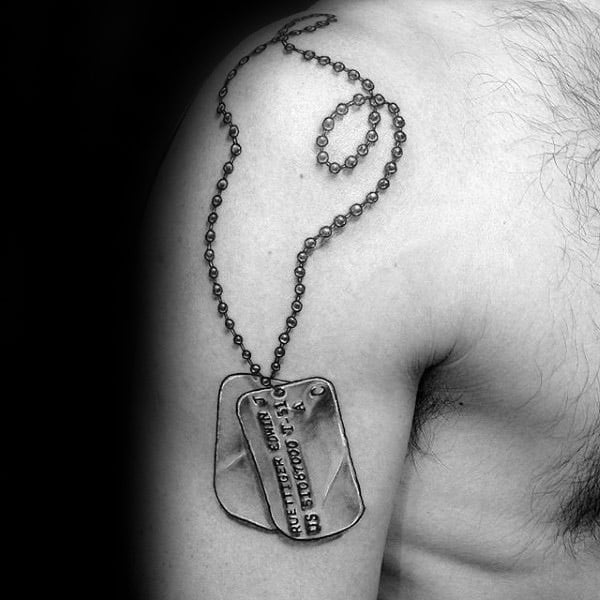 Another military tattoo, this one uses a much simpler concept. Every soldier wears dog tags – the metal plates with identifying information. Dog tags as a tattoo design both identify carry the lost person's name, and identify them as a soldier.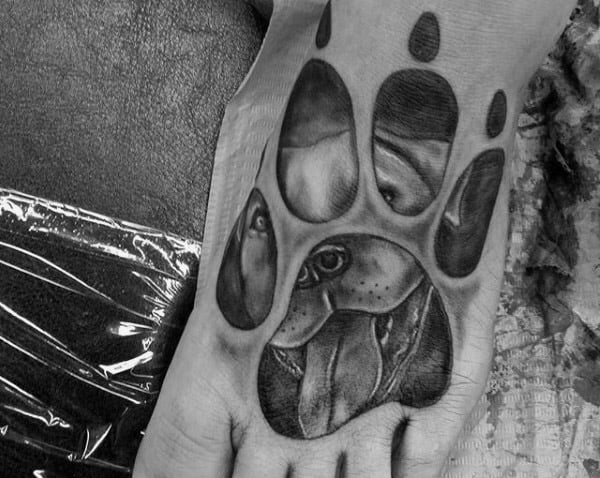 This pet tattoo ingeniously combines the two most common approaches to designing an animal memorial piece: portrait and paw print.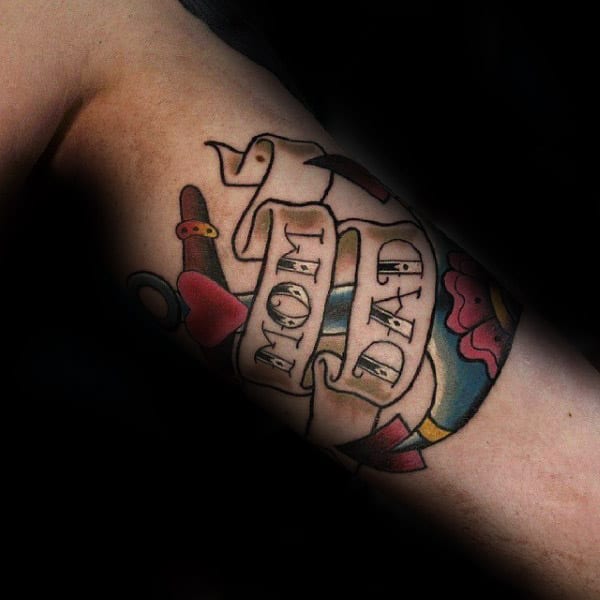 A remembrance tattoo for parents, this anchor tattoo is made more original through the addition of a heart. The tattoo is done in the old school style, with a bold outline and not a lot of shading.

This memorial tattoo for a son who died very young uses a 3D portrait as the central element. The writing, particularly the dates, clearly identify this tattoo as a memorial one.