A lot of fashion-oriented individuals find rib tattoos as great fashion adornments on the body. The truth is, tattoos on the rib part are also called side tattoos since ribs can be found at the left and right sides of a human body. The main reason why a lot of people are going for these tattoos is the fact that these will made them head turners. There is no way other people won't notice your tattoos once you take off your clothes, or when you wear something that will display your ribs part.
Advantages and Disadvantages
You might be into these tattoos, but the question is, do you know the advantages and disadvantages these tattoos can offer to you? Here are some of the amazing advantages you should know:
Gorgeous Appearance – In this world, there are things that cannot be explained, and it goes the same with people who become gorgeous and handsome when they have tattoos on the rib.
Boosted Self Confidence – When you have tattoos, self-confidence is sure to be boosted. Maybe, it is because you will think that you are different than the others and you are brave enough to get tattooed.
Wider Space for Tattooing – Since the rib parts are wider than any other body parts, you can surely choose whatever design you like without minding its size.
On the other hand, here are some of the disadvantages that these tattoos may give you:
Painful than Others – Since the rib parts usually have thinner skin, it is already expected that this will be more painful on your part. However, this pain is nothing when you already have the gorgeous tattoo.
Less Visible – There is no question about it since the rib parts are normally hidden with the clothes that you wear every day. Hence, the instances that you can show your side tattoos to people are only limited.
Famous Celebrities With Tattoos on their Rib / Side
Of course, famous celebrities are the great promoters of tattoos. They play a very significant rine on making every single kind of tattoo very popular as days go by. In this regard, here are some names of the international showbiz industry who are proudly displaying their tattoos:
Ellie Goulding – This 29-year-old gorgeous English singer and composer is proud to say that she has a tattoo on her rib. She has one on her right rib part, which is a lotus designed tattoo.
Miley Cyrus – This famous American singer and actress has a very unique design. She has a dog-designed side tattoo that goes with a phrase, "With A Little Help From My Fwends".
Lea Michele – This famous Glee star has a very tiny inscription on the left side of her ribs.
What Makes Tattoos On Rib Them Appealing?
The main factor which adds to the aesthetic appeal and attraction value of this kind of tattoo is that it has the ability to accentuate the curves of your body. This makes rib very popular among women, who want to make the best show of their curvaceous figures. The tattoo should be chosen in such a manner that it suits the rib area, in respect of shape, design and color usage. A design which fits your curves well will go a long way in adding to their beauty and highlighting it to a considerable extent. This will focus a lot of attention to your rib area.
How painful they are?
If you have got a high pain tolerance: not much. But if you familiar with the usual dynamics of getting tattooed then you should know this is probably one of the painful zones. I'd recommend you to read a discussion at Quora for the same.
Special Care Concerns
Since tattoo on the rib is inked on a very delicate and sensitive area, they need some extra care so that they remain in a good state. The first thing is that such tattoos need to be done by a professional artist, who has ample experience in this field. In case, there is an itching sensation over this area, you need to consult a dermatologist immediately, even if it happens weeks after the tattoo is done in the first place.
There is something extra trendy and special about rib tattoos, which makes them much in demand, among both the sexes and people of all age groups. However, these can be very painful due to the sensitivity of the area they are inked. Hence, one has to be firm in the decision about rib tattoos.
Popular Rib Tattoo Designs For Guys And Girls
Needless to say, you can find a lot of options when it comes to designs of tattoos on the rib parts. It is now up to you what to choose. In choosing side tattoo designs however, there are a lot of things that you need to take into account like your personality, the size of the design, and even the cost for tattooing it on your body. Here are some gorgeous designs of tattoos that can be beautifully engraved on the rib parts of the body:
Cross Tattoos – Just in case you don't know, Cross does not only symbolizes religion. It has a lot of meanings for sure. Its meaning varies from culture to culture. It looks great to both men and women. In order to enhance its appearance, adding some catchy words or phrases is good.
Dreamcatcher Tattoos – This design of a side tattoo has been a popular choice of many. Best wishes are what it symbolizes. Base on the legends, a dream catcher will spell bad dreams and catch good dreams.
Shooting Stars Tattoos – This design is composed of stars that are arranged according to their sizes. This will surely look gorgeous on men and women's body. To make it more beautiful, adding some lines that will connect each of the stars is good.
Rose Tattoos – This design may be common to men and women, but it can never be denied that it looks elegant and beautiful when used as on a rib.
Phrase or Letters – Even though there are men who prefer this kind of tattoo, it is still undeniable that many women are going for this. Some women go for this kind as a way of telling how much they care and love their partners. Some famous phrase or letters side tattoos are "I Love You", "I Care for You", "Trust Me" and so many others.
3D Realistic Design – This kind is, of course, composed of several realistic tattoo designs such as animals, flowers and the like. For flowers, it is very common to see rose flower engraved not only on the rib parts but in the entire body as well. And for animals, many women choose to have birds, while men choose fiercer and braver animals tattoos like tiger tattoos and lion tattoos.
Symbolic Design – As its name suggests, this kind has something to do with various symbols like religious symbols or anything that symbolizes something. Good examples are cross, logos, Jesus Christ, and many others.
Tribal Tattoo – This is one of the most attractive side tattoos that you can ever have on your body. A lot of men and women opt for this type even though it is a little bit harder to engrave on a person's body because of its complex details.
Design Ideas for Men
Guys with six-pack abs find rib area for a tattoo as a great way to flaunt their physique, which has been the result of years of hard work and rigorous training. The most preferred tattoo designs for men include masculine elements such as the dragon, tiger, lion design, elephant, snake design, panther, and fish tattoo design. The thing which determines the selection of design is that it should be prominent and eye-catching.
Design Ideas for Women
Just like men get their ribs inked for showing off their muscles, girls want to have them to attract attention to their curves. They prefer feminine design elements such as flowers, butterflies, fish, and birds. Other options include quotations, name, dreamcatchers, feathers, infinity, anchors, arrows, compass, geometric, musical symbols, and letters. Young girls can pick something cute and trendy, which make them look sensuous in a fresh and young way. Some popular designs for rib chosen by young girls are roses, lotus, lilies and cherry blossoms. The right use of colors goes a great way in accentuating the beauty and charm of such a tattoo design.
Final Words
The aesthetic value of tattoo is largely determined by its placement on the body, with stomach, chest, back, spine and thigh tattoos considered as the most sensuous ones. The rib is a great area to get inked. They highlight the curves of a person, but the main problem with these tattoos is that they can be very painful. However, this does not discourage tattoo lovers from having their ribs inked.
Without a doubt, rib tattoos may look good on men and women out there who are into tattoos. Even though there are many conservative people who consider tattoos as demonic symbols, they can never change the fact that tattoos are great body adornments.
Popular Images Of Tattooed Ribs / Side
They are extremely popular among big-hearted men and women, who are ready to bear as much of pain as it takes, but want these perfect and unique tattoos to give the ultimate look to their bodies. It is painful to even imagine having a needle inserted in your bony rib area, but the beauty that comes out at the end of your tattoo session is enough to be a source of inspiration for trendy tattoo lovers. Here are some popular tattoo design images for ribs/sides, which make the painful effort absolutely worth it: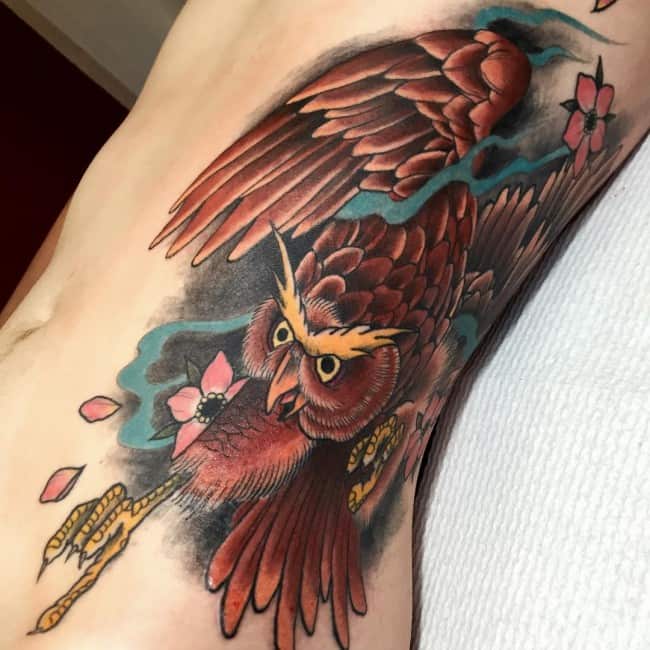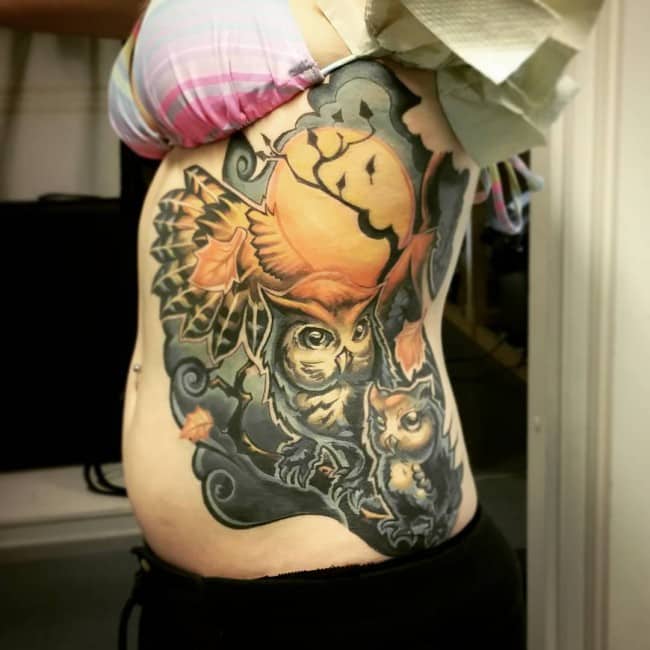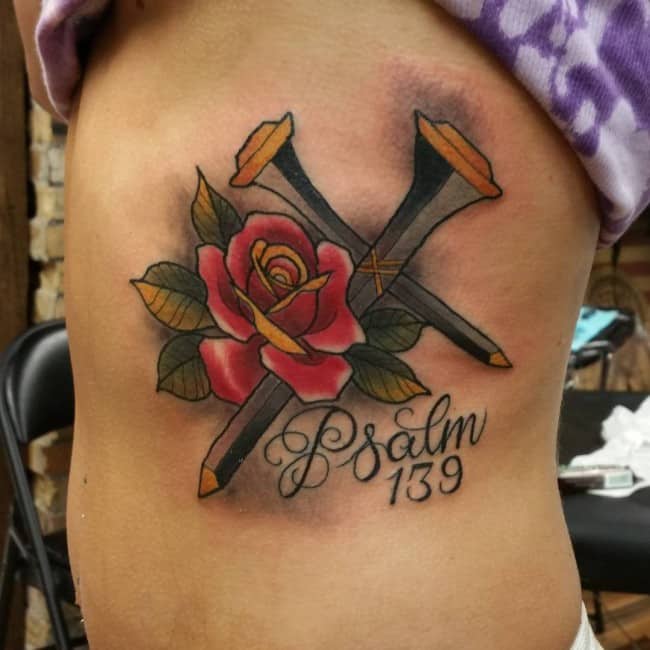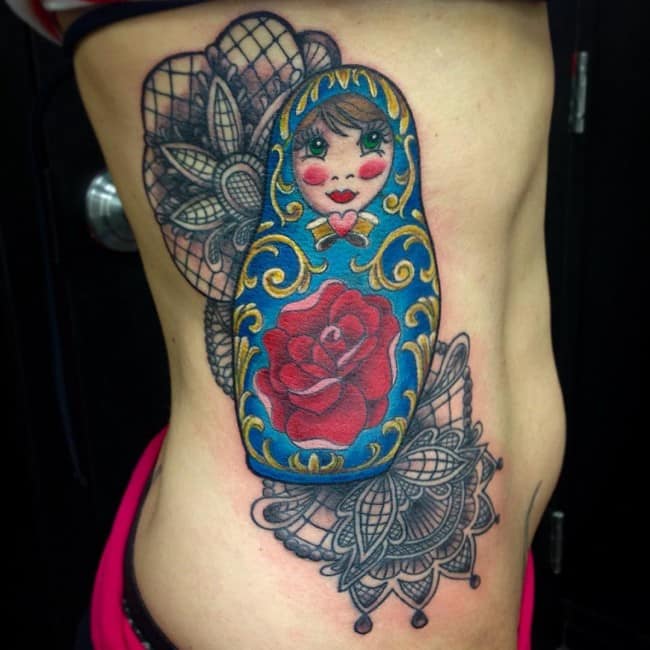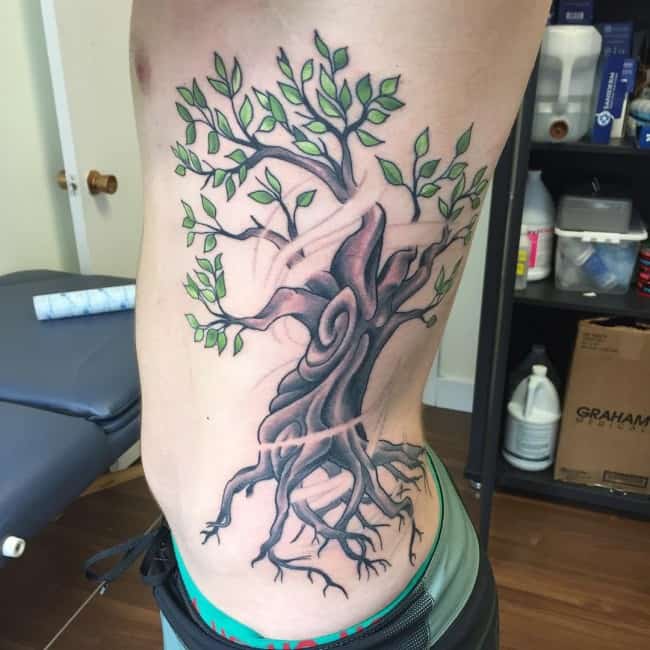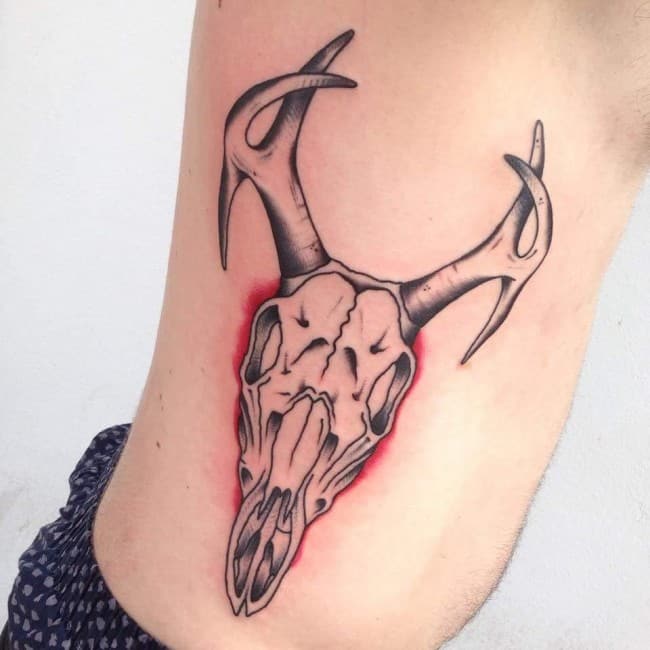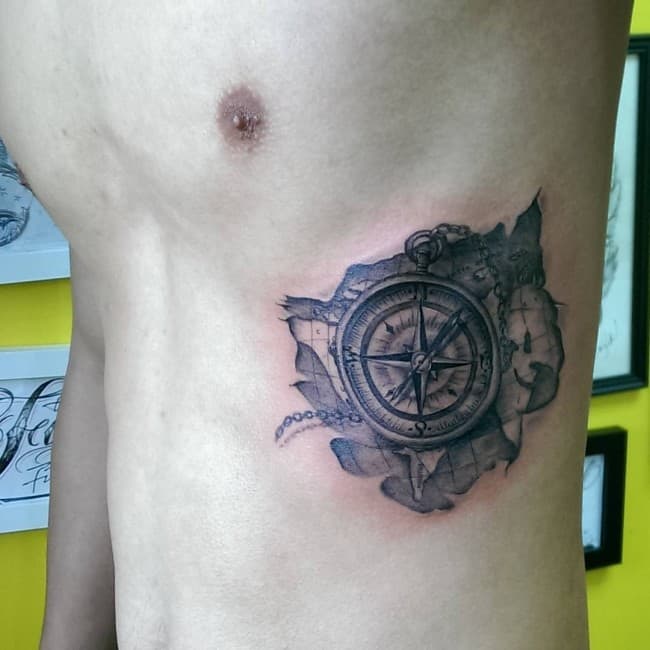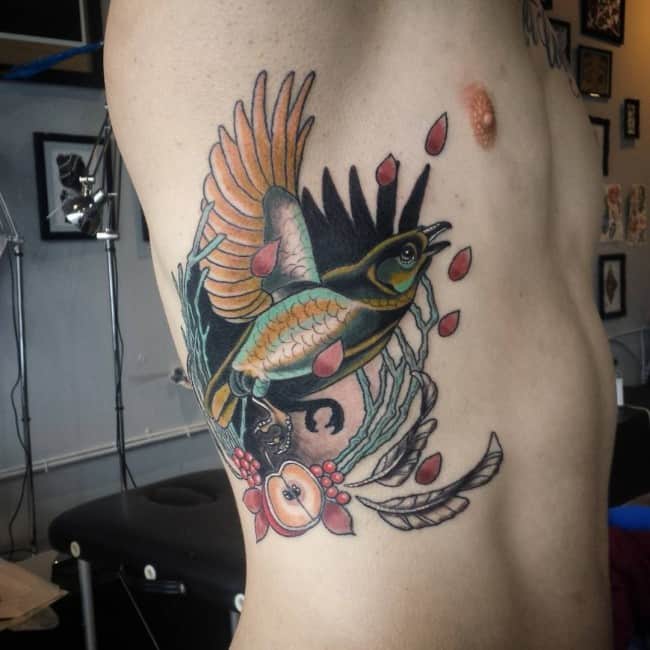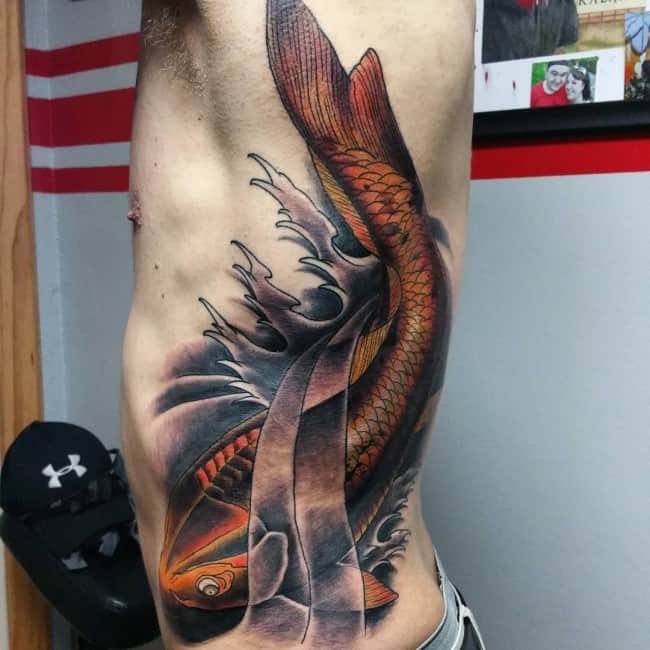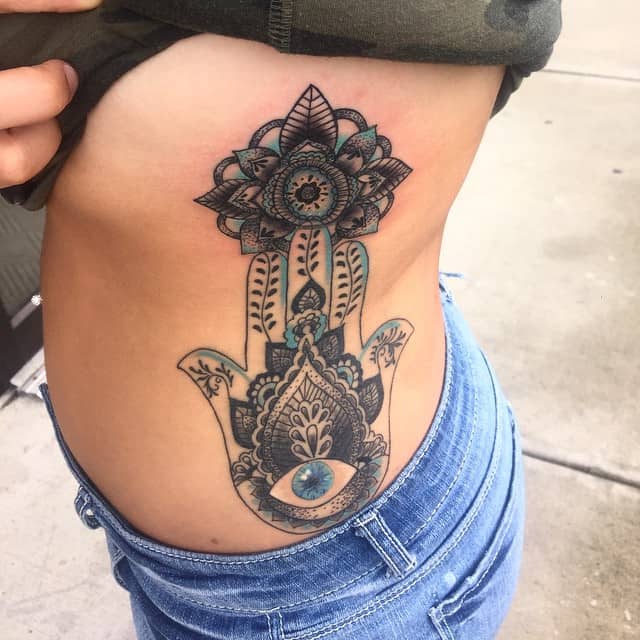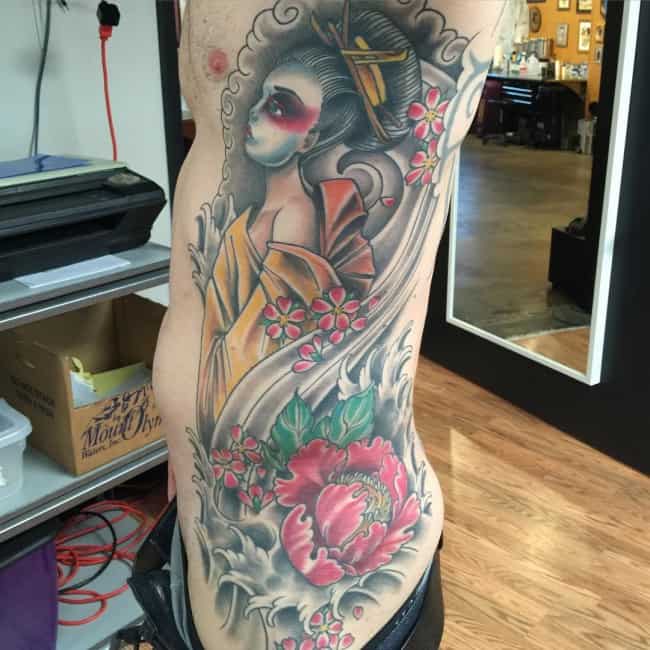 The main aim of getting a tattoo inked is to grab the attention of others. This is the reason why fashion lovers are ready to invest a great deal of money and time, besides bearing extreme pain, to get a tattoo inked. The placement of a tattoo determines its aesthetic value and rib tattoos also known as side tattoos are considered to be one of the most eye-catching varieties. The best thing about them is that it offers a lot of space to get a large and intricate tattoo inked here.
On the other hand, it is a big decision to get this kind of tattoo because the rib is one of the most painful areas of the body to have a tattoo inked. The reason behind this is that this area is boney and lacks flesh, which plays a vital role in determining how painful getting a tattoo at a particular place is. The more the flesh on the skin at a particular place on the body, the lesser will be the pain experienced while having a tattoo inked at that spot. Thus, the rib cage presents a perfect canvas for a tattoo artist, but getting a tattoo here requires a great deal of courage and is not everyone's cup of tea.