Floral designs have been the eternal favorite in tattoo art, partly because of the extensive variety available in them in terms of types of flowers which can be inked as a tattoo. One of the most popular floral designs among tattoo enthusiasts around the globe is cherry blossom tattoos. Cherry blossoms are vibrant pink colored flowers which grow on cherry trees, which are common in regions of West Asia and East Europe. Additionally, they are of symbolic importance in the Japanese and Chinese culture. There is a very positive and beautiful meaning associated with these pretty blossoms as they stand for the arrival of spring. The popularity of cherry blossom art is attributed to their aesthetic beauty as well as symbolic value.
They are getting more and more popular every single day. It is simply because more and more people all throughout the world are considering to have flower tattoos engraved on their body, and a cherry blossom art design is one of the most preferred options. Just in case you do not know, a cherry blossom flower is pink in color, and this is not the usual type of a flower which is only growing below the human height. Yes, you read it right. The cherry blossom flower blooms from the cherry blossom tree, which could grow like the typical tree that exceeds human height. Such flower is commonly growing in the regions of East Europe and West Asia.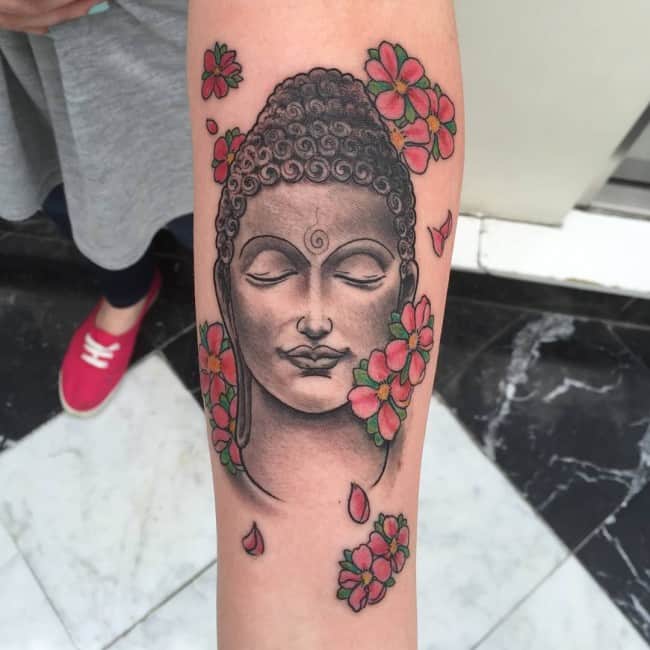 Symbolic Meanings
Yes, a cherry blossom art is undeniably one extremely beautiful body art that you can have in your life. You just have to find the finest tattoo artist in town who can help you with such thing. Even so, do you know that a cherry blossom art is more than just a body decoration? It is simply because a cherry blossom flower is signifying a lot of things. Let's try to know the important meanings and symbolism of cherry blossom.
Some other things that a cherry blossom represents are nobility, prosperity, renewal, fragility, purity, life, fertility, and femininity.
Cultural Views
Cherry blossoms are flowers of great beauty and optimism. They are associated with positive things such as beauty, purity, love, nobility, fragility, prosperity and impermanence, and at the same time, they represent strength and renewal, making them an unusual flower in the symbolic sense. The flowers carry different meanings in different cultures:
In this way, this alluring flower has an amazing symbolism associated with it, which is one main reason why men and women around the world want to get these tattoos inked on their body.
Placement Guide
While it is true that you can place your cherry blossom art any part of your body you want to, it is still best to think about the location properly while considering several important things. Here are some of the best body parts for this art:
Variations in Cherry Blossom Art
The variety in cherry blossom art is extensive and you will find them in small and large sizes. The size and design of the tattoo play a key role in determining their placement. Cherry blossom is a much sought after flower tattoo design in the traditional Japanese tattoo art. In Japanese culture, this pretty and delicate flower stands for transience as it blooms for a short period of time, which represents the temporary nature of life and beauty. On the other hand, in Chinese culture, the cherry blossom stands for femininity and love. In traditional tattoo designs, cherry blossoms can be seen along with wind or water, as whole or in the form of petals. Another significant fact about cherry blossom flower tattoos is that they are smallest in terms of design coverage. The popular placements of are the lower back, shoulders, arms, legs, wrists and ankles, all of which are highly visible areas, which are just right for a graceful and elegant tattoo art.
Known as Sakura in Japan, cherry blossoms make a blessed choice of tattoos in this culture, which considers the flower very beautiful as well as meaningful. There are a number of Japanese designs, which depict anything ranging from a full-fledged cherry blossom tree to the beautiful pink flowers. Some other popular versions of Japanese cherry blossom art are a cherry blossom growing in the winter snow and falling petal of the flower. The designs focus on the fact that the beauty of these flowers is short lived and should be appreciated while it is these. In the similar manner, all situations in life, good or bad are transient and we should try to enjoy every passing moment of life. Most of these designs are featured in vibrant pink color, which gives them a beautiful and feminine look.
Chinese Cherry Blossom Art
Chinese cherry blossom art stand for femininity and are a hot favorite among women who want to celebrate their beauty, independence and courage to overcome all hurdles they face in their lives. In China, cherry blossom is known as a herb to boost sexual prowess, a fact which links these tattoos with sexuality and sensuality. Chinese designs combine these colorful flowers with elements like butterflies, bees, water and birds, to add to their attraction and make them more meaningful.
Besides being popular in Japanese and Chinese symbolism, they are revered in Buddhism too as the religion links these flowers with wisdom and spiritual enlightenment. The flower inspires the bearer about the precious quality of life and how he should try to seize every moment, because life, like a cherry blossom is impermanent and you should make the best of it while it is there.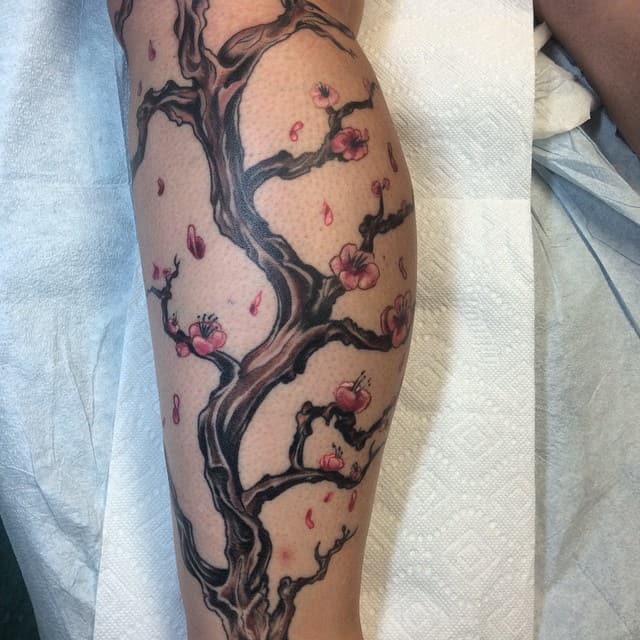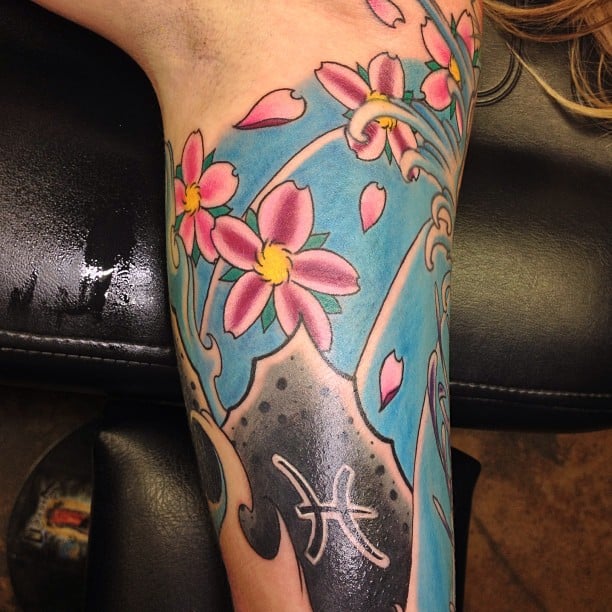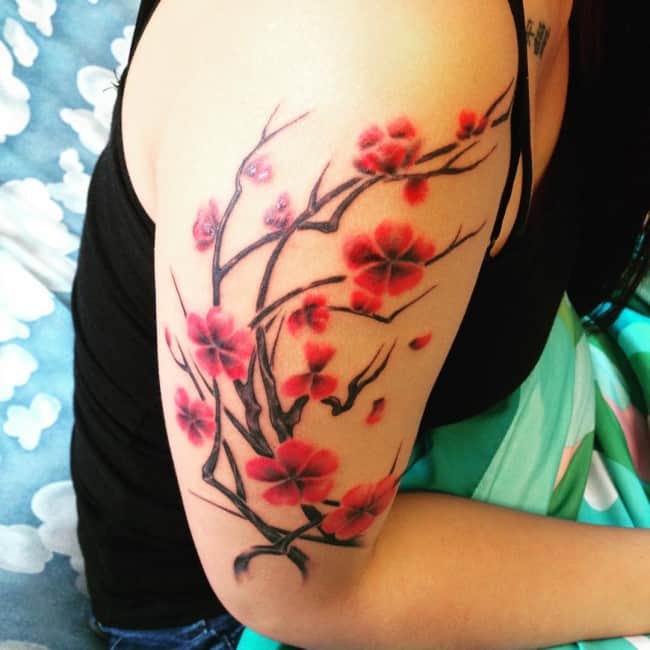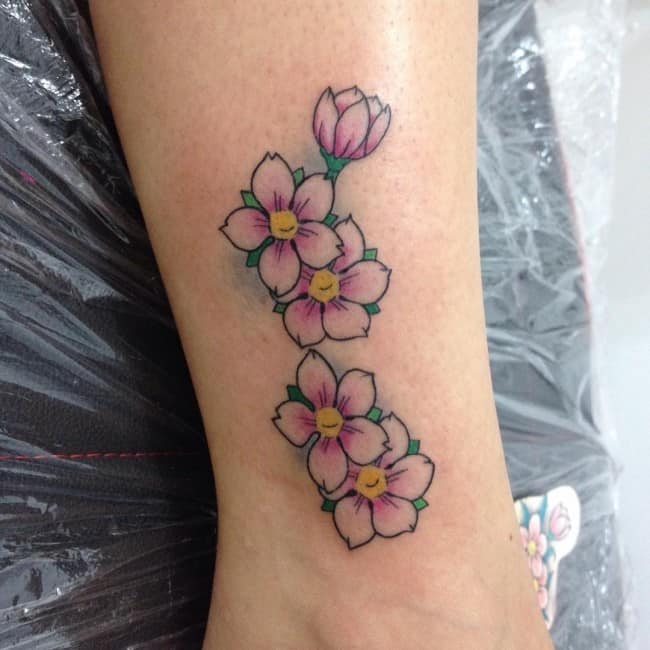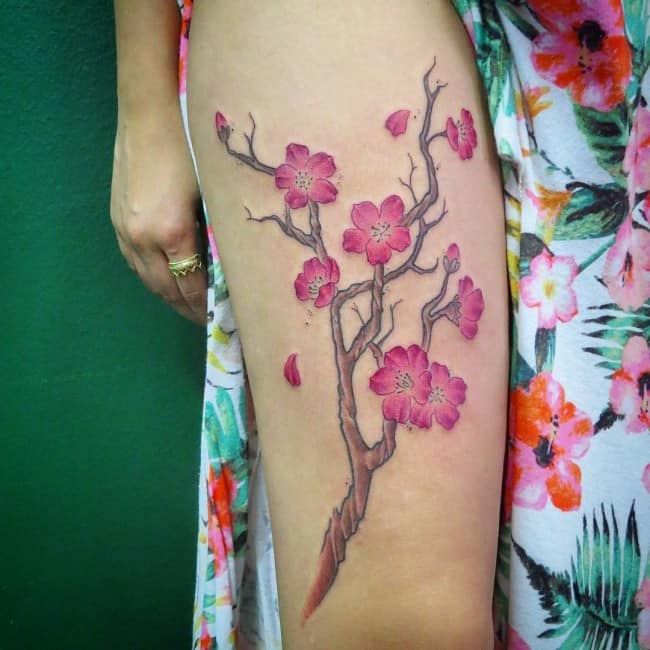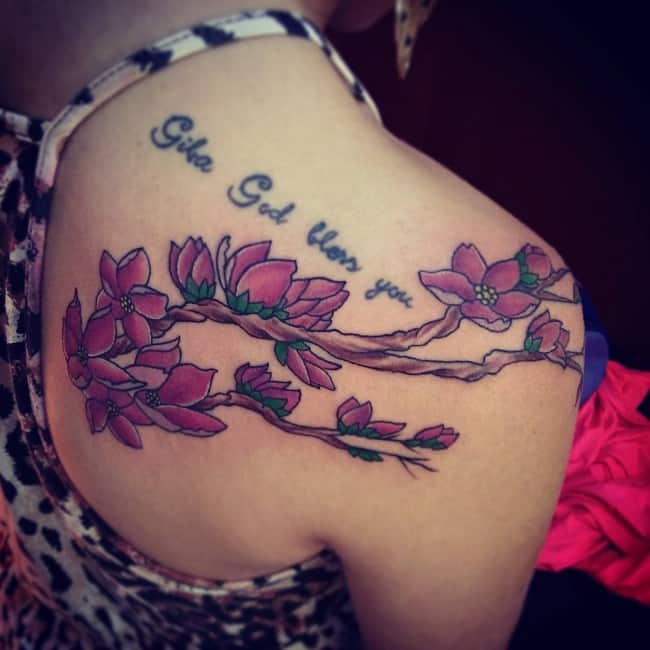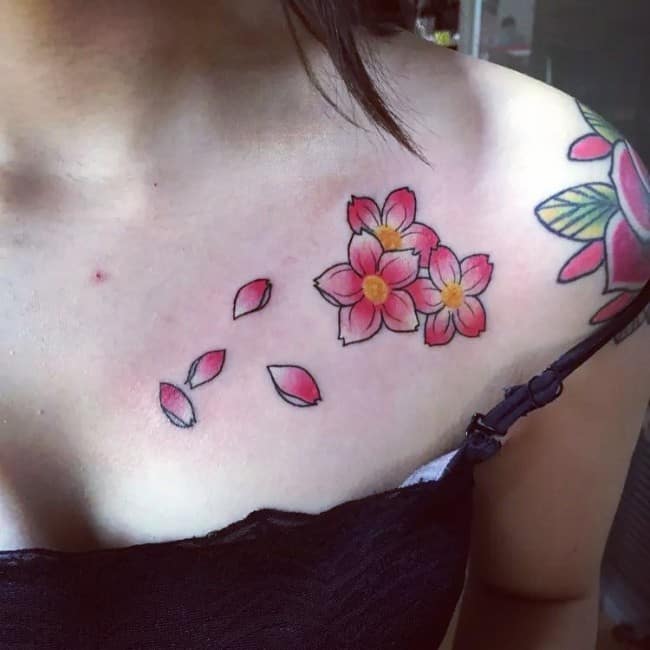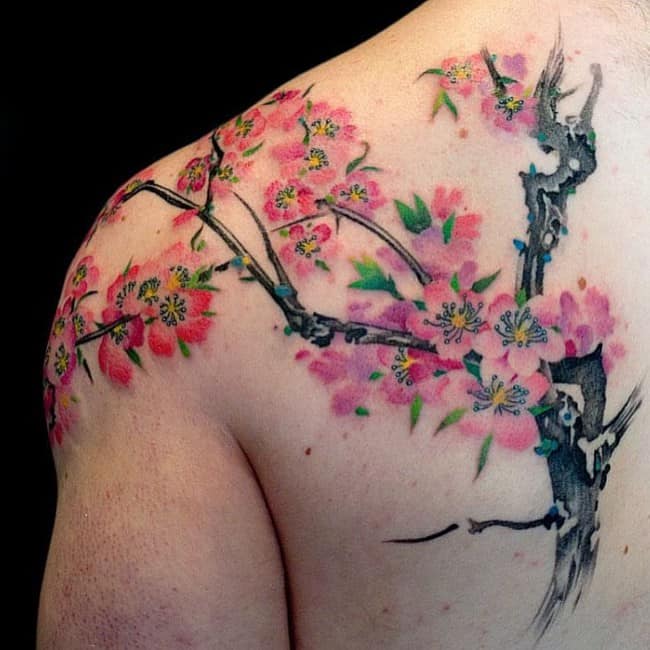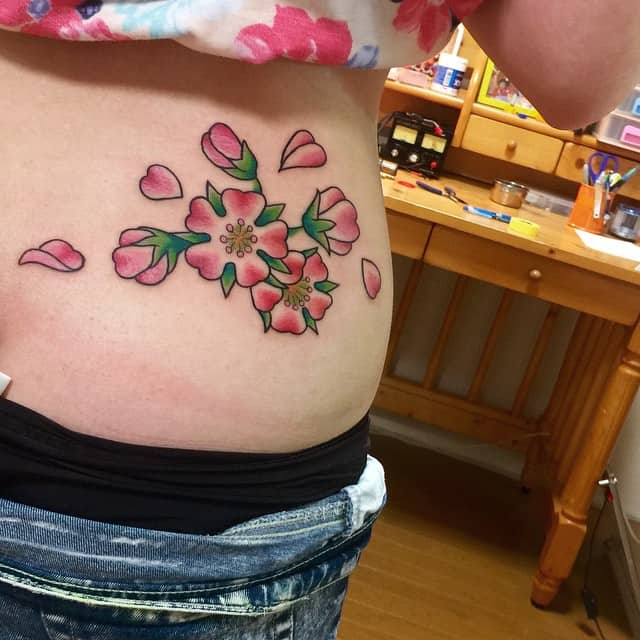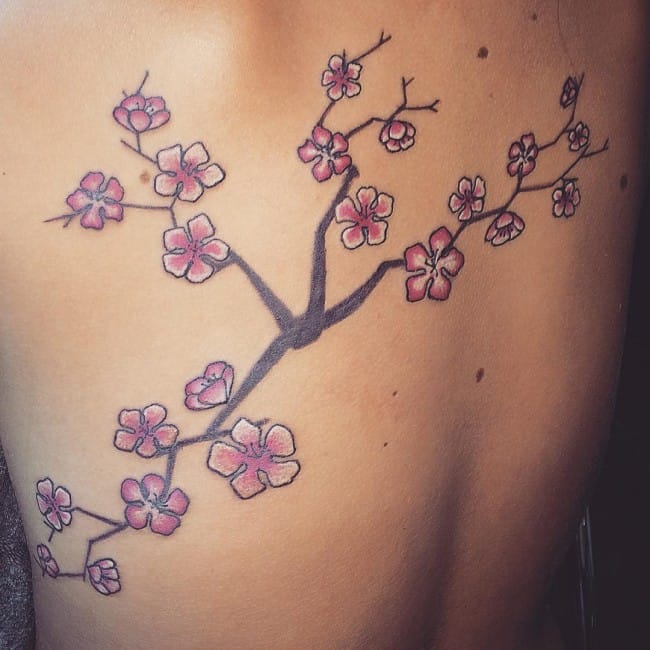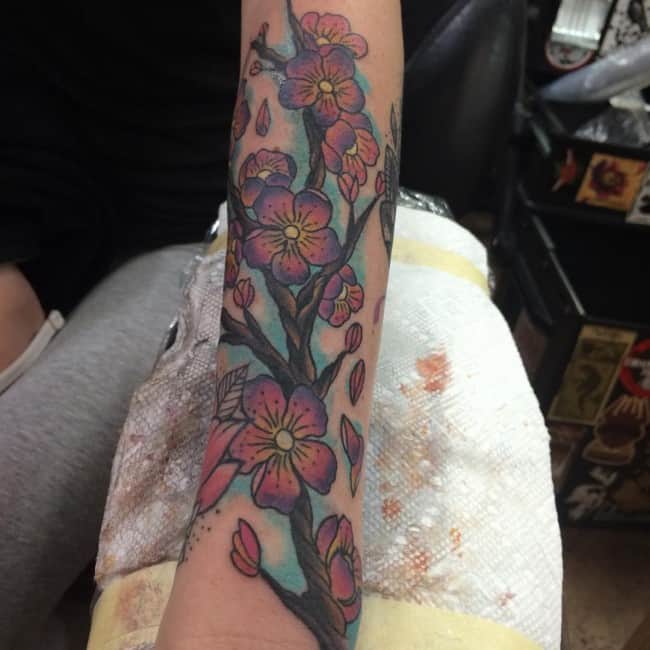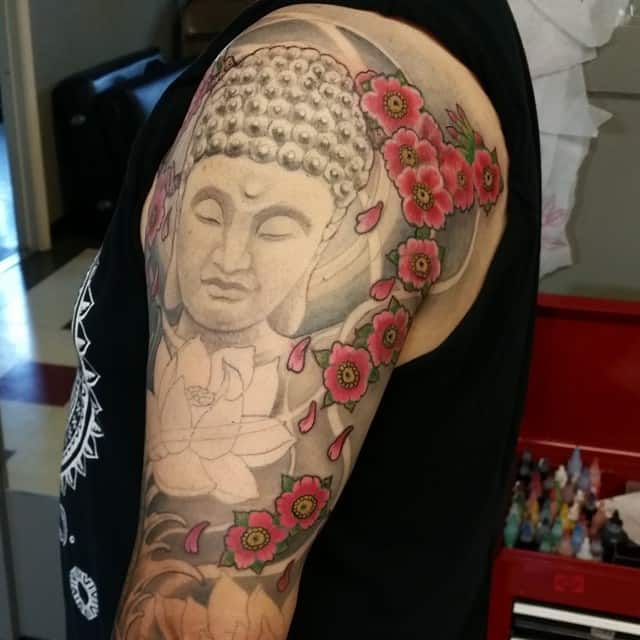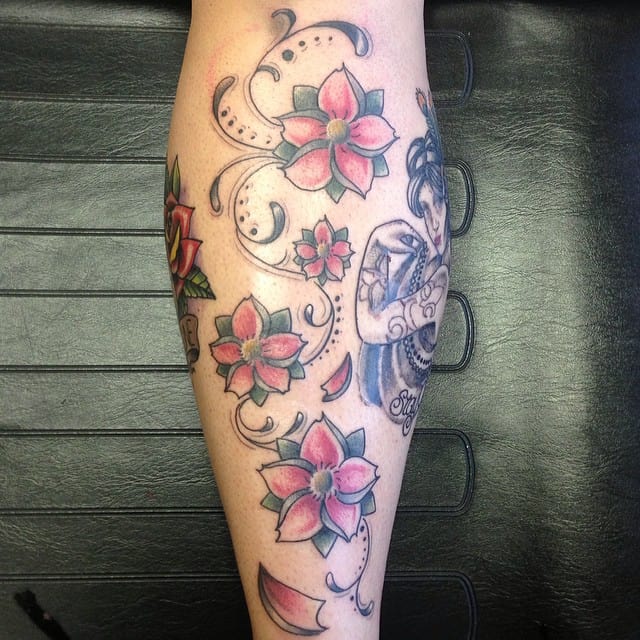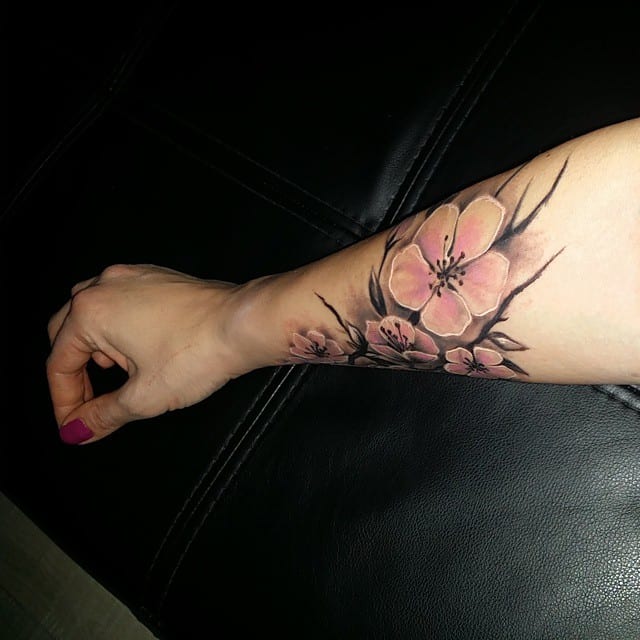 Practically speaking, flowers have always been associated with women, which means that it is imperative to relate flower tattoos with women too, but actually it is not so, with an increasing number of men taking their pick among different floral tattoo designs. The placement of cherry blossom flower tattoo depends upon the kind of design chosen by the bearer and most importantly, its size. Larger ones are done on large areas like chest, lower back, stomach, spine, legs, ribs, sleeves, shoulder, thighs, hips, breast and under the breast, while smaller ones look good on arm, forearm, ankles, wrists, collar bone, elbow, back of the neck, face, spine, hand, foot, ears and even as finger tattoos.
Cherry Blossom tattoo designs may be single or in clusters and may be combined with objects like thorns, dream-catchers, feathers, butterflies, birds, vines, anchors, arrows, ladybugs, quotes or even the names of the bearer. Men can go for tribal tattoo designs, which can combine masculine objects like a dagger or a skull in the tattoo design. One can chose a design which matches one's taste in terms of design, color and size. The versatility of flower tattoos make them ideal for both the sexes as these can look good with objects representing femininity as well as masculinity.
Cherry Blossom Tattoo Design Options
Needless to say, there are a number of variations that you can consider when it comes to the design of your cherry blossom tattoo. These designs may be related to various cultures in the world since this flower has something to do with the ancient cultures of many people. Here are some of these variations that every tattoo lover should take into account:
Final Words
Without a doubt, cherry blossom tattoos can be your perfect body art if you just know their significance. Not only that, you should also know where you have them tattooed on your body, so that these will look stunning in the eyes of other people. But if you don't want to expose it, then choose a specific body part where it can be hide by your daily clothing.