Check out these amazing hibiscus flower tattoo designs for some inspiration for your next tattoo.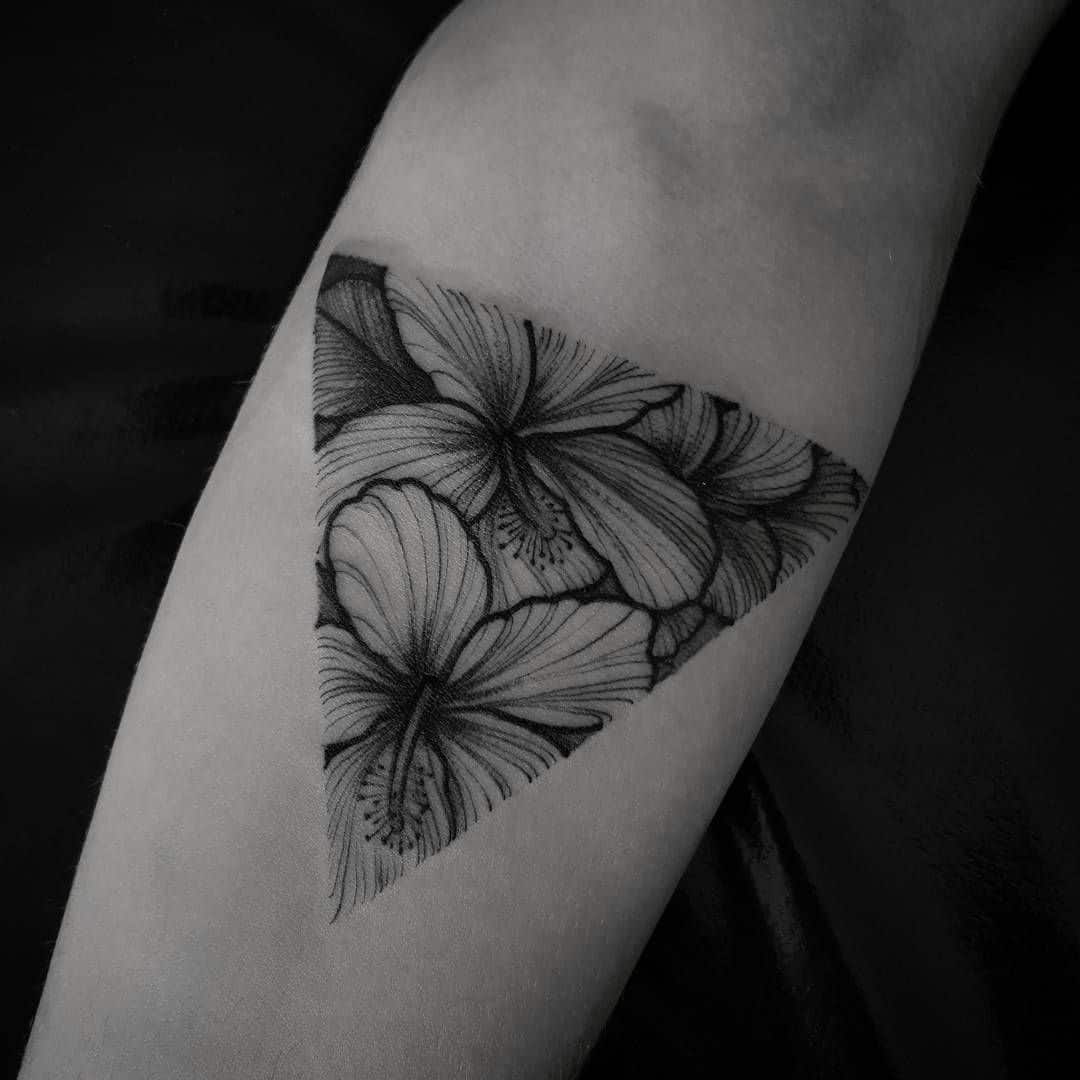 Floral tattoos are extremely popular because they can cater to many different tattoo preferences.
Some flower tattoos are small and simplistic, while others can be incorporated into detailed bigger tattoos. They also give room for personalization and to play around with colors and tones.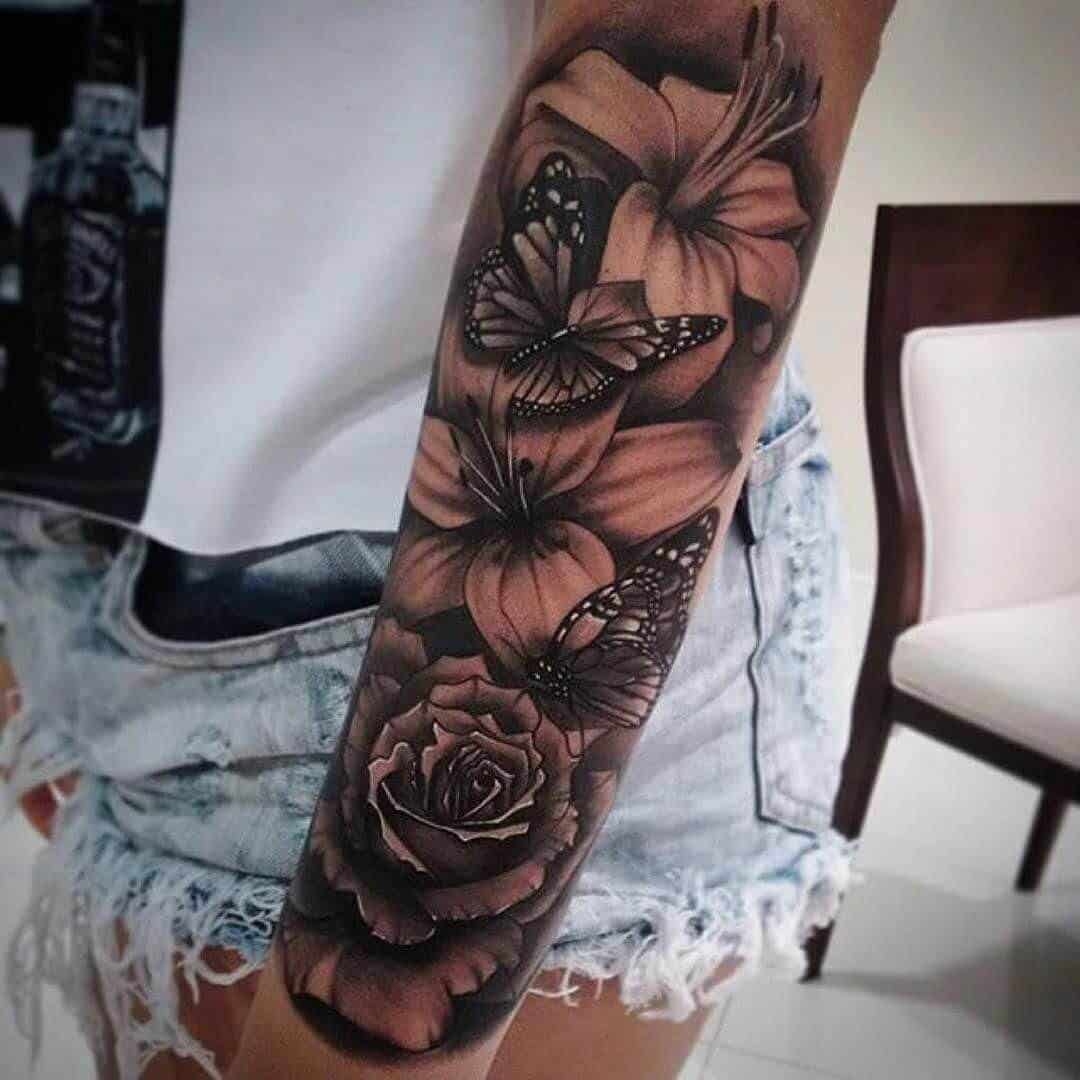 The hibiscus tattoo is no different with a rich history and exceptionally flexible symbolism.
Find some hibiscus tattoo ideas below and also learn more about how the color, and even culture, influence the meanings behind these tattoos.
The History of Hibiscus Tattoos
Hibiscus tattoos originated in the Hawaiian and Pacific Islands, but when they were first used, they often had religious connotations and were only inked using black ink.
This is a huge contrast to the hibiscus tattoos you see all over the world today which are bursting with a wealth of vibrant and bright colors.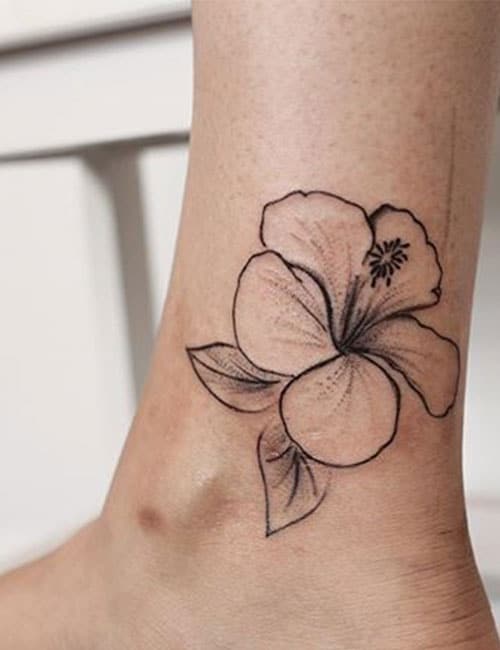 Throughout time, they have predominantly been chosen by women due to these being a floral with universal feminine symbolism.
Yet, some men still choose hibiscus tattoos and often incorporate them into more masculine tribal designs with mustier or darker colors such as greens and browns.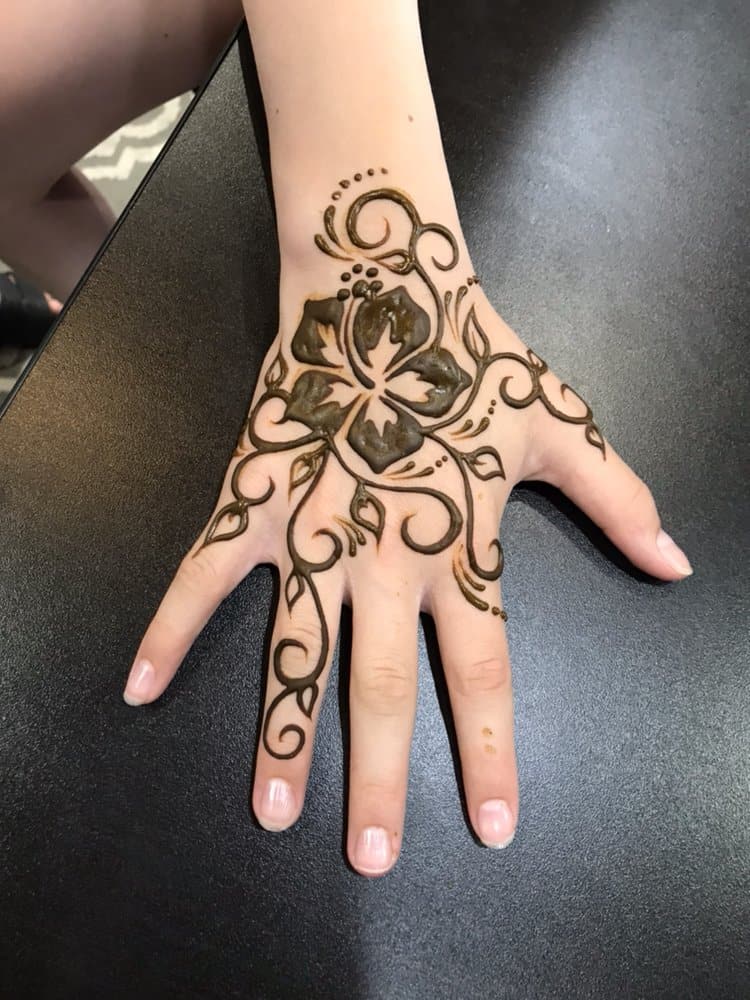 These hibiscus tattoos have developed over time and have not changed into some of the most colorful tattoos around, but they have also gotten bigger.
Their popularity has also surged in other areas of the world, especially throughout Asia where the meanings of hibiscus tattoos differ (more on that below!).
Today, hibiscus tattoos are easy to personalize due to the universal and simplistic form of the flower and you can spot many distinct variations from the west to the east coast of the US.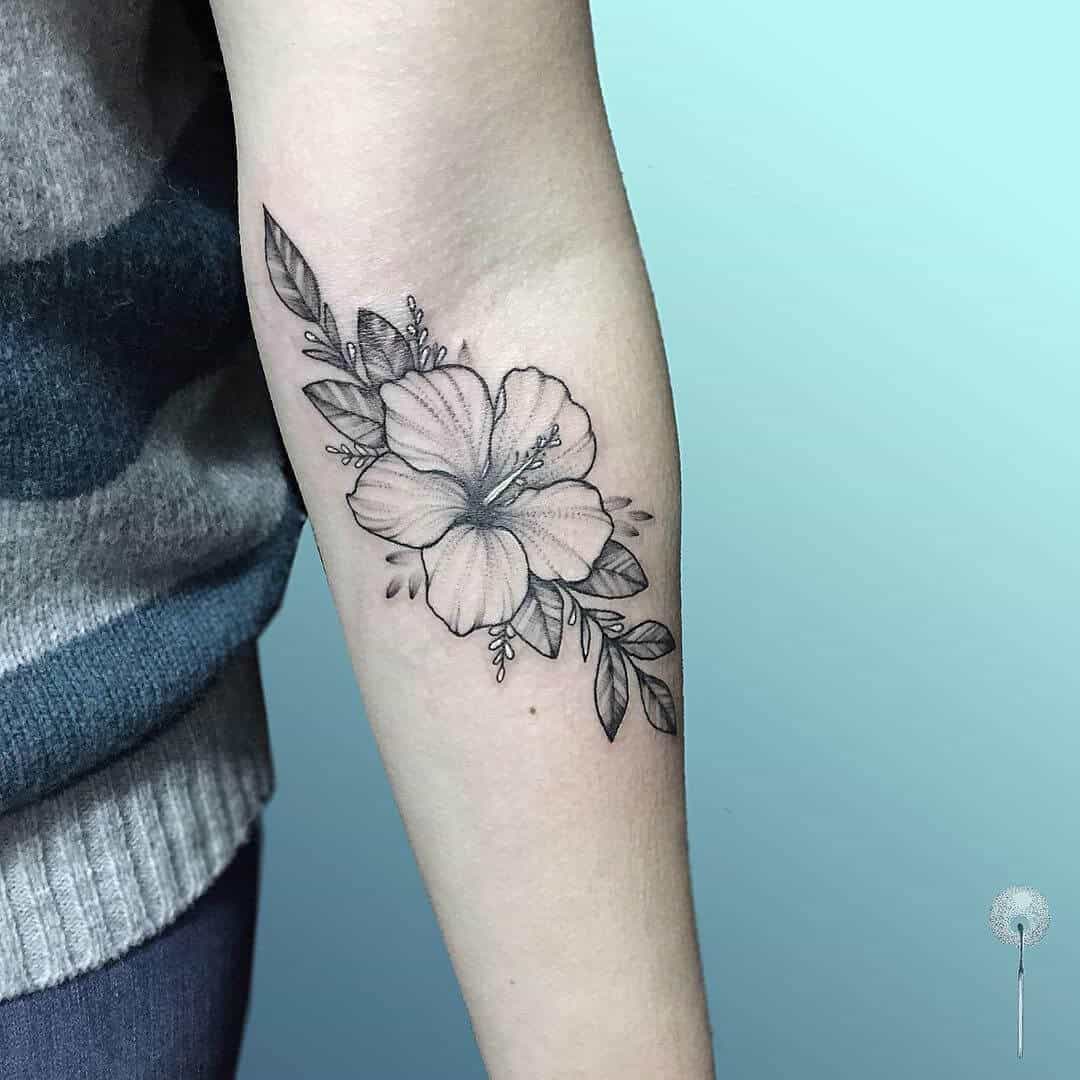 What Do Hibiscus Tattoos Mean and Why Do People Get Them?
The hibiscus tattoo is a unique type of tattoo because even though it has some core symbols and its meanings, these meanings can change depending on culture and color.
Recommended: Find out the meaning behind palm tree tattoos in our latest guide.
The main core symbols of hibiscus tattoos are elegance, sophistication, delicate beauty, wealth, fame, courage, love and mortality.
Of course, this a lot of meanings for a single tattoo and that is because the exact meaning changes between different Asian cultures, where these tattoos are especially popular.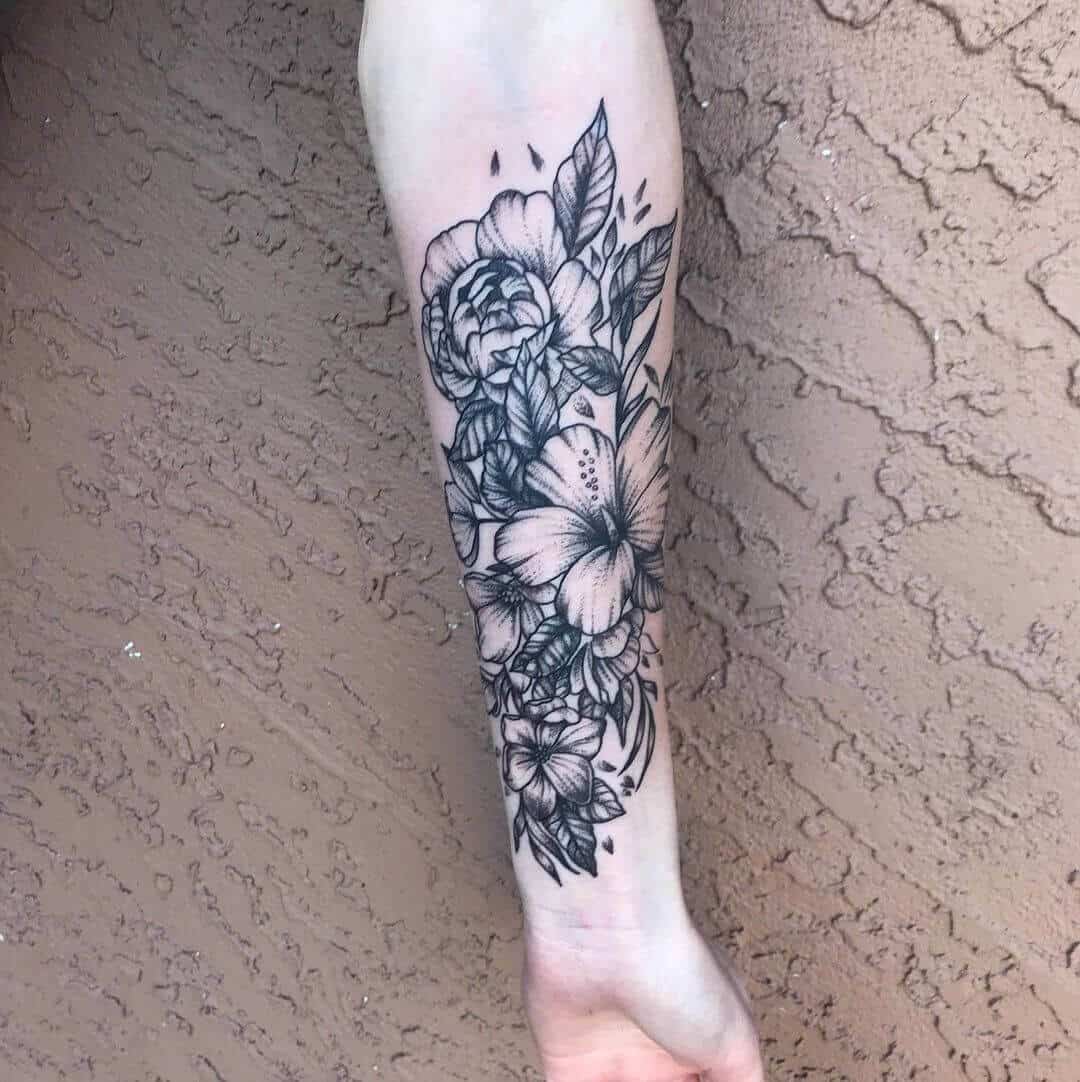 For example, in Korea a hibiscus tattoo is a sign of mortality while in Malaysia and China, these tattoos mean either courage and honor or virginity, fame and wealth, respectively.
But the different meanings do not end there. The intensity of these meanings can be increased, or even changed through the color of the hibiscus tattoos.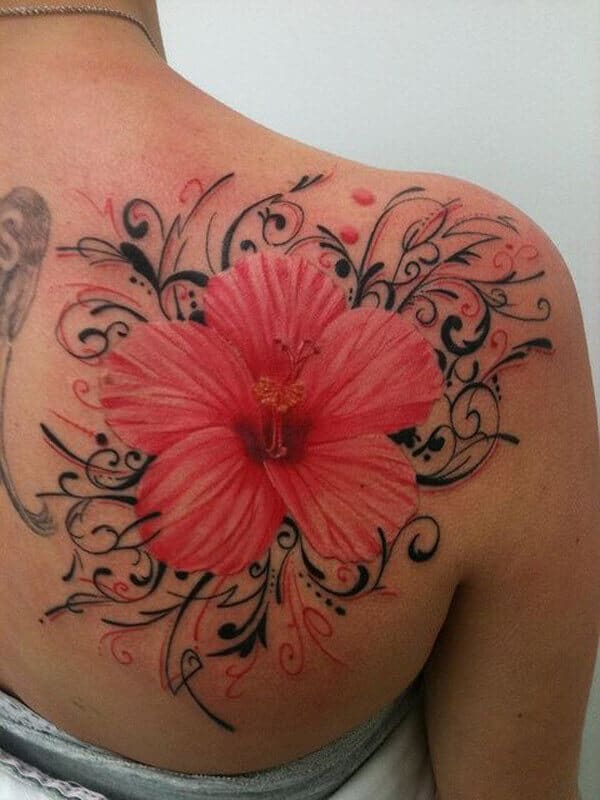 This is another reason they are so popular because there are so many colors that match with the flower. Here is a breakdown of the different popular colors and what symbols they represent:
Red = strong love and passion. Some couples will choose to get matching hibiscus tattoos.
Yellow = powerful and strong friendship. Friends often choose to get these tattoos together.
Purple = a signifier of wealth, fame and even a connection to royalty.
Blue = usually meant as a sign and symbol of great fertility. Parents often choose these hibiscus tattoos after having a child together.
Pink = a symbol of rare beauty because of the rareness of these flowers. Some twins like to choose a pink hibiscus tattoo.
White = white hibiscus tattoos are often chosen to mean enlightenment and that the person has turned a corner, changed or made a discovery. This one is easy to remember because of the phrase, 'seen the light'.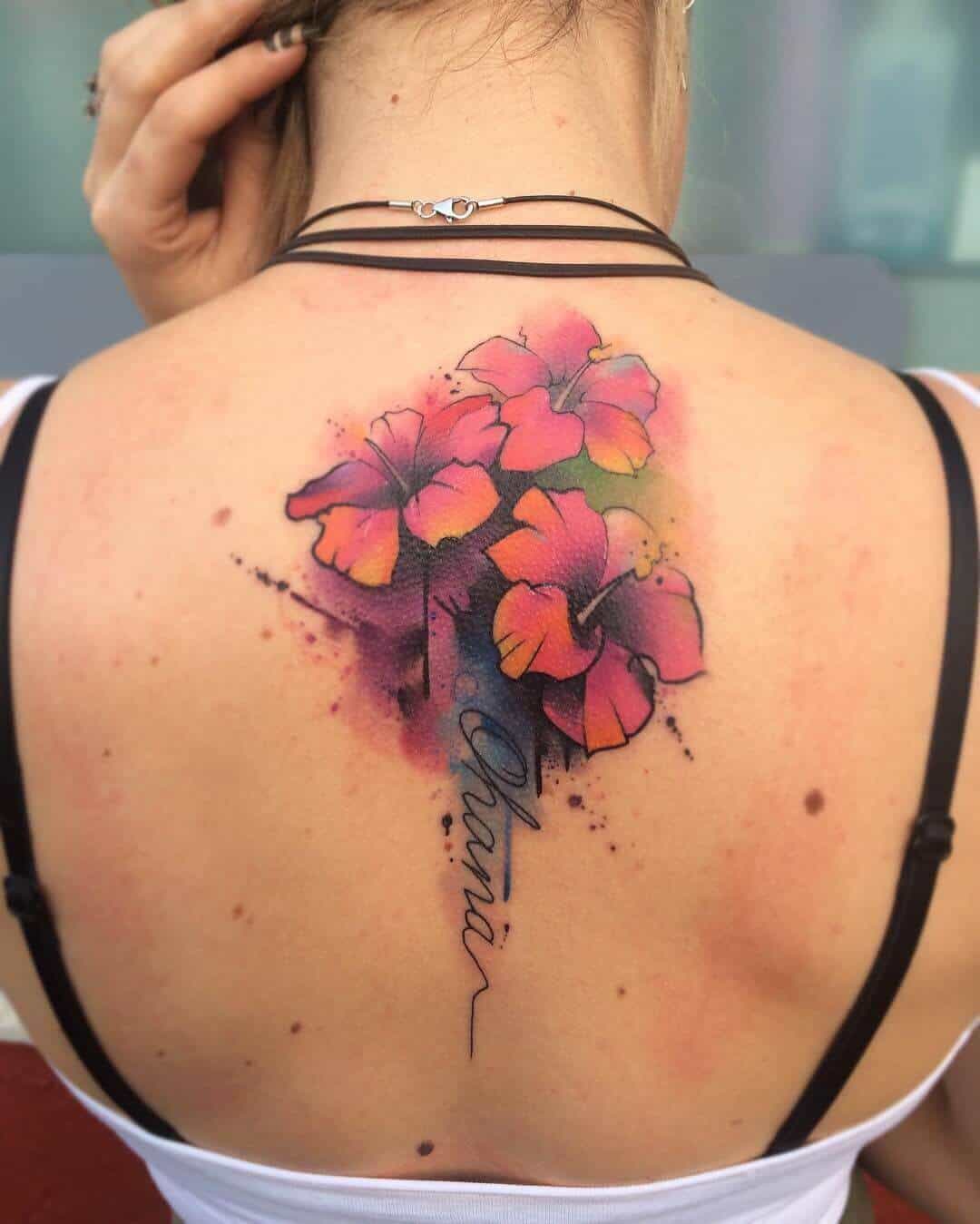 It is important that you know how culture and color both influence the meaning of your hibiscus tattoo. However, there is no reason why you cannot create a unique design by mixing colors or choosing an entirely different color.
Recommended: Check out our guide to tree tattoos next!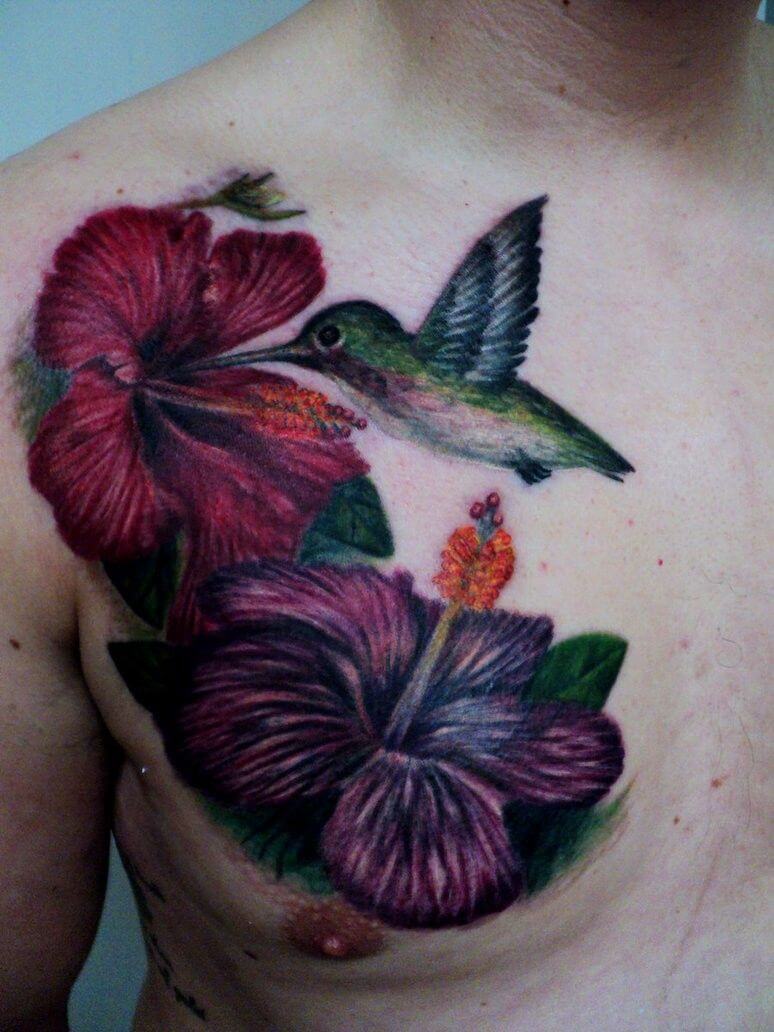 Common Body Placements of Hibiscus Tattoos
Hibiscus tattoos can be small and minimalist, or they can be huge as part of bigger compositions with plenty of detail.
As these tattoos can be of varying sizes, it makes them possible to place many different places on the body.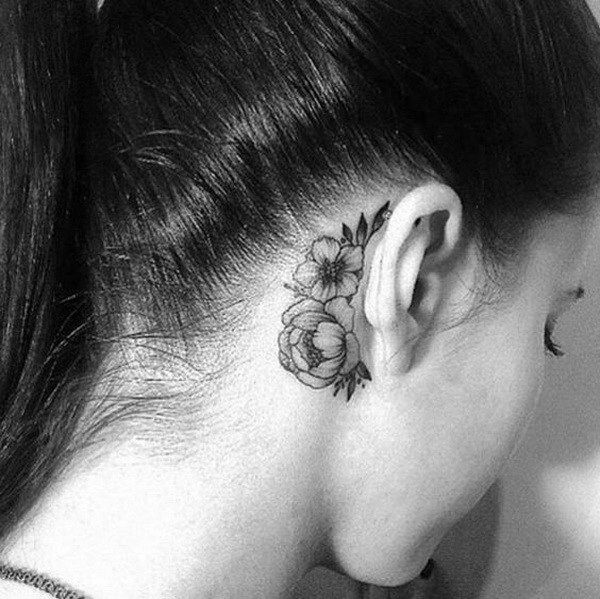 They are often chosen by women and a small hibiscus tattoo can make for excellent wrist and ankle tattoos or be placed on the back of the neck or foot.
Moreover, some women prefer to place medium-sized hibiscus tattoos on their shoulder blade, thigh area or above their bosom toward their collar bone.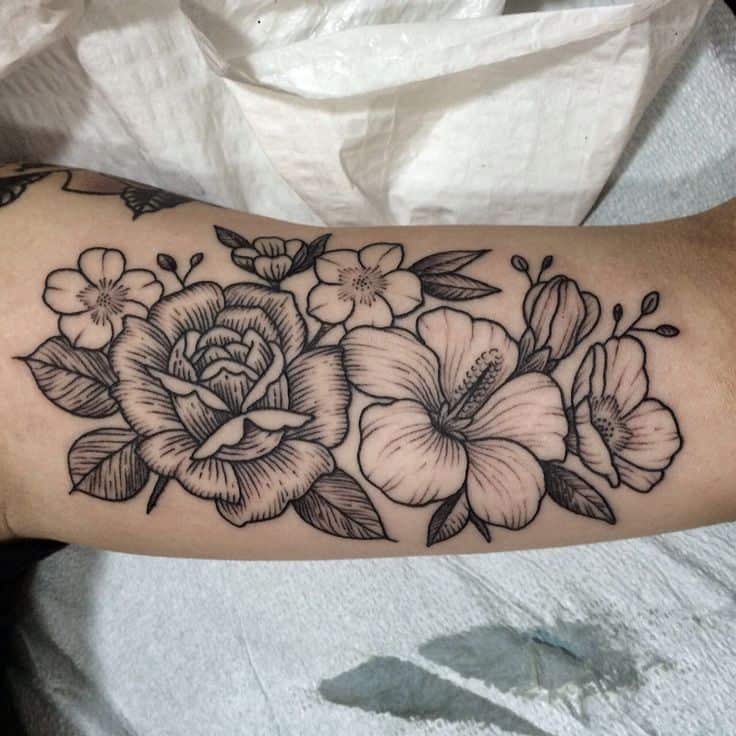 The color of the hibiscus tattoo also enables them to stand out on bigger back pieces or on full sleeve tattoos with lots of other things going on.
This is why even incorporating a small colorful hibiscus tattoo on a bigger piece can make all the difference to the final result.
Recommended: Don't miss our guide on dandelion tattoo designs!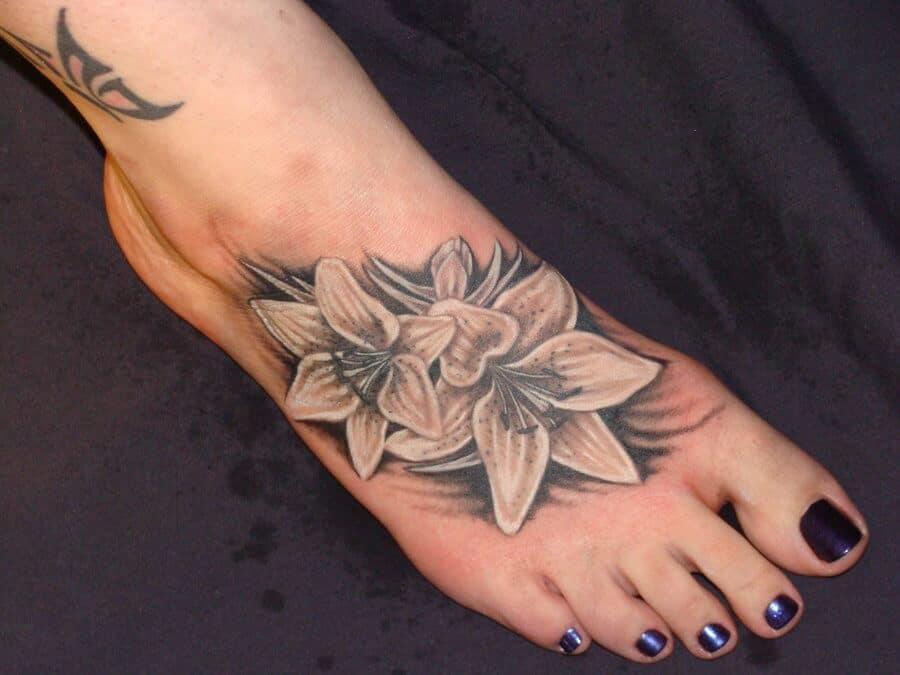 Six Different Hibiscus Tattoos Designs
Hibiscus flowers are not all the same and there are in fact many different types of hibiscus flowers.
This means there are also plenty of tattoos of hibiscus flowers you can choose between. Here are some of the most common choices that can all be personalized to create a one-of-a-kind tattoo.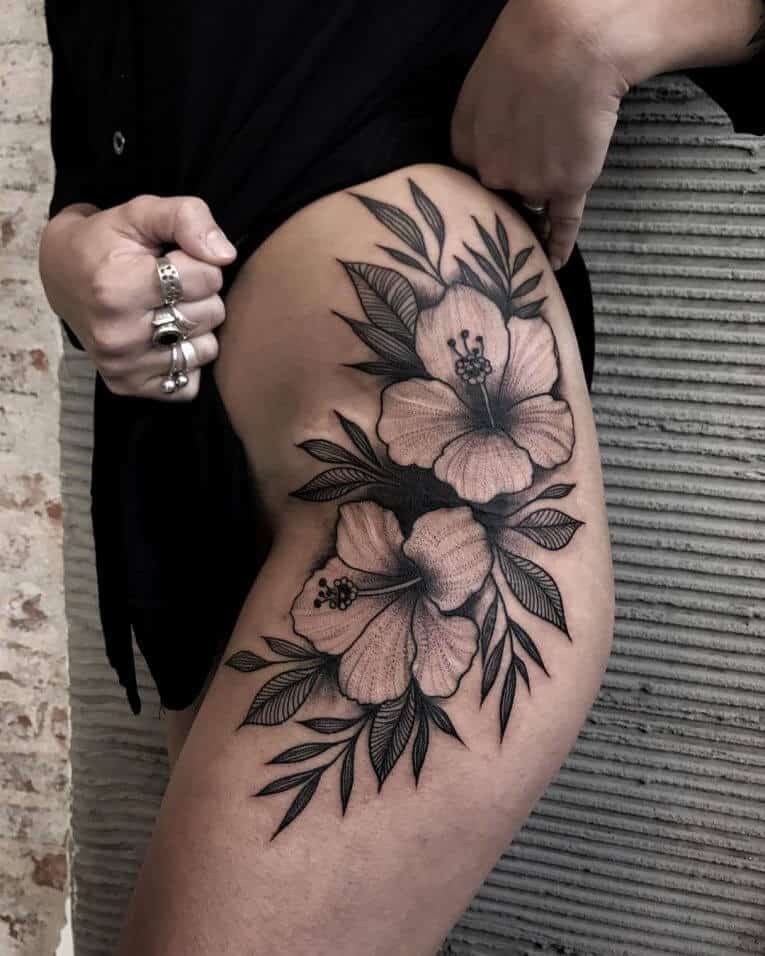 Single Blooming
The single blooming hibiscus tattoo is often larger than others, but it doesn't have to be. The outer petals open up to create an opening with a little more detail.
Some people choose the single blooming design with surrounding leaves, while others keep the tattoo minimalistic. It looks great on its own and also as part of a bigger tattoo design.
Want to see more tiger tattoo ideas? Check out our guide!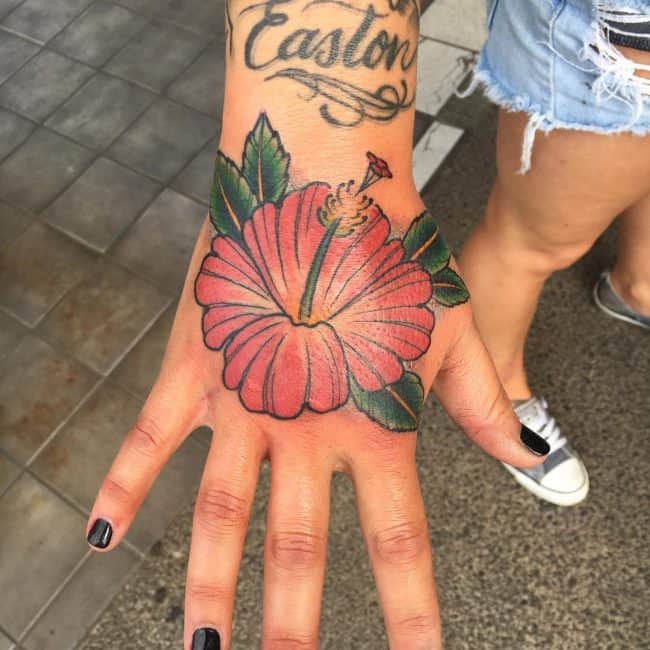 Floral Bouquet
If you do want a larger tattoo, the hibiscus flower can be one flower in a number of different flowers. They can be arranged bunched together sprawling across your arm or shoulder.
This is extremely effective if you want to convey different meanings and symbolism form one tattoo because each flower can mean something different.
Some people choose to get a bunch of flowers with each one of them representing someone special to them.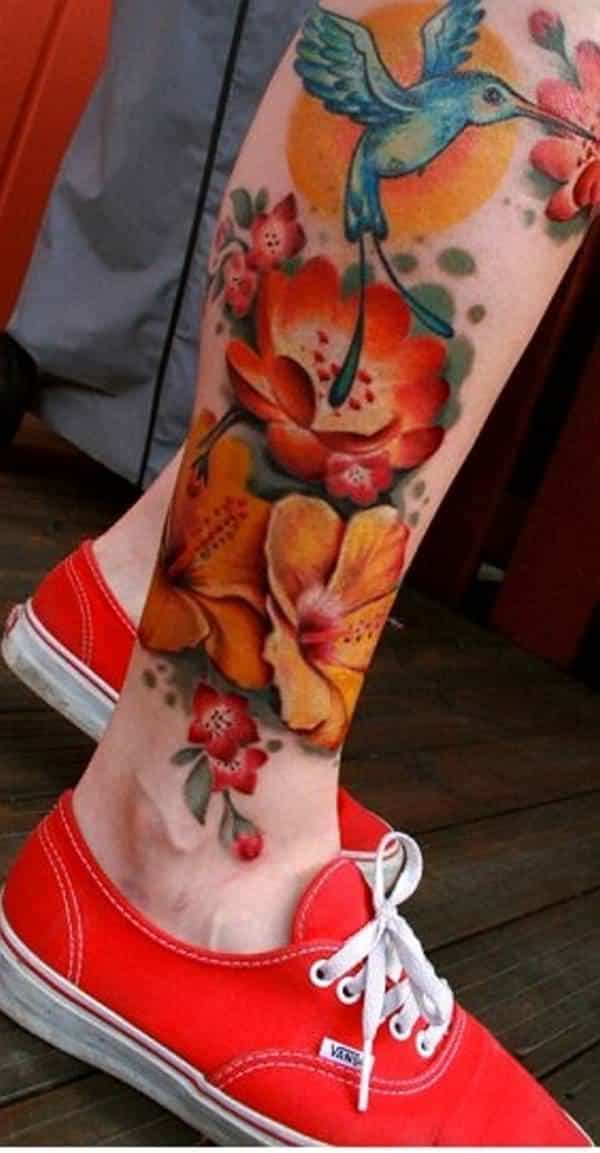 Tribal Hibiscus Tattoos
It is possible to make a hibiscus tattoo sit well within a tribal design but you will need to think about the composition in detail and trust a good artist to come up with some ideas.
Although the hibiscus tattoo is usually chosen by women, when placed within the more masculine tribal design, it creates options for men as well. That's not to say women cannot rock some hibiscus flower tribal ink!
Recommended Next: Don't miss our guide to Egyptian tattoos next.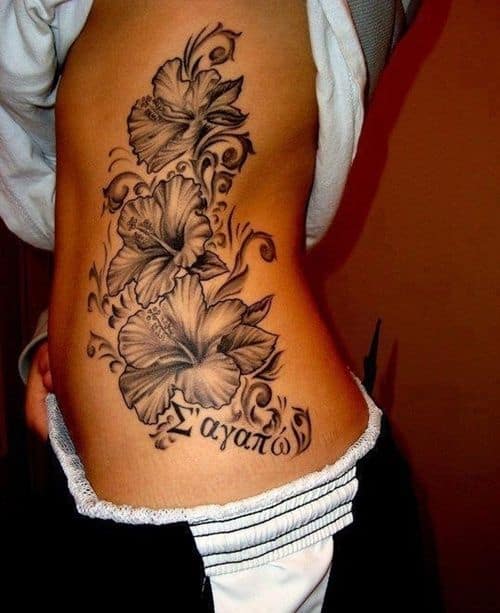 Other Pairings
Arguably the easiest way to make a popular tattoo more unique and personal is by pairing it with other objects.
This is especially true for the hibiscus flower because there are so many things you can pair it with from different colors, even more so because of the different meanings it boasts.
Some like to keep with the tropical theme by including a treasure chest while others prefer to add wildlife to the design.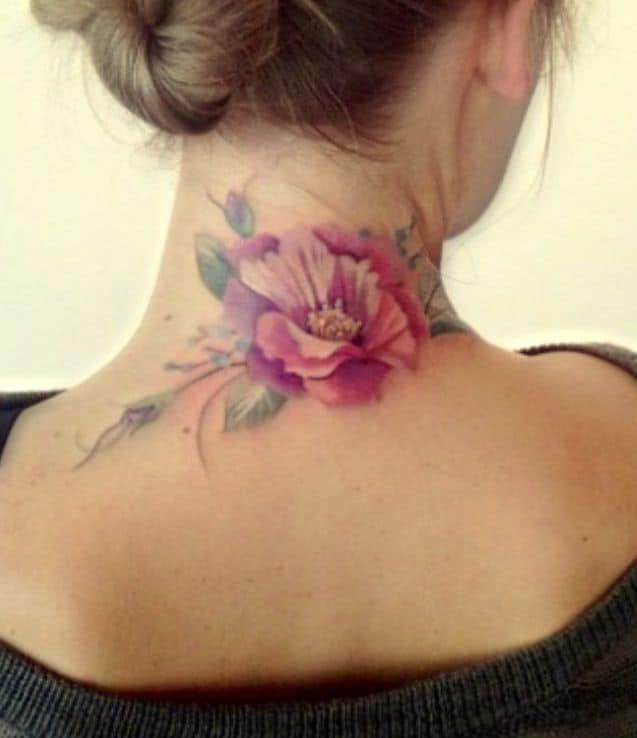 Hibiscus Tattoo Vine
If you want to create a number of flower tattoos but do not want them close together in a bunch as mentioned earlier, you could also create a vine of hibiscus tattoos or differing florals.
This is a bold choice because naturally the tattoo becomes much bigger – so pick your colors and flowers wisely. Due to the length of the vine, these designs usually sit well on arms, shoulders, legs and across backs.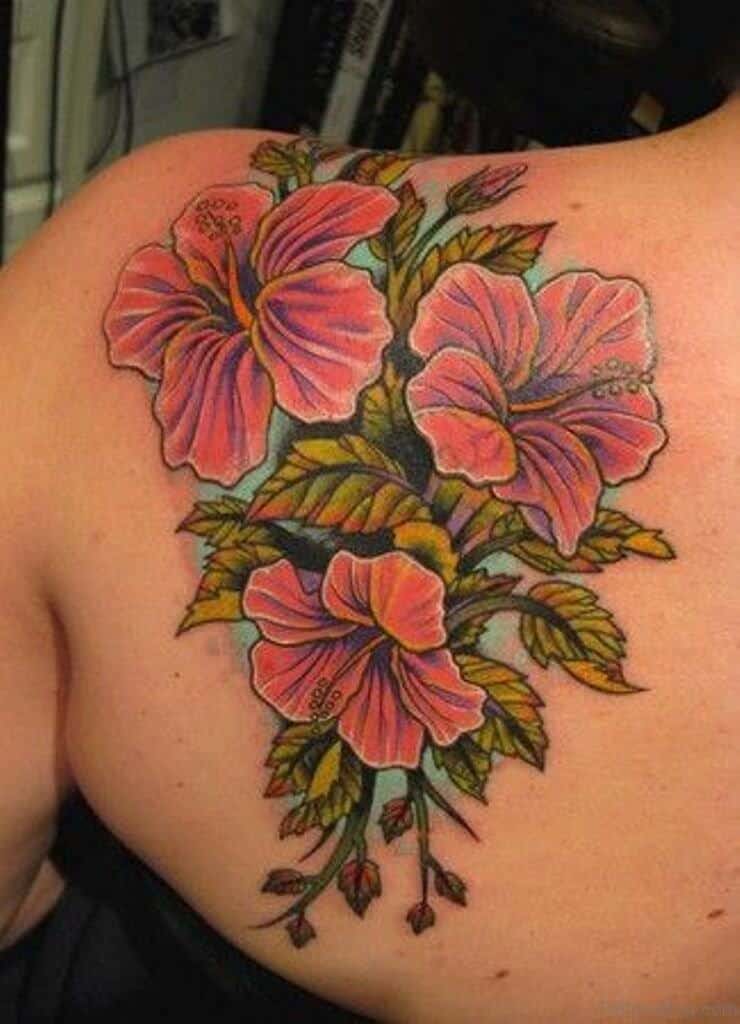 Hawaiian Hibiscus Tattoo
Taking the hibiscus flower to its roots, you may also want to consider the hibiscus Hawaiian tattoo.
It is the state flower of the area and comes with over 200 variations and an array of head-turning colors. If you want a classic hibiscus tattoo, then consider these simple but effective designs.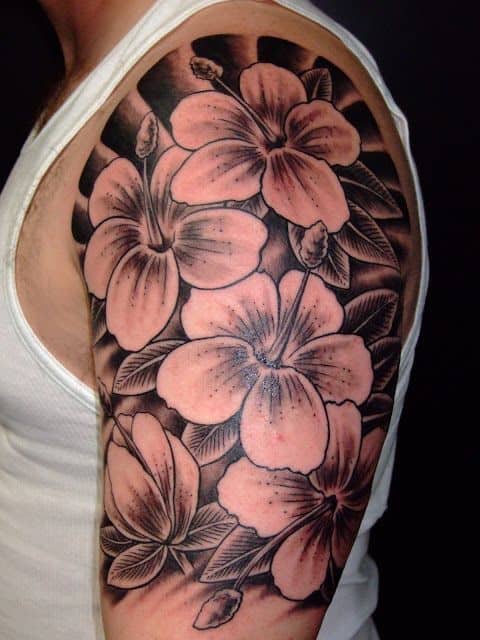 These are a great place to start when exploring your options to create a unique and wonderful hibiscus tattoo.
Just remember to consider the color of the flower when wanting to portray a specific meaning or symbol!