Leg tattoos seem to be very popular nowadays. It can be confirmed by the great numbers of men and women who are getting inked on their legs every single day. This is despite the fact that there are so many individuals in the world who consider tattooing as satanic act. Through these tattoos, people are able to express themselves without even talking to the people surrounding them. Moreover, there are many individuals who are into these tattoos in order to show how devoted they are to their religion. Another reason why people consider having these tattoos is to enhance their fashion sense in this modern era.
In modern times, fashion is not confined to just what you wear and how you carry yourself; it has gone much beyond that and people have become inclined towards the most artistic and innovative forms of fashion like tattoo art. The basic purpose behind finding the right placement of a tattoo is to make it eye catching. Moreover, the first timer needs to know that having a tattoo inked is a painful process as it involves inserting a needle within the layers of skin to change its color by the use of a color pigment. Additionally, a tattoo once done will be a part of you forever, as tattoos are permanent in nature. So, when you choose to have a tattoo inked at any part of your body, it has to be done after a whole lot of contemplation and thoughtful selection of design.
The Coverage Of Leg Tattoos
Of course they cover a particular part of the human body, and these are obviously located on the leg part. These tattoos can actually be full, half, quarter, or just a small portion tattoos. It will depend on the person who wants to get inked on his or her leg part. Many people go for full leg design. These cover from the thigh part up to the ankle or straight to the toes part. If you don't appreciate the beauty of a full leg design, then go for the half one. Half leg covers from the knees downwards or upwards. If you don't want to expose your tattoos, then you can have a leg design that starts from the knees up to the thigh part, or from the thigh part up to the knees. Moreover, quarter leg design can also be an option. This is good for those people who don't want to have a very visible tattoo on their legs.
Advantages and Disadvantages
It is just normal for tattoos to be associated with a number of advantages and disadvantages, and these tattoos are no exemptions here. The following are some of the expected advantages of these tattoos:
Less Painful – The leg part is majorly composed of muscles, so there's no question why it is less painful when tattooing is done here.
Wide Coverage – They have wider coverage compared to others, so you can surely engraved the design you want here, no matter if it is big or just a small design.
Easy to Hide – This is actually a case to case basis. It will be easy to hide when you get tattooed from your thigh towards your knees.
Here are some of the disadvantages:
It Takes Time – This is another case to case basis. If you will go for full leg, then it will take time for sure, and so with the half leg.
Costlier – When compared to others, it will be costlier to have a leg design since it has wider coverage.
Celebrities Views
It cannot be denied that famous celebrities are the ones who firstly integrate tattoos in their body, and these tattoos are some of these gorgeous tattoos they have got. Here are some of the names of these celebrities:
Mel C – This English singer-songwriter is a former Spice Girls member, and she has a gorgeous dragon tattoo on her right leg.
Paz De La Huerta – This American model and actress has a tattoo on the leg that has snake design. The tail part of the snake extended to the top part of her right foot.
Ryan Cabrera – This 33-year-old American musician has a tattoo on the leg that displays the face of the famous American actor, Ryan Gosling. It's the consequence that he gained in playing "tattoo roulette" with his circle of friends.
Bam Margera – This American television personality and the star of Viva La Bam and Jackass has a tattoo on his leg that displays the face of his uncle named Vincent Margera.
Justin Bieber – This controversial young singer shows his strong belief to God through his Jesus Christ tattoo on his left leg. On the bottom part of Jesus Christ's image are roses the enhanced the appearance of the tattoo.
Barbara Mori – This 38-year-old Mexican model and actress has a bigger size rose tattoo on her right leg, which is inked with longer stalk. Such tattooed legs certainly looks good to her.
The Appeal Of Tattoos On The Legs
Tattoo on the leg are among the most appealing varieties of body tattoos as they make your legs look alluring and are particularly loved by women, though they are equally popular among men. Just like the arm tattoos, the word "Sleeve tattoo" can be used to define a tattoo on the leg too, as they show similar sleeve like effect, the design extending from the thigh/knee to the foot. The best thing about these tattoos is that artists have enough space and scope to try out a bold and amazing design in the area available to them for inking the design.
Tattoo on the leg also look prominent because they get the benefits of movement and curvature, which are not available at other body parts. This is what makes these tattoos a great choice for those looking for something bold and eye catching. Another benefit of tattoos on the leg is that they are as easy to conceal as they are to show off. Men and women can expose their legs in suitable outfits when they want to make a show of this amazing form of body art to the world. On the other hand, they can easily cover up their legs when their professional commitments require them to do so.
Popular Design Options
The design of a tattoo is largely determines by the space available for it. Since leg area has a lot to offer in this regard, the artist can try out some amazing and eye catching designs for tattoos on the leg. They make a perfect option for creating unique artwork, which makes a great way to display the fashion sense of the tattoo bearer. Here are some popular design options:
Floral Designs – The floral design makes a perfect design for leg for women, because of their great feminine appeal. They can make her legs look appealing, with the use of bright colors and eye catching designs. Additionally, a great variety is available in this particular tattoo style as one can choose any of the popular flowers such as rose, sunflower, dahlia or lotus, and have some unique designs such as butterflies or dreamcatchers added to the basic design.
Tribal Designs – In contrast to feminine floral designs, men can go for more masculine ones, such as tribal tattoos, maori tattoos, yin yang tattoos or those displaying symbols of their associations or clubs.
Other Options
Some other designs which can be inked on the legs are the modern designs such as geometric patterns which are made from the hip to toe, which add a beautiful look to your legs. Similarly, if you are looking for some more realistic designs, such as those featuring the sun, moon, stars, feathers, anchors, arrows, compass, geometric, musical symbols, samurai, bio-mechanical, heart, infinity, trees, angels and wings, phoenix, swallow, hummingbirds, waves, fish, lion, wolf or elephant make a great choice. Dragon tattoos are good for both sexes and they exude power and beauty. When going for such tattoos, it is essential to focus on texture as this can make a real difference on the final look of the design.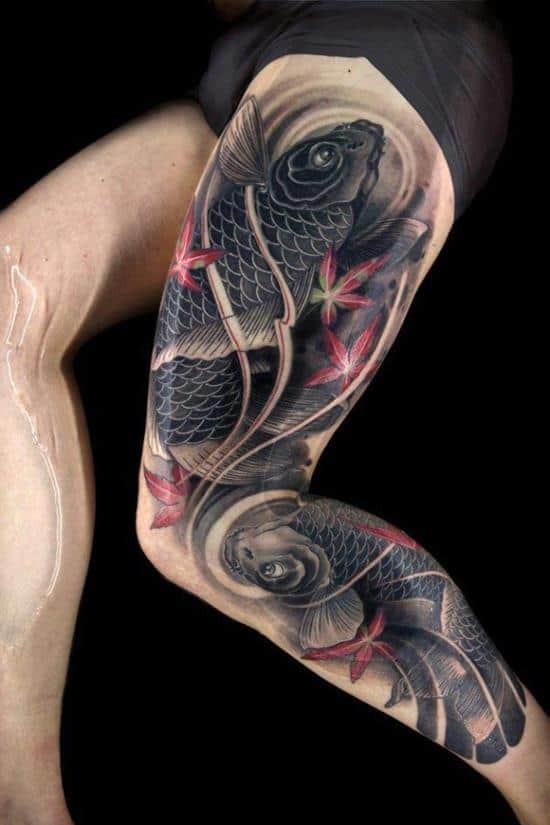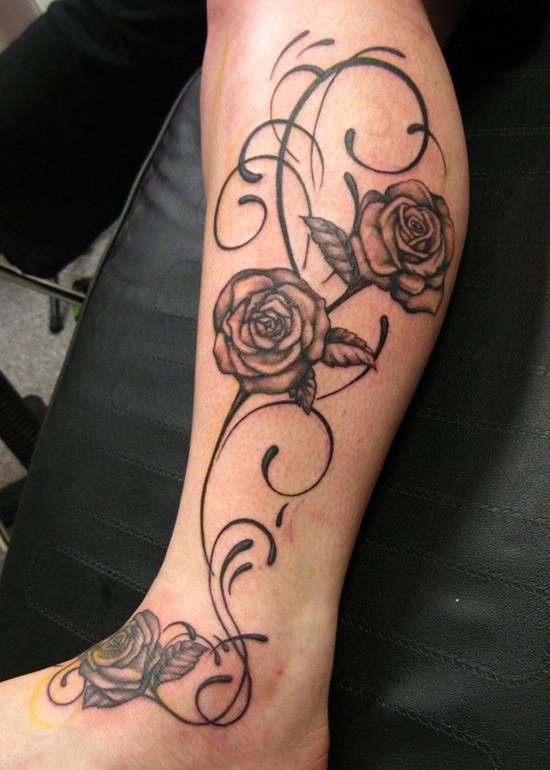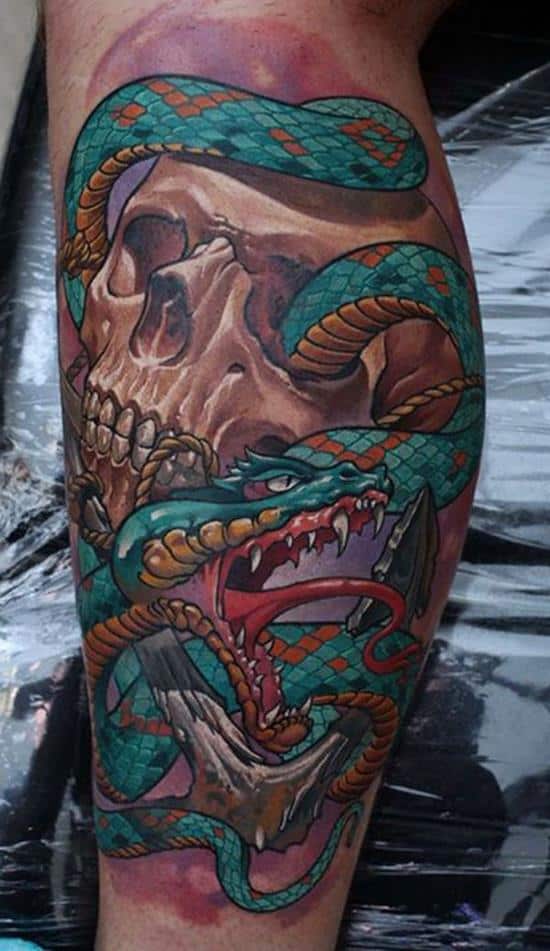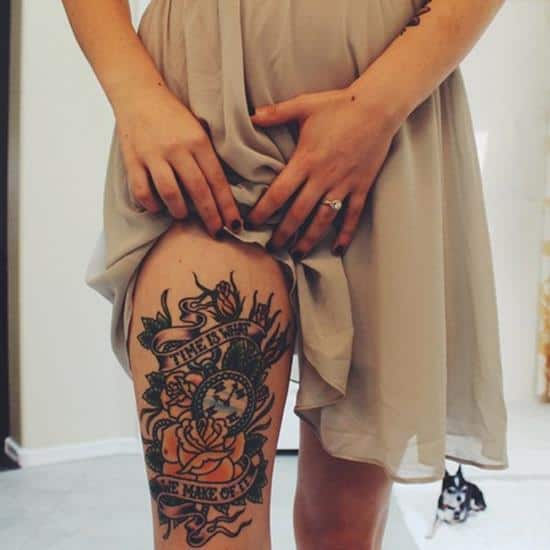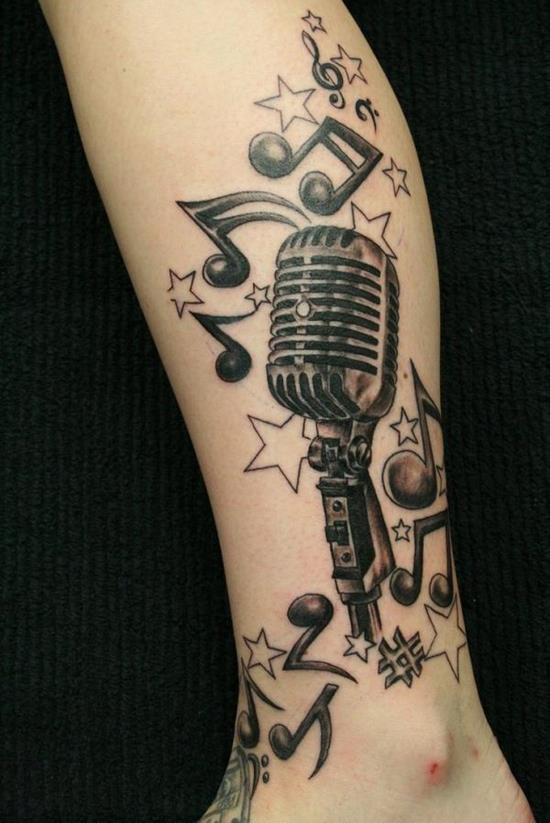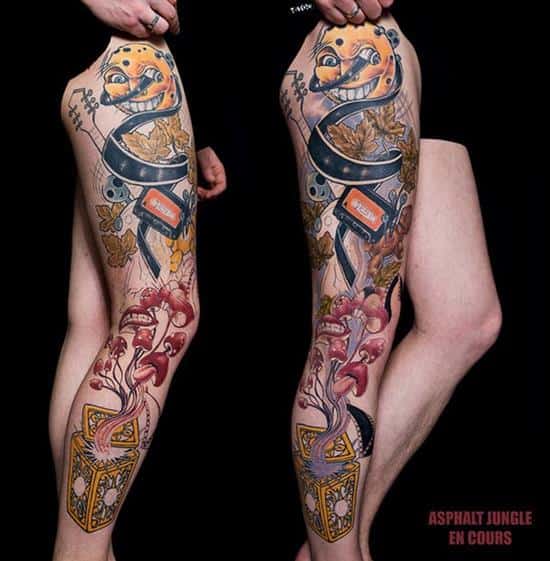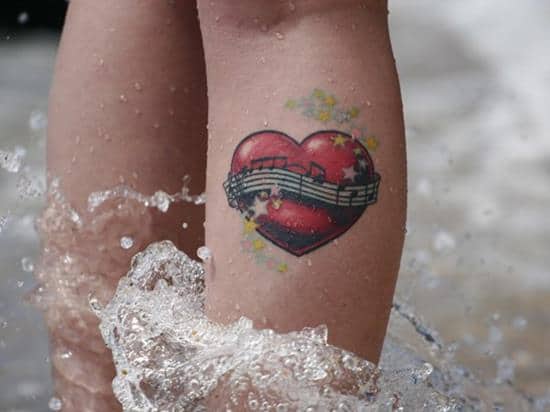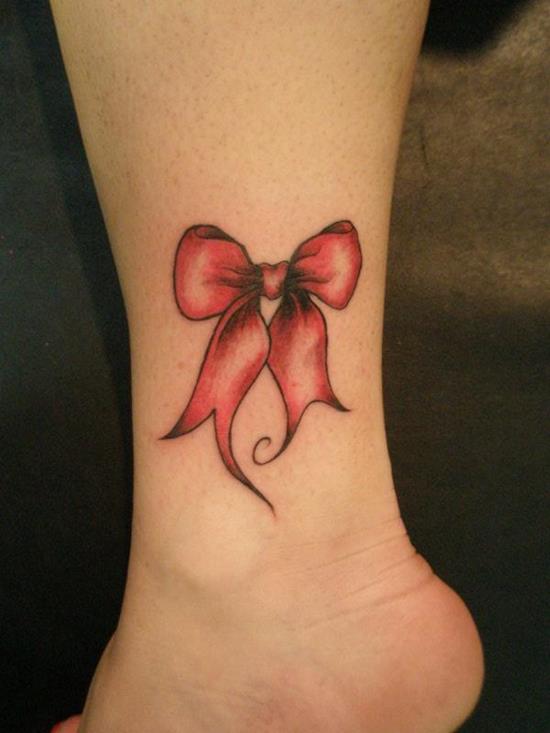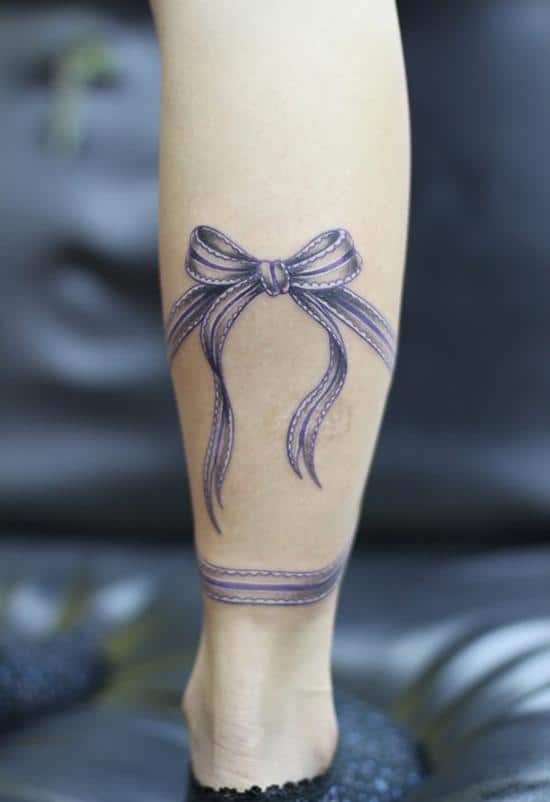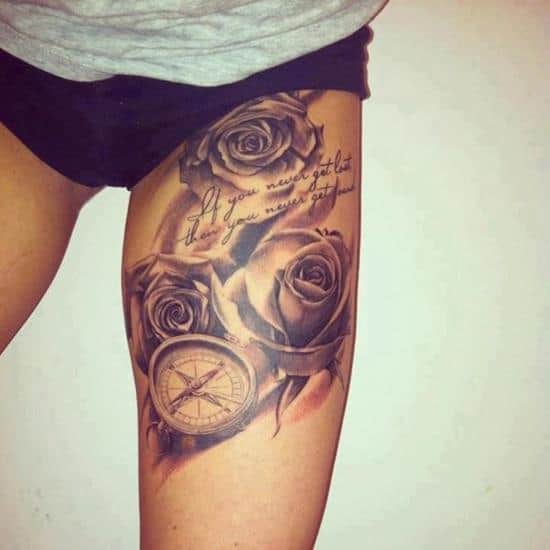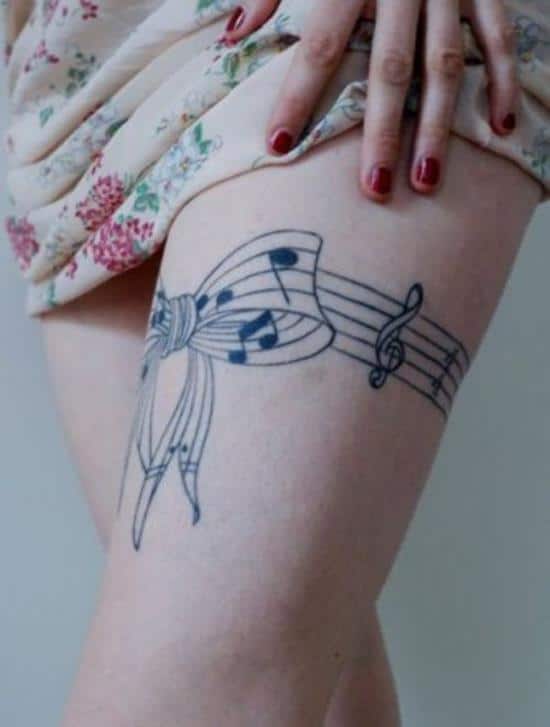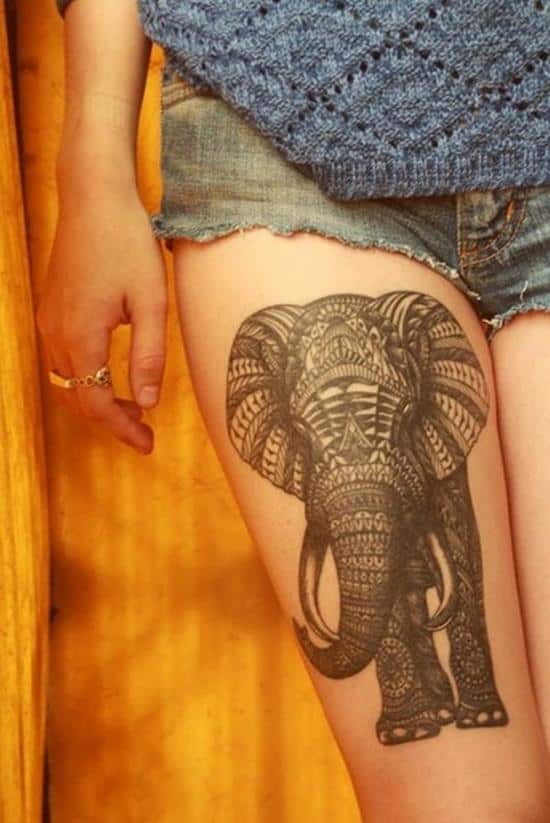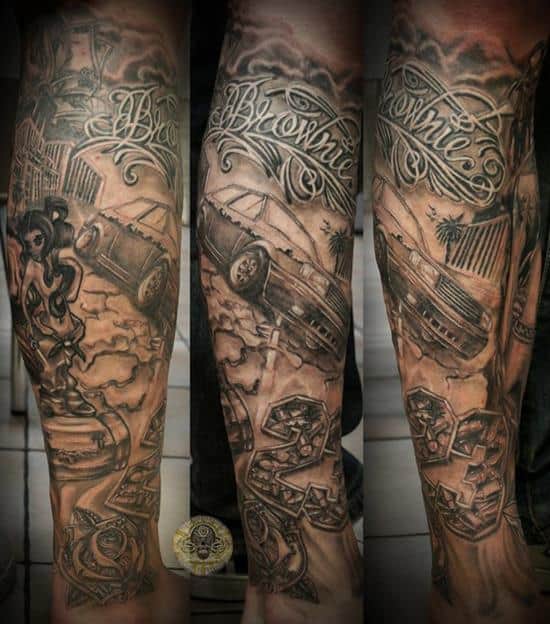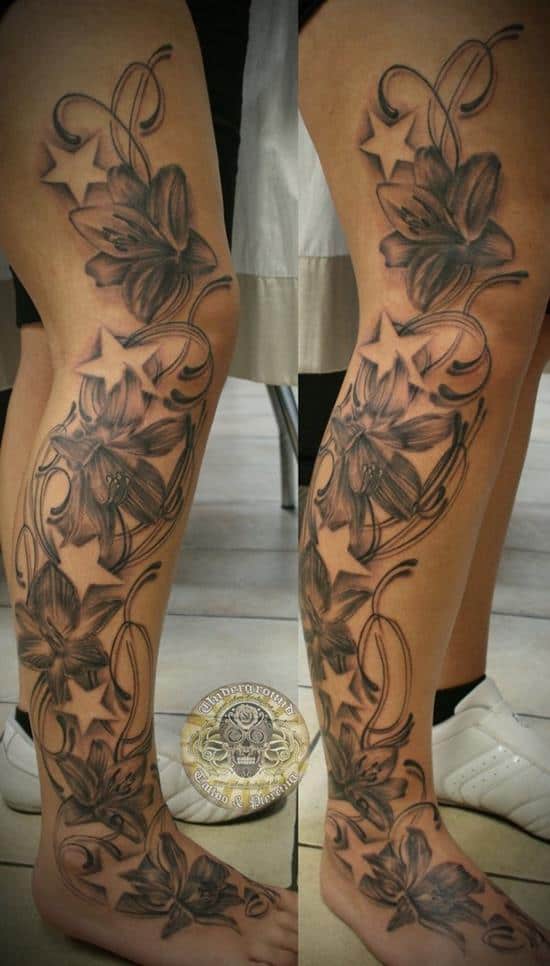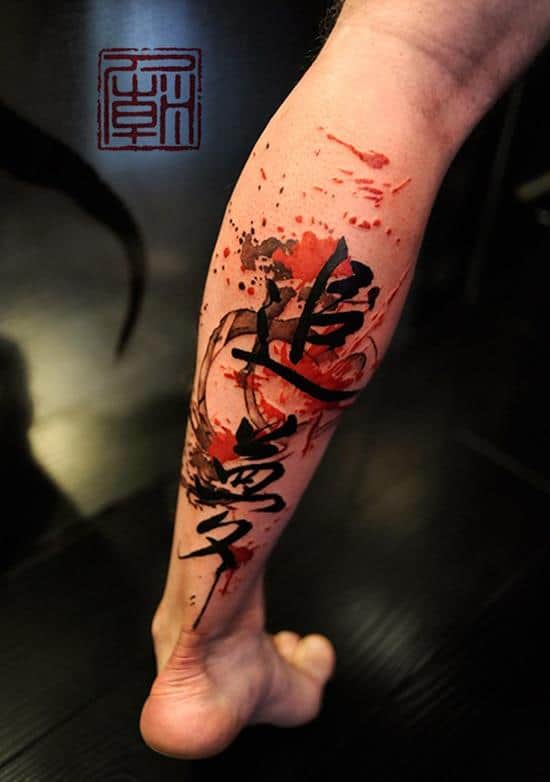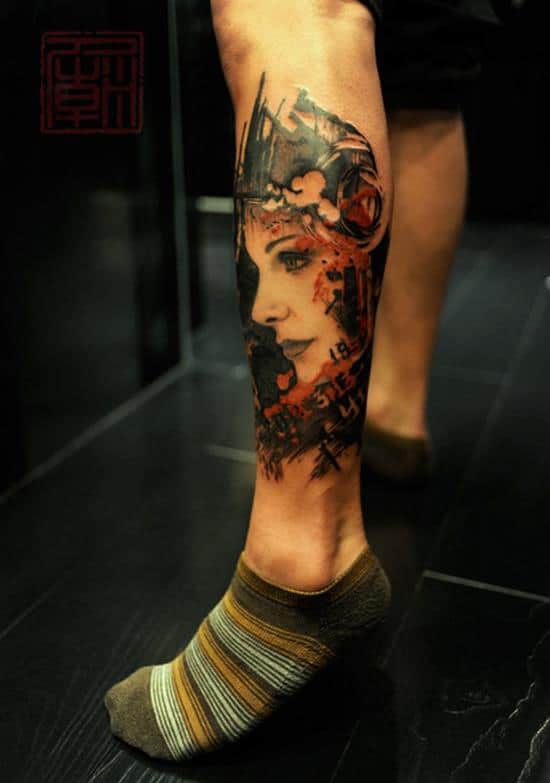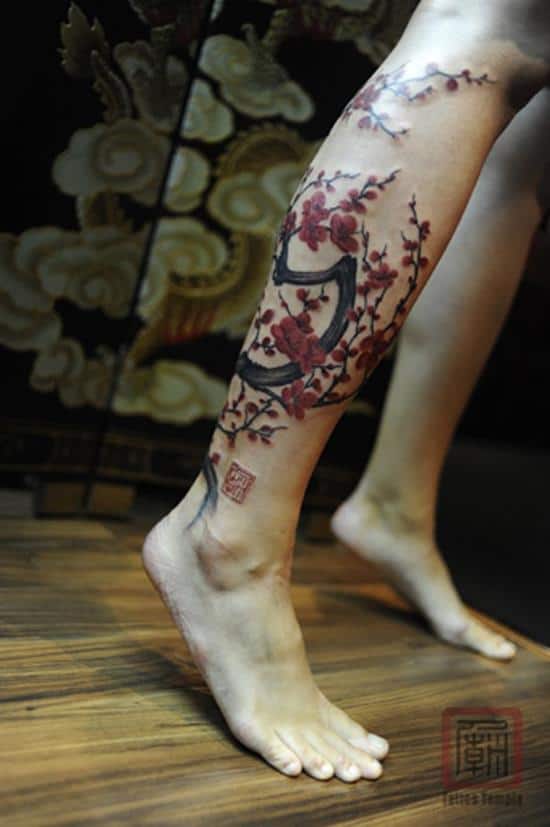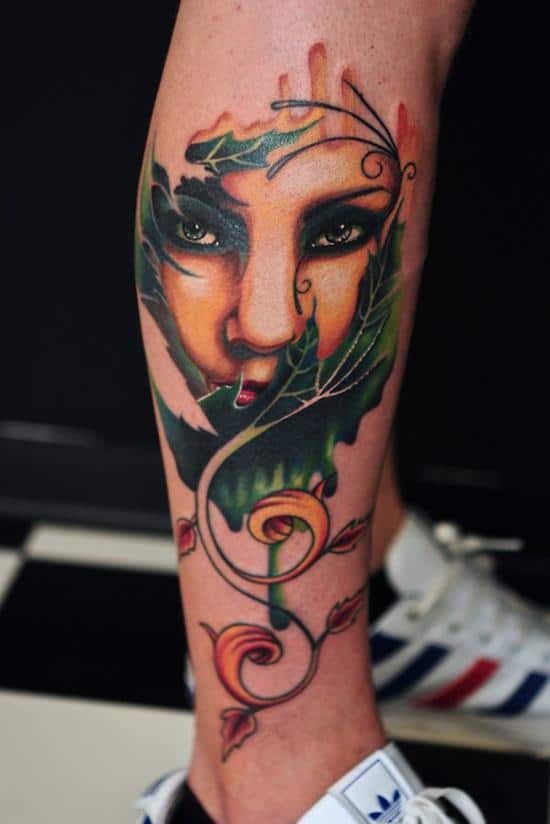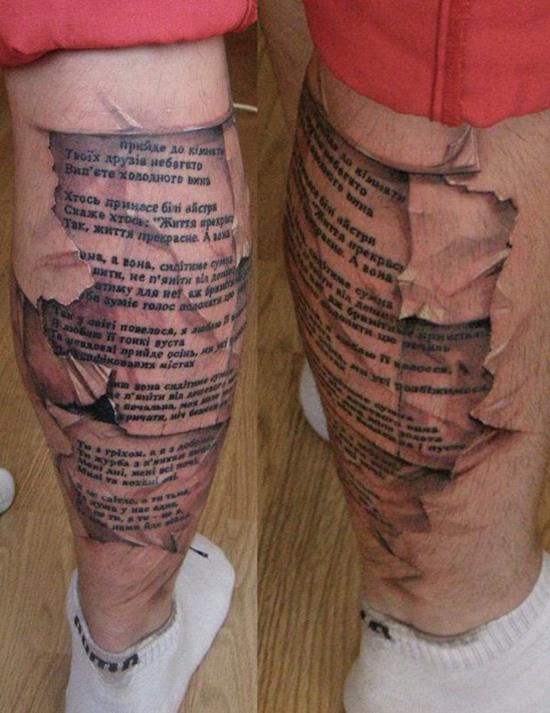 Usual Tattoo Designs to Choose For Leg
There are a number of leg tattoo designs that you can choose from. In choosing however, there are several factors that must be considered. You must see to it that the design represents the inner you. Remember, tattoos can be the reflections of your personality. Here are some usual designs that you might like to have:
Floral Design – This is a very common design for leg, and this design can be usually seen on women. The main reason is very obvious here. Flowers symbolize femininity, and girls will definitely look more beautiful with the floral design. Rose is the top choice of many.
Animals – If you want to get rid of feminine designs, then why not try the animal tattoo design. This will depict various characteristics, depending on the kind of animal design you choose. To show the brave side of yours, it is best to go for a tiger, lion, or an ox. If you are peace lover and free-spirited, then birds would be perfect.
Tribal Design – One of the common choices of men and women when it comes to leg is the tribal design. This design is very beautiful, but it involves complex details. With this, you must hire a reliable tattoo artist, to make sure that the job is done well.
Symbolic Design – Many go for symbolic design, especially if they get tattooed because of their religion or something. Common symbolic tattoo on the leg design is the cross or the image of Jesus Christ.
Final Words
Without a doubt, leg tattoos can enhance the appearance of the wearers. These can even make them more fashionable. If you think of having tattoos, then tattoos on the leg will surely look good on you.
If you are planning to have a leg inked, you must bear in mind the climatic conditions of the place you live in as those living in cold areas seldom get the opportunity to flaunt the leg design, except when they are on sub tropical vacation, which hardly justifies the time and money spent on tattooed leg, and the pain borne for the same. It is also very important to choose the right place and the right artist for having a tattoo inked because a tattoo is something which lasts for a lifetime. So, care needs to be taken that you invest your money and time in the right manner so that your tattoo looks healthy and beautiful forever.