Tattoos are nothing short of a style statement today, which reflects the attitude and fashion sense of the bearer. This is the reason why discerning tattoo lovers are so choosy about the designs and look for something different from the common and traditional designs. One of such cool design options is geometry tattoo designs, which carry a unique stylized look and also have a deep symbolic significance, which have together, taken these designs to the heights of popularity. Geometry is a science of perfection and symmetry, in which there is an amazing balance and harmony between elements and this is what is essentially depicted by geometry tattoos too.
It cannot be denied that these days, geometric art is one of those body adornments that are gaining more and more popularity every single day among men and women tattoo lovers in the world. A lot of people who are not into tattoos are even getting curious about it. Well, there is actually no one to blame here since this body art is absolutely very interesting and stunning to look at, leaving every single person looking at it extremely puzzled. When talking about paintings, geometrical tattoos are just like those abstract paintings that may look like a total mess, but they have actually a lot of deeper meanings. The tattoo can be related to the math subject that is known as Geometry. It is simply because the main design of the tattoo has something to do with the geometrical shapes that are known to be symmetrical.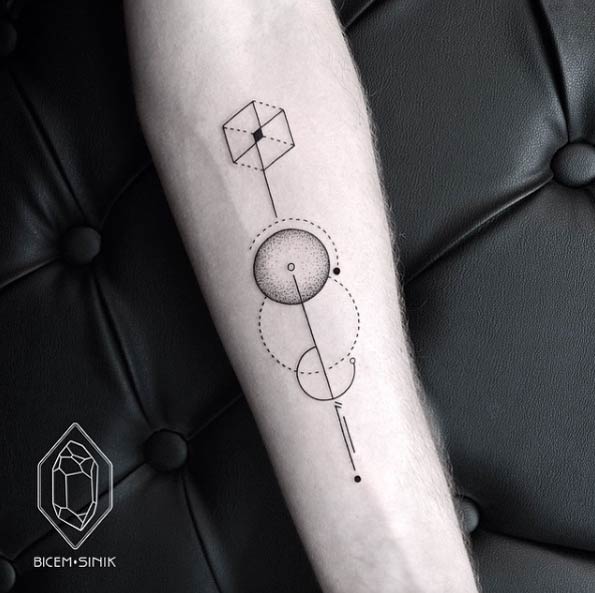 Interesting History
Have you ever asked yourself how on earth the geometrical tattoo came into existence? Is it even possible for the geometrical shapes to become stunning pieces of tattoos that will be engraved on someone's body? Well, to clear out all your questions, let's try to know first the interesting history of this kind of amazing tattoo. Needless to say, this kind of tattoo has been already worn on the body of numerous ancient people. The beginning of this tattoo can be traced back over 2000 years ago. It was found out that the very first wearers of such beautiful unique tattoo were those first inhabitants in the islands of Micronesia. However, only those who were already matured got the chance to wear this tattoo on their body. In other words, it served as their sign of tribute to those who already reached the maturity when it comes to age that belonged to their community. Furthermore, it was also said that only married men were allowed to wear the tattoo in their community.
In the ancient Egypt, the geometrical shapes and symbols were used in designing the architectures of the building the built. This is the main reason why this tattoo is extremely important to the Egyptian people, especially to the ancient Egyptians. One good example of the Egyptian architectures that were beautifully designed with geometrical symbols was the Pyramid of Giza.
Framing of Geometric Tattoos
Geometrical tattoos need a great deal of perfection and expertise on the behalf of the tattoo artist as these are framed using dots and lines and even a slight deviation in any of the elements can distort the design. For those looking for perfection in symmetry of the tattoo, it is essential to be sure about the design as well as the artist before having it inked, while those who are more relaxed about it can simply go for such a tattoo for sheer happiness and fun. The tattoo's look also depends upon the thickness and size of the lines and dots. Those who look for something bold can go for vibrant colors in geometric art while people looking for a unique effect can choose 3D designs. In addition to dot work geometric art designs, sacred geometrical tattoos are also in vogue. Such designs have perfectly symmetrical patters and make use of common geometrical shapes such as circles, squares and triangles to create some absolutely amazing designs, such as the Gordian knot and flower of life designs.
Symbolic Significance of Geometry Tattoos
Sacred geometry tattoos are spiritual in nature and have a religious significance, besides being of great aesthetic value. Most of the time, people have such a tattoo inked for its symbolic significance rather than its attraction and appeal. Different shapes in geometry are associated with different elements of nature which need to be understood well before choosing a tattoo design. For instance, the cube symbolizes the earth while fire is represented by the tetrahedron. Air is signified by the octahedron, water by icosahedron and spirit by dodecahedron. It is also said that having these tattoo shaped inked over special areas of the body will have a healing effect and restore good health and balance in the body. Perhaps, this is the reason why tattoos have been used as adornments in the form of talismans or amulets since the times immemorial. They have been revered for their magical qualities and have been used as a part of holistic healing therapies in the pasta nd this tradition has been carried on into the contemporary times too, making such tattoos a blend of beauty and spirituality. The belief is that placing the spiritual tattoos on a particular part of the body will have a positive impact on health and spirituality, which makes the placement of this an issue of vital importance.
Best Designs To Opt
Attaining balance and harmony has always been the primary goal of human existence as it is the prerequisite of living a happy and fulfilled life. Geometrical tattoo designs have been a step in this direction because symmetry is a part and parcel of these designs, as they ensure that all the elements of the designs are placed in perfect balance with each other. Here are some common designs:
Mandala Geometric Art – Mandalas are an important religious symbol in Hinduism which is used as a symbol of the universe. This symbol has transcended the boundaries of religion and culture and has become a very popular geometry tattoo design element in contemporary tattoo art.
Ouroborus Geometric Art – Just like the mandalas, Ouroborus is another commonly used element in geometrical tattoo designs, as it has a special meaning. In Greek mythology, it signifies a dragon or serpent which devours its own tail and in symbolism, the shape stands for self reflexivity of a person in the circle of life and death. The ouroborus can also be featured as a double one, with two serpents drawn joining each other's opposite ends and the design is considered as a symbol of volatility. It is also compared with the opposite yet complimentary energies of yin and yang.
Owl Geometric Art – The owl has always been revered as an animal with immense wisdom and intelligence and many cultures associate this mystic creature of night with secretiveness. Owl also finds a place in geometrical tattoo designs, because it adds a deeper symbolic meaning to regular tattoos.
Geometric tattoos have always been of great attraction among tattoo lovers, both male and female, as they love these tattoos because of their spellbinding visual impact as well as deep spiritual meaning.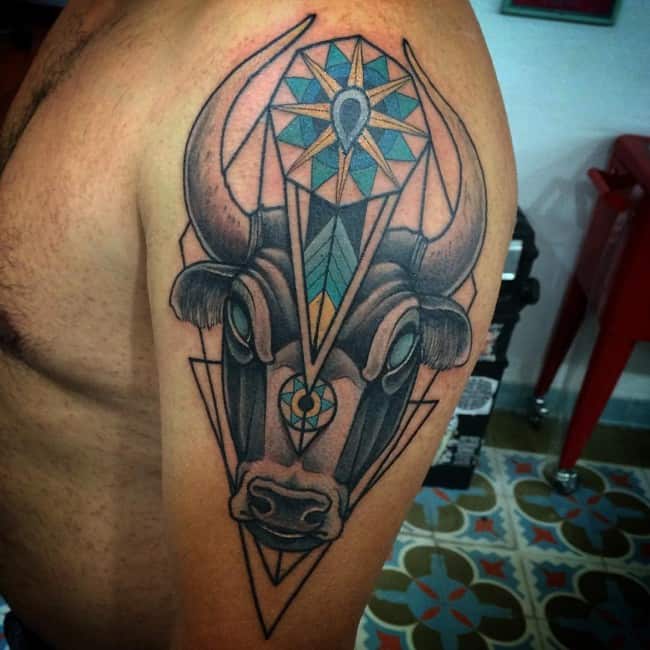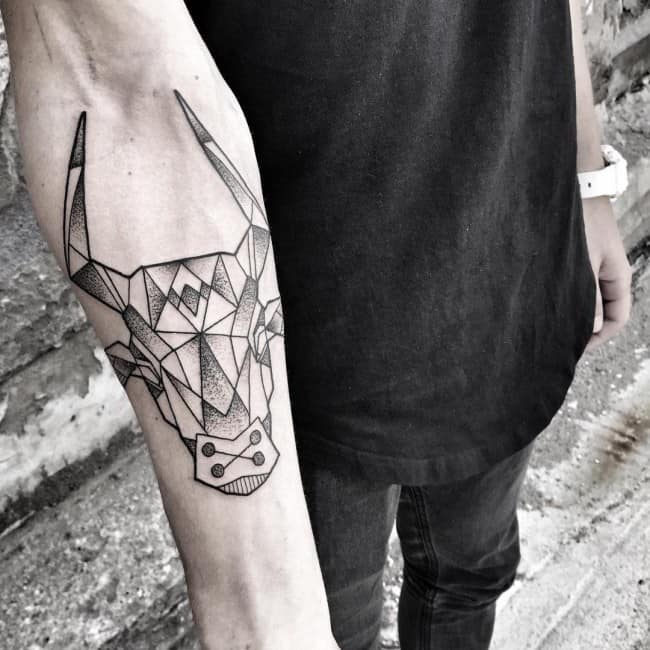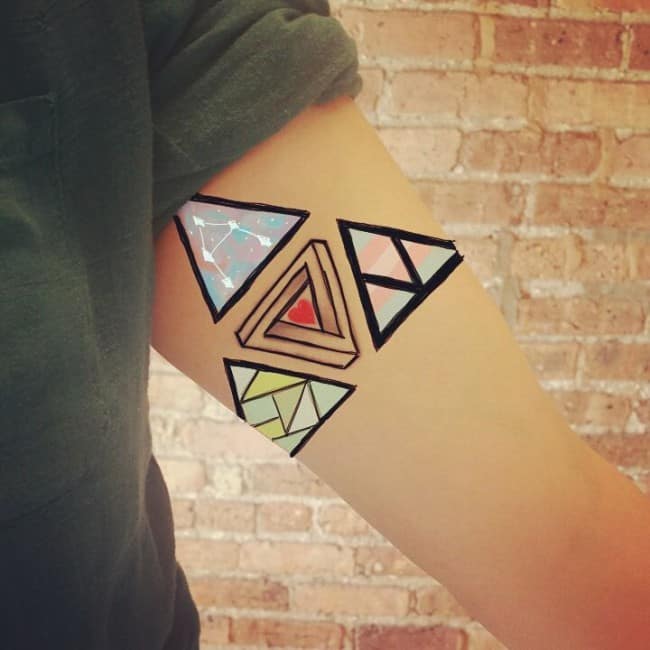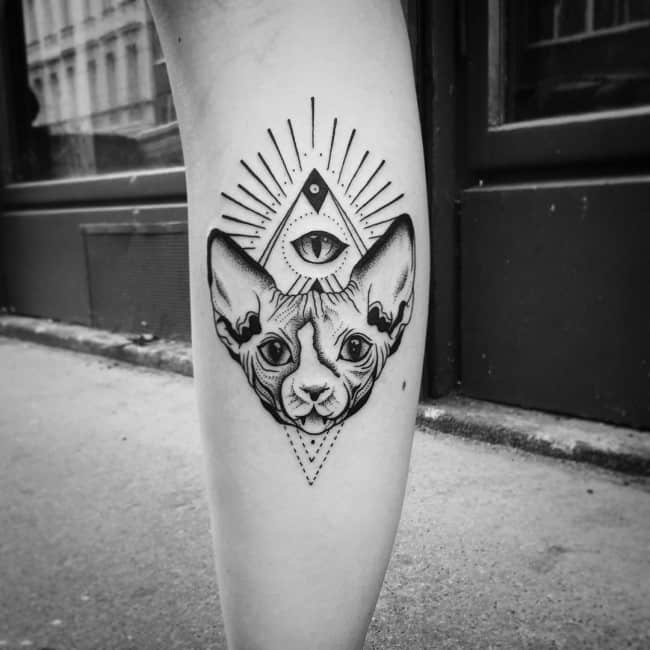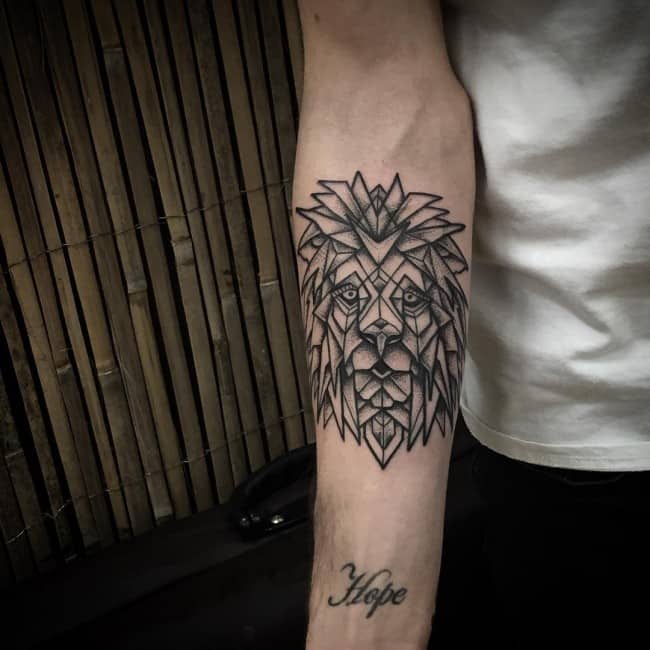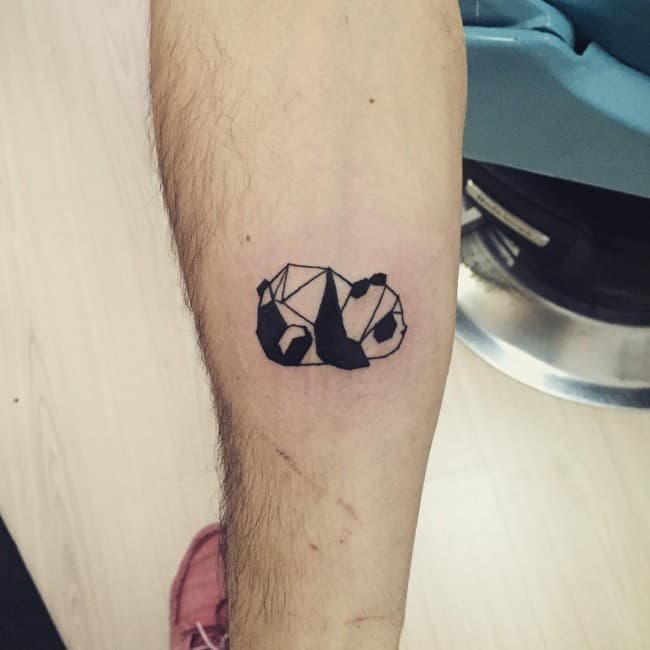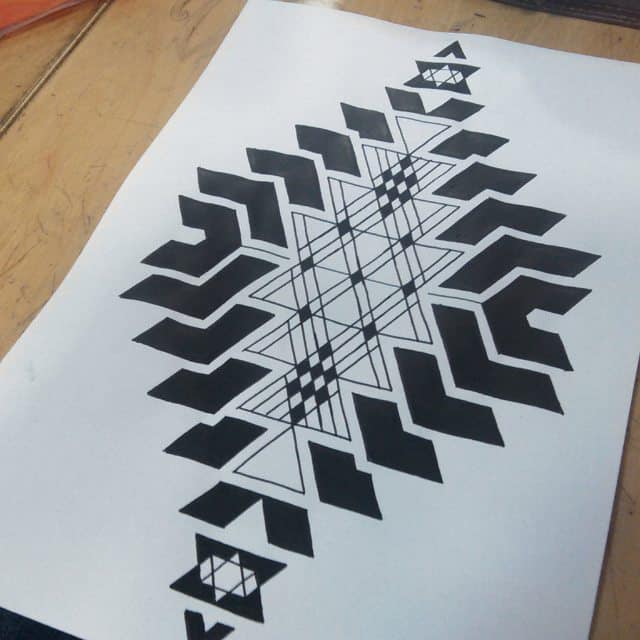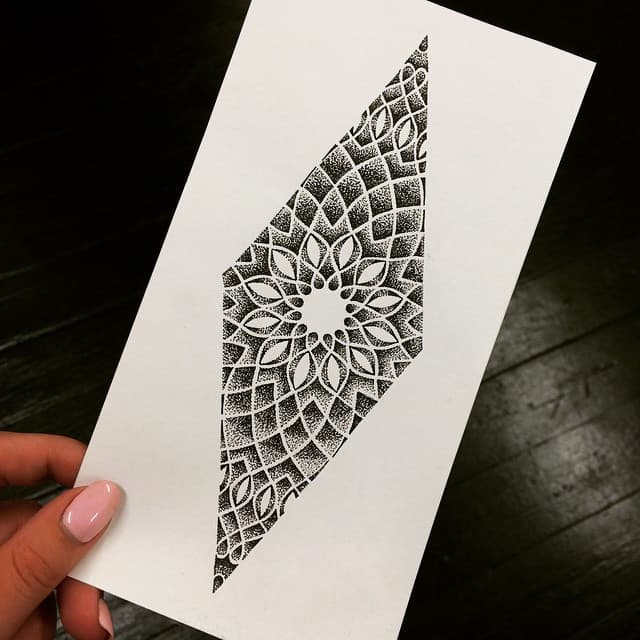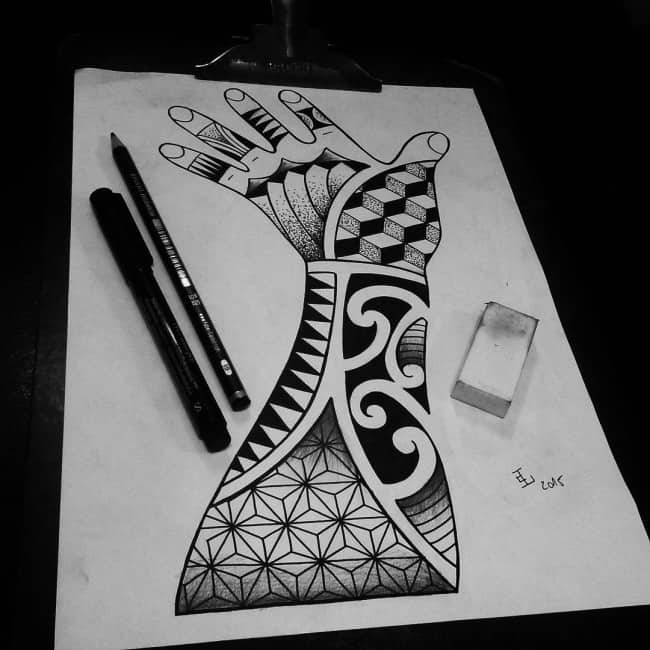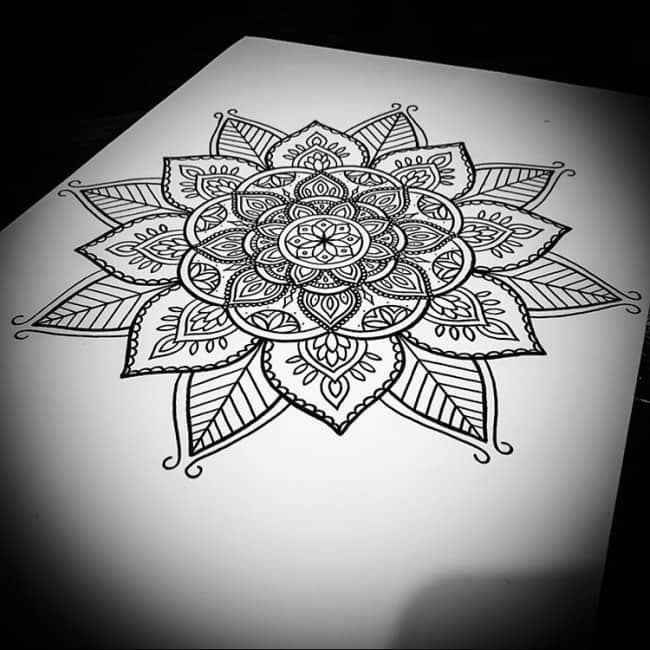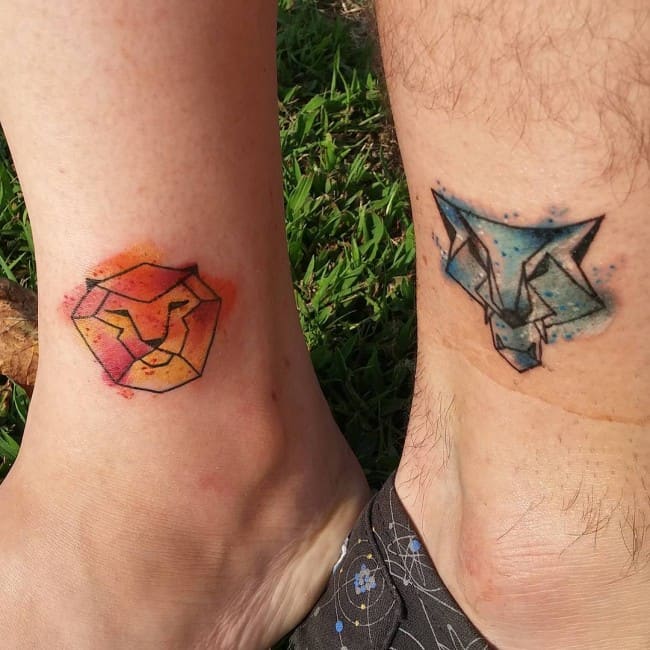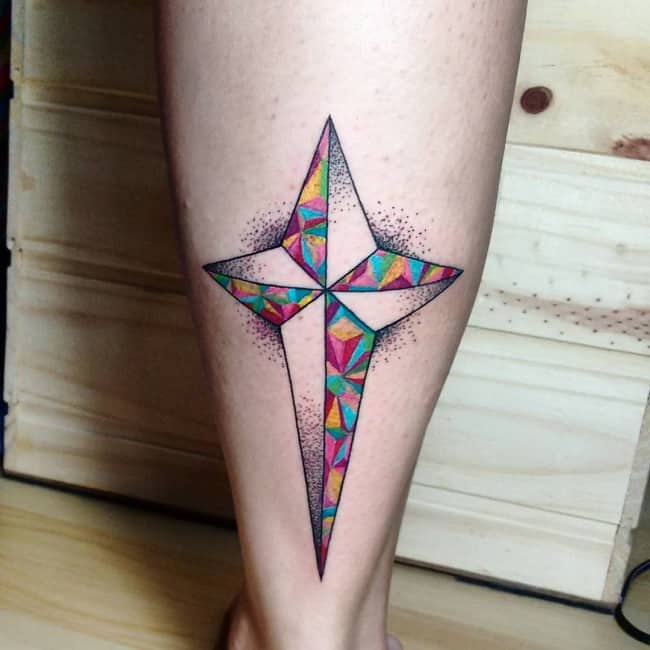 Geometric tattoos are of great popularity among men and women, with their visibly striking impact and aesthetic value. They come in a variety of designs and sizes. This means that they can be placed on any part of the body, depending upon the size of the design. Smaller designs can be inked on finger, wrists, palm, arm, ankle, behind the ear and neck, while larger ones can be featured on larger surface areas such as the back, shoulder, thigh, sleeve, side and chest. The basic consideration is that large tattoos need a larger area of the skin to get the perfect magnificent look, which every bearer wants for his tattoo design.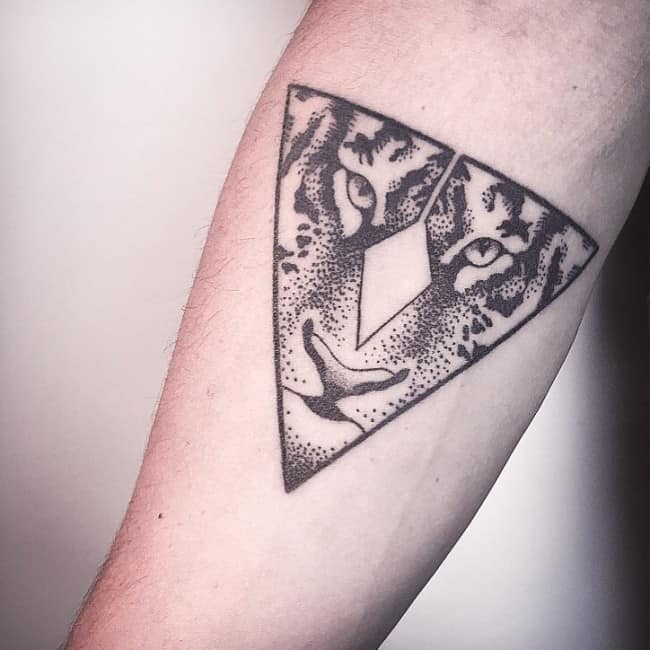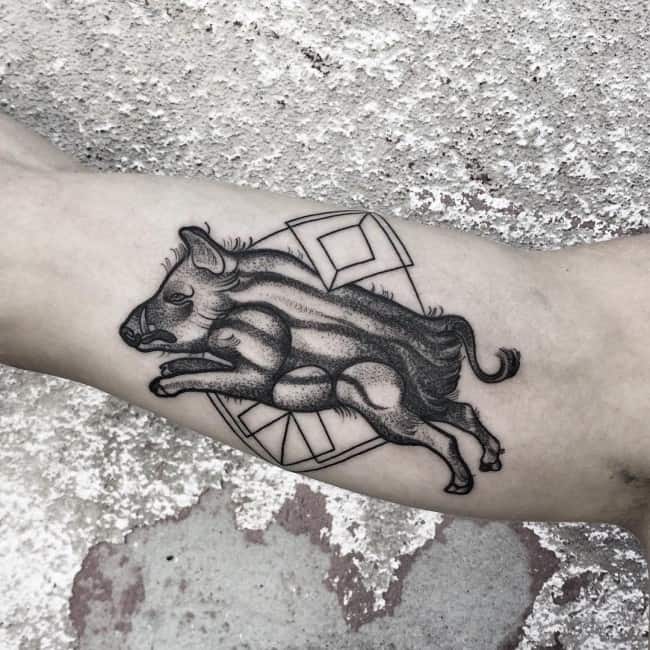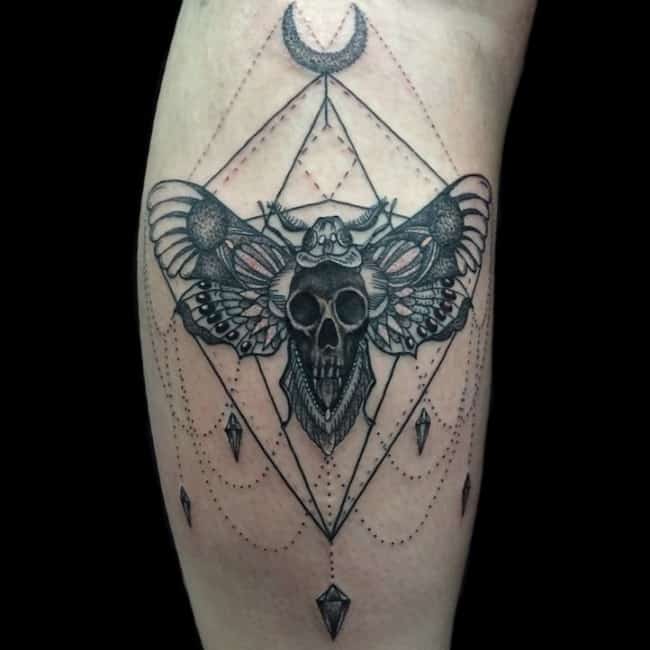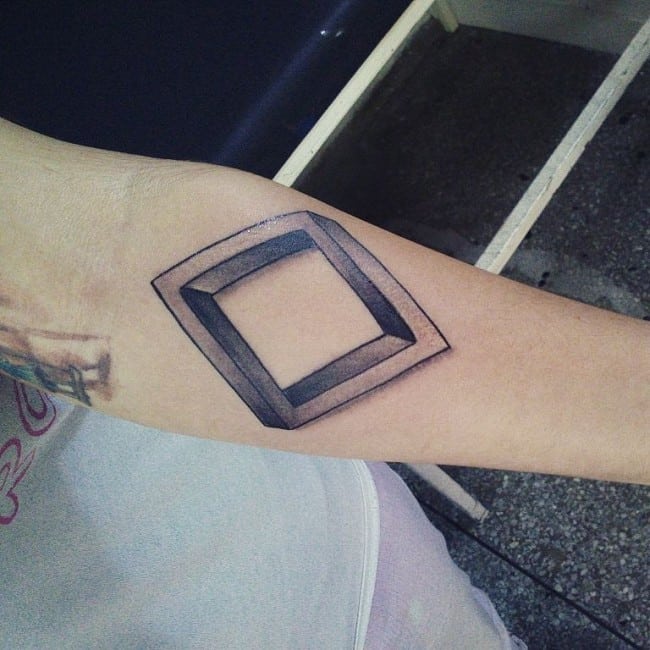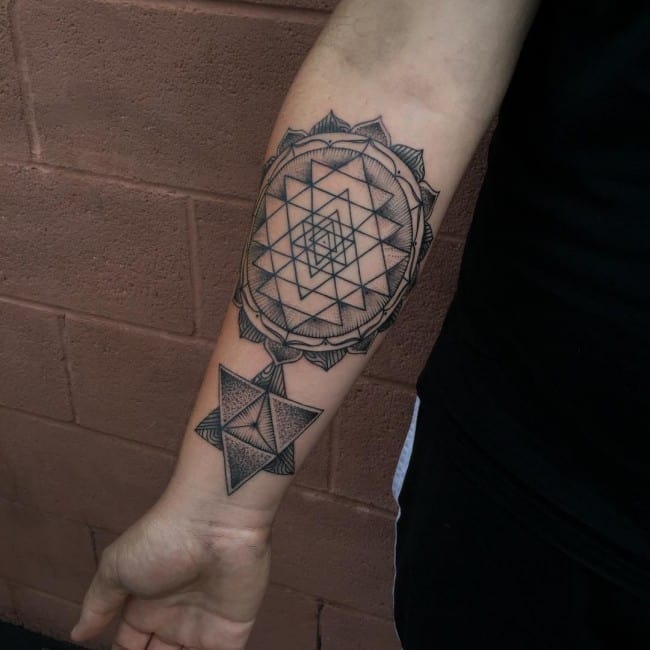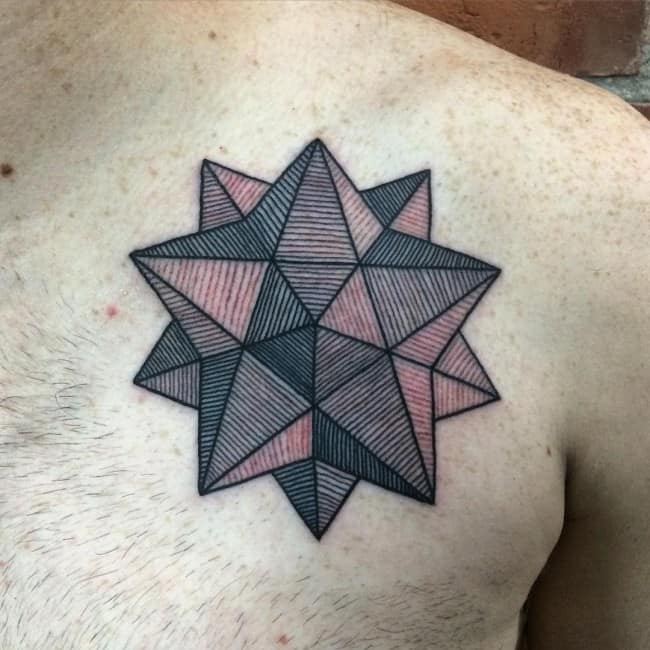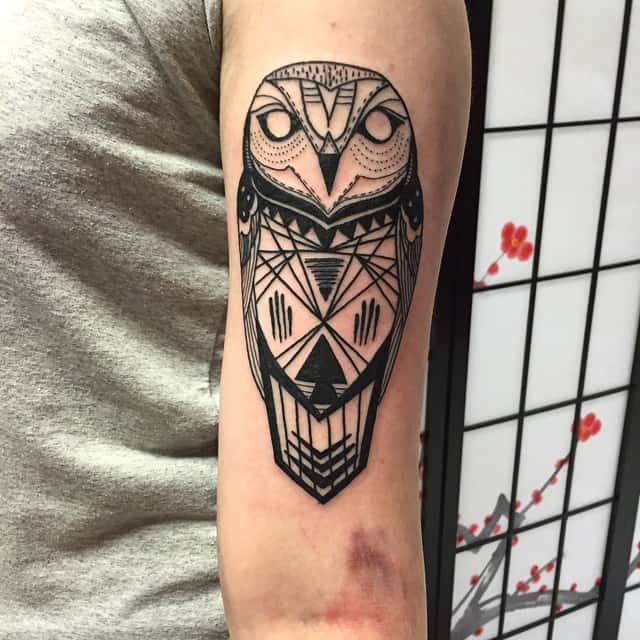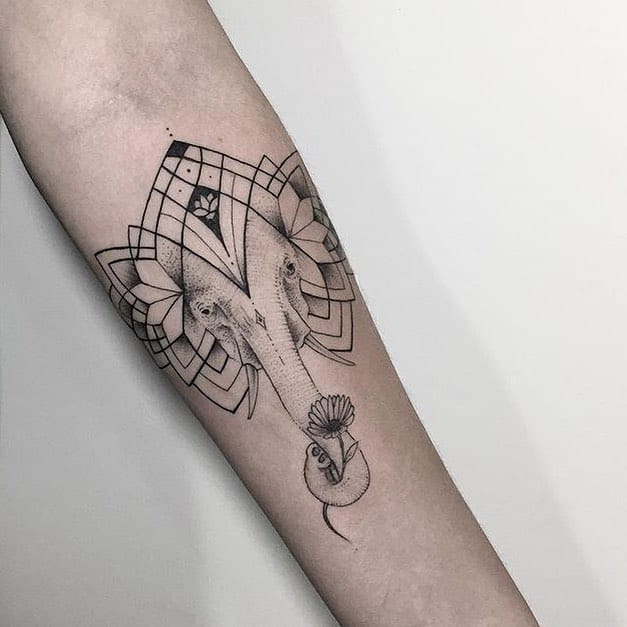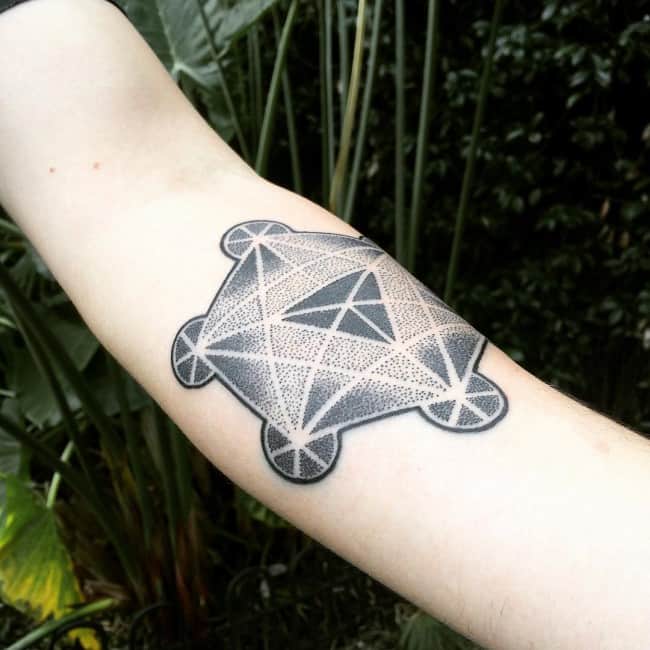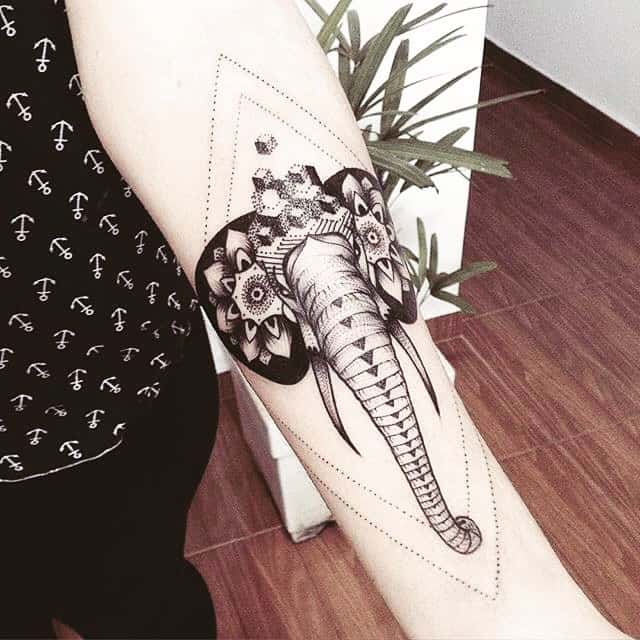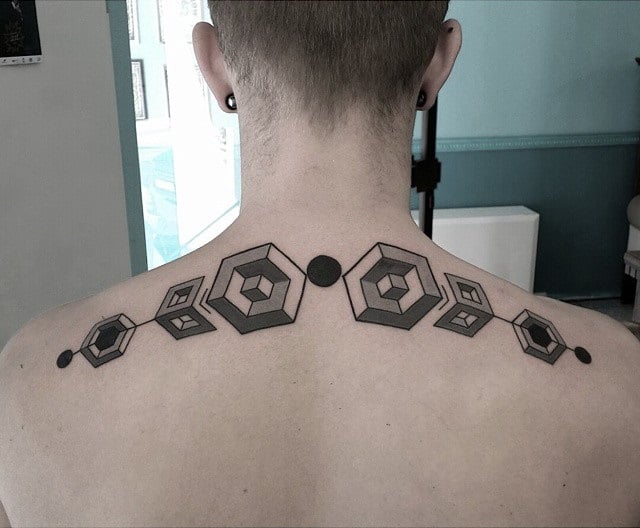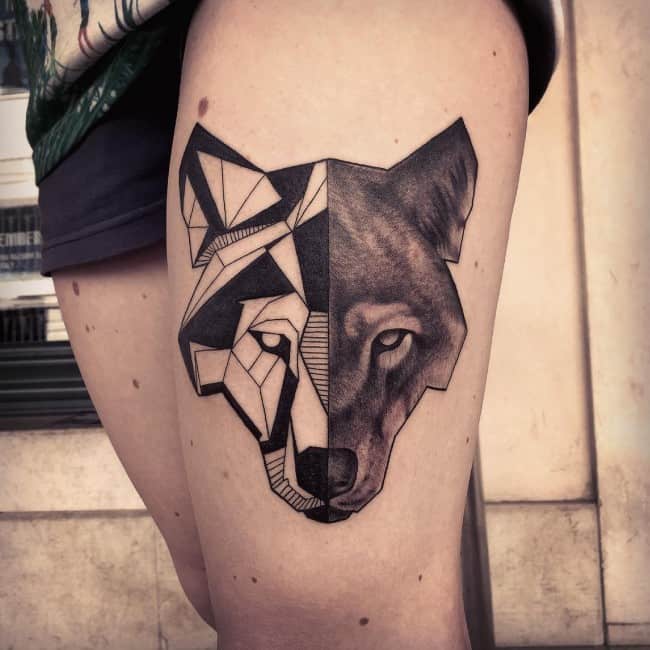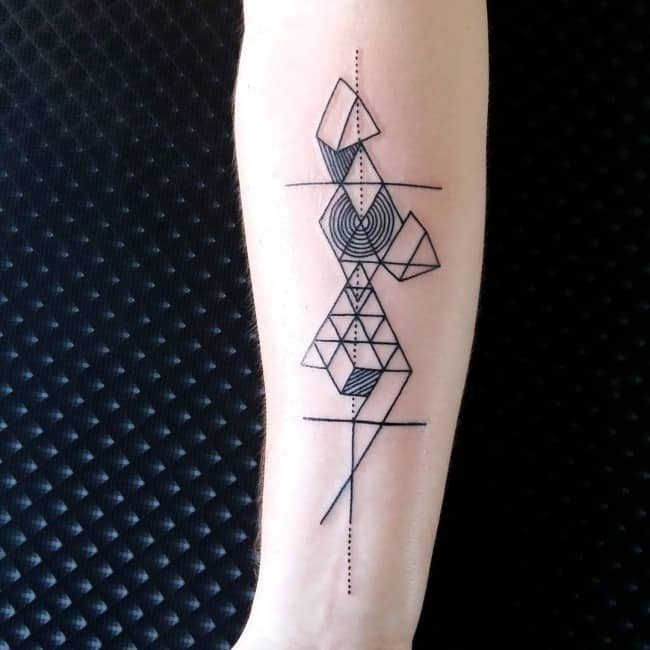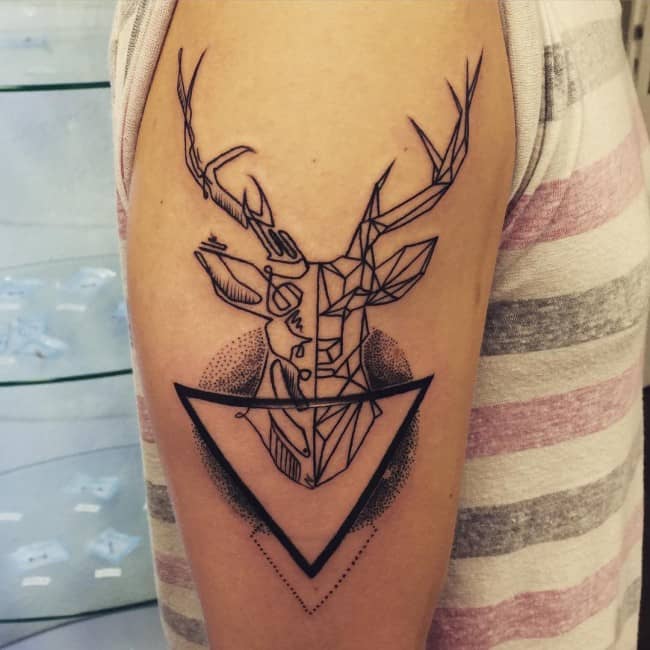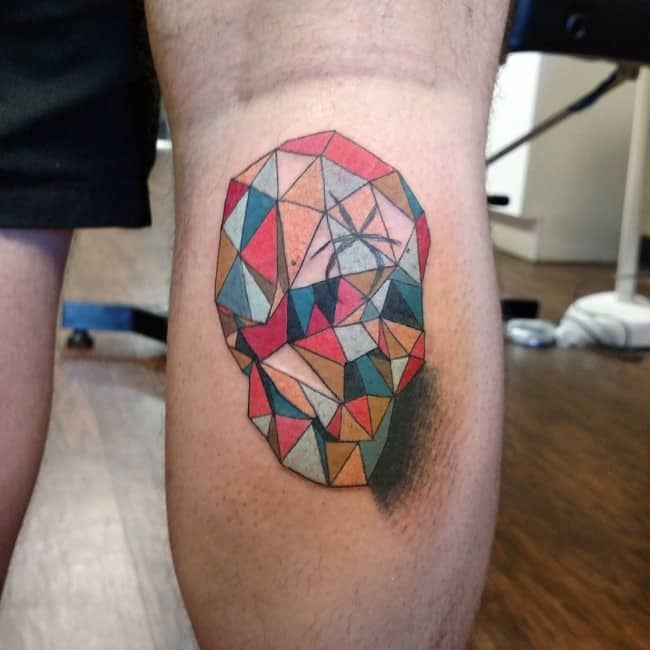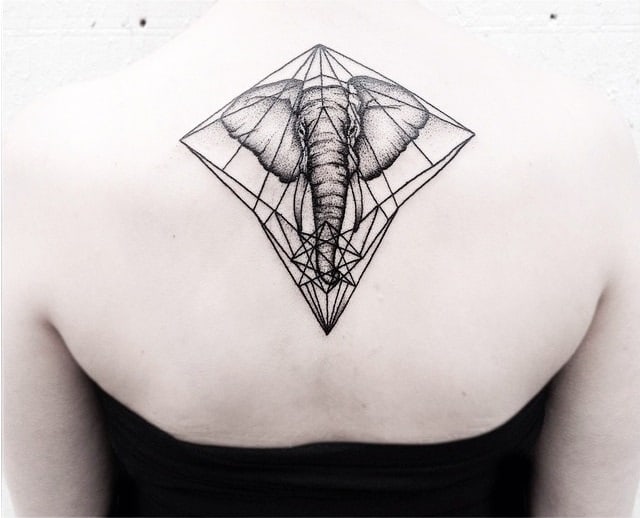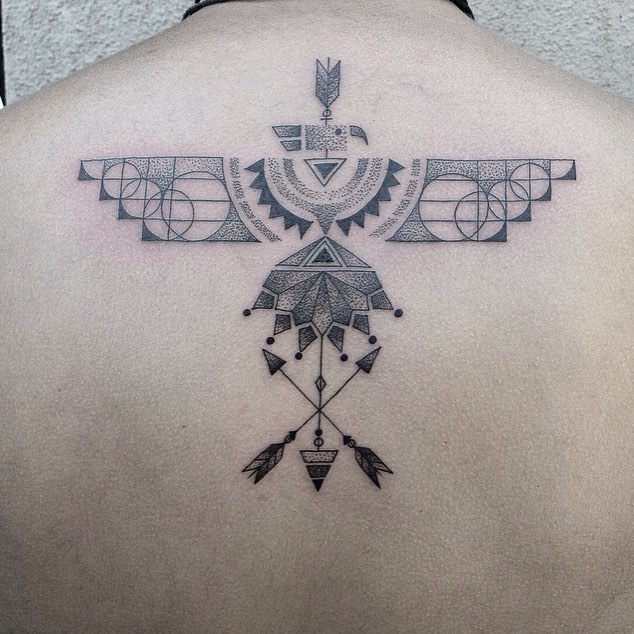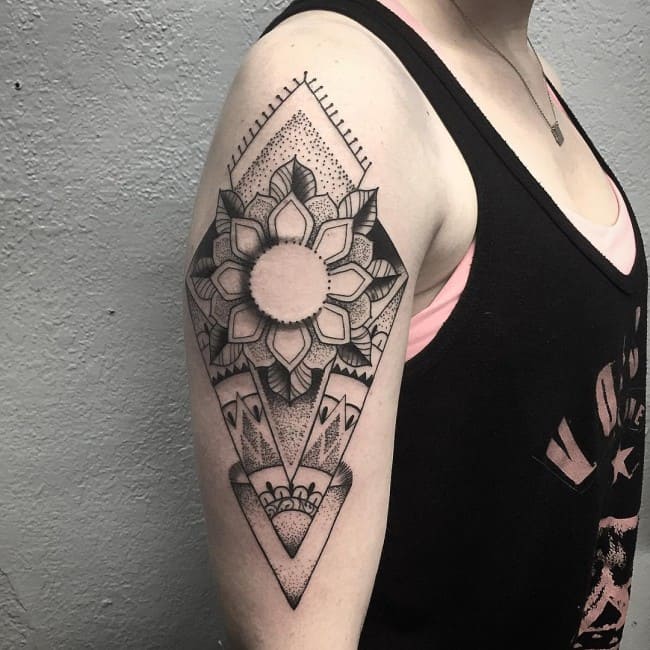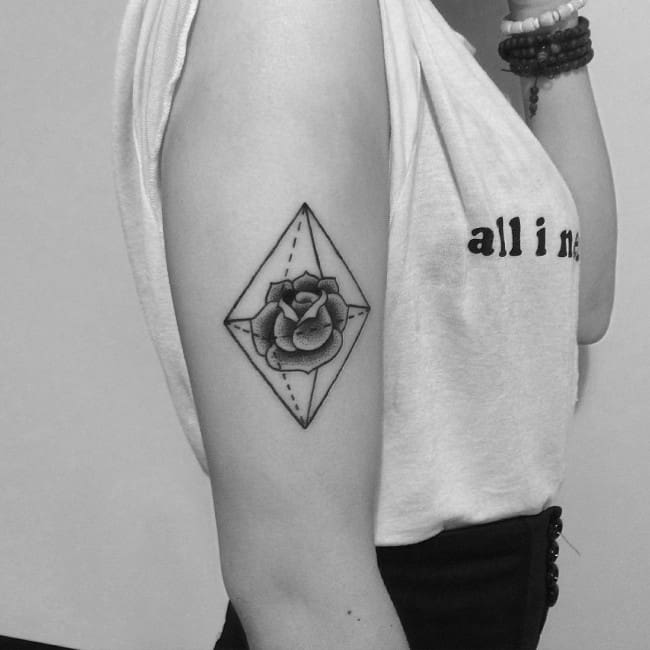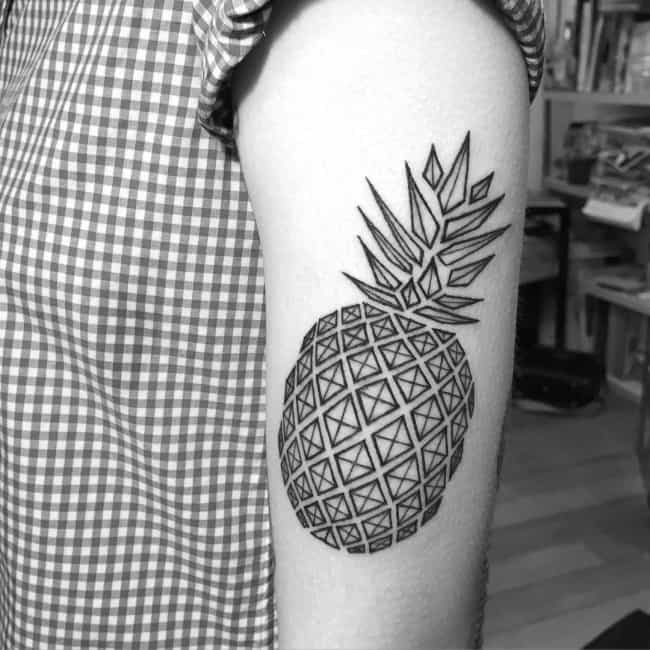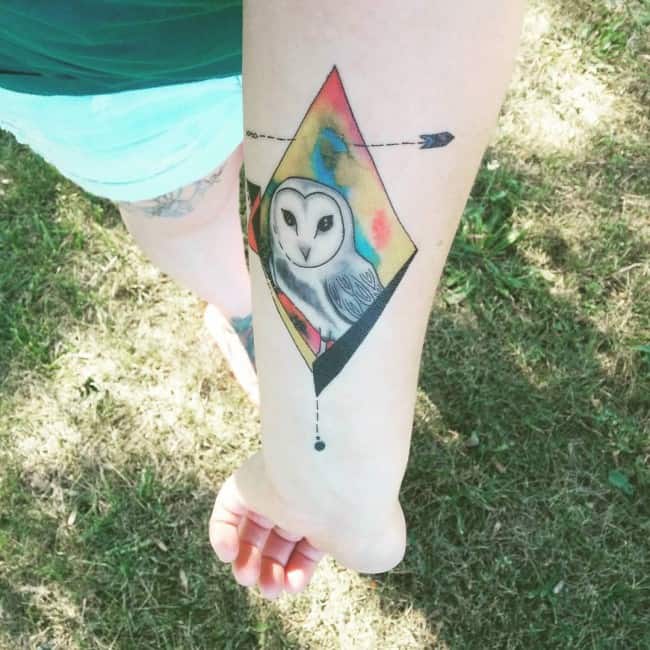 Placements
Just like the other kinds of tattoos, a geometric tattoo also has a number of common body placements. It is common in a way that this is where a lot of people prefer to place their tattoos. Here are some of these body placements that you might want to take into account:
Design Options for Geometric Art
There are lots of choices that you can have regarding with the design of any geometrical tattoo you want to be engraved on your own body. There is no need for you to worry since all of these designs are assured to be very gorgeous and meaningful. Even so, you still need to be careful in choosing the design that perfectly suits the entire you. Here are some of the beautiful designs that you can take into account:
Ouroborus Geometric Design – The Ouroborus geometric design is one of the most common designs that can be found on the body of a number of men and women tattoo lovers in the entire world. It is not only because of the gorgeous appearance of the design, but also for the special meaning that it bears. When we based it on the Greek Mythology, the design will involve an image of a serpent or a dragon that eats its very own tail. The shape of the design is the one that represents the flexibleness of a certain person in dealing with the ups and downs of life.
Mandala Geometric Design – Another very common yet very beautiful and symbolic design that you can take into account is the Mandala geometric design. For you to know, Mandala has an extremely significant role in the religion known as Hinduism. This is a sacred symbol of the said religion. This is the main reason why a lot of people who follow the religion of Hinduism are engraving this tattoo on their own body. But today, this design is not only very important to the Hindus, but also to some other people who love to have this art.
Owl Geometric Design – For sure, you are very curious if geometrical shapes and symbols can be possibly incorporated with some other designs in order to come up with a very beautiful and meaningful tattoo that has something to do with geometry. Well, the answer is a big yes. It is definitely possible. It can be confirmed by the owl geometric design. As its name suggests, this particular gorgeous design involves with the image of an owl bird together with some beautiful geometrical shapes and symbols. The meaning of this design can surely be enhanced since owl is known to be symbolizing intelligence and wisdom to a lot of cultures in the entire world.
Final Words
Geometric tattoos are definitely a very meaningful and stunning body art that you can engrave on your body. With this particular tattoo, there is no way you will not become the center of attraction since it is very unique. Only those who know how to appreciate geometrical shapes and symbols can see the beauty and meaning of this tattoo.
Geometry is associated with symmetry and harmony, and this is the reason why they have become a top choice among tattoo lovers as well as tattoo artists. Such tattoos not only abound in visual appeal, but also have a spiritual meaning and have often been as healing forces. It has been believed in ancient times, that placing at a particular position of the body, has a healing effect on the body and the spirit.