Anchors are objects related with ships and the sea, which is a reason why anchor tattoos are predominantly associated with sailors and people related with the sea. However, over a period of time, they have found an important place in tattoo art and has become a preferred choice among tattoo lovers around the world. Besides their aesthetic value, these great looking designs have a symbolic meaning too, which are probably the reasons behind their popularity.
This art may not be that very familiar to you, but it cannot be denied that these tattoos are gaining more and more popularity these days amongst those men and women tattoo lovers in the world. Just in case you do not know, anchor is a very important part of a ship. It is very helpful when the ship want to stop from moving forward while floating on the ocean. Anchor has a significant amount of weight, so it can surely stop the ship from moving. These tattoos can be commonly seen to those people who are working in the ocean just like the sailors. Even so, this does not mean that these will only look good on these people. Anchor is a very beautiful design of a tattoo that can be perfect for many people in the world. You just have to know their symbolisms and meanings.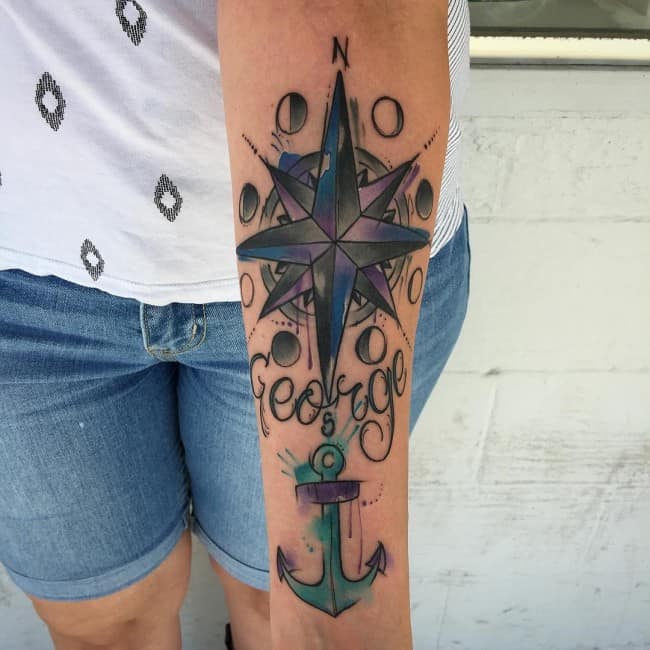 Anchor Tattoos Meanings         
Just like the other tattoos that you can see on people's body, they also have their own sets of meanings and symbolism that you should know before finally deciding to have these tattoos. Through these symbolism, you will know what design that you should be wearing on your own body. Here are some of these meanings and symbolism that you should take into account:
Determination – Determination is one thing they symbolize. The explanation for this is that the anchor will help the ship from floating and surviving in the ocean even though how bad the weather or the tide is. Just like a person, it is very determined to do its duty, this is why it is known to represent determination.
Christianism – Another thing this tattoo is representing is Christianism. A lot Christians in the entire world believe that the anchor is representing the Holy Cross that is very sacred among Christian people. Historically speaking, the Christians in the past were using the anchor as the symbol of the Holy Cross when they were trying to escape the cruelty of the Romans.
Dedication – Just in case you do not know, there are a lot of people in the world who are wearing this art as their dedication to someone or a group of people who became the anchors of their lives in achieving something. This is very common to those very successful individuals, who want to have something that they can remember for their life's anchors.
Conviction – Conviction is another thing that they represents. It is simply because it is said that the anchor is convicted enough to control even the biggest ship in the world. Hence, if you are very convicted to doing something that you really love, then you can show your extreme conviction.
Positivity – It is also believed that this is a sign of positivity. In case you are a person whom is viewing life positively, then wearing this art is one great thing that you can do, for sure. It will also show to the other people how positive you are as a person.
Famous Personalities         
In case you do not know, there are also a lot of celebrities who are currently wearing anchor tattoos. As a matter of fact, these famous personalities are very proud to display their gorgeous tattoos. Some of them are relating these tattoos to their lives such as the great achievements that they have got. There are also some of them who are just simply captivated with the incomparable beauty of these tattoos. Here are some names of these famous personalities:
Some Famous Designs  
In case you are one of those people out there who are considering of wearing an anchor tattoo, then you should know that there are so many gorgeous designs that you can choose from such tattoo. If you do not have any idea what particular design that really fits you, then it is better for you to ask the opinion of your hired professional tattoo artist. With his or her help, there is no way you cannot choose the one that will really fit your physical appearance and your unique personality as well. Here are some of the most beautiful designs that you can consider:
Heart and Anchor Design – This is undeniably one of the most popular design. This is the common choice of those people who want to show their devotion and love to something or someone. Of course, it involves an image of heart and anchor. It is now up to you how big or small your tattoo would be.
Rose and Anchor Design – Another very popular design is the rose and anchor design. Who would say a flower is not compatible with an anchor. It is definitely compatible, specially if you choose a rose flower. The entire design would represent sacrifice, honor, and love. If you want to show your love to someone or something, then the rose and anchor design would be perfect for you.
Rope and Anchor Design – This particular design is the common choice of those people who consider the ocean as the main source of their living like those millions of sailors in the world.
Black Anchor Design – Of course, it is all up to you if you want your anchor to be very colorful. However, it is a traditional design to have a black anchor tttoo design, but rest assured that it will look very gorgeous on yourself. This will represent masculinity, this is why it is the common choice of a lot of men in the world.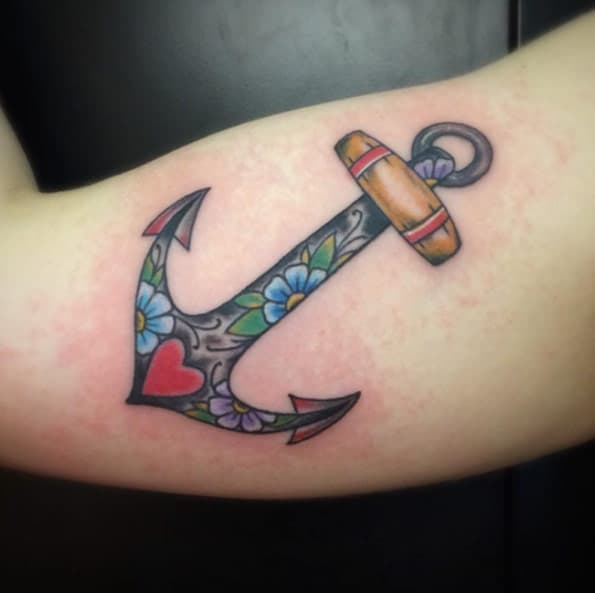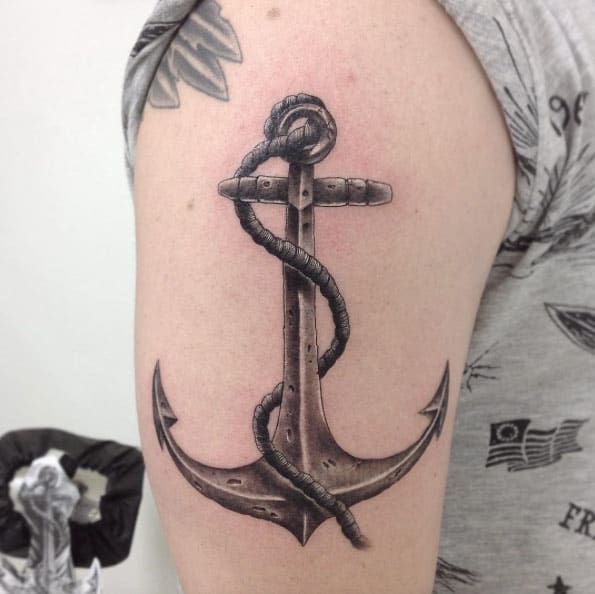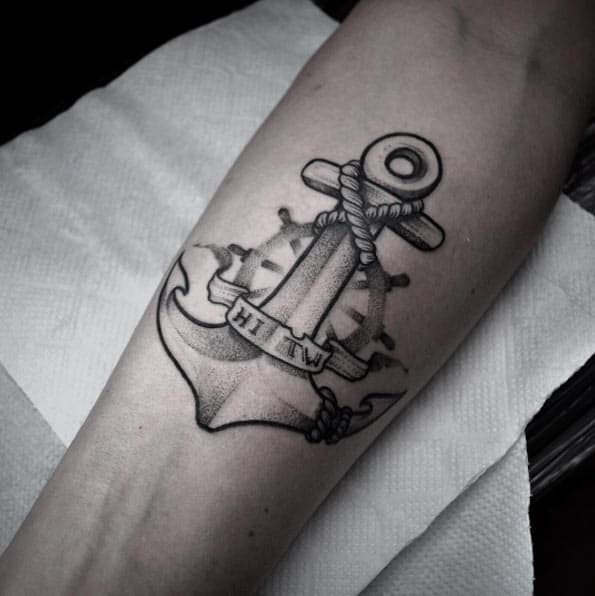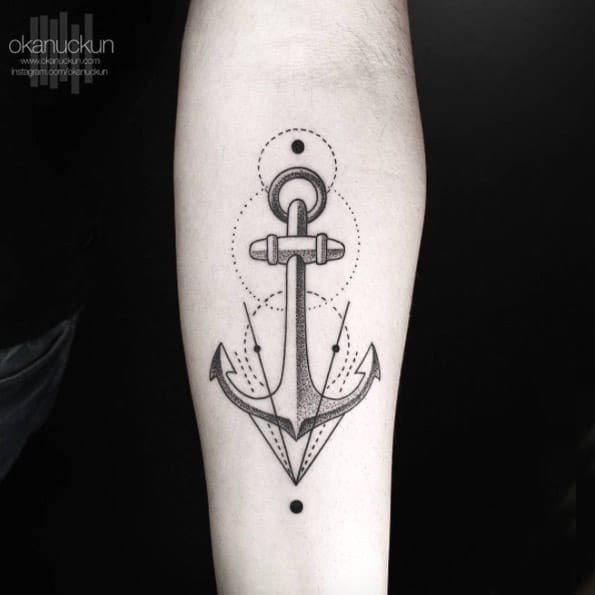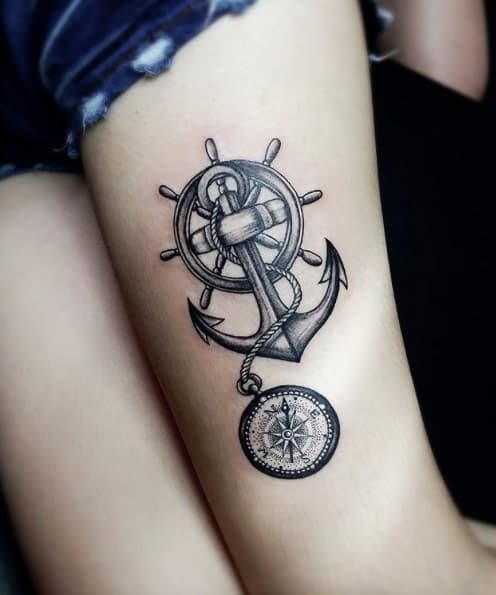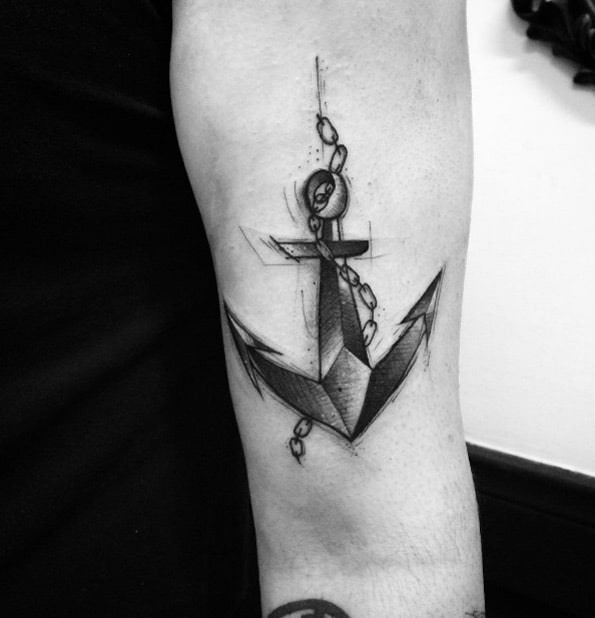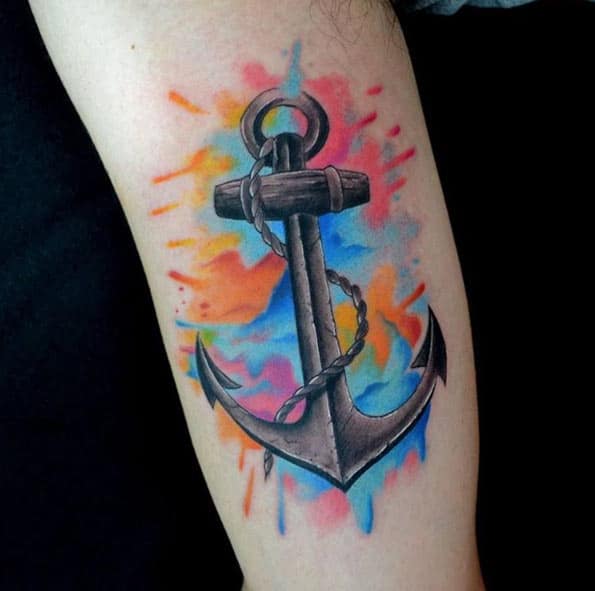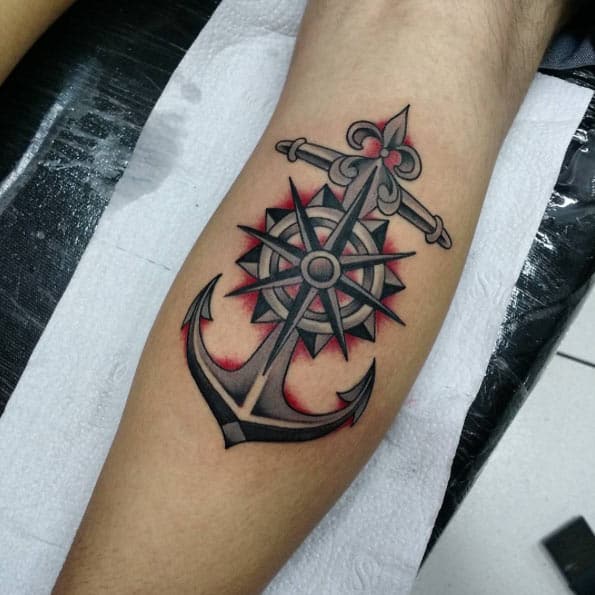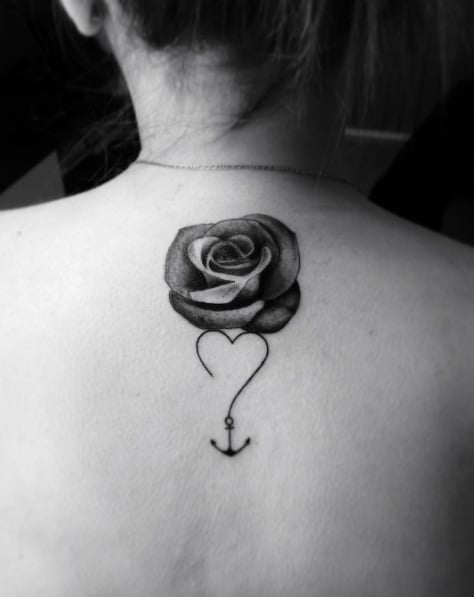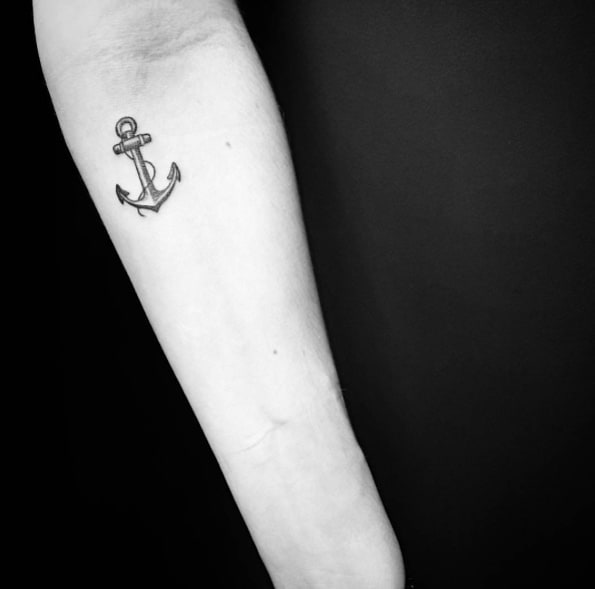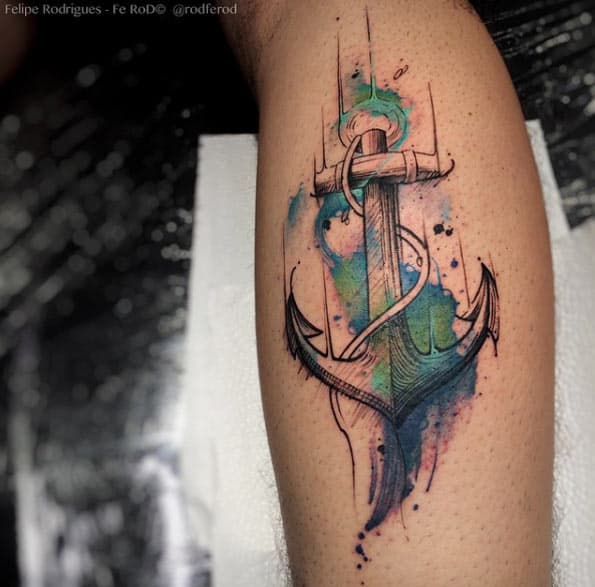 There is a great variety available in anchor art tattoos, with some of them being big, small, black, colored or combined with a host of other objects, showcasing the creativity of the tattoo designer who has created these designs. These can be placed on various body parts of men and women, including the chest, back, wrist, ankle, arm, shoulder or even fingers. The placement is determined on the basis of tattoo size as well as the design. A message added to the anchor can add a completely new meaning to it, besides reflecting the reason behind getting the tattoo done. "Refuse to Sink" is what an anchor stands for and the message stands for one's attitude in life, standing up against all kinds of adversities and being determined about never giving up.
One of the most probable causes of the attraction is its association with the ocean, which has always been an object of fascination for human race since times immemorial. It has always evoked some kinds of emotions in humans, while some are attracted towards the endless body of water, others are saddened by it, as women whose men are leaving for a long voyage. This have diverse meanings for different people. These tattoos are considered quite fashionable and reflect the attitude and personality of the bearer.
However, the deeper meaning hidden behind the tattoo is all the more reason why one must be very careful while choosing an anchor design, which would describe one's personality to the best and at the same time, connect with it.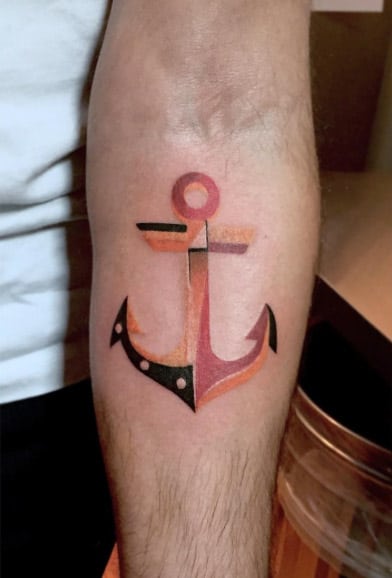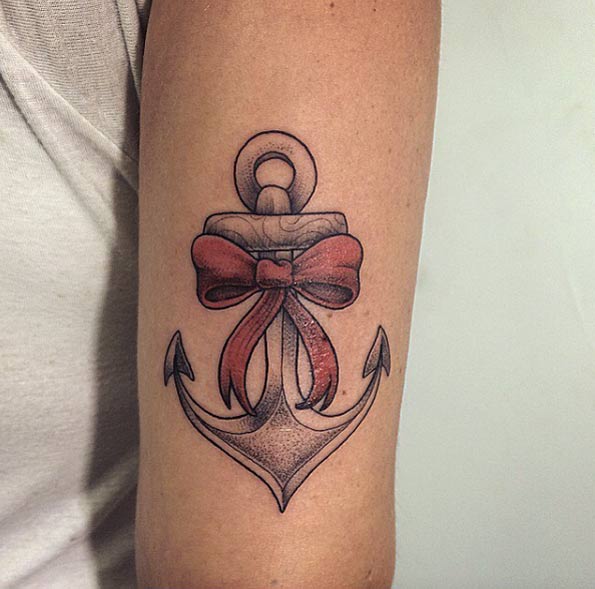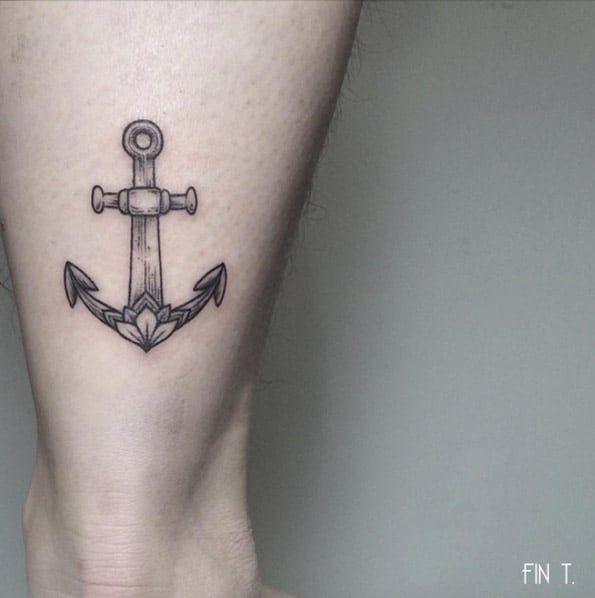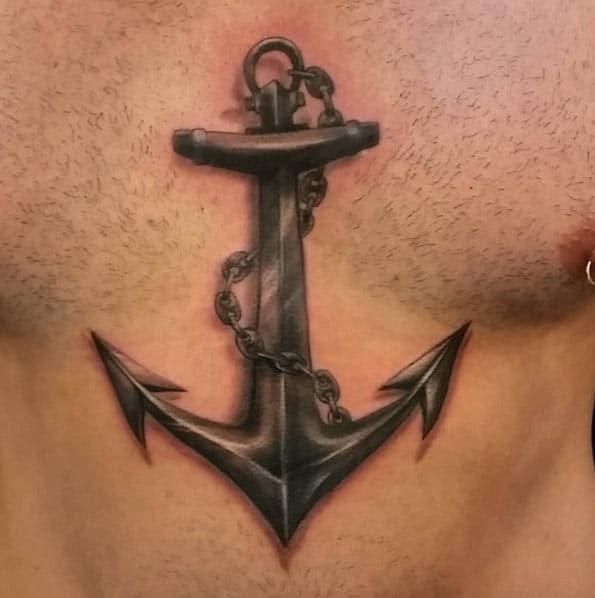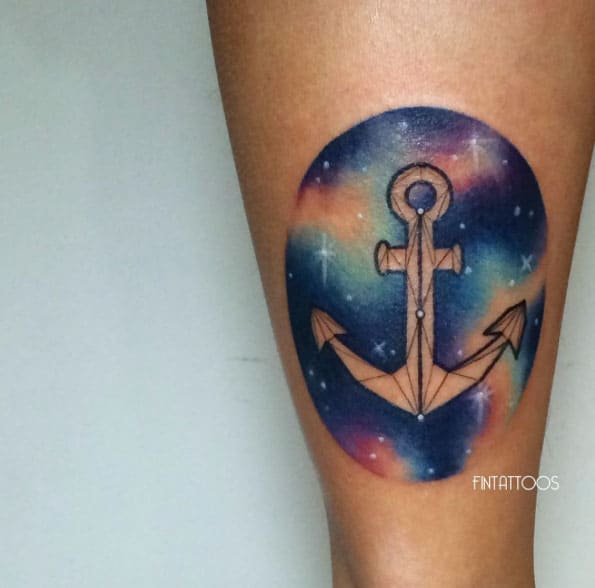 Basically, anchor tattoos are related with the ocean, but the deeper meaning of the tattoo goes much beyond the superficial one. There are several interpretations which have been made regarding this well liked tattoo design. Some of these are listed as follows:
Symbolically, anchor represents the determination of standing put in any kind of situation, as the object is something which refuses to sink and stay there, despite the tough tides of the ocean. In other words, it can be said that anchor stands for stability and resilience, which is described as the attitude of the bearer of this tattoo design. It relates him with the feeling of positivity and courage, with the ability to face even the most adverse situation with inner strength and determination.
Another theory relates the anchor with the Christian religion as it reflects the anchor as a symbol of the Holy Cross. Historically, it is believed that the anchor was used by the Christians as the secret way to represent the cross, while they were making efforts to escape from the atrocities of the Romans. It meant salvation and hope, as explained by Christianity. Then and even now, anchor is used as a subtle way to showcase one's religious faith and belief.
Some people have anchor engraved on themselves to show their gratitude towards such people, who have played the vital role of an anchor in their lives. It is like a piece of dedication and ovation to the people who act as the sheet anchor in one's life.
Another message which is given by an anchor is one's conviction and ability to withstand the hardest of challenges and struggles in life. Just as a small anchor can manage to control a huge ship, it brings the strength of character in a person, who can tackle the biggest of problems in life, with plain and simple positivity of attitude.
Both the historical and contemporary thought about anchor art tattoo has made it a great choice among the young and the old alike. Another reason for this is that this design has been popularized by rock stars, with many of them sporting anchor art tattoos, which has made the design a hot favorite among the young generation in particular. Since the last few decades, this design has crossed the barrier of the impression of being favored by people associated with the sea, and more and more people from other backgrounds are having them adorned on themselves.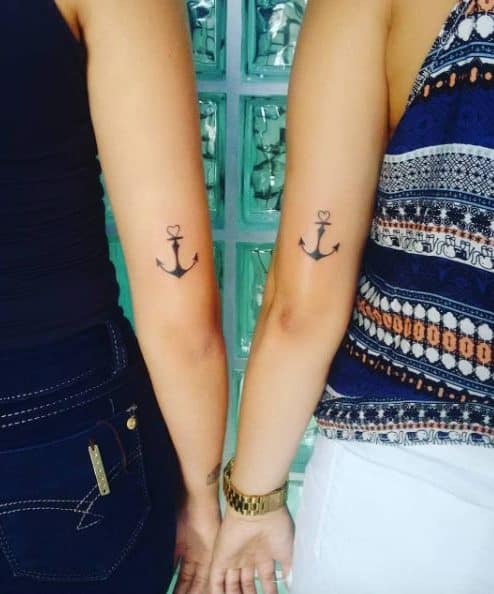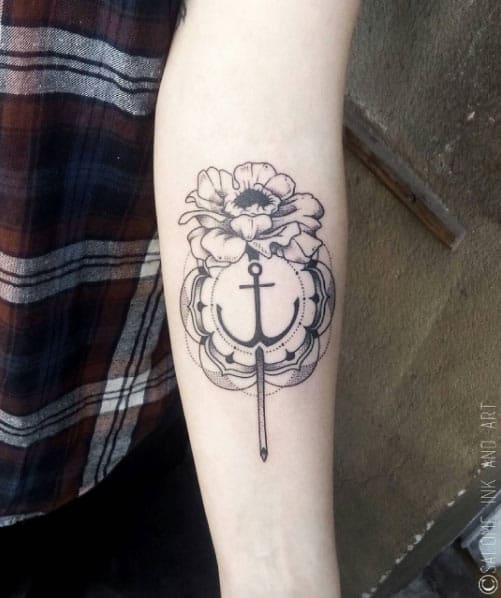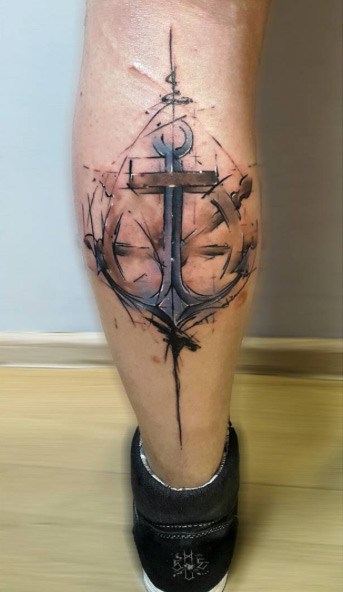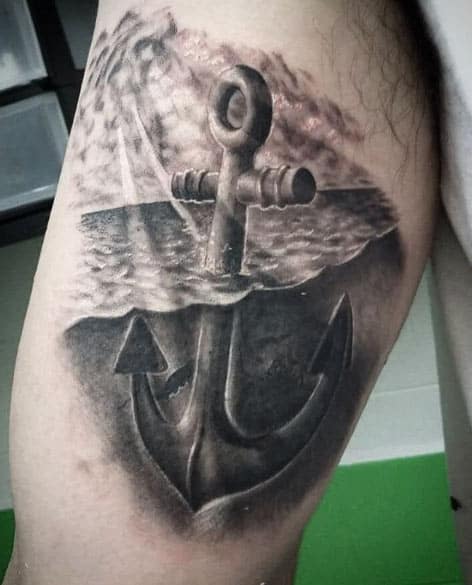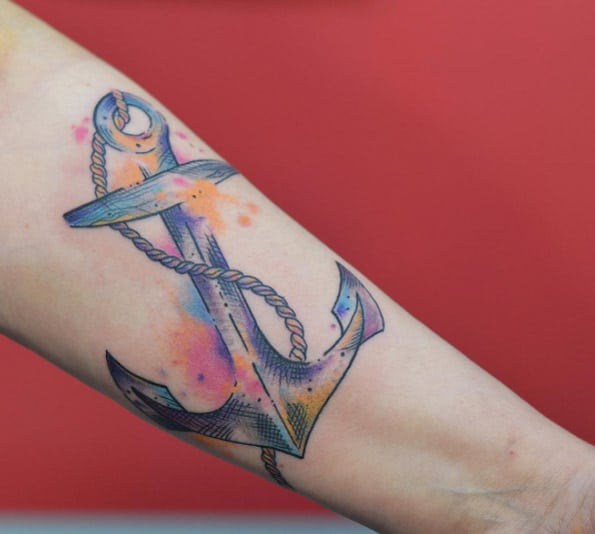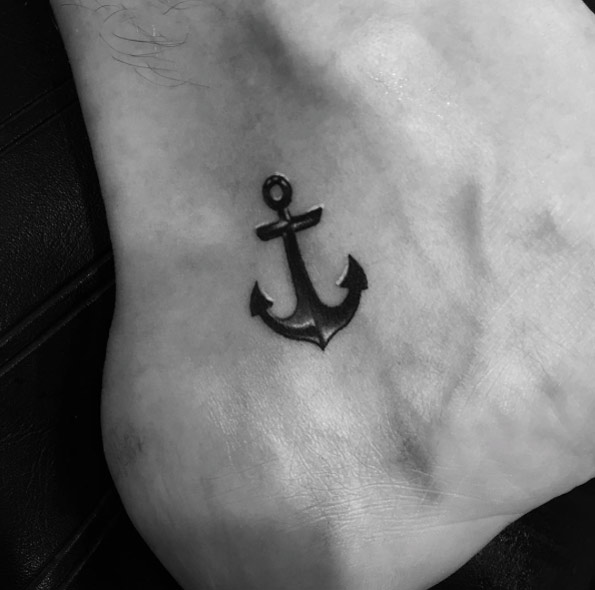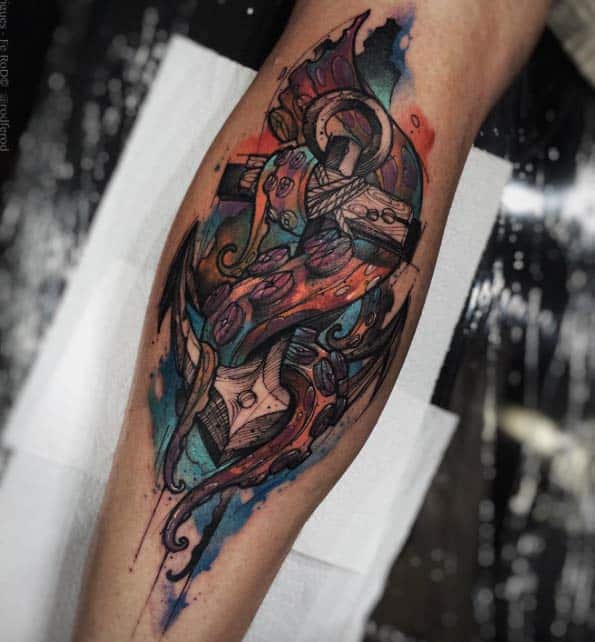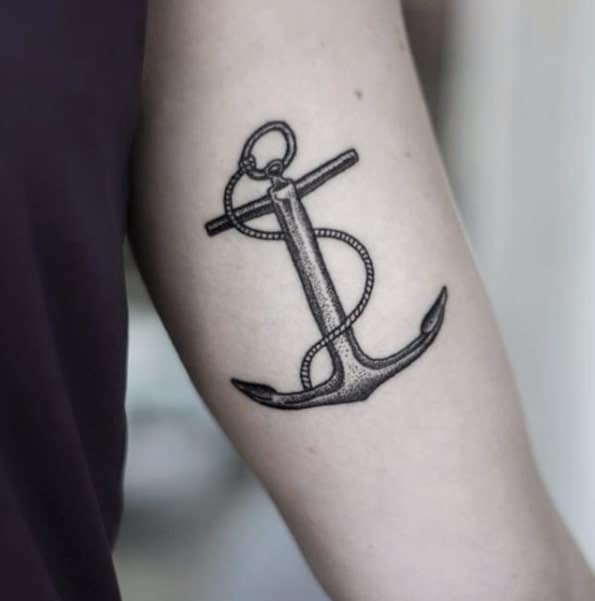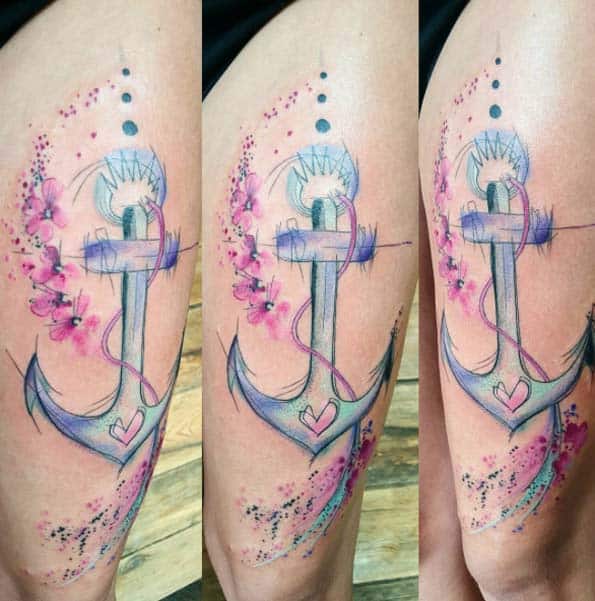 Anchor tattoos are favored by men and women alike, both from the younger as well as the older generation. The plain and simple reason for this is that in addition to looking good on any part of the body, they add a new meaning to one's personality. Anchor designs add a strength and conviction to the personality of the bearer, which is why tattoo designers have been focusing on this object to be framed in various designs and patterns. Here are some popular designs:
Anchor with Roses – The design which combines roses with it looks exquisite as well as represents love, honor and sacrifice. They look best on women as roses make the tattoo design more on the feminine side.
Anchor with Heart – The heart, which stands for love and devotion, is another cool object which is often blended in popular designs, to exhibit one's passion and devotion towards the most special person in his life.
Anchor for Couples – Couple tattoos are usually chosen by people who want to dedicate themselves to each other and tell that they are the most important persons in the lives of each other. One of the best choice for couple tattoos with anchor because they reflect that the two of them are anchored to each other and bound with each other for a lifetime.
Anchor and Rope Tattoo – Another cool option is the anchor and rope combination, which is often seen on sailors and the people related with the ocean. Anchor design combined with chains and ropes is well liked by the members of the US Navy. The design is very masculine in looks.
Black Anchor Designs – While most of the anchor are colored, those featured in monochrome designs in black and grey look quite cool and masculine and have a considerable fan following. Colored tattoos are preferred by females as they can look absolutely dazzling on them.
Other tattoo designs may combine objects like birds, animal such as lion, fish, feathers, skull and water, flowers, dreamcatcher along with the basic anchor pattern. Some people may have their names, initials or any words of quotations carved along with the anchor. These quotations can be suggested by the designers or chosen by the bearer himself, as something he wants to say to the world by the medium of this body art. Yet others may combine some religious symbols along with the tattoo to make an expression of one's religious faith and belief.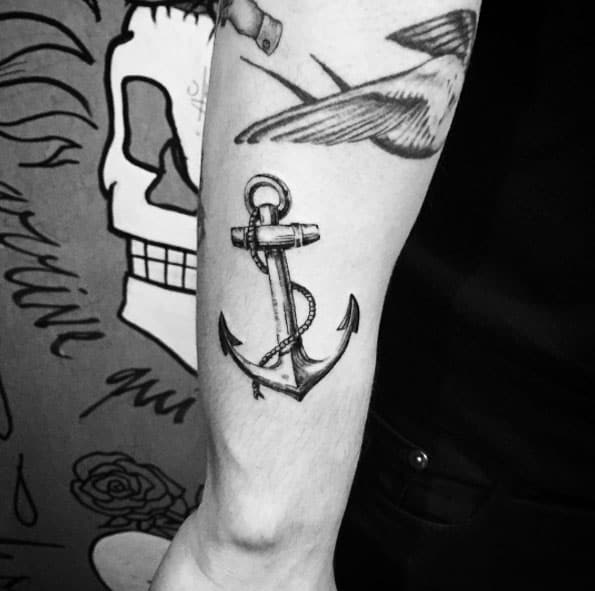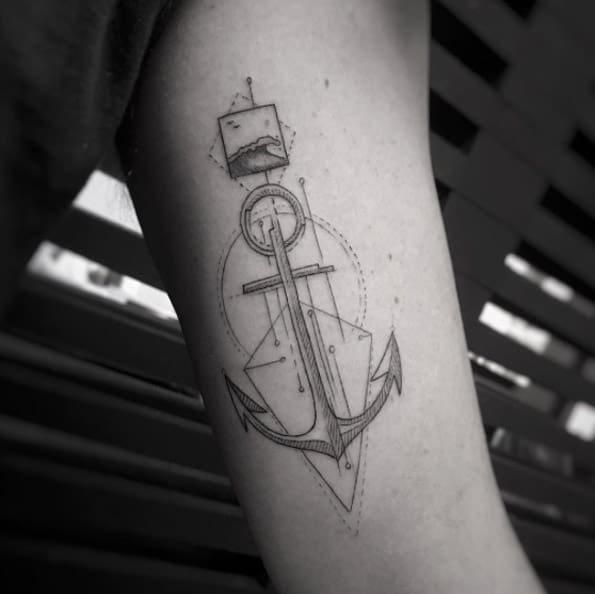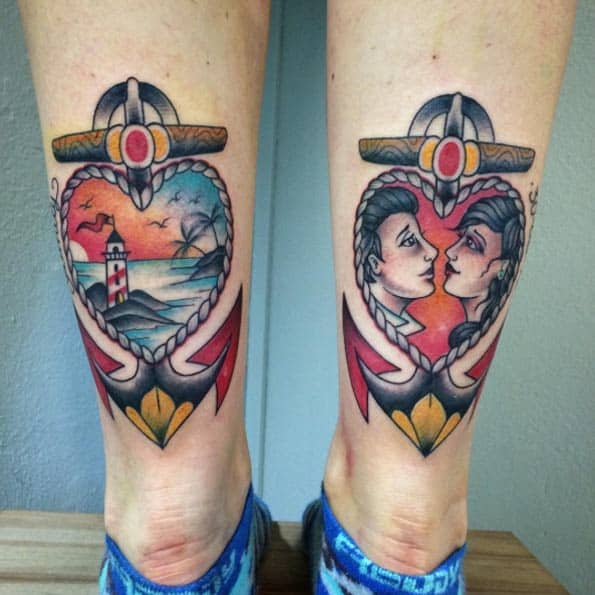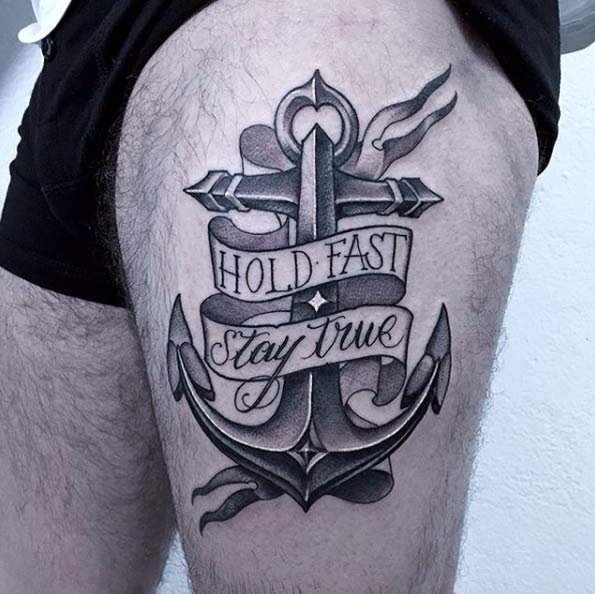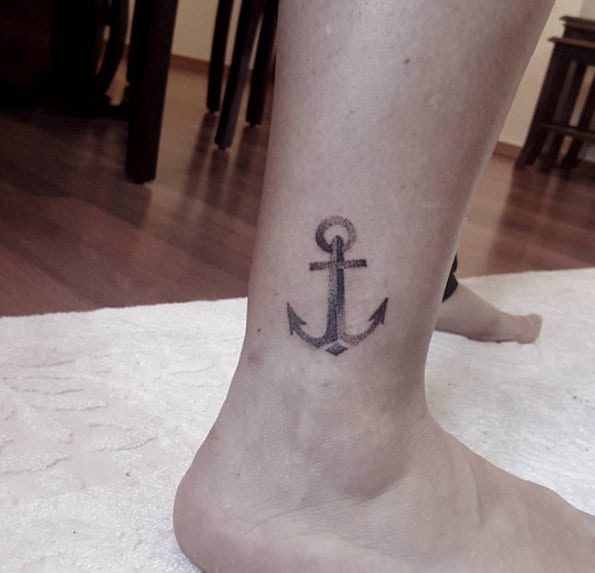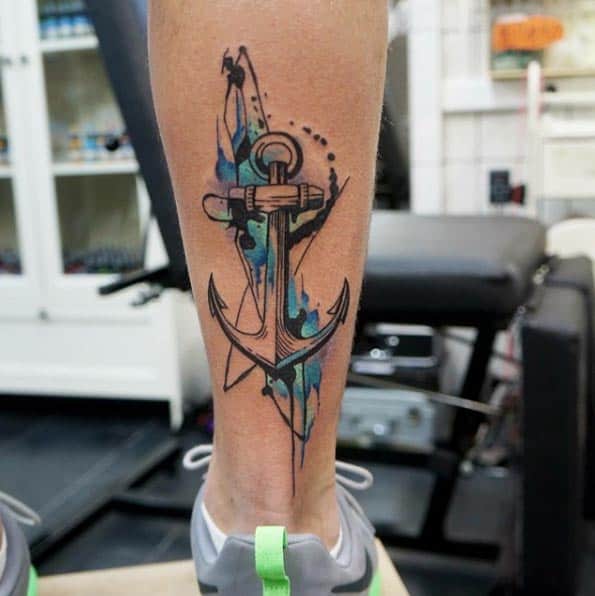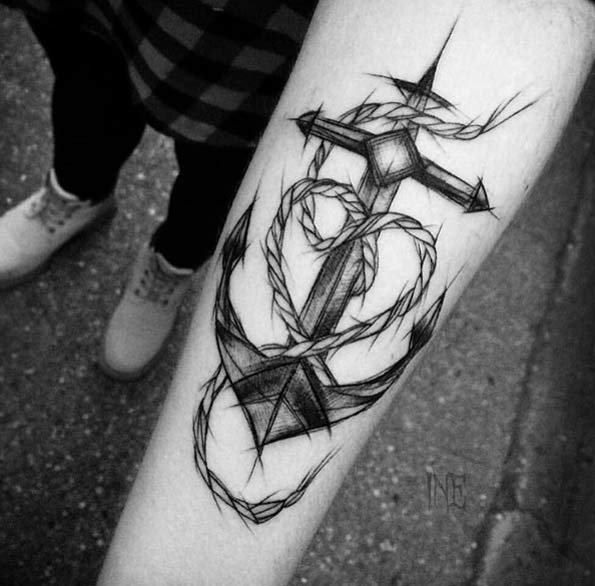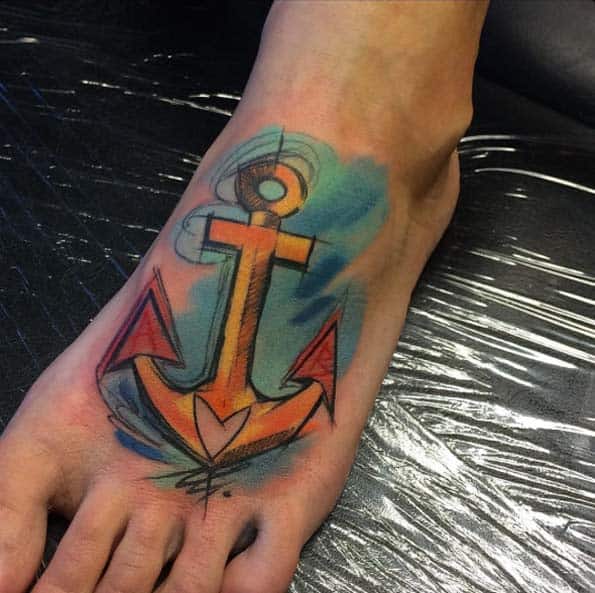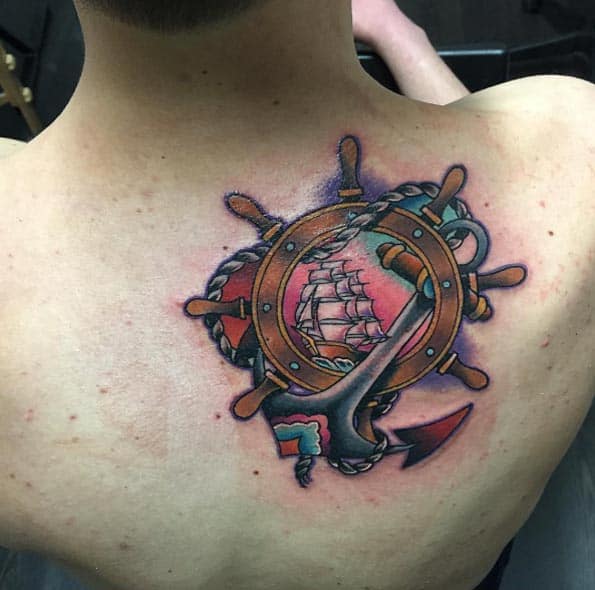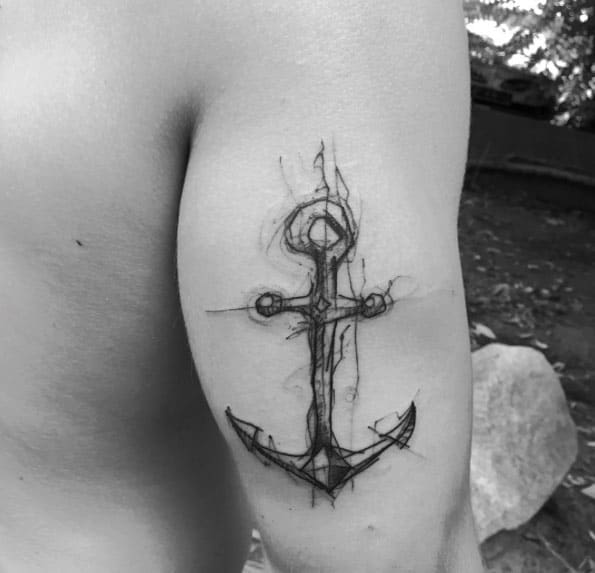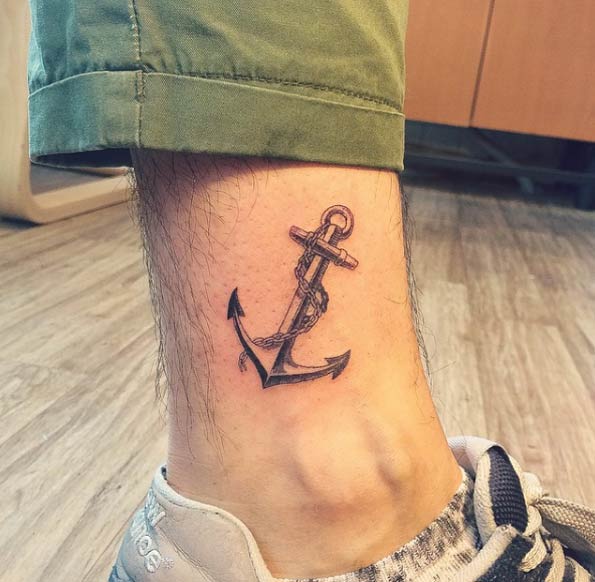 Placements Guide
Just in case you do know, the placement will also matter to achieve its greatness. Even so, it is all up to you where you wish to put it. But of course, it would be great to think about its placement many times before getting a tattoo. In this regard, here are some common placements of this tattoo that you might want to take into account:
Anchor on Wrist–The number one body part that you can place is your wrist. You can have it in both of your left and right wrists. But if you only want one anchor art, you can decide whether you want it on your left wrist or right wrist. There is no way it will not look great on that placement.
Anchor on Back of the Neck –If you want to be out of ordinary, you can place right there at the back of your neck. The fact that people would still go towards your back in order to see this tattoo really makes it more interesting.
Anchor on Back of Your Ears –Another very unique yet worth considering placement is at the back of your ears. People will surely get very interested to know you if you have such tattoo at the back of your ears. Of course, it can also make you more gorgeous.
Anchor on Feet –Yes, it would also look great right there on your left or right foot. In fact a lot of ordinary people and celebrities are having this particular body placement.
Final Words
Anchor tattoos are not just perfect adornments for those sailors out there, but also to those men and women tattoo lovers in the world. There are a lot of gorgeous designs that you choose from these tattoos like the black anchor design, the rose and anchor design, and the rope and anchor design. In choosing a design, make sure that it will represent the real you, and not just something that signifies nothing.