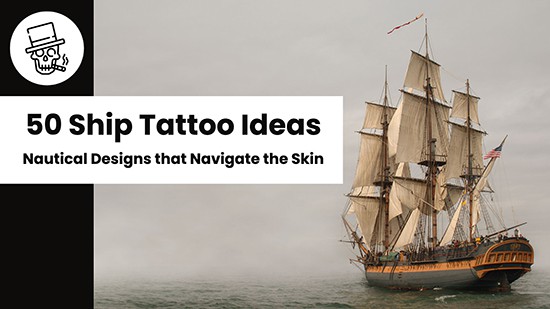 Ship tattoos are timeless designs that have been popular for decades. They symbolize a sense of adventure, exploration, and the excitement of discovering new horizons. 
Whether you're a sailor or simply love the sea, a ship tattoo is a great way to showcase your passion for the ocean. 
In this guide, we'll explore some ship tattoo ideas that can help you navigate the sea of tattoo designs and find the perfect one for you.
History of Ship Tattoos
In the 1700s and 1800s, sailors often got tattoos of ships to commemorate their journeys at sea. These tattoos were also a way for sailors to show their expertise and experience in sailing. 
A sailor with a ship tattoo was someone who had been around the world and had likely seen things that few others at home had.
During the 19th century, ship tattoos became more popular and began to feature more intricate designs. 
Sailors would often get tattoos of specific ships, such as the ship they served on or the ship that brought them home after a long journey. 
Some sailors even got tattoos of famous ships from history, such as the HMS Victory or the USS Constitution.
In the early 20th century, ship tattoos continued to be popular among sailors. However, the designs began to evolve to include more abstract and artistic depictions of ships. The Sailor Jerry tattoo style was popularized at this time.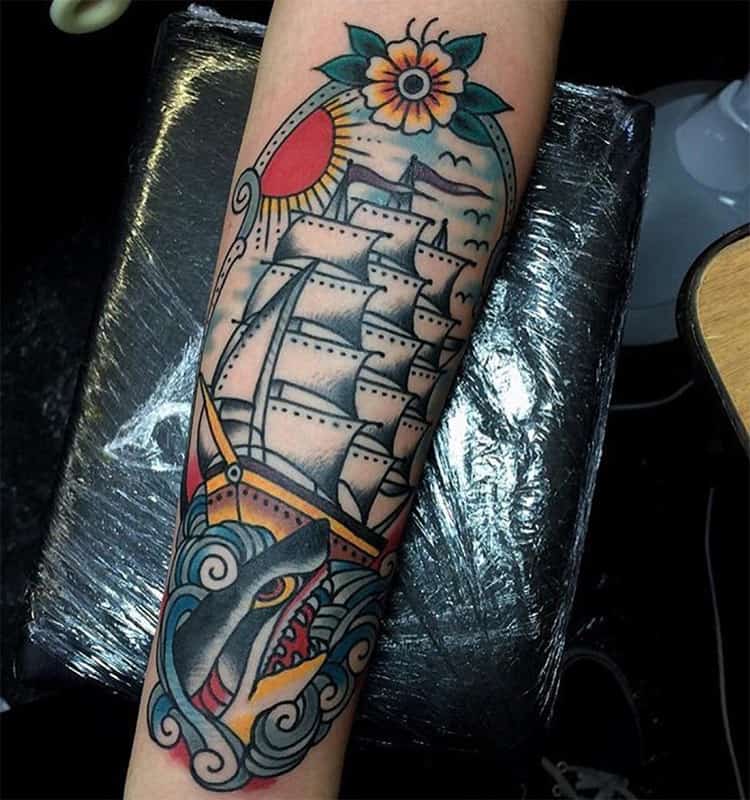 Credit: Sam Ricketts @ Black Chalice Tattoo
Sailors began to incorporate other nautical elements into their tattoos, such as anchors, mermaids, and compasses.
Today, ship tattoos are still popular among sailors and non-sailors alike. The designs have become even more elaborate and intricate, incorporating elements of realism and fantasy. 
Some people get ship tattoos to honor their own sailing experiences, while others get them simply because they appreciate the beauty and symbolism of ships. 
Regardless of the reason, ship tattoos remain a beloved and enduring symbol of the seafaring life.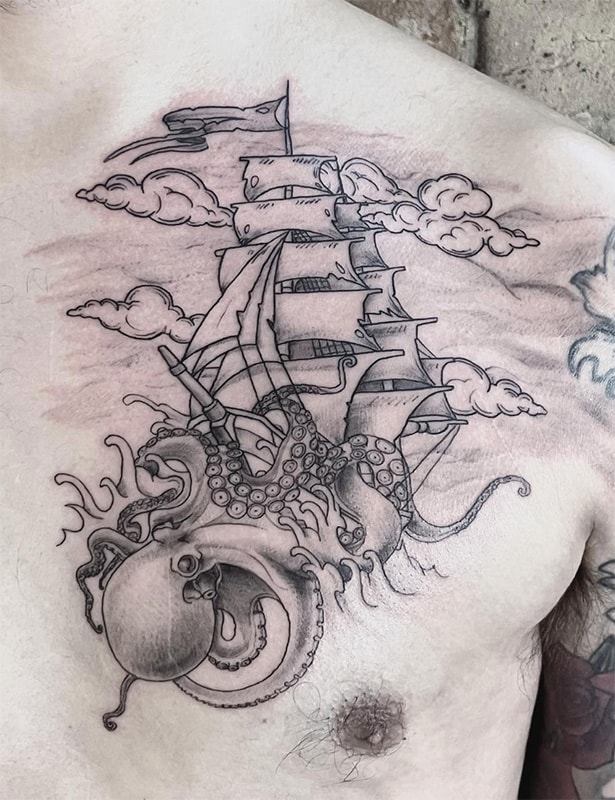 Credit: Jo Chastney Tattoo
Ship Tattoo Symbolism
Like any tattoo, ship tattoos can have different meanings depending on the individual who wears them. 
Some of the most common symbolism associated with ship tattoos include:
Adventure: Ship tattoos represent the spirit of adventure and the excitement of discovering new lands. Venturing from the safety of dry land onto the water is a leap of faith.
Freedom: For many people, ships represent freedom and the ability to travel anywhere in the world.
Overcoming adversity: Sailors face many challenges at sea, and a ship tattoo can symbolize the ability to overcome adversity.
Strength and resilience: Ships must be strong and resilient to survive the harsh conditions of the sea, and a ship tattoo can represent these qualities.
Nostalgia: For some, ship tattoos represent a sense of nostalgia for a bygone era of sailing.
Independence: The ability to travel freely and do as one pleases are characteristics we associate with sailors and therefore ships.
A love for the ocean: Ships are vessels for navigating the ocean. They are designed to work in harmony with the sea. A tattoo of one can therefore symbolize our relationship with the ocean.
A journey: A ship can represent a spiritual journey to new places. From metaphorically deep water to places more enjoyable and comfortable.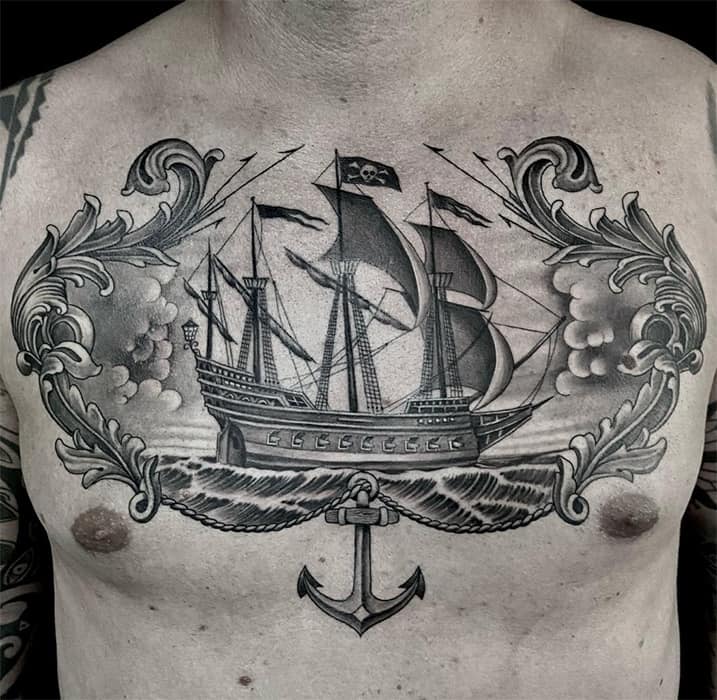 Credit: Massimo Luciano
The Biblical Meaning of Ships
Ships are mentioned throughout the Bible, and they can have different meanings depending on the context. Here are some of the mentions and what they can mean. Although like much in the Bible, it's open to interpretation.
A means of transportation: In the Bible, ships were often used to transport people and goods across the sea. For example, in Acts 27, the Apostle Paul and his companions were shipwrecked on the island of Malta while sailing from Caesarea to Rome.
A symbol of prosperity: In the Old Testament, ships were often associated with trade and commerce, which were sources of wealth and prosperity. For example, in 1 Kings 10:22, it is said that King Solomon had a fleet of ships that brought him gold, silver, ivory, and apes from distant lands.
A symbol of salvation: In the New Testament, ships can symbolize salvation or deliverance. For example, in Matthew 14:22-33, Jesus walked on water and calmed the storm that was threatening the boat that his disciples were in. This demonstrated his power over nature and his ability to save those who put their trust in him.
A symbol of faith: In the Bible, ships can also symbolize faith or trust in God. For example, in Hebrews 11:7, Noah built an ark in faith, trusting that God would save him and his family from the flood.
A symbol of the church: In some interpretations, ships can symbolize the church, which is seen as a vessel that carries people to salvation. This idea is reflected in hymns like "Jesus, Savior, Pilot Me," which compares Jesus to a pilot who guides the ship of the church through the storms of life.
Ship Tattoo Ideas
When it comes to tattoo ideas, there are endless possibilities. when it comes to ships. Here are a few popular ideas.
Traditional Ship Tattoo
This classic design features a clipper ship or galleon in full sail, often surrounded by waves and other nautical symbols. Traditional ship tattoos are typically done in bold, bright colors with bold outlines. Just check out the awesome example below.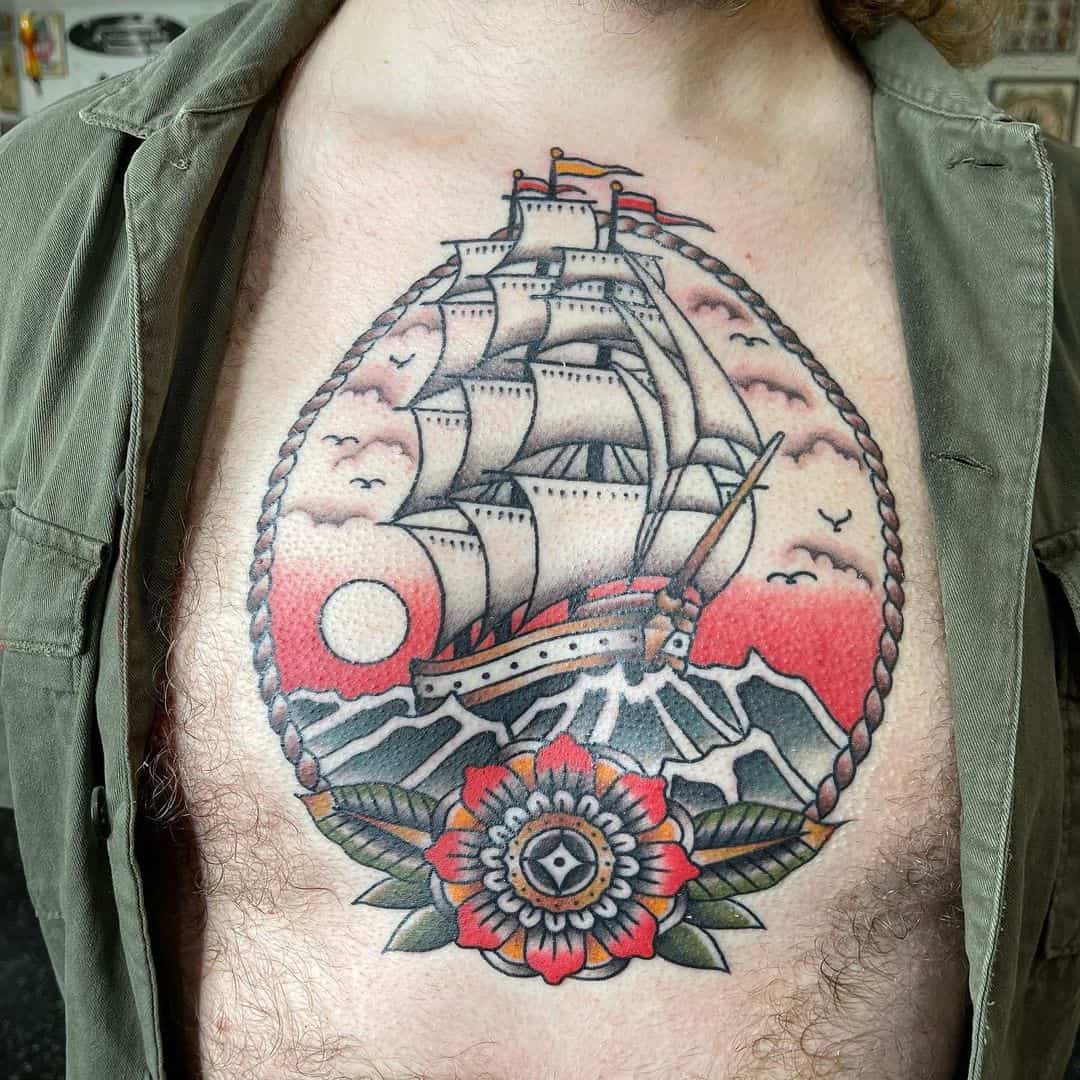 Credit: @kustomthrillsrs
Realistic Ship Tattoo
For a more realistic take on a ship tattoo, consider a design that looks like a photograph or a detailed drawing. Realistic ship tattoos can be done in black and white or in color, and they can be designed to look like a particular ship or a generic vessel.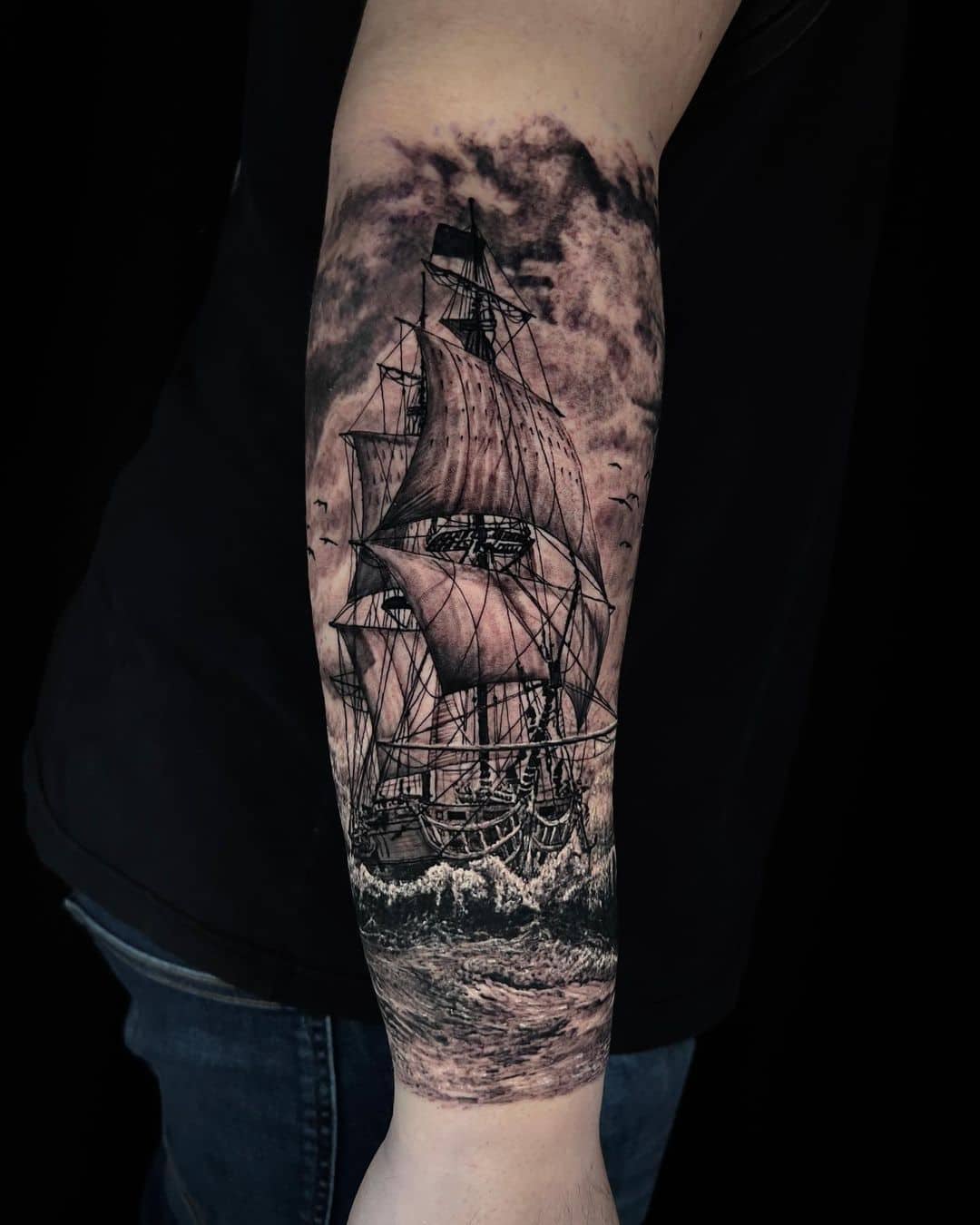 Credit: @etgaroak
Geometric Ship Tattoo
Geometric ship tattoos are a modern take on the traditional ship tattoo. These designs feature a ship that is made up of geometric shapes, often with clean lines and a minimalist style.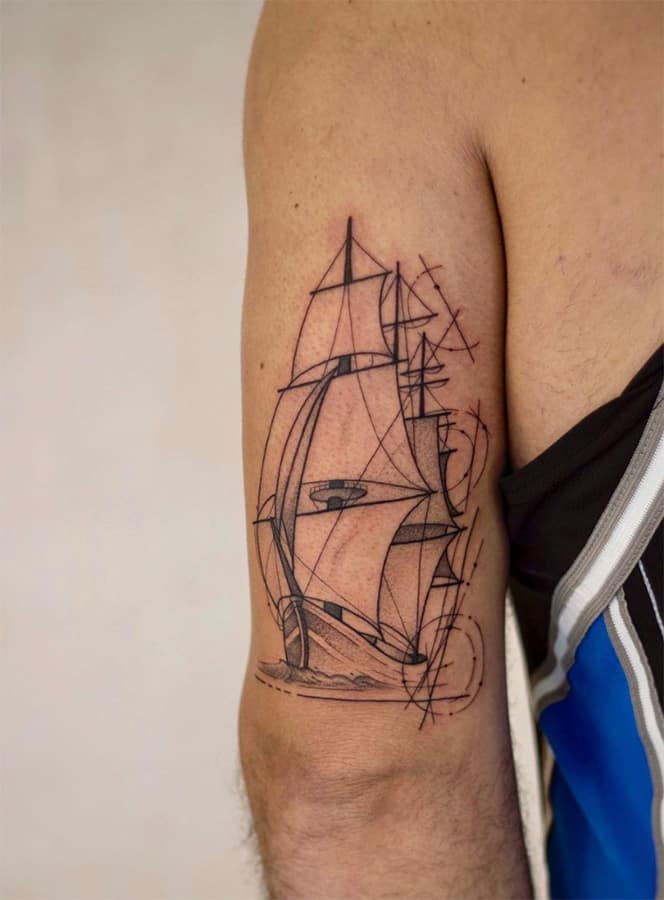 Credit: Instagram
Ship and Compass Tattoo
A ship and compass tattoo is a great way to combine two nautical symbols in one design. The ship can be designed in a traditional or modern style, while the compass can be realistic or stylized.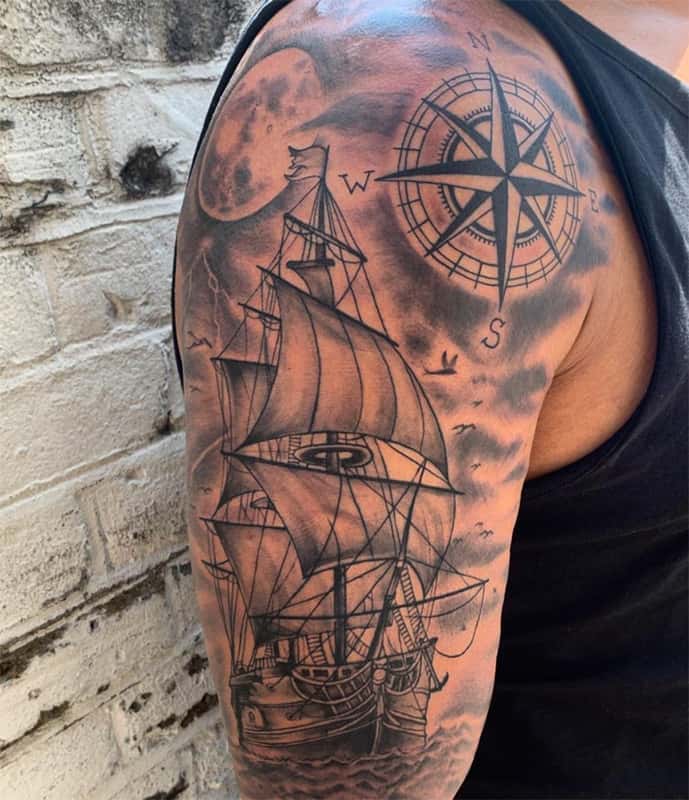 Credit: Tom @ Hammersmith Tattoo London
Ship and Anchor Tattoo
Another popular combination is the ship and anchor tattoo. This design features a ship that is anchored, often surrounded by waves and other nautical elements. The anchor can be designed in a traditional or modern style.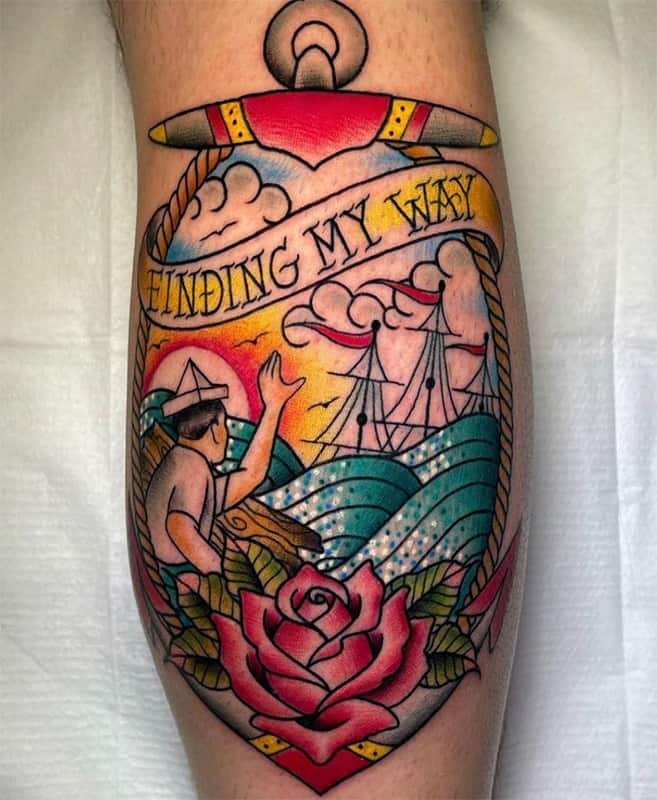 Credit: Nacho @ Bay Ink Tattoo
Ship and Mermaid Tattoo
For a more whimsical take on a ship tattoo, consider a design that features a ship and a mermaid. This design can be done in a traditional or modern style, and the mermaid can be designed to look realistic or stylized.
More Amazing Ship Tattoo Ideas
We've only just got started! Keep going to see some of my other favorite ship designs.
Pirate Ship Tattoo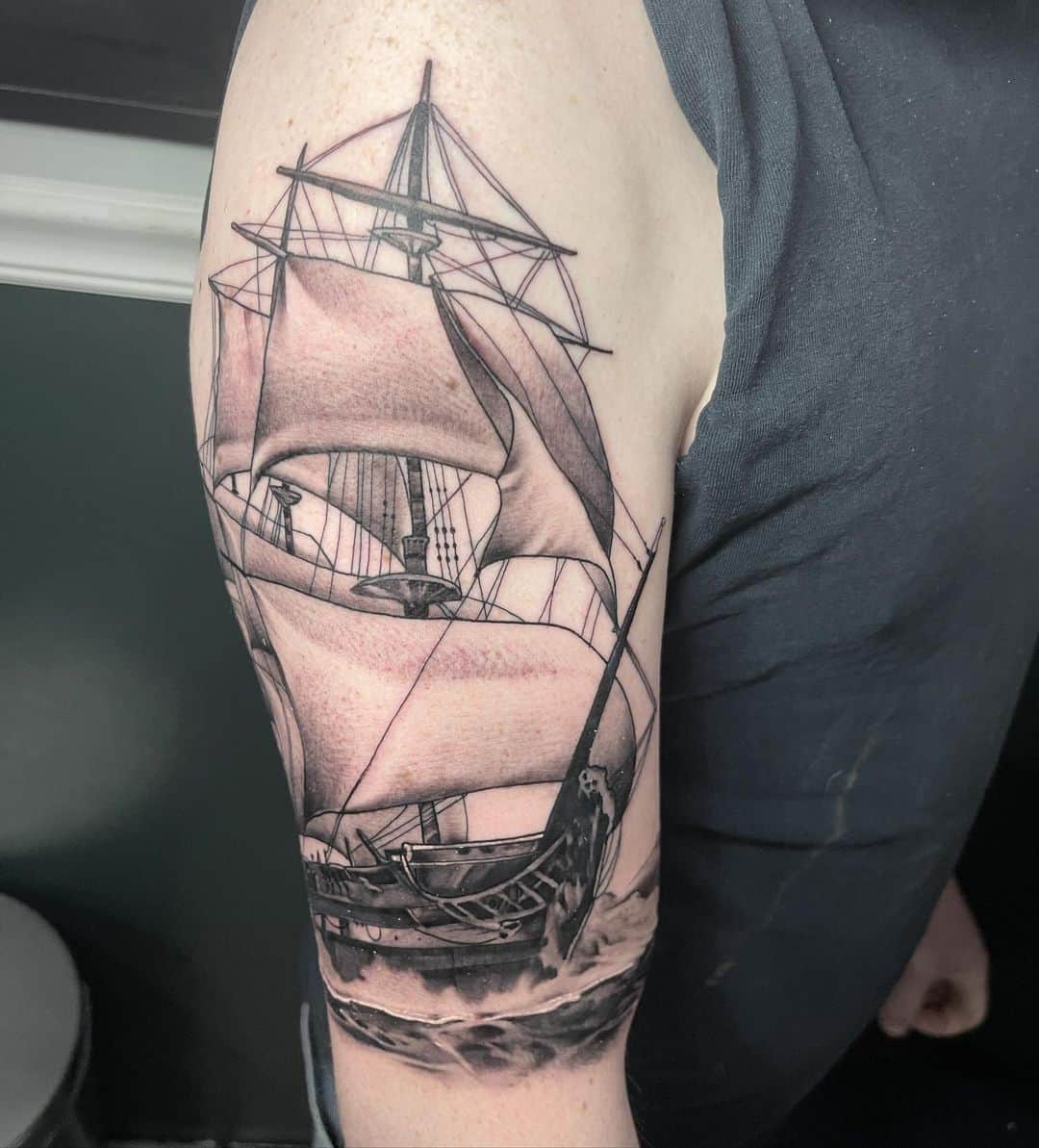 Credit: @vinniepernice_tattoo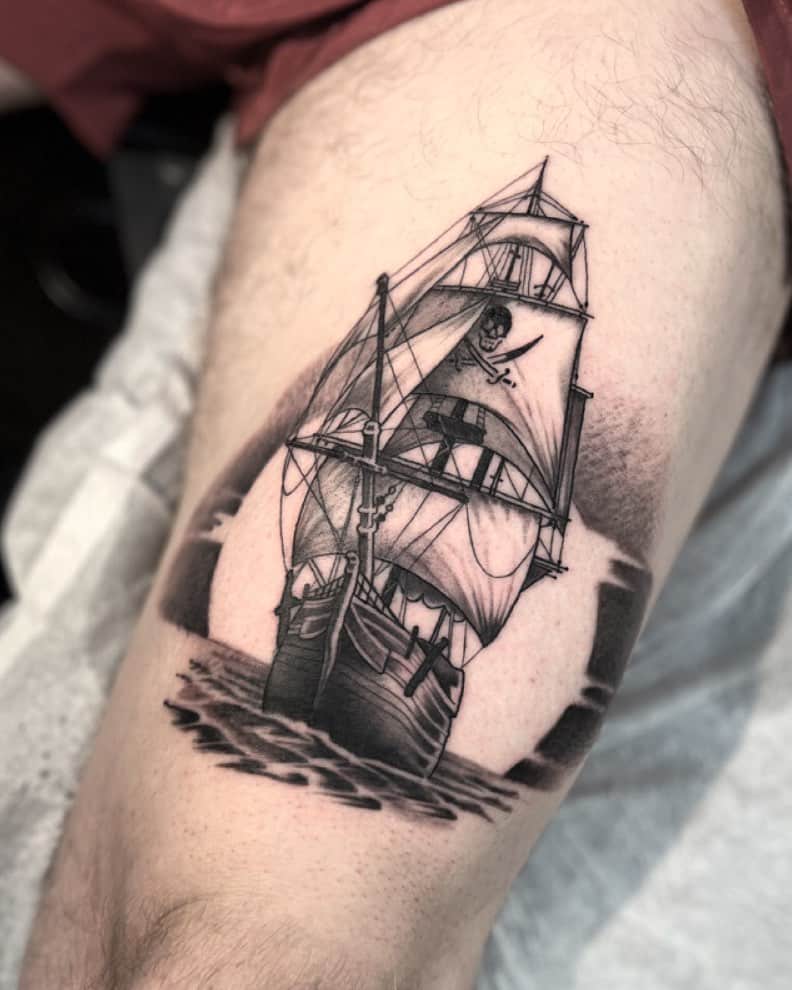 Credit: @midwestlove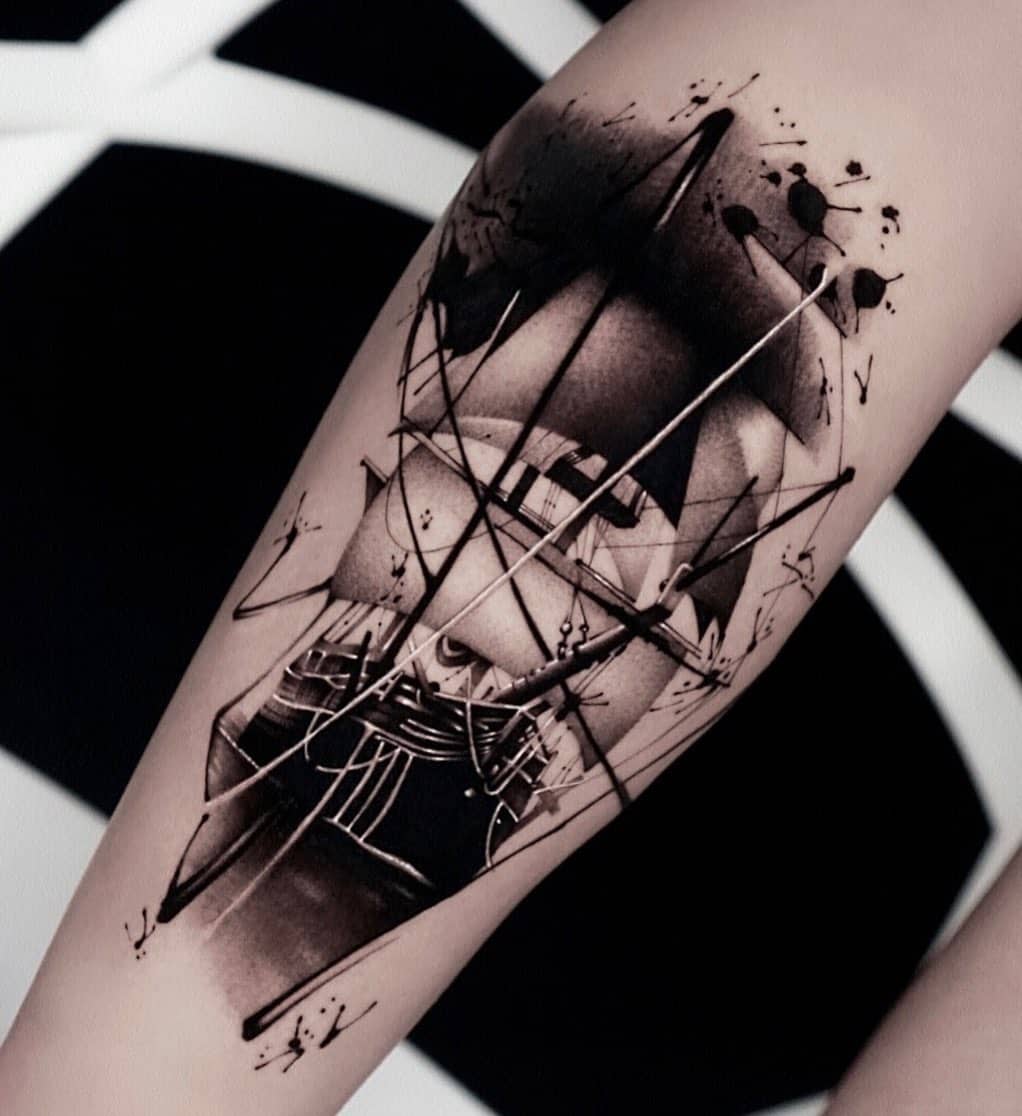 Credit: @verc_gallery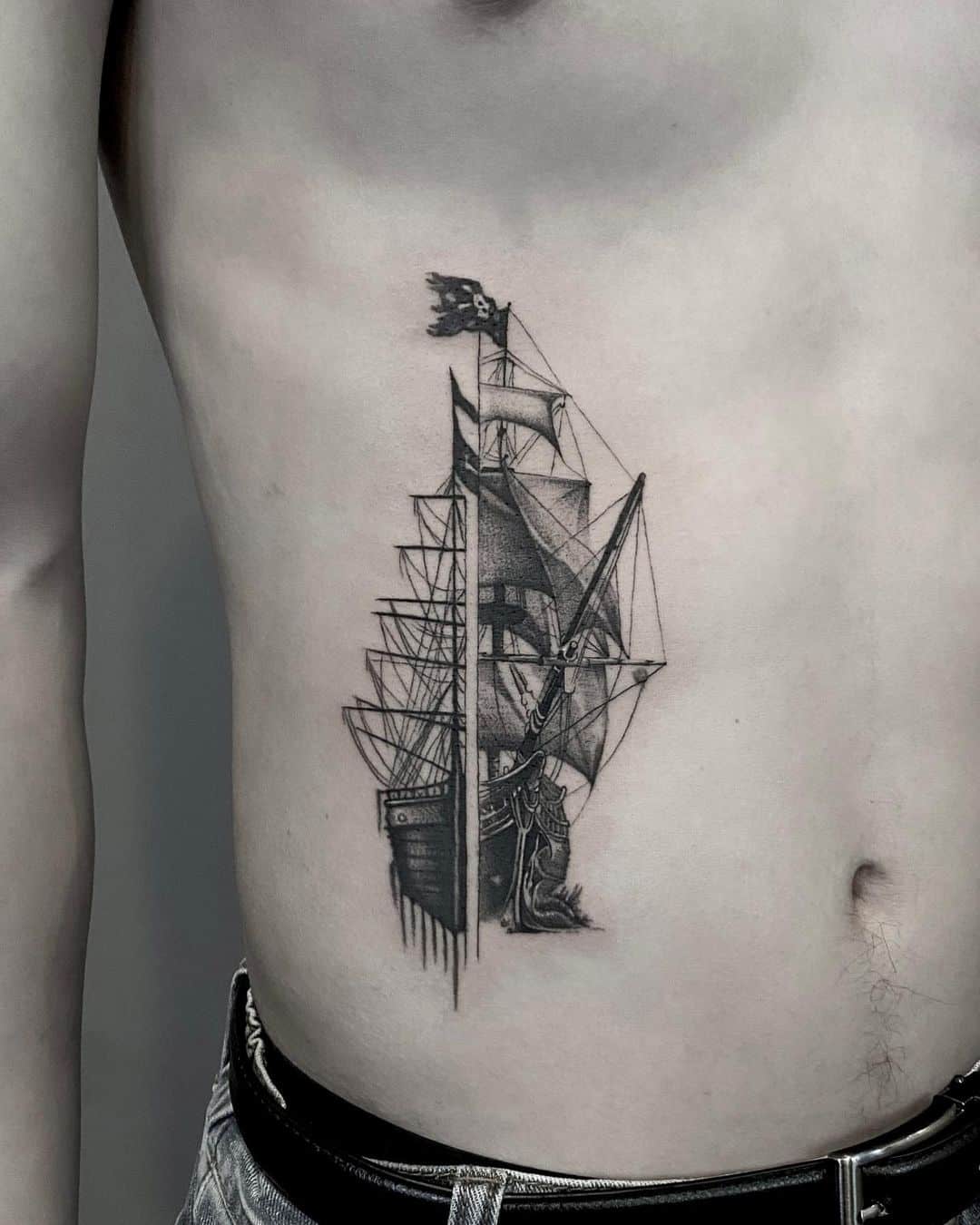 Credit: @tattooist_andy
Viking Ship Tattoo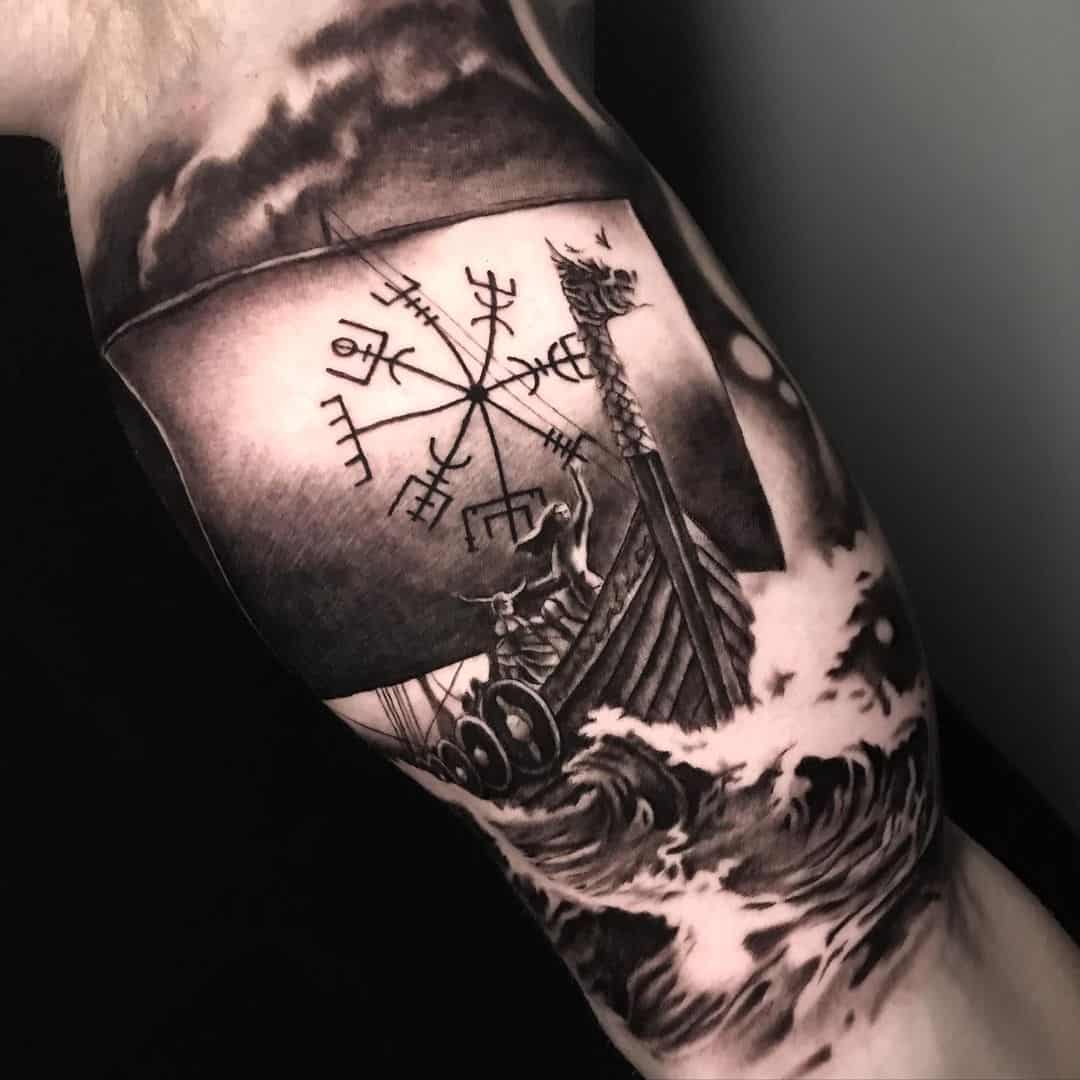 Credit: @zara_tattoos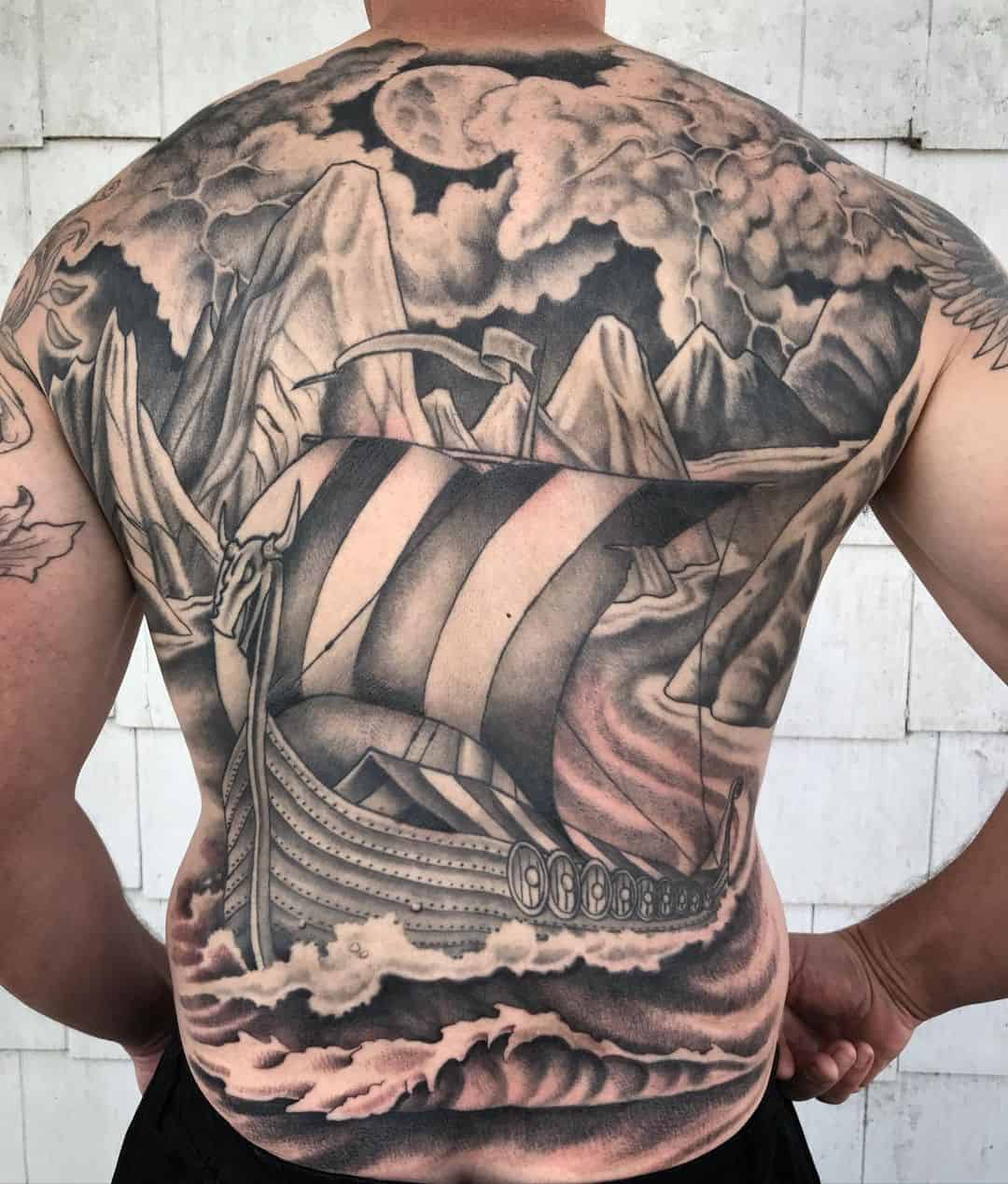 Credit: @edwinshaffer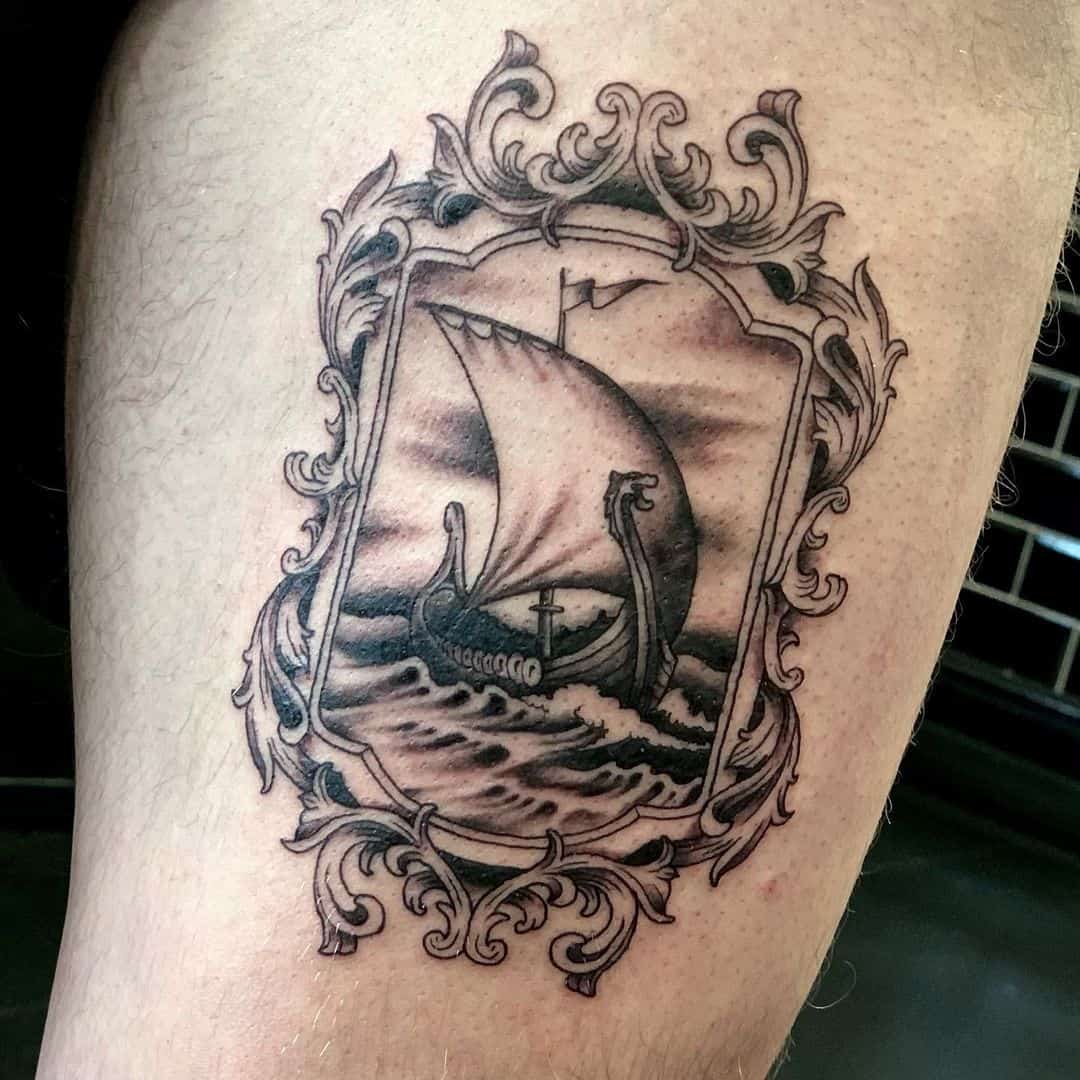 Credit: @rupertcleaver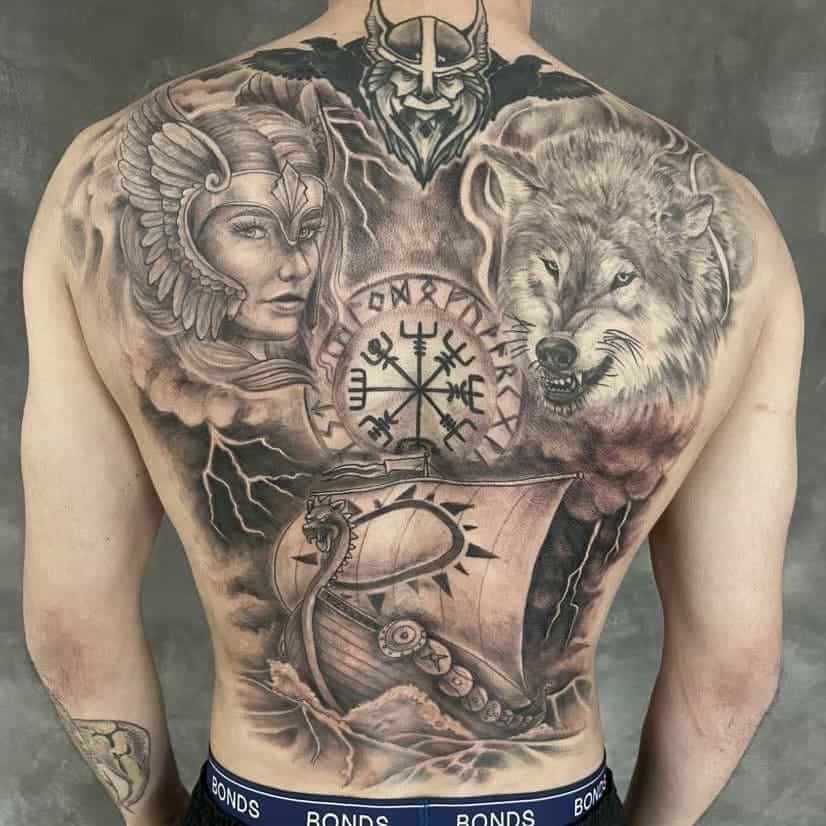 Credit: @keeanftattoo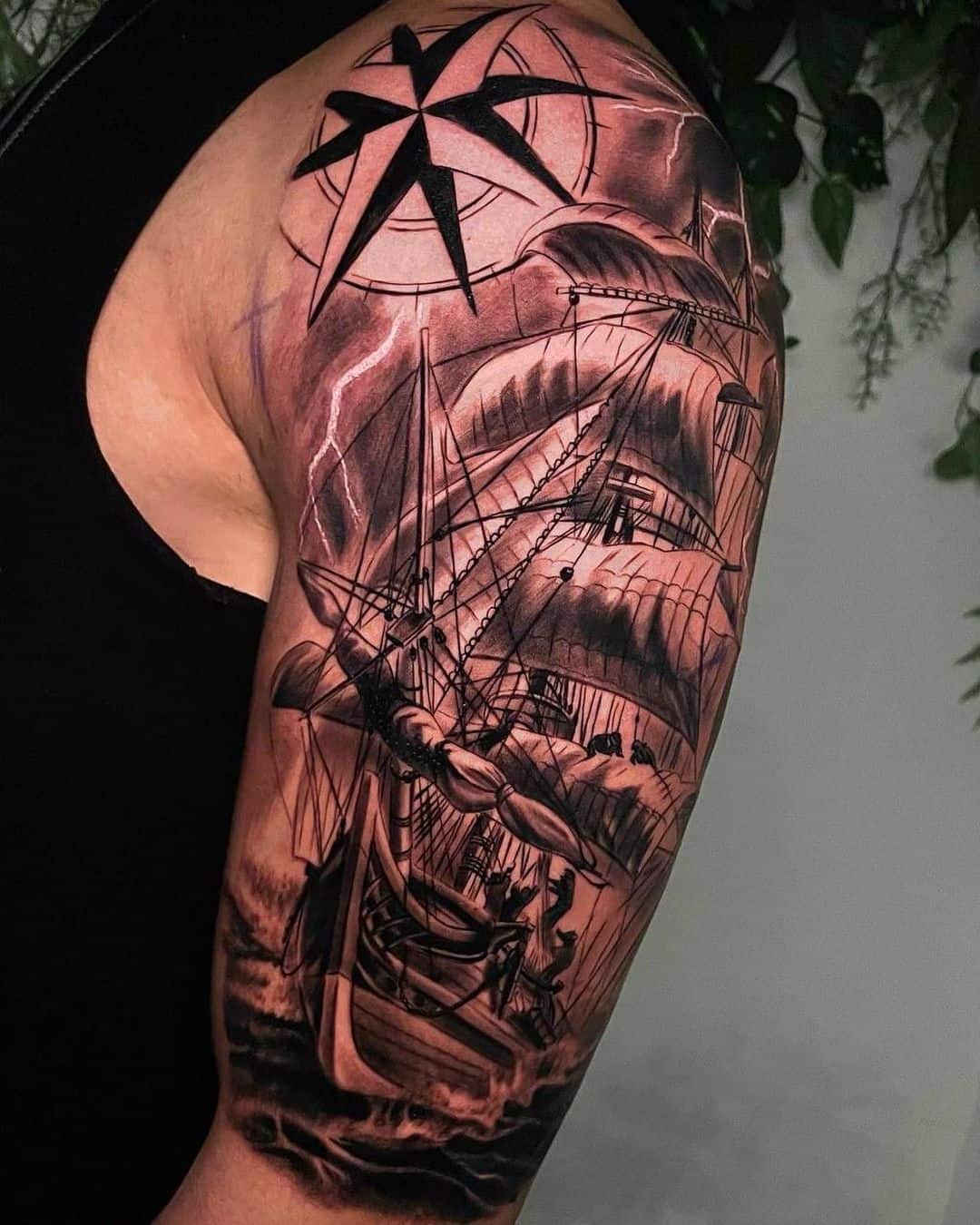 Credit: @way_of_ink_tattoo
Traditional Ship Tattoo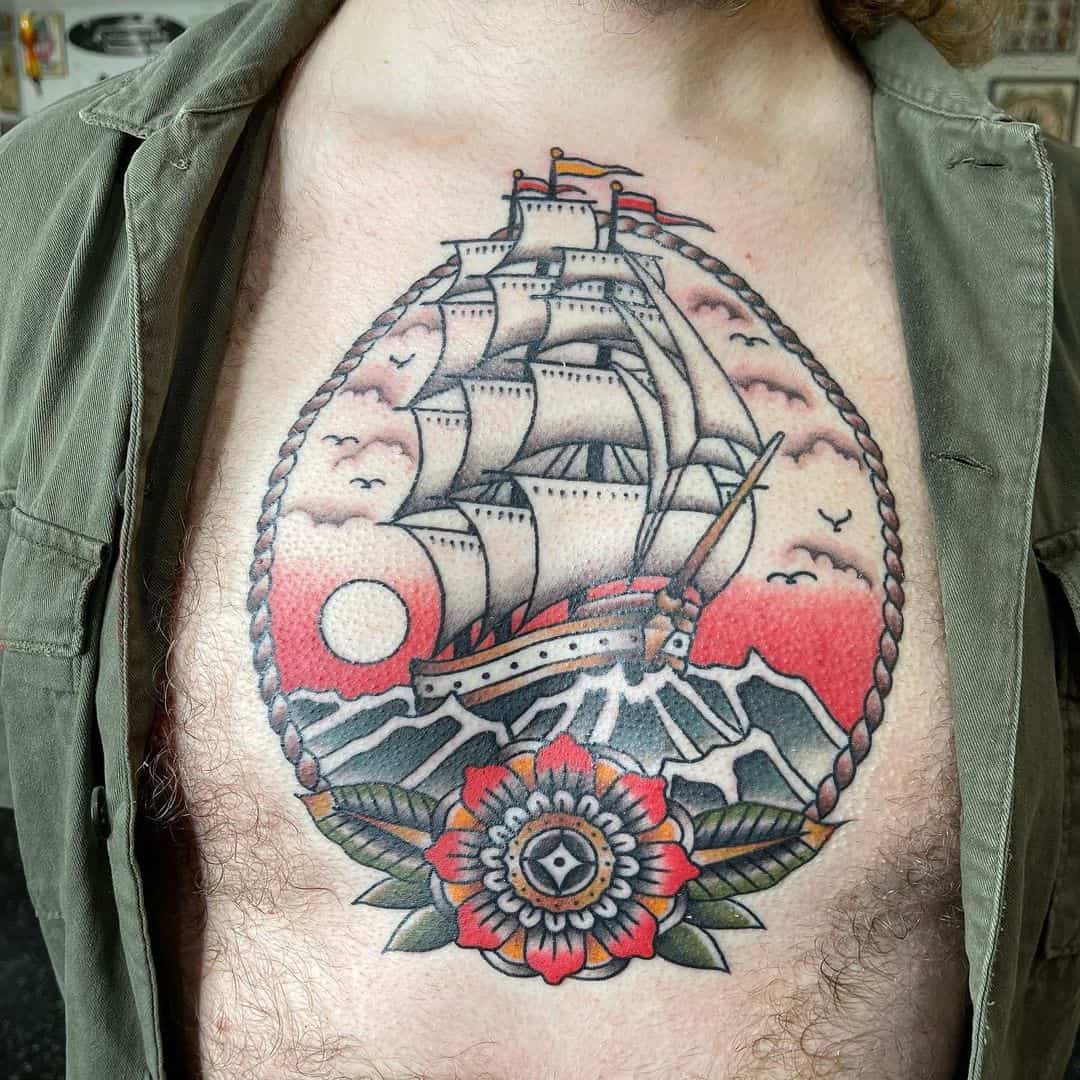 Credit: @kustomthrillsrs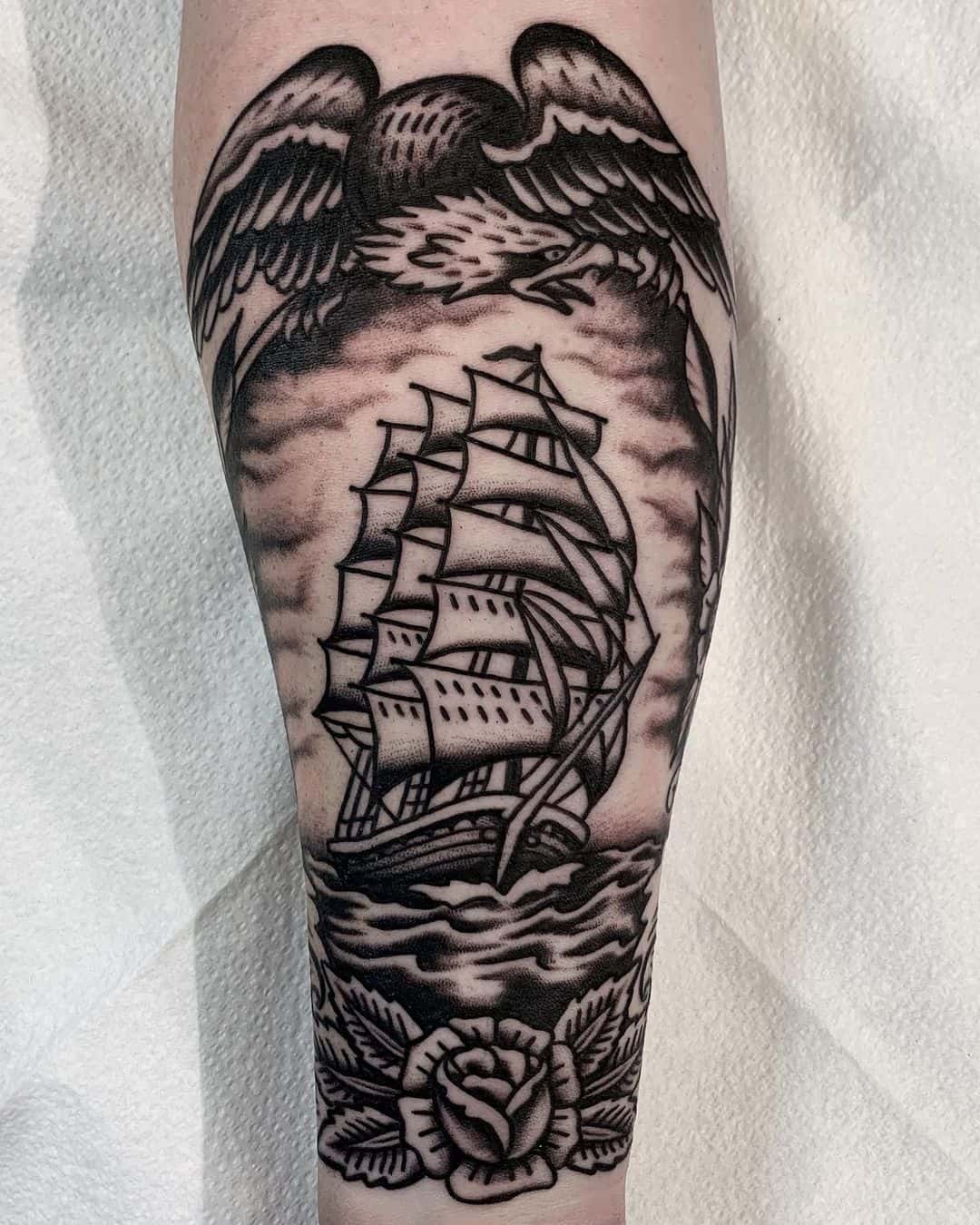 Credit: @westonimhoff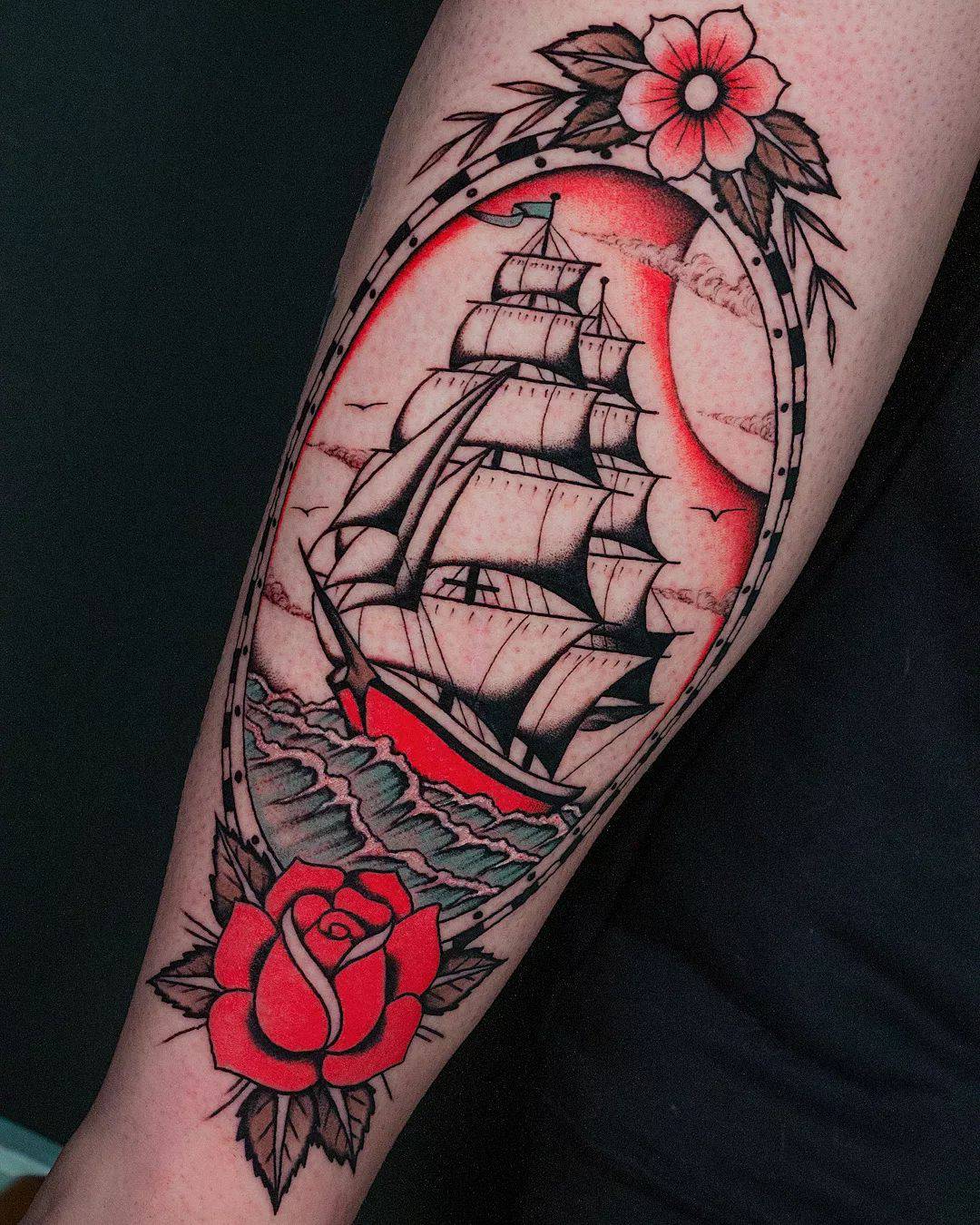 Credit: @federicololli_tattooer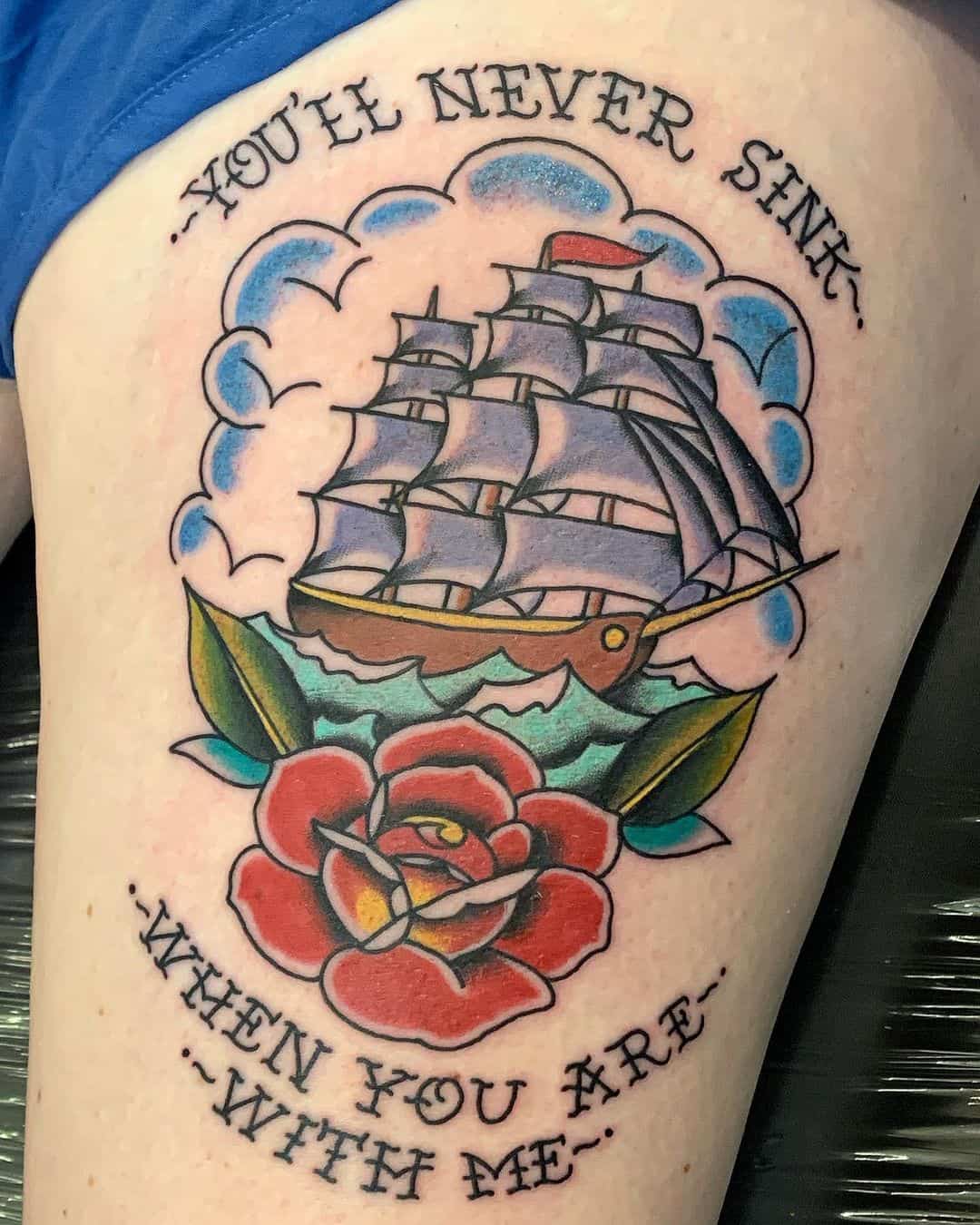 Credit: @goldwingtattoo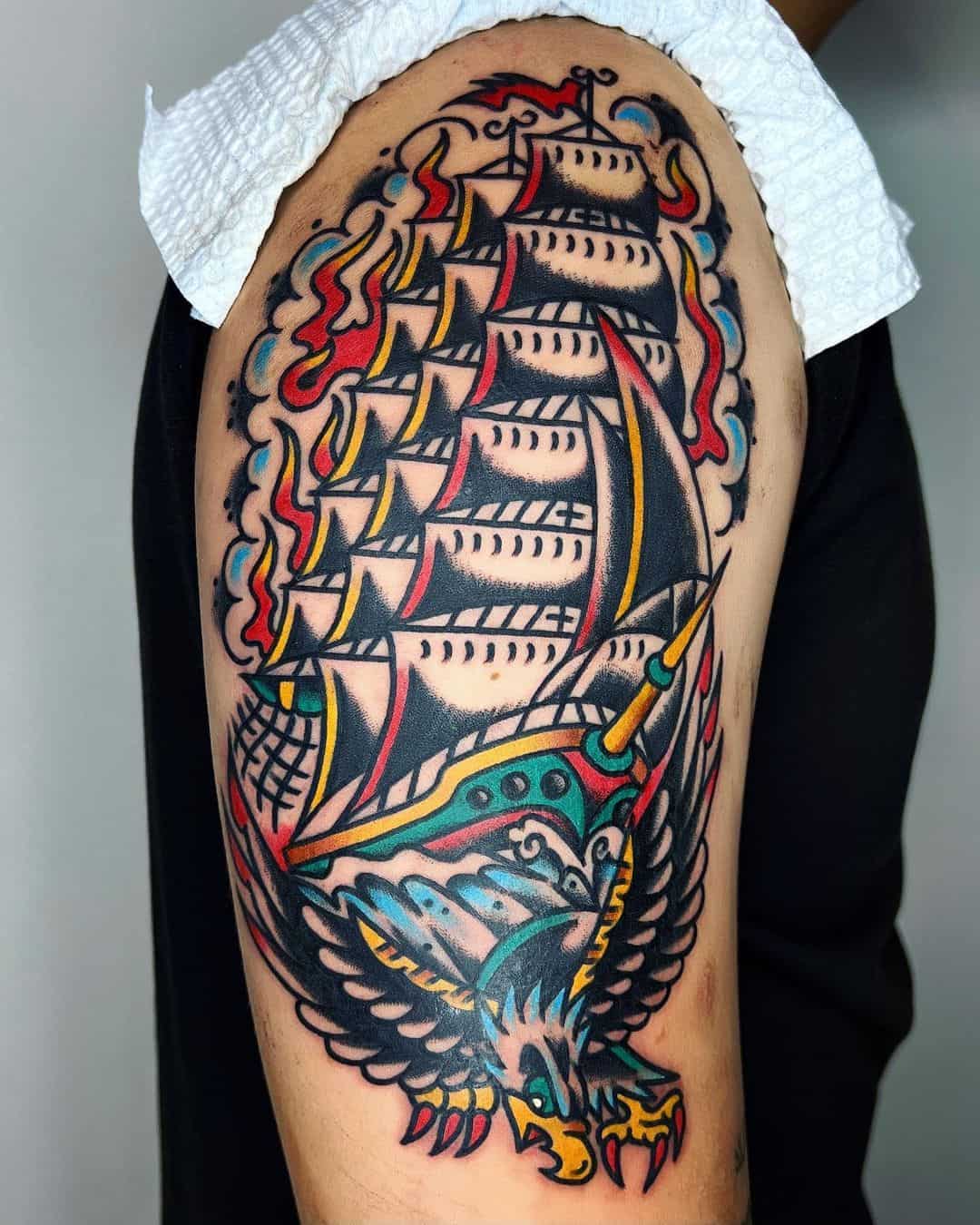 Credit: @homoo_tattooer
Sunken Ship tattoo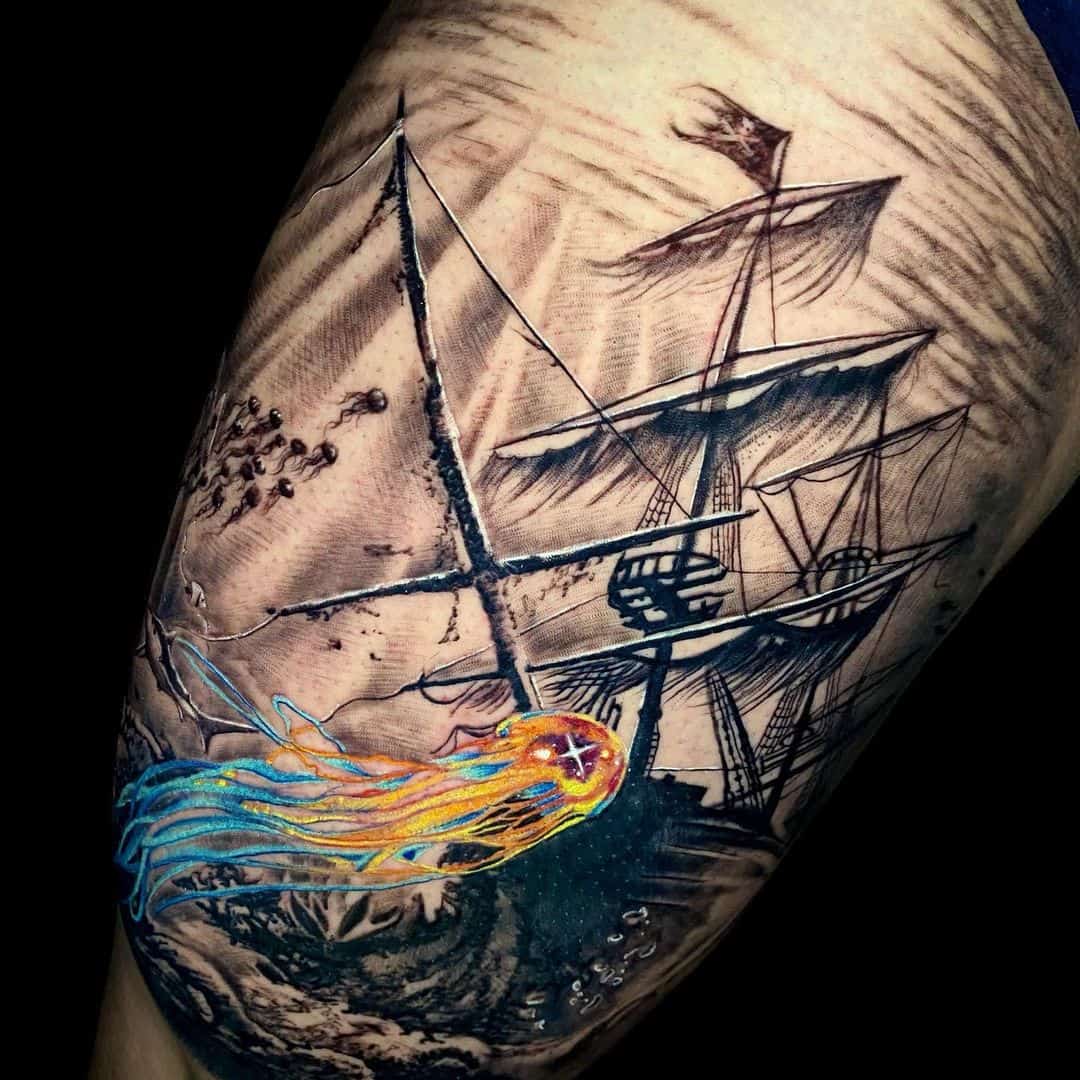 Credit: @auro_tatuajes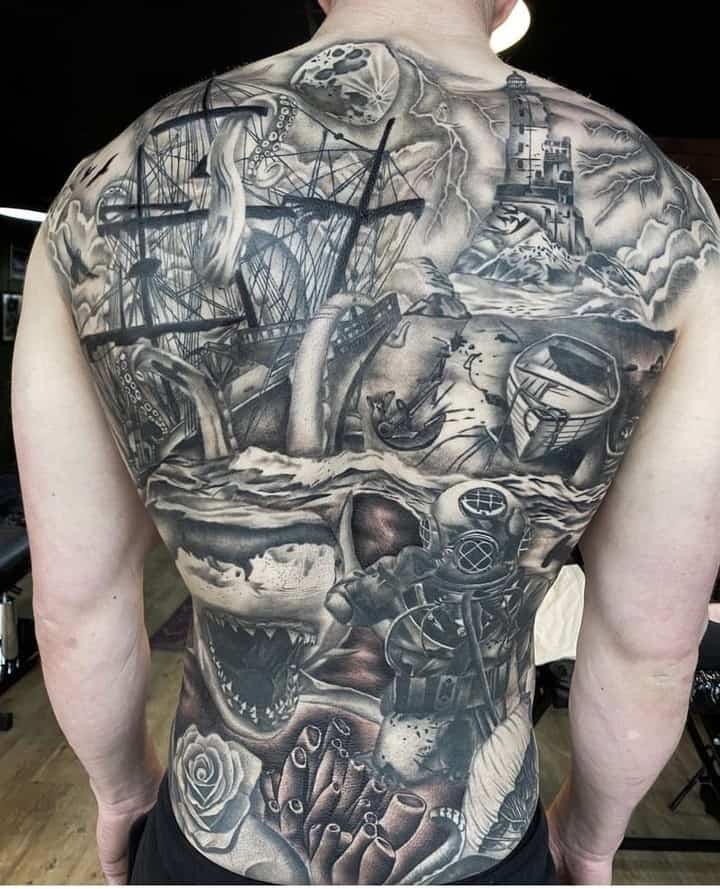 Credit: @oliveandweston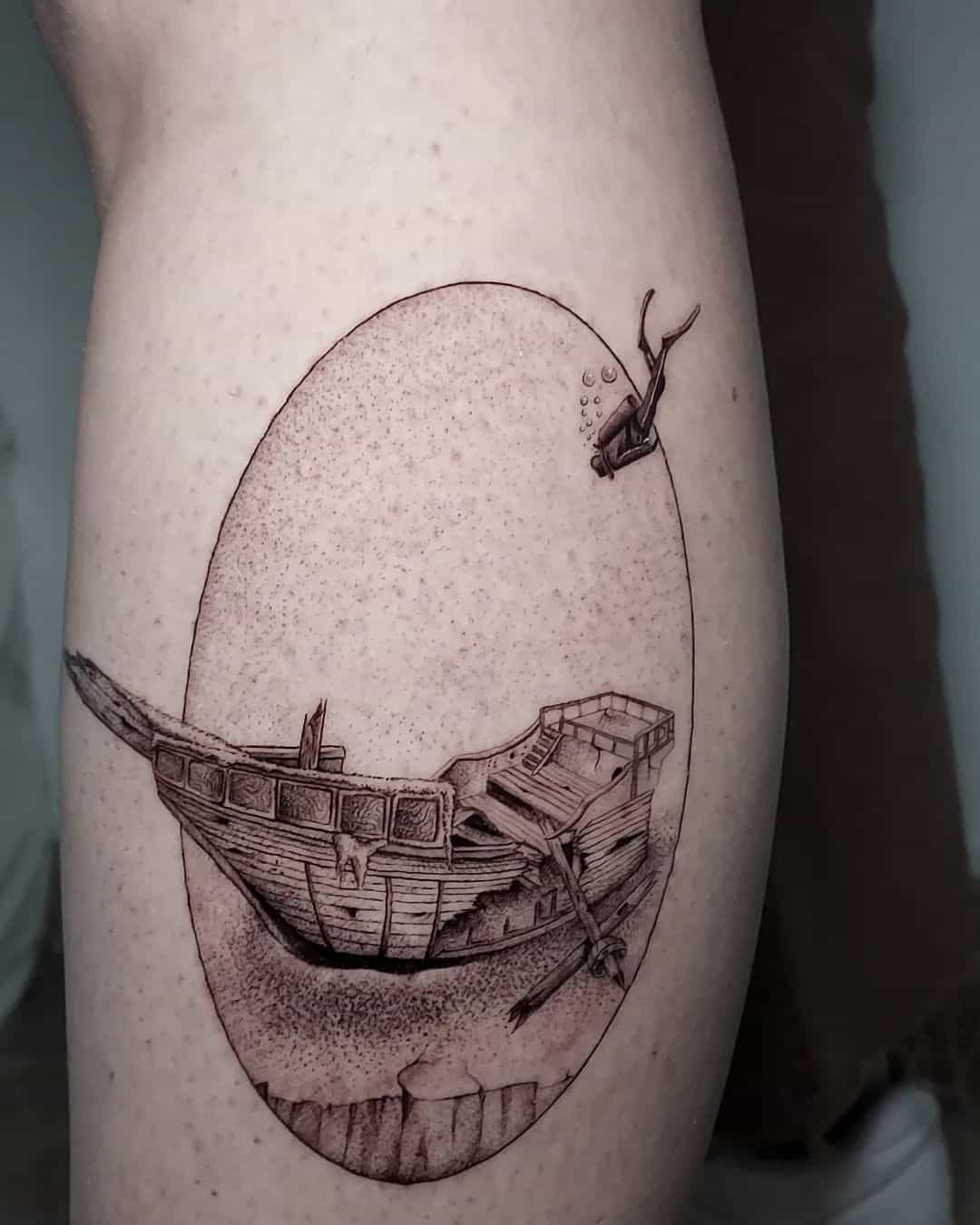 Credit: @eiviink

Credit: @diana.tattoosss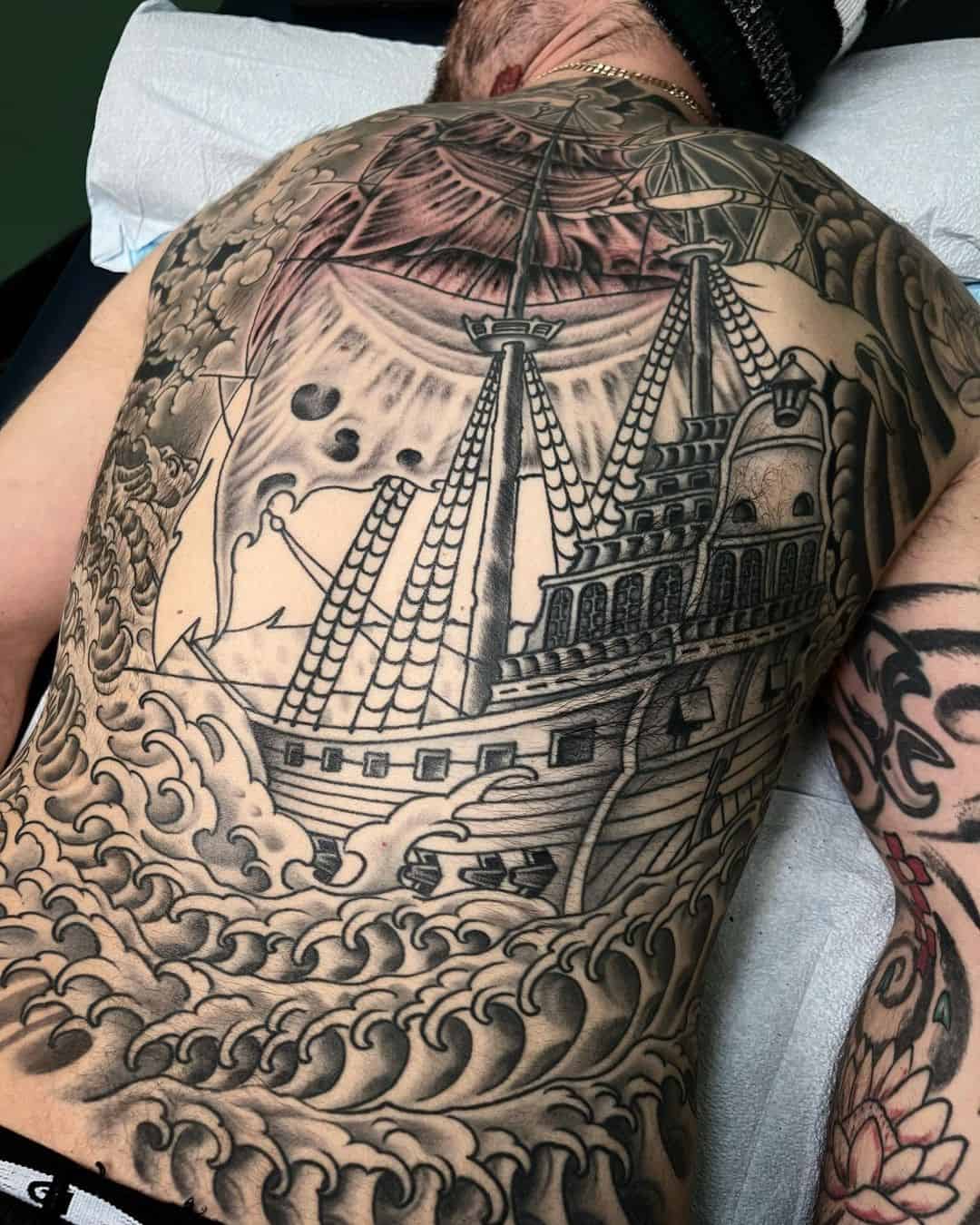 Credit: @robhamiltontattoo
Ship Wheel Tattoo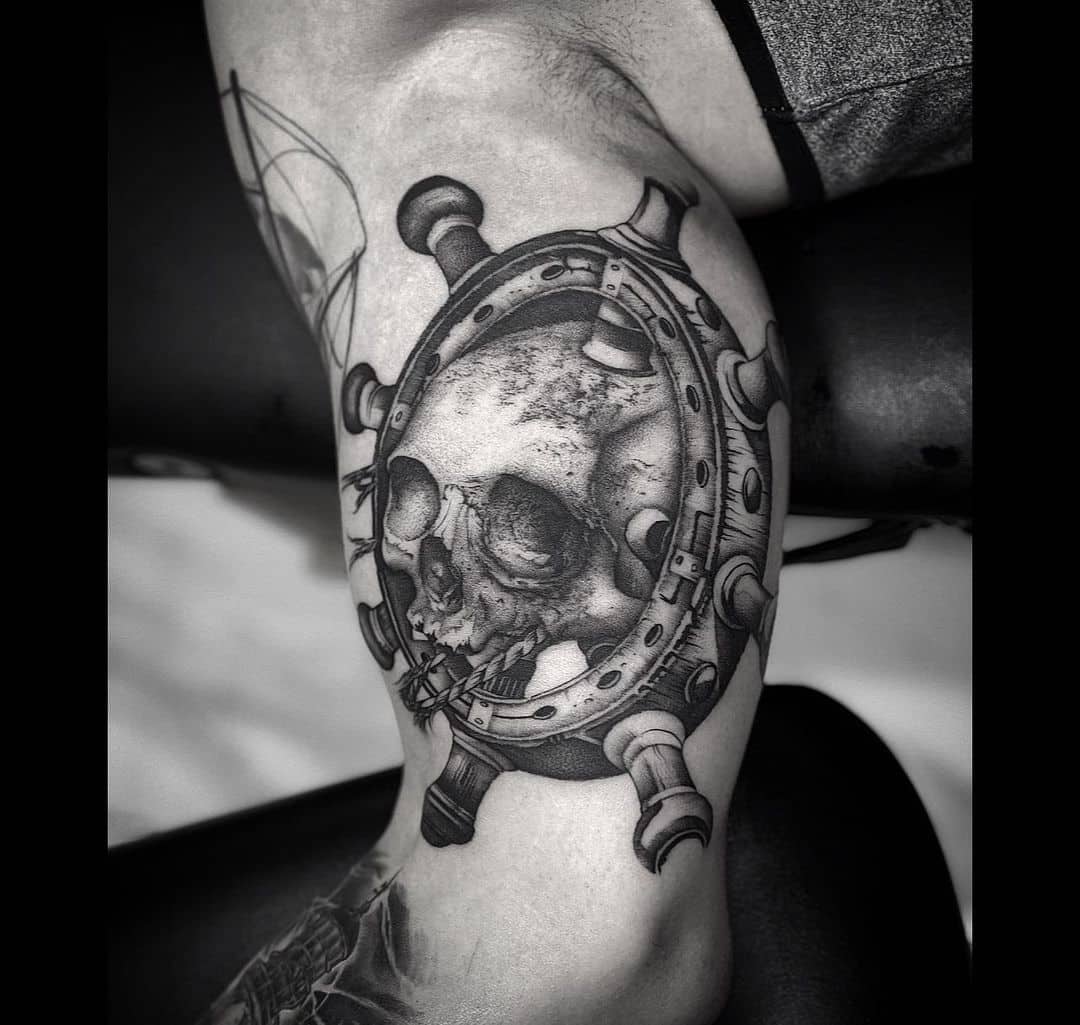 Credit: @mikecolemantattoo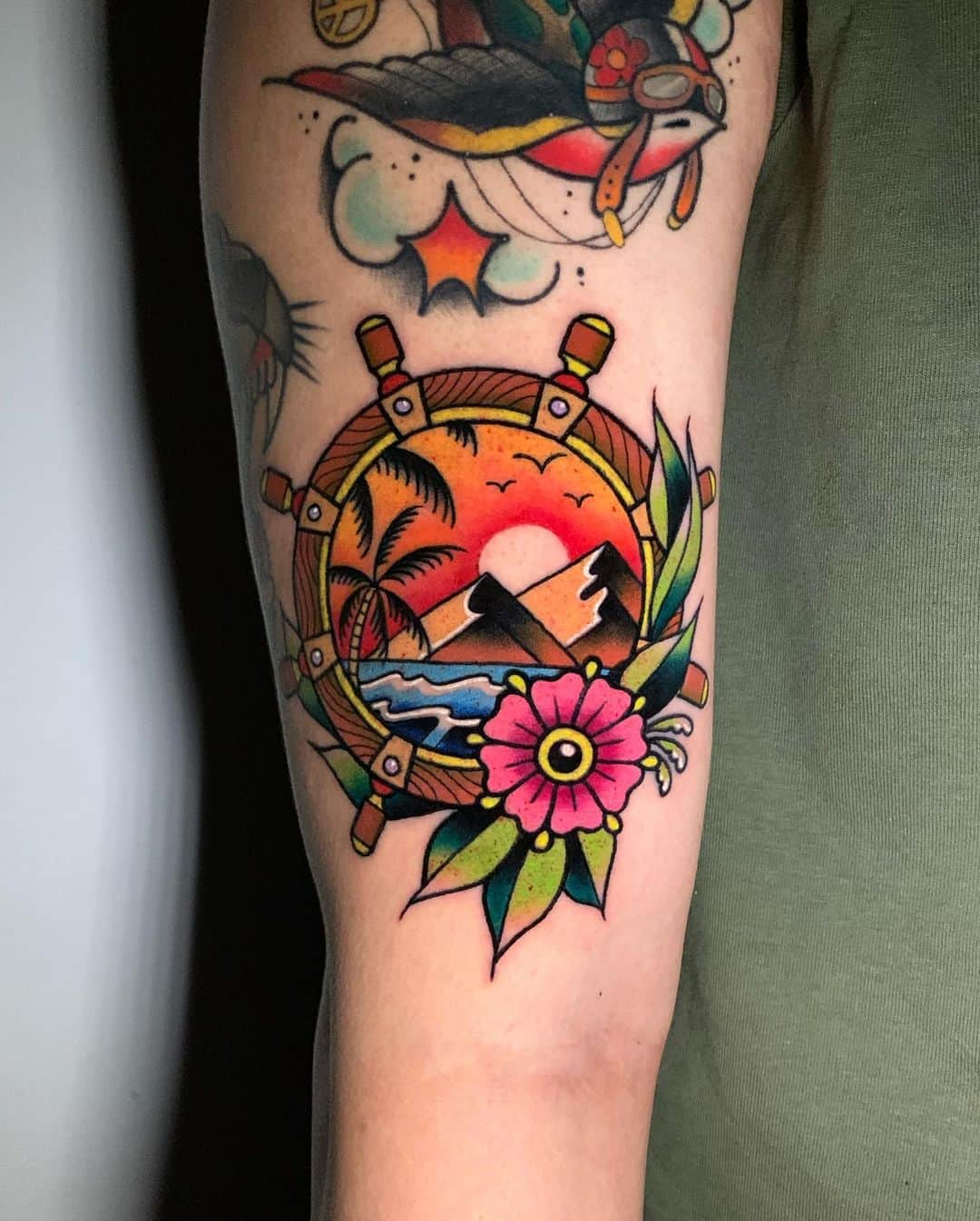 Credit: @ardyan.tahoo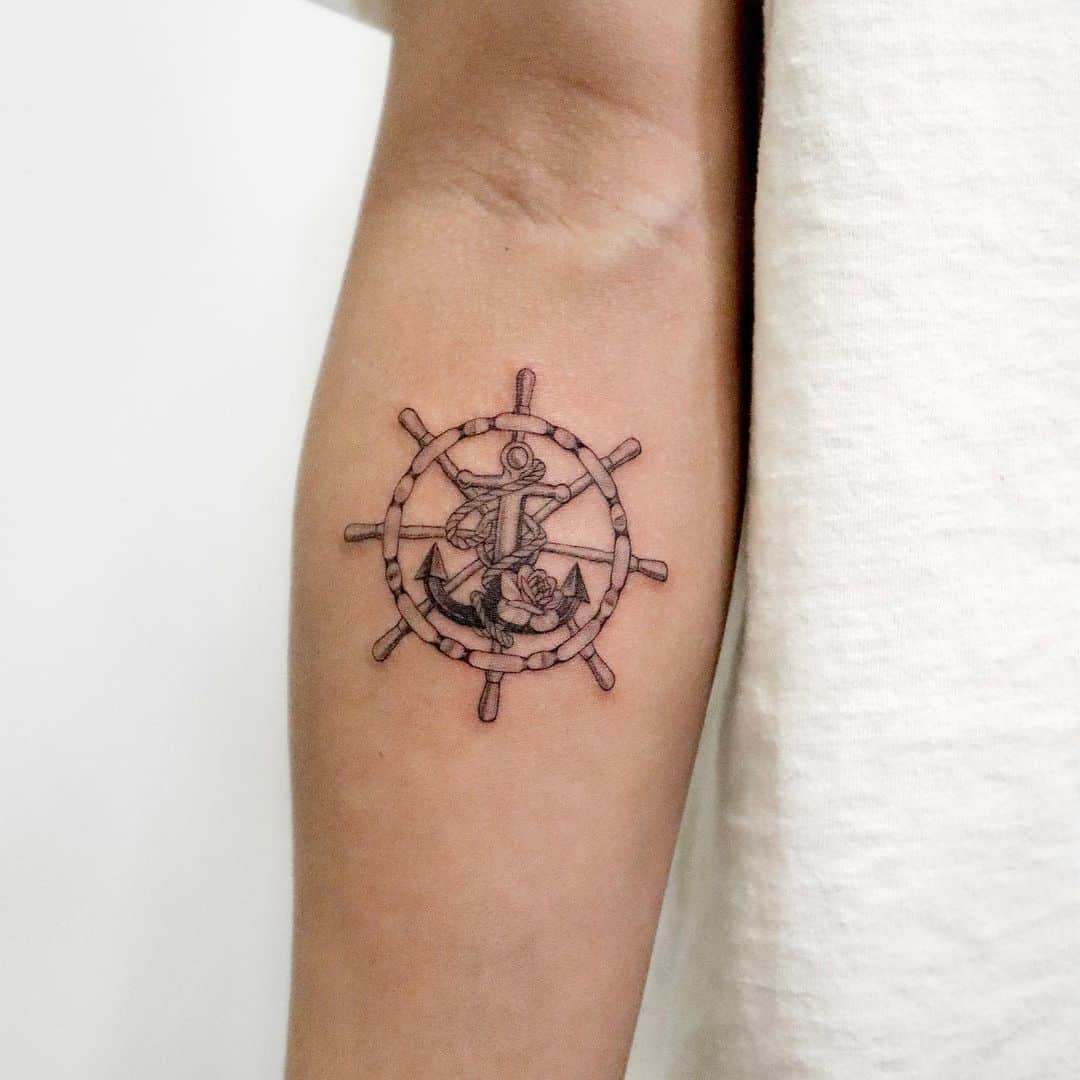 Credit: @aiim_tattoo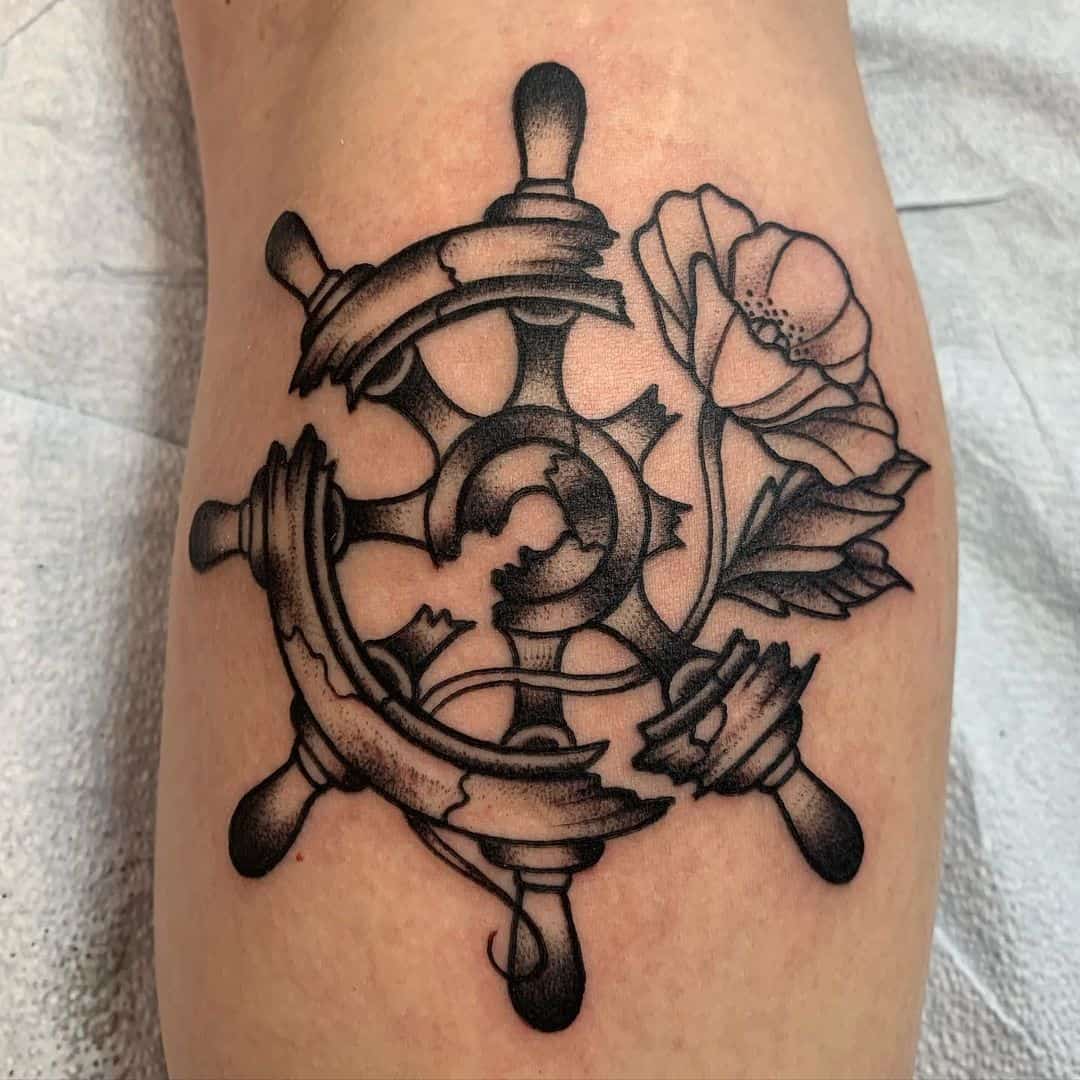 Credit: @fannypakattak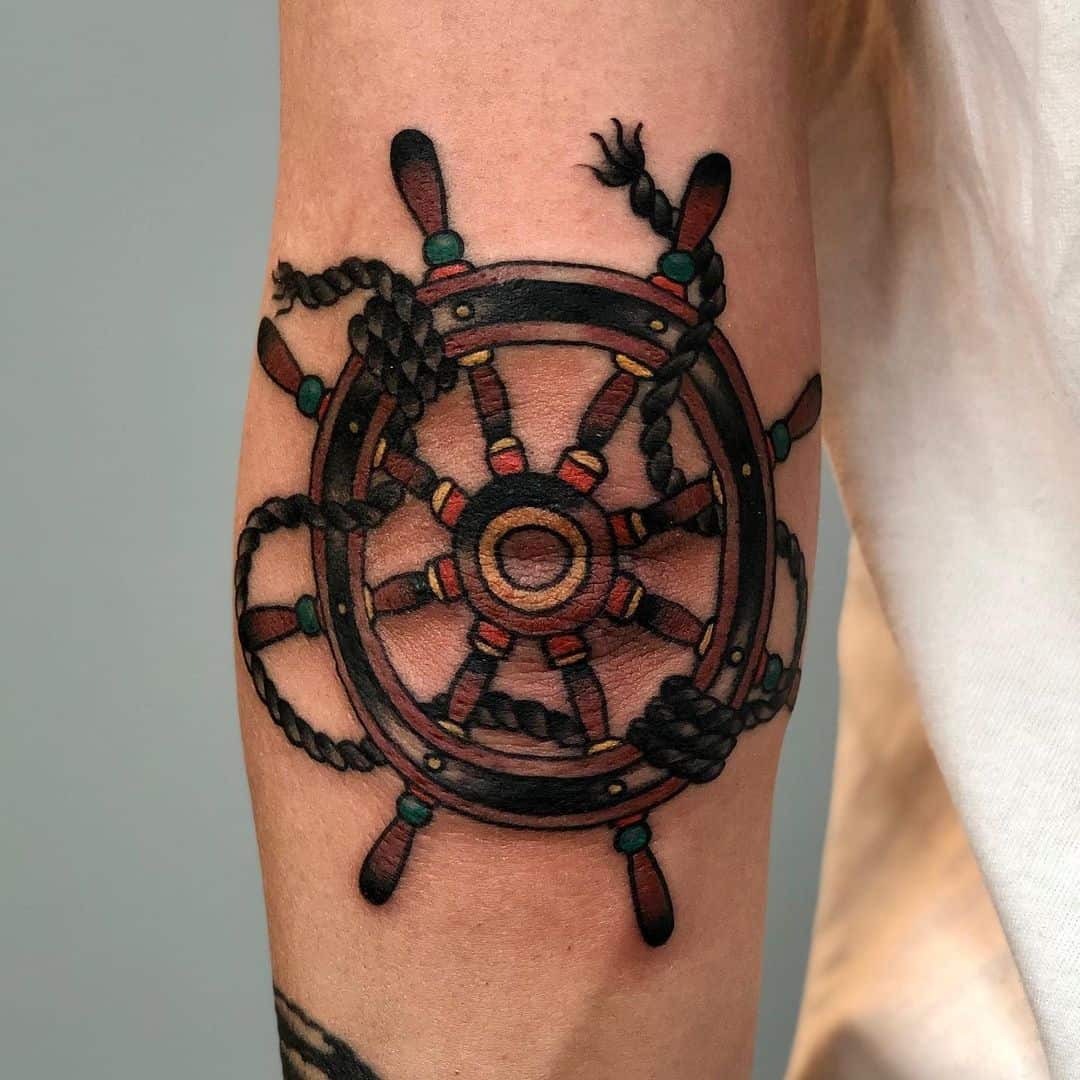 Credit: @goodluck_tattoo_seoul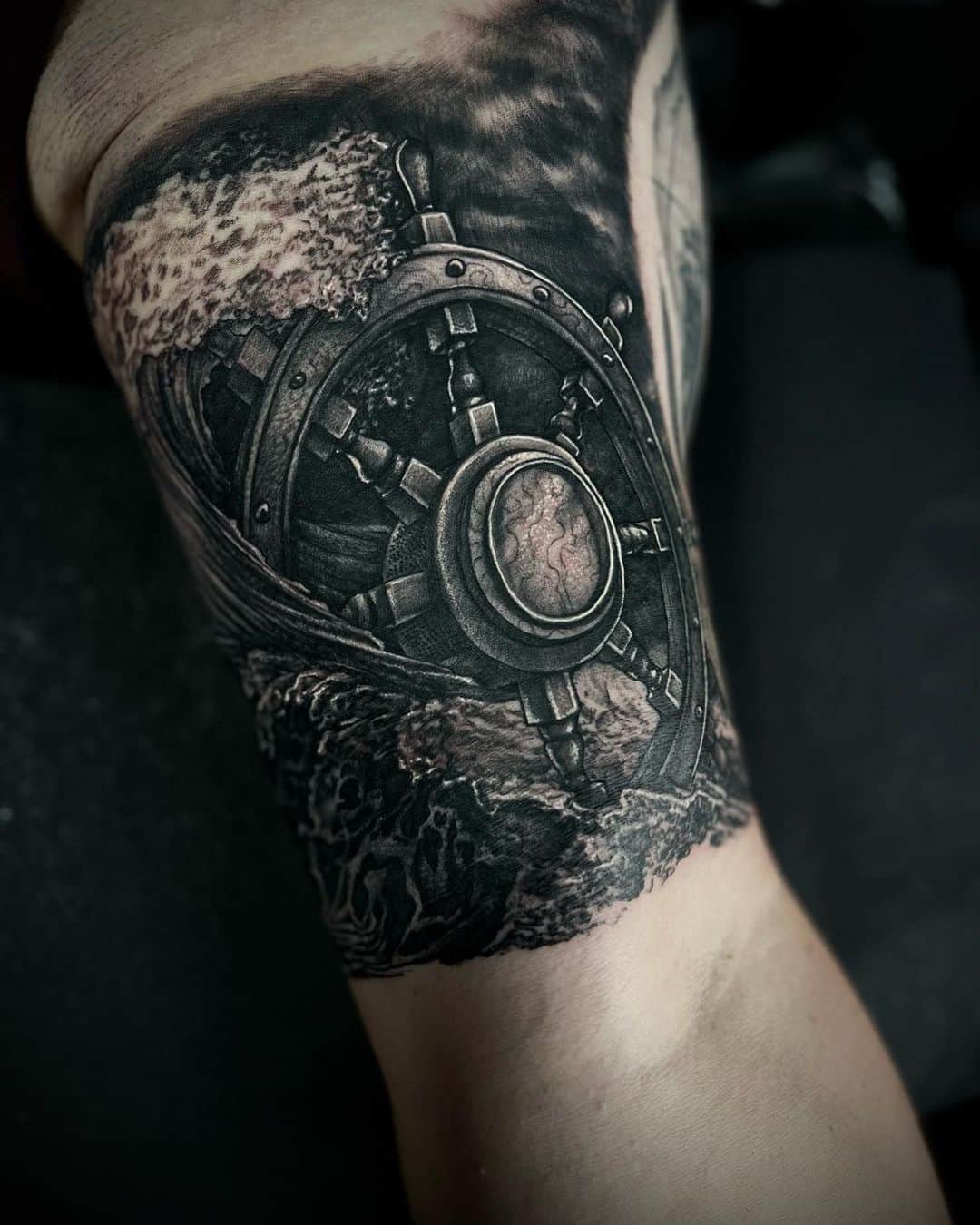 Credit: @edgar_tattoo
Ghost Ship Tattoo

Credit: @lolo_ronda_tattoo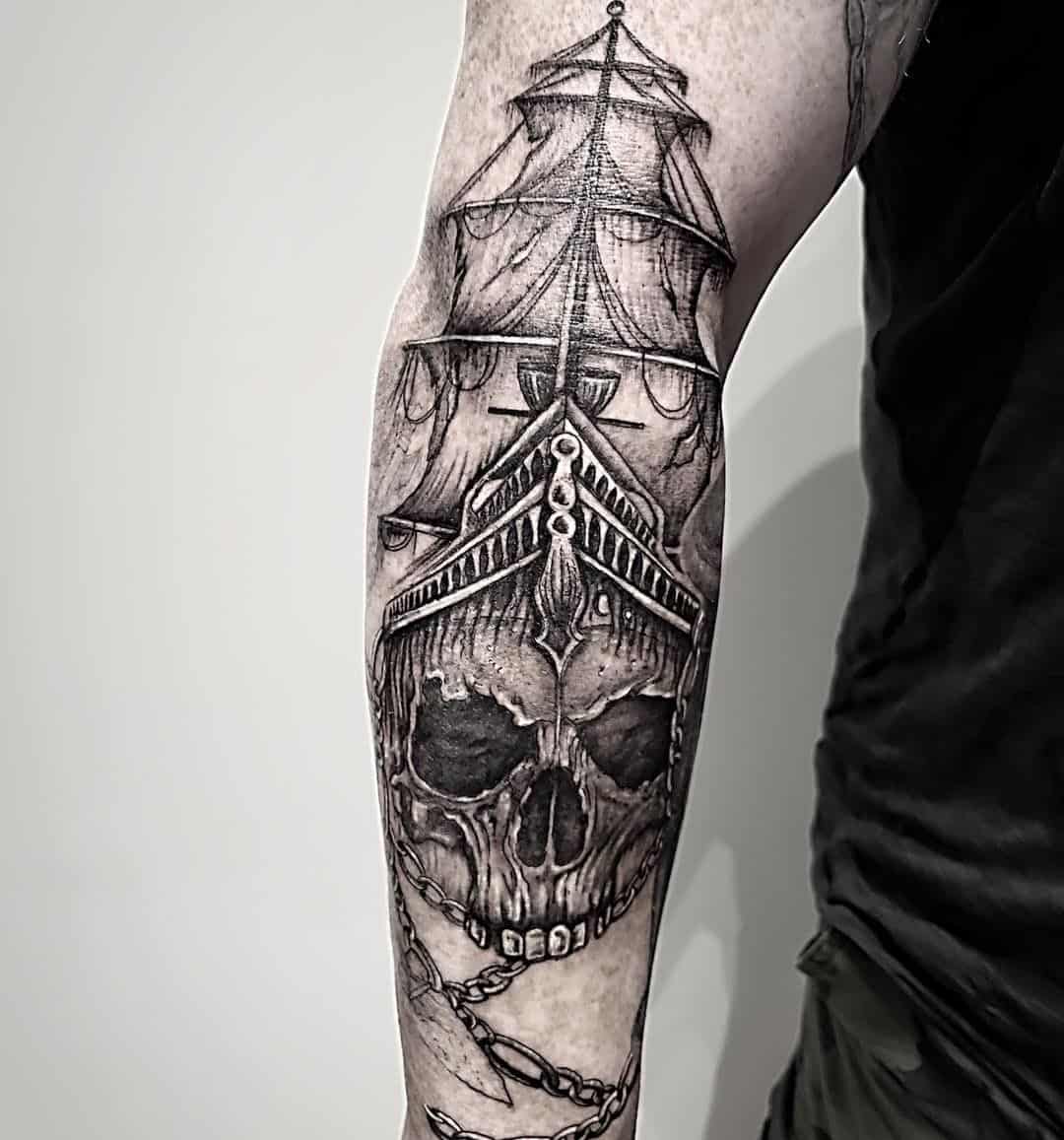 Credit: @burninggiraffetattoos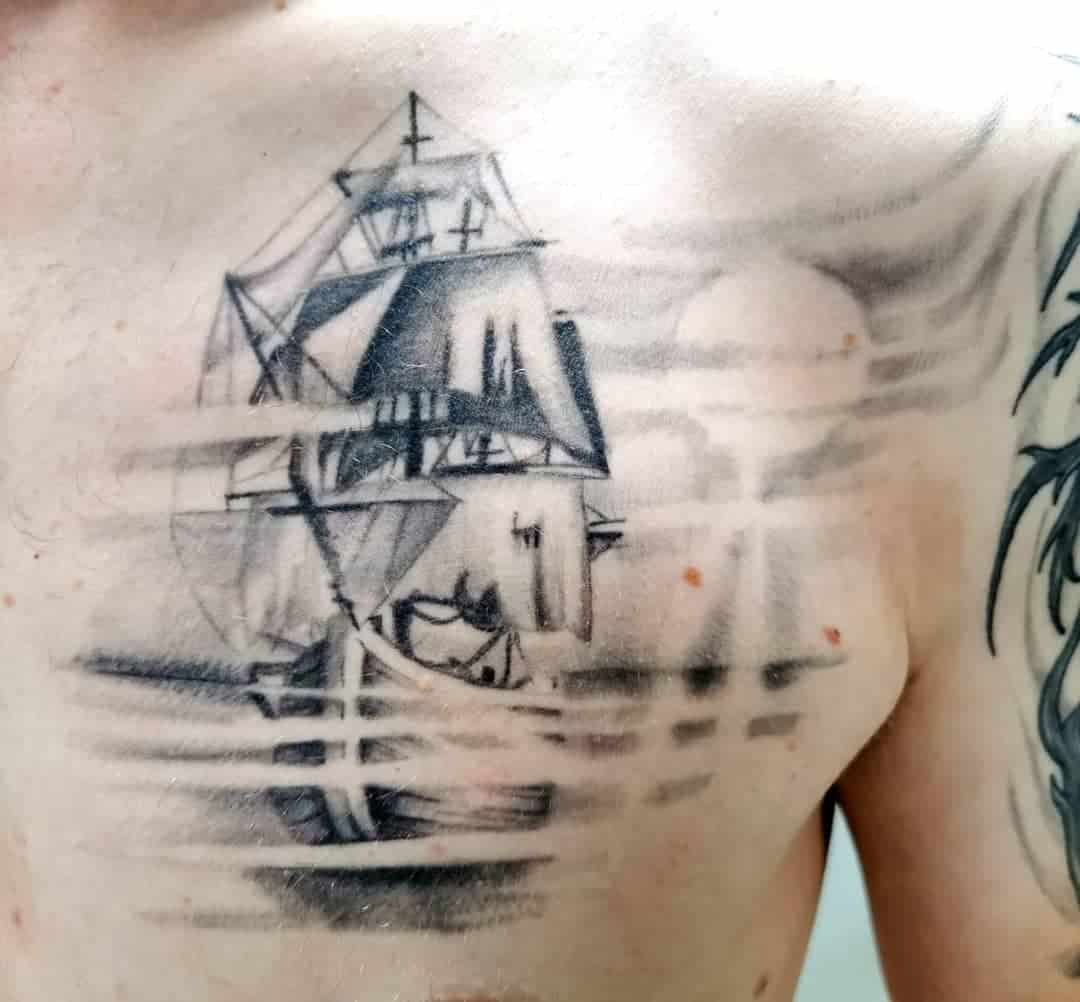 Credit: @skunktattootampere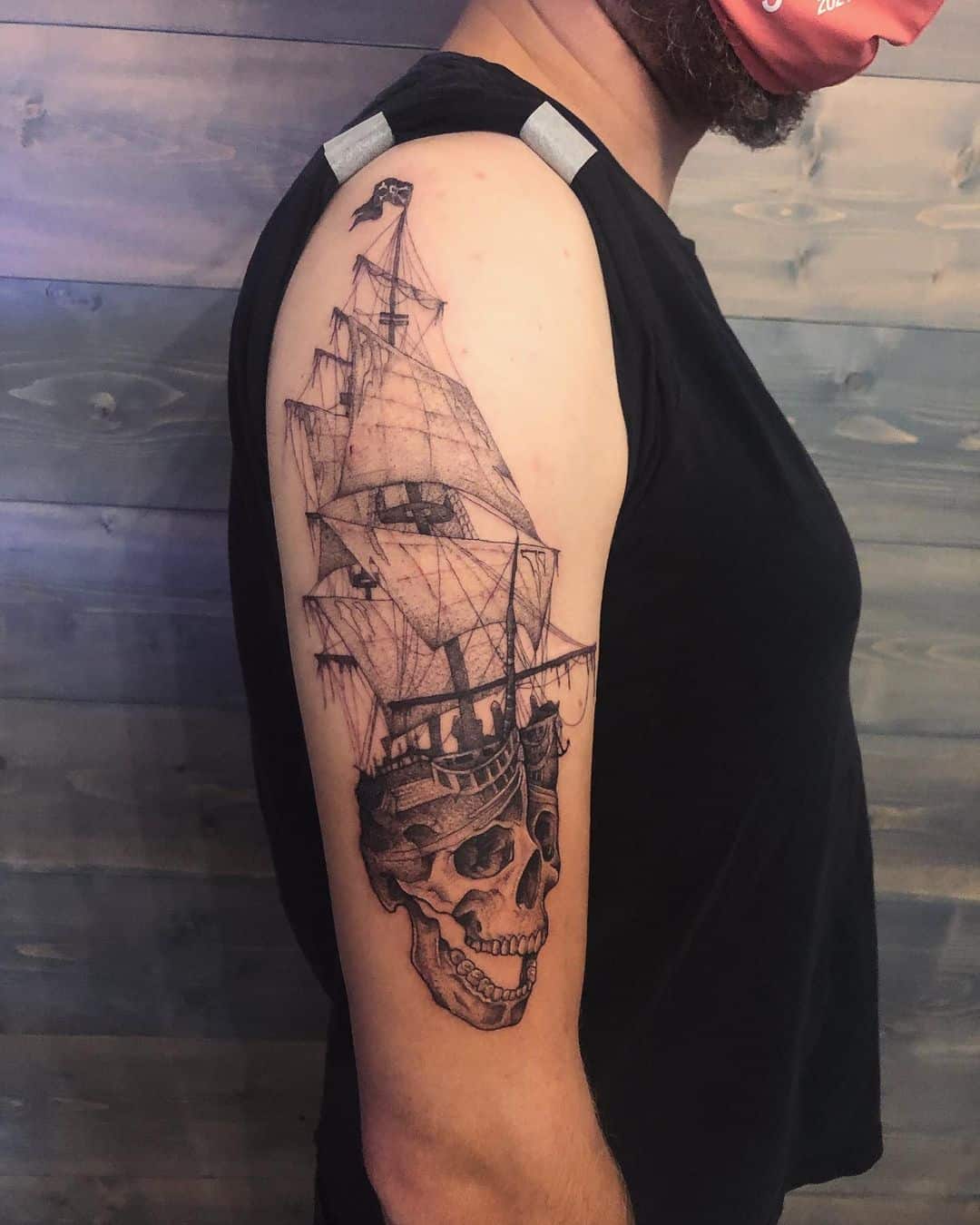 Credit: @poho.art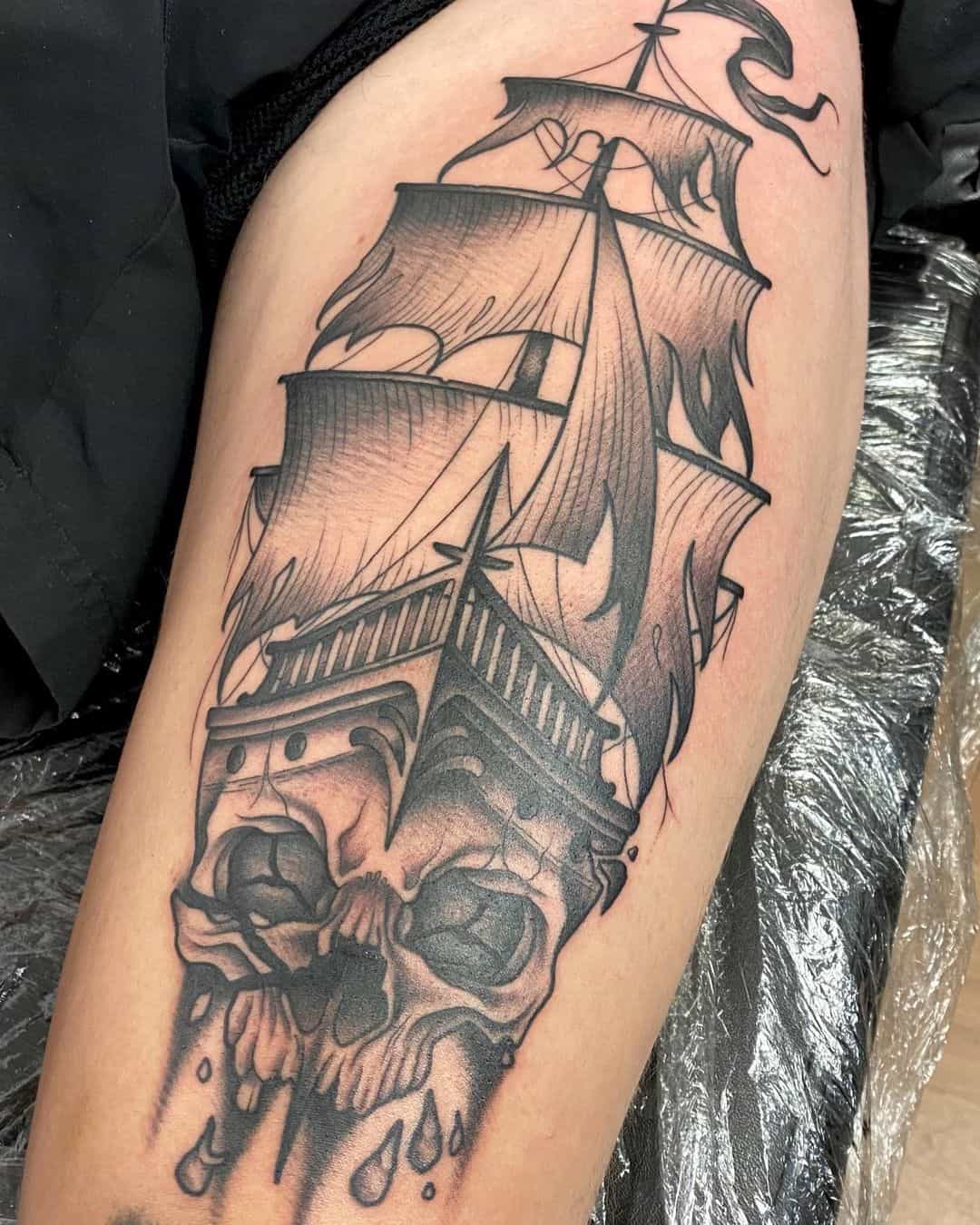 Credit: @baileyneiltattoo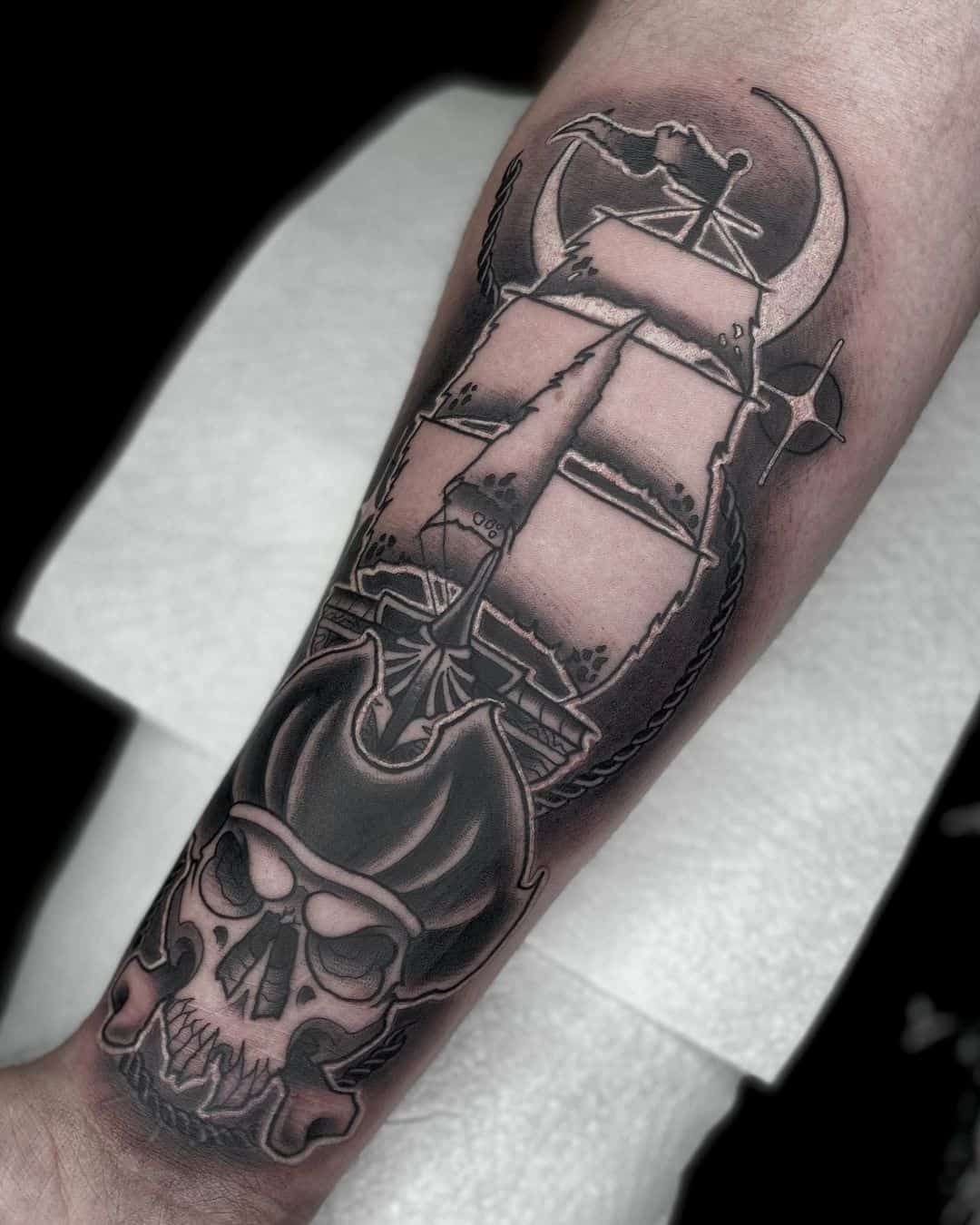 Credit: @josh.bates.creates
Ship In A Bottle Tattoo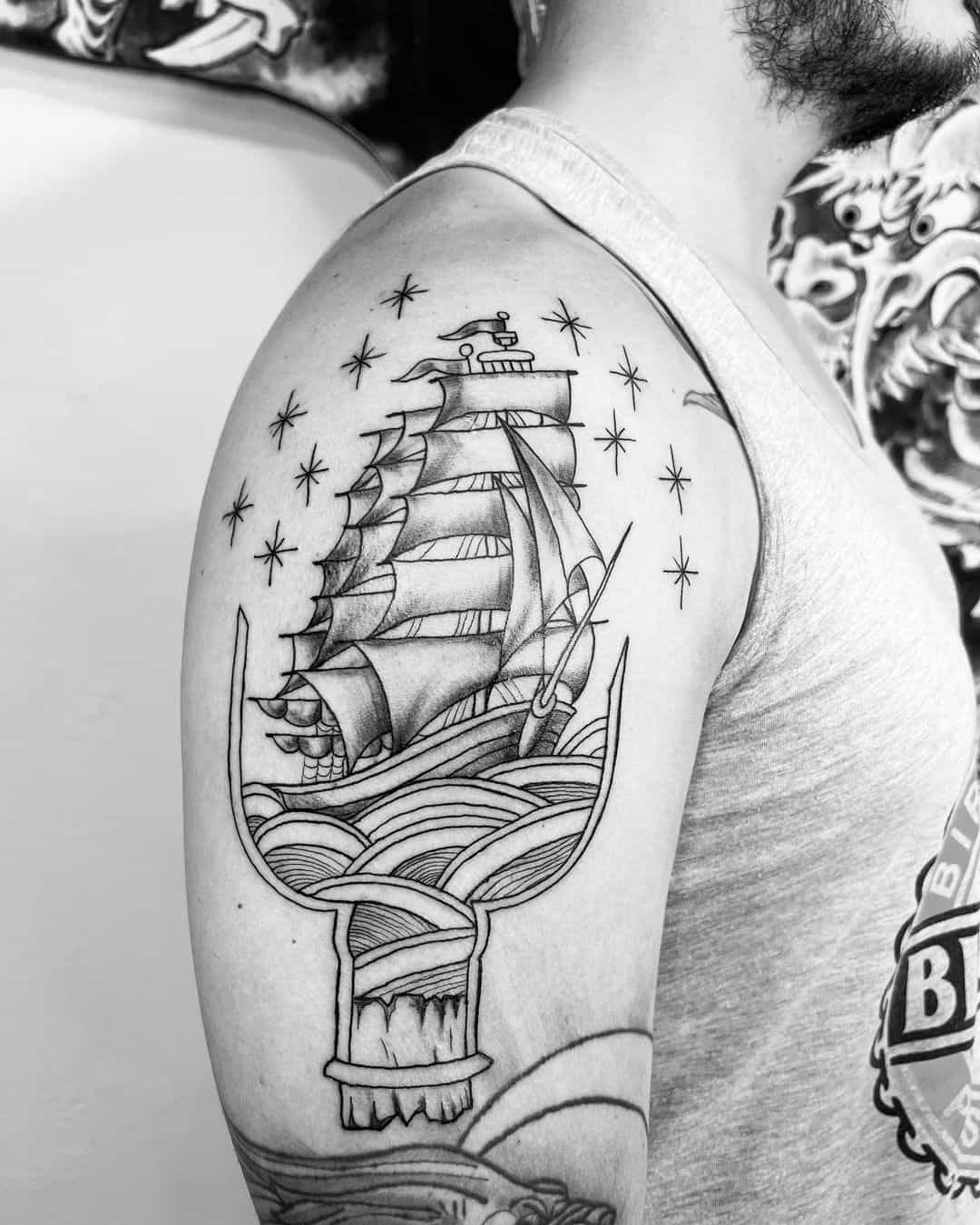 Credit: @tylerjamespaultattoo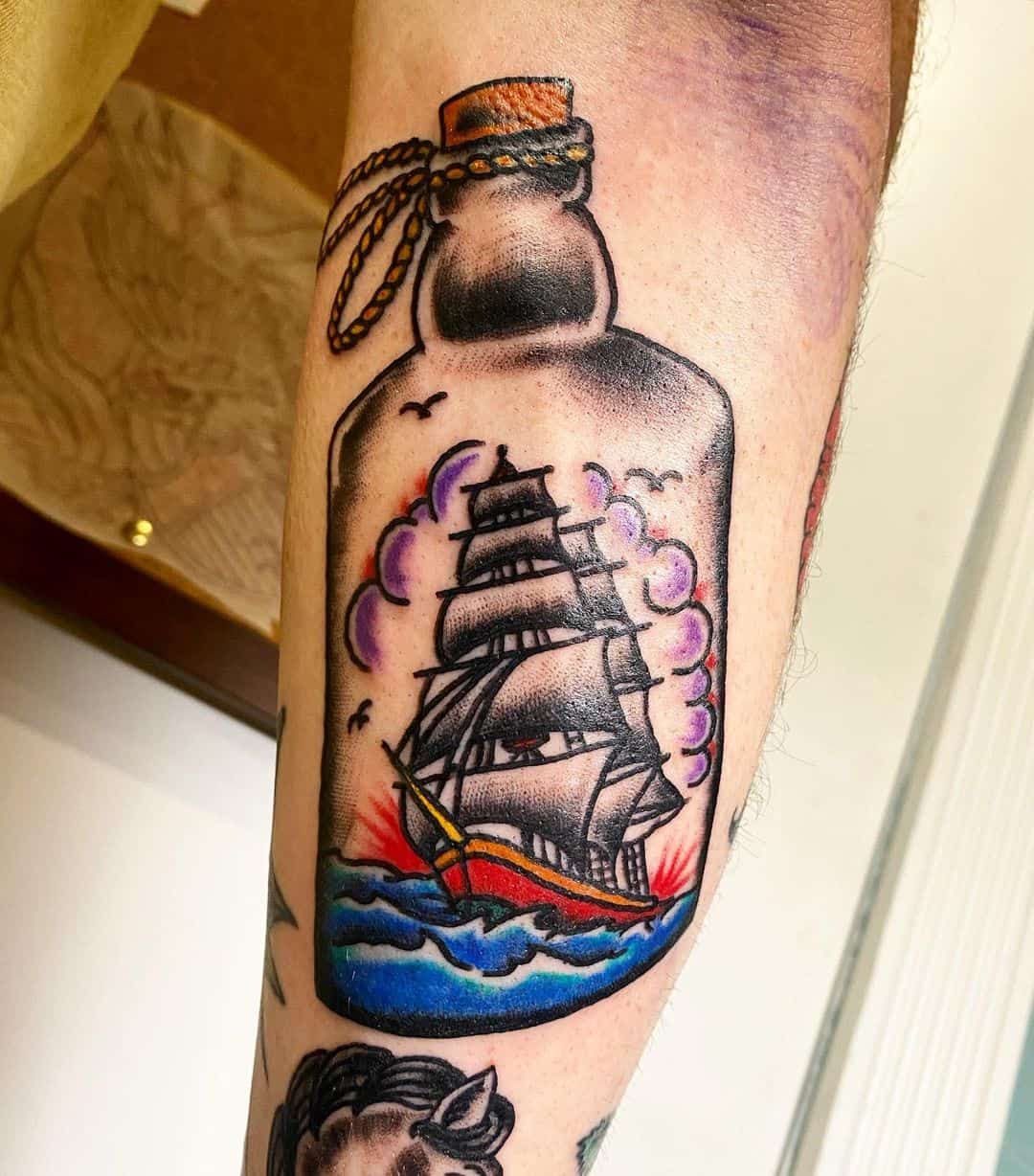 Credit: @joeygelectrictattoo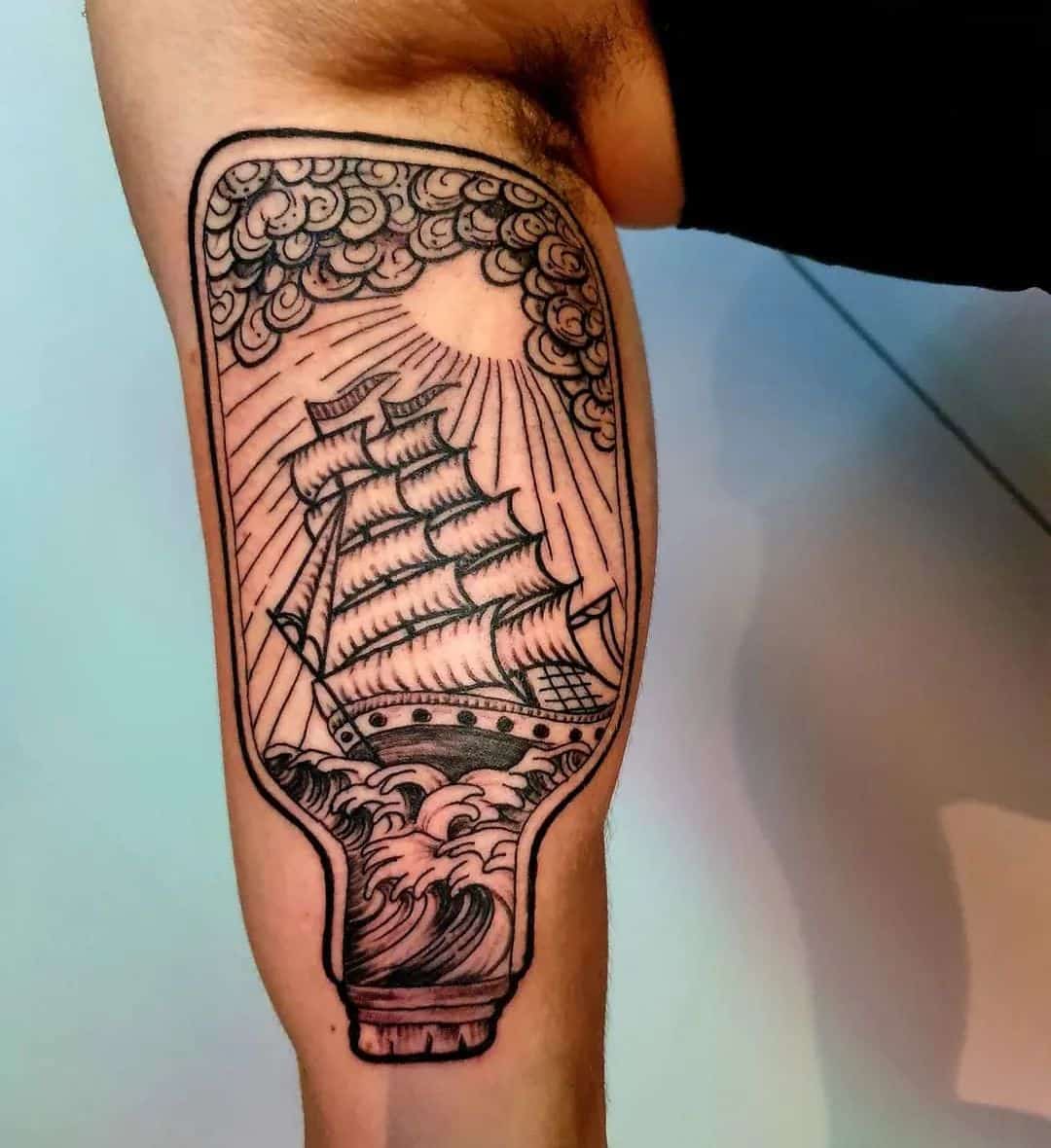 Credit: @tattoobobshop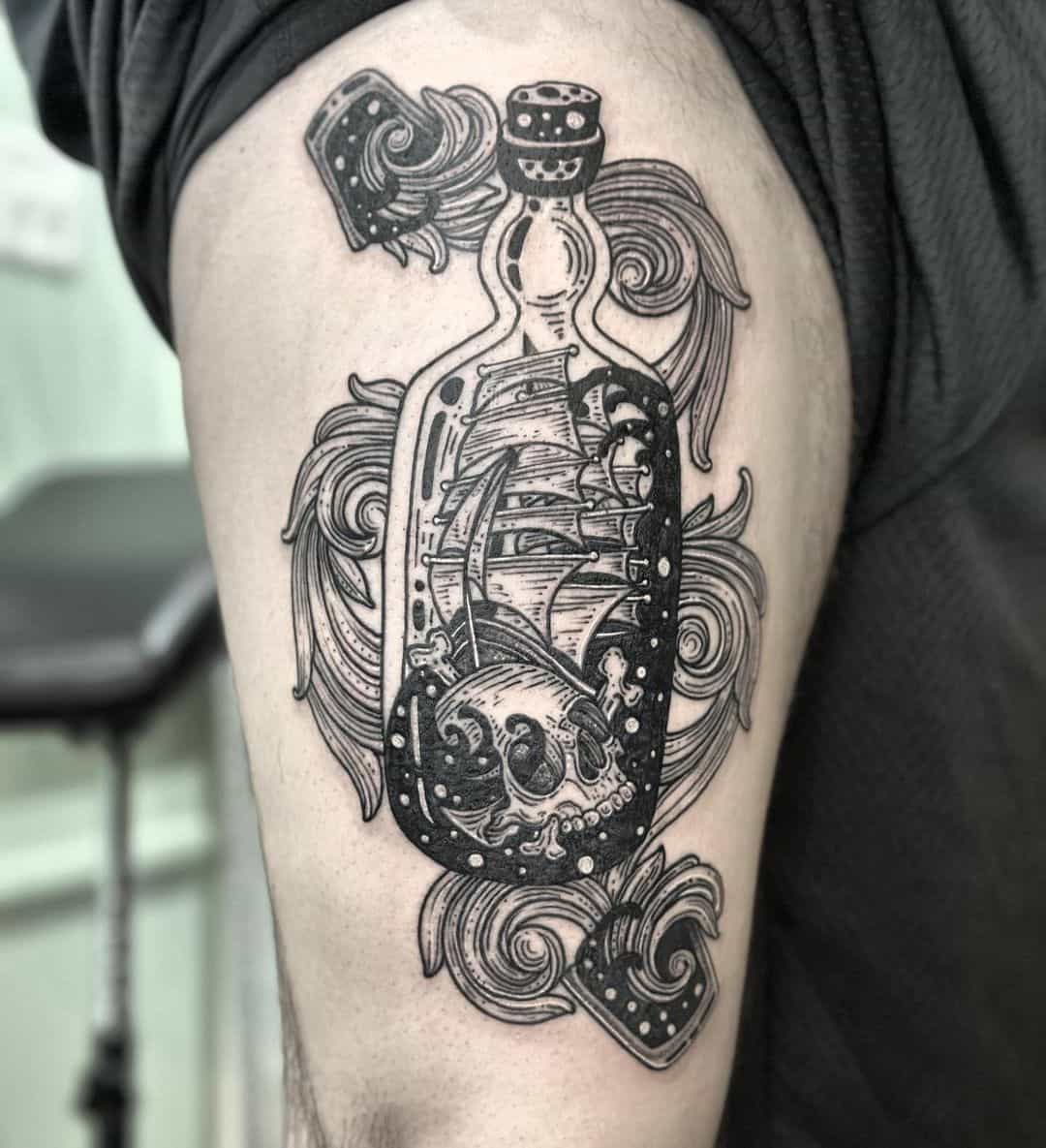 Credit: @shleeuhzahshade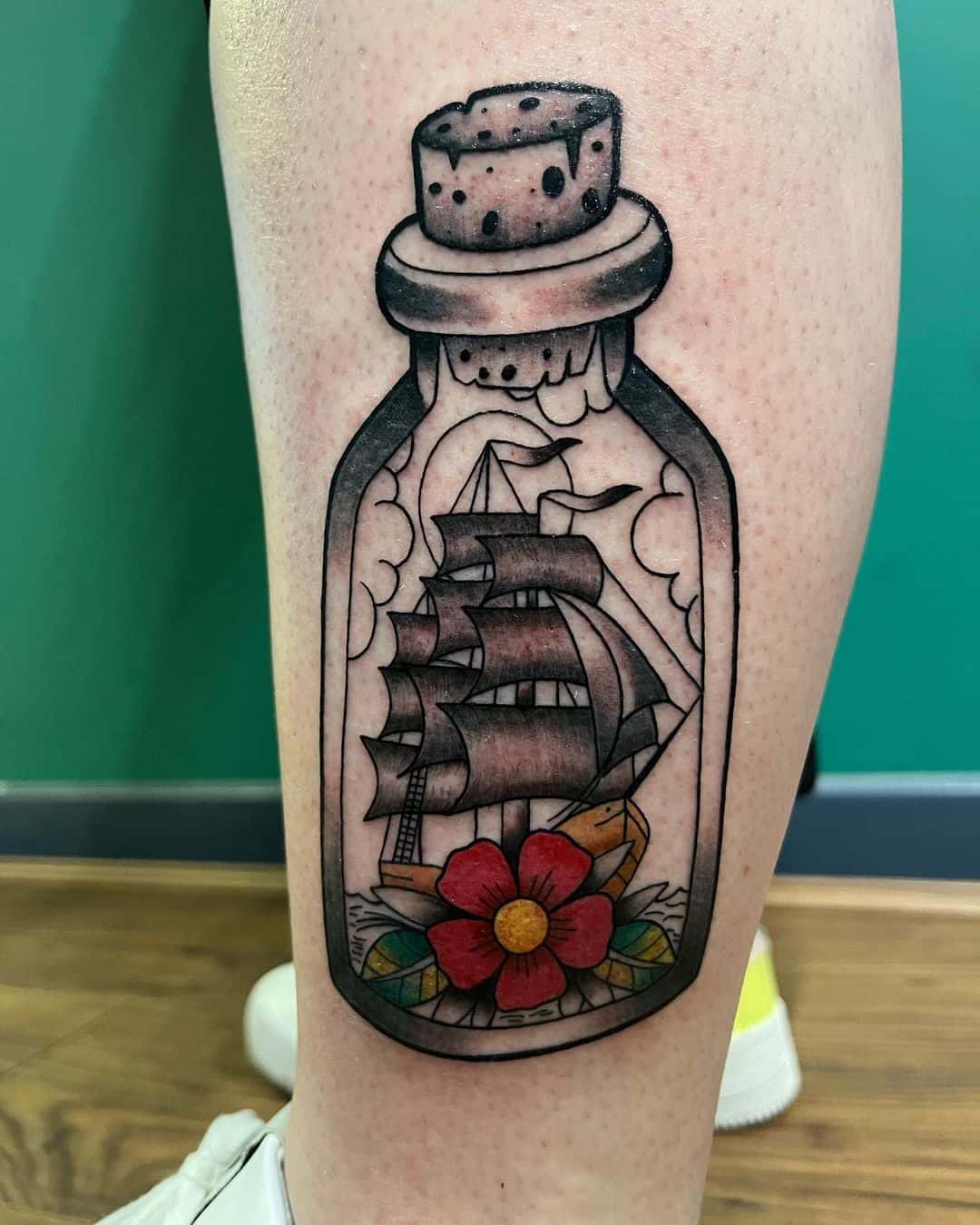 Credit: @tattoosbyjoshrichards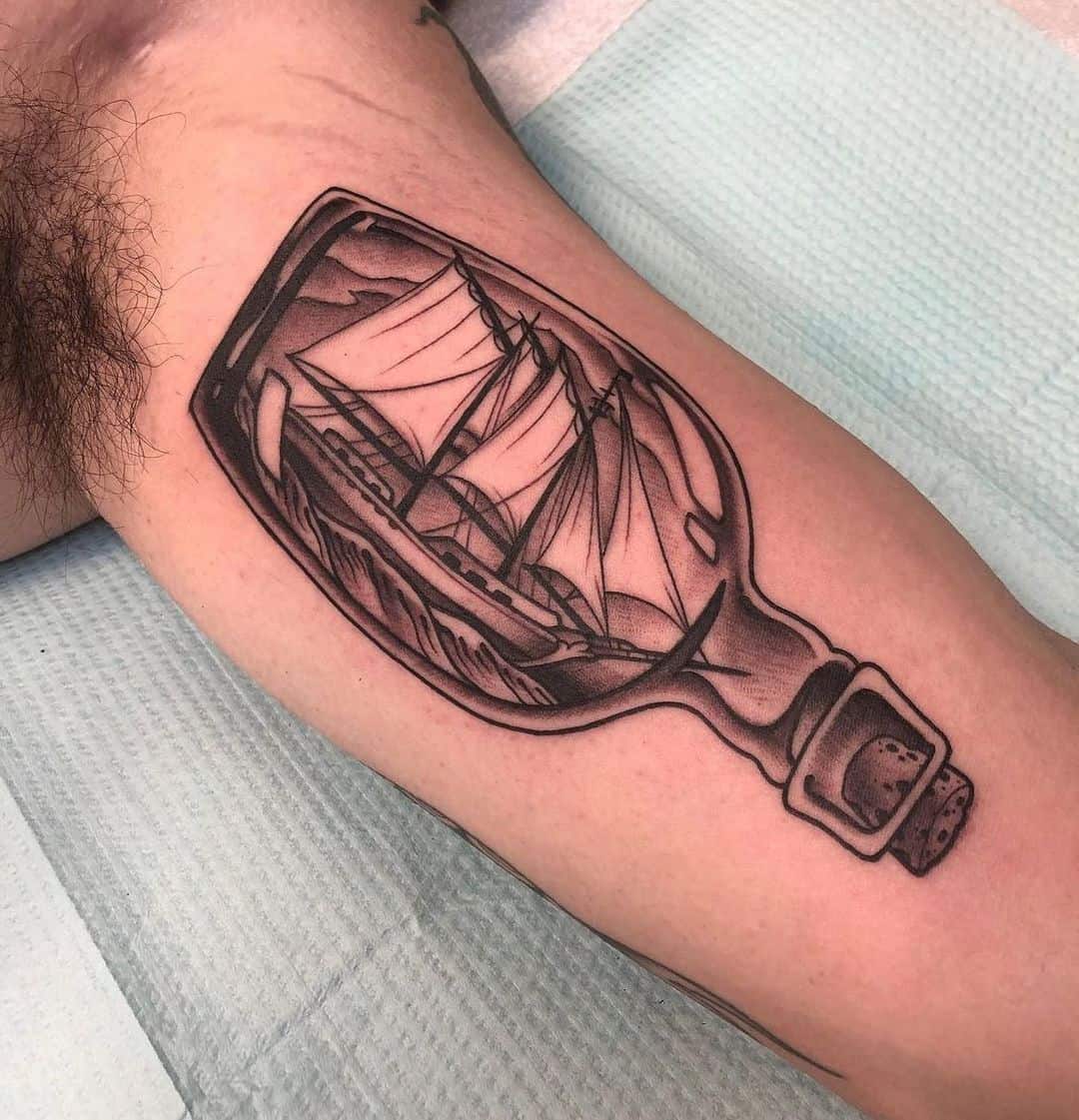 Credit: @805ink
Kraken and Ship Tattoo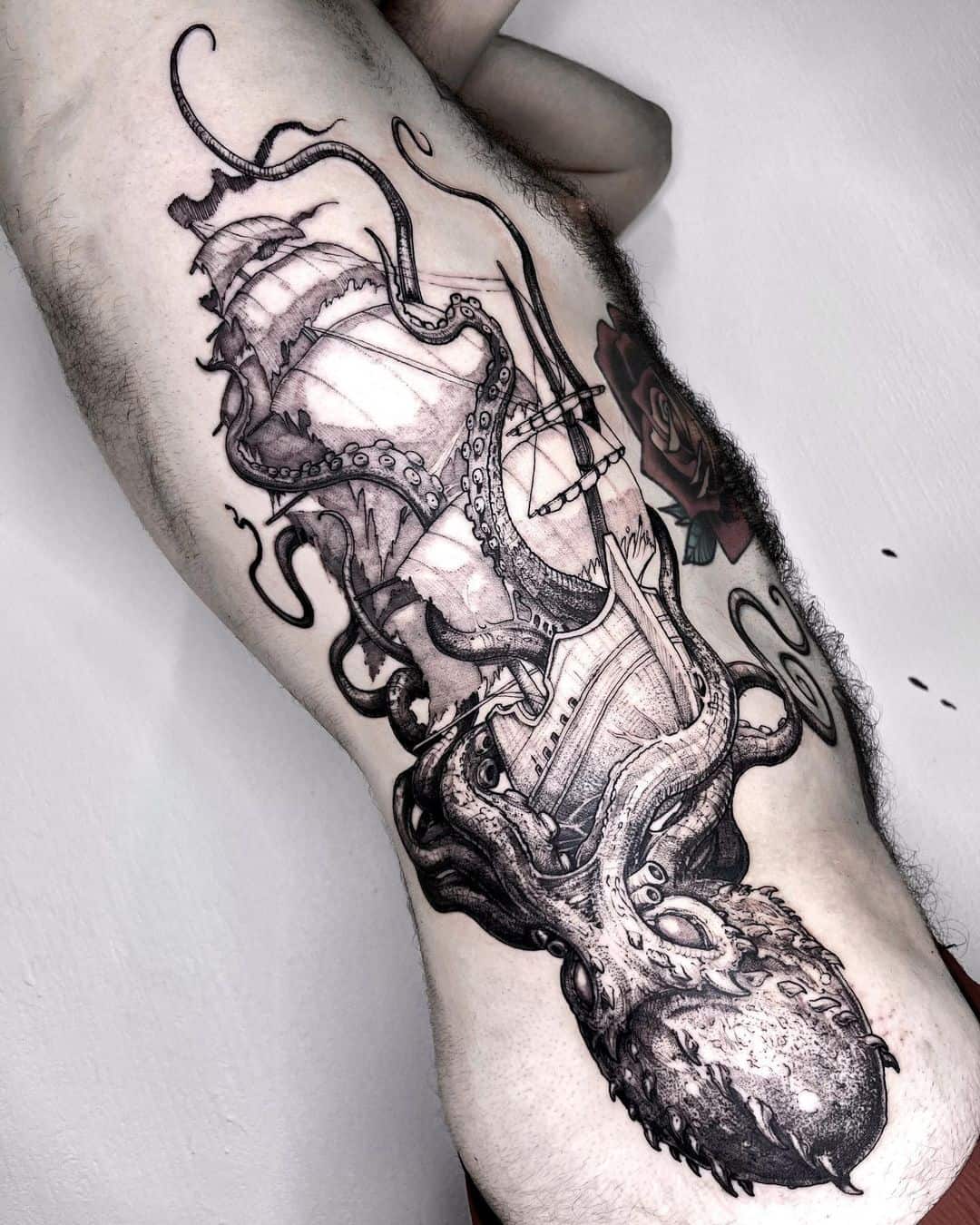 Credit: @klimshakhnin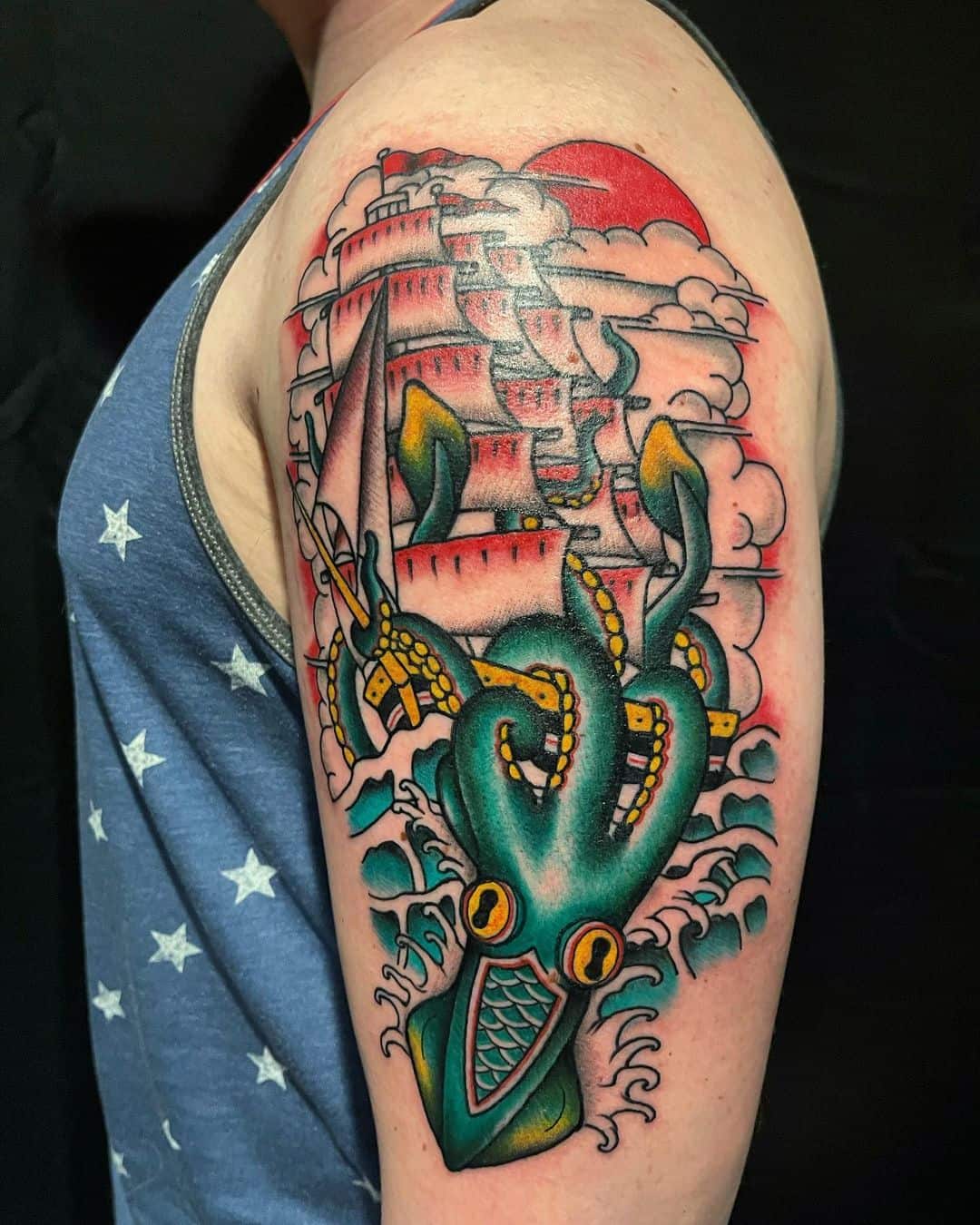 Credit: @ianthetattooer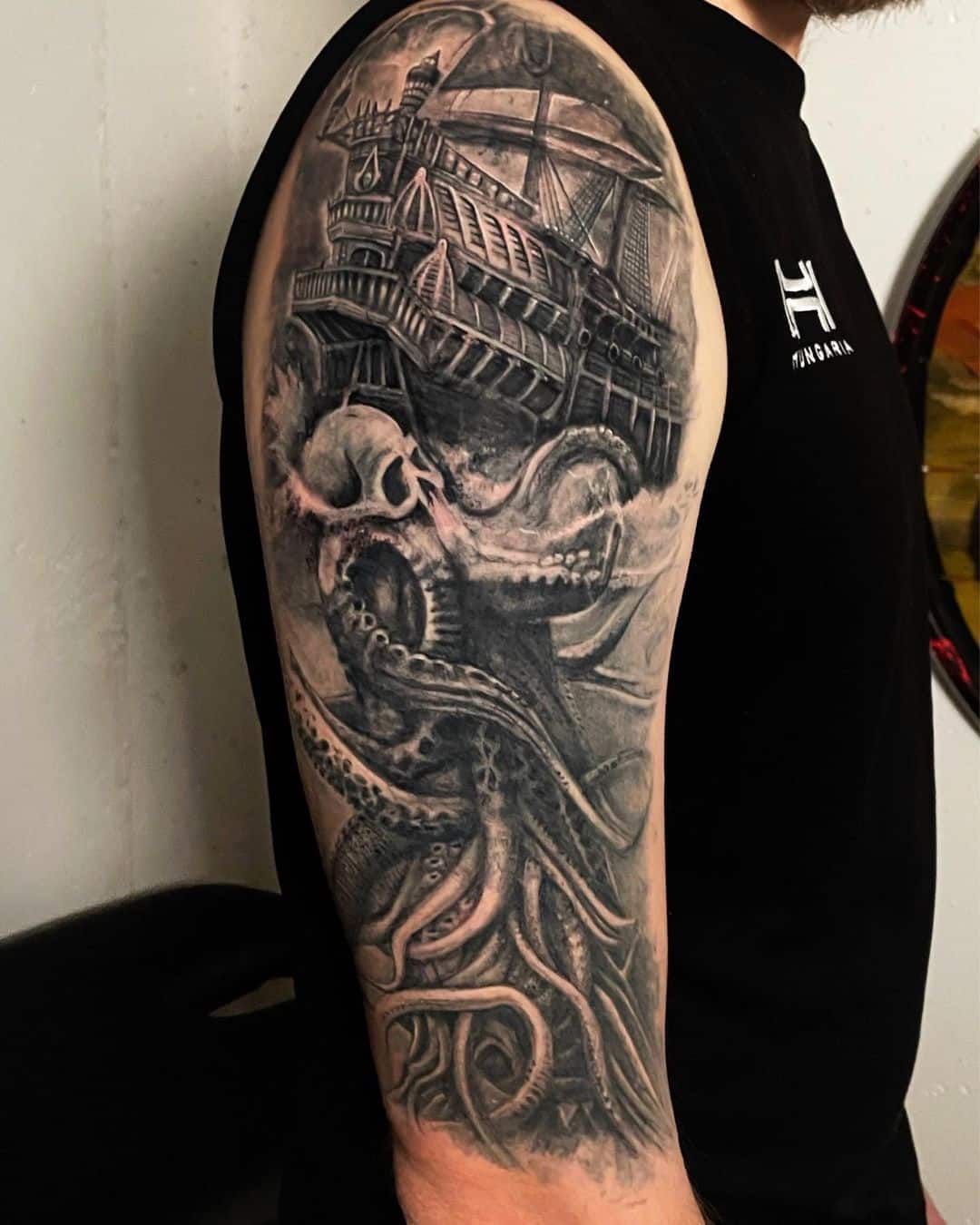 Credit: @dr_redsand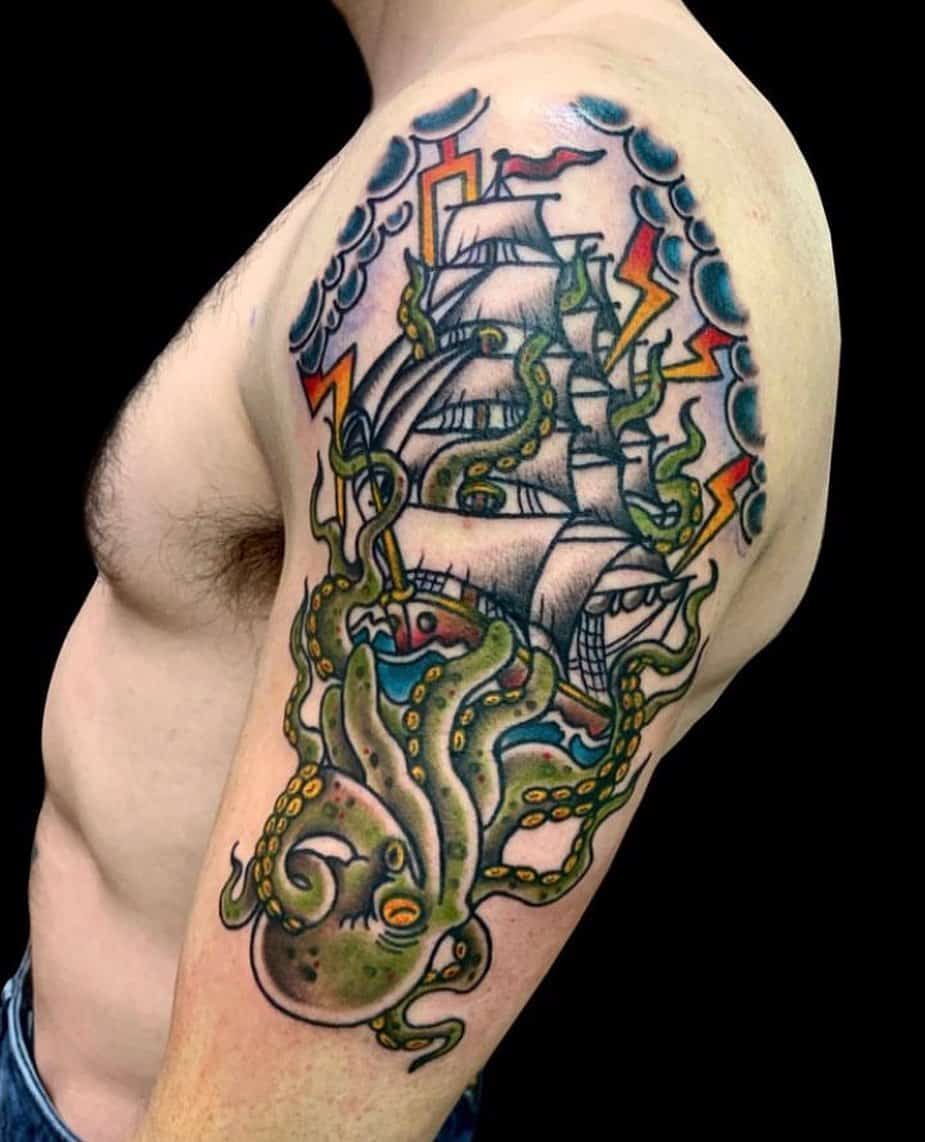 Credit: @the.electric.tattoo

Credit: @realarttattoo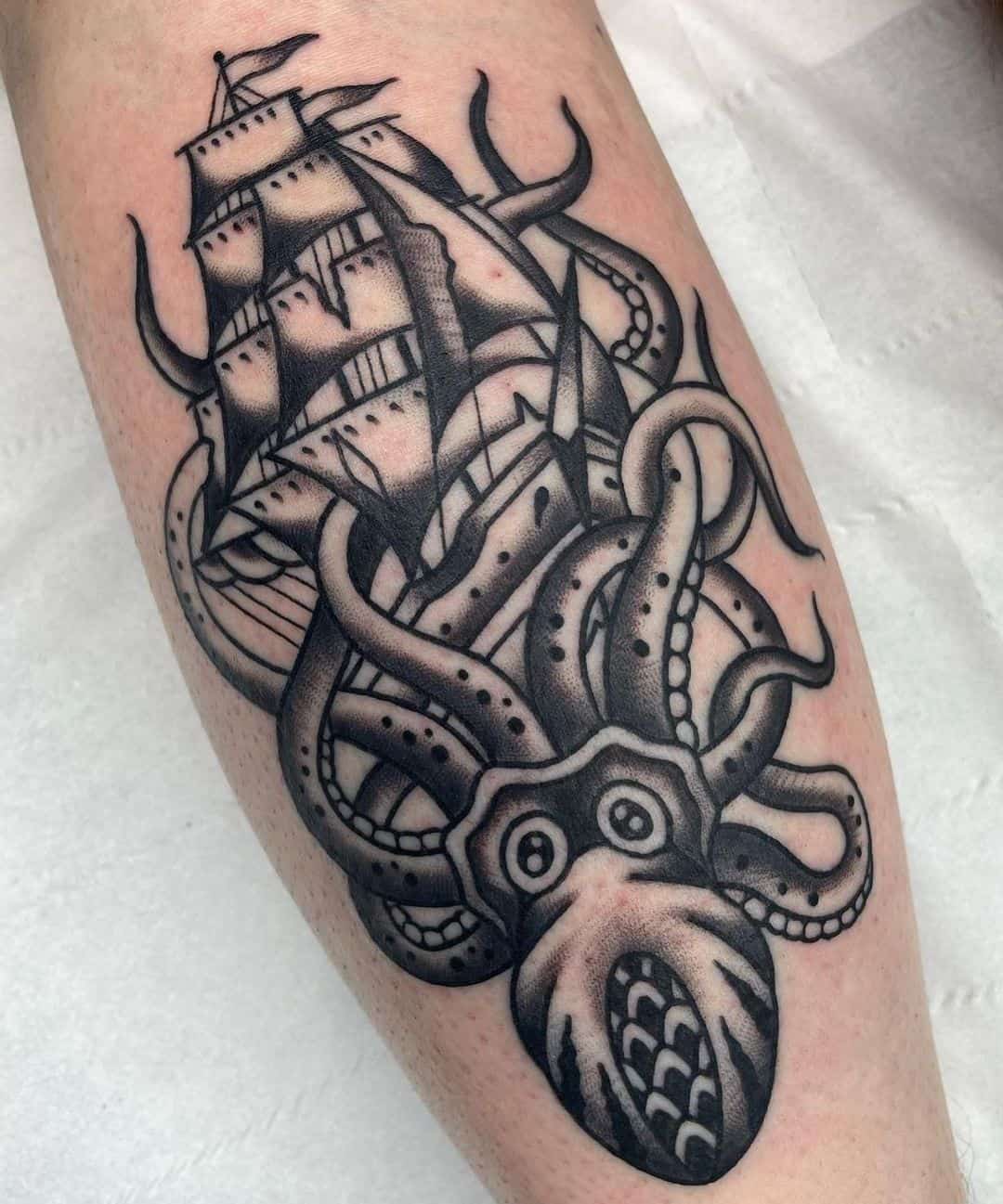 Credit: @lockdownneedle
Small Ship Tattoo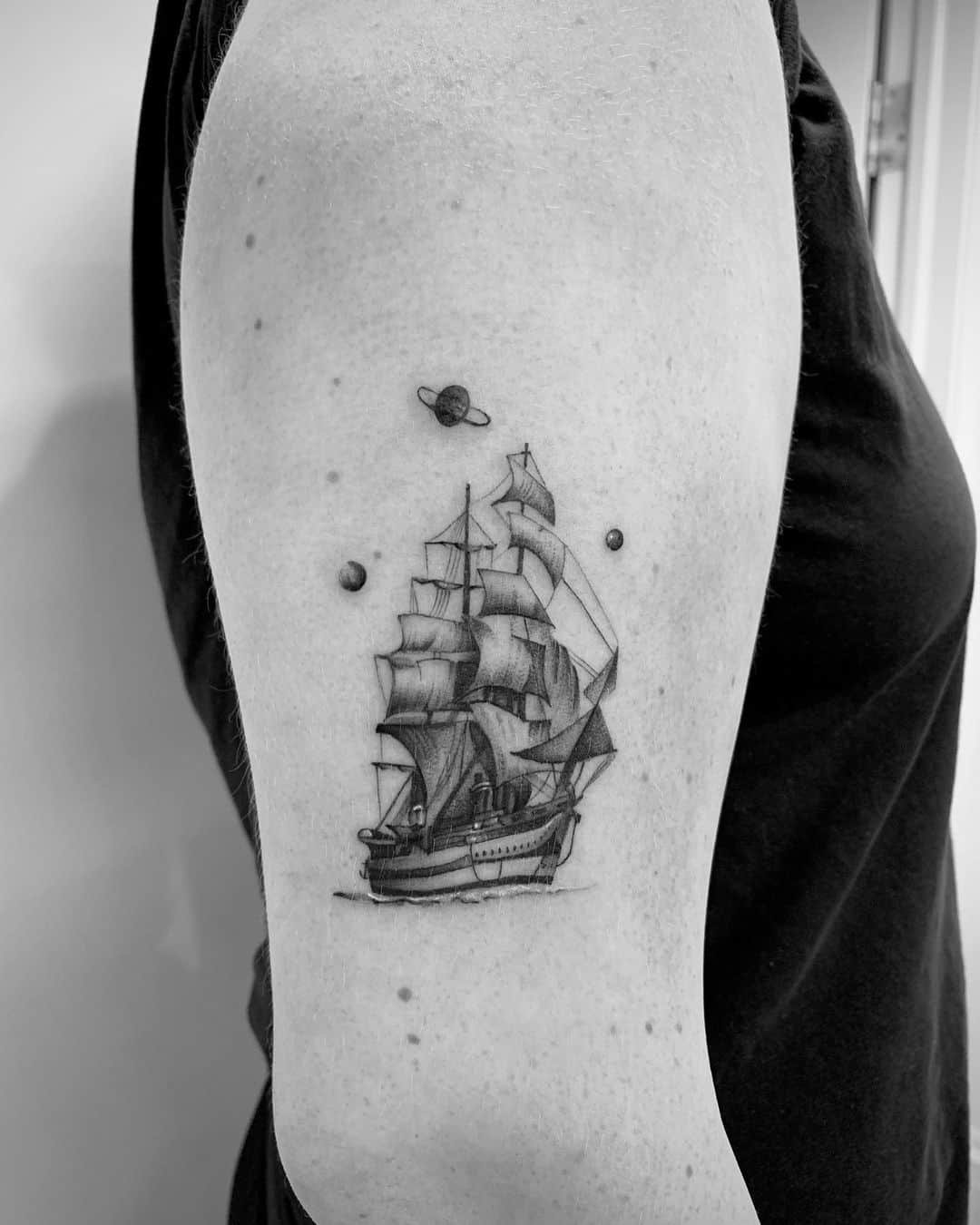 Credit: @dr.jinks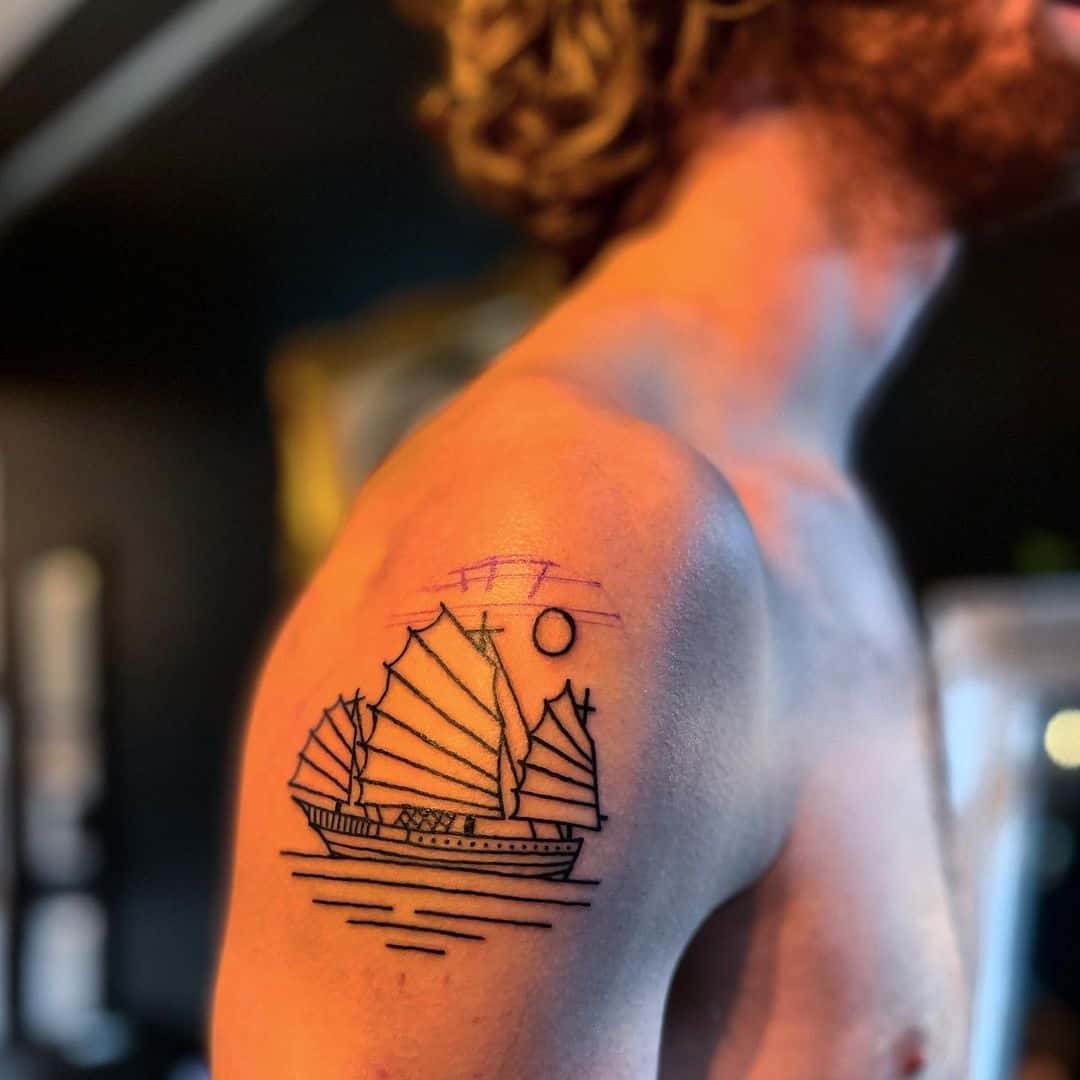 Credit: @enji__tattoos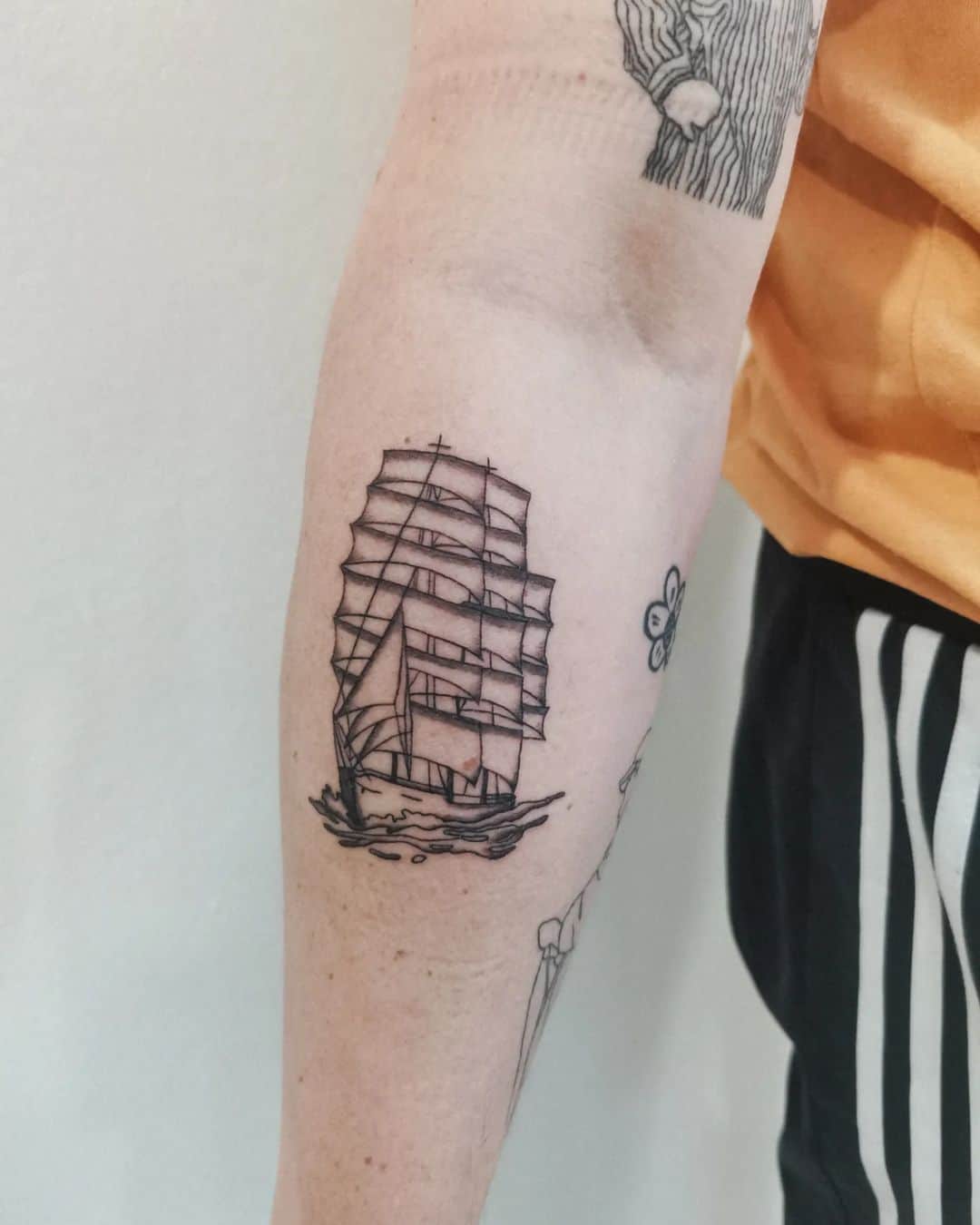 Credit: @lauracristinart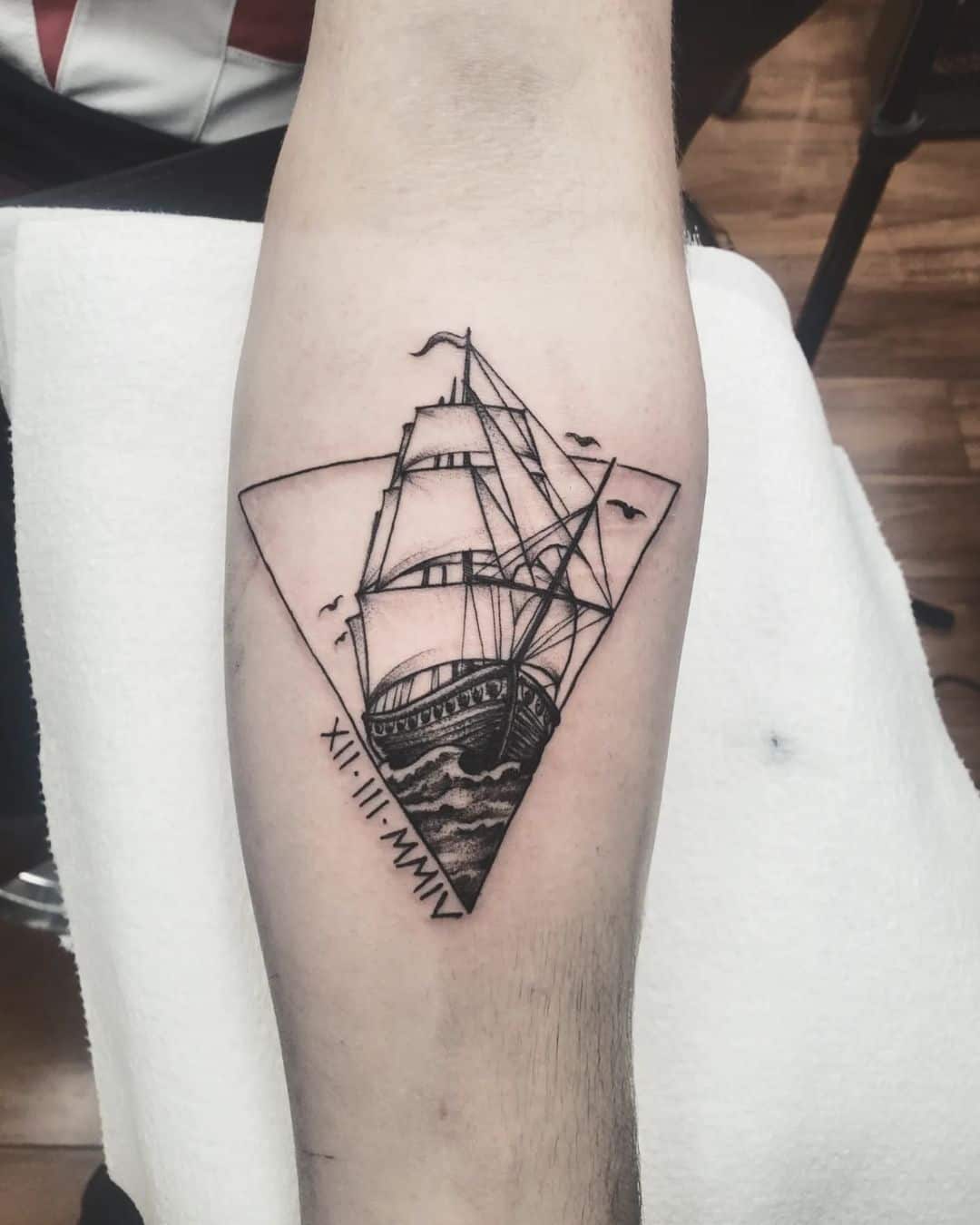 Credit: @wicked_city_tattoo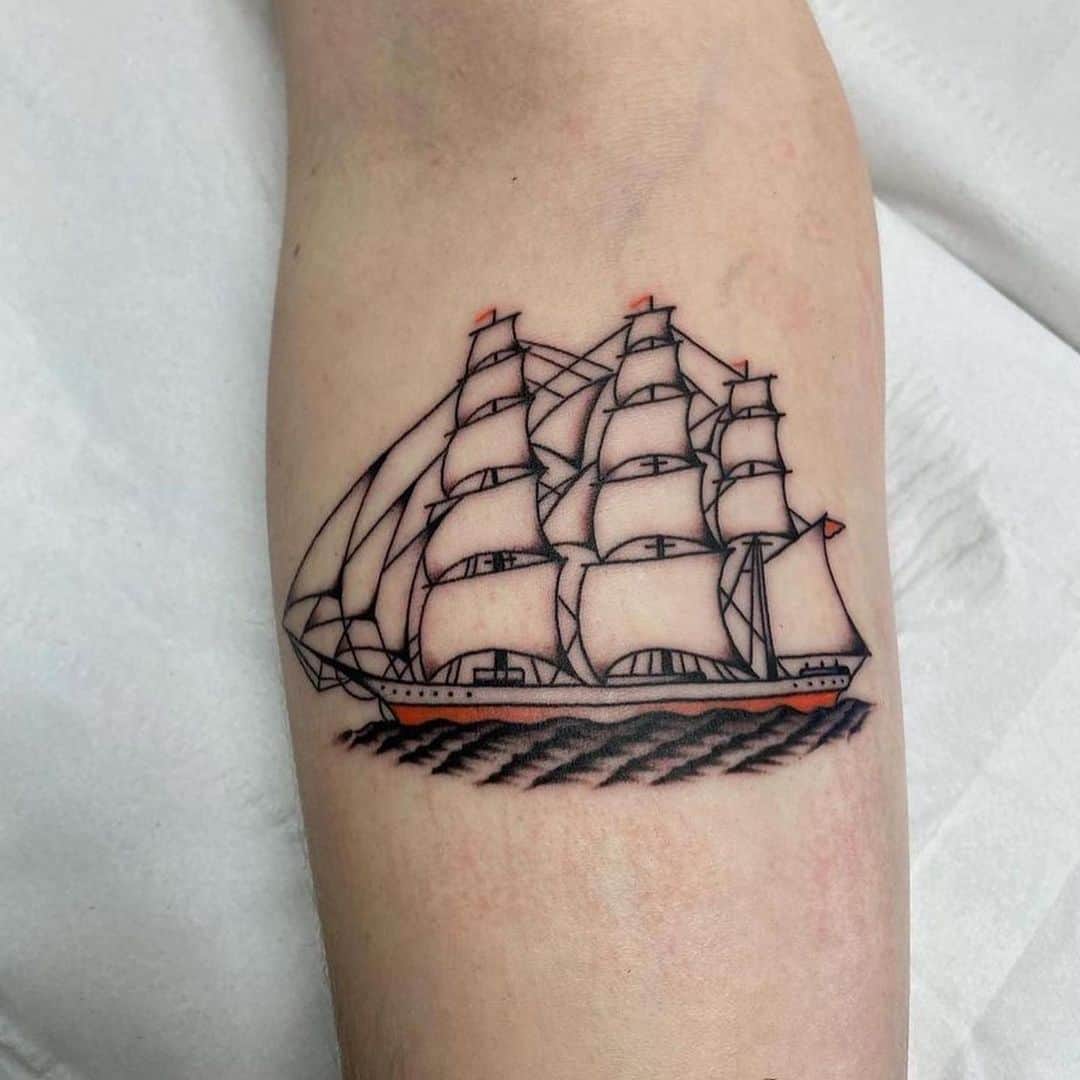 Credit: @thetattoocompanywilmslow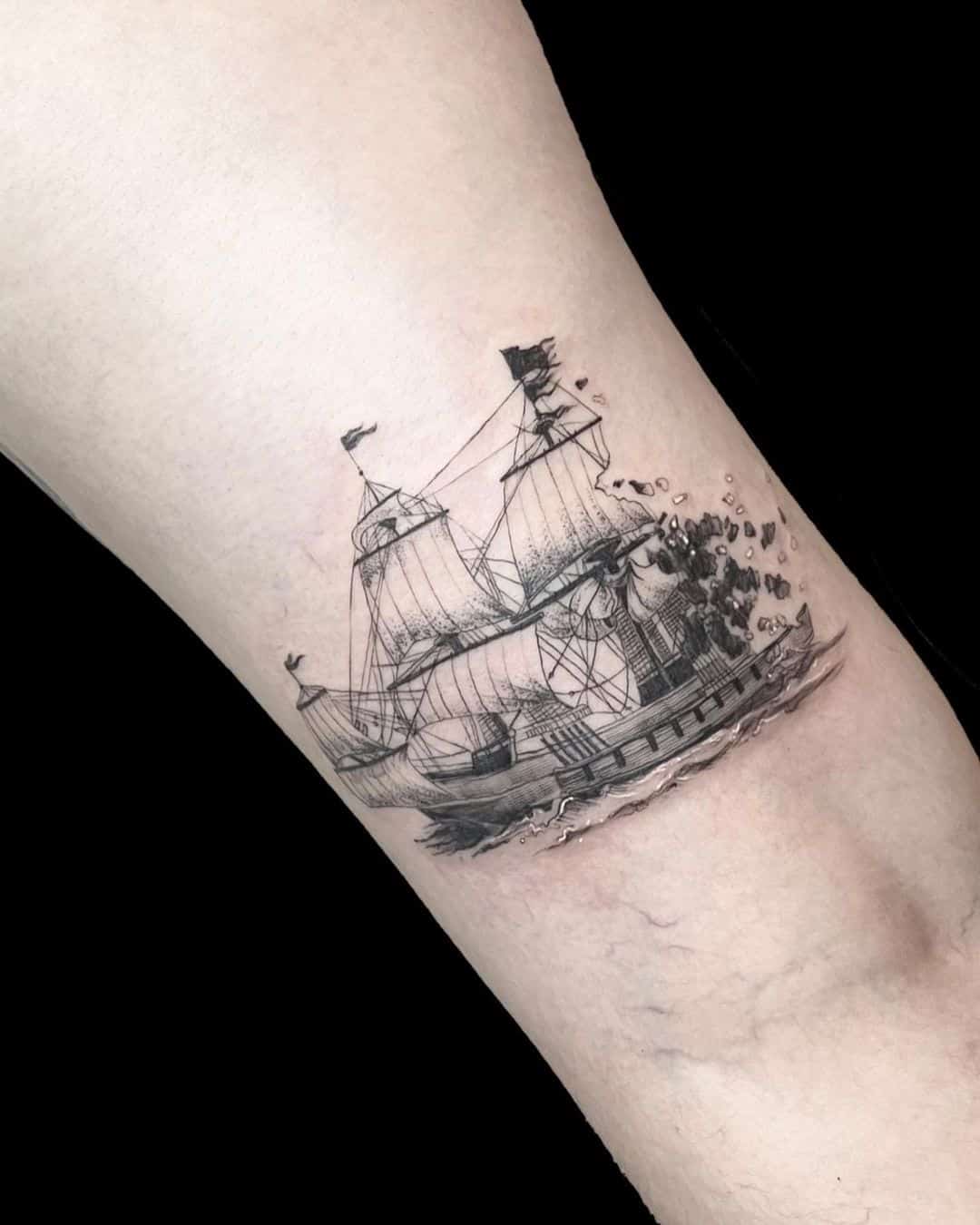 Credit: @zezitattoo