Get some compass tattoo ideas in our amazing guide. We highlight some of our favorite design ideas and the meanings behind them.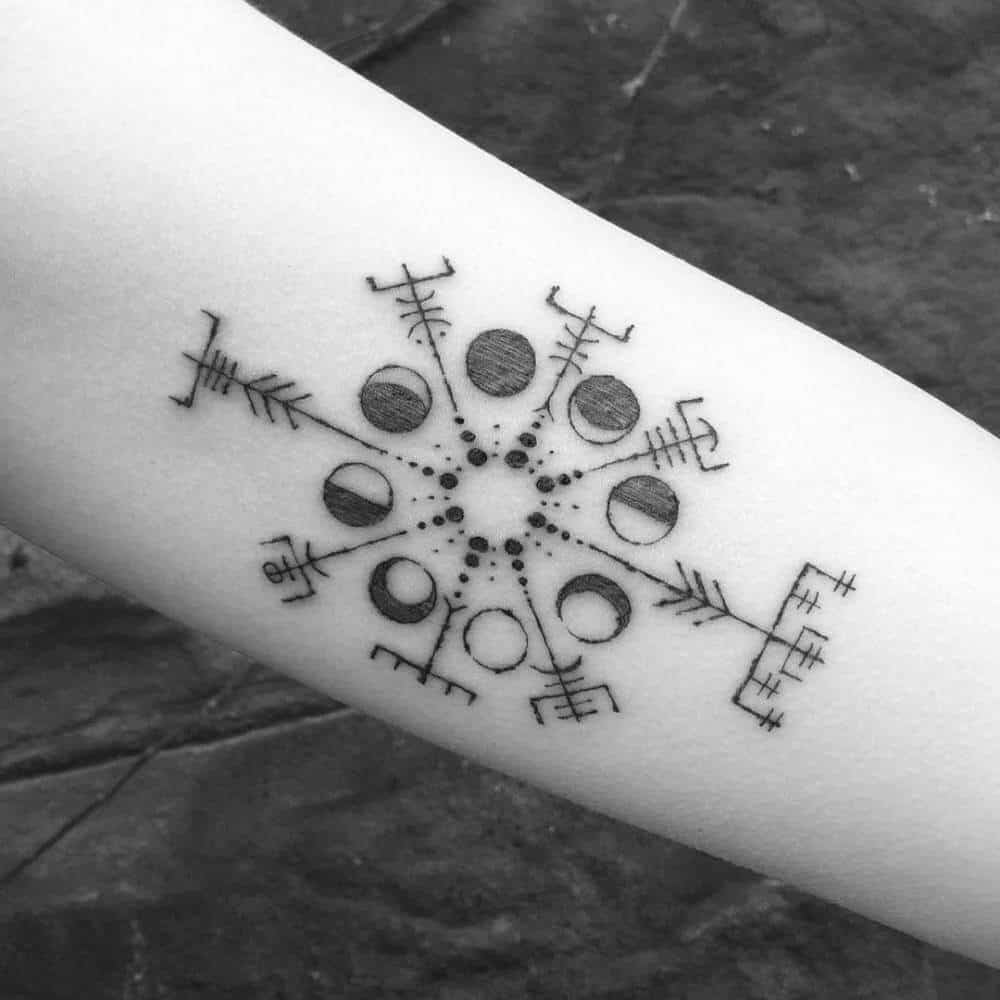 A compass is an instrument that points to the four cardinal directions – north, south, east, and west – relative to the location of the user.
It's also one of the most popular and awesome-looking tattoo subjects, as it's rich in symbolic meaning and suitable for just about every style.
Keep reading for an overview of the meaning of the compass in tattoo art and some popular ideas for a compass tattoo design.
We've also put together a gallery of amazing compass tattoos for women and men alike.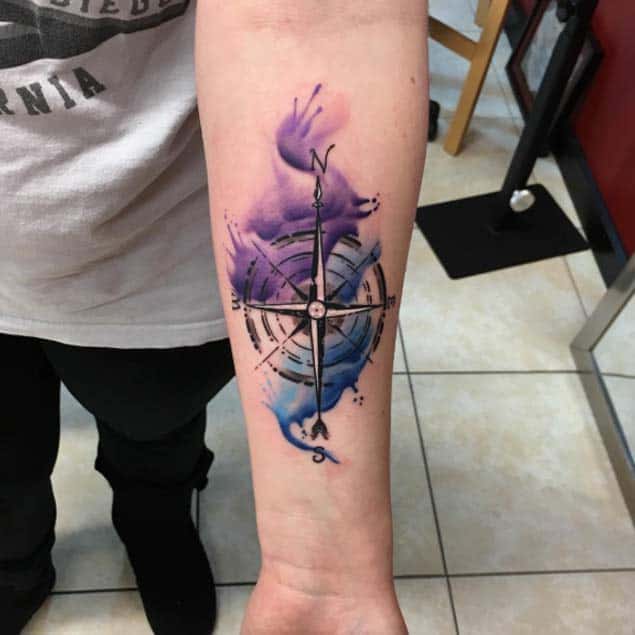 Compass tattoo meaning
As we all know, a compass is used in navigation to determine the direction of north, south, east and west.
This enables the user to work out their position in relation to these directions and, with the aid of a map, navigate unknown terrain.
Recommended: Find out about feather tattoo designs in our next article.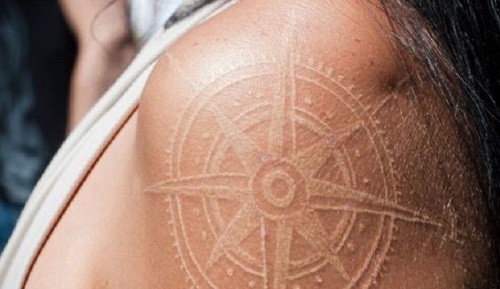 The main meaning of compass tattoos, therefore, revolves around the idea of finding your way and staying on course. This could mean:
Consistency – never losing sight of your goals and your values, confidently following your path, and remembering to stay true to yourself.
Protection – compass tattoos are seen as good luck charms, something to aid you in finding the right direction in life and prevent you from losing your way. Compasses have long been a popular choice of tattoo for sailors, who see them as symbols of protection and of the hope of safely reaching their destination.
Loyalty – compasses in tattoos are sometimes intended to be symbolic of loyalty, most often to a romantic partner. Again, this meaning refers to the idea of choosing the right path (in this case, the person you love and who is right for you) and not straying from it.
Choice – a compass tattoo can serve as a reminder that at every point in your life, you have many directions in which you could go – i.e. a number of decisions you could make. Compasses can symbolize both the freedom and the responsibility that comes with life choices.
Independence – if finding your own way rather than following convention is important to you, a compass could be a great choice of tattoo to express this value.
Travel – finally, as important symbols of navigation and exploration, compass tattoos can simply be an expression of love for traveling and discovering new places.
If you're thinking of getting a compass tattoo to express a specific idea or value, the design and combination of elements you choose will help to highlight your tattoo's intended meaning.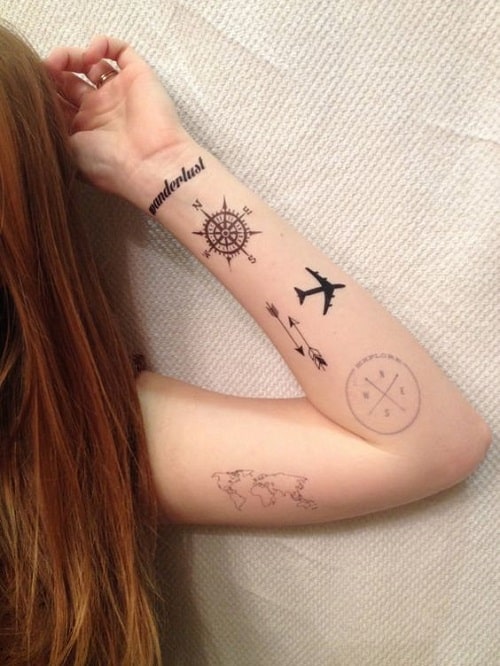 Compass tattoo designs
3D compass tattoo
3D tattoos aim to achieve a photorealistic look through careful shading. With compass designs, this technique will work best in monochrome or sepia.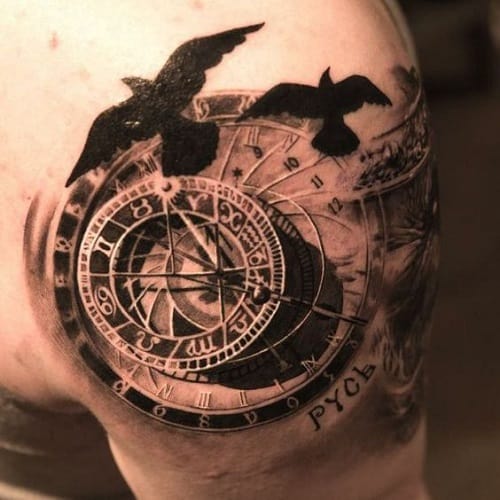 Watercolor compass tattoo
A popular choice of compass tattoo design is one where the compass is outlined in black, with a background of abstract watercolor.
This combination results in a colorful, light design suitable for almost any placement.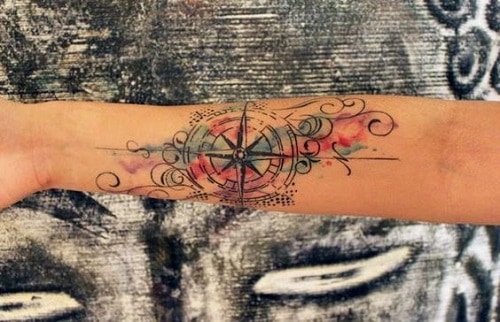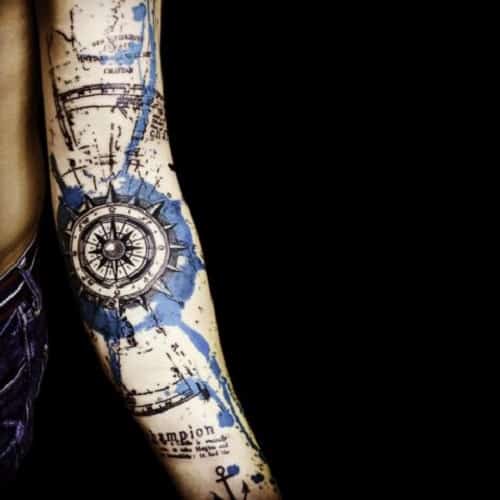 Compass with a rose tattoo
The middle part of the compass, where the lines point to the four cardinal directions, is known as a rose.
Perhaps for this reason, a tattoo design of a compass with a rose flower in the center is a relatively common option.
A 3D compass surrounded by red roses is another variation of this design idea.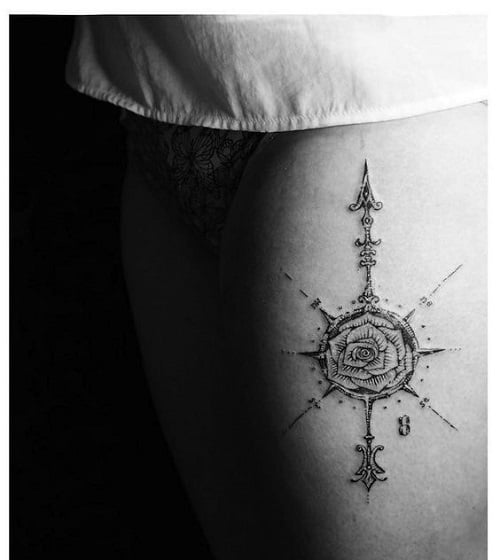 Compass with a map tattoo
If you find that a compass on its own makes for a design that's too small or not layered enough to fit your expectations, consider adding a map as background.
One of the best things about this idea is that the piece of the world map that you choose will add further significance to your tattoo – you could choose a place that means a lot to you personally.
Recommended Reading: Check out our guide to wolf tattoos next!
Remember that you don't have to limit yourself to the map of the Earth – maps from fictional fantasy worlds of novels, movies, and games are also an option, as is coming up with your own unique map.
Vintage-style maps and the 3D style are the recommended choices for this kind of design.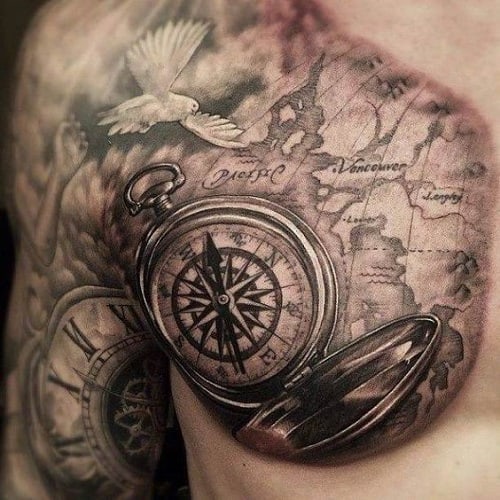 Compass with an anchor tattoo
Both the compass and the anchor are naval symbols, so it makes perfect sense to combine them in a single tattoo design. In tattoo art, anchors symbolize strength, stability, and balance.
Like compasses, they're also sometimes considered something of a good luck charm – a ship doesn't drop the anchor until it reaches safe port; it is therefore a symbol of safely reaching a destination.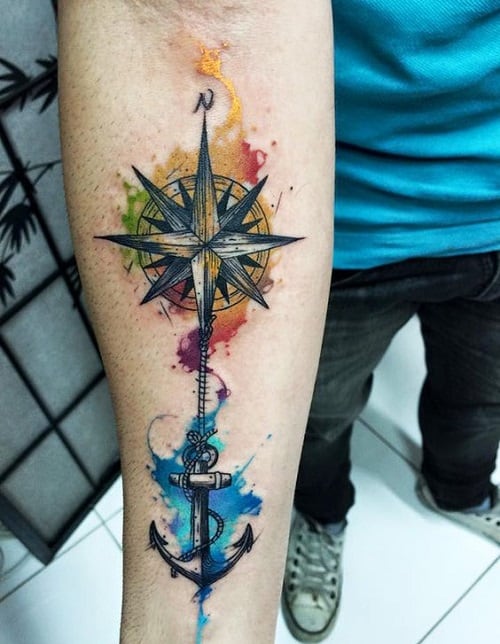 Minimalist compass tattoo
Another idea worth considering is a simplified rendition of a compass, done in thin black lines.
This design consists of the compass rose – the two crossed lines pointing to the four directions, optionally with the intercardinal directions (e.g. South-West, North-East) added.
If stylized in the right way, this simple minimalist tattoo will be enough to express the idea of a compass. A circle around the lines can help to make the design distinguishable as a compass.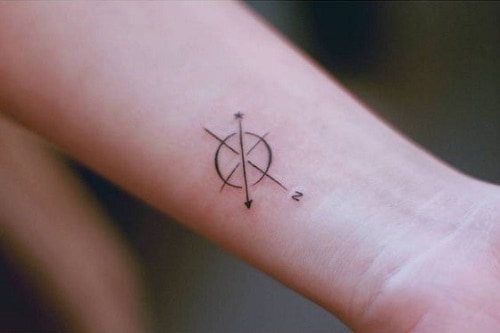 Heart compass tattoo
This combination quite clearly expresses the notion of following your heart. If you strongly believe that your intuition is the most important guiding principle in your life, then this could be the right tattoo for you.
For this design, the center of the compass can be embellished with an outline of a heart, or the two elements can be tattooed alongside each other.
Recommended Article: Take a look at our big guide to Japanese tattoos.
Christian compass tattoo
Combining the compass with Christian symbols such as the cross can indicate letting your faith guide you in the way you live and in the decisions that you make.
Compass with writing tattoo
For tattoos with highly specific personal significance attached, writing is one of the most popular ways to express the intended meaning.
Consider adding a quote or even a single word that resonates with you, an important date, or the name of someone dear to your heart to your compass tattoo to bring out its deeper meaning.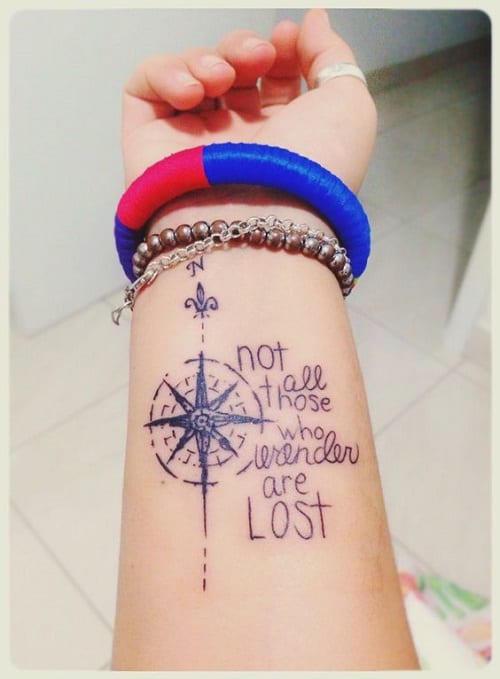 Compass with an arrow tattoo
Arrows are quite complex symbols, but in general they symbolize determination, courage, perseverance, and direction, as well as protection from harm.
A popular way of combining these elements in a tattoo design is to have the two overlaid, with the compass midway along the length of the arrow.
An arrow piercing a compass, meanwhile, can express the idea of making your own directions – following your own way and your own decisions, regardless of the rules.
Recommended Next: Don't leave without reading our guide to tattoo quotes!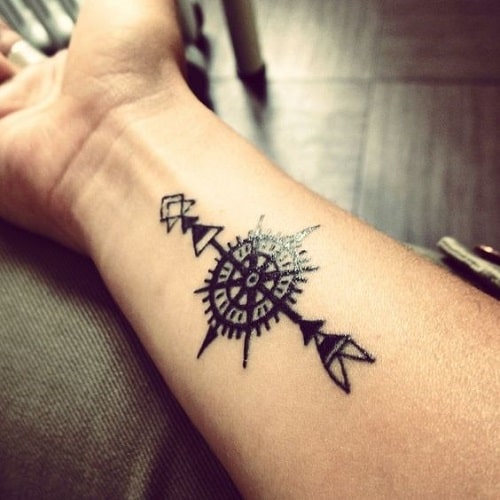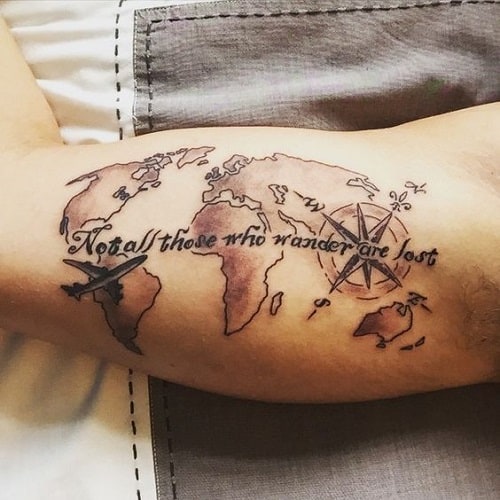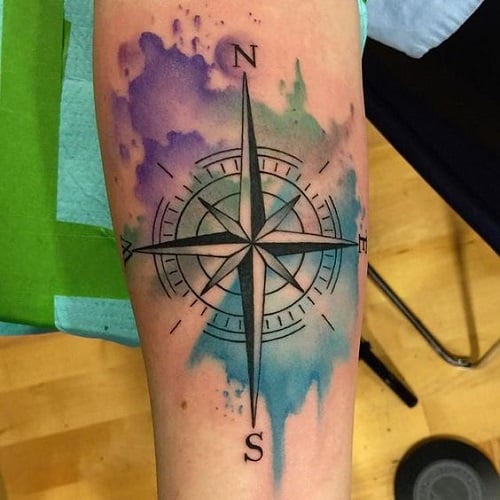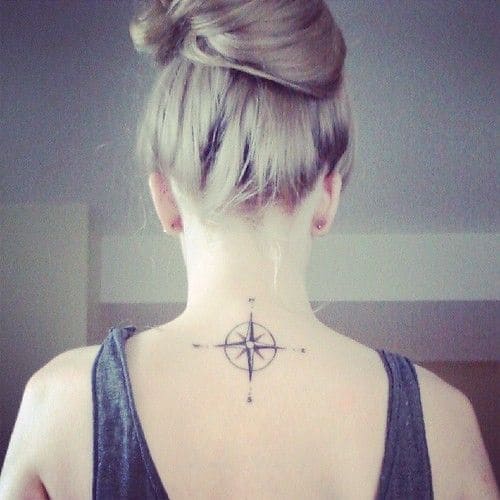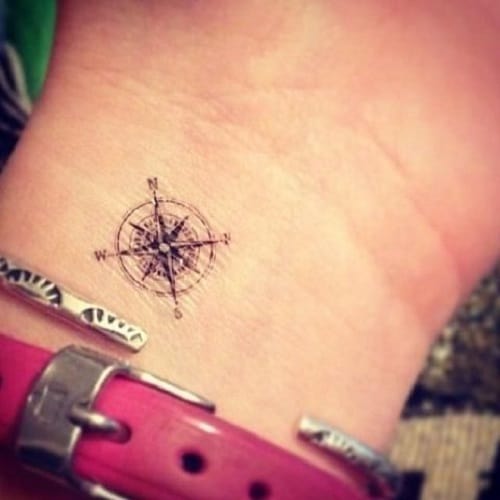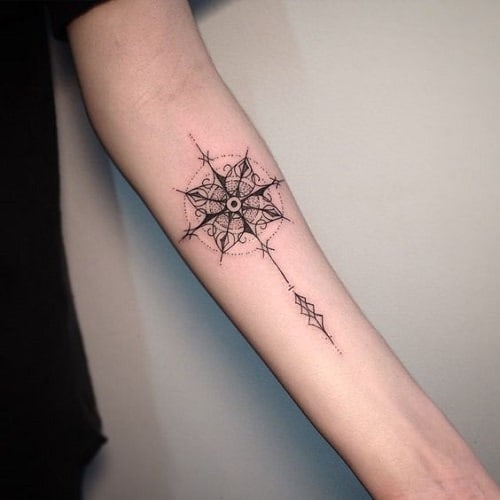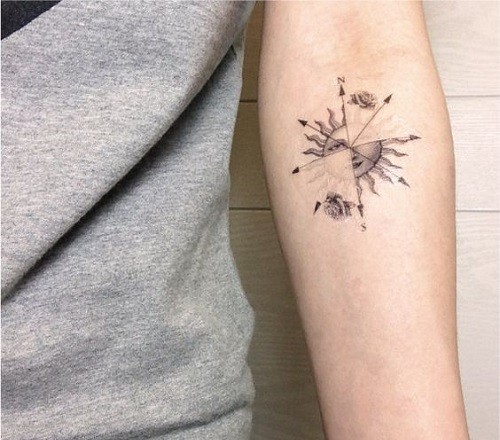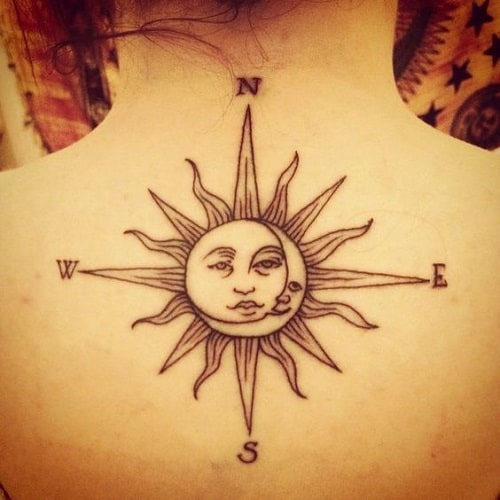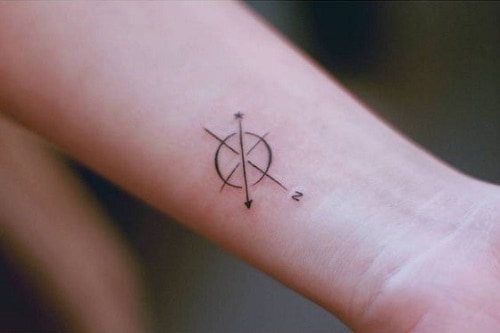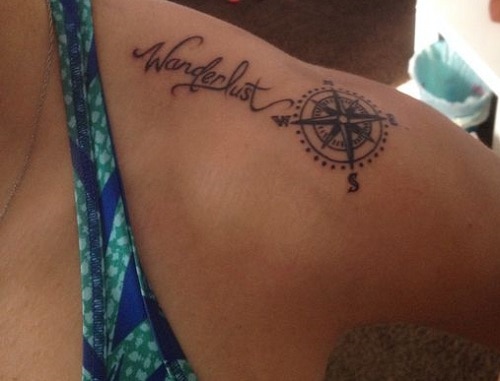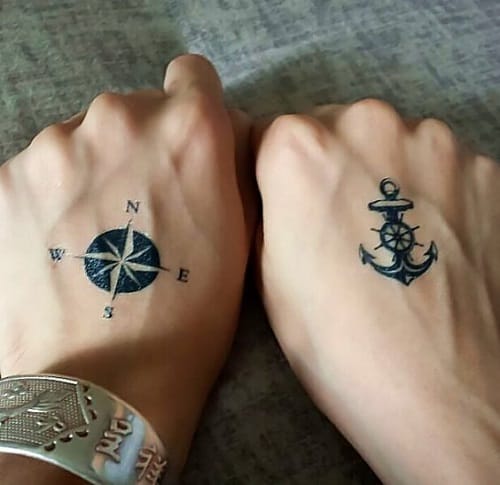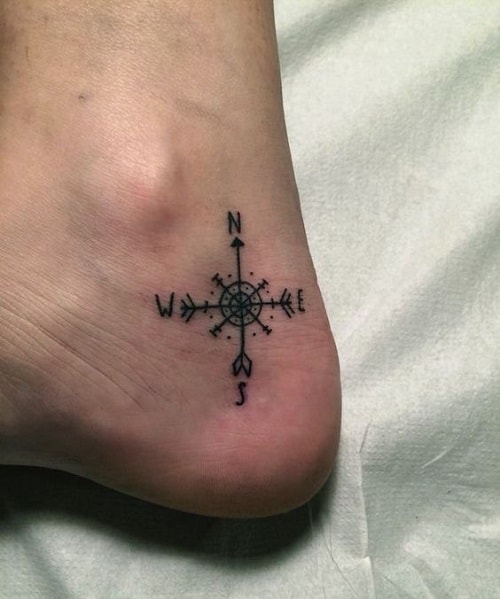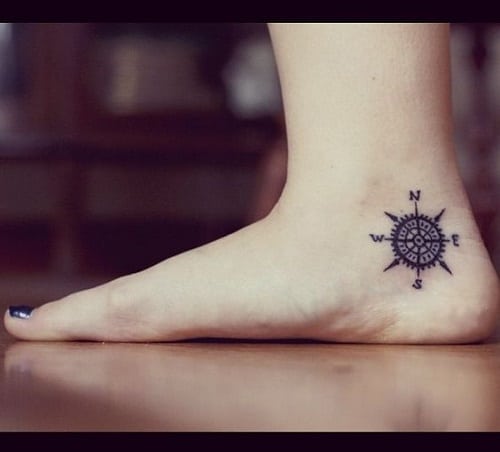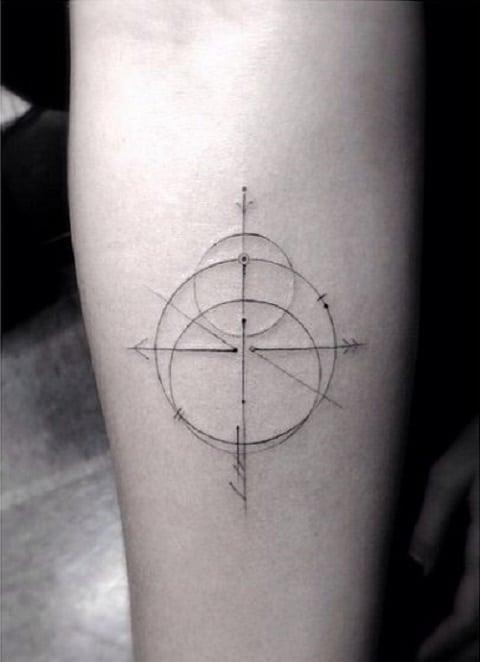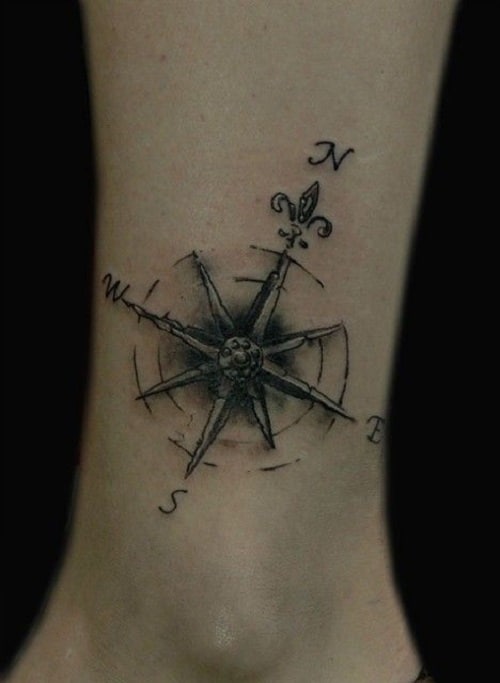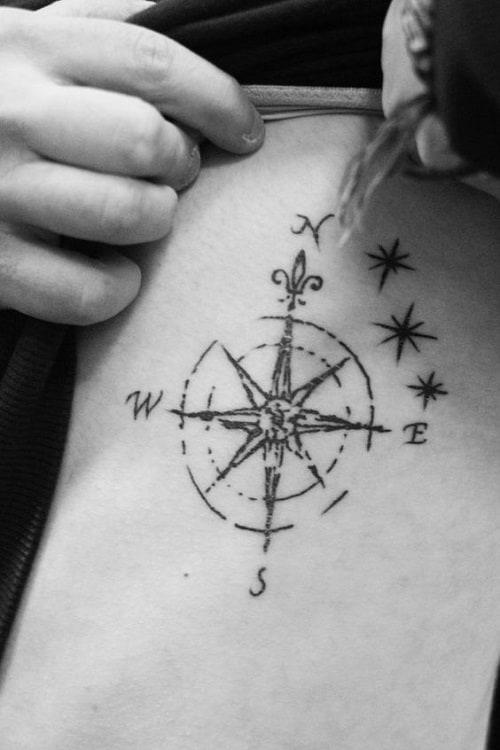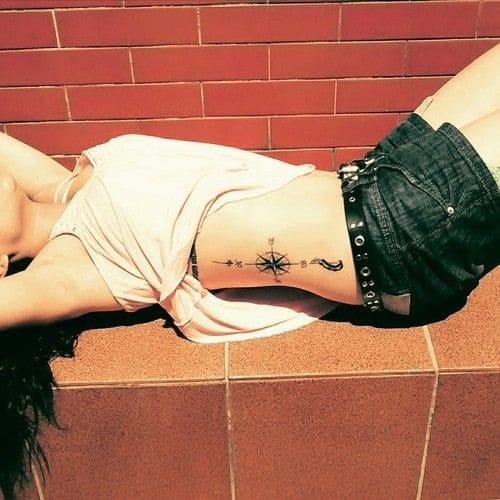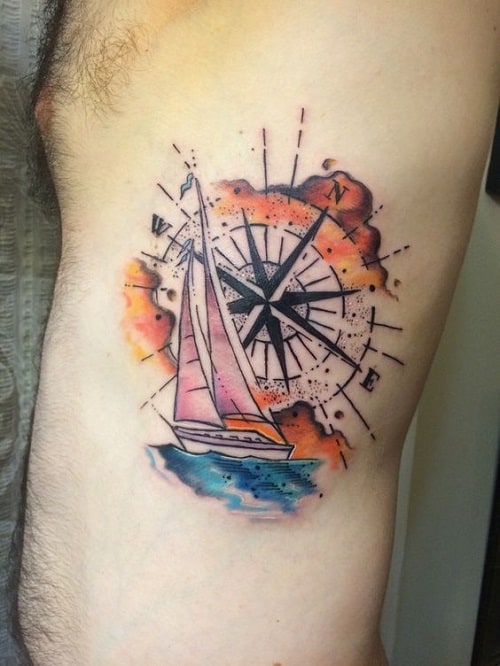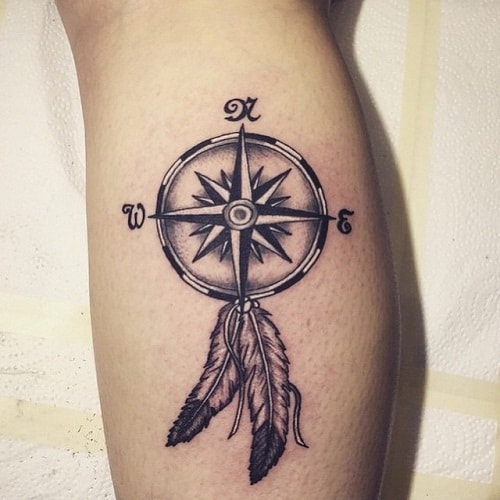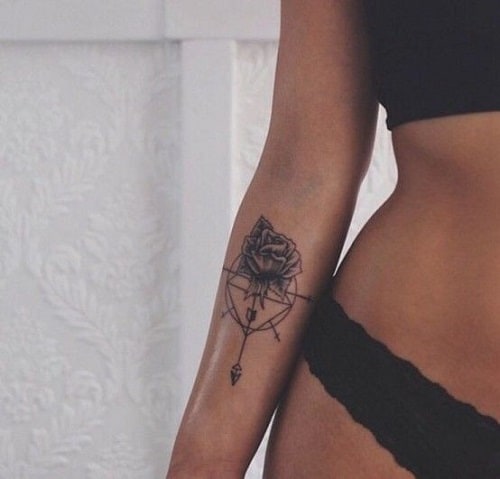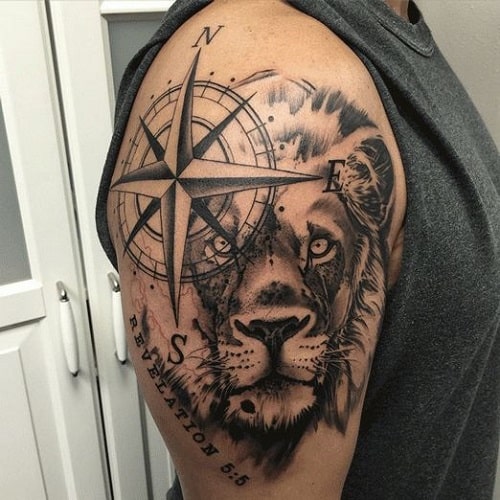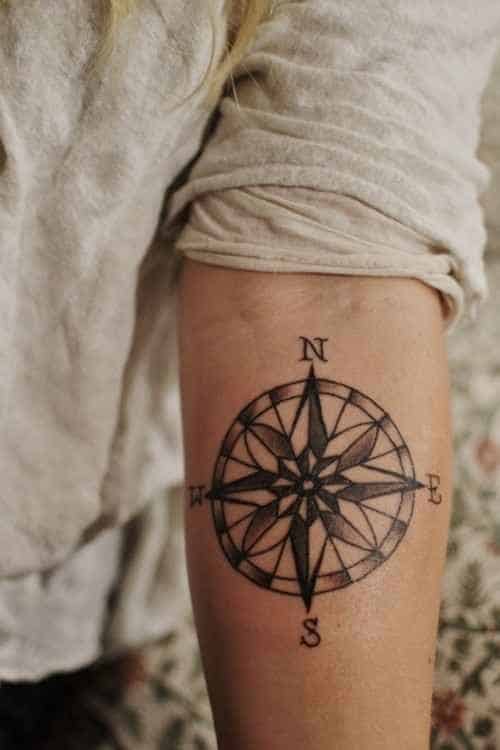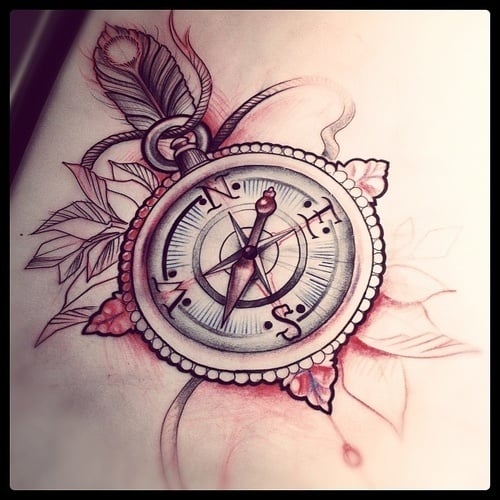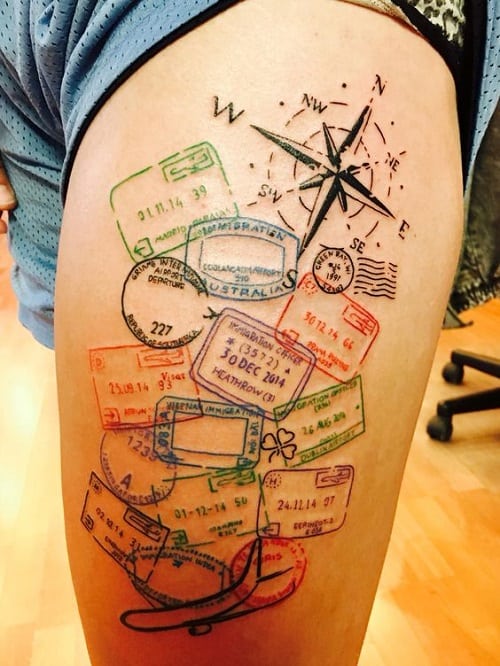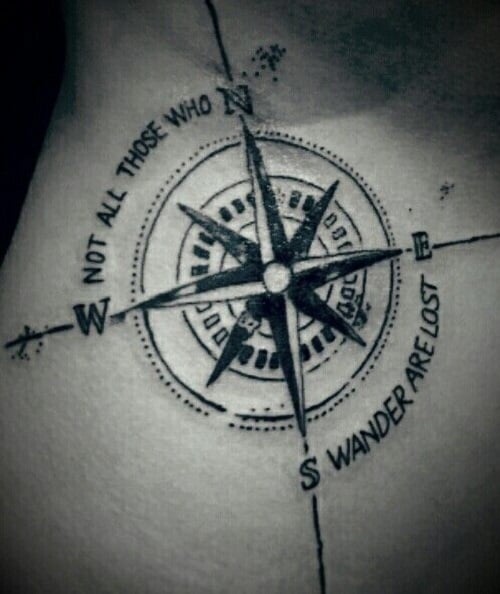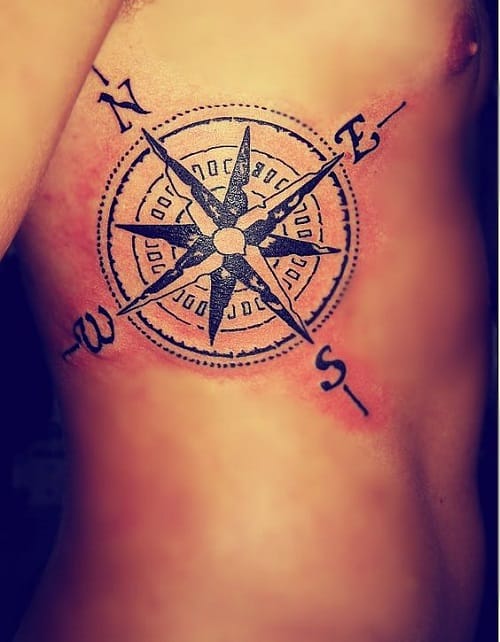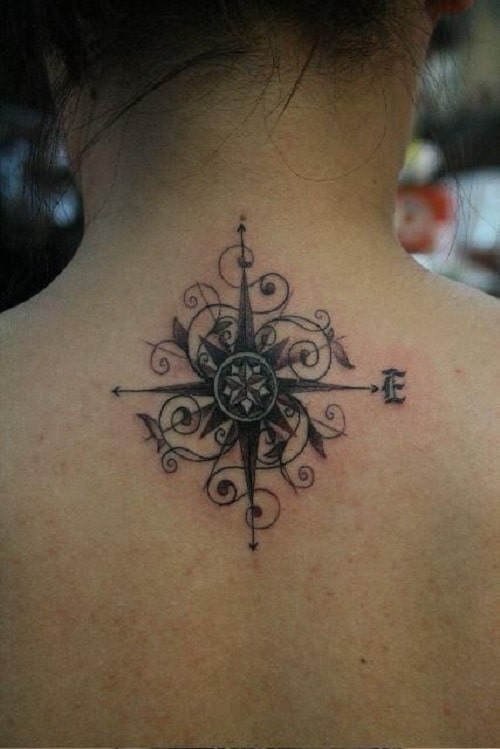 Compass design is the new cool among the tattoo enthusiasts and mostly, the arm is the best suited location for getting tattoo. Other spots for placement are elbow, back, chest, ankle, hip, leg, wrist, thigh, back of the ear, back of the neck and side. The choice of location to get the tattoo really depends on the bearer, but it needs to be done at a point where it looks prominent, because the very purpose of getting a tattoo done is to make it visible to others. At the same time, one needs to be sure about the design an placement before getting the tattoo as it involves a great deal of money, time and the bearer has to undergo a lot of pain for having the tattoo done. Moreover, a tattoo is permanent and becomes a part of a person for a lifetime.