Thinking about getting a lower stomach tattoo? In this guide, we'll share everything you need to know about tattoos on the abdomen – from the pain level to design options.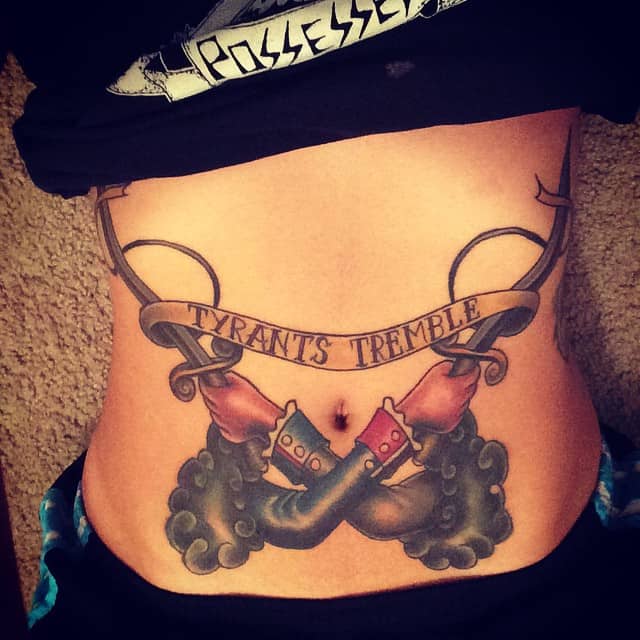 In the gallery below, you'll find plenty of inspiration for your design – so don't forget to check it out!
Lower abdomen tattoo types
Full stomach tattoos
A large design will likely cover your whole stomach area. A full stomach tattoo allows for a lot of creativity when coming up with the design.
You can include a lot of elements and render them in high detail.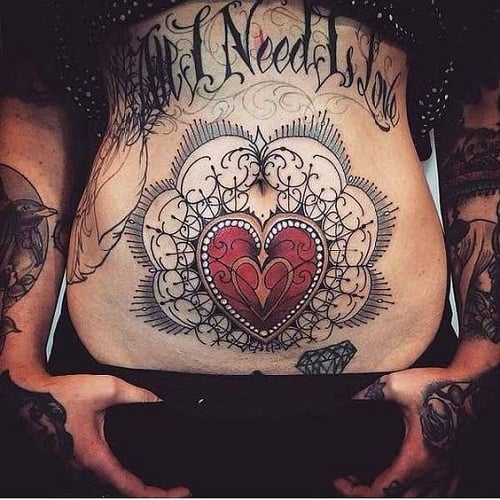 Small stomach tattoos
Little designs can be located anywhere on the stomach.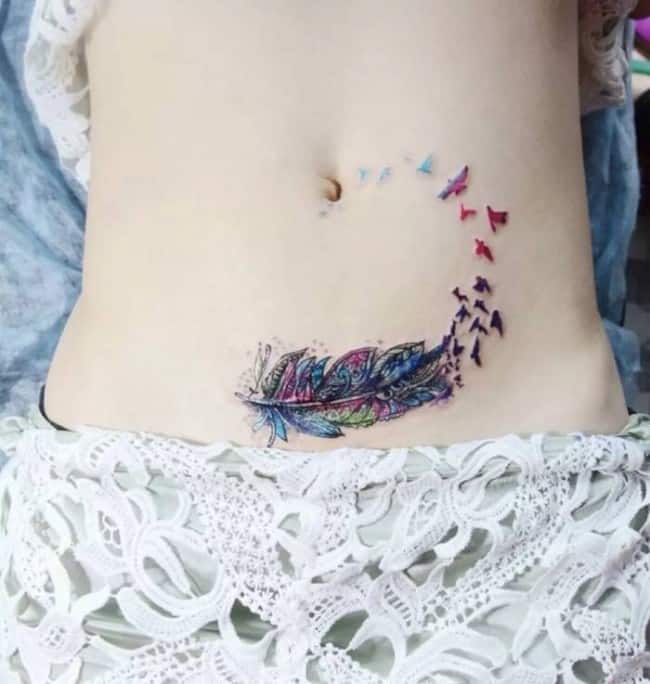 You could also consider two (or more) small designs arranged in a symmetrical pattern. For instance, a small tattoo close to each hip bone will create a sense of balance.
Remember that you can always start out small and then add to your tattoo at a later date. This will require some planning, as you'll want the whole design to be cohesive.
To make sure the additions don't stand out as separate elements, use elements of the same theme. You might also want to go to the same tattoo artist.
For instance, lower belly tattoos can be expanded upwards, and small stomach tattoos close to the hip can be extended sideways.
Side stomach tattoos
If you place a tattoo on the side of your stomach (above the hip bone), you're getting a side stomach tattoo. Larger of these can wrap around your side or even onto your lower back.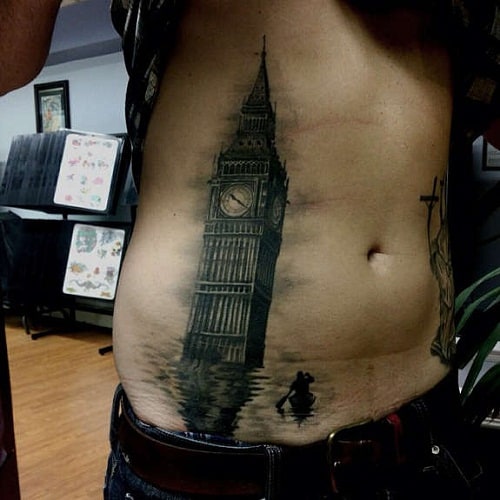 The stomach provides a relatively large surface area for tattoos. So, even if the design isn't a full stomach tattoo, it can still include a high amount of detail.
Popular designs for stomach tattoos
Whether your tattoo is big or small, there are tons of options for stomach tattoo designs that will be both meaningful and eye-catching.
Flowers
A flower stomach tattoo is one of the most popular choices. Flowers are a very common motif in tattoos in general: they look great and they can represent various symbolic meanings.
As you browse through flower designs, you'll notice that red roses are definitely among the top choices.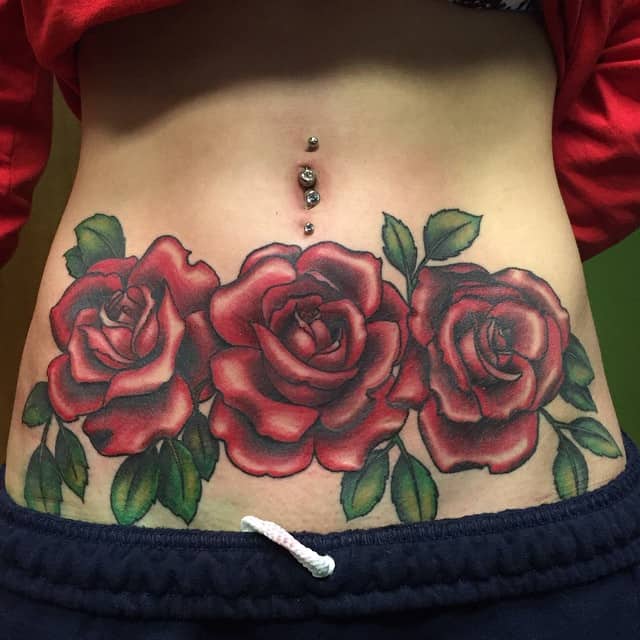 They look particularly impressive when rendered in the 3D style – with a lot of shading an full realism.
Other flowers you'll often see in tattoos include cherry blossoms, lilies, and lotuses. Each of these has a specific set of meanings, so you can add a symbolic aspect to your tattoo.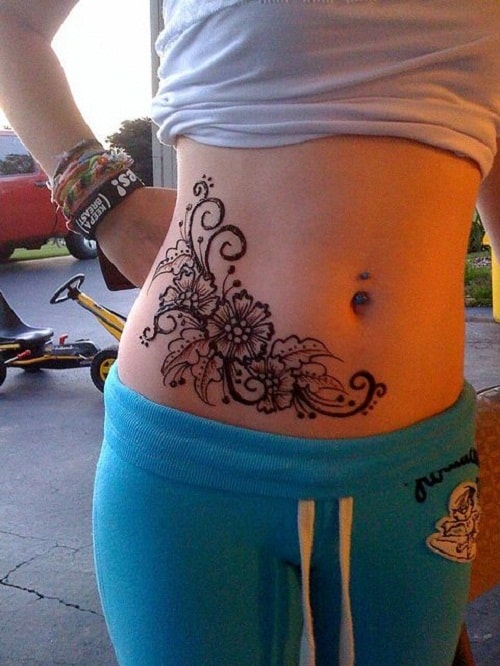 For more information about flower designs and links to even more specific articles, check out this post.
Animals
Like flowers, animals each have a meaning in the symbolism of tattoos.
If you're considering an animal stomach tattoo, you probably already have a specific animal in mind.
It can be interesting to read up on the symbolism and history of this animal in different cultures, to add another layer of meaning to your design.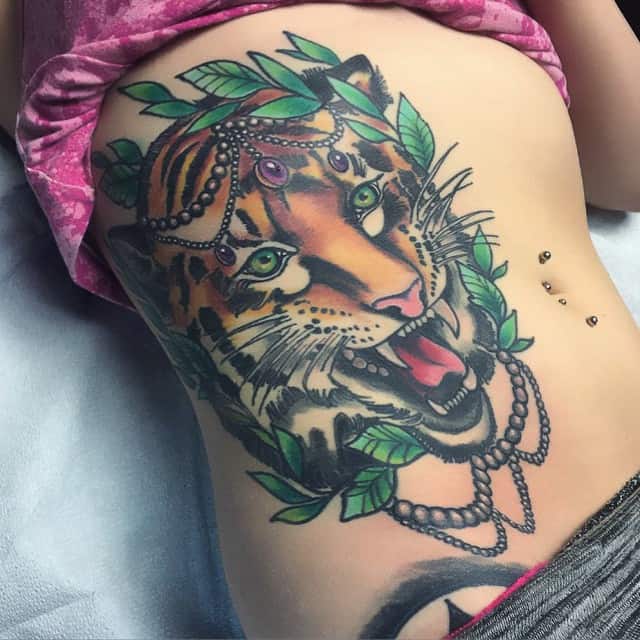 If you're willing to go for a full-stomach tattoo, you'll be able to include a lot more detail in your design.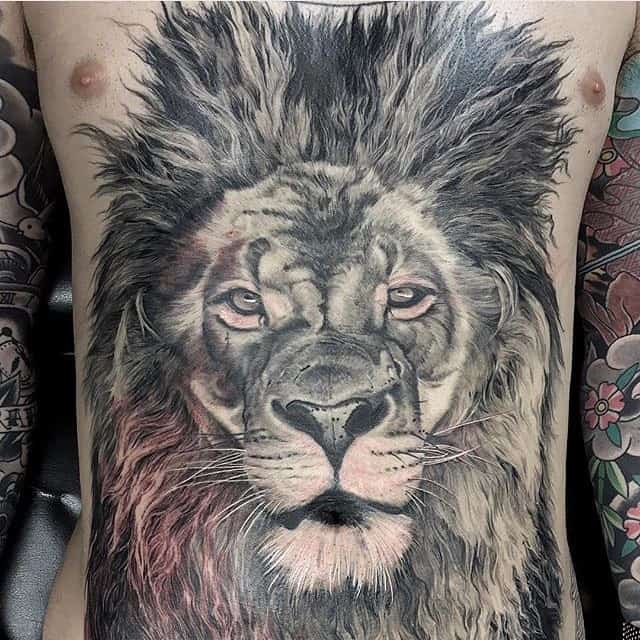 In fact, most animal tattoos on the stomach are large – taking advantage of the space available in this location to create some impressive-looking body art.
Alongside lions and tigers, deer, owls, bears, snakes, and wolves all make for popular stomach tattoo subjects. Mythical creatures, such as dragons and phoenixes, also provide a lot of inspiration.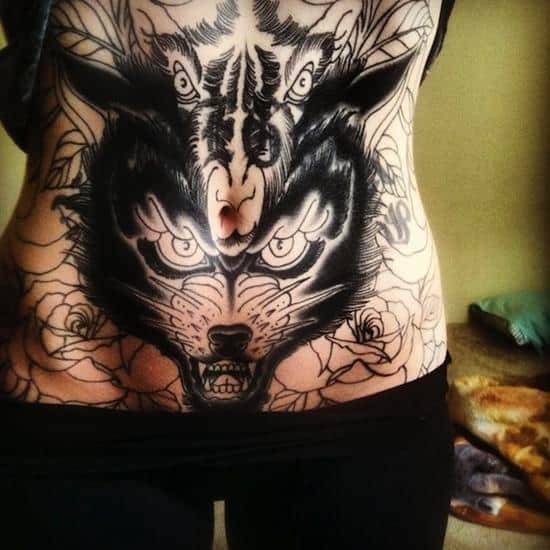 Tribal
In recent years, the trend with tribal tattoos has moved towards imitating markings used by real tribes.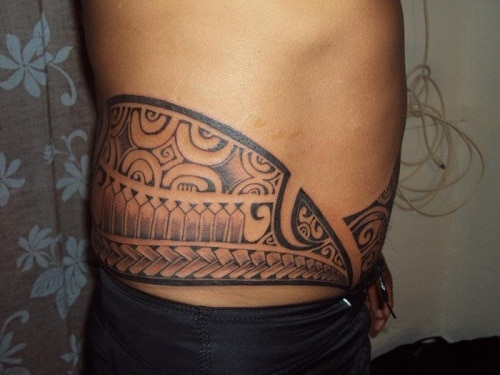 In the 90s and early 2000s 'tribal' meant semi-abstract black shapes, rendered with spiky lines. Contemporary tribal tattoos, meanwhile, take inspiration from tribal markings of Polynesian tribes, Aztecs, and other ethnic groups that practiced body modification.
Interestingly, every element of these complex designs has a meaning and a purpose. By combining different patterns and shapes, you can create a truly meaningful tattoo.
Tribal designs make for popular stomach tattoos for men, in particular.
Check out this article on tribal tattoos – you'll find tons of ideas and inspiration, as well as some historical background to tribal tattooing and links to specific tribes.
Anchor
Anchor tattoos look great just about anywhere on the body, and the lower abdomen is no exception.
The use of anchors in designs dates back to when tattoos were the domain of sailors, and anchors are common elements in old school tattoos. They're a popular choice among stomach tattoos for guys and girls alike.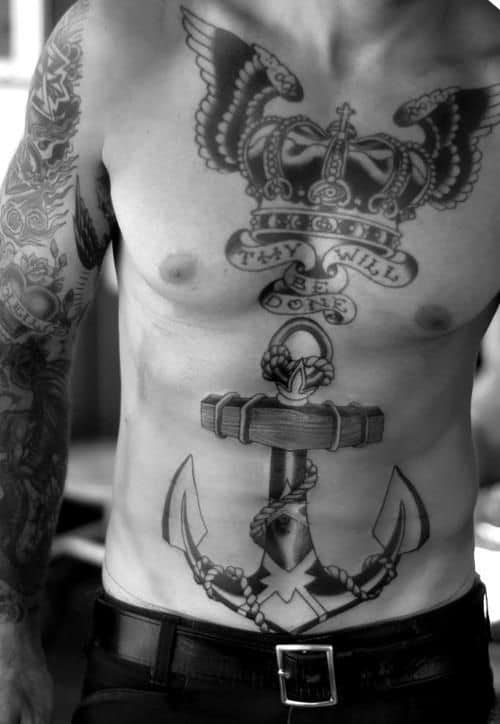 In tattoo symbolism, anchors have a range of meanings. They primarily stand for strength, stability, and protection – after all, a ship drops anchor for safety.
Anchors can also mean close ties with a particular place or person – indicating that they are your 'safe place'. Furthermore, they are the symbol of people who believe in being grounded and down-to-earth.
For an even more meaningful tattoo, consider adding flowers, ribbons, or writing (such as names) to the anchor design.
Feather
Feathers make for great small tattoos, ideal for anywhere on the stomach. Because they're often curved, they can be used to accentuate the natural contours of your anatomy.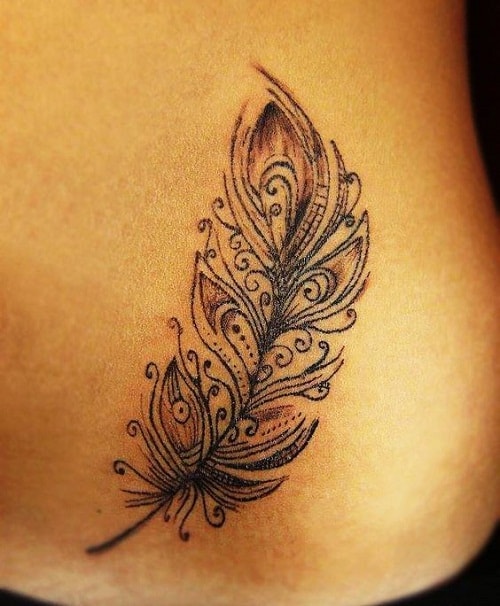 A feather tattoo on the stomach can have lots of meanings. The key concepts it represents are freedom, courage, spirituality, and hope.
Not everyone knows that feathers of specific birds hold particular meanings, especially in Native American culture.
For example, swallow feathers represent peace and love. Eagle feathers – sacred to Native Americans – stand for strength, leadership, and courage. Dove feathers are symbols of peace and kindness, while raven feathers refer to knowledge and creation.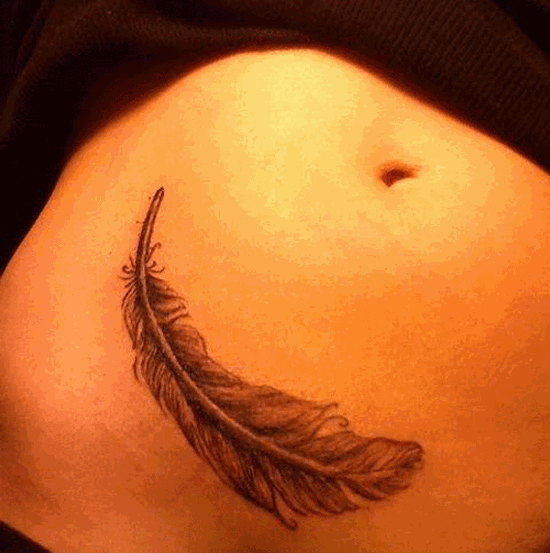 Peacock feathers, representing pride and beauty, are particularly noteworthy as they appear most often in tattoos. Their vibrant colors make for eye-catching designs.
For more images of feather designs and background on tattoo symbolism, check out this article.
Hearts and locks
A heart in a tattoo carries obvious meanings of love, affection, and emotions.
Heart-shaped locks are equally popular. These designs involve a decorative padlock in the shape of a heart, often complimented with flowers or a set of wings.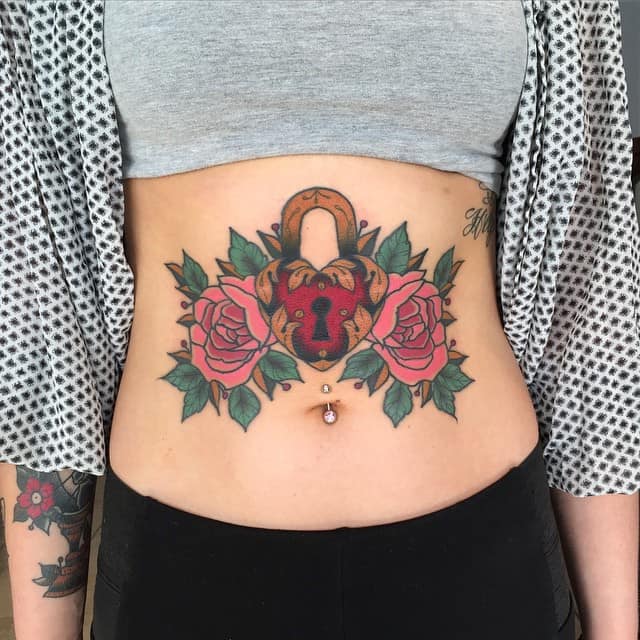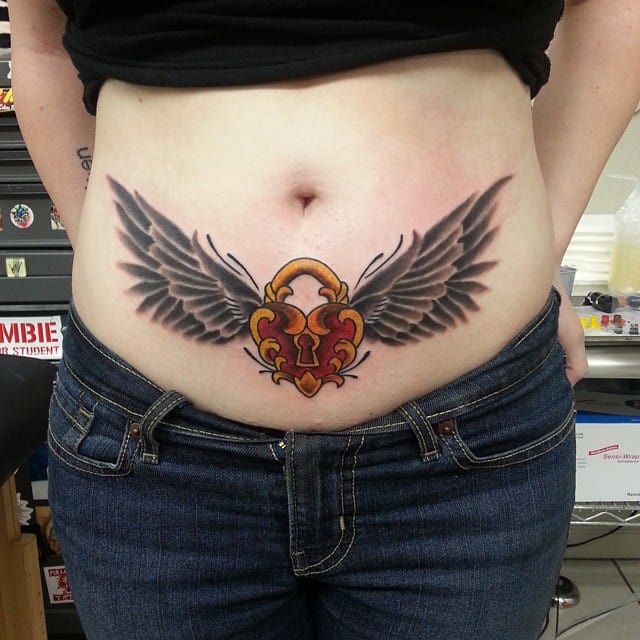 By placing the lock in the middle and adding symmetrical decorative elements on either side, you end up with a balanced design. These are usually placed with the keyhole in line with the belly button, above or below.
Mandala
Mandalas are intricate, usually circular abstract patterns with lots of detail. In tattoos, they are usually composed of thin, black lines, often complimented with symmetrical patterns of color.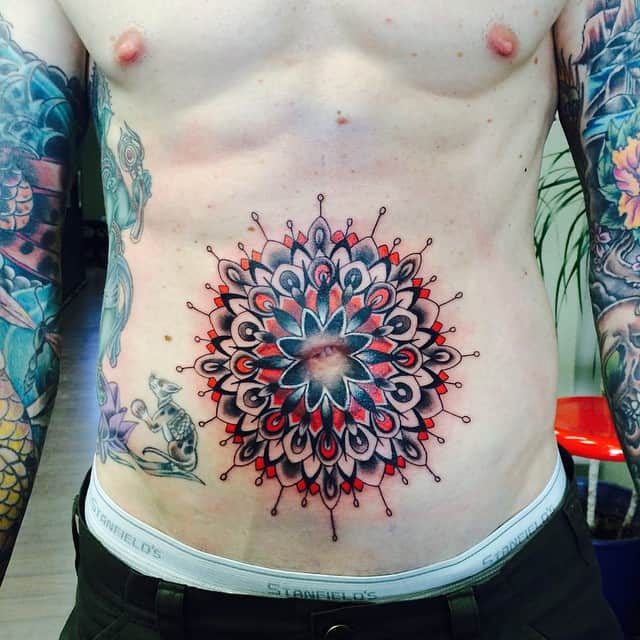 They represent the universe in Buddhist and Hindu symbolism. In psychology, mandalas are sometimes symbols of the search for completeness and unity.
Because of their circular shape, most people place their mandala tattoos in the center of the stomach. However, they can also work great as side tattoos, covering part of the stomach and extending around onto the lower back.
Writing
Quotes and names are often added to other elements in a design, although they also work great on their own.
Once you have picked out the quote for your stomach tattoo, you'll also need to decide on the font. Women often pick italics or handwritten fonts, as these make for more feminine, delicate tattoos.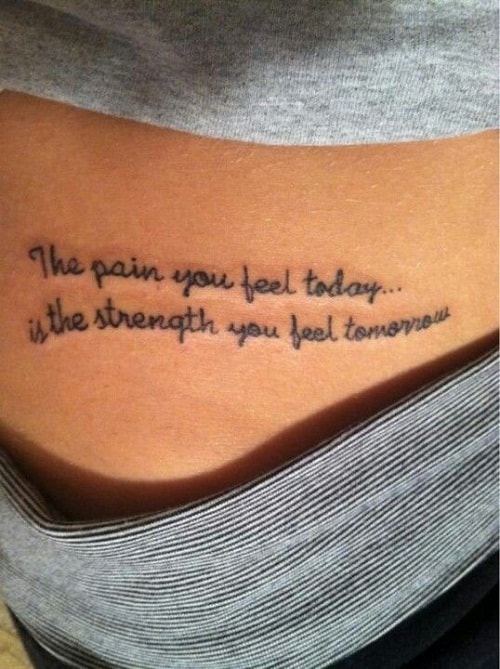 Gothic-style writing is another popular choice, with a slightly heavier feel.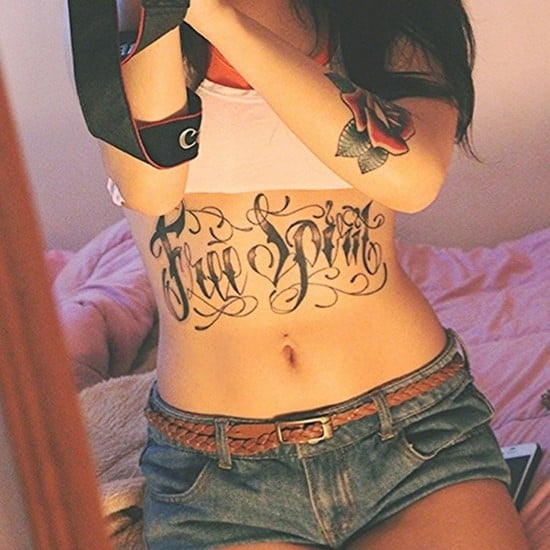 If your quote is short, you could make it stand out more by adding other elements. Flowers and birds appear most often, though of course there's no limit as to what you could choose.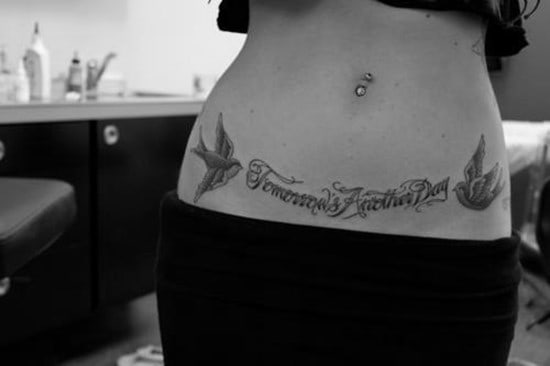 Pain level for stomach tattoos
The pain level for stomach tattoos ranges from high to severe. How much it hurts will depend on your individual pain threshold, the exact location, and the size and type of the tattoo itself.
Numbing creams for tattoos are available on the market. However, not every tattoo artist is on board with using these, as they may alter the tattooing process and the quality of the results.
If you'd like to use a numbing cream anyway, talk to your tattooist first. They will be able to advise you on the efficacy of a numbing cream for your chosen design and location.
The tattoo artists that do use numbing creams will have preferred brands for different tattoos. Not every numbing cream will work as well for various designs, and a professional tattooist is best placed to decide on which one to use.
For this reason, you shouldn't just purchase a numbing cream online or in a pharmacy and turn up already wearing it. There's a good chance the tattoo artist would send you home and reschedule the appointment, as they have no way of knowing how the cream you used will affect their work.
If you're really worried about how you'll handle the pain of a stomach tattoo, consider starting out with a really small design. Rather than committing to a large tattoo and prolonged pain, start with a small symbol and see how you take it.
You can then add to the design at a later date, once you're confident the pain won't be a problem.
Very simple designs are another way of testing your pain tolerance. The more detail there is in a design, the longer it will take to complete – and the more painful it will be as the process goes on.