Curious about Drake's tattoo collection? We uncover each of his tattoos and explain the meanings behind them.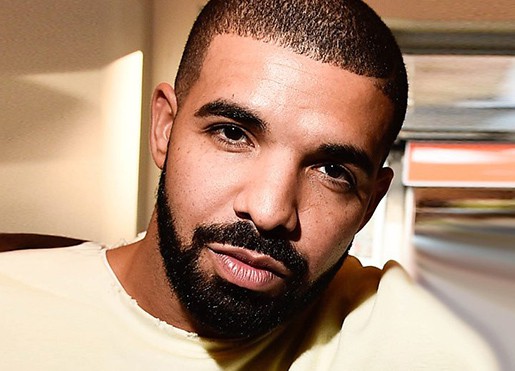 Aubery Drake Graham is a singer, actor, producer, songwriter and businessman from Toronto, Canada.
Drake originally gained fame through acting in the 2000s series Degrassi: The Next Generation, however, he left the show in 2007 to pursue a music career.
He released several songs himself and within two years he got signed to Lil Wayne's record label Young Money Entertainment, a pivotal change for his career.
Ever since then, Drake has been on the up with numerous billboard hits and is now one of the world's best selling artists.
Drake's biggest influences from the music industry are Kanye West and Aaliyah and this can be heard in his style of music.
Wherever Drake makes memories, whoever he meets, if it leaves a lasting impact, he will include this in his body art.
Today, we are going to look into what Drake's tattoos really mean.
Lil Wayne's Tattoo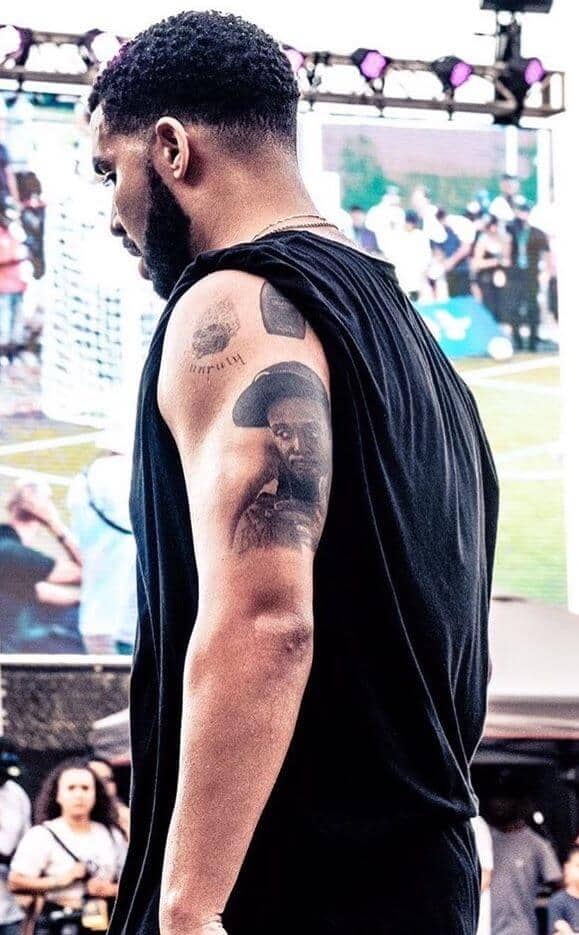 Tattoo: A portrait of Lil Wayne can be seen on Drake's upper left arm.
Interpretation: In 2017, Drake decided to get a tribute tattoo for Lil Wayne, a man who had a massive influence on his successful career.
Back in 2009, Lil Wayne signed Drake to Young Money Entertainment and ever since then his music career hasn't stopped growing.
Flaming Skull & 'Untruly' Tattoo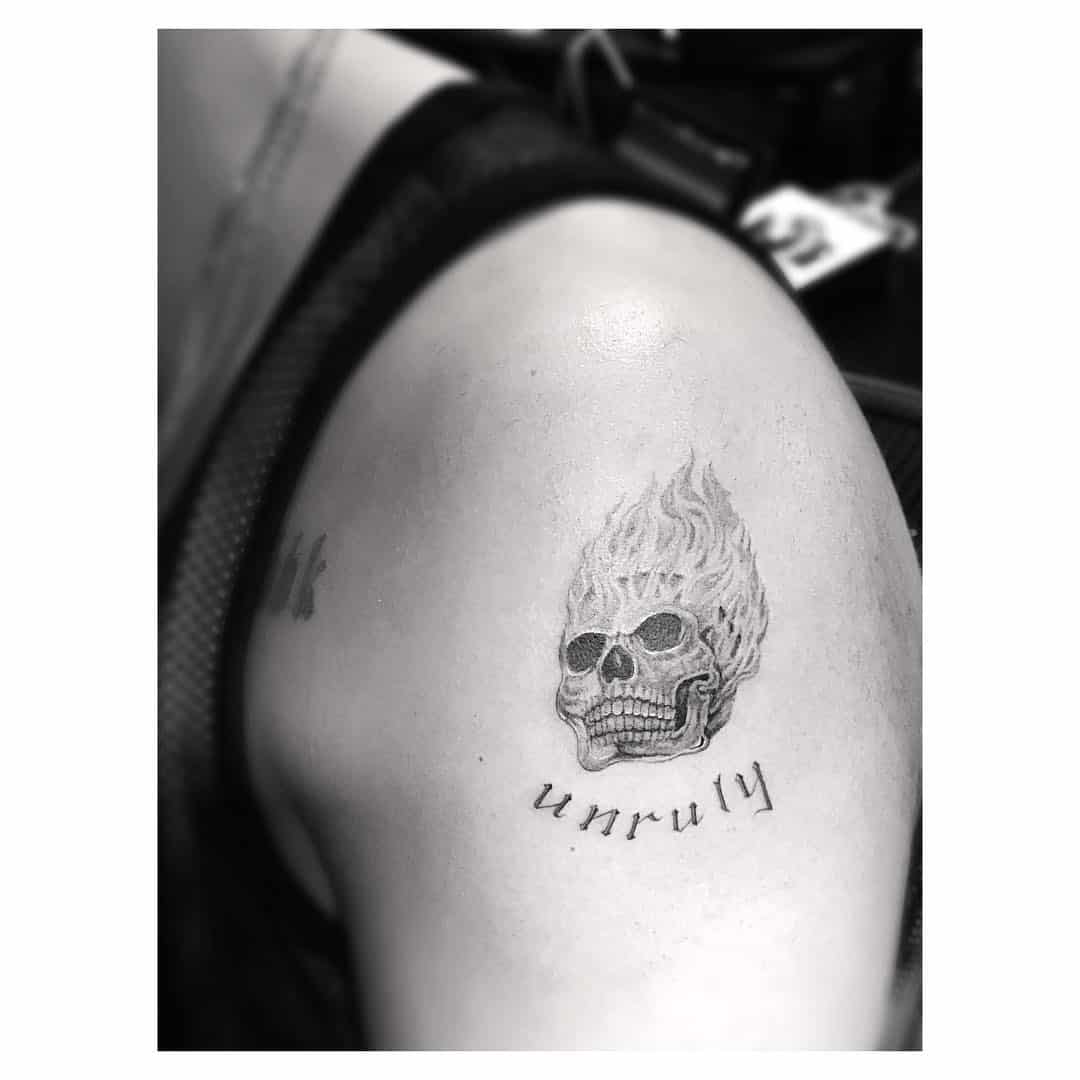 Interpretation: This tattoo pays tribute to Jamaican Dancehall artist Popcaan, who collaborated with Drake in the past on his single Controlla. Celebrity tattooist Dr Woo was responsible for the creation.
Some fans also feel this could be a tribute to the 2011 film Ghost Rider starring Nicholas Cage, however, we can definitely say this is a Popcaan tribute. Popcaan returned the gesture by getting the OVO owl inked to his skin.
Recommended: Don't miss our guide to Ben Affleck's tattoos.
Flower and Bee Tattoo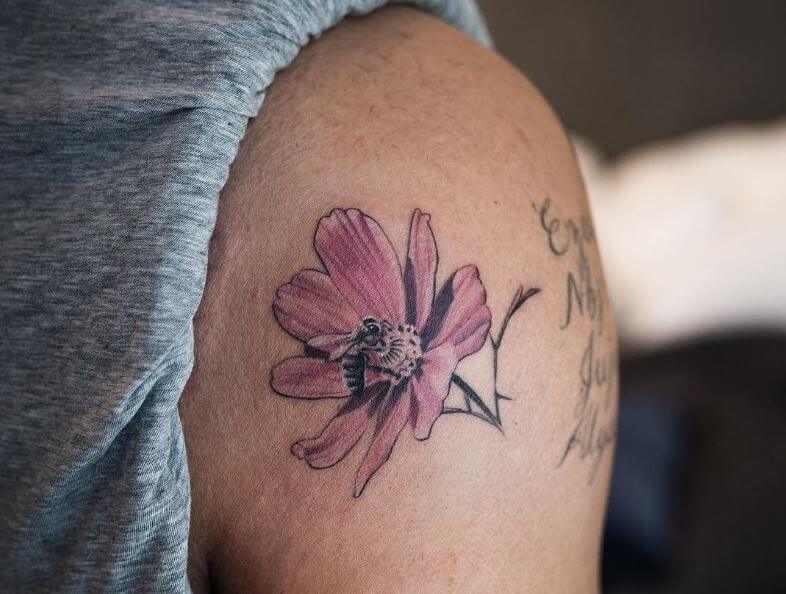 Tattoo: A flower and bee are inked on Drake's right shoulder.
Interpretation: Drake got this ink from Swedish tattooist Niki Norberg and it's meant to represent the mixtape 'More Life', as written in Niki's Instagram caption. The bee also features in the Ovosound radio promotion picture.
'BBK' Initials Tattoo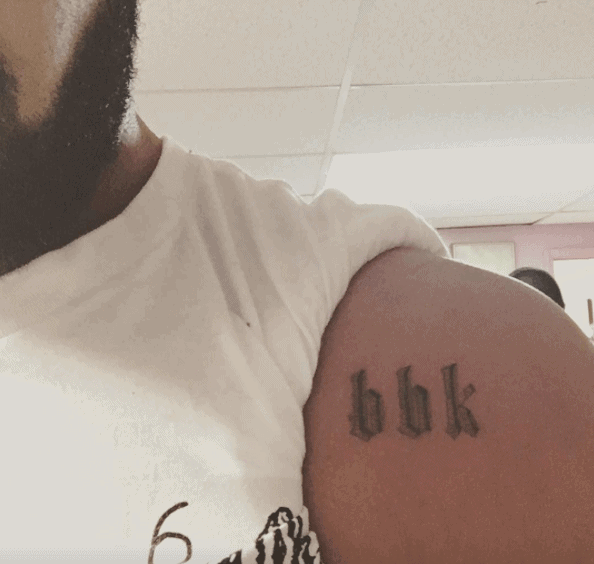 Tattoo: The letters BBK appear on his left shoulder.
Interpretation: BBK stands for Boy Better Know, a popular grime crew from the UK. Drake has shown love for the UK grime scene and made it permanent with the ink.
Skepta featured the tattoo on his Instagram with the caption, "More than music. OVO BBK family for Life."
Father's Mugshot Tattoo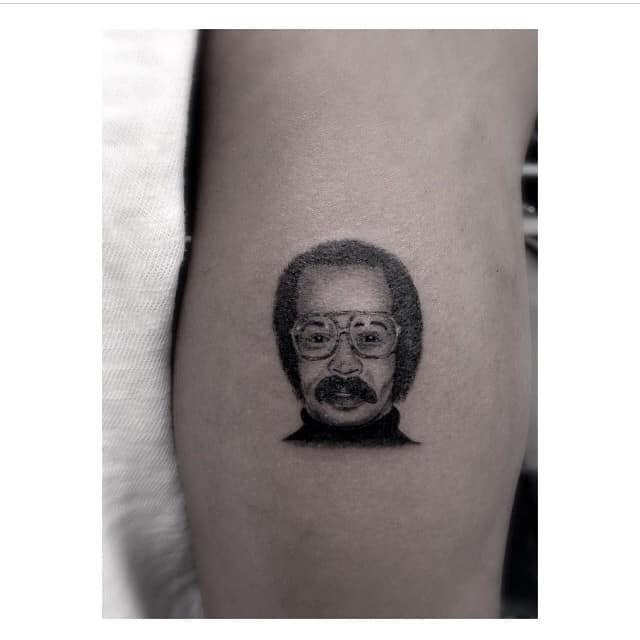 Tattoo: His dad's mugshot can be seen on his right arm.
Interpretation: This tattoo is a representation of the slightly unhappier times in the relationship he shared with his dad.
Drake's parents divorced whilst he was young. His dad, Dennis Graham spent several years in prison.
This created distance but the pair eventually worked things out. His father returned the tribute with an inking of his son's face.
Drakkar Noir Cologne Tattoo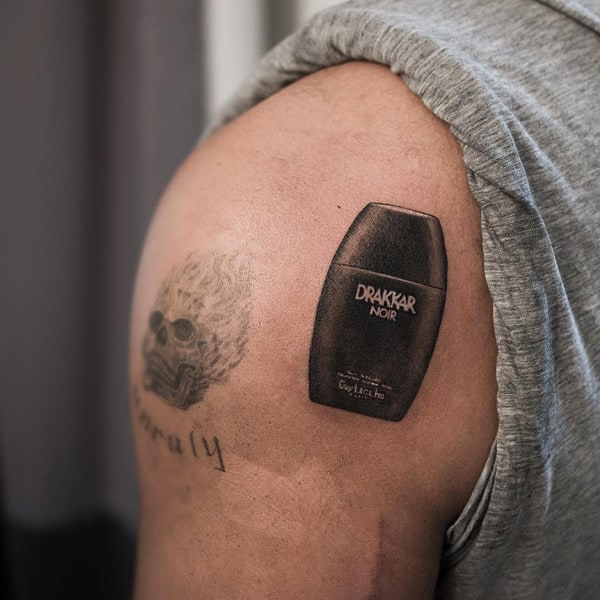 Tattoo:  On his left shoulder Drakkar Noir Cologne can be seen.
Interpretation: This men's fragrance by Guy Laroche is one of Drake's favorites and what better way to pay tribute than to get the bottle inked on his skin! Drake even used to have a twitter account called Drakkardnoir.
Sade Adu Portrait Tattoo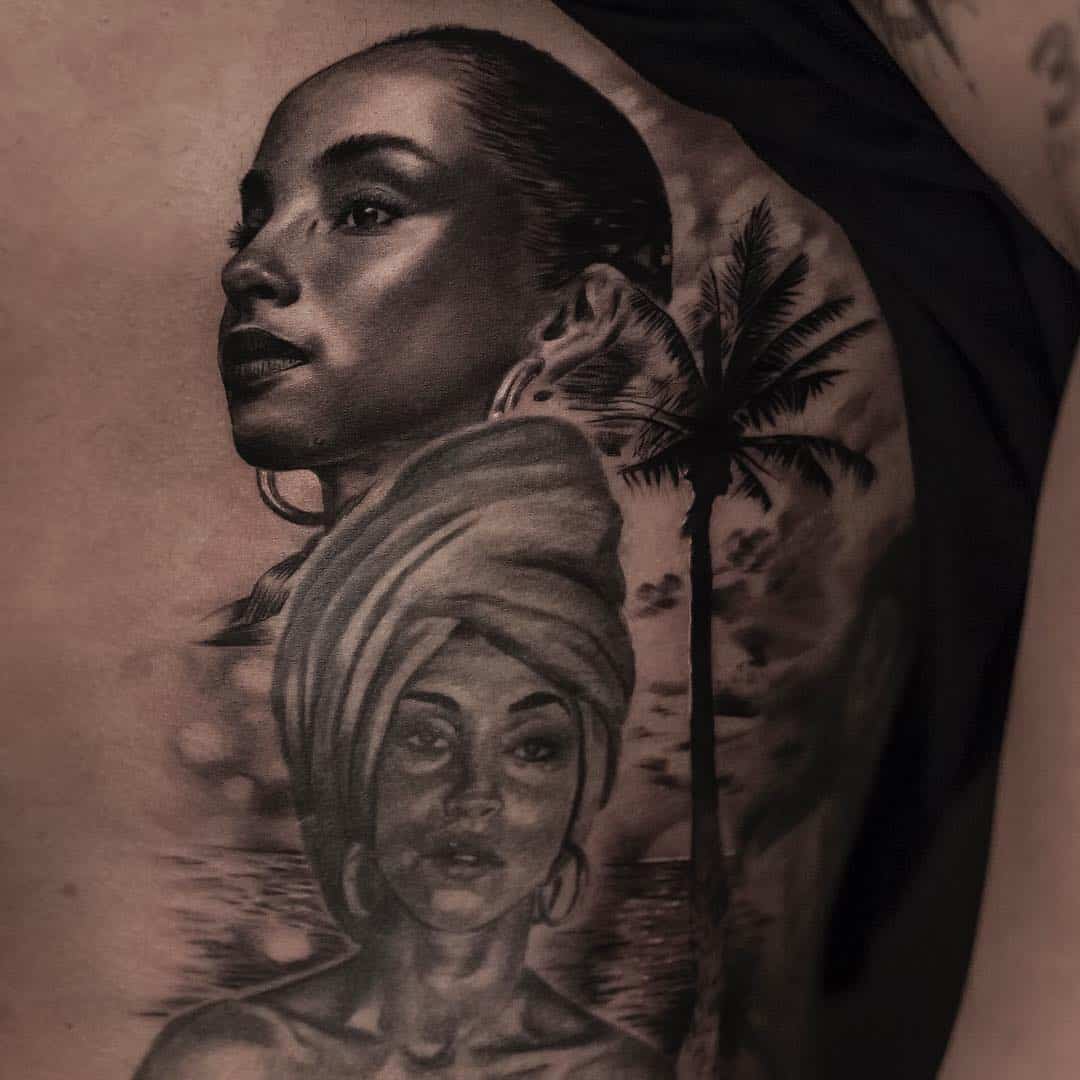 Tattoo: On the left of Drake's body is a picture of Sade Adu.
Interpretation: This Drake Sade tattoo shows just how big a fan he of the Nigerian/British singer Sade Adu.
After he spent time hanging out with Sade and his mother in March 2017, he decided to commemorate the moment with a tattoo. He has not one but two images of Sade in this portrait.
Jack-O-Lantern Tattoo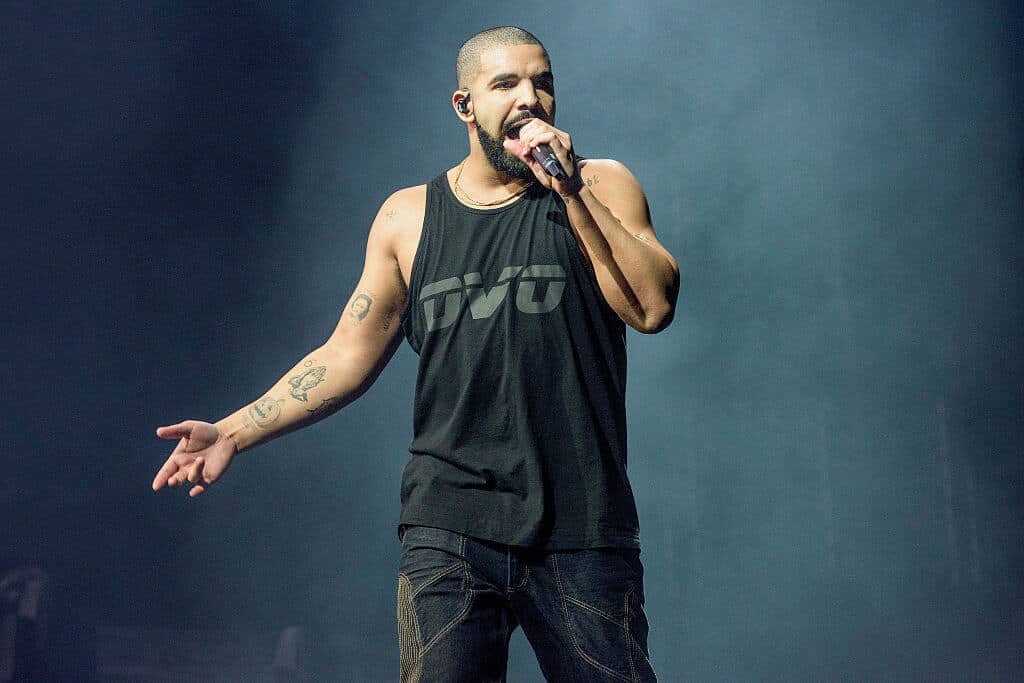 Tattoo: A Jack-o lantern is positioned on his right arm.
Interpretation: The Drake pumpkin tattoo has two interpretations, the first being his birth month, October, and the second being a shout out to Calabasas, also a Spanish word for Pumpkin. Calabasas is a Californian neighborhood Drake adores.
Eye of Horus Tattoo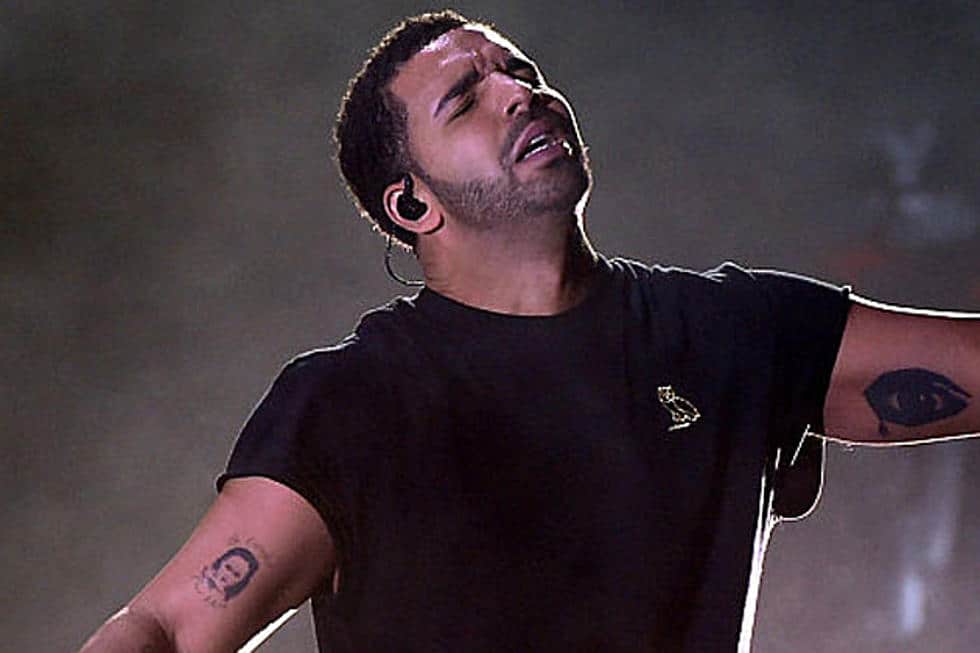 Tattoo: The Eye of Horus can be seen on Drake's inner left bicep.
Interpretation: This ancient symbol of Egyptian origin portrays good health, protection, and power. It was used to protect the Pharaoh in the afterlife.
Drake is a big Ancient Egyptian fan and uses further symbols across his brand, relating to this time period.
Compass Highlighting the East Tattoo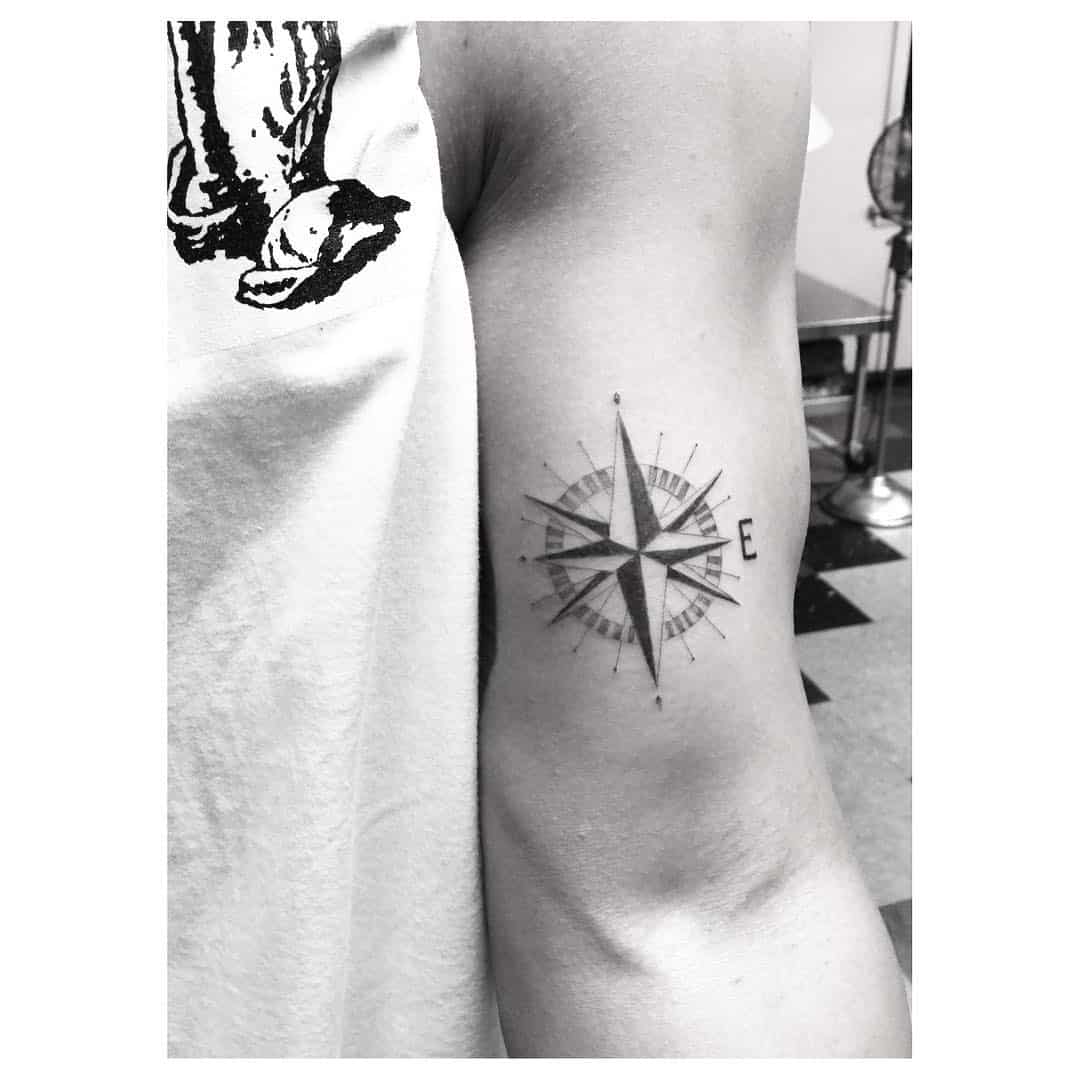 Tattoo: An east side highlighted compass is situated on his arm.
Interpretation: The compass is a tribute tattoo for Toronto, Canada the area Drake was born and raised throughout his childhood.
Recommended Next: We take you through Scarlett Johansson's awesome tattoo story.
'Oktober Lejonhjarta' Tattoo

Tattoo: The words Oktober Lejonhjarta surrounding a lion can be seen on his left arm.
Interpretation: During a night of heavy drinking with twins Victoria and Elizabeth Lejonhjarta, Drake decided to get this tattoo with their surname.
It was inked by Dr. Woo who later shared an image to his Instagram, and was confirmed by the sisters with an image of themselves and Drake with the caption, "That time we got a Canadian dude drunk and had him get a tattoo of our name."
The word lejonhjarta also stands for lionhearted, which is probably why he added the lion image in there too.
OVO Owl Tattoo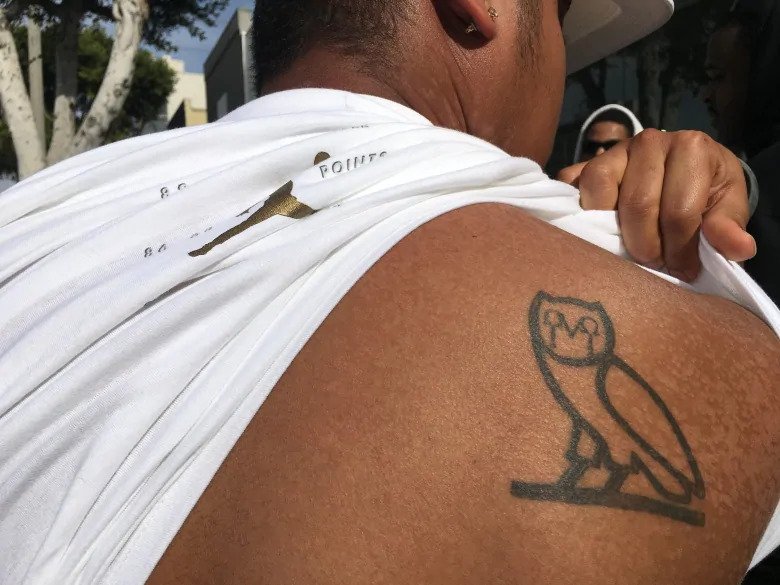 Tattoo: An OVO owl has been inked on his right shoulder blade.
Interpretation: OVO stands for Octobers Very Own, Drakes clothing line and the owl is the symbol for both his company and record label. The owl in particular, is an Ancient Egyptian Bull Owl, a time period Drake is fascinated of.
In March 2020, Drake filed a lawsuit against Bellroy for using the owl logo on their products. Bellroy had been producing phone cases and wallets with the logo since 2013, however, when they decided to move into clothing, Drake was not impressed.
The OVO Owl tattoo is the mark of his successful career.
'ALL KINDS' Statement Tattoo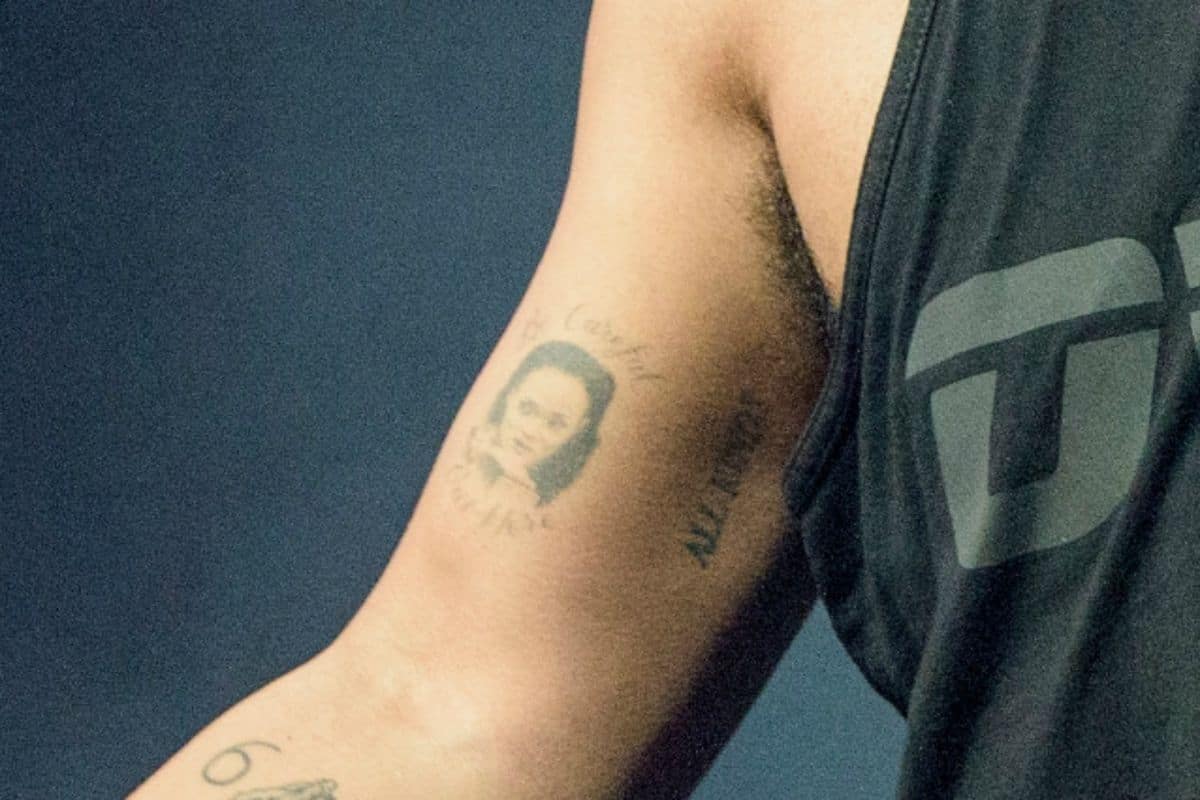 Tattoo: 'ALL KINDS' can be seen on his inner right bicep.
Interpretation: In February 2012, Drake got the words All Kinds in capitals inked to his skin. It is a tribute to his group of 20 close friends and represents the strong bond and love they have for each other.
"EVERYTHING HAPPENS FOR A REASON SWEET THING" Words Tattoo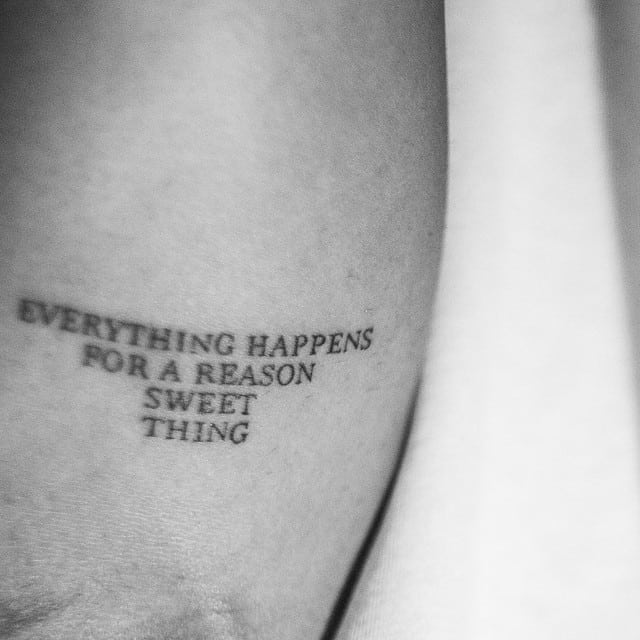 "Everything Happens for A Reason" is written on Drake's left forearm.
Interpretation: In 2014, Drake showed off this new tattoo, another piece created by tattooist Dr. Woo.
The tattoo was inked not long after his turbulent relationship with Rihanna, leading some to believe this is one of the key reasons as to why he got it done. Drake and Rihanna first met in 2005 and since then have had on and off connections with one another.
CN Tower Tattoo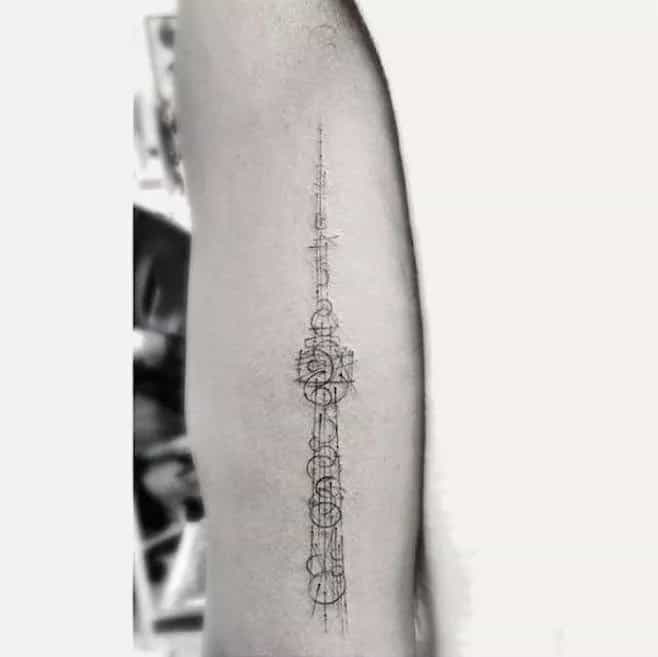 Tattoo: The CN Tower is inked along his upper right arm.
Interpretation: The CN tower was inked back in 2012 and is a tribute to Drake's hometown, Toronto. It has since been covered with a new design.
The CN tower originally stood for Canadian National, and is a communications and observation tower, reaching 533 meters high.
Camouflage Shark Tattoo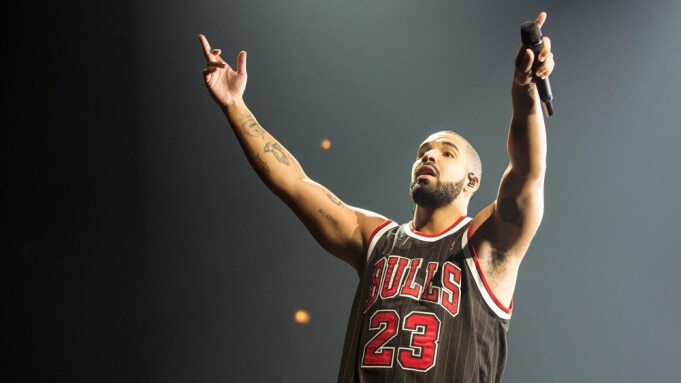 Tattoo: A camouflage shark can be seen on his right arm.
Interpretation: Drake revealed his new camo shark tattoo exactly one day after Rihanna unveiled hers.
The pair got these matching tattoos back in 2016 and it holds great meaning to them. It represents their date at the Toronto aquarium where Drake treated Rihanna to a stuffed toy shark.
Rihanna With an Ice Cream Tattoo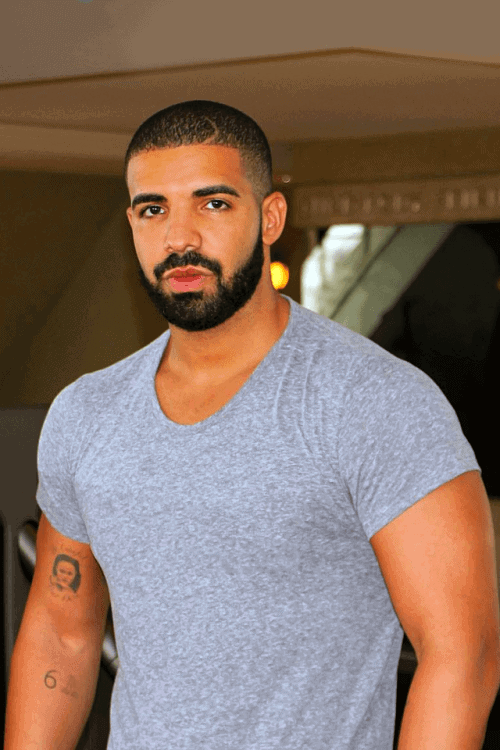 Tattoo: An image of Rihanna with an ice cream is inked on his right upper arm.
Interpretation: Drake has shown his love for Rihanna is permanent with his inking tributes to her. It has landed him in a war of words with Rihanna's ex-lover Chris Brown, but that doesn't seem to stop him!
The image was inspired by a photo of Rihanna eating an ice cream cone with wet hair.
'416' Numbers Tattoo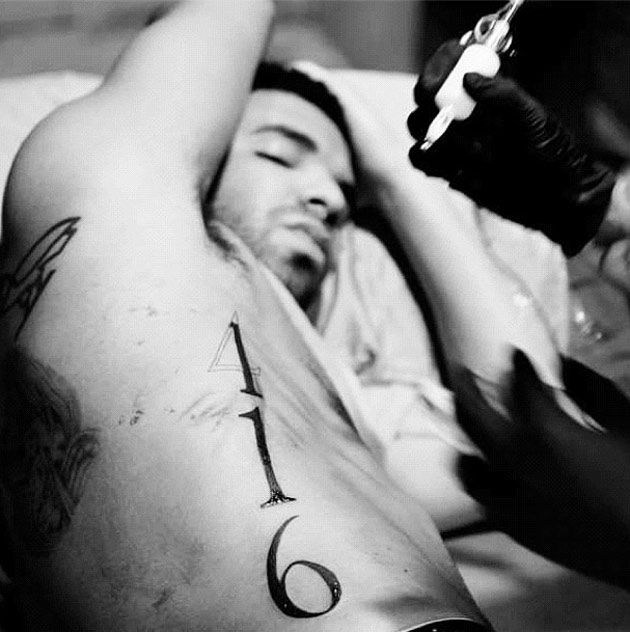 Tattoo: The number 416 has been inked down the right side of his ribcage.
Interpretation: This tattoo has two meanings the first signifies his area code in Canada which is 416.
The second meaning is for Aaliyah, the 4 has been shaded to look like a 1 changing the number to 116 which is the late singer's birthday, January 16th.
Houston Astros Logo Tattoo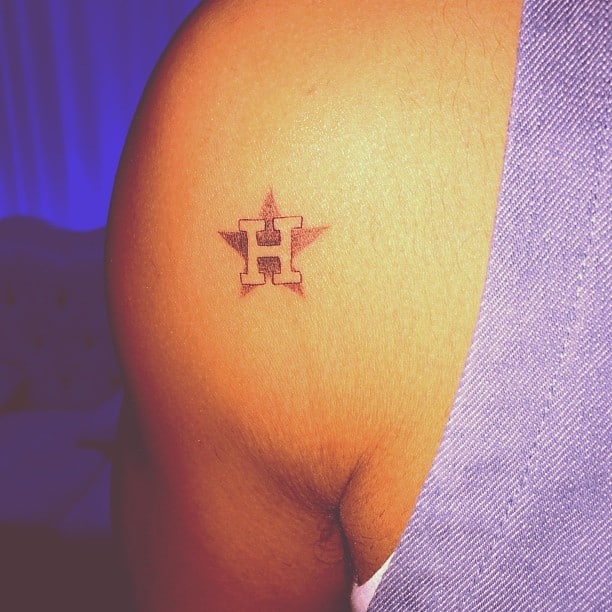 Tattoo: The Drake Houston tattoo is the Houston Astros logo and is positioned to the side of his left shoulder blade.
Interpretation: Drake loves the Houston Astros and even turned down an NBA finals game to support the team. Houston is an area that holds great meaning to Drake, it is where he first met Lil Wayne who helped propel his career.
Back in 2013 Drake gave a shoutout to Houston in his song 'Too Much', "Like H-town in the summertime, I keep it 100".
Mother, Uncle Steve and Grandmother named Evelyn Sher Portrait Tattoo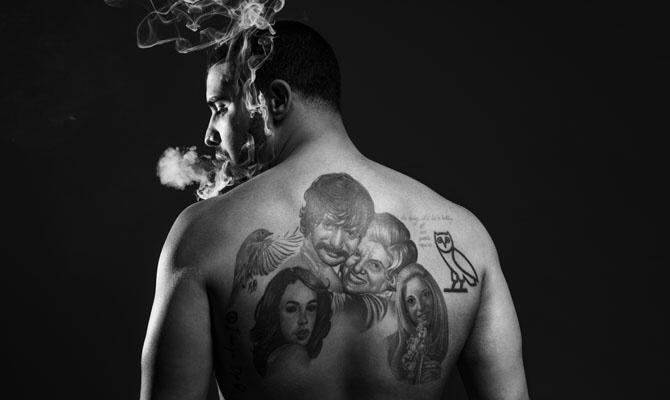 Tattoo: This Drake back tattoo are portraits of his Mother, Uncle Steve and Grandmother named Evelyn.
Interpretation: What better way to tell your family you love them, than by inking their giant portraits across your back!
Some fans weren't too pleased, with some even saying they found it a little creepy. Others couldn't see the resemblance between the family members and the tattoo. However, it is clear to see Drake holds his family close to his heart.
The singer has many portraits across his body and he currently has his eyes set on a new Celine Dion tattoo! Dion when hearing the news put out a plea to Drake, "Please Drake, I love you very much. Can I tell you something? Don't do that!"
Aaliyah Portrait Tattoo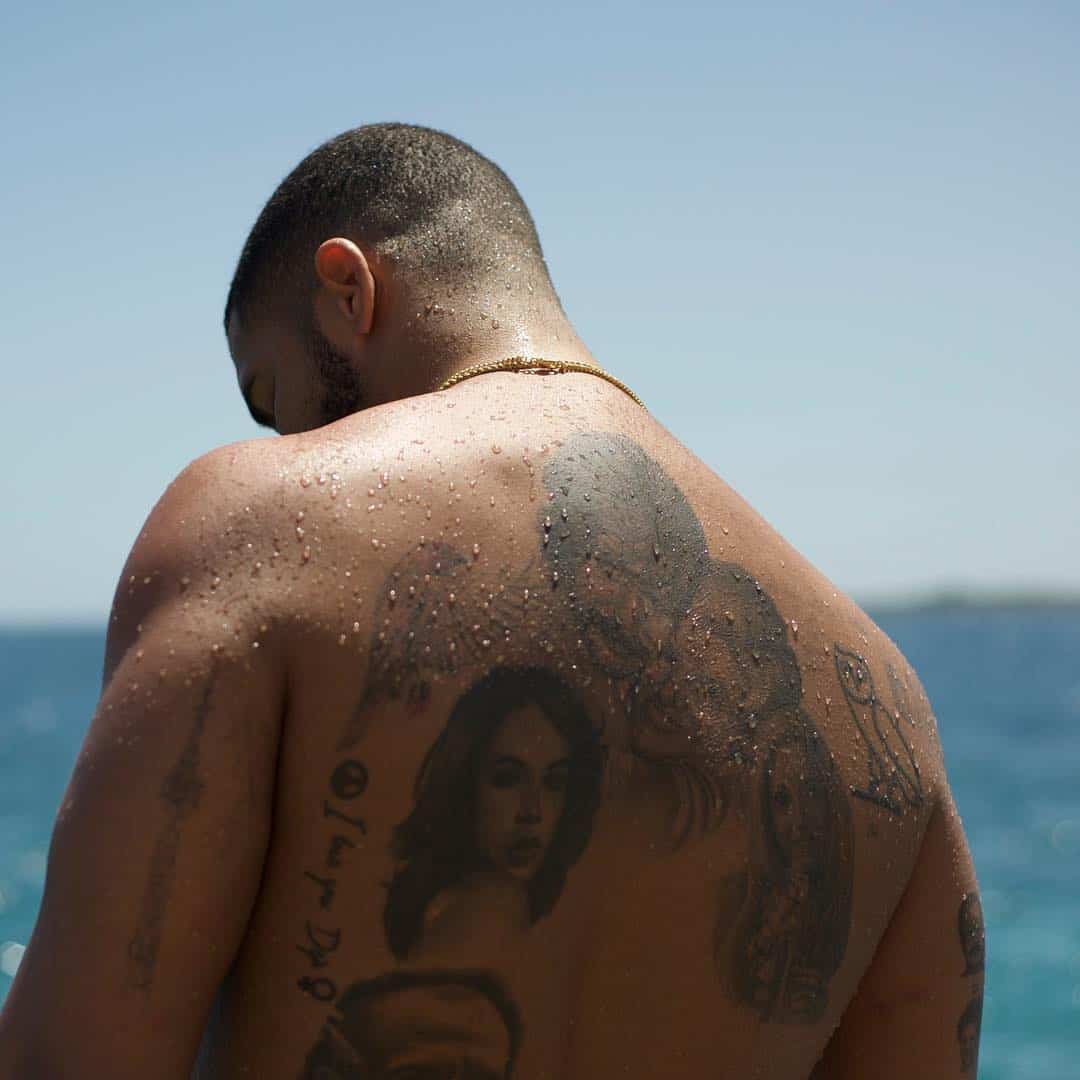 Tattoo: A portrait of Aaliyah can be found on Drake's back.
Interpretation: This is one of two tributes dedicated to Aaliyah even though Drake never met the singer before her untimely death.
He got the ink back in 2011 and for a long time has been vocal about his love for Aaliyah, although some fans feel it may be more of an obsession.
The Drake Aaliyah tattoos are symbolic of just how inspired he is by the late singer. In August 2012, Drake released the song 'Enough Said' which was partially recorded by the singer before her death and was reworked by Drake for completion.
Songbird XO20 Tattoo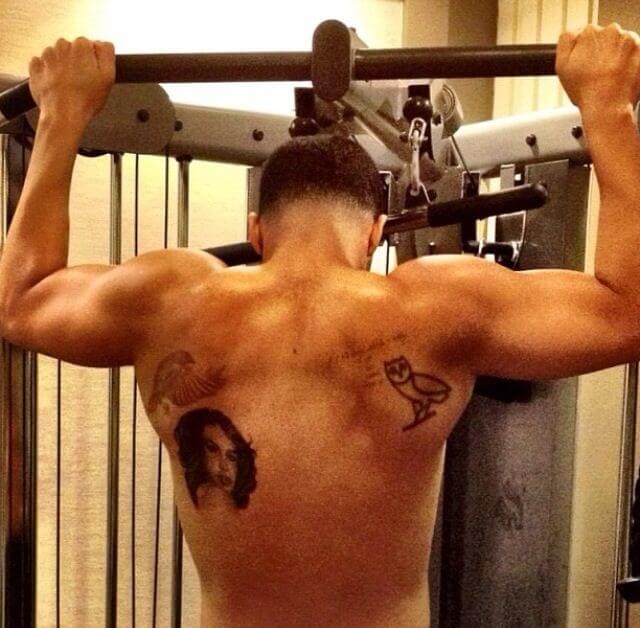 Tattoo: On Drake's left shoulder a Songbird XO20 can be found.
Interpretation: This drake shoulder tattoo is another dedication to his tight knit group of 20 friends, which also includes the Weeknd.
The songbird tattoo represents a love for music, the 20 signifies the group of 20 close friends and the XO stands for the Weeknd's tagline. This tagline has seemed a little controversial as it is a reference to ecstasy and oxycontin.
Recommended: Learn all about Dwayne Johnson's tattoos in our guide.
Number '6' with Praying Hands Tattoo

Tattoo: A 6 and praying hands is located on his inner forearm.
Interpretation: The Drake 6 tattoo previously used to have an emoji of praying hands (which some interpreted as a high five), but this was then updated to a pair of real praying hands by one of his well-known tattooist's Dr Woo.
The 6 is a tribute to his song 6 Gods and the praying hands represent Drake's faith.
Denzel Washington Portrait Tattoo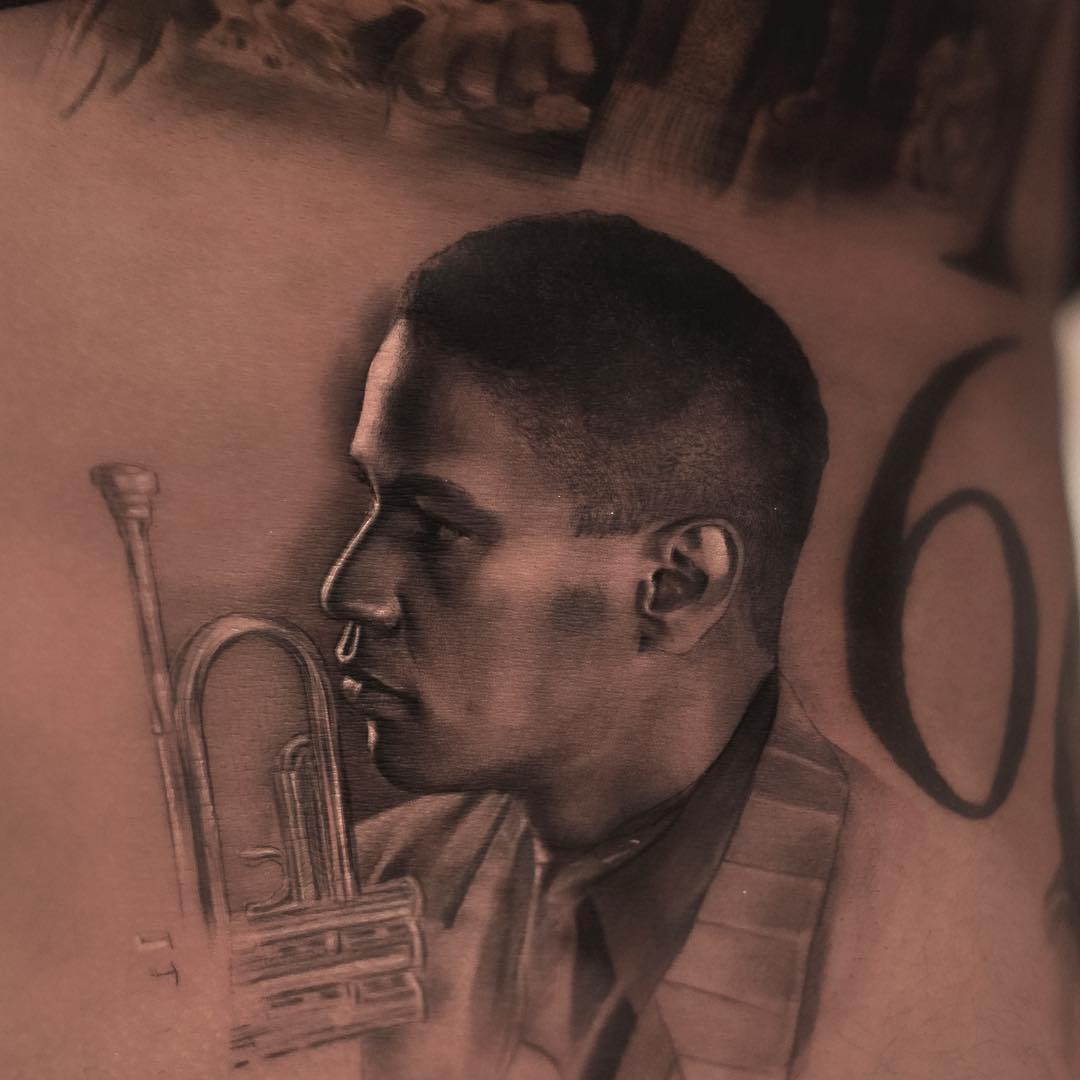 Tattoo: An image of Denzel Washington character Bleek is found on his right lower arm.
Interpretation: This Denzel Washington tattoo features his character Bleek who he plays in Spike Lee's 1990 film of the name 'Mo' Better Blues'. Tattoo artist Inal Bersekov is responsible for the piece and also completed the portrait of Anthony 'Fif' Soares for Drake.
The movie is about a Jazz musician who makes mistakes within his personal life, a character Drake felt a connection with.
OVO Anthony Fif Portrait Tattoo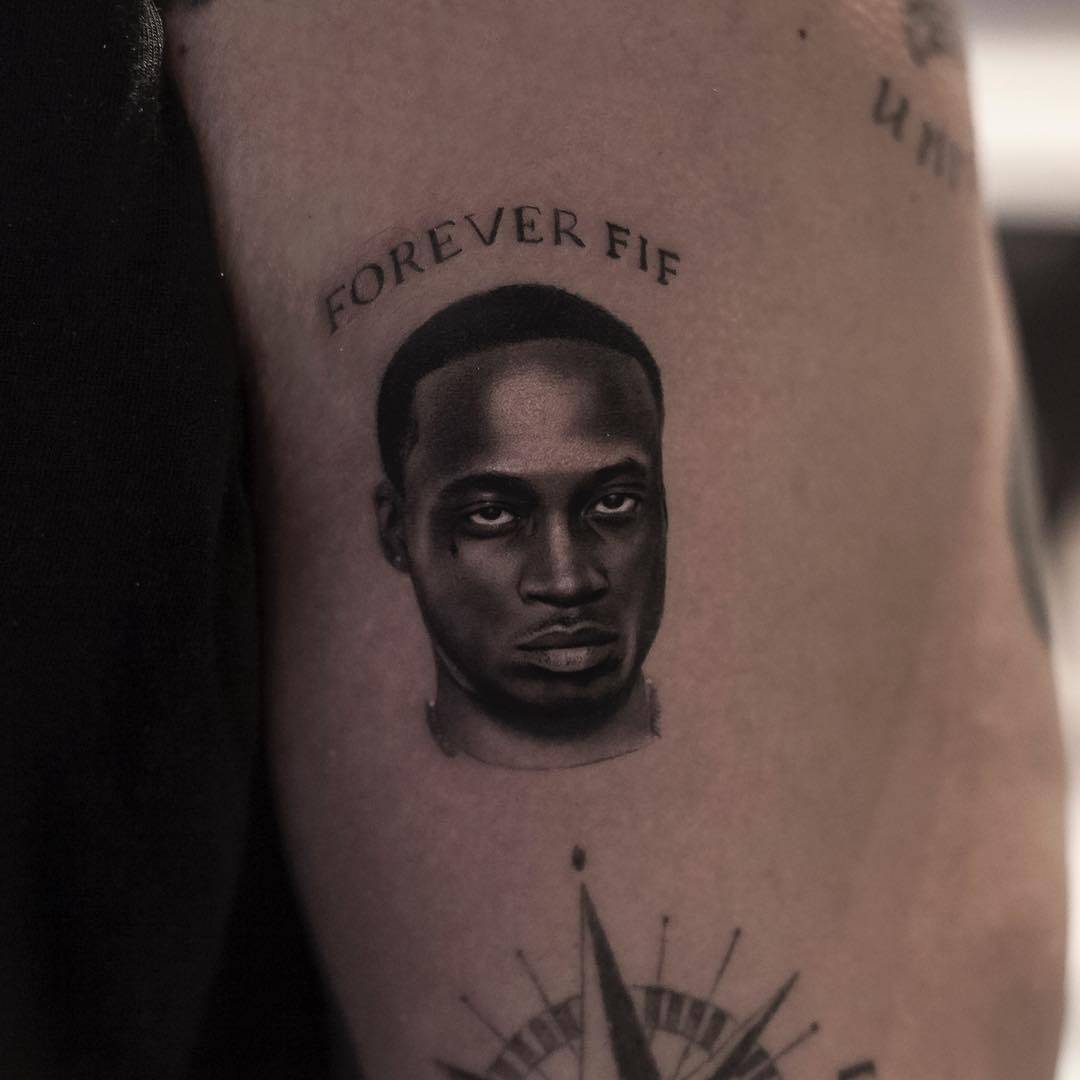 Tattoo: OVO Anthony Fif is on Drake's left forearm.
Interpretation: One of Drake's close friends was shot dead in Toronto. This led Drake to get a tattoo commemorating his friend only 3 days after his passing.
Fif was 33 years old at the time of his death and leaves behind a daughter. In 2017, Drake's lack of help in the investigation of his friend's murder drew criticism, and his silence on the homicide case puzzled many.
Huge Owl Tattoo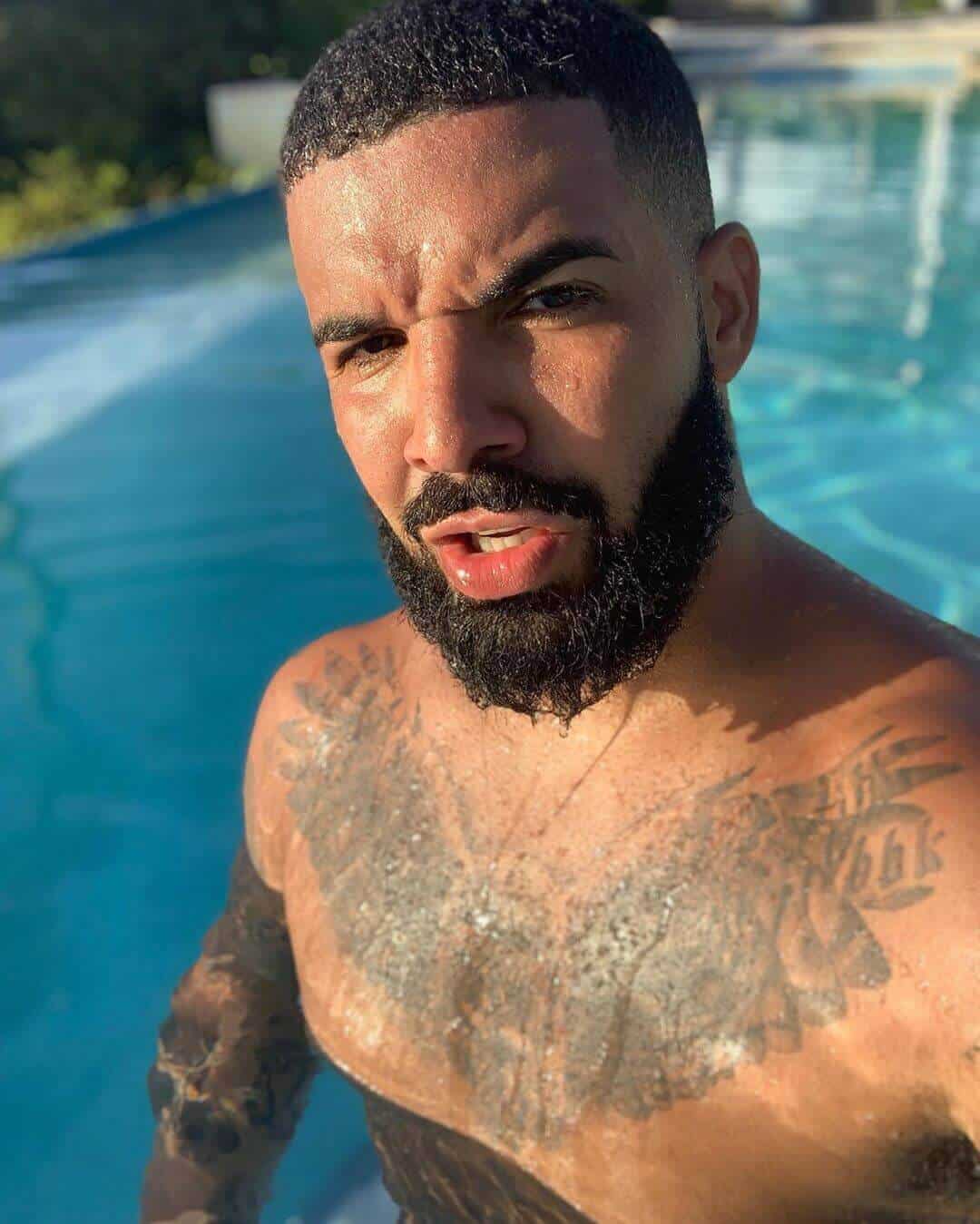 Tattoo: There is a huge owl across Drake's chest.
Interpretation: In 2018, the Drake owl tattoo appeared, and it is his biggest tattoo yet. The owl is seen capturing a mouse and stretches right across his chest. This bird is featured in Drake's brand OVO and is a key symbol for wisdom.
Son Adonis Portrait Tattoo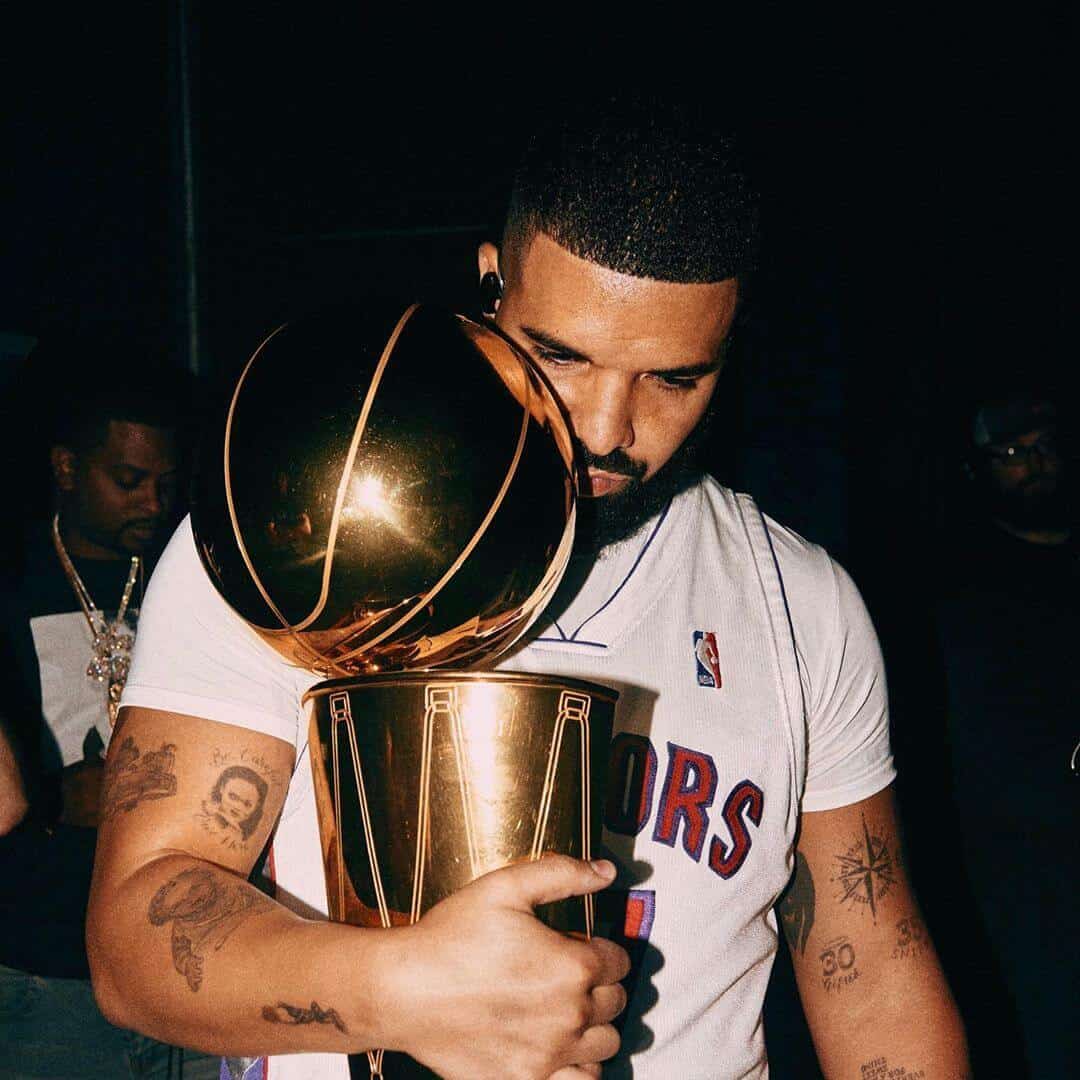 Tattoo:  The portrait of his son Adonis is inked on his right arm.
Interpretation: Pusha T dramatically revealed that the singer has a son with retired porn star called Sophie Brussaux.
This shocked many with Drake even denying this was the case until DNA proved he is the father. Since then Drake has stepped up to the role of being a dad and used the tattoo as a way to always be close with his son.
Kevin Durant Stephen Curry Numbers Tattoo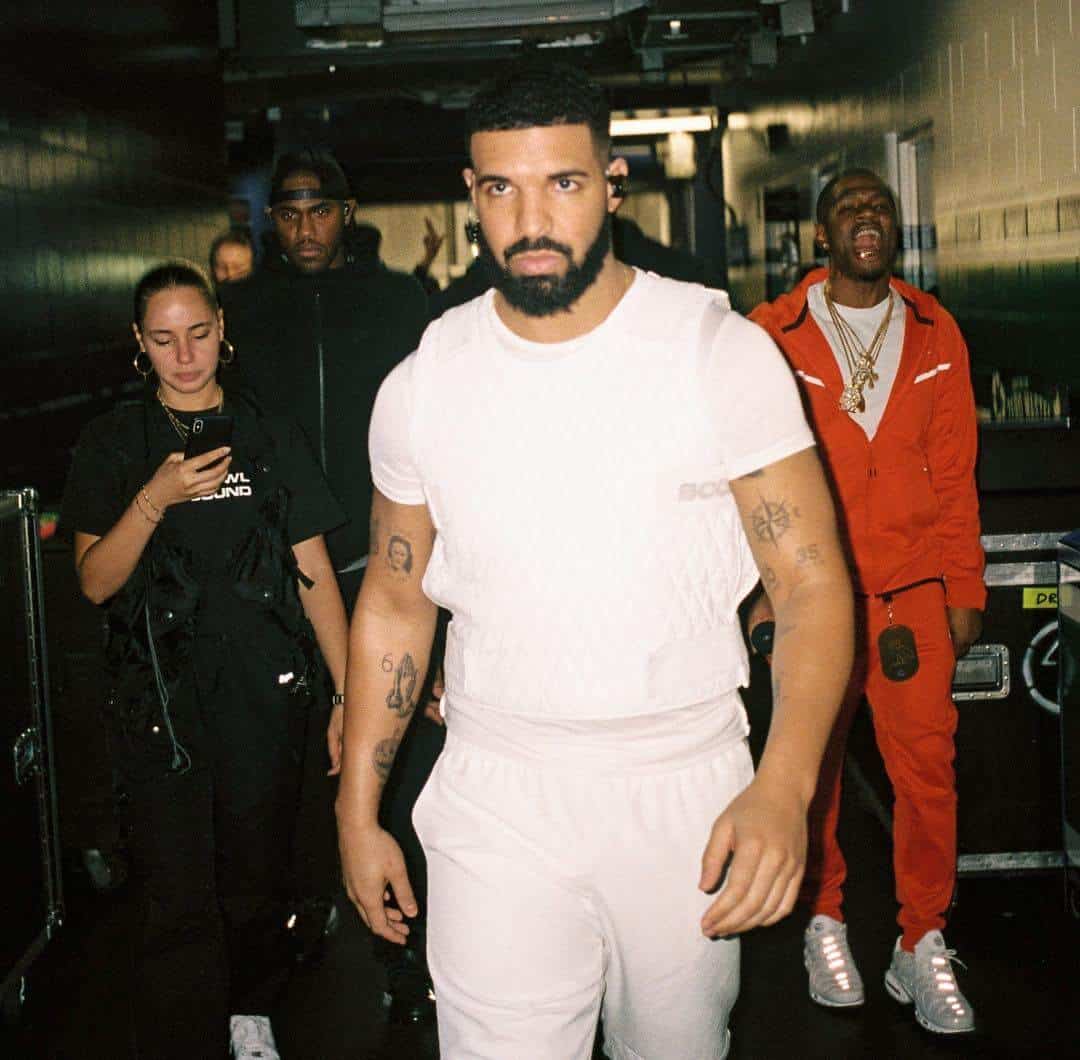 Tattoo: The numbers of Kevin Durant and Stephen Curry's jersey numbers can be seen on his left arm below the compass.
Interpretation: Drake seems to be a fan of Golden State Warriors players Durant and Curry. He inked their jersey numbers despite being a Raptors fan, a team from Toronto.
In 2019, Drake went on the internet to troll the Warriors after their loss to his hometown team, the Raptors.
Jesus Malverde Portrait Tattoo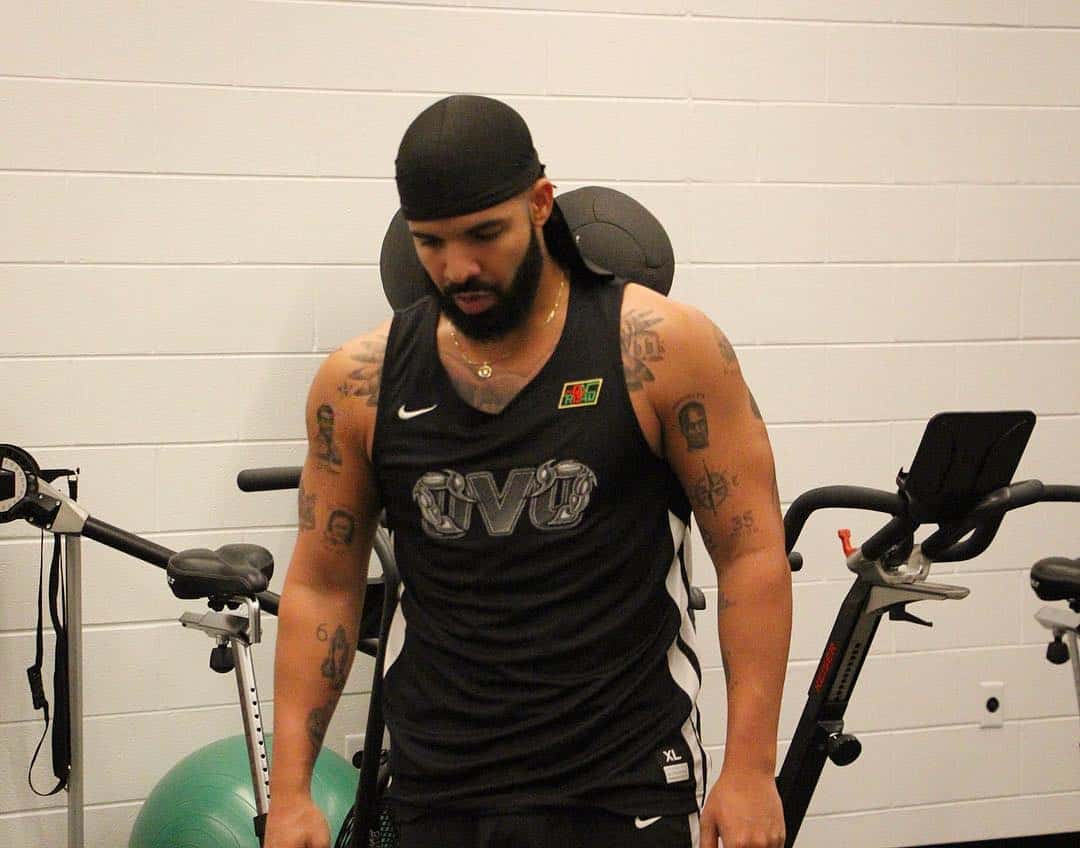 Tattoo: A Jesus Malverde portrait is displayed just under his right shoulder.
Interpretation: A Jesus Malverde tattoo has been added to Drake's body art collection. Malverde has several names from 'Angel of the Poor', 'Narco Saint' to 'Cjuba Lord'.
He is known as a Robin Hood figure in Sinaloa, Mexico and often stole from the richer people in society to give to the needy.
Drake loves to give back to the community, in his music video God's Plan, Drake gave the entire $1 million budget to charity. He then included other charitable donations within the actual video where he paid $50,000 for a girl's tuition, paid for everybody's groceries in the entire store and even gave money to a woman's shelter.
The Beatles Tattoo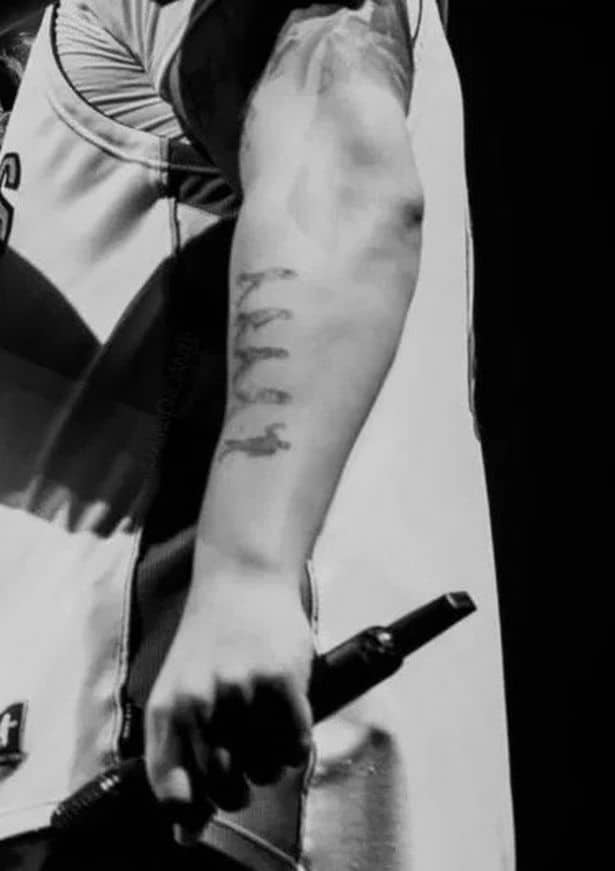 Tattoo: The Beatles is inked vertically down his left forearm.
Interpretation: Drake's new tattoo is this inking of the famous Abbey Road picture going down his right arm.
The tattoo is in response to Drake beating the Beatles for the record of most top ten songs in the US Billboard 100, a record that took 54 years to break.
Although some criticized him for the ink, it was clearly a memorable and defining moment in Drake's career.