In today's tattoo guide we take a close look at the Ben Affleck tattoo collection. Find out what ink work he has had done and what it symbolizes.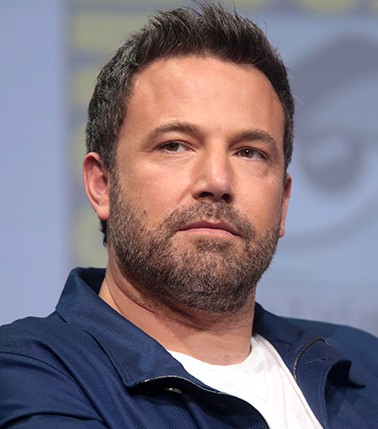 Ben Affleck is an American filmmaker and actor with a career spanning across several decades.
Affleck started acting as a child and since then he was won numerous awards, including two Academy Awards and three Golden Globes.
Affleck likes the idea of love and most of his relationships tend to last for several years. His most meaningful was to Jennifer Garner, his now ex-wife and mother to his three children.
They were married in 2005, but with Affleck's supposed heavy drinking and accusations of infidelities they separated in 2015.
It is believed he had an affair with Christine Ouzounian, the nanny, and even took her on vacation, although this has never been confirmed.
His tattoo choice hasn't always been the greatest, he has been mocked by fans and celebrities for some of his inkings, mainly Ben Affleck's back tattoos.
Today, we are going to look into what some of his ink work means.
Recommended: Don't miss our guide to Angelina Jolie's tattoos next.
Giant Phoenix Tattoo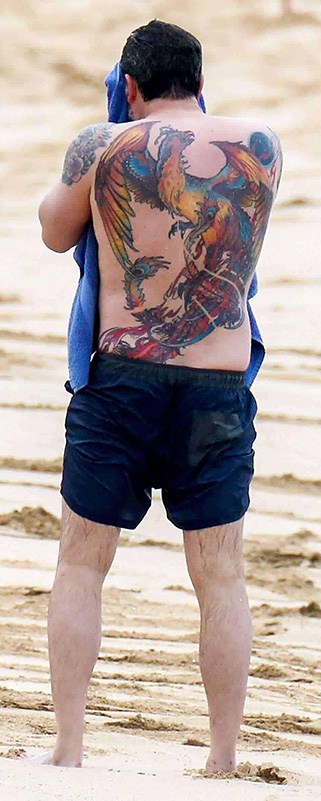 Tattoo: A giant Phoenix covers his entire back.
Interpretation: This Ben Affleck back tattoo is quite unique. Despite saying the inking was fake back in 2016, it turns out to be very real. A Phoenix generally represents death and resurrection.
When questioned about the tattoo in an interview with Ellen Degeneres he said, "It's meaningful to me. I like it. It's not something I sort of kept private. The sentiment ran against…. but I love my tattoo, I'm happy with it."
Celebrities such as Matt Damon and Jennifer Lopez haven't been so supportive in his choice of tattoos.
When asked as to why he lied about it being fake he told the New York Times "I resented the fact that somebody got a picture of it by spying on me."
See what Ben had to say about the tattoo himself in the video below.
Dolphin Tattoo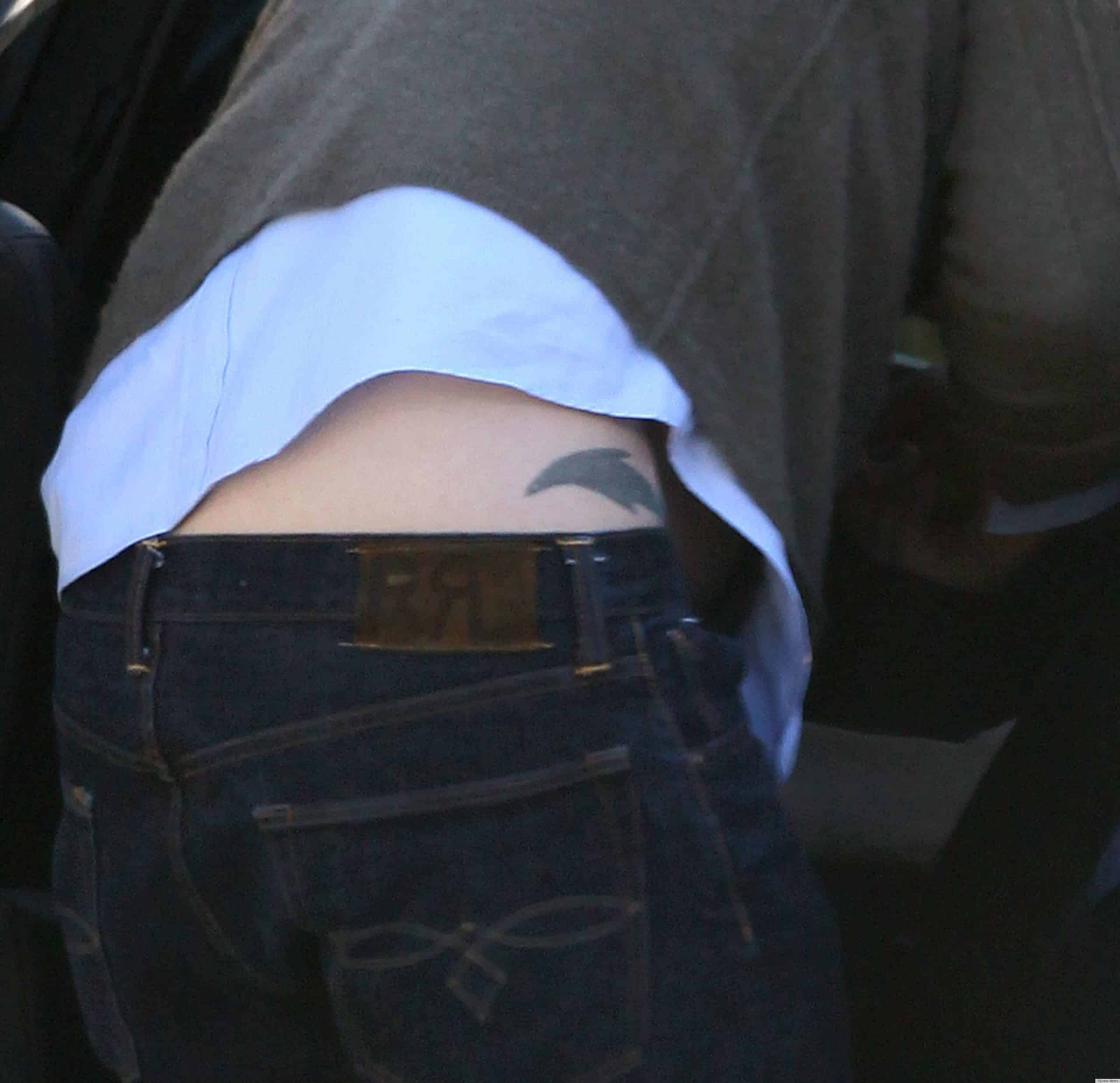 Tattoo: A Dolphin is inked on the right-hand side of his hip.
Interpretation: In 2011, Affleck was seen with this dolphin tattoo. It is a new Ben Affleck tattoo, created as a cover-up of his high school sweethearts initials, Cheyenne Rothman.
They met as teenagers at a summer camp in the 90s and dated for around seven years before calling it quits in 1997.
This was the same year he began his new romance with Gwyneth Paltrow, where they met at a dinner through the disgraced Harvey Weinstein. The man who has now been sentenced to 23 years in prison for multiple sexual assaults and third-degree rape.
Recommended: We explain the stories behind XXXTentacion's tattoo collection in this article.
'OV' Tattoo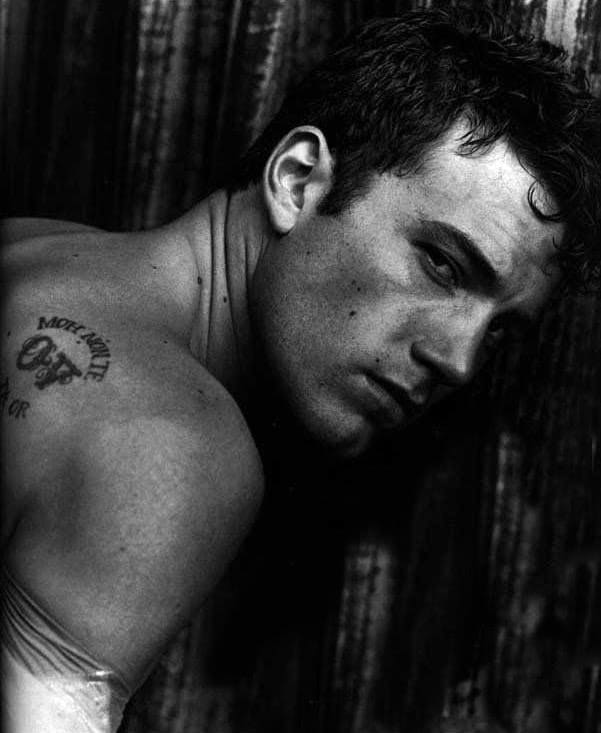 Tattoo: The letters OV are inked on his right shoulder blade.
Interpretation: As Affleck has never divulged as to why he got this tattoo we are only left to speculate.
Just below the tattoo are the letters TA OR and some fans believe the MON NON TE written above is an anagram for One Month, however that is only as far as many have got, in terms of deciphering the tattoo.
Recommended: Don't miss our Shayne Smith tattoo guide next!
Huge Cross and Flowers Tattoo

Tattoo: A large cross with flowers is seen on his left bicep.
Interpretation: Affleck updated his previous upside down cross with the diamond and ace of spades, to this cross surrounded by flowers and is a tribute to his faith.
Affleck began taking Christianity much more seriously in his later life and attends church most Sundays, sometimes with his ex-wife and children.
When asked as to why he began taking his faith seriously, he stated to BeliefNet "One of the things that I found most beautiful about it, and I struggle with my faith, I struggle with belief, but I do see there's something enormously beautiful and elegant about the notion that we are all sinners, and that it's our job to find our redemption".
"To find God's love, to redeem ourselves, to live the best life that we can, to love one another, to not judge one another, and to forgive one another."
Barbed Wire with Tree and Band of Roses Tattoo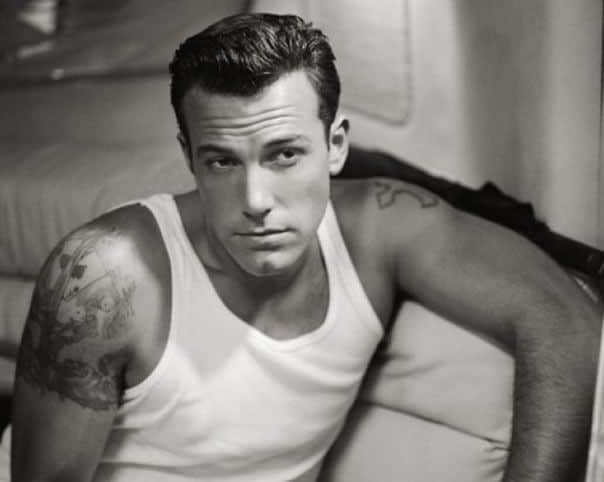 Tattoo: A barbed wire, tree and band of roses can be seen on his right bicep.
Interpretation: The initial tattoo started off with barbed wire across his arm which he later expanded with a tree and roses.
A barbed wire with roses can often symbolize heartbreak, so maybe Affleck is trying to suggest his growth in love with a tree. As he has never spoken publicly on the meaning we can only try to guess.
One thing is for certain, Affleck has definitely had a hard time when it comes to romance. In an interview with The New York Times he stated his divorce with Jennifer Garner was his "biggest regret".
This hasn't deterred him from seeking love with his new girlfriend and co-star Ana de Armas who is sixteen years his junior, whilst ex-wife Jennifer Garner is in a new relationship with John Miller CEO of the CaliGroup.
Don't miss our other celebrity tattoo guides. We particularly like our guide to Justin Bieber's famous ink work.
What do you think of his tattoos? Let us know down in the comments section!