We go through Justin Bieber's epic body art journey. Take a look at all of his tattoos and the stories and meanings behind them.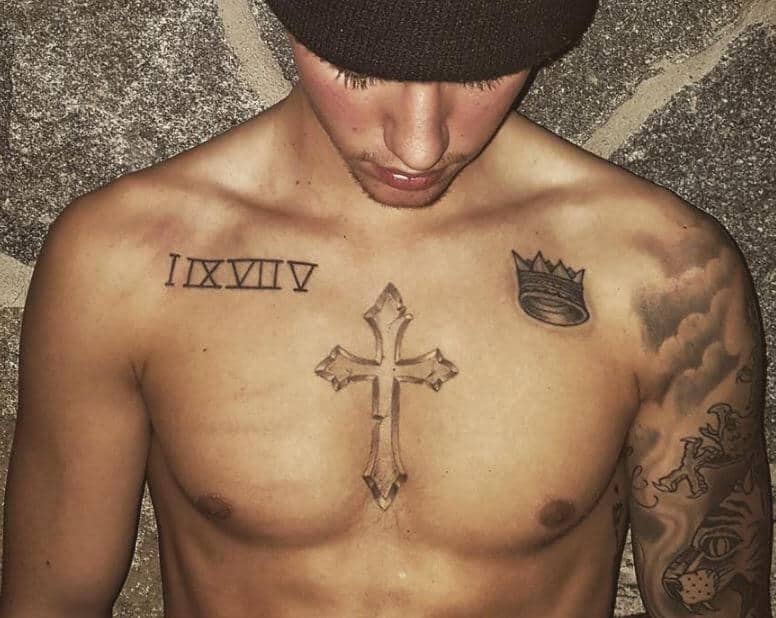 Justin Drew Bieber is a Canadian songwriter and singer who was signed to RBMG Records at the tender age of 13.
As soon as Bieber turned 16, he began his body art journey. His father is also a tattoo enthusiast and the pair share several tattoos together.
Bieber is very vocal about his faith, he even led a service back in August 2019, so it is no wonder why many of Justin Bieber's tattoos have a religious aspect to them.
His body art acts as a form of release for his inner thoughts and feelings, with some tattoos marking important days in his life.
In an Instagram post in 2018 Bieber said, "I absolutely love art and I've made my body a canvas and it is so much fun!".
In today's guide, we are going to take a look into some of the famous Justin Bieber tattoo meanings.
Bird Tattoo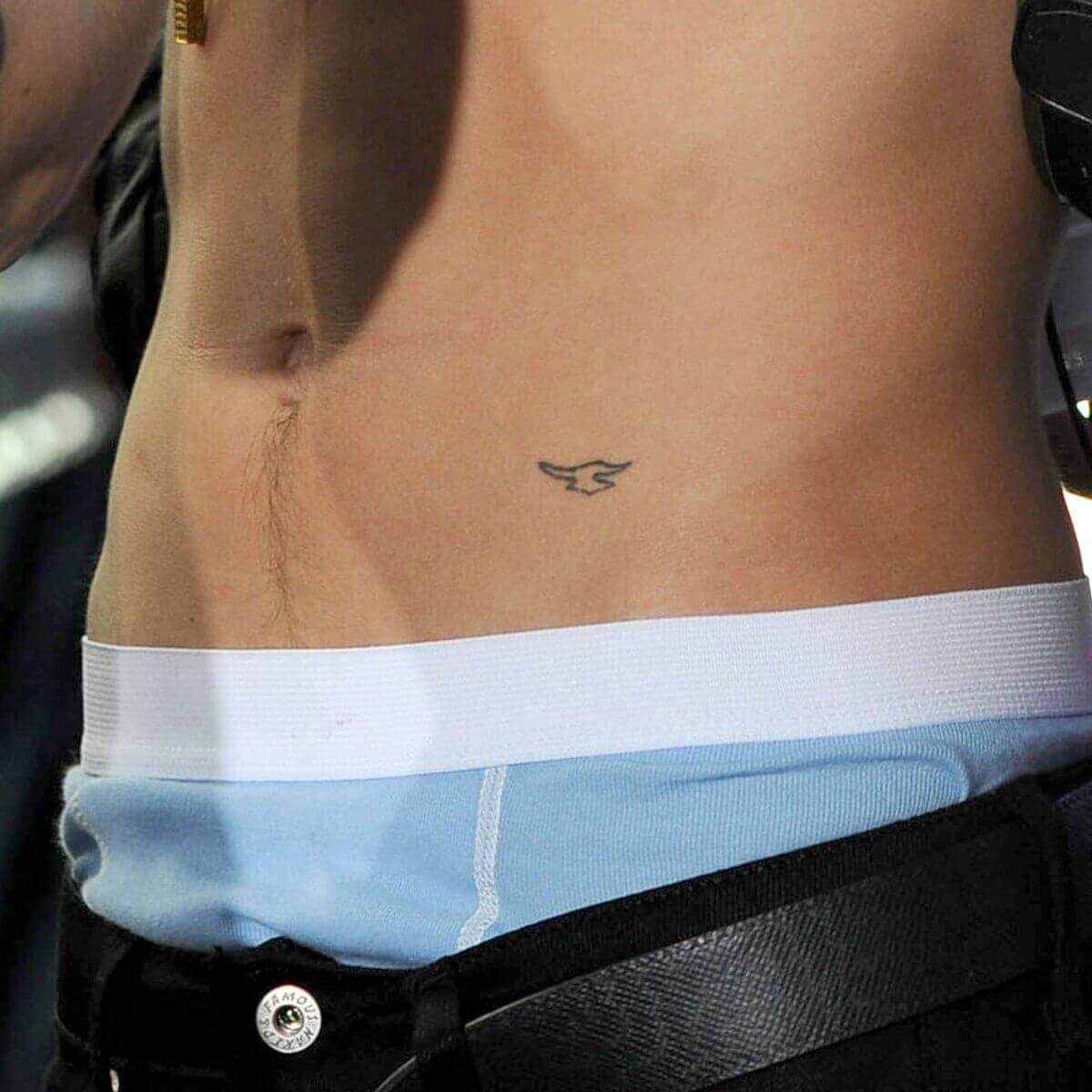 Tattoo: Seagull outline on the left hip
Interpretation: This small bird was Justin Bieber's first tattoo and was inked just after his 16th birthday. In an interview with GQ Bieber said "It was based on a book his whole family had read".
Both his uncle and father also have this piece of body art within their collection. It is the outline of a seagull from 'Johnathan Livingston Seagull' a Richard Bach fable.
Ribcage Tattoo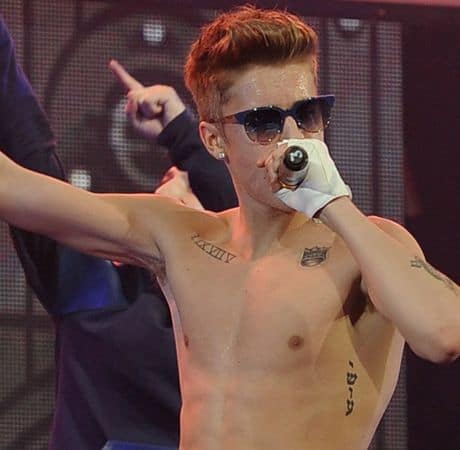 Tattoo: Vertical Hebrew Letters
Interpretation: The vertical tattoo along Justin's ribcage is inked in Hebrew and stands for 'Yeshua'. It means Jesus and is just one of many tattoos representing Justin Bieber's faith. Both Justin and his father got the matching tattoo whilst on a trip to Israel in 2011.
Left Leg Tattoo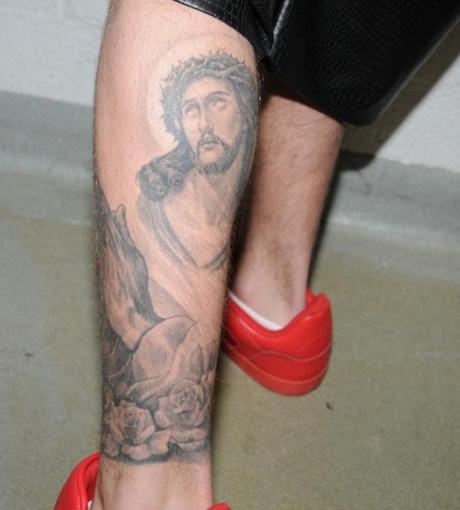 Tattoo: Jesus and the crown of thorns, left calf.
Interpretation: This Justin Bieber leg tattoo features a large portrait of Jesus wearing the crown of thorns, often a time to remind many of when Jesus died for our sins. It is just one of many religious tattoos the singer has.
In March 2020 Bieber released a song 'Thank You Jesus' to show just how much he gives him thanks for his success.
Recommended: Don't miss our guide to Shayne Smith's tattoos next!
Folded Hands Tattoo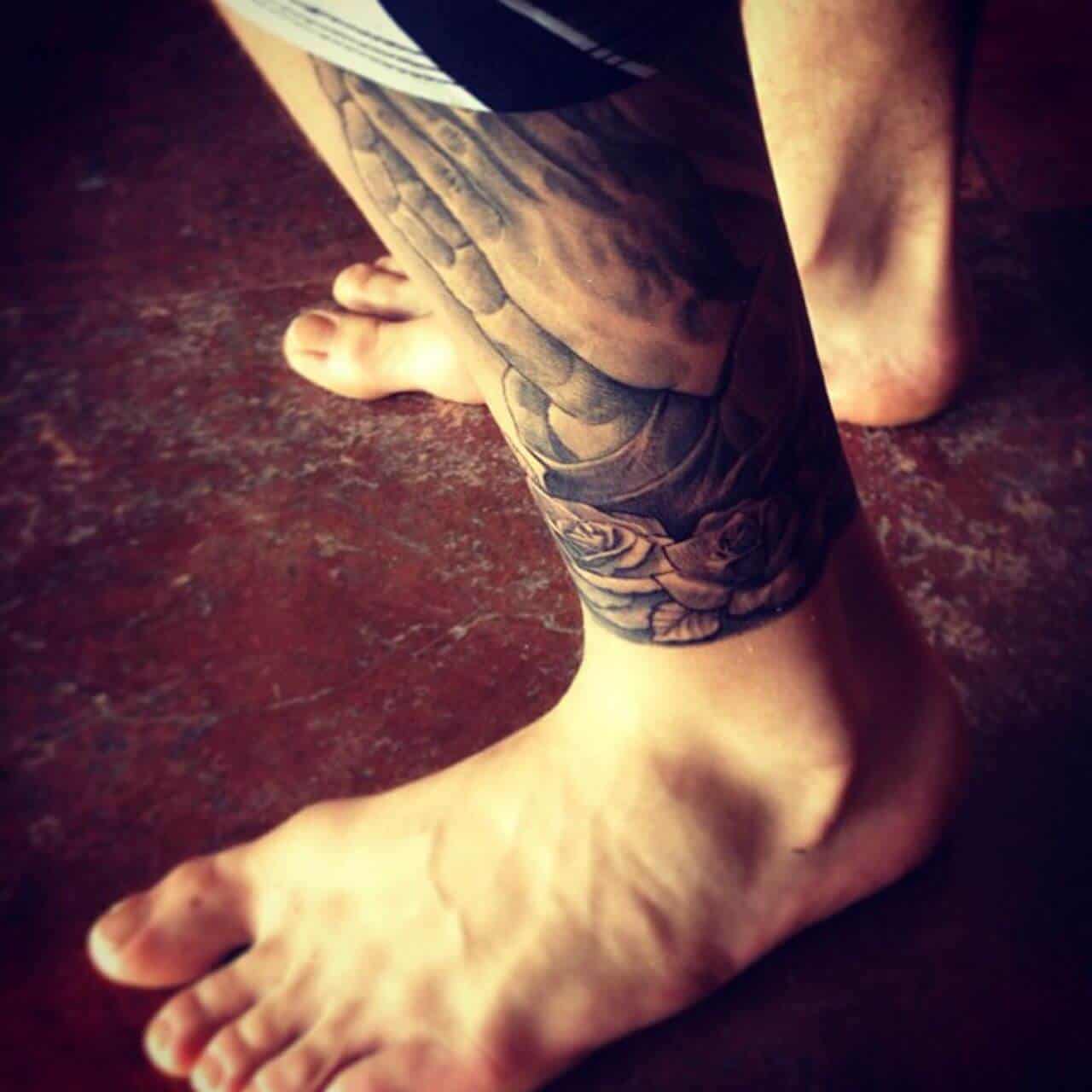 Tattoo: Folded prayer hands at the bottom of his left leg.
Interpretation: Another religious tribute, this Justin Bieber leg tattoo was explained by celebrity tattooist JonBoy as, "A representation of his faith in Jesus and his journey with finding purpose in God". Ex-girlfriend Selena Gomez also has a strikingly similar pair of folded hands inked on her thigh.
'BELIEVE' Tattoo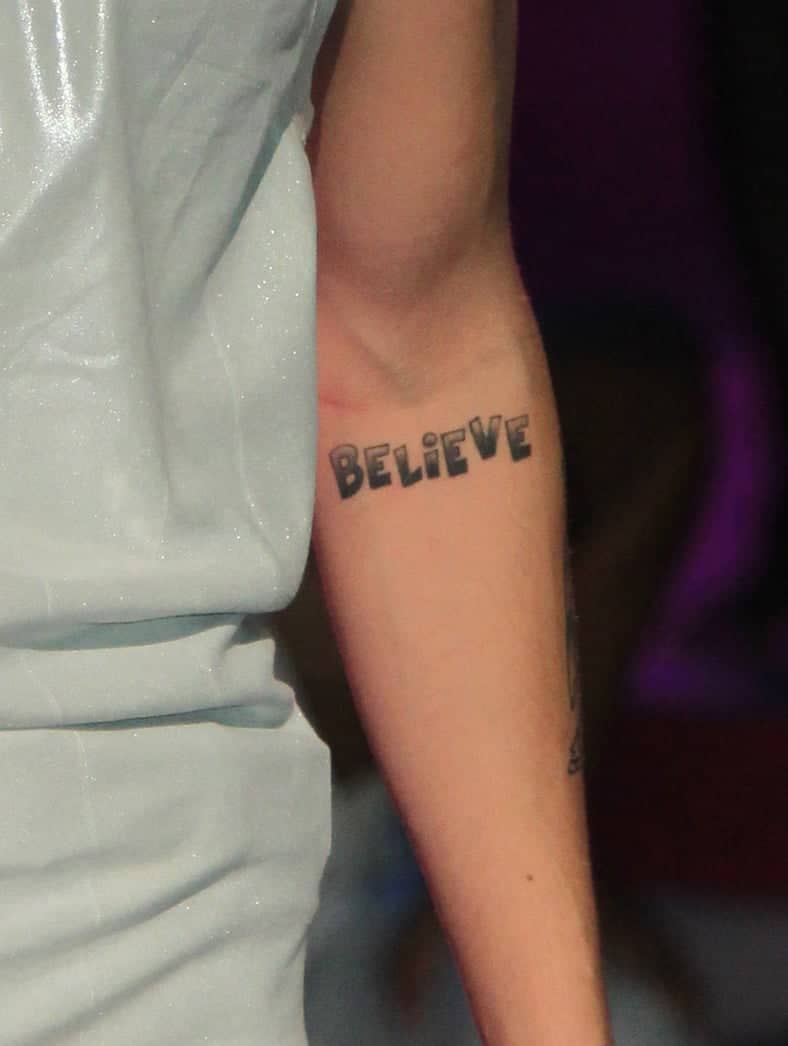 Tattoo: 'Believe' on his left arm.
Interpretation: In an interview with CBS-Late Night host David Letterman, Justin Bieber stated that his album release for 'Believe' was "an important day".
This then led him to get the inking and a way to mark the memorable occasion. 'Believe' was his third album where Bieber was trying to transition away from his previous teen pop genre.
Chinese Character Tattoo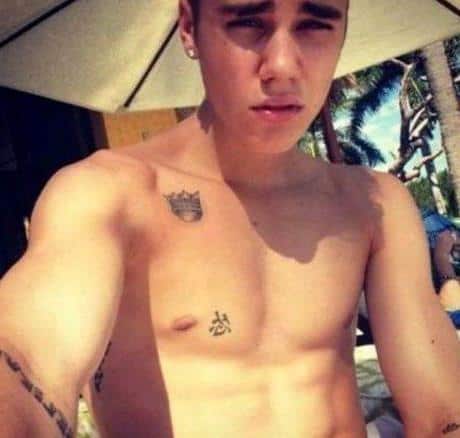 Tattoo: Chinese symbol on the right side of his chest.
Interpretation: This Justin Bieber chest tattoo probably should have had a little more thought put into it. Although the symbol was meant to say, 'Follow your heart', when the symbols are placed on top of one another it means something completely different. It means weak and timid.
Crown Tattoo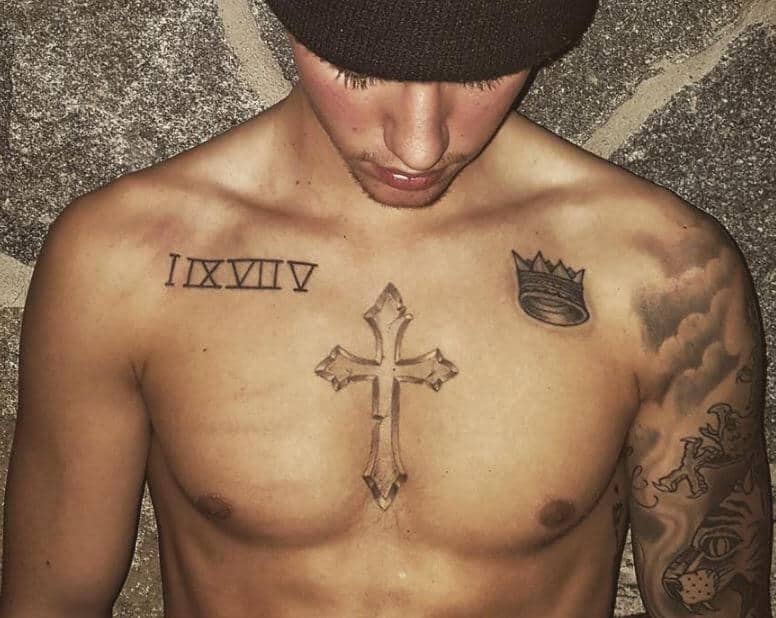 Tattoo: Crown on the left side, just underneath his collarbone.
Interpretation: In August 2012 Bieber got himself inked with a crown on his collarbone. This Justin Bieber Crown tattoo led many to think it was a tribute for the 'King of Pop' Michael Jackson, after his sudden passing. As Bieber has never offered an explanation we are only left to speculate.
Owl Tattoo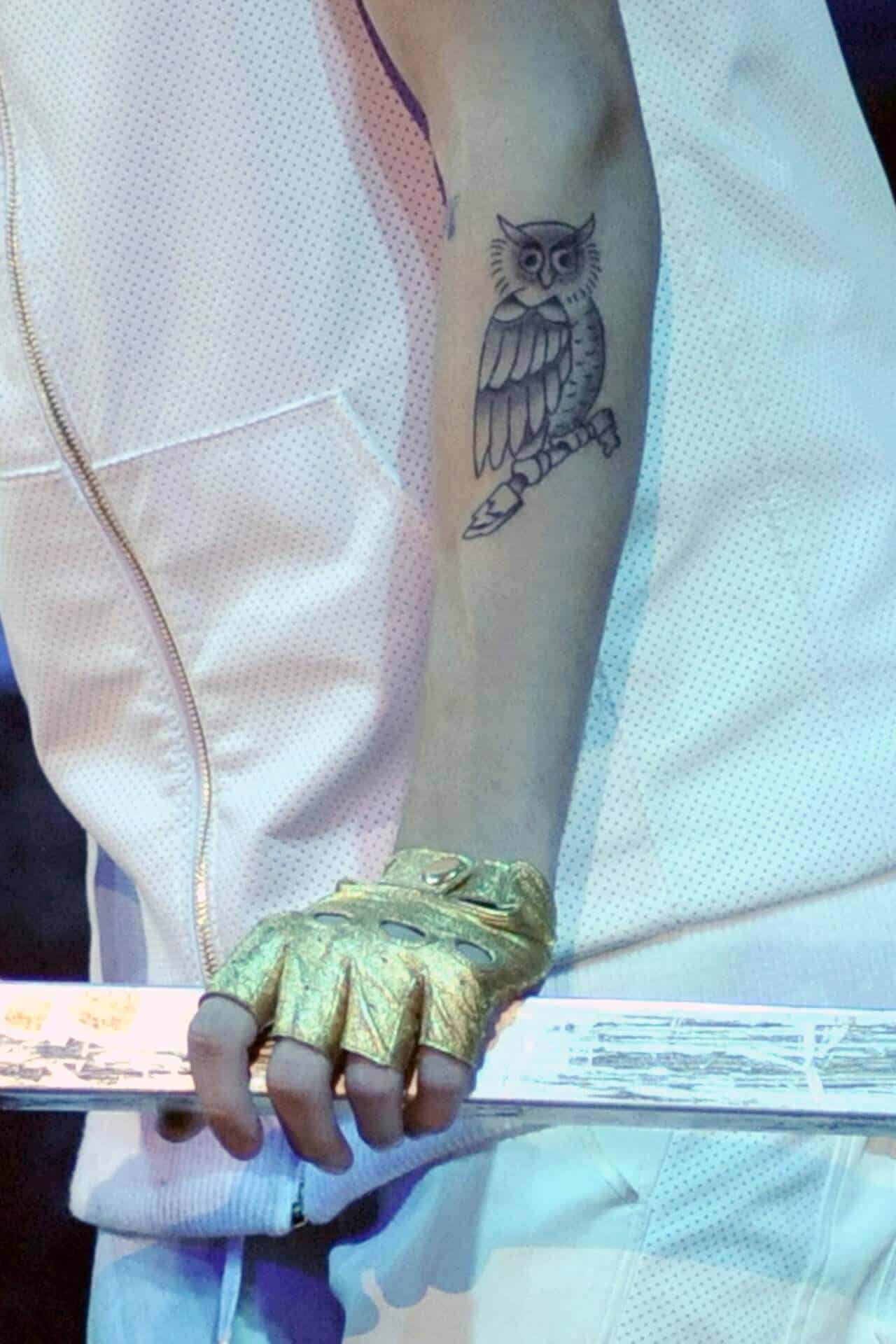 Tattoo: Owl on his left outer forearm.
Interpretation: This Justin Bieber Owl tattoo is known to represent wisdom. It is one of several birds Bieber has added to his ink collection, the other being an eagle. He also included the same owl in his special effects on his Believe tour.
Rose Tattoo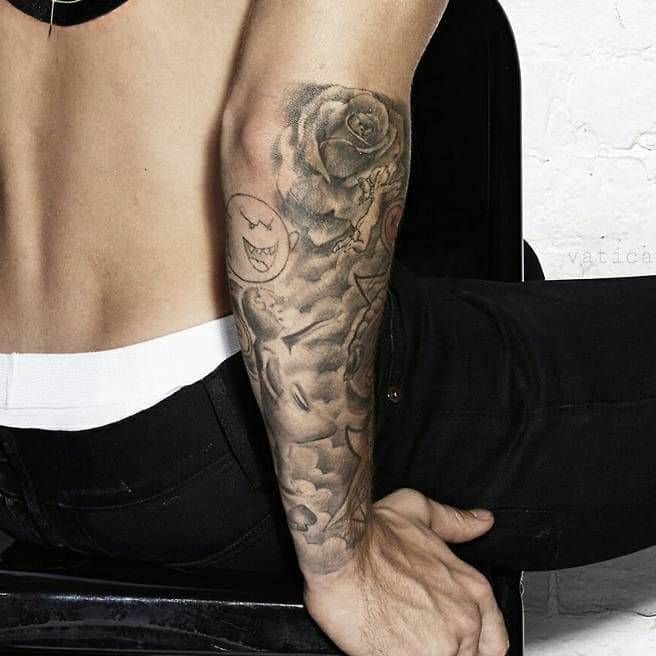 Tattoo: Rose next to his right elbow.
Interpretation: The Justin Bieber rose tattoo, a piece that is popular with body art enthusiasts worldwide. Bieber himself hasn't offered an explanation as to why he got the ink however, a rose can stand for blood, resurrection and rebirth.
It was inked by his favorite tattoo studio 'Bang Bang' in New York.
Hockey Tattoo (Stratford Cullitons)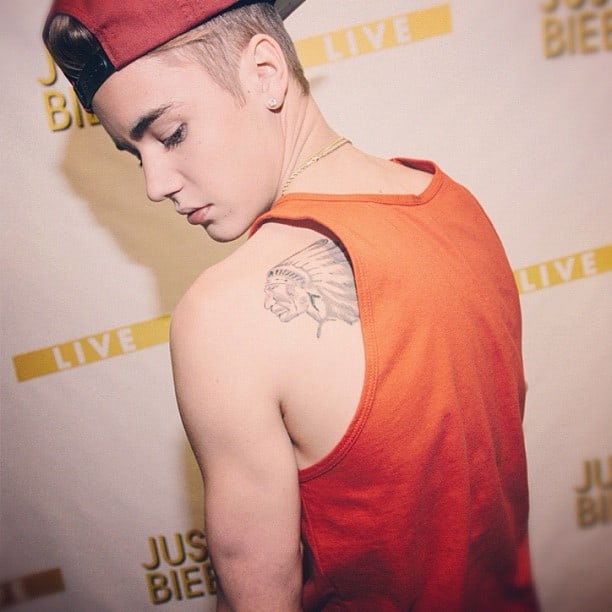 Tattoo: Stratford Cullitons team logo on his left shoulder blade.
Interpretation: Hockey is a popular sport in Canada, and Bieber's grandfather made sure to involve him in the love he had for the Stratford Cullitons. So, as a tribute to his grandfather, Bieber got the team logo inked on his shoulder blade.
He showed it off over Instagram with a caption "My grandfather always took me to the Stratford Culliton every Friday night this is for you Grampa".
Roman Numeral Tattoo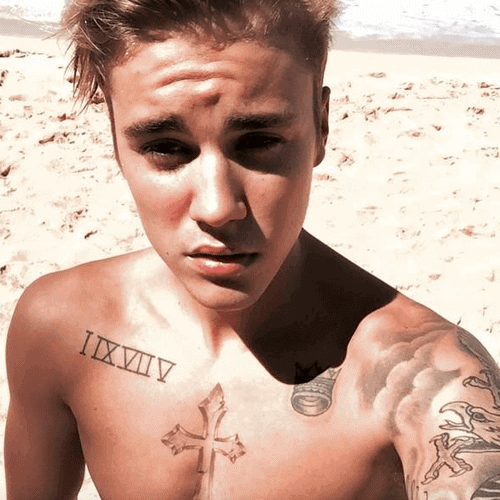 Tattoo: Roman Numerals across Bieber's right collarbone.
Interpretation: This Justin Bieber roman numeral tattoo was explained in an interview with GQ. Bieber pointed to the tattoo along his right collarbone and said, "This is my mom's birthday, seems like I have a lot of stuff relating to my mom".
Although this tattoo did have great intentions, Justin probably should have done better research as 1975 in Roman Numerals, is actually MCMLXXV.
Christ Symbol Tattoo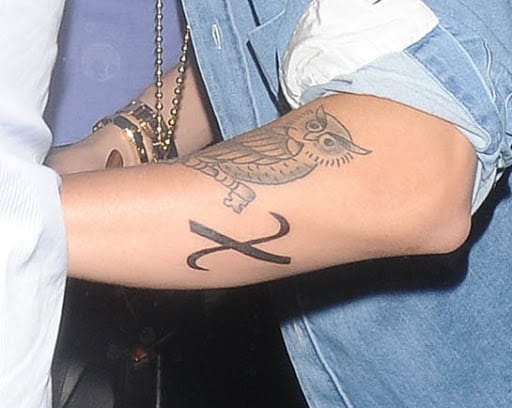 Tattoo: Christ symbol on his left forearm.
Interpretation: When speaking with GQ Justin Bieber said, "X means unknown you know, they maybe know the shell of me or the artist but not necessarily me." This tattoo brought some bad publicity after the tattoo artist from London publicly said:
"When I said it was £1,000, Bieber's bodyguard didn't want to pay. They snubbed me and tried to haggle over the money. In the end I accepted £500 just so I could go…Basically, he's a joke and a spoilt brat. When I was there, I also saw Justin throw a fit with his personal assistant. It was disgraceful."
Recommended Next: Don't miss our guide to XXXTentacion tattoos next!
Koi Fish Tattoo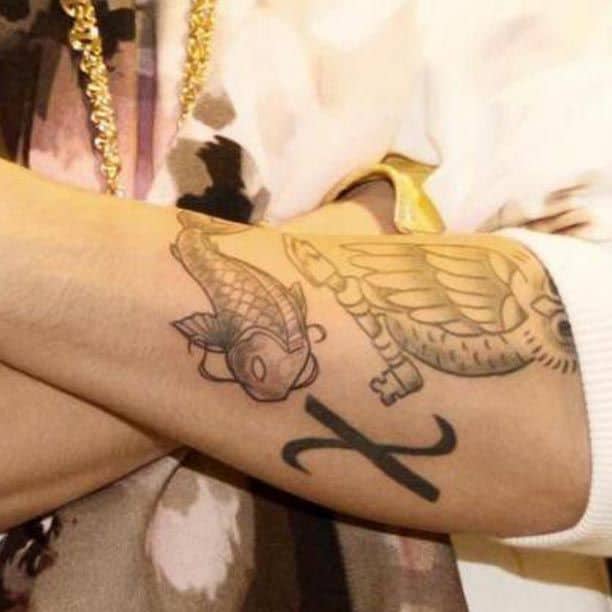 Tattoo: Koi fish on his left forearm.
Interpretation: A Koi fish in Japanese means Carp and is a widely popular symbol across Asian cultures. Many tattoo artists believe Koi's signify good luck, prosperity, and independence along with many other things. This tattoo was inked after a visit to Copenhagen.
Tiger Tattoo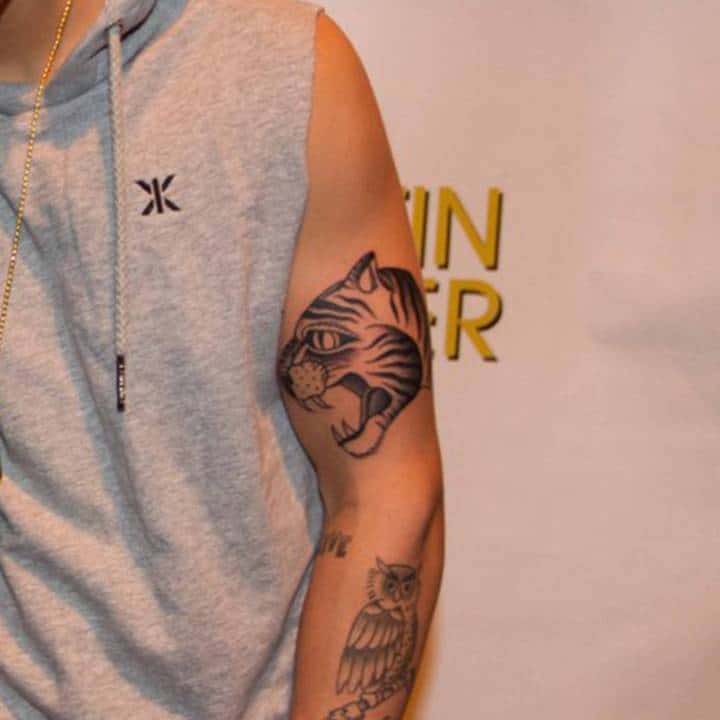 Tattoo: Side portrait of a tiger face on his upper left arm.
Interpretation: Not long after Bieber got his Koi inked, he took the opportunity in Sweden to add another piece to his body art collection. His new ink was a tiger baring its teeth in a vicious looking manner. The tiger represents strength and power.
Selena Gomez Angel Tattoo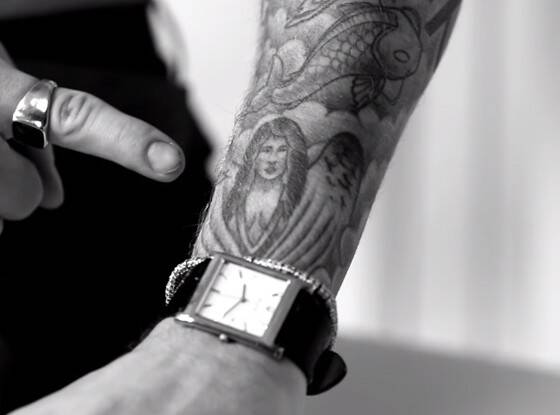 Tattoo: Selena Gomez angel on his right wrist.
Interpretation: This is a tribute to Selena Gomez, his ex-girlfriend. The image was taken from her Elle photoshoot. The pair have been on and off for several years since 2010. In an interview with GQ Bieber said:
"This is my ex-girlfriend, so I kinda tried to cover the face up with some shading but people still know", showing he probably regrets getting the ink."
Knight and Sword Tattoo

Tattoo: Knight and Sword on his left inner forearm.
Interpretation: Unlike his other tattoos, Bieber didn't take to the internet to show off this one, in fact he was much quieter.
The ink is of a King pulling a sword from a stone, which strongly matches the story of King Arthur. Around the same time this tattoo was inked, Bieber was having problems with his neighbor due to his anti-social behavior.
Castle Tattoo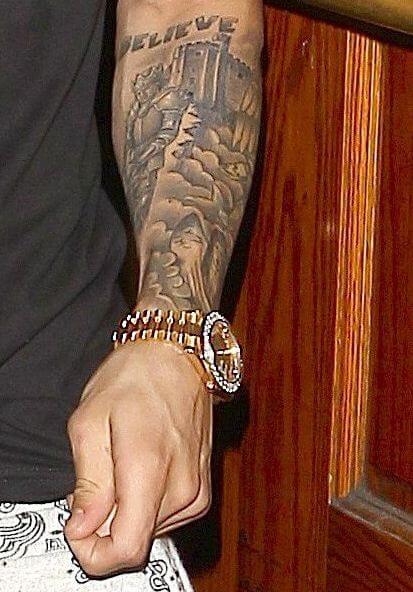 Tattoo: Castle with waves on his lower left arm.
Interpretation: In 2013, Justin Bieber finally completed his half sleeve with this castle. It is another tattoo that Justin shares with his father. A castle represents, protection, power, and strength.
Bleeding Globe Tattoo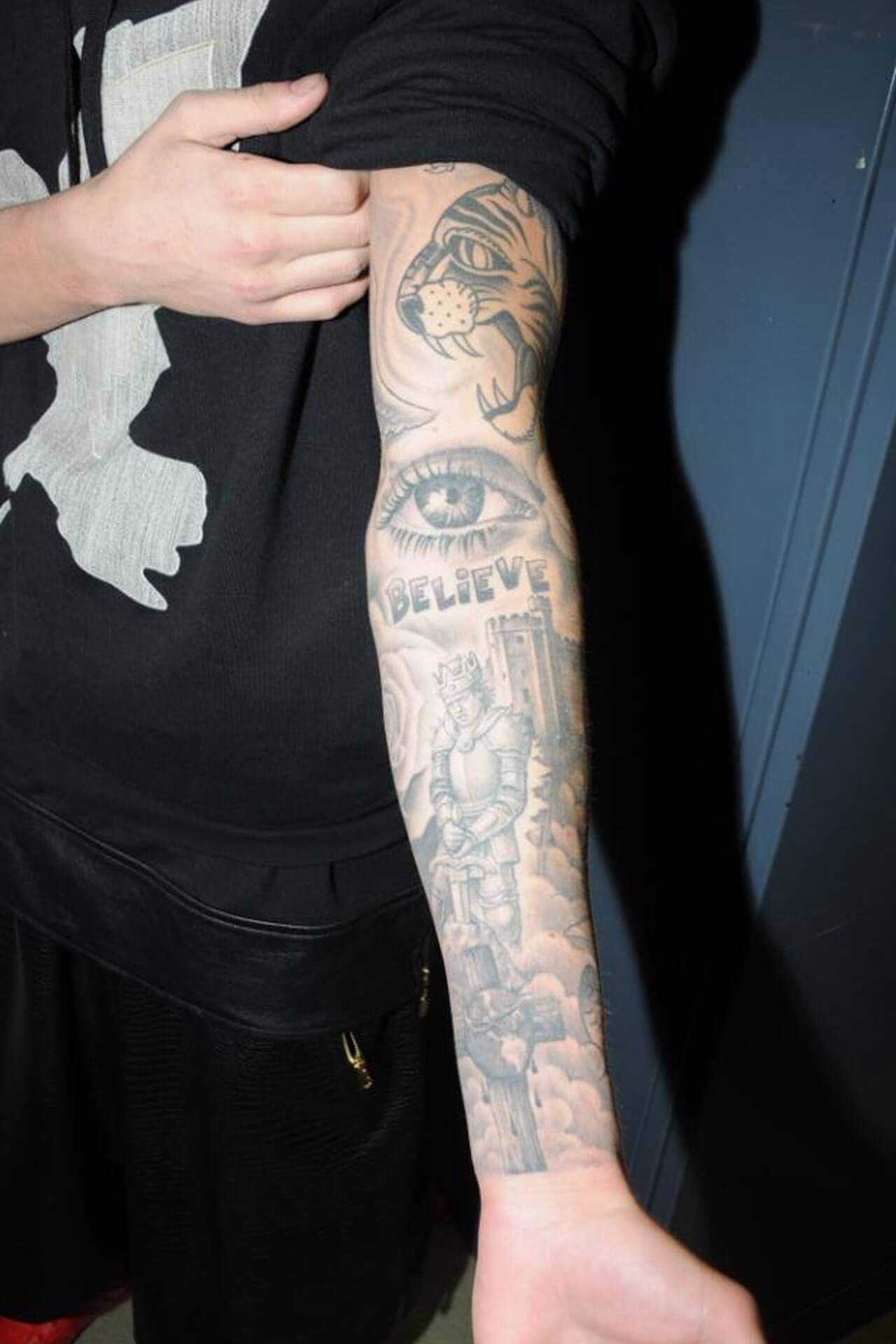 Tattoo: Globe bleeding on a cross, left inner forearm.
Interpretation: This Justin Bieber arm tattoo is probably one of the most unique. It is a globe on a cross, bleeding with the crown of thorns. It was added to his collection in May 2013 and shows the suffering Jesus endured for the rest of the world.
Eye Tattoo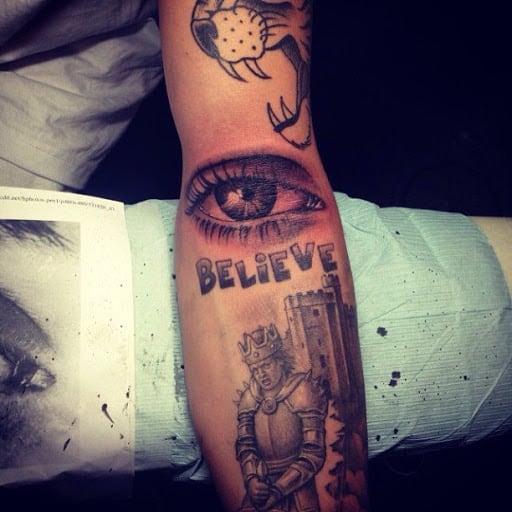 Tattoo: Bieber's moms eye on his left arm.
Interpretation: This eye inked on Justin's skin is in fact his mother's, Pattie Mallette! On Instagram, he added the caption 'Mom's always watching'. Tattoo artist Keith, from Bang Bang tattoo studios in New York was interviewed by MTV, he said:
"For him it was just like his mother watching over him, a protective thing. It's totally from mama. We were talking about how we both have tattoos for our mothers and how it's something we will never regret."
Bible Verse Tattoo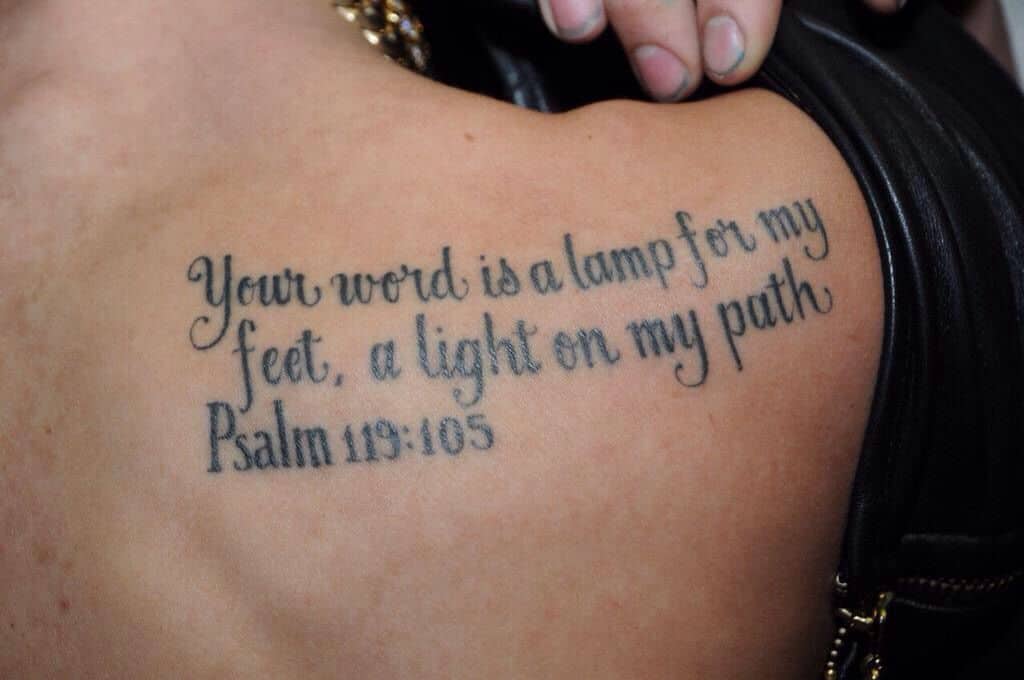 Tattoo: A Bible verse across his right shoulder blade.
Interpretation: The Bible Verse has a clear meaning and marked Bieber's 22nd inking, which took place just before his 20th birthday. It is clearly one of the verses Bieber related to the most. It is a Justin Bieber back tattoo that you probably won't forget.
Eagle Tattoo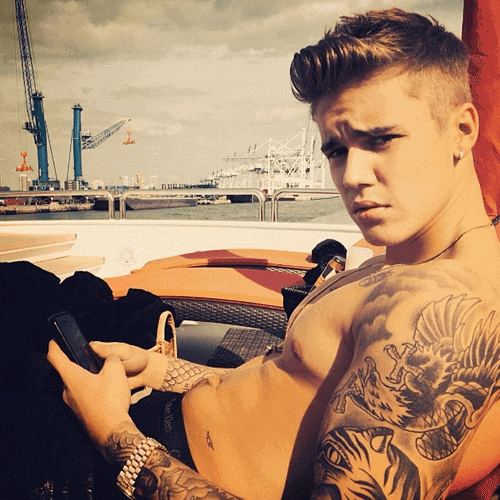 Tattoo: Eagle on his left bicep.
Interpretation: This Justin Bieber tattoo is one of two eagles. Eagles symbolize power and wisdom, however as Bieber hasn't publicly explained why he got this tattoo.
'BETTER AT 70' Tattoo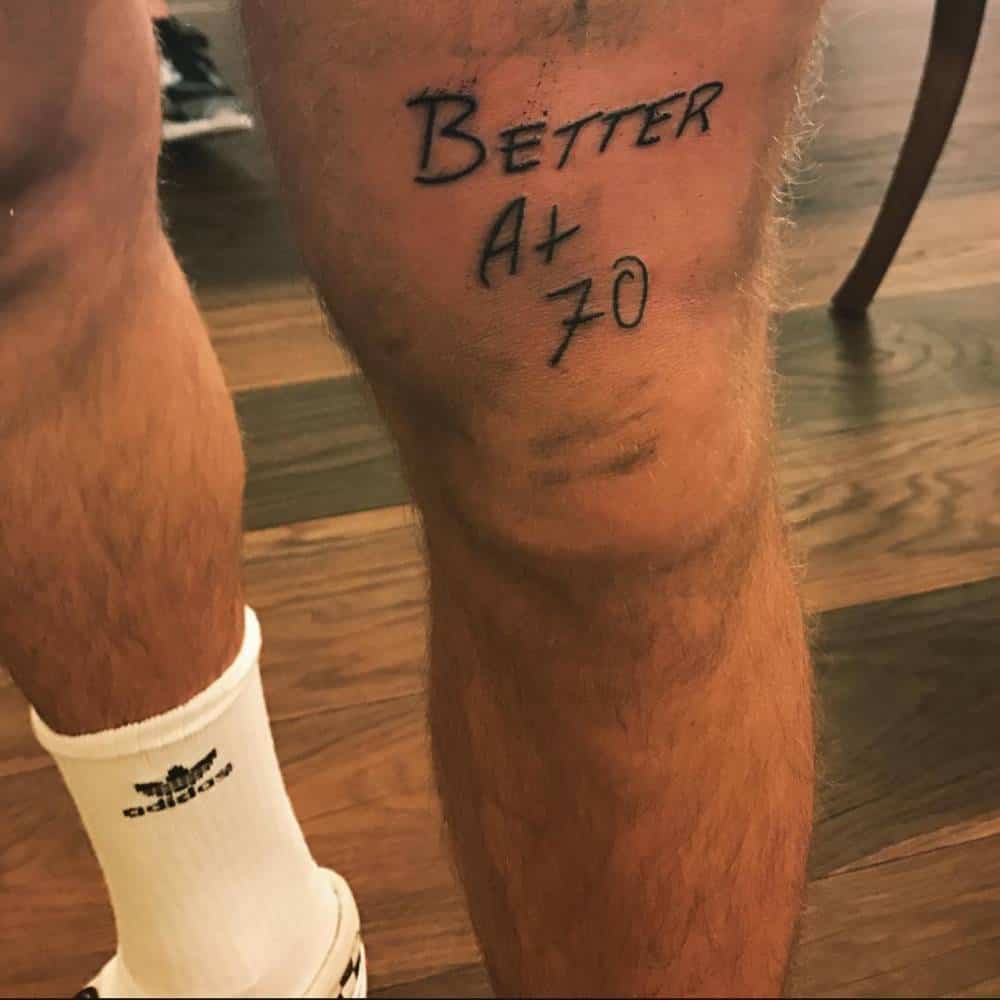 Tattoo: Better at 70 on his right thigh.
Interpretation: In an Instagram post Justin Bieber said, "I look back at a lot of things in my life, mistakes, insecurities, and although I feel I have wasted a lot of time it also makes me want to be better, faster and longer! For me personally I want to work everyday to be Better at 70!"
Star Tattoo on Left Arm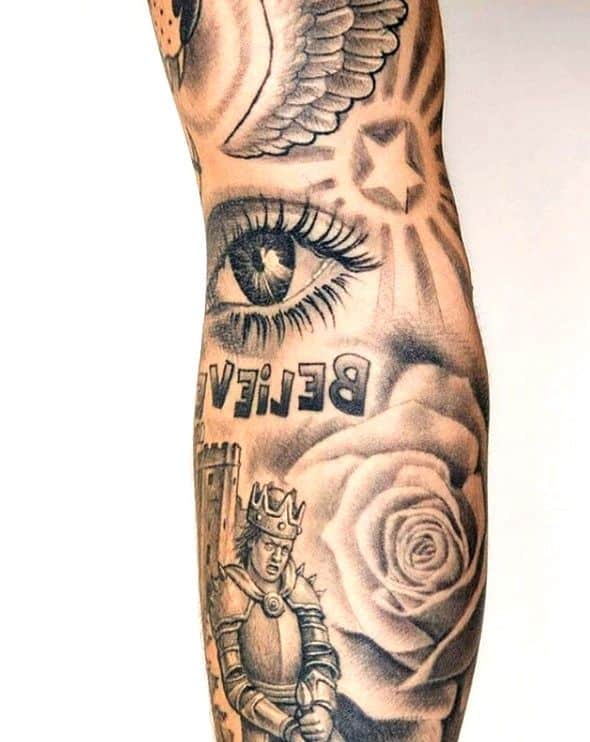 Tattoo: Star on his left arm.
Interpretation: In December 2013, on a trip to the Philippines Bieber revealed this tattoo. During his time there he also helped raise funds for the typhoon victims. For some, stars represent the relationship a human has with God.
Jester Tattoo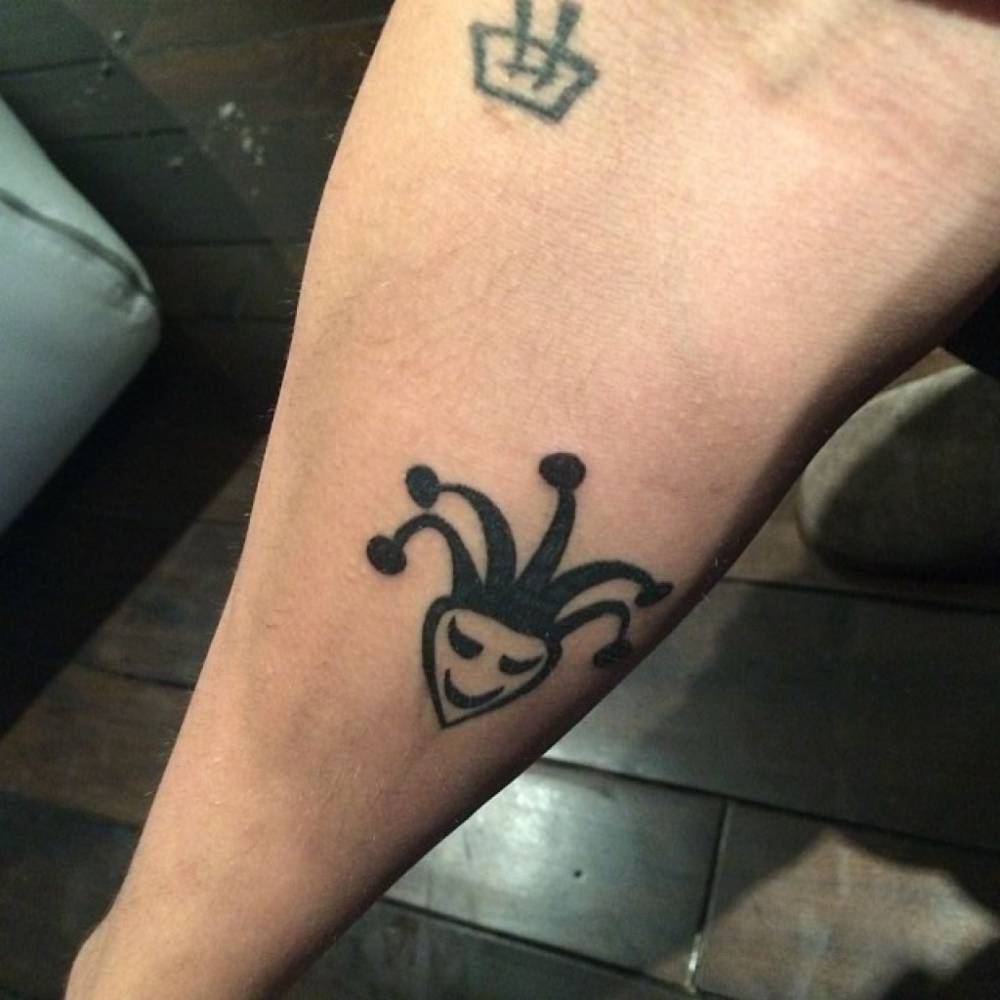 Tattoo: Jester on his right inner forearm.
Interpretation: This tattoo was inked shortly after Bieber, was caught egging two of his neighbor's homes and could be his way of fighting back against the bad press. He was left with an $80,000 fine and probation.
A lawsuit between the pair was finally resolved in 2018 details of which haven't been specified. It was stated in the documents that Bieber also spat in his neighbor's face.
Compass Tattoo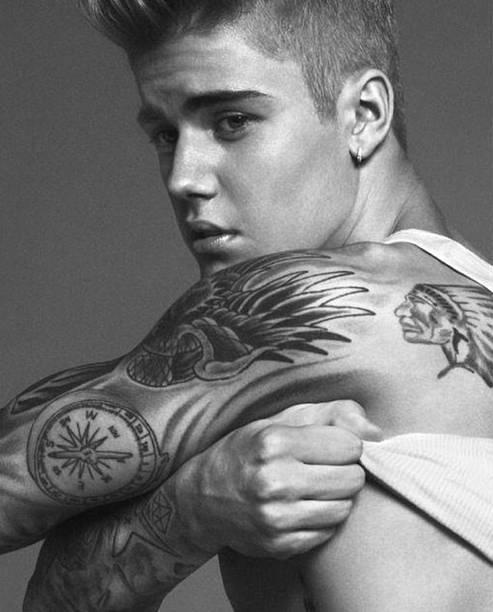 Tattoo: Compass on his left upper forearm.
Interpretation: In less than 24 hours after showing off his Jester, Bieber was back at it again with a new social media post, showing off his compass inking. A compass gives direction, something Bieber clearly needed, at a time when his behavior became somewhat erratic.
'LOVE' Tattoo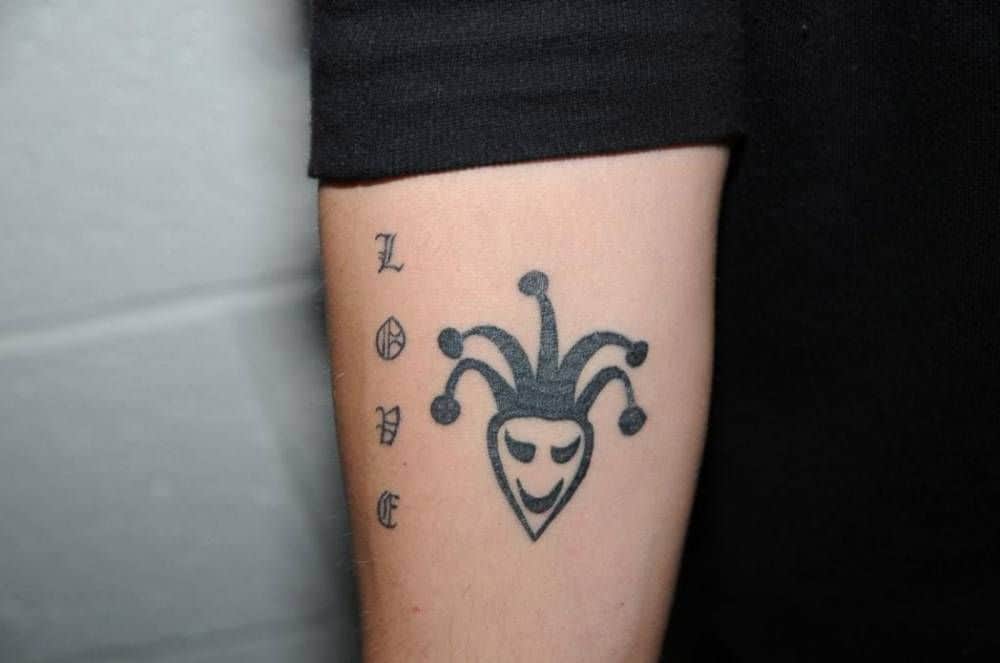 Tattoo: LOVE vertical on his right inner forearm.
Interpretation: The word 'love' itself is pretty self-explanatory. The piece was unveiled in 2014, at the time rumors were saying Justin and Selena had got back together, this only fueled speculation.
Treble Clef Tattoo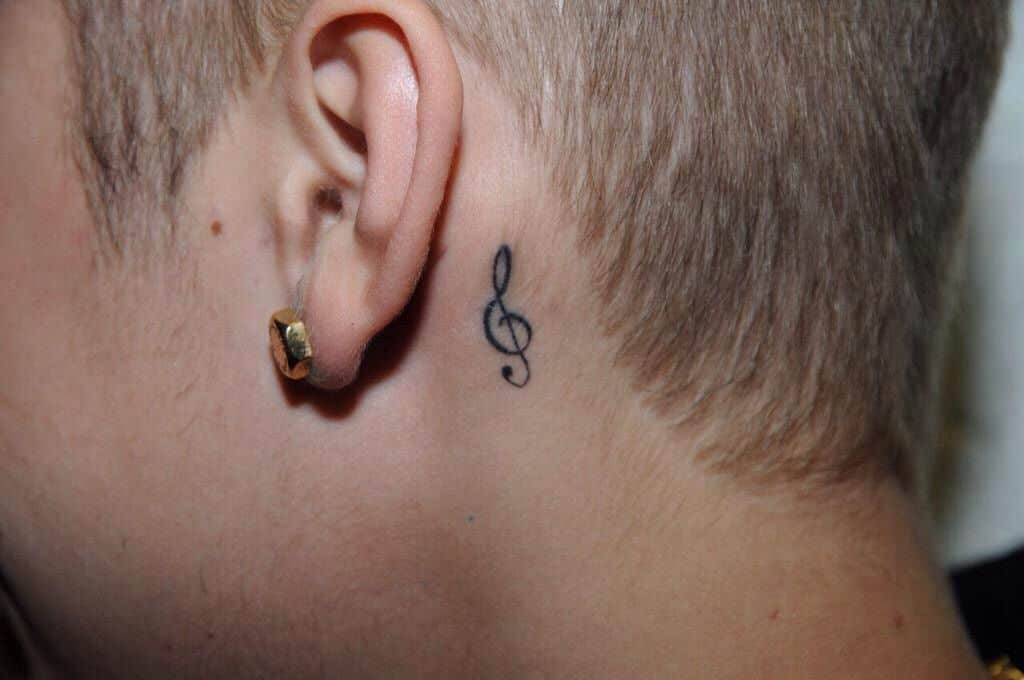 Tattoo: Treble Clef behind his left ear.
Interpretation: Out of Justin Bieber's tattoos, this one is much simpler and shows his love for music. With a career spanning over a decade it doesn't look like Bieber is ready to put down the mic any time soon.
Cross Tattoo on Chest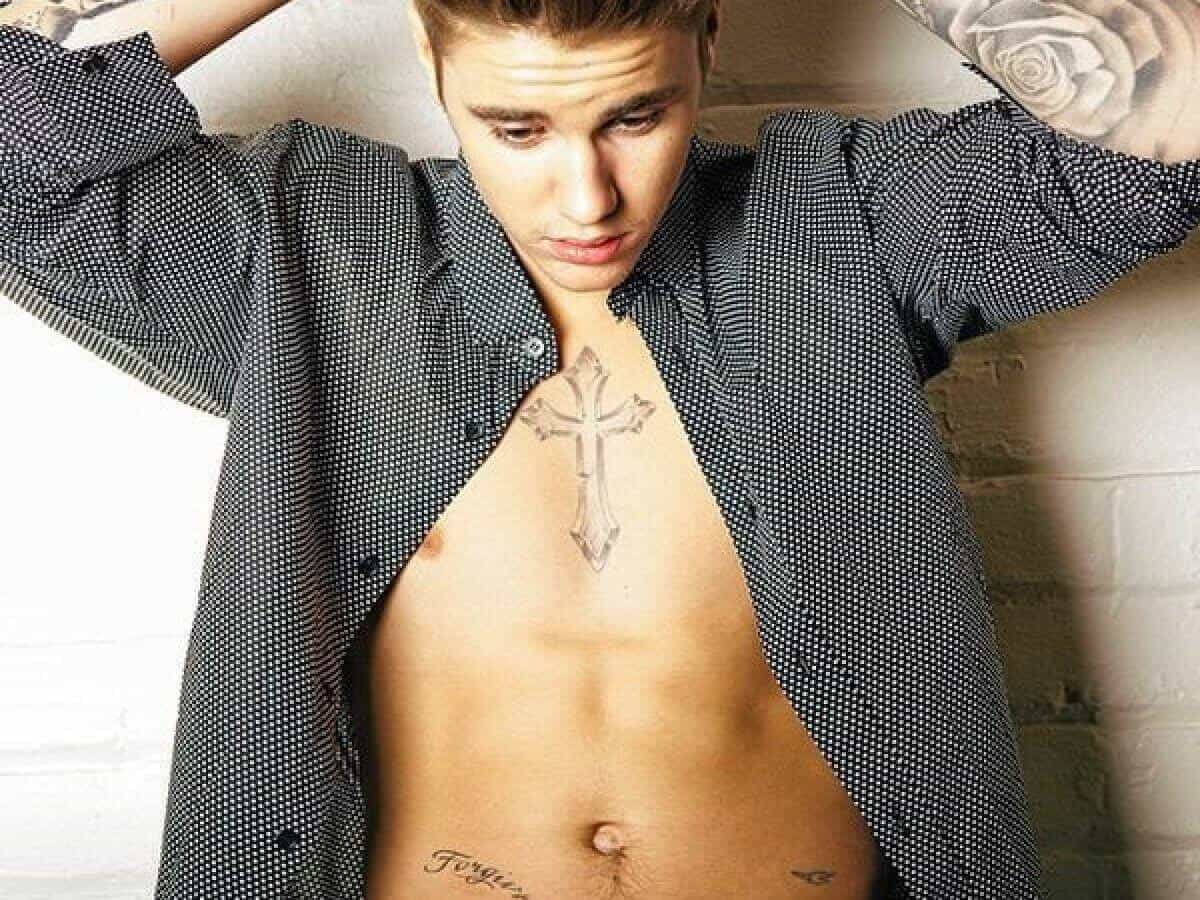 Tattoo: Cross in the center of his chest.
Interpretation: A large cross right in the middle of his chest, shows just how serious Bieber takes his faith. It is one of many religious tributes featured across his body. It's another Justin Bieber Jesus tattoo to add to the collection.
'Forgive' Tattoo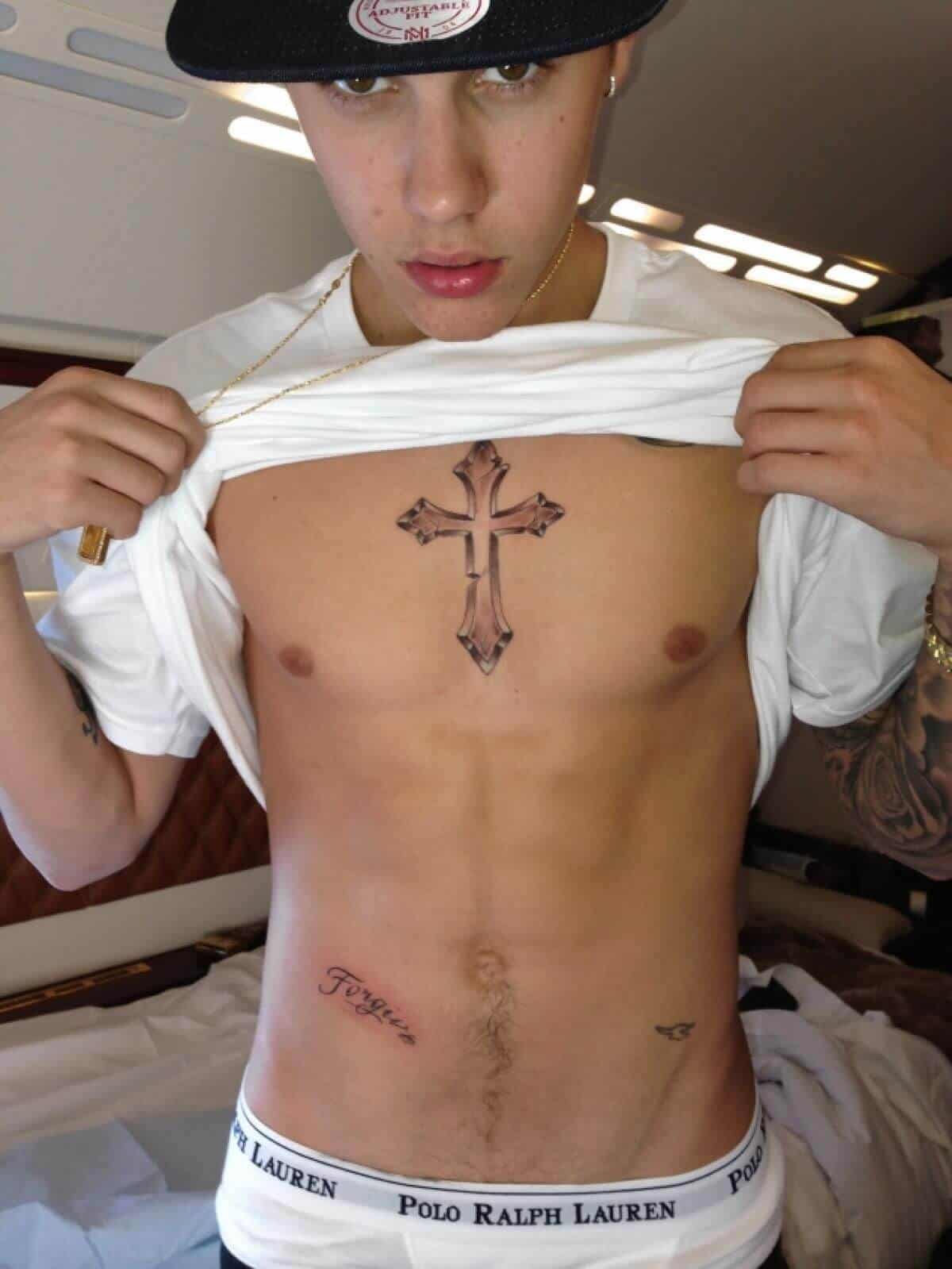 Tattoo: 'Forgive' on his right waist.
Interpretation: In 2014, Bieber decided to get a tattoo whilst on a flight from Panama to Canada. He explained "Forgiveness is powerful, forgive as Jesus died on the cross to forgive our sins."
The tattoo came 5 days after his Miami beach arrest, where he was found illegally street racing and was charged with drunken driving, resisting arrest, and driving without a valid license.
Banksy's Balloon Girl Tattoo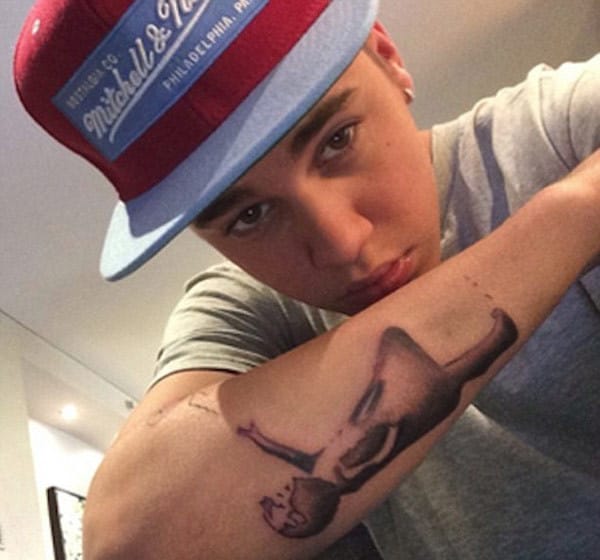 Tattoo: Banksy Balloon Girl on his right forearm.
Interpretation: When uploading his new tattoo to Instagram to show all his fans Bieber added the caption, "Don't let your dreams float away".
Diamond Tattoo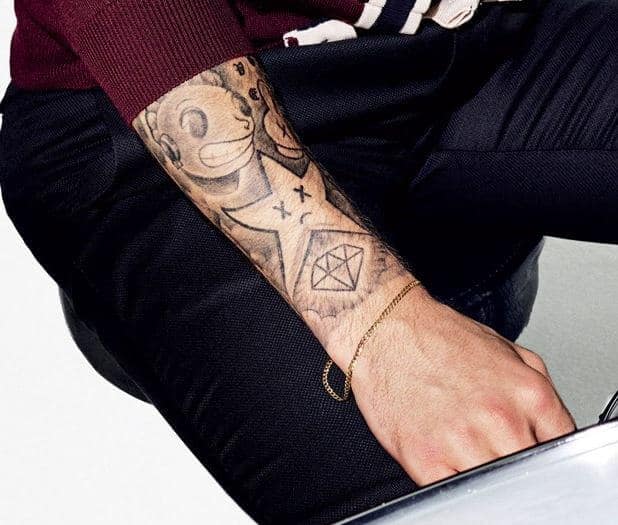 Tattoo: Diamond on his right wrist.
Interpretation: The diamond is present in the album artwork for 'Confident', a song which features Chance the Rapper, and forms part of a Justin Bieber tattoo sleeve. In Bieber's album 'Journals' a small diamond is also depicted, one that is similar to his wife, Hailey Baldwin's tattoo behind her ear.
Cross Tattoo on Face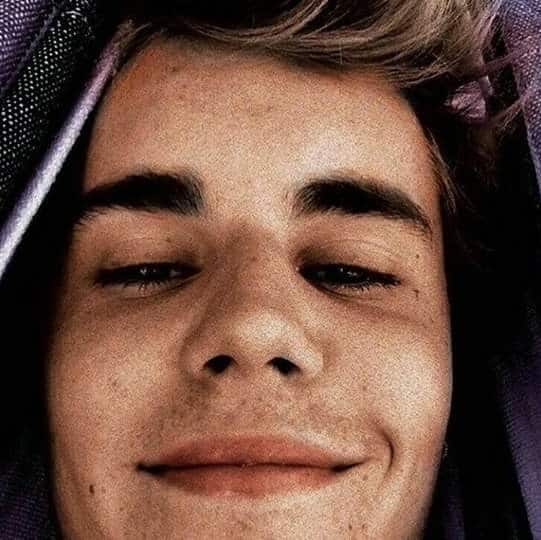 Tattoo: Small cross next to Bieber's left eye.
Interpretation: This is Justin's second face tattoo, and both were inked by celebrity tattooist JonBoy. The religious ink was done in 2016, and his now wife Hailey Baldwin, also tattooed the same small cross on her neck just before their engagement.
Graffiti Star Tattoo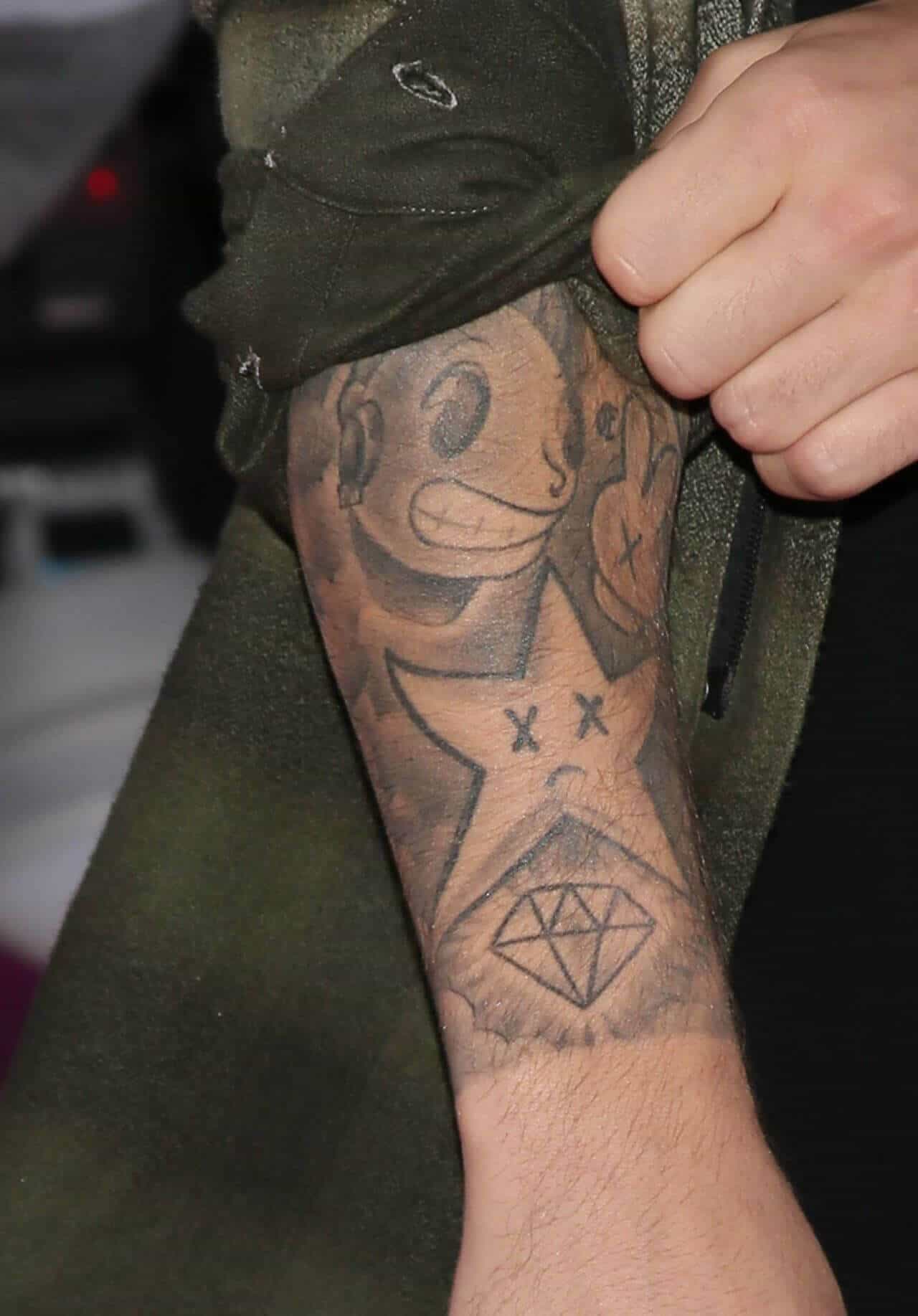 Tattoo: Graffiti star on his right outer forearm.
Interpretation: Justin Bieber loves graffiti, so it's no surprise this piece has been added to his collection.
In Brazil, Bieber could be arrested for vandalism if he enters the country after he was caught graffitiing a hotel in 2013, it is then alleged his security team attacked photographers who caught him on camera. Bieber also came under fire after graffiti promotions were found across the streets of San Francisco to promote his new album release 'Purpose'.
Korean Mask Tattoo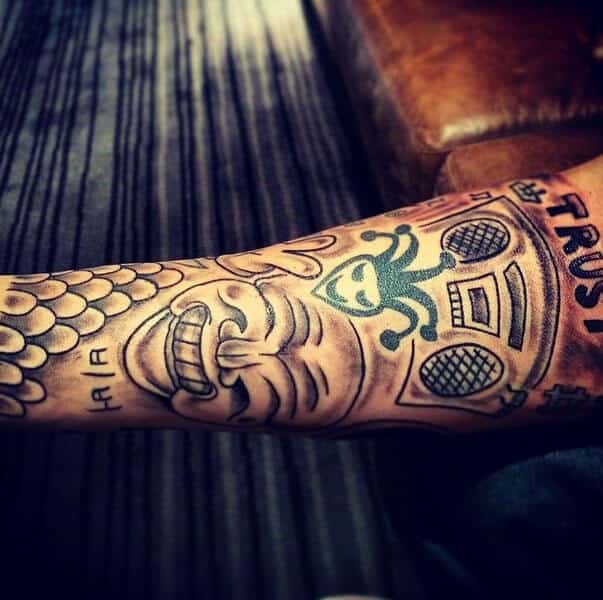 Tattoo: Korean mask on his right forearm.
Interpretation: Toronto based tattooist Seunghyun Jo, who is originally from South Korea, inked this piece on Bieber less than a month after he got his 'Forgive' ink.
He wrote to Instagram 'Love @seunghyunjotattoos great job man…. I love Korea!' Bieber also has several other Asian related tatts including a Koi fish and a Japanese Kanji symbol.
'Patience' Tattoo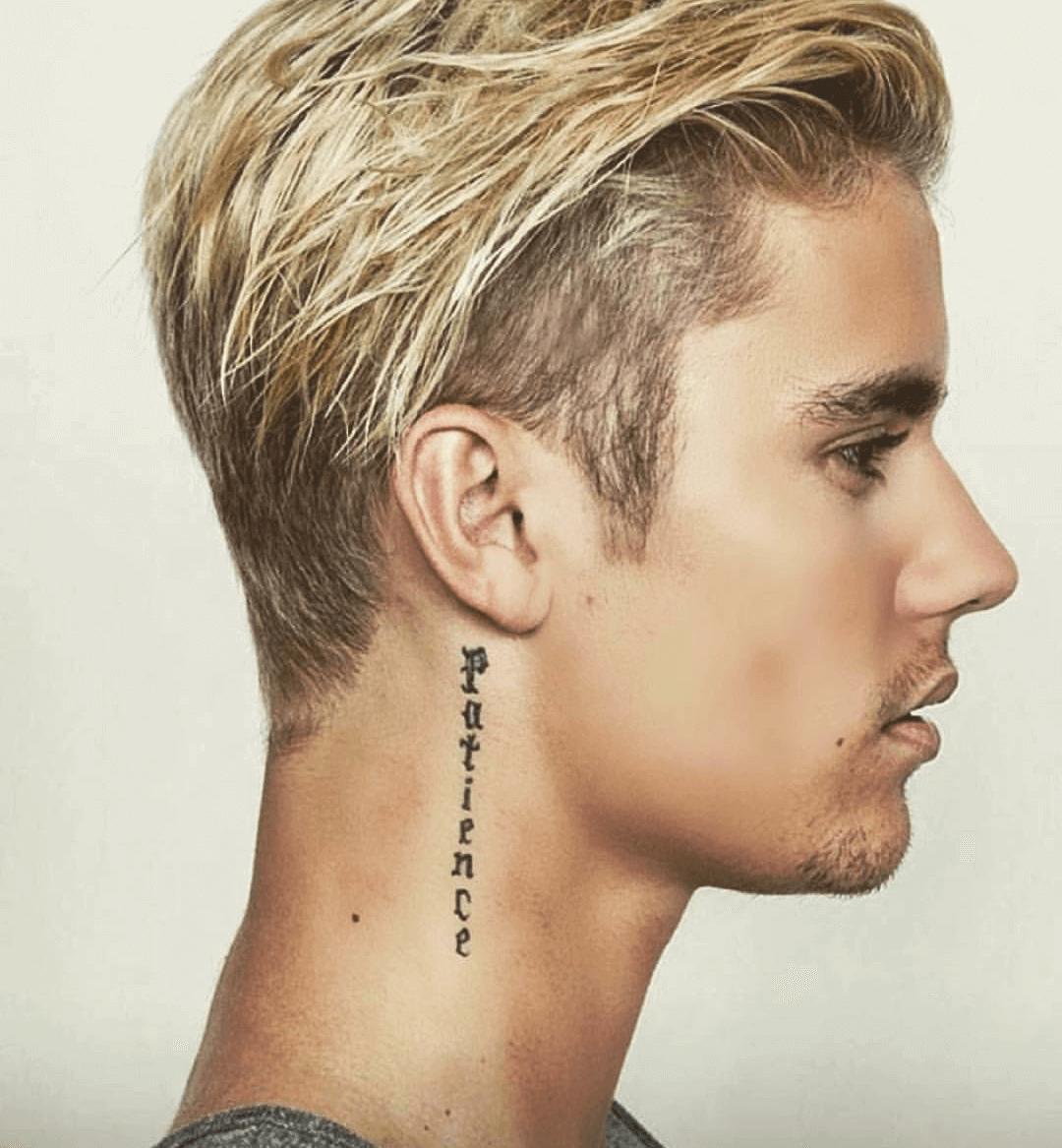 Tattoo: 'Patience' inked vertically on the right side of his neck.
Interpretation: A Justin Bieber 'Patience' tattoo was proudly added to his collection in 2014. Getting a patience tattoo is often inked as a permanent reminder, to accept any problems or delays within your life without getting anxious or even angered.
The 'LL' Tattoo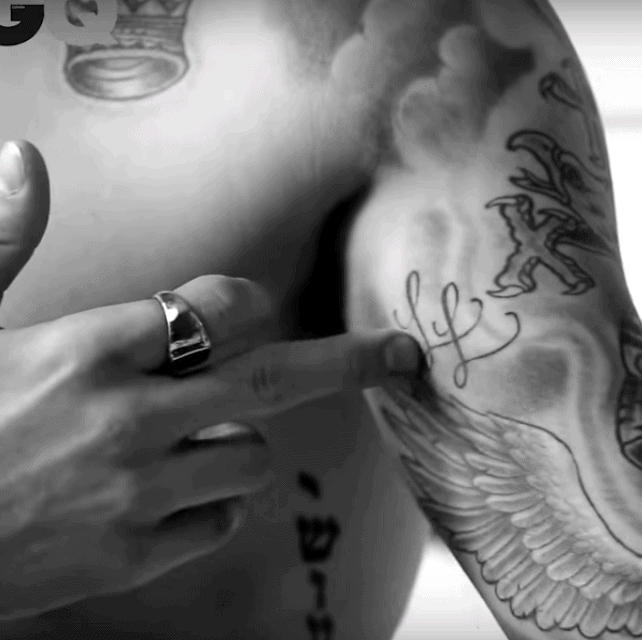 Tattoo: LL on his left upper arm.
Interpretation: This Justin Bieber arm tattoo is much more meaningful. When explaining the piece in an interview with GQ Bieber said "This one's really cool, the story behind this one is its LL stands for heads low to lifted up. Just to never keep your head low and always look for the better days".
The 'G' Tattoo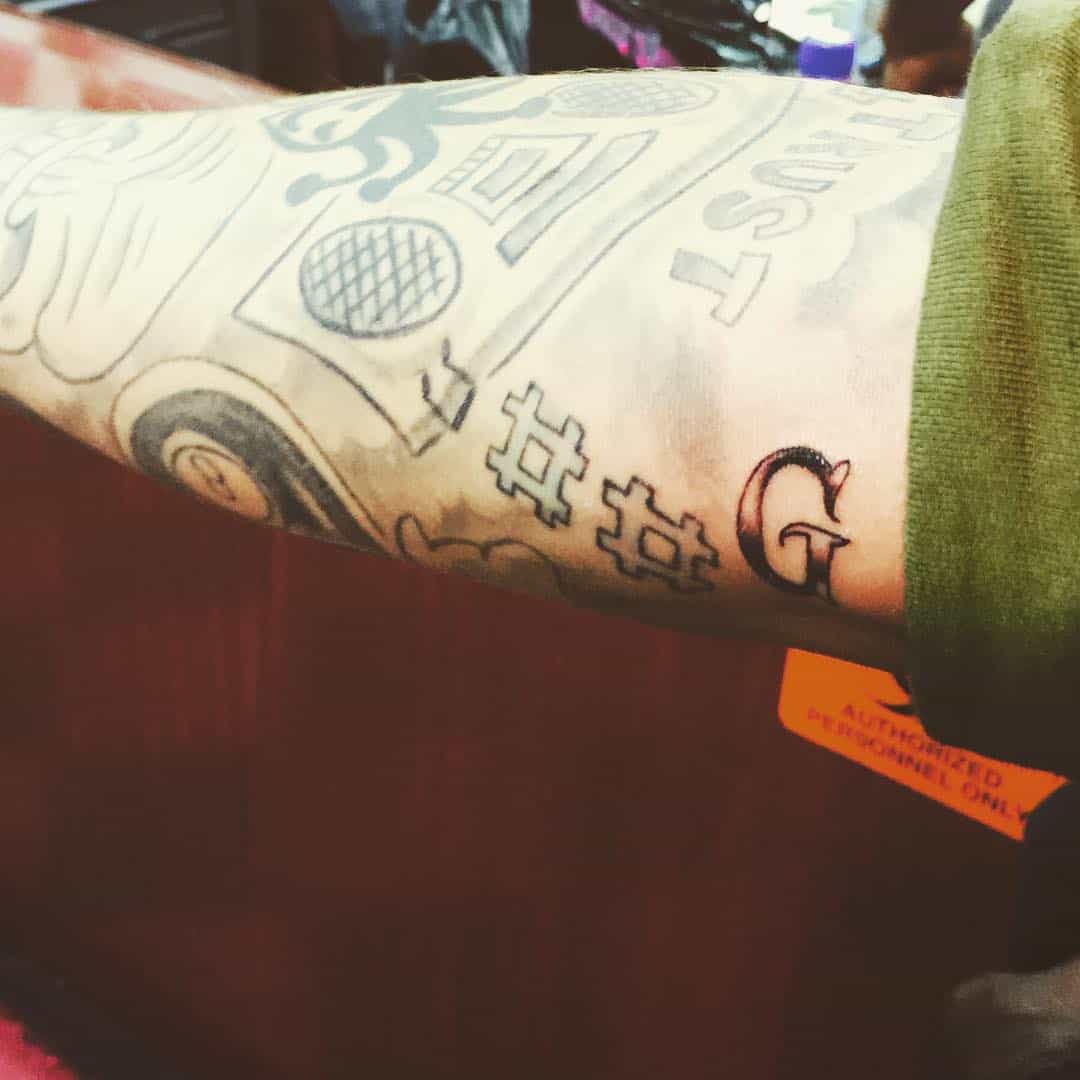 Tattoo: 'G' on Bieber's right arm.
Interpretation: G is very meaningful to Justin Bieber, in an interview with GQ he said "I got this for my boy, his daughters name is Georgia and she has a brain condition and so I got that for him, just to support him and let him know I've got his back". How sweet!
 'Purpose' Tattoo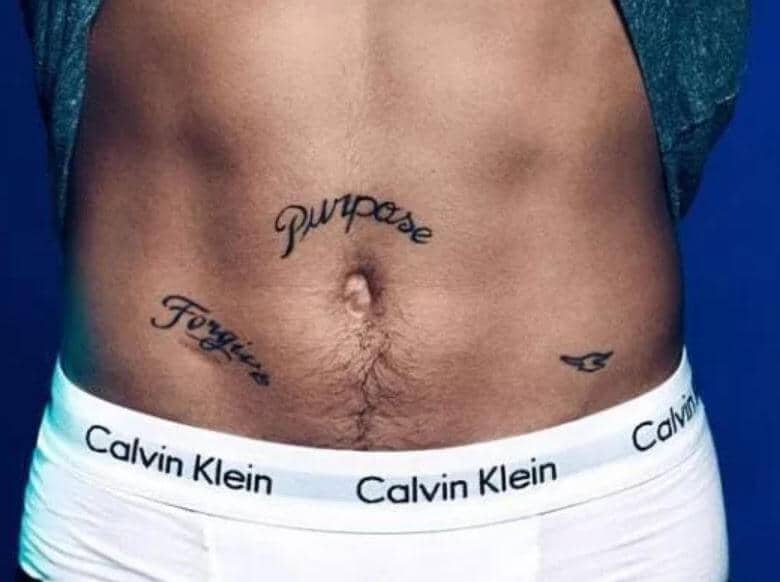 Tattoo: Purpose in the middle of his stomach.
Interpretation: Again, just like he did with his 'Believe' tattoo, this is another piece that marks an important day in Justin Bieber's career, the release of his 2015 album 'Purpose'.
Wings on Back of Neck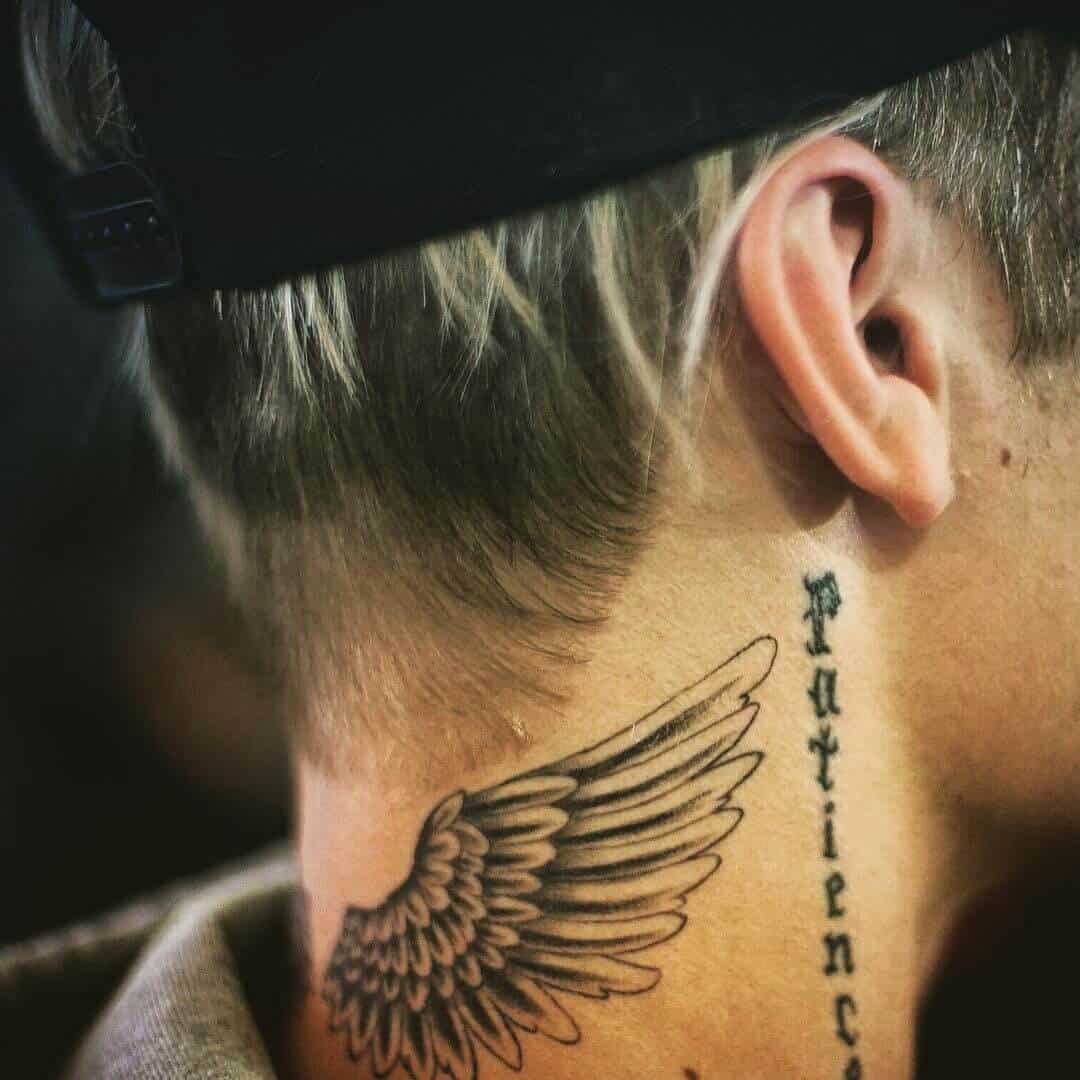 Tattoo: Wings across the back of his neck.
Interpretation: In an interview with GQ, Bieber didn't go into specifics about why he got the tattoo, but he did say it was his favorite at the time, in 2016.
The Justin Bieber neck tattoo "took about 3 and a half to 4 hours…. And it was just mad uncomfortable" when talking about the position of his neck. It is very similar to David Beckham
'SONOFGOD' Tattoo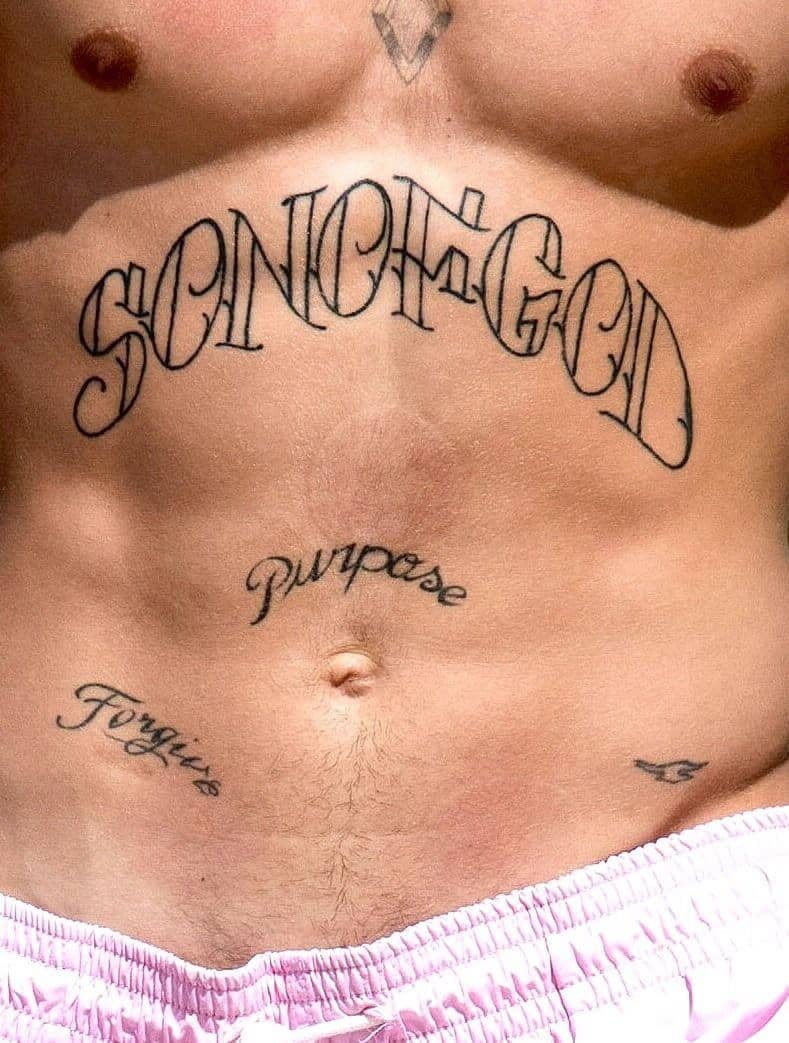 Tattoo: Son of God just below his chest.
Interpretation: This Justin Bieber Son of God tattoo is a rather large reminder of Biebers dedication to his faith.
In 2017, he covered the tattoo with a much bigger torso piece. Although the words are still visible, his torso now features angels, clouds, arches, and the gates of heaven. He got the original tat back in 2016 where he showed it off to his show audience in Italy.
Lion Tattoo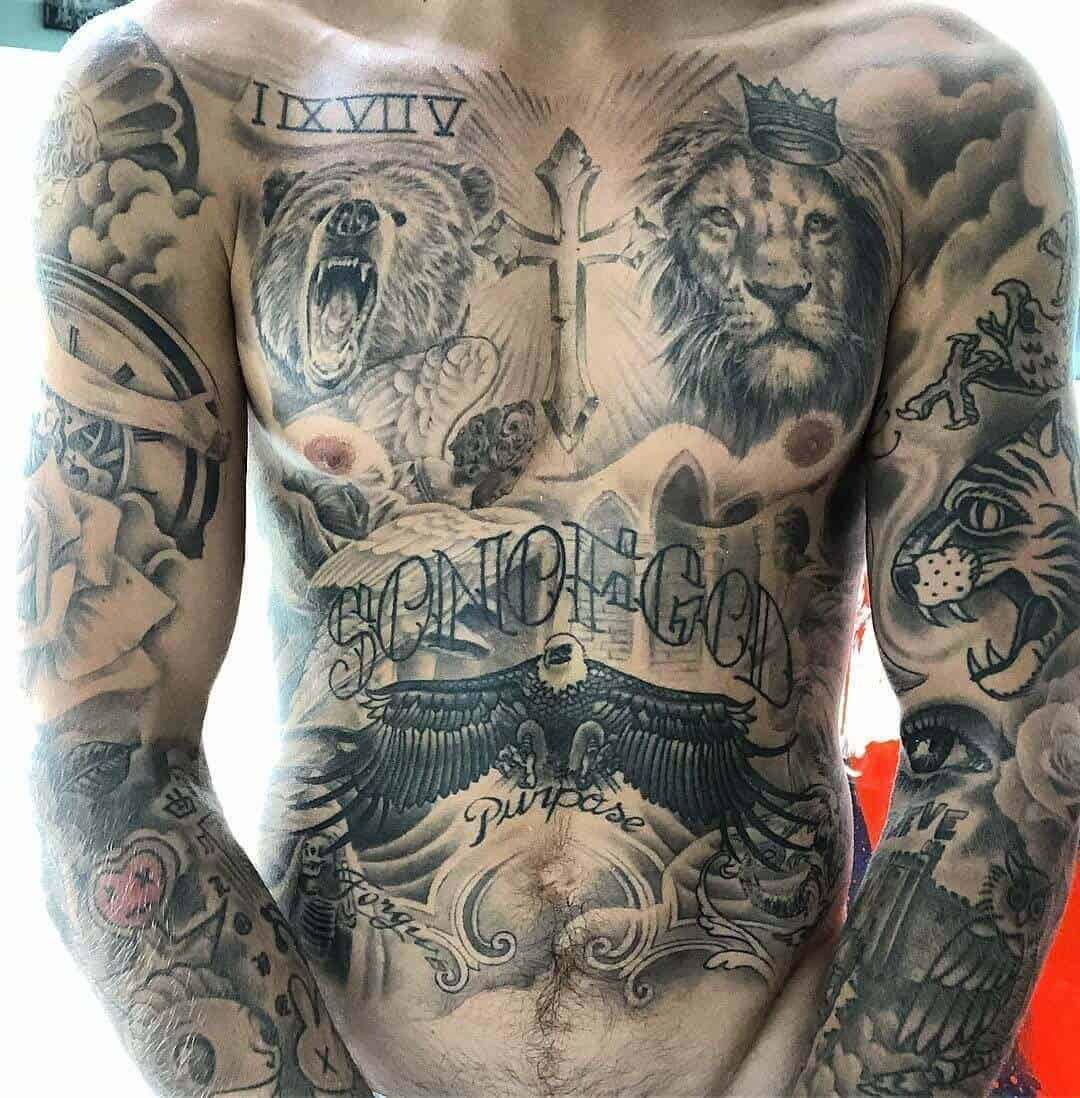 Tattoo: Lion on the left side of his chest.
Interpretation: It's another inking that Bieber got tatted at the 'Bang Bang' studio in New York. A source told E! News, "Justin is in a great place really happy and he's always been a fan of lions……Lion's represent courage". These Justin Bieber chest tattoos really catch the eye.