Biomechanical tattoos are an offspring of bio-mechanical art, a modern form of art, which depicts the human anatomy in the form of mechanical parts. For instance, the bones and joints in the body are represented in the form of machinery parts such as gears and pistons. This form of art came into recognition after a 1979 movie called "Alien", which served as an inspiration for tattoo artists to create this innovative form of tattoo design called biomechanical. The conventional tattoo designs like flowers, birds, hearts, arrows, bows, feathers, anchors, dreamcatchers, Maori, and stars are of course popular from a long time ago, but bio-mechanical tattoos are relatively a newer creation, with increasing popularity with the passage of time. The reason behind the popularity of these tattoos is that they are quite interesting in terms of design elements, which trace their roots into mechanics and robotics. What makes bio-mechanical tattoos even more interesting and eye catching is the creative use of colors and intricacy of design featured in these designs. In fact, these tattoos have so much in terms of variety that ever tattoo can be different from the other, with the right permutations and combinations being used to create something unique to the taste and preference of the bearer.
Do you have any idea what these tattoos exactly look like? Do you know all the meanings that they can convey when they are engraved on your body? Well, whatever your answers to these questions, one thing is for sure and this is the fact that you are very interested to know about these tattoos. Well, a biochemical tattoo is actually a kind of tattoo art that will involve the human anatomy. Through these tattoos, your inner body parts like bones and nerves can be very visible to the other eyes of the people. Even so, these body parts of yours will appear like machine parts, creating the illusion that you are a robot. In a clearer way of explaining, the normal body parts of a person will appear like mechanical parts. This is definitely the main reason why the tattoos are called bio mechanical tattoos. Like for example, your joints and bones can be represented by two mechanical parts namely the pistons and gears. Check our collection of 3D Tattoos they are very similar to bio mechanical designs.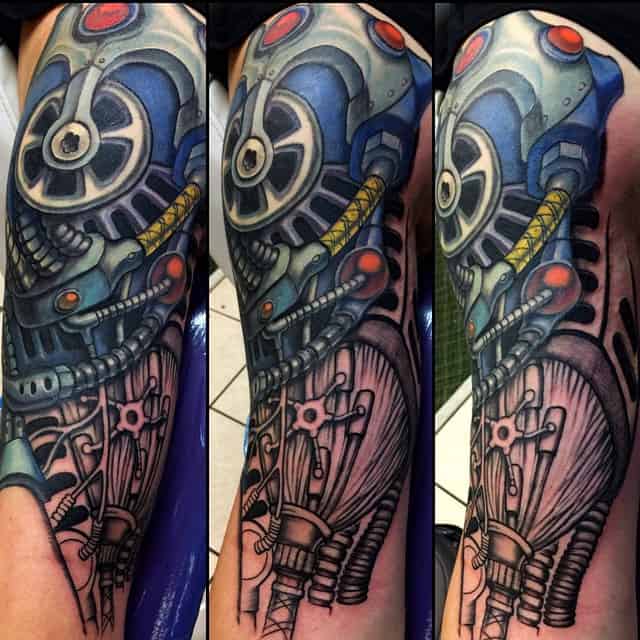 Biomechanical Tattoos Meanings
If you are thinking that biomechanical art is only for beautification purposes, then you are absolutely wrong. Yes, these tattoos can provide more gorgeous beauty to the wearers when compared to some other tattoos, but this does not mean that they are no longer meaningful. In fact, there are a lot of meanings and symbolism that these tattoos are being associated to. Here are some of these important meanings and symbolism:
Modernity – They are representing modernity, and you surely have a bit of idea why. Well, the clear explanation for this is that this tattoo is an advanced tattoo kind that is created by the expert tattoo artists. This is the main reason why it is the most preferred tattoo worn by many people of today's generation.
Creativity – It is representing is creativity. It is simply because the said tattoo will look even better when a considerable amount of creativity from the wearer and from the tattoo artist is used. The design of this kind of tattoo needs more a lot more thinking moments so that the desired beauty and purpose of the tattoo can be achieved.
Masculinity – Masculinity is another thing that is exuding. Maybe, it is because of the fact that these tattoos involve machine parts that can only be assembled by men. Or maybe, the most common makers of machines or robots are men. Even so, this does not mean that women tattoo lovers can no longer wear these tattoos. They still can, but it should be assured that some other sub designs that will exude femininity are added on the entire design.
Love – It may be hard to believe but yes, they can also represent love. But in order for you to convey the love meaning of the tattoo well, you should talk to your hired professional artist first before finally doing the tattooing process. Some other designs that will emphasize the love meaning must be added.
Essential Elements of Biomechanical Art
Just like some other tattoos, the biomechanical art tattoos also have very important components that should be present in any biomechanical art most of the time. Without these important elements, the tattoo might be lacking when it comes to beauty and meanings. In tattooing these very important elements, a lot of expertise from the tattoo artist is extremely required. This is the main reason why you should do your best in finding the finest professional tattoo artist that you should hire. Keep in mind that the tattoos involve tiny and intricate details. And if these details are not done well, then the purpose of these tattoos can surely be ruined. In this regard, here are the important elements of a biomechanical art that you should always keep in mind:
Chips
Pipes
Rods
Gears
Levers
In order to achieve the desired beauty of a bio mechanical tattoo, the 3D technology is highly needed. Because of the 3D technology, every bio mechanical tattoo will appear more real when compared to some other tattoos. Without the use of such technology, the tattoos will surely be not that appealing in the eyes of many.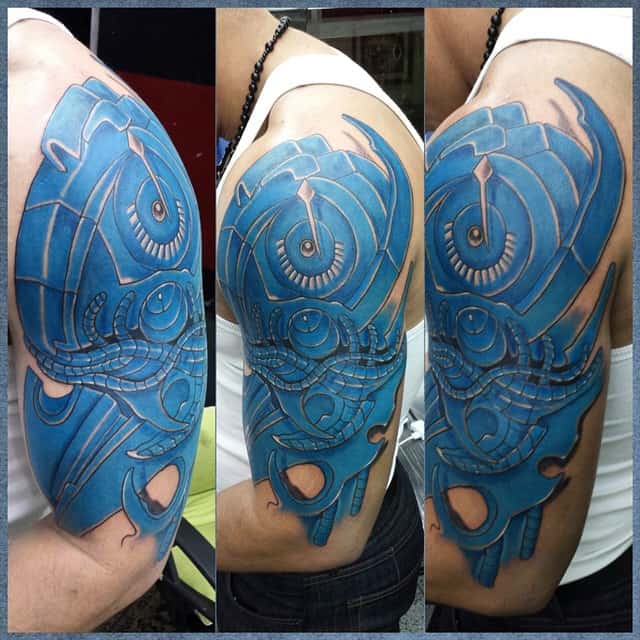 Significant Facts
They make a great choice among tattoo designers for those who want to attract attention as these tattoos create such a visual effect that it appears that the part where the tattoo is featured is ripped open with machinery parts peeking out from below the skin. This is why one has to be very careful for choosing the placement of these tattoos, so that one gets the proper effect of the tattoo. The back, chest, shoulders and legs are the best possible spots for inking such designs as they look proper and realistic at these locations. While one can choose a multi colored tattoo, a classic black and grey design looks equally good in these tattoos as they are used to depict machine parts. Black and grey highlights the 3D effect, while colored versions are great to show off the flesh and blood effect. So one can choose the color according to what they want to depict by the means of this tattoo design. Another important consideration while getting a biomechanical art is its placement in terms of angle, which needs to be done with care to show the best effect. Also, such a tattoo is cumbersome and involves high cost because of its detailed and intricate design. Additionally, the bearer has to go through a great deal of pain for having it done, which means that one should be prepared for all this before making the final decision. Moreover, the tattoo is very prominent and is hard to get rid of, which takes a lot of commitment to have it on one's body for the whole life.
Popular Design Options
They are some of the most creative and intricate tattoo designs in tattoo art. These tattoo designs do not have a basic format, but can be molded in many ways depending upon the creativity and imagination of the tattoo artist. While the key elements of this art are the machinery parts used to depict diverse bodily functions, certain other elements which have been incorporated with such tattoos are skulls, demons and vampires. Another cool option is to add certain traditional elements, which can be something like a dream catcher or the Japanese Koi Fish design. Some designers have used skeleton in this tattoo design, which also looks great. There are some designs which are feminine and are preferred by women, while most of tattoos are masculine in nature. You would notice many men having full sleeve, half sleeve, chest, thigh or back biomechanical tattoos.
Such tattoos are meant for tech geeks, who want to showcase their passion for innovation and technology as a part of their physical being. The symbolic value of such a tattoo has nothing much to do with one's emotions as in case of other kinds of tattoo designs, but this, in no way means, that the tattoo bearers who have this design inked on them love it any less. In fact, these tattoos reflect the level of their commitment on the basis of money spent by them and also pain borne to have it done on them. At the same time, it also represents their love for creativity and imagination.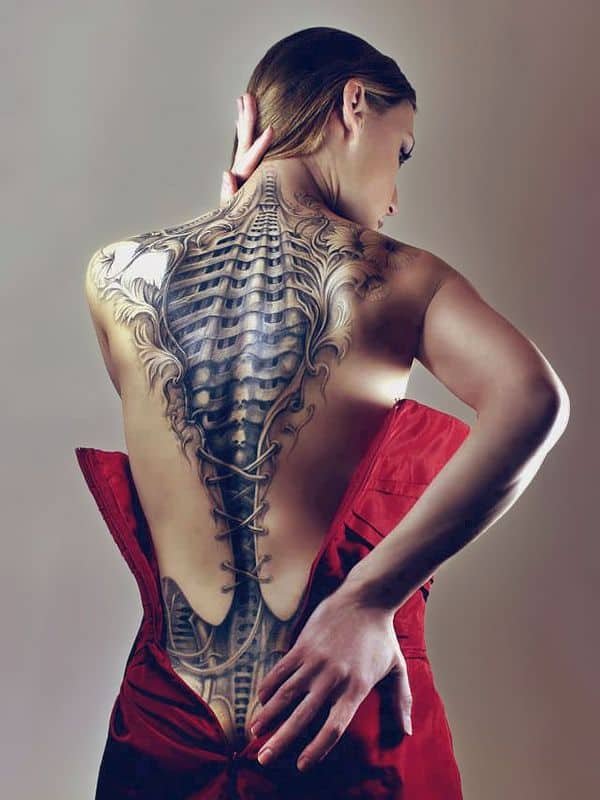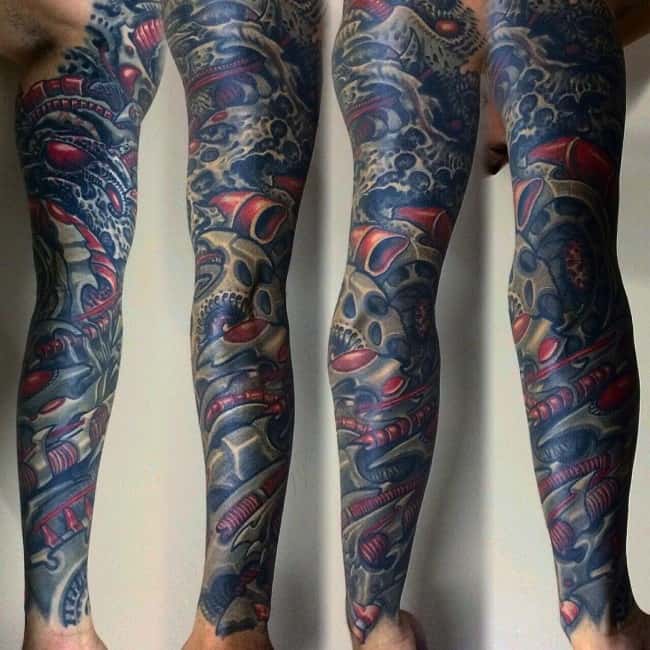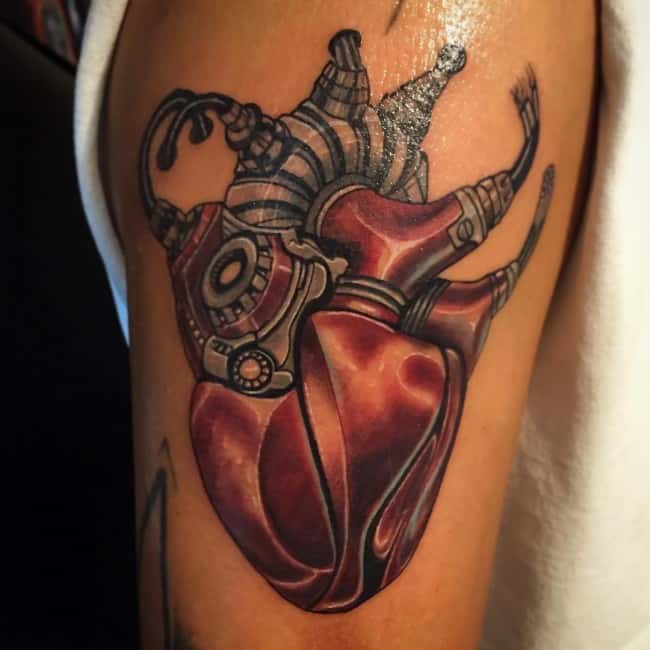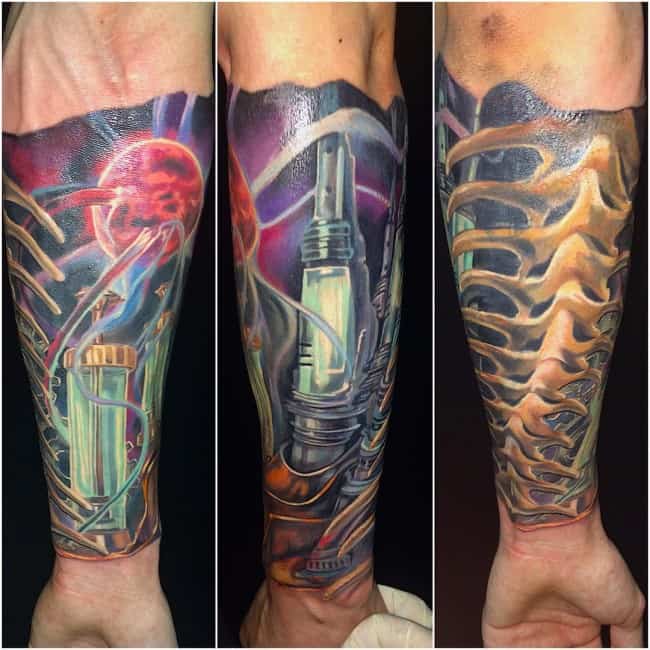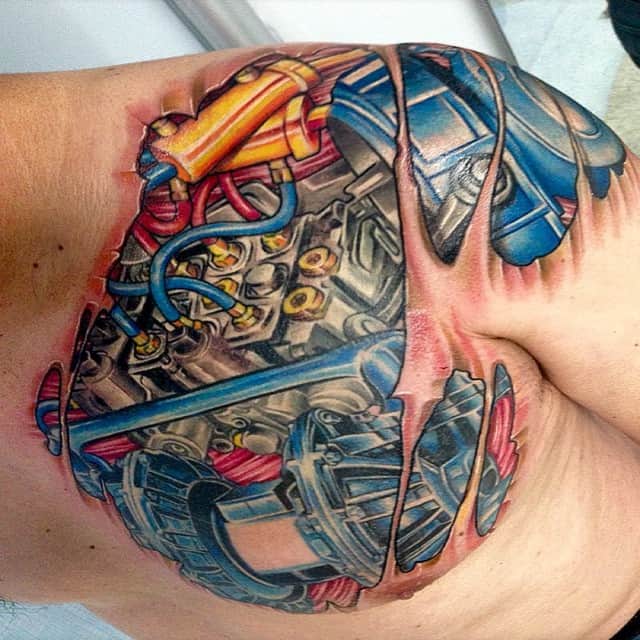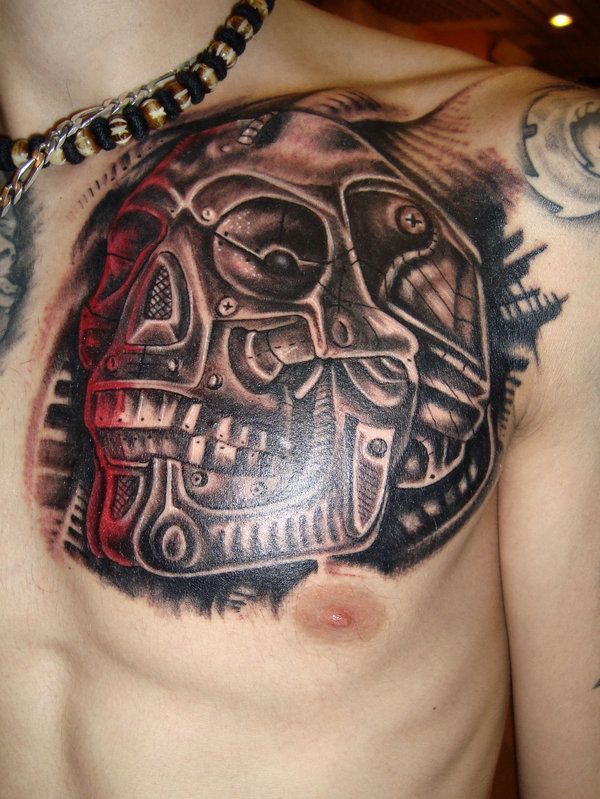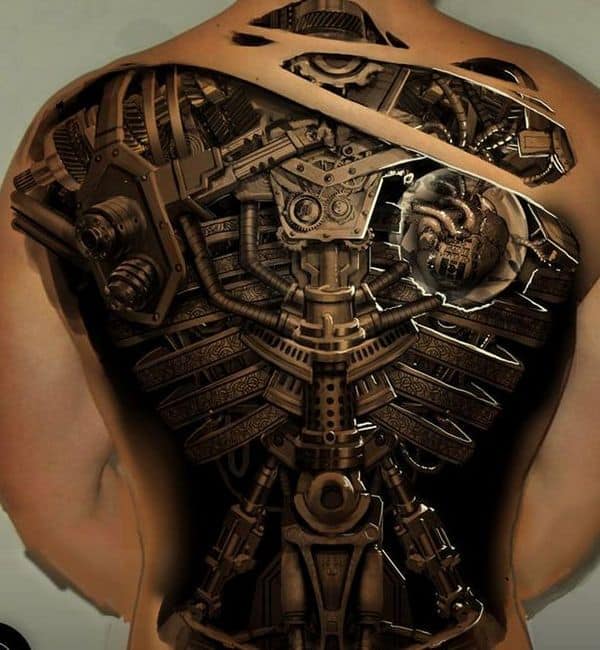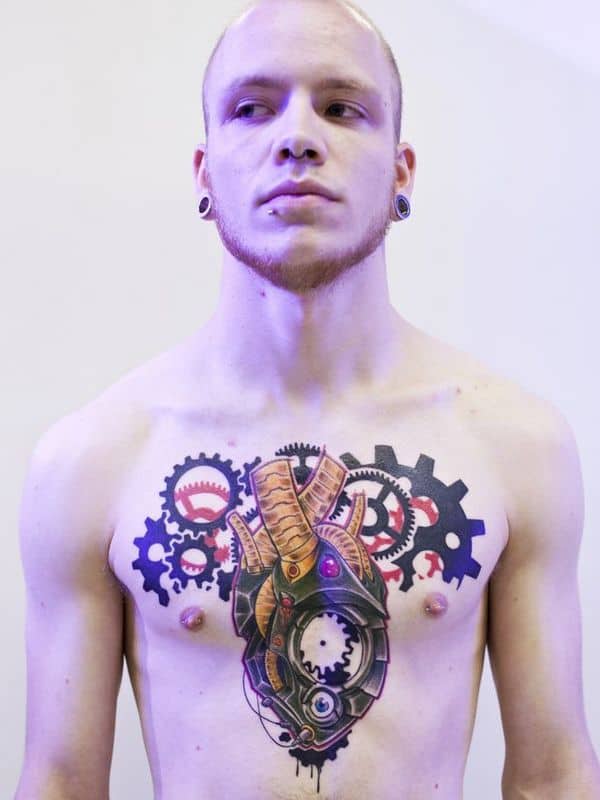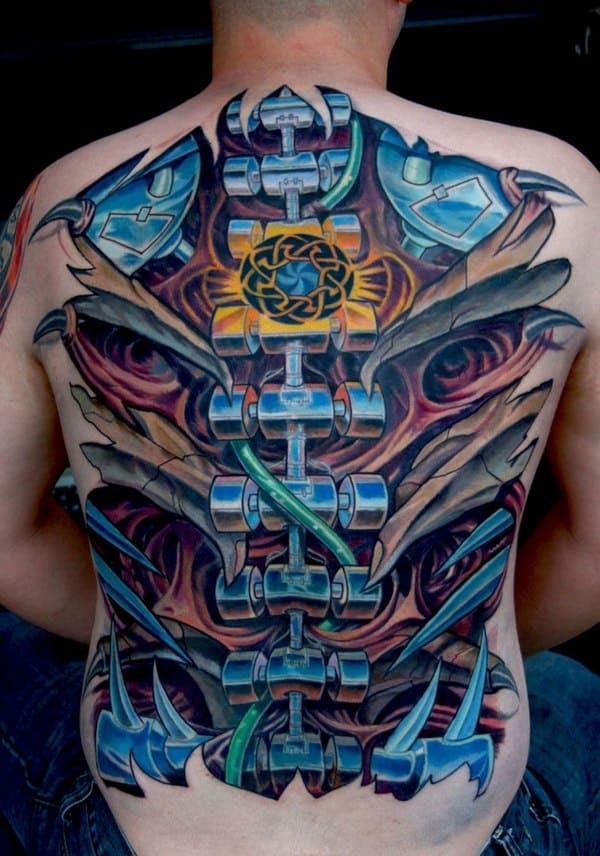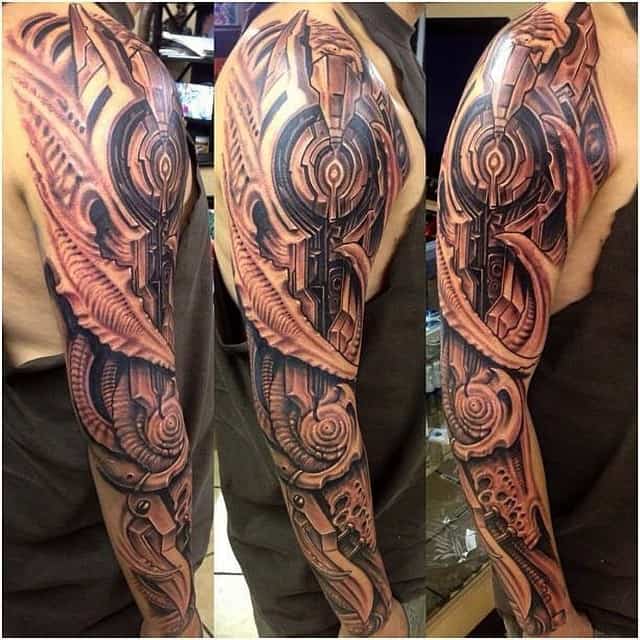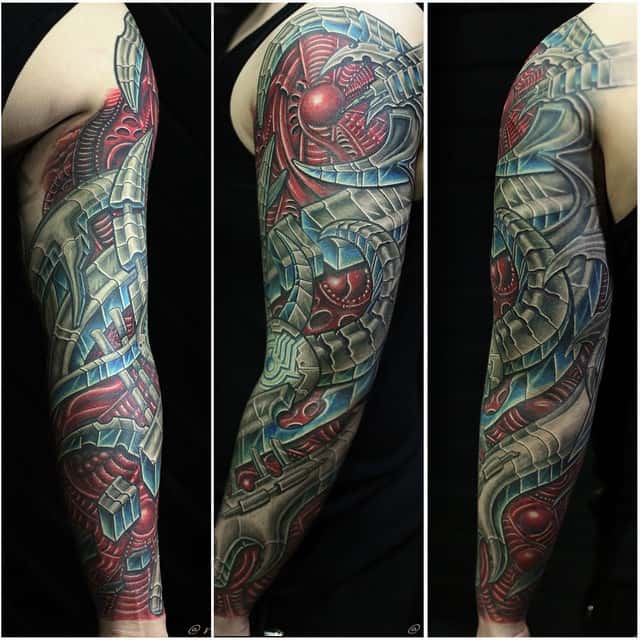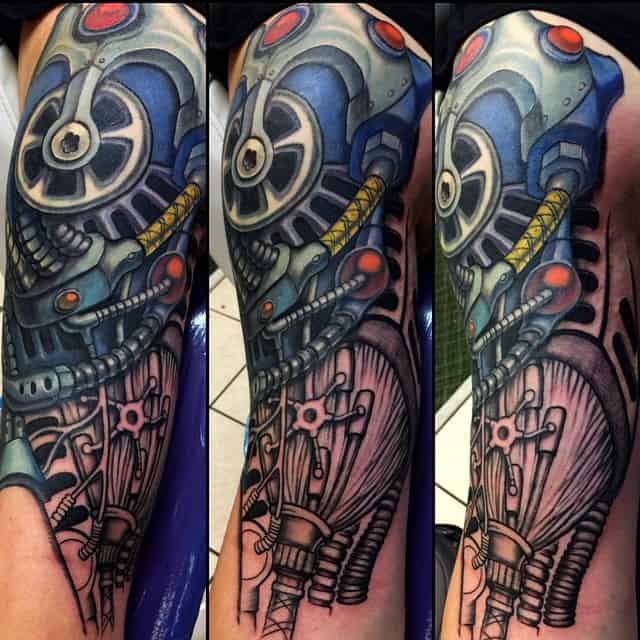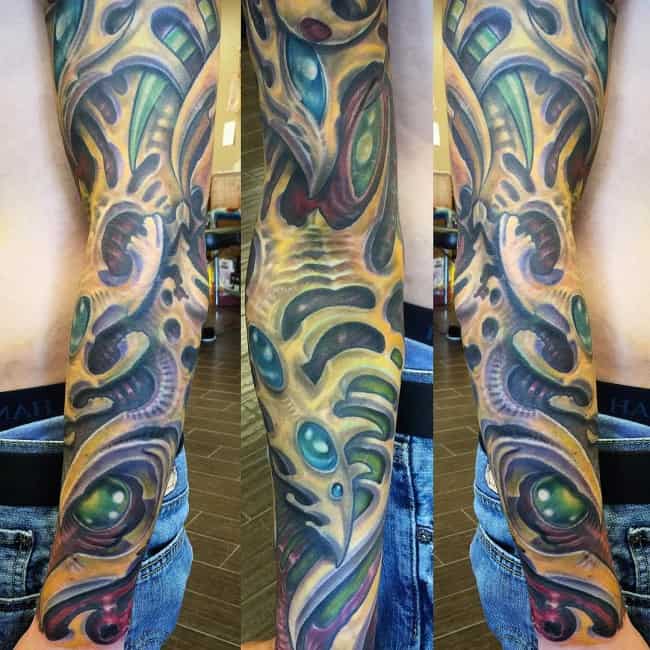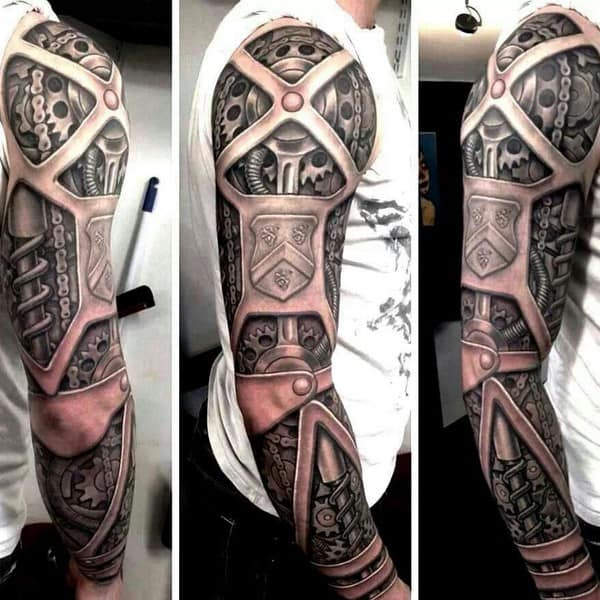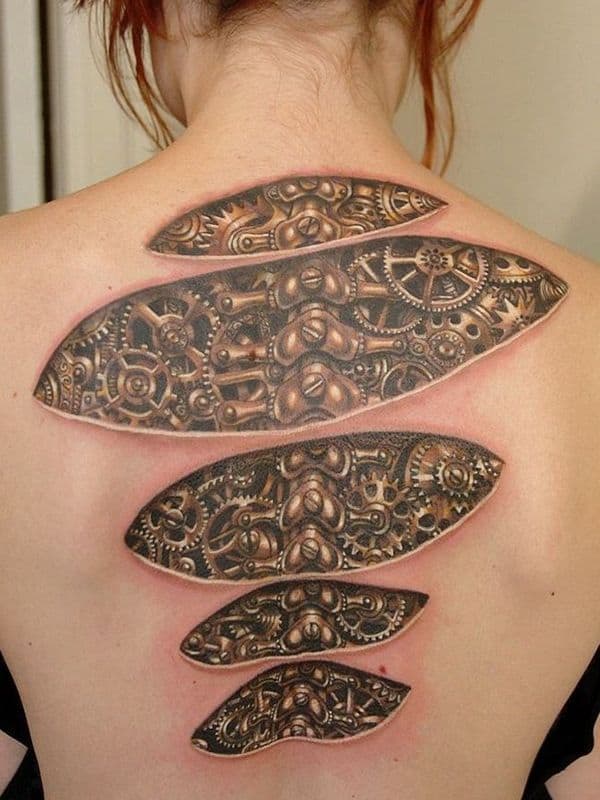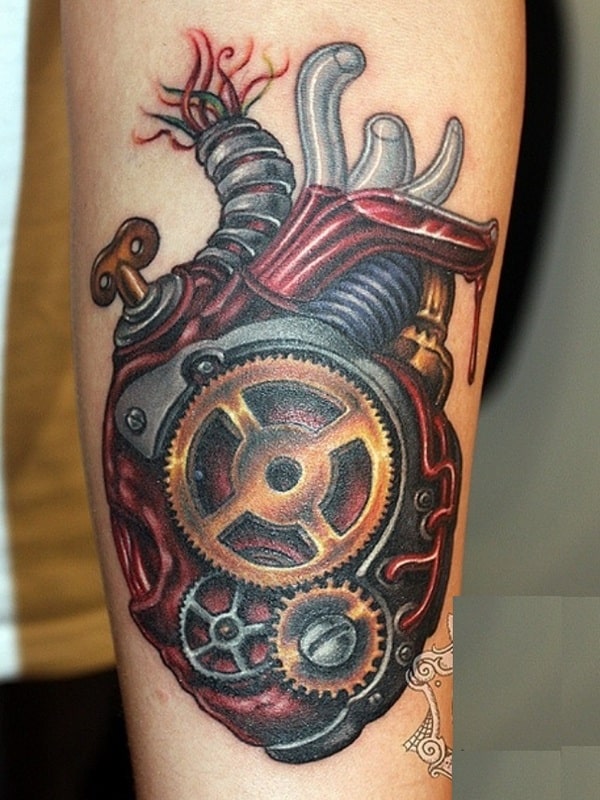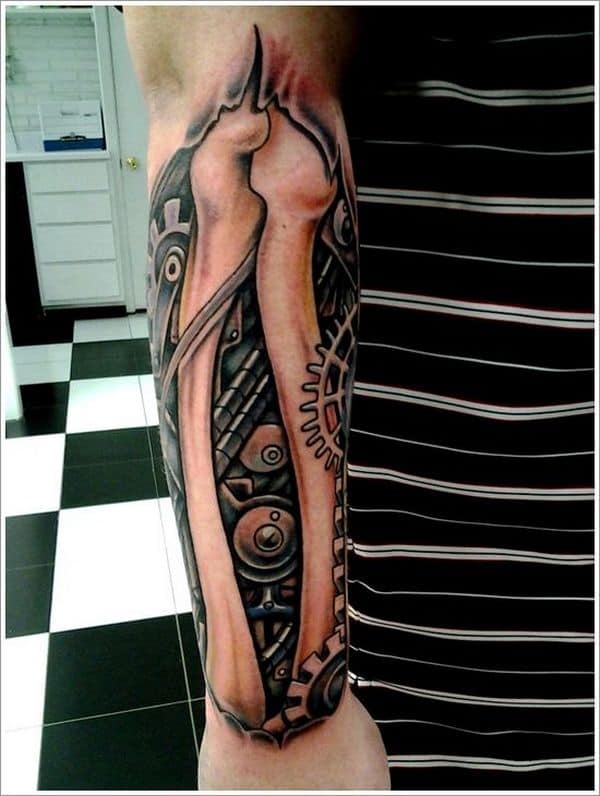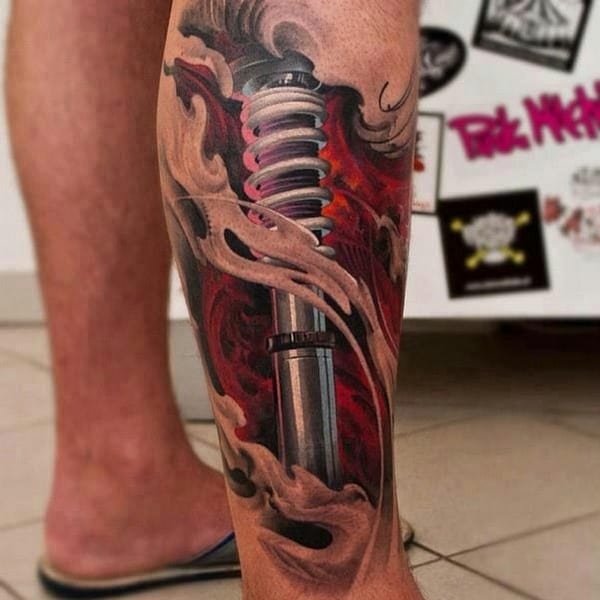 Like all other tattoo designs, biomechanical art too have a symbolic meaning. Such tattoos are particularly suitable for such tattoo lovers who are truly technical at heart and have passion for mechanics and technology, which they want to show off as a part of their body. The tattoo designs are more suitable for those looking for modern appeal, rather than the ones who believe in tradition and old things. Therefore, only those who are ready to try out something new and innovative should go for biomechanical designs.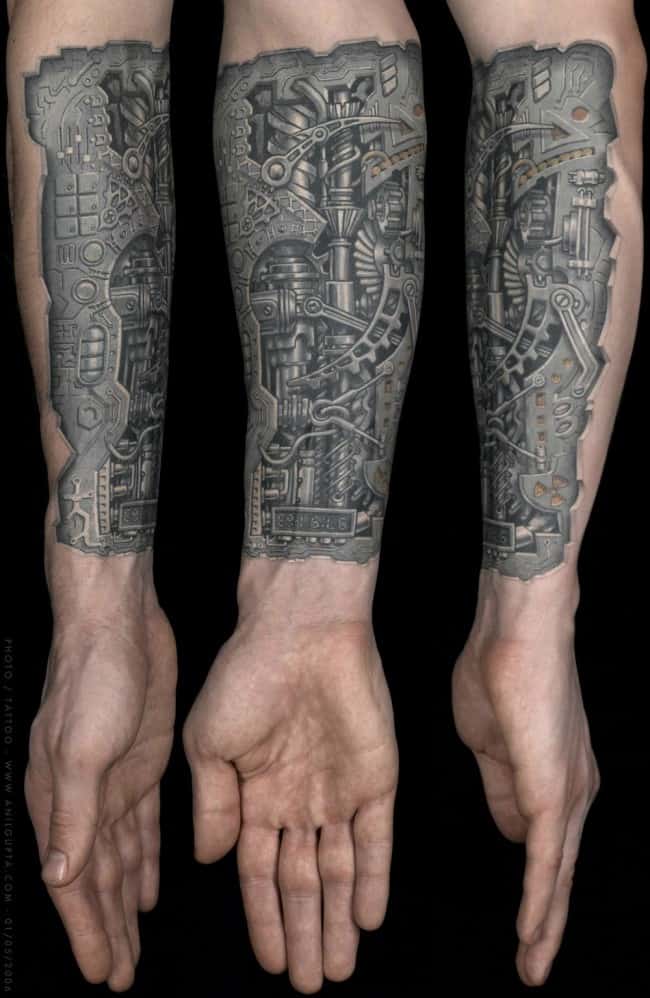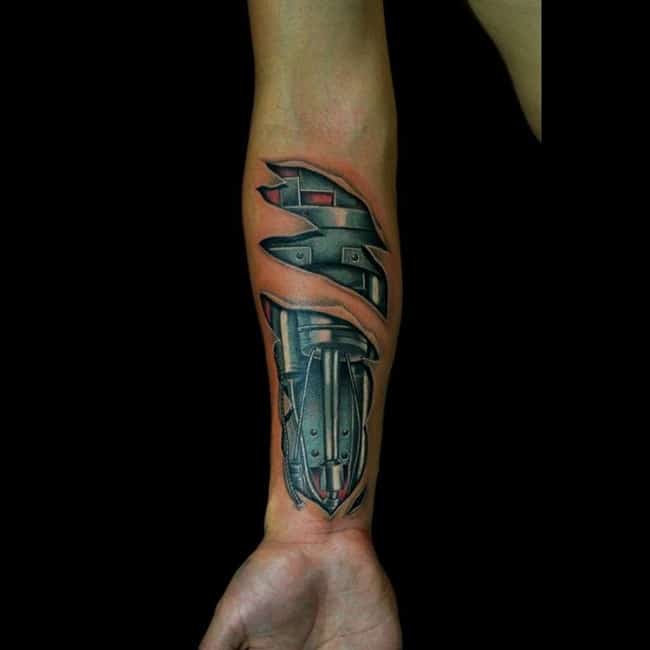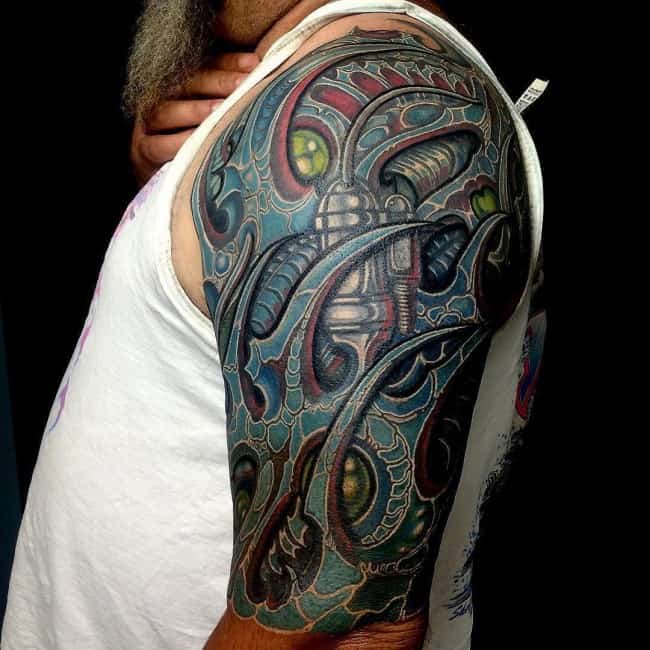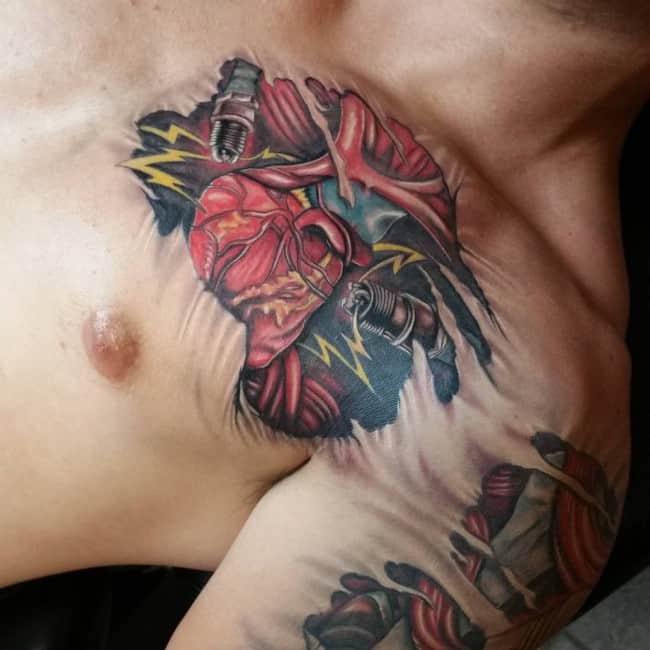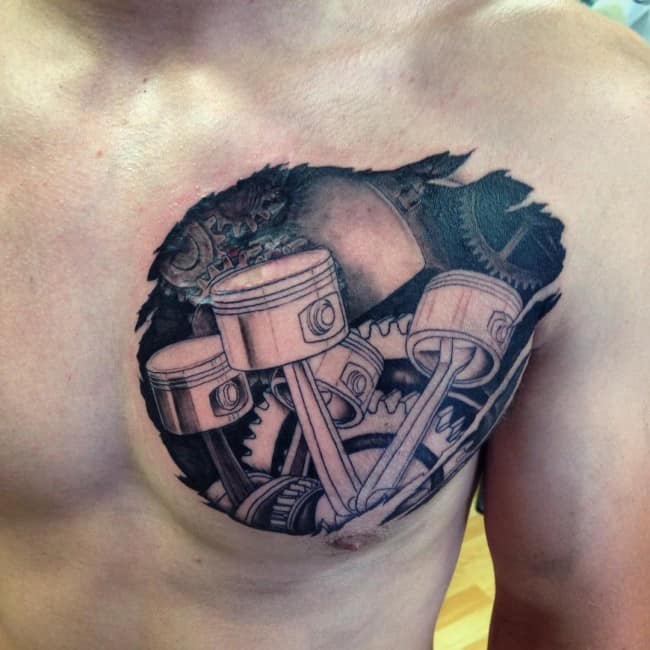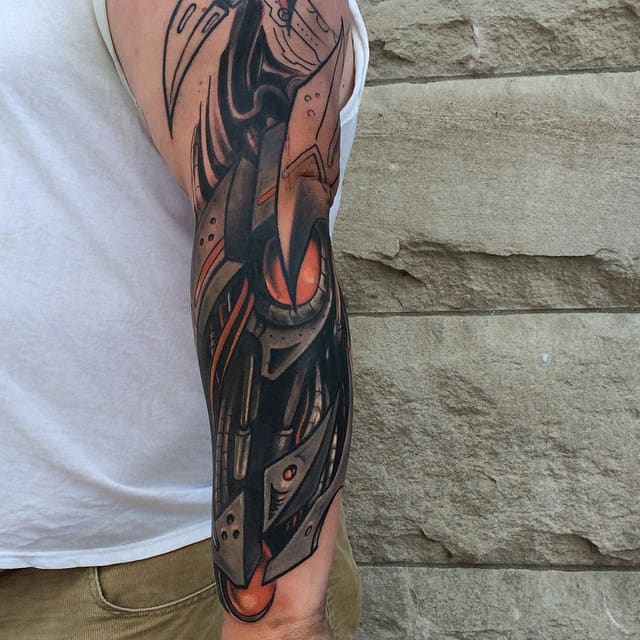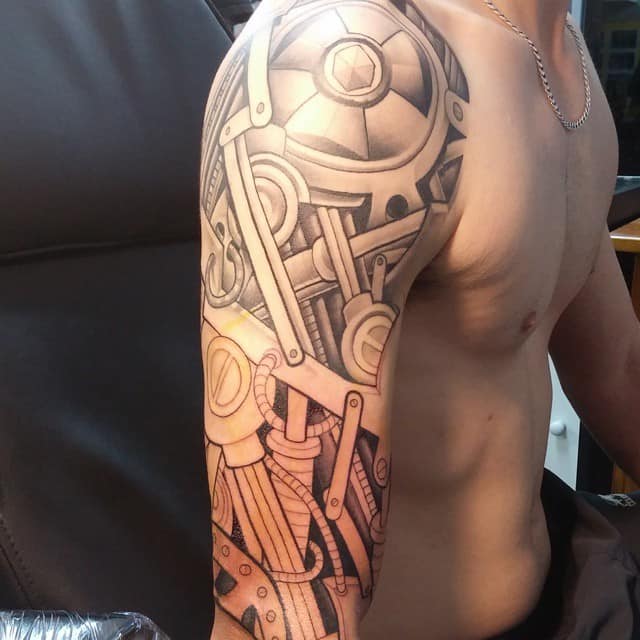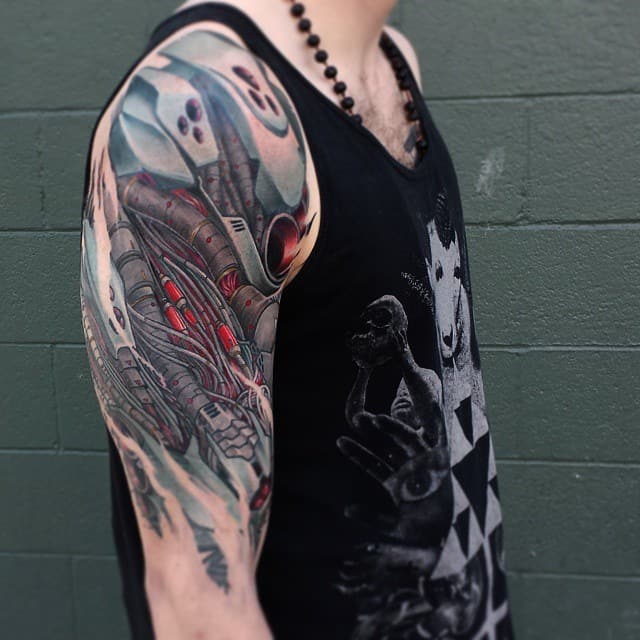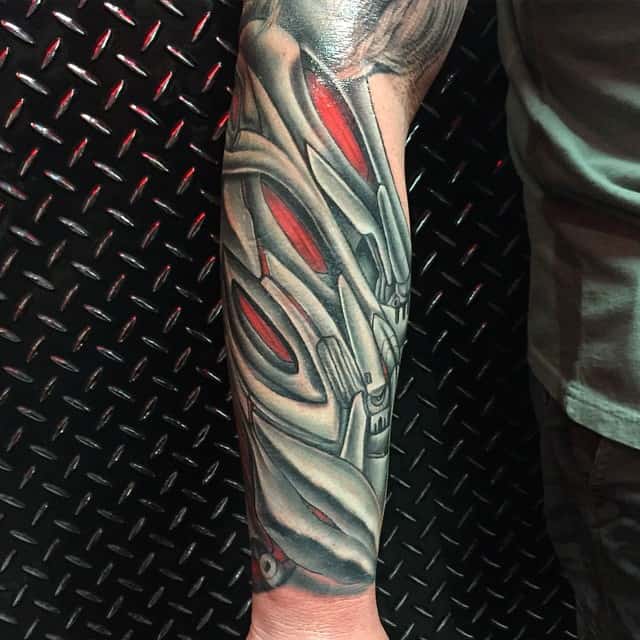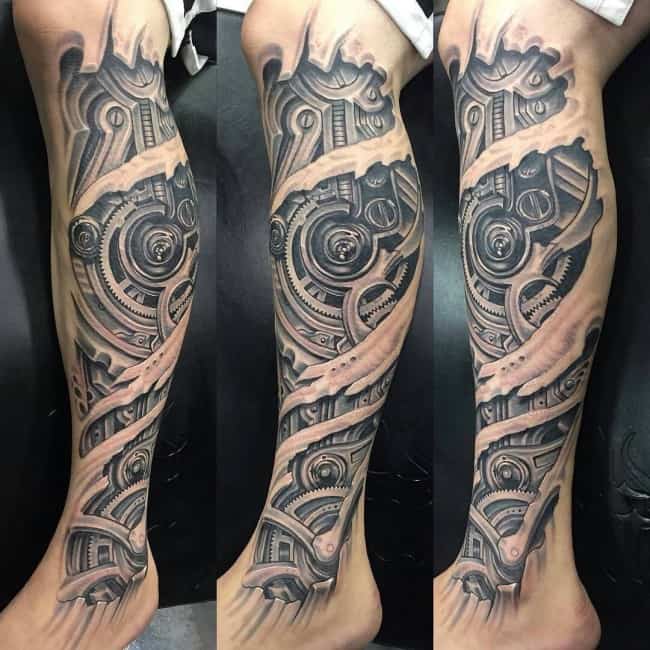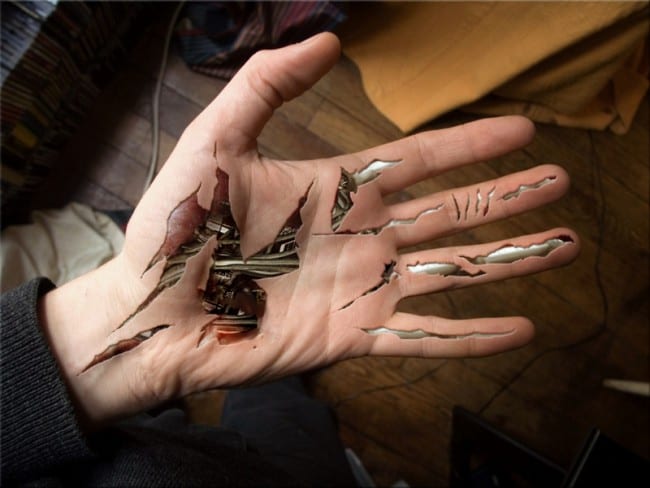 They feature some intricate and amazing design elements, which can be done only be expert tattoo artists, who are adept at creating details and color combinations with great care. These tattoos depict biomechanical parts or the parts of a machine as the main elements of the tattoo. These parts may include gears, levers, pipes, rods and chips, to name just a few. At any part where a biomechanical art is inked, it appears as if that part is not a part of one's anatomy or flesh and blood, but that of a machine. For instance, for a biomechanical art on the arm or leg, it may seem that these body parts are made of mechanical parts, which can be featured with the help of use of 3D effect in these tattoos. The use of this technique makes an amazing visual end result, with the tattoo bearer getting value for money spent for having such a tattoo done.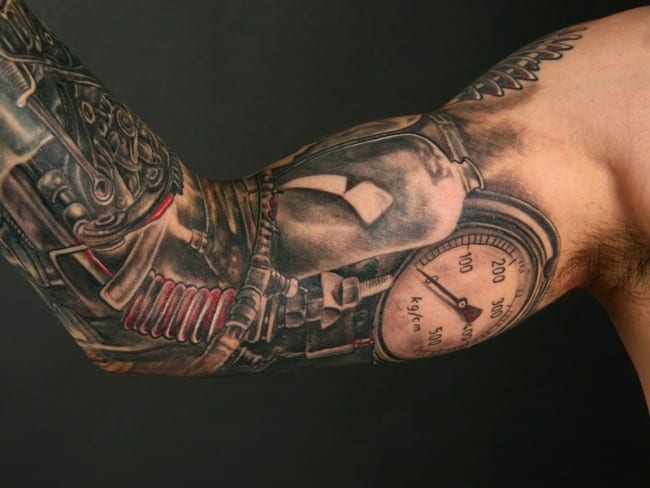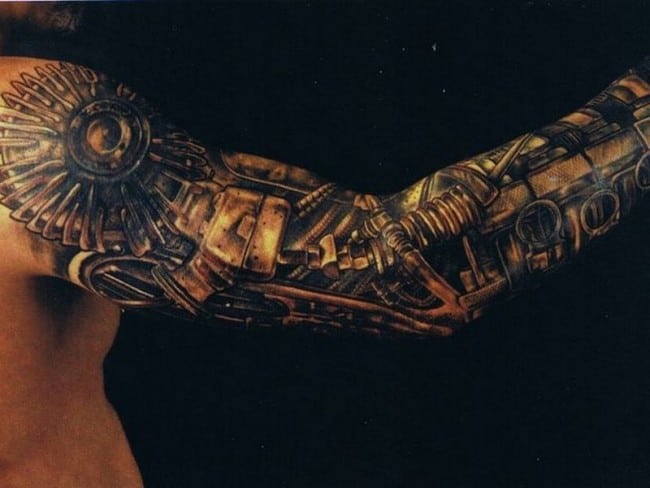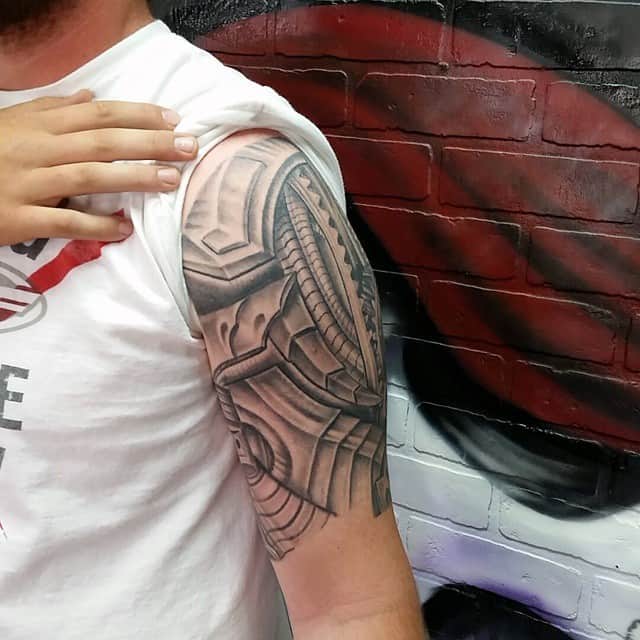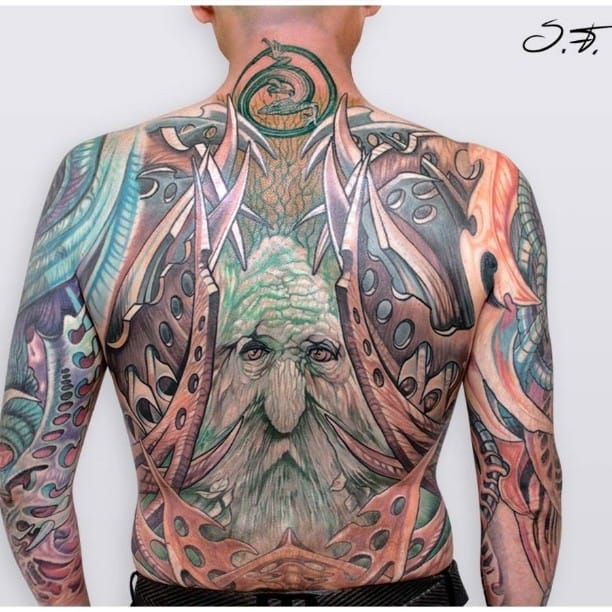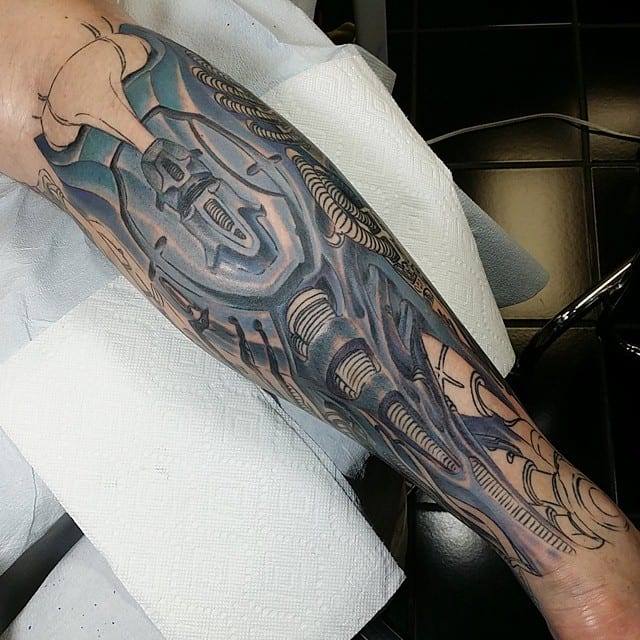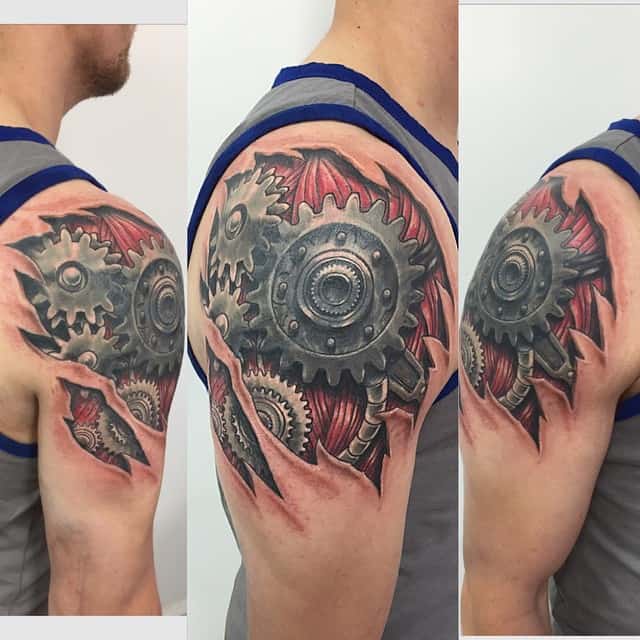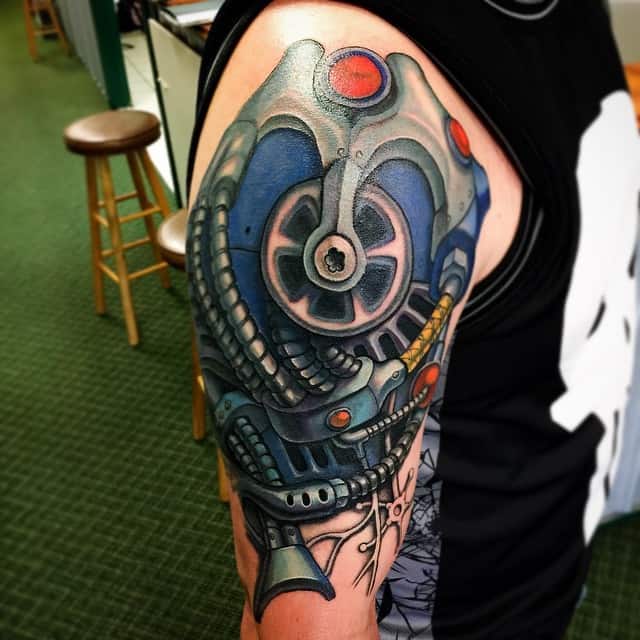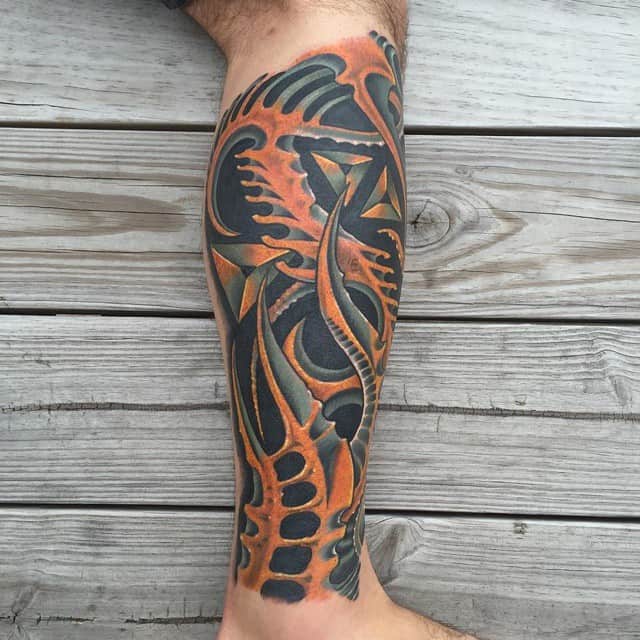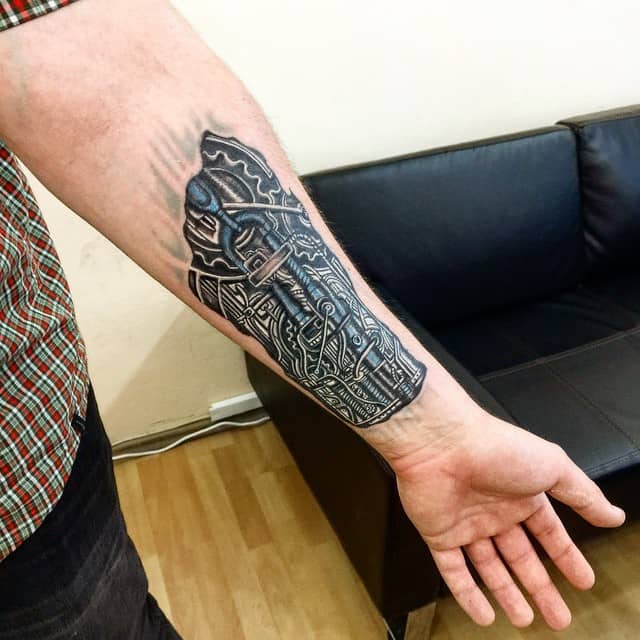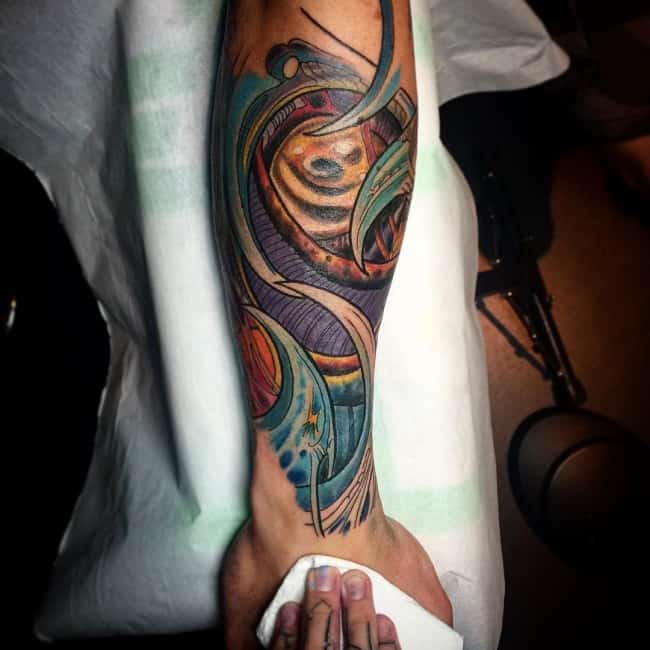 Placement Guide
For sure, you already know that you can place your tattoos anywhere you want to on your body. Even so, this is not the case with a biomechanical art since the placement of the tattoo should be thought well in order to achieve the amazing beauty and purpose of the tattoos. In relation to this, here are some common placements of bio-mechanical tattoos that you might want to take into account:
Final Words
Without a doubt, biomechanical tattoos are worth considering tattoos that you should wear on your body. Even so, before deciding to have them on your body, make sure that you are a technology lover since technology is definitely one big inspiration of these tattoos. Moreover, make sure that you choose the right placement for these tattoos, so that the message you want to convey can be delivered well.