Keen to know more about Dwayne Johnson's tattoos? We take a close look at his tattoo story in our guide.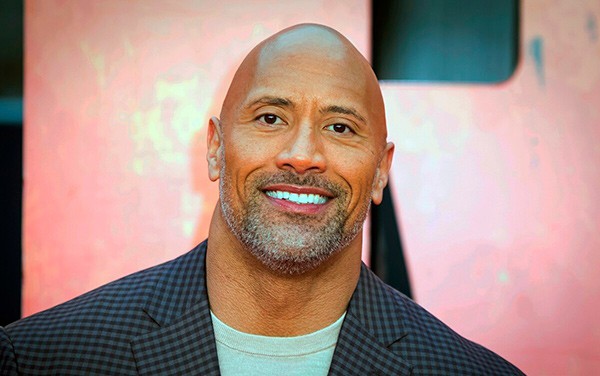 Dwayne Douglas Johnson, also known by his stage name The Rock, has forged several different career paths.
Throughout his life, Johnson's been involved with pro wrestling, professional football, acting, producing and he is a businessman.
According to Forbes, Johnson is the highest-paid actor in the world.
The Rock's family have a strong connection to wrestling on both sides. Dwayne's mother Ata Johnson is daughter of the first ever woman's wrestling promoter, Ofelia 'Lia' Maivia.
His father Rocky Johnson, who unfortunately passed away on January 15th 2020, was the first black Georgia Heavyweight Champion. And now the Rock's daughter has signed with WWE, making her the youngest person in history to ever be signed to the firm.
Dwayne has said he is 'honored' his daughter is following in his footsteps, "She signed her contract with WWE, it just blows my mind!" Johnson told Jimmy Falon over video chat.
As a family man and a body art enthusiast, Johnson decided to add some true and meaningful ink to his skin.
Dwayne Johnson's tattoos represent his life and family, and we are going to look into what each of these mean to him.
Recommended: Check out Wiz Khalifa's tattoos next.
Tribal Tattoo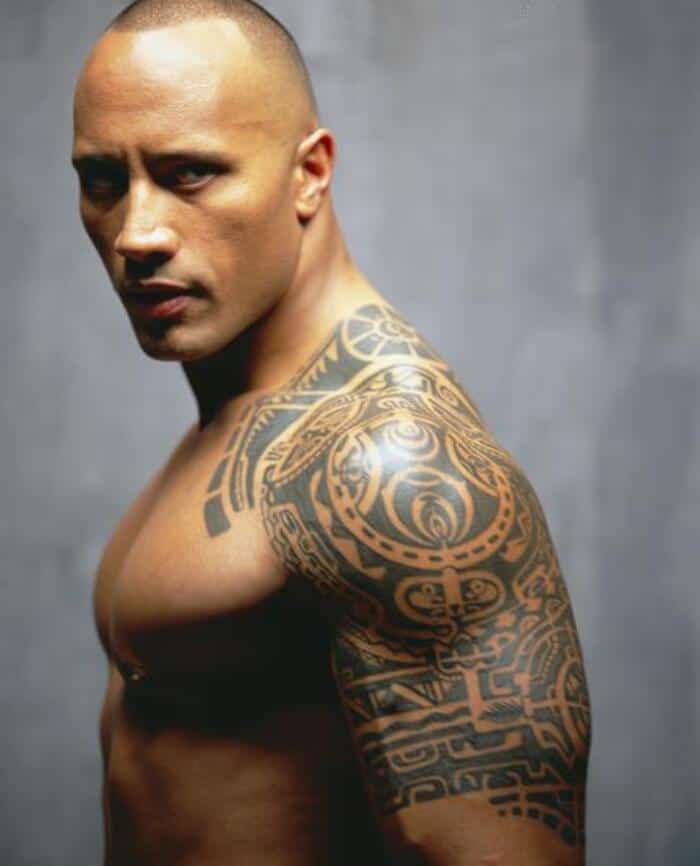 Tattoo: A Tribal inking covers his left shoulder, arm, and part of his back.
Interpretation: The Rock's shoulder tattoo is a Polynesian tribal tattoo that was inked in Hawaii in 2003 by tattooist Po'oino Yrondi. It is a proud tribute to his mother's Samoan heritage.
The inking took around 60 hours and is separated into ten different sections, with each telling a different story about his life and family history.
Here's what they mean:
1. The coconut leaves indicate a Samoan chief.
2. A sun brings good fortune.
3. Three people in one represent his ex-wife, daughter and himself.
4. A set of descending swirls represent the past, present, and future.
5. A pair of eyes show that Johnson's ancestors are always watching over him.
6. The great eye will distract his enemy within a confrontation.
7. The shark teeth symbolize struggle.
8. A priest acts as a spiritual guide.
9. The stones are the foundations of life itself and finally
10. A tortoise shell that will repel evil spirits.
Recommended: Check out Drake's awesome tattoos in our latest guide.
Warrior Spirit Tattoo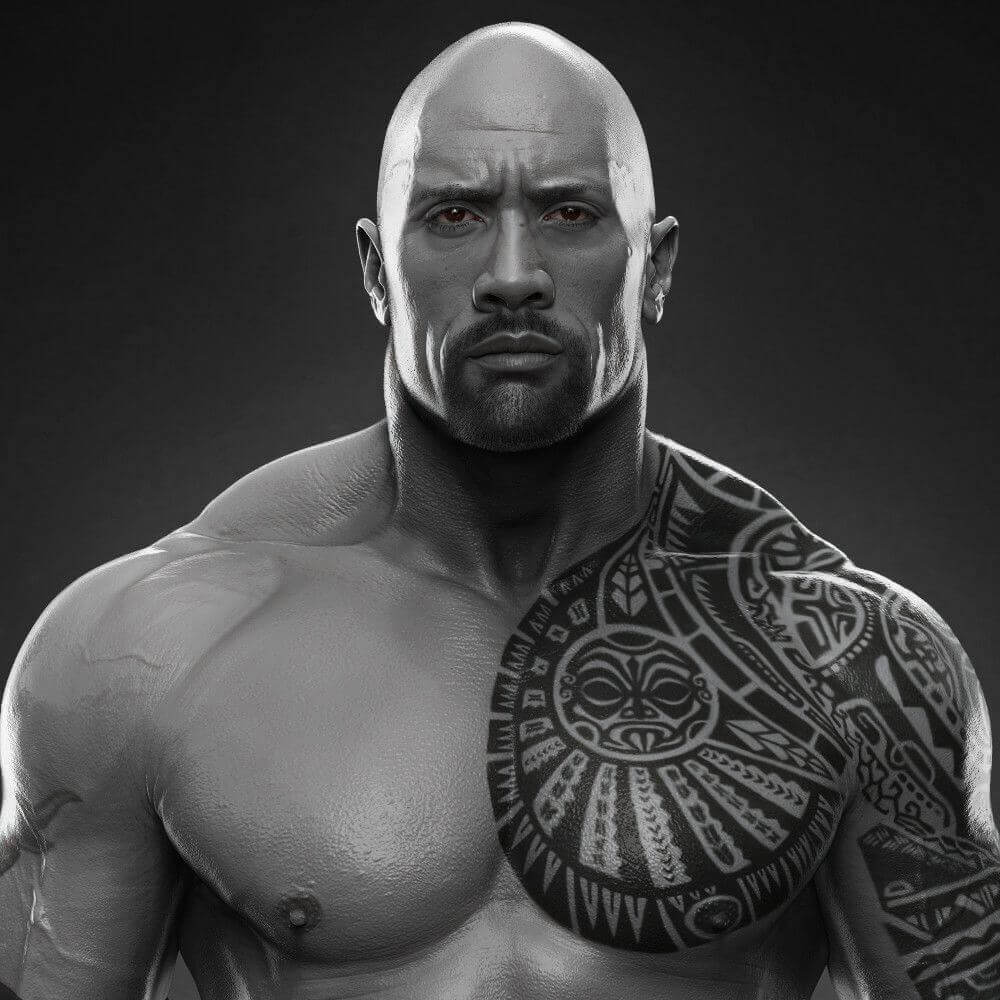 Tattoo: A Warrior Spirit tattoo covers the left side of his chest.
Interpretation: The Rock chest tattoo is also Polynesian and is another tribute to his Samoan heritage.
A unique Dwayne The Rock Johnson tattoo, this was also inked in Hawaii by tattooist Po'oino Yrondi.
He explained the tattoo on Facebook saying, "In Hawaii we have a word called "mana" which means "spirit". "Warrior mana" is my foundation. Core of the symbolic story my tatau (tattoo) tells. My mana is my DNA that keeps me grounded and hungry. Find your "mana" and let it lead you. Inspire you… to be a little better today than you were yesterday".
Brahma Bull Tattoo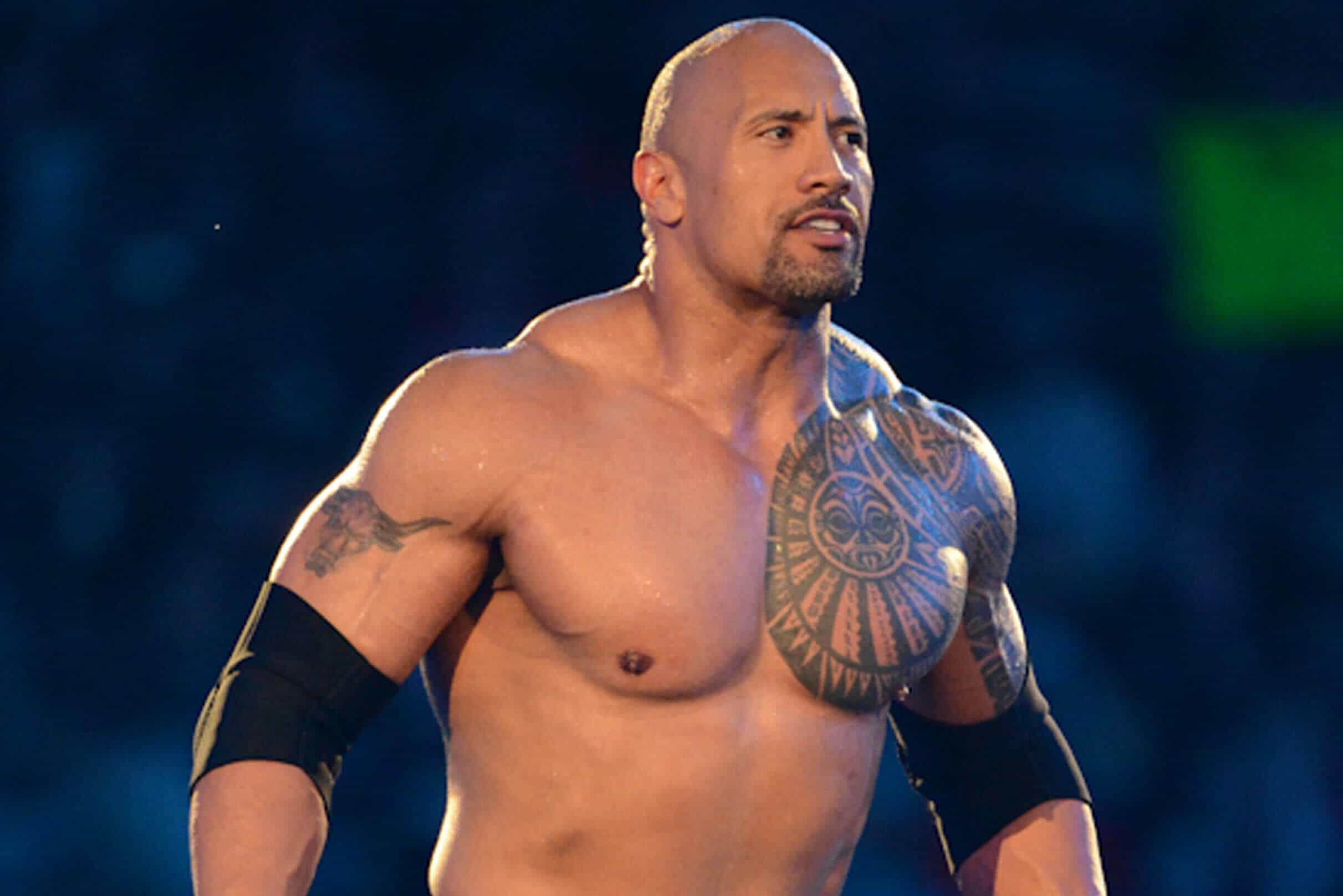 Tattoo: A Brahma Bull can be found on his right upper arm.
Interpretation: The Rock's bull tattoo was regularly seen on him during his WWE career, which made the tattoo iconic. It became his signature and is often featured on t-shirts and other merchandise.
Johnson recently struck a deal with clothing retailer Under Armor with the bull being a prominent feature of their collaboration.
The Rock decided to update the infamous bull tattoo in 2017, representing the growth and change throughout his life.
Recommended: Don't miss our article on Scarlett Johansson's tattoo story.
Evolution of the Bull Tattoo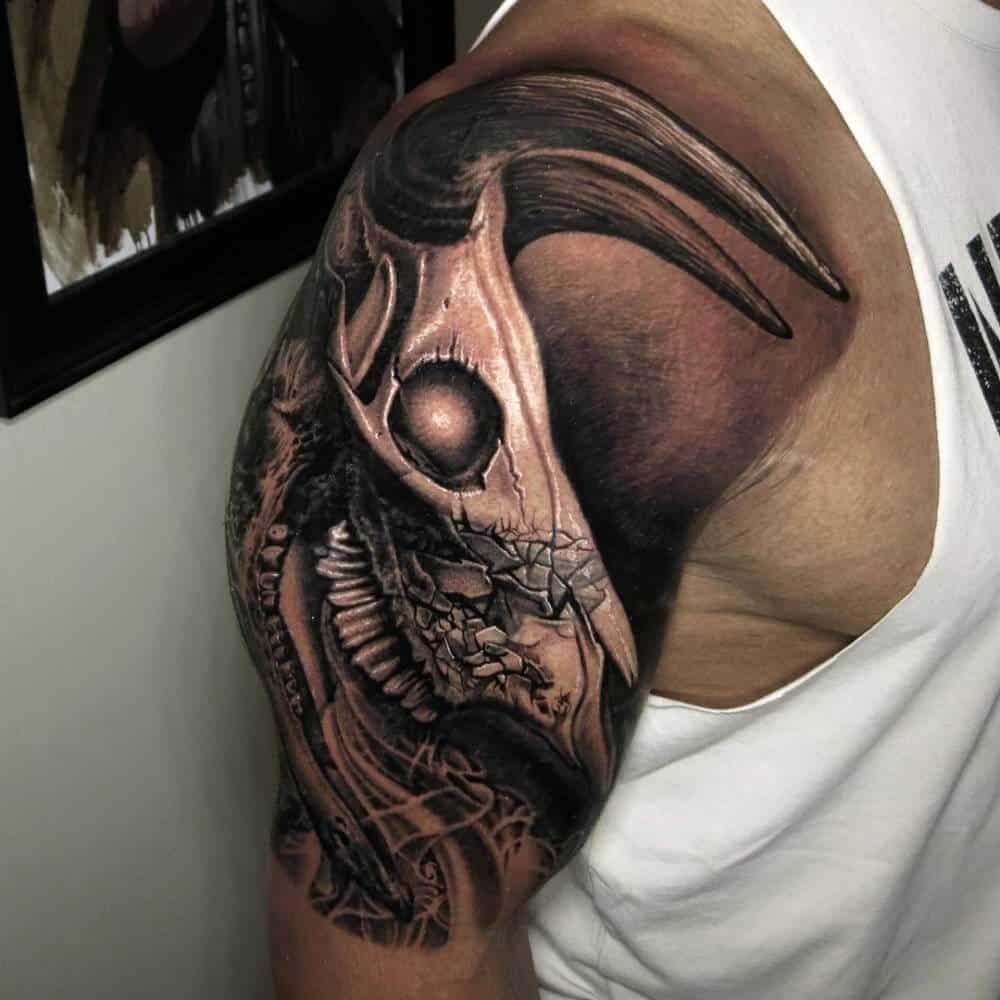 Tattoo: The Evolution of the Bull
Interpretation: After 22 hours, the Rock's new tattoo was revealed. The Dwayne Johnson tattoo meaning is explained on his personal Instagram with the following post:
"Evolution of the bull. Blood, sweat & years. After 3 sessions and 22hrs of tattooing with world-renowned @NikkoHurtado, the story's almost done.. Every detail is a reflection of my own personal history.
From the cracks and heavy damage in the bone representing life's hard lessons I've learned over the years. Just like scars and wrinkles – I'm so grateful to have 'em because they're earned.
To the horns, not pointing up or out to the side, but pointing straight ahead representing relentless energy and forward progress.
The core and anchor of this image is in the eye. Look closely and you'll find the life, energy, power and you'll feel the MANA (spirit). The eye tells the story of a disruptive positive energy always ready to dent the universe.
Depending on the light and angle, sometimes the energy's subtle and sometimes it's glaring. But it's always alive and ready to disrupt the universe and love and protect my family and all things I love with intense passion and gratitude.
Cheers to living, learning, evolving and growing. And to the positive disrupters ready to dent the universe."
Recommended: Don't miss our ultimate guide to Harry Styles' tattoos.
What do you think about his tattoo collection? We'd love to hear about it down below!