We run through Wiz Khalifa's tattoo collection and explain the meanings behind his popular ink work.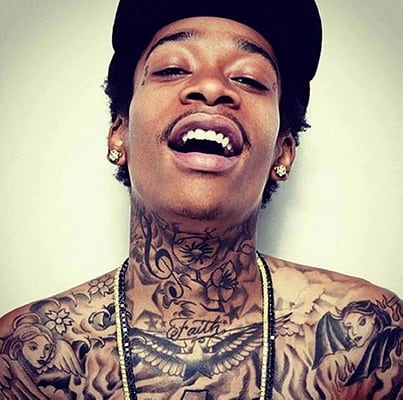 Wiz Khalifa, real name Cameron Jibril Thomaz is an American rapper, songwriter, and actor.
Since the age of 15, he's been focused on his music career, spending time in studios writing and producing his own music.
Wiz Khalifa got his first tattoo at the age of 16 and chose to ink his stage name, something of great importance.
His grandfather gave him the name 'Khalifa' meaning leader and successor, and his friends gave him the name Young Wiz.
Over 15 years later Wiz Khalifa is now completely covered in tattoos, with each holding a special meaning to him. Read on to find out the meanings behind Wiz Khalifa's tattoos.
Arm Tattoos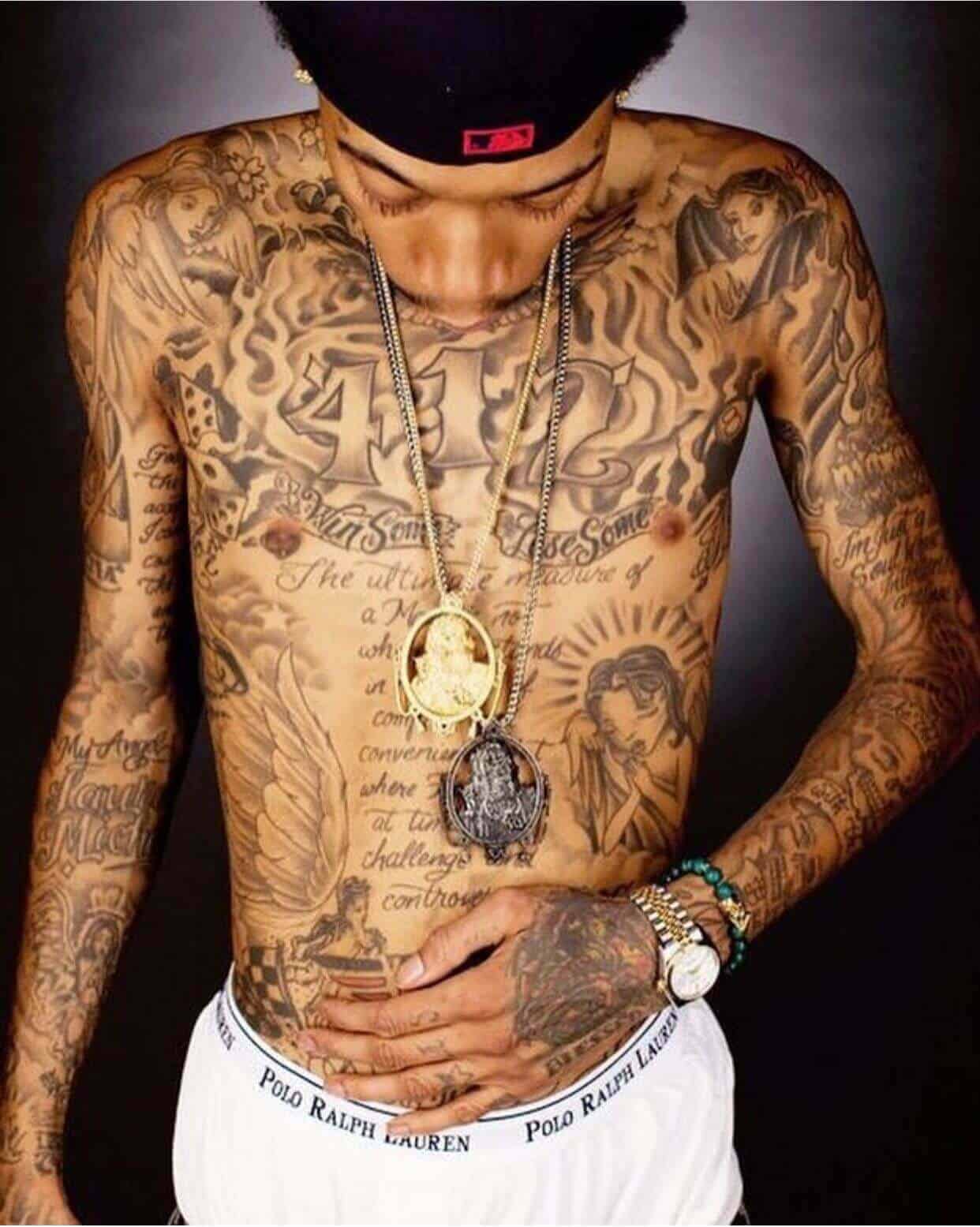 Tattoos: Wiz Khalifa, Microphone, angel & devil, two skulls, Native Indian skull, marijuana leaf and Peachie are inked on his arms.
Interpretation: These Wiz Khalifa arm tattoos each hold their own significant meaning.
Wiz Khalifa is his stage name and first-ever tattoo, he went with his mother to get it done at the age of 16. The microphone represents his music career and an angel and devil sit on both of his shoulders, showing good and evil.
The two skulls represent rebellion and are key symbols for death whereas, on his left arm the skull wears a feather headdress portraying Native American culture.
Wiz Khalifa has a marijuana leaf inked to show his love for weed, he even made his own strain called Khalifa Kush. Peachie is the name of his mother, with Wiz inking this tattoo on the back of his right arm as a tribute.
Hand Tattoos

Tattoos: His hands read Heavy Hustle, Superstar, W, Blessed and self-made.
Interpretation: W is the logo for Washington Nationals, an American baseball team. Heavy Hustle means to work hard and get money whereas his blessed tattoo, shows his gratefulness for the success he has in life.
Superstar is the name of a song he released in 2009. The self-made tattoo is a pointer to his career and another favorite, as he loves where it is positioned on his hand.
Chest Tattoos

Tattoos: 412, 'Win Some Lose Some', faith, wings, and fire/smoke.
Interpretation: 412 is the area code for Pittsburgh, the place he was born. 'Win some lose some' is a popular saying and reminds us that in life sometimes you win and other times you don't. Faith is written in between a pair of wings showing his connection with God.
The fire and smoke is used as a background effect to complete the chest area. Before he became famous, Wiz Khalifa was filmed getting inked on his chest by Gunna TV.
Neck Tattoos

Tattoos: Treble Clef, stars, Koi fish, bird, clouds and flowers.
The treble clef is a sign of his love for music and the stars are used to represent direction and security. The Wiz Khalifa neck tattoos include clouds which have been inked to fill in the space behind the tattoos. The flowers taking center stage, represent natural beauty.
A Koi fish is inked on the right side of his neck and is a symbol for luck and good fortune. On the other side rests a flying bird, a symbol for freedom of body and spirit.
'Amb' Tattoo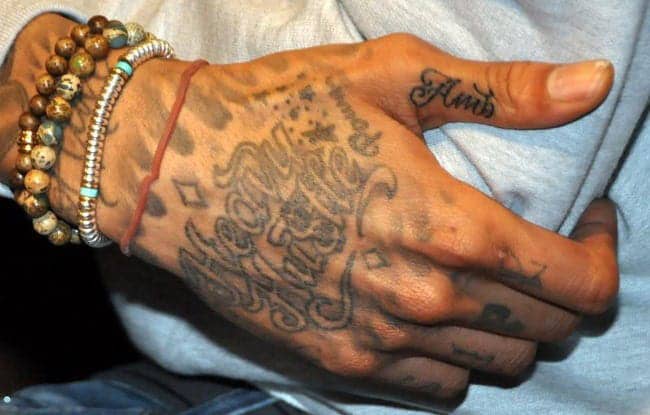 Tattoo: Amb on his right thumb positioned to the side.
Interpretation: This Wiz Khalifa tattoo reads Amb, short for Amber. It is the first name of his ex-wife. They share a son together born in 2013, a year that also marks their marriage. They divorced a few years later in 2016, just before their 3rd anniversary.
Amber Rose got an ink tribute to her ex-husband, a large portrait of his face on her arm. It has since been altered to look like Slash from Guns N' Roses.
Eyebrow Tattoos

Tattoos: TG, a marijuana leaf, a star, and P.
Interpretation: TG stands for Taylor Gang his entertainment company based in Pennsylvania. The marijuana leaf shows his love for weed. Wiz Khalifa released a song and app called 'weed farm' and sells products related to marijuana.
Stars are a regular feature seen throughout his body art. P represents the Pittsburgh Pirates logo, his hometown baseball team.
The Wiz Khalifa face tattoos are much smaller.  He chose not to cover his face with ink bar one noticeable tattoo, a peace sign.
Recommended: Don't forget to check out our guide to Adam Levine's tattoos after this!
Back Tattoos

Tattoos: Shark, Khalifa, a dreamcatcher, and a tepee.
Interpretation: A large shark covers a portion of his back and it was his most painful tattoo. Khalifa is the Arabic word for leader/successor, he learnt this from his Muslim grandfather. The dreamcatcher is intended to filter away the negativity and leave only the positive.
A tepee is a tattoo strongly linked with Native American Indians and represents the tribes. The Wiz Khalifa back tattoos took around 7 hours to ink. It was completed by tattooist Brian Henry from Black Sage Studio.
Stomach Tattoo

Tattoos: Martin Luther King quote, angels, TG with wings, Baby Boy, racing flags and dice cover his torso.
Interpretation: When speaking on the Martin Luther King quote Wiz Khalifa told SBTV, "It's the most personal and important to me cos it just describes my life, my career, what I really been through as an individual".
The dice represents the gambles of life and the flags show his love for race car driving. Wiz Khalifa has several angels which show his faith and belief, along with two Cherubs known to directly attend to God.
TG is another shoutout for Taylor Gang an entertainment company he founded. Underneath reads Baby Boy, which could be a tribute to his son, Sebastian.
Recommended: Don't miss our guide to Lil Peep tattoos next.
Moustache Tattoo

Tattoo: A moustache is inked on the side of his index finger on the left hand.
Interpretation: The 'fingerstache' is inked on your finger and when raised to your upper lip it resembles a mustache. It was a popular tattoo that has been trending for several years' but interest has slowly died down since.
It was created in 2003 by Columbus tattooist Giovani Faenza and quickly became popular worldwide. Countless products such as mugs and necklace pendants have been made to mirror the tattoo.