Body tattoos have become a great way to make an expression of one's personality and attitude, without being too loud about it. Tattoo designs incorporate various objects like flowers, fish,  feather, arrow, anchor, stars, religious symbols and text and words, all bearing significant meanings. One of the most important designs with worldwide popularity is Phoenix tattoos. Phoenix, as we know, is a mythical bird which rises from its own ashes, making it an object of awe and fascination. This, in addition to the aesthetic value of this design, is the reason why many discerning tattoo lovers love to have phoenix art etched on their body.
Tattoos on your body will absolutely make your physical appearance more gorgeous, and how much more if you have the phoenix art inked. This is despite the fact that there are lots of people in the world who have bad impressions regarding tattooing. These people are just close-minded ones who never see the importance of body tattoos. The truth is, tattoos have many uses apart from enhancing your physical appearance. They can be used in expressing yourself, without the need of telling the entire world who you really are. By just taking a glance on your tattoos, people can already guess the kind of personality that you have.
Phoenix – The Bird of Power and Resurrection
Phoenix is a bird which holds a place of glory in mythological history as it has been known for its spectacular ability to emerge out of its ashes. It has been called the mystical fire-bird in Greek, Egyptian and Phoenician cultures. The legend goes that this amazing bird lives solitary for centuries and as it came of age, it laid a single egg in a nest. Then they would set in the nest and set it on fire, along with the egg. Then a younger and stronger bird would come up as the fire went out. Another legend states that the bird lives for a thousand years, following which it burns itself in a nest made of myrrh twigs. Then it would rise again from the fire after three days, with a new and invigorated avatar which would again live for another thousand years. According to this legendary belief, the phoenix is a bird of resurrection and rebirth, which inspires people to emerge out strong from even the biggest calamities and problems in their lives.
Historically speaking, the origin of the phoenix has different stories related to it, depending upon the part of the world these legends come from.
Phoenix in Egyptian culture – In ancient Egyptian culture, phoenix was known by the name of Bennu, the bird who was born out of a burning holy tree. This bird resembled a heron and was revered as the soul of Ra, the mythical Egyptian Sun God.
Phoenix in Greek culture – The word phoenix comes from the Greek culture, which stands for its amazing and vivid ref color carrying a hint of purple. In this culture too, phoenix was associated with the Sun. Just as the sun sets every day like a ball of fire to rise again the next day, this wonderful bird ends up in fire to come to life yet again.
Phoenix in  Indian Culture – The ancient Indian history talks of an immortal bird called Garuda, which is perhaps what the idea of the phoenix comes from. It was a mythological character from the period of the epic of Ramayana and was believed to have a man's body which carried wings and an eagle like beak.
Phoenix in Chinese culture – The Chinese culture talks of a bird called fenghuang, which was the leader of birds and had the powers of yin and yang. It stood as the symbol of peace and harmony. The Japanese culture mentions phoenix as fushicho, which again signifies the balance between yin and yang.
Phoenix in Catholic religion – The Catholic religion talks of the phoenix as a sign of life after death and the great resurrection of Jesus Christ.
In this way, phoenix finds mention and occupies a pivotal place in almost all the cultures of the world and derives meanings from their mythology. All of these point towards one and the same thing that this bird relates to resurrection and rebirth. Because of its deeper symbolic meaning, a phoenix tattoo is chosen by people who are willing to face the most difficult situations and challenges in their lives and also, those who have the self belief and commitment to come out unscathed from the ordeals of life. They stands for courage of the soul as well as the integration of the mind and the heart. It gives the faith to the bearer to hold on even if he has faced many sufferings in his life. No matter what fate has in store, one must never give up and face the worst, is the message given by the phoenix.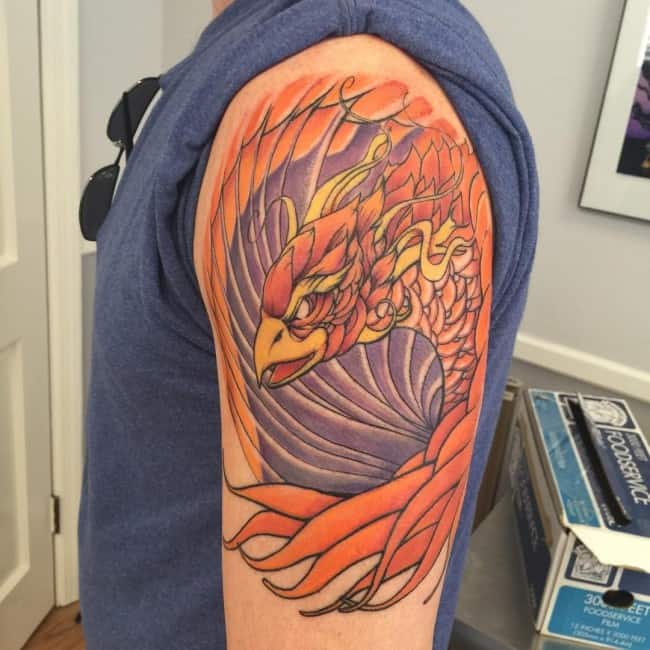 Phoenix Tattoos Meanings
They symbolize rebirth as well as resurrection. It is a fire bird that originated from Greek, Egyptian and Phoenician mythologies. The ancient Japanese people were the original wearers of these tattoos. They engraved these tattoos on their body not only for the purpose of making their appearance unique and gorgeous. They want to tell something to the people around them. In other words, these tattoos have their own meanings, depending on the designs being drawn. These had something to do with the spiritual aspects of these people. They were even used for protection for the ancient Japanese. However, getting tattooed for some ancient Japanese was a way of being punished, which was very similar to ancient Romans who engraved some tattoos on their prisoners due to the major crimes being committed.
It was believed though that the origin of the Phoenix art tattoo mythology was in the beautiful country of India. According to the ancient Indians, Phoenix was an immortal bird that they called Garuda. Based on the Indian culture, the body of a Phoenix was that of a crowned man and it has wings and a beak of an eagle. For the ancient Egyptians, they called Phoenix as Bennu. These people believed that the Phoenix bird was formed from the burning holy tree.
Celebrities Views
Celebrities in the world are also being captivated by the extremely gorgeousness of the phoenix tattoo. Well, there is no question about that since celebrities have the same eyes as those ordinary tattoo lovers. If you are very curious about these celebrities, then here are some of their names:
Melanie Brown – Melanie Brown, or popularly known as "Mel B", is a 41-year-old British television presenter, recording, artist, television personality, model, author, and actress. She became very famous after becoming one of the members of the once extremely famous girl group known as "Spice Girls". On her right upper arm, you can be able to see her large tribal-inspired phoenix bird tattoo.
Margaret Cho – Margaret Cho is a 47-year-old American fashion designer, singer-songwriter, author, actress, and comedian. She has a very interesting design of a phoenix art that is located on her left upper arm. The tattoo has a body of a phoenix bird and it has peacock feathers that are colored with purple.
Sarah Harding – Sarah Harding is a 34-year-old English actress, model, dancer, and singer-songwriter. She has two huge phoenix art located on her left and right shoulders that extend towards her upper back.
Placements Guide
Just like the other kinds of tattoos, you can actually place the phoenix tattoos anywhere you want to. Even so, there are parts of your body that may be hard enough to get tattooed. In this case, the professional tattoo artist you hire may have difficult times in tattooing your preferred phoenix art tattoo design. It can also cause some delays on the process of tattooing. If you want it to be easier, here are some common body parts where you can perfectly place your phoenix design tattoo:
Popular Tattoo Designs For Phoenix Art
Phoenix is a bird which comes in vivid and bright colors, in shades of fire red, orange, yellow and hints of purple. This is why most of the phoenix arts are featured in these colors. A Chinese phoenix tattoo uses the 5 primary colors, which are white, black, red, yellow and green. On the other hand, the color combination used in the Greek phoenix is scarlet and gold. Another option is black and white phoenix art, but it is not preferred as much as these colors do not highlight the aesthetic beauty of this art. In addition to the single phoenix design, some additional elements can be included to create something unique and alluring. Most of the designs are prepared with Chinese symbols, fire and flames, the sun, dragons and tribal patterns. Some text, initials, names or words can also be added to highlight the symbolic meaning of the tattoo. Incorporating these elements in the phoenix art designs can solve the very purpose of having a tattoo done on one's body, which is reflecting one's belief and attitude. At the same time, a tattoo is made for presenting and saying something in a very subtle way, without intimidating anyone in the process.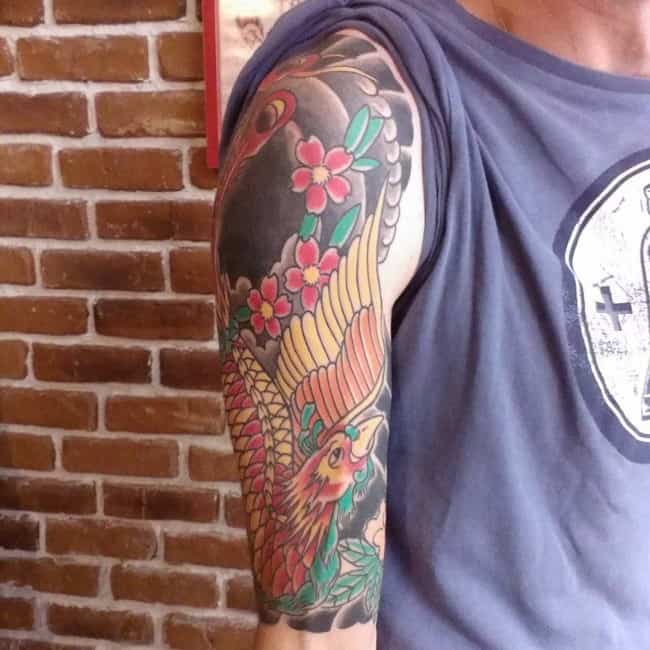 These tattoos are a hot favorite among both, men as well as women and they can be featured on almost any part of the body to create an exquisite effect. They look absolutely wonderful on the forearm, shoulder and the back, both upper and lower, as it is easier to reveal rather than conceal on these parts of the body. Moreover, all these body parts are hardly affected by the aging of the skin as well as exposure to the sun, which adds to the durability and longevity of tattoos in these areas of the body. It is rather easy to maintain the tattoos here as compared to other parts of the body, which are more sensitive and bear the after effects of continual exposure to the harmful rays of the sun. Some people may opt for phoenix art on other positions such as the wrist, legs, fingers, ankles, thighs, chest and side. While women prefer delicate looking phoenix arts, men go for power packed and aggressive looking tattoos which represent masculinity.
A phoenix art can not only enhance your personality, but add a deeper meaning to your life with its symbolic significance. It can inculcate a sense of self-confidence and self faith in the bearer, besides giving him the courage and strength to face all the adversities in life without giving up at any stage of struggle. However, while deciding about having a tattoo done, one must keep in mind the pain factor involved. One may have to suffer a lot of pain to get the much wanted phoenix art and the pain can be immense if you are looking for a vividly colorful design. Still, if one is ready to bear this pain and incur the cost of having this tattoo done, this art design is absolutely worth the pain and money spent.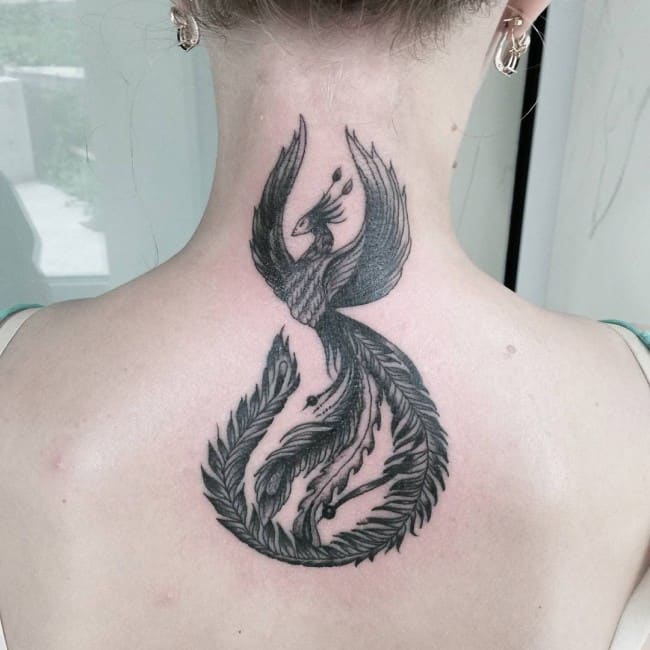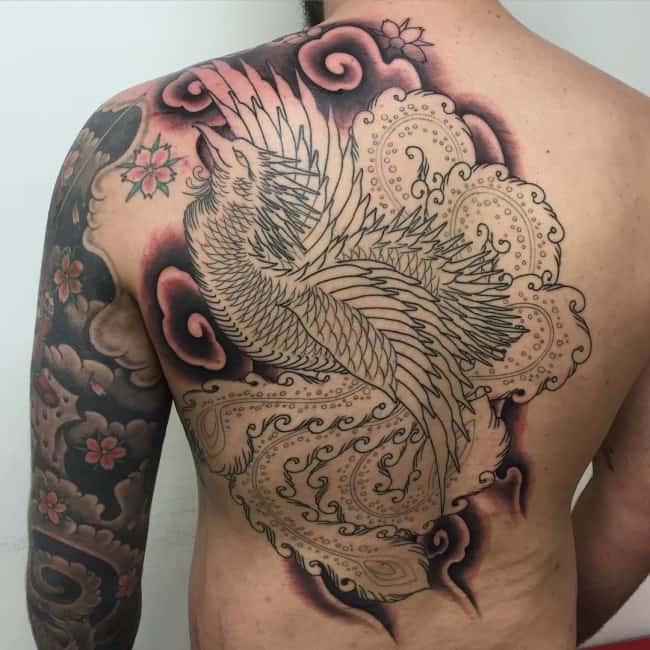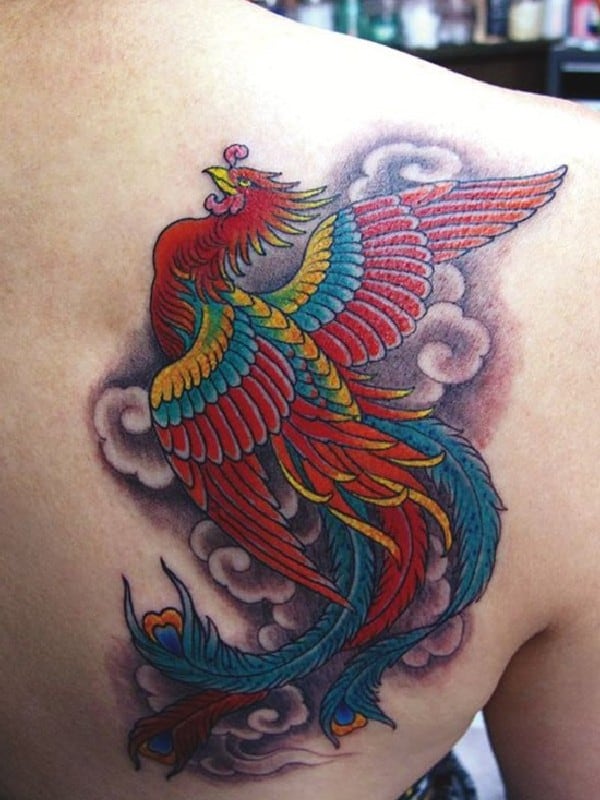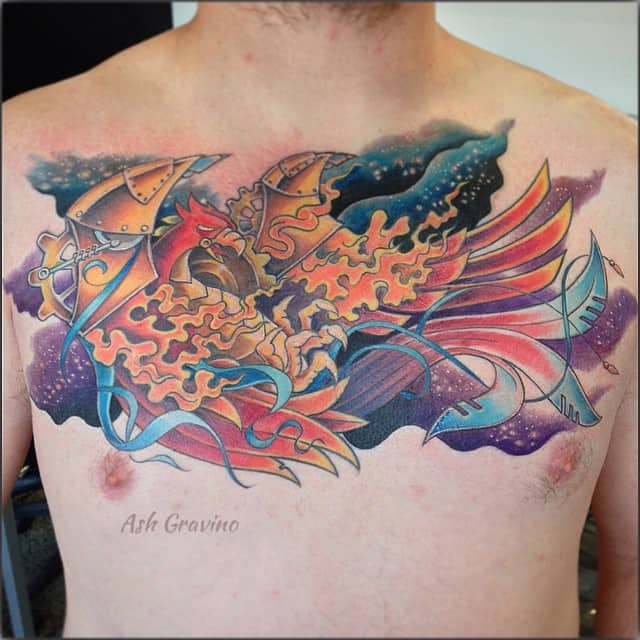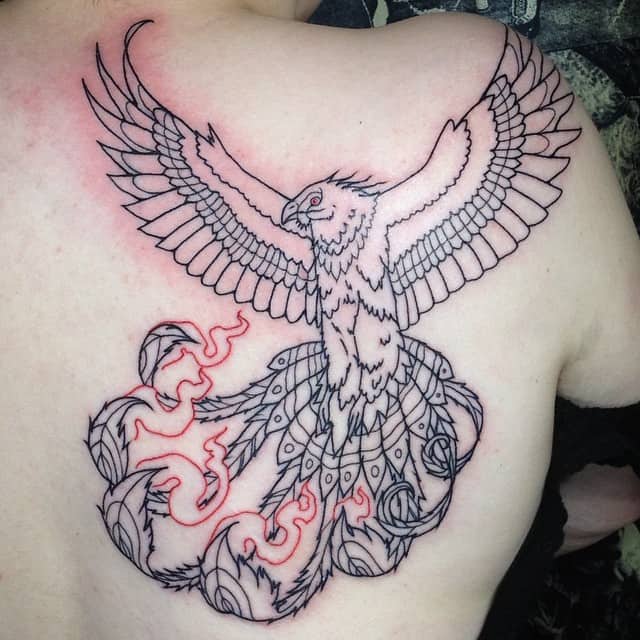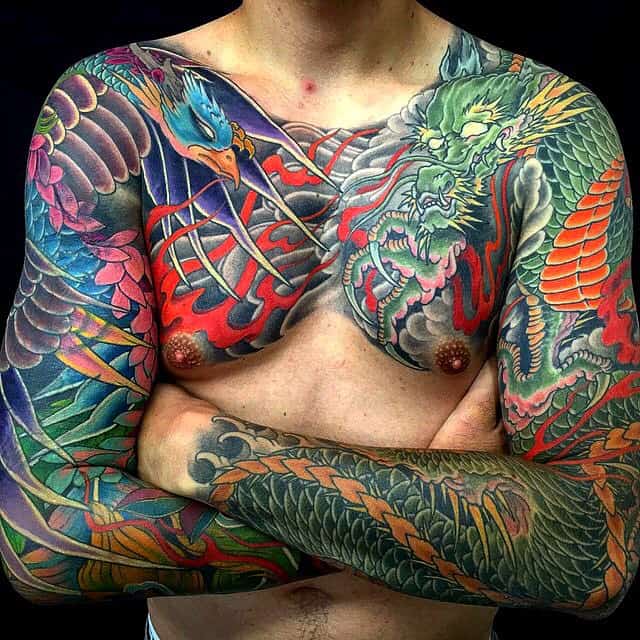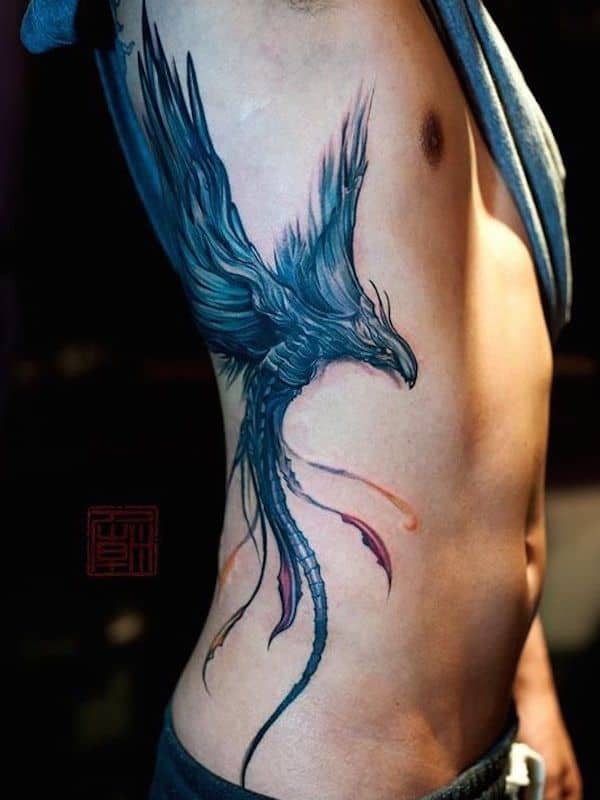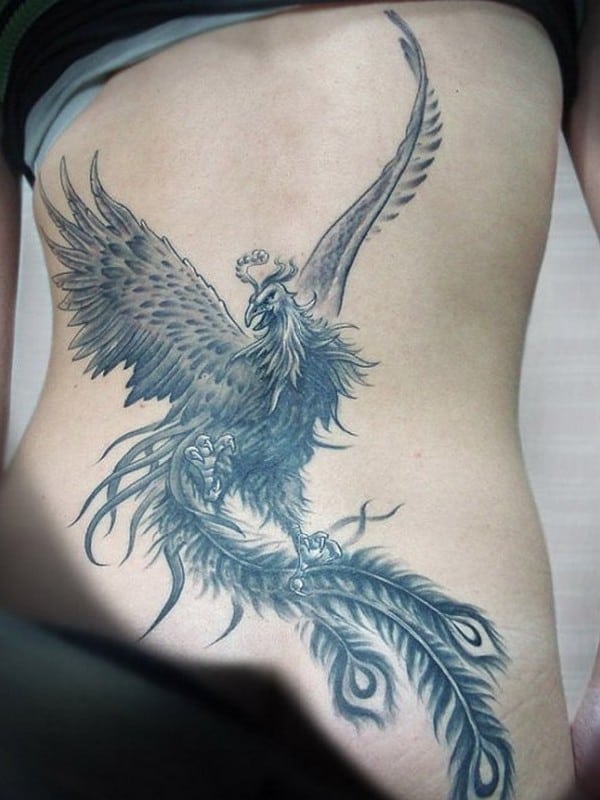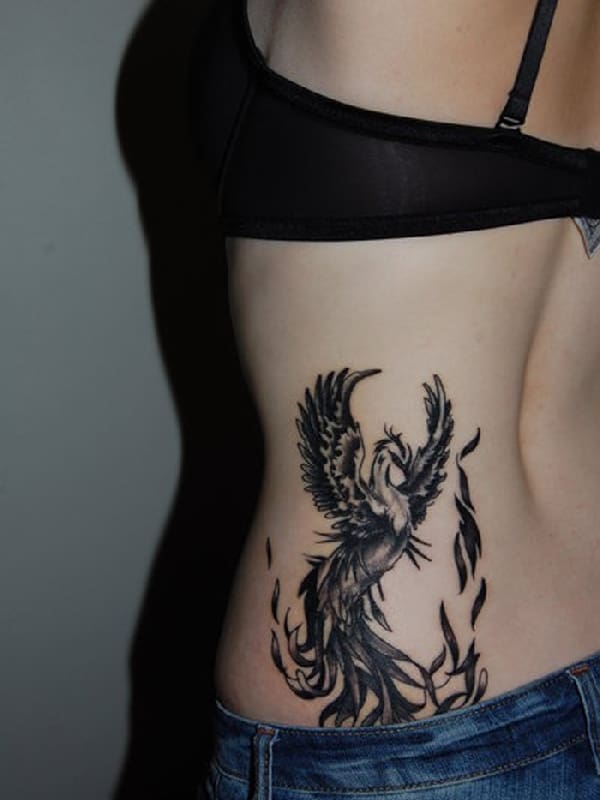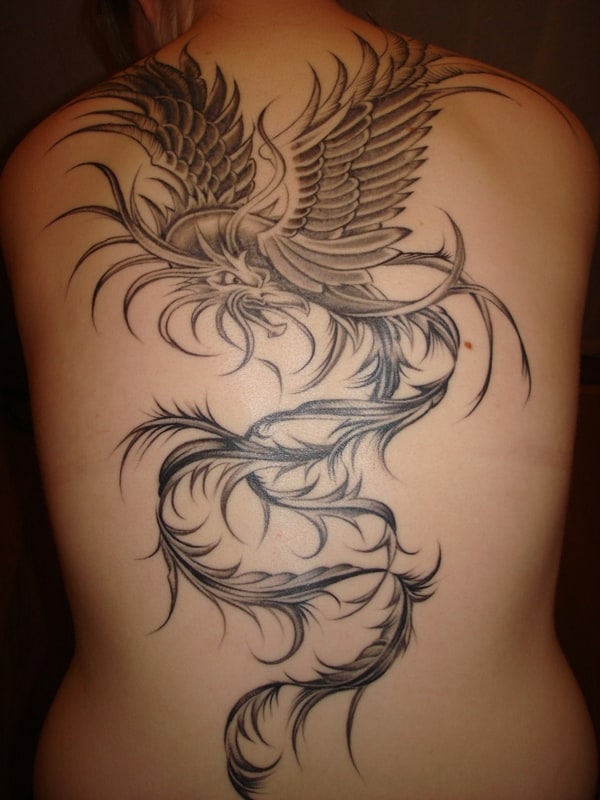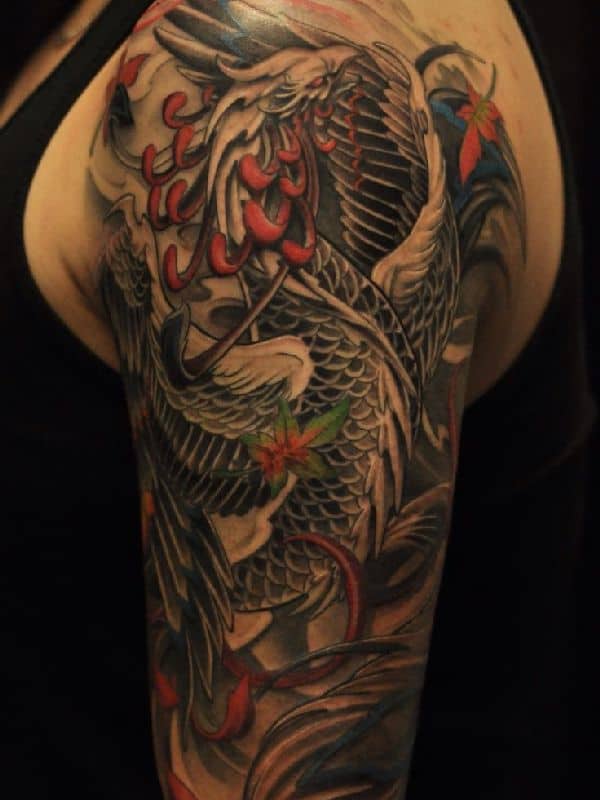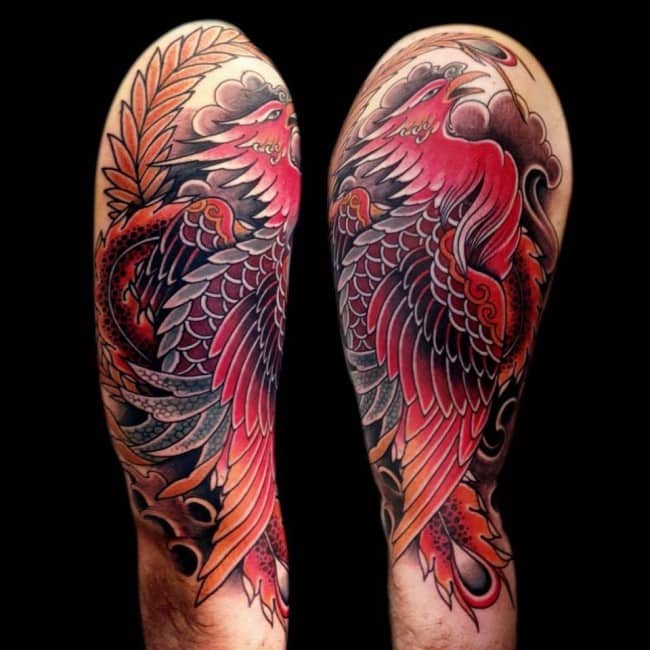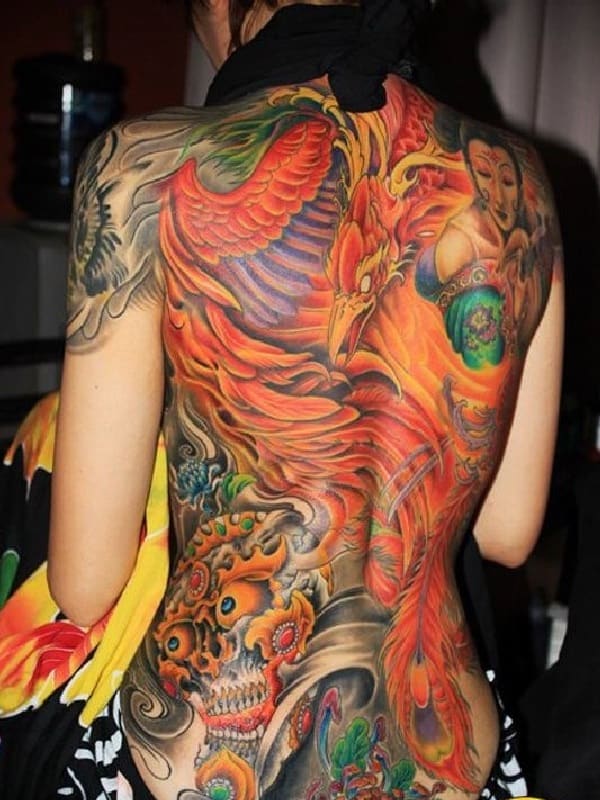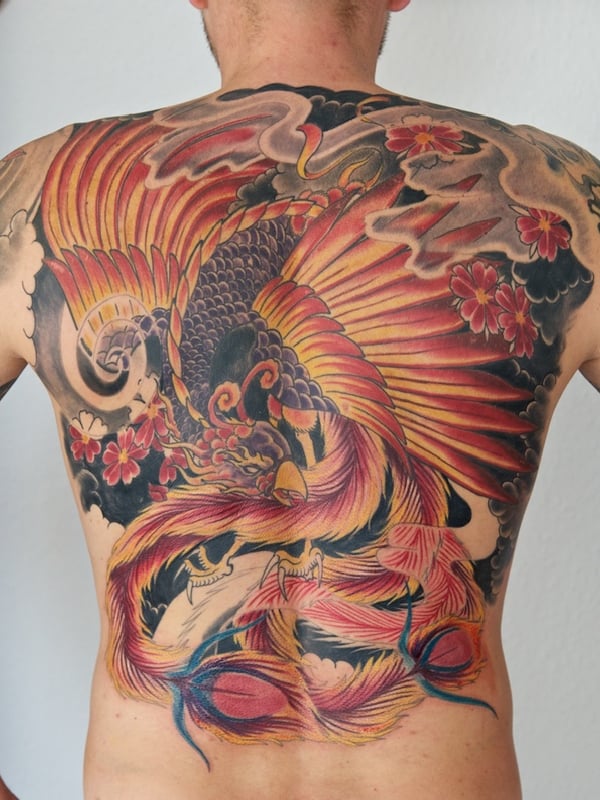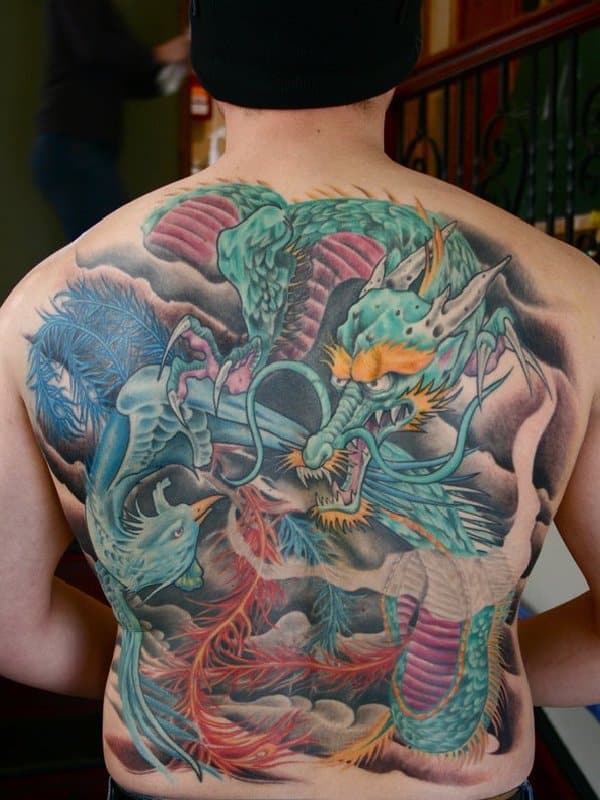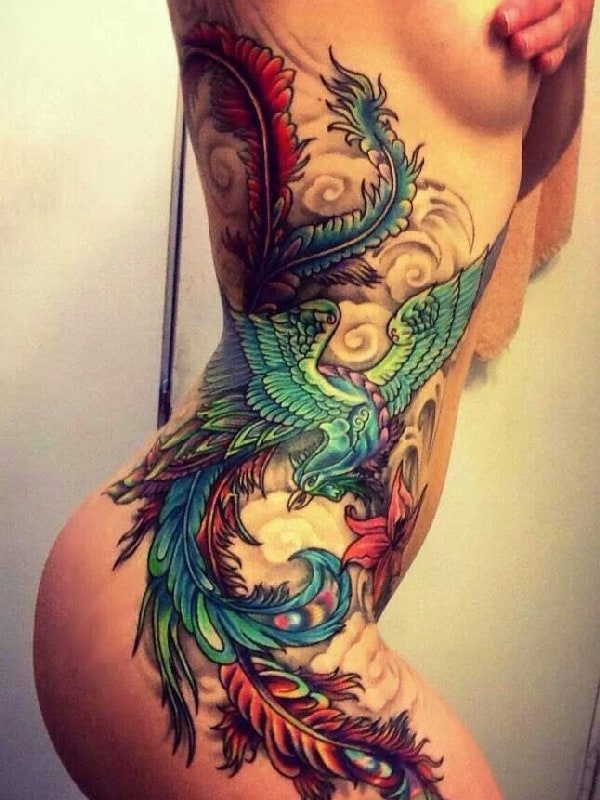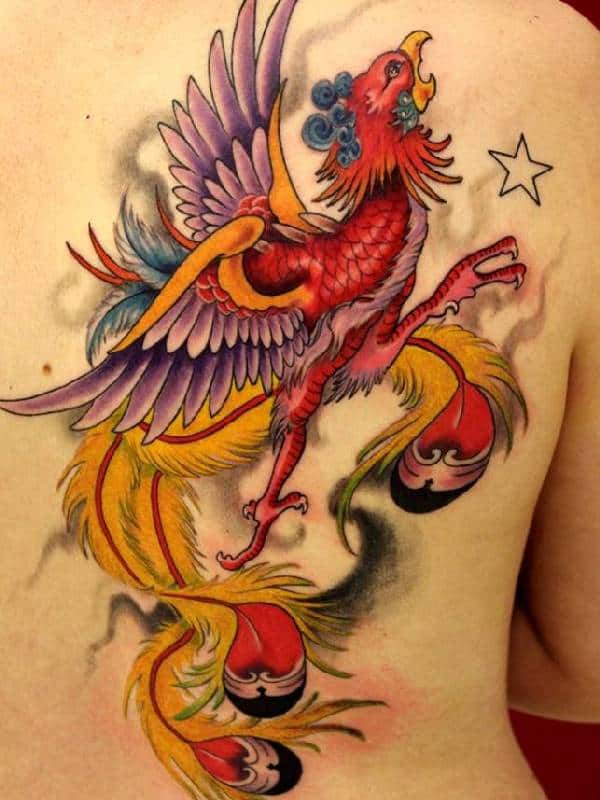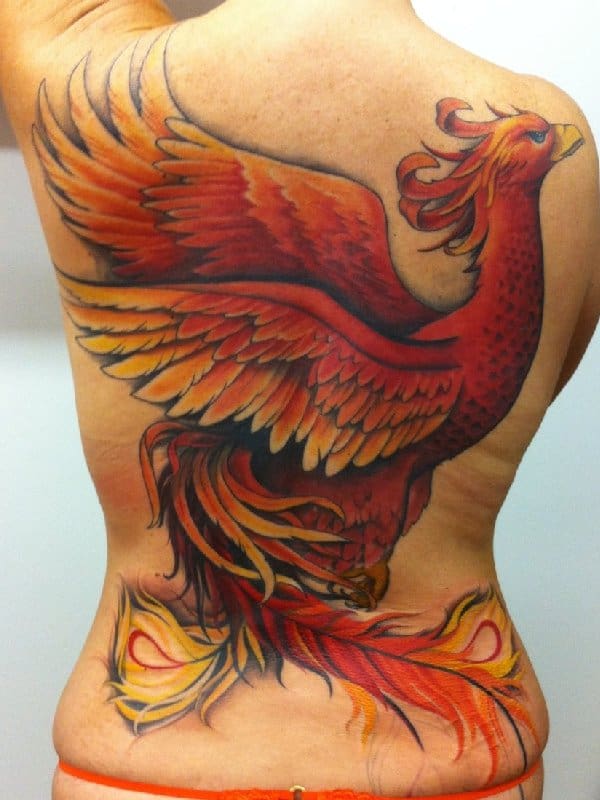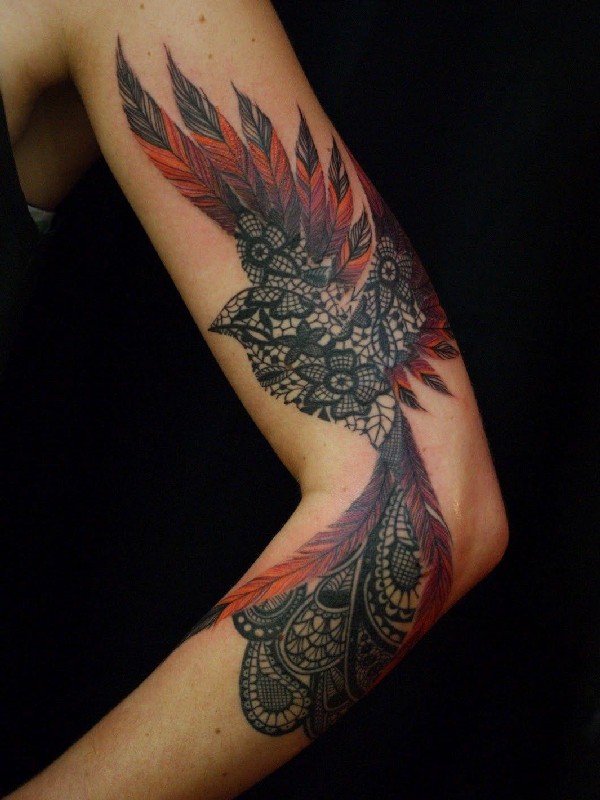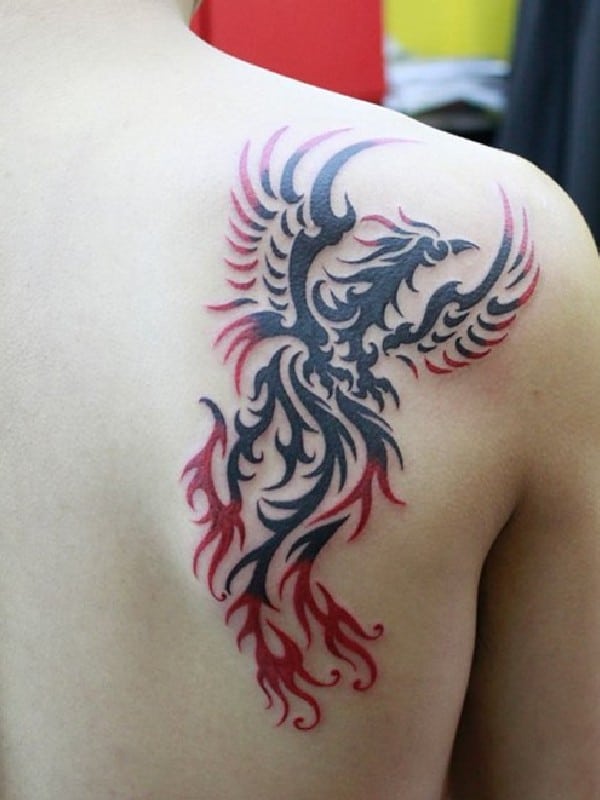 Different Designs for Phoenix Art
As said, there are lots of phoenix design tattoo that you can choose from. It will now depend on yourself which one will you choose. Even so, it would be great if you will ask the opinion of your hired professional artist. He or she definitely know what fits for your body and for your unique personality as well. Here are some of the gorgeous designs that you can take into account:
Phoenix and Egg Tattoo Design – This is a super elegant design that you can have if you want this art on your body. Such design is representing rebirth. The people who wear this design this art is known to be very optimistic. They are the ones who strongly believe that a new beginning will come right after an end of something. In case you are a very optimistic type of a person, then it would be great for you.
Chinese Dragon and Phoenix Design – This is one of the most complicated design of phoenix arts for the part of tattoo artists. It is simply because such designs includes two tattoo subjects, which are the dragon and the phoenix bird. But once this tattoo is done, there is no way you will not mesmerized by its beauty. In case you are thinking that these two creatures can never look great together, then think again. Even so, such design requires more space from your body, so it would be great to be engraved on your back or chest part.
Lone Phoenix Design – As its name suggests, this particular phoenix art tattoo design involves nothing else apart from the image of a phoenix bird. Many people think that a phoenix alone cannot become a gorgeous tattoo. Well, they are absolutely wrong. The image of a phoenix is more than enough to make your physical appearance extremely gorgeous. This will look very masculine, which is why it is chosen by a lot of men tattoo lovers.
Phoenix on Fire Design – Another worth considering design is the phoenix on fire tattoo design. Such design will display the process of rebirth, in which the phoenix will burn itself and turn into ashes. And from the strong fire, the phoenix egg will begin to appear depicting the essence of rebirth and new beginning. In order to showcase the rebirth process well, this design would require more space on your body. This is why you should choose the location of this tattoo wisely.
Greek Phoenix Design – The incomparable beauty of the Greek phoenix tattoo design can be emphasized well if the images of the phoenix bird will be drawn in a bit smaller pieces. This design will certainly look very elegant on your body. Most of the time, the colors of the phoenix are red and gold. Moreover, the feathers of the bird will be very gorgeous on the peacock-like feathers.
Final Words
If you are thinking of having tattoos and you want them to be very gorgeous, then the phoenix tattoos are definitely for you. These tattoos are very elegant to look at on your body. Moreover, you can choose from the wide array of phoenix art designs that can perfectly match your physical appearance and personality.