There are countless reasons why people choose to get tattoos. For some it's a fashion statement or a purely decorative endeavor, some wish to express their values and beliefs, some do it as a symbol of their love, and others still use tattoos as a form of remembrance.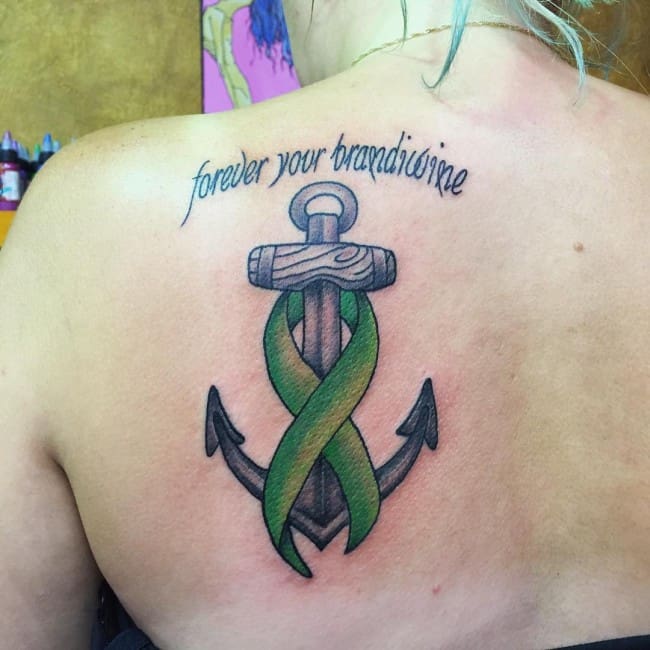 For those who choose cancer ribbon tattoos, it's usually either because their loved one has suffered from cancer or they are a survivor themselves. Some individuals also opt for these designs purely to show their support to people who have cancer and to organizations working to battle the disease.
Recommended: We've got cherry blossom tattoos featured in this guide.
The pink ribbon
Out of all symbols associated with cancer, the pink ribbon of breast cancer is perhaps the most recognizable one. The symbol was first used in connection to the disease by Charlotte Hayley, a survivor, as a representation of breast cancer awareness. Hayley's ribbon was peach-colored and was featured on awareness-raising cards that she distributed.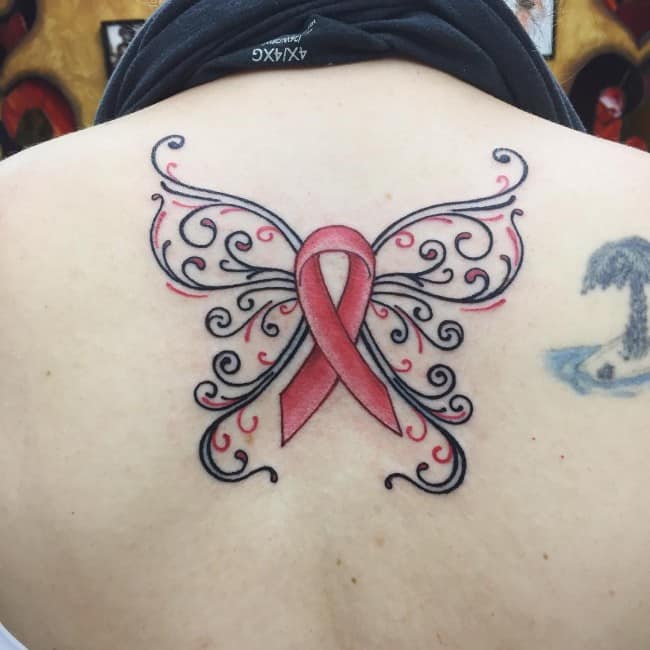 Hayley created the first ribbons by hand, and the message on her cards was a call to Americans to put pressure on the National Cancer Institute to invest more money into cancer prevention.
Hayley's cards and the ribbon symbol caught the attention of the editor-in-chief of Self magazine, Alexandra Penney, while she was working on the 1992 National Breast Cancer Awareness Month issue of the magazine. Because Hayley refused to give her permission for the magazine to use the peach ribbon symbol, Self went with a pink ribbon to avoid legal problems. By this point in time, the color pink had already been associated with breast cancer.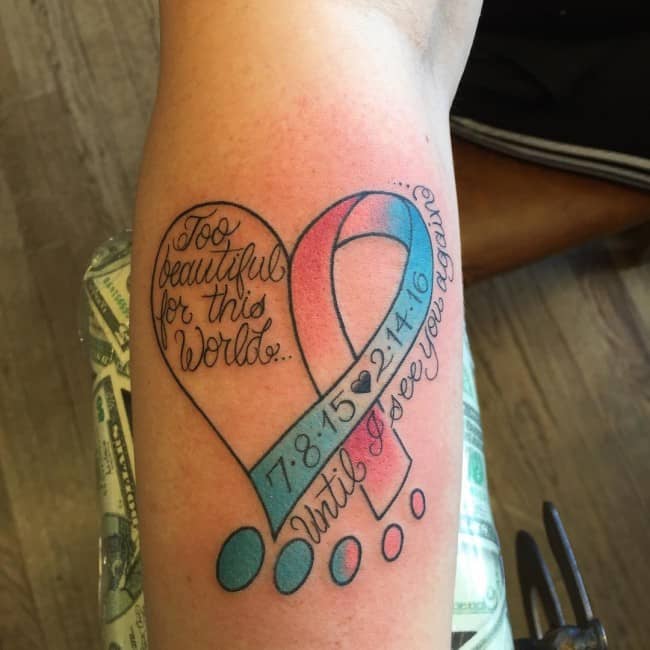 The reason why the color pink was used is that in popular understanding, it's connected to the ideas of femininity, caring, beauty, cooperation, and goodness. The pink ribbon symbol means solidarity with women who have or had breast cancer and public support for the individuals and organizations working together for the benefit of the breast cancer movement.
Since being used by Self magazine in 1992, the pink ribbon has evolved into the single most recognizable symbol – even logo – of breast cancer awareness.
Recommended Article: Check out our guide to the tiger tattoos next!
The meaning of cancer ribbons
While the pink ribbon is certainly one of the most commonly seen cancer-related symbols, not everyone is aware that there are differently colored ribbons used in relation to other types of cancer, too. While you're looking through our gallery below, you'll come across various colors and combinations.
Apart from the pink breast cancer awareness ribbon, there are plenty more, including among others:
Burgundy (dark red) – multiple myeloma
Orange – leukemia and kidney cancer
Peach – uterine or endometrial cancer
Amber – appendix cancer
Gold – childhood cancer
Yellow – sarcoma or bone cancer
Green (lime) – Non-Hodgkin Lymphoma
Green (emerald) – liver cancer
Teal – ovarian cancer
Blue (light) – prostate cancer
Blue (dark) – colon cancer
Blue (periwinkle) – stomach cancer
Purple (light) – testicular cancer
Purple – pancreatic cancer
Violet – Hodgkin Lymphoma
Black – skin cancer
Gray – brain cancer
White (or pearl) – lung cancer
As well as these solid colors, ribbons also feature patterns and color combinations, including:
White and burgundy – head and neck cancer
White and teal – cervical cancer
Blue, yellow, and purple – bladder cancer
Blue, pink, and teal – thyroid cancer
Zebra print – carcinoid cancer
If you're considering getting a cancer ribbon tattoo, it can be useful to know which color corresponds to the specific form of cancer you wish to address. In addition to the above, a lavender-colored ribbon is used to symbolize all forms of cancer.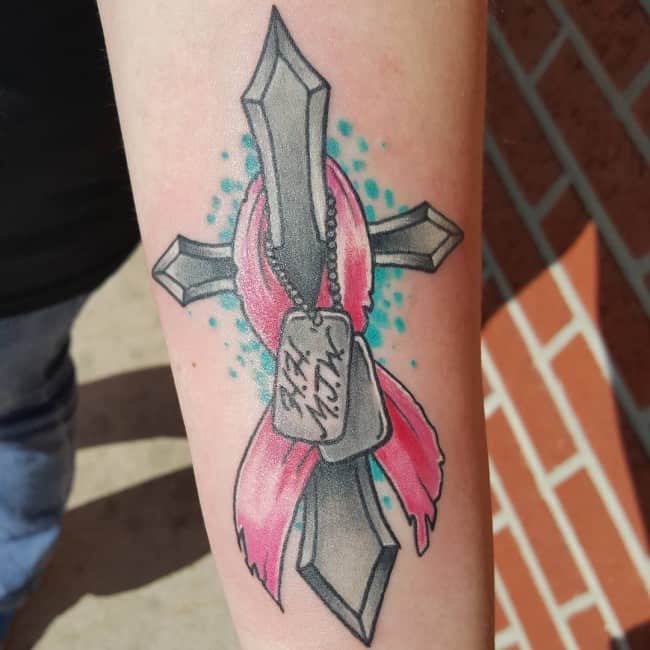 Other meanings of ribbon symbols
Cancer isn't the only cause associated with the use of colored ribbons. For instance, while a yellow ribbon can be a symbol of sarcoma, bone cancer, and bladder cancer, it's also been used as a symbol of missing children, obesity awareness, and carbon monoxide poisoning, among others. Similarly, a red ribbon is associated with dozens of causes, including things as different as blood cancer, troop support, and substance abuse.
While this shouldn't deter you in any way from getting a ribbon tattoo to show support for the fight against cancer movement, it's good to research your chosen ribbon color in order not to be surprised when people don't immediately know what it means or misinterpret it entirely.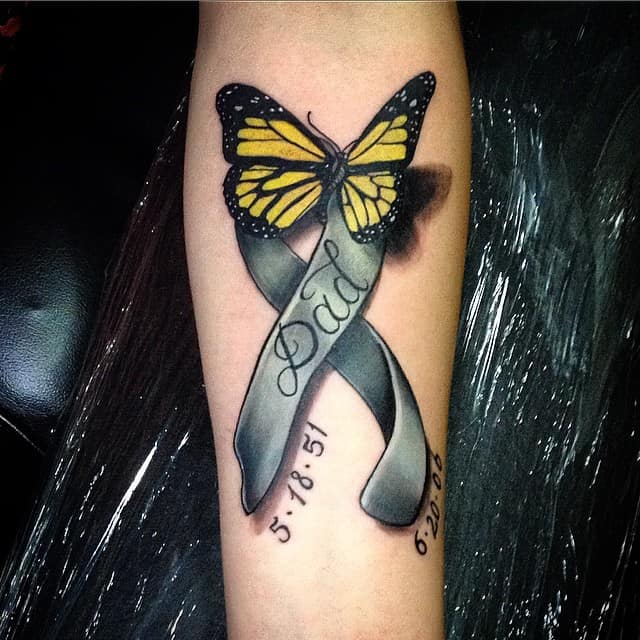 Ribbon tattoo designs
While our gallery includes a number of breast cancer tattoo images, you'll also find many differently-colored ribbon tattoo designs there. Remember that each design idea sis worth considering, even if the specific ribbon doesn't correspond to your planned tattoo – the color of the ribbon, or even the entire color scheme, can always be changed by your chosen tattoo artist to suit your needs.
Although many people opt for a simple ribbon design, your tattoo can be made more complex by combining the ribbon with other elements or representing it in an original way.
This is a highly popular choice for breast cancer ribbon tattoos. The flowers make the design more visually appealing while highlighting the feminine aspect of the ribbon symbol and breast cancer in general. All sorts of floral elements can look great in this type of design, from blooming flowers to branches and vines.
Recommended Reading: Don't leave without reading our guide to sparrow tattoos!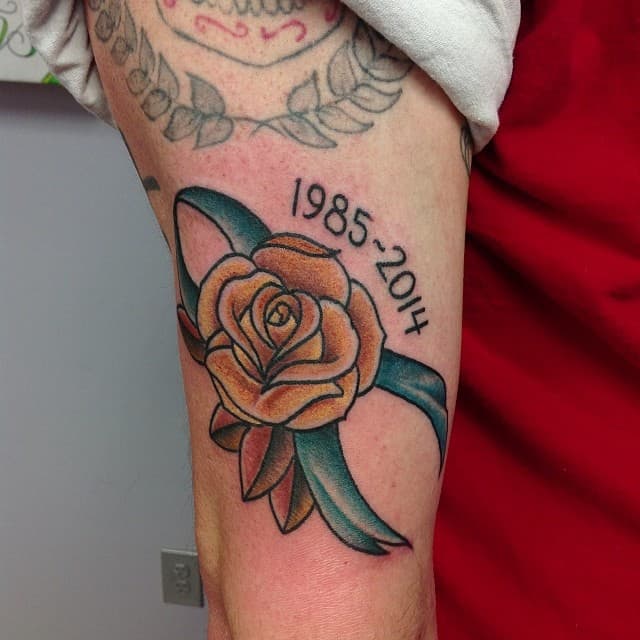 This type of design combines an interesting visual effect with a deeper metaphorical meaning. The infinity symbol, which looks like a horizontal number 8, means that something is eternal, endless, and never-ending.
In this context, combined with a cancer awareness ribbon, it is often featured as a symbol of full (infinite) support for the movement and/or never forgetting your own experiences or those of a loved one. In the case of cancer tattoos meant to commemorate the death of a loved one, the addition of the infinity symbol can mean never forgetting, always feeling the person's presence, and eternal life after death.
Design-wise, this combination of elements usually involves using the ribbon as part of the infinity symbol. This is done either by working the ribbon into the line of the infinity or by making the ribbon itself appear like an '8' by connecting the loose ends.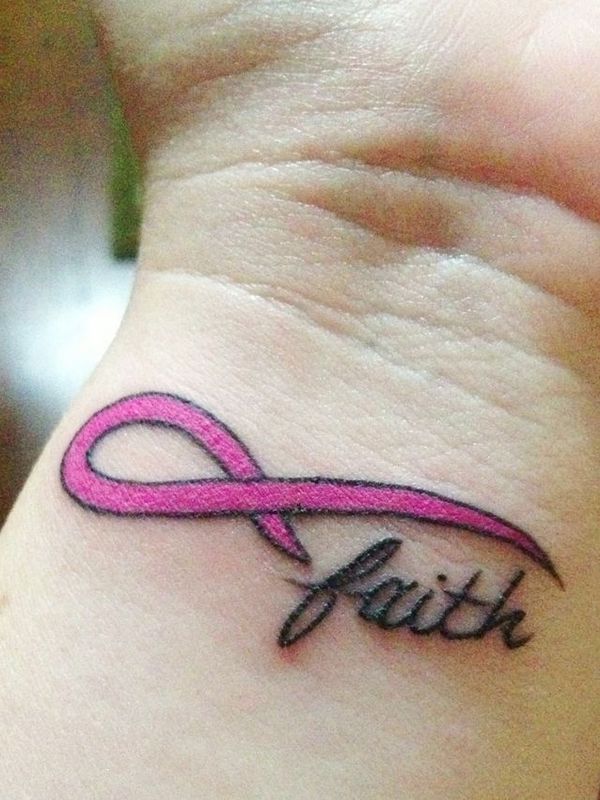 Another interesting take on cancer ribbon tattoos is making the ribbon appear as one half of a heart. As we all know, the stylized image of a heart symbolizes love, affection, and caring deeply – which means that in terms of the meaning of such a design, the two elements go together perfectly.
How the finished 'heart' design will look is of course entirely dependent on your personal preferences. Popular options include simple, line-based designs, tribal designs, and traditional tattoo style designs. The last one involves bold black outlines and bright, solid colors.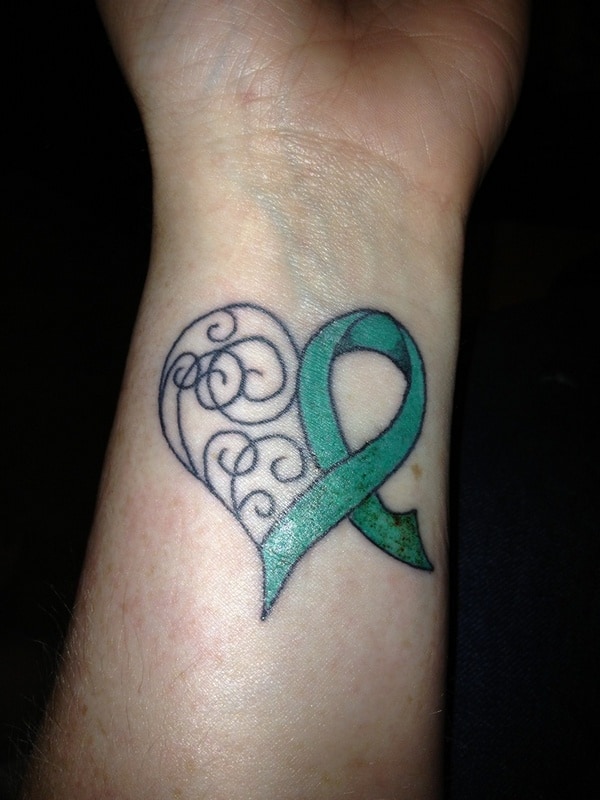 Anchors are one of the staples of tattoo art, having been a consistently popular element over the years. The meaning of anchor tattoos is usually that of strength, stability, and safety. When combined with a cancer awareness ribbon, then, they make for meaningful and inspiring design.
The most popular design for this combination of symbols involves drawing the ribbon wrapped around the anchor. This makes for an aesthetically pleasing, largely symmetrical image in which both elements have equal importance.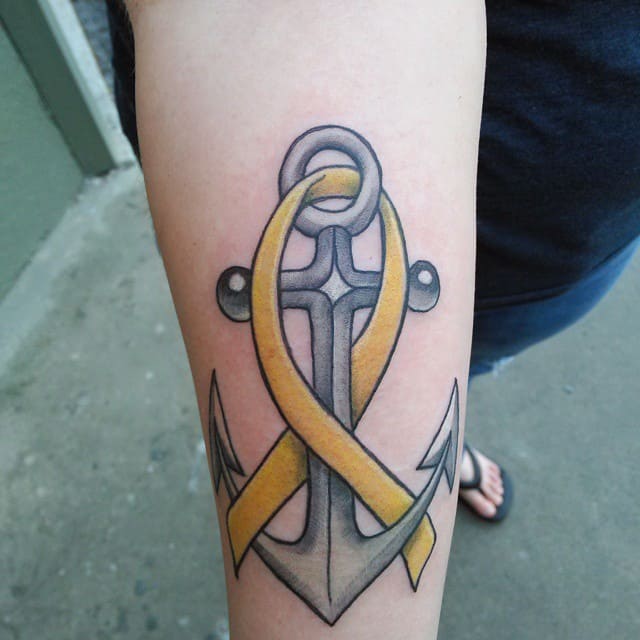 Looking through our gallery, you'll notice that it's quite common for breast cancer ribbon tattoos to feature butterflies. Apart from the visual effect, the two symbols compliment each other in several ways in terms of their meaning. The most immediately apparent connection is that butterflies are often associated with femininity, which underlines the message behind the breast cancer awareness symbol.
Butterflies as symbols in tattoos generally stand for hope, life, endurance, and change – all of which are notions that correspond to the values of cancer awareness. Furthermore, in some cultures butterflies are believed to be representations of our souls and/or of resurrection – which strikes a particularly powerful note in the case of cancer awareness tattoos meant to commemorate a lost loved one.

Most people choose to get a cancer ribbon tattoo due to personal experiences with the disease, either having battled the disease themselves or having supported a loved one who fought cancer. As such, cancer tattoos are particularly personal, referring directly to a particular experience or person. This is why many cancer ribbon tattoos are complimented with elements of writing.
The writing itself can take many forms. Among the most common choices are dates, names or initials, and single words expressing values such as hope, life, or strength. At the same time, many people opt for longer quotations that have personal meaning to them or a close association with the person whom the tattoo commemorates.
Recommended Next: Don't miss our guide to God of War tattoos next.

Final words
Cancer awareness tattoos can be a wonderful way to commemorate your own or a loved one's battle against the disease, to raise awareness, to show support for the fight against cancer, and to pay tribute to the efforts of both those who are battling cancer and those who are working to cure it.
Whatever your personal reason for taking an interest in getting a breast cancer awareness tattoo, we hope you've found some inspiration and ideas here to help you come up with the perfect design for you.