Armband tattoos have always been an interesting choice, though only recently have they gained widespread popularity.
In the last few years, a trend for armband tattoos emerged, and they suddenly became one of the more popular designs around.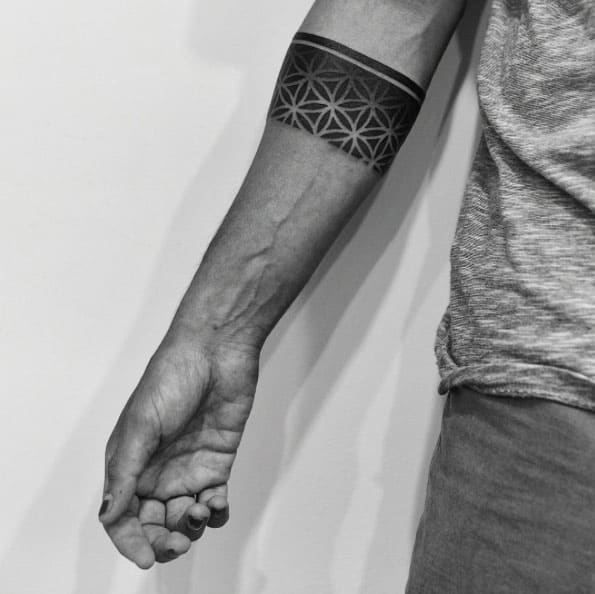 Armband tattoo characteristics
An armband tattoo essentially takes the shape of a bracelet. The design wraps all the way around the arm in a straight line and can be placed anywhere along the length of the arm, including around the forearm and the wrist.
In terms of size, armbands range from extremely narrow (even just a single thin line) to wide enough to look like half-sleeves.
Armband tattoos make a great choice for a first tattoo. Since the tattoo has to be placed on the arm by definition, it's relatively easy to cover up with long sleeves if necessary.
It's worth mentioning, too, that the arm is generally one of the least painful areas for tattooing. There are some sensitive areas, such as the inside of the bicep and the elbow, but other than that the pain levels should be perfectly bearable.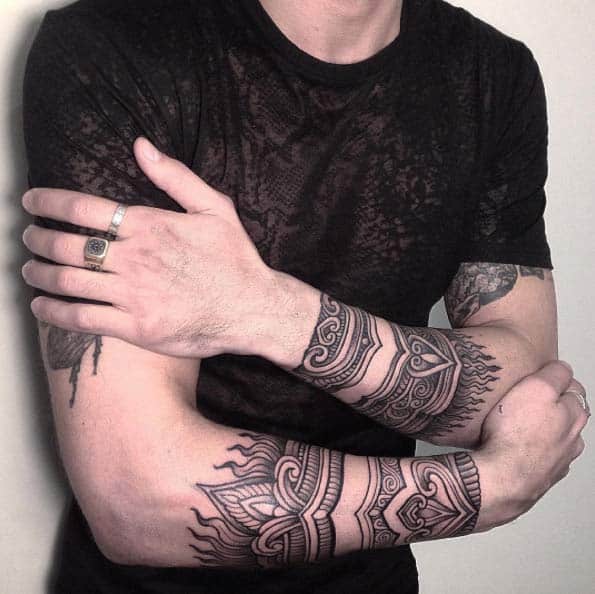 Though most armband tattoos are done in all black, this is more of a trend than a rule.
The main reason for the popularity of all-black armbands is that the designs are most often abstract or geometric, and black lines or dot-work bring out the shapes most clearly.
Still, there's no reason not to have color in your armband tattoo – it all depends on the design and the elements you want to include.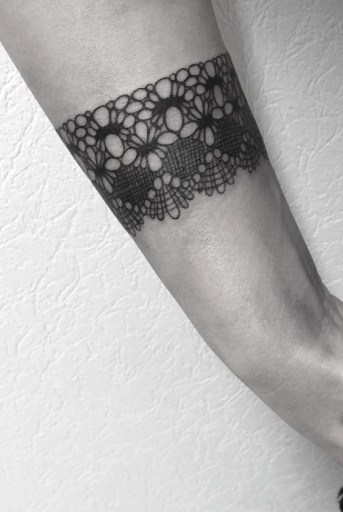 Popular design options
One of the best things about armband tattoos is the endless scope for creativity.
After all, the only aspect that is pre-defined in armband tattoos is that they wrap around the arm – everything else, from the size to the design and meaning, is entirely up to you and your imagination.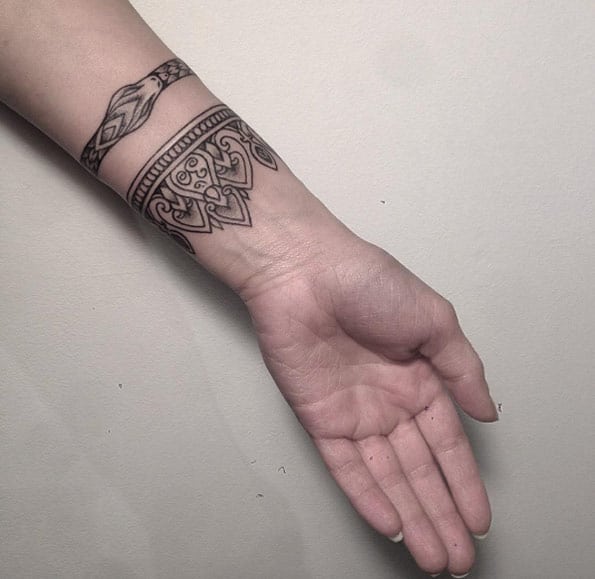 Many of the armband tattoos you'll see in our gallery and elsewhere will depend on abstract geometric shapes.
Given the regular nature of armbands (forming a complete circle by wrapping around the arm), symmetrical and geometric designs are a good aesthetic match.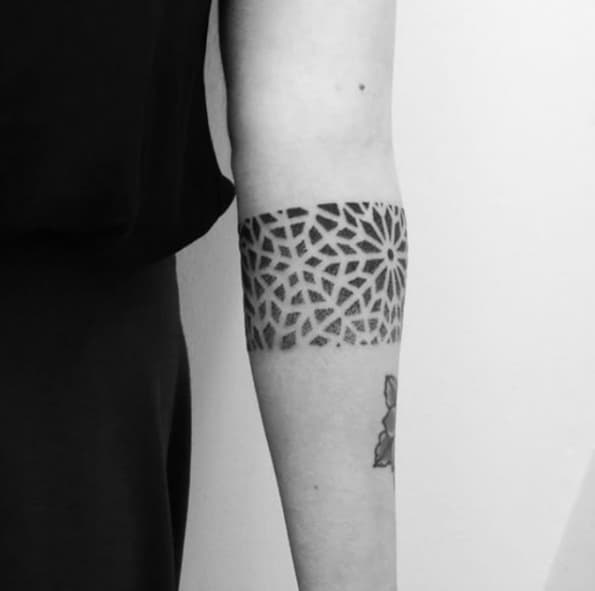 When it comes to armbands involving recognizable elements, some popular designs and styles include:
Line armband tattoos – these can include just one straight line, or several placed at regular or irregular intervals along the arm. They look highly elegant in their simplicity and create an interesting aesthetic effect.
Jewelry armband tattoos – since armband tattoos take the shape of a bracelet, it makes sense that many people opt for a design that mimics the look of… an actual bracelet. When done in a 3D style, they can look surprisingly realistic and create the illusion of being a piece of jewelry.
Symbolic armband tattoos – armbands can involve the use of symbolism to inject deeper meaning into the tattoo. The Ouroboros is a popular choice – an ancient symbol of eternity and rebirth, taking the shape of a snake eating its own tail. In armband form, the snake wraps around the arm in a level line. Another common symbol is that of infinity – it's shaped like the number 8 placed on its side, and can easily be worked into a line armband design. Arrows also make great armband tattoos, as do anchors on a rope. The arrow is a symbol of protection, achievement, and moving forward among other things. The anchor, meanwhile, symbolizes stability and strength.
Landscapes – a recent trend in armband tattoos involves the use of minimalistic landscapes. Forests and mountains are the most popular, though city skylines are a great choice, too.
Tribal armband tattoos – tribal imagery traditionally involves interlocking curved lines ending in sharp points. Since tribal designs are usually abstract and used as decoration only, they can easily be adapted to an armband shape.
Floral armbands – flowers, vines, and other floral elements generally make for intricate, delicate-looking armbands. The designs can be made bolder through the use of larger flowers (such as roses) and/or color.
Quotation armband tattoos – short quotations can be made to fit into an armband tattoo. This can be a little challenging – it'll take some figuring out to get the quote to the right size and font to wrap all the way around the arm without overlapping or too big a gap. It's far from impossible, though, and will make for a great-looking and unique tattoo.
Placements
By definition, an armband tattoo will have to be placed on your arm.
What's still left to consider, though, is where exactly: as mentioned above, anywhere along the length of your arm is an option. Some things to keep in mind:
Bicep band tattoos – the bicep is the widest area of your arm, which makes it the most suitable place for longer designs. Bicep bands will also be the easiest to conceal – in the case of narrow or otherwise simple armband tattoos, short sleeves may be enough to hide them.
Forearm band tattoos – though narrower than the bicep, the forearm still offers plenty of space, even for quote armbands. Half-sleeve armband tattoos on the forearm are a popular choice – starting with a level line above the wrist, with the design reaching partway towards the elbow. Matching forearm bands on both arms are also a great choice.
Wrist band tattoos – best place for less complex designs, given that the wrist is relatively thin. If you're worried about your pain tolerance, it's worth keeping in mind that the wrist could be a more painful area to tattoo than the forearm and bicep.
Final words
Armbands are versatile, great-looking designs with plenty of aesthetic appeal.
Whether done on one arm only or as a matching set on both, they have a modern, stylish look that will definitely make you stand out from the crowd.
If you're still looking for ideas on what to include on your armband, take a look through our huge gallery below for plenty of inspiration!