Looking for some sleeve tattoo ideas? Get inspired by these amazing designs as we shortlist our favorites.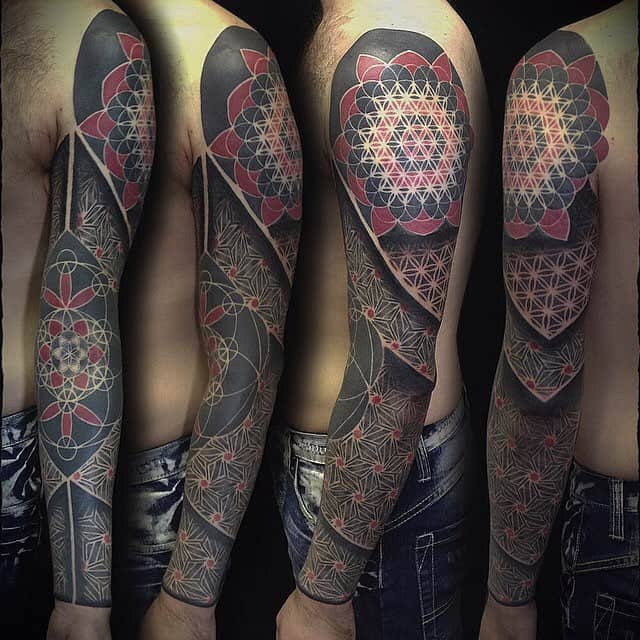 Sleeve tattoos are the ultimate tattoo dream for many.
A unified design covering the entire arm has always been a popular choice, though admittedly until relatively recently, it was much more common among men than women.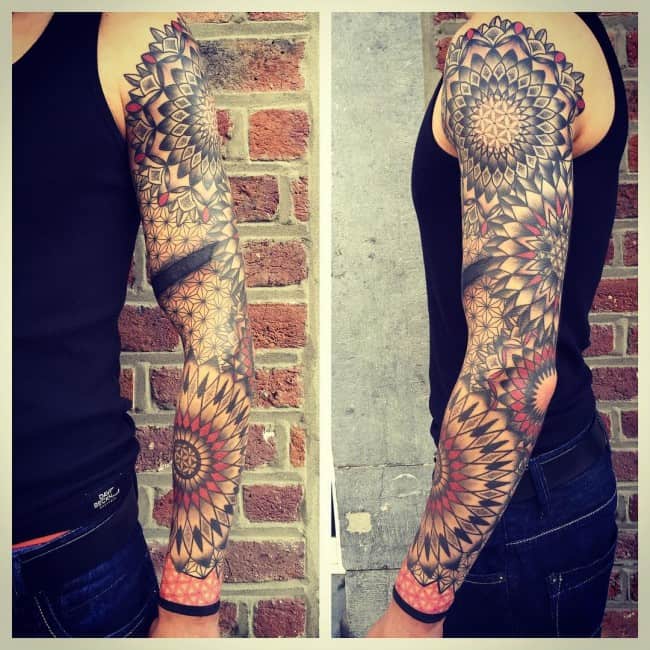 Since sleeves look just as awesome on women as they do on men, it's good to see sleeves becoming popular among all genders lately.
Check out the gallery below for loads of ideas for tattoo sleeves for men and women, and read on for more information on designs and the tattooing process.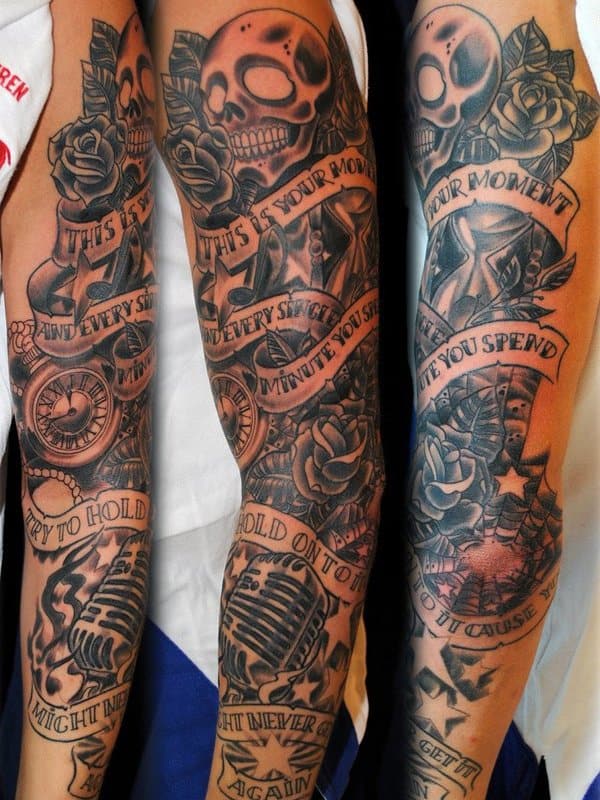 Sleeve tattoo facts
The term 'sleeve tattoo' refers only to the placement and size of the tattoo.
This means that a sleeve tattoo can include any style, elements, and colors – any tattoo that covers the arm from the wrist to the shoulder will be defined as a sleeve tattoo.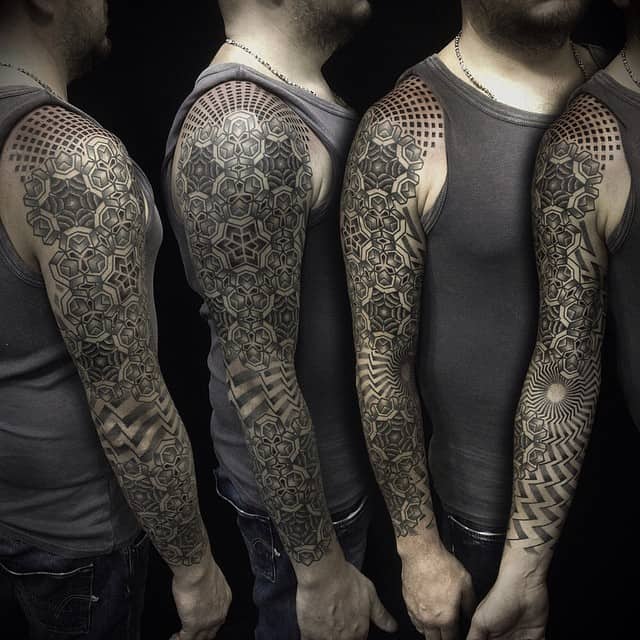 There is a difference between a sleeve tattoo and arm tattoos. You could have plenty of tattoos all the way down your arm, and it wouldn't be a sleeve.
What makes the tattoo sleeve distinct is the fact that it is a single large design, rather than a collection of smaller tattoos.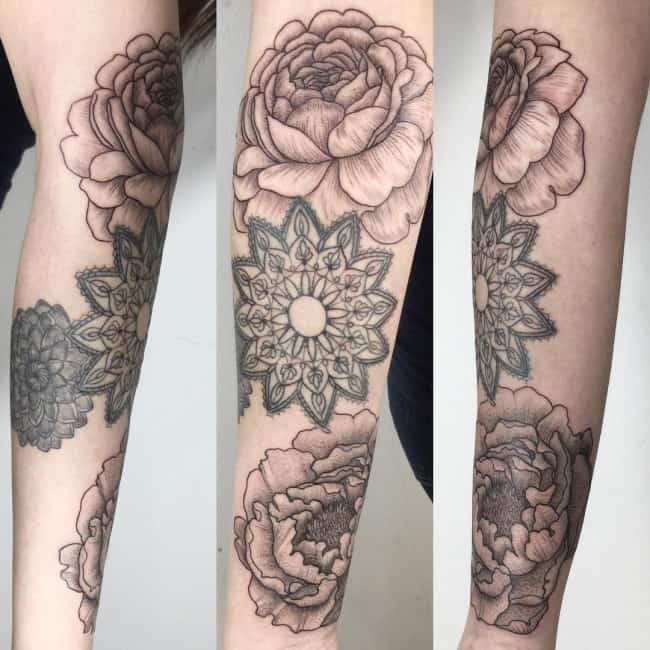 Full sleeve tattoo designs will extend from the wrist to the shoulder. A half-sleeve covers – you've guessed it – half of the arm, either from the elbow down or from the elbow up.
A tattoo extending from the shoulder midway down the upper arm is sometimes referred to as a quarter-sleeve.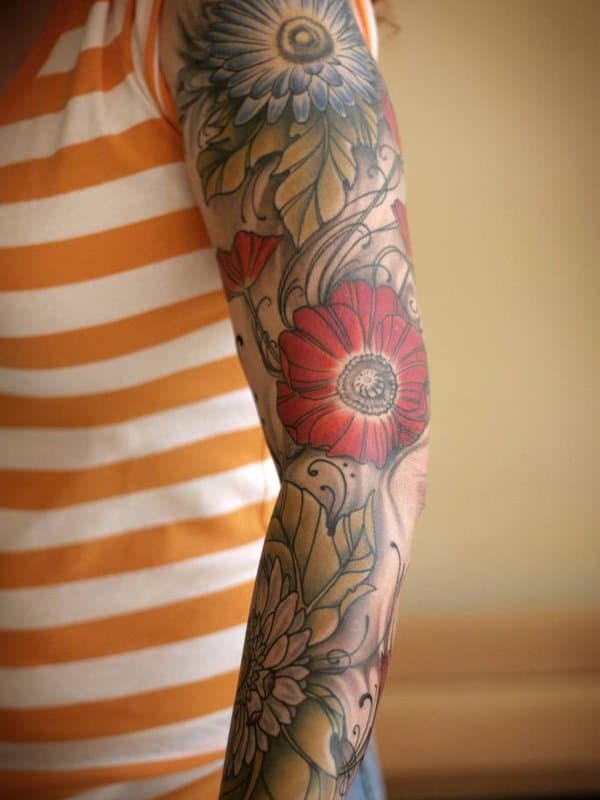 The tattoo sleeve process
The idea of actually getting a sleeve tattoo can seem intimidating for some – and let's face it, with good reason.
While smaller tattoos can be covered up with another design if need be, full sleeve tattoo designs are bold and prominent enough that in the vast majority of cases, once you get a sleeve, you're stuck with it.
It's important to carefully consider every tattoo you get, but doubly so when it comes to a sleeve.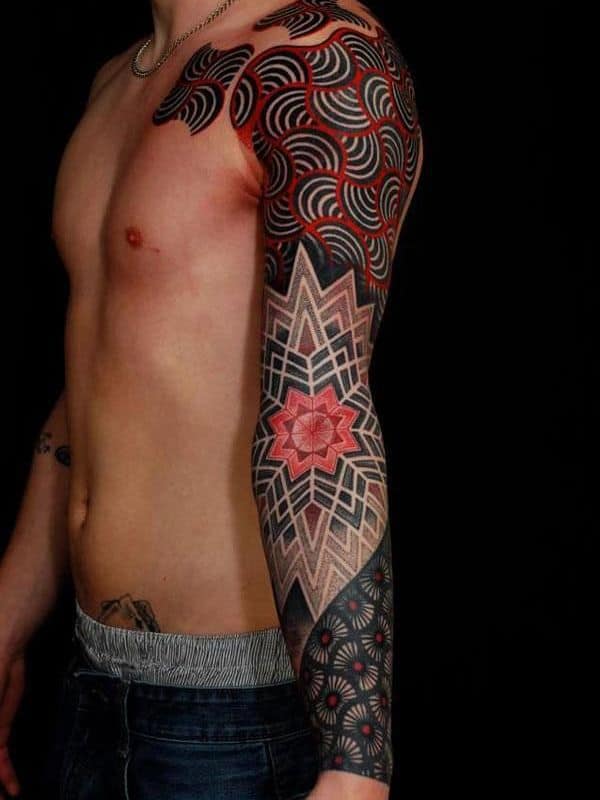 The first step involves working with your chosen tattoo artist to design your sleeve. Particularly if you want your tattoo to wrap all the way around your arm, as is common with sleeves, it's essential to have a clear plan on what the tattoo is going to look like.
When it comes to full sleeves, the actual tattooing process is definitely going to take more than one session. Your tattoo artist should be able to give you an estimate of how long it's going to take, but prepare for a minimum of ten to fifteen hours for the simplest designs.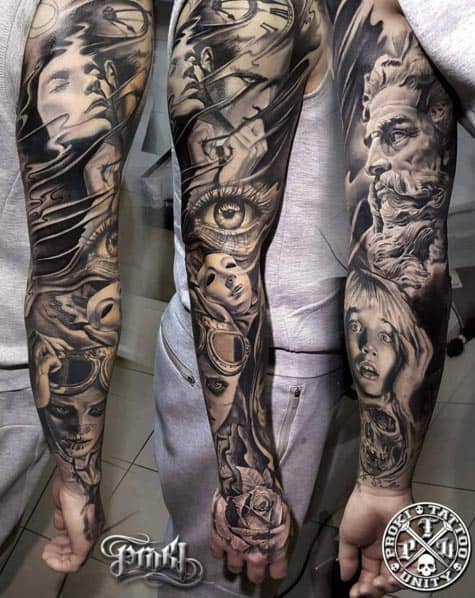 Obviously, the more detailed the tattoo, the longer it's going to take. It's not uncommon for full sleeves to take more than 50 hours.
The process is therefore long and, as you're likely aware, painful. Keep in mind that there will probably be long breaks – a couple of weeks on average – between sessions, to give your tattoo time to heal before the next part is done.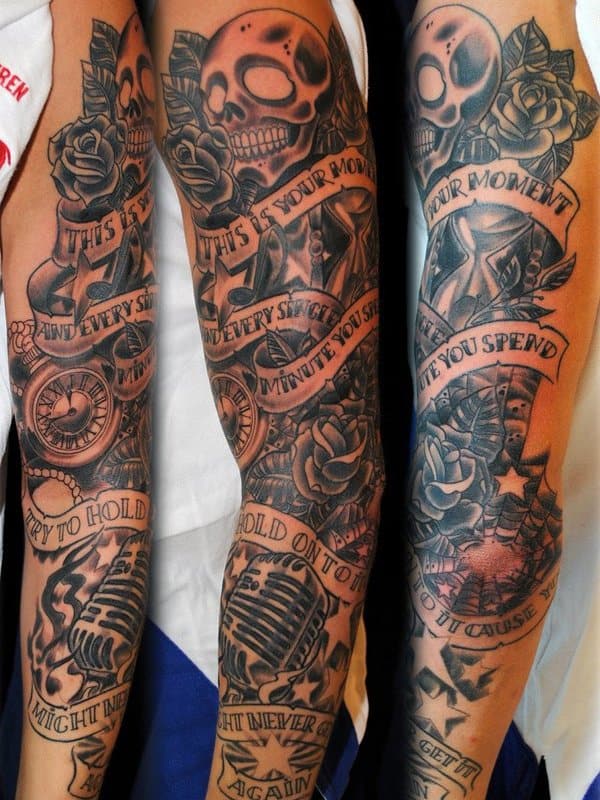 Celebrities with sleeve tattoos
There are plenty of celebrities who chose sleeve tattoo designs. For instance:
John Mayer – John Mayer has a colorful sleeve tattoo incorporating a number of elements inspired by Japanese culture and tattoo style.
Cher Lloyd – Cher Lloyd has a colorful half-sleeve tattoo of butterflies.
Kat Von D – Kat Von D has full sleeves incorporating portraits and floral elements on both arms.
Justin Bieber – Justin Bieber's sleeve tattoos – again, on both arms – are made up of various images, including floral motifs.
Adam Levine – Adam Levine's sleeve designs include a tiger on one arm and a large image of a rose on the other.
David Beckham – Among his many tattoos, David Beckham has a sleeve tattoo with a portrait of his wife, Victoria.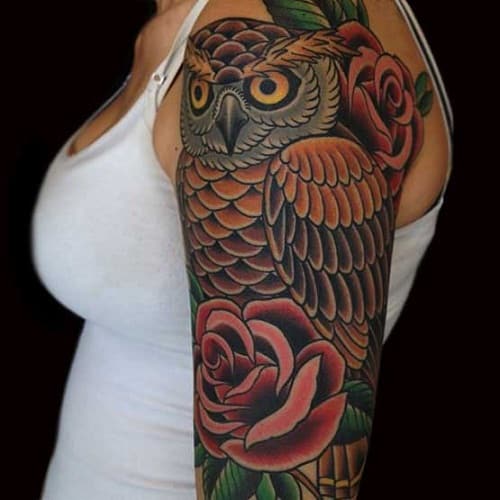 Best sleeve tattoo designs for men and women
Each sleeve tattoo will be unique, and your tattoo artist will help you make sure that your design is what you expected it to be.
If you're looking around for ideas, here are some popular full sleeve ideas to consider:
Tribal sleeves – One of the most interesting black and grey sleeve tattoo ideas are tribal designs. Often based around the Maori tattoo style, these designs typically feature recognizable tribal elements such as spirals and the contrasting of rounded and angular abstract shapes.
3D sleeves – Hyper-realistic 3D designs are a popular choice for sleeves, and they look particularly impressive when placed on the entire arm. The subject matter can involve anything from floral designs, animals, portraits, objects, and abstract patterns, and is often done in full color to look even more realistic. Biomechanical sleeves are often done in full 3D, too.
Warrior-themed sleeves– The warrior full sleeve design may involve images of warriors, armor pieces, and weapons, with clear intent of representing strength and masculinity.
Pocket watch sleeves – Pocket watches are a popular element in tattoo art, and they often make an appearance in sleeves, too. In such a design, the pocket watch can be the central element, surrounded by other objects or symbols.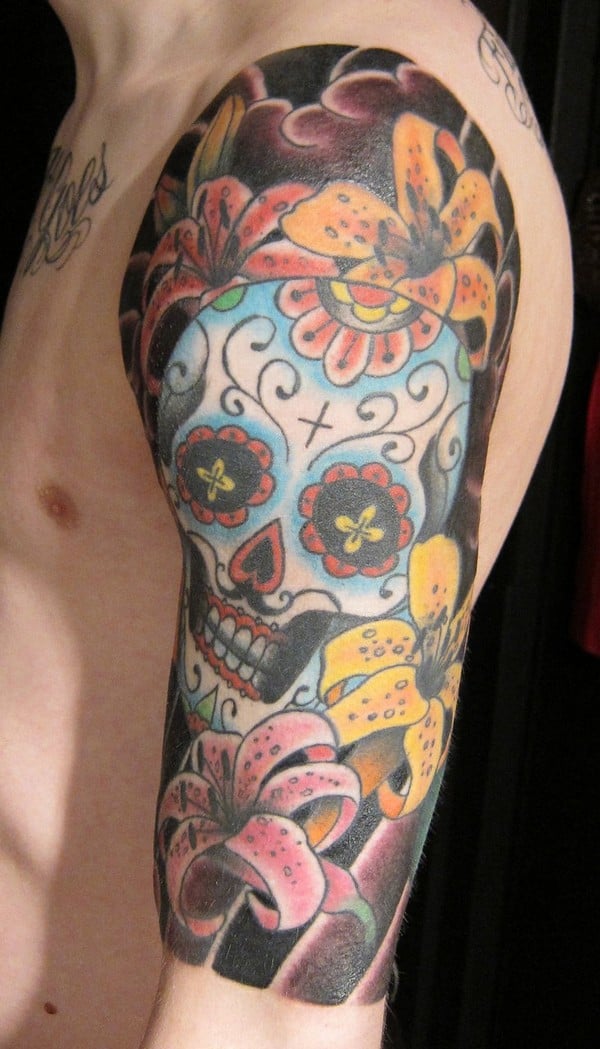 When it comes to sleeve tattoo designs, with such a large area to work with, the possibilities are endless.
Whether you're going purely for aesthetics or you want your tattoo to hold deeper meaning or represent specific values, be sure to consider your design ideas carefully before committing to a full sleeve.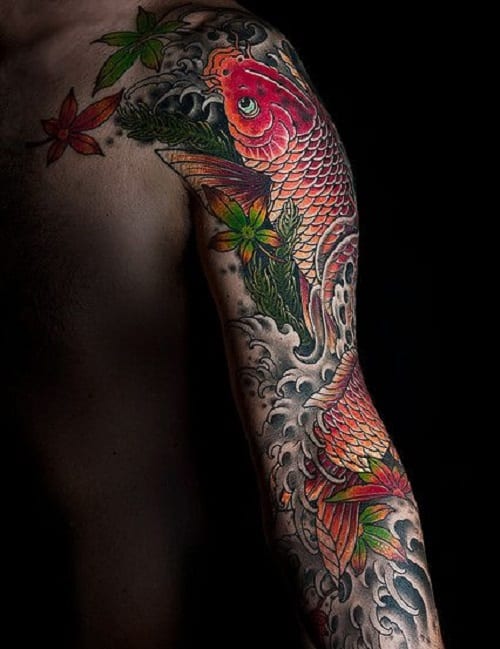 Remember that it's always an option to start with a self-contained quarter- or half-sleeve, with a view to potentially expand it into a full sleeve at a later date. Make sure you consult such a plan with your tattoo artist though, as not every design will be easy to add on to later on.