Time is the most important element in a person's life and a watch is used to measure time, which makes it a very important device. Tattoos represent one's attitude and feelings, which is the reason why tattoo art has been ruling the hearts of people for a long period of time. Tattoo artists around the world have used design elements such as flowers, animals, celestial bodies, fish, trees and other objects in nature as well as for fantasy world in tattoo designs. One of the most alluring tattoo designs which have been revered by men and women for decades, is the pocket watch tattoo design.
Pocket Watch Tattoos Meanings
A pocket watch tattoo is much loved because of its symbolic meaning. It has a very special meaning which associates it with the importance of time. A pocket watch is related to a special point of time in one's life, such as dates of birth of a child, wedding anniversaries and even date of death of a loved one. In this way, they symbolize time, life, death and stability and constantly remind the bearer about the significance of every single second in their life. It keeps telling them to live every moment to the fullest and make sure that life is made worth living by realizing the value of every single moment of time. the watch is also a fashionable accessory which is worn by a person to enhance his appearance, which also makes them a style statement. As a result, such tattoos are both, valuable in the aesthetic sense as well as they have a deep symbolic meaning. This has made pocket watch art a preferred choice among discerning tattoo lovers.
Placement Guide
The attraction and aesthetic appeal of a tattoo design is largely determined by its placement. The most favorable spot for bearing a pocket watch art is the shoulder, as it really suits the shape and size of this tattoo. Men are usually spotted with pocket watch shoulder or sleeve tattoos, while women prefer to wear them as back tattoos. However, smaller sized tattoos are done on smaller surface areas such as the legs, wrist, back of the neck and ankle . Such a tattoo also looks good on the side, sleeve stomach, rib, shoulder, thigh & chest. The placement of the tattoo depends upon its design and design and it can be chosen with the help of an experienced artist, who can guide you well about the spot where it would look the best. Dragon, phoenix, fish, lion, owl, elephant, wolf, celestial objects stars, moon, birds and many other elements such as flowers, dreamcatchers, feathers, cross, arrows, compass, musical symbols, heart, infinity symbol, trees can also be used to enhance the pocket watch tattoo designs or it depends on the bearer.
Popular Design Options Pocket Watch Art
A large number of design options are available for pocket watch tattoos, thanks to the dedicated tattoo artists around the globe, who are constantly at work to create some new and amazing designs for their trendy and fashion loving clients. In addition to the conventional clock designs, they also incorporate numerous other design elements to give a new look and add a new meaning to these tattoo designs.
Here are some popular designs:
Some other preferred pocket watch designs are realistic pocket watch, broken pocket watch and watch with skull design, the last two having something ominous about them. The tattoo bearer can choose an element to be added to the original design and discuss his preference with the artist, who can blend the two to create an absolutely amazing impact.
This beautiful bee.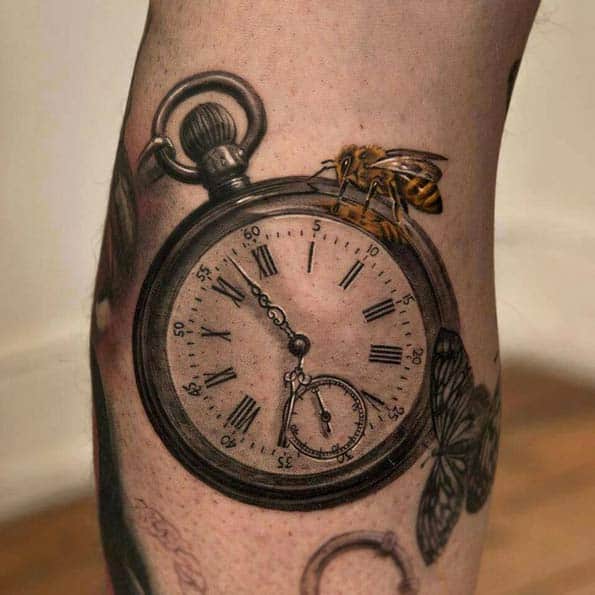 This colorful open-faced work.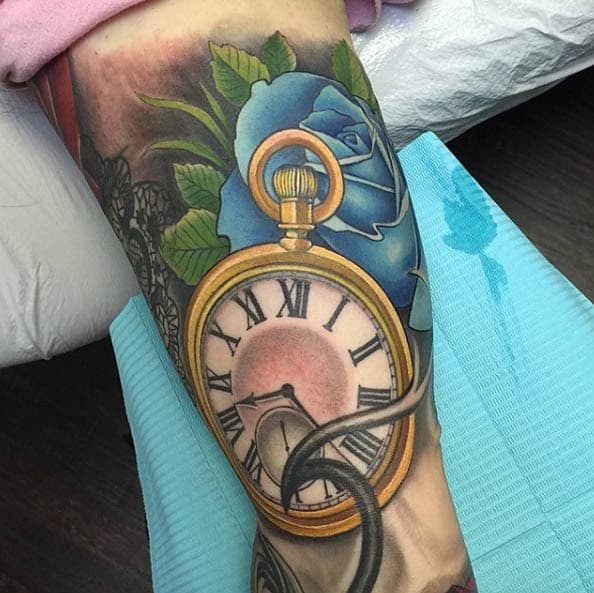 These gears.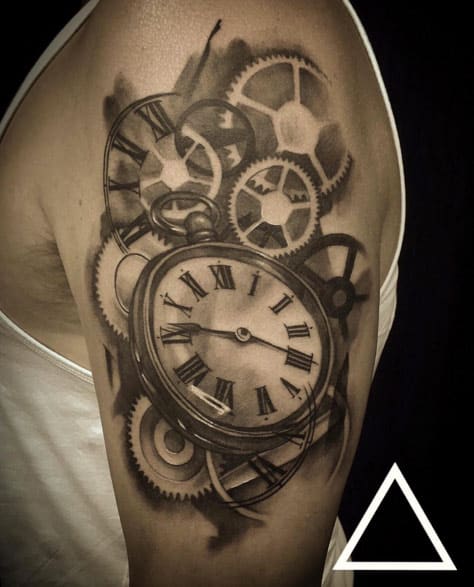 This cracked dial.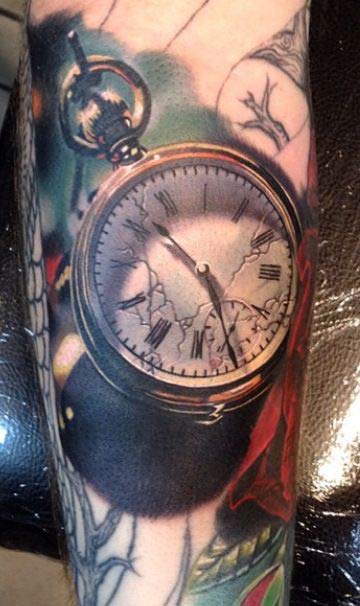 This fantastic hyperrealism work.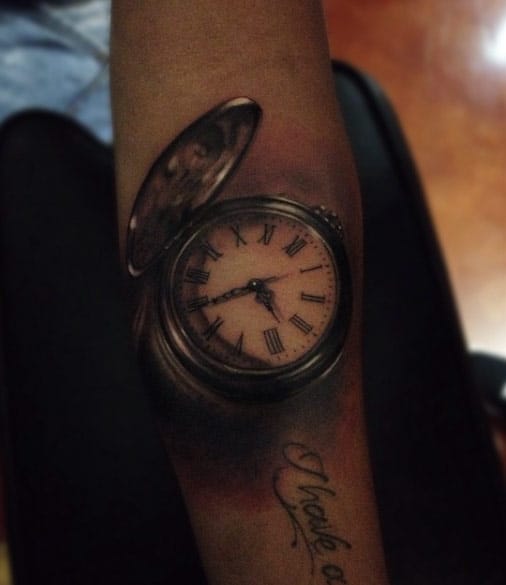 This melting pocket watch.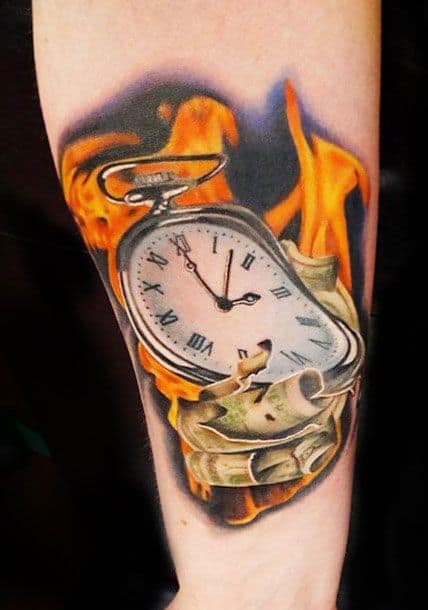 This watercolor work.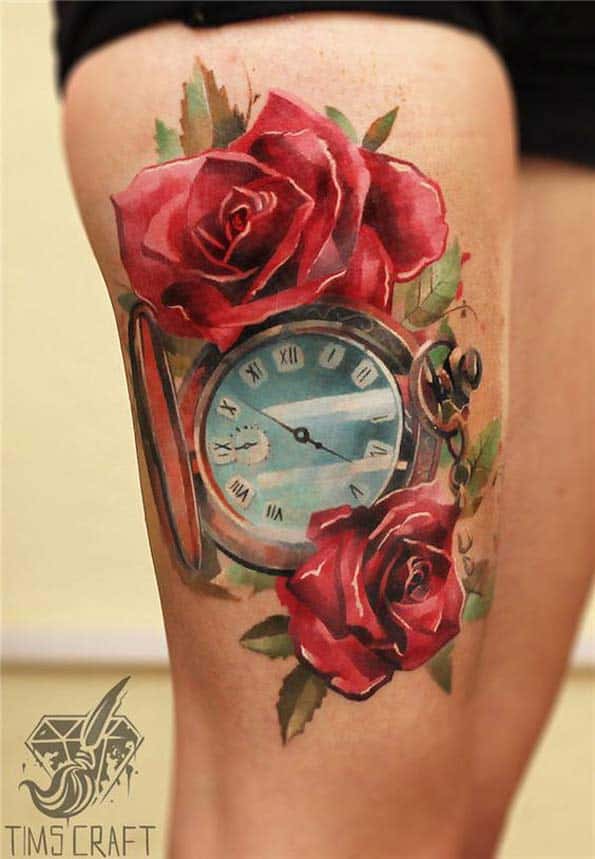 This stellar reflection.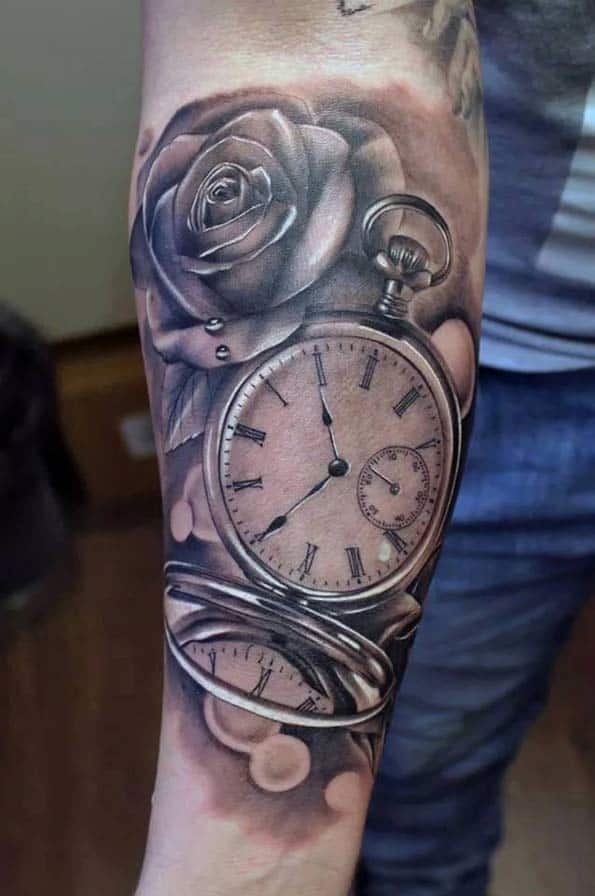 These roman numerals.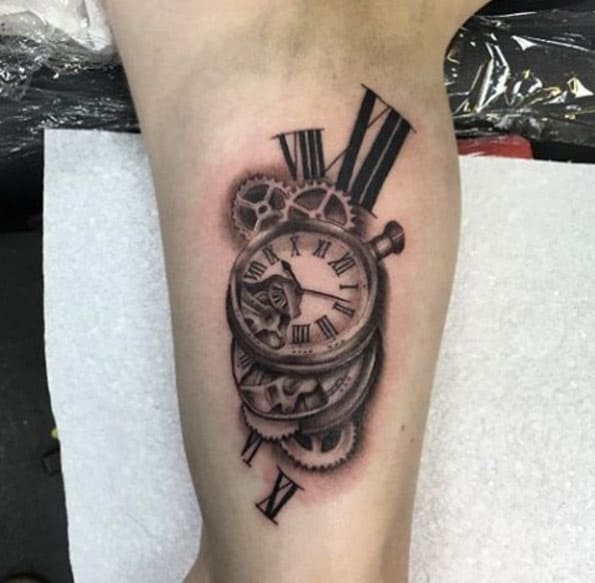 This black and grey ink open-faced pocket watch.