Looking for some tattoo inspiration? Check out these amazing pocket watch tattoo ideas!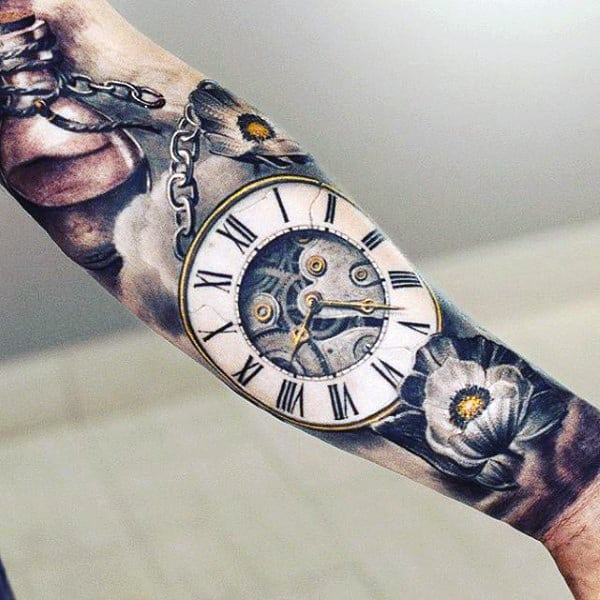 From clocks and sundials to watch mechanisms, timepieces have always been a fashionable choice for tattoo designs.
Among these, pocket watches are perhaps the most popular option – perhaps because unlike a clock face or a wristwatch, a pocket watch image appears complete and contained, providing the best aesthetic result.
Recommended: Need ideas for unicorn tattoos? Don't miss our awesome guide!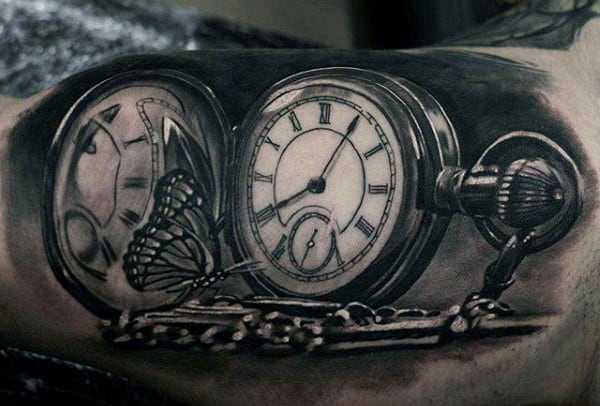 History of pocket watches
Pocket watches have a complex history. Invented in the 16th Century, pocket watches were originally available only to the upper classes and were a testament to the person's wealth and status.
They were originally worn as necklaces since they were too large and heavy to be conveniently placed in a pocket.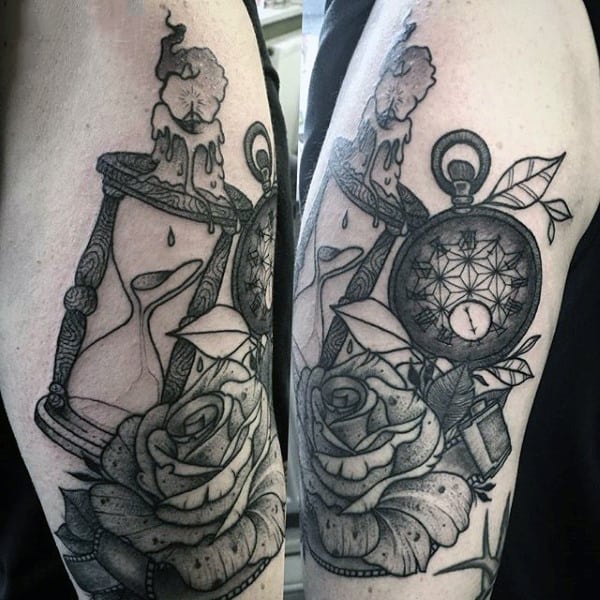 With technological advancements, pocket watches gradually became smaller and more portable. Often made of gold, silver, and other expensive materials, they were carried in a special pocket and considered an important fashion accessory – particularly for men of high social standing.
It wasn't until the nineteenth century that pocket watches became popular among middle and lower classes. During the Industrial Revolution, pocket watches started to be made from standardized parts, making them easily affordable for everyone.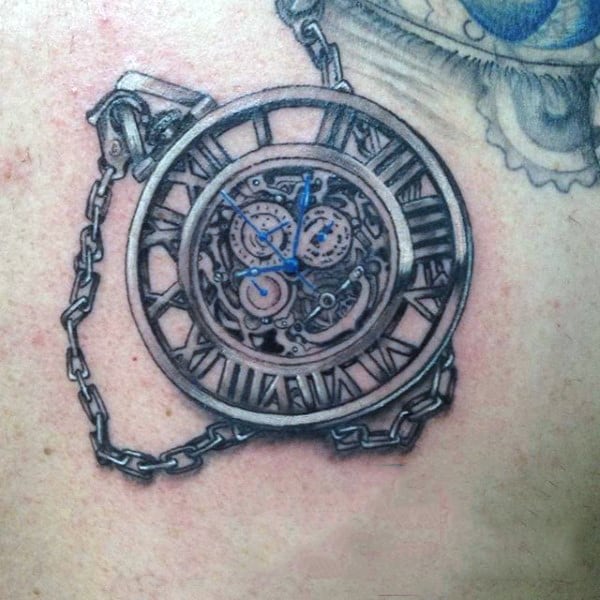 It was at this time that pocket watches became an essential tool for railroad workers since the safety of a railroader depended on accurate timekeeping.
After a famous train accident in Ohio, American railroads established regulations determining what an acceptable timepiece looked like.
Basically, it was an open-faced pocket watch with a white dial and Arabic numerals. It also had to be engineered to be accurate within 30 seconds per week.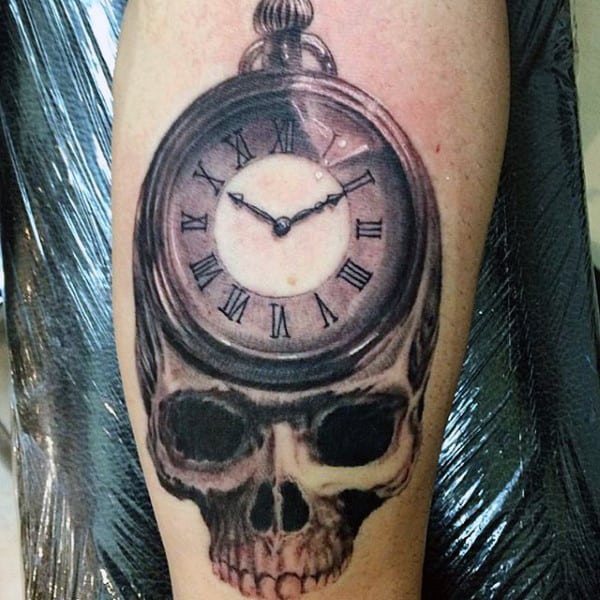 Around the time of World War I, wristwatches began gaining in popularity, gradually making pocket watches obsolete.
Recommended Reading: Check out our huge guide to Sagittarius tattoos next!
Nowadays, pocket watches are seen rarely, usually either as collectors' items, alternative fashion accessories, or family heirlooms.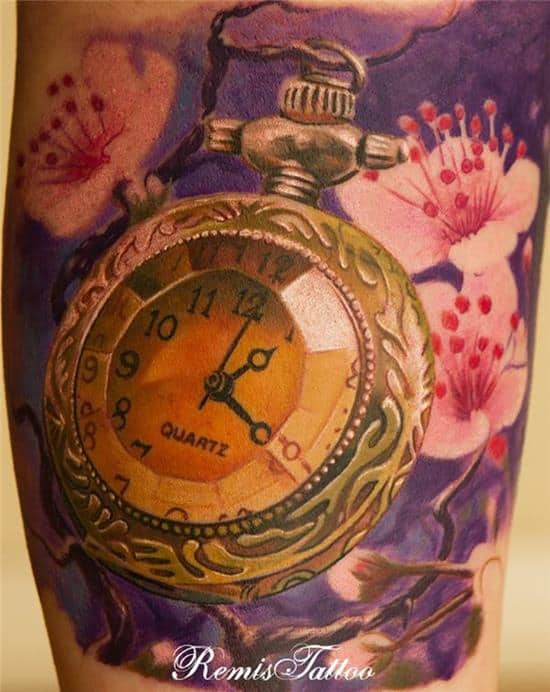 Pocket watch tattoo meaning
The meaning of a pocket watch tattoo is the same as that of any timepiece. Many people opt for a pocket watch design as a reminder of the passing of time – most commonly, this reflects the value of wishing to live in the moment, either without looking back or too far into the future.
Often, people decide to get a pocket watch themed tattoo due to specific personal meaning. One example could be to immortalize and remember a specific, important moment in their lives.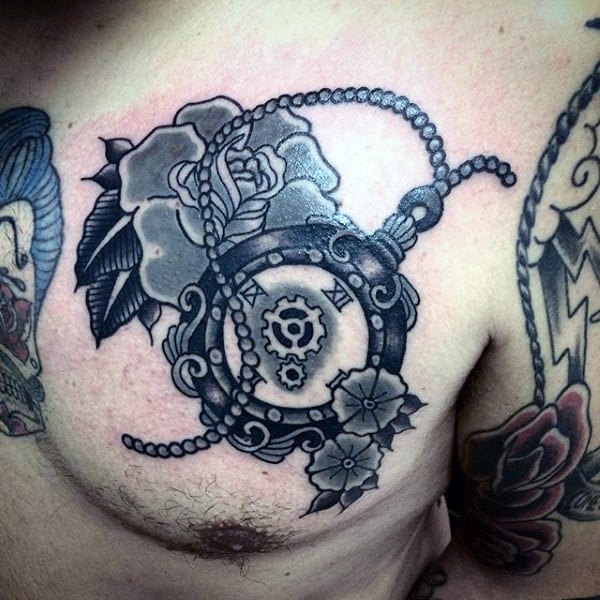 The time could have special significance to an individual – for instance, the time someone's child was born or the time when they got married. Pocket watches make for great tattoos to symbolize the importance of such moments.
Sometimes, pocket watch style tattoos are meant to commemorate the passing of a loved one.
Perhaps one of the reasons why pocket watches became a popular way of remembering a deceased loved one through a tattoo is that back when pocket watches were in fashion as high-value items, they were often passed down the generations as a family heirloom.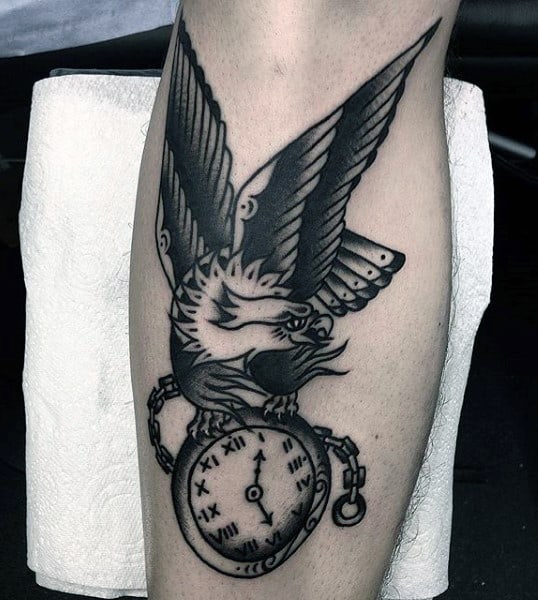 Pocket watch tattoo placements
Because of the detailed nature of the pocket watch as an image, very small areas such as the finger or the spot behind the ear will be out of the question. Small designs may be fitted onto the wrist, the back of the neck, or the ankle.
Generally, though you'll need at least a moderate amount of space to accurately render a pocket watch and ensure a good-looking tattoo.
Recommended Article: Don't miss our latest guide on ocean tattoo ideas.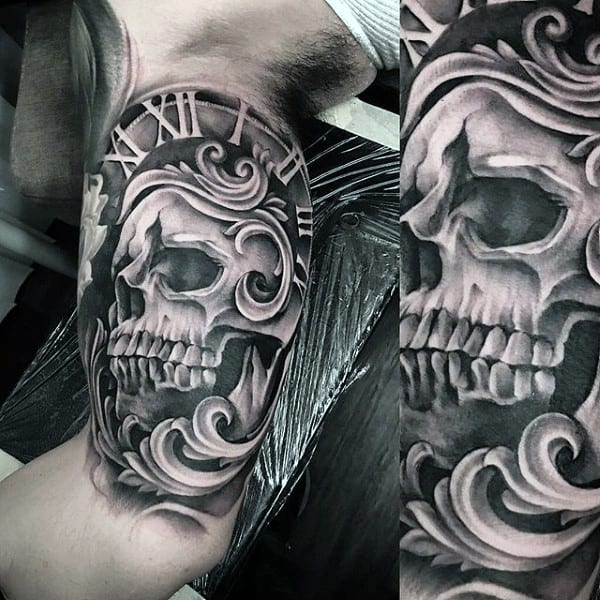 Some of the most popular placements for a pocket watch tattoo are the arms and shoulders. A pocket watch will work great as an element of a sleeve tattoo, too.
Other good placements for a pocket watch design include the back, chest, and thigh areas, as well as the ribs.

Pocket watch tattoo design ideas
In contemporary tattoo art, pocket watches are most often tattooed in all-black, in a hyper-realistic style.
However, a traditional tattoo of a pocket watch, involving a black outline and vivid coloring, is also not an uncommon choice.
Recommended Next: Want to see more Buddha tattoos? Check out our guide!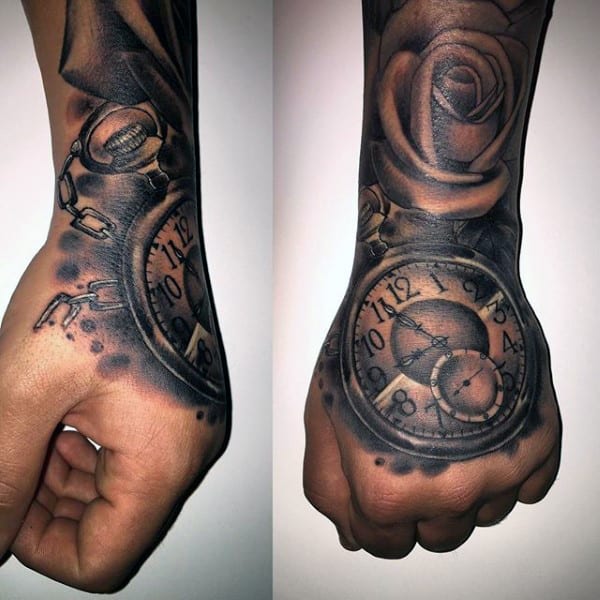 There are plenty of options for the look of a pocket watch tattoo, from vintage or steampunk style to modern or gothic aesthetics.
While designs involving nothing but a pocket watch look awesome, you could also consider combining the pocket watch with other elements for a more complex tattoo.
Here are some popular designs:
Pocket watch mechanics – for a steampunk or biomechanical look, pocket watches can be combined with images of cogs and other mechanical parts. An interesting way to make a pocket watch design more complex is a design with a transparent watch dial, showing the mechanism within.
Pocket watch with flowers and butterflies – pocket watch designs can be made to look particularly feminine through the addition of flowers or butterflies, particularly when done in color – though this doesn't always have to be the case. Dark, gothic-style designs involving floral elements, are also an interesting choice.
Pocket watch with text – If your pocket watch tattoo is meant to hold specific personal significance, you could consider combining it with an element of writing. Dates and names are a popular choice, as well as quotations and mottos.
Pocket watch with an anchor – As far as tattoos go, anchors never go out of style. Combining a pocket watch with an anchor in a single design can add further meaning to the tattoo – the anchor is usually seen as a symbol of stability and strength. Consider making this a 3D design for a particularly eye-catching tattoo.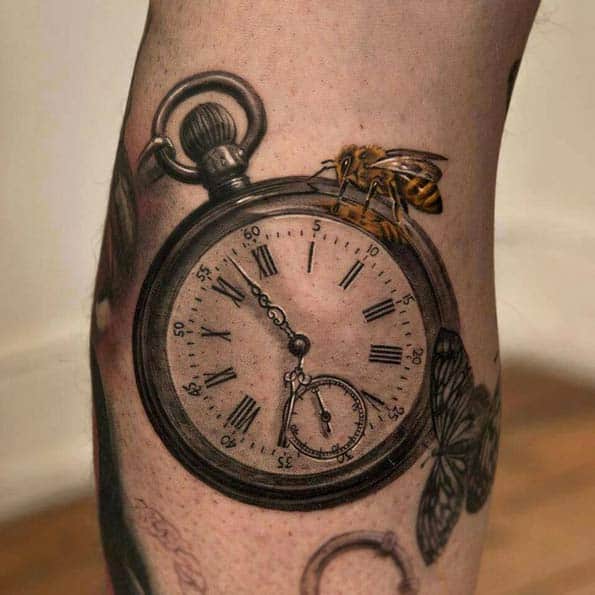 Ultimately, the possibilities for adding further elements to a pocket watch design are practically endless – it all depends on how you want your tattoo to look and how you're going to express what it means to you.
Remember that the pocket watch doesn't necessarily have to be represented in a traditional way – broken, cracked, or melting pocket watches are also an interesting idea.