Are you a Sagittarius? If so, you might want to consider getting one of these 100 amazing Sagittarius tattoos that will represent your character.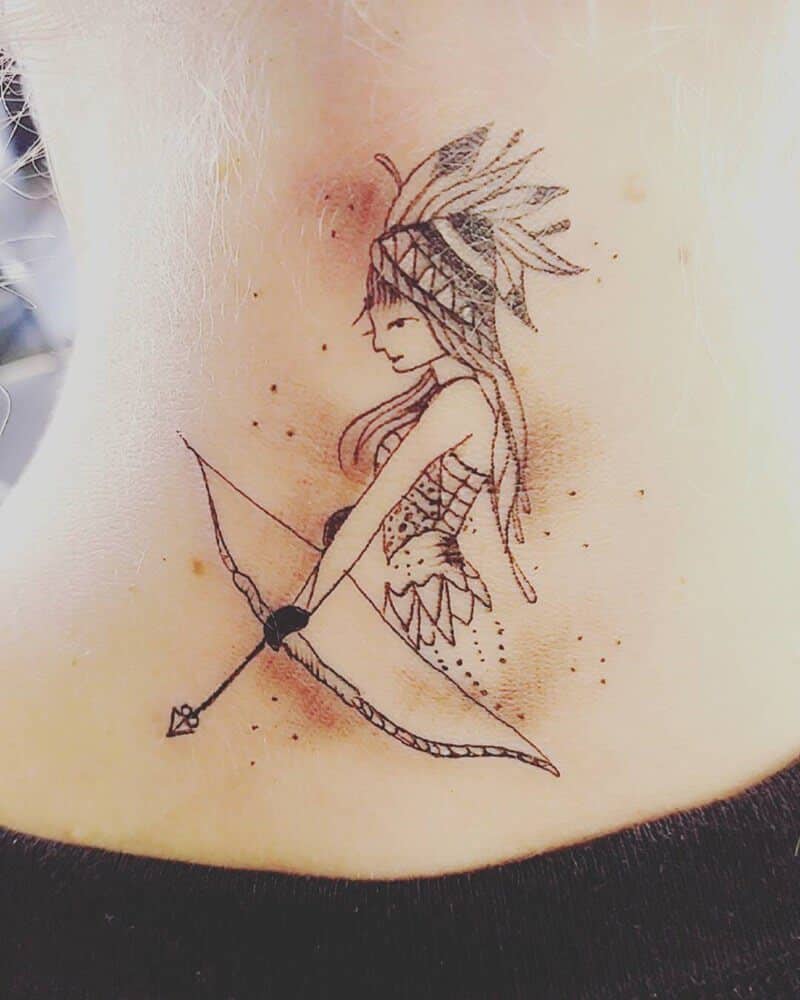 Were you born under the Sagittarius star sign? Then you might want to consider getting a Sagittarius tattoo to express your own unique personality.
Sagittarius tattoos come in many different forms, shapes and sizes, from an archer tattoo to a constellation-inspired design.
Sagittarius tattoo designs look great on many different parts of the body, so whether you're looking for a large and dramatic, bold design or whether you're wanting a smaller and more discreet piece of body art, you're sure to find a design that is perfect for you in our fiery Sagittarius design suggestions.
Recommended Reading: Need ideas for matching best friend tattoos? Don't miss our awesome guide!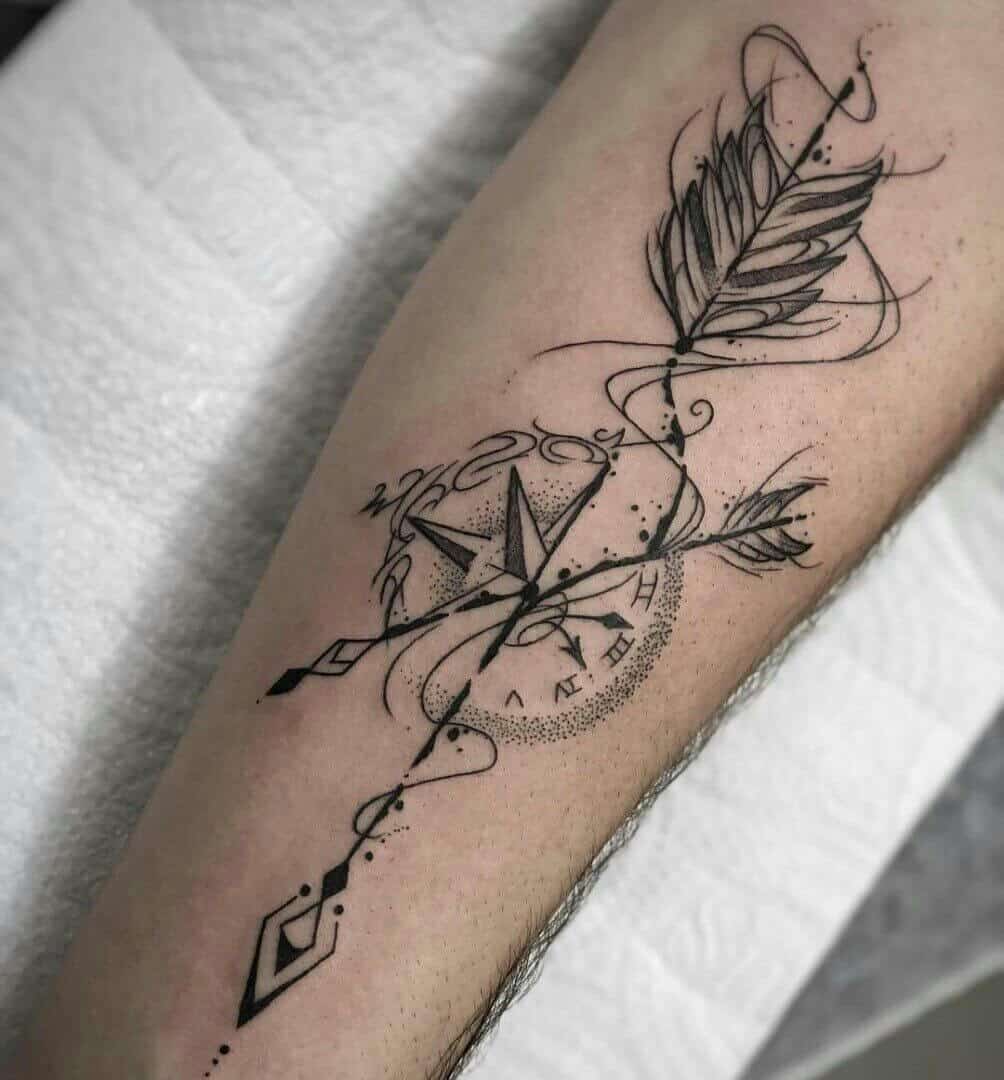 The Sagittarius Sign – What Does It Mean?
Some accounts of the zodiac signs suggest that they came from Arabic cultures, whereas others suggest they came from ancient Greece.
However, Indian cultures also have a close association with Zodiac signs and beliefs.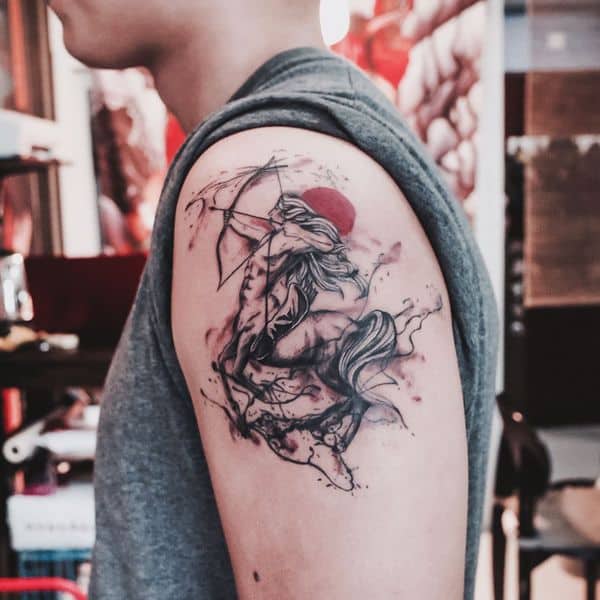 Symbols and signs of the Zodiac were drawn on the ground and on walls during ancient times and then, later, they were inked onto people's bodies to demonstrate their personality traits.
Sagittarius is the ninth sign of the Zodiac wheel and it's one of the three fire signs, usually represented by the symbol of the archer with a bow and arrow.
Essentially, the archer is a centaur, or half horse, half human. The sign is representative of people who were born between 23rd November and 21st December.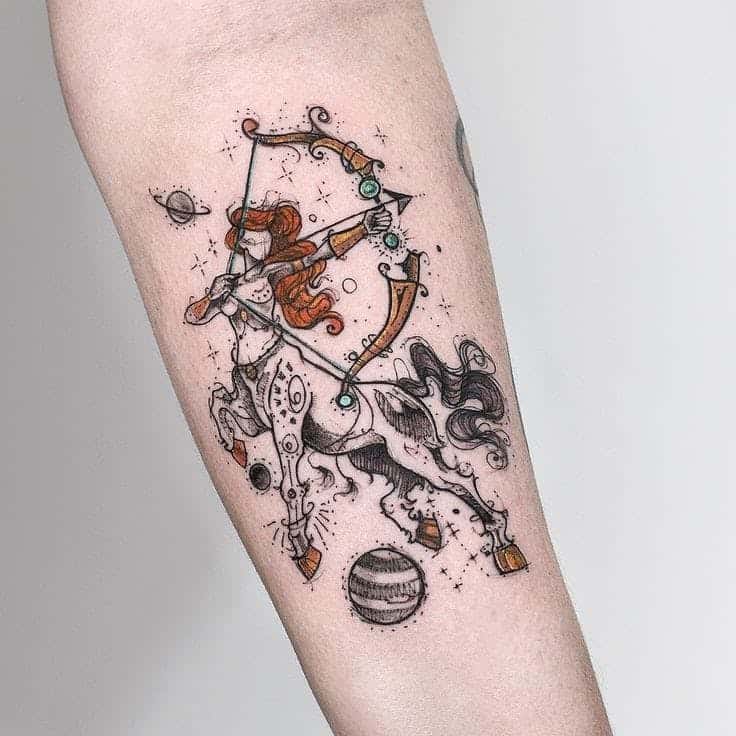 Sagittarians are big characters who live their lives to the full. Like all fire signs, they want their day to be filled with big thrills.
Sagittarians are also progressive, adventurous, restless and optimistic. They hate to feel restrained, bossed around or thwarted and crave freedom.
Sagittarians are ruled by the planet Jupiter, and this means that they're more likely to land on their feet, even in difficult situations and they are known for their good luck.
The archer symbol associated with this fire sign is the perfect choice for the restless and outdoorsy nature of Sagittarians. It sums up their thrill for the chase.
Recommended Article: Check out our bow tattoo ideas in our latest guide.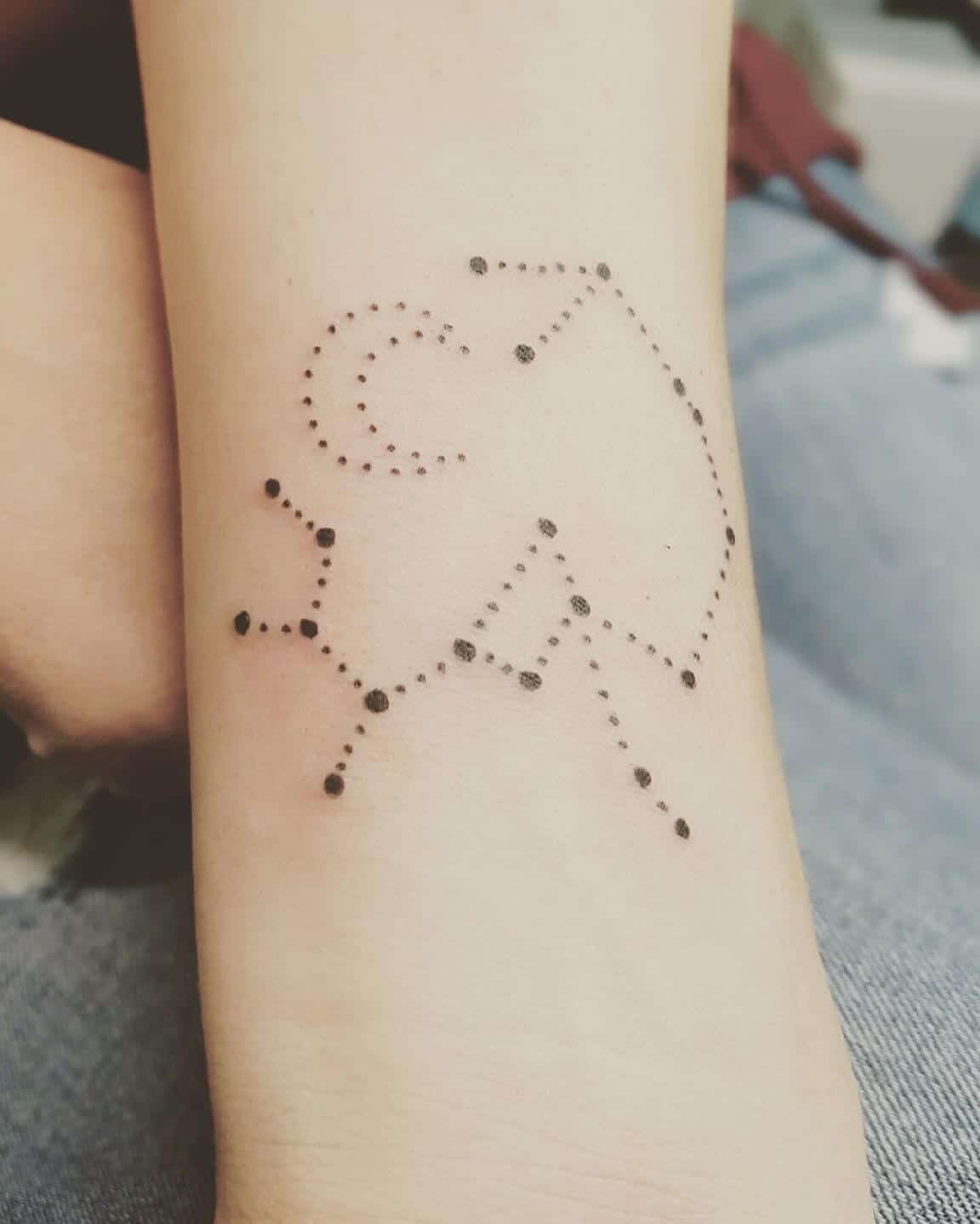 Some of the character traits associated with Sagittarians include:
Honesty – Sagittarians say what other people think but never dare to say. They will give a true opinion.
Adventurousness – Sagittarians value freedom and excitement. They are the perfect travel companions, although they can be troublesome to work with as getting them to settle for any plan can be a challenge.
Optimistic – sometimes, Sagittarians can be described as optimistic or naïve. They tend to default to a trusting status and sometimes fail to recognize when someone's intentions are less than good. They prefer to look for the positive rather than the negative until there's no way to deny that something bad is happening any longer.
Independent – Sagittarians are loving and warm but they don't like to compromise on their own plans. They don't do plan B and they only really want to commit to ideas that they've generated themselves.
Philosophical – Sagittarians are also deep thinkers. They like to work things out and test their theories. They prefer the intellectual realm to an emotional one and like to think rather than feel.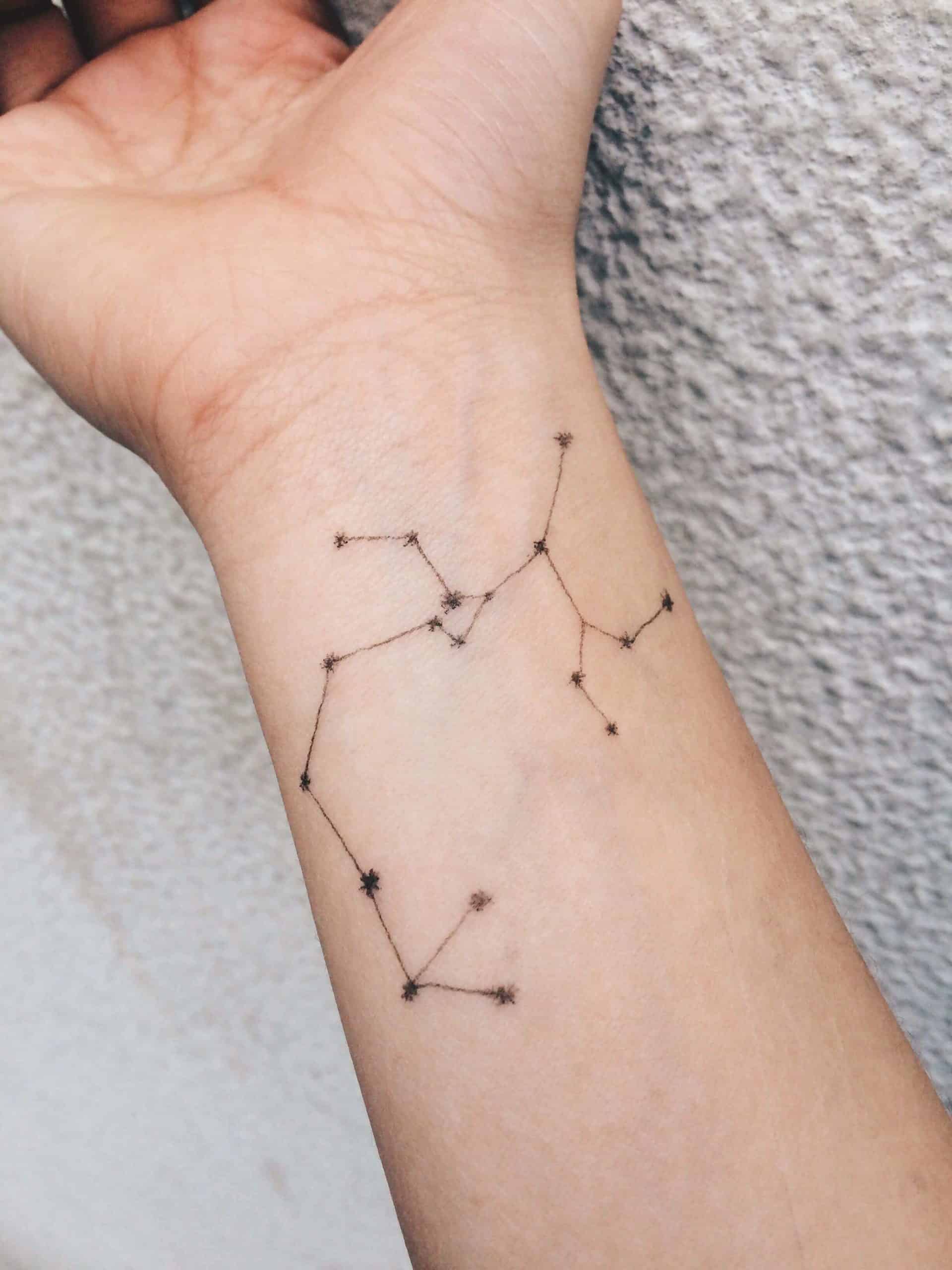 A Sagittarius sign tattoo in any of its forms is a great way for you to express all of these individual facets of your own personality and allows you to reflect your unique traits through your body art.
Recommended Reading: Check out our huge guide to ocean tattoos next!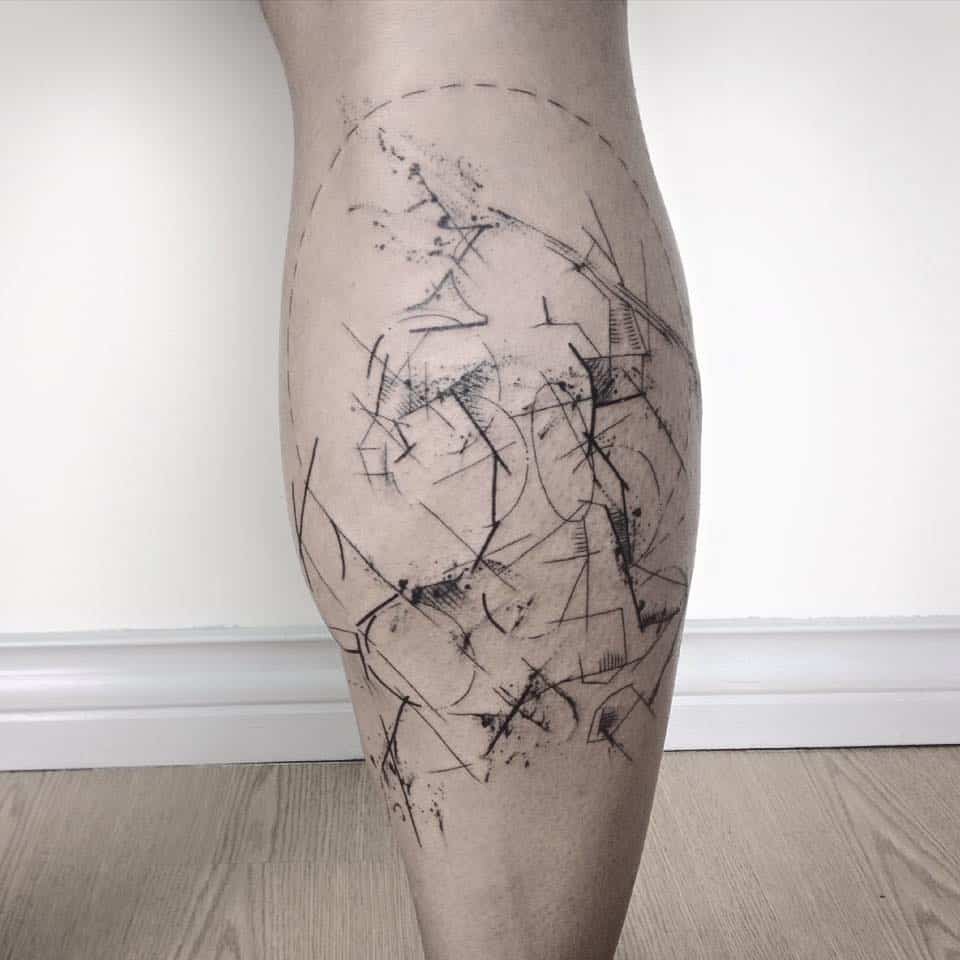 Why Get a Sagittarius Star Sign Tattoo
A tattoo that takes its inspiration from the star sign Sagittarius is a great choice for someone who was born under this sign of the Zodiac, but it could also equally be chosen by anyone who wants to embody the traits and personality characteristics associated with this fire sign.
Passion, independence, and courage – all of these are linked to this sign and those who choose to wear it are most likely to exhibit these traits. They are also willing to take on any challenge, completely fearlessly, and embrace thrills of all kinds.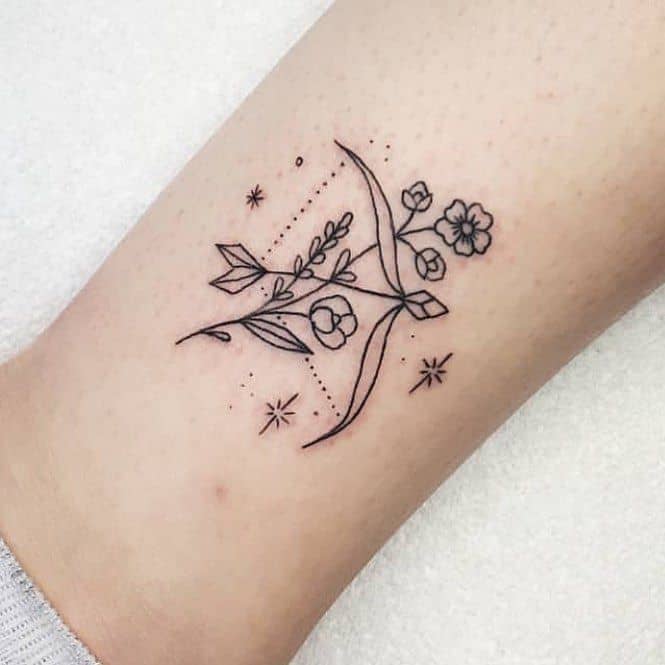 Getting a Sagittarius-inspired tattoo is a great way to demonstrate your belief that you'll always be victorious over any obstacle that you face. It could also be an excellent way to commemorate or celebrate someone you love, whether alive or deceased.
Recommended: Want to see more watercolor tattoos? Check out our guide!
Some people also ask for this type of tattoo as a tribute to their partner, for example as a birthday or anniversary gift, showing their undying devotion to them by inking their body with their loved one's star sign.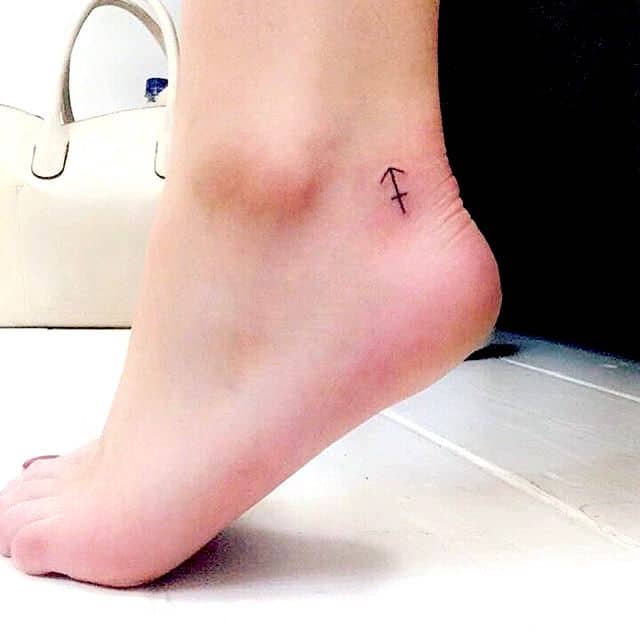 Popular Sagittarius Tattoo Ideas
There are many different ways to depict the Sagittarius star sign in tattoo form. Some people choose a Sagittarius constellation tattoo which simply displays the constellation's appearance in the night sky.
This is a subtle yet highly effective way to express your Sagittarian affinities and it can easily be hidden in a location that can be covered with clothing.
On the other hand, some people prefer to get a full centaur tattoo. This depicts a complete half horse, half human archer in intricate detail and often with color and additional imagery.
The human element of this tattoo may be either male or female depending on the wearer's preferences, whether it's to depict themselves, a loved one, or simply to represent their own desires.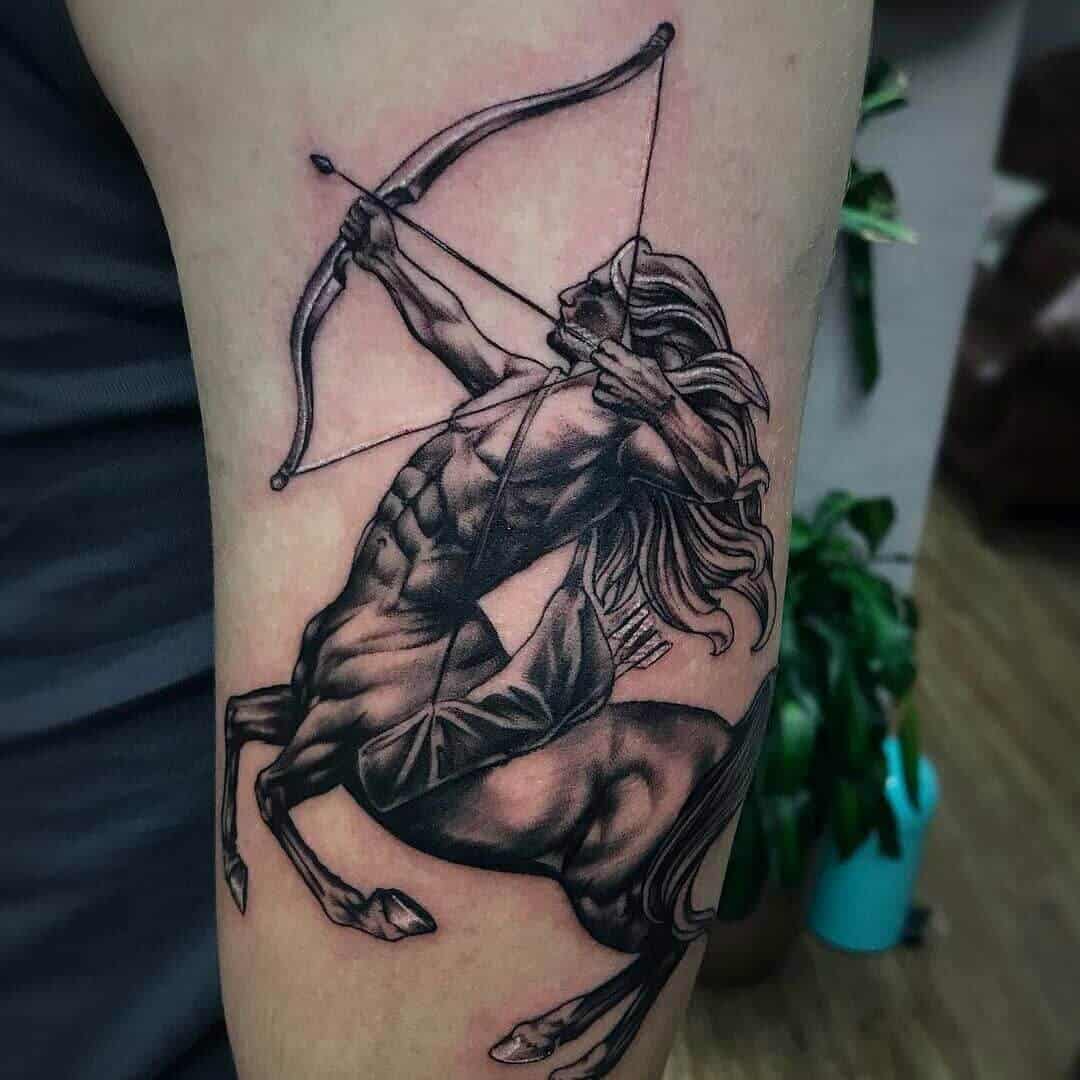 The horse element of the tattoo represents the animalistic spirit and the desire for adventure and thrill. It means that the wearer enjoys travelling and helping others.
A minimalistic Sagittarius-inspired tattoo can be very effective for a smaller part of the body such as an ankle, behind the ear or on the wrist.
Usually done in blackwork, it shows the Sagittarius sign in its basic form for a discreet yet meaningful appearance. These tattoos may not be detailed but they can still be highly symbolic.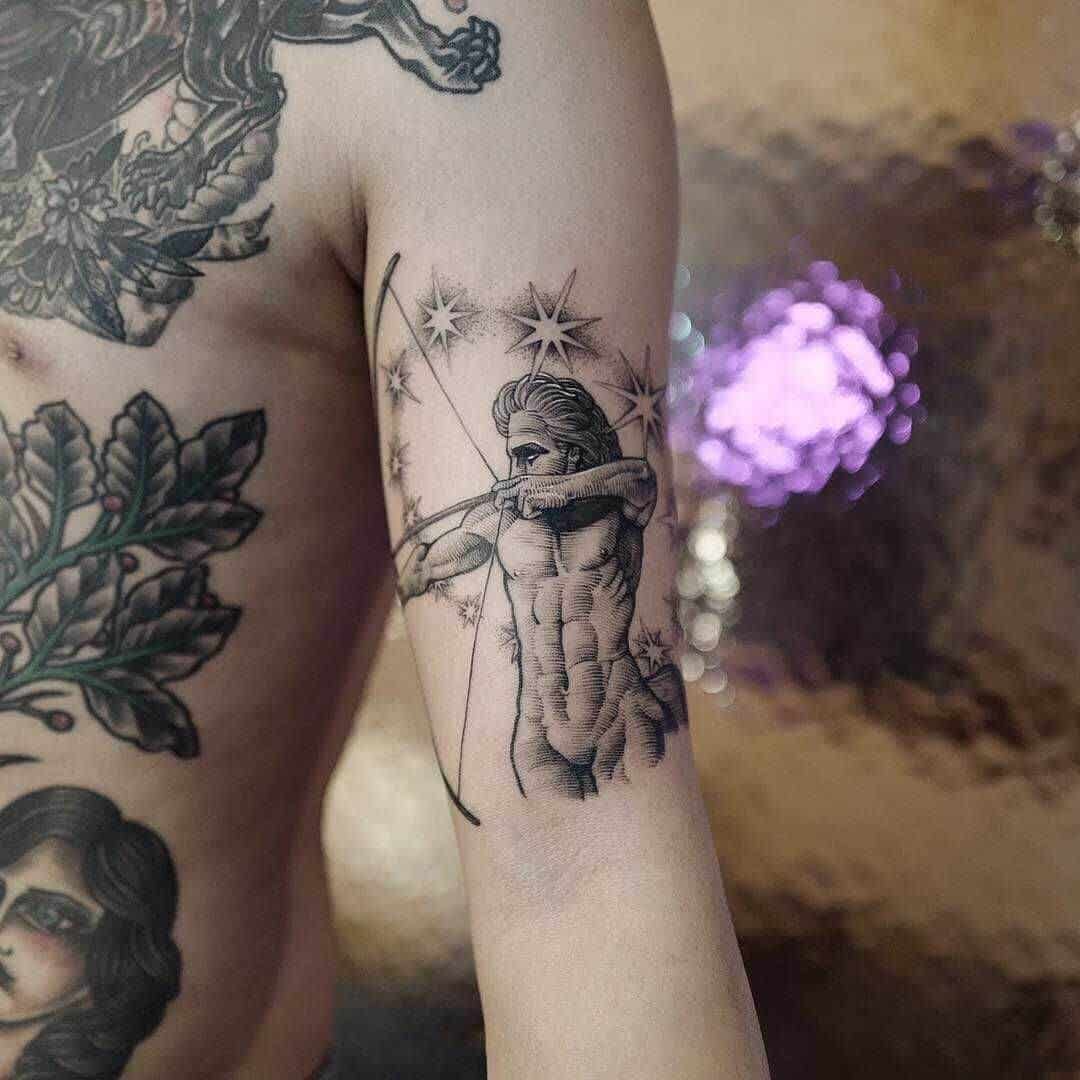 They can be drawn to show the archer pointing their arrow upwards towards the upper arm or downwards toward the hand. They can also be drawn on the inside or outside of the wrist or ankle – the design simply depends on the effect that the wearer wishes to achieve.
Recommended: Don't leave without reading our guide to pocket watch tattoos!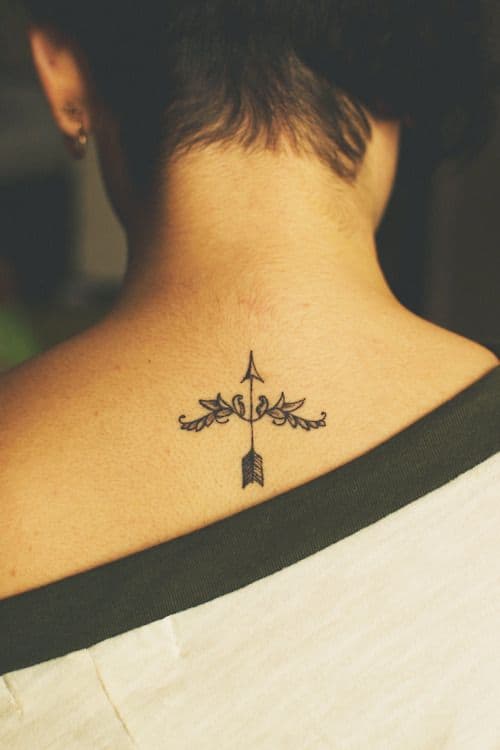 If you'd like to create a much more dramatic and unique design that is sure to catch the eye for all the right reasons, a Sagittarius symbol drawn on the upper arm is a great choice.
It inspires the wearer to move in the direction that their spirit takes them, and can include lots of colorful detail or watercolor elements for a more feminine or elegant touch or can be completely in blackwork for a more serious and sophisticated feel.

Sometimes, those who request a tattoo with a Sagittarius theme are keen to use elements from literature or movies that reflect the sign.
For example, the centaur Mr Tumnus from The Chronicles of Narnia could be a great choice of character that fits into the half man half horse element of this star sign.
This can not only reflect your star sign affinity but also your love of a movie or a book that has been important in your life.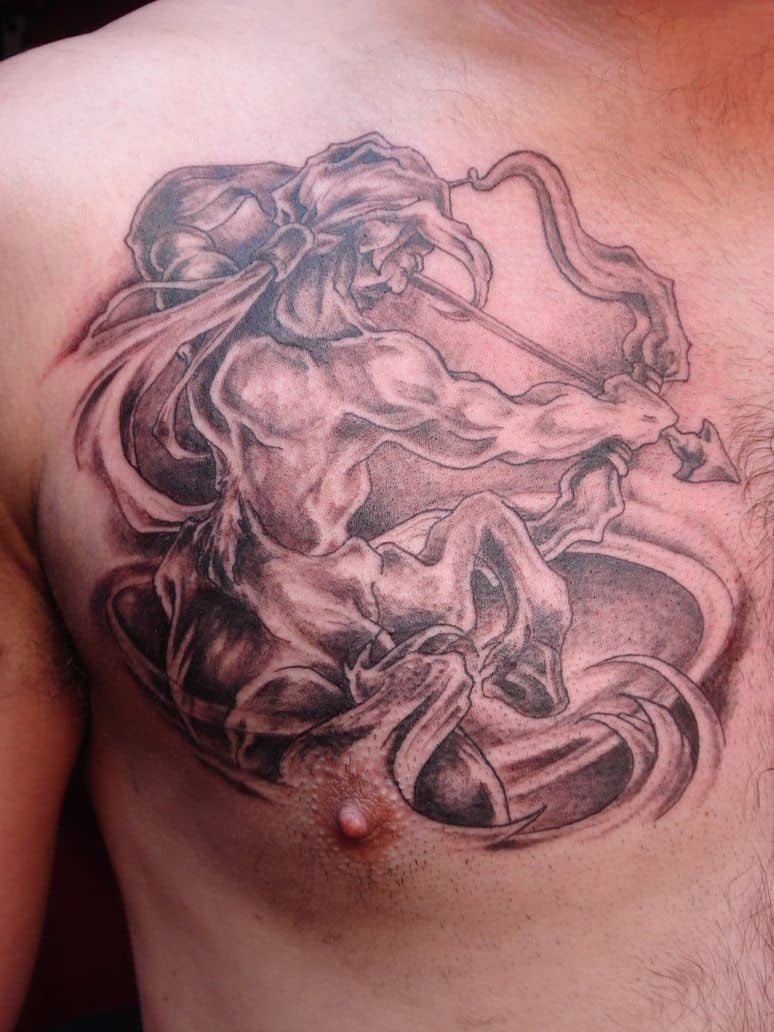 If you want to go all-out with an extremely dramatic tattoo, why not go for a full back piece? You can use every inch of skin from the base of your back right up to your neck to show the archer in all his glory.
The centaur's body can begin at the lower back with their bow and arrow pointing upwards along your spine. This is a beautiful idea that can be hidden easily with a shirt or displayed with pride while sunbathing or swimming.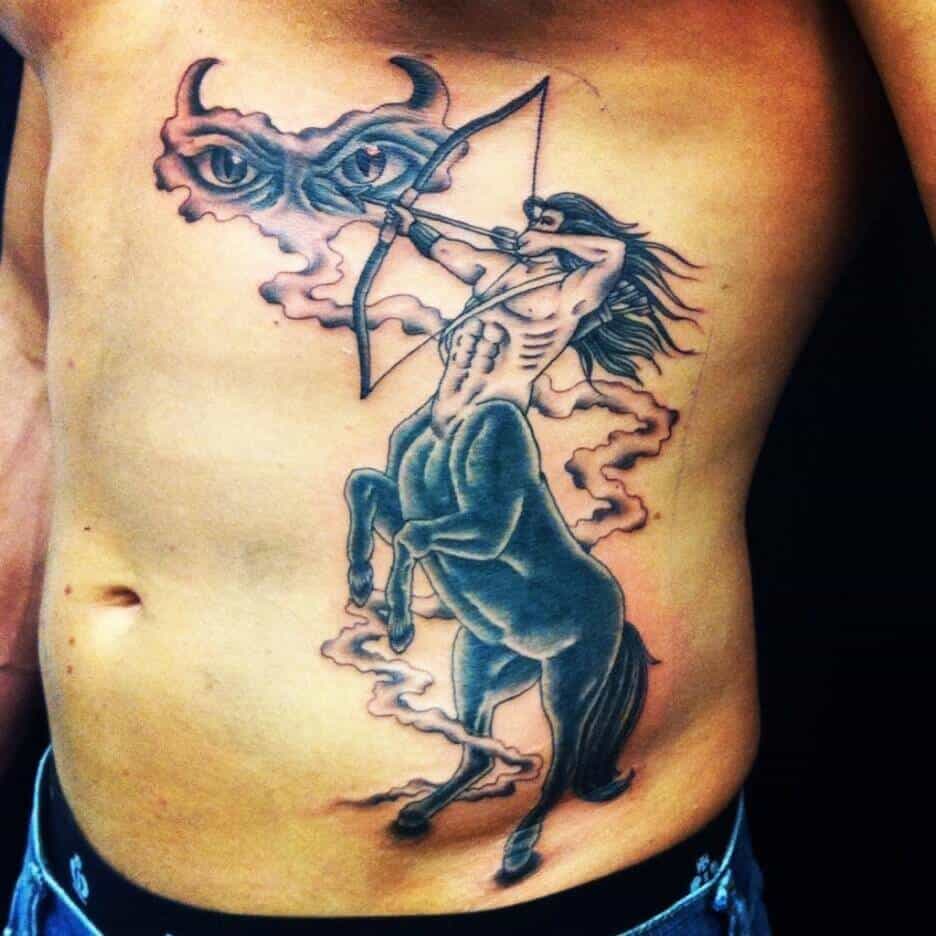 Whatever type of tattoo with a Sagittarius star sign theme you choose to get, you'll find that there's sure to be something that expresses your personality perfectly and that also captures the type of look that you hope to achieve.
Recommended: Don't forget to check out our post on unicorn tattoos after this!