Would you like to find a meaningful and symbolic tattoo that will look fantastic? Check out these 100 Saint Michael Tattoos you shouldn't miss!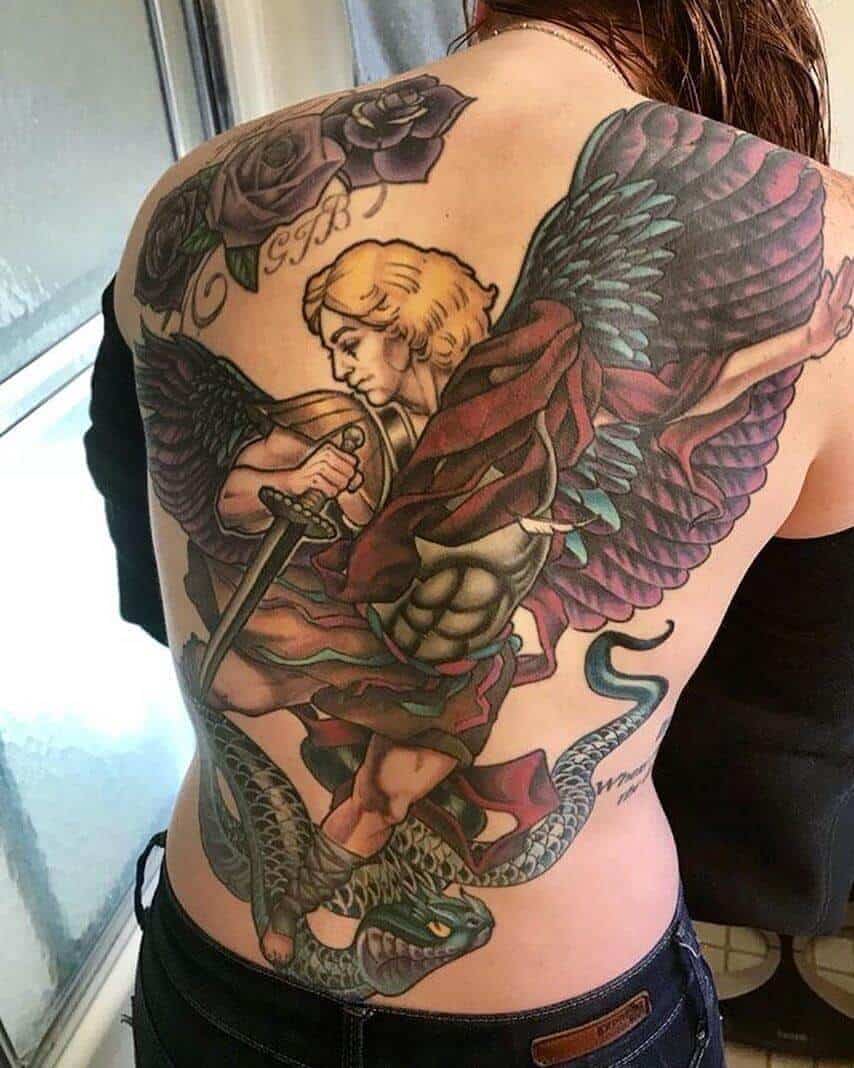 When you want to choose a tattoo that symbolizes courage and strength, a Saint Michael tattoo could be a great choice for you.
St. Michael tattoos are very popular, especially among those who favor bold designs with deeper meaning.
While some people prefer a St. Michael tattoo with imprinted biblical verses, quotes or figures surrounding it, others want to simply depict the angel on his own in a more minimalistic design.
Arcangel Michael tattoos cover all kinds of themes including affection and love as well as protection from evil. So check out these St Michael tattoo designs to see if one appeals to you.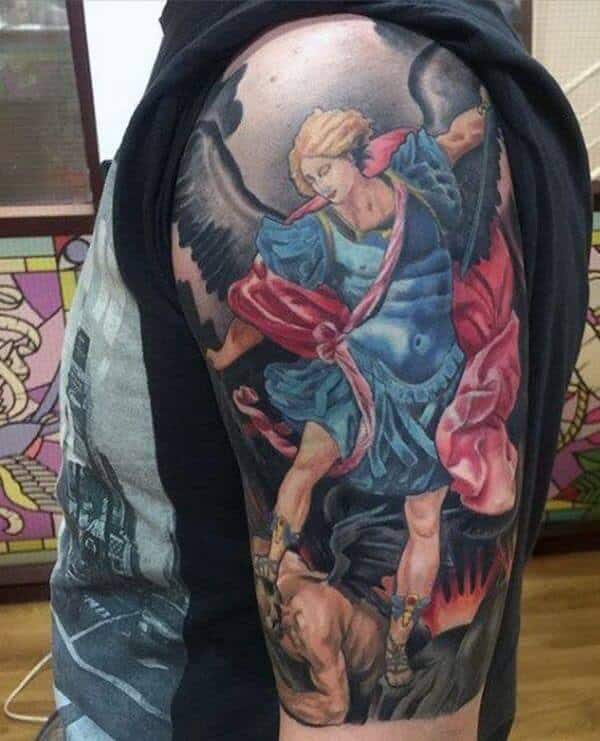 Who Is St Michael?
If you're considering a Saint Michael tattoo design, you'll need to know more about who this saint is.  Michael's name means "Who is like God?" and he is one of the archangels from the Bible, responsible for four important duties. Michael's first duty is to battle Satan.
Recommended Next: Don't miss our guide on Celtic tattoo ideas next!
His second is to take faithful people up to Heaven when they die. This third role is to be the champion of every Christian in the church while his final role is to call people from their earthly life up to their judgment in Heaven.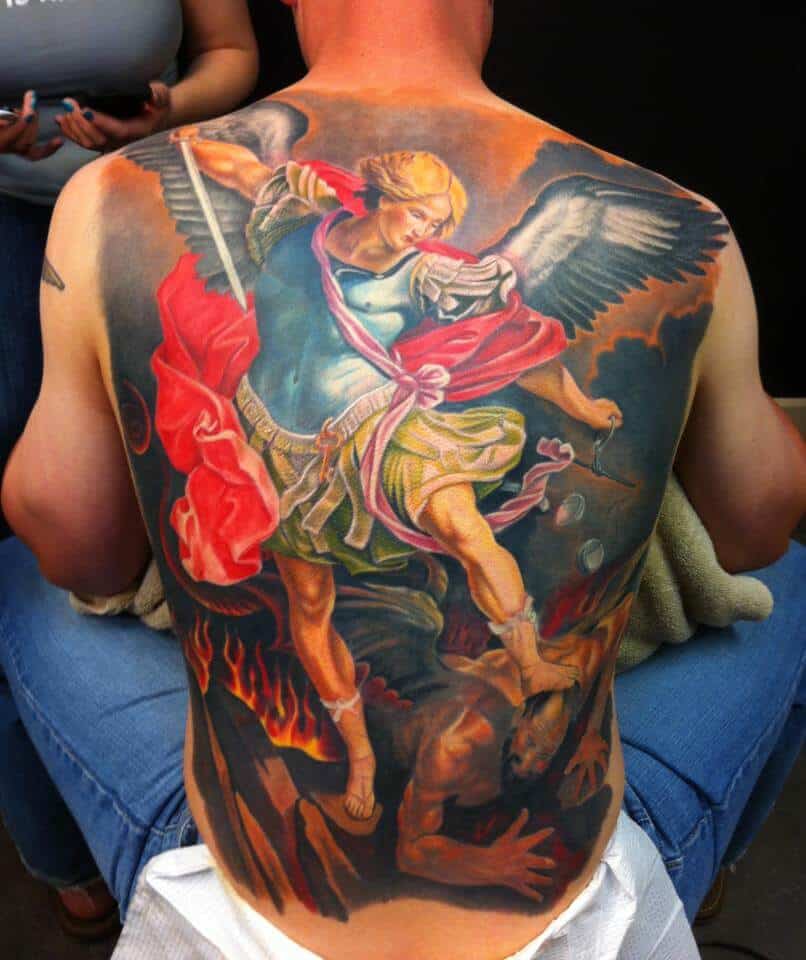 Despite the fact that St Michael is a key religious character, he's only mentioned a couple of times in Biblical texts. He is, however, mentioned as guarding Moses' tomb and battling the Devil many times to gain the rights over his body.
The most famous mention of St Michael in the Bible is when he enters combat against Lucifer. Lucifer was a Seraphim, a high ranking angel, while St Michael was only a lower Archangel.
Yet St Michael was chosen to lead the fight against Lucifer and his victory shows the power of the weak over the strong.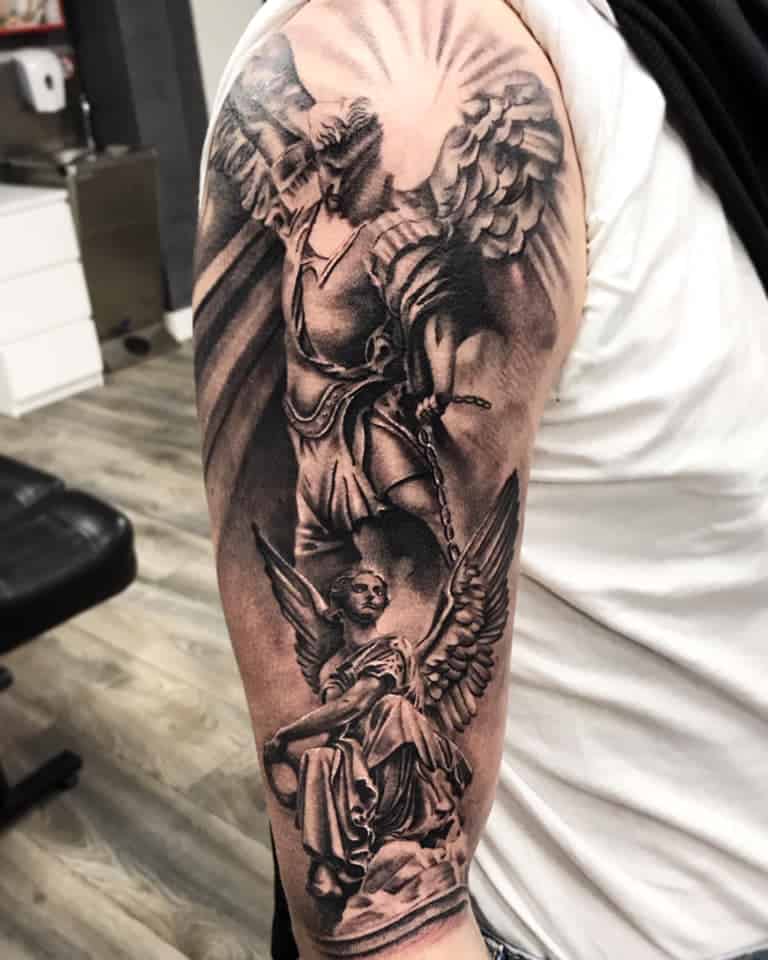 St Michael was responsible for Lucifer's fall from Grace, and for his role in this he was awarded command over the heavenly legions as well as being made into a prince. Michael was happily acknowledged and accepted by the angels as their leader.
He and his angel army sent Lucifer away forever, and therefore a St Michael tattoo can represent protection.
A Saint Michael the Archangel tattoo reflects his role as a defender of justice and as a healer. Often pictured wielding a sword, he waits in readiness to defend both heaven and earth by piercing evil's heart.
Typically, an angel Michael tattoo will show him with sweeping broad wings and wearing armor, often, sunlight will be beaming in the background. Sometimes, he is shown with a cape t emphasize his warrior authority and his prestigious leading role over the angels.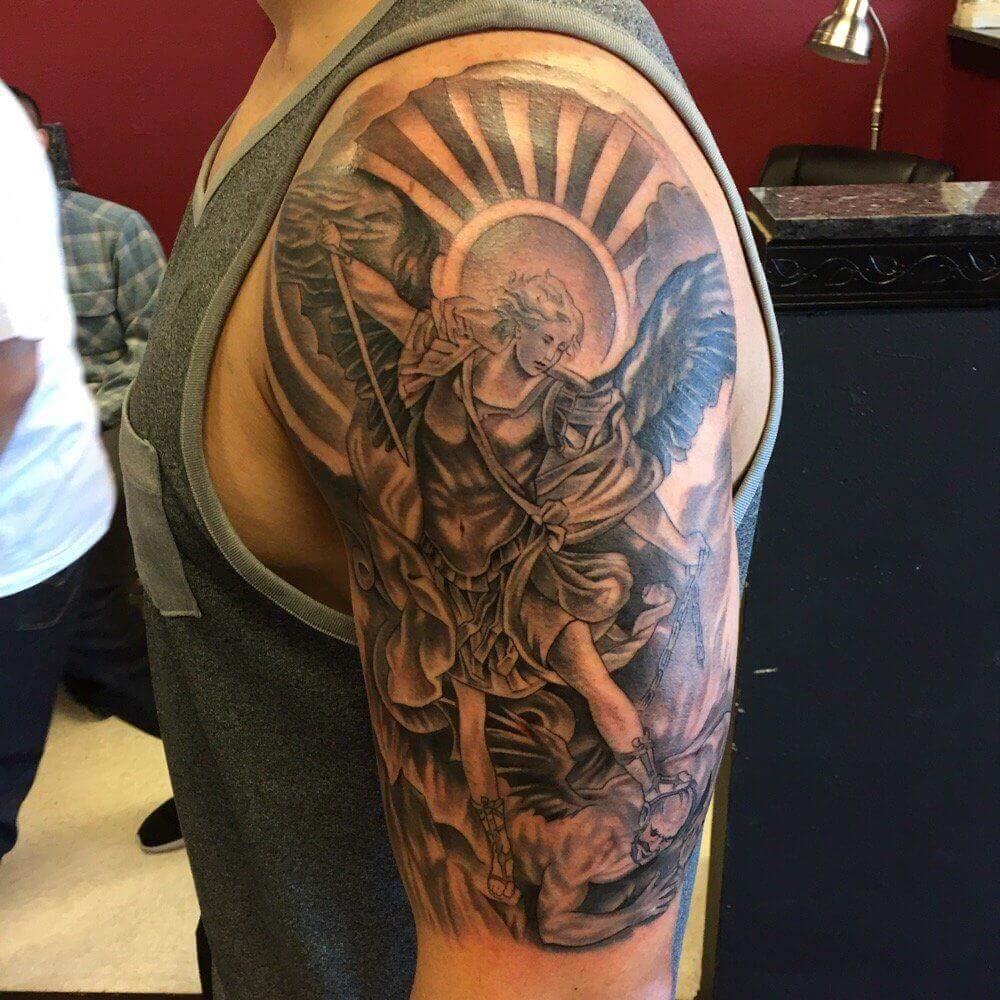 St Michael appears in all Abrahamic religions – Islam, Christianity and Judaism, so an Archangel Michael tattoo is a wonderful way of uniting all of these faiths. He represents the defeat of the devil and all evil, and is symbol of justice, bravery and courage.
A Michael the Archangel tattoo is a righteous and strong symbol of a champion who combats evil.
Recommended Reading: We also have an awesome guide to spider tattoos that you might find useful too!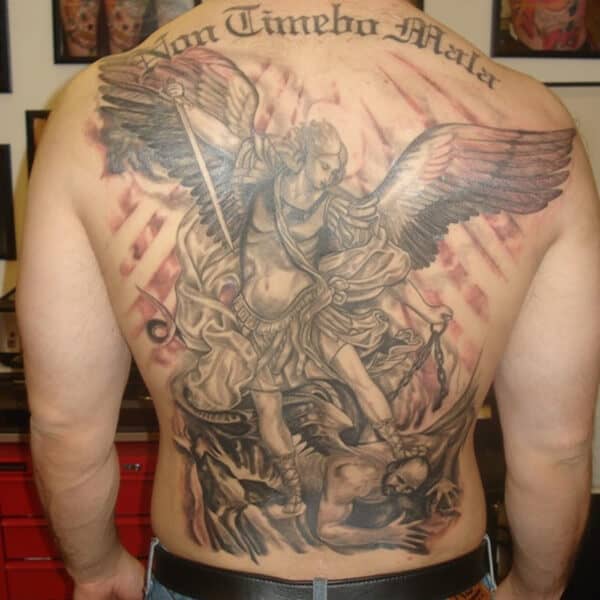 What Does An Archangel Tattoo Mean?
If you're considering getting a Saint Michael sleeve tattoo, you should know what your new body art actually symbolizes.
Tattoos that take their inspiration from St Michael depict bravery as reflected by the Archangel's victory over the devil.
Even today, people often look upon St Michael as the most courageous of all the angels, and therefore, those who choose a tattoo of this saint usually connect their body art with dominance, justice, bravery, strength and courage.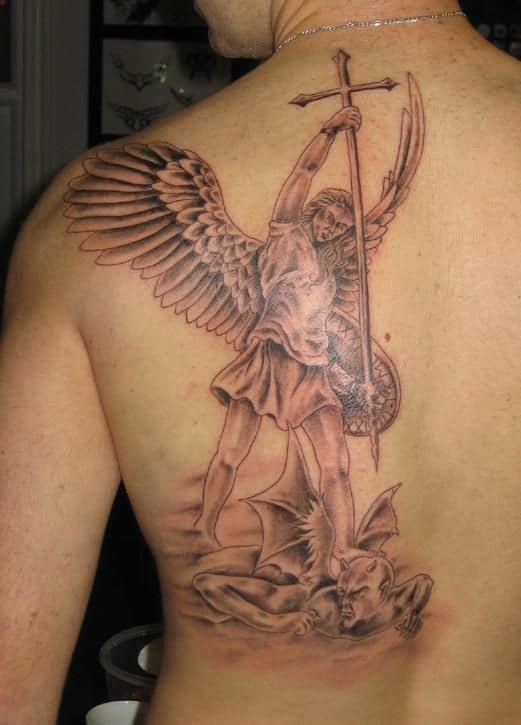 Tattoos that are inspired by this popular and dominant historic warrior allow the wearer to show the very best of themselves and encourages them to believe in their own hidden strength.
A Saint Michael tattoo sleeve helps the wearer to remember that the lowest defeated the highest and the weak overcame the strong – this is something that can be helpful to remember in everyday life when we're feeling insignificant and worthless.
Recommended Article: Make sure to check out our guide to tattoos for men next.
Even more, a St Michael-inspired tattoo signifies the importance of making a stand against everything evil and ensuring that justice is served. It therefore offers the chance to showcase your own moral values.
Some people choose to have this type of tattoo inked on their body to show how they have overcome abuse or a difficult childhood and have come through against all the odds to be a responsible, hard-working adult who wants to protect those around them, whatever the obstacles they face.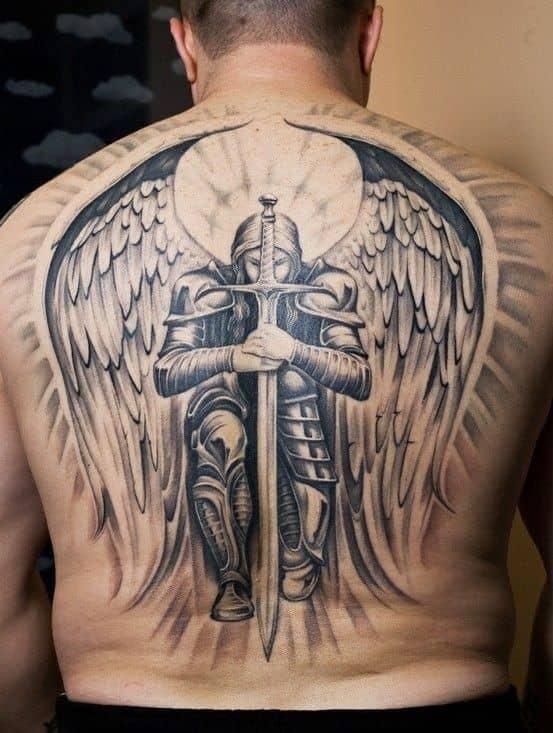 A St Michael body art design also showcases a belief in love, victory, affection, commitment, excellence and overall goodness. This makes it a great choice for all kinds of people, whether religious or not.
Anyone who has ever overcome a challenge, whether it be a difficult relationship, a troubled childhood, an illness, a mental health problem or an addiction can find an Archangel Michael tattoo a great way to show their inner strength and their battle over their own demons.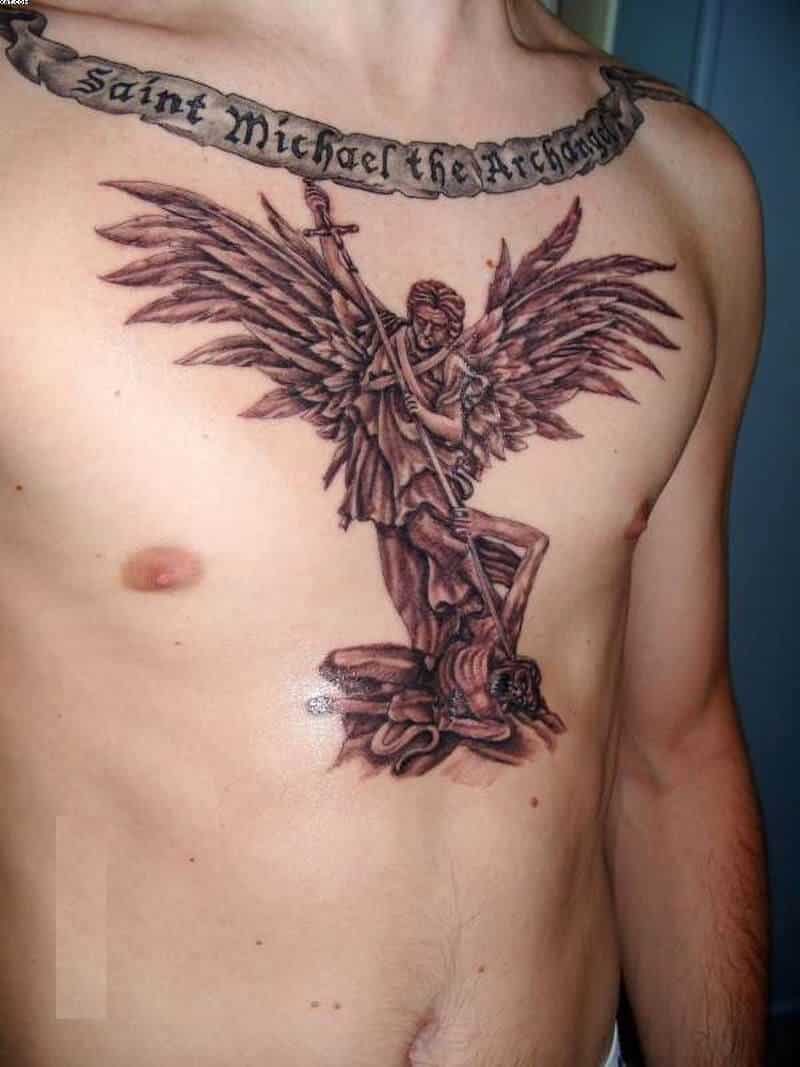 Popular St Michael Tattoo Ideas
St Michael is often seen in tattoos with his sword raised up high in the air to illustrate the warrior spirit in the wearer. Some people choose to personalize their design with verses from the Bible or other Holy texts. Others like to add sentences or words signifying the protection of their loved ones.
Popular designs for this type of tattoo show the saint piercing his sword into Satan's heart. Often, the design will also show low wings, which can appear on the back where wings would actually be. With armor wrapped around it, this reveals an image of protection from evil of all types.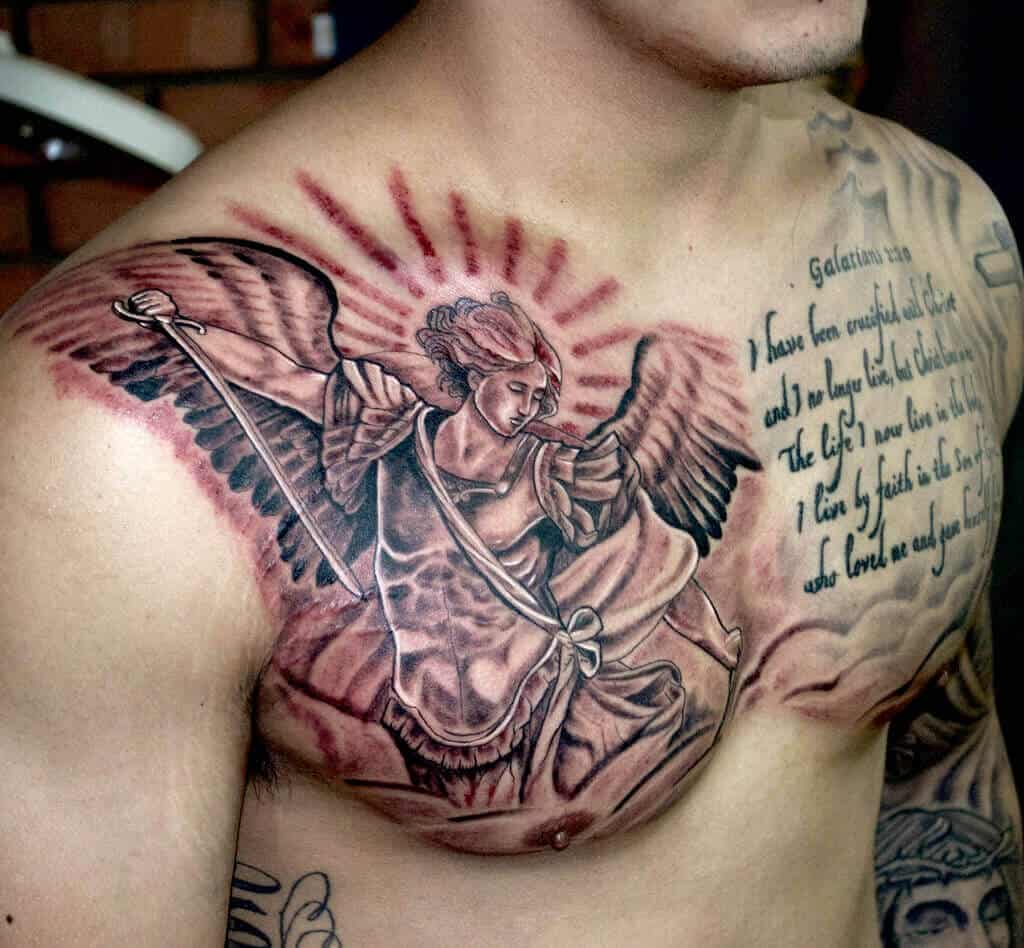 There are many parts of the body that look great with a tattoo depicting St Michael. Larger parts such as the arms, legs and back are often best since drawing an angel can be quite time-consuming and detailed.
Half or full sleeves, full leg designs or full back pieces are often the most effective if you want a lot of detail and added text. Another possibility is a rib tattoo, which gives enough space to show off the design while also being easy to hide.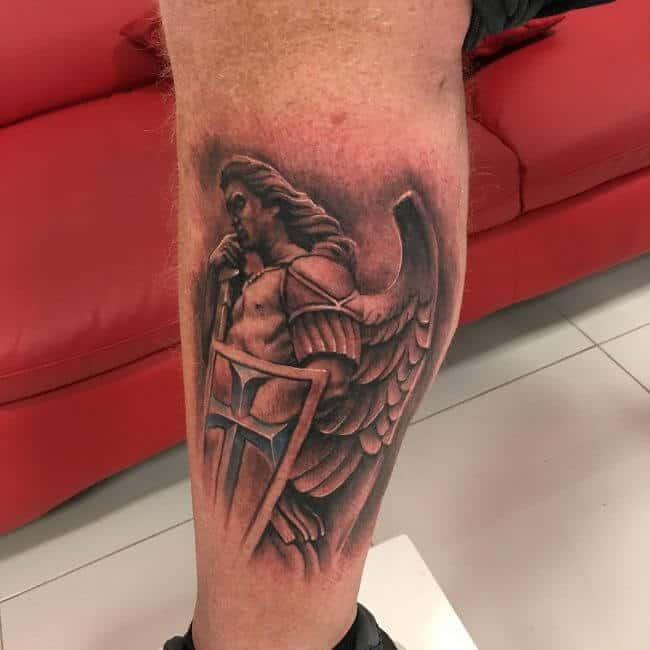 You can take your design inspiration from existing sculptures and paintings of the saint, opting for a naturalistic and realistic look with linework or blackwork styles to increase the tattoo's visual appeal.
It's possible to make your tattoo look more like a statue by using clever shading to create the right effect. Alternatively, go for a more contemporary look with black and white shades and colorful details like sunlight or a dove.
Although large tattoos of St Michael look great, there's no need to choose something huge and dramatic. Choose a simpler, smaller but no less thought-provoking tattoo with fewer details to portray protection and safety in a more discreet way.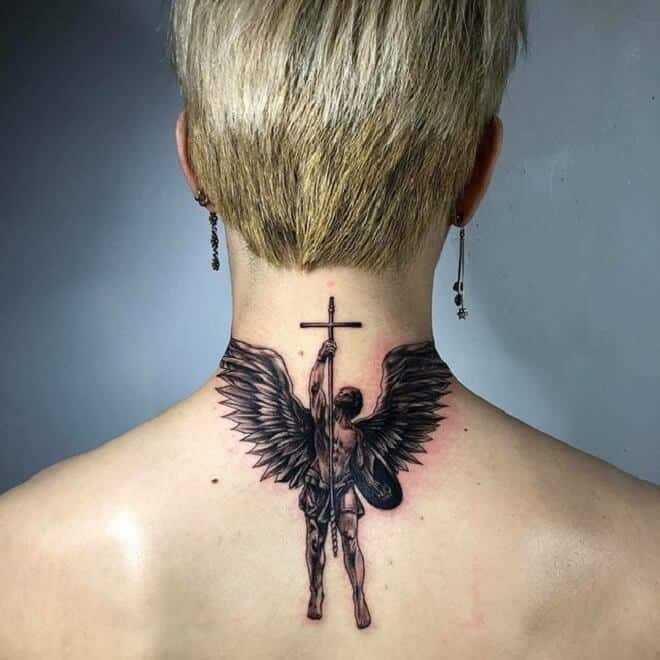 How To Care For Your New Tattoo
It's important to care for your new tattoo properly to avoid infection and to ensure that it continues to look good for many more years to come. Here are some top tips to make sure you look after the tattoo to the best of your ability.
All new tattoos can get infected, so keeping them clean couldn't be more important. You may be given advice from your tattoo artist about how to care for your tattoo before you leave the studio so make sure to follow it.
Recommended: Check out our guide to face tattoos next.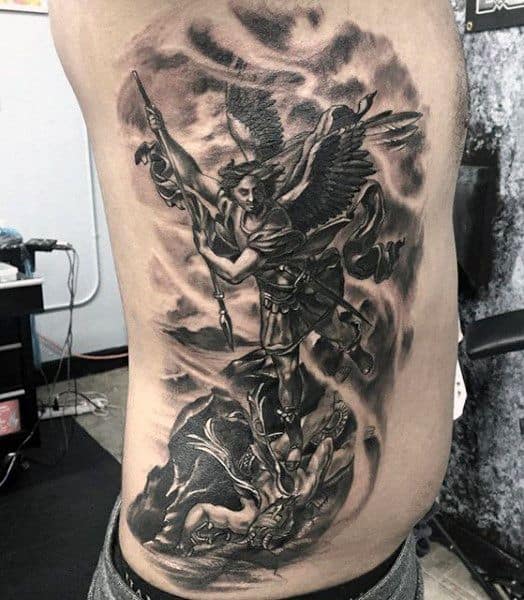 Wrap the tattoo in a bandage straight after it's complete and leave it on for several hours. Wash the tattooed area with an antimicrobial soap and warm water and then pat it dry gently – never rub it.
You should only use the lotion or cream that your tattoo artist recommends and don't use any remedies that are designed to speed the process of healing.
There's no way to rush the healing of your tattoo, so just keep it clean and moisturize it regularly to ensure the best possible result.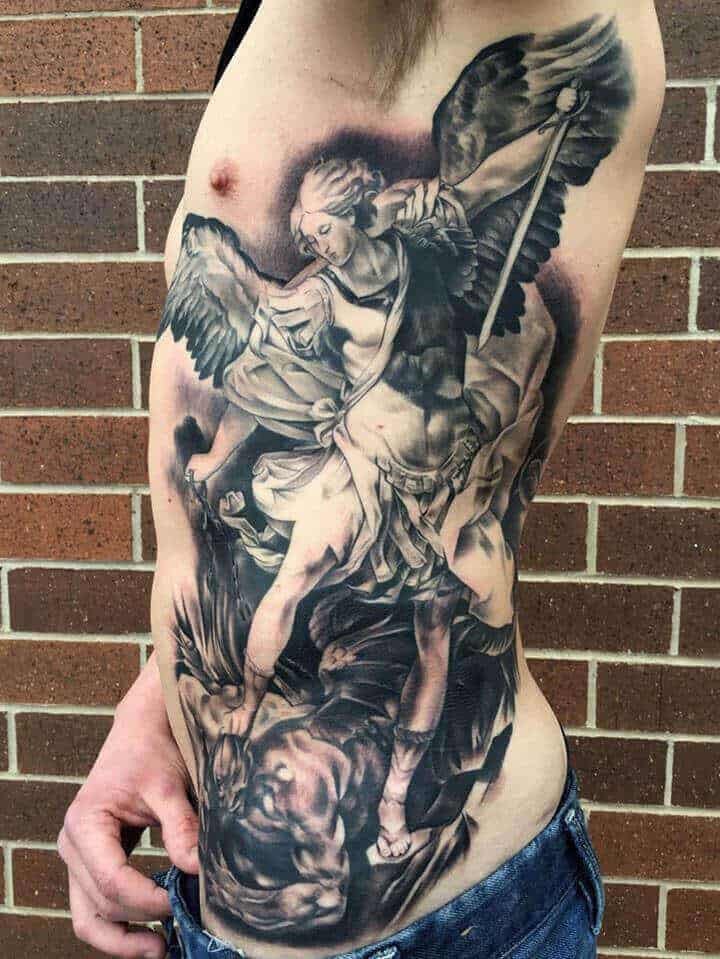 Although keeping your tattooed area clean is important, don't immerse it fully in water for extended periods. Avoid swimming or taking a bath for two weeks at least. Take care about which clothing you wear too.
Avoid wearing anything that's too tight until the tattoo has healed and also avoid exposing your newly tattooed skin to sunlight for extended periods or inflammation and infection could occur.
Remember that UV rays can fade color in your tattoo, so you'll need to always use sunscreen on that area in the future.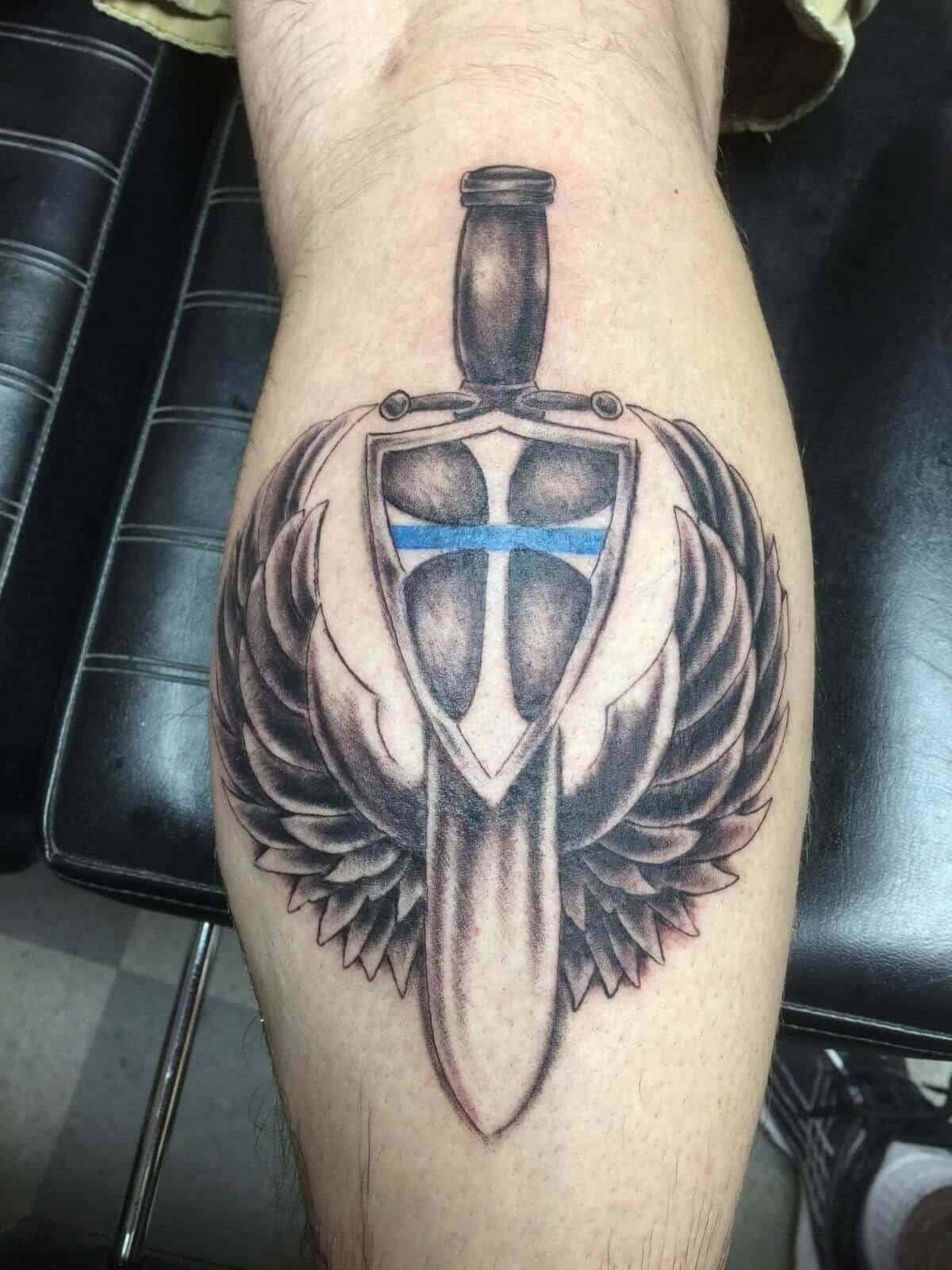 It's normal for a tattoo to start to scab over during the healing process, but that doesn't mean that you should pick at it. It can be very tempting to poke at the healing skin or pick at the scabs but you should definitely avoid this.
If you pick at the healing skin you could cause an infection or even cause parts of the color to be permanently removed, spoiling the final appearance of your tattoo.