Primarily, facial tattoos were used by ancient tribes to mark a person as a member but these tattoos have slowly gained recognition as some celebrities have been spotted with them such as Lil Wayne, Mike Tyson, and Wiz Khalifa.
However, they still do not have a very positive reputation, with face tattoos sometimes associated with criminals, gangsters, and prisoners.
The Coverage of Face Tattoos
Does it need to cover your entire face? Well actually, all the tattoos that are inked on your face can be considered face tattoos, no matter their sizes. If you want to have these tattoos, you can have a full facial tattoo, a semi-full, or a quarterly-covered face. It is all up to you to decide. If you think covering your entire face with tattoos may make you look dirty, then why not just consider a tattoo on your cheek, chin, and forehead and in any other portions of your face. Just see to it that you go for a design that will emphasize your beautiful facial features.
Recommended Article: Find out the meaning behind spider tattoos.
Advantages of Facial Tattoos
If you are one of those close-mind individuals who keep on thinking that these tattoos cannot do good on you, then it is the perfect time to change your mind. You might not know it, but tattoos on the face can be very advantages on your part. In fact, you might immediately go for a facial tattoo after knowing these breathtaking advantages. Here are some of them:
Extremely Unique – One amazing thing about this tattoo is the fact that it is unique in nature. It is simply because only very few of people will dare to have these tattoos. If you want to look different without losing that gorgeous face of yours, then these tattoos can surely do the thing.
Exciting – Yes, having this tattoo is one of the most exciting things that you may try in your own boring life. The fact that there are still a lot of people who are not tattoo-oriented, and the fact that you don't know the reactions of the people surrounding you when seeing your tattoo on face, this certainly makes it very exciting.
You can be able to express your inner thoughts with a tattoo on the face. These tattoos are not just for aesthetic purposes. Some people go for these tattoos since it is just through these tattoos that they can express what they are inside. Since these are very visible, every single person surrounding you will certainly grasp the message that you want to convey.
Face Tattoos and the Disadvantages they Bring
Needless to say, having tattoos on the face can also be extremely disadvantageous on your part. You might not like these advantages, which is why you need to take it much time before deciding to have facial tattoos. Here are some of these disadvantages:
Other people may think you are a criminal. Well, they might think this way since tattoos are known to be symbols of criminal people. In other words, there are many criminals who get tattooed, especially on their faces. But as long as you have a good heart and you know that you are not a criminal, then there is no reason for you to be afraid.
More Painful – When compared to some other body parts, getting tattooed on the face may be too painful for you to handle. It is simply because the face is packed with a lot of nerves because many vital organs are located here.
Recommended: Check out our guide to Saint Michael tattoos next!
Famous Personalities With Tattoos On Face
Here are some names of those famous personalities in the world who embrace the fact that face tattoos are gorgeous adornments on the human body:
Wiz Khalifa – This American recording artist has several body tattoos, including a star tattoo on his face.
Birdman – His real name is Bryan Williams, and he's a famous rapper who gets tattooed on his face with several designs.
Cee Lo Green – This famous American rapper, actor, songwriter, and record producer has a small cross tattoo located under his left eye. He even has a rose tattoo above his left ear.
Face Tattoo Design Ideas to Consider
The ideas when it comes to facial tattoo designs are definitely endless. Anything you want is possible, as long as your chosen professional tattoo artist can make what you want into reality. Here are some of the worth-considering face tattoo design ideas that you should know:
Sacred Geometric Designs – Such idea is something that you should consider if having a tattoo on the face for you have something to do with your religion. In fact, a lot of historians confirmed that tattoos on the face were already used by the ancient people in showing their strong religious beliefs.
Crowded Tattooed Face – Many people in the world go all out by going for this particular facial tattoo design idea. Almost nothing more spaces that can be tattooed here. You might think that it will be quite messy, but it won't. It will now rely on the expert hands of your tattoo artist.
Chin Tattoo Ideas – This tattoo design idea already existed even in the ancient times. Chin tattoos were integral parts of numerous cultures in the world. The Maori tribe was known to be the perfect examples of this facial idea.
Dotwork Face Design– This tattoo idea is one of the organized ones, which can give you a gorgeous looking tattoo. In other words, there is no way it can be messy on your face. This is the main reason why many prefer having dot work designs. But the thing is, this one requires plenty of skills from the tattoo artist.
Tribal Designs –  They are the most preferred ones for facial tattoos as this is where the roots of these tattoos lie because they were primarily used by tribes to distinguish their members. Maori tattoos are most common as tribal face tattoos.
Others Designs Facial Area – Some other designs which can be featured on the face are small arrows, mandalas, and small flowers.
Summary
Face tattoos really require a considerable amount of confidence and bravery on the wearers. Hence, before going for these tattoos, make sure that you are mentally prepared for having them on your body. 
Popular Images Of Face Tattoos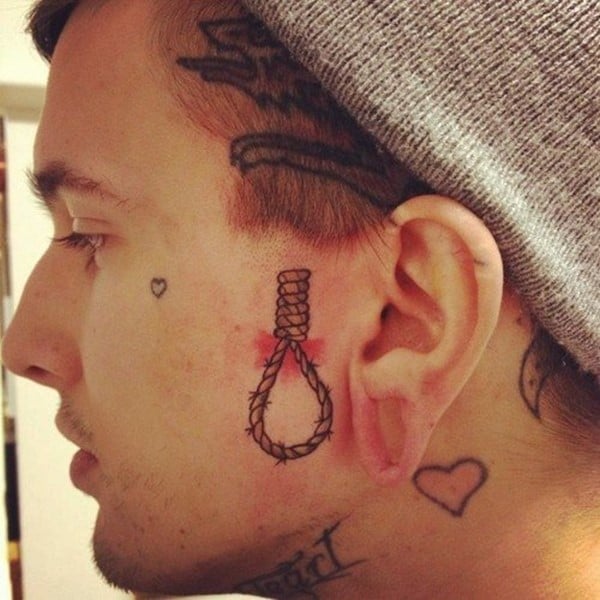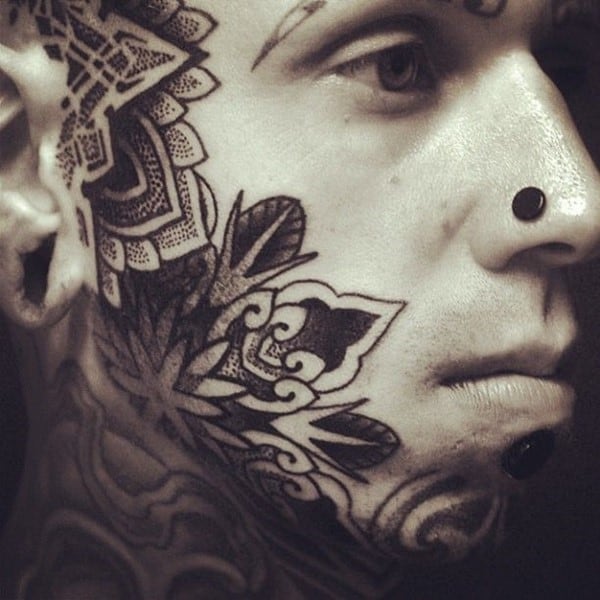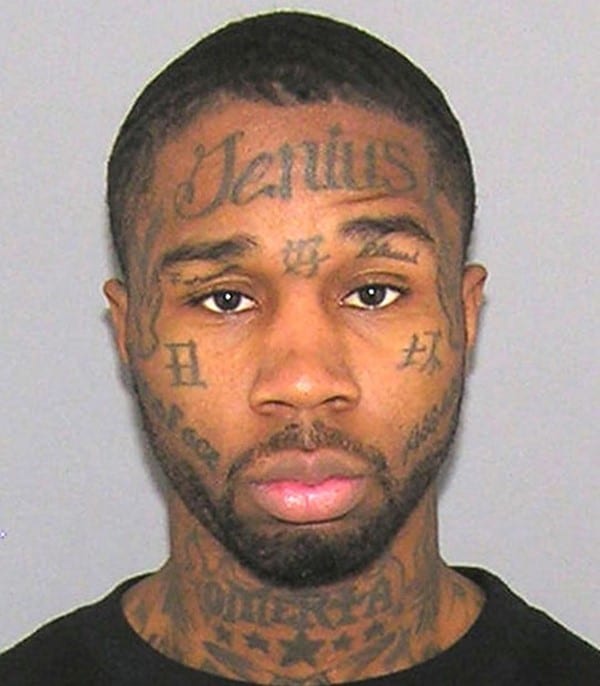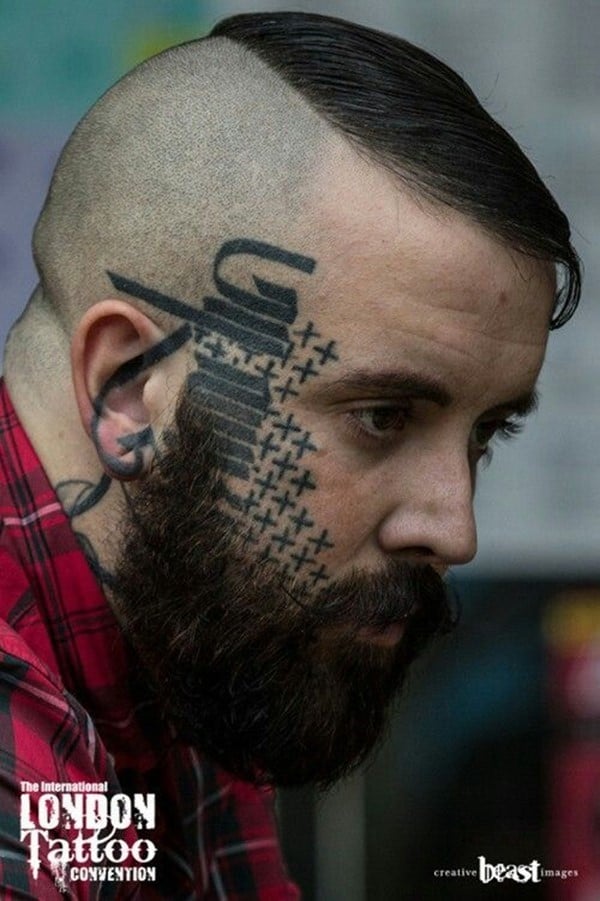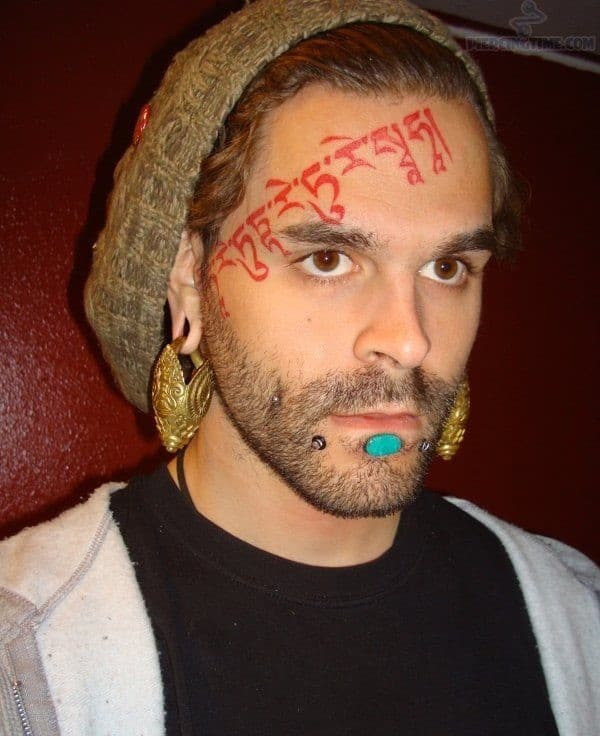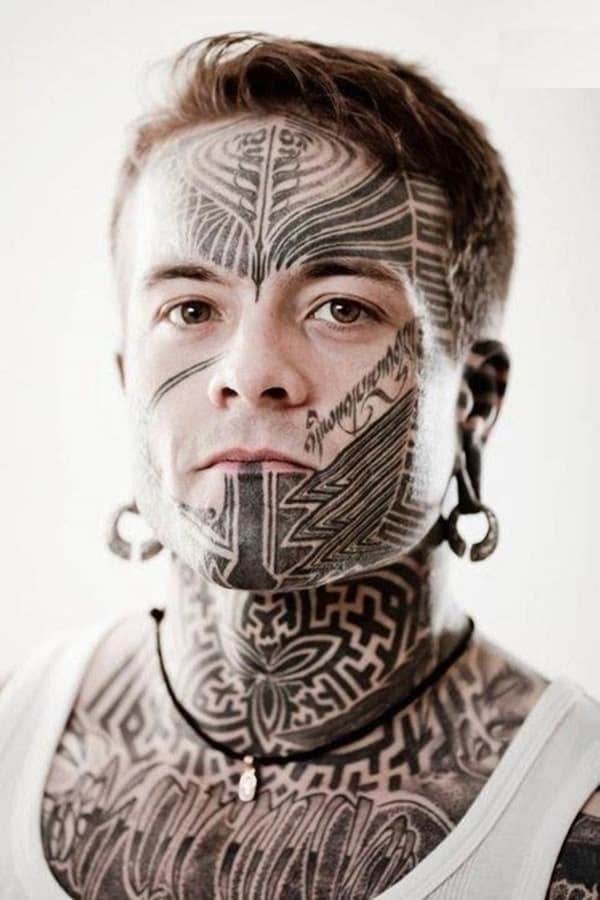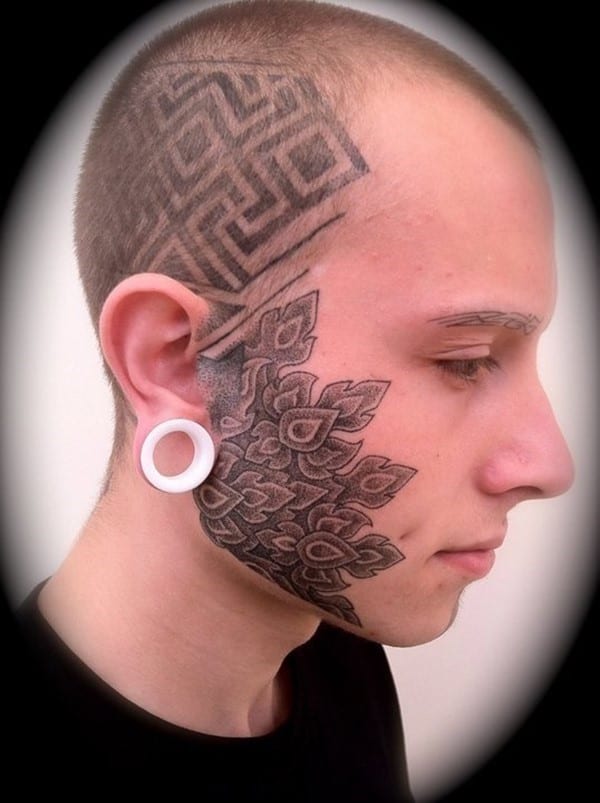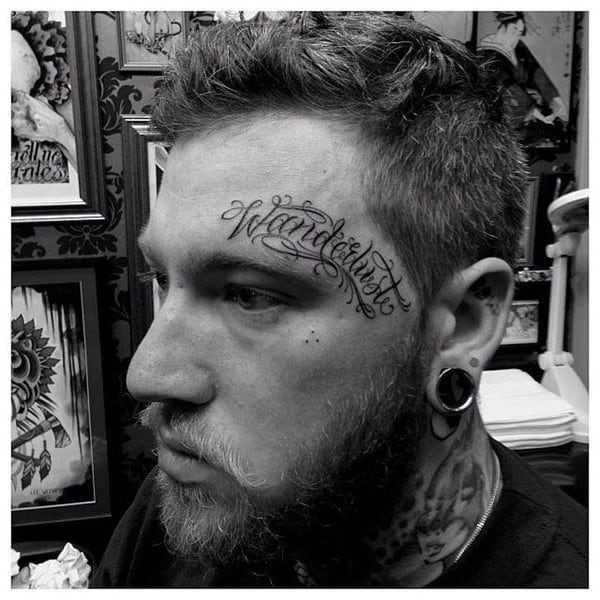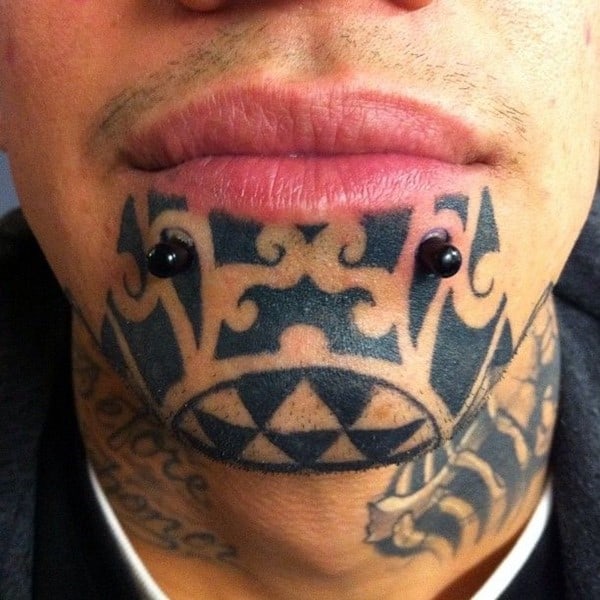 Believe it or not, more and more numbers of people these days are having a face tattoo, or still thinking of having them. This is definitely a unique thing that you can ever do in your life. Aside from the fact that this is not a common thing when it comes to body tattooing, people are also afraid that they might look ugly after having these tattoos. But the truth is, face tattoos are great adornments to your body, and these will also make you gorgeous just like the other tattoos, depending on the person who sees you. Having these tattoos will definitely require a lot of courage from you since there is no way you can hide these tattoos.
Most Popular Facial Tattoo Designs
Getting a face tattoo is a big, big decision because it may change your life in many ways. People will start looking at you in a different light once you get your face inked and things will transform into your workplace. You may even be forced to leave, but if you are really committed to having a tattoo on the face, it can be a positive and attention seeking factor too, grabbing attention wherever you go. The design needs to be chosen with extreme care and conviction as it becomes a part of your personality.
The placement of the design on the face is important too, as there are plenty of surfaces on the face which can be inked ideally. But a design will look better at one point as compared to the other and this is something which only an expert artist can decide. Here are some cool tattoo design options for face: Tribal designs are the most preferred ones for the face as this is where the roots of these tattoos lie because they were primarily used by tribes to distinguish their members. Maori tattoos are most common as tribal face tattoos, Sacred and religious designs, Geometric patterns and mandalas, Dot work on the face, floral design on face, Text and script tattoos, Stars and small arrows.
They can also be featured on the forehead, chin and sometimes extend up to the neck. The face has a limited area and the design must be fitted well over the available space. Moreover, use of bright colors should be avoided in the facial area because continuous exposure to sunlight can fade them away and compromise with the quality of the face design. Facial tattoo needs good care otherwise too because they do take a long time to heal and can be very painful too. Therefore, you must be well prepared in advance to near the things which come with the package.