Tattoos have become increasingly popular, and the tattoo machine industry has risen to meet the demand – here are the best tattoo machines on the market today.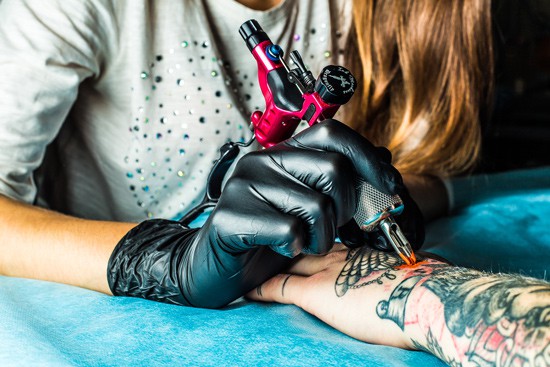 Tattoos have become increasingly popular in recent years, and so the machines needed to create tattoos have been in higher and higher demand. There are different ways to create a tattoo; the two main types of machine are coil tattoo machines and rotary tattoo machines.
Whether you're an experienced tattoo artist, or you've yet to perform your first inking on a customer, choosing the best tattoo guns for the job is essential to ensure you perform the job effectively and to the best of your abilities.
With so many tattoo machines on the market, choosing the right one can be a daunting prospect – that's why we've created this guide to the best models available today.
Check out our complete guide to tattoo machines, in which we've reviewed eight of the very best tattoo machines loved by tattoo artists all over the world, so you can start inking your clients (or yourself!) immediately.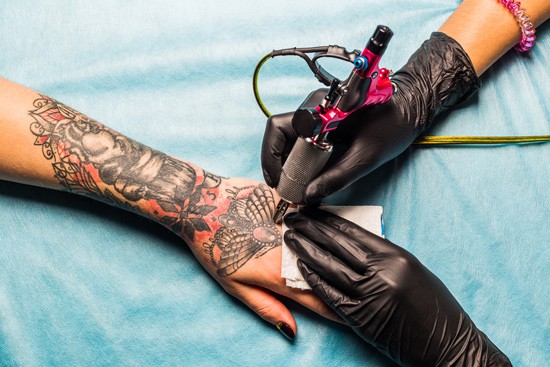 A Brief History of Tattooing
 It might seem that tattoos are a recent phenomenon, given their status as a trendy body art choice prized by hipsters and rock stars, but they actually date back to thousands of years ago.
In fact, the oldest mummified human ever discovered, known as Otzi the Iceman, was found to have dozens tattoos dotted over his body.
Tattoos were used by many ancient peoples, and there are several theories about their significance and purpose. The word 'tattoo' is believed to come from the 18th Century Samoan word 'tatu', which means 'to strike'; body art forms (including tattoos) were of high significance to ancient Polynesian civilizations such as Samoa.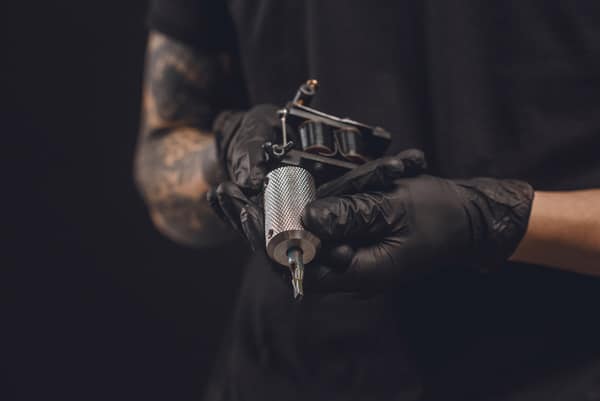 From using them as a medical treatment to imprinting them as symbols to ward off bad spirits to denoting status in society and in the army to branding criminals and identifying prisoners, the age-old method of adding pigment to the under-layer of the skin is by no means a modern idea.
In the past, tattoos were performed manually; today, we have specially designed machines that improve the safety, accuracy, and efficiency of the art.
Historically, tattoos were used to brand captives – most notoriously in the case of the Nazi concentration camps in WWII. Today in the Western world, tattoos are generally an artistic choice and a self-identifying style of body art.
They can also be used for medical reasons, such as marking where surgery needs to be undertaken, and cosmetic corrective purposes, such as eyebrow and lip enhancement.
Read on to find out more about how contemporary tattooing is done, and read our guide to the best tattoo machines for the job.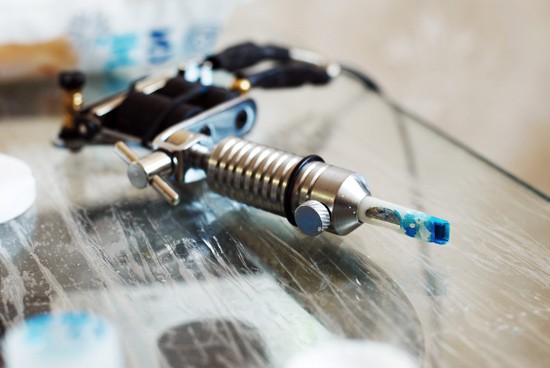 How Tattoos Are Done Today
The modern method of tattooing may involve a rotary or coil tattoo machine, but the process today is much the same as it has been for the past few thousand years.
As you will know if you're a tattoo artist or you've ever received one yourself, a tattoo is made by puncturing the skin with a needle and injecting pigments or dyes into the dermis of the skin, creating a picture, pattern or symbol that can be temporary or permanent, depending on the type of ink used.
In the past (and still in some cases today) tattoos are performed manually – the artists simply make the puncture and injects the dye gradually by hand.
Generally, though, professional tattoo machines are used to achieve tattoos, using an automated system to make the needle go back and forth, in and out of the skin, as this speeds up the process and ensures greater accuracy.
Tattoos should only be undertaken by professionally trained artists who know what they are doing, and have all the necessary safety and hygiene precautions in place, as well as having sterile, wrapped, disposable needles.
Avoid performing your own tattoos at home unless you have undertaken the proper training, and even then it is advisable that you perform it in a dedicated tattoo parlor.
Whether you're an apprentice just starting out as a tattoo artist and you want to buy your first coil tattoo machine, or you're lucky enough to own your own parlor and need to know the best rotary tattoo machine options available to you, you've come to the right place.
Read on for a closer look at the two main types of tattoo machines, and our professional guide to the best models currently on the market.
Recommended Next: Don't miss our guide to the best tattoo inks!
What Types of Tattoo Machines Are Available?
In the past, artists had to perform the painstaking job of ink injection by hand; today, tattoo machines are increasingly sophisticated machines that make light work of the job, allowing modern tattoo artists to create beautiful, intricate and unique patterns like never before.
There are two main types of machine available for professional tattoo artists: coil tattoo machines and rotary tattoo machines – both are used for the same job, but they each have their own unique features and benefits. These are not the only kinds of machines for tattooing, but they are the most common in the modern tattoo parlor.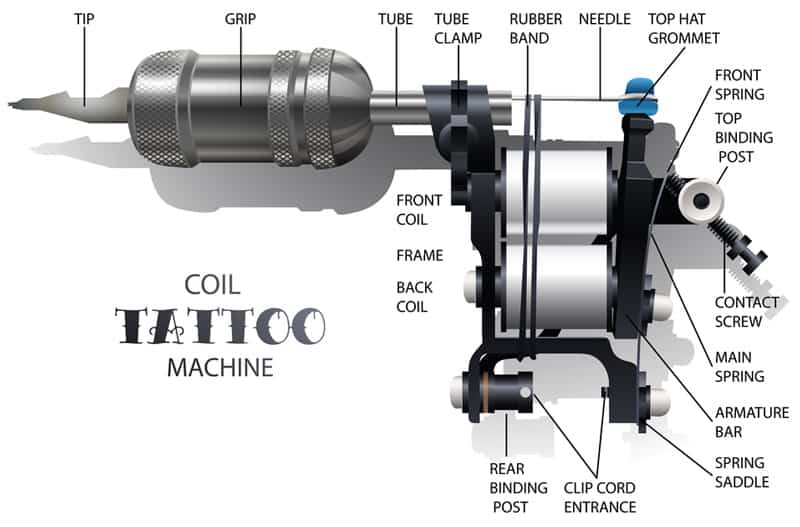 Coil Tattoo Machines
These kind of tattoo machines are so-named because they have coils inside – usually 8, 9 or 10 of them – which create the tension needed to move a bar holding the needle up and down which performs the inking.
Coil machines are the most common type of tattoo machine and are known for the loud buzzing sound they make when they're at work. Some people find this noise to be invasive, but the coil machine is prized for its versatility and reliability.
You can use different types of coil tattoo machines for making lines, shades and packing in color – or a combination of the three, depending on the style of tattoo you're after.
Coil tattoo machines are popular because they offer easy control, regulation and customization, as well as being efficient, allowing for quicker completion of the tattoo.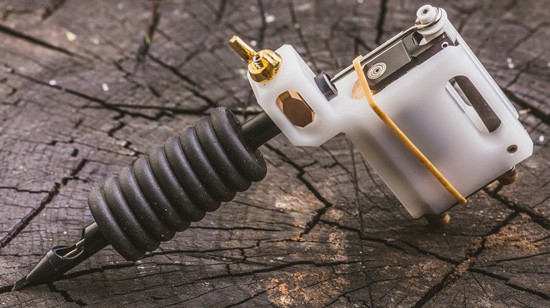 Rotary Tattoo Machines
The second type of tattoo machine is the rotary, which was first created in 1978 and transformed the way tattoo artists did their job. Rather than utilizing springs, this type of machine uses a motor to move the needle, which allowed greater control and precision when creating a design.
The straightforward, compact and lightweight machine is easy to hold and operate, and can be used for both line and block filling the ink, with few adjustments required during the inking process. There are also lots of mods available for rotary machines, so artists can customize their own tools.
To deliver the very best results to your clients, you'll need to be sure you have not only the correct type of machine for the job but also the best models and brands available. Read on to discover what the eight best tattoo machines of the moment are, with our current best coil and rotary tattoo machine review.
Recommended Next: Don't miss our guide to the top starter tattoo kits for beginners next.
The 4 Best Coil Tattoo Machines
In our opinion, these are the top coil machines currently on the market.
The Big Sleeps X from Bishop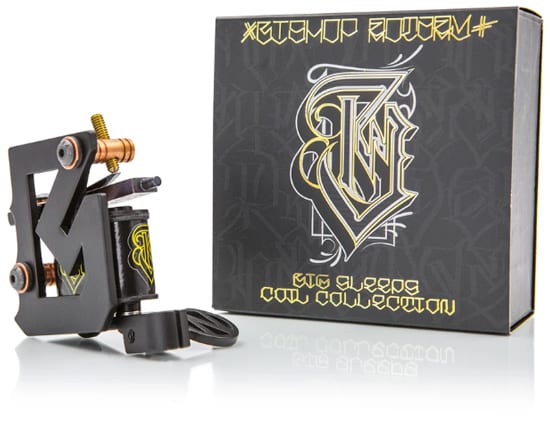 The Big Sleeps X is one of the best models that LA tattoo machine expert Bishop makes – handmade, like all their machines, it combines a deep understanding of two things: how to create great tattoos and what the artist him/herself needs from the machine.
The Big Sleeps X groups more needles together for quicker color blocking and precise shading, or you can easily turn down the power to focus on lining. The 8 coil mechanism is deliberately tall for superior needle control, so artists can create both simple and intricate designs with the same clarity and precision. Find out more on their official website.
The Ghost Shader Hybrid from Workhorse Irons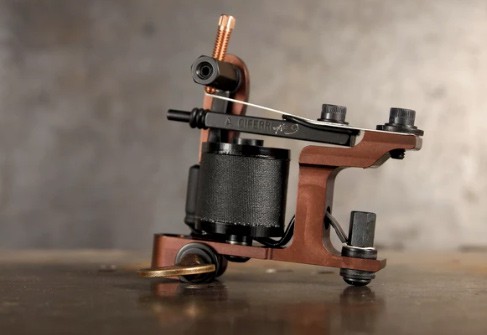 This classic and well-known brand offers up yet another quality machine for tattoo artists all over the US. Designed specifically with the user's comfort in mind. Workhorse Irons pride themselves in providing machines that are built by experienced tattooers for over two decades. Made by tattooers, for tattooers, there are plenty of awesome models to choose from.
The Ghost Shader Hybrid is one of their best, combining the lightweight, responsive feel of a rotary machine with the power of a coil machine to create beautiful designs of both crisp, precise lines and bold block colors – this is both one of the best color blockers and best liner tattoo machine options out there.
The Mini Dietzel Powerliner from HM Tattoo Machines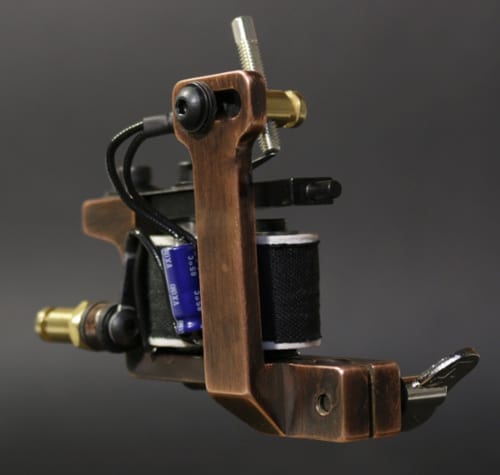 HM Tattoo Machines have been in the business for decades, and know how to create machines that help make the most of artists' skills. The Mini Dietzel Powerliner model can be loaded with various needle sizes, working best with size 7 or over. The powerful coils are wrapped 10 times and deliver strong, extended strokes for optimum control and efficiency.
Crafted using one large piece of cast iron, the model is ideal for artists who want a powerful, long-lasting machine that is unmatched in quality or durability.
The Brass Hybrid Tattoo Machine from Micky Sharpz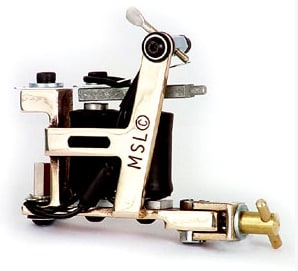 The smoothness and durability of Micky Sharpz's Brass Hybrid model makes performing color block designs a fluid and efficient experience. This coil tattoo machine packs a punch when it comes to powerful color blocking and crisp, clean lines, and the component parts fit perfectly together to ensure there is minimal friction, prolonging the lifespan of the machine.
Designed by British company Micky Sharpz, who are experts in the field, the Brass Hybrid is extremely robust and durable, and allows quick changing of tubes, meaning you can rapidly work through your design with significantly reduced interruption.
The 4 Best Rotary Tattoo Machines
The Spektra Edge X from FK Irons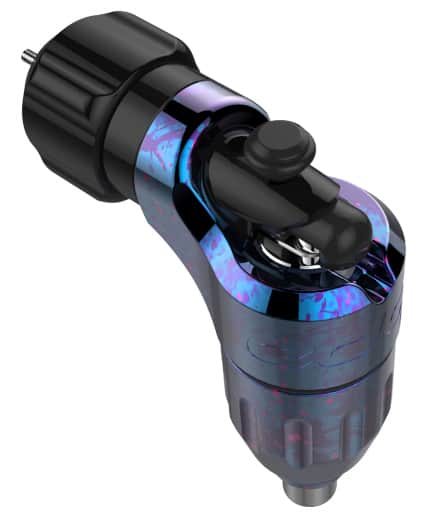 The 'FK' in FK Irons stands for 'Fallen King', and they are experts in creating premium rotary tattoo machines for professional artists – the Spektra Edge X, in particular, combines everything they know about the industry and those who use these machines.
The Spektra Edge X is made from high-grade aluminum and equipped with a clever MultiVise feature which means you don't need to use cartridge adapters at all. You can easily change the type of stroke you're using – line or filler, and create crisp, clean lines with optimum precision.
FK Irons are always looking for new ways to innovate and improve their existing designs; the Spektra Edge X showcases their fresh and contemporary approach as well as any of their products. If you love total agency over your designs and accuracy with every stroke, this is arguably the best rotary tattoo machine for you.
Recommended Article: Are tattoo numbing creams worth it?
The Seawolf Direct Drive 3.0 from Vlad Blad Irons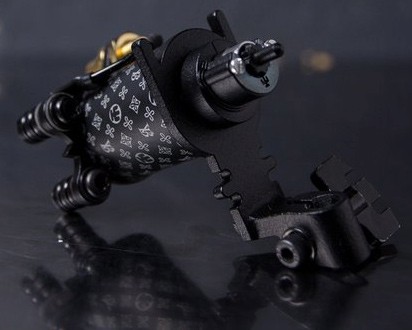 Get everything you need for slick, professional and efficient body art in one complete package with the Seawolf Direct Drive 3.0 – the best rotary tattoo machine for experienced artists. Extremely versatile, this model is ideal for all kinds of artwork – from lining to filling and shading, and the powerful drive makes it ideal for getting the job done quickly.
The no-frills design from these Moscow professionals makes this particular model a favorite all over the world. Cut the fiddly extras and instead try a tool that reliably highlights your own unique skills as an artist – whatever your personal style, this machine will help you fulfill every project without interruption.
The Hawk Pen from Cheyenne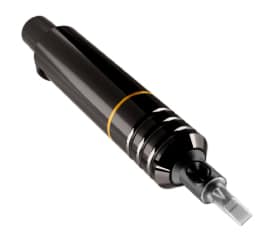 Germany is home to some of the most incredible tattoo machine companies: Cheyenne is one of the best in the country, as they are always innovating and finding new ways to improve on classic designs, without losing sight of what has always worked for professional artists.
The Hawk Pen is one of the very best tattoo guns available on the market today: it allows total control and precision, as well as providing unmatchable comfort in the hand. Skip the aching wrist and instead just focus on the art you're creating with this state-of-the-art machine.
Created to look just like a standard pen, the lightweight, compact tattoo machine makes it possible to achieve unbeatable accuracy, and create designs of all types, from fantasy scenes to dot patterns, and it's easy to clean as well. Whatever you (and your clients) have in mind, this fantastic art tool makes it easier than ever before to achieve it.
The Roller Rotary from Infinite Irons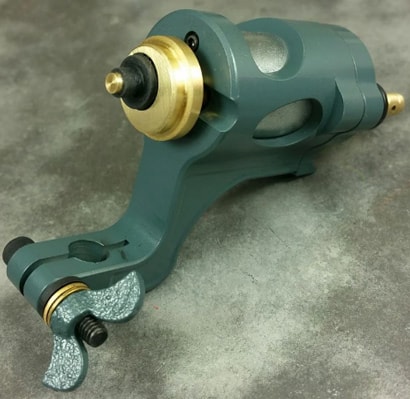 Combining the timeless effectiveness of classic rotary machine design with contemporary engineering, Infinity Irons' Roller Rotary is a solid and durable favorite among tattoo professionals everywhere.
The no-frills design means there are no futuristic add-ons or extra parts that need cleaning or replacing: what you have is a solid, durable and thoroughly reliable piece of machinery with a motor that lasts an impressive 5 thousand hours.
With over 20 years of industry experience, Infinite Irons make all their machines by hand and design them generally for making crisp, clean line-based designs as well as flawless shading. The model is very easy to operate, as well as keep clean, and you won't have to deal with any fiddly add-ons – a must-have for the tattoo artist who likes his tools to be simple.
Recommended Reading: Don't forget to check out our guide to the leading tattoo power supplies.
Choosing the Best Tattoo Machine for You
With plenty of options to choose from, it's a good idea to have a play around with both coil and rotary inking machines so you can see which one suits you best.
You can ask in tattoo parlors for a try of one of their machines, or visit a trade event or festival to experience new and classic machines on offer.
Every tattoo artist has their own unique style and personal taste, and one inking machine may be great for someone else but not right for another – it's all about trying and testing out different tools before finding the one that works best for you.
Where to Buy Professional Tattoo Machines
To make the most out of your talents as a tattoo artist, and to build experience safely and efficiently, you need high-quality tools from reputable vendors. So where should you buy tattoo machines to be sure you're investing in a premium product?
When choosing where to purchase the best tattoo machines on the market, we advise you either buy from the manufacturer directly, or from approved, legitimate vendors who are known for providing the genuine article.
You can buy tattoo machines online from sites such as eBay and Amazon, but be careful to read reviews from other customers to ensure you're buying from a reputable seller, and that the machines are as described. Tattoo machines are an investment – in some cases they can last years – so do plenty of research before handing over your money.
The Bottom Line
As the demand for tattoos has risen, so too has the demand for high-quality, durable and user-friendly tattoo machines.
Whether you're an apprentice who's just starting out as a tattoo artist, or you've been in the business for years, these are the best tattoo machines on the market for both beginners and experts.
A great tattoo machine is like a quality brush in the hand of a painter; allow your unique style and creativity to come out with one of these premium machines and you're sure to grow as an artist – and as a business. Happy inking!