Get the perfect tattoo gear to kick start your tattoo design career with our ultimate guide to the top starter kits on the market.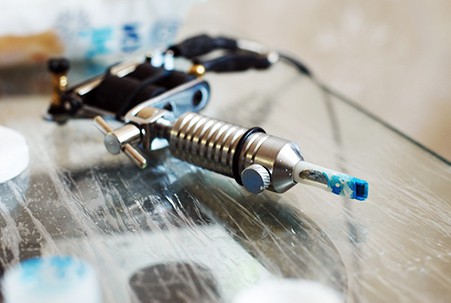 At one time, tattooing was somewhat frowned upon and was a rather niche occupation. In recent years, however, more people than ever before are recognizing the beauty of body art and are seeking out high-quality tattoos that reflect their personality and their taste.
This has created a lucrative opportunity for anyone who has artistic skills to develop. The body art industry is filled with some of the most amazing artists and creative people on the planet.
If you're ready to become a professional tattoo artist, you need to have the right equipment to help you get started. There are lots of tattoo starter kits on the market today, but which will help you to get to grips with the basics?
Finding the best tattoo machine for beginners is important if you're going to get your tattooing career off to the best possible start.
The best tattoo starter kit will include everything you need to begin practicing your art and honing your skills.
In this guide, we've picked out some awesome starter kits to help you launch your successful career as a tattoo artist.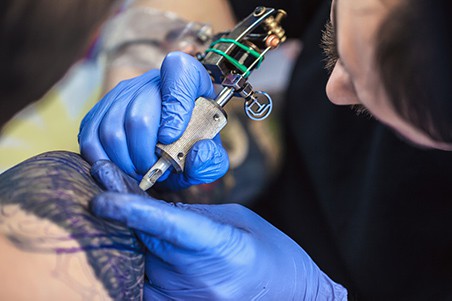 Buyer's Guide: Choosing the Right Tools
Choosing a tattoo kit for beginners isn't always as simple as it sounds. With lots of different options on the market today, knowing which one includes everything you need to get started can be challenging.
If you want to avoid making an expensive mistake, you'll need a reliable buyer's guide and that's why we're here to help.
When it comes to choosing the right tattoo kit for a beginner, you'll need to know exactly which components you'll need to be included:
A gun – the gun is possibly the most important item in your beginner tattoo kit. The gun secures the needles and supplies the motion which punches ink into the skin. Choosing a good quality gun that is durable, constructed from strong materials, and easy to maintain and handle is paramount.
Consumables – when you're tattooing, you'll be using consumables like needles and tattoo tips. These must be included in any good starter kit. Make sure to check the quality of the needles and tattoo tips as well as the power supply quality.
Storage – there are lots of delicate items included in the best tattoo starter kits. Needles can also be contaminated if they are stored poorly. This is why it's very important to ensure the kit comes with a carry case to make transportation and storage safe and simple.
Tattoo Machine Types
There are three types of tattoo machine on the market today – Rotary, Coil and Pneumatic models. So, which is the best for a new tattoo artist?
Rotary Machines
A rotary tattoo machine may be simple, but it offers a host of advantages. Many of them are able to perform all of the different functions involved in tattooing such as coloring, lining, and shading. Let's take a look at the pros and cons of this machine type.
Pros:
User-friendly
Quiet
Easily adjustable
Virtually no vibration
Versatile
Consistently smooth running
Cheap replacement parts
Low maintenance
Suitable for filling and coloring
Similar feel to an ink pen
Lightweight
Easy to handle
Affordable price tag
Cons:
Not as durable as other models
Slower than other types of tattoo machine
Lining can be harder using a rotary machine
Coil Machines
The dual coil tattoo machine is the most common type on the market today, but there are also triple and single-coil models available. The pros and cons of this machine type are as follows:
Pros:
Easy to regulate the speed and power
Easy to interchange and customize parts
Affordable price tag
Heavier – helps to improve control
High performance and power
Ideal for longer periods of tattooing
Cons:
Noisy to operate
Requires more adjustments and maintenance than a rotary machine
Pneumatic Machines
These machines are powered with an air compressor. They offer similar benefits to rotary machines, but they are expensive. This is why they're rarely seen in use.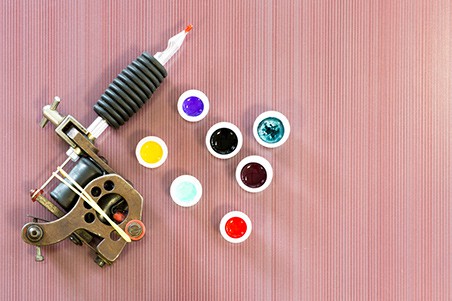 Top Features to Look for in Tattoo Starter Kits
If you aren't sure where to start when it comes to looking for a tattoo starter kit, here are some of the top features to bear in mind when making your decision:
Guns – how many guns are supplied in the kit? You'll need to check how many guns are supplied to determine the best value for money. Some kits only supply one gun, while others can supply as many as 9!
Materials – you'll want to choose a durable tattoo gun that is easy to handle. Some are made from aluminum, others from stainless steel or even cast iron. You'll need to consider the weight of the gun.
Inks – some kits won't come with any inks while some will supply up to 54! When ink is supplied, you'll have everything you need to get started, but make sure that it's high-quality ink so their vibrancy will remain after use. Also, make sure that there are caps on the inks as this will ensure a seamless application. Don't forget to check out our guide to the top tattoo inks around.
Foot Pedal – tattooing needs your hands to be free. A foot pedal is therefore important so you can make adjustments with no need to use your hands.
Power Supply – a power supply is an essential component of your starter tattoo kit. You'll need to ensure you have a quality power supply that provides consistent and smooth power.
Tubes And Needles – you'll need to choose between reusable needles that require sterilizing or single-use needles which won't require you to buy any sterilizing equipment.
Biohazard Container – a surprising number of people beginning on their tattooing career just throw away used needles with the regular trash but this is very dangerous. You should, therefore, ensure that you have a suitable biohazard container so used needles can be disposed of safely.
Sterile Gloves – your tattoo starter kit should come with disposable sterile latex gloves so you can stay safe while you work.
Although it can be tempting to cut corners and reduce your initial start-up costs by choosing the cheapest tattoo starter kit you can find, you should certainly make sure that you consider quality first above price.
If you cut costs at this stage, you'll end up with an inferior product that will break down quickly or produce poor quality results from your tattooing.
Make sure you bear in mind both the quality of the materials and the variety of products included in the kit. You should make sure that you choose a kit that comes with everything you need to get started so you can have the best possible entry into your new career.
The Best Starter Kits For New Tattoo Artists
In our opinion, these are four of the best tattoo starter kits on the market today.
Dragonhawk Complete Tattoo Kit   

* Our Top Pick *

Dragonhawk is a top name in the tattooing industry and is known for its high-quality products. When you choose this tattoo kit, you can be confident you'll be choosing a durable starter set that has been manufactured to professional-grade designs.
Despite its high-quality construction, this is a surprisingly affordable kit that comes with everything you need to get started.
Six coil tattoo machines are supplied with this Dragonhawk starter kit – three designed for lining and three designed for shading, so this will ensure that you can practice all of the essential skills.
All are made from strong cast iron to ensure a long lifespan and even better magnetic and electrical conductivity. It couldn't be easier to make smooth lines and to provide colorful shading.
You would think the cast iron construction of the guns would make them heavy, but they are quite lightweight and easy to handle.  And thanks to the low vibration level they produce, you'll be able to work for extended periods without your hand getting tired. They have also been stylishly designed so that they look as good as they feel in your hand.
The USA-made inks which are supplied with this kit are smooth and vibrant as well as vegan-friendly. Meanwhile, the power supply features inbuilt leakage and short-circuit protection so you can enjoy more power, steadiness, and safety when tattooing.
This set also comes with practice skin, a clip cord, a foot pedal, grips, tips, needles, and transfer papers as well as a storage case.
Pros:
Lightweight and easy to handle
High quality USA-made vibrant inks
Inbuilt protection in the power supply
6 machines supplied for both lining and shading
Cons:
Best suited to beginners rather than professionals
Bottom Line – in our opinion, this is one of the most complete tattoo starter kits on the market today. You'll have everything you need to practice your art at your fingertips.

Recommended: We discuss all things tattoo numbing cream in our latest guide.
GRINDER Tattoo Kit By Pirate Face Tattoo

Although this kit is cost-effective, it comes with everything you need to get started including four tattoo guns which are durable, easy to use and feature specialized designs for shading and outlining. Although they have been well designed and made from high quality materials, the tattoo guns are surprisingly lightweight so they won't tire you out, even when you're using them for extended periods.
This kit also comes with seven bottles of high-quality ink which is vibrant and made from safe non-irritant ingredients. One of the components supplied with this kit is practice skin, so you'll be able to get started with creating designs on synthetic skin without having to use your own body as your canvas!
The foot pedal which comes with this kit ensures that you can carry on focusing on your tattooing without having to worry about making adjustments with your hands. Of course, you'll also receive sterile disposable gloves too, so you'll be able to stay safe while you work.
You'll receive 50 sterile needles with this kit in a range of sizes allowing you to create intricate designs with no problems as well as 100 sterile ink cups. As an added advantage, you'll be supplied with an instruction DVD and an instruction booklet to help you get started.
Pros:
4 tattoo guns supplied for outlining and shading
Sterile cups and needles are supplied
Carry case is supplied
7 bottles of non-irritant vibrant ink supplied
Full instructions come with the set
Cons:
The DVD isn't of the best quality
Bottom Line – in our opinion this is a great value kits for new tattoo artists. The booklet and DVD which come with it help you to get started in the best possible way.

Solong Tattoo Complete Starter Tattoo Kit

This kit comes equipped with two professional-grade tattoo machine guns, one for shading and one for lining. This will ensure that you can get to grips with the basic techniques of tattooing right from the start. It also comes with an LCD digital power supply as well as a clip cord and foot pedal so you can enjoy the benefits of hands-free tattooing.
The range of inks that come with this kit is especially impressive. There are no less than 54 full-color practice inks, so you'll be spoiled for choice when it comes to creating vibrant designs.
Of all the starter kits on the market, this one supplies a far greater range of colors than most of its rivals, so if you're looking for the ultimate versatility and flexibility from your purchase, you'll be impressed by this kit.
There are also 50 tattoo needles, 10 tattoo grips, 60 tattoo tips and 100 ink cups supplied with this kit as well as a paper manual and a free bottle of black ink. You'll also receive reusable double-sided practice skin and sterile disposable gloves. In short, you'll have all you need to get started right out of the box.
You can read more about this kit in our full review.
Pros:
2 guns supplied – one for shading and one for lining
A wide range of colorful inks supplied
Practice skin comes with this set
Foot pedal included
A full range of accessories including disposable gloves, grips and ink cups is supplied
Cons:
The ink is somewhat thinner than that supplied with other kits
Bottom Line – in our opinion, the range of inks supplied with this kit make it a top option for new tattoo artists who want a lot of variety in their colors.

4. DragonHawk Starter Complete Kit

The DragonHawk brand, as we've already mentioned, is one of the most reliable in the industry and has a prowess dating back two decades. This starter kit won't disappoint, including everything the novice tattoo artist requires to learn the basics right out of the box.
You'll have all of the essential supplies you require in this set including nine different tattoo machines made from high-grade iron. The surface treatment that these machines have received give them an attractive appearance while their lightweight design means that they are easy to handle. They also produce minimal vibrations so your hand won't get tired during long periods of use.
The Immortal inks which are supplied with this kit are smooth, consistent, vibrant and vegan-friendly. There are also 50 needles supplied with this kit which has been sterilized and packaged individually for complete safety.
As you'd expect, a power supply comes with this kit which has inbuilt leakage and short-circuit protection for a safer and more powerful tattooing experience. All of the essential accessories also come with this kit including practice skin, adjustment tools, steel grips and tips, ink cups and a foot pedal which has a handy clip cord.
Pros:
9 tattoo machines with iron construction
50 sterile needles supplied
Power supply features inbuilt safety protections
Vegan-friendly, smooth USA-made inks supplied
Stylish design
Cons:
Best for beginners – may not be advanced enough for professional tattoo artists
Bottom Line – this is one of the most affordable starter kits for complete beginners thanks to the range of items that it includes.

Choosing the Right Tattoo Starter Kit
If you're ready to choose the right tattoo starter kit for you, this buyer's guide and outline of the top four products on the market today should point you in the right direction.
Remember to pay close attention to the quality of the kit as well as its price – you really do get what you pay for when it comes to tattoo starter kits, and if you want to ensure durability and a high-quality result, you'll need to choose a reliable kit from a reputable brand, otherwise, your designs will suffer, and you'll need to replace your kit much more quickly than you anticipated.
Although all of the four starter kits that we've mentioned here would make an excellent choice for a newcomer to tattooing, we think that, overall, the very best choice is the DragonHawk Complete Tattoo Kit.
Coming complete with absolutely everything you need to get started, it helps beginners to get to grips with all of the basic techniques that they'll need when they're learning about their new art. Also, it comes from one of the top brands in the industry today, so you can be confident of its durability and quality.