Need to sharpen your skills before starting that new tattoo? We recommend some of the best tattoo practice skins that lets you do just that!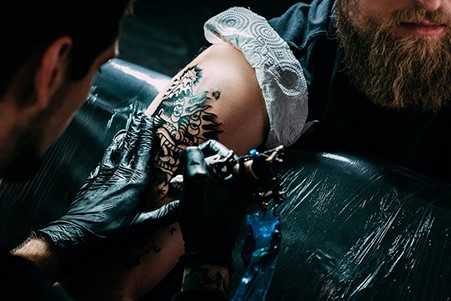 Practice makes perfect, and before tattoo artists can be let loose on clients' bodies, they need to practice repeatedly to make sure they have developed the essential skills.
Synthetic skin for tattooing is designed to look and feel like skin, giving learners the opportunity to determine how human skin will react when tattoo supplies are applied.
Tattoo practice skin also often allows for the correction of mistakes since they can be cleaned and reused – unlike clients' skin which will be permanently marked by tattoo inks.
Recommended: Check out our huge guide to pain-relieving tattoo creams next!
Until quite recently, fake skin for tattooing practice was made from either rubber or plastic. While both allow artists to improve and practice their skills, they don't have the same qualities as human skin.
The most modern fake tattoo skin has been designed to have a much closer texture to natural skin and can be placed onto the appropriate body part so the body's natural contours can also be felt during the tattooing process.
Are you ready to find out more about how to choose the best synthetic skin for tattoo practice? Then read on and discover our top picks from today's best contenders on the market.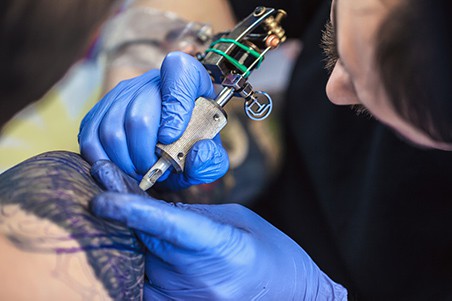 A Buyer's Guide to Tattoo Practice Skin
If you're keen to purchase the best tattoo practice skin, you need to know how to make the right choices.
Here is a buyer's guide to help to explain what to look out for.
Why Use Practice Skin?
The entire point of having synthetic skin on which to practice tattooing is to perfect techniques. Beginners can get to grips with the basics such as setting up their equipment properly, knowing how deep the needles need to go and how to operate tattoo machines safely.
Even experienced tattoo artists can benefit from using practice skin since they can use it to fine-tune their new designs before trying them out on human clients.
Some tattoo artists also use practice skin to show clients how their designs will look. They showcase an artist's work better than a photograph and this allows for better displays to draw in new customers.
Synthetic skin also allows for experimentation with new equipment or inks to see just how a new product will handle before being used on a real client.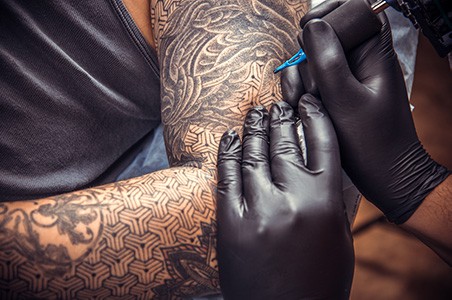 Materials
Fake skin comes in several different materials such as latex, synthetic leather or silicone. Each is different when handled and the prices vary too.
Beginners and those on a low budget will do well to choose silicone skin since this is more affordable, but latex feels softer and also gives a more realistic appearance. Synthetic leather, on the other hand, is thicker and harder.
Recommended Reading: Check out the best beginner's tattoo kits in our latest guide.
What Size Sheet?
You can choose the best size of sheet to suit your needs. Since fake skin comes in a range of shapes and sizes, you'll need to select a size that is slightly larger than the design that you're going to tattoo.
Blank Skin or Body Parts?
While it's possible to find fake body parts that offer a thoroughly realistic tattooing experience. These come in the shape of hands, feet, arms or legs and give a novice tattoo artist the opportunity to feel the natural contours of the body as they work. On the downside, these are costly and may be out of the financial reach of beginners.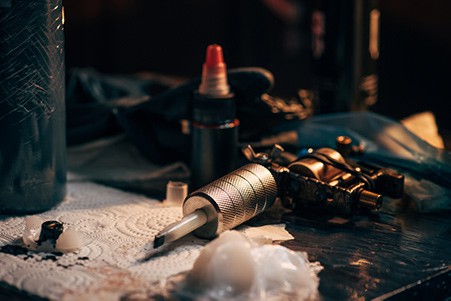 You may prefer to choose sheets that are cheaper and can be applied to a person's body to give a similar experience to natural tattooing.
They can also be fitted around other objects like cups or baseball bats so you can try out a range of contours. The flexibility that these sheets offer may make them a better choice if versatility is your goal.
How to Use Practice Skin
Although the best tattoo practice skins are a great substitute for the real thing, it's important to be aware that there are some subtle differences.
For example, you'll find that stenciling may be an issue with synthetic skin and shading may also produce differences. Pieces that come in pre-modeled body shapes are convenient in many ways, but bear in mind that they can be rotated through 360 degrees – something which a human body part cannot!
Keep these elements in mind when choosing the best tattoo practice skin and you'll find that your skills improve.
Recommended Article: Looking for a Solong tattoo kit review? Check out our guide!

Recommended Tattoo Practice Skins
Here are three of the top tattoo practice skins available on the market today.
Segbeauty Practice Silicone Training Skin

Material: Silicone
Thickness: 3mm
Size: 7.6" x 7.6"
Made out of silicone, Segbeauty practice silicone training skin is very close to the texture of human skin, allowing artists to practice their tattooing skills without needing to practice on themselves or their friends.
Each pad is 3mm thick – thicker than the majority of similar products on the market – which make this a superior fake skin for practicing on. Each sheet measures 7.6" x 7.6" and has two blank sides for double-use.
There is also an elastic loop strap and hook supplied as standard so the practice skin can be wrapped around a body part or inanimate object to learn tattooing skills on different contoured parts.
Both novice artists and experienced professionals alike will find this synthetic skin beneficial when trying new techniques, testing new inks or machinery, or simply when displaying artwork at conventions or in their shop.
This brand of synthetic skin is also not prone to smudging or smearing thanks to its additional thickness, and this also makes it better value than many of its rivals.
Pros:
Hook and strap for contouring around body parts
Extra thick for a more realistic experience
Soft silicone material simulates human skin effectively
No smearing or smudging
Cons:
Can take a long time to dry
Bottom Line: This is the best choice for convenient application to body parts or objects thanks to the hook and strap fastening.

2. PFT Tattoo Practice Skins

Material: Silicone
Thickness: 2mm
Size: 8" x 12" + 6" x 8"
This pack of 20 tattoo practice skins offers great value for money. It comes with two different sizes of sheets, so you can practice larger and smaller tattoos. There are ten large-sized sheets and ten medium-sized sheets in each pack.
The 2mm thickness is sufficiently deep to ensure effective practice and since both sides are usable, you will get double the benefit from these sheets.
Their silicone construction allows for great flexibility, allowing you to wrap them easily around the object or body part of your choice so you can practice on a range of contours. This is also one of the more affordable options on the market today, so if you're a novice tattoo artist on a budget this could be the ideal choice for you.
These are especially good practice skins for getting used to new equipment.
Pros:
A choice of large and small sheets in each pack
Great value for money
Very flexible construction
Affordable choice
Double-sided design
Cons:
Not as thick as some other options
Bottom Line: This is the best option on the market today in our opinion if you're looking for great value for money. You get a lot of sheets for the price.

3. ITATOO Extra Thick Practice Tattoo Skin

Material: Silicone
Thickness: 3mm
Size: 8 x 12 x 0.12"
ITATOO's extra thick tattoo skin measures 3mm in-depth, so you can get enjoy a realistic tattooing experience and practice getting your needle depth just right.
Thanks to the large size of this synthetic skin, it gives you plenty of space to practice your designs and techniques. This fake skin is suitable for practicing shading and line work as well as for testing new supplies before using them on human clients.
Thanks to the flexible silicone construction of this tattoo practice skin, it can wrap easily around objects or body parts to experiment with different contours. There are five pieces supplied in each pack and, even better, these fake skins can easily be cleaned and reused, so you'll be getting great value for money.
Pros:
5 pieces in each pack
Easy to clean, reusable design
3mm thick for a more realistic skin-like feel
Flexible silicone construction
Large size
Cons:
When using both sides, the first side needs to be wiped clean first
Bottom Line: The extra thickness and extra size of this sheet makes it a top choice for anyone who wants to clean and reuse their practice skin time and again.

Recommended Next: Take a look at our big guide to tattoo power supply.
Choosing the Right Tattoo Practice Skin
With this helpful buyer's guide, you'll be armed with all the information you need to choose the right tattoo practice skin for you.
When choosing the best synthetic skin, make sure to consider the material and the thickness of the product. You should also consider how flexible the material is and whether it can be easily wrapped around an object or body part. Silicone practice skin is often the best solution since it has a soft texture similar to human skin.
The three options that we have outlined here are some of the best options available on the market right now, suitable for both novice and experienced tattoo artists alike.
Whether you're keen to practice and hone your basic techniques and skills or whether you simply want to experiment and test out new equipment and inks, any of these three fake skins will suit your needs.
However, overall, we'd recommend the ITATOO practice skin sheets as the best option to suit a wide range of users thanks to its reusability and extra depth.