With so many tattoo guns and kits available, how do you know which one is right for you? Our Solong tattoo kit review should make the decision a little easier.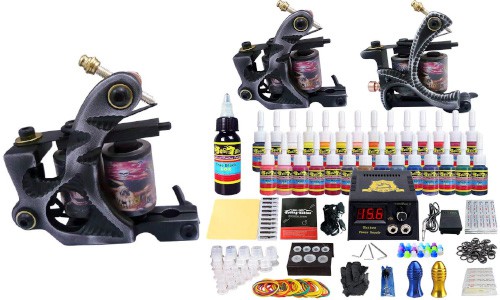 In the past, tattoos were created manually; that is, the artist would pierce the skin with a needle and painstakingly inject ink into the dermis by hand.
Those days are long gone, and today the vast majority of tattoos are performed using a special machine – usually either rotary- or coil-operated, and there are thousands of companies making their own tattoo equipment that anyone can buy.
Whether you're a relatively experienced tattoo artist, an apprentice who has yet to ink their first customer, or you're a beginner who's interested in learning the craft, one great brand of solid, introductory tattoo supplies is Solong.

Solong have been involved in the quality tattoo equipment industry for over a decade, and are now proud to supply the best tattoo equipment all over the world to a huge pool of loyal customers.
The Solong Complete Tattoo Kit contains everything you need for safe, stylish tattooing, and is a great purchase for beginners and pros alike.
To find out more about this fantastic set of equipment, check out our Solong tattoo kit review below, where we'll cover the key features of the set and technical specifications, as well as how to use it safely and effectively.

Recommended Reading: Looking for tattoo starter kits? Check out our guide!
Solong Tattoo Kit – What's Included?
Solong have assembled this kit to include everything a beginner or apprentice tattooist could possibly need for the job, so buyers can get every element in one convenient package without compromising on quality. The kit contains:
4 professional tattoo guns/coil machines in various colors – easy-to-use for both lining, color blocking, and shading
LCD digital display power supply
Foot-operated pedal
Clips cord
54 bottles of premium color ink for practicing – every one gamma-sterilized and ready to use
50 needles of assorted sizes
60 stainless steel tattoo tips of various sizes
Soft cleaning brush for tattoo tips
2 tattoo grips made from aluminum
100 ink cups
Practice synthetic 'skin' for trying out your designs
50 rubber bands for the machine
50 colorful gromits
50 rubber o-shaped rings
Tattoo machine tools for adjusting the settings and fixing
2 sets of sterile, disposable tattoo gloves
Full instructions on using every part of the kit
Technical Specs
Weight: 4.41lbs (6.2lbs shipped weight)
Dimensions: 10.6 x 8.3 x 5.5 inches

Solong Tattoo Machine Review
With so many elements included in this package, the Solong tattoo machine kit offers a lot for your money.
As well as offering a wide selection of needles, tips and the guns themselves, they've generously included all the extra bits you might need – especially if you're a beginner – the sterile, disposable gloves and practice skin are a particularly helpful touch.
The components are intuitive to use and the instructions easy to follow, so you can get plenty of practice before inking someone for real.
Solong are an established and well-trusted company that have an international reach when it comes to quality tattoo equipment, and this offering showcases them at their very best.

They clearly have a deep understanding of what an apprentice or casual tattooist needs from a kit: they've created a collection of pieces that not only introduce all the basics of tattooing but are a great long-term set that anticipates how artists grow and change.
One of the few drawbacks worth mentioning is that this kit is better suited to beginners than to those with extensive or professional experience as tattoo artists, as they may find the extra bits to be superfluous and the control over the tattoo guns to be not as crisp and clean as they would like.
Another complaint experienced by some users is that the ink can tend to come out quite quickly, and make creating a pristine design a challenge.
This kit is great for a beginner or just someone who wants to see if being a tattooist is really for them. It contains everything you need to get started and even the practice skin, so you don't need a willing victim!
What I will say though is that it isn't the highest quality piece of it. It comes in at a cheap price and that is representative of the kind of quality on offer. It's a great starting point but if you're any good at tattooing or have any ambition, you'll quickly move on to something of a bit higher quality to work with.

The Bottom Line
The Solong tattoo kit is a solid piece of equipment from a reliable company and is a great starter kit for beginners in the art of tattooing.
If you're interested in practicing and trying tattoos at home, rather than using a machine in a professional setting on customers, this is a great place to start.
We hope you've found our Solong tattoo kit review informative, and that it's helped you make a decision regarding the best machine for you.

Awesome Alternative: The Dragonhawk Starter Kit is well worth a look.
How to Use Your Solong Tattoo Kit
Whether you're a beginner or a pro, before you use your Solong tattoo kit, you need to be aware of exactly what you're doing and the necessary safety steps you need to take.
Before we get into our quick Solong tattoo ink review, here's a quick run-through of some tips about tattooing safely and effectively using this kit.
Always read the instructions thoroughly to make sure you know how to use the machine safely and get the best results from your inking. You can check online (e.g. on YouTube and online forums) for advice on achieving a great tattoo as a beginner.
Before you grab the gun, you need to first plan out your tattoo on paper. Use whatever types of art materials you find easiest and that aids your creativity – marker pens are a good option.
Practice on something similar to skin: rather than drawing all over you or your friends' skin with a marker pen, you can do it on tattoo practice skin.
Perform a pigment patch test to ensure the ink is suitable for use on skin. All Solong inks are sterilized with gamma rays, but it's a good idea to be 100% sure before beginning the tattoo. Solong give clear, step-by-step instructions on pigment patch tests on their website.
Bear in mind that tattooing must only be done on a body that's in a healthy state; i.e. tattoos should never be performed on or by a drunk person, if someone is ill or feeling weak, and any medication should be accounted for too.