Are you on the lookout for a new tattoo power supply? In today's guide, we recommend four of the best available right now.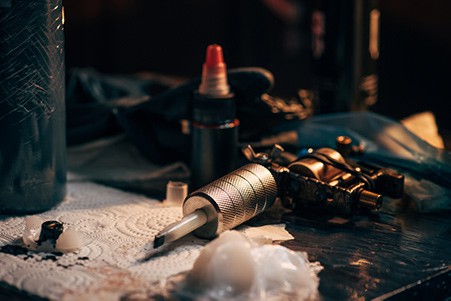 Whether you're completely new to the world of tattoos or looking to step things up or just need a more portable solution for those times when you're outside of the tattoo studio. You need to read our guide to the best tattoo power supply.
We've selected what we believe are the best out there and tried to cover all bases. All models offered are regulated and feature dual machine connection options.
This enables you to connect your lining and shading tattoo machines up to the same supply and then you can simply switch between the two.
While we've considered that not everyone reading this will be looking to travel around from client to client and maybe happy working from a studio, we've also considered you reading this that do. So, there's more portable and practical options and one that's best for use on a table, desk or workstation.
All we can do is be a guide, rather than try to tell you which to buy. So, along with our unbiased reviews, we've also provided a buyer's guide that discusses the different aspects of tattoo machine power supplies you need to consider.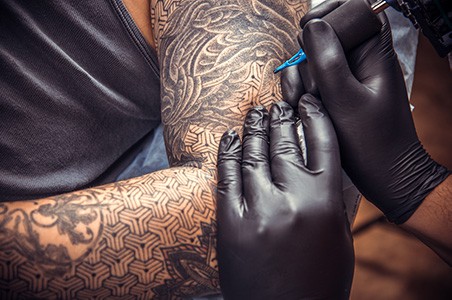 Buyer's Guide
Before we start getting into the meat of our tattoo power supply box reviews, whether you are completely new to tattooing or not, there are things you need to consider.
As a tattoo artist, you want to have, like others in the industry, that strong sense of pride in your work. After all, tattooing is undoubtedly something you live for, with every waking breath. So, you want to make sure that the equipment you're using matches that raw talent and creative edge you have.
While we're not going to argue that the choice of actual tattoo machine, tattoo needles, transfer paper, and even inks are crucial, we feel that the choice of tattoo power box you use is also something you need to get right. You want to ensure you have a consistent supply of enough power.
Therefore, before you rush out and buy a tattoo machine power supply mentioned in our guide, refer to the six tips below to help ensure you make the right decision.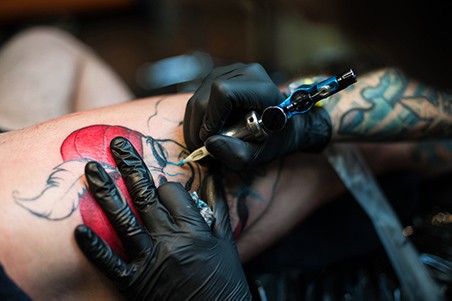 The Supply Voltage
You need to appreciate the fact that there are power supplies available for tattoo machines in a wide variety of different voltage outputs. You'll find some there are power supply devices that produce as low a voltage as 3-volts, whereas others can produce as much as 15-volts.
The more portable options can even be as low as 1-volt, though. The best and most basic way to explain voltage and what it means for the power supply is the higher the voltage number it offers, the better and more powerful a unit will be.
Different Types of Power Supply
As well as there being a multitude of different voltage ratings, you will find there are various options when it comes to choosing the power supply box. The two basic types there are to choose from are:
Both appear on the market in regulated and unregulated varieties.
The right choice for you is purely down to personal choice. It really depends on how confident you are, how skilled you are (and experienced) and the budget you must play around with.
Although the digital machines are much easier to read while you're working on your body art and produce more accurate readings, they are a lot more expensive. Regulated machines provide you with a constant stream of volts, but again these can be pricey.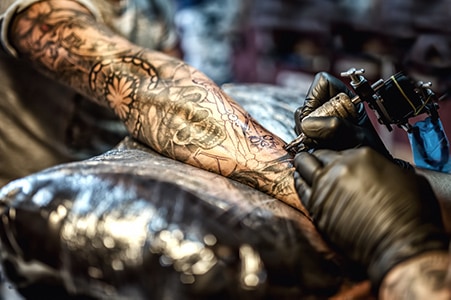 Fluctuations in Power Supply
Are you a little beyond an amateur and have been tattooing for some time? You'll know only too well how much fluctuations in power and pressure are key to achieving desirable tats. Depending on how much pressure you exert on the needles against the skin, the power provided by the power supply fluctuates.
We mentioned regulated models above, these account for and correct the power fluctuations. Unregulated, usually cheaper models don't. You need to give some thought to this if you're planning on a continued career in tattooing or are trying to build on your basic skill set.
Recommended Next: Need a new tattoo machine?
Consider your Current Tattoo Machine
An important consideration to make when choosing a power supply for your tattoo machine and that's the machine itself. You'll find that some of the updated and cutting-edge supplies are only supposed to be used with coil-operated devices, and others are only suitable with rotary machines.
So, you need to either pick one that matches with your tattoo machine or choose a generic universal one that can be used with any machine. This will help in the future if you look to replace your current machine.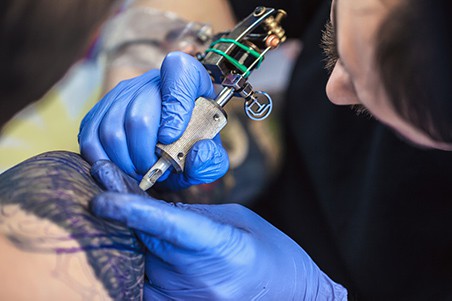 Portability, Size, and Weight
Portability, size, and weight are all aspects of the tattoo power supply you need to factor into your decision. Think carefully about where you're going to be doing most of your tattoo work.
Do you work primarily from a shop or do you prefer to work as a mobile tattooist? Even if you're not officially a tattooist and you're just doing it as a side gig, you need to give this some thought.
Some are lightweight, compact and very portable and ideal for the traveling tattooist. If, though, you are based in a shop, you should still consider a lighter option, but one that supplies an adequate amount of power to cope with your artistic workload.
Recommended Reading: Don't miss our guide to the top tattoo inks next.
How Many Tattoo Machines Do You Currently Have?
Obviously, you need to give some thought to the number of tattoo machines you need to provide power for. If you're just a one-man-band tattooist, and only got one machine, this is not much of a big concern.
Whereas, if you run a tattoo shop and are looking to power up all the machines, it's best to connect as many machines to the same power supply as you can.
You'll find many well-experienced tattooists have at least two machines – one to handle the tattoo lining, and the other for all the shading.
You know you've found a good power supply if you can plug various machines in at the same time, then switch between them as you need them. This means you only need to pay out once, which is convenient for your setup and convenient for your wallet.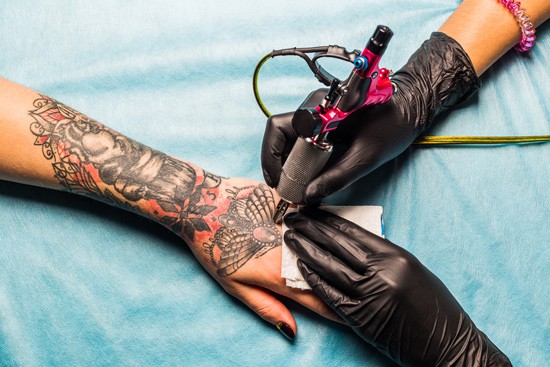 Budget
We've left the budget as the last factor because it really should not be the first thing you consider. You may think you're saving yourself some money and getting a bargain by getting a cheap power supply, only to find its false economy because it was cheap for a reason. That doesn't mean you shouldn't let your budget dictate to an extent what you purchase.
Now you understand more about what you should be looking for, let's start digging a little deeper with the reviews.
Recommended: We take a close look at the top tattoo starter kits.
Tattoo Power Supply Reviews
These are the 4 tattoo power banks that we believe deserve your attention. We start with the one that offers the best value for money and then our overall favorite.
Pirate Face Digital Power Supply 

* Budget Choice *

First in our guide is the highly effective Pirate Face digital power supply. This can work with just about any kind of tattoo machine. It allows you the option to connect both a shader and liner machine up and then flick between the two as you need to, all at the touch of a button…and then you're free to use the foot pedal as necessary.
There's no need to then unplug either machine. The voltage can be adjusted easily from the digital meter on the box. The flat foot pedal used to operate is made from the tough-as-nails (quite literally, in a sense) stainless-steel and the machine comes with a nice and long 6-foot clip cord that connects the power supply up to your machine.
The voltage can be adjusted between 60 to 250-volts and will provide you with a consistent current of 15 to 18-volts. Because of the voltage level being adjustable, you can also use this in other countries. Another extremely great benefit of opting for this Pirate Face power supply, over other offerings is the fact doesn't ever overheat. So, you'll have very little in the way of maintenance to carry out on it, even with regular use.
There have been some reviews on this tattoo power supply box that suggest the box is not nearly as durable as it could be and is prone to break. Whether this is just some customer's misfortune, a factory oversight or an actual product fault, remains to be seen.
Pros
Can cope with several tattoo machines being connected to it
Fully compatible with coil and rotary tattoo machines
Has been designed to compensate for the fluctuations in voltage output
Cons
Its design could be revised, and it could be made sturdier
Bottom Line: Although we're still on the first power supply box, we can safely say this was chosen with good intentions. It may not be the most glam, but it does what it does well.

Dragonhawk Professional   

* Our Top Pick *

More expensive than the one above, the Dragonhawk Professional Digital Tattoo Power Supply is not just a cool name (that incidentally would make a great tattoo!). It is so much more also then it's rather nifty, slick and cool good looks. We were confused, we'll admit, and though this was a new smartphone.
But no, from one of the best names in the tattooing industry, comes this touchscreen digital LCD power supply unit. Designed to handle the supply of power to both your lining machine and your shading machine. Like the one above, you can simply press the L/S button to toggle between both machines while working on your latest masterpiece.
In terms of power, there are 6 different pre-programmed voltage settings for each mode. The output voltage can be adjusted easily from 3 to 18-volts on a DC connection.
The thing that really attracted us to this, aside from it being a new release from the always awesome DragonHawk, is the very smartphone/tablet-inspired design. Gone is the clunky box that looks like something from an industrial plant or music studio and helps to make it more inviting and easier to handle for newbies.
Pros
Very lightweight and compact, looks like a phone
Able to handle both lining machines and shading machines at the same time
Has adjustable voltage presets for both lining and shading modes
Cons
There is very little to find fault with, other than it might put off the old guard a little
Bottom Line: The bottom line is when it comes to tattoo machines and accessories and DragonHawk, you'll find it hard to pick fault with this beauty. Tattooing just entered the smartphone age.

DGT Aurora II Tattoo Power Supply

Okay, so if the DragonHawk power supply above was a step outside the box, this model from DGT, named the Aurora tattoo power supply feels like a step into a whole new dimension. And a dimension we want to live, breathe, love, tat and that some more in.
Although it does look like some weird LED light, like the others we've featured, it's a professional, high-quality dual tattoo power supply suitable for connecting both shading and lining machines to the same box, streamlining your setup.
It can run on anything from 120-volts to 220-volts and provides 1-volts to 18-volts that makes sure it will work with just about any tattoo machine. To say this is portable would be doing it a great disservice. Clearly from the pictures, it's designed to be carried around. Why would you want to keep this at home or in the studio anyway?
As if that wasn't enough, it's compatible with both rotary and coil tattoo machines and features an extremely practical anti-slip base and an onboard magnet that ensures it won't easily fall off any desk or table.
Ideal, then, if you're forever on the road and traveling from house to house to create new and wondrous works of arts on the canvas that is your customer's bodies.
Pros
It has a very slick and portable design, looks very futuristic
Has an exceptionally bright digital meter display, providing accurate voltage readings
Works with rotary and coil tattoo machines
Cons
Power supply seems a little inconsistent
Bottom Line: If you're not in need of a tattoo power supply you can take on the road with you, we'd probably suggest opting for one of the other power supplies in this guide. If you are, this is a great device to have at your disposal.

Recommended Article: Curious about tattoo numbing creams?
BIOMASER Hurricane HP-2

This follows the same design principles as the DragonHawk power supply also featured in this guide and resembles ever-so-slightly a smartphone or mini-tablet.
Like the DragonHawk and even the Aurora, it's clearly been designed for the tattooist who works out of a shop and travels a lot. If that's you, then this might be the power supply you've been looking for.
As is pretty much standard these days, it's capable of handling connections to two machines at the same time. You can just simply switch between your lining and shading machines as and when you need to.
In terms of power, it provides 3 to 18-volts and can operate fully with anything from 110-volts to 250volts. So, it's ideal even if you're outside of the US and looking to create spectacular tattoos on people you meet or clients.
Included in the box is a universal generic mount suitable for it, that comes pre-assembled, so you can simply take it out of the box, set it up and you're good to go.
Despite its compact nature, you still have the standard single foot-pedal to use in conjunction with your tattoo machine.
Pros
Portable and lightweight
Capable of working with any mains power supply, anywhere
Touchscreen controls make it even easier to use
Cons
The price tag really shows in its construction, though it's still a good effort.
Bottom Line: You'd have to make up your mind between this and the two above it if you really want a portable power supply. We think this one is great though because of the easy to use and intuitive touchscreen controls.

Power Up and Create a Masterpiece
So, there you have it, our pick of the best tattoo machine power supply products available right now. We've tried to showcase, even with just 4 products, the vast difference there are in designs.
While all the products we've chosen are dual tattoo machine power supplies, some are better suited to traveling around and are suitably portable, like the DragonHawk, the BIOMASER and the Aurora.
However, the Pirate Face is great for use from a studio or home setup. Although it would be hard for us to single out one, we love most, the best value for money is probably the Pirate Face.
Not just because it's one of the lowest priced in our guide, but because of the healthy selection of features it comes complete with. Our overall favorite would have to be the DragonHawk.