If you're looking for the best tattoo ink you've come to the right place as we look at 5 of the leading inks on the market right now.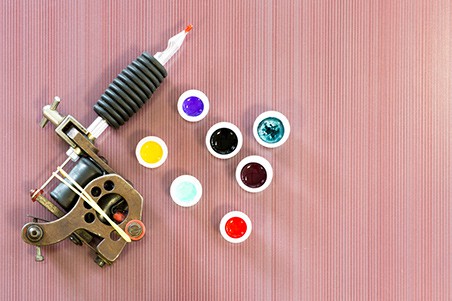 Tattoos are more popular now than ever. Gone are the days when tattoos were reserved for those who led an alternative lifestyle or who loved punk and heavy metal music.
Tattoos are very much in vogue and there are no signs of that changing. Much like facial hair and bodily grooming, tattoos are here to stay.
If you are wondering what the best tattoo ink is, you may have expected there to be not many choices. Wrong!
Many things change in the tattoo industry in time – the machines used, and tattoo styles come and go, but there is always one constant – the ink. It makes sense, as tattoo ink will live on with someone even after you've said your goodbyes and they walk out the door in love with their cool tat.
Tattoo ink has also evolved a lot, it's not just the way it was when everyone was getting those cheesy as hell sailor tattoos. The problem is that with so many options to choose from like there are now, it's rather intimidating.
If you're new to tattooing, you may steamroller into getting a tattoo ink that just isn't that good.
We're here to help you avoid that though, as we look at the best tattoo inks available.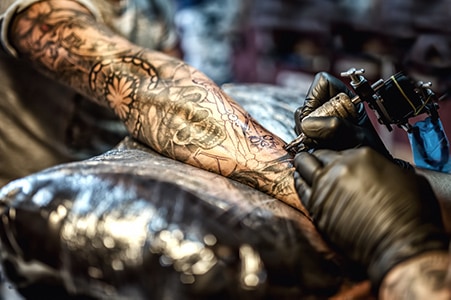 Buyer's Guide
Before we get stuck into the meat of our guide, the tattoo ink reviews, we thought it'd be a good idea to give you something of a buyer's guide, to help direct your way through the unforgiving and challenging landscape of inks. This will help you to make wise decisions, especially from the few we've selected.
As a tattoo artist, you will want to do your very best for your customers or willing participants, whether they are paying or not. That's why it's vitally important that you don't cut corners when selecting tattoo ink.
Recommended Reading: We've got tattoo power supplies covered in our latest guide.
Fortunately, these days you can pick up a high-quality tattoo ink set (that is a full collection of all the colors you need in an easy-to-store and use pack) for a reasonable price, but as we noted at the outset, you need to know what you're looking for and what to avoid.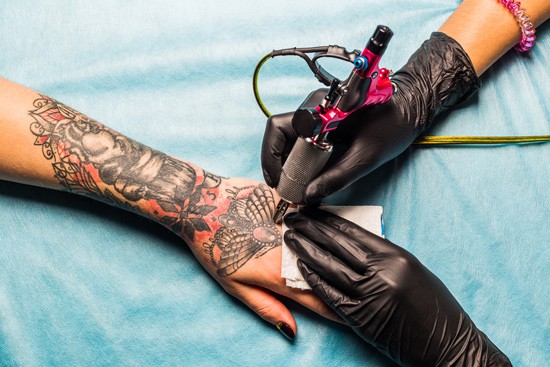 Benefits of Buying Tattoo Ink Sets
Rather than just buying one or two colors individually, the best way to build up your palette and supply of colors is through the purchase of a tattoo ink kit.
As noted above, tattoo ink kits are much more affordable in general. However, that's not the only benefit that comes from buying ink this way.
It also means that you have a much more diverse variety of colors to play with. Remember, everyone you tattoo will have different tastes and preferences. While some will prefer dark and moody, dramatic tattoos, others will love brighter and more in your face designs.
You'll also find that many people love that old-fashioned pastel-look, whereas others like the almost Day-Glo neon.
Consider the following, when you're looking at the different tattoo inks available, to help you make wise buying decisions:
Vegan-Friendly or not? – Given that veganism is becoming more and more popular, you should give thought to the kind of people you'll be giving tattoos. Even if it doesn't bother your conscience that some black inks are made using bone char, it may bother the people you ink up. To meet the growing demand, there are plenty of vegan-friendly products out there, though.
Ingredients – Following nicely from the above, it's worth looking at the kind of ingredients that go into making an ink. As tattoo ink is something that's going to go onto a person's body and live under their skin for the rest of their life, it's only fair to use ink that's made from natural and organic ingredients. Avoid any brand that makes a point of not disclosing the ingredient list.
Variety of Color – You will obviously want to have as many colors at your disposal, as possible, if you're just starting out and trying to find your own individual style. You need to be careful though that the inks you get do not react in a negative way with one another. That's why it's a good idea to get a color kit from the same brand, then you know all the colors will work well together.
Reputation of Brand – To the untrained eye and newb, all tattoo inks look very much the same. However, veteran tattooists will tell you that some stay brighter than others as the years roll by. While we're not suggesting you fork out a fortune, it's best to avoid cheaper brands.
If a tattoo fades too quickly, it will need to be touched-up. That can be a pain for the tattoo artist and the customer. Plus, you may lose some of your customer's trust, if they find that the killer that you gave them has started to fade and is not nearly as dramatic or eye-catching as they'd like.
Remember, if something sounds too good to be true, it probably is, i.e. is incredibly cheap, it's probably not very good quality.
Where it was Made – You also need to make sure you check the country of origin of any tattoo ink you're interested in buying. This will help determine whether it adheres to the strict US guidelines and regulations on health and safety.
Recommended Reading: Don't miss our guide to the leading tattoo machines next.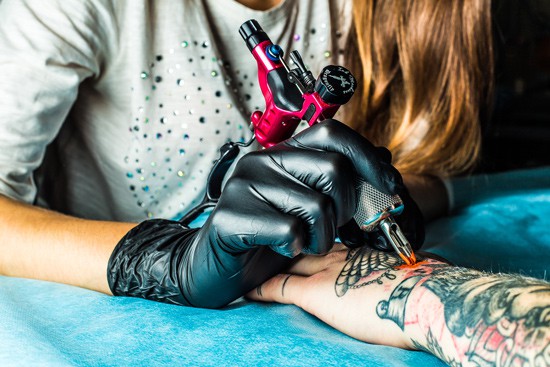 Pre-Dispersed Vs Powder-Based Ink
You will probably have noticed by now that there are two distinct types of tattoo ink that differ in terms of their consistency. Pre-dispersed are now the most common and popular choice out there. These inks are bold, vibrant and very bright and you can use them straight out of the bottle. You don't need to, as the name suggests, mix them.
Powder-based, often referred to as pigment-based, on the other hand, are old hat, and more traditional. A liquid carrier is used to suspend pigments in this powder-based ink. You can use this kind of ink to create more vivid and customized color palettes.
Above all else, you really can't blame your tools, if you've not got the skills to produce great artwork. So, avoid choosing ink that's going to cover over your lack of ability when it comes to fine detailing and finishing touches. You won't fool anyone who knows more than a little about tattoos.
It's better, instead, to choose the inks that will highlight the positive aspects of your individual style and skill. Now you're armed with some helpful tips and suggestions about what to look for, let's look at the reviews of our favorite tattoo inks.
Recommended Reading: Guide to the leading tattoo kits for beginners.
Our Tattoo Ink Reviews
Let's take a close look at the inks we recommend over all others.
Millennium Moms Tattoo Ink

Sometimes, names can be kinda deceiving. If you thought this brand specialized in developing inks for mothers, whether they're carrying their kids in-utero or are mature members of our society, get that thought out of your head right now!
Millennium Moms is a company that has been making its own pigment-based ink for more than 15 years. Despite its name, it's one of the go-to brands, highly regarded throughout the world.
That's largely thanks to their rich and innovative selection of colors. Not to mention the fact the pigment lifespan, consistency of color and flowrate are all rated highly by experts. It permeates into the skin easily, smoothly and very beautifully to allow you to create some truly jaw-droppingly artistic creations.
Perhaps the thing that makes Millennium Moms ink stand out from the crowd is the Nuclear Color line of colors. Known equally as both the safest and brightest on the market. The company has a solid reputation for sustaining loyal customers with its high and exacting standards of quality.
A word of warning with this company and their products is that they are often cloned, so you need to ensure you are buying a genuine Millennium Moms product. Always buy from a reputable dealer or site to make sure you don't fall prey to imitators.
This set, The Portrait Set is an awesome kit that provides you with 14 different appealing and dazzling colors. Although you will need more further down the line, this is a step in the right direction.
Pros
14 great colors from the Millennium Moms range to choose from
All up to Millennium Mom's impeccable quality standard
Cons
Some have suggested the inks are too watery, whereas others have been fine with the consistency
Bottom Line: You can't argue with such high praise from some of the biggest names in the tattoo industry. Names worth listening to. That's why we would always recommend Millennium Mom's ink.

StarBrite Colors Sterilized Tattoo Ink Starter Set
StarBrite have a longer time served in the industry, of more than 25 years ago. Established by Tommy Ringwalt Jr, they offer a wide range of colorful bright inks. A collection that's always evolving and expanding as Ringwalt continues to travel the world looking for inspiration from the experts he meets.
Curiously, the FDA-approved brand uses gamma radiation to destroy microorganisms from the ink, so it's one of the safest options on the market. Another popular brand in the industry, StarBrite inks can be used for a wide array of different artistic styles. As the colors are pre-dispersed, you can use them straight from their bottles.
This pack gives you seven ½-ounce bottles featuring some of StarBrite's greatest color inks – Tribal Black, Lime Green, Jet Black Outliner, Crimson Red, Country Blue, Canary Yellow and Brite White. With this kit, therefore, you've got a good starting point, if you're new to tattooing and looking to make simple designs.
As is the case with Millennium Moms and other popular brands, StarBrite do often suffer from being cloned. However, the product we have selected for you is, 100% a StarBrite product and will enable you to create stunning tattoos that your customers, friends or relatives will adore for the rest of their lives.
Pros
StarBrite ink is favored for its durability
The brand's reputation proceeds itself in terms of quality
7 great colors to choose from
Cons
Some customers had problems with the white ink
Bottom Line: Much in the same way that Millennium Mom's reputation proceeds them, StarBrite have their own big shoes to fill when it comes to keeping to the standard, they've set themselves. That's why we can't see any reason why you'd be disappointed buying this StarBrite kit.
Recommended: Learn all about tattoo numbing creams.
Kuro Sumi Colors Tattoo Ink Master Set

If your knowledge of Japanese legends is good, you'll probably know that the namesake of this tattoo company is an ancient warrior. Its origin is in Japan, and it has some fine ingredients, blended into a formula that has produced a fine and safe tattoo ink.
We know they are safe because they make a point of only using truly organic ingredients in their inks. What's more, for those of you interested in inks you can use in good conscience, these are completely vegan-friendly too.
Although the formula is top secret and passed down, all we need to know is it works. One of the keys with this product is tattoos tend to heal faster when they've been created using it. In this kit, you get 7 of their best colors to play around with. That includes mineraru green, rising sun orange, koi yellow, Tokyo rose red, Buddha blue, samurai white and double sumi black, so you have all the basics covered.
Notably, their black is long-lasting. Your tattoos won't slowly turn into a dark shade of blue. From the horse's mouth their ingredients are 'the best stuff they can find on the planet' and the aim is to 'dazzle your customers'.
Pros
Their inks are arguably among the longest lasting on the market
They use organic and vegan-friendly ingredients in their inks
Cons
Packaging issues, the bottles leak worse than others
Bottom Line: Another huge name in the tattoo industry, Kuro Sumi gets the respect they do because of their commitment to quality. Although we're still likely to choose Millennium Moms, if you're after an organic and vegan-friendly ink, this is the one.

Best Black Tattoo Ink:

Kuro Sumi Tattoo Ink Lining and Shading Set

Despite the various vivid and beautifully alluring colors available on the market, one of the most enduringly popular kinds of tattoos is the basic, but enduring, stoic black ink tattoo. Every good tattoo artist should have at least one or two black inks. Hell, why not just go full-hog and have three?
That's what you get with this Lining and Shading kit. These are perfect for creating all those slick and sexy lines. Even if you're not looking to creating a purely dark Celtic band or something Japanese, black is always good at making a design really pop. As noted in the review of the product above, Kuro Sumi have a sterling reputation for developing inks that stand the test of time.
You want, as a tattoo artist, even if you never meet the same customer again, that piece of art you created on their skin to last. Using the right inks that will create durable tats is the best way, though, to encourage your customers to return time and time again, each time they want a new bit of ink.
This lining and shading kit will not only help get those black lines just right but can help bridge the gap between the dark contrast and any colors in your designs.
Pros
Some of the best black inks in the business
Black inks that stay black and don't turn blue after many years
Cons
The bottles are quite small and hard to use without spilling
Bottom Line: With the addition of the light grey ink you get in this set, you have all you need to really finish off those striking creations. Whether you're a fan of just black and plain or use a full palette of colors, these will help you and stay true to quality assured by the branding.

Time to Put Ink to Skin
If you're just starting out as a tattooist. Whether you're self-taught or have recently qualified. You need some good inks to make those designs come to life. That's what we hope we've been able to show you.
There are so many pitfalls and false promises offered in the market these days. It's saturated with so many bad products, While some will just result in bad tattoos that have your customers asking for their money back if you can't fix them, others can suffer serious health conditions.
That's why we were incredibly careful when selecting the (very) short list of tattoo inks we have shared above. We wanted to pick brands that wouldn't ruin our own reputation and we think we've done it.
There's really no surprises, we don't think. Veterans will know all the brands in this guide and if you mention them to any of your tattooing friends, they'll undoubtedly back us up that they're among the best. Reputation is everything in the world of tattoos. Which is why we focused on the rep of each brand featured.