Check out Angelina Jolie's interesting body art below. We showcase her cool tats and explain the stories behind them.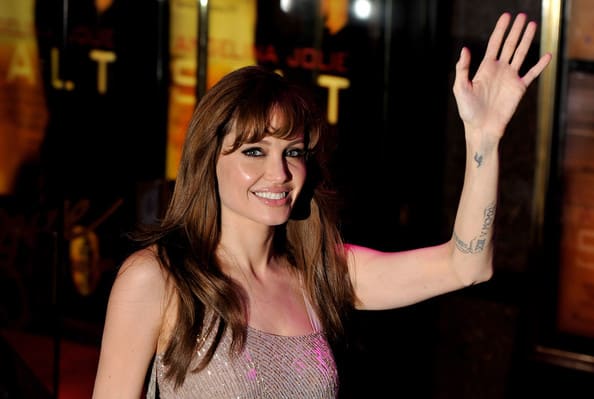 Angelina Jolie is an American actress who is well-known for her humanitarian work. She won an Oscar back in 2000 and has been collecting several awards since, including 3 Golden Globes.
Jolie is known for her highly publicized relationship with Brad Pitt, which was somewhat controversial considering Pitt was married to Jennifer Aniston at the time.
The couple were together for 12 years but split after a messy argument on a private jet, sparking an FBI investigation. They share six children together.
Angelina is a fan of body art and has several magnificent and classy tattoos, each of which holds an interesting story.
Unlike many other female actresses in the limelight, Jolie has opted to cover large portions of her body with art.
Spirituality is a key factor in her tattoo decisions. Today, we are going to uncover the stories behind Angelina Jolie's tattoos.
Find out about Dwayne 'The Rock' Johnson's tattoos.
Bengal Tiger Tattoo

Tattoo: A Bengal tiger sits on her lower back covering a previous dragon.
Interpretation: Angelina decided to get this Bengal tiger as a tribute to her Cambodian citizenship. It stretches across 12 inches. This Angelina Jolie tiger tattoo was completed in Bangkok, Thailand in 2004 by Ajarn Noo Kanpai.
It has been inked with a blessed traditional Thai Sak Yant needle, that uses a long metal spike or sharpened bamboo to engrave the tattoo into the skin.
The tiger is used to partially cover a dragon and a window. The Dragon is tribal and was inked in the spur of the moment. The window symbolizes Jolie's longing to be somebody else.
'know your rights' Tattoo

Tattoo: 'Know Your Rights' is inked at the top of her back, just below the neck.
Interpretation: As a tribute to one of her favorite songs, 'Know Your Rights' Angelina decided to get this tattoo.
The song was written by punk band 'The Clash', and was inked back in 2004. The Clash were a British group formed in 1976 with a music career spanning a decade.
Khmer Script Tattoo

Tattoo: A large 'Khmer Script' covers her left shoulder blade.
Interpretation: This tattoo was inked by Sompong Kanphai with a blessed needle. It is used to spiritually protect her adopted son, Maddox Chivan from life's negativities.
The Buddhist spell translates to, "May your enemies run far away from you. If you acquire riches, may they remain yours always. Your beauty will be that of Aspara. Wherever you may go, many will attend, serve, and protect you, surrounding you on all sides".
Don't miss our guide to Conor McGregor tattoos next.
Cross Tattoo

Tattoo: A bold cross sits on her left hip.
Interpretation: The cross was inked to cover a previous tattoo from Amsterdam, the well-known Angelina Jolie dragon tattoo with the blue tongue.
The tattoo was inked a day before her wedding to Johny Lee Miller in 1995. The X has many different meanings some signify sobriety, others boldness whilst some show danger. Collectively however, the X represents negativity.
'Quod Me Nutrit Me Destruit' Tattoo

Tattoo: 'Quod Me Nutrit Me Destruit' can be seen next to the cross on her abdomen.
Interpretation: 'Quod Me Nutrit Me Destruit' is a Latin phrase accompanying the cross and was inked at the same time back in 1995.
It translates to, "What nourishes me, destroys me'. It is a way of saying what motives me can also destroy me. The phrase is popular amongst the younger generation.
Roman Numerals Tattoo

Tattoo: On Jolie's left forearm, a set of Roman Numerals can be seen.
Interpretation: XIII V MCMXL are Roman Numerals of the numbers 13/5/1940. These numbers represent the date Winston Churchill gave his famous speech. On that day he famously stated, "I have nothing to offer but blood, toil, tears and sweat".
The speech was given three days after Churchill took office and is his first speech to be given to the House of Commons as Prime Minister.
Roman Numeral tattoos have always been popular as many love the side of Ancient Rome it represents, having a piece of history inked to their skin.
Arabic Language Tattoo

Tattoo: Angelina Jolie's right forearm shows Arabic writing.
Interpretation: After starring in the 1999 movie Pushing Tin, Billy Bob Thornton left his fiancée to strike up a relationship and marriage with Angelina Jolie (20 years his junior).
They created a tattoo together featuring abstract lines and after their marriage ended, Jolie decided to cover the ink. The tattoo in Arabic stands for 'Determination'.
In some Arab countries, tattoos and art are part of the culture. In Lebanon back in 2013, the Arab Ink Project was formed and aims to show the Arab culture through design, tattoos and art.
Geographical Coordinates Tattoo

Tattoo: A set of geographical coordinates sit on her upper left arm.
Interpretation: The Angelina Jolie coordinates tattoo is probably the most meaningful. Each coordinate represents the location where all six of her children were born along with her husband's birthplace in Oklahoma, added in 2011.
The tattoo sits where a previous tribute to ex-husband Billy Bob Thornton used to be. The coordinates feature Cambodia and Ethiopia, where two of her adoptive children were born.
The rest are for Nambia, Shiloh's birthplace, Vietnam where Pax Thien was born and Nice in France where twins Knox and Vivienne were born.
'A PRAYER FOR THE WILD AT HEART KEPT IN CAGES' Tattoo

Tattoo: 'A prayer for the wild at heart kept in cages' is inked on her left forearm.
Interpretation: Angelina Jolie is a big fan of Tennessee Williams and the play 'Stairs to the Roof'. It was created in 1941 and premiered to the public in 1947.
Jolie decided to get the play's subtitle 'A prayer for the wild at heart kept in cages', inked to her skin back in 1999 whilst having her mother Marcheline Bertrand present.
Jolie stated this tattoo wasn't for her but rather everyone else and gave this answer to Rolling Stones back in 1999 about the tattoo, "I don't think I know one person who can be completely who they are every second of the day, who feels completely free. So, it's kind of a prayer for everybody to find their happiness, to break out."
Scarlett Johansson has some cool tattoos. Check them out in our guide.
'H' Tattoo

Tattoo: The letter 'H' can be seen on her left wrist.
Interpretation: H is the initial of her actor and producer brother James Haven. It was inked in 1997 and is the same type of tribute offered to her mother. Angelina Jolie and her brother have often stunned fans with what some call a 'bizarre' sibling relationship.
At the Oscar's in the year 2000 they shared a passionate kiss on the lips. After backlash James stated: "I did not give Angelina a French kiss, it was something simple and lovely. It was snapped and became a big thing around the world".
'W' Tattoo

Tattoo: At the bottom of Jolie's right hand is the letter 'W'.
Interpretation: As a tribute to her mother Marcheline Bertrand, Jolie decided to get this small inking of the letter 'W' to her right hand. Marcheline died in January 2007 after an 8-year battle with breast and ovarian cancer.
In an essay to her mother Angelina explained the tattoo. "I got a small tattoo on my right hand after my mother died, knowing that hand tattoos fade. It looks to others like the letter M. But it wasn't an M for Marcheline, her name. It was a W for 'Winter' the Rolling Stones song she sang to me as a baby, and that I remember loving as a little girl."
'Whiskey Bravo' Tattoo

Tattoo: Jolie's right inner thigh reads 'Whiskey Bravo'.
Interpretation: Another tribute to husband Brad, this tattoo represents his name in the aviation alphabet, William Bradley Pitt (Whiskey Bravo). As they are both licensed pilots the tattoo has an extra meaning and shows their love of flying.
In a British television documentary 'The Queen's Green Planet', Jolie stunned many with her pilot skills, flying across Nambia. She showed off the tattoo on a Vanity Fair photo shoot. When asked about the inking by MTV News she said, "Urm, its for Brad."
Inner thigh tattoos aren't always a popular option and shows Jolie's body art is personal and unique.
'Yant Kraw Petch' (Diamond Armour) Tattoo

Tattoo: On her right shoulder blade 'Yant Kraw Petch' also known as a Diamond armor tattoo is inked.
Interpretation: This is another Buddhist spiritual tattoo, designed to bring luck, wealth, and success in business. Whoever is in receipt of this Yant will be protected from any dark times or failures.
The tattoos are known to be magical within Thailand. The five rows of Yantras represent magical spells and every angle of a person's life. Yants are essential chants and when repeated over it will form a peaceful state of mind.
Angelina Jolie's back tattoos found themselves in headlines worldwide when the inking was revealed at a 2017 movie premiere. The back tattoos are designed to symbolically bind her and husband Brad Pitt and was inked after their dramatic split in 2015. They separated only a few months after these pieces were created.
'Yant ViHan Pha Chad Sada' Tattoo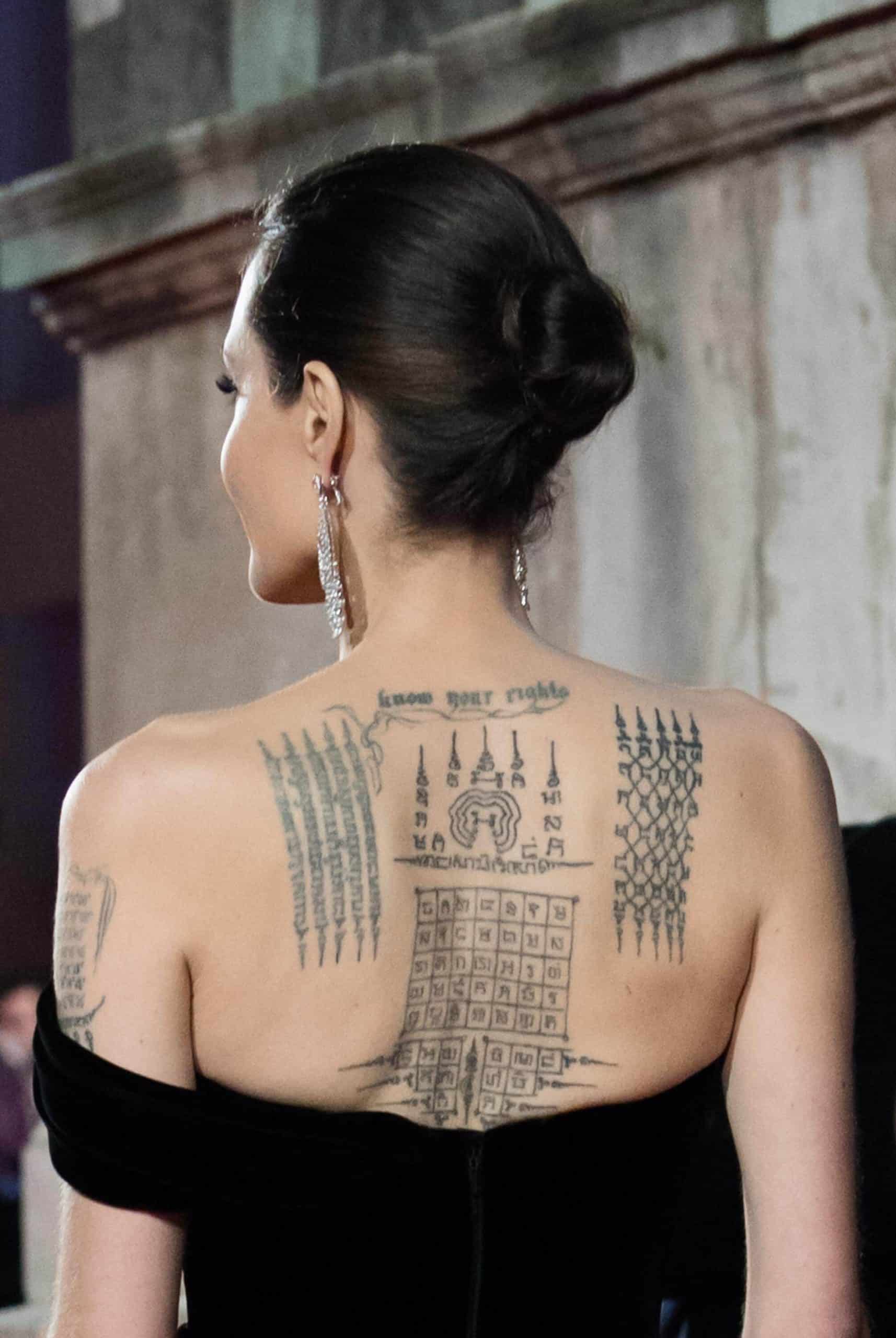 Tattoo: Holding a central position this Angelina Jolie back tattoo, 'Yant Vihan Pha Chad Sada' is the most noticeable.
Interpretation: This piece represents the four elements of fire, air, water, and earth. The tattoo was created whilst directing the film 'First They Killed My Father' in Cambodia. It is engraved by using steel rods mounted to a surgical steel needle.
Angelina Jolie often opts for a more traditional form of inking, rather than the more modern tattoo instruments we see today. Thai monk Ajarn Noo Kanpai took a flight from Thailand to Cambodia for the design. Only he knows the true meaning of the magical texts.
He completed a Buddhist tattoo on Brad Pitt with the same ink on the left side of his stomach. It is a way to mark the bond between husband and wife. Kanpai is also responsible for tattoos on many other celebrities such as Michelle Rodriguez and Cara Delvingne.
Buddhist Swirls Tattoo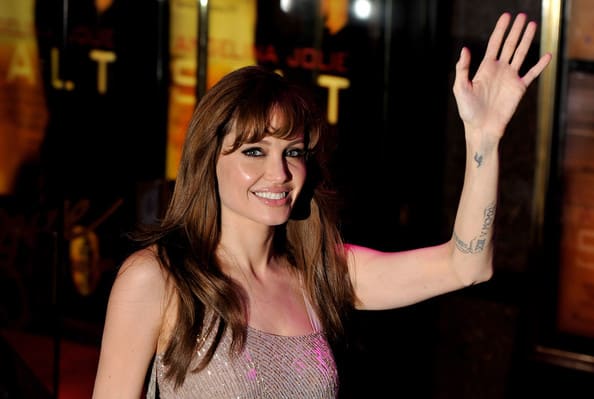 Tattoo: On Jolie's left forearm, a set of Buddhist swirls can be seen.
Interpretation: A set of Buddhist swirls is known to hold good luck and will protect you from evil. Buddhism is a religion Angelina Jolie cares deeply for. She often shows her belief in the culture and pays tribute through her body art through multiple pieces.
Some misinterpret Buddhist culture and aren't aware that the religion is completely tolerant of body art. Even monks can get tattoos! The most famous are the monks of Wat Bang Phra a Thailand based temple, practicing in Sak Yant tattoos.
Persian Tattoo

Tattoo: There is a Persian tattoo on Angelina Jolie's left arm.
Interpretation: Once translated the tattoo reads "Out beyond ideas of wrongdoing and rightdoing, there is a field. I will meet you there."
It's written by poet Jalal ad-Din Muhammad Rumi (Rumi) who wrote his work in the 13th century. He was once considered America's most popular poet. Persia was an ancient kingdom within modern-day Iran and although Persian tattoos are popular, many have been subjected to lashes, fines and imprisonment for them.
Iran views tattoos as Western and even though there are no specific laws preventing body art, it is still classed as prohibited.
The country even has signs preventing people who are tattooed from using public spaces such as a swimming pool! Yet tattooists in defiance, are still inking some of the Iranian population, mainly the younger generation, in hidden studios across the country.
Learn about Ben Affleck's tattoo story in this guide.
Tribal Tattoo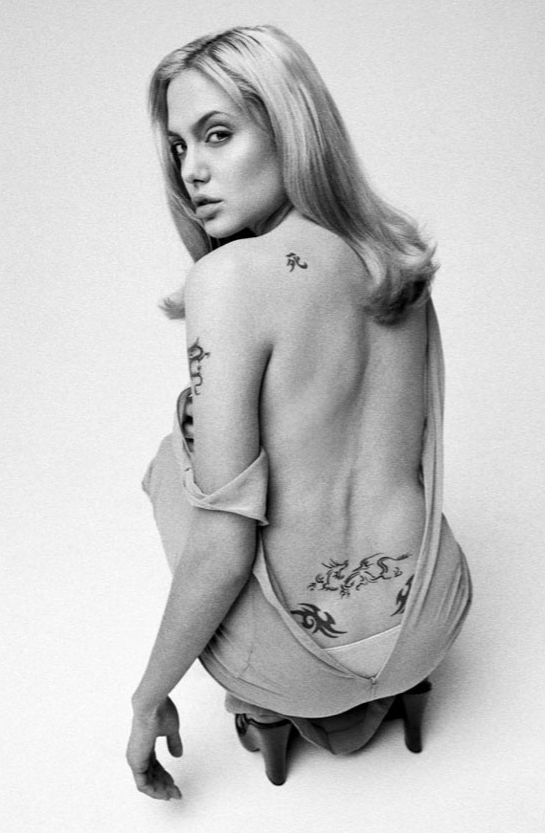 Tattoo: A tribal tattoo is seen on Angelina Jolie's lower back.
Interpretation: This tattoo is known worldwide by the more derogatory term the 'Tramp Stamp'. Women often get something tribal, a butterfly or even their own name inked to their lower back.
The tramp stamp originated in the 90s, with many believing it started in California. It is used to show society's judgements on feminine sexuality. The tattoo is designed for women but, has been seen on men from the LGBTQ community.
A lower back tattoo is now seen as controversial, with some believing it signifies a woman is promiscuous. Other female celebrities with tramp stamps include Eva Longoria, Jessica Alba, Drew Barrymore and Britney Spears.