Curious about Conor McGregor's colorful tattoos? We explain the meanings behind his iconic ink work.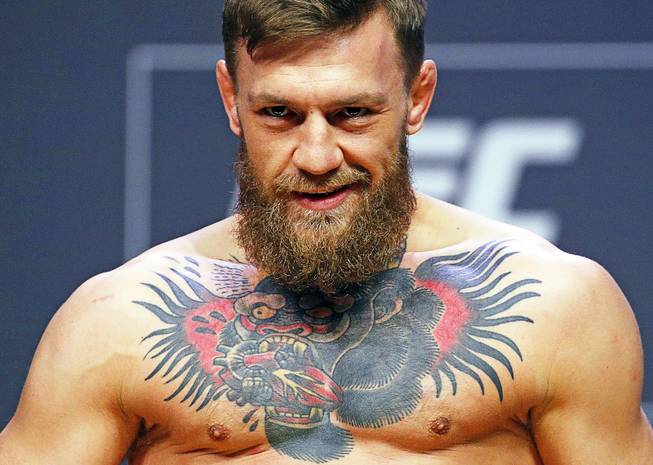 Conor McGregor is an Irish Boxer and MMA fighter known worldwide for his famous boxing match with undefeated champion Floyd Mayweather.
His other well-known fights include his MMA match with Khabib Nurmagomedov, a fight won by his opponent.
Remarkably, Khabib then jumped out of the cage to fight McGregor's team, angered over inflammatory remarks.
McGregor is a family man and has two children with childhood sweetheart Dee Devlin. Despite controversial claims to do with McGregor's infidelities and accusations of a potential love child, the couple are still going strong.
Since he joined the UFC, Connor McGregor looks completely different from when he first began the sport. His body is covered in art with several colorful tattoos taking center stage.
He got his first tattoo on a holiday to Ayia Napa and since then, he has added several unique tattoos.
In today's guide, we are going to take a close look at the Conor McGregor tattoo meanings.
Find out about Dwayne 'The Rock' Johnson's tattoos in our next article.
Arabic Writing Tattoo

Tattoo: There is Arabic writing on Conor McGregor's left leg, close to his ankle.
Interpretation: Ayia Napa in Cyprus is known worldwide for its epic party scene. When he was younger, he took a holiday to the party strip and got this tattoo down his leg.
It was Conor McGregor's first ever tattoo. When asked what it means he said, "This was my first, when I was drunk… I got it in Ayia Napa for €20. It could mean anything." Well that explains it!
Crucifix Tattoo

Tattoo: A crucifix with wings sits on the back of his neck.
Interpretation: Although a crucifix generally shows one's faith in God, McGregor confused many when he posted on twitter, "F**k politics and f**k religion".
People automatically assume he is Catholic due to his Irish heritage, yet we can't be certain as he hasn't confirmed.
He does, however, believe in some form of Christianity. In 2017 he and long-term girlfriend Dee Devlin pulled out all the stops for their son's christening.
It is unknown whether McGregor goes to church however, in 2019 he was forced to clean two churches in New York as part of his community service. He said the experience was "humbling."
Don't miss our guide to Lil Peep tattoos after this!
Thorny Helix Tattoo

Tattoo: A Helix of Thorns runs down from his crucifix to the bottom of his back.
Interpretation: McGregor hasn't spoken publicly as to what this tattoo means. Many believe it relates to Christ, and as the tattoo is connected to the crucifix, running down his spine, it could offer some form of spiritual connection.
McGregor had no visible tattoos in 2013 and seemed to cover his body in art rather quickly, especially once he began rising to stardom.
Gorilla Tattoo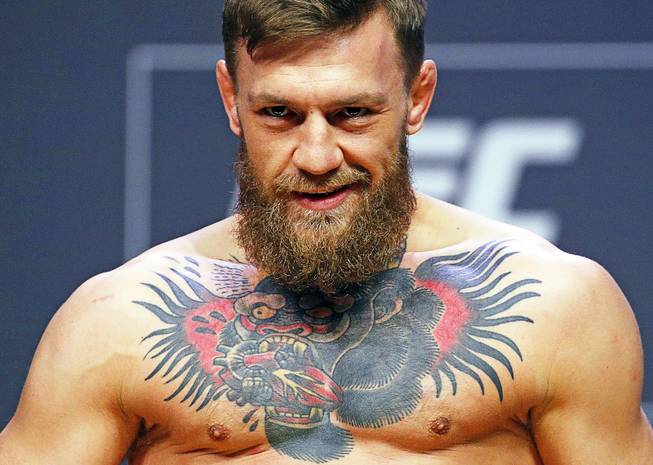 Tattoo: A Conor McGregor chest tattoo takes the attention, with a large unique gorilla.
Interpretation: This Conor McGregor gorilla tattoo is probably a way to intimidate his opponents. The gorilla is wearing a crown whilst holding a heart in his mouth.
The ink has been slightly altered from the logo of Straight Blast Gym owned by coach John Kavanagh.
When asked about the ink on Conan O'Brien's chat show he said, "I feel like I am the King gorilla, so I took the crown and had him eat a heart. It felt right."
We cover Ben Affleck's tattoos in our latest guide.
Rose Bush Tattoo

Tattoo: On his left forearm a colorful rose bush is featured.
Interpretation: Out of Conor McGregor's tattoos this rose bush tattoo is oddly unique. It holds a clock showing the time 3:35 P.M and a dagger going through one of the roses. It isn't yet known whether the time holds any significance.
When asked about why he gets tattoos McGregor said, "I just like the way it looks on my body… I don't spend months picking it, I just see it, get it and just enjoy the experience of being inked on my body for the rest of my life. I don't know what it is."
'SLOW IS SMOOTH, SMOOTH IS FAST' Tattoo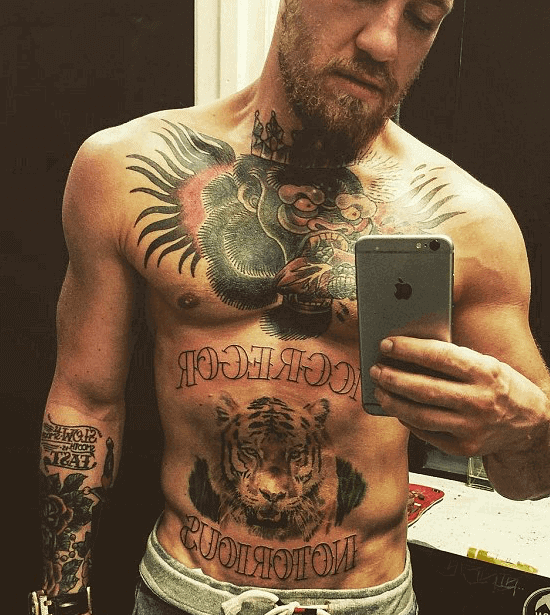 Tattoo: 'Slow is smooth, smooth is fast' can be seen on his right forearm.
Interpretation: This Conor McGregor arm tattoo is a phrase known to originate from the Military, a saying known widely amongst the Navy SEALs.
The meaning encourages people to practice slowly so they grasp the right method and don't rush, as this is how mistakes happen. If you push yourself too hard you may falter.
McGregor loves tattoos and when UFC Boss Dana White tried to urge him to get inked after retirement Conor replied, "you are f**king old, that's why you don't like them (tattoos)!"
Tiger Tattoo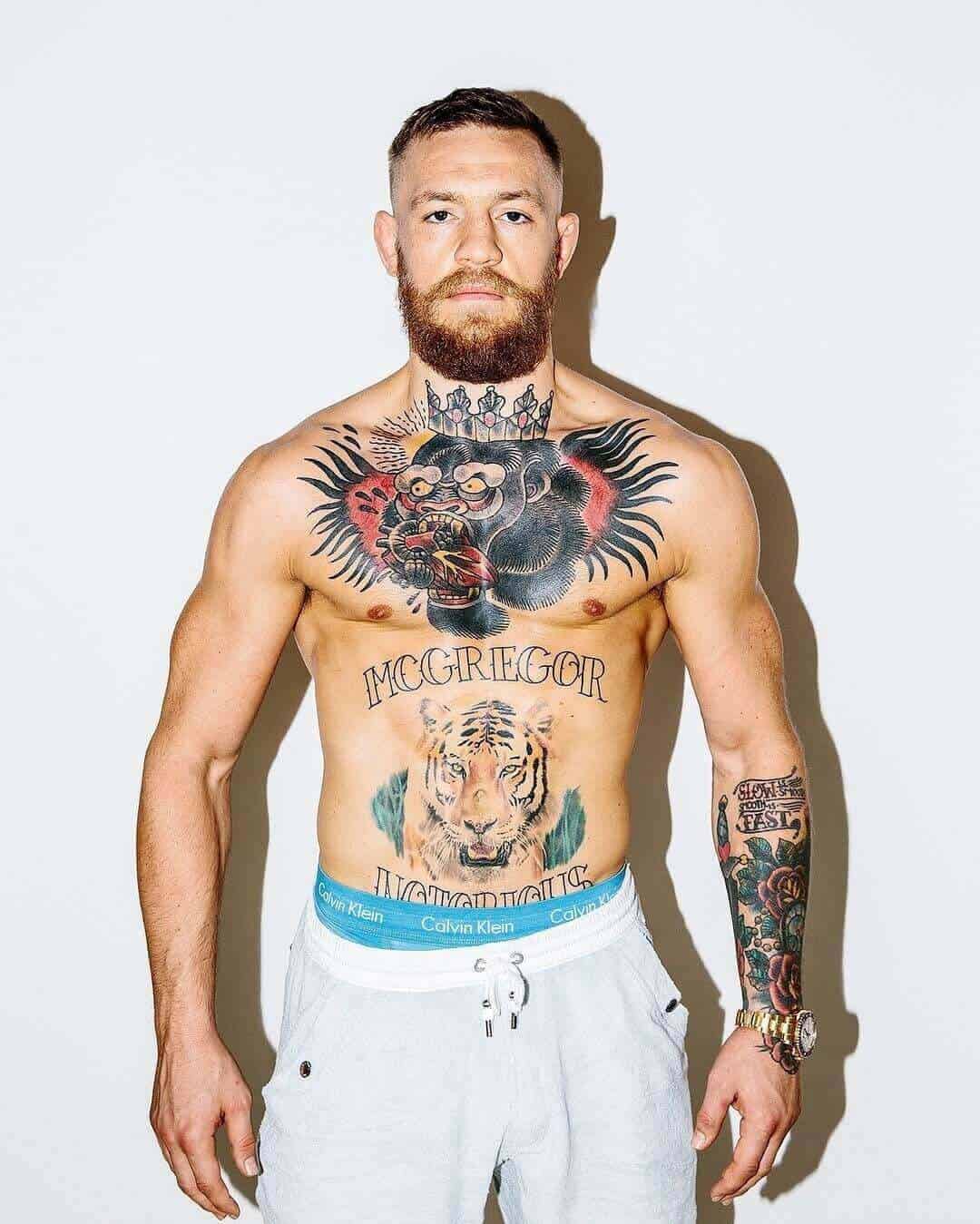 Tattoo: The tiger tattoo is a center piece in Conor McGregor's body art, taking up most of the space on his torso.
Interpretation: A large colorful tiger sits across his torso. Known for their fearlessness and power the tiger tattoo matches Conor McGregor's personality when he steps into the ring.
When questioned on his tattoo choice he said, "The tiger has been jumping out at me sometimes. It feels like it almost means something. I think the tiger is a courageous animal. So, I liked the tiger and decided to go get it."
McGregor went to Russia as a guest of Vladimir Putin to watch the World Cup final between France and Croatia. After meeting the President, he went on to feed and stroke a tiger. He then jokingly asked to wrestle it to which others quickly replied, "No!"
'MCGREGOR and NOTORIOUS' Tattoo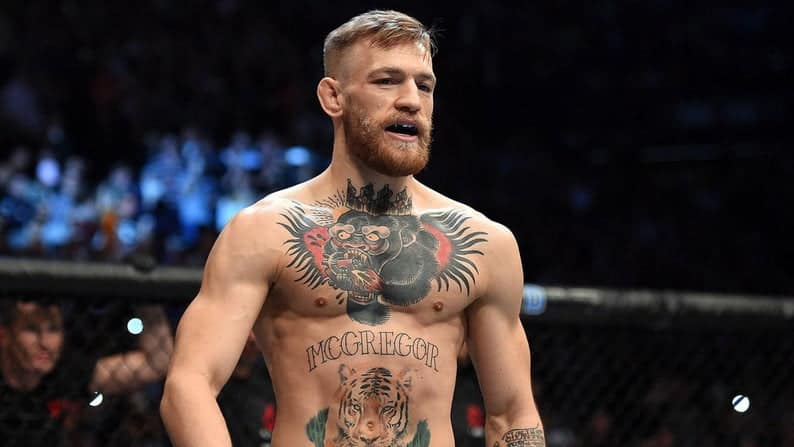 Tattoo: Above and below the tiger on his torso the words 'McGregor' and 'Notorious' can be seen.
Interpretation: McGregor is the surname of the UFC legend. The name is passed down by his father Tony McGregor, who recently became a celebrant for couples wishing to marry. He trained with the Irish Institute of Celebrants.
Conor got the nickname Notorious throughout his life and certainly lived up to those expectations by becoming one of the biggest names in MMA and UFC.
McGregor explained his nickname to JD Sports, "I was notorious for getting into a bit of trouble. My coach called me that back in the day." He then went on to say, "And then obviously I'm a fan of Notorious B.I.G and the entrance music."