In today's guide, we showcase Tupac's infamous tattoos and explain the stories and meanings behind them.

Tupac Shakur was an American rapper and actor. He is commonly seen as the face of resistance against inequality.
At the age of 25, 2pac was murdered in a drive-by shooting on 13th September 1996. The killing was surrounded by mysterious circumstances, the shooter was never convicted, and many fans believe he could still be alive.
Tupac's music career lasted around 6 years. He released 4 albums with a further 7 after his death. Each of the 11 albums went "platinum" and are still widely popular to this day.
Tupac got his first tattoo aged 18, in 1989. Since then, he added numerous other personal tattoos to his body art collection.
Some of his unique tattoos have become infamous, with many fans around the world copying his style. Let's take a look at the stories behind the 2pac tattoo meanings.
'THUG LIFE' Tattoo

Tattoo: The Tupac Thug Life tattoo is his most famous. It has been inked on both sides of his abs.
Interpretation: After visiting Dago's tattoo shop in Houston, Tupac decided to get Thug Life inked across his torso.
It is arguably his most famous ink with thousands across the world, copying this design. According to Tupac, it is actually an acronym that stands for 'The Hate U Give Little Infants F***s Everyone'. The I in the tattoo has been swapped for a bullet.
2pac also formed a music group called Thug Life, later releasing the album Thug Life: Volume 1.
Queen Nefertiti and '2 Die 4' Tattoo

Tattoo: The right side of Tupac's chest shows Queen Nefertiti. Inked below is '2 Die 4'.
Interpretation: Egyptian Queen Nefertiti was the Royal wife of Pharaoh Akhenaten. Both are well-known for their part in a religious revolution, where they worshipped one God, Aten.
Nefertiti is a symbol for black excellence and femininity. The ink is dedicated to his mother Afeni Shakur and represents the love he has for her. He is known to refer to his mother as a black Queen.
2 Die 4 is a tattoo tribute to his 1993 song, Something 2 Die 4. The track shows his mother telling him if he can't find something to live for, then find something to die for instead.
'50 Niggaz and AK47′ Tattoo

Tattoo: '50 Niggaz' with an AK47 is inked on his torso, just above the 'Thug Life' tattoo.
Interpretation: This piece is a tribute to black unity. The 50 represents 1 black man for every state in America, showing that if they all united, they would be stronger than an AK47. Stepbrother Maurice and friend Dana Smith were both present for the inking.
Rapper Nipsey Hussle took inspiration from Tupac and created his own song called '50 Niggaz' where he also sings about black inequality. He was later shot dead outside his Marathon clothing store on 31st August 2019.
Recommended: Don't miss our guide to Wiz Khalifa tattoos next.
'2PAC' Tattoo

Tattoo: '2pac' is inked on his left chest.
Interpretation: 2pac is the stage name and abbreviation for Tupac. It is the rapper's first ever tattoo inked at the age of 18 in 1989.
It marks the beginning of his body art journey. His birth name was actually Lesane Parish Crooks. His mother changed his first name to Tupac Amaru after she joined the Black Panther Party. The name was inspired by an 18th century Peruvian Revolutionary who was killed by the Spanish.
Skull and Crossbones Tattoo

Tattoo: His right arm features the skull and crossbones.
Interpretation: Tupac decided to ink the skull and crossbones to his right arm. It represents death and underneath the words 'My only fear of death is coming back reincarnated' are inked.
'HEARTLESS' Tattoo

Tattoo: Above the skull and crossbones, HEARTLESS has been inked.
Interpretation: HEARTLESS is a tattoo tribute to his friend and rapper 'Stretch'. Their bond was extremely close with 2pac becoming godfather to his daughter, Moneysha.
Their relationship fell apart once Tupac found out Stretch was performing shows with arch-enemy Notorious B.I.G whilst he was in prison.
In his song' Against All Odds, Tupac says "and that n**ga that was down for me, rest his head, switched sides, guess his new friends wanted him dead."
'FUCK THE WORLD' Tattoo

Tattoo: His upper back features the words 'F**k the World'.
Interpretation: This tattoo is a tribute to his song 'F**k the World'. 2pac believed people were often conspiring against him.
He had a strong hate for the system and faced a number of ups and downs in his life. His incarceration was more difficult than others. His notoriety often made him more susceptible to attacks from other inmates.
Recommended: Check out our guide to Harry Styles' tattoos.
Gothic Cross and 'EXODUS 1831' Tattoo

Tattoo: Across his back, a Gothic styled cross and EXODUS 1831 can be seen.
Interpretation: This Tupac cross tattoo was inked by Denis Coelho, also known as Dago. They both decided on this tattoo when Tupac asked for something he could have for the rest of his life.
EXODUS 1831 represents the two-day rebellion led by Nat Turner an African American slave. The rebellion took place in Southampton, Virginia on August 31st 1831. Nat Turner was eventually hung for her part in the uprising.
Other feel EXODUS 1831 could relate to a Bible verse, however with Tupac's strong interest in black equality, it more than likely relates to Nat Turner.
'BALLIN' Tattoo

Tattoo: Tupac's lower back says 'BALLIN'.
Interpretation: The word 'Ballin' is a slang term, representing somebody who has wealth. In his song 'Straight Ballin' Tupac said, "I would share the definition of Ballin', with you white folks, but no. The game is to be sold, not told."
It is still a popular word used to this day, with rappers Mustard and Roddy Rich using Ballin' for the title of their new soundtrack.
'Smile now and cry later' Tattoo

Tattoo: His back features a mask with 'Smile Now', followed by another mask on the opposite side with 'Cry Later'.
Interpretation: These are comedy and tragedy masks, dating back to Ancient Greece and are used widely across the theatre industry.
They represent the good and bad days in Tupac's life, with a positive message to keep strong. It is a saying popular within gangs which directly refer to the masks, a way of showing others that life will improve later on.
Panther Head Tattoo

Tattoo: His left arm shows off a large panther head.
Interpretation: It is no surprise Tupac was an avid supporter of the Black Panther Party and black equality. His mother, Afeni Shakur was a member of the political organization along with many of his other family members.
The Black Panther Party was founded in 1966 aiming to defend and protect the black citizens of America. Afeni, born Alice Faye Williams, also wrote the Panther Post newsletter and was a mentor to new members.
'Only God Can Judge Me' Tattoo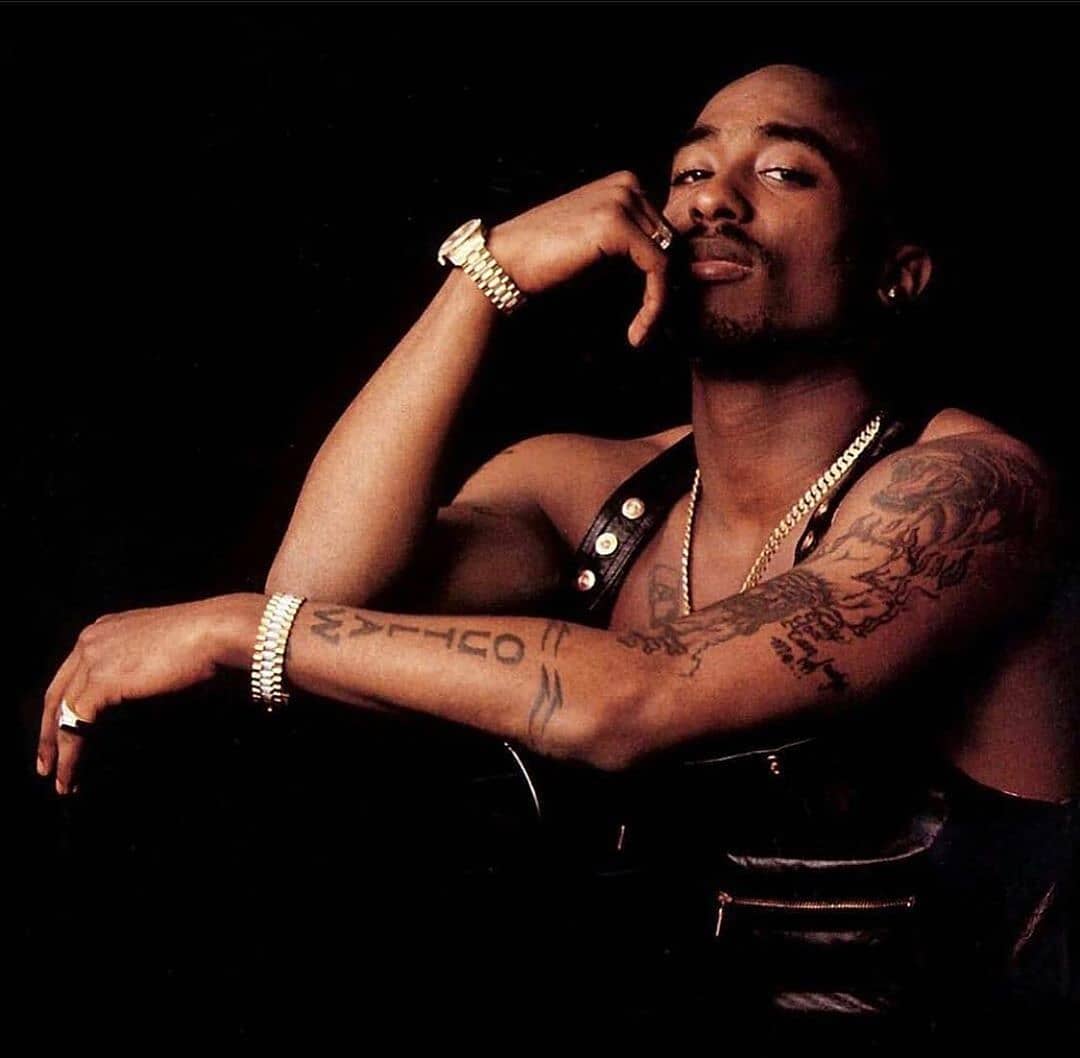 Tattoo: 'Only God Can Judge Me' is written on his left arm.
Interpretation: This popular saying is a way for people to disregard negative judgements received by others. It acts as a reminder, especially to those following faith, that there is only one real judge, God.
Tupac also released the track 'Only God Can Judge Me' featuring Rappin' 4 Tay for his music album 'All Eyez on Me' in 1996. Many have decided to ink this popular saying, it is often combined with a set of praying hands, cross or other religious attributes.
Recommended: Curious about Lil Peep's tattoos? Learn all about them here.
'OUTLAW' Tattoo

Tattoo: Outlaw can be clearly seen on his left forearm.
Interpretation: An outlaw can describe somebody who has broken the law or a person who has been banished. The tattoo is another acronym and stands for 'Operating Under Thug Laws as Warriors'.
It is also a tribute to his other music group Outlawz created in 1995 after his release from prison. He released the song Outlaw under his album 'Me Against the World' in 1995. The word is historic and was a common term for fugitives, one that is still widely used today.
'NOTORIOUS' Tattoo

Tattoo: His right forearm features the word 'Notorious'.
Interpretation: Notorious is another word for somebody who is famous but not for the best of reasons. It is also a tribute for slain friend Big Kato who was murdered in 1993. Tupac often mentioned his friend Kato in his music.
Mutual friend Big Sykes believes he was murdered for driving his car at the time, which had 'Dayton rims' worth approximately $2500. Kato played a huge part in boosting Big Syke's career in its early stages and was eventually introduced to Tupac through their mutual friend.
'MOB and BOSS PLAYAZ' Tattoo

Tattoo: 'MOB' sits on the back of his right arm, followed by 'Boss Playaz' on the back of his neck with a crown.
Interpretation: Tupac explained the meaning of MOB to be Money, Organization and Business. MOB in today's world often stands for Money Over B**ches.
As Tupac was extremely respectful to women, it is obvious that this is not the meaning he was trying to get across.
Tupac explained the hierarchy in the ghetto, "coming from the ghetto our development as men begins with a dust kicker, a thug n**gga then finally a boss playa." It is clear Tupac had reached a point in his career when he finally became the Boss.
'TRUST NOBODY' Tattoo

Tattoo: His arm has the words 'Trust Nobody' inked around a crown.
Interpretation: Tupac lived a fast-paced lifestyle, with violence playing a key role. He has had multiple attempts on his life, one that stands out the most took place in 1994. Tupac was shot 5 times two of which hit him in the head.
He was leaving a recording studio at the time and accused Sean Combs (P. Diddy, who was in the building at the time, for having prior knowledge of the shooting before it took place.
Tupac felt betrayed by many in his life leading him to get this ink. It was completed in 1995 at Andy Neville's Tattoo Asylum on Venice Beach.
'Be Ambitious with Love While Young' Tattoo

Tattoo: 'Be Ambitious with Love While Young' is on his right arm.
Interpretation: Another unique tattoo within Tupac's body art collection. A skull holding cash and scales, whilst balancing a baby and gold bars. Underneath the writing 'Be Ambitious with Love While Young'.
It is a way of him showing all the greed and troubles that come with money and an unsuccessful relationship. Once you find the desire to love somebody else, you can build on what you have together and create a family and mini empire together.
'MAKAVELI' Tattoo

Tattoo: Makaveli is inked along his neck.
Interpretation: Makaveli is thought to represent Nicolo Machiavelli an Italian war strategist who faked his own death. In prison, Tupac regularly read books written by Nicolo Machiavelli such as Sun Tzu and The Art of War.
This has sparked many conspiracy theories with fans desperate to believe Tupac could still be alive. It is a theory still believed to this day, with people often claiming they have seen him in Cuba, Belize and a new documentary pointing at his potential new life in New Mexico.
Two months after his death his album, 'The Don Killuminati- The 7 Day Theory' was released, with credits given to the alias Makaveli. Fans have spotted when you rearrange the letters, it spells 'Am Alive K'.
'My Only Fear of Death is Coming Back Reincarnated' Tattoo

Tattoo: 'My Only Fear of Death is Coming Back Reincarnated' inked below the skull and crossbones on his arm.
Interpretation: In his song Reincarceration Tupac said, 'My Only Fear of Death is Coming Back Reincarnated'.
Tupac has always said he is not afraid of death, which is not as surprising as some may think, seeming as he has stared death in the face on multiple occasions before. His only fear is being rebirthed. He would rather stay at peace.
'DADA' Tattoo

Tattoo: 'Dada' is inked to his left arm with a crown.
Interpretation: This is a tribute tattoo to his fiancée, Kidada Jones. Daughter of Quincey Jones Jr known for his Jazz music and record producing skills.
Kidada describes Tupac as the love of her life. On the night Tupac was murdered Kidada was back at their Las Vegas hotel waiting for him to come back.
After the shooting she stayed with him at the hospital and was with him until he passed. They only recently got engaged just a few months before his death.