The sun is regarded as the most vital element of the solar system. In fact, it comes across as the basis of all life on the earth, because it provides both heat and light, which are essential for sustaining life on the planet. Since the ancient times, the sun has been revered all over the universe, as the giver of life and energy. Perhaps, this is the reason why this powerful celestial force occupies an important place in religion, culture, tradition and also in tattoo art, where sun tattoo has become one of the most sought after tattoo designs.
If you want to be out of the ordinary tattoos like the flower tattoos and animal tattoos, then these tattoos are definitely perfect for you. Sun is one of those heavenly bodies that are used as beautiful subjects for tattooing. In fact, the number of people who are having these tattoos engraved on their body is rapidly increasing every single day. Aside from the fact that these tattoos can make your physical appearance extremely gorgeous, these can also make you an intriguing kind of a person since these tattoos are packed with a number of meanings. The sun is a very important thing in the lives of human beings. This is one reason why a lot of people are acknowledging its existence through tattooing it on their body.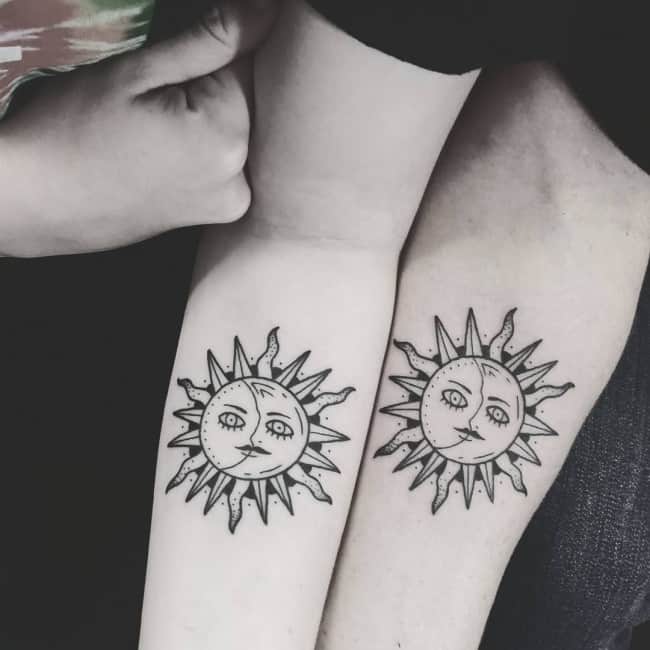 Sun Tattoos Meanings
Sun is recognized as the supreme power in nature, on which the existence of the whole universe depends. The mystical sun design has a great symbolic value and is popular among men and women alike. Though every person interprets a tattoo design in his own way and wants it to make it signify his belief or attitude, there are some special symbolic meanings attached.
In this way, sun is linked with a wide array of meanings and the basic sun design can be incorporated with various design elements to give an altogether new and different meaning to the sun design. Therefore, the sun art is looked at in a different light depending upon its basic design and the elements included in it. Check our collections of Biomechanical tattoos, 3D Tattoos, Henna tattoos for creative ideas.
Famous People
It cannot be denied that there are a lot of famous people in the world these days who are wearing very beautiful tattoos on their body. Some of these gorgeous pieces of body art are the sun tattoos. Yes, you read it right. If you want to know those famous people who love sun art like you, then here are some of their names:
Different Beautiful Designs
Just like the other tattoos that you have known, the sun art is also available in a number of designs that you will surely love. Well actually, you can be the master of your own design by incorporating your tattoo ideas with the ideas of your hired professional tattoo artist. But if you want to know some of the common yet gorgeous designs, then here are some of them that you can take into account:
Popular Tattoo Designs For Sun Art
With so many reasons for the sun being the most important heavenly body in the solar system, it is but obvious that this is one of the most loved tattoo designs too. At the same time, this tattoo design is simple and easy to make and looks great too, which also accounts for its popularity. Here are some common designs: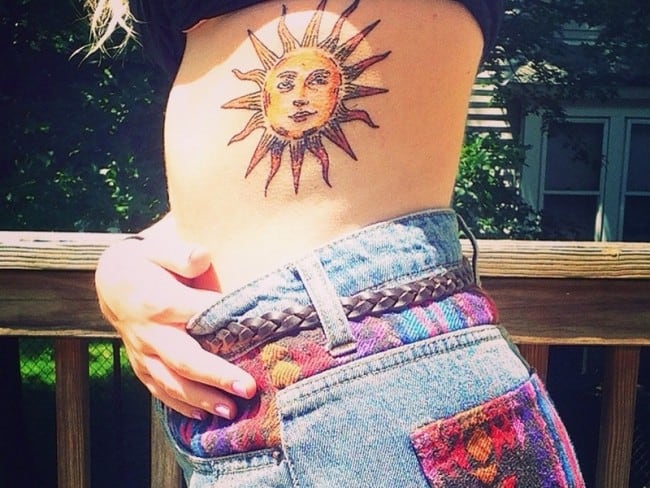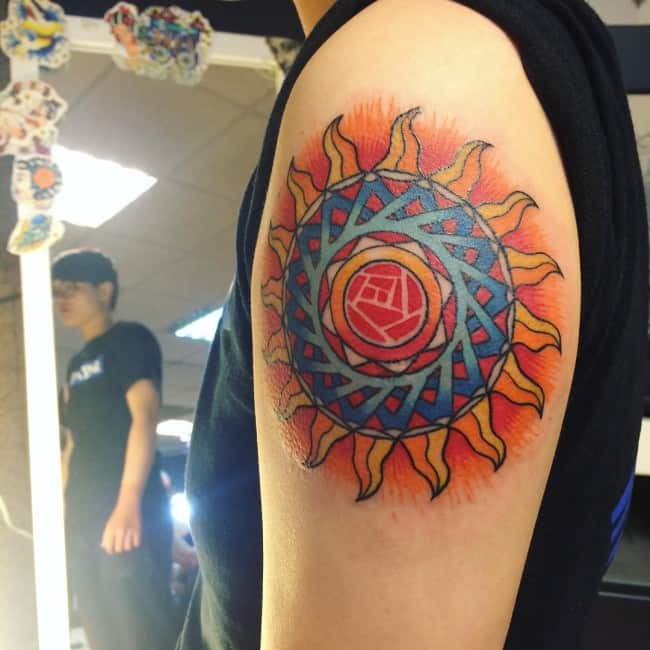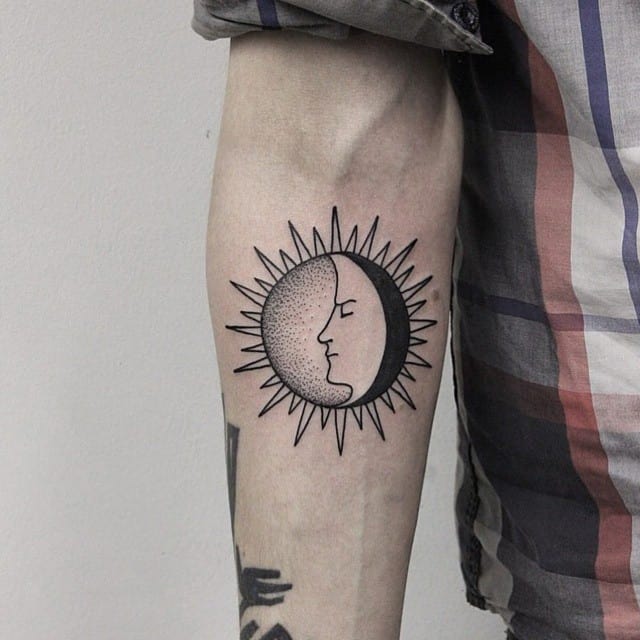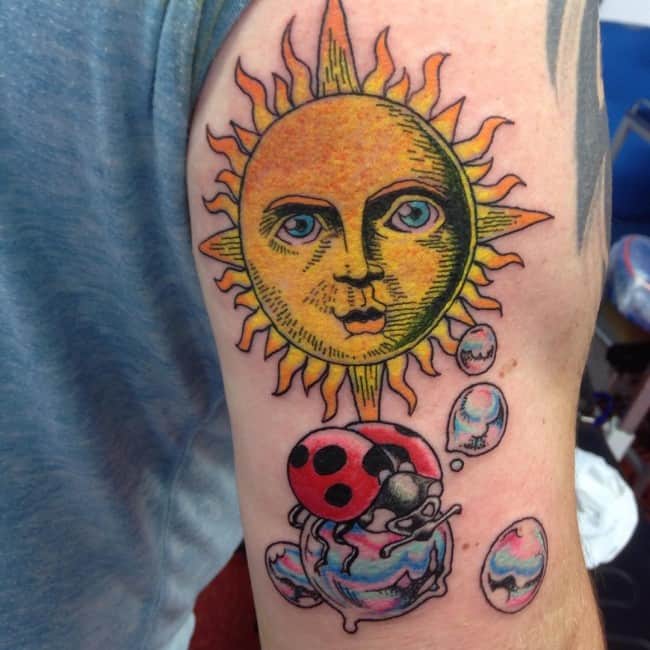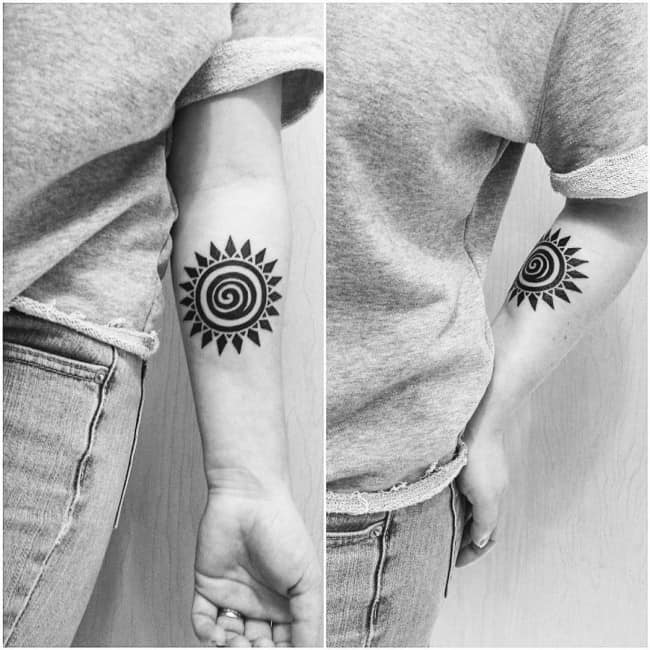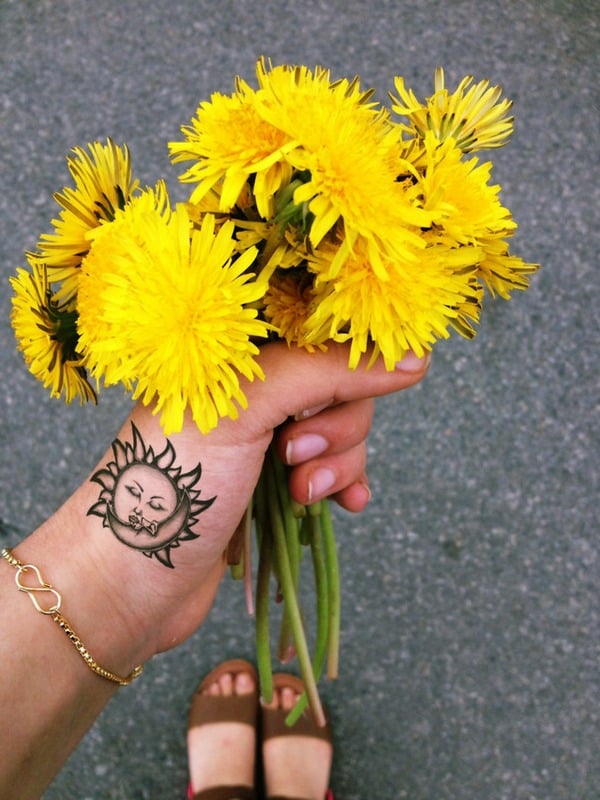 Like all other tattoo designs, the placement is determined by its size and design. Typically, larger and more detailed tattoos look good on the areas like the stomach, rib, shoulder, thigh, lower back, spine, chest, legs and hip while the smaller ones can be done on the sleeves, ankles, wrists, back of the ear, neck even as finger tattoos.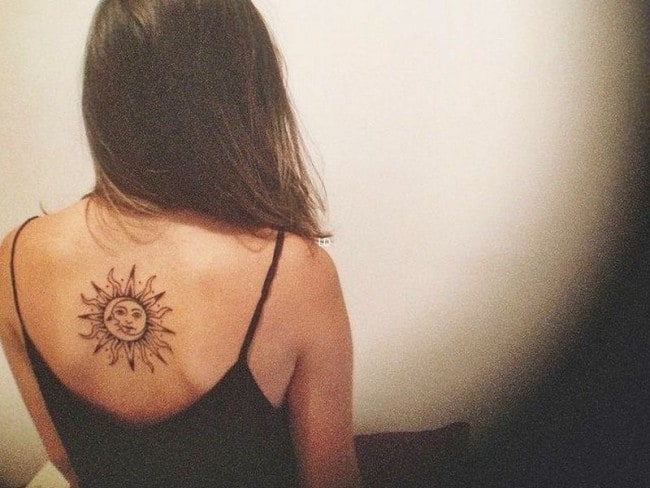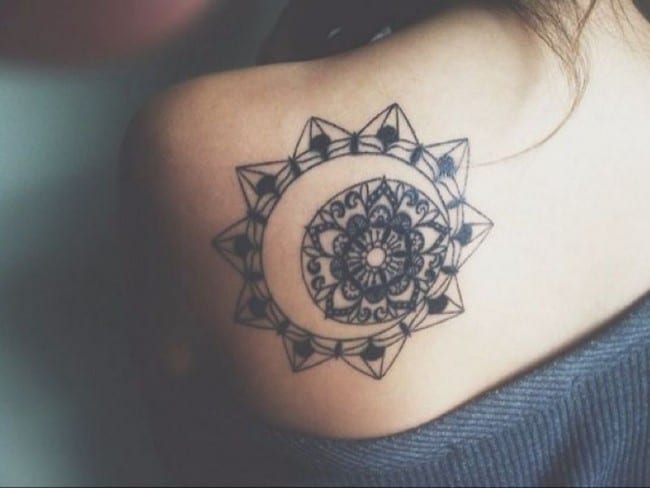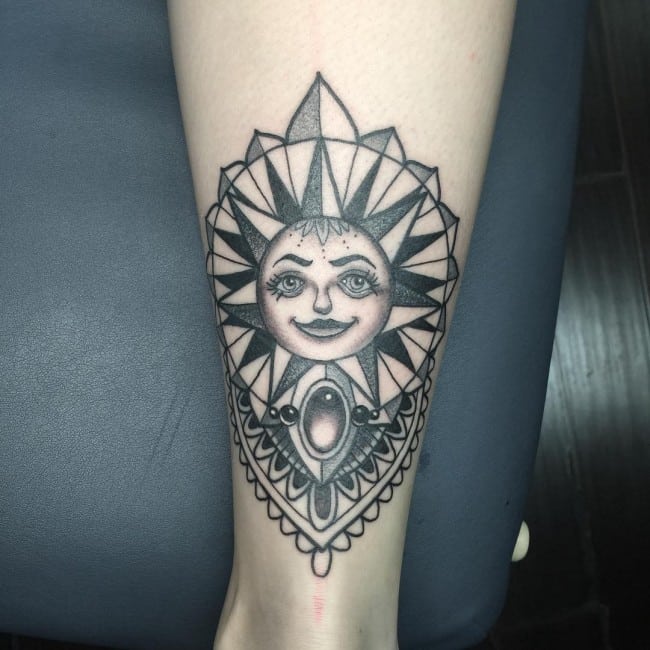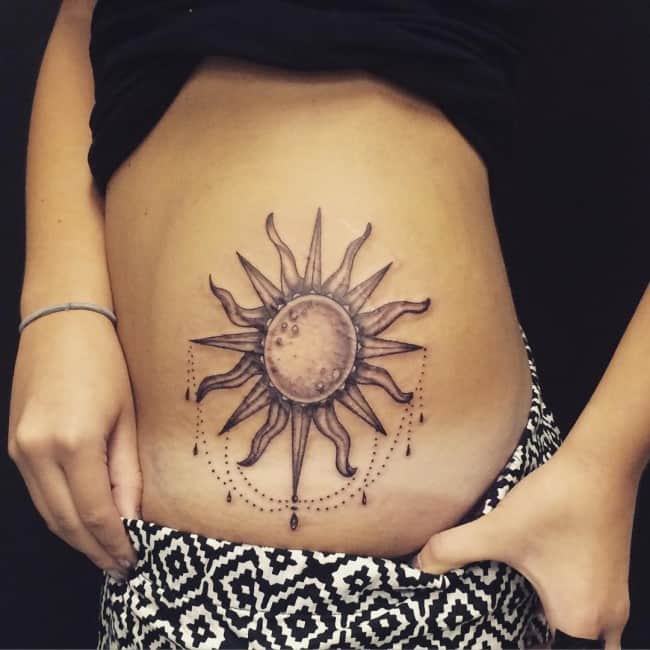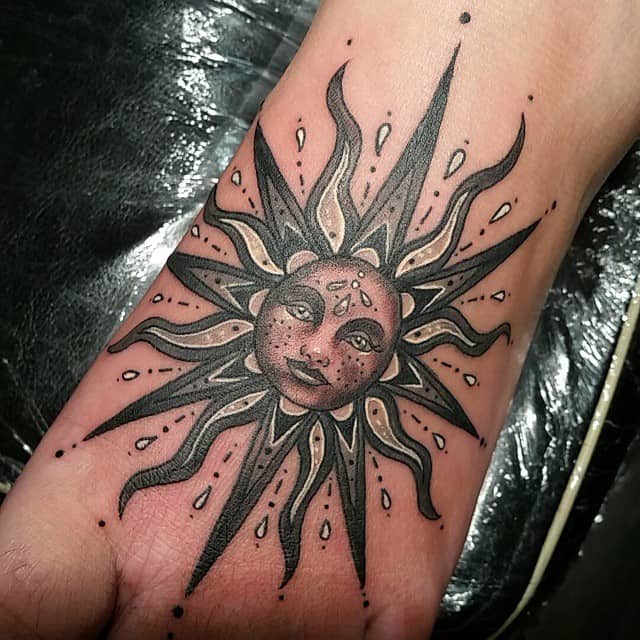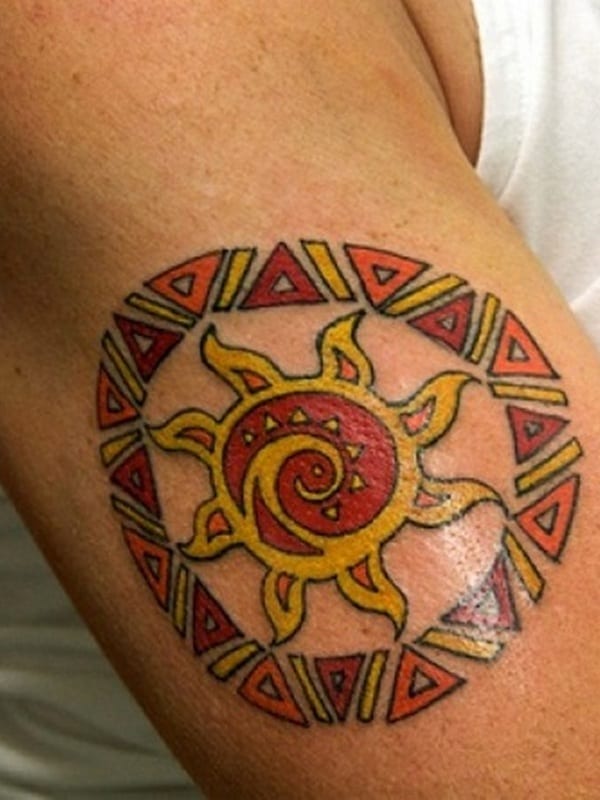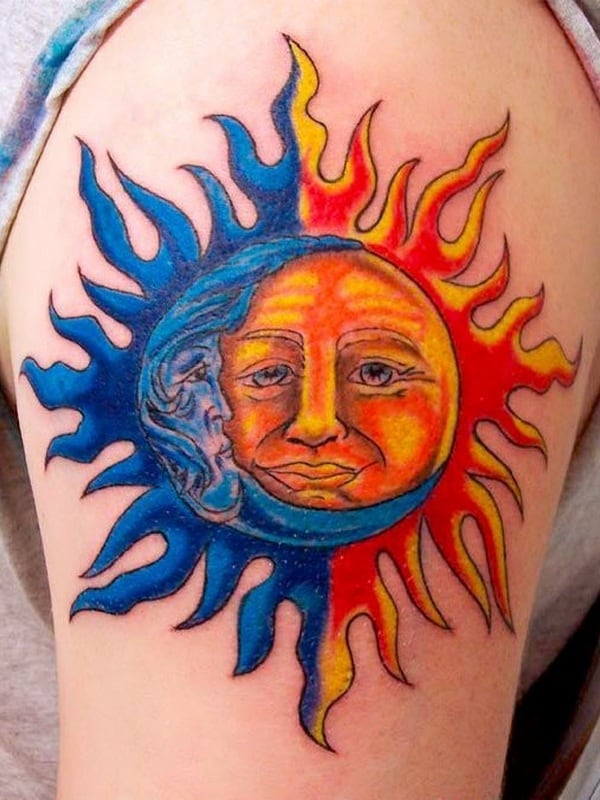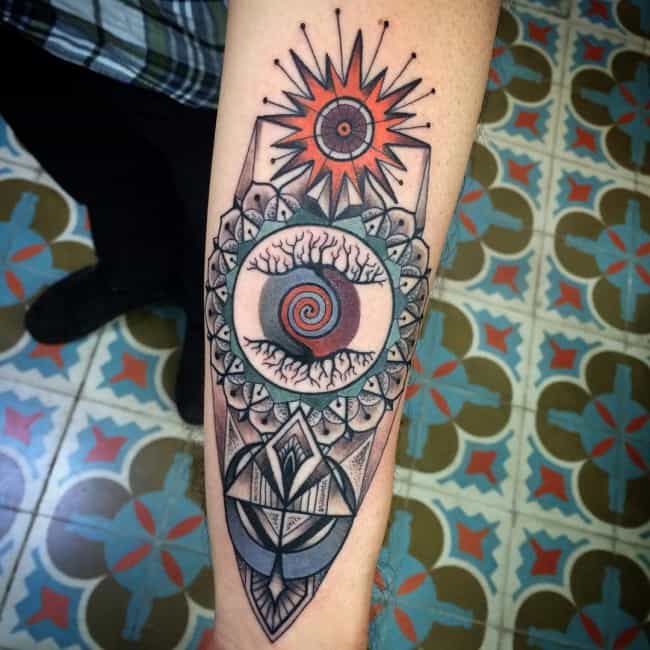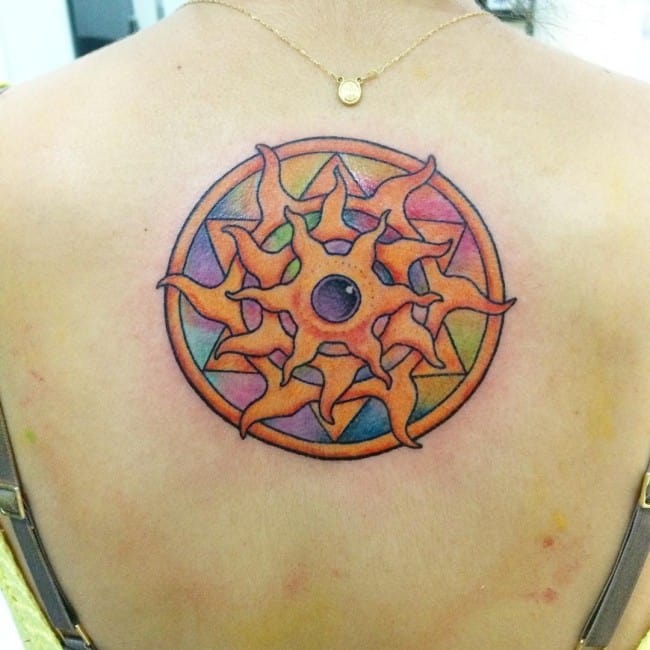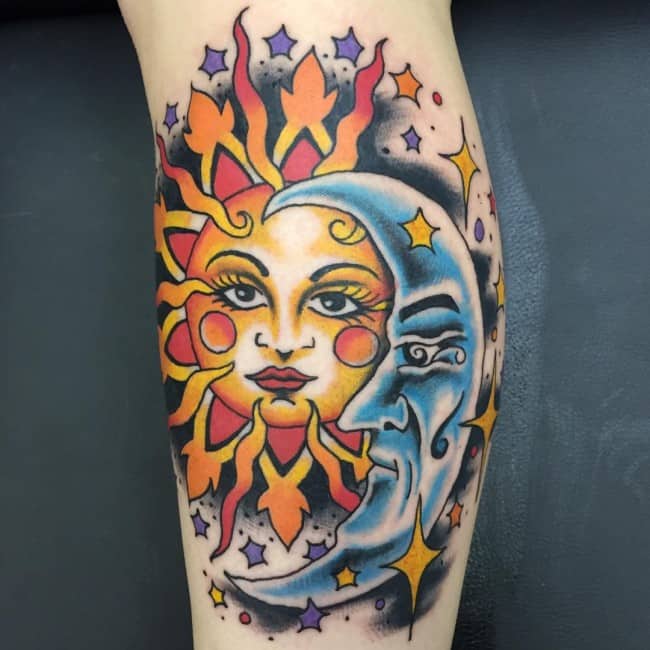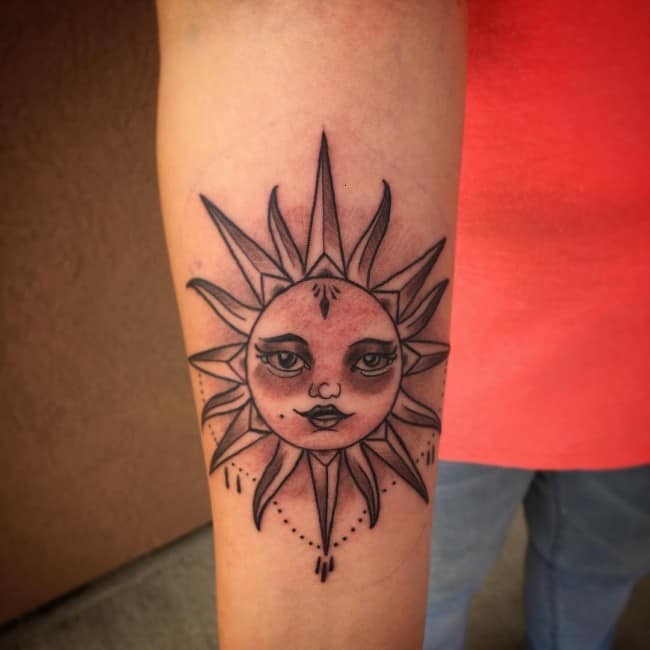 Though sun tattoos are already a popular tattoo design, their popularity has reached new heights in the recent times, after they have been carries around by some big international celebrities. The list includes the likes of Orlando Bloom, Anastacia, Godsmack, Henry Rollins and Corey Taylor. You might want to check our collection of Mother & Daughter tattoos, Best Friend tattoos, Sister tattoos, White Ink tattoos.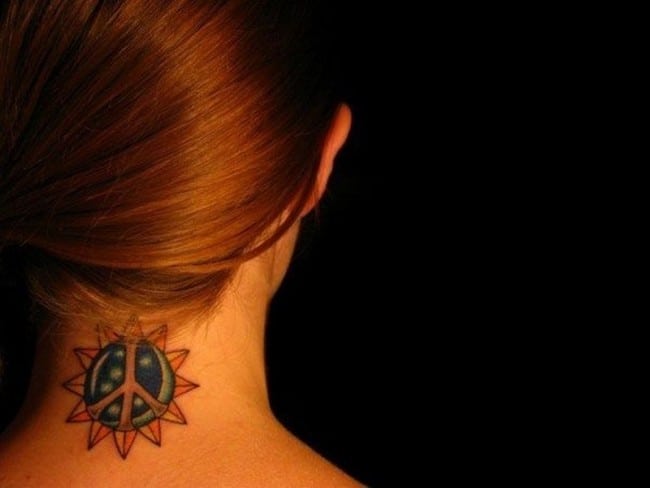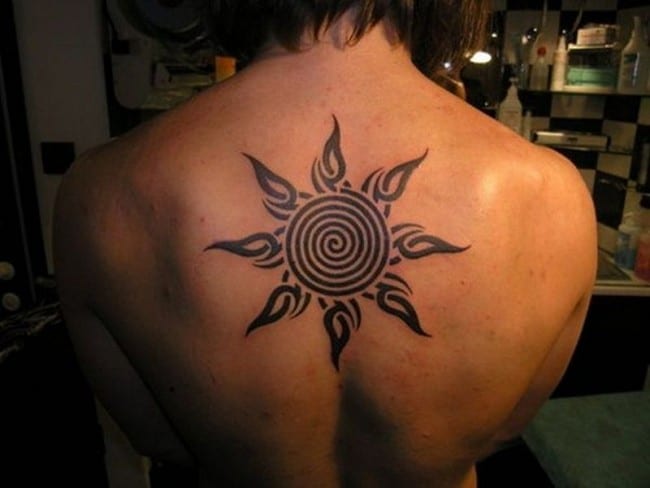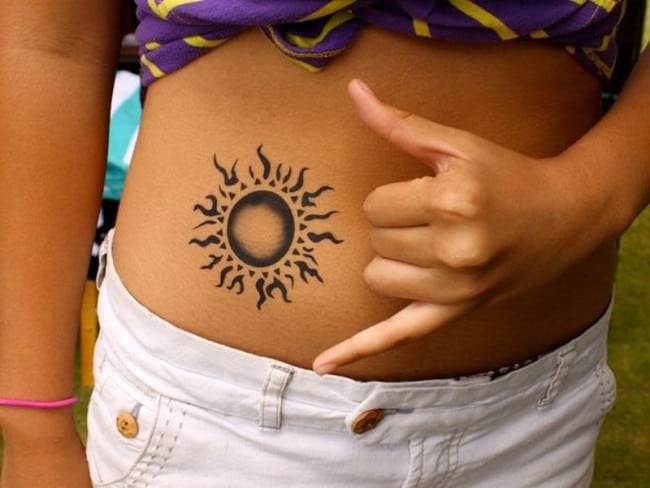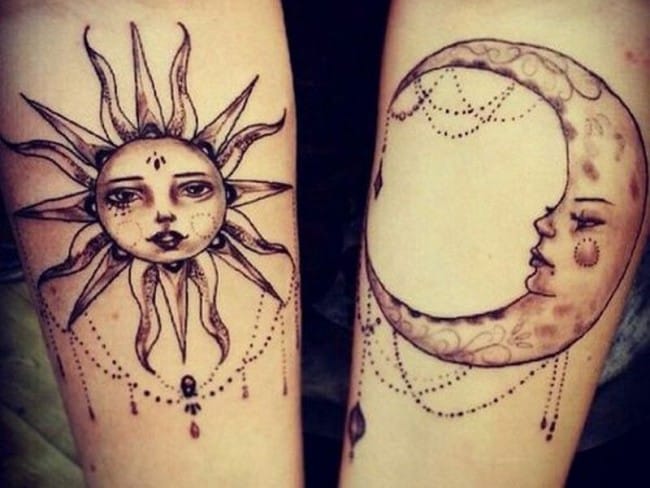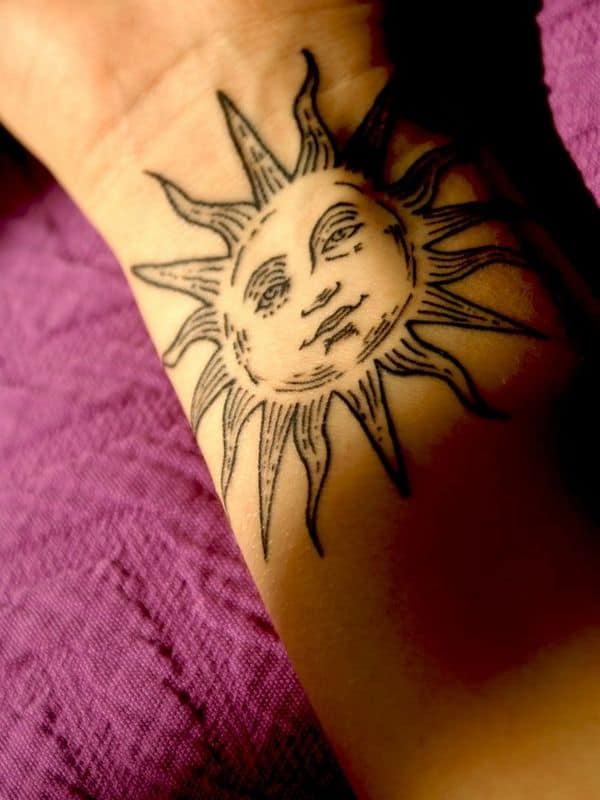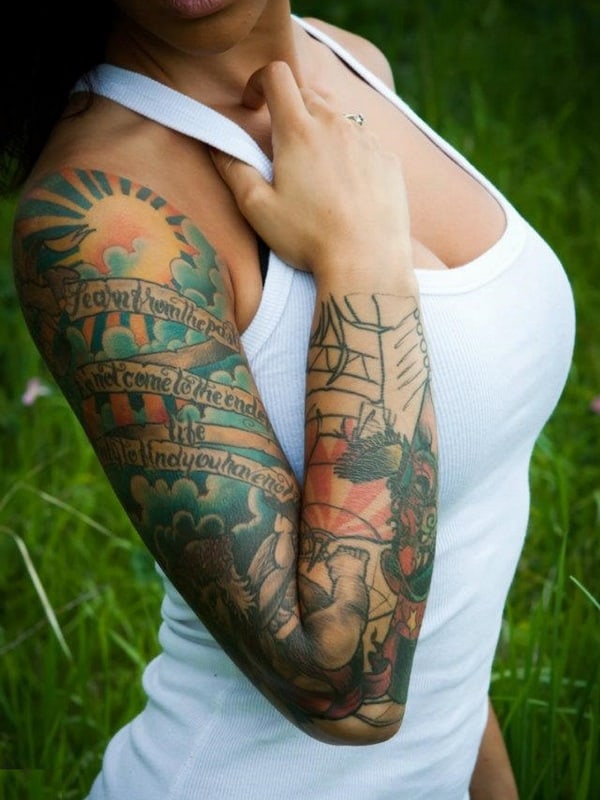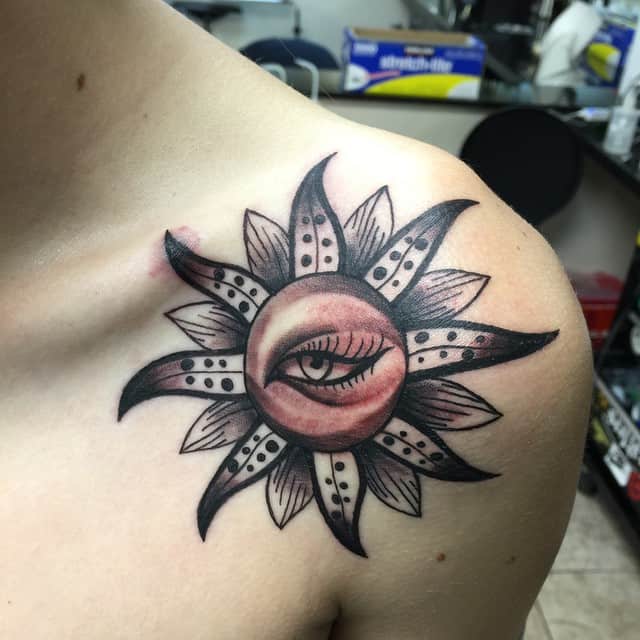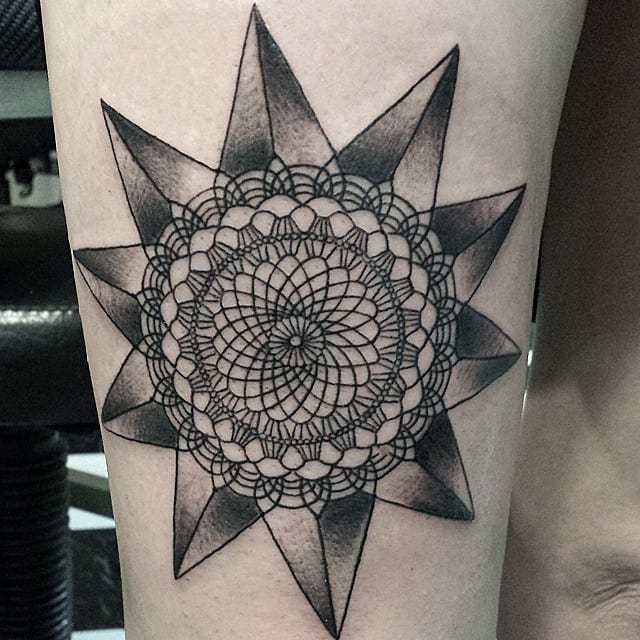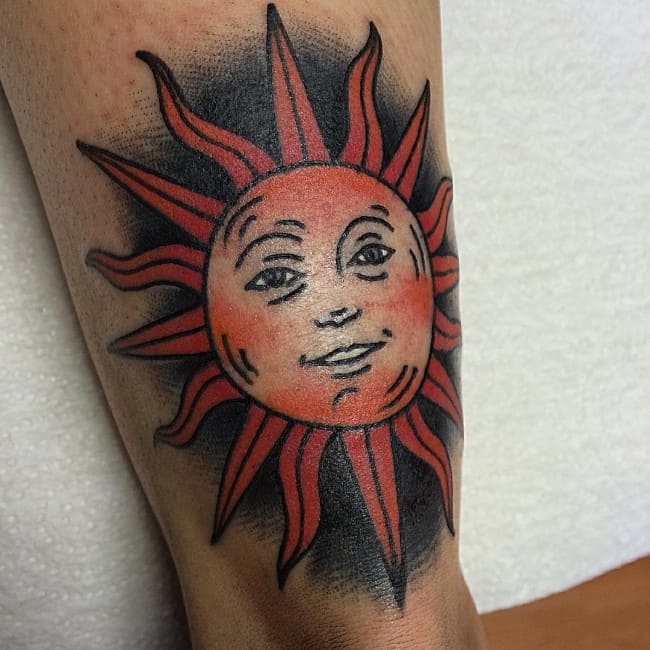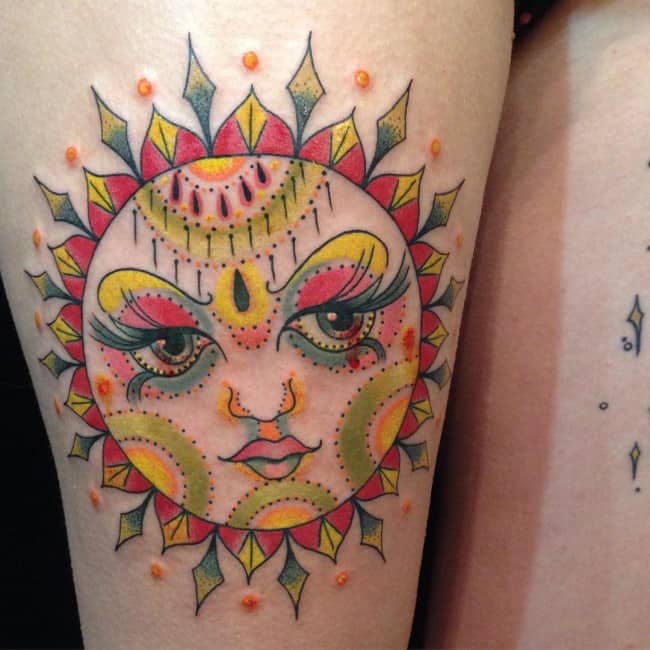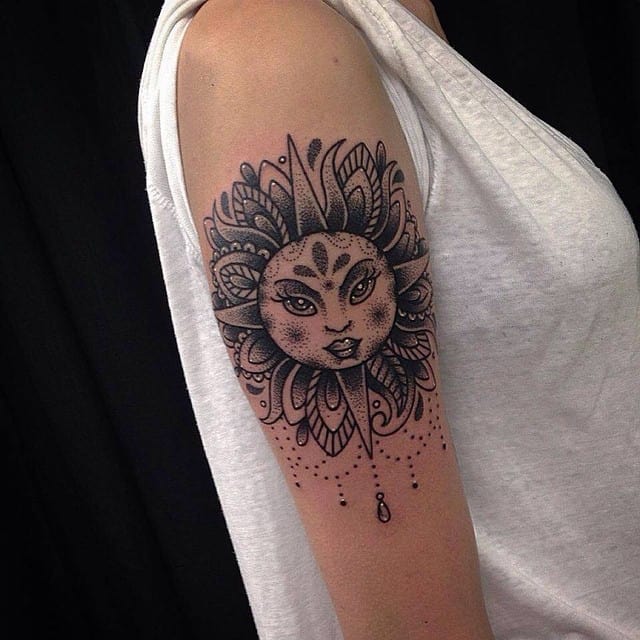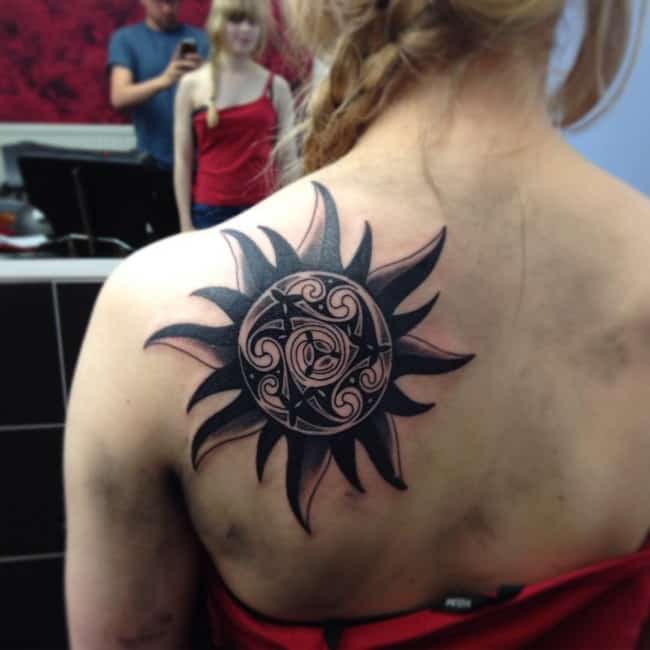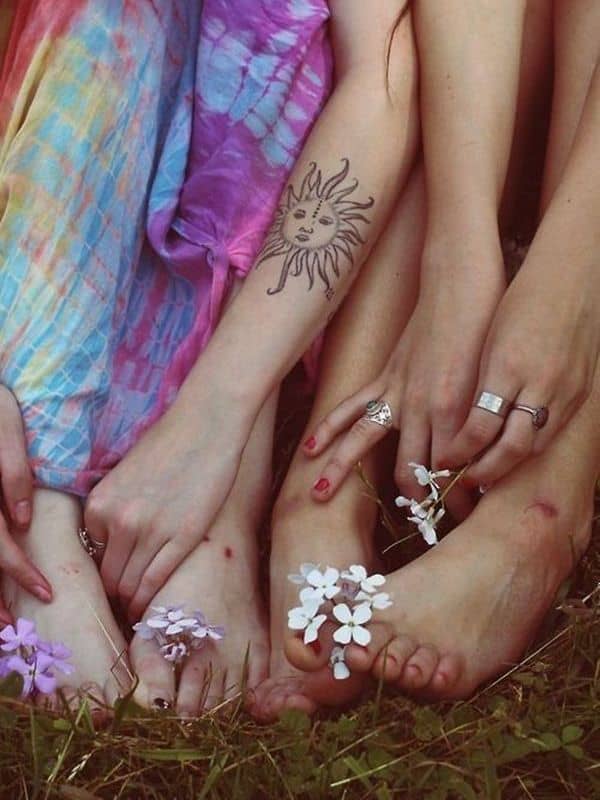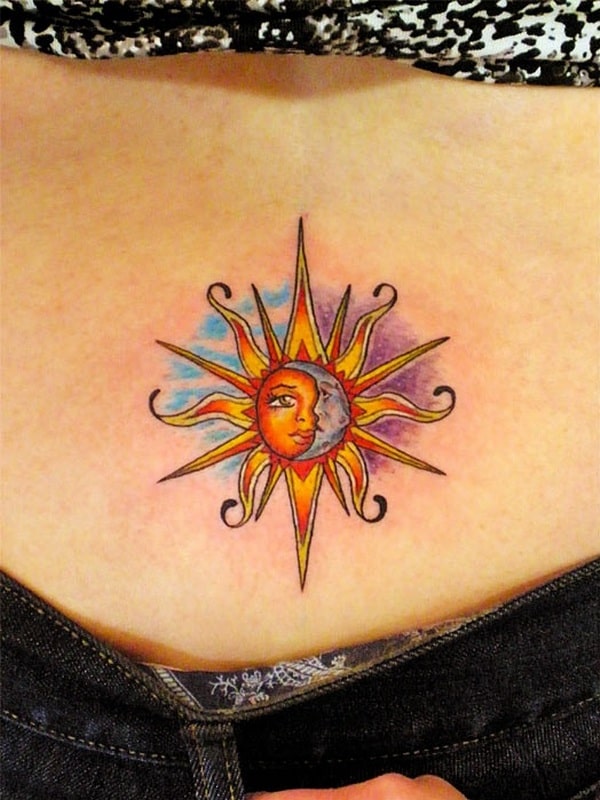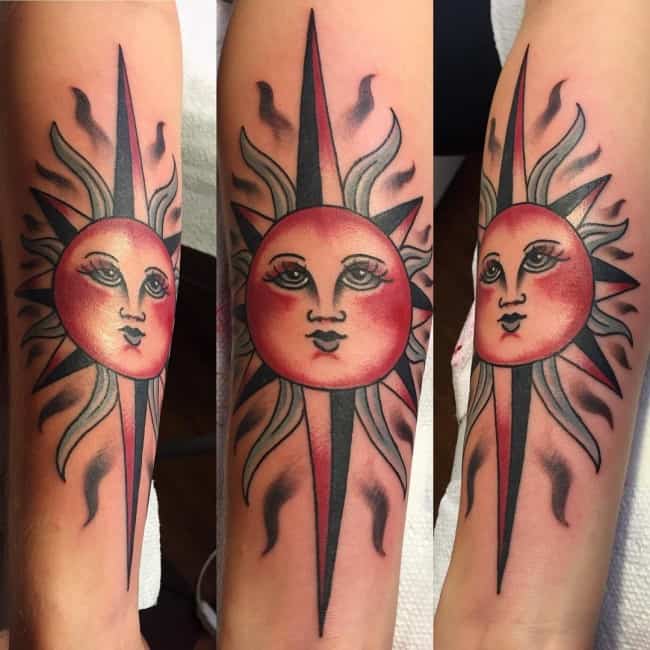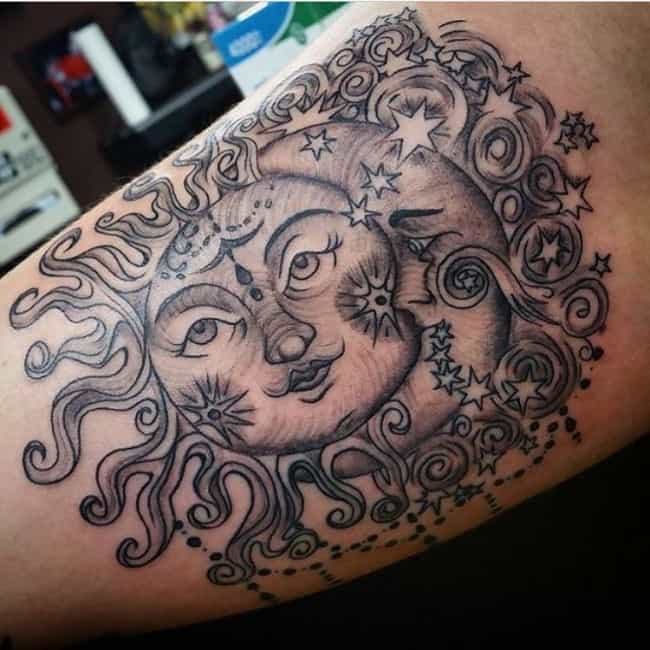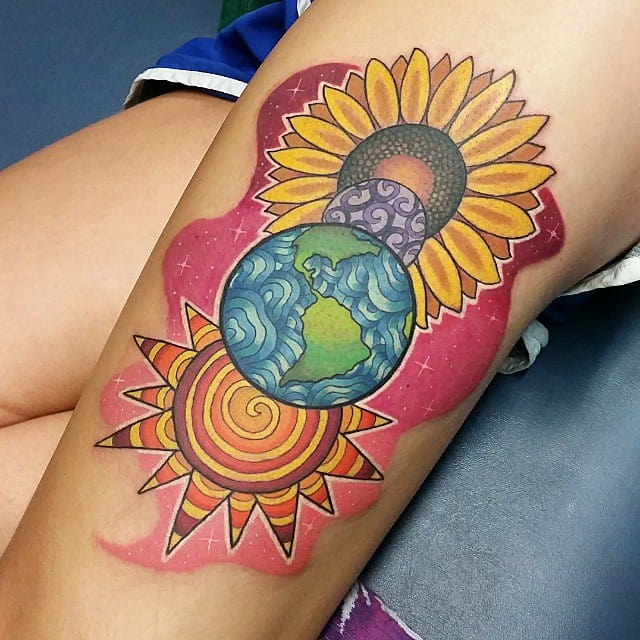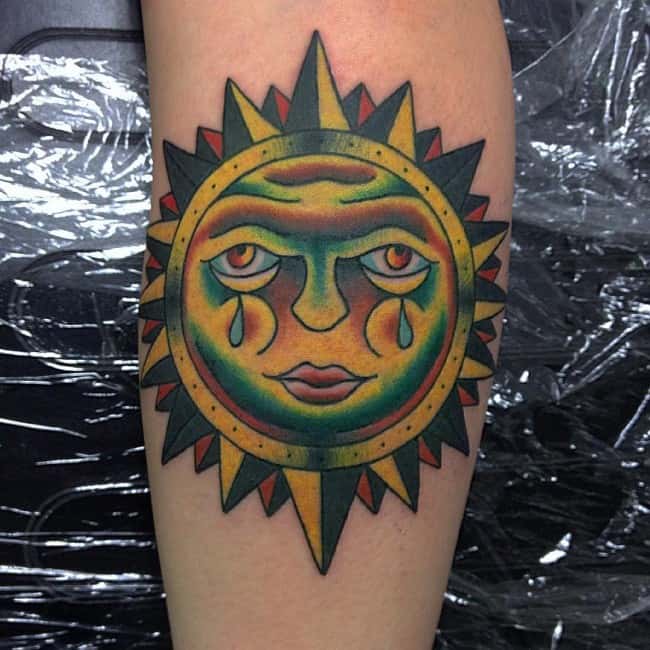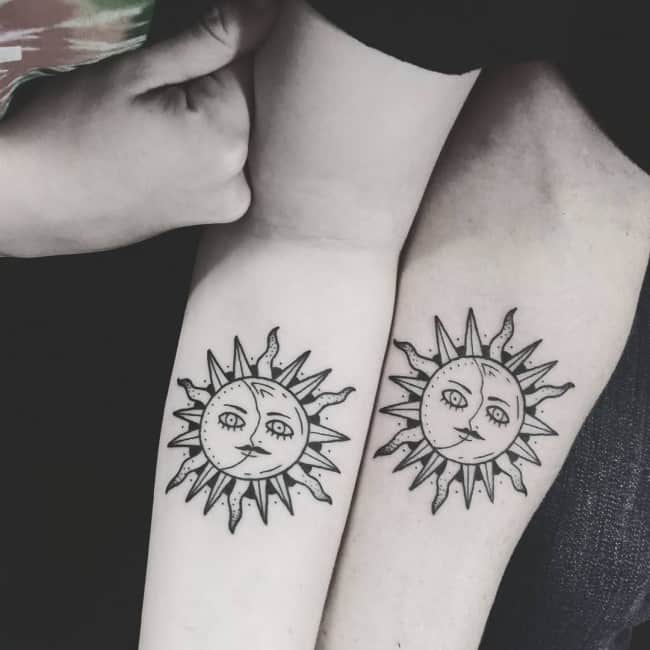 Placements Guide
Some of the common body placements;
Final Words
The sun tattoos are undeniably extremely meaningful to have on someone's body. There is no way they cannot look very gorgeous on you. In other words, aside from being so meaningful, these tattoos are also very beautiful in appearance. You just have to choose the best design that really fits your appearance and your unique personality as well.
The sun is the most powerful force in the universe on which all life on the planet depends as it gives heat and light. It's all powerful nature, combines with its aesthetic beauty makes sun art tattoos one of the most sought after designs in tattoo art. There can be tribal designs and others which include element such as flowers, dragon, moon, stars and phoenix.