Ear piercing is a very common thing in the entire world, but when talking about orbital piercing, it is certainly not. This is commonly done on the ears. Moreover, this is absolutely different from the other piercings since it involves two perforations that are connected with a ring jewelry, forming like an orbit of the earth. This is the main reason why it is called this way. When talking about its location, it is exactly done on the helix region of the ears. However, it can also be done on your earlobes, in case you want to. One thing is for sure, this piercing will make you look great in the eyes of many people.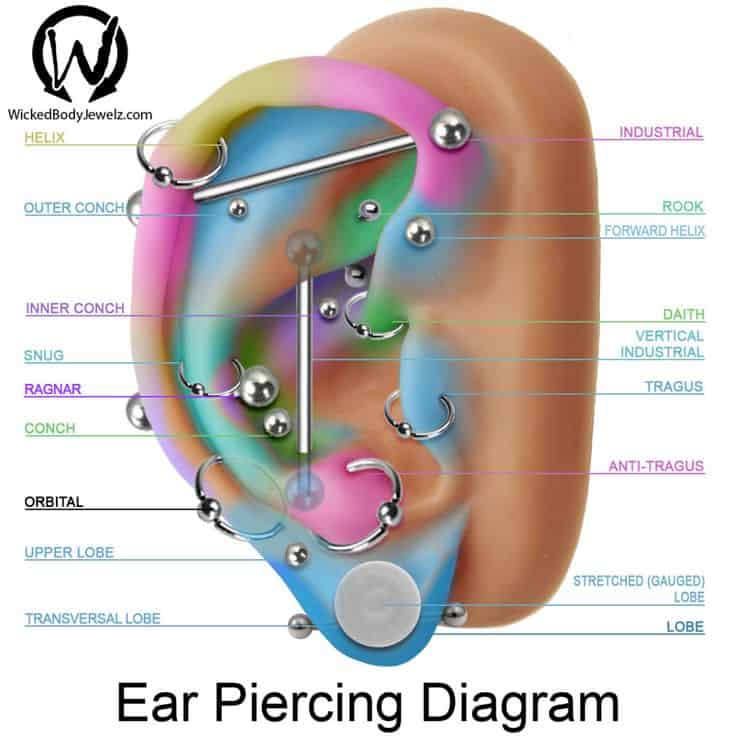 Procedure
To ensure that you will have a hygienic and safe orbital piercing, you must find the finest professional piercer who can handle the job without hesitations. Keep in mind that it is your own safety and hard earned money that are at stake here. Since such piercing requires two perforations, you can choose to have the two perforations done at the same time. But if you are too afraid for it, then you can still go for one and then do the other one when you are already ready. In case you already have one piercing on the location that is already healed completely, then consider yourself lucky since it can be used for this piercing. In other words, you will only undergo for one perforation.
The exact location will be pierced by the professional piercer you hire using a hollow needle. However, you need to make sure that the piercing needle is sterilized first by the piercer. And before creating holes for your piercing, the area must be cleaned well first with the utilization of an antibacterial solution. This is to make sure that bacteria cannot go inside the wound and cause some horrible infections. When making holes are done, the chosen jewelry is next to be inserted.
Does An Orbital Piercing Hurt?
The truth is, the amount of pain that you will feel from undergoing orbital piercing procedure will depend on a couple of factors. First is the piercer himself or herself. If he or she is well-experienced enough, he or she definitely knows how to lessen the pain that you can feel during the procedure through different piercing techniques. The second one is the location of the piercing. For your own additional information, It is done on the helix region can be a bit painful compared to the one being done on the earlobes. In case you are afraid of the pain, then going for the orbital lobe piercing would be great.
The Healing Process
The healing process of the this piercing will also depend on several factors. One is how you take good care of the pierced area. Normally, the professional piercer you hire will give you some tips on how to take care of your piercing. You need to keep these tips in mind always because these can be your keys in having a gorgeous piercing on your ears. Another factor is the location itself. Since this kind of piercing is done on a specific location that is packed with cartilage, then it is expected that it will take time to heal the wound caused by the piercing procedure.
In most cases, it needs 3 to 4 months in order to heal the wound completely. Even so, it may take longer than that if you are irresponsible enough in taking care of the pierced area.
How to Take Care of the Pierced Area
The aftercare tips given by your chosen professional piercer are very important for you to bear in mind and perform. Here are the things that you need to do to ensure the pierced area's great condition until it heals completely:
Clean the pierced area regularly. Since this piercing involves 2 perforations, then it is just right for you to clean it thrice per day. You can make use of warm saline water in cleaning it.
Never touch the pierced area and the piercing itself, when it's unnecessary. Just in case you don't know, your hands may have thousands of bacteria. These bacteria may go inside the wound and irritate it. Also, touching the pierced area and the piercing may just strain the wound.
Use a clean dry towel in drying the pierced area. Pat dry it so that the pierced area will not be strained. Remember, gentle handling of it is important since the wound is very sensitive while on its recovery period.
Don't remove or replace the jewelry while it is still recovering. Doing this may just irritate the wound, and worse, lead to horrible complications.
Sleep in a position in which the pierced area will not be disturbed. Remember that the more frequent the pierced area is being disturbed, the higher the chances for you to have severe complications.
Cost
As usual, the cost of an orbital piercing will largely depend on a number of important factors, just like the other piercings done on a person's body. The very first factor is the reliability of the piercer. The more reputable he or she is, the higher the amount you should pay for his or her professional service. Second thing is the chosen jewelry. This is why you need to choose the one that fits to your spending budget. Always stick to your budget, no matter what happens. Remember, this is not the only thing in life where you need to spend some amounts of your hard earned money. Another factor is the number of perforations being done. Since this piercing involves two perforations, then it is just right to say that you will pay more. Generally, the cost for this piercing will be around $30 up to $100.
Variations and Inspiration

























Without a doubt, orbital piercing can be a perfect adornment on your ears. However, this may not be for you due to some reasons. Because of this, you should know the nature of this piercing well first before you finally decide to go for it. Also check our articles on popular ear piercings types Helix Piercing, Industrial Piercing, Rook piercing.
Jewelry Options
Captive bead ring is an optimum jewelry choice for orbital piercing style. There are some other jewelry options which include horseshoe rings, segment rings, and circular barbells. For a stylish look you may go for heart-shaped orbital rings that can be worn on the helix, lobe or conch.