Ear piercings or cartilage piercings is one of the piercings that can be found in a person's body. It can be commonly found on body parts that are majorly made up of cartilage such as ears and nose. But most of the time, this piercing is a unique kind of piercing. Having a pair of earrings, especially among women, is just a normal thing in the entire world. These beautiful earrings are worn in order to become way more gorgeous in front of the world. Even so, many people worldwide are already tired of having some earrings attached on the lobule, an outer part of the ears in which earrings are traditionally inserted. Because of this, piercing came into existence. Also check our articles on most popular piercings Nose Piercings, Dimple Piercings and Tongue Piercings.
Ear Piercings Types
There are several kinds of ear piercings that can be found on ears. Each of these kinds differs from several things like the level of pain and the location they are in. With that being said, it is important to know them well one by one.
Helix Piercing – This is actually a standard piercing or the most common one on ears. In fact, when talking about piercing on the cartilage, people will automatically think of helix piercing. If you don't know where this area is, then you should know that it is the curved portion of your ears. There are 2 kinds of helix piercing and these are the Forward Helix Piercing and the Industrial Piercing. Forward Helix piercing is done on the helix area that is nearest to the head part. On the other hand, Industrial piercing is the one that is inserted into your helix and the other head of the jewelry is attached on the forward helix. The common jewelry used here is a barbell.
Antihelix Piercing – There are 2 kinds of antihelix piercing, and these are the rook piercing and the snug piercing. This piercing can be located on the cartilage found between the ear canal and the helix. The rook is known to be the upper ridge of the antihelix cartilage, while the snug is the antihelix cartilage's lower ridge.
Conch Piercing – This piercing is done at the center of the cartilage of the ear. It has two kinds namely the inner conch piercing and the outer conch piercing.
Daith Piercing – Such kind piercing at the above portion of the ear canal, which is just a small flap cartilage.
Tragus Piercing – This is actually one of the most famous piercings in the ears. The tragus part is composed of a very thick cartilage, so it may be a painful experience for you when you go for tragus piercing.
Orbital Piercing – Similar to industrial piercing except that the piece of jewelry does not connect the holes horizontally but rather from front. Usually, a circular or heart shaped ring is used to beautify the already pretty part of your ear.
Auricle Piercing – Auricle piercing refers to the piercing done at the middle part of the outer rim of your ear.
The Crucial Procedure
Having a successful piercing procedure can never be done without the presence of a professional, well-experienced piercer. This is the reason why you need to find the finest piercer available in your place. Upon arriving at the piercer's clinic, you will be entertained by some staffs or the piercer himself/herself for a while. There will be a short briefing about the procedure that you are about to undergo, making you to become more comfortable. When you already feel much more comfortable, you will then be asked to lie down or sit down depending on your convenience. The piercer will ask about where you want to put. You will also be asked about the jewelry that you want. The professional piercer will then clean the area, and then make a hole on that part using a hollow needle and a piercing clamp. Afterwards, the jewelry of your choice will be inserted on the hole made, and you are good to go.
The Pain Factor
The truth is, every individual differs when it comes to pain tolerance. There are some who may find the pain caused by cartilage piercing a very tolerable one, and there are also those who may find it extremely painful. But generally speaking, undergoing the piercing procedure will not be that painful. Many people who have already undergone such procedure said that it is just like an ant bite or a pinch. The pain will also slowly fade away after the procedure. The pain can be experienced for a maximum of 2 weeks, depending on the condition on the pierced area. If it is infected, then it is expected that you will feel the pain longer than what is expected.
The Healing Process Of Cartilage Piercing
The healing process for ear piercing will heal depending on a number of important factors. One of these significant factors is the location of the piercing. The more delicate the location, the longer time duration it needs to heal. Another factor is how you take good care of the pierced area. If you are careless enough, then it is expected to take long. But most of the time, the entire healing process will take 3 up to 12 months. One other factor that can absolutely affect the healing process is the size of the jewelry. If it is big enough, then it may put too much strain on the pierced area, delaying its quicker healing process.
Aftercare
Just in case you do not know, there are important aftercares that you should do after undergoing the piercing procedure. These things are very important in order not to experience several complications from this piercing. In fact, after 3 months from the time you undergo the piercing procedure, the pierced area is not yet fully healed for sure. This is the reason why you still need to do the aftercares even after the said time duration. Here are some of the significant aftercares that you need to keep in mind:
The pierced area must be sanitized two times every single say. It should be done in the first 3 days from the day you undergo the piercing procedure. It is best to do it in the morning and in the nighttime as well. Moreover, make sure to use a saline water or a warm water.
When taking a bath, it is important to make sure that there are no residues from the shampoo or soap that you use. It is simply because these residues may irritate the pierced area because of the chemicals that they contain. It can be possibly done through rinsing your ears with running water from the faucet or shower.
Make sure to use a well-cleaned towel in drying the pierced area. Be sure to only pat dry it. The pierced area should be handled gently since a single harshness can irritate it badly, which is why pat drying should be done. Moreover, a towel that has dirt and dust may infect the area, causing it be a serious problem on your part.
Cleaning the pierced area once a day is applicable after 3 weeks of cleaning it twice a day. However, it is very important to still make use of a saline water or a warm water in cleaning it.
Do not dare to touch the pierced area, or just rotating the chosen jewelry inserted into it. Always remember that the more you touch it, the higher the chances that it will be irritated and infected. Your hands may contain thousands of bacteria that can cause complications, so this is certainly a big no.
Do not clean the area with products that contain strong, harmful chemicals. Just in case you don't know, these products will only irritate the area. Examples of these harmful products are alcohol, hydrogen peroxide, or betadine. Make sure to only use mild cleaning products.
Consult your doctor when rejection occurs. There are no other professionals who can handle this condition that those qualified doctors out there. Remember, it is your own health that is at risk here, so be vigilant and careful enough.
How Can You Find the Finest Professional Piercer
Professional piercer may be hard for you to find, especially if it is your first time to undergo piercing procedure. Remember that there are so many of them, but only few are reliable ones. This is the reason why you need to be careful on your search. Here are the things that you can do:
Search the Web – It has been said that the web has everything that we need, and the finest professional piercer is no exemption for this. What you need to do is key in the keyword on the search engines, and the long list of professional piercers will be displayed right there on your computer screen. Just choose one or more, and make much deeper researches about each one of them until you find the finest one.
Ask Some Recommendations – Asking some recommendations from the people you know can also help. You can call your friends and work colleagues or classmates. Who knows, they have known some reliable piercers in your place. And for sure, these people will not allow you to get nothing but unreliable one.
Read Some Customer Reviews – These reviews are where you can read a number of honest testimonials of the previous customers of the professional piercer you might be eyeing for. Through these, you will know how much happy the previous customers are. Just in case you don't know, there are lots of reviews on the web that feature the services of professional piercers.
How Much Do Ear Piercing Cost?
The cost of this piercing may actually vary from one piercing shop to another. One factor that can affect its price is the reliability of the piercer who will handle the crucial piercing procedure for you. Another factor is the jewelry that you choose. If you choose expensive one, then it is expected for you to pay for the higher cost. However, the usual cost will start at $30 up to $50.
Jewelry Options
Of course, there are wide varieties of jewelries that can be used. Three of the most common jewelry options for ear piercing are studs, bead rings, and barbells. For barbell options, it is best to have those internally threaded ones. The problem with barbells is that they are quite expensive when compared to the bead rings. The best jewelry option that you can have for this piercing is the stud. Here are some examples of the jewelries along with their prices:
Silver Leaf Cartilage Stud Piercing – This is a very artistic jewelry that you can attach. It can surely look beautiful on your ears. Its price reaches as much as $47.
Silver Cathedral attached with Blue Topaz – What is very interesting about this jewelry is that it imitates the structure of a cathedral, and it is beautified by a gorgeous stone, which is a blue Topaz. Its price is around $58.
Gold-Plated Celtic Spiral – This is another gorgeous earring that you can use. Prepare $53 if you want to have this elegant looking jewelry.
Gold-Plated Silver Celtic Earring – The interesting fact of this jewelry option is that it has a very unique color, which is gold with a little bit silvery causing it shine more when captured with light. For you to have this earring, you need to raise $50.
Celtic Moon with Stone – What makes this jewelry more gorgeous to wear on your ears is the stone incorporated at the center of it. Its price can reach as much as $55.
Infinity Heart – If you are in-loved with your partner, you can show your intense love through this piercing jewelry that is priced for only $6.
Feather Cartilage Chain Piercing – This jewelry option is a dramatic one because of the chain incorporated into it. You can buy this piercing for only $9.40.
Cartilage Hoop Piercing – This is another gorgeous piercing that is worth-considering. Its price is around $10.95.
Ear piercings is certainly another gorgeous adornment that you can have for your own body. But before going for it, make sure that you are well-aware about this thing.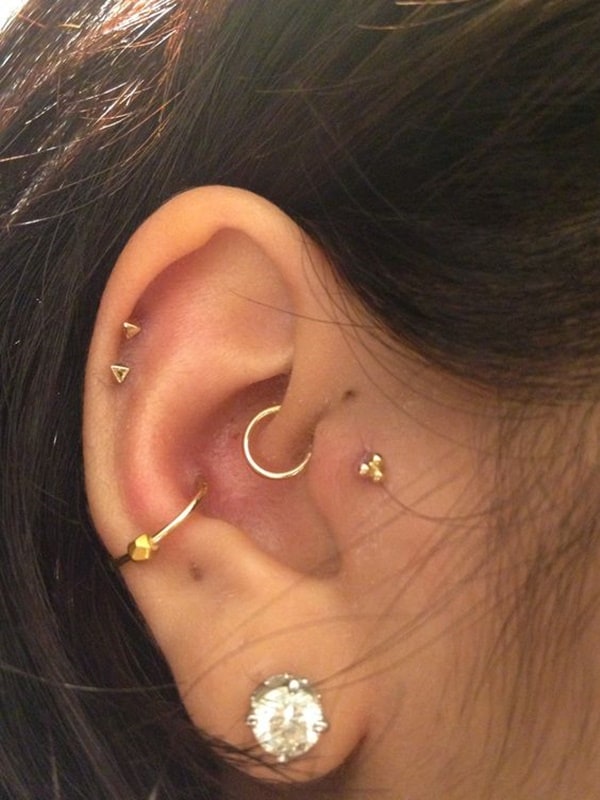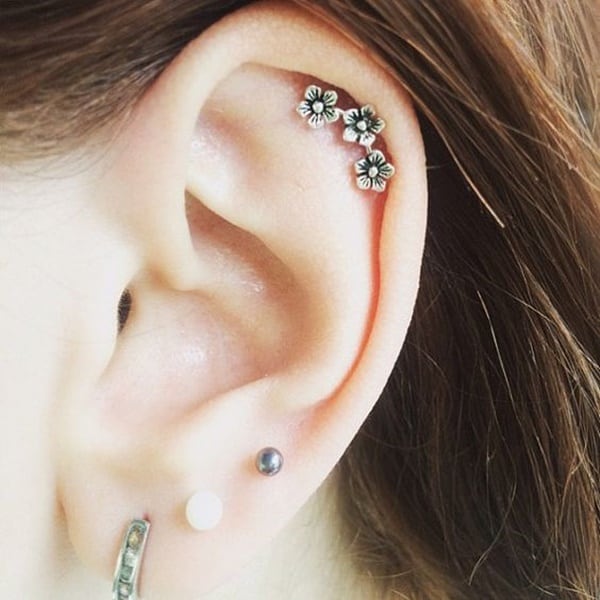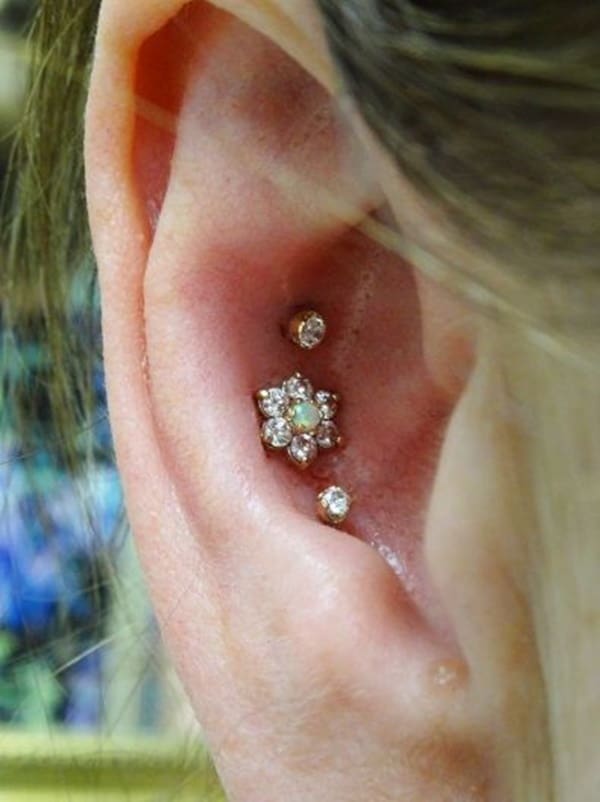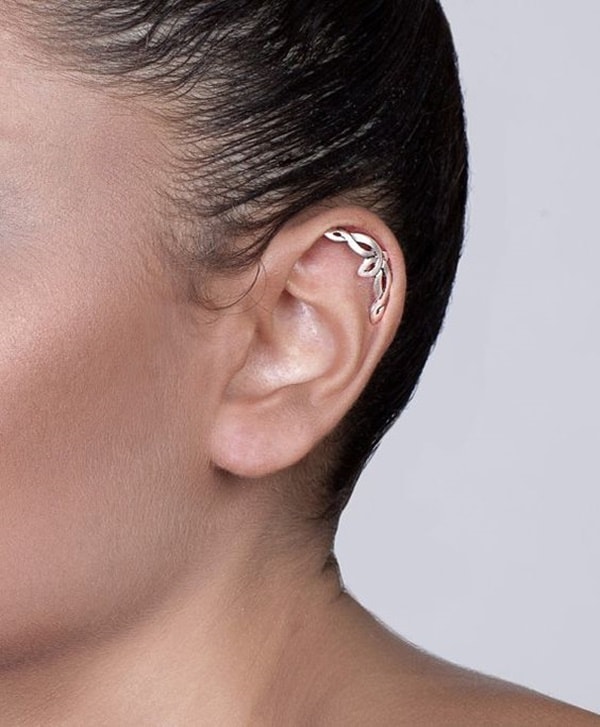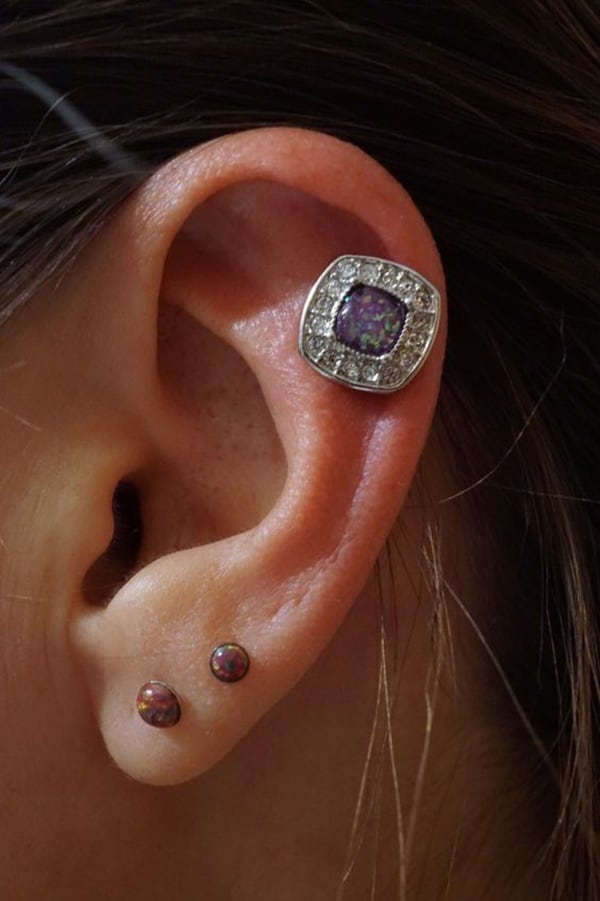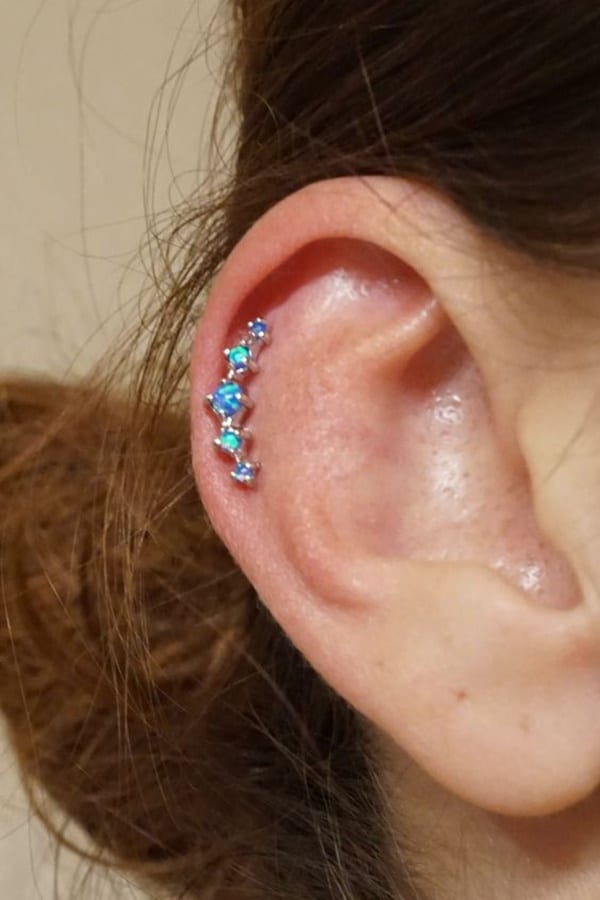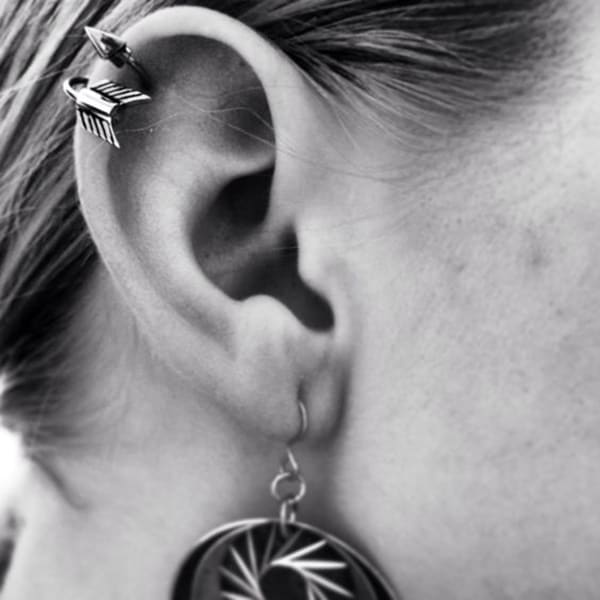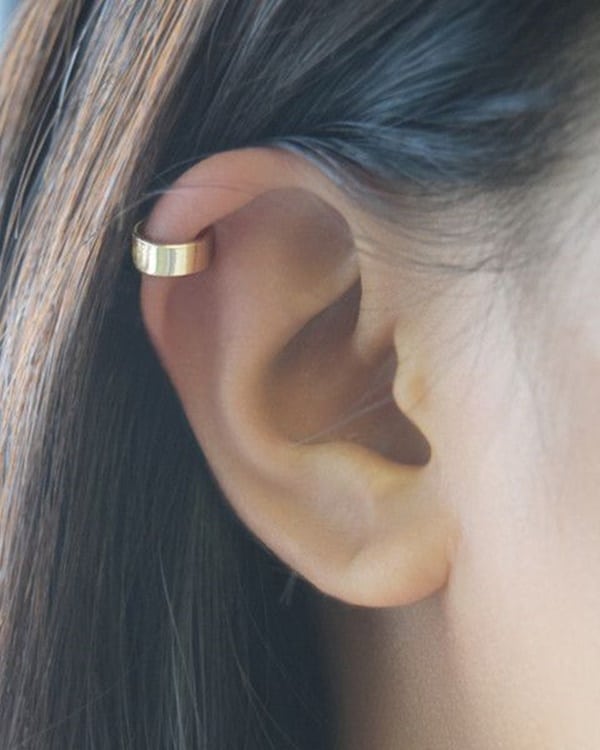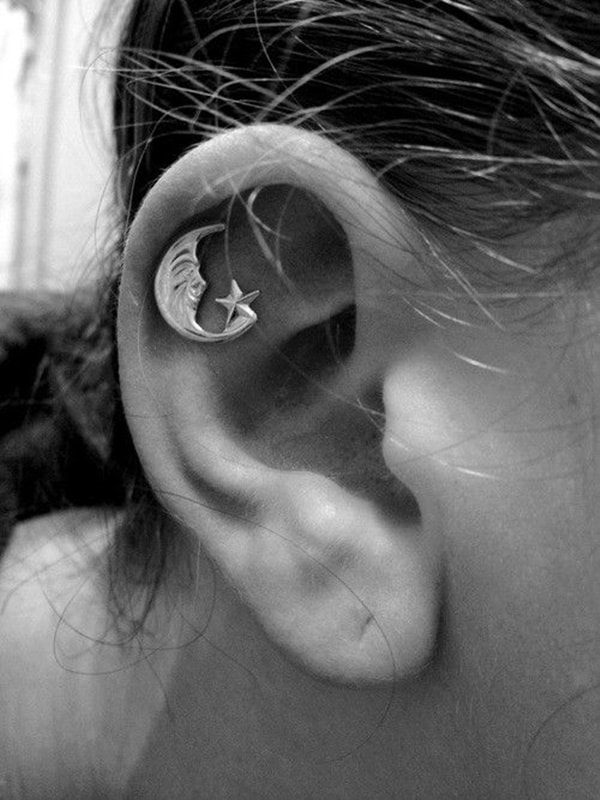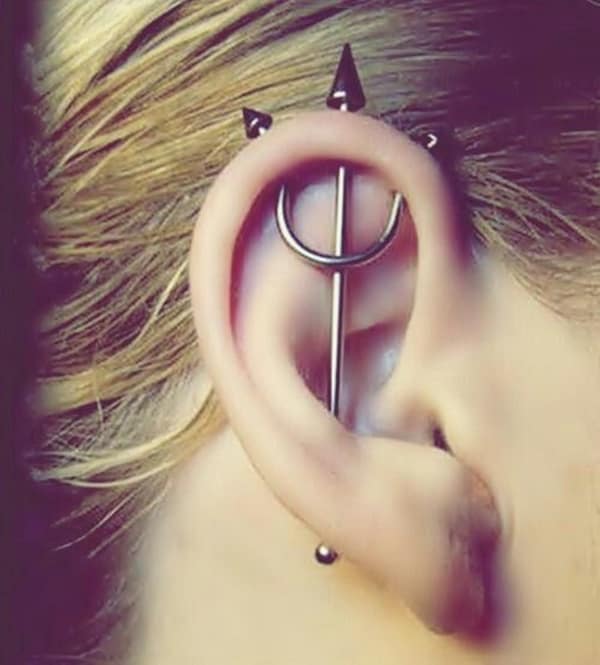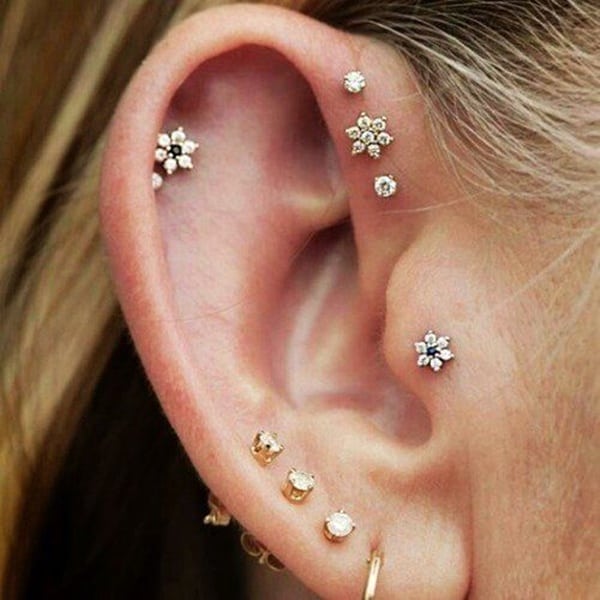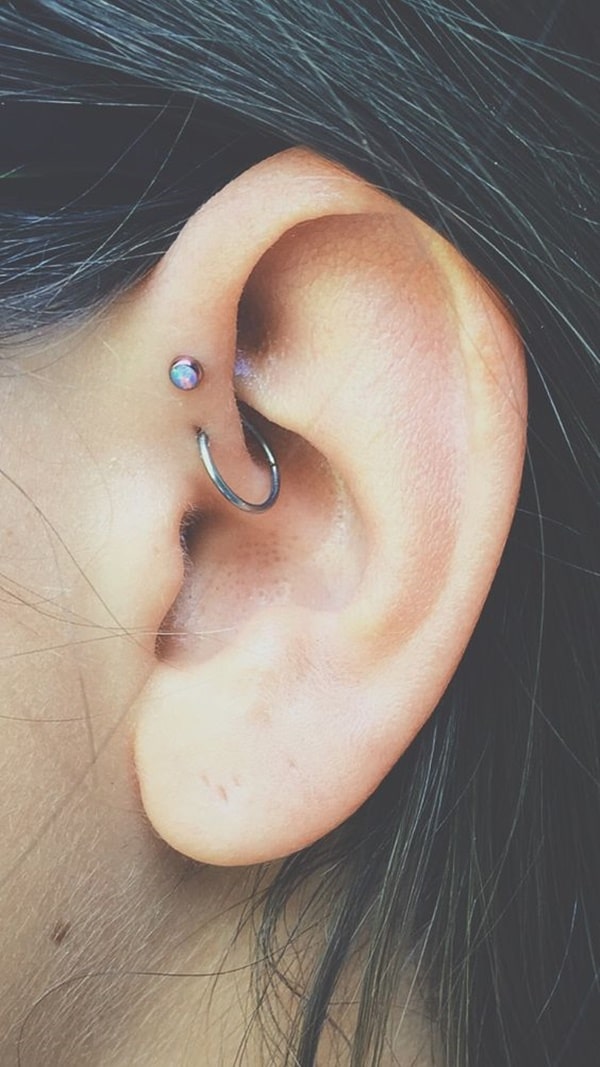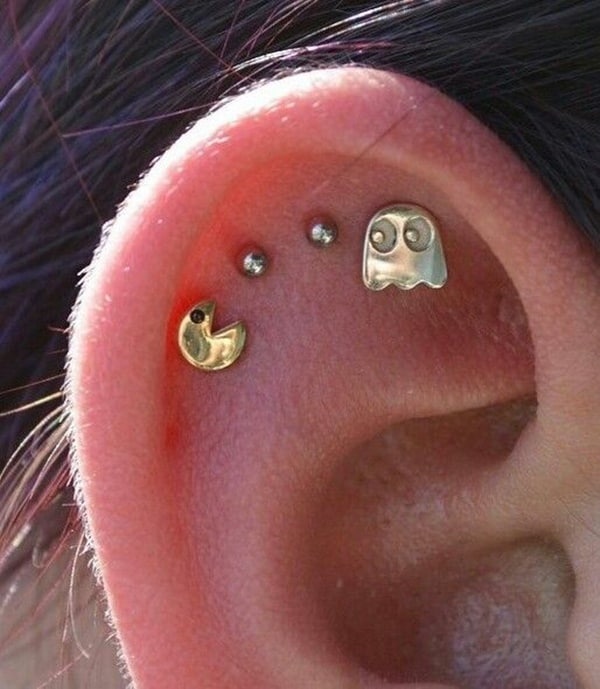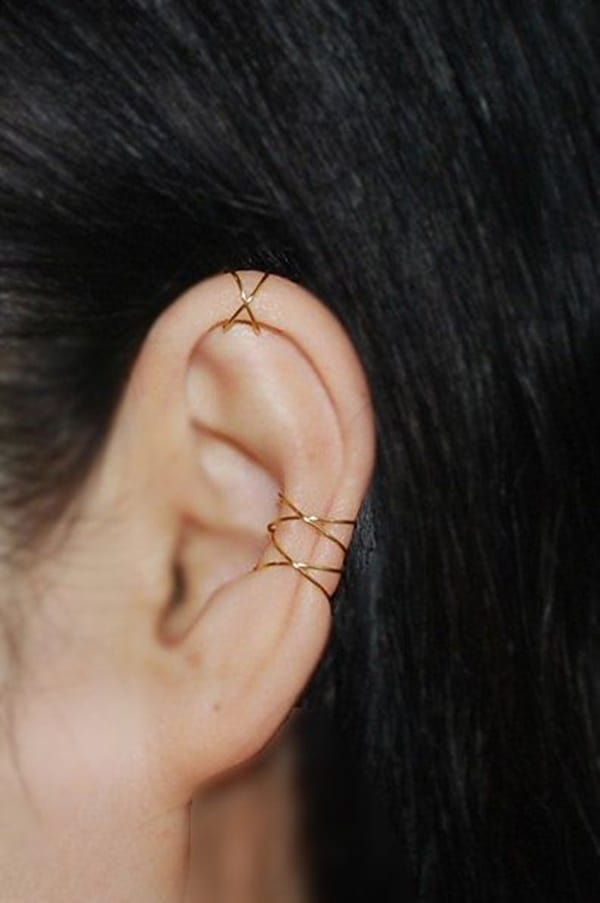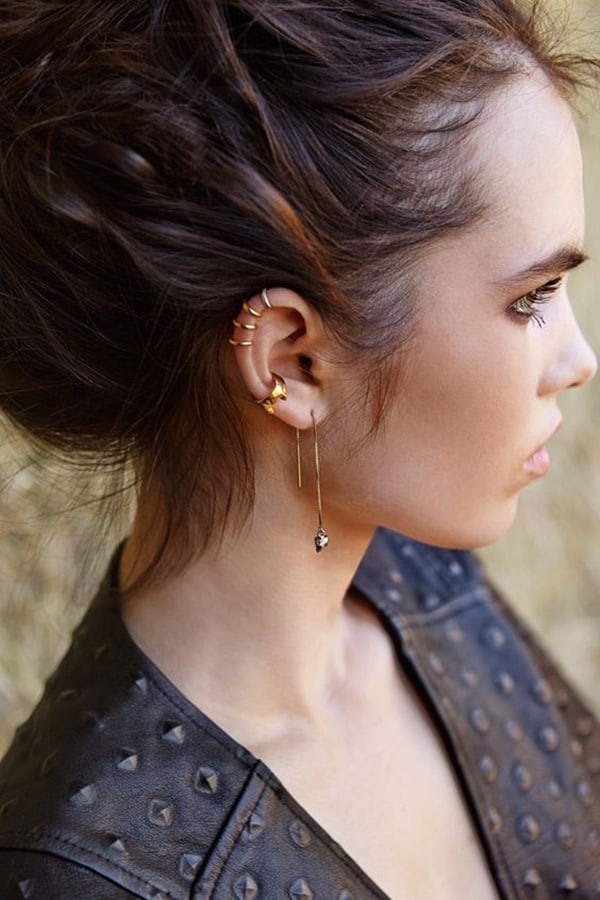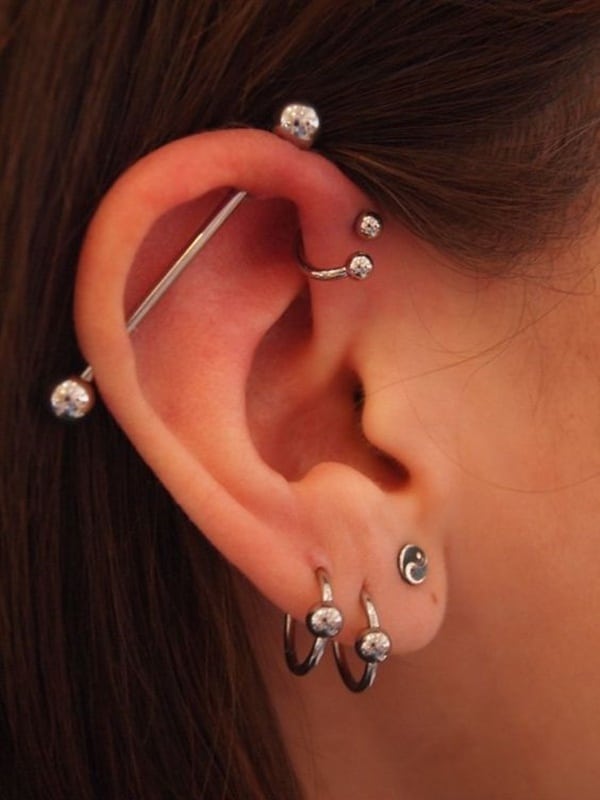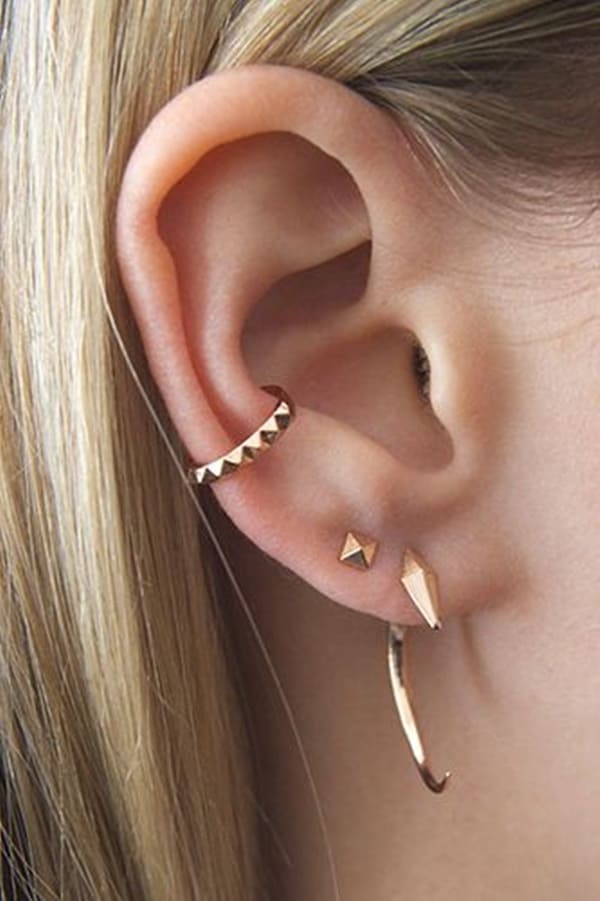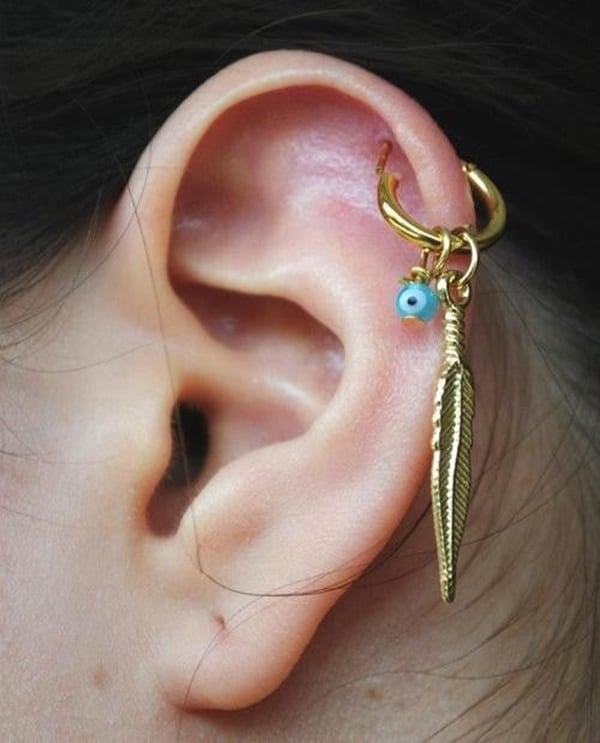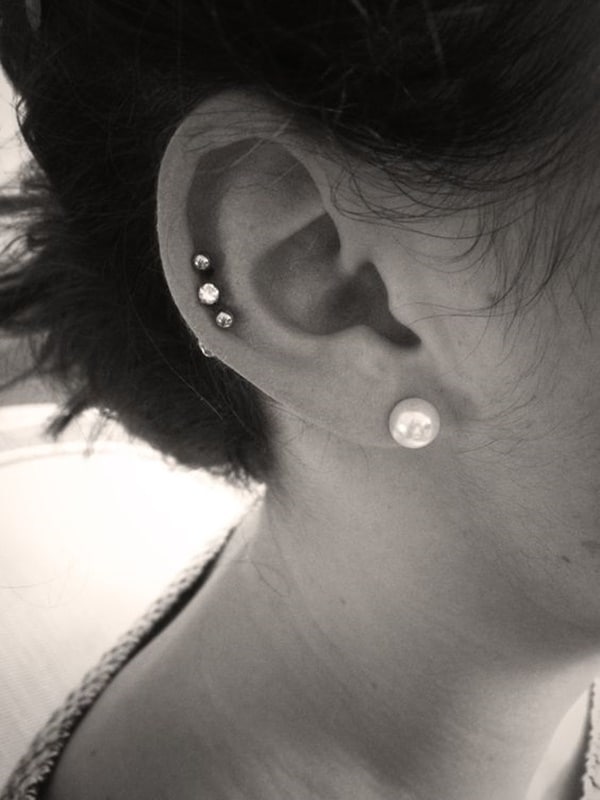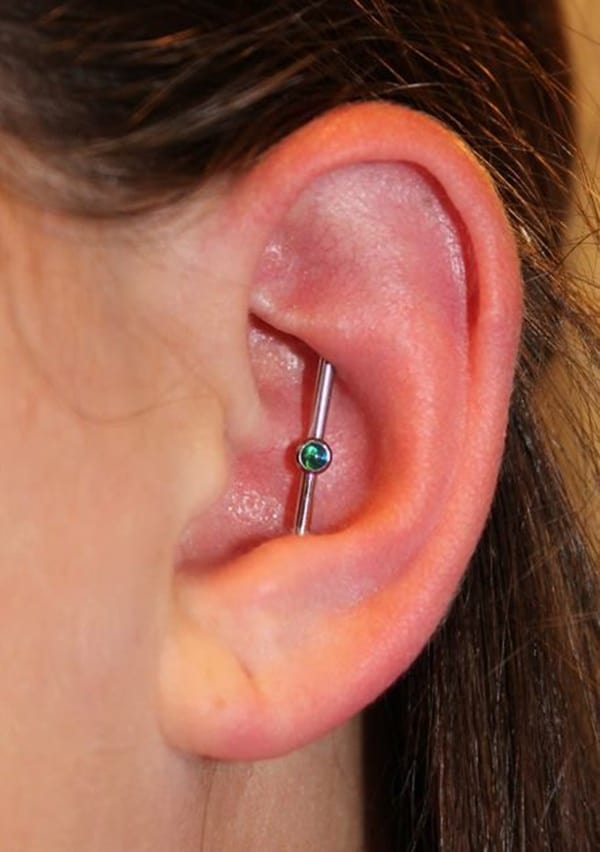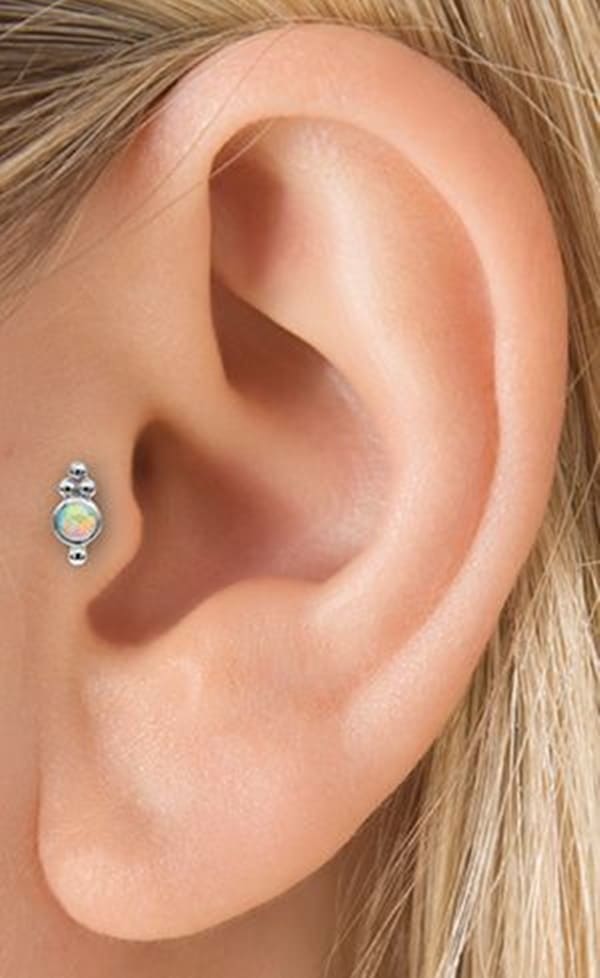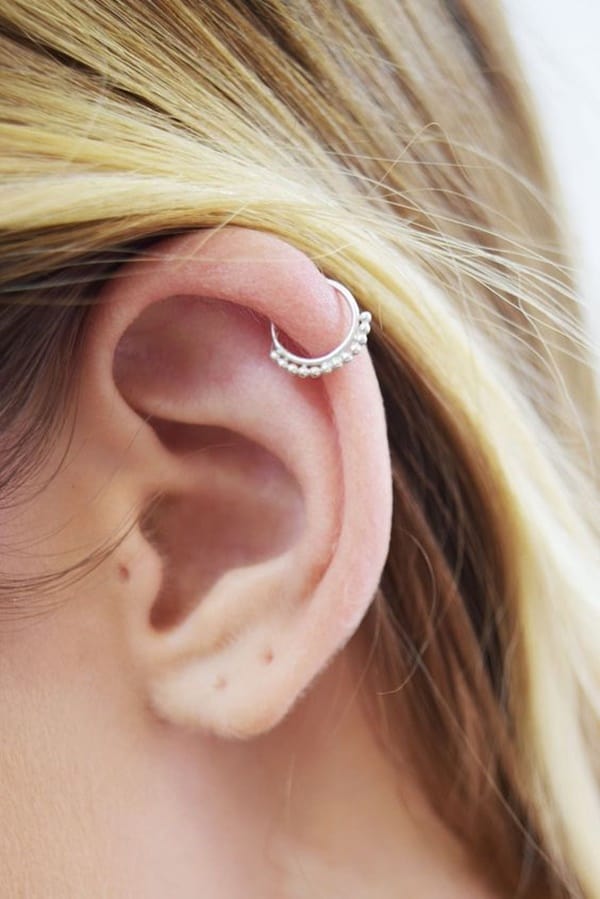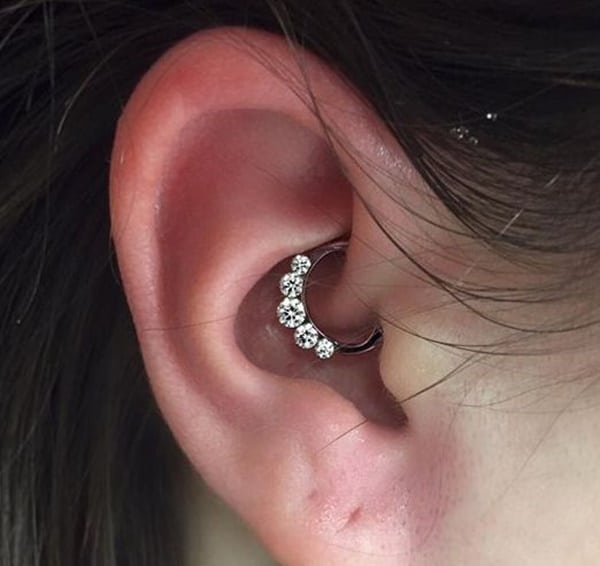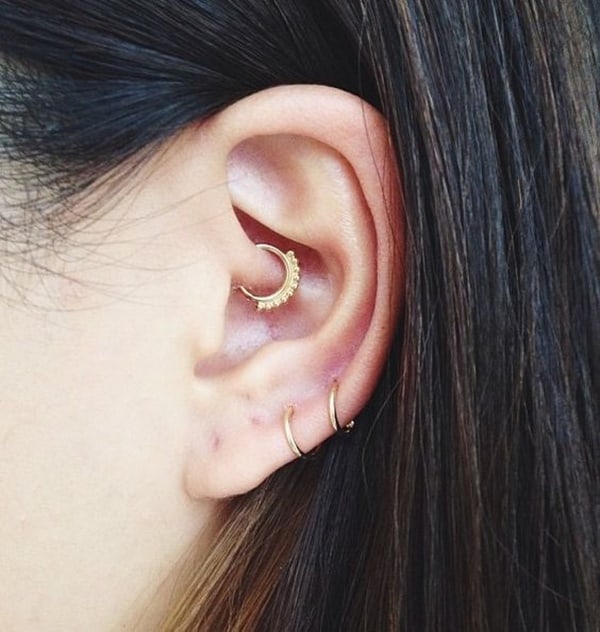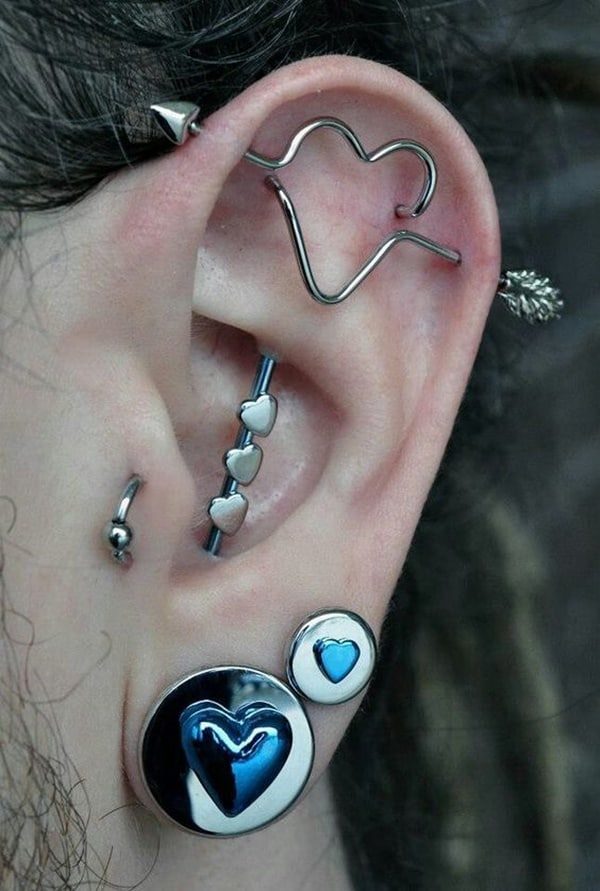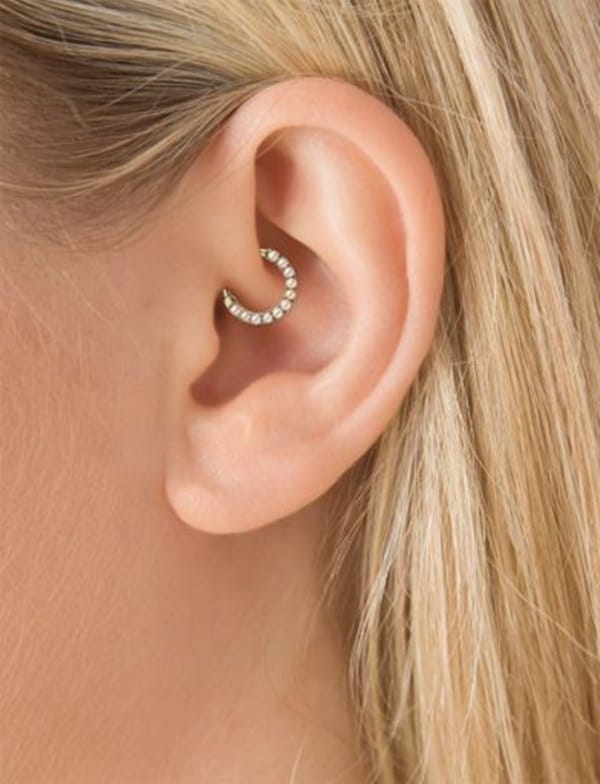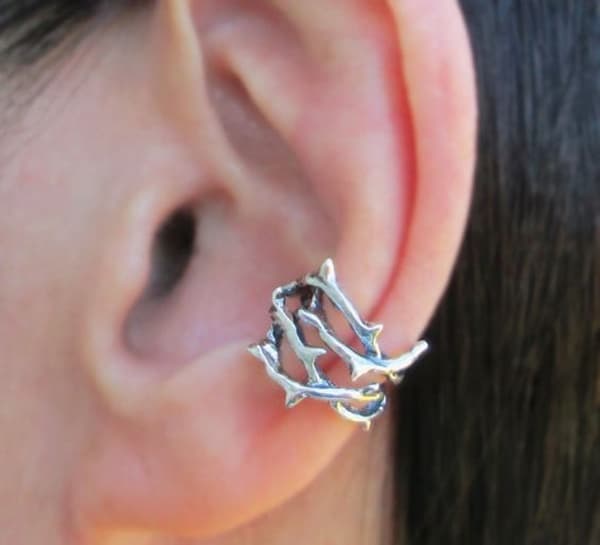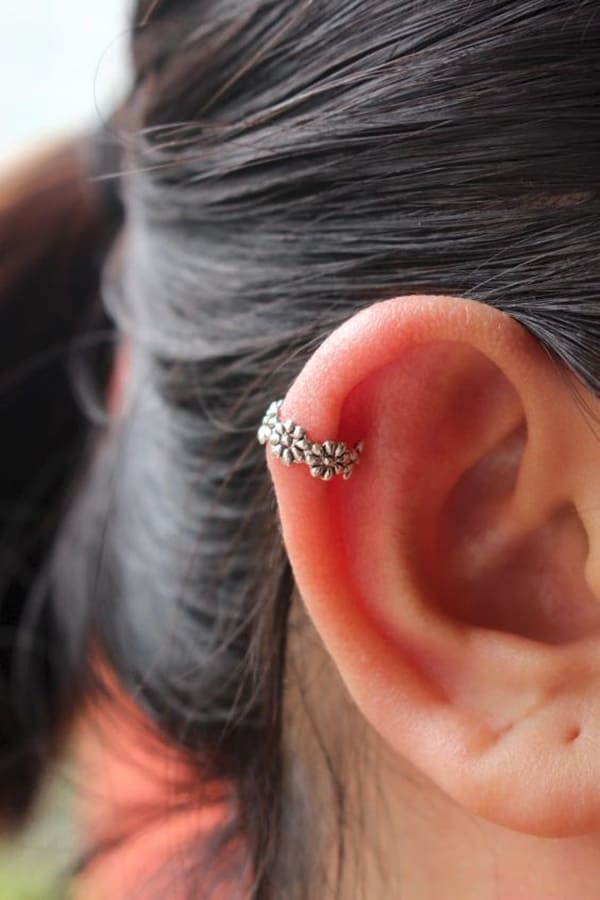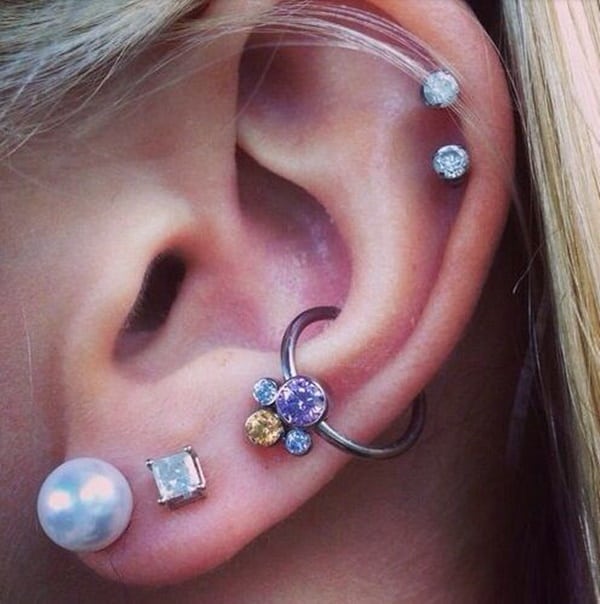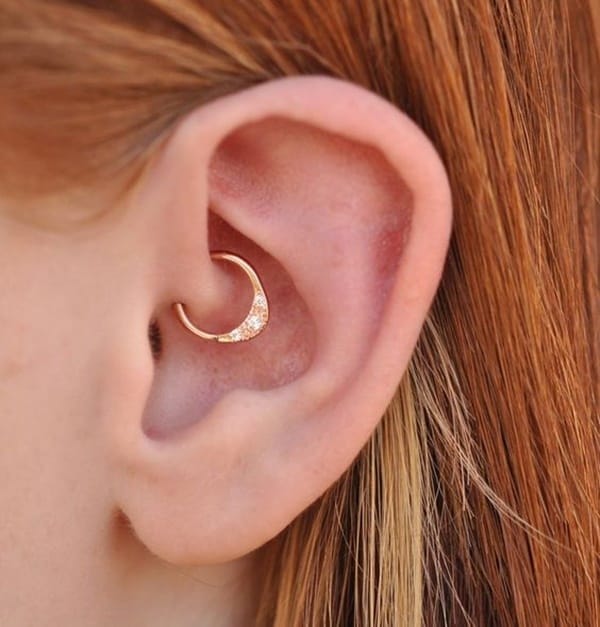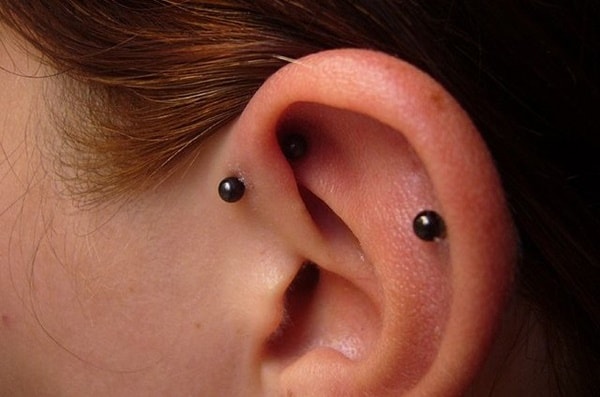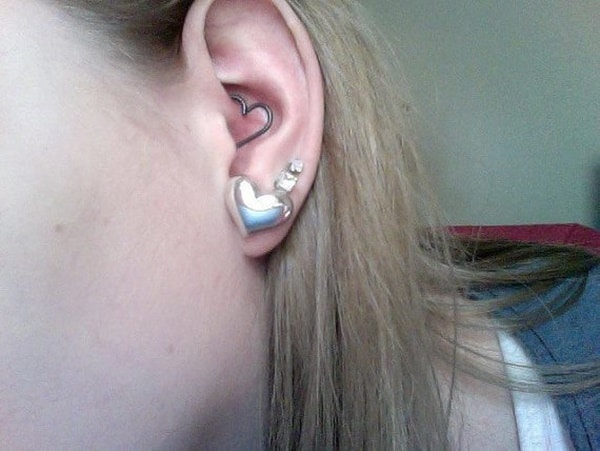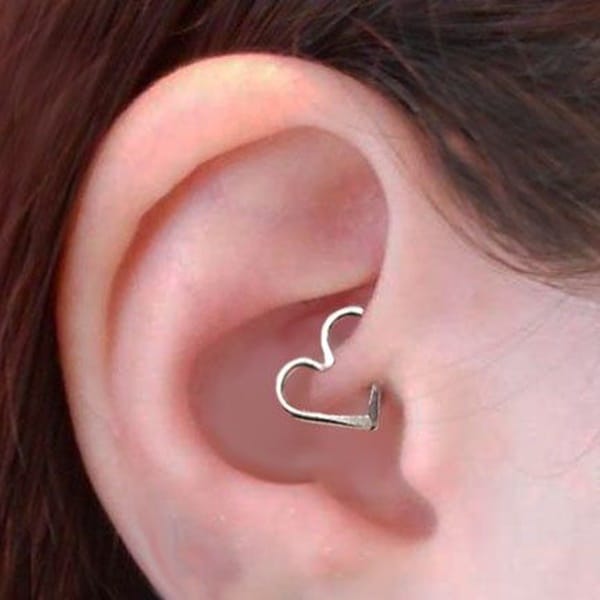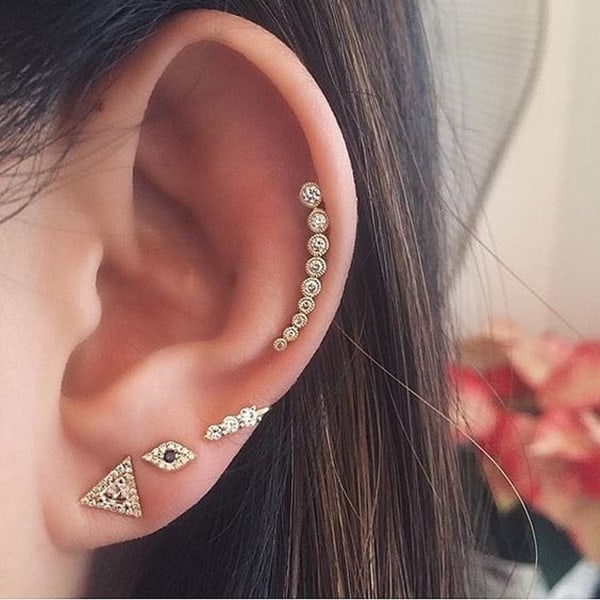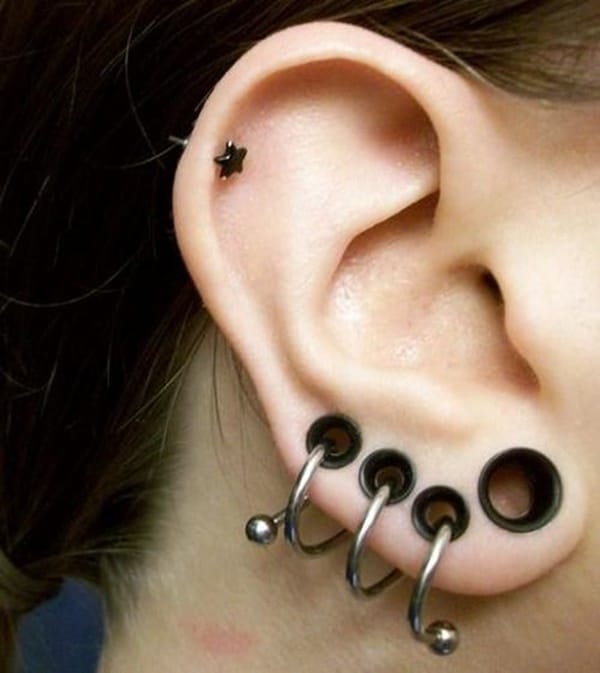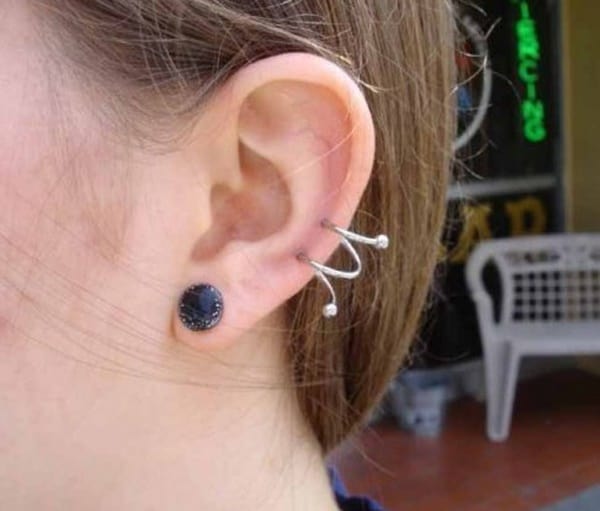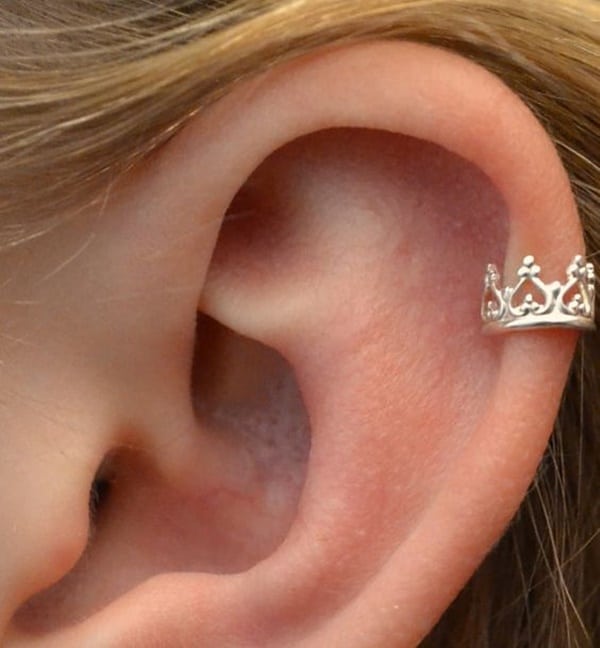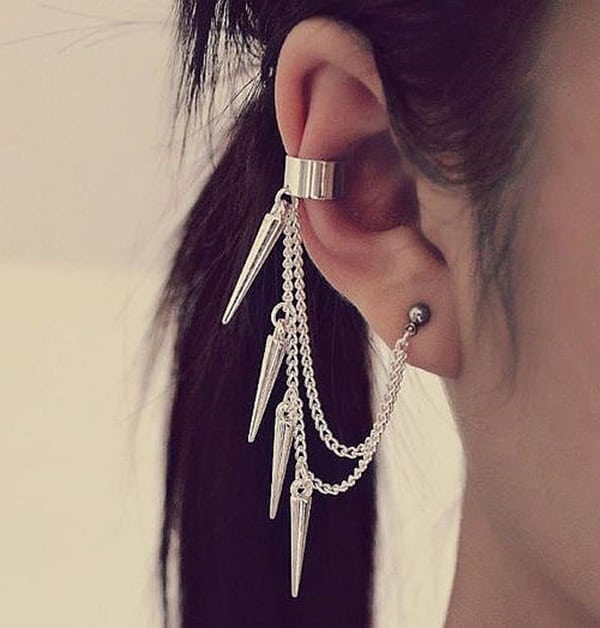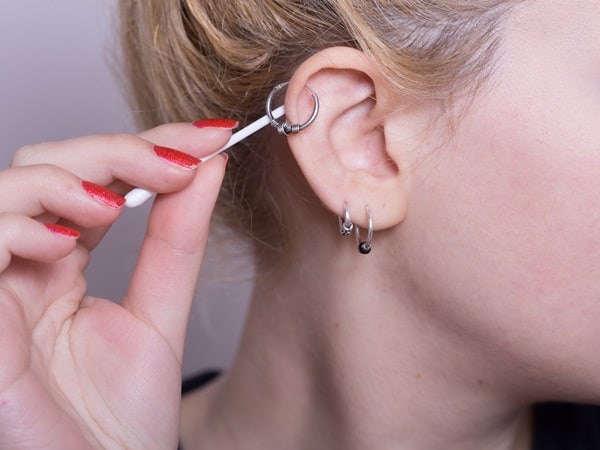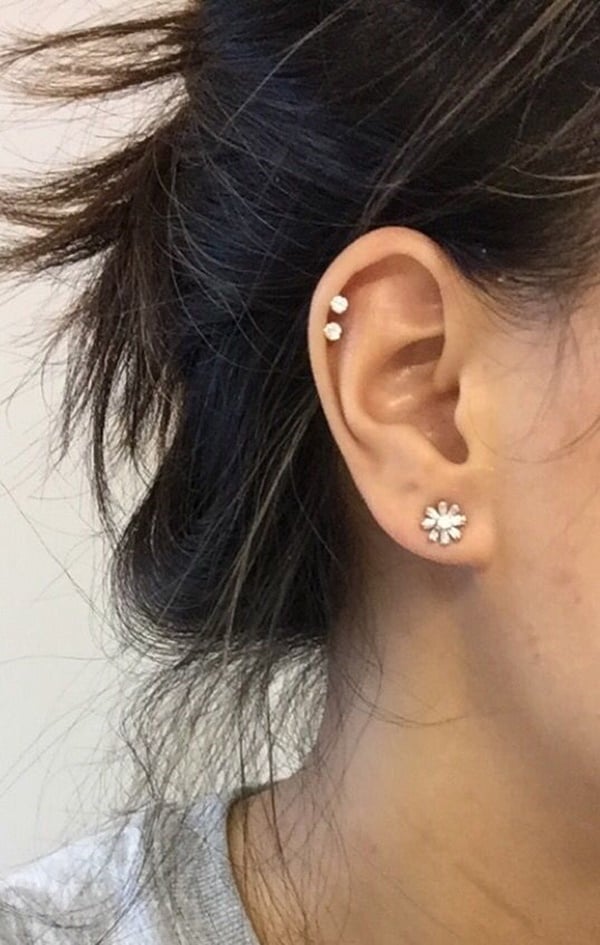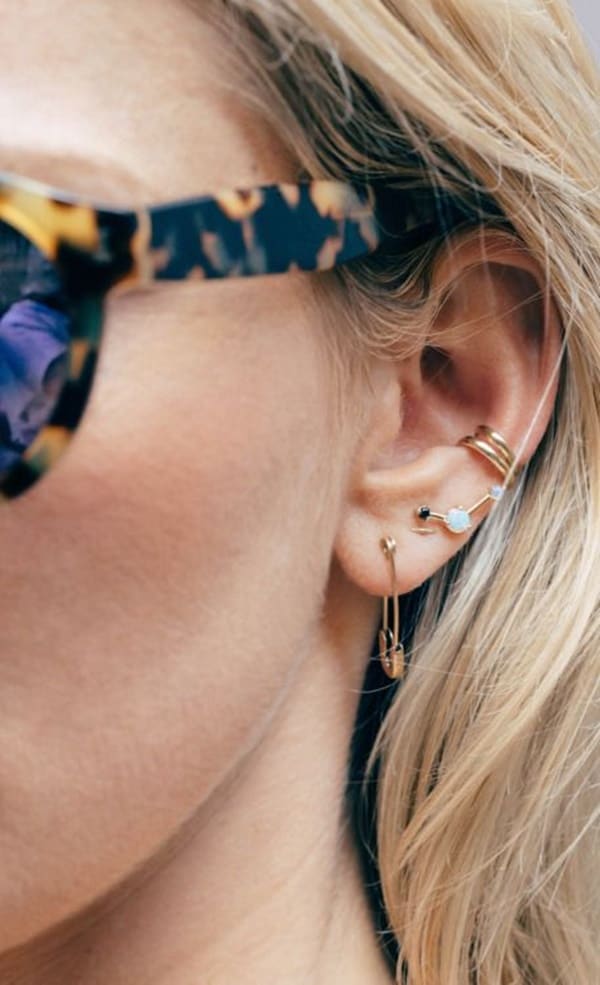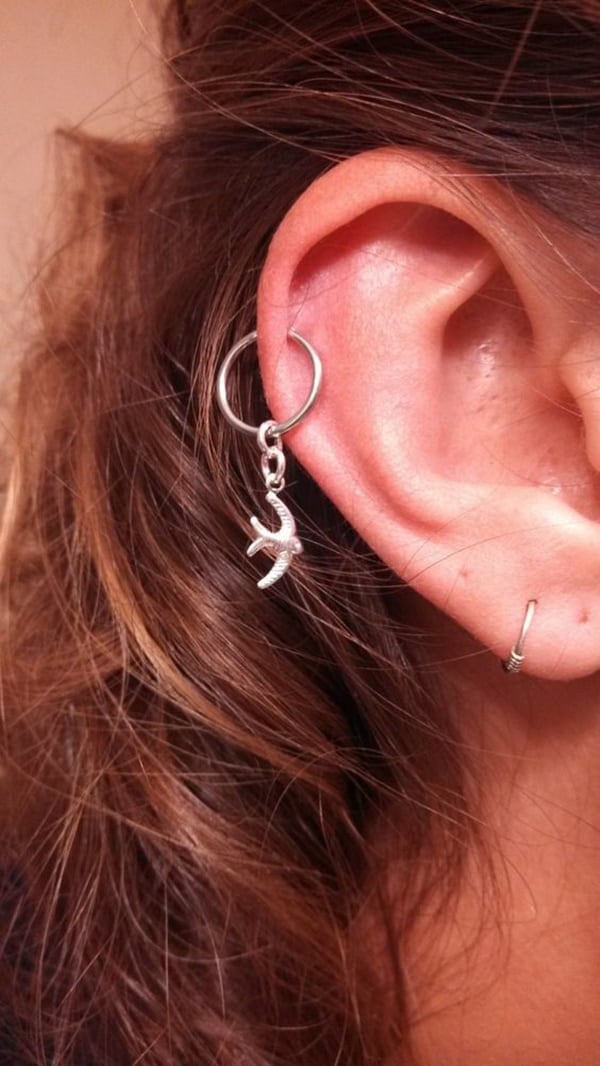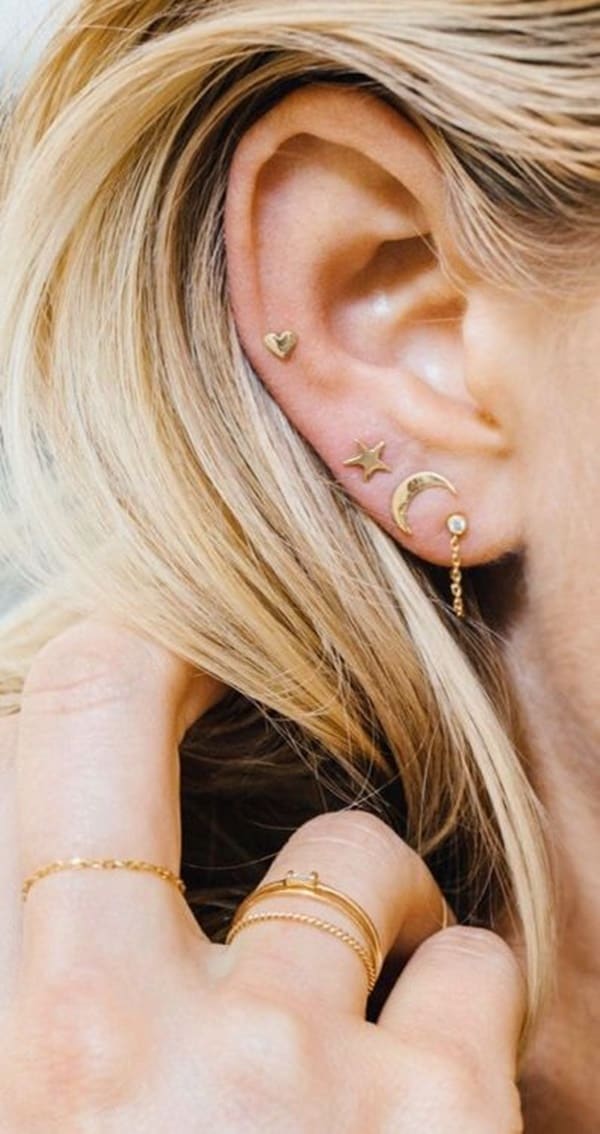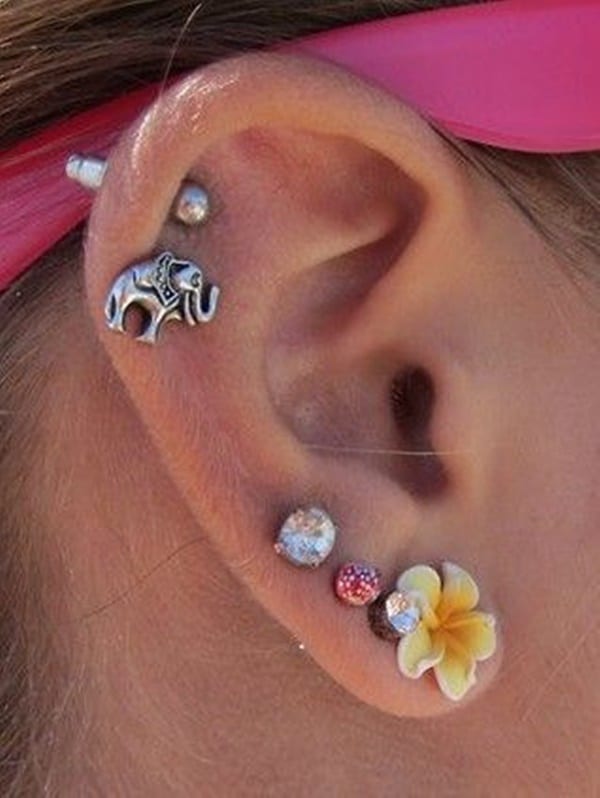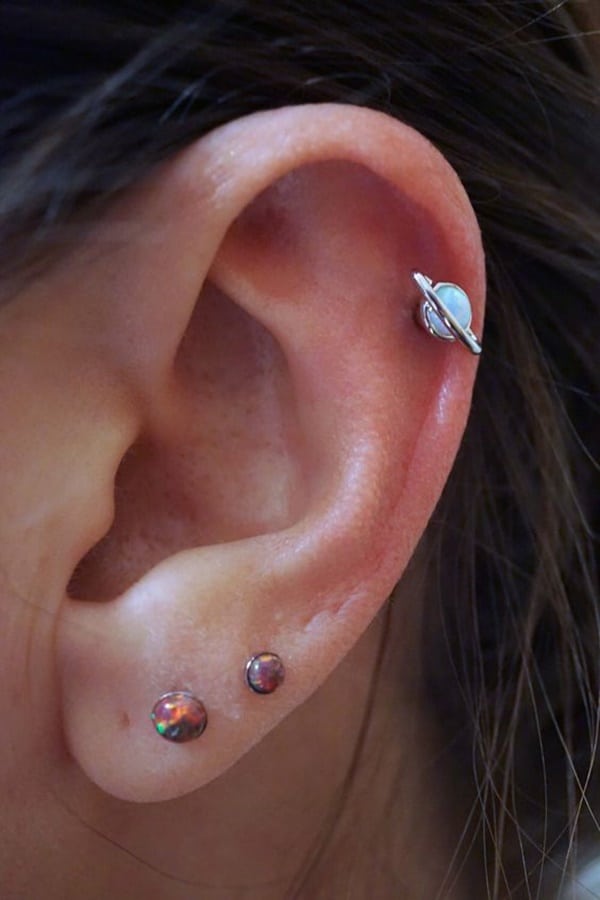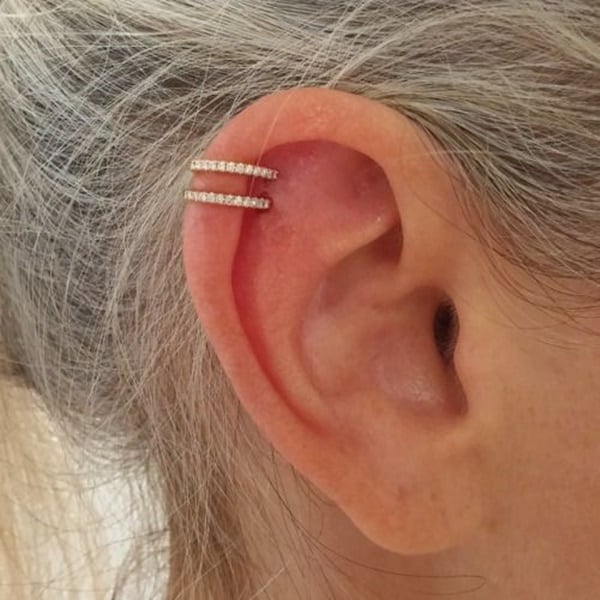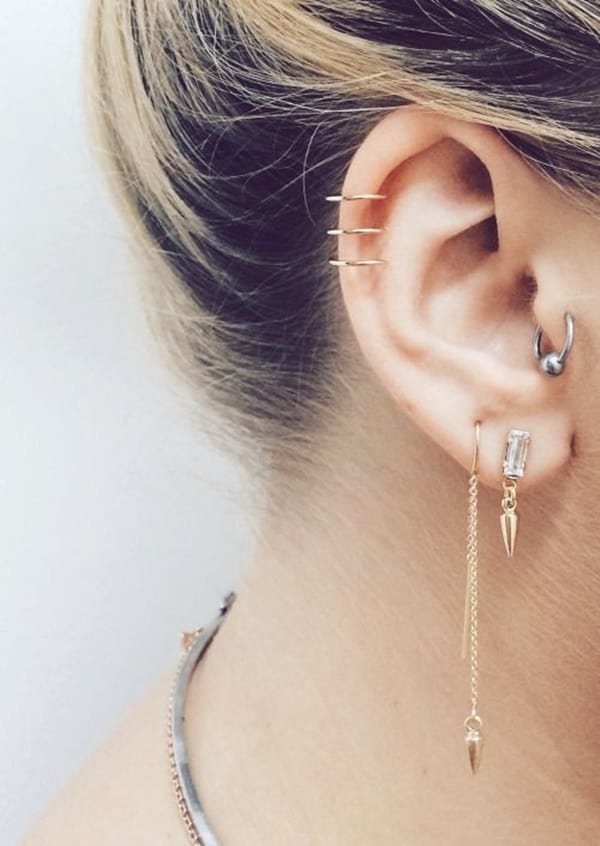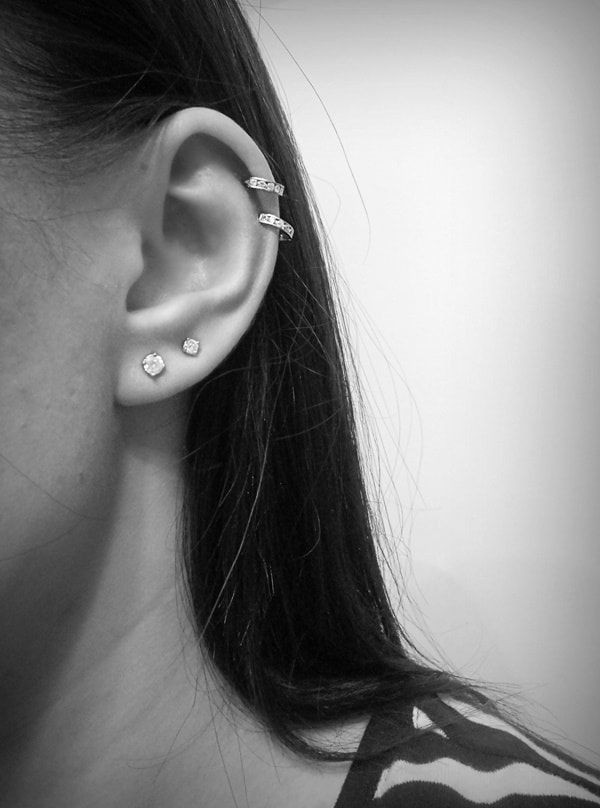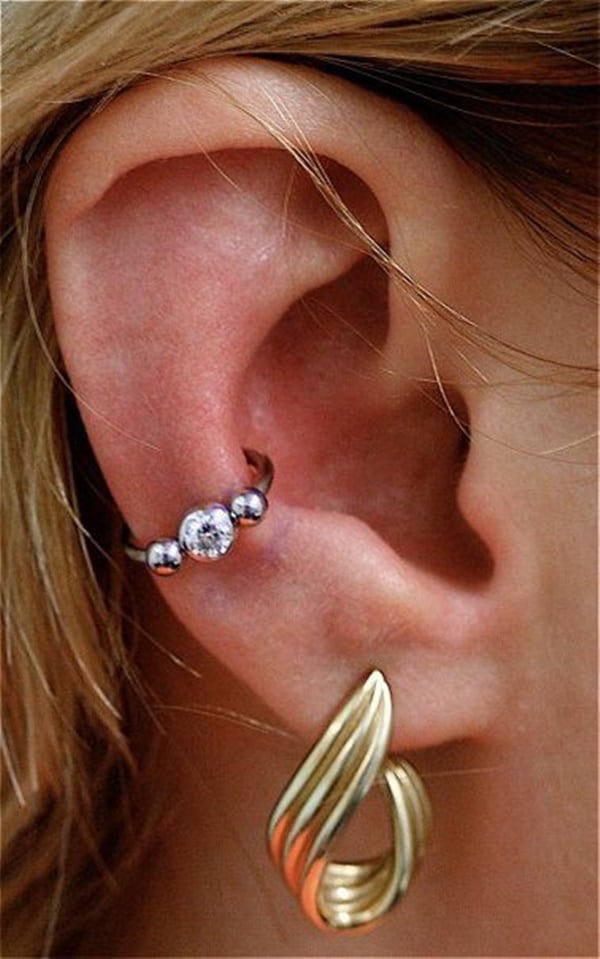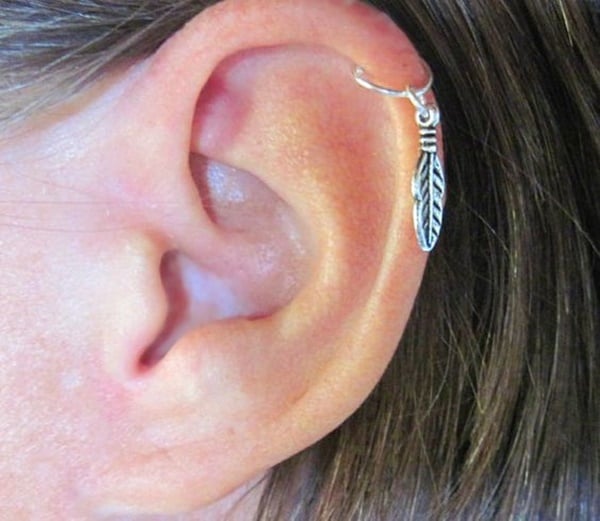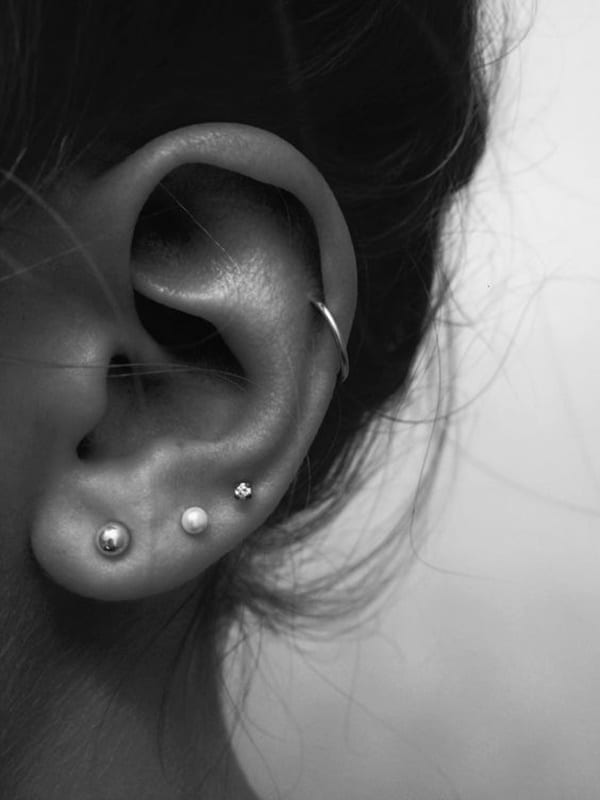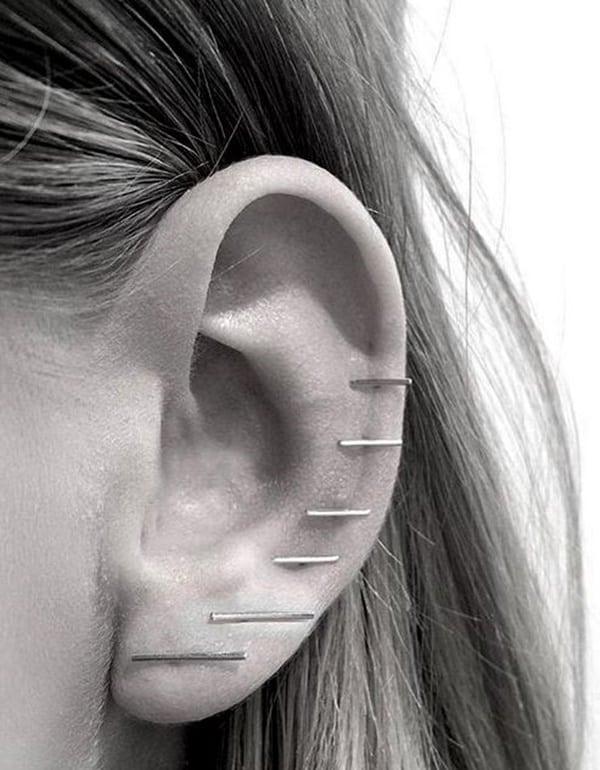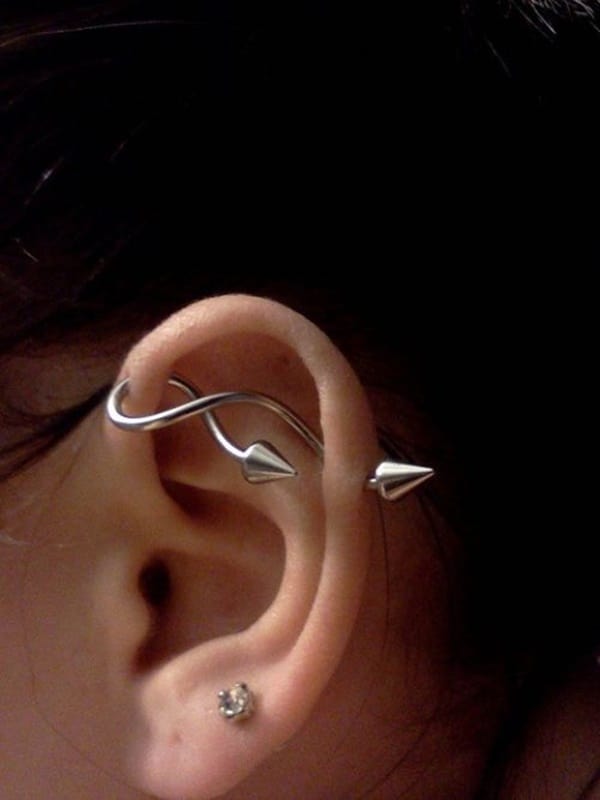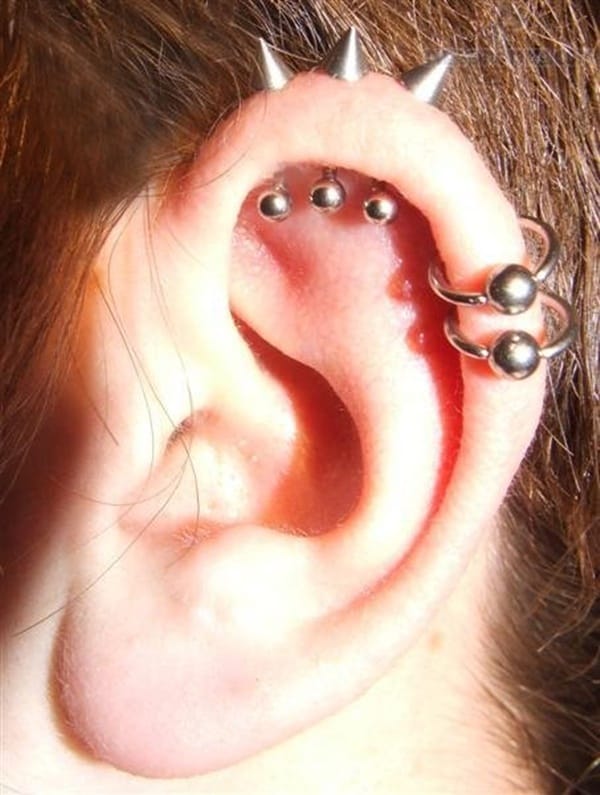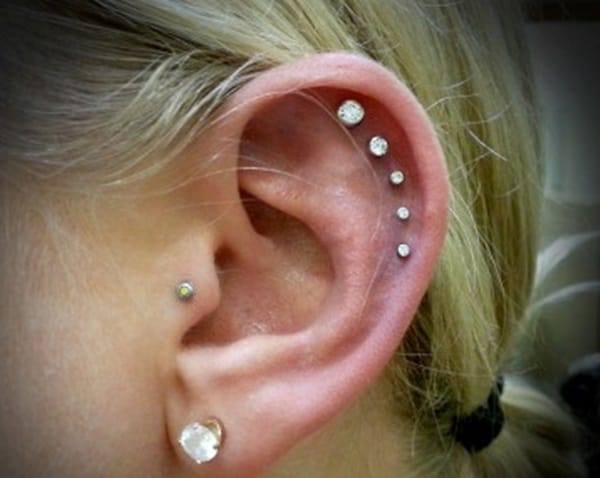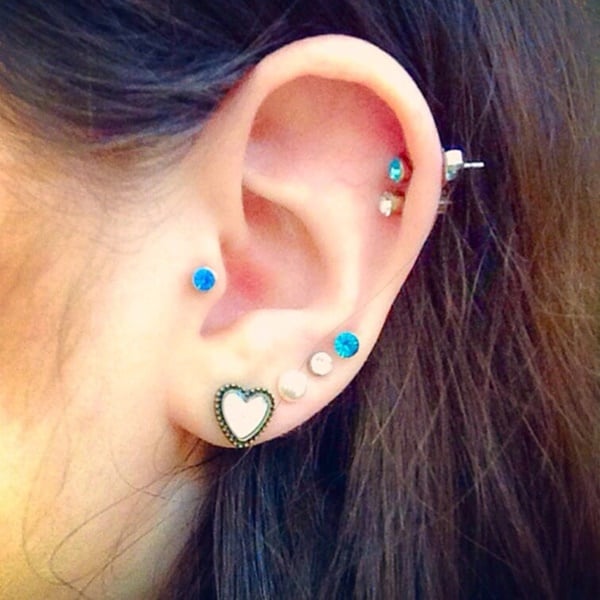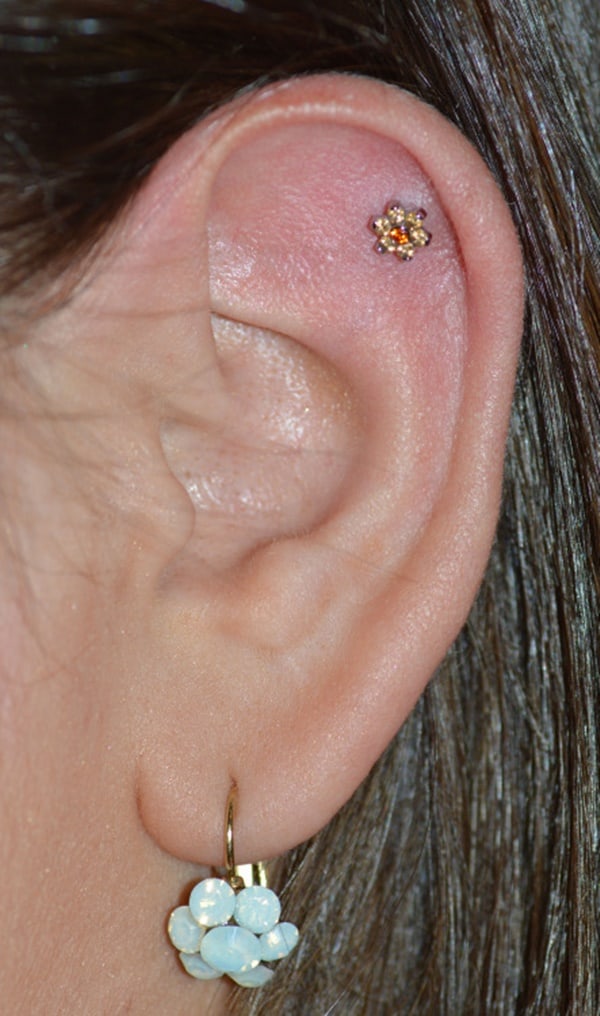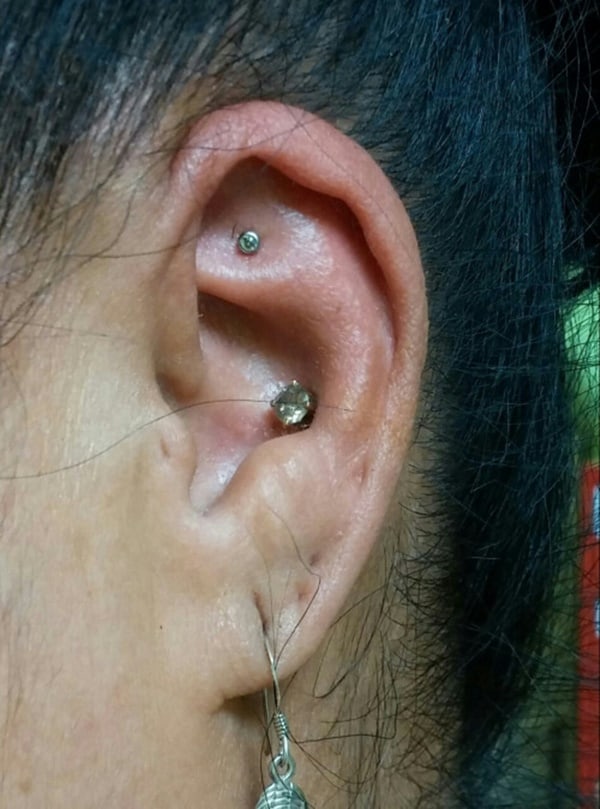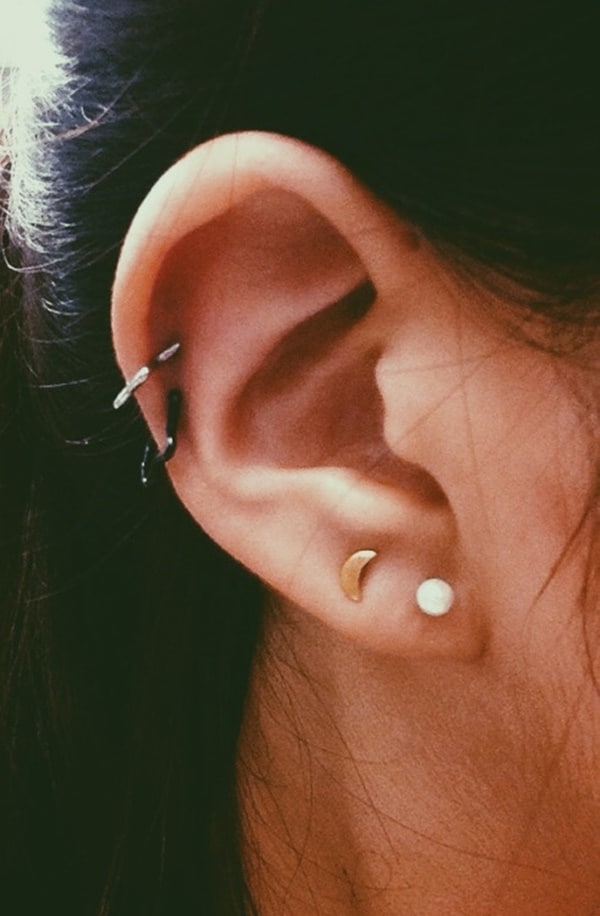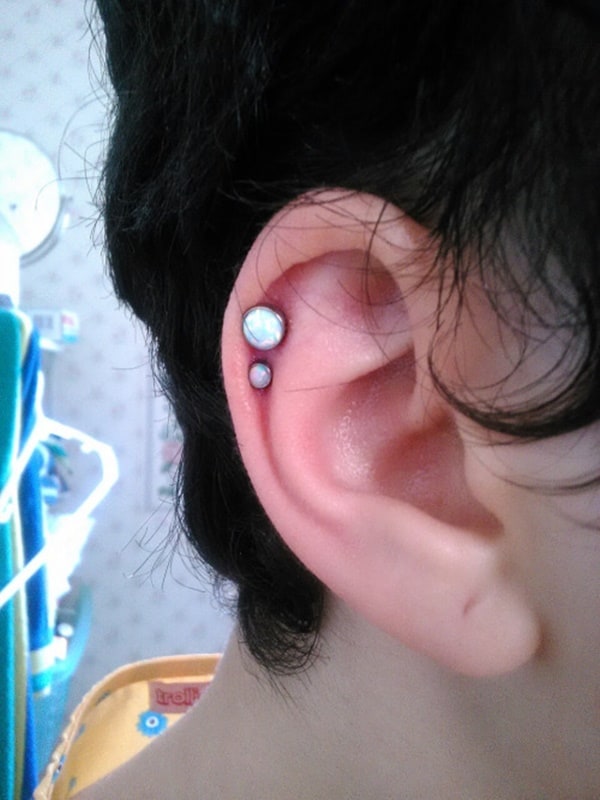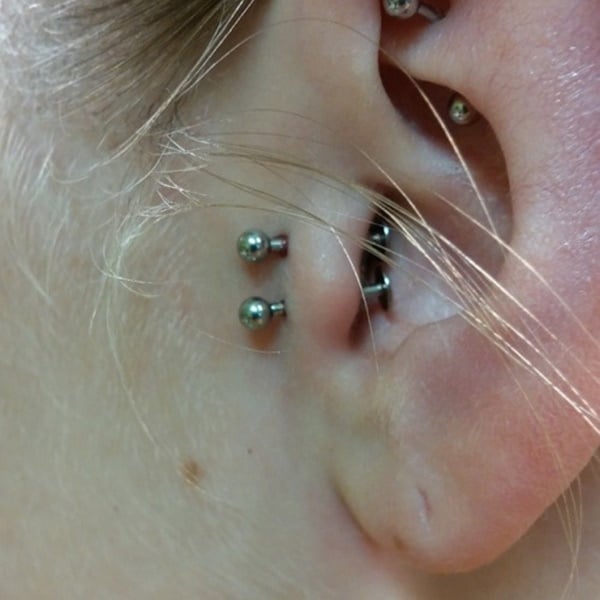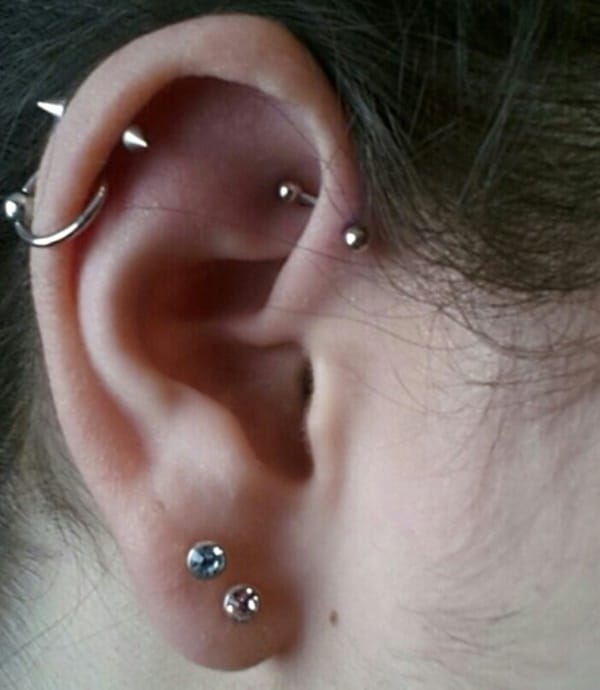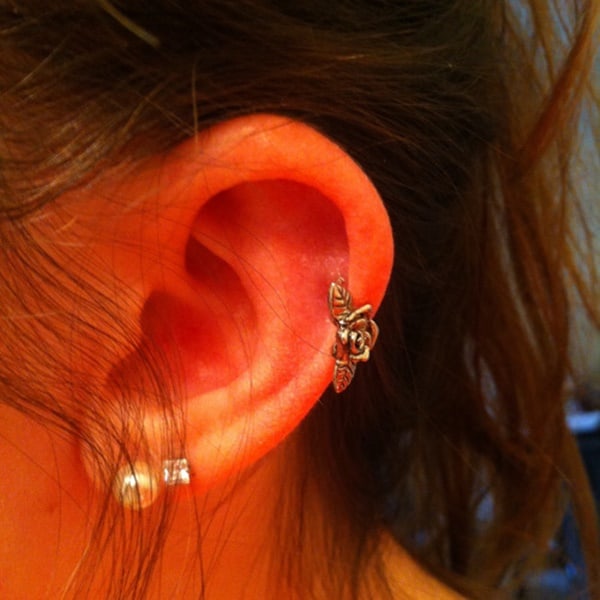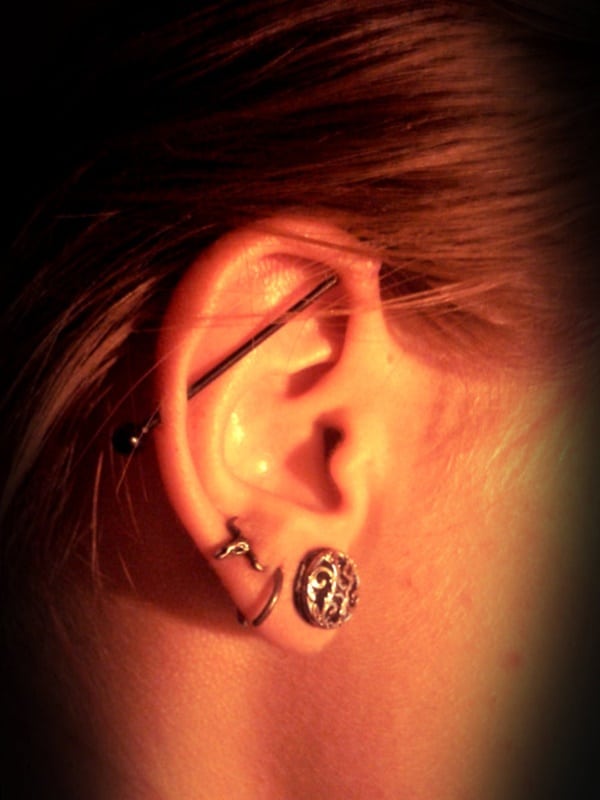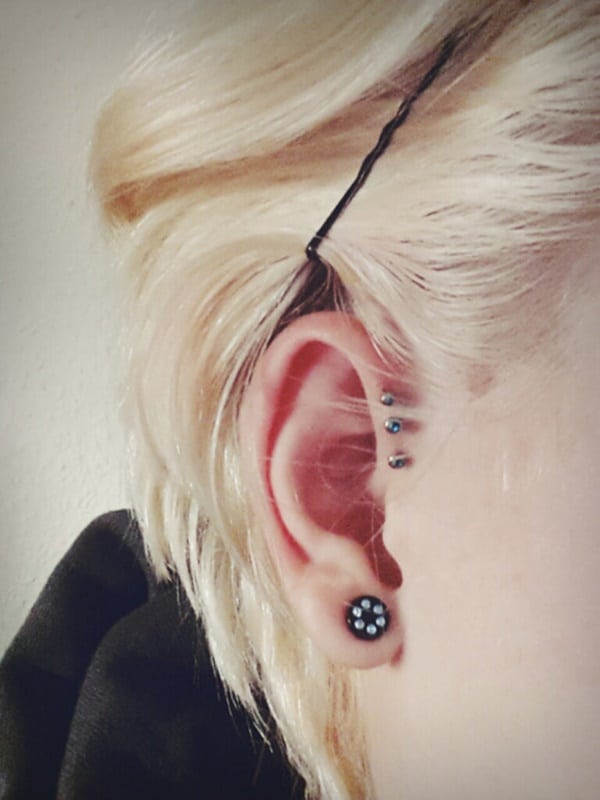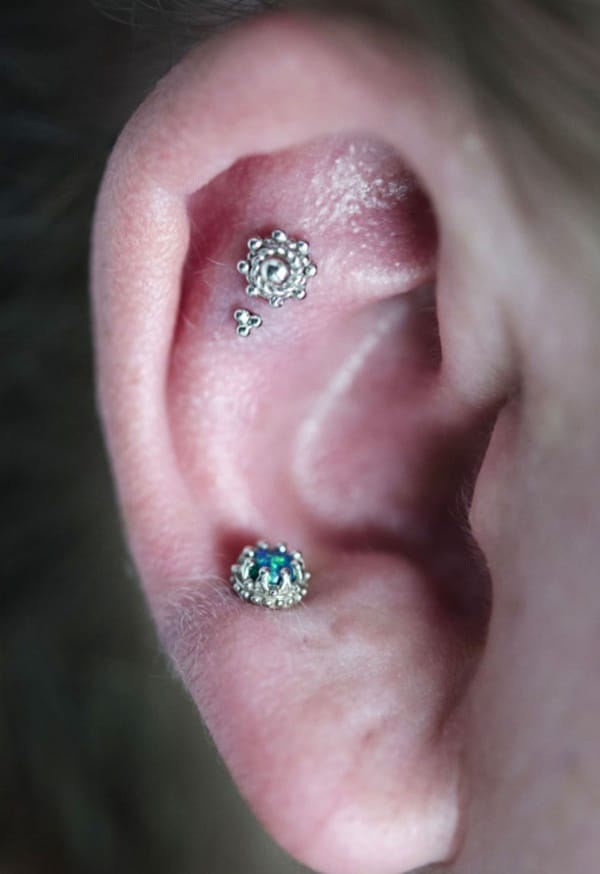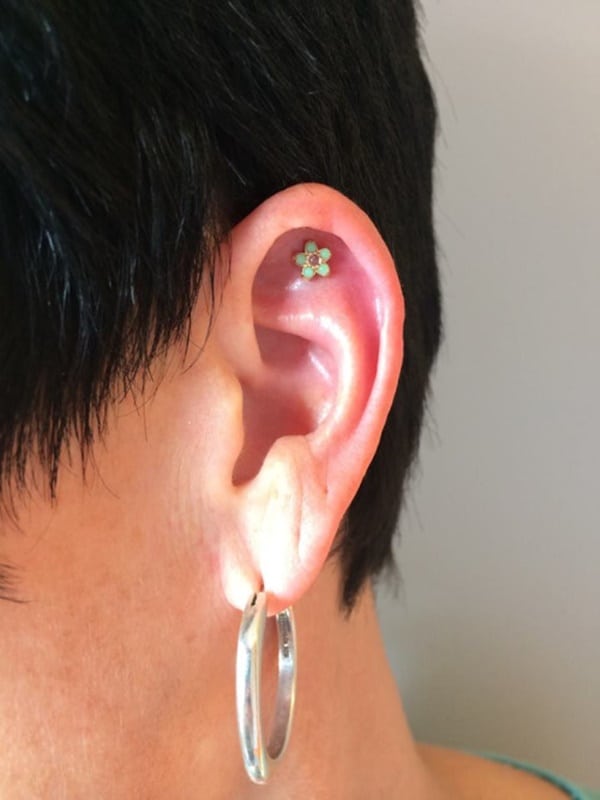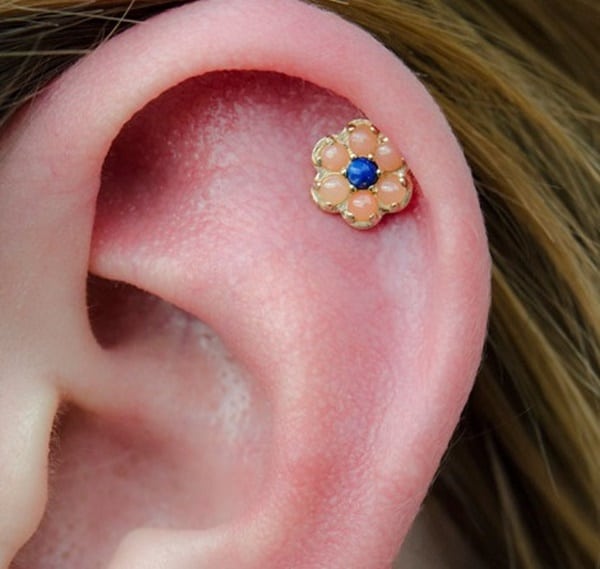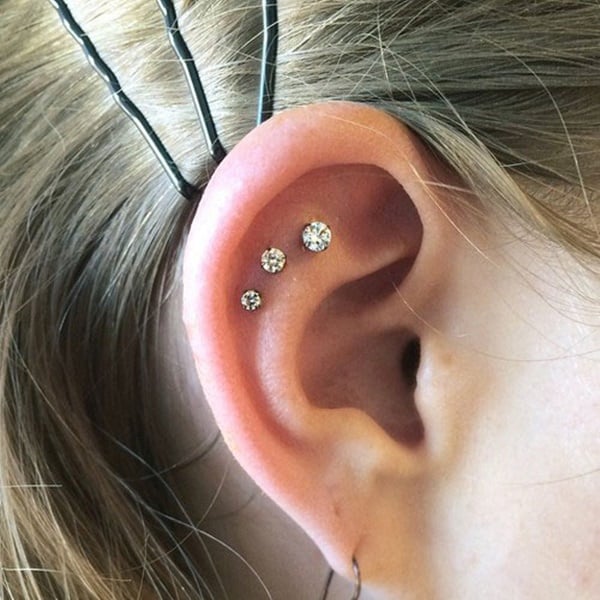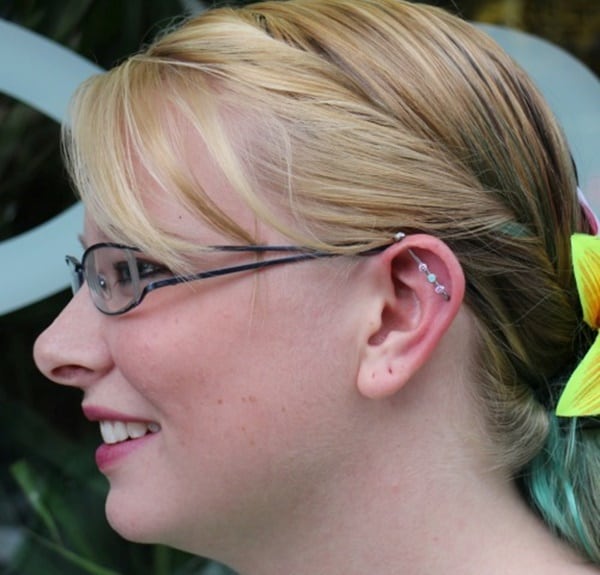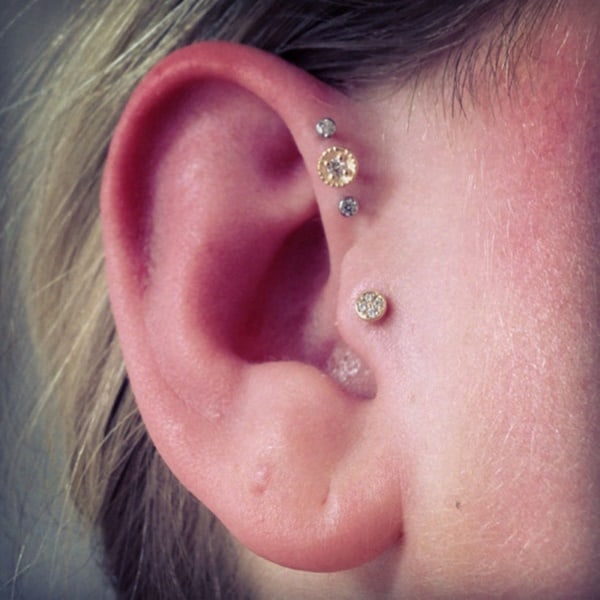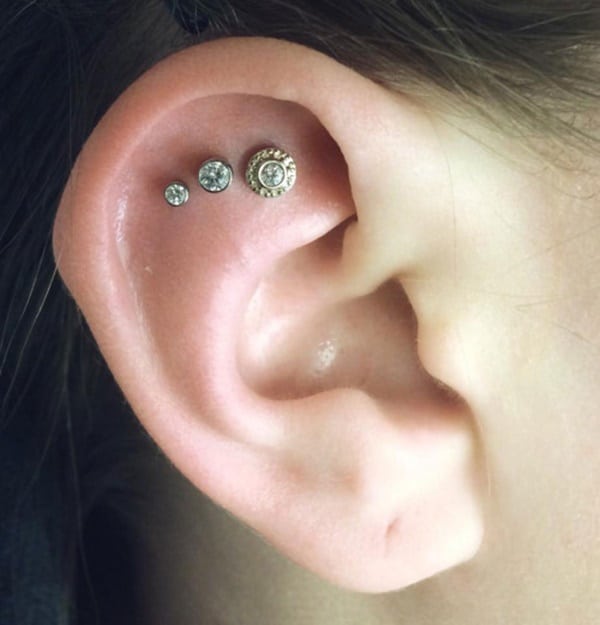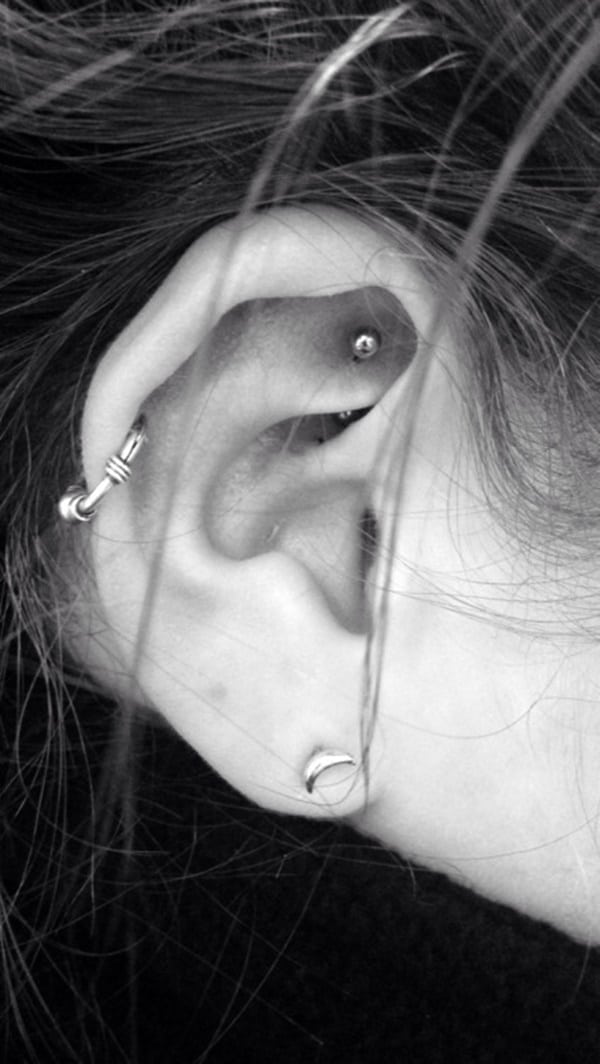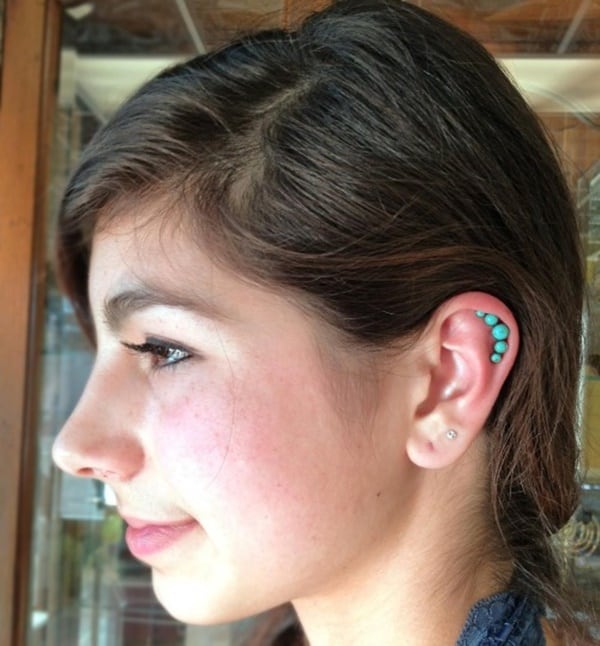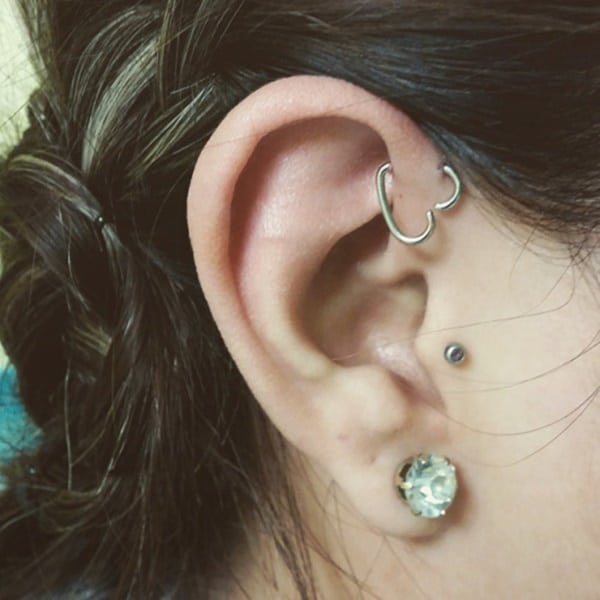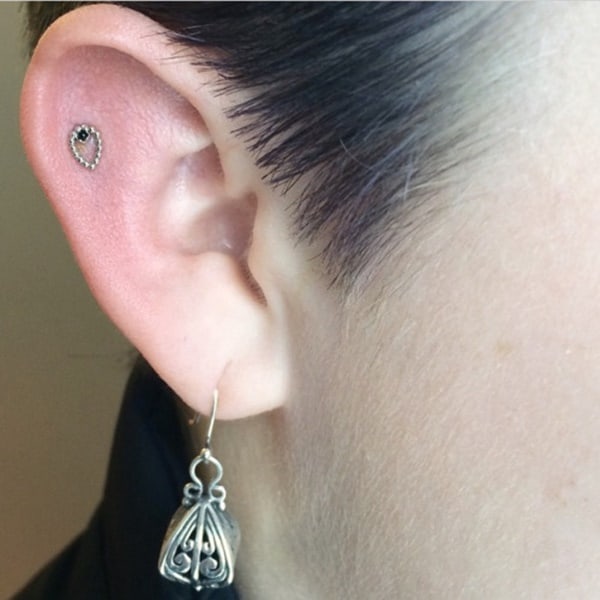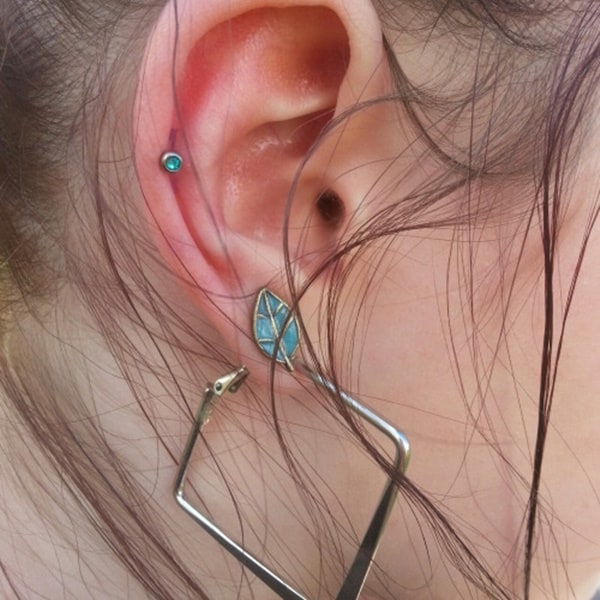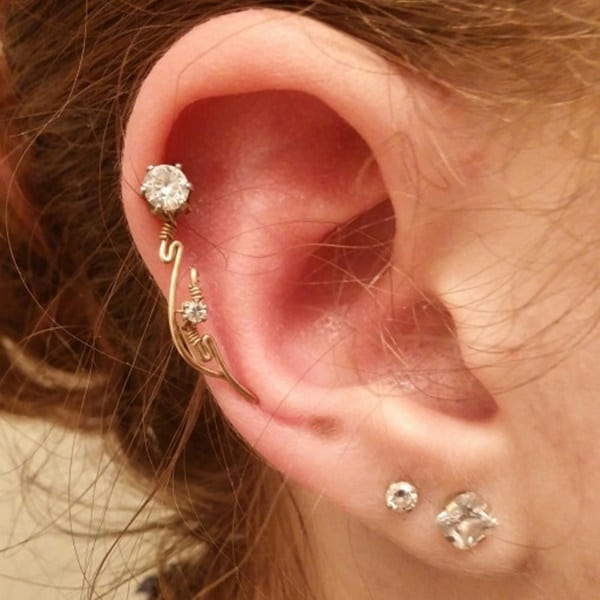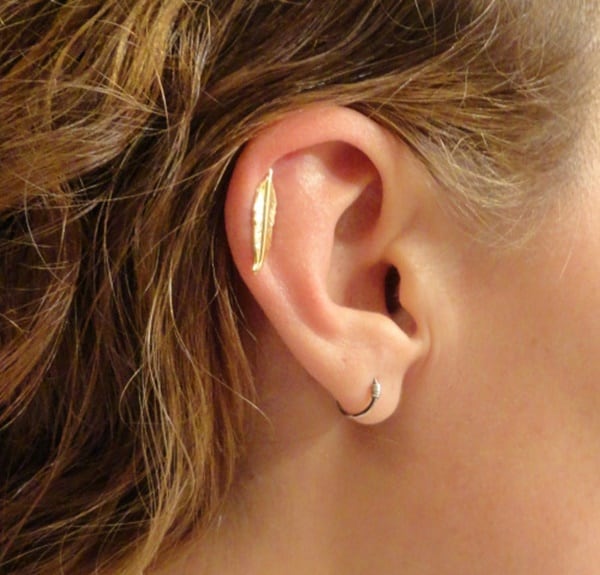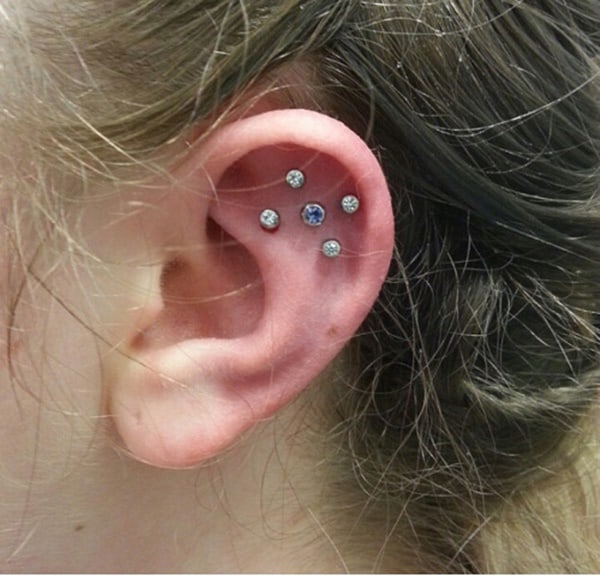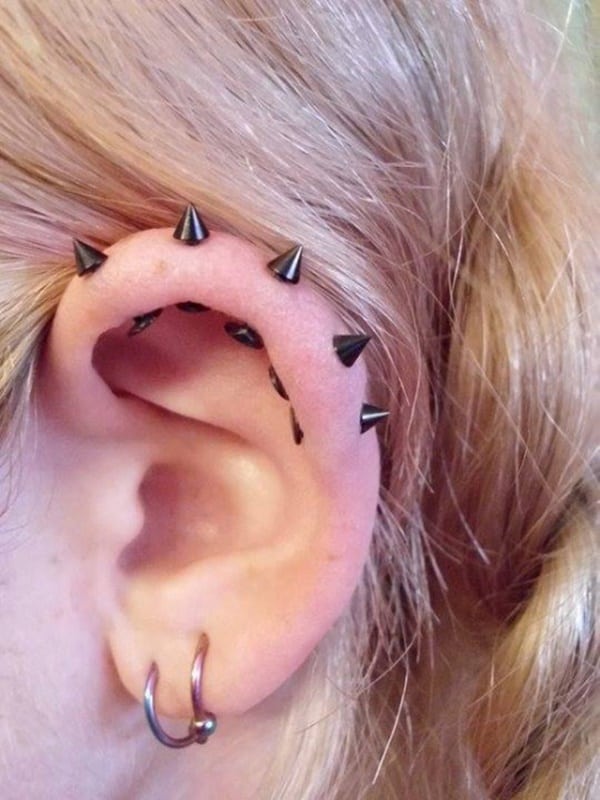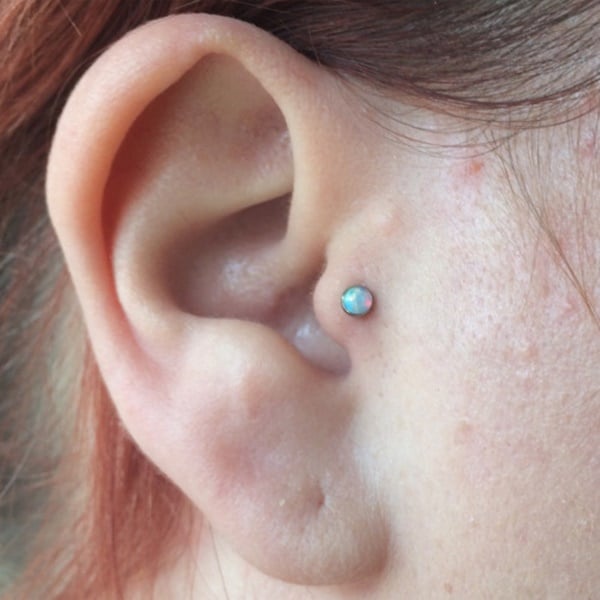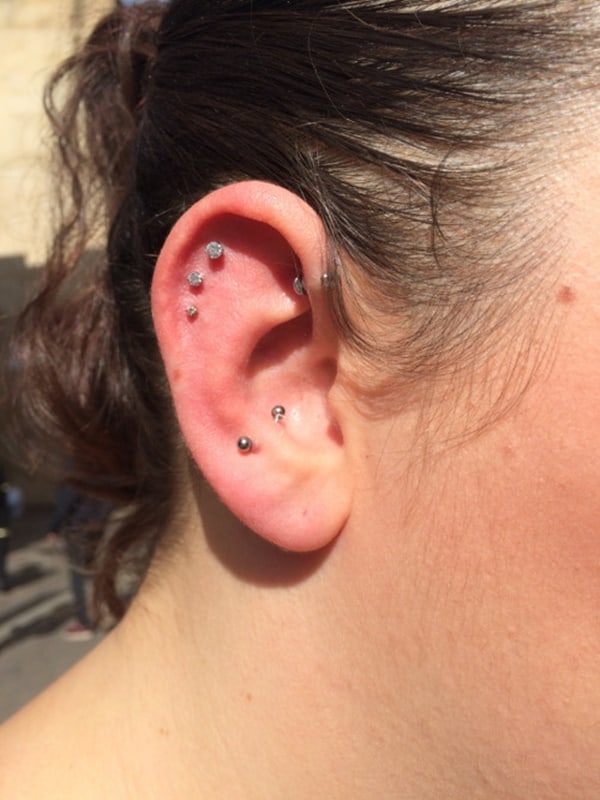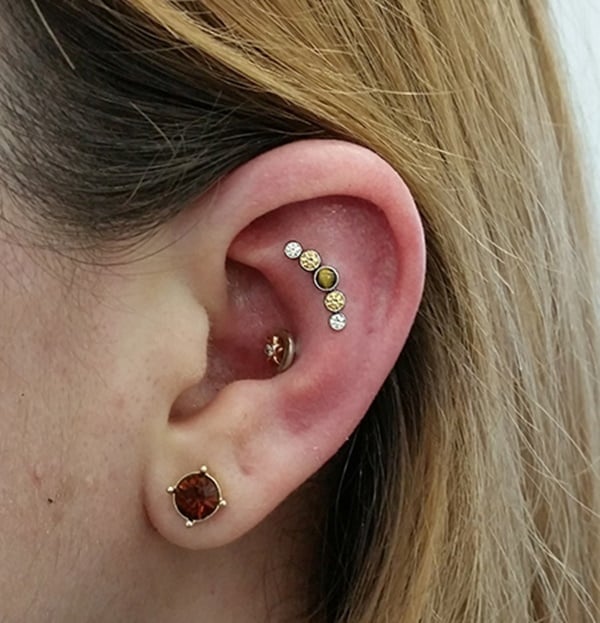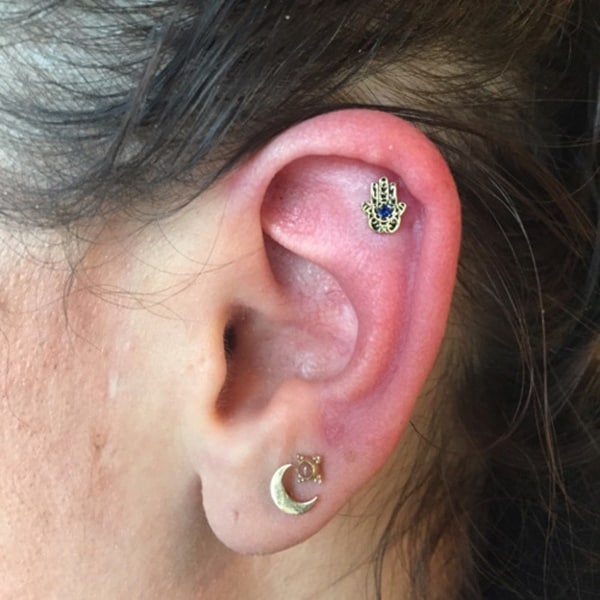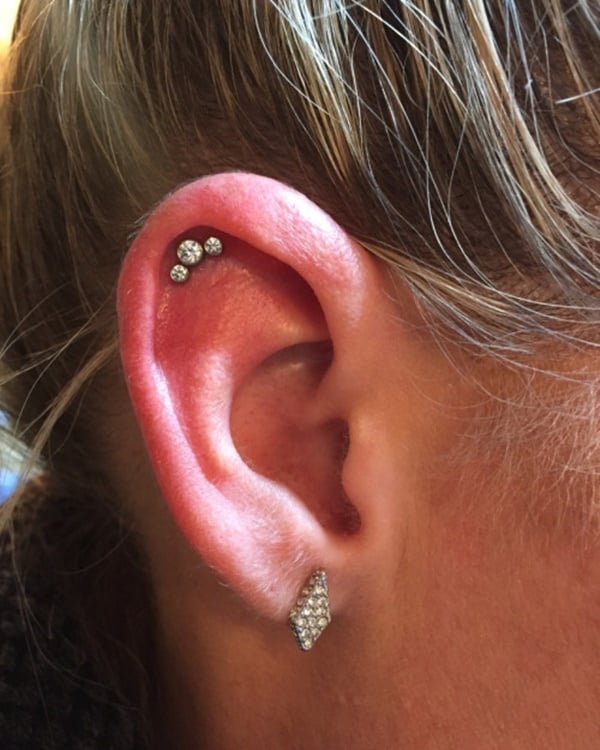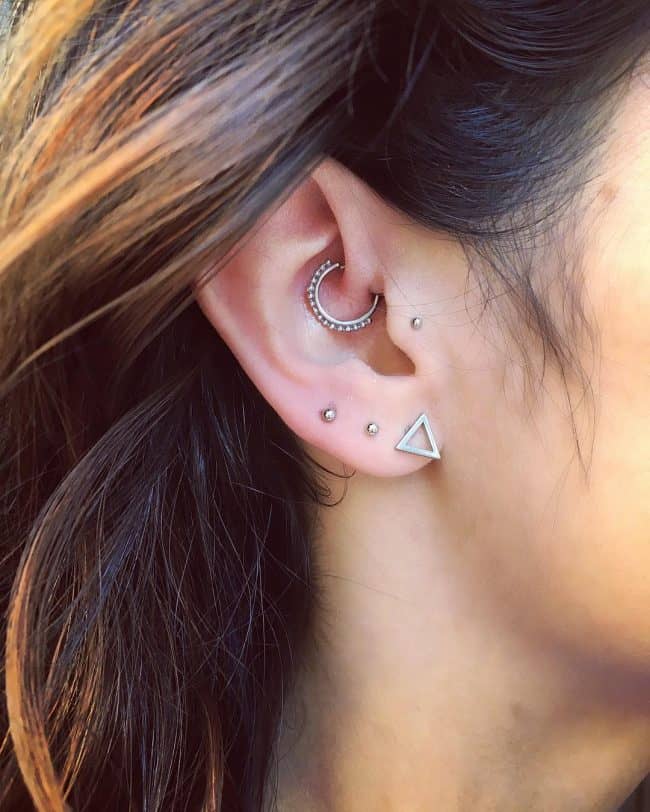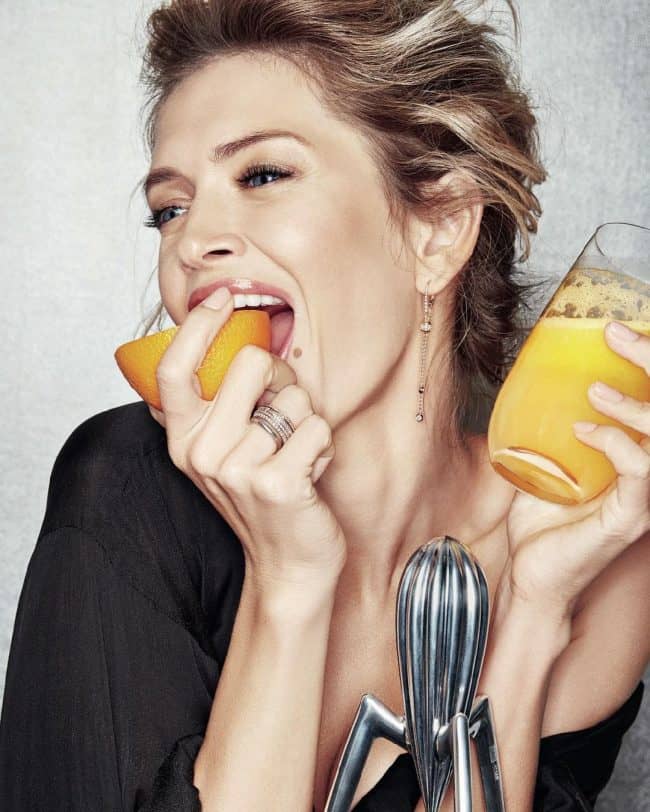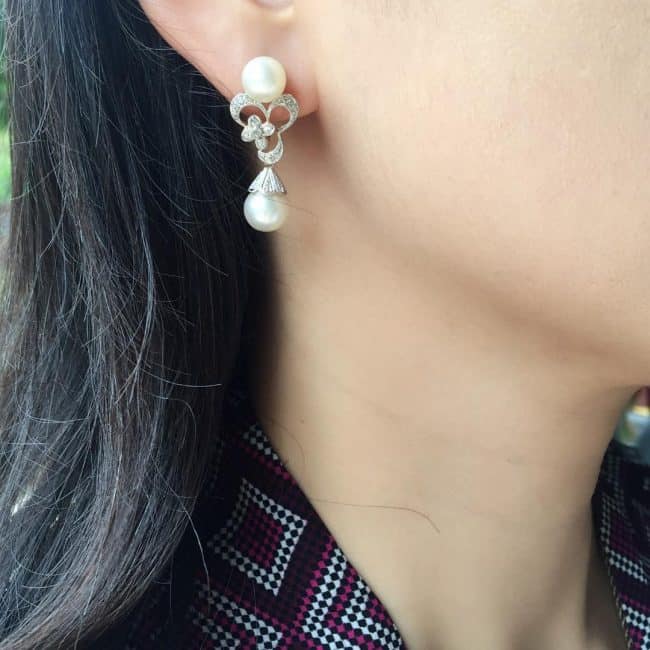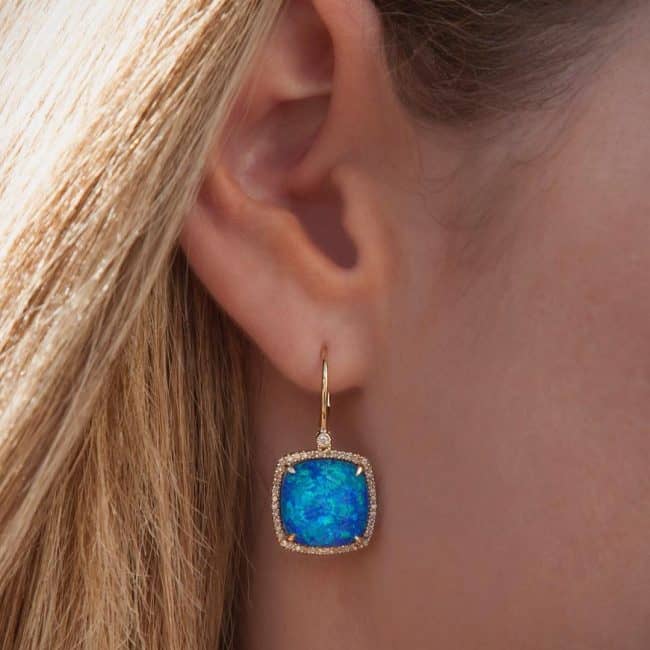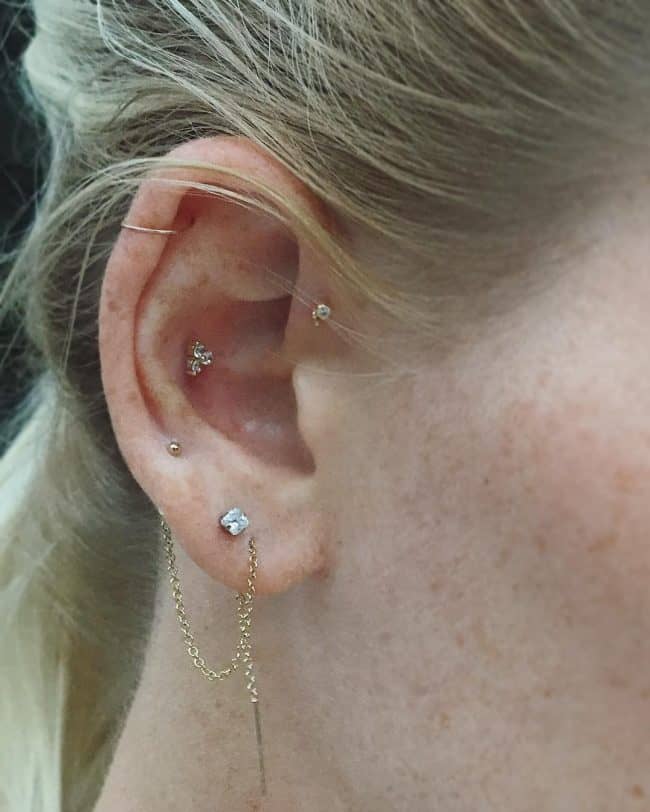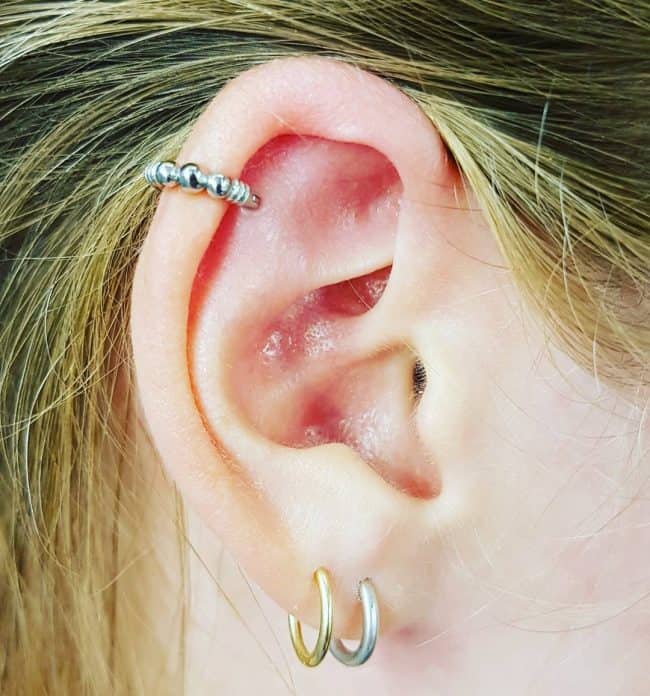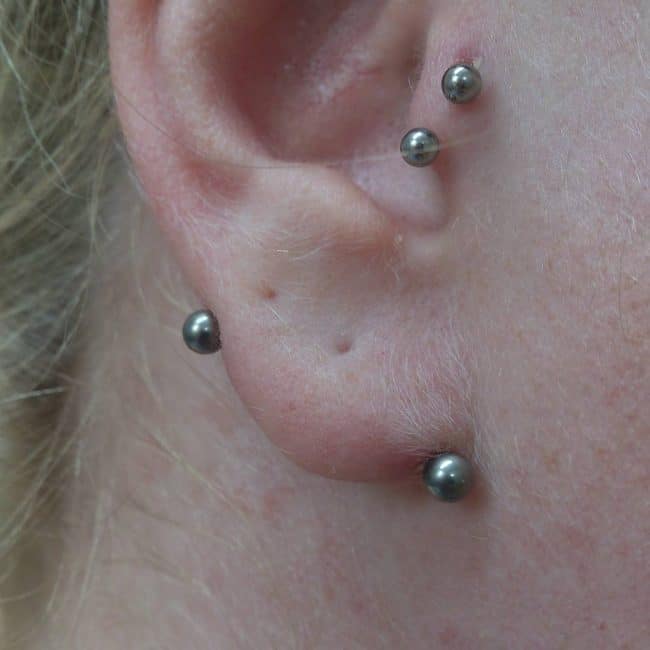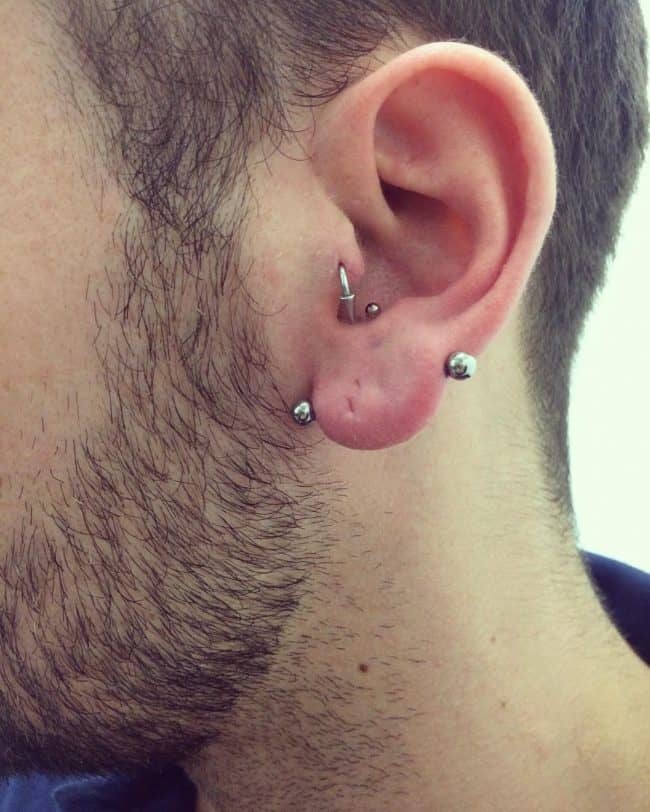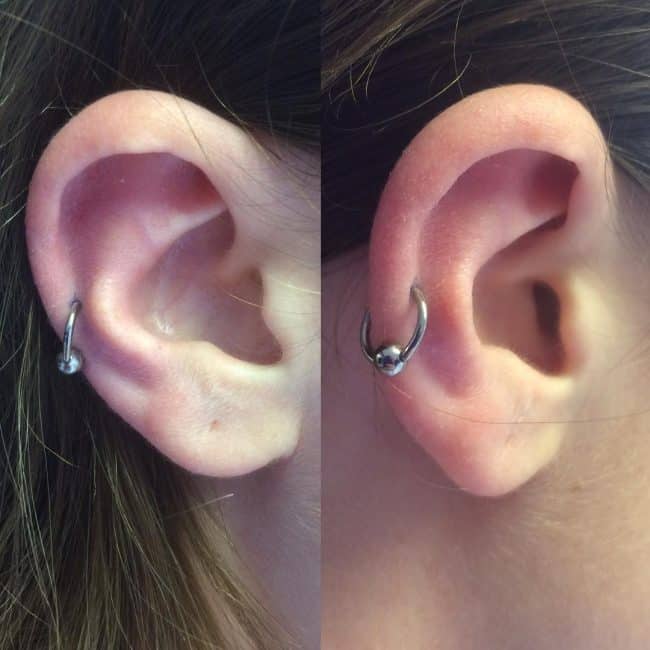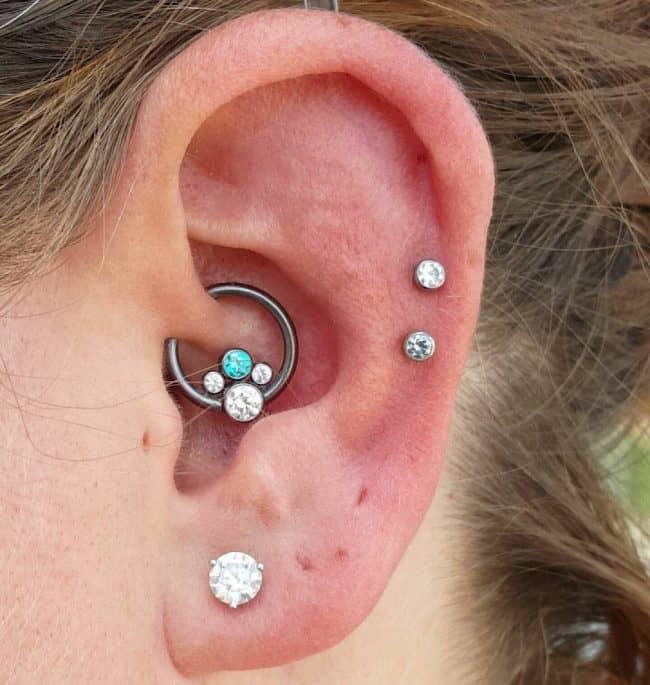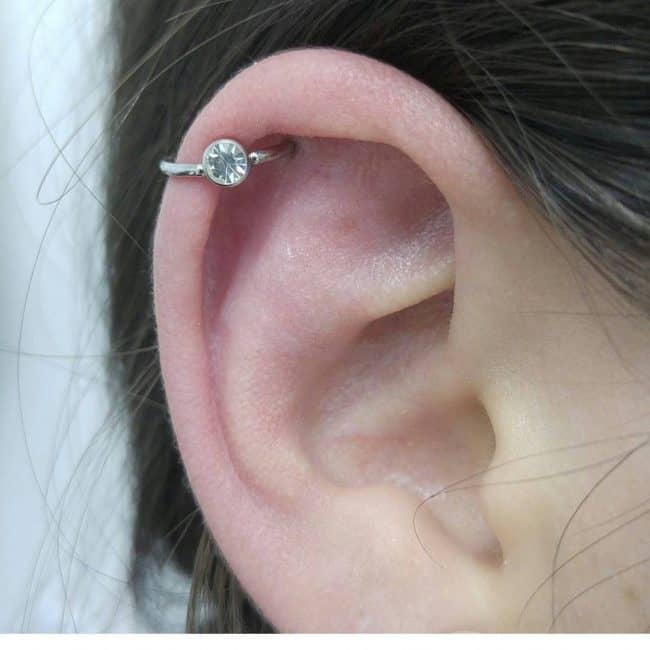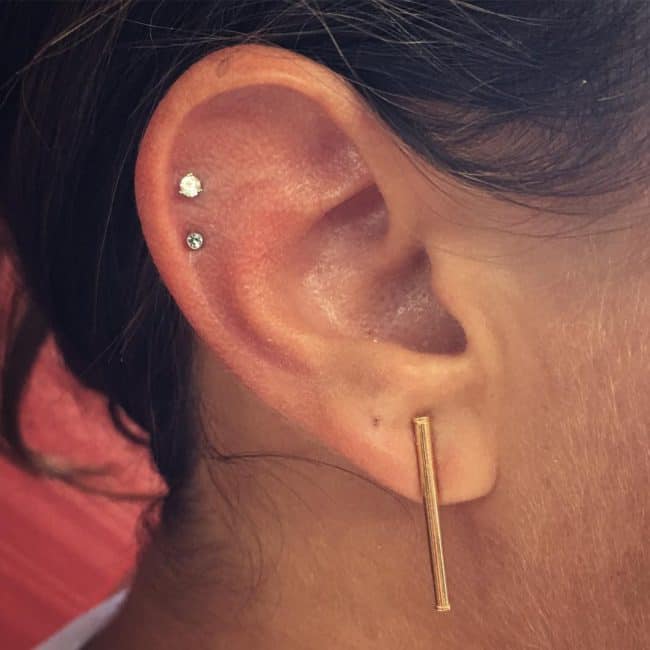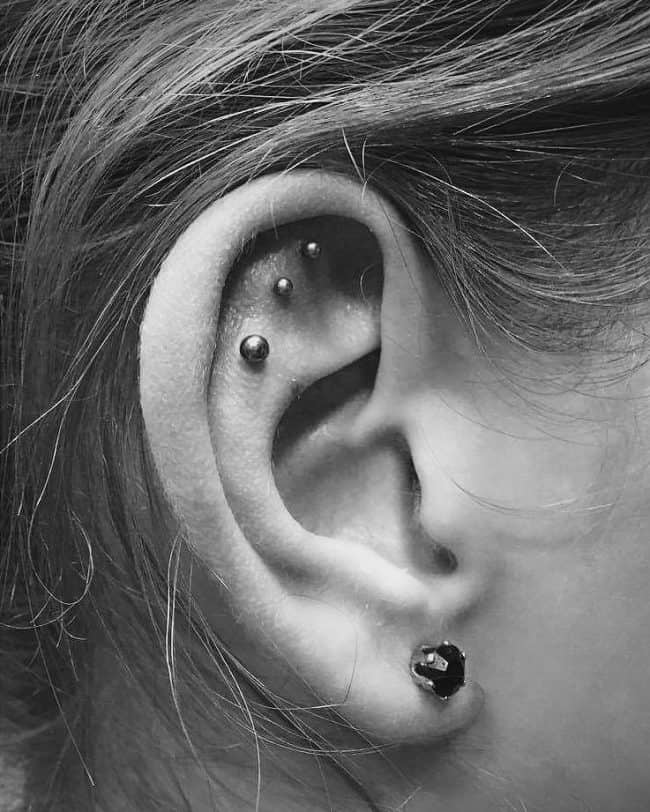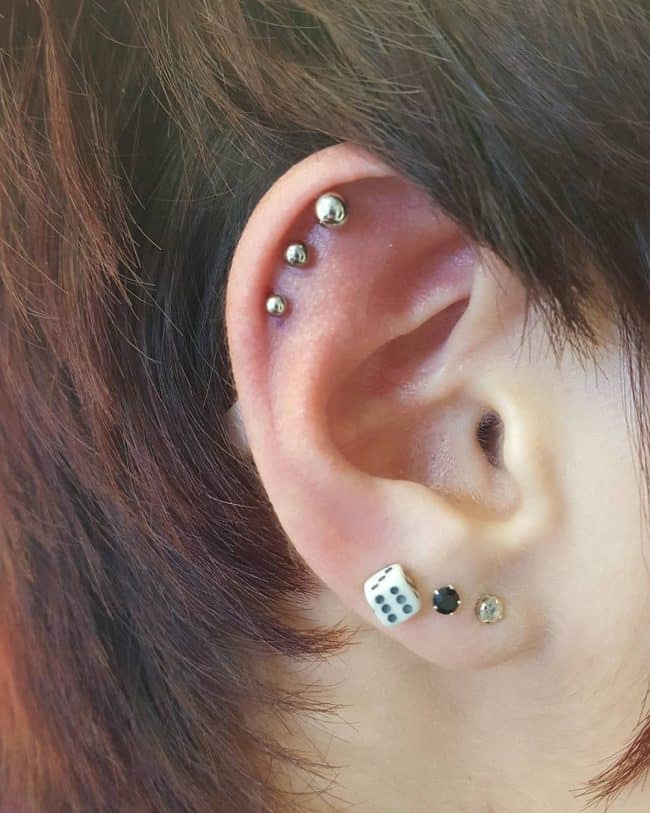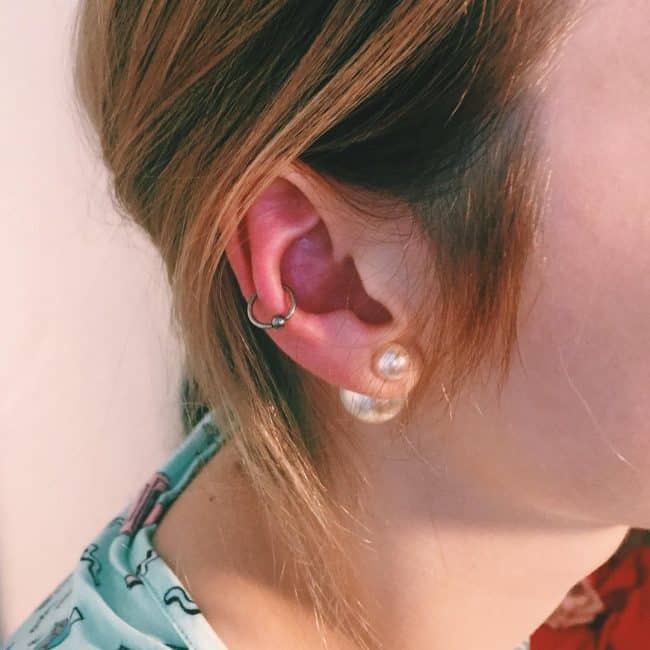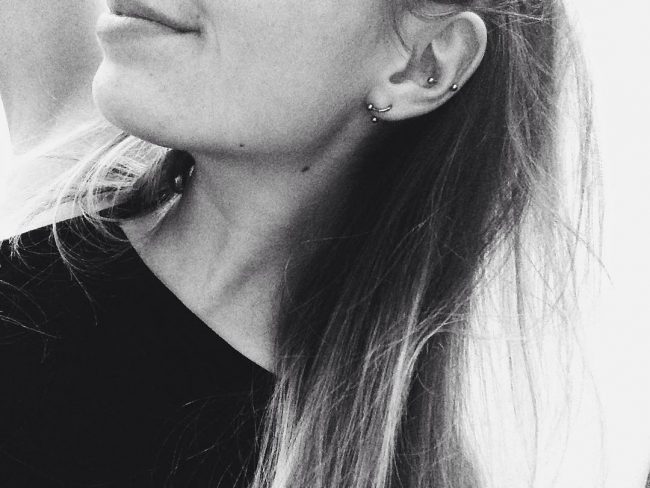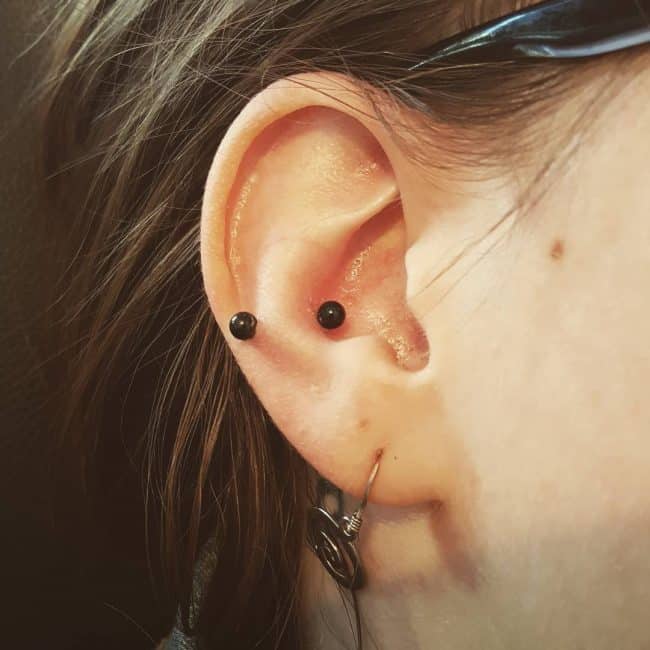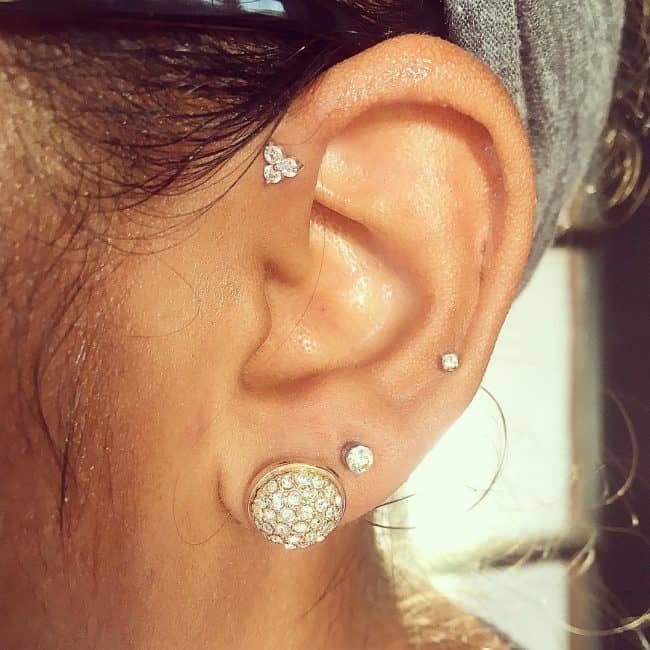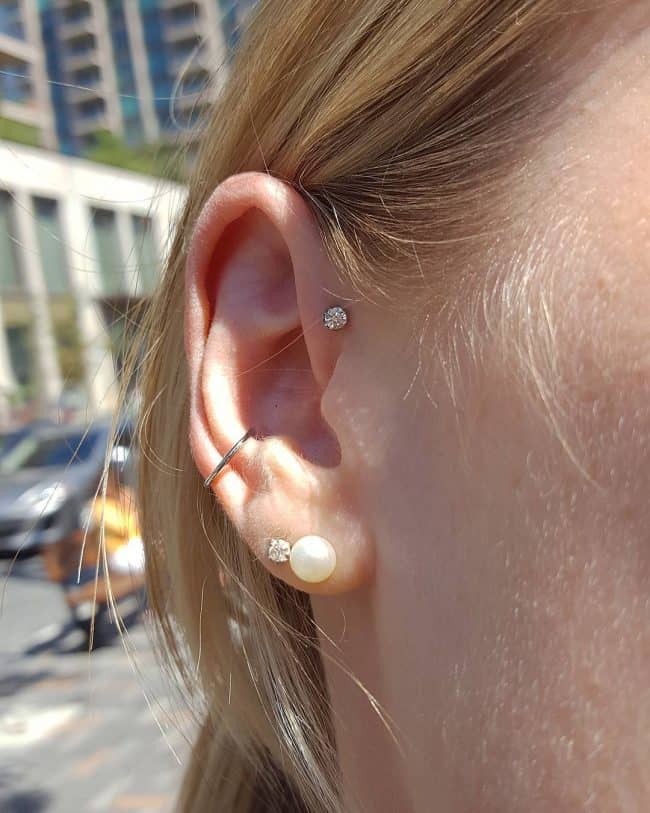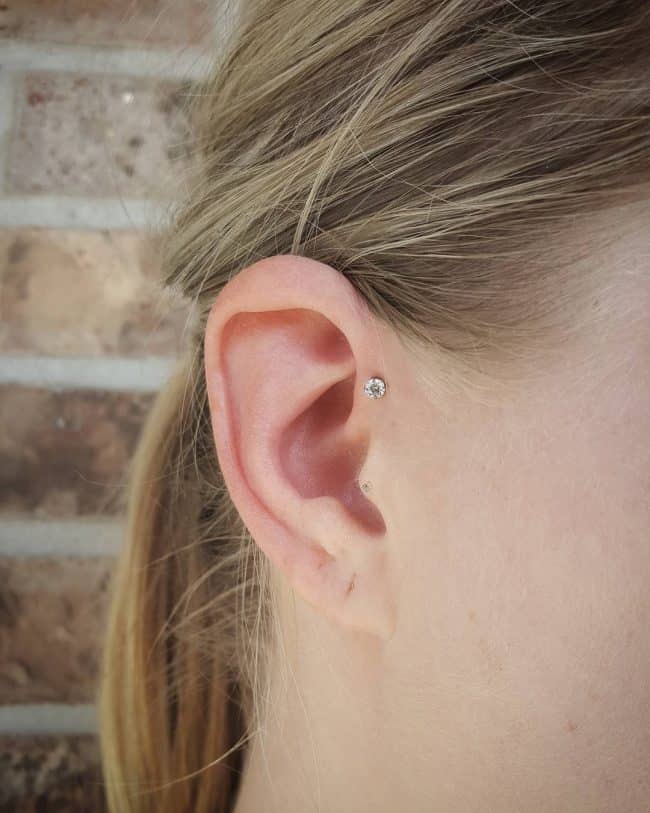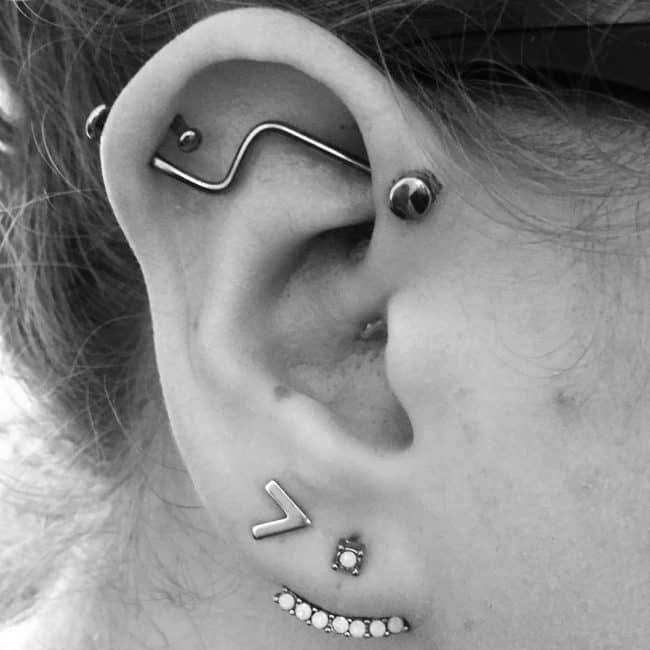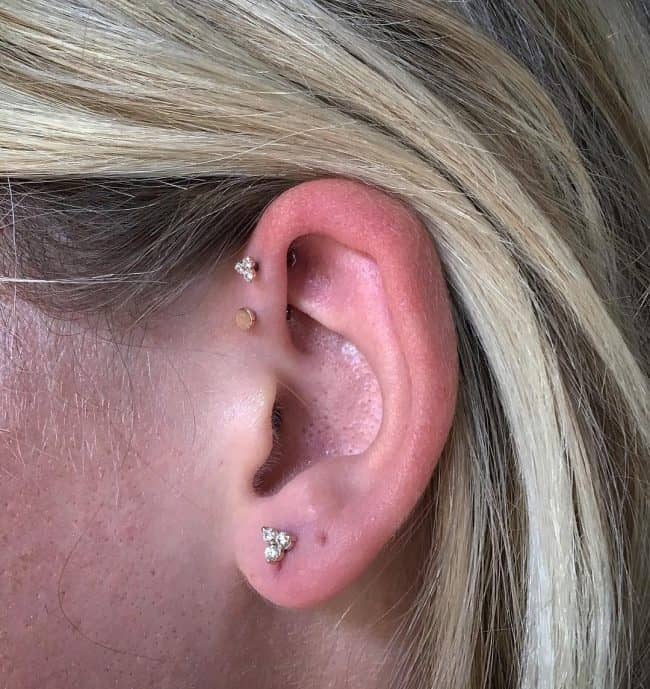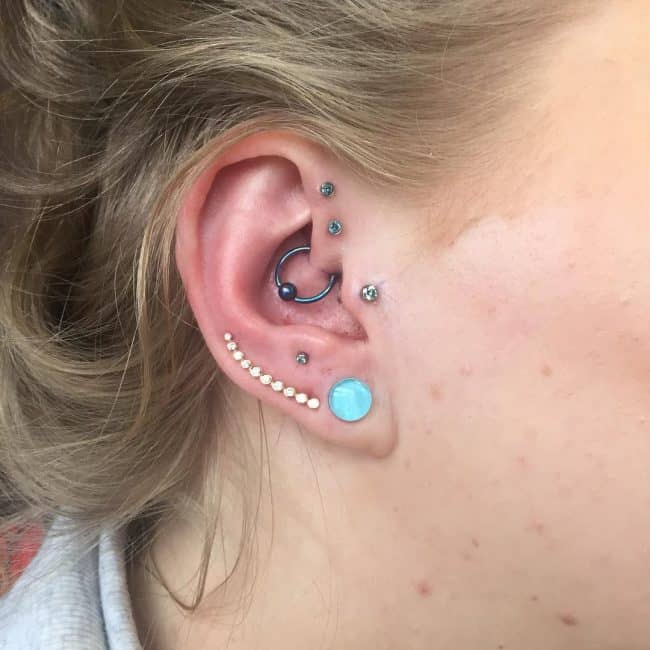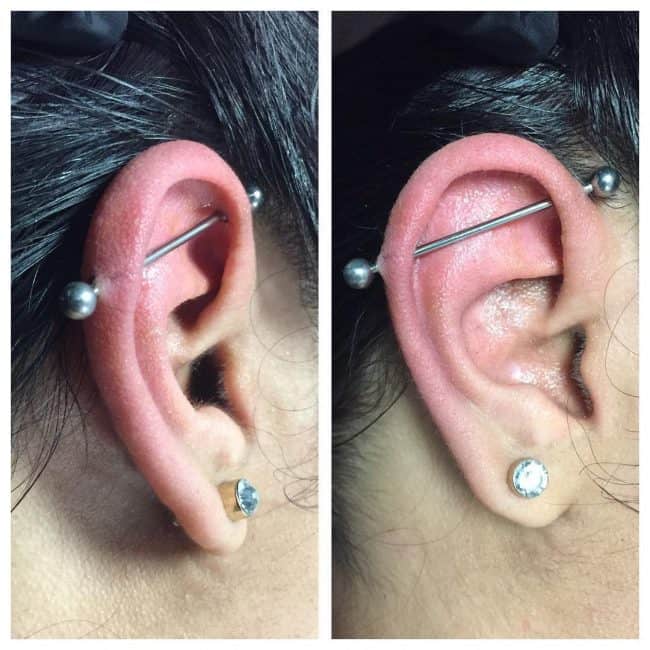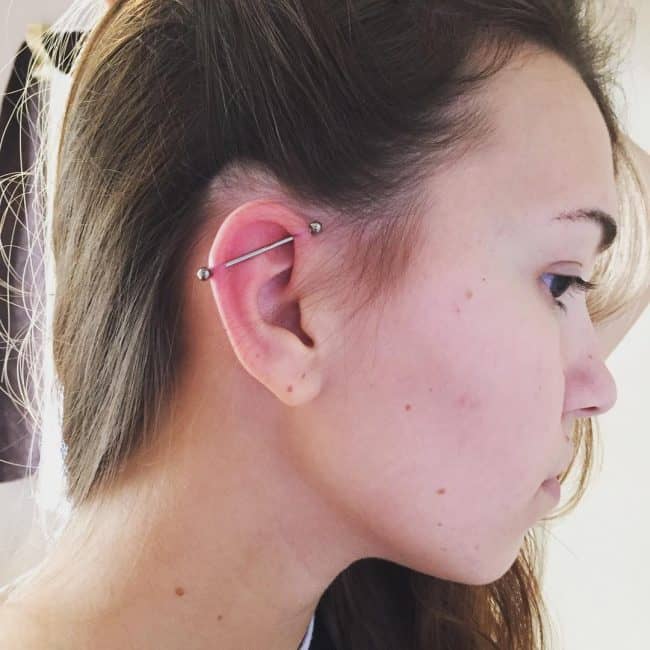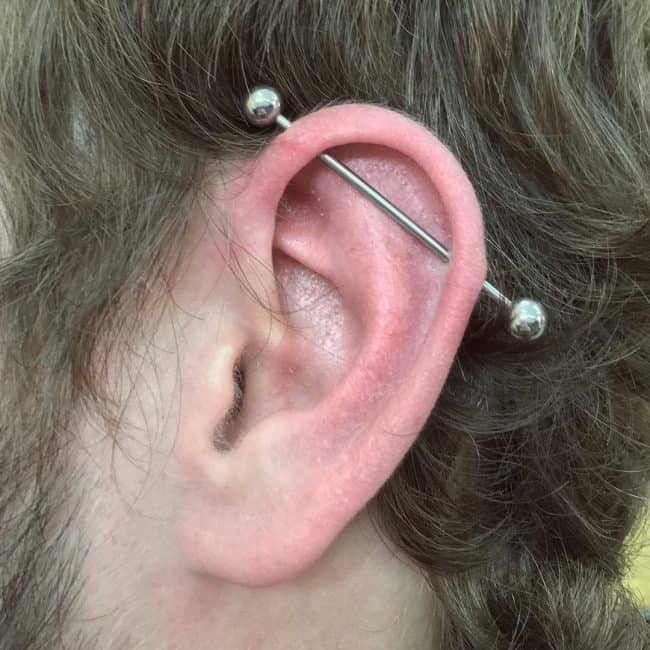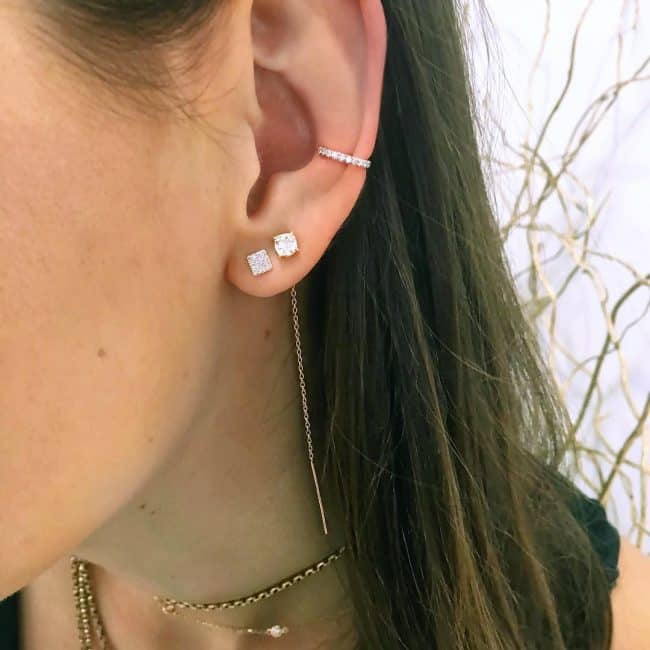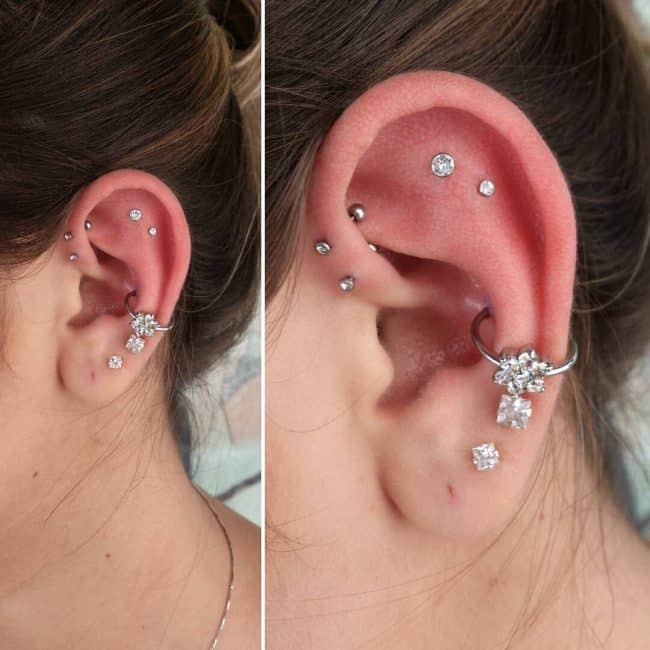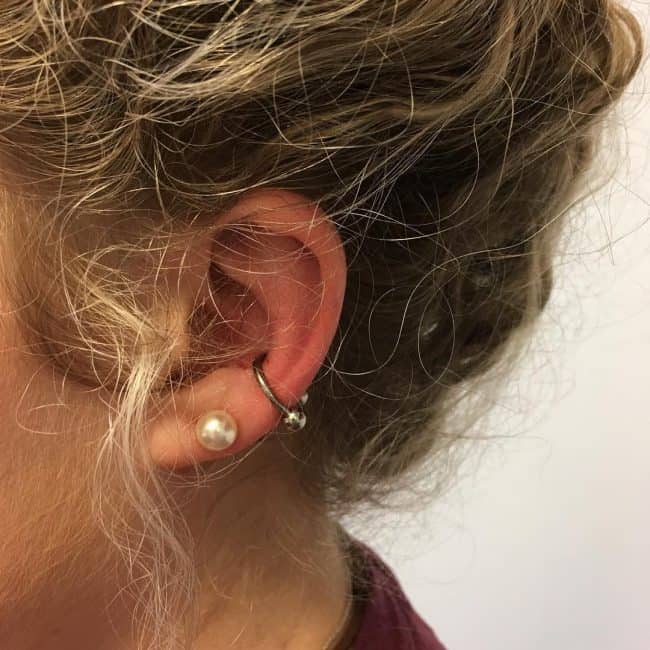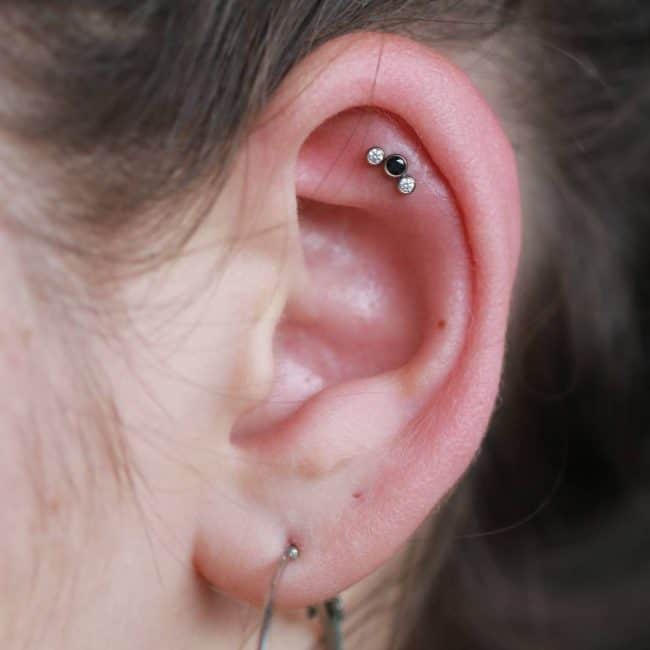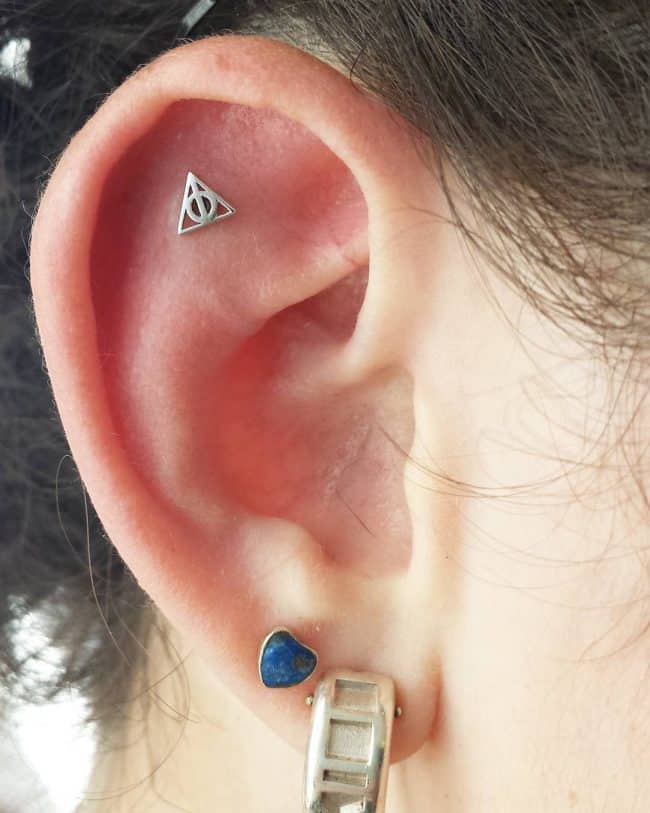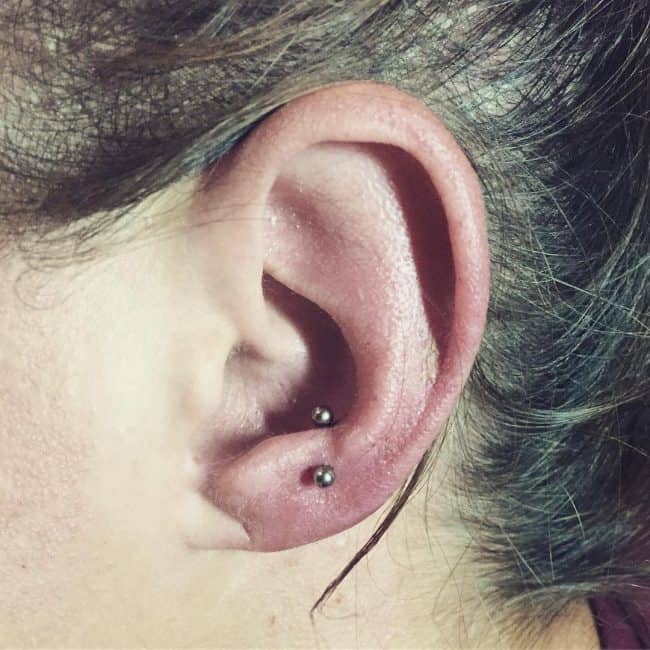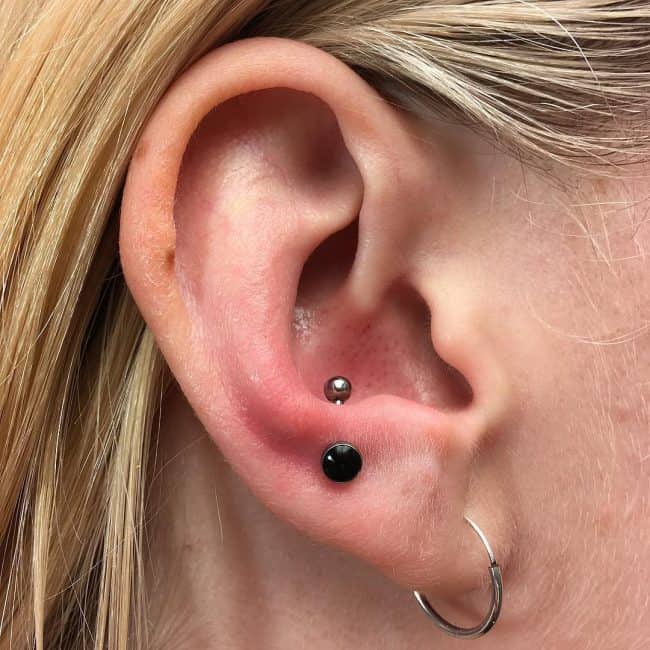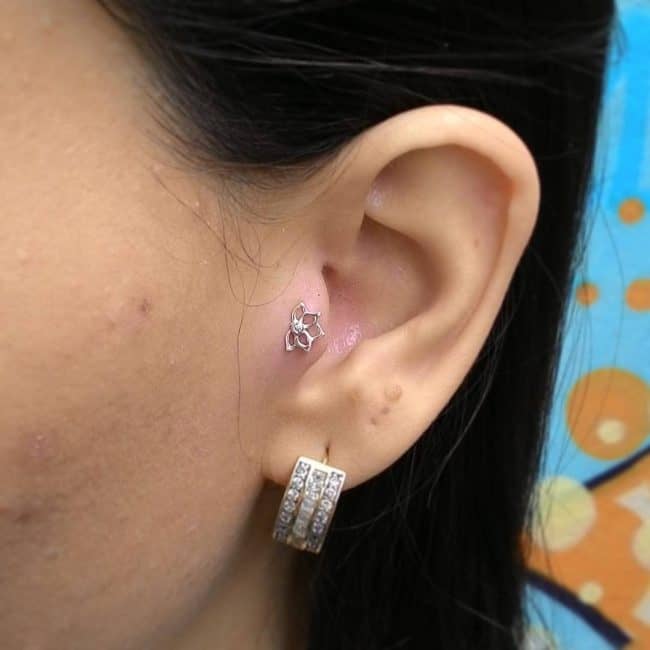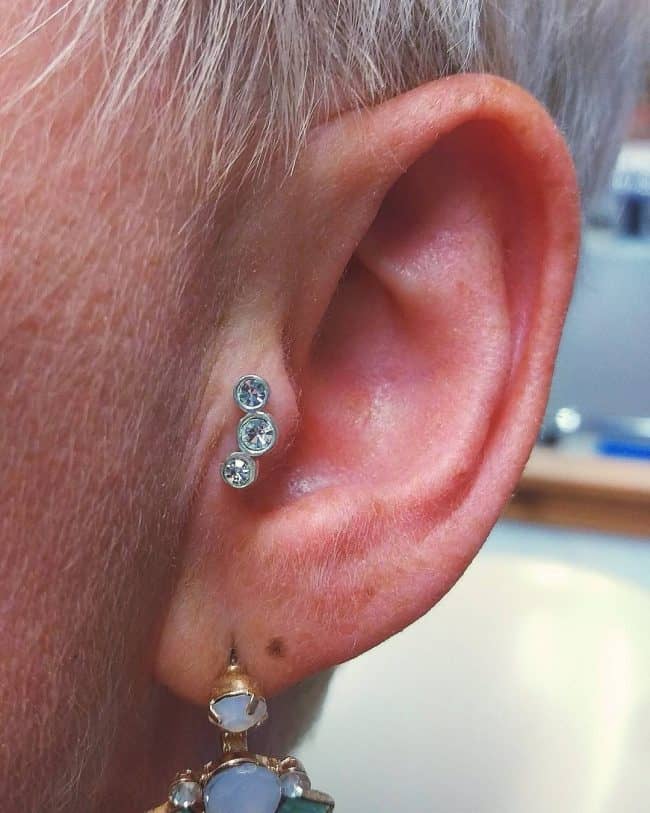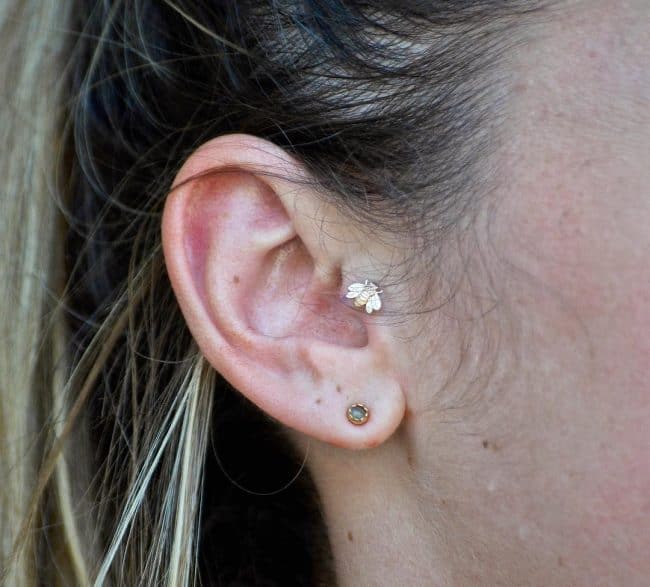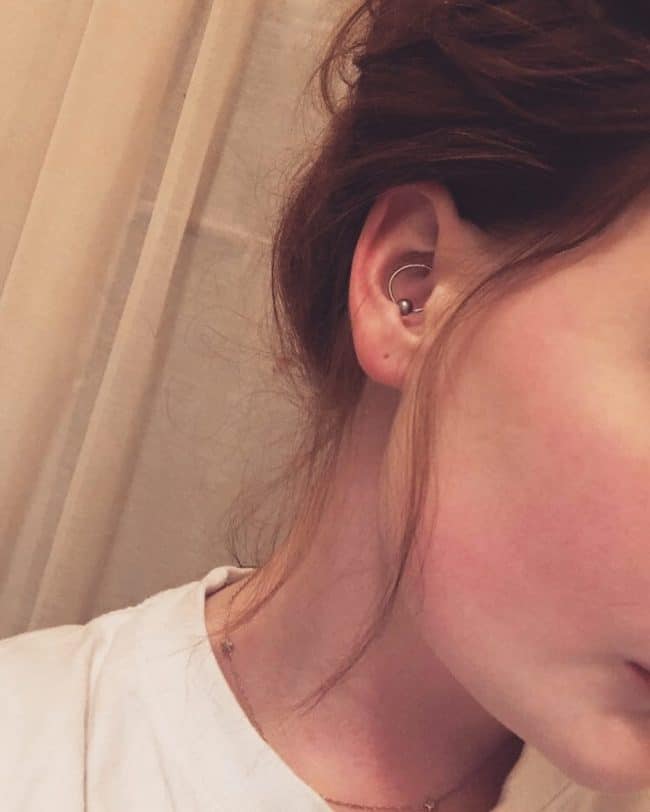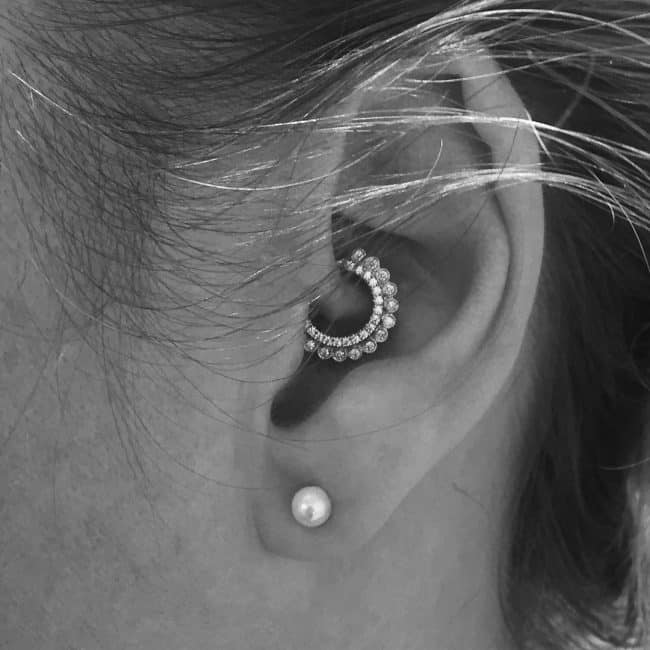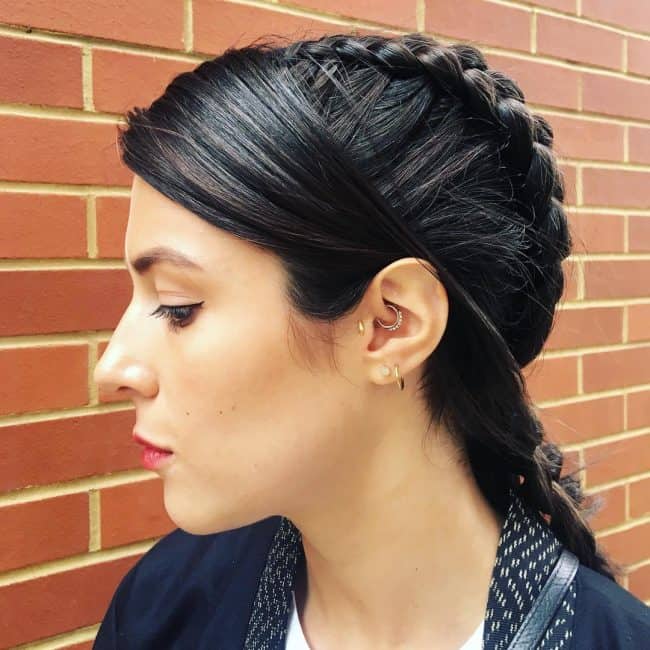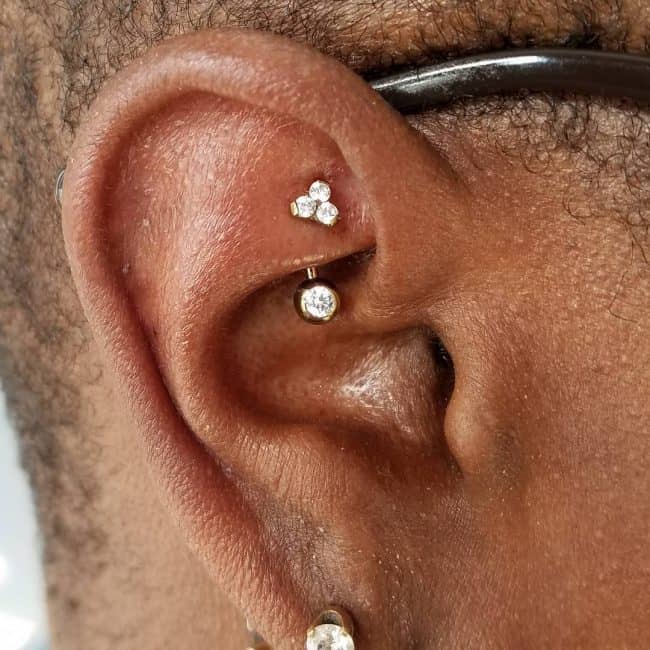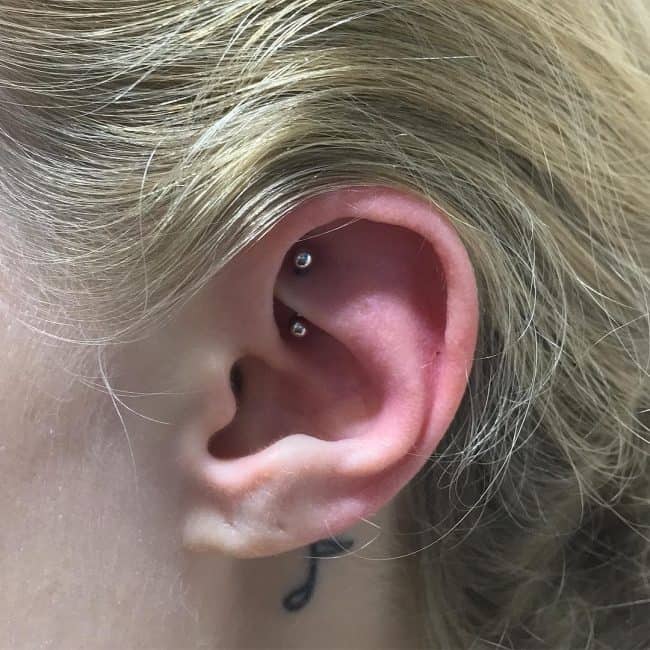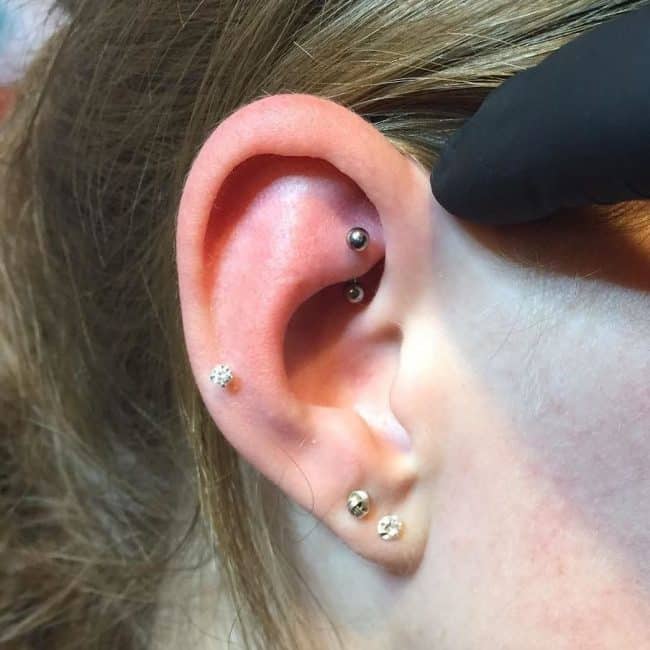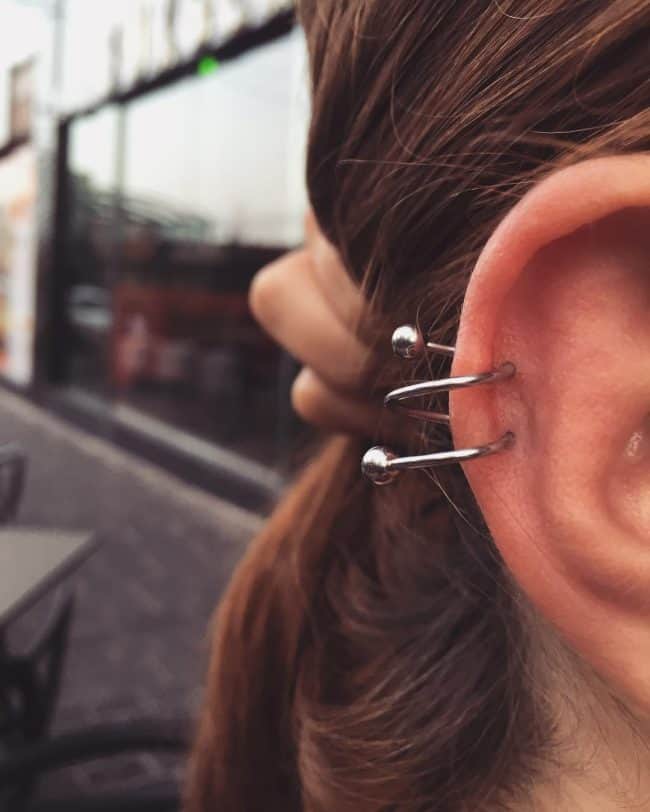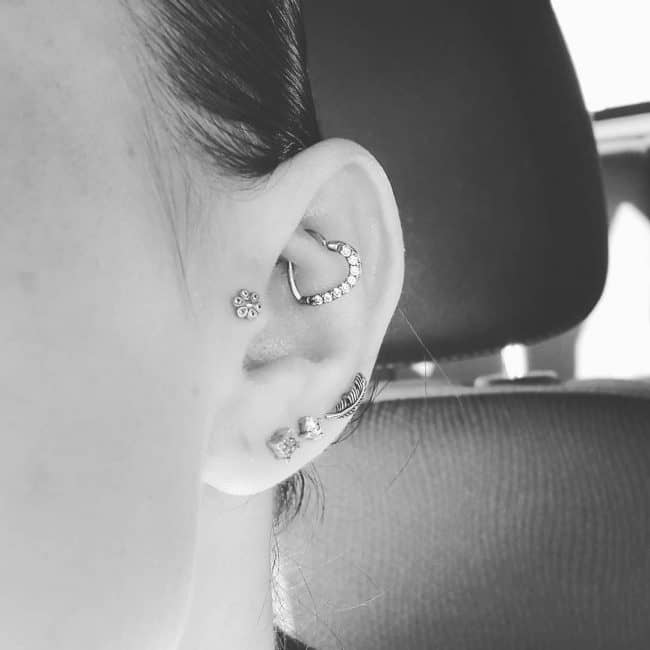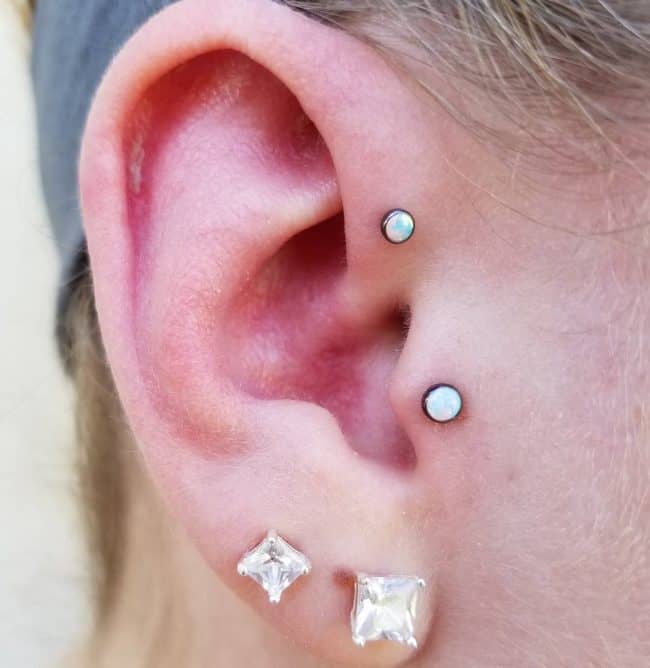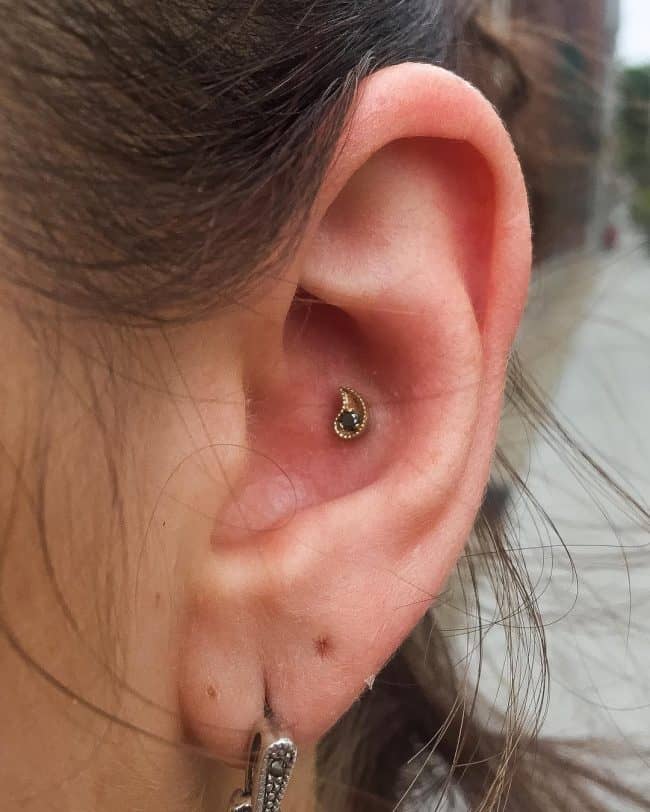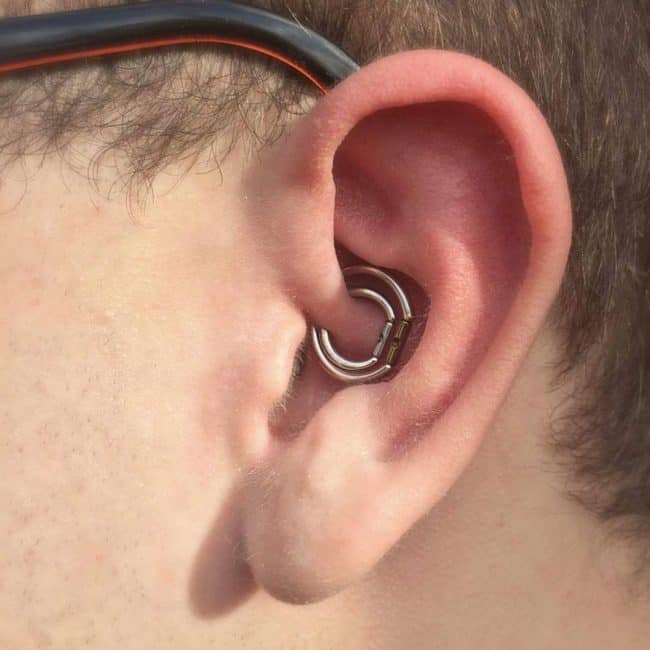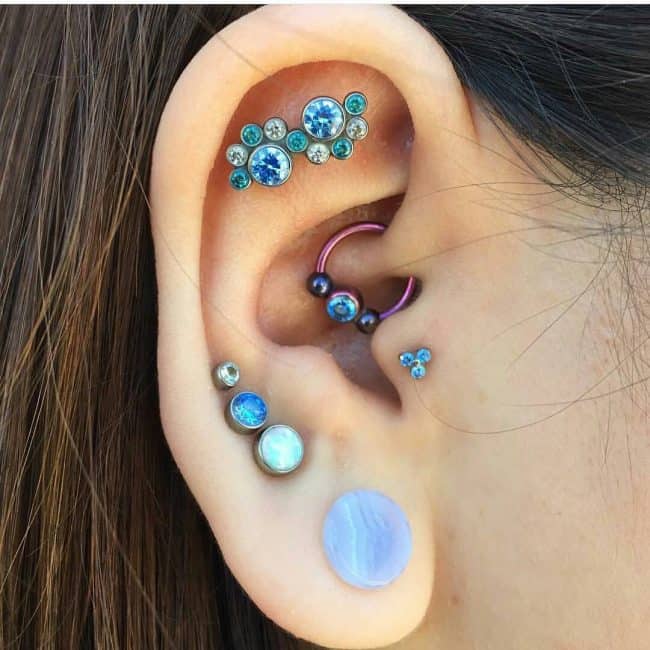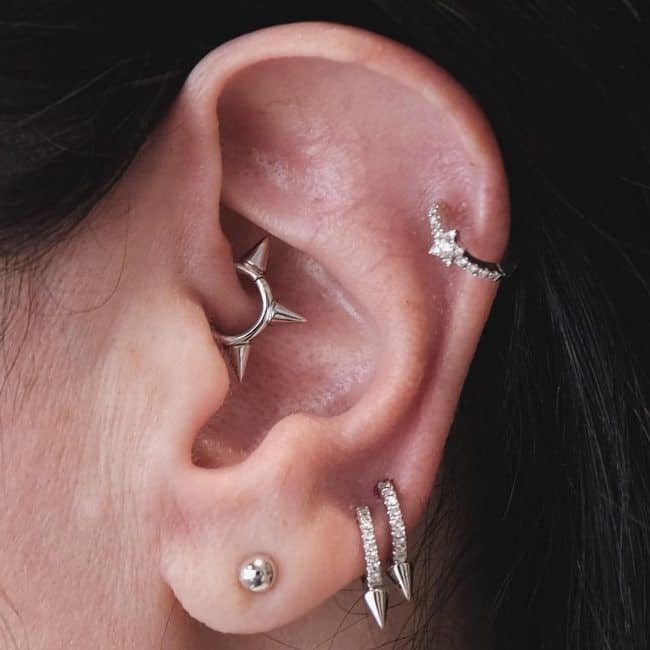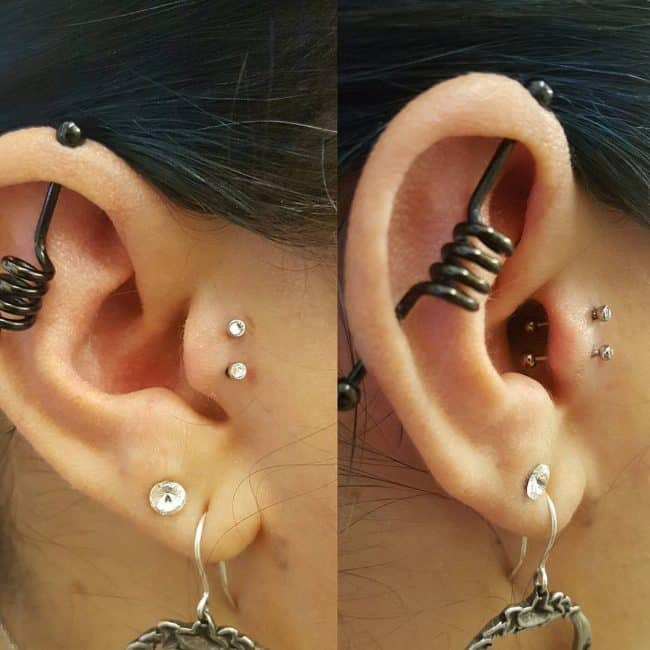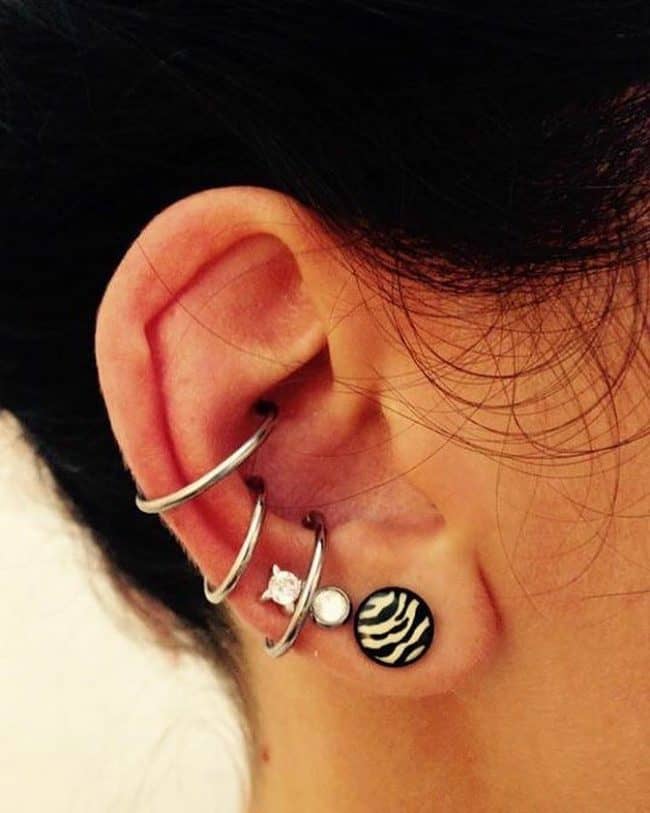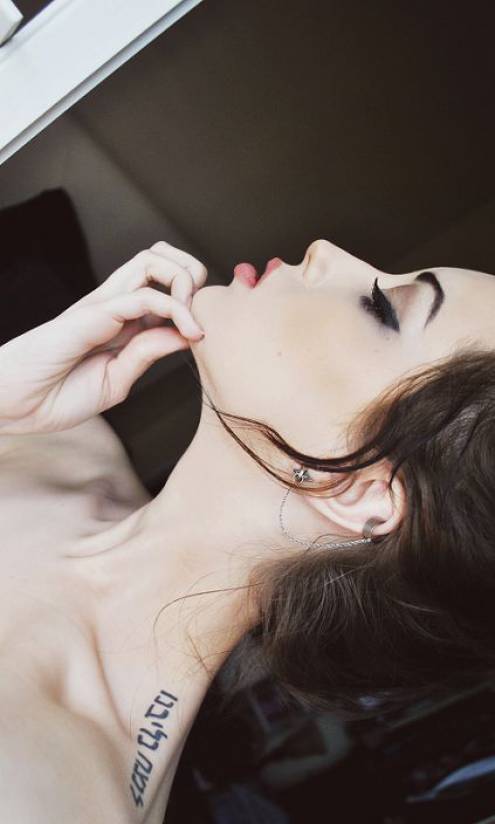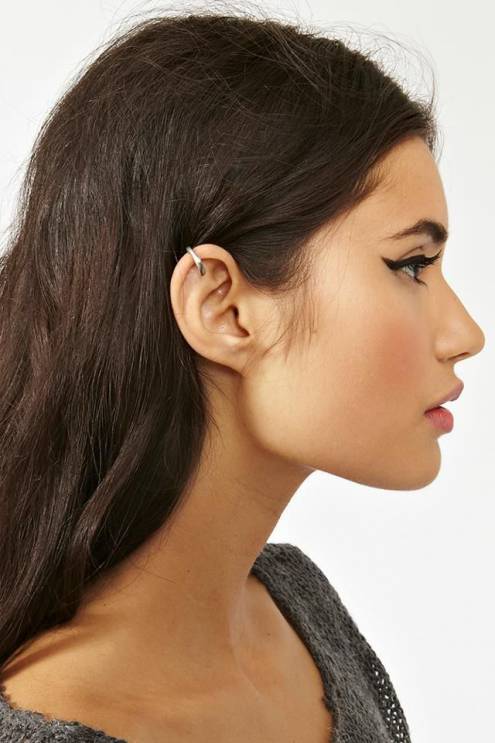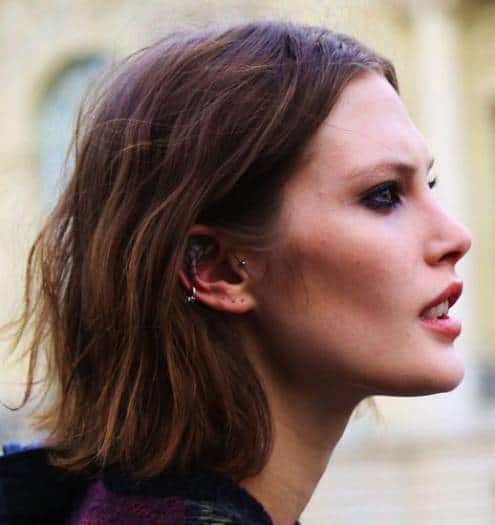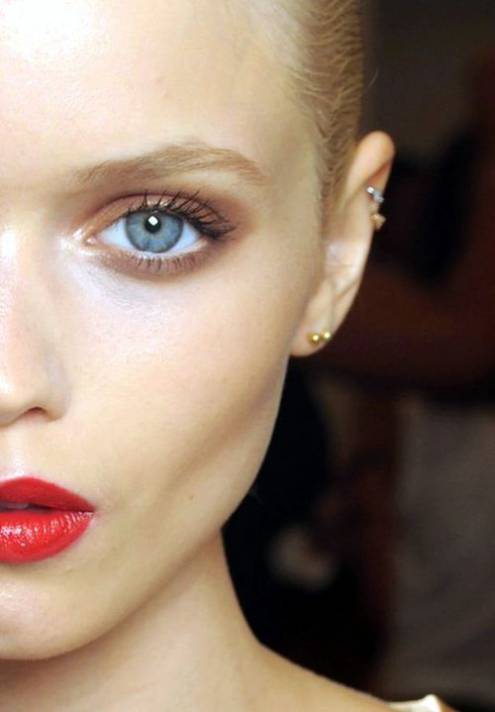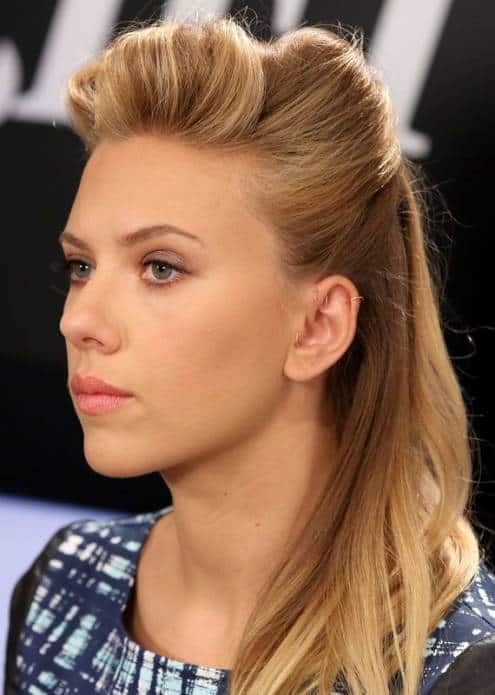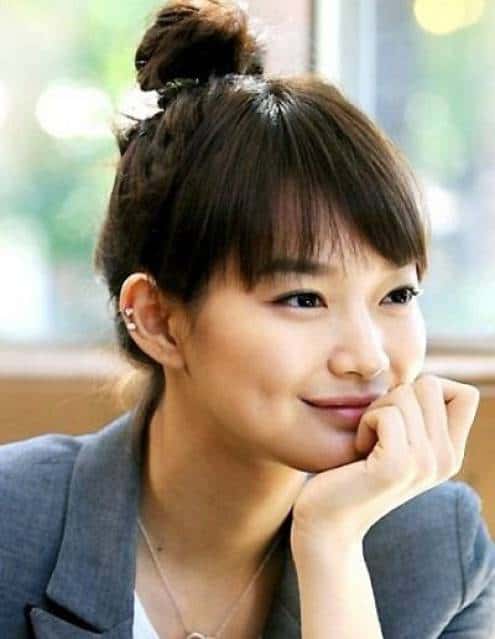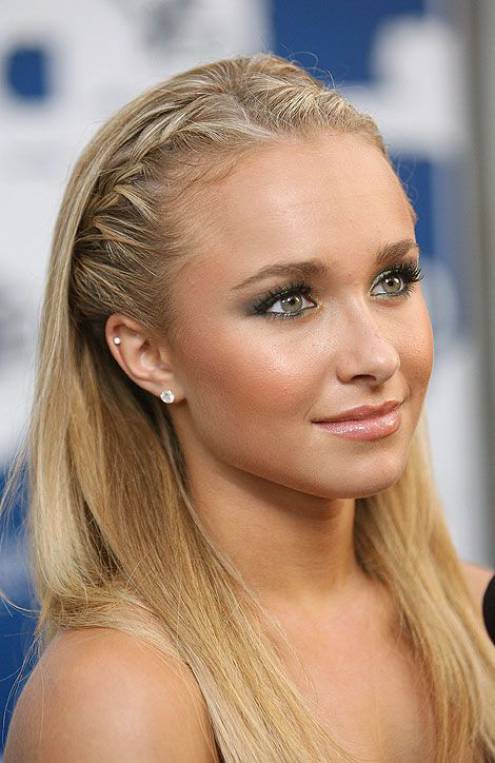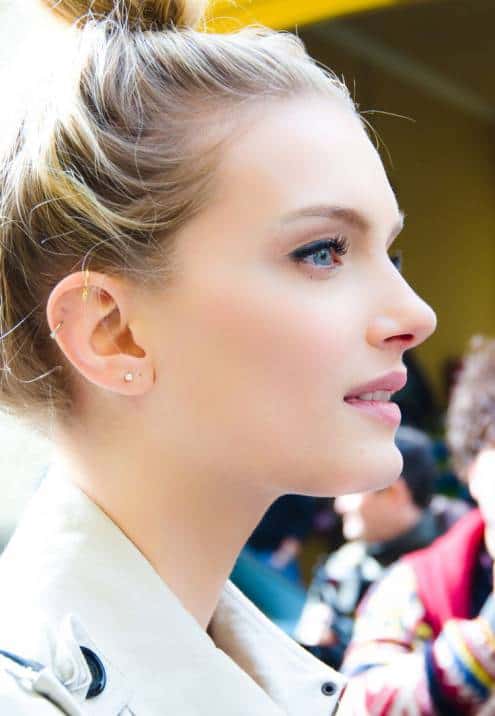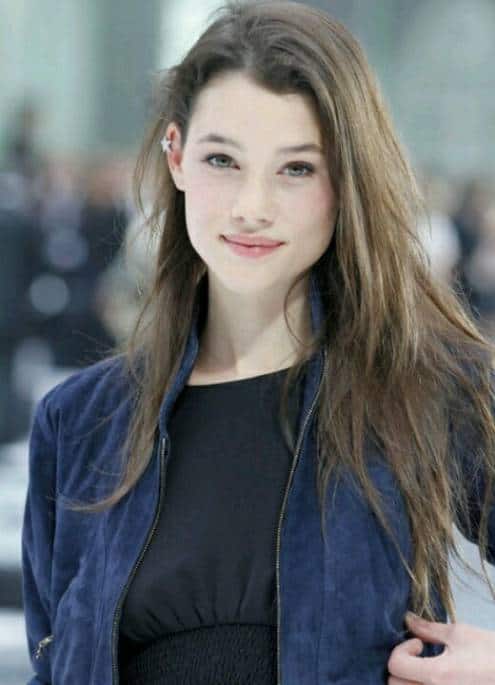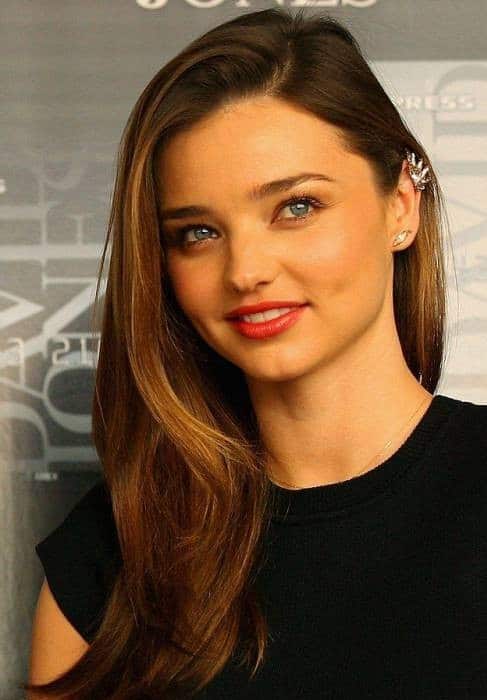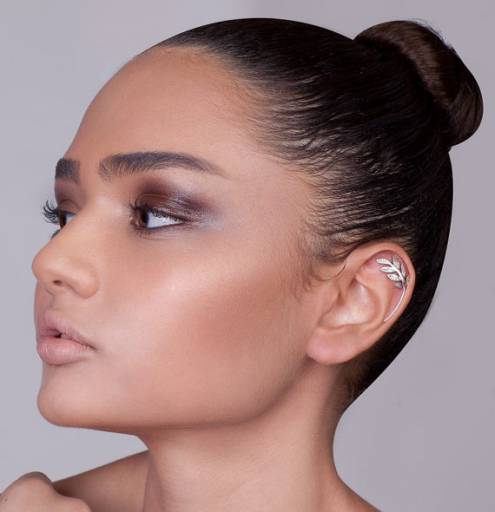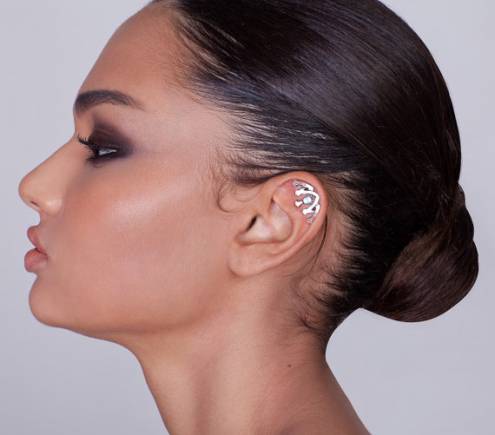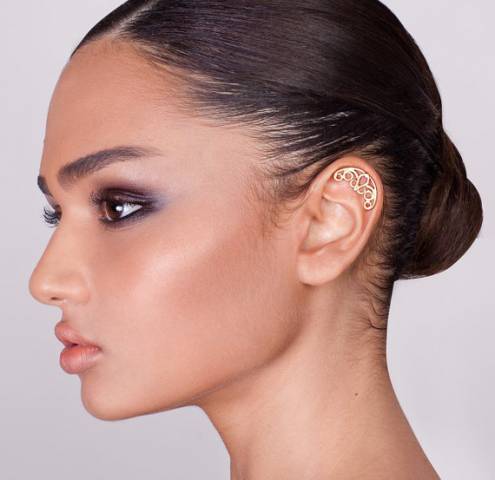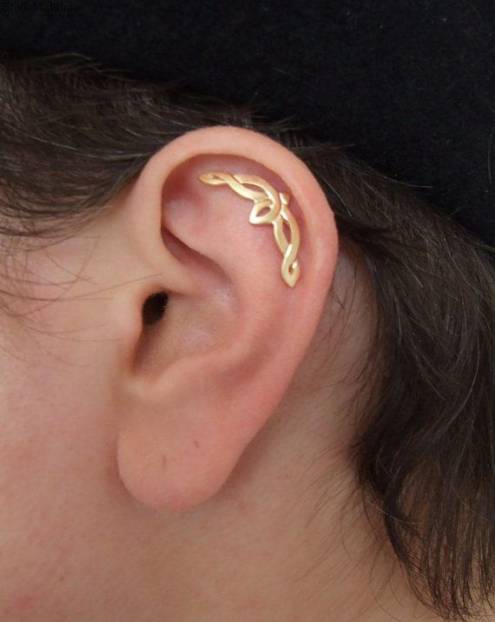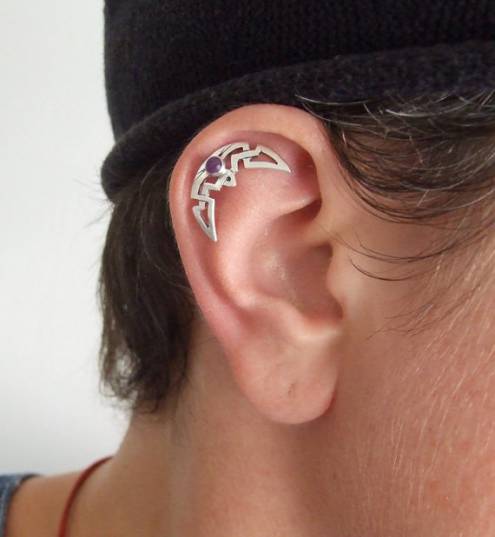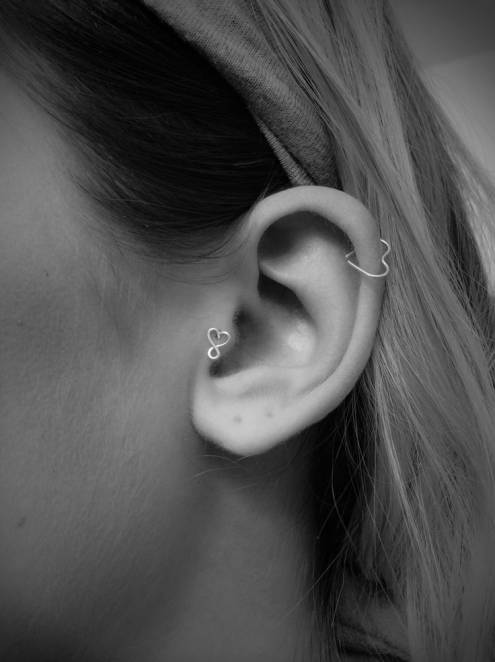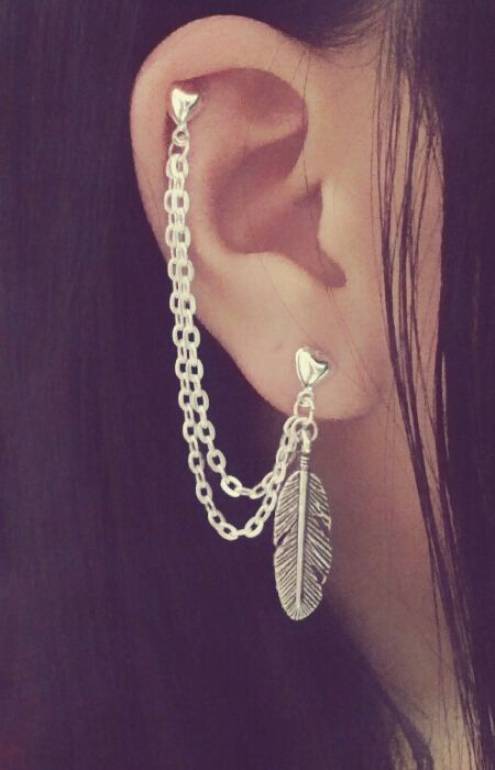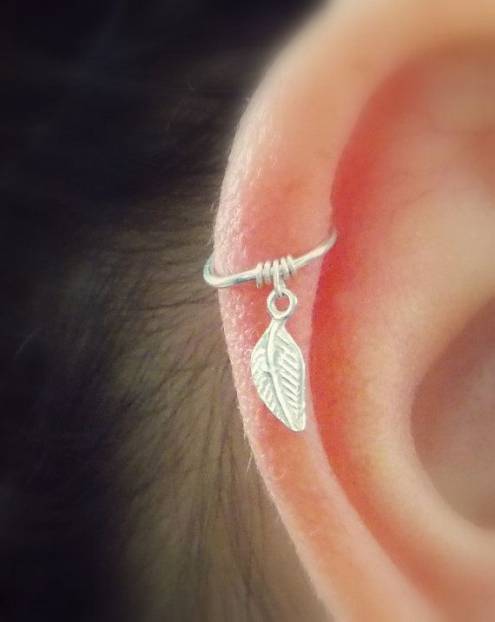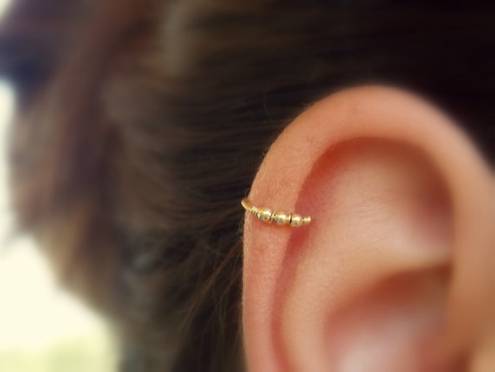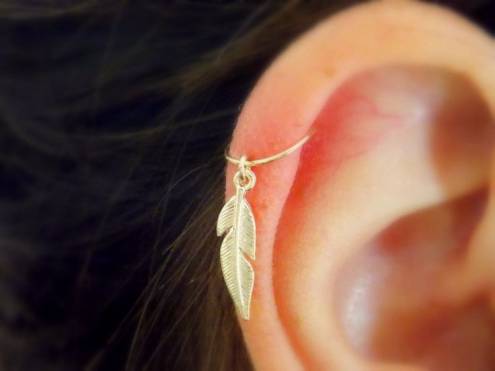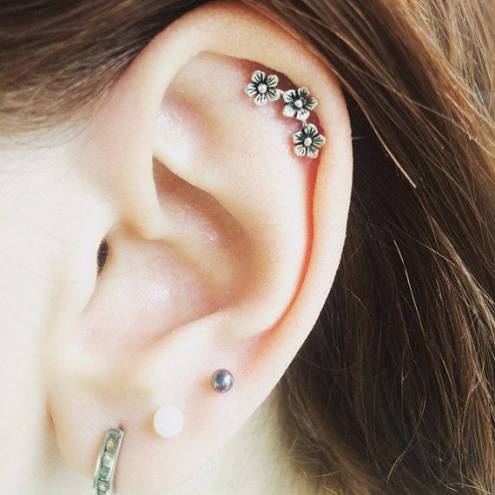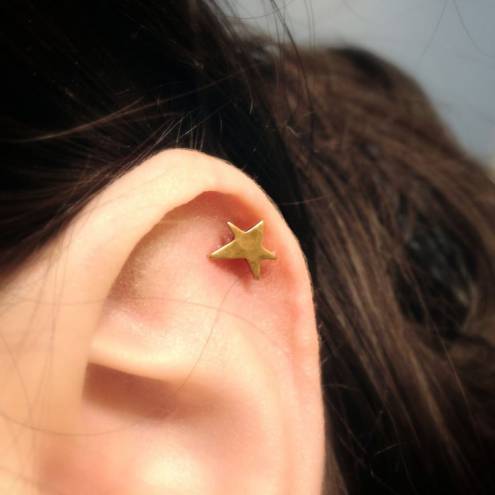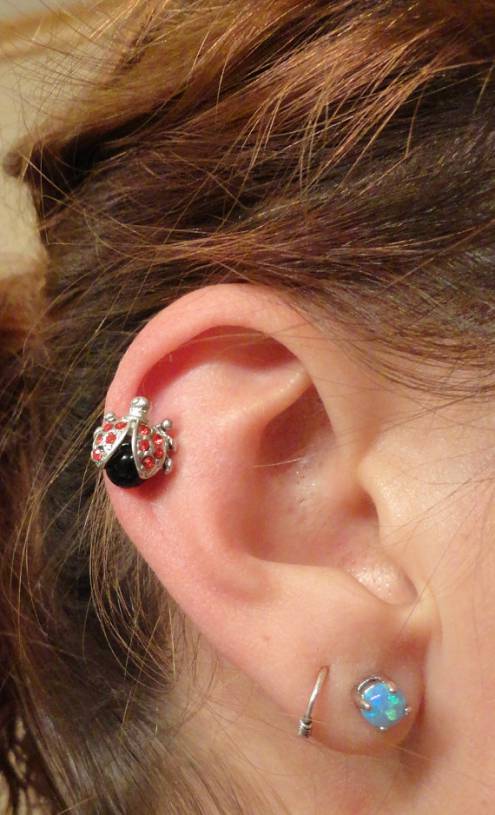 Video: Helix Piercing with Needle
Video: Triple Forward Helix Piercing
Video: Rhino Piercing