Music has rightly been called the food for soul because it really changes the meaning of life, bringing happiness in life and lifting people up in their saddest moment. It is not only human beings who are influenced by music in a positive manner, but also plants and animals, a fact which has been reinforced by studies conducted around the world. Music can act like an inspiration, and so can music tattoos. These tattoos are becoming increasingly popular among men and women around the world, who simply love them for their aesthetic value as well as their ability to express the love and appreciation for this soulful form of art. In fact, these tattoos express what cannot be expressed with words, just as music is a simple way to express your feelings at the time you are joyous, depressed or lonely. They open a whole new world for tattoo artists as well as tattoo enthusiasts, who can explore the countless options available in these tattoos and use them as a source of inspiration. Additionally, these tattoos are real eye catchers, an essential pre-requisite of a good tattoo.
Music Tattoos Meanings
Music is a person's best company in loneliness, which is why people tend to find solace in it when they are in a bad mood and want to spend time alone. At the same time, music is a way to express your inner joy and happiness and you want to sing out loud or dance to your favorite music on your happiest days. In this way, music lets your heart and soul experience your inner feelings in a better way. Musical tattoos, similarly convey an unsaid meaning, something which is very special to the person who bears the tattoo. It also expresses one's love for music, which is the reason why young music fans would be spotted bearing such tattoos. They explain how people relate with their inner feelings and how they express the same to the world, being expressive without uttering a single word. These tattoos can help people draw inspiration from within and move ahead in life through good days and bad days, because whatever the circumstances, life has to move on.
Placement Guide
Just in case you do know, the placement will also matter to achieve its greatness. Even so, it is all up to you where you wish to put it. But of course, it would be great to think about its placement many times before getting a music art inked. In this regard, here are some common placements of this tattoo that you might want to take into account:
Tattoo on Wrist–The number one body part that you can place is your wrist. You can have it in both of your left and right wrists. But if you only want one music art inked, you can decide whether you want it on your left wrist or right wrist. There is no way it will not look great on that placement.
Tattoo on Back of the Neck – If you want to be out of ordinary, you can place  right there at the back of your neck. The fact that people would still go towards your back in order to see this tattoo really makes it more interesting.
Tattoo on Back of Your Ears – Another very unique yet worth considering placement is at the back of your ears. People will surely get very interested to know you if you have such tattoo at the back of your ears. Of course, it can also make you more gorgeous.
Tattoo on Feet – Yes, it would also look great right there on your left or right foot. In fact a lot of ordinary people and celebrities are having this art on this particular body placement.
Popular Design Options Musical Art
They are popular among both the sexes and people of all age groups, who share a common love for music. The design options in these tattoos are many as artists are constantly looking for something unique in these tattoos. Here are some well known designs:
Musical Notes Designs – One of the coolest  designs is the one which incorporates musical notes. Such a design is really eye catching and is versatile enough to be used in any way and placed well on any location. One can incorporate other elements easily in such a design, which may include flowers, stars, birds and name. Usually, these designs are small in size and can be suitable for locations such as ankles, wrists, fingers, back of the neck and back of the year. They look more delicate and feminine, which is the reason why they are more popular among women and girls.
Musical Instrument Designs – It would be cool to depict your favorite musical instrument that you want for yourself. Such tattoos need the expertise of an artist because there is a great scope of vivid detailing in them. The location of the tattoos can be determines by the size of the instrument you want to depict.
Musical Artist Tattoo Design – One of the most popular music art designs is the one which includes the image of your favorite music artist. It is common to see youngsters bearing prominent tattoos with their loved artist, particularly on musical events and concerts. Most of these designs are large in size and featured on areas such as back, shoulder, wrist, thighs, ankle, fingers, sleeve or side.
Words and Quotes – Some people have special words and quotes, and even the lyrics of their favorite song, inked in the form of music art. It is a great way to keep your most loved song always close to your heart and constantly draw inspiration from it. It is a good way of bringing your favorite song to life and making it a part of yourself forever.
Music tattoo designs need the expertise and careful attention on the behalf of the tattoo artist because many of them are complex and their meaning can completely be altered with a slip of the hand. Since these tattoos bear importance because of their symbolic meaning rather than their aesthetic value, one must get the services of an artist who excels in the art. For such tattoos, size hardly matters, as they are bound to attract attention, whether big or small. And most importantly, the purpose for bearing music art is to find happiness and inspiration for yourself, rather than create impression on the others.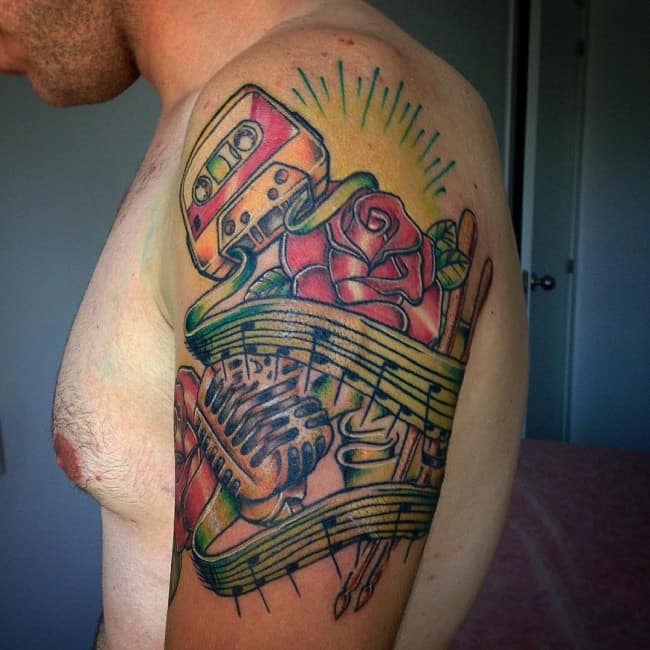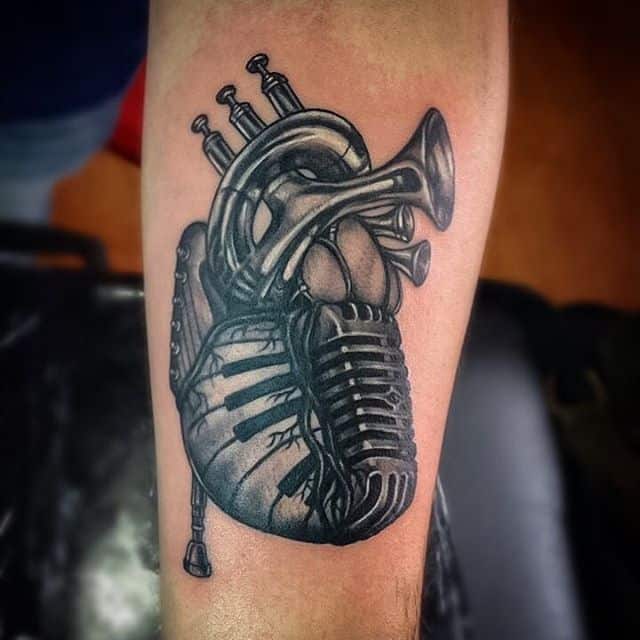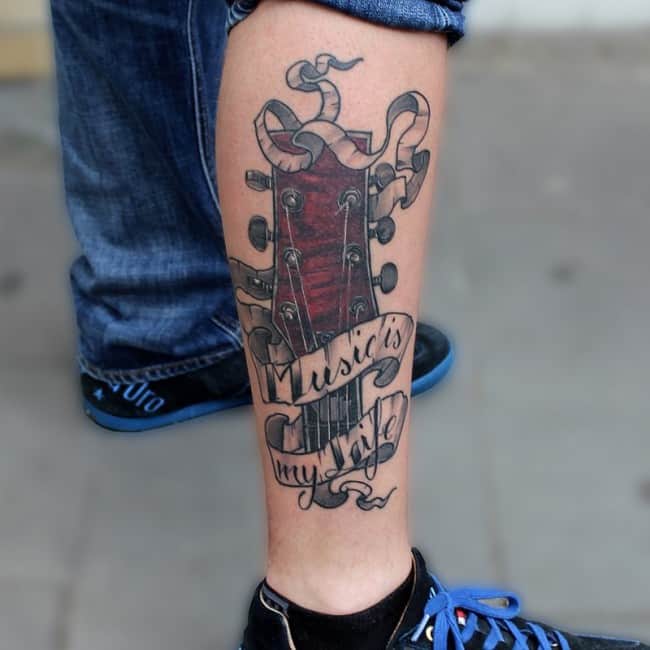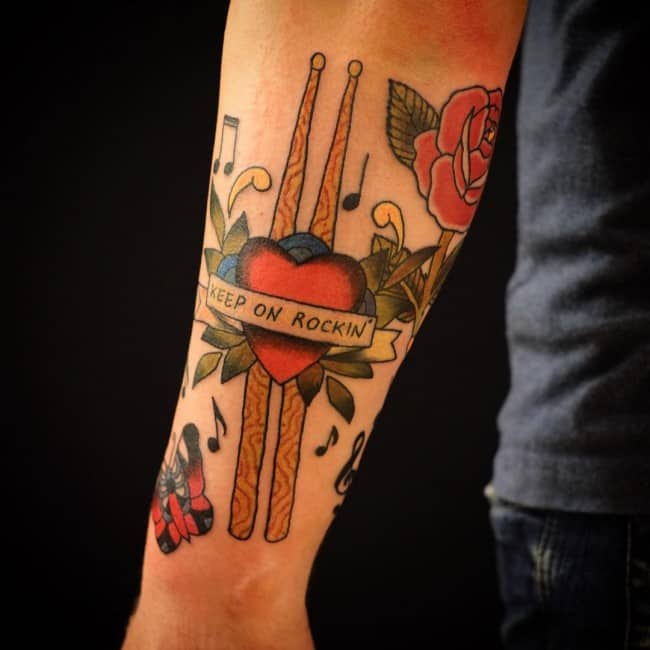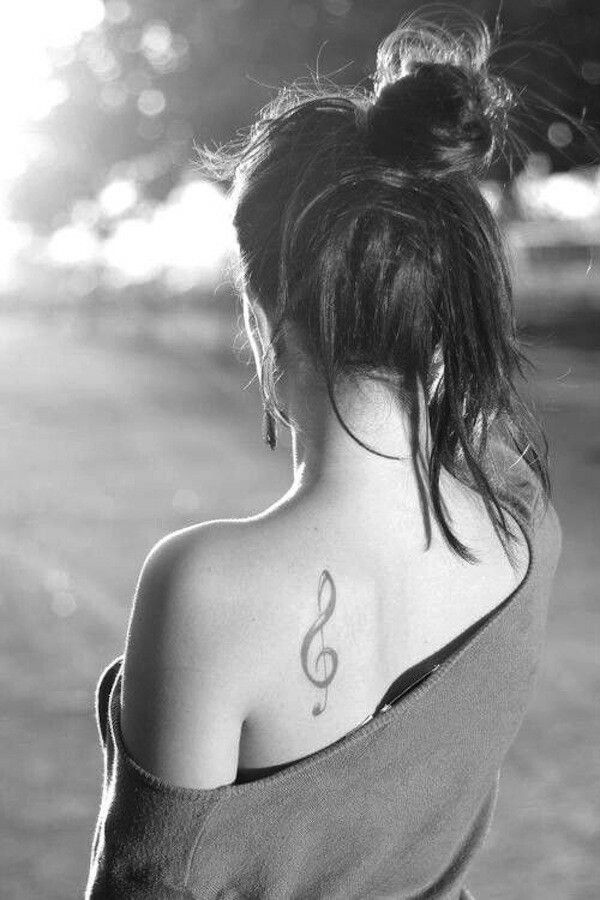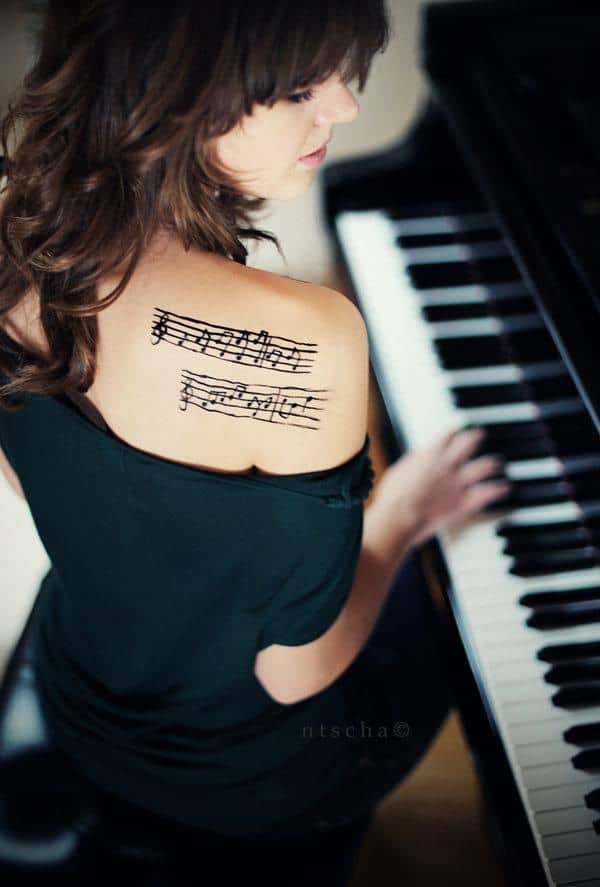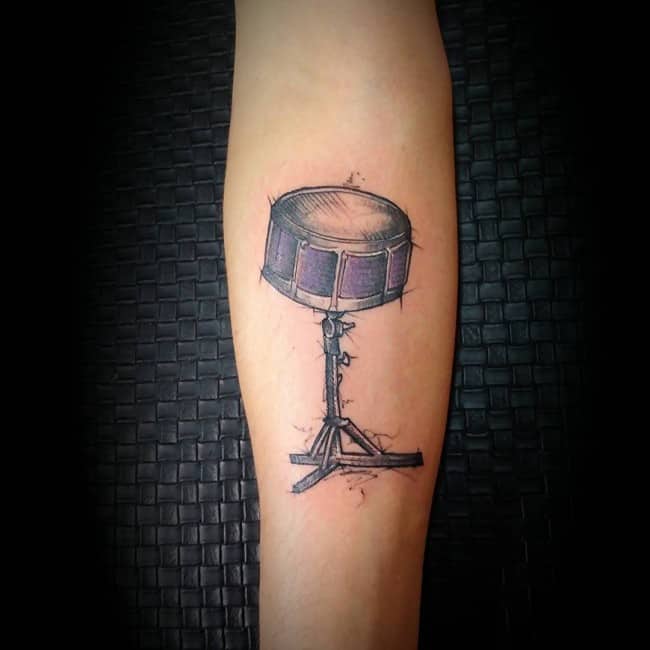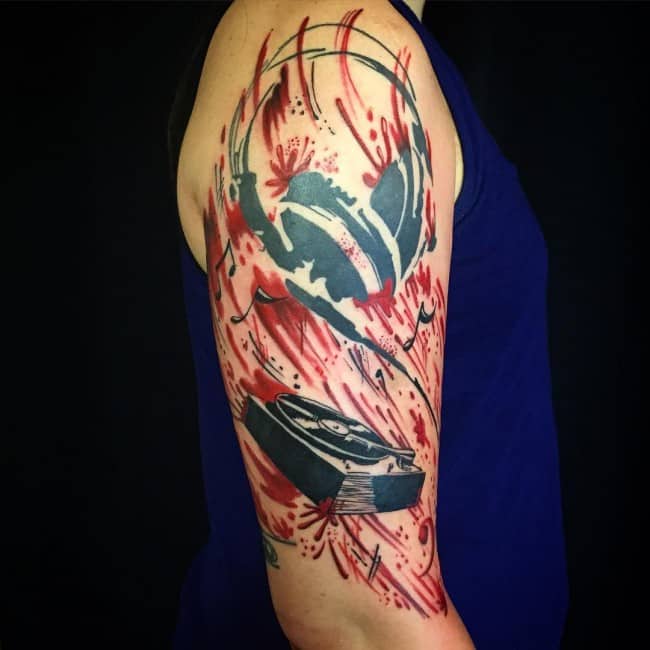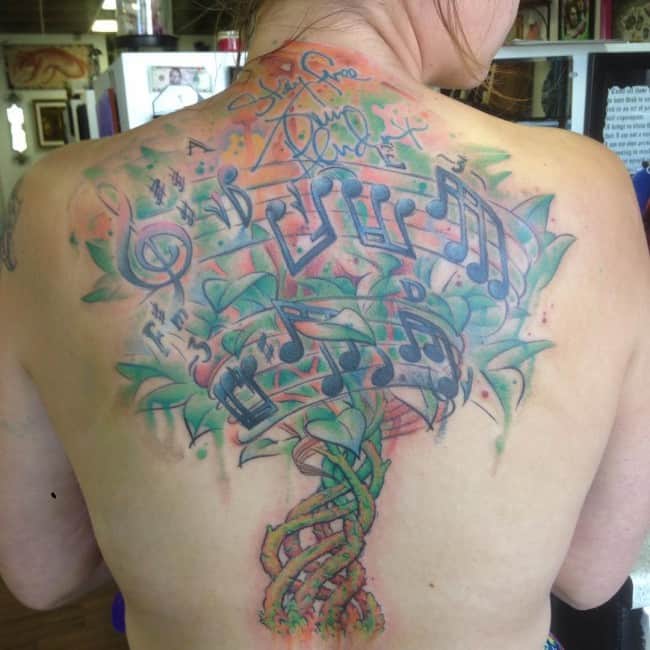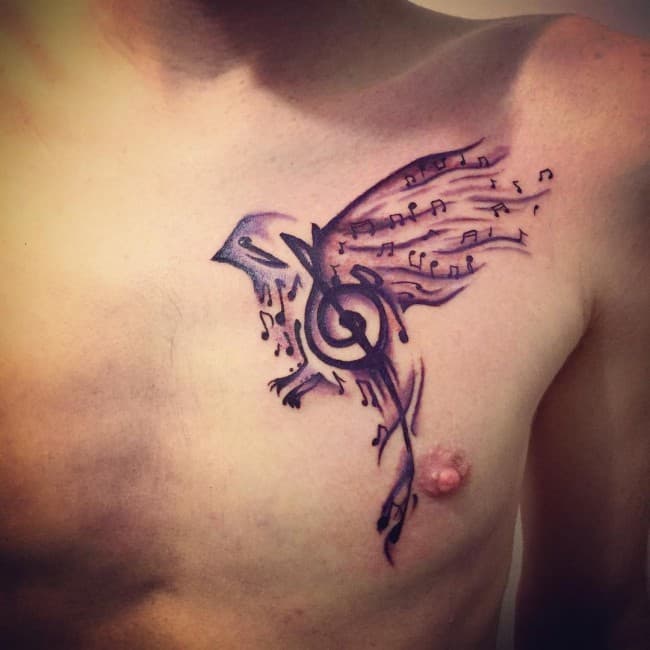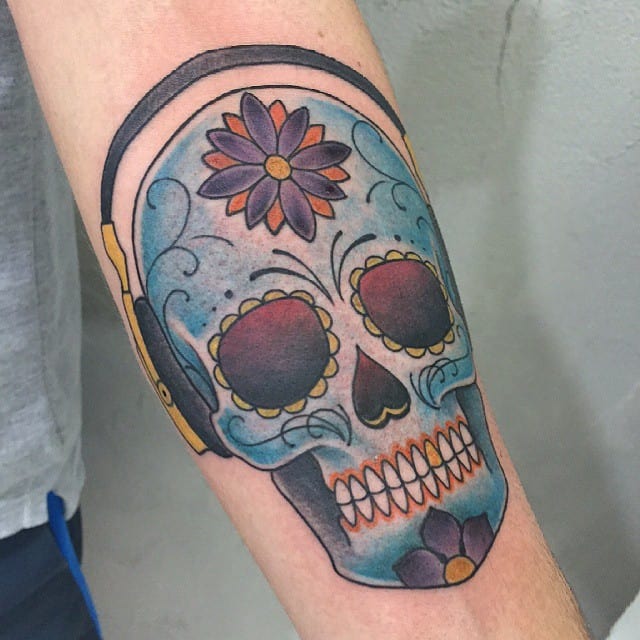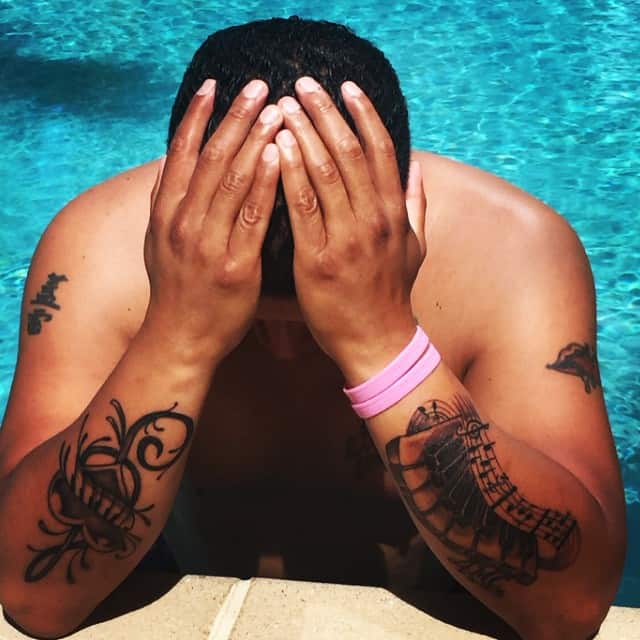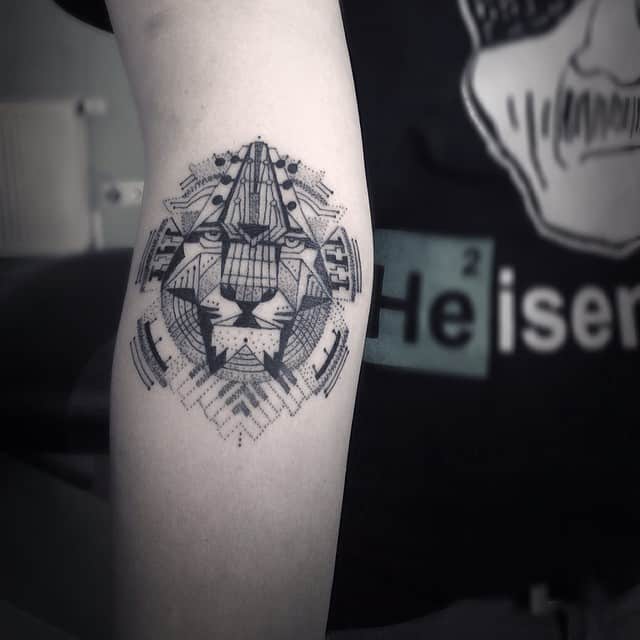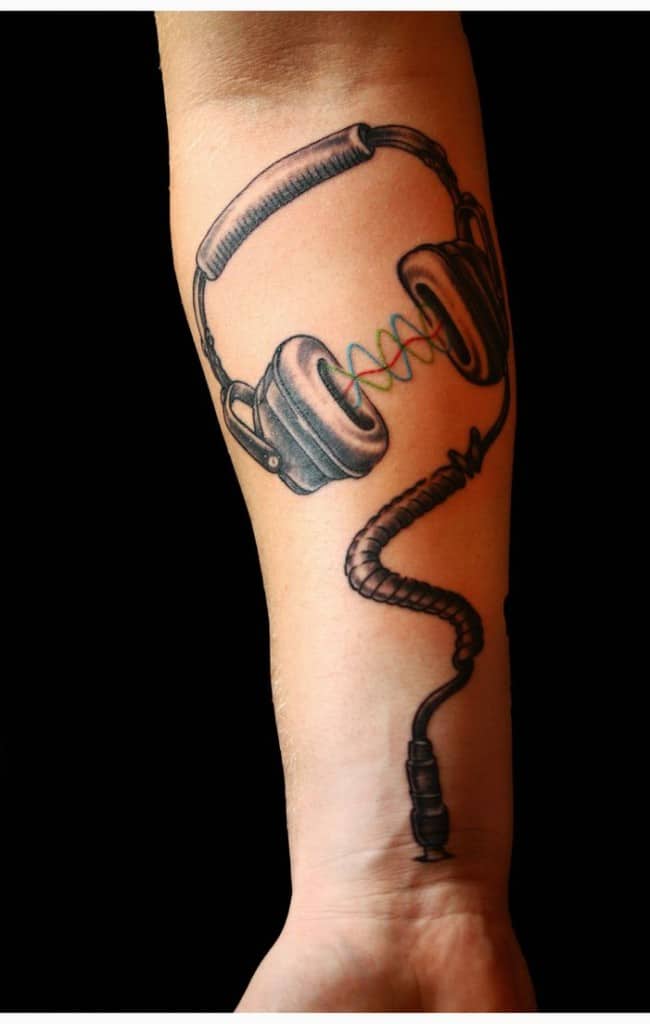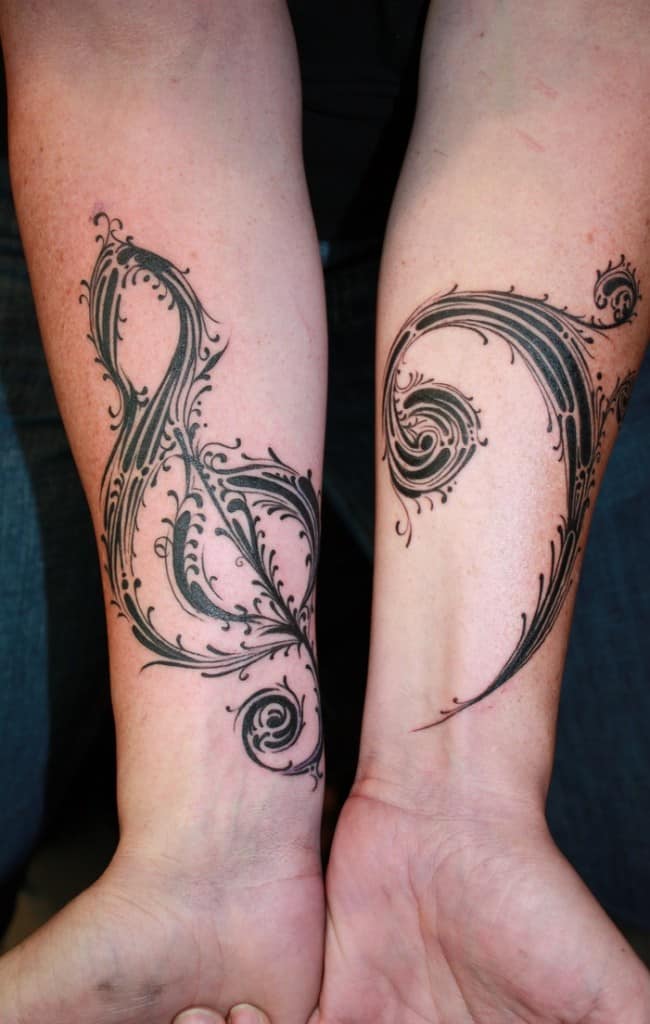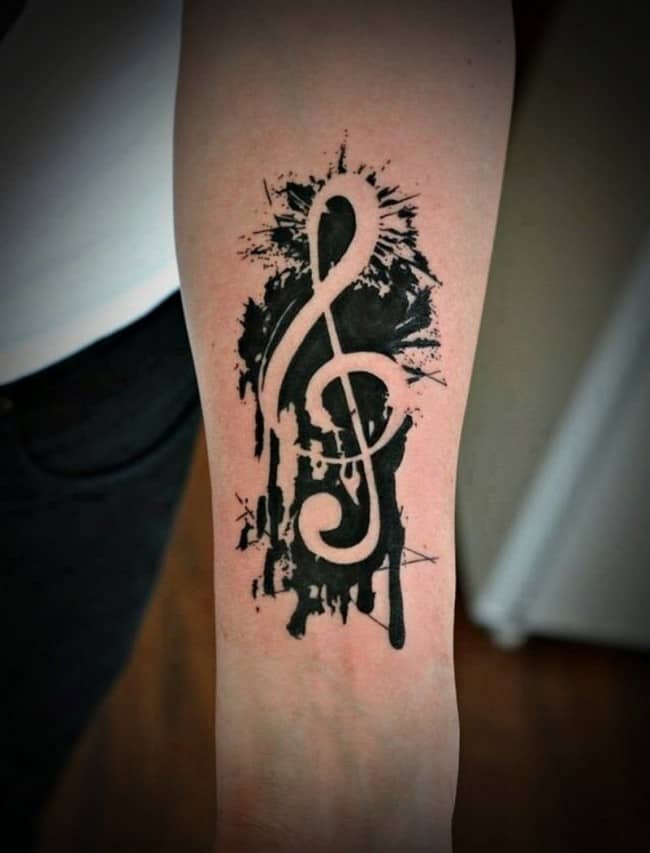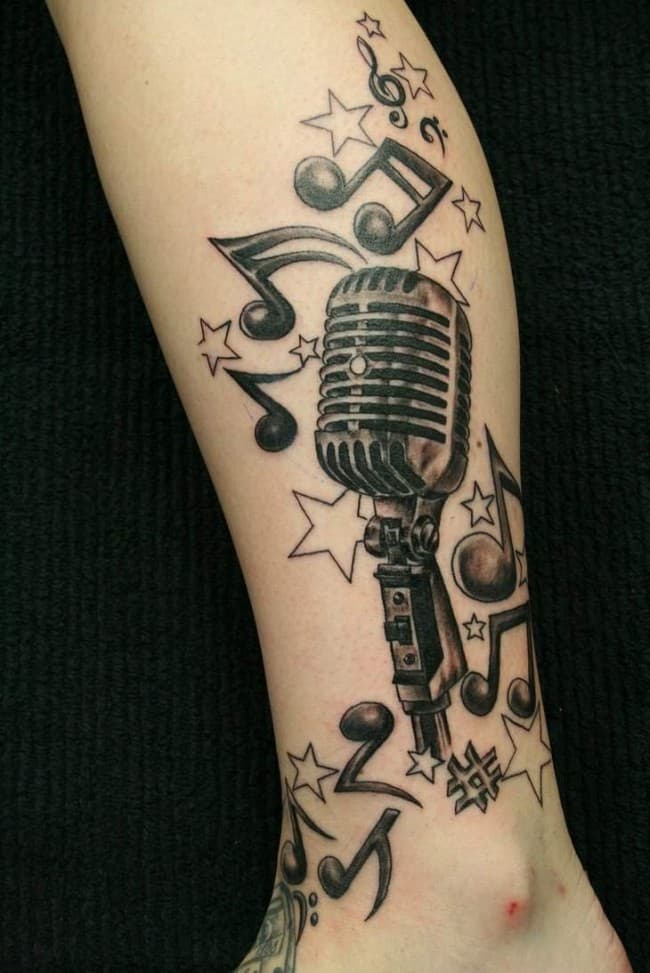 Summary
Music adds a meaning to life and keeps you company in the happiest and saddest moments of your life. It inspires you to overcome all troubles and problems and move ahead with positivity in your mind. For this reason, music tattoos are considered as source of inspiration and are loved around the world. They are appreciated more for brining inner happiness rather than for attracting others.