Tattoo art has been used as a form of body adornment since distant past and tattoo artists around the world have been engaged in creating innovative designs using different elements in nature. One of these elements making a popular place in tattoo is different types of animals, as they lend aesthetic beauty as well as symbolic value to the tattoo design. When it comes to animal tattoos lion, elephant, tiger, fish, wolf, dragon, octopus are the top choice for tattoo lovers. Among the animal tattoo designs, deer tattoos have always been a source of attraction for the human race, particularly because these creatures are revered for their unmatched beauty and grace. These delicate looking animals have always inspired the human race, which is why they are a favorite of hunters and animal lovers. The history of mankind has seen the importance of deer in various cultures, with the discovery of deer drawings in caves in pre-historic era. Deer also allured the Native American tribes as these people chased these beautiful animals to learn more about their behavioral attributes.
Deer art tattoos are some kinds of animal tattoos that are loved by a lot of tattoo lovers in the entire world nowadays. These are great tattoo choices for you aside from the dragon tattoos, fish tattoos, octopus tattoos, elephant tattoos, lion tattoos, tiger tattoos and so much more. Deer designed tattoos also have a lot of variations, so there is no way you cannot find the deer art that can make you even more gorgeous as a person. Just make sure to find the finest professional tattoo artist who can help you in engraving the tattoo design that you want to wear on your body.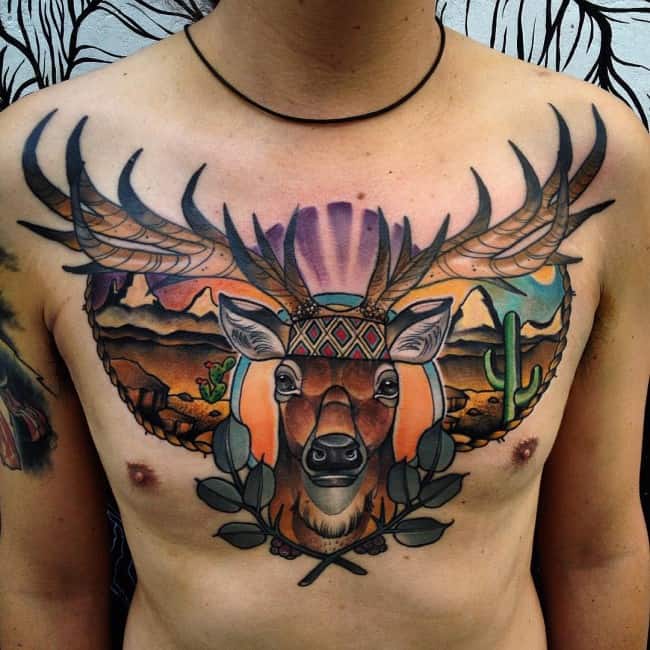 Deer Tattoos Meanings
Just like any other tattoos engraved on people's body, the deer also have their own symbolism depending on their overall design. Meaning to say, these tattoos will not only decorate your physical body appearance. These will also represent what you are inside. This is the reason why you should know the symbolism of these tattoos before opting for them. In order to help you with this thing, here are some of the important symbolism of a deer art that you must know:
Some other important symbolism of deer art tattoos are fertility, resurrection, sexual prowess, rebirth, and virility. These meanings go to show that a deer art is something that you should think about when it comes to tattooing.
Design Options You Can Choose
Every kind of tattoo has a lot of designs to offer, and you are surely aware of that thing, right? This goes to show that you can also have a number of choices. Because of this, there is no way you cannot find the one that you like and perfectly fits your unique personality. Here are some of the worth considering deer art tattoo designs: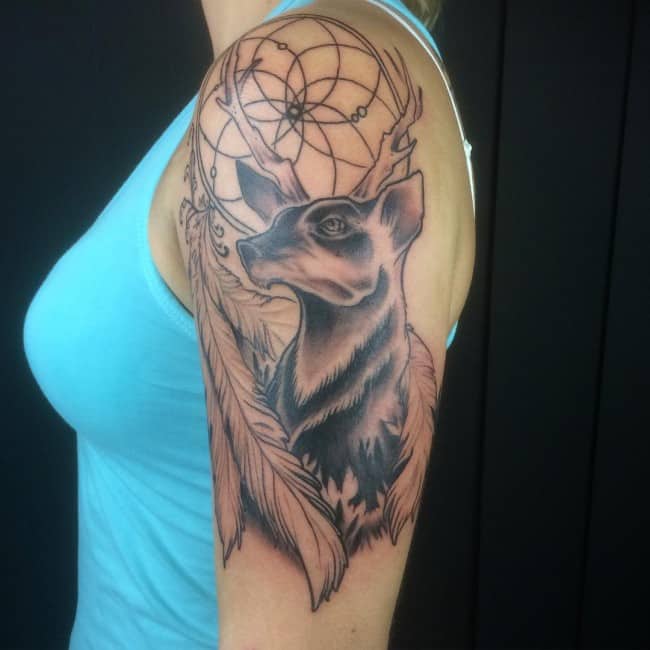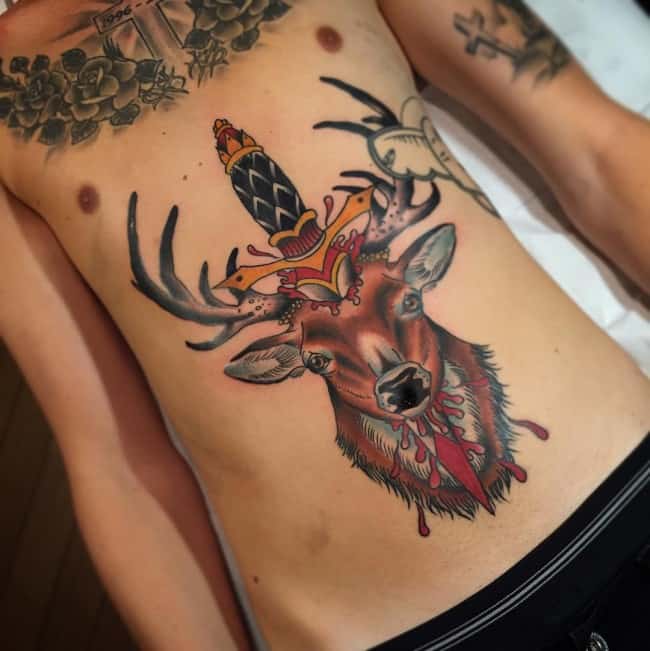 Deer have been revered as animals of beauty and grace, with their lithe movements attracting the human race to chase and catch them. At the same time, this charming animal is associated with some symbolic attributes too, like a female deer or doe is regarded as an epitome of motherly love, kindness and gentleness. On the other hand, a stag or male deer denotes fertility, virility and sexual prowess. In general sense, the deer tattoo relates with the symbolic meanings of nobility, peace, love and kindness. Some also regard it as a sign of rebirth and resurrection while others take it as an epitome of beauty.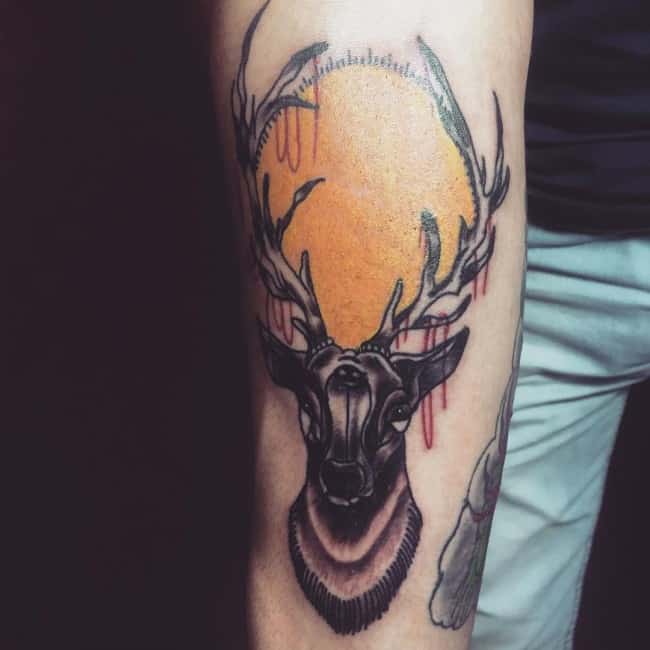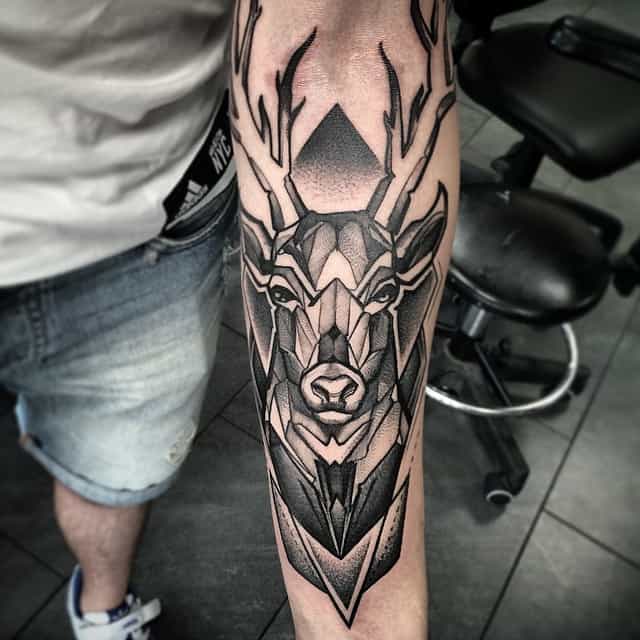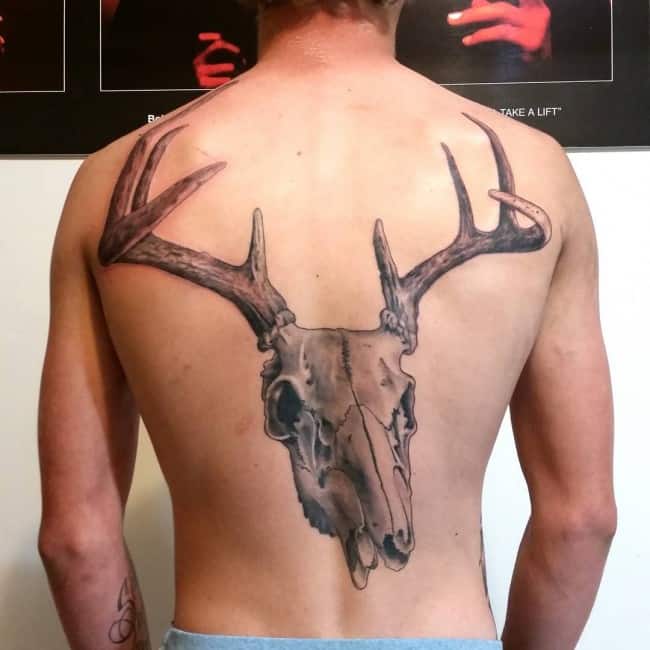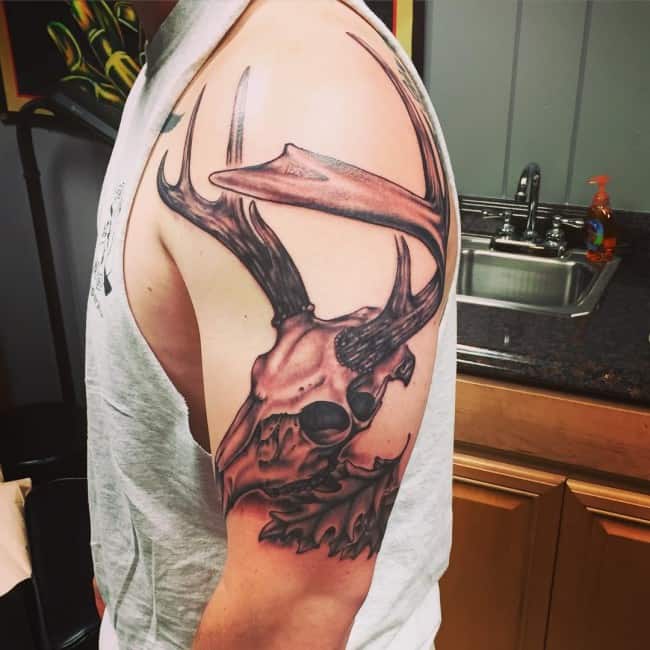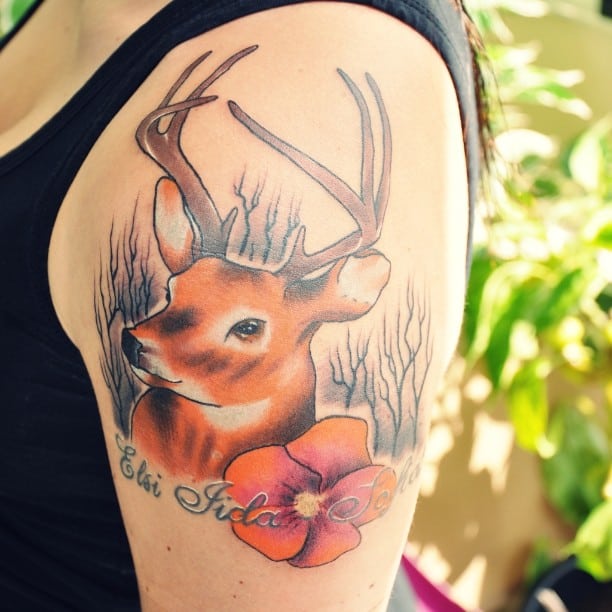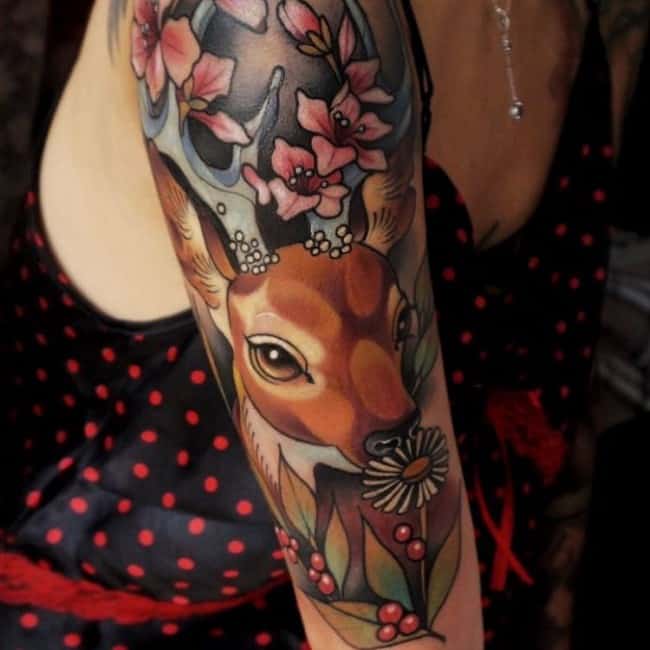 As creatures of ultimate grace and beauty, deer have always inspired tattoo artists to create newer and more alluring designs, which have a certain symbolism associated with them. Besides the tattoo artists, tattoo lovers too give their input to create some amazing patterns with deer in the center stage. The designs may be masculine, displaying strong and powerful stags or feminine, with beautiful and innocent looking does. Some elements can be combined with wolf tattoo design such as flowers, stars, anchors, arrows, trees, heart and many others.The design of the tattoo can be chosen according to the sex and preference of the bearer and an expert artist can help the bearer choose the one ideal for him or her. Here are some popular design options:
Some other elements can be included in the deer art tattoo to add beauty and meaning to the design. Overall, an expert tattoo designer can play a key role in creating a wonderful and attractive design using deer as the main element. The right use of color is of utmost importance too, but coming from the needle of an expert, even a simple black or grey tattoo may have a special story to tell. Another thing to consider in relation with the design is the right place to have the tattoo inked, which can be decided according to the size and design of the tattoo. Here too, the expertise of the artist is what matters the most.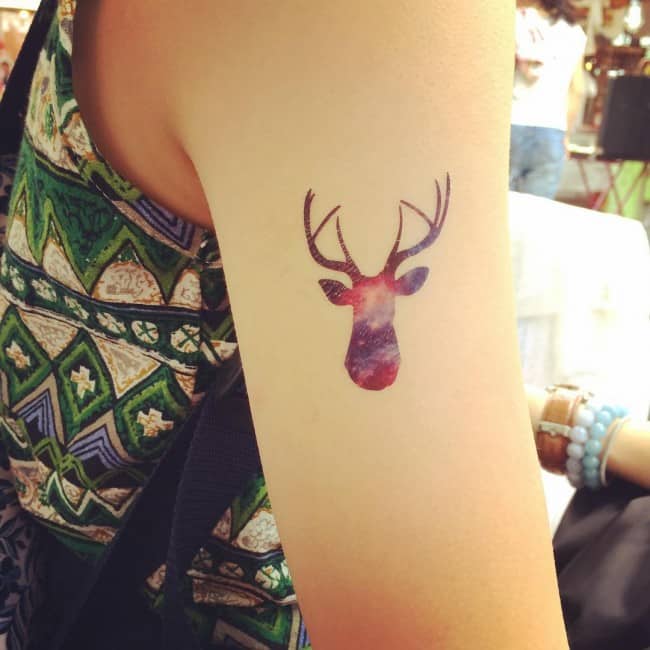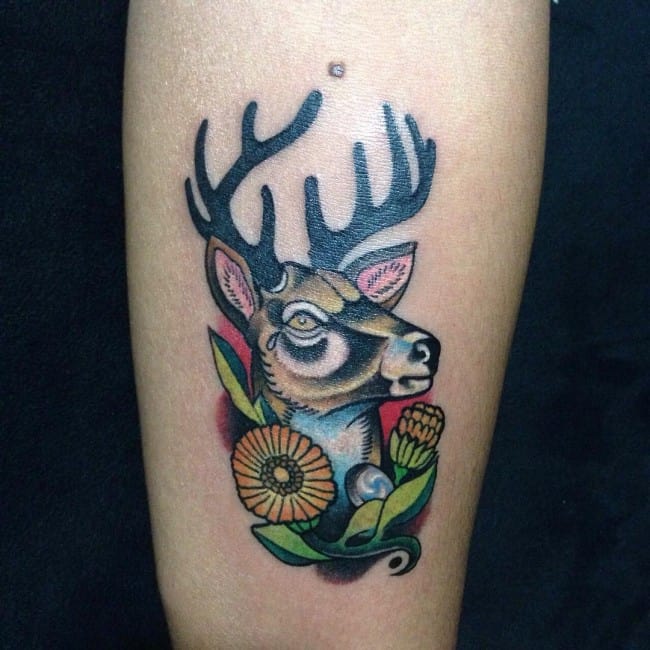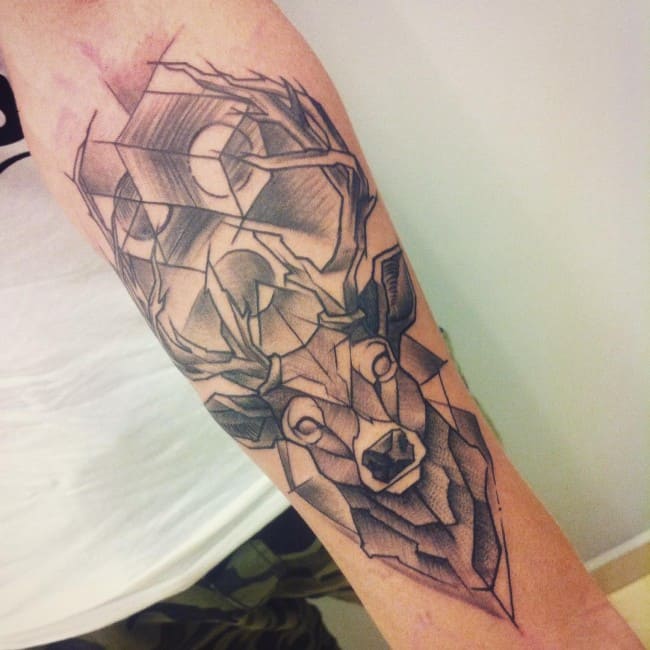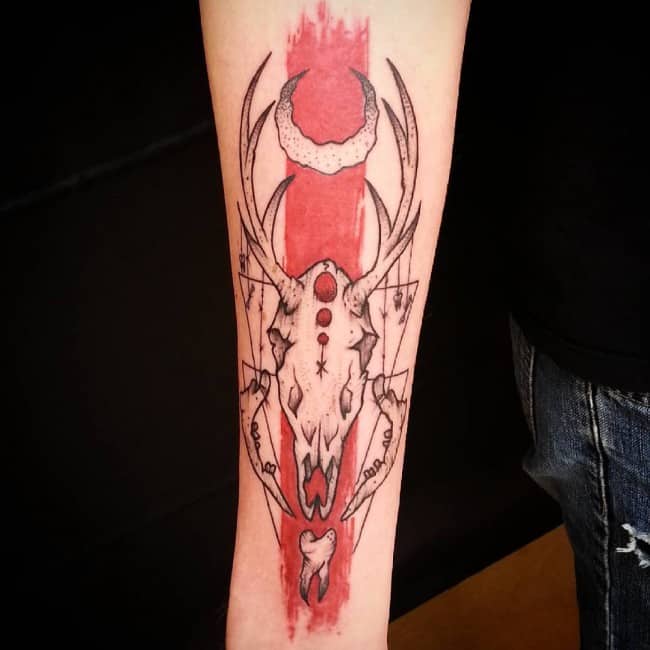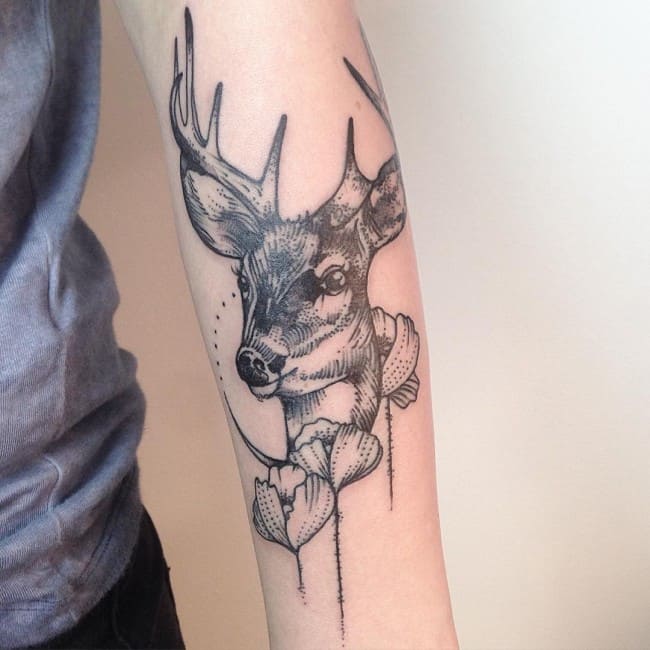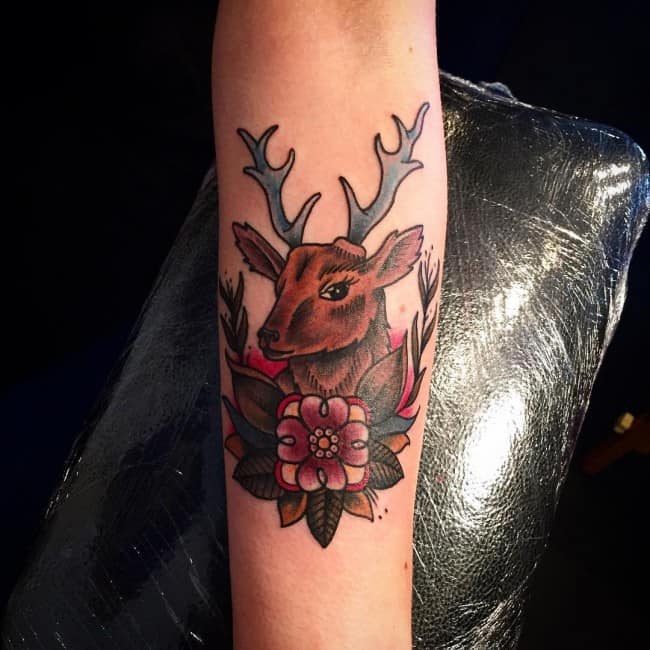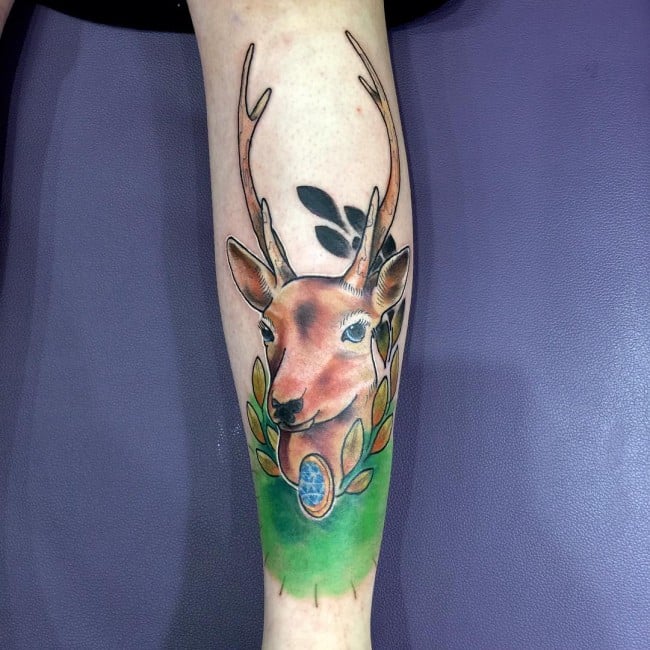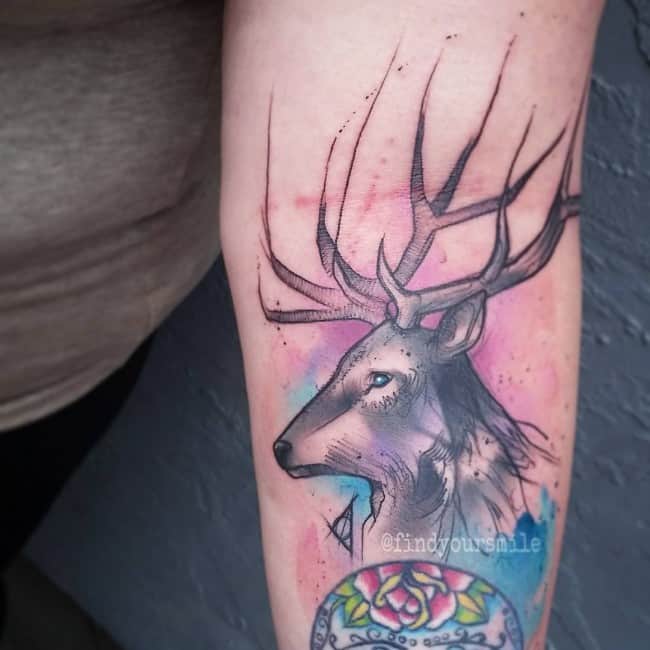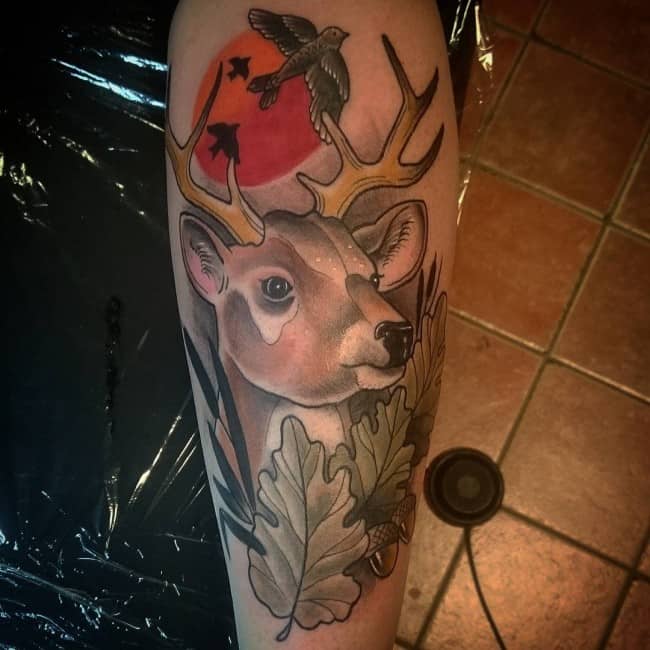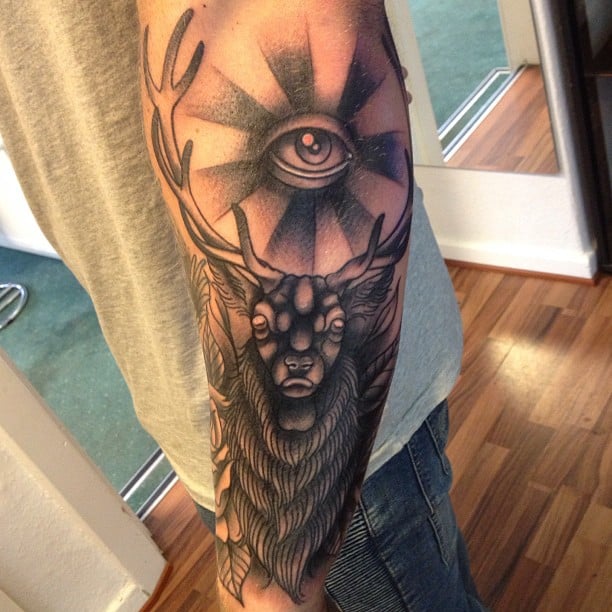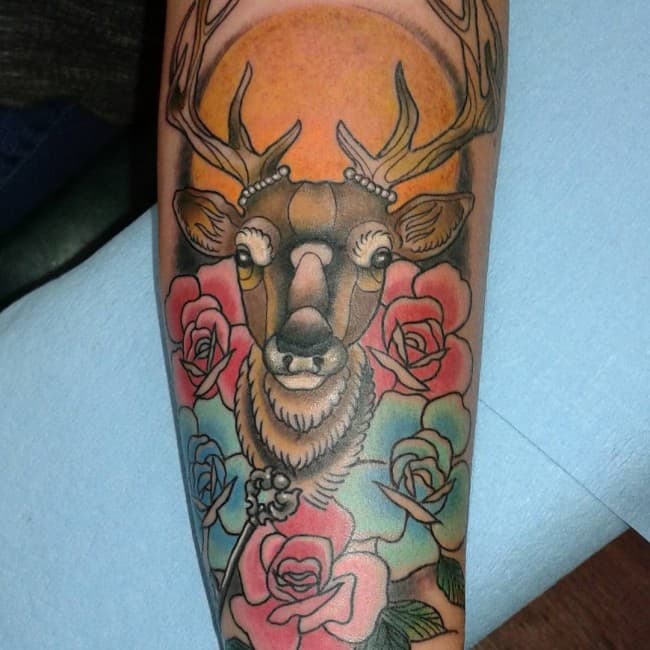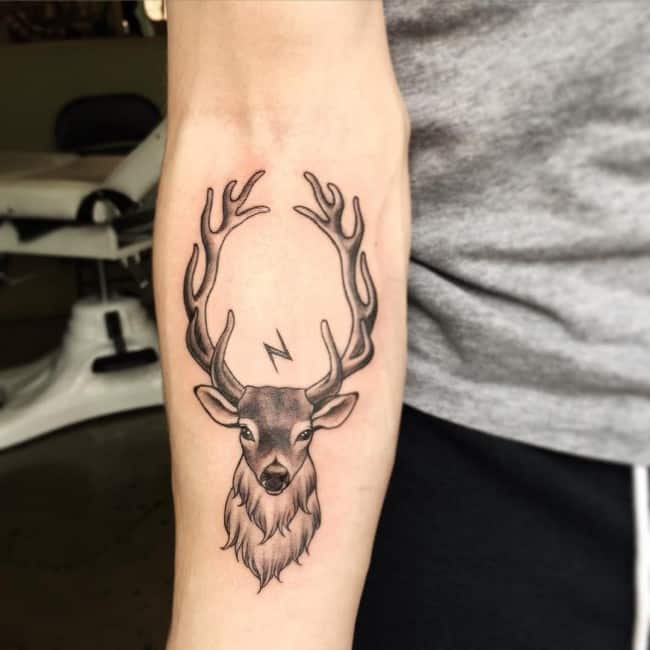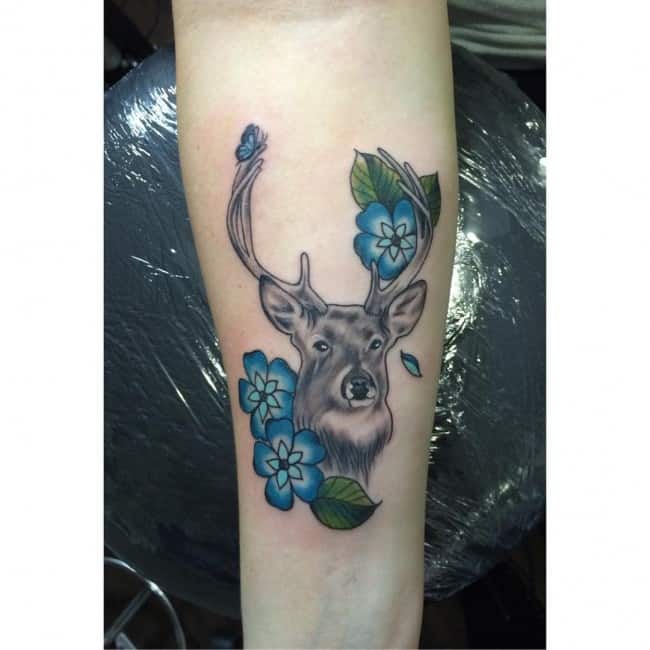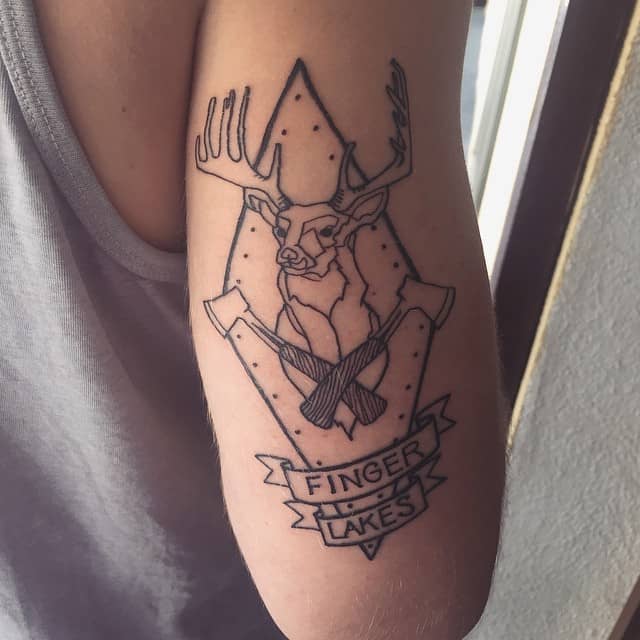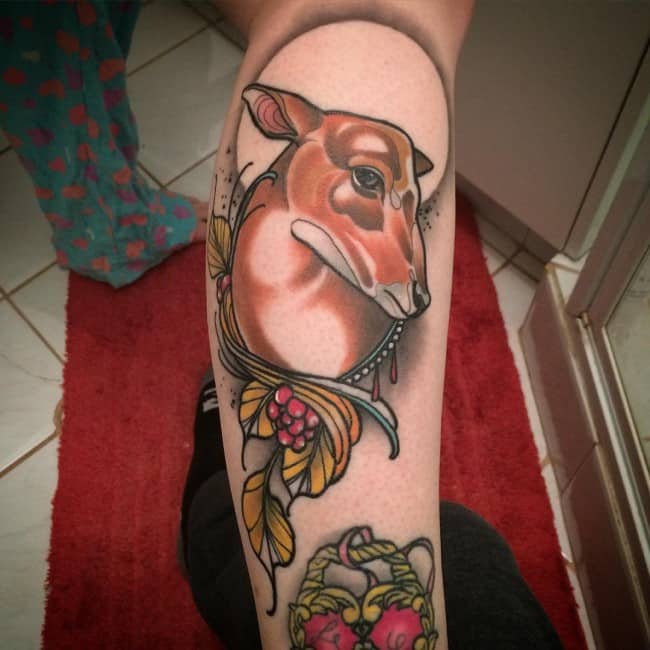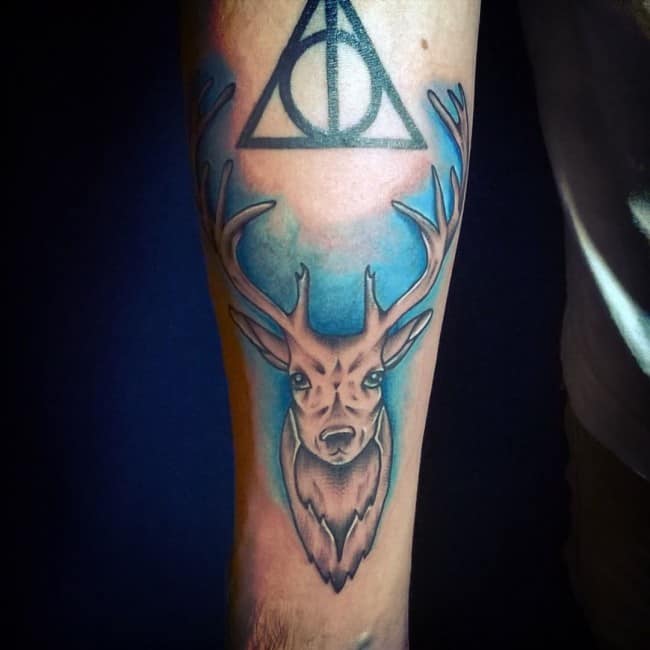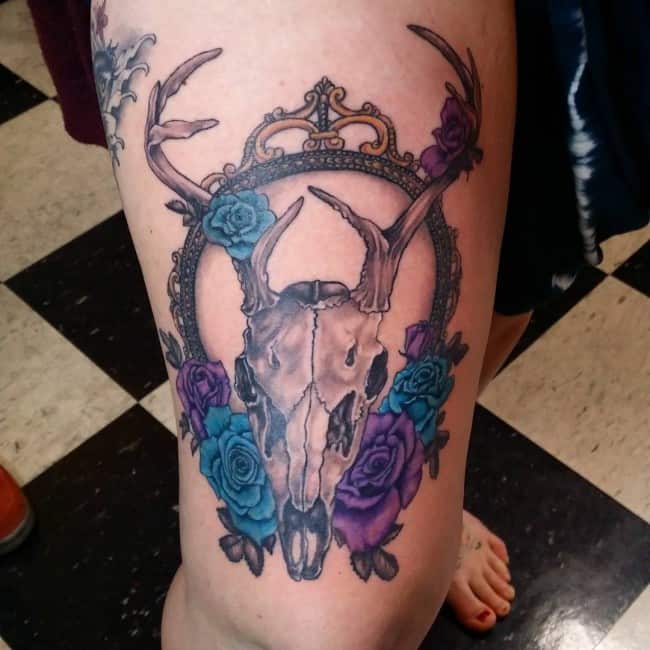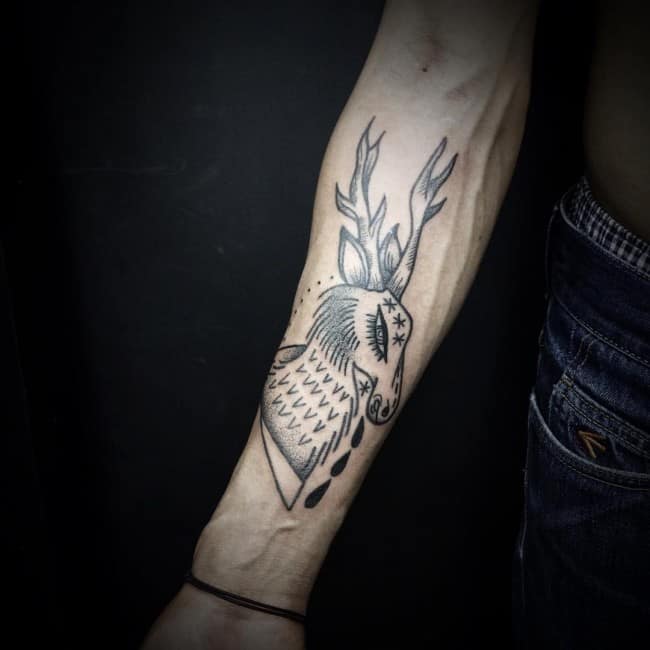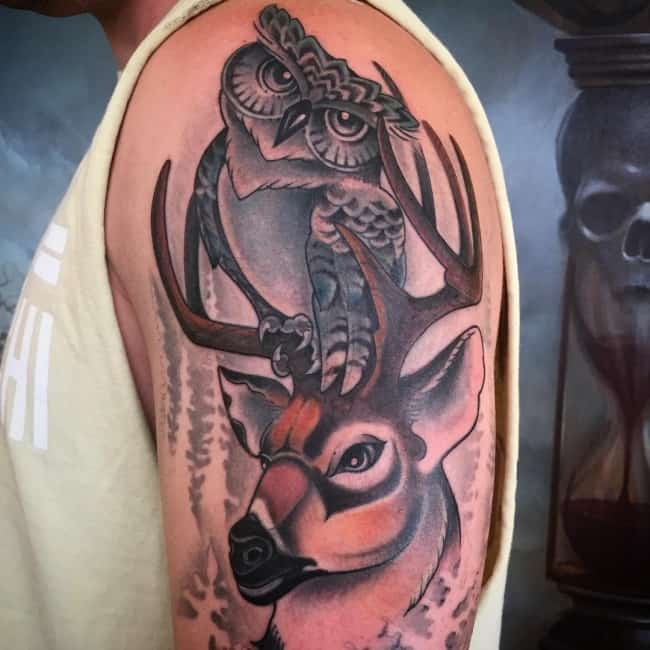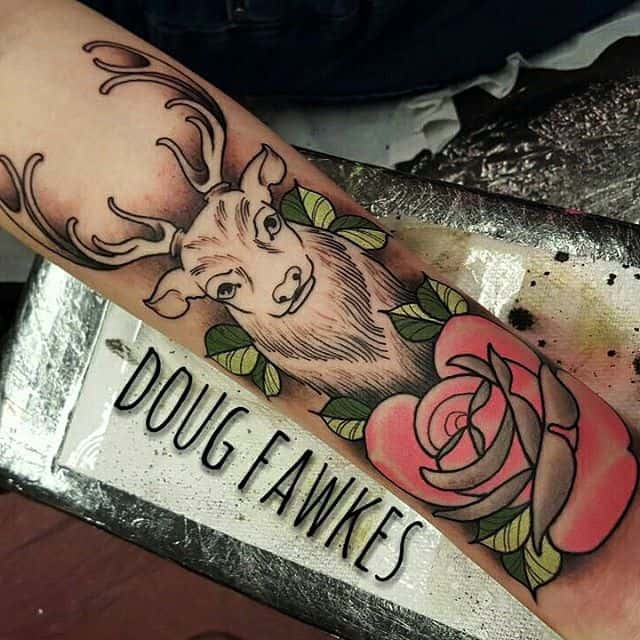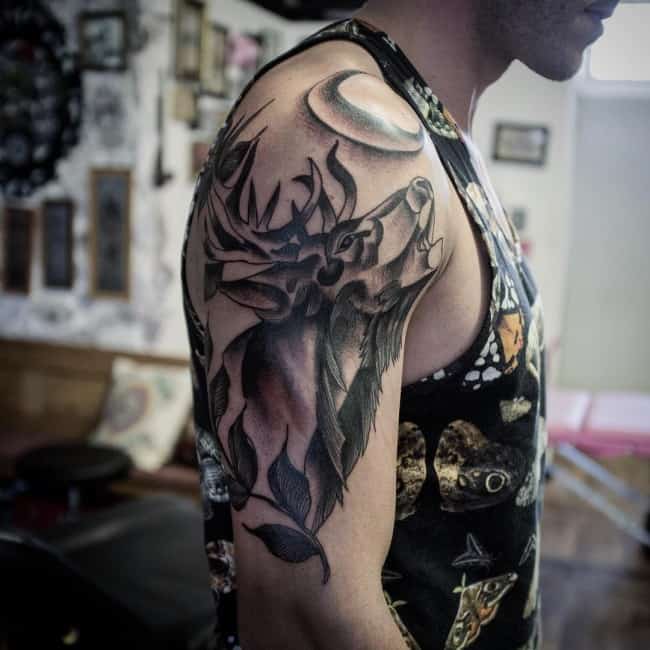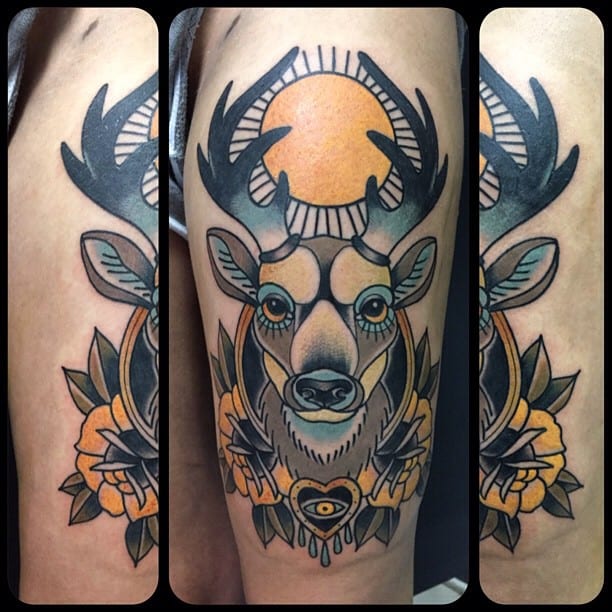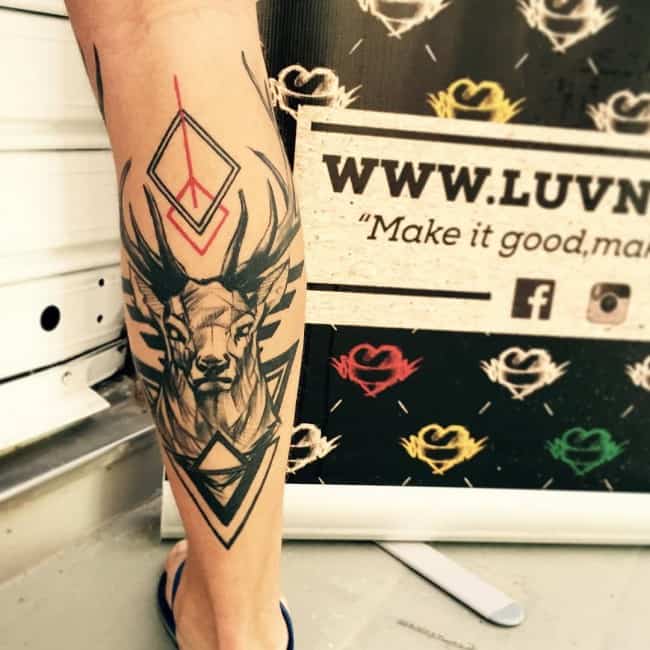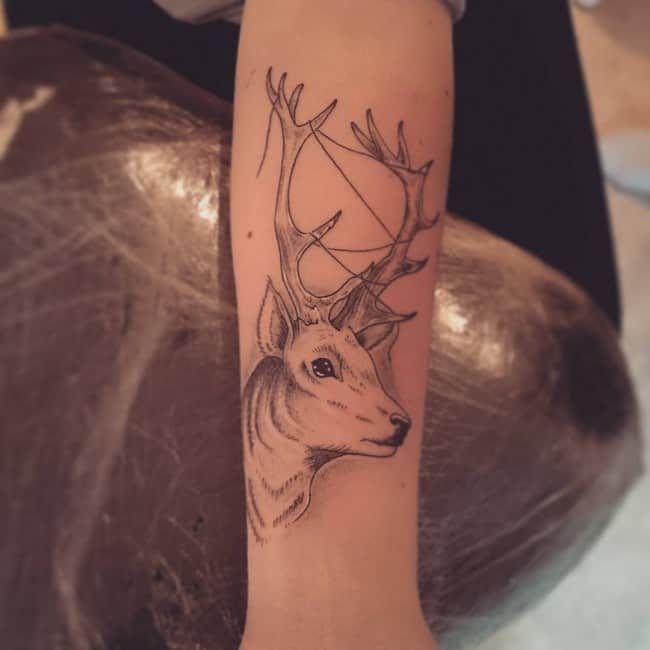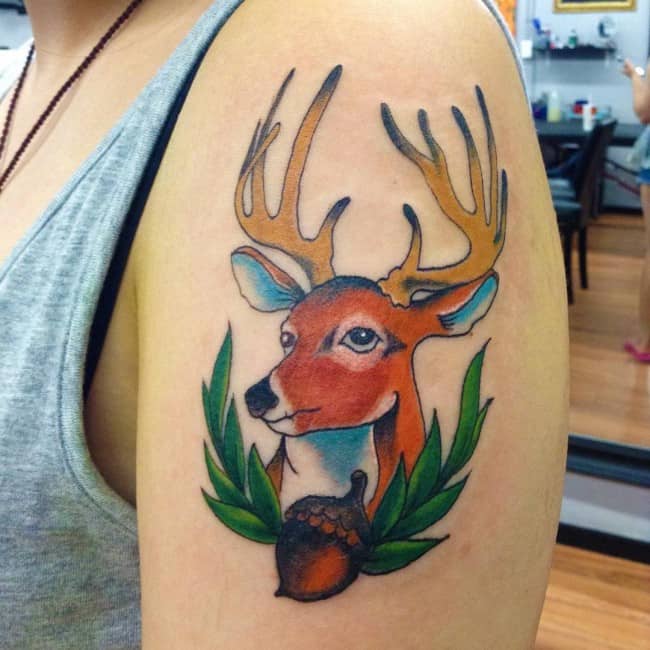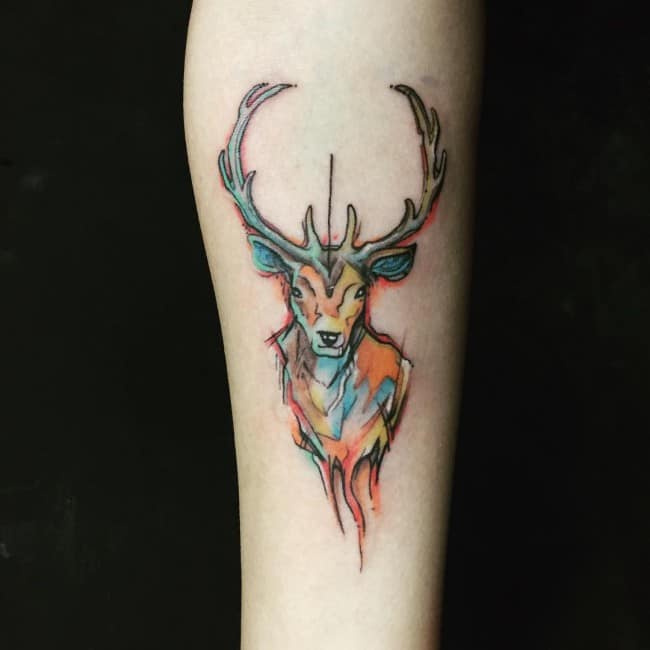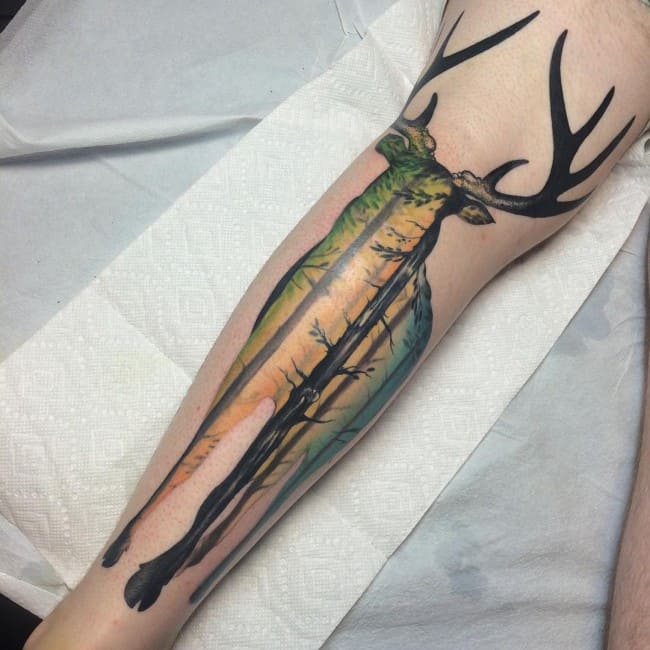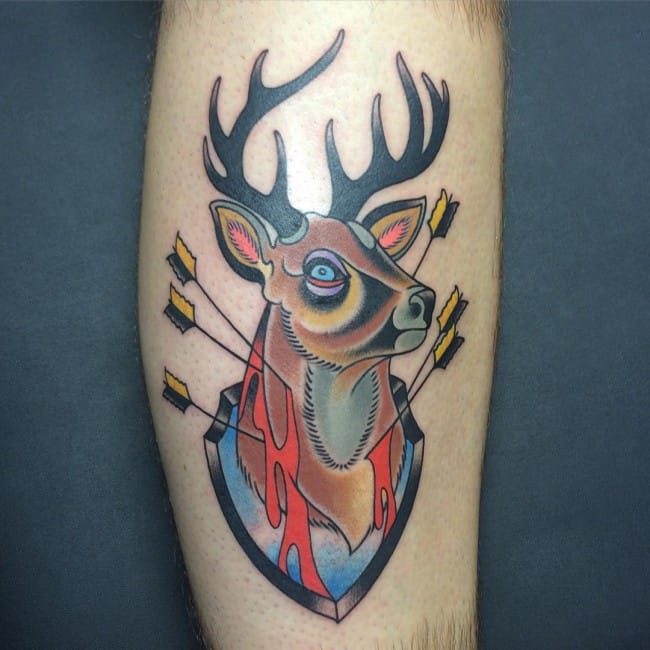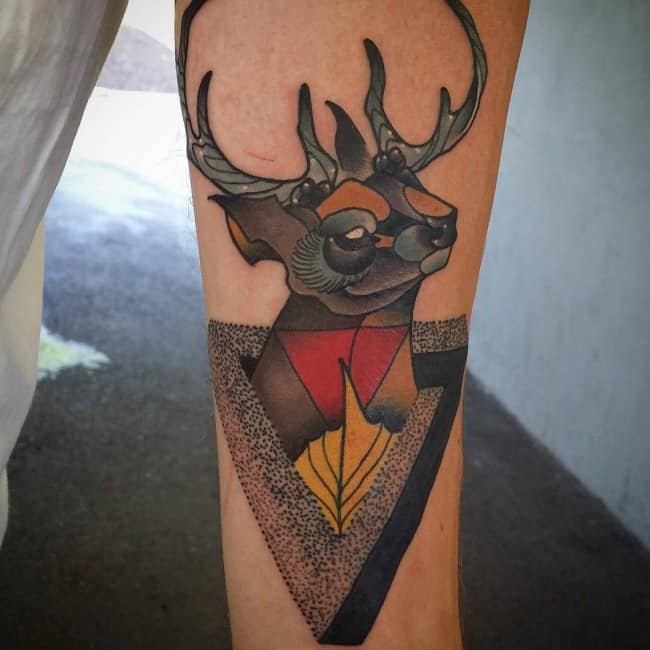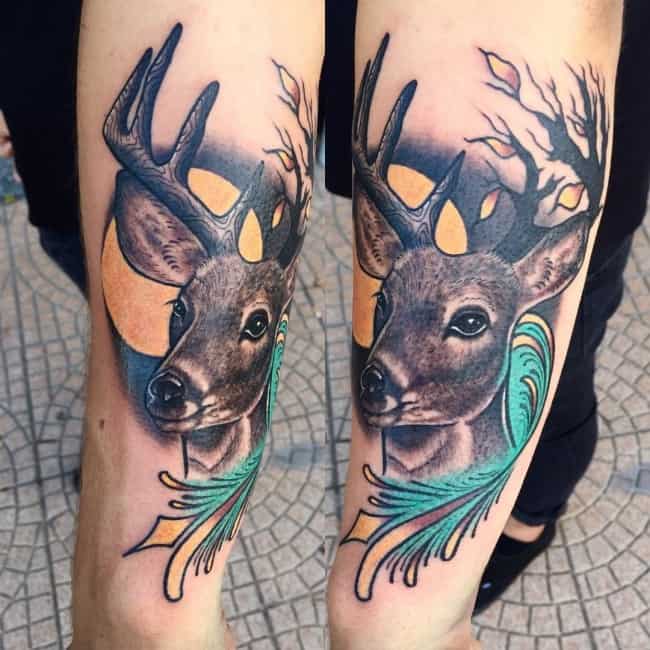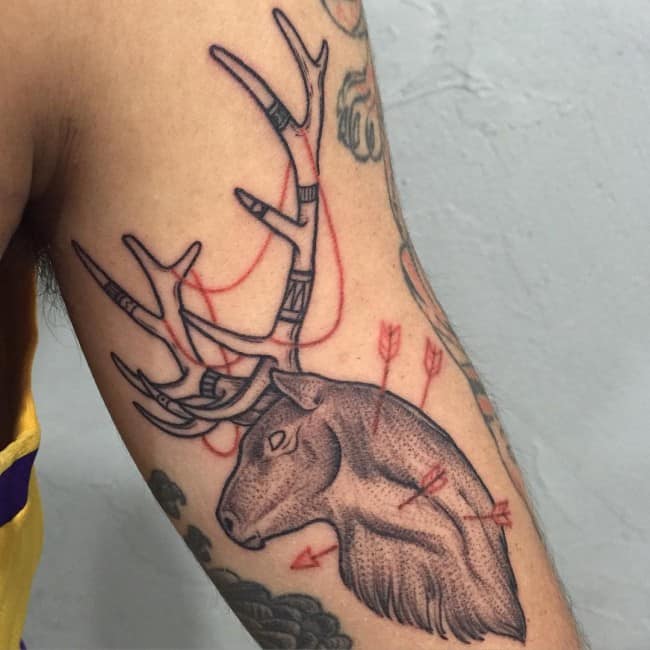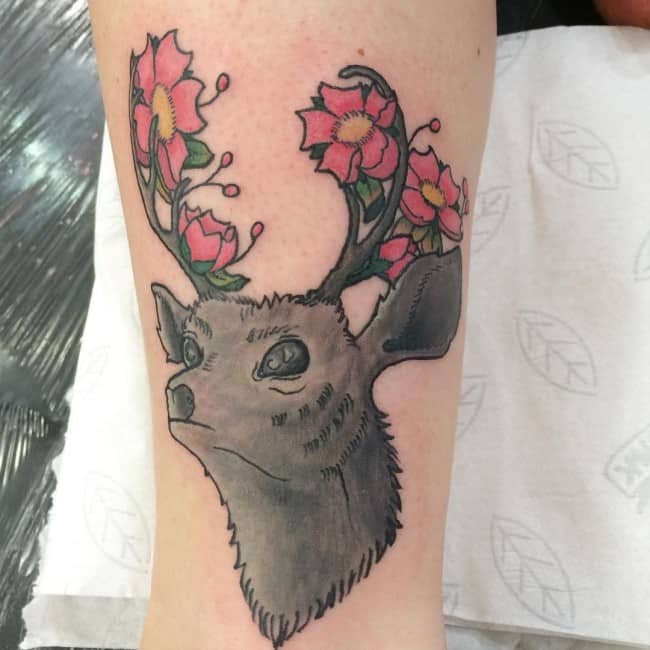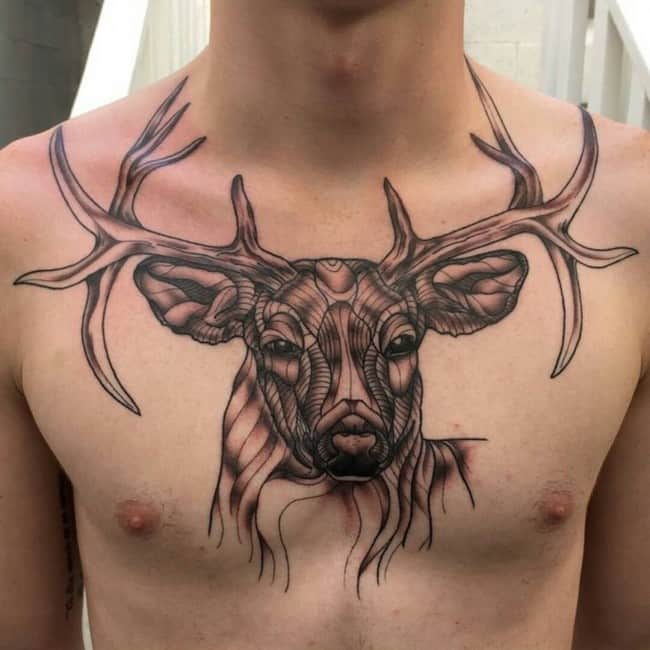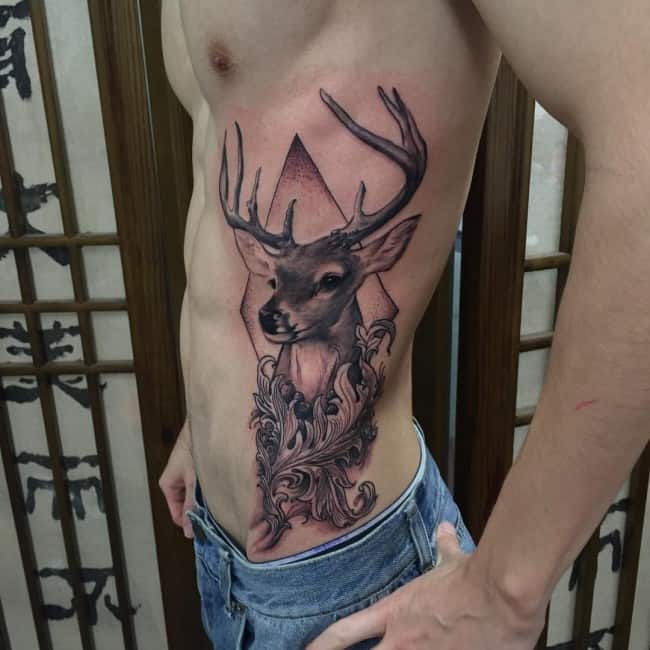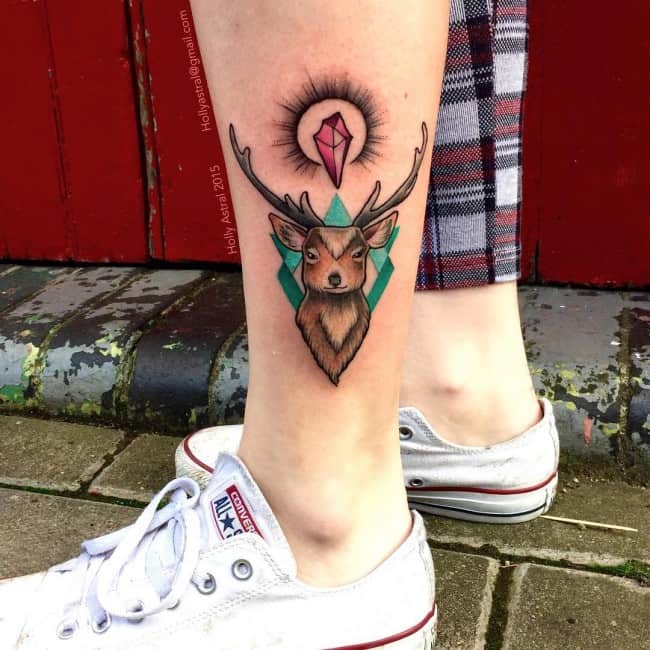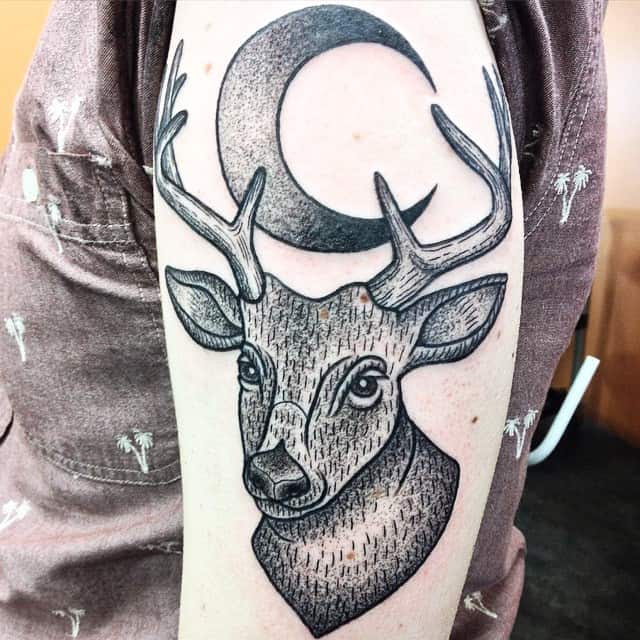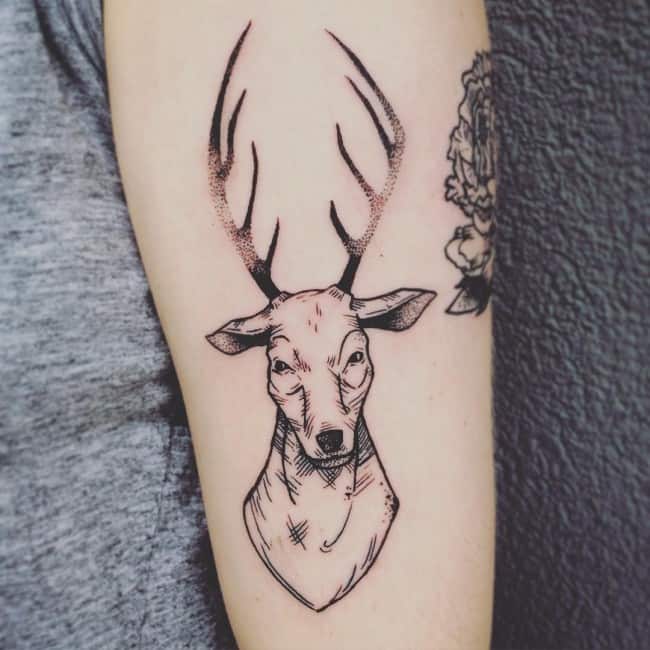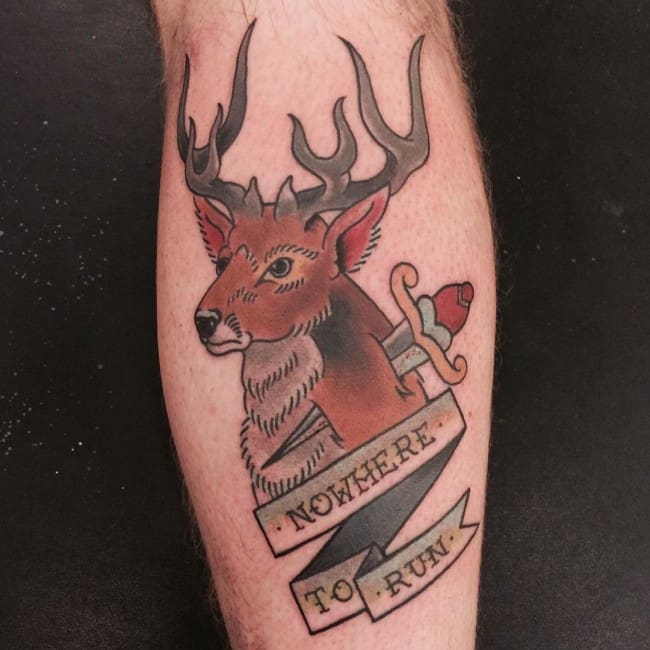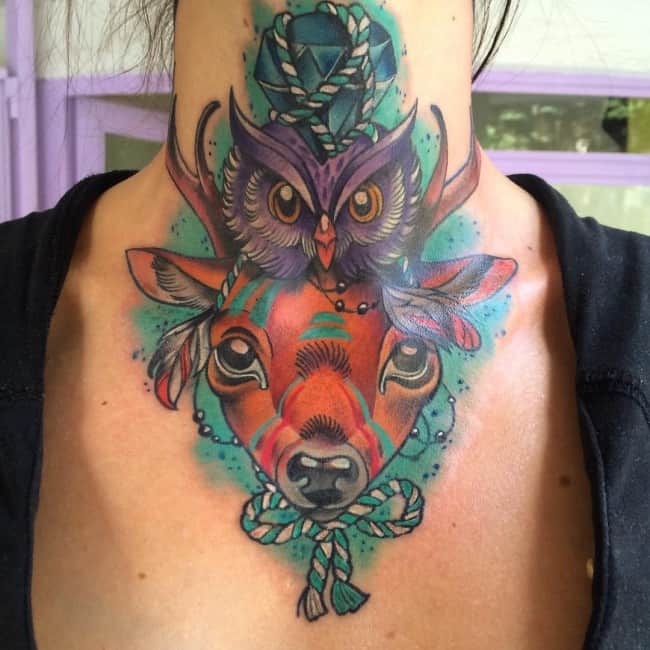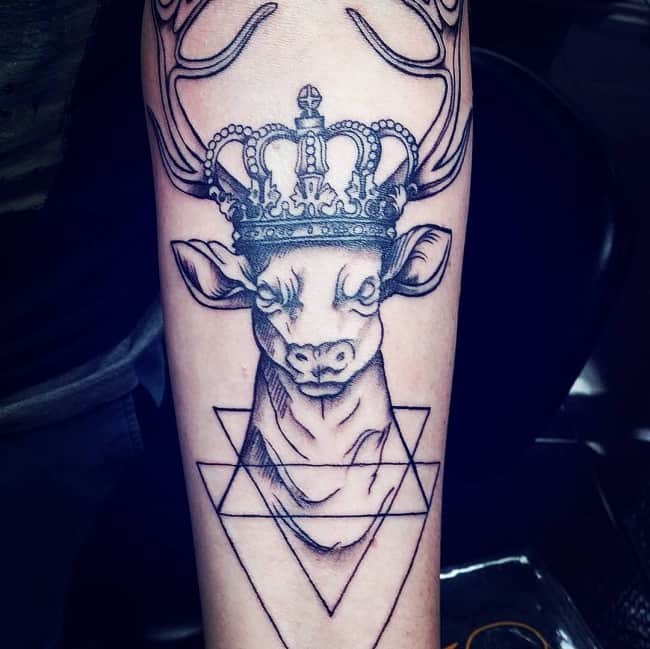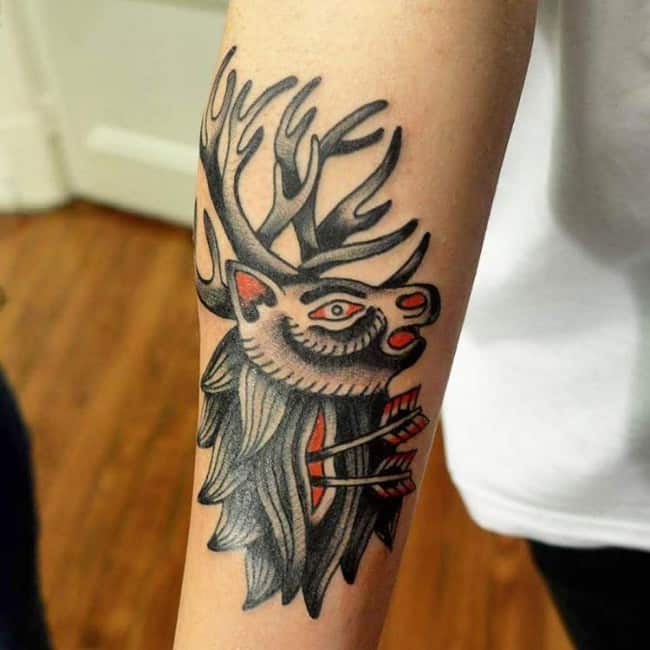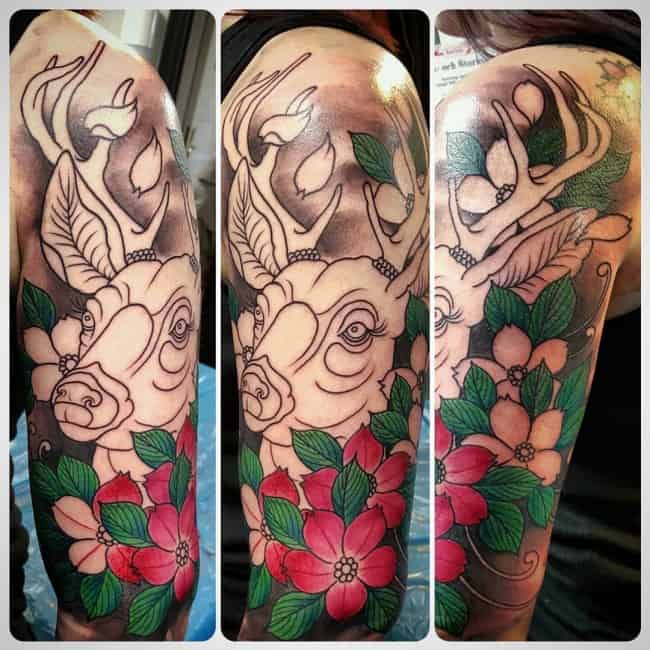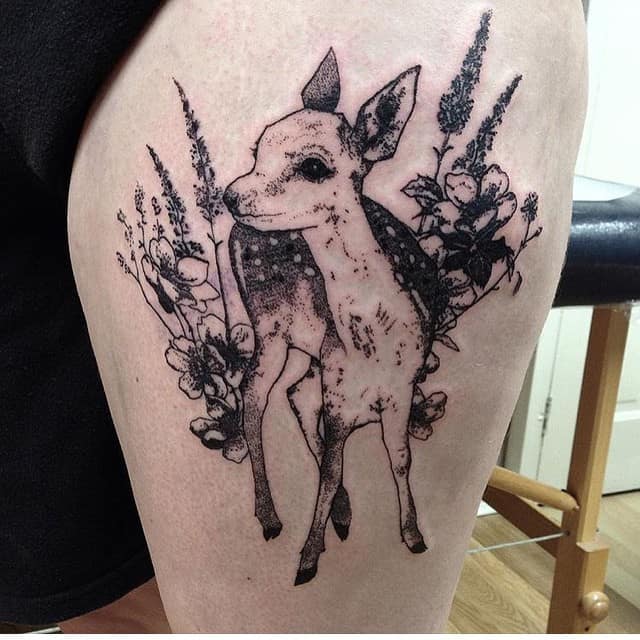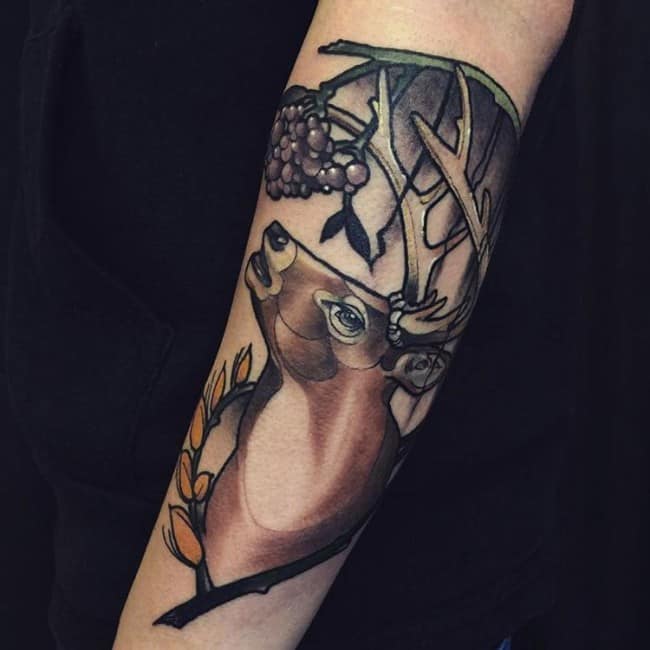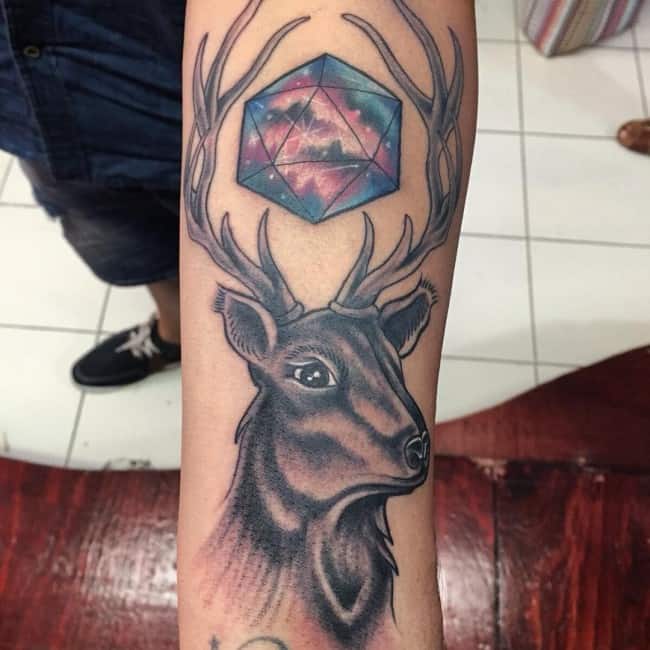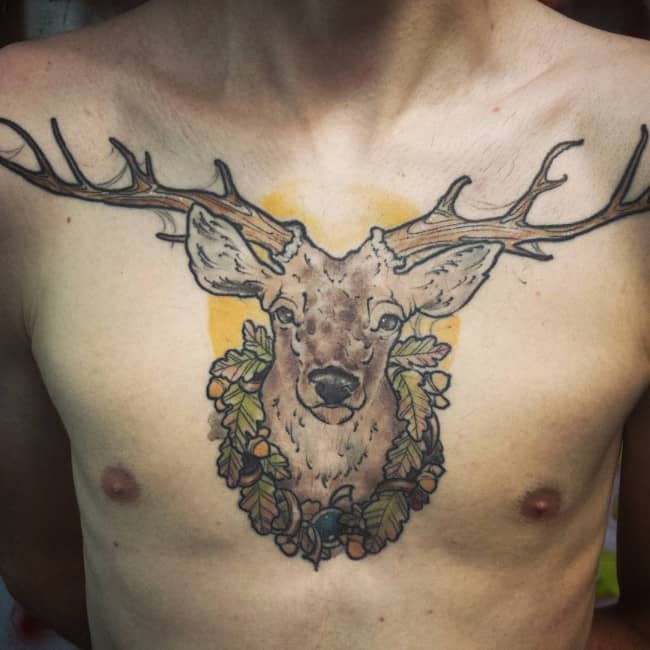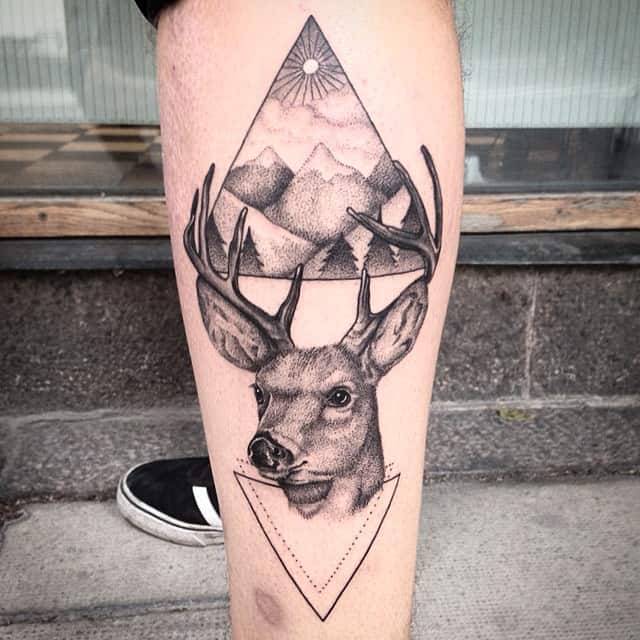 Celebrities Wearing Gorgeous Deer Tattoos
A deer designed tattoo is not only attracting those ordinary tattoo lovers in the world, but some famous personalities as well. These personalities are shining in the world where they belong when it comes to expertise such as acting, business, politics, and music. In this regard, here are some of the famous names that you should know:
Final Words
There is no way deer tattoos won't look great to any person's body. Wearing these tattoos will certainly give you the feeling of a celebrity since more and more heads will be turning on you once people around you see your tattoos. Of course, there are so much designs that you can choose from. Just be careful of what you will choose.