Among the most popular tattoo designs today is the pin up girl tattoo design, which as the name suggests features a seductive and charming woman, carrying a sexy pose. The expression "pin up" is derived from the vintage posters, which were once used to present actresses and models clad in skimpy outfits and decked with heavy makeup, revealing their best assets. Today, these gorgeous pin up girls have found place in tattoo art, with a great number of men, and even women, choosing this wonderful design to get value for their money as heads turn in their direction.
They are some of the most popular adornments that can be seen on the body of a number of people in the whole world. These are actually included in the list of old tattoos that are long been the favorites of men and women tattoo lovers in the world. Just in case you do not know, a pin up girl art will involve designs that are sexy and gorgeous images of women. These women can be celebrities, cartoons, or simply the sexy images of girlfriends or wives. Hence, it is no longer surprising why these tattoos are common choices of men. Even so, this does not mean that women can no longer have these tattoos. They still can, and it is all up to them. The inspirations of these tattoos are those pin-up girl posters that usually feature the images of actresses or models.
Rich History
The very first time sexy photos of women appeared on the centerfolds of numerous men's magazines in the world, the pin up girl tattoos also became extremely popular. It was way back in the 1980's, which was also the time that men's magazines started to exist. The photos usually featured seductive images of actresses and models dressed in very daring pieces of clothes. As a matter of fact, these tattoos also had something to do with the World War I and World War II. It was simply because a lot of marines and soldiers had them engraved on their body. Because of that, those brave people who fought in the historic world wars became the major endorsers of the pin up girl in the entire world. These people wore the tattoo as a reminder that they had their girlfriends or wives waiting for them after the war, so they had to survive no matter what. However, there were some of them who wore such gorgeous body adornment in order to show who they had idolized with among the great numbers of sexy and beautiful actresses and models in the world. In the 19th century up to the 20th century, this art became a very popular and controversial thing among the conservative people. This became their subject of discrimination simply because of its malicious designs of women. Nevertheless, the tattoo continues to exist and become the choice of many even up to these days.
Important Elements of Pin Up Girl Art
Just like the other kinds of tattoos that can be worn on your own body, the pin up girl art also have very important elements that must be considered. Without these elements, these tattoos can never be completed, ruining the real purpose of the tattoos. This is why you need to hire a professional tattoo artist whom is very familiar with the said tattoos. Here are the important elements of these tattoos that you should keep in mind:
Woman's image – The number one element that must be present with the tattoo is the woman's image. Without it, the tattoo can never serve its main purpose, and it can never be called pin up girl art for sure. Hence, before you go on the tattooing process, you should know in advance what image of a woman you want to have. Of course, it should be sexy and has something to do with you. The image should have the emphasis on the woman's sexy parts such as butt, breasts, legs, and curves.
Color – Color is a very important element of tattoos not only for a pin up girl art, but in some other kinds of tattoos as well. The level of gorgeousness of the tattoo can be greatly influenced by the color that you will choose. And in some cases, the meanings of the tattoo can also be altered through the color. If you want your tattoo to be very striking, then you should choose vibrant colors. But if you want it to be less eye-catching, then you can choose those not so vibrant colors. As simple as that.
Sub-Designs – Just in case you do not know, sub designs can actually be added. The sub designs are those secondary beautiful designs incorporated to the main design, which is the image of a sexy woman. Through these sub designs, the entire meaning of the tattoo can also be changed and the level of aesthetic value it exudes can be heightened. Some good examples of these sub designs are flowers, animals, mythical creatures, heavenly bodies and the like.
Purpose – One last extremely significant element is the purpose of your tattoo. In case you only want to show how much you love your wife or girlfriend, then you do not need to have a very daring image of your girlfriend or wife on your body. Always keep in mind that there are a lot of conservative people in the world who might not like seeing your pin up girl tattoos.
Celebrities
After knowing that there are lots of celebrities who have pin up girl art inked, you might get more interested to have this tattoo on your body. Here are some of the names of these celebrities:
Amy Winehouse – Before she died, Amy Winehouse was very popular in the music industry. She was a very gorgeous woman who had several pin up girl arts on her body located on her left arm and right arm.
Christina Ricci – Christina Ricci is a 36-year-old American actress. She is also a big fan of a pin up girl art. She has this gorgeous tattoo right there on her left ankle, and it has a mermaid design.
Maja Ivarsson – Maja Ivarsson is a 36-year-old Swedish singer who has a very beautiful pin up girl art tattoo. It is a huge tattoo that is located on her left arm.
Origin
Pin up girls were seen on posters and men' magazines cover somewhere around the 1890s for the first time and won the hearts of men right then, which later gave them a popular place in other art forms, including tattoo art. Pin up tattoos were popularized by sailors, who had them inscribed to express their love and remembrance to the women in their lives, a part they missed as they went off to long voyages. They were later carried by soldiers and marines during the World Wars, as they wanted to show their love towards their women with these tattoos. These tattoos laid stress on the attraction and charm of women and stood for female strength, beauty and fun, which gradually made them a hot favorite among men of all ages and all walks of life. Today, even some women are in love with these eye catching designs. In the present times, most of the females featured in pin up girl tattoos are clad skimpily and make more of a skin show as people have become bolder and are looking for more attractive designs. However, the idea behind the design is that women look seductive rather than vulgar. Check our collections of Biomechanical tattoos, Tribal tattoos, Maori tattoos, Henna tattoos for creative ideas.
Beautiful Pin up Girls Tattoo Design Options
As these tattoo designs reached the heights of popularity, designers came up with a great many newer ones, making variations in the classic designs and incorporating new elements in them to make them unique and eye catching. Here are some popular pin-up girl tattoo designs:
Classical Pin up Girl Art
If you are looking to go back to the basics, then classic pin up girl design is just the right one for you. These are the old and original pin up girl designs, which featured hot and attractive women in seductive dresses, carrying a sexy demeanor, sometimes making inviting gestures and on others, simply looking desirable in the backdrop of a wine glass. The pin up girls are shown wearing a retro look in these designs, whether it is about her outfit, hair or makeup. Such designs can be looked up into old books and on the net, so that you can get something close to the old school pin up girls tattoo design.
Expressive Pin up Girl Art
Expression is another important aspect of these designs, as they make the real difference about the quality as well as the meaning of the tattoo. Some of the pin- up girl tattoos show women bearing a seductive expression, inviting men with sexy eyes and pouting lips. Others symbolize them carrying an innocent and vulnerable look, which makes them even more attractive and yet others focus on the comic side of pin up girls, with their expressions depicting humor and good fun.
Placement Guide
A great deal of attention needs to be given to the placement of pin up girl tattoos as most of them are considerable in size and detail, and also need to be made in area which is easily visible. Most of the time, such a tattoo makes itself visible on the upper arm of the bearer, in the bicep area. This placement is perfect from space as well as attention point of view. Also we've seen these tattoos on stomach, rib, shoulder, thigh, back, spine, chest, and legs, while women prefer small and more feminine designs, which are suitable to be inked on sleeves, ankles, wrists, lower back.
Research can be a great help while deciding the pin up girl design for yourself as there is a great variety available in them and getting the right one can be a tricky job. a talented designer can be of great help here, and so can be some old magazines and related websites. You might want to check our collection of Mother & Daughter tattoos, Best Friend tattoos, Sister tattoos, White Ink tattoos.
Beautiful Tattoo Designs Of Pin Up Girls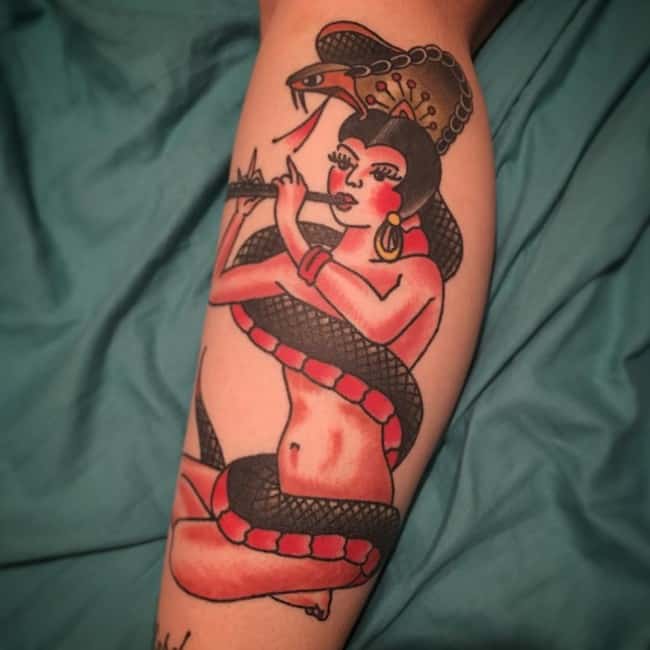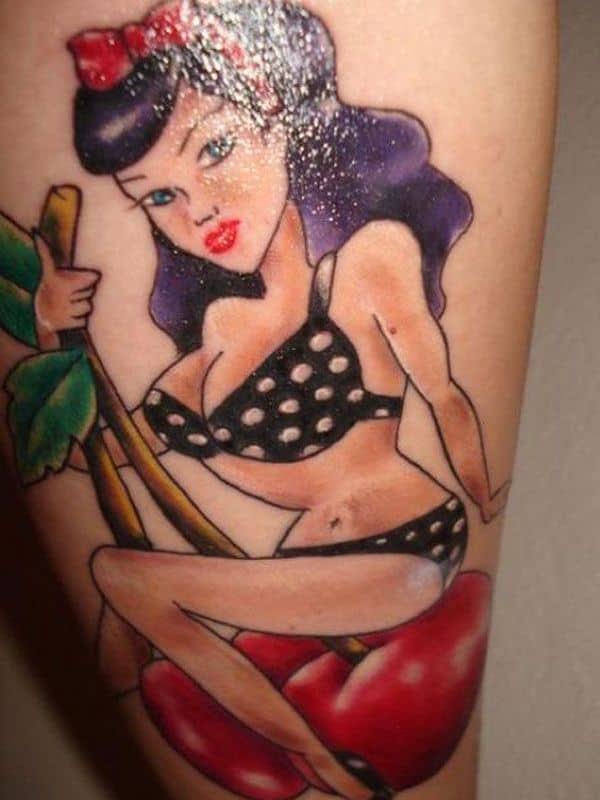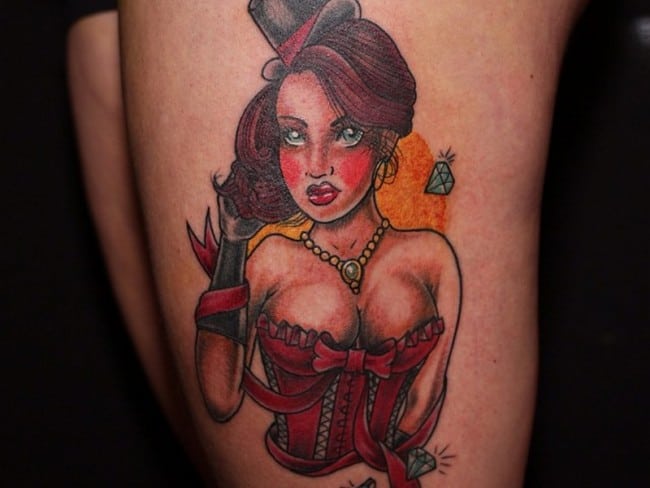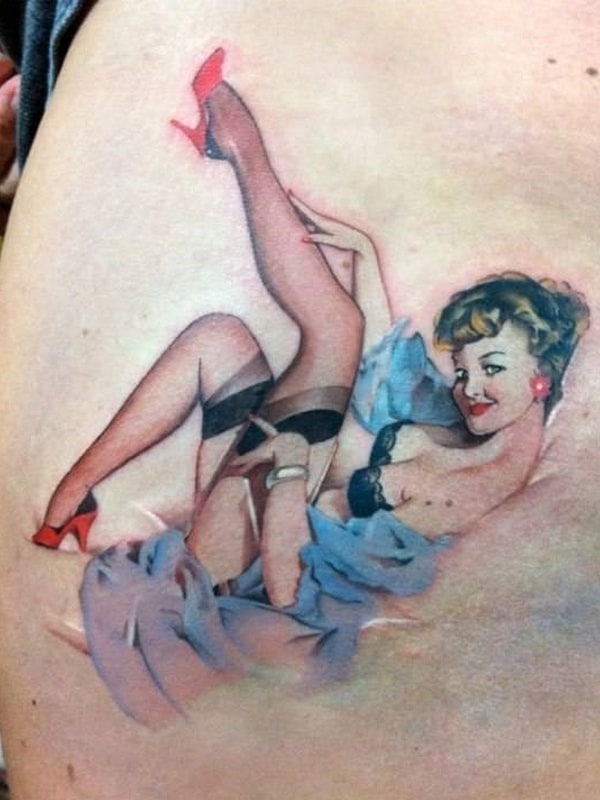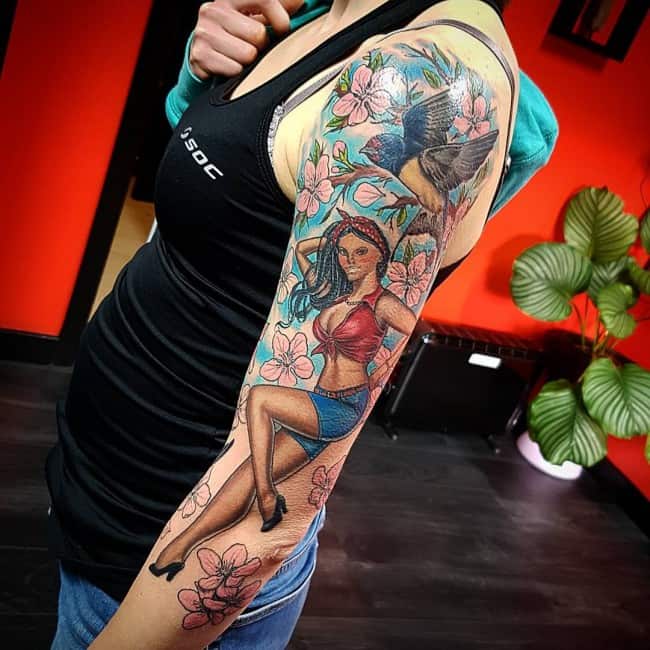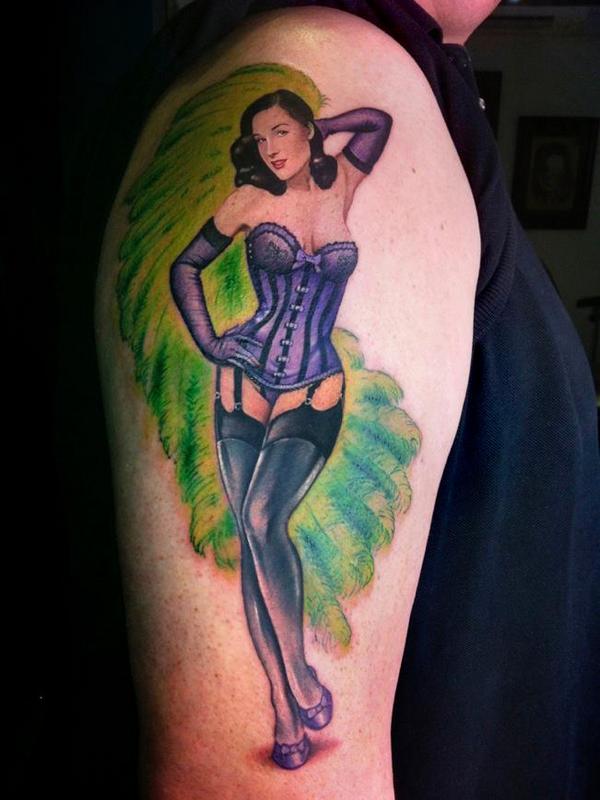 Pin up girl art may incorporate different design elements to add a new meaning to the design in each case. The thing to bear in mind while including these elements in the design, is the basic purpose of the design and what it is meant to depict. Some designs may show the pin up girls with wine glasses and other may have them wearing a swimsuit or even wrapped up in a bath towel. Most of the designs are done in bold black outlines and carry a lot of vibrant colors and intricate details on the inside. The focus is more on her curves, legs, breasts and butt, but at the same time things need to be subtle so that the tattoo can be carried in public without any embarrassment. The basic idea is to make the design alluring without being cheap or vulgar, which depends upon the expertise of the designer. Dragon, phoenix, fish, lion, celestial objects stars, moon, birds and many other elements such as flowers, dreamcatchers, feathers, anchors, arrows, compass, musical symbols, heart, infinity symbol, trees, angels, wings can also be used to enhance the pin up girls tattoo designs.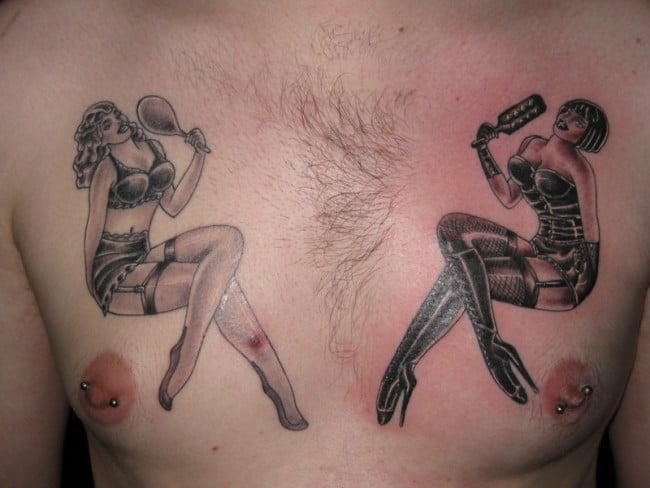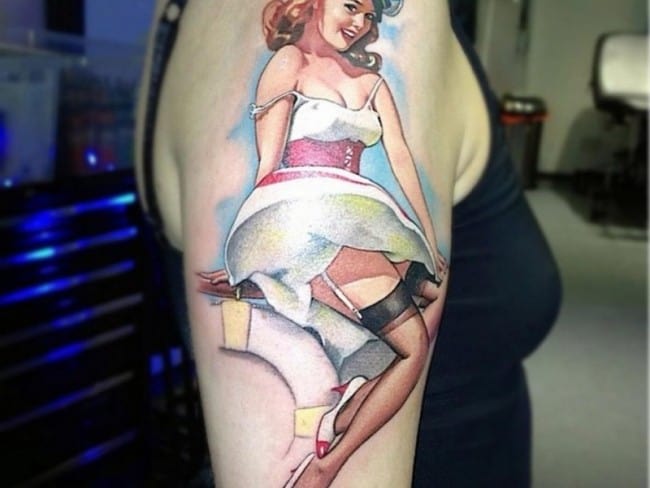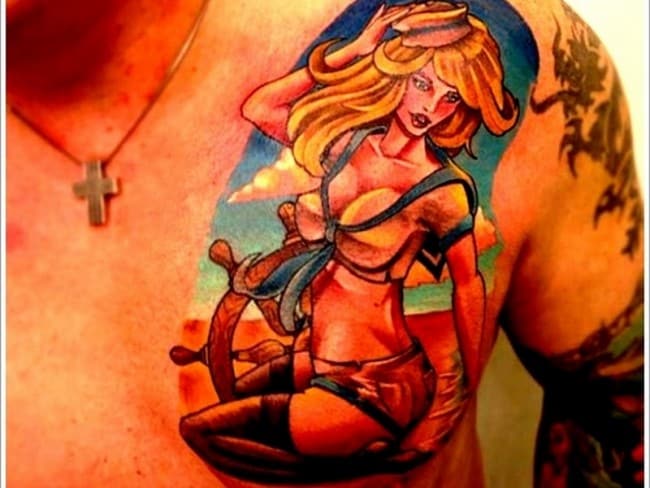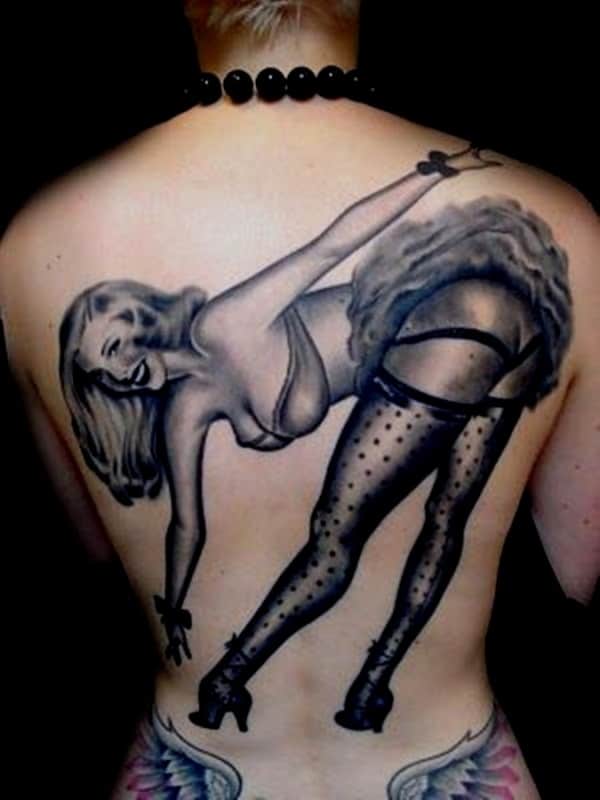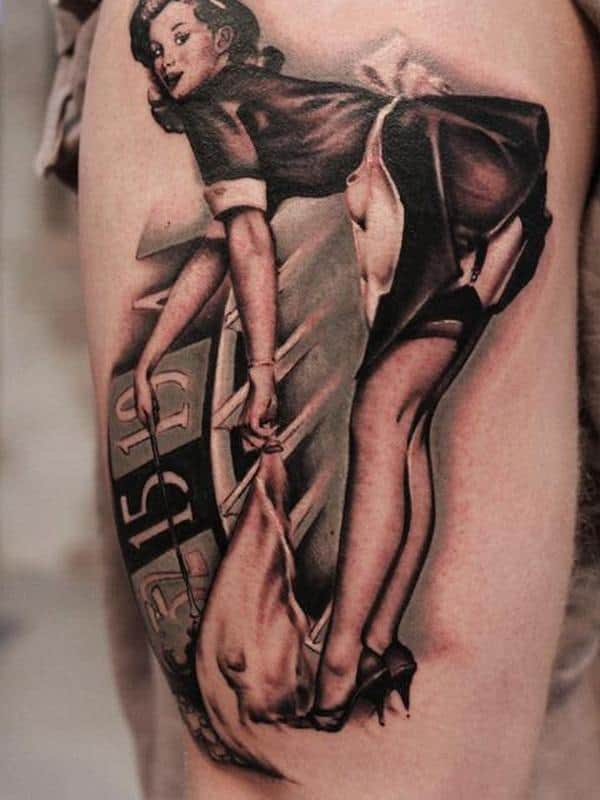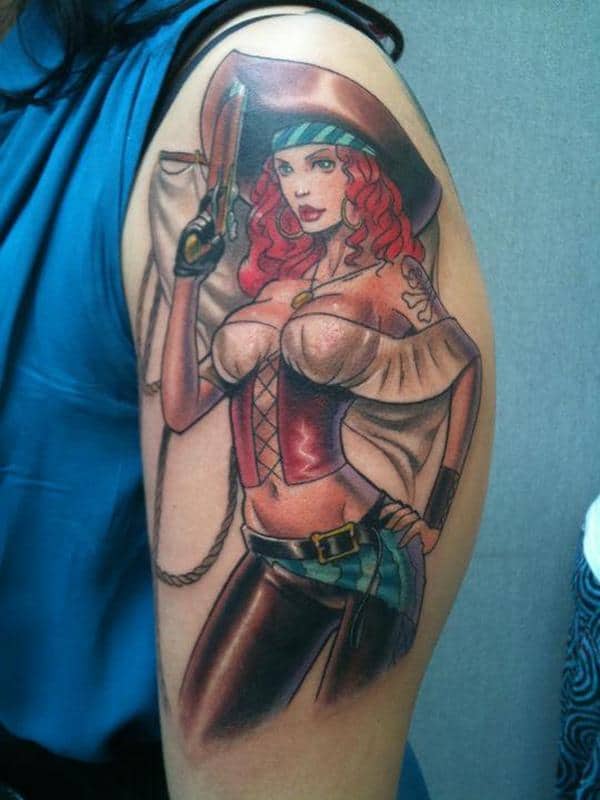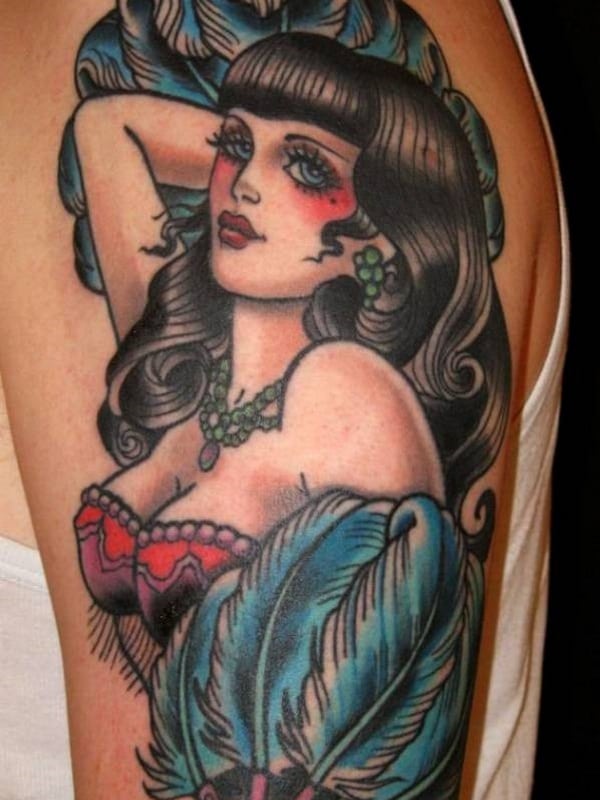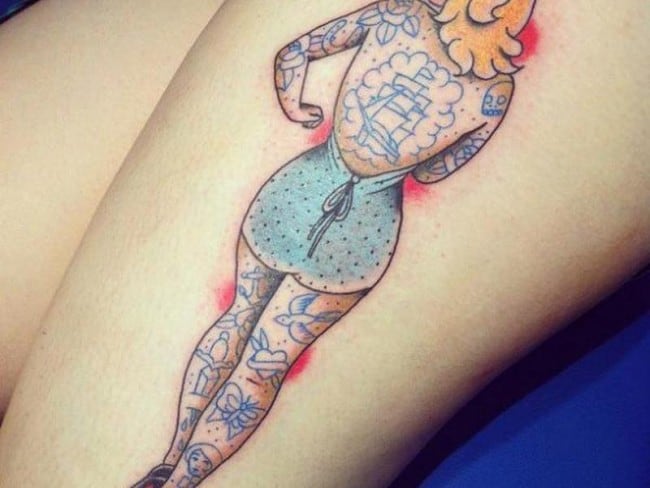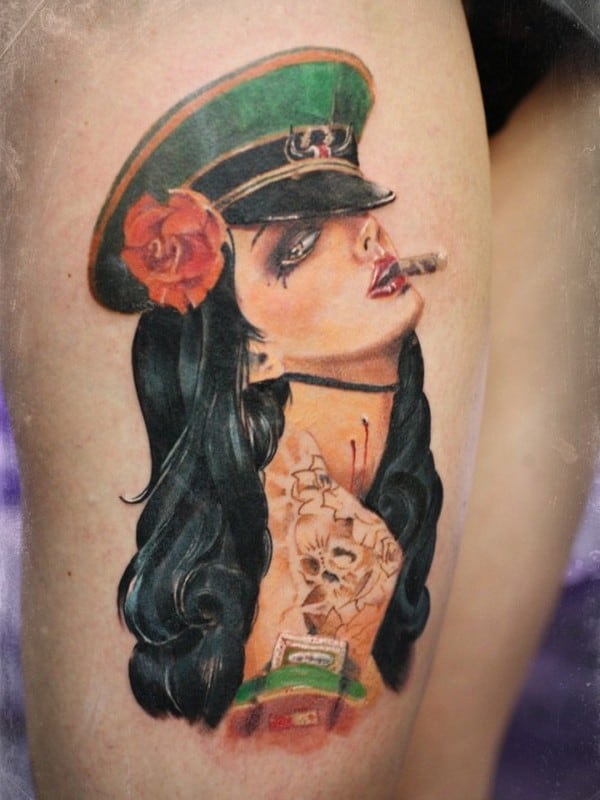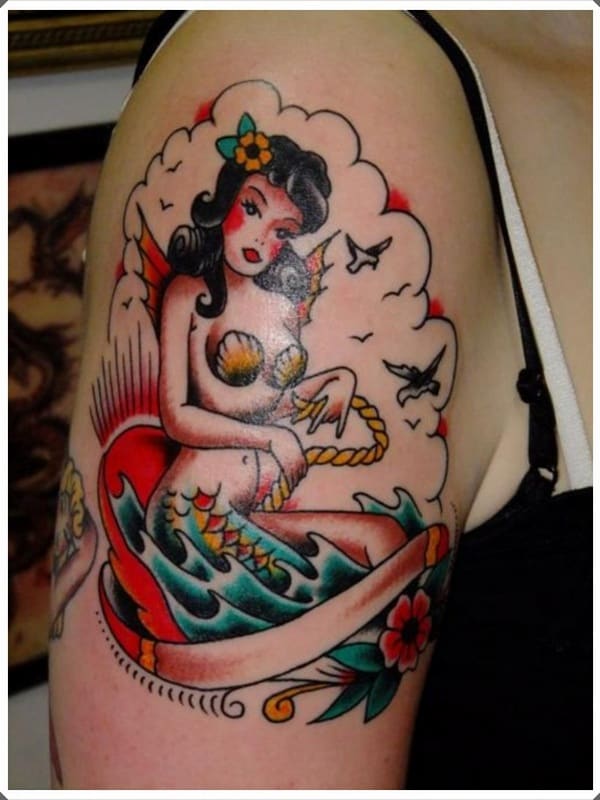 Final Words
Pin up girl tattoos are very beautiful body adornments that everyone can wear these days. It is a wrong perception that these tattoos are only for those men tattoo lovers. It is simply because there are lots of women who also engraved these tattoos on their body even in the past years.
Pin up girls refer to the old time trend of models and magazines featuring on the covers of vintage magazines, wearing seductive dresses and equally seductive makeup and expression. The trend has made its way to the modern tattoo art too, with men and women having a great liking for pin up girl tattoo designs these days. These designs bring back the retro look and embody the power and beauty of a woman. Yet, the only factor to bear in mind is that the tattoos should look seductive, yet not vulgar.