We discuss pin up girl tattoo design ideas and inspiration before showcasing some of our favorite tattoos in this style from around the world.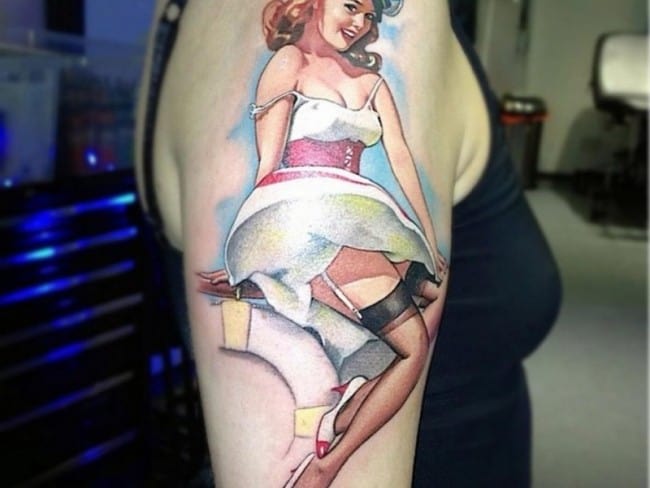 Images of pin up girls have always had a solid place among the top choices for tattoos, particularly for men.
Nowadays, pin up tattoo designs are going through something of a revival, gaining widespread appeal among people of all genders.
With a vintage look and a firm cultural background, pin up designs are definitely an option worth considering when looking for ideas for your next tattoo.
Read below for more on the history of pin up girl imagery, suggestions for tattoo designs and placements, and more!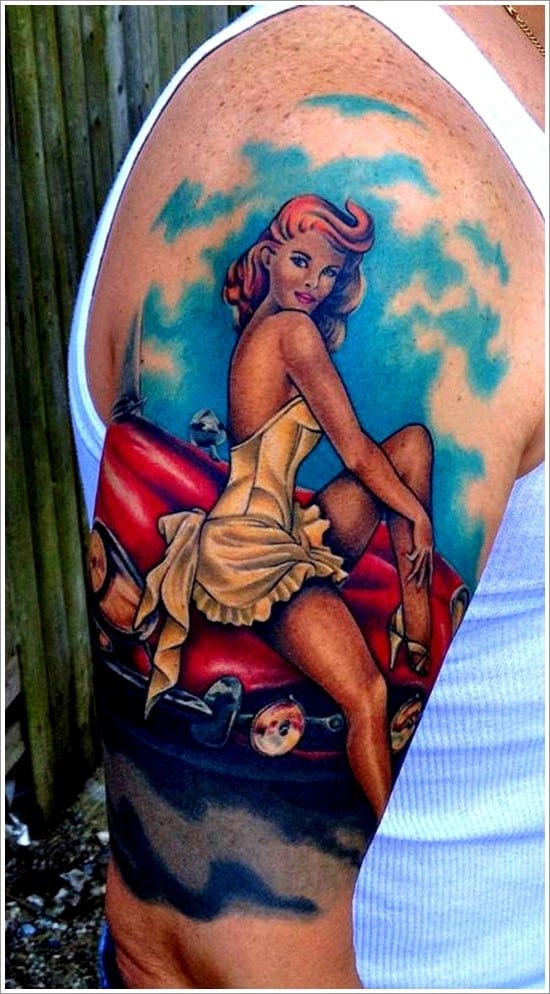 History of pin up girls
Although mostly associated with the pop culture of the 1940s and 50s, the history of the pin up girl imagery goes back to the burlesque theater of the 1800s.
Stylized images of actresses were sometimes used to promote certain shows, and often ended up being used as decoration.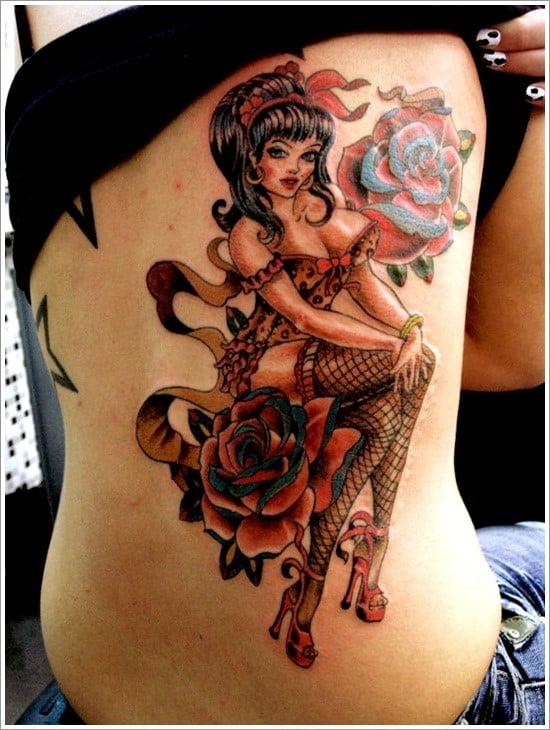 The earliest example of what we'd consider pin up girl art was the famous Gibson Girl – the subject of a series of drawings by Charles Gibson for Life magazine in 1895.
With an impossible hourglass figure, large bosom, full lips, dark hair piled high, and – most importantly! – an attitude, the Gibson Girl became the first pin up.
Fun Fact: there was also a Gibson Man, though as you may have guessed, he hadn't reached the same heights of fame as the Gibson Girl.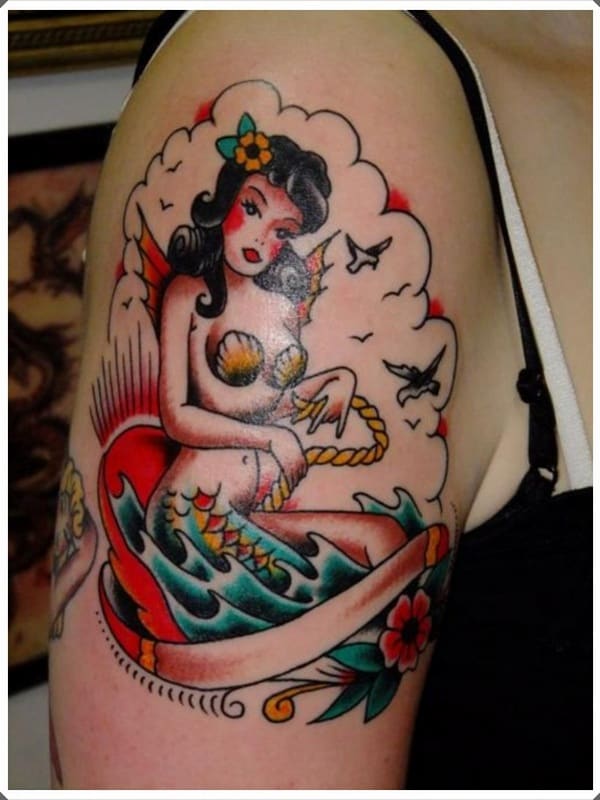 1917 brought another development in the cultural phenomenon that became the pin up girl: wartime propaganda.
Pin up-like images of women were used in the U.S. on posters during the First World War, with the aim of getting more troops to join the fight.
The posters would include stylized images of women, often in military-style clothing, and inspirational slogans.
Recommended Next: Don't miss our guide to mandala tattoos next!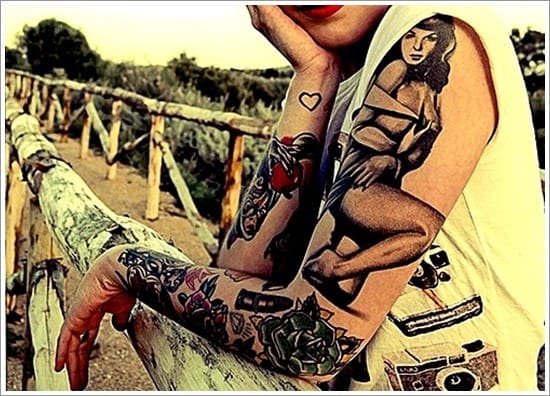 It was during the Second World War though that the pin up really took off. The idealized images of an all-round 'American sweetheart', attractive, scantily but not indecently dressed, again became the core of the American wartime morale-boosting strategy.
Pin ups were used on recruitment posters, calendars, and decorated the walls of military barracks – serving as a 'reminder' for troops serving overseas, a perfect image of the girl they would be coming back to after the war.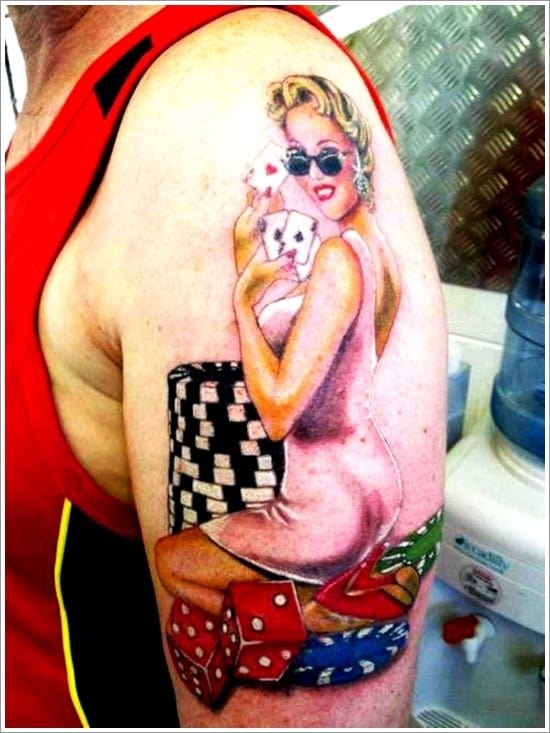 During the war, posters of pin up girls would be bought or torn out of magazines and pinned to the walls of barracks and submarines, and the insides of the solider's lockers.
This practice is where the term 'pin up' comes from – a picture of a girl to be pinned up on the wall.
Recommended Reading: Don't miss our guide the most awesome Aztec tattoos!
The war had ended, but the pin up girls stayed and continued to be popular during the 1950s.
The launch of Playboy Magazine in 1953 meant that there was now essentially a whole publication dedicated to pin ups, since early Playboy photo shoots matched the pin up style.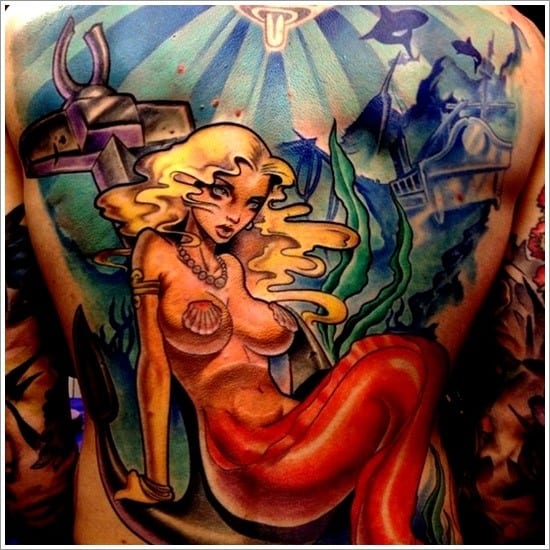 Pin ups in contemporary culture
Nowadays, pin ups remain something of a staple of vintage pop culture and are instantly recognizable symbols of all things 1940s and 50s.
The personas and styles of certain celebrities, such as Lana Del Rey, Dita von Teese, and Katy Perry, closely resemble the pin up style – contributing to the continued popularity of pin up images and culture.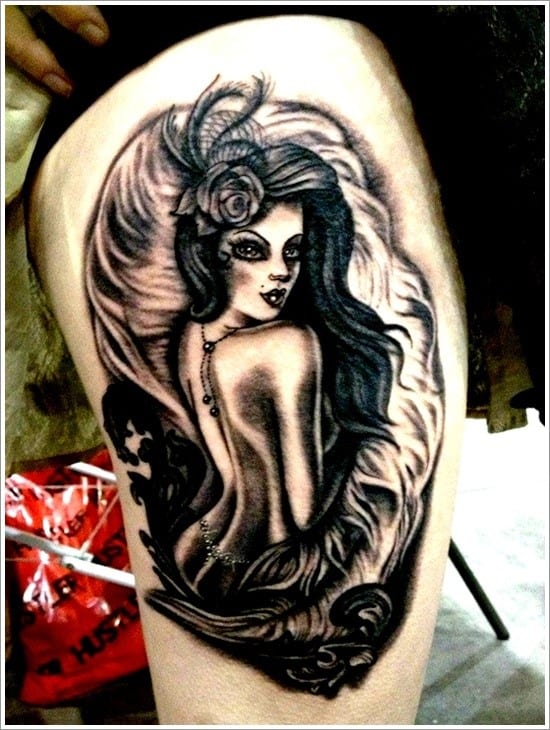 Of course, pin up girl posters, calendars, and other merchandise are widely available, though they're now something more of an amusing novelty or niche interest rather than the widespread cultural phenomenon they had been back in the day.
The gender politics implications of pin up girls are complicated and often disputed. To some, pin up girls symbolize feminine empowerment and independence, citing the rise of the pin up as a challenge to patriarchy.
Recommended: How about a dove tattoo?
Conversely, others believe pin ups to be misogynistic and a way of objectifying women – focusing only on the erotic or sexual aspects of the female form.
It may be helpful to consider these issues if you're looking at getting a pin up girl design tattooed on your body – some people may find it controversial.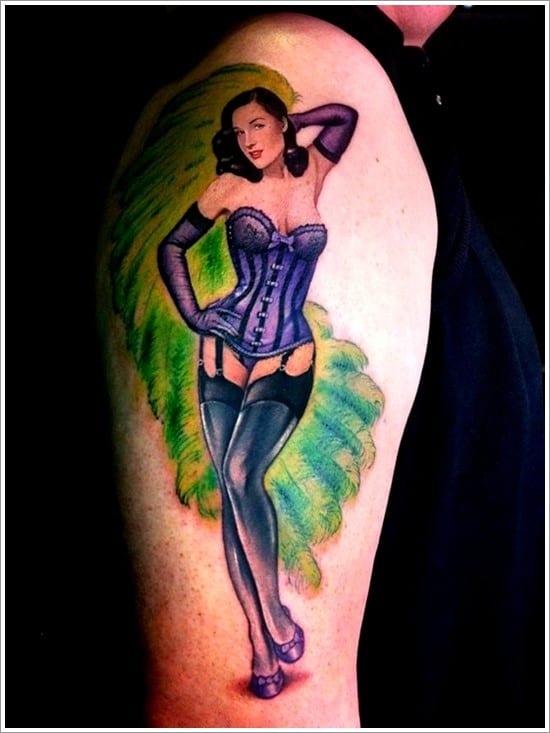 Important elements of pin up girl art
Whether pinned up to the wall or tattooed, pin up girls have certain identifying qualities that make them what they are.
The girl – You can't have a pin up without the girl, after all. The typical image of a pin up girl will involve a shapely woman with an hourglass figure, a narrow waist, wide hips, an ample bosom, curly hair, and rosy cheeks. Full lips and large eyes are also an important feature, as is the clothing – vintage pin up girls would be highly sexualized through their scant clothing, but without turning into pornography. Short skirts, alluring dresses, stockings, high heels, and maid outfits form the top of the list. The pose taken by the girl in the image is important, too – attractive and seductive, showing off her shapes, but without being overly explicit or serious.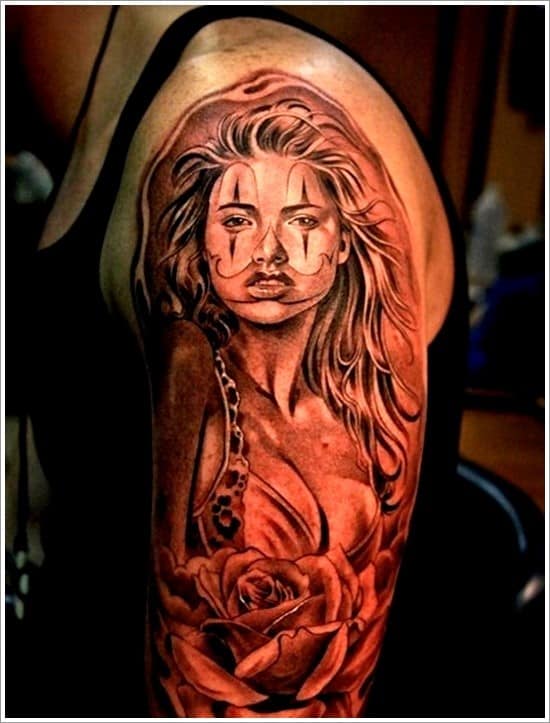 Color – The most recognizable, vintage imagery of pin up girls always involved vivid colors. This trend has been largely preserved in pin up tattoo art, as pin up girl designs tend to be bright and colorful. Of course this isn't a rule, though – there are some great-looking all-black pin up tattoos out there.
Additions – Props and other elements were often featured in vintage pin up art – most famously patriotic elements in the wartime propaganda era of the pin up. As far as tattoo designs go, pin ups girls are often combined with other imagery, such as floral motifs.
Recommended Next: Don't miss our octopus tattoo guide.
Design ideas
Pin up girls tattoo designs come in a surprising variety of styles and forms.
Though the pin up girl is a complete image with a pre-defined look, many people opt for expanding upon the standard design or modifying the style. Common variations include:
Day of the Dead pin up girls – though it may seem like an odd combination of wildly different concepts (and on some levels, it is), pin up girls tattooed in a Day of the Dead aesthetic are a popular choice. You're sure to have seen dark tattoos of women with skull-like make-up, floral shapes around their eyes, and their mouths sewn up – these are a reference to Day of the Dead, an important holiday in Mexican culture. Pin up girls tattooed in this style form an interesting juxtaposition of imagery and ideas. Think this design through carefully, though – there's some macabre symbolism involved and cultural elements that maybe shouldn't be appropriated without some consideration.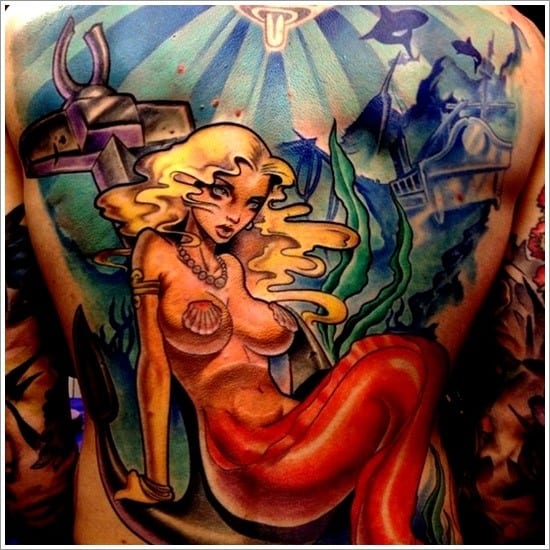 Floral designs – pin up girls surrounded by flowers can look great and make for a cohesive design. The flowers can help to soften the typically erotic look of the pin up girl, making for a tattoo that's slightly less sexual and more feminine.
Mermaid pin ups – pin up girls stylized to look like mermaids are a common choice, too. Just like with flowers, it makes sense: mermaid imagery in tattoos usually involves a sexualized female form in seductive poses, so it's a short step from a pin up to a mermaid.
Custom background and props – as mentioned above, the pin up girls of the 40s and 50s appeared in a variety of settings and outfits, with different props and surroundings. Think about whether you'd like to highlight any particular aspect of your life or your interests in your pin up tattoo – cars, boats, and musical instruments often appear as part of the pin up image.
Recommended Reading: Read our guide to garter tattoos next.
As with any tattoo design, the final choice will depend on you and what you want your tattoo to express. A classic retro pin up girl design will look awesome on its own, but putting your own spin on the old pop culture staple will make your tattoo even more unique.
Celebrities with pin up girl tattoos
There are plenty of celebrities with pin up girl body art – interestingly, it appears that most of them are women. Popular examples include:
Amy Winehouse – Amy Winehouse had several examples of pin up girl ink work on both of her upper arms.
Christina Ricci – Christina Ricci has an all-black, mermaid-style pin up girl tattooed on her left ankle.
Maja Ivarsson – Maja Ivarsson has a large all-black pin up tattoo on her forearm.
Placement Guide
Most pin up girl designs make for rather large, detailed tattoos. As such they're usually not suitable for very small areas – although it will all depend on individual designs.
Your tattoo artist will be able to advise you on whether your placement idea will work for your chosen design.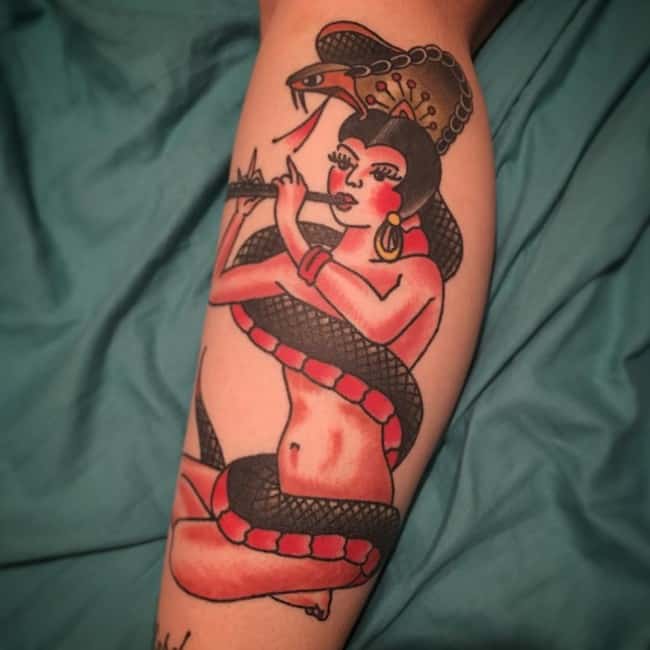 The arms and the legs are among the top choices for pin up tattoos, simply because of the space that these areas offer. Most pin up girl tattoos will take an elongated, vertical shape – making the arms and legs ideal placements. The ribs are also a great choice, especially for larger designs.
The largest pin up designs will work best as back tattoos. A sleeve or half-sleeve is another option, though in this case the tattoo will need to involve other elements, well-designed and measured to wrap around your arm.
When deciding on the placement for your pin up girl tattoo, consider whether you want the tattoo to be constantly visible – especially since these kinds of tattoos can be controversial in some circles.
Back and upper arm tattoos, for instance, are usually concealed with clothing without you even having to try.
In contrast, forearm tattoos are likely to be on display most of the time and could be bothersome to cover up every day should you need to do so.
Beautiful tattoo designs of pin up girls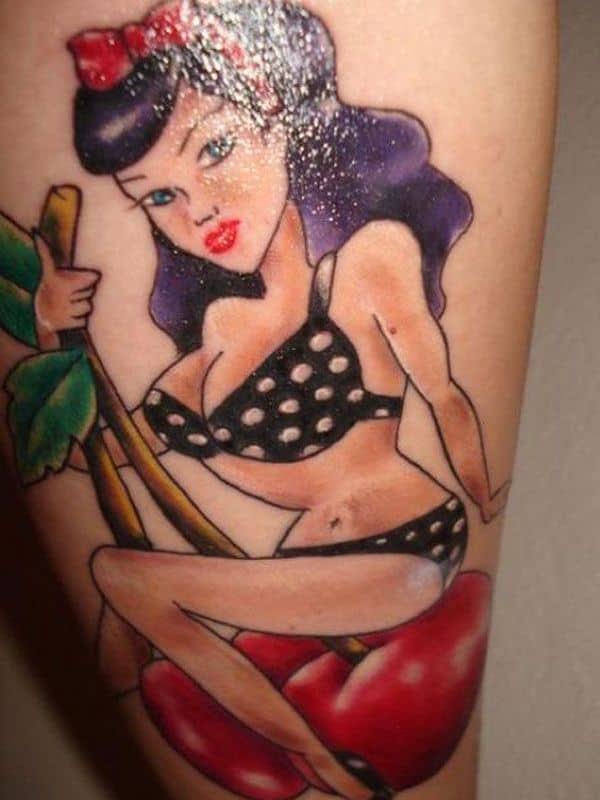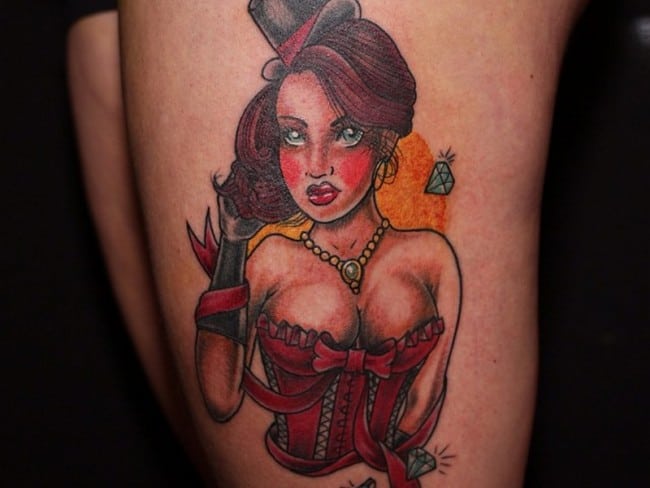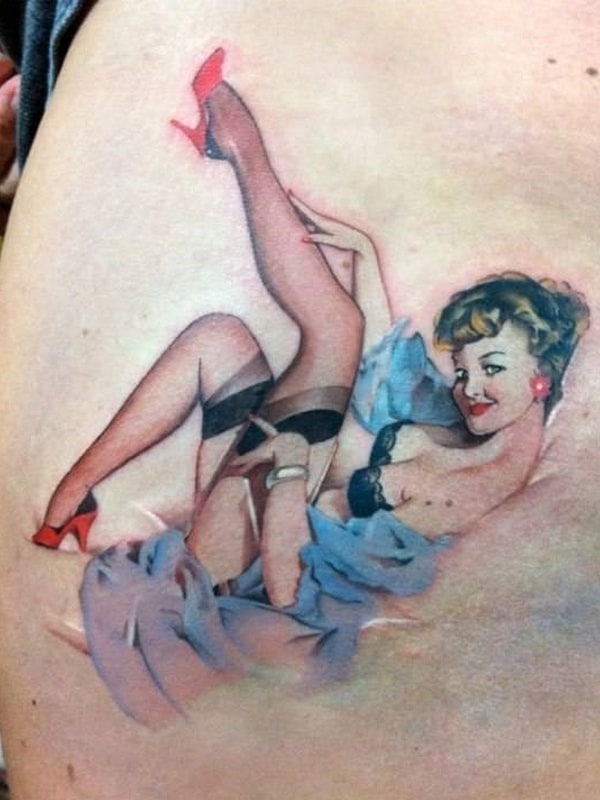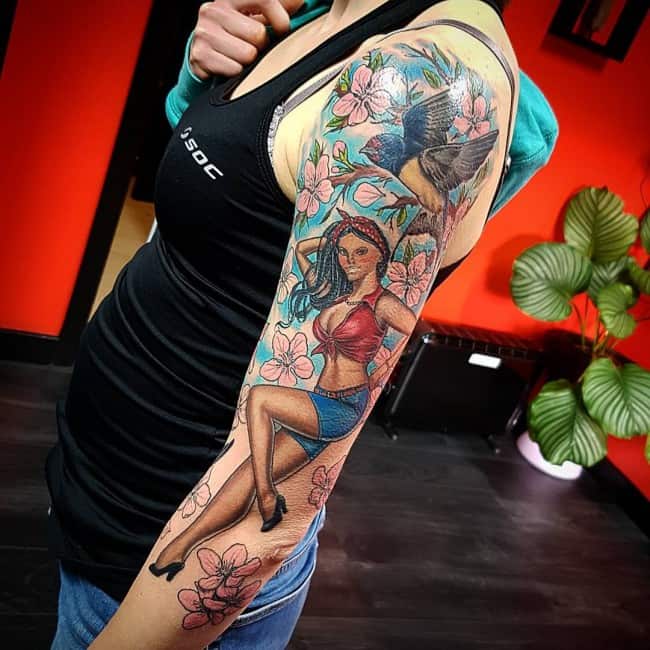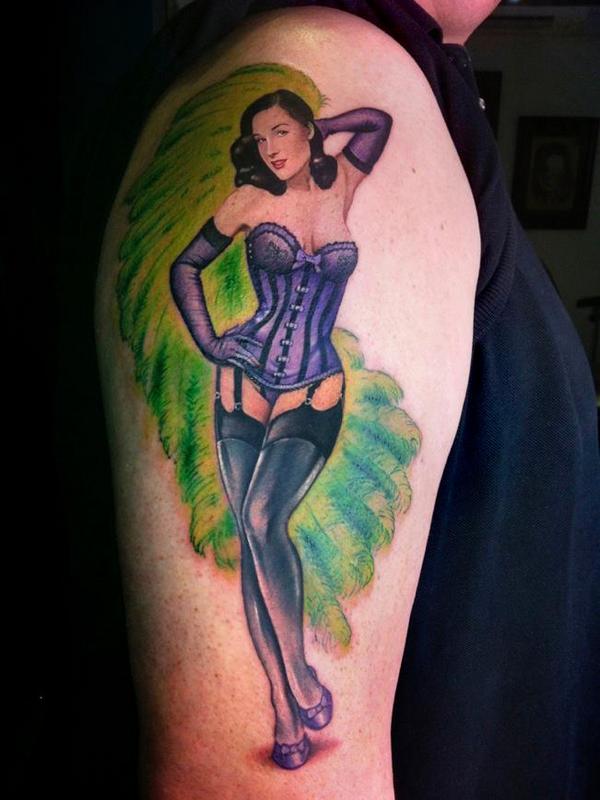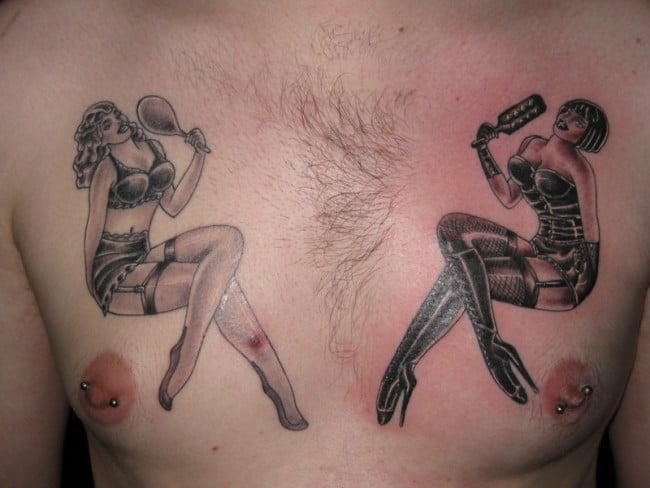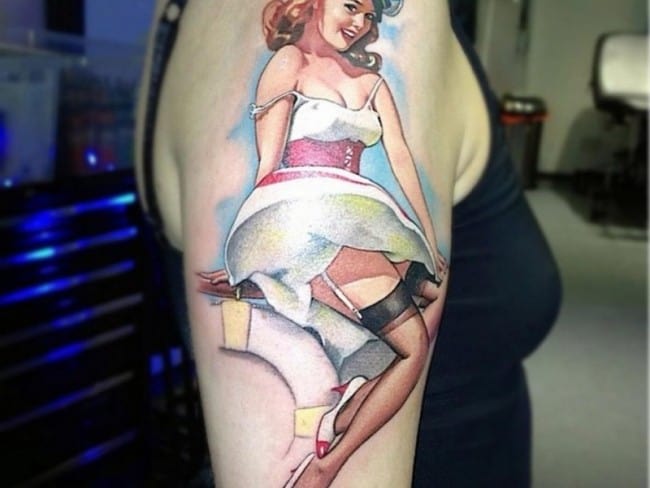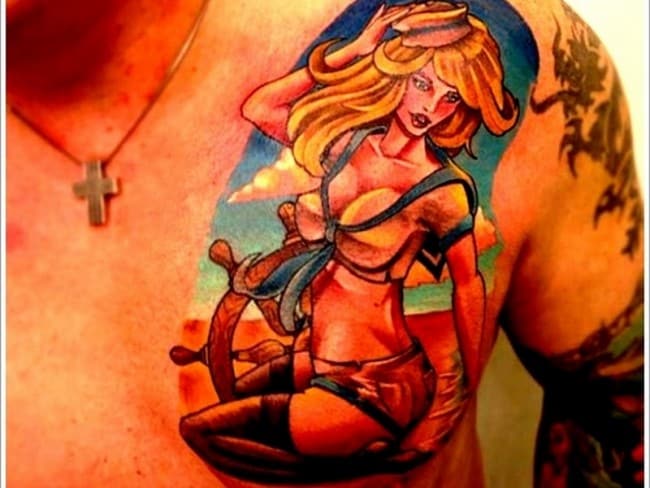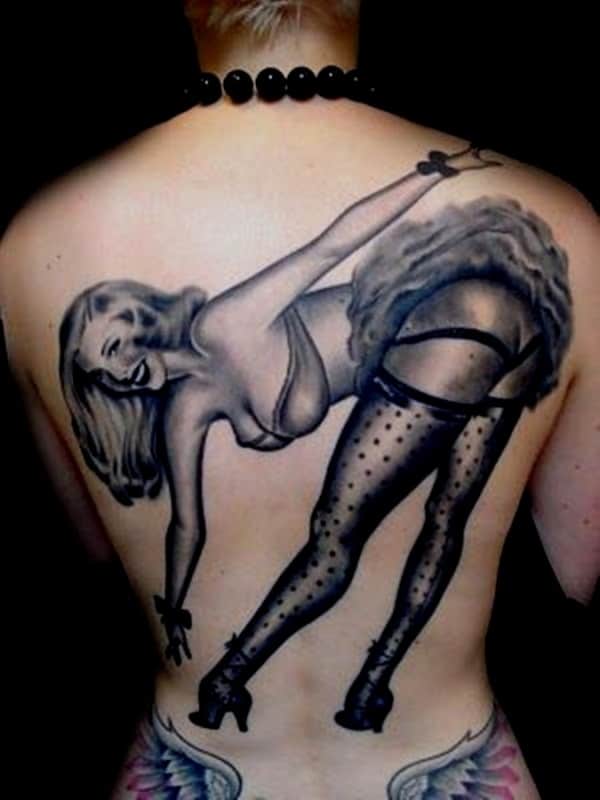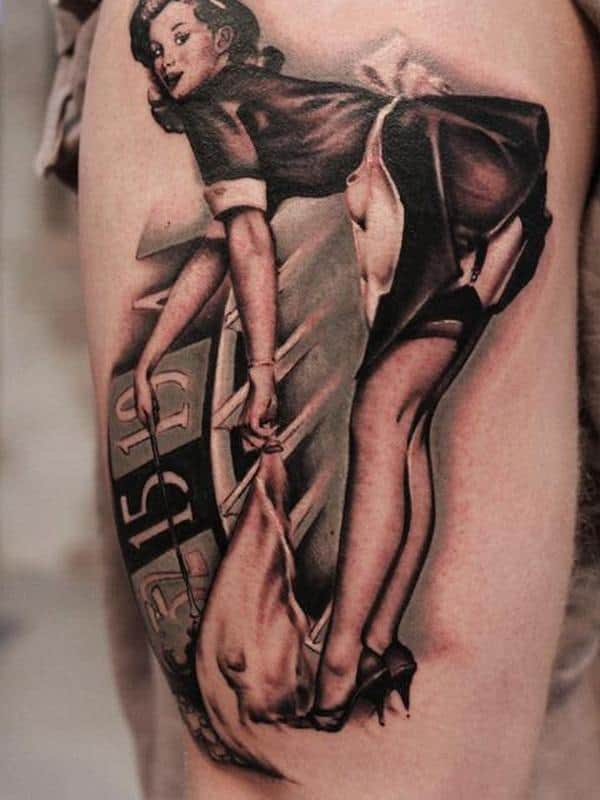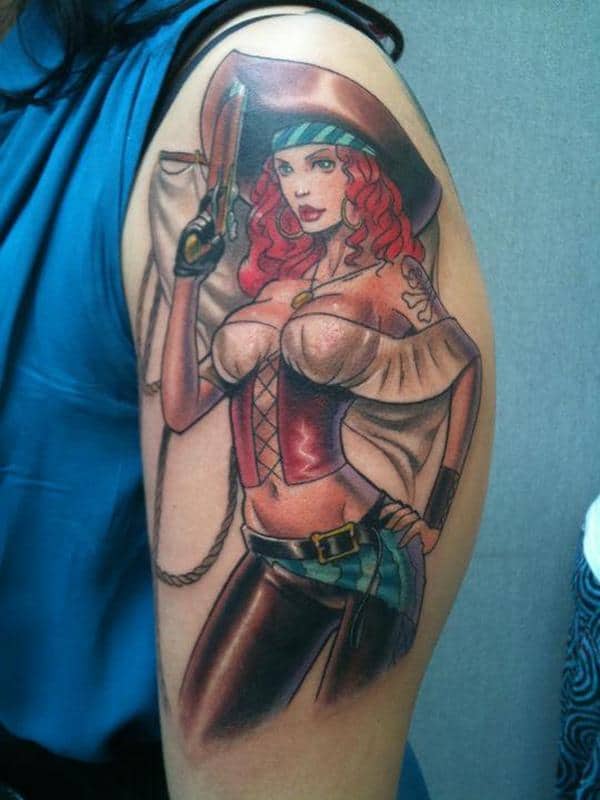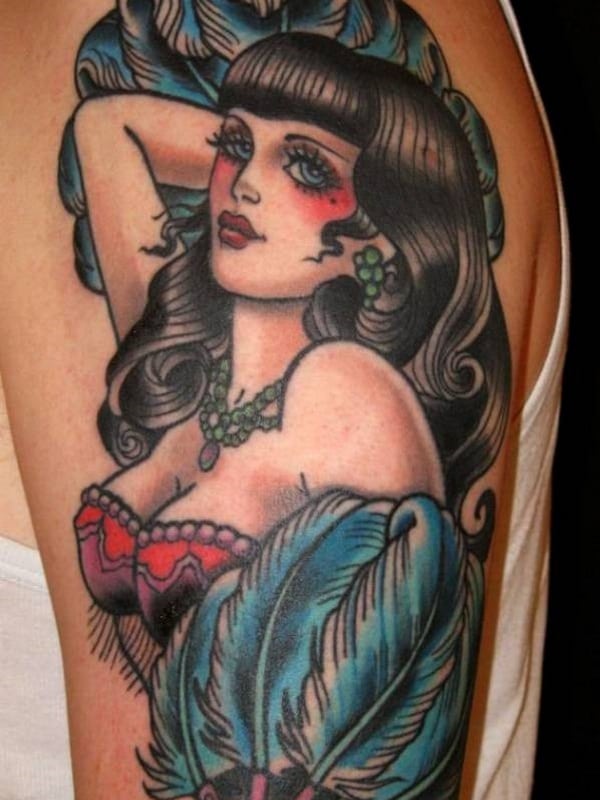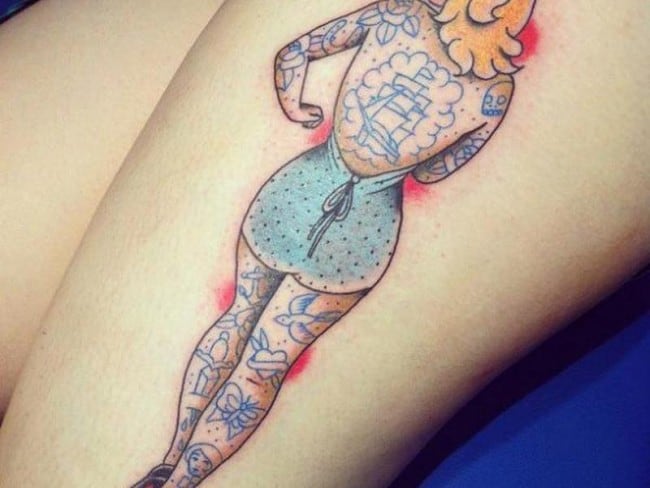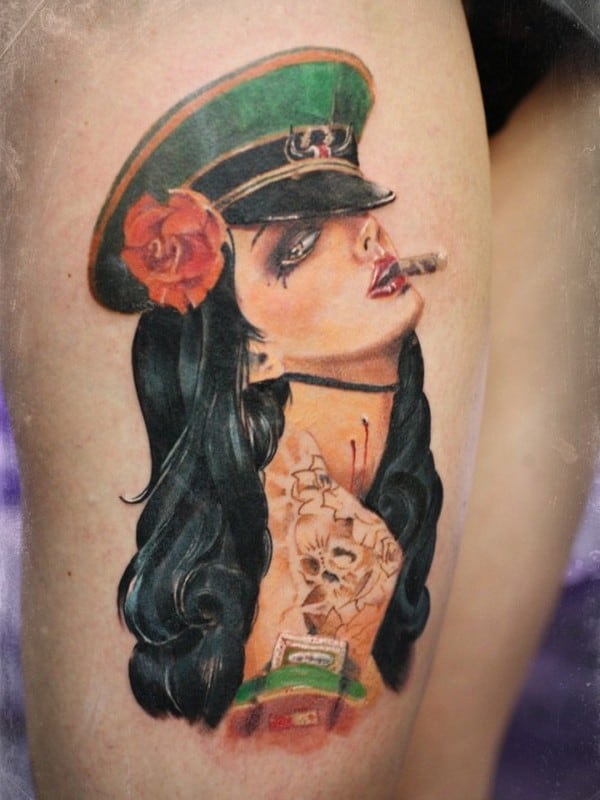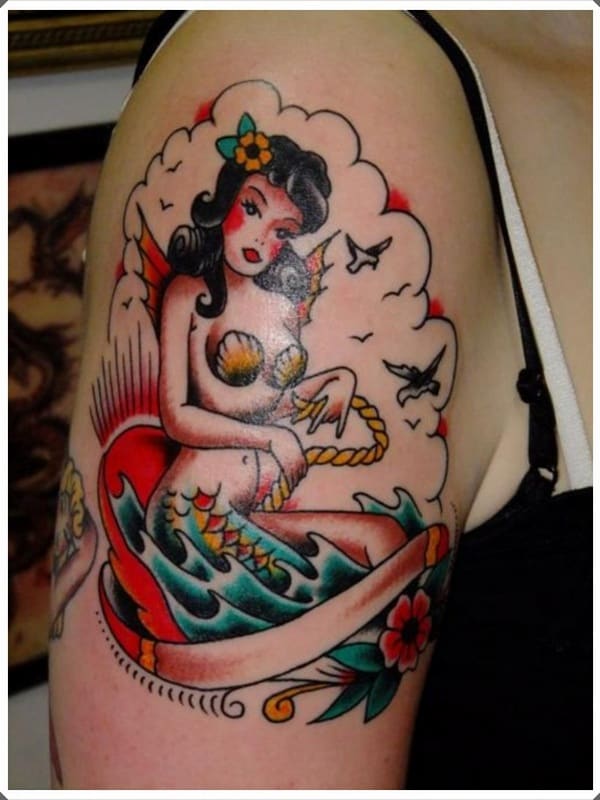 Final Words
Though not necessarily suitable for every tattoo style, pin up girl tattoos make for surprisingly flexible designs, customizable with a range of color schemes, props, and additional elements.
Seductive but not vulgar, attractive but not explicit, with a rich history and strong ties to retro styles and vintage aesthetics, pin up girl tattoos are a great choice for both men and women wishing to make a bold statement with their body art.