Get some amazing henna tattoo ideas with our design guide. We showcase our favorite examples and explain the meaning behind them.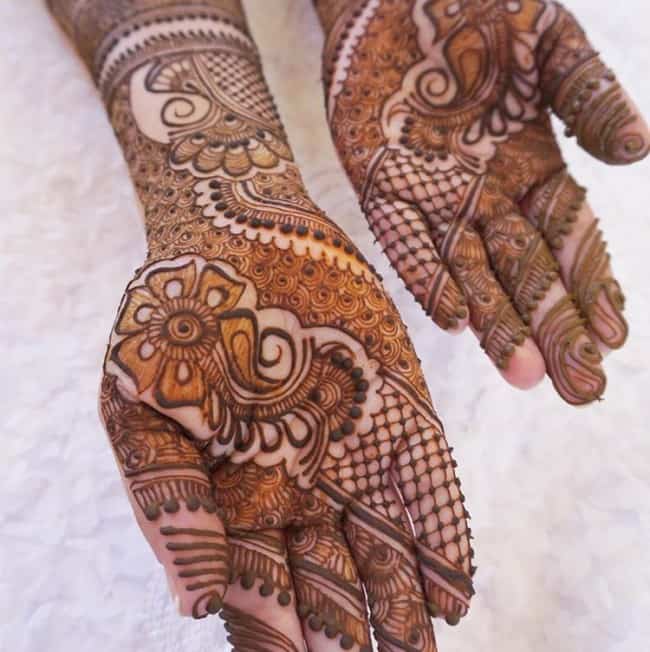 Made with a dye produced from the henna plant, henna tattoos are a painless and temporary alternative to traditional tattooing.
In this article, we'll take you through the history and meaning of henna tattoos and answer all frequently asked questions regarding this form of body art.
We've also put together a huge gallery of henna tattoos to showcase the most popular designs!
Recommended: Read all about Viking tattoos in our big guide.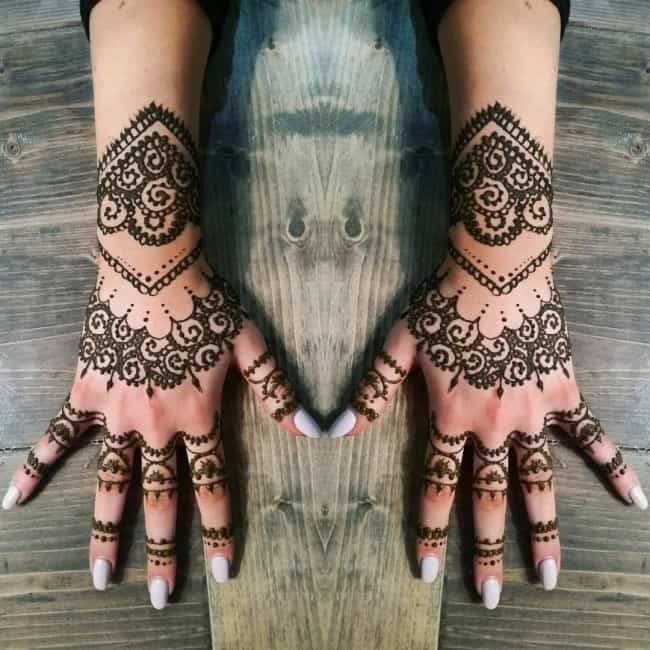 What is henna?
Henna takes the form of a powder, obtained from the dried and ground leaves of the Lawsonia inermis plant, also known as henna tree.
Mixed with liquid and applied to the skin, henna leaves a maroon (reddish-brown) 'tattoo', or stain, which fades completely over time.
The earliest known application of henna for the purposes of body art dates back to the Bronze Age (around 3200–600 BC), where it was used by young women in the eastern Mediterranean during festivals and celebrations.
Even today, henna tattoos are an important part of wedding celebrations in Asia and the Middle East – though they are most commonly associated specifically with India, where they're known as mehndi.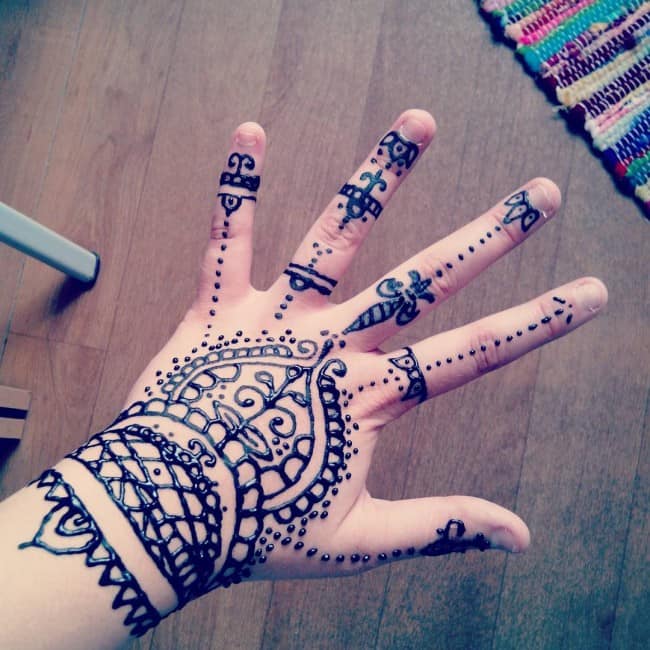 In India, mendhi designs are painted onto the hands and feet of both the bride and the groom prior to the wedding. It is believed that this will bring the couple a long and happy marriage.
Nowadays henna tattoos are also something of a tourist attraction for those visiting countries where henna tattooing is a common practice, such as India or Morocco.
For people who are thinking about getting a permanent tattoo but are not fully committed or convinced, henna can be a great way to 'test' their idea and design.
As a temporary and painless alternative, getting a henna tattoo can help you decide whether you'd feel comfortable with a permanent tattoo and whether your design and placement are definitely right for you.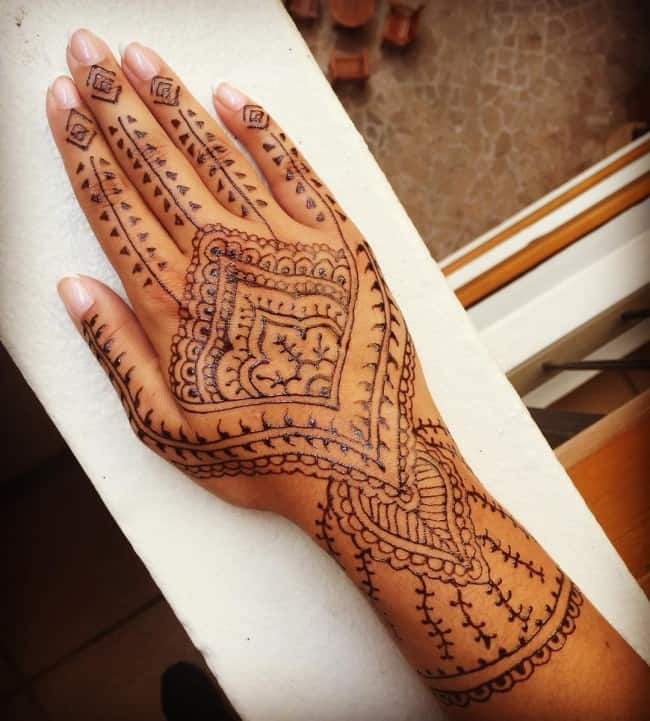 Isn't henna black though?
No. There's no such thing as black henna – henna only ever results in stains in shades of brown or red, never black. Black 'henna' is an artificial product containing chemicals that can result in a severe allergic reaction and even permanent scarring. (Seriously.)
Mixtures used for temporary black henna-like tattoos can contain a multitude of things you really don't want on your skin, such as gasoline, paint thinner, and the chemical PPD.
If you're thinking of getting a henna tattoo and the tattoos done by an artist look completely black, it may be safer to look for someone else to do your tattoo.
Recommended Article: Check out hip tattoo ideas in our latest guide.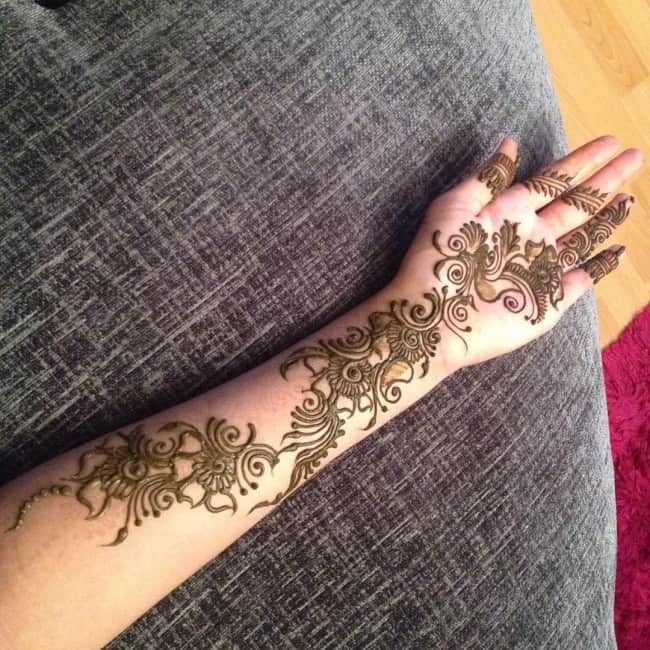 How to make a henna tattoo?
Nowadays, henna is sold in the form of powder, which must be mixed with water, tea, or lemon juice to achieve liquid consistency.
Essential oils or other ingredients, such as honey or sugar, may also be added to improve adhesion to the skin. The henna mix then needs to rest for up to 48 hours before it's used.
There are a number of ways to apply the mix to the skin, depending on the culture and regional traditions – and the technique of the artist.
Some artists use a small piping bag (like the kind used for decorating cakes), others use a toothpick-sized stick dipped in henna to draw on the skin, and others still use a syringe (particularly common in Morocco).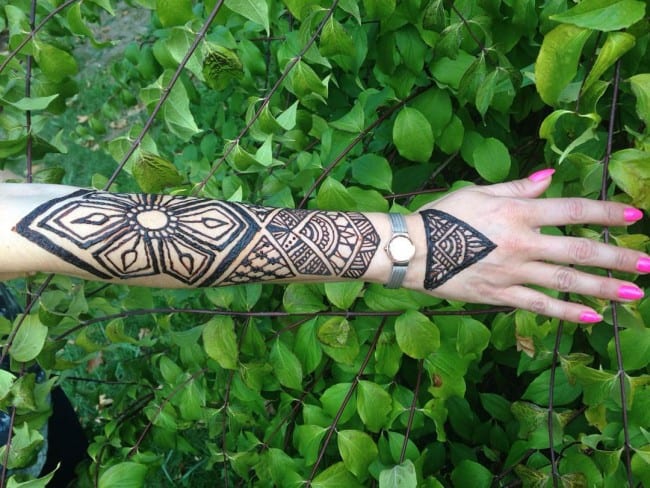 Once applied, the paste should be left on the skin for at least four to six hours in order to achieve a dark and long-lasting color. Once dry, the paste will crumble off the skin, leaving a reddish-brown stain.
To prevent the paste from drying too quickly, some artists will add honey or sugar to the mixture. Another method is to dab a mix of sugar and lemon over the finished design to seal in the moisture for longer.
Can you do it at home?
While there are plenty of artists worldwide who are professionals at applying henna tattoos, some people opt for trying their hand at drawing their own tattoo with henna at home. If you're feeling creative, there's no reason not to give it a go!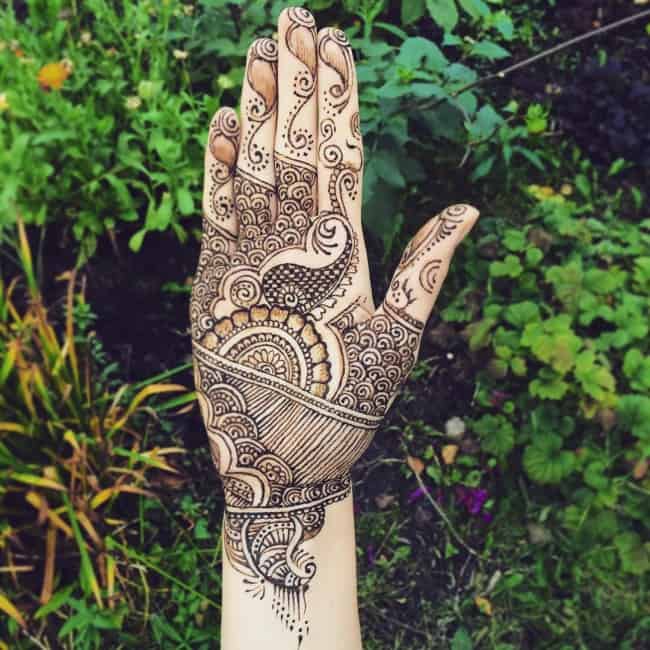 Though many stores sell henna paste ready to be applied to the skin, basic henna powder is also widely available. The powder is used for other purposes, too, such as dying hair or eyebrows.
Since the pre-mixed pastes can contain chemical additives, it's generally best to buy natural henna powder and make the paste at home – all you need to add is liquid and possibly sugar, after all.
When doing your own henna tattoo at home, keep in mind that henna can stain fabrics and even your fingernails. It's therefore, best to protect your clothing and wear gloves if possible.
Recommended Reading: Don't forget to check out our post on butterfly tattoos after this!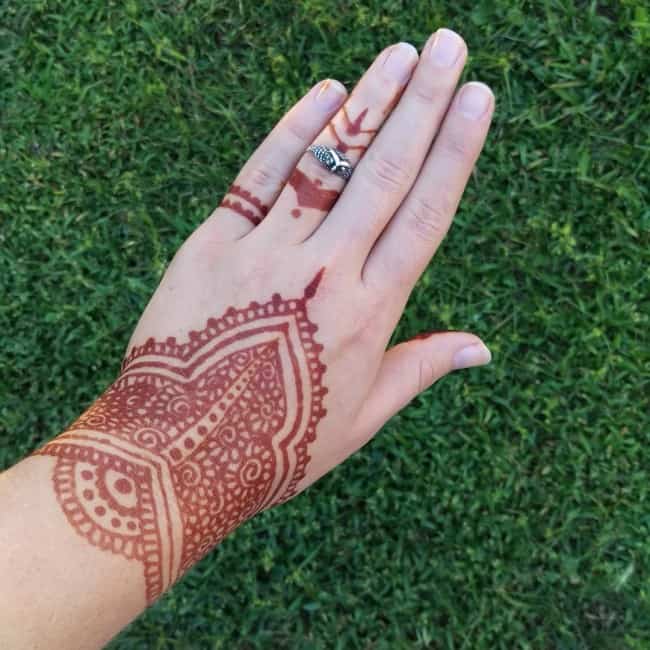 How long does a henna tattoo last?
Henna tattoos are at their most vibrant freshly after application and fade over time. How long it takes for the design to begin fading depends on three main factors:
Preparation – if the surface of the skin was adequately prepared before applying henna, the tattoo is likely to last longer. It's recommended to wash, exfoliate, and if necessary, shave the area before application.
Quality of the henna – this one's pretty straightforward – the better the henna powder, the longer the tattoo will remain looking fresh. If the powder looks faded, it's likely to be old and therefore less vibrant from the start.
Aftercare – water, soap, and friction will all contribute to the henna tattoo fading much faster. If possible, avoid wetting or washing the area to ensure your tattoo stays vibrant for longer.
In general, henna tattoos can stay looking fresh for up to two weeks. They will then gradually fade over another two weeks or so.
If using natural (brown) henna, the tattoo will likely take on a reddish tint when fading.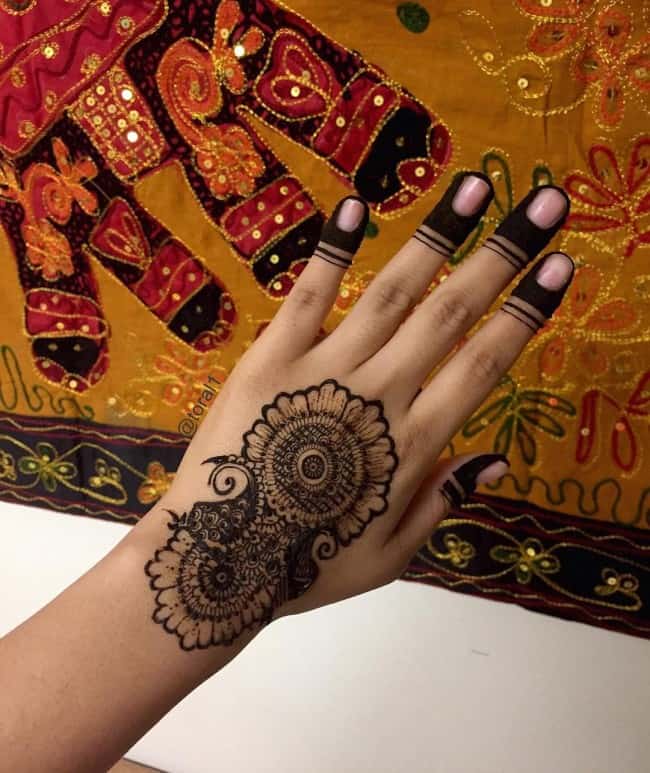 Can you remove a henna tattoo?
While henna tattoos disappear on their own over time, it's possible to speed up the fading process.
Currently there are no products on the market designed specifically for henna removal, and there is no way to remove henna instantly. However, you can use home methods that will help your tattoo disappear quicker, such as:
Scrubs – applying exfoliating scrub to the area several times over a few days will remove dead skin cells and encourage growth of new cells, resulting in the tattoo fading faster.
Lemon juice – considered to be the best natural method of speeding up the fading process, applying lemon juice to the skin will significantly lighten the color of henna.
Saltwater – if your henna tattoo is on your hand or foot, consider soaking it in saltwater for 20 minutes. Use warm water to ensure that the salt is completely dissolved.
Although some sources suggest using bleach, chlorine, baking soda, or toothpaste to remove a henna tattoo, it's generally not recommended. While these methods can be effective, they carry risks of irritating the skin – bleach, in particular, can cause severe irritation and burns. It's best to stay on the safe side and stick to the natural methods described above.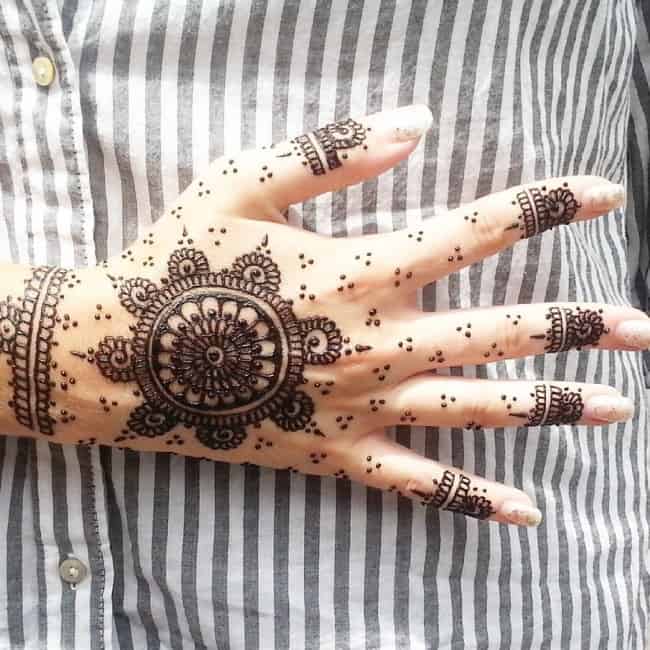 What do henna tattoos mean?
Henna tattoos are primarily used for decoration. As mentioned above, in some cultures they are part of social celebrations, particularly weddings. India, Morocco, Iran, and Tunisia are just some examples of countries whose cultures involve the concept of using henna tattoos as symbols of good luck and happiness for the bride and groom.
Henna hand tattoos done on the palms are considered to be a symbol of the ability to give and receive blessings. Meanwhile, tattoos on the top of the hands are symbolic of protection. Henna tattoos on feet are also a common choice – in the Indian tradition, the feet are a highly spiritual place connecting the body, mind, and spirit with earth.
Recommended Next: Don't miss our ultimate guide on compass tattoos.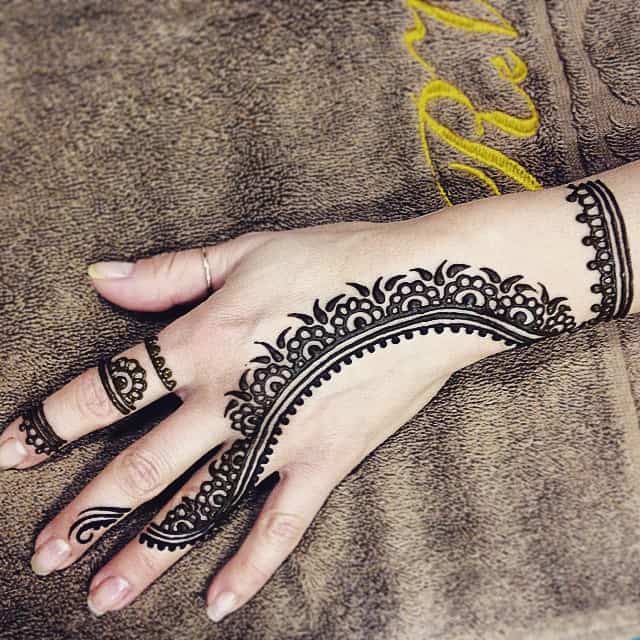 While there is a huge amount of variation between henna designs and most of them are entirely abstract, there are some designs with recognizable elements and specific meanings. Popular henna symbols include:
Paisley designs – possibly the most common type of henna tattoo design, these symbolize luck and fertility
Sahasrara – the crown chakra in Hindu tradition, it's a lotus-like flower with hundreds of petals, traditionally arranged in 20 layers. It symbolizes purity and the unity of one's soul with the divine
Birds – in general, birds are believed to be messengers between heaven and earth. Specific types of bird can have their own symbolic meanings in henna designs – for instance, a swan symbolizes success, while a peacock is associated with beauty
Floral designs – flowers in henna represent happiness and joy. Vines and leaves, common choices for wedding henna tattoos, are symbolic of devotion and vitality
Dragonflies and butterflies – both of these elements symbolize change and rebirth in henna designs
Reptiles – snakes and lizards are both associated with seeking enlightenment
Eyes – in henna practices, an eye is most commonly a symbol of protection
With the spread of henna tattoos to the Western world and popularization as a tourist attraction and a form of 'souvenir', traditional designs are not the only choice nowadays. Tribal designs are often used, as are basic symbols found across all forms of tattoo art.