Finger tattoos are becoming more and more popular these days, especially to those who are art lovers out there. Moreover, there are a lot of individuals all over the world who get tattooed on their fingers. Fingers are undeniably the important parts a human body has. Through fingers, you will know if a person is already married or single. It is through the ring that is worn on the fingers. Versatility is one factor that makes tattoo on the finger a worth trying one. It is simply because there are various designs of tattoos on the finger that you can always consider if you want to get tattooed on your fingers. These tattoos are loved by people of all ages, regardless of their genders.
The best thing about tattoos on the finger is the versatility factor, as one can have a great variety of designs tattooed on the fingers, ranging from symbols, small cartoons, portraits and a lot more. These tattoos are particularly liked by women and make a hot favorite among all age groups. The designs may be minimalist and simple because of the small area available for crafting them, but they say a lot about the taste and attitude of the person carrying the tattoo on the finger.
Advantages
Like all other things, tattoo on finger has their own list of benefits and disadvantages. As a tattoo stays with the bearer for a lifetime, there may be times that he might need to hide them. This is when finger tattoos are ideal, particularly if they are placed on the side of the fingers. The bearer need not even wear gloves to hide the tattoo. They look trendy and are excellent to wear, in terms of the unlimited number of design options available.
Disadvantages
There are some disadvantages related to wearing tattoos on finger too. Fingers are exposed to sunlight continuously and they need to be washed many times a day, which makes these tattoos susceptible to fading after a prolonged exposure to sun and water. Moreover, the thin layer of skin in this region reduces the chances of the pigment being held for a longer period of time. Additionally, having a finger tattoo can be both painful as well as complicated as the area available for creating the tattoo is quite limited. Despite the cons associated with tattoos on the finger, their popularity is still on an increase and they are considered a great choice for the youngsters of today, though the older generation is also not untouched by their popularity.
Whichever finger design is chosen by the bearer, it needs to look clear and attractive, and at the same time, it should reflect the attitude and style of the bearer. The design should be selected thoughtfully because of its permanent nature. The design may be small, but they can be dazzled the onlooker if designed and created well.
The positioning of Tattoos
Ideally, tattoos are carved on arms, back, chest, shoulders, and legs, but the latest trend is to have them etched on fingers. Since they have a very small area reserved for them. Their positioning matters a lot as they need to be placed in such a manner that they do not get overlooked by others. After all, the purpose of wearing a tattoo is to get it noticed. A tattoo is ideally placed on the visible fore area or the side of the finger. One of the most popular choice among tattoos is the wedding ring tattoo, as such a tattoo minimizes the chances of one's wedding band being lost or stolen and also, it stays with the bearer forever and ever.
Design Options Tattoos On The Fingers
As said, there are many kinds of tattoo designs for fingers that are available for you to have. Of course, you must choose the one that you like the most. Here are some of them that you need to know:
Animal Tattoo On Finger – This is a very nice kind of design that you should consider. The smaller size of animal images or insects will be tattooed on your fingers. It can be the image of a beetle, lion design, tiger design, fish design, or butterfly. If you are a brave type of a person, then lion and tiger would be the perfect animal finger design for you. If you are a girly type, then butterfly is a good option.
Symbol Tattoo On Finger– Tattoos that are composed of symbols are very popular options. Many people opt for symbols since these are very attractive and cool at the same time. These can be Chinese characters or any other cool symbols that your tattoo artist can engrave to your fingers.
Lines and Patterns Tattoo On Finger – A lot of people also go for lines and patterns, as far as finger tattoos are concerned. If you think that patterns and lines would be boring options, then think again. There are many cool designs of tattoos that are composed of lines and patterns. It can be based on a tribe or anything that will result in a fashionable and attractive design.
Alphabet Tattoo On Finger – If you don't want to go for complicated images of something, then you can simply go for alphabet design. As its name suggests, this tattoo is composed of alphabets. This can be your name initials, or simply words just like "LOVE", "SMILE", and "RESPECT". It is all up to you what you want to get tattooed on your fingers. The attractiveness of this kind of tattoo will depend on how your tattoo artist writes the word. Solid patterns and lines can be incorporated to make it more beautiful and fashionable.
Hearts Tattoo – Needless to say, this is composed of a heart shape. Unsurprisingly, there are many people who opt for this type of tattoo. One reason for this is the fact that heart is a common symbol of eternal love. This is why it is common to couples all over the globe.
Natural Objects – This is considered by so many people. The lovely image of the natural object will certainly be attractive to the eyes. Good examples of these natural objects are feathers, stars, sun, flowers design and a lot more.
Musical Tattoo – As its name suggests, it is a design that has something to do with music. If you are fond of music, or simply, you are into music, then this is the one that you should have. You can put some music symbols on your fingers like G-Clef and C-Clef.
Infinity Tattoo – This tattoo will be perfect for those lovers out there. It will be a perfect substitute for rings. So, it will be cute to be placed on the ring fingers. This can also be a great fashion statement for you since tattoos are great works of art.
Mustache Tattoo – Of course, it is a tattoo on a finger that looks like a real mustache of a man. Mustache can be a cute option for sure.
Skull Tattoo on Finger – This is a tattoo that has a human skull form. It is perfect for those people who are brave in nature, and those who want to have a unique design for their tattoos. Some people may not like it, but it will actually depend on your personality if you want it.
Diamond Tattoo on Finger – If you like diamond designs, then this is the perfect one for you. In order for it to look gorgeous on your finger, ask your tattoo artist to incorporate some more colors apart from black. You can also add a number on top of the diamond. You can simply put your current age or anything.
Elephant Tattoo – In case you love animals, then there is no way you won't love the elephant tattoo. A small elephant head will be tattooed on your fingers, and you will definitely find it cute.
Tiger Tattoo on Finger – Tiger tattoo on the finger is another animal tattoo that must be considered by those who are animal lovers out there. If you have a personality like that of a tiger, then why not try it.
Smile Tattoo – This is a very simple tattoo that you might want, especially if you don't like the idea of having an image on your fingers. It is because it is only composed of letters that form the word "SMILE". It is now up to you what font style you want to use for this tattoo.
Finger Rose Tattoo – This design is very common amongst women. There is no question about that since rose or any kind of flower symbolizes femininity. A simple yet beautiful rose flower will be tattooed on your fingers. Of course, the red ink must be used since it is the natural color of a rose. In this way, it will look more attractive.
Tribal Design Tattoo – This is a very common design that is loved by many tattoo lovers in the world. When it comes to attractiveness, the tribal-inspired tattoo will surely be ranked number one. However, this is quite hard to draw, so your tattoo artist should be expert enough in dealing with this tattoo design.
Cross Tattoo – This is a perfect example of symbol tattoo design for the finger. A lot of devoted Christians go for this design. It is for the purpose of showing their love and faith to Christianism. Check out our hand-picked collection of Christian tattoos.
Beautiful Images Of Finger Tattoos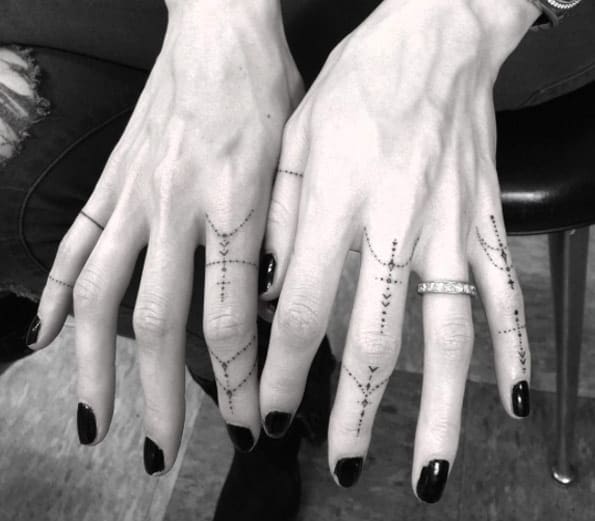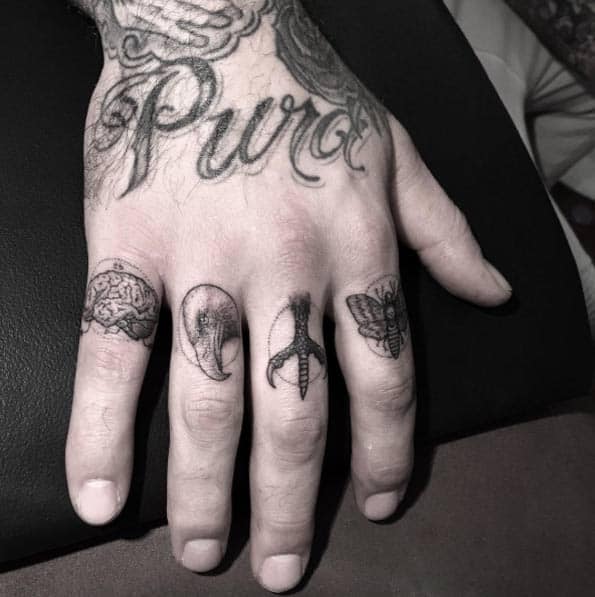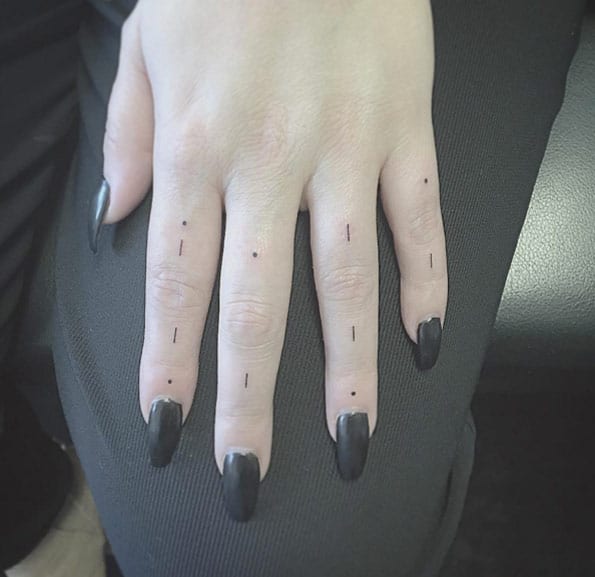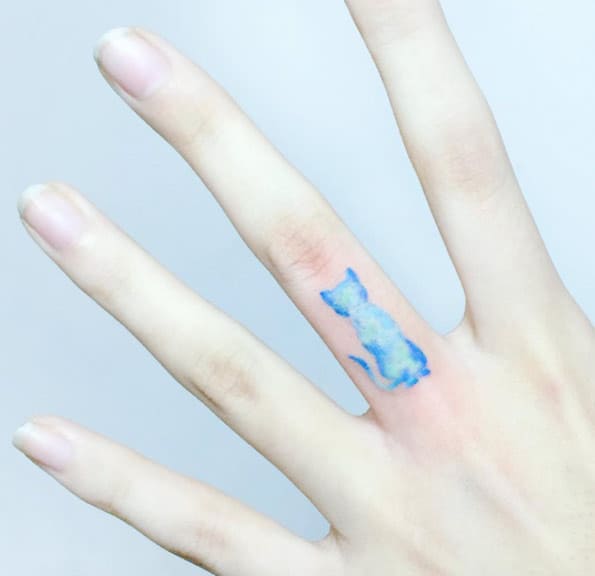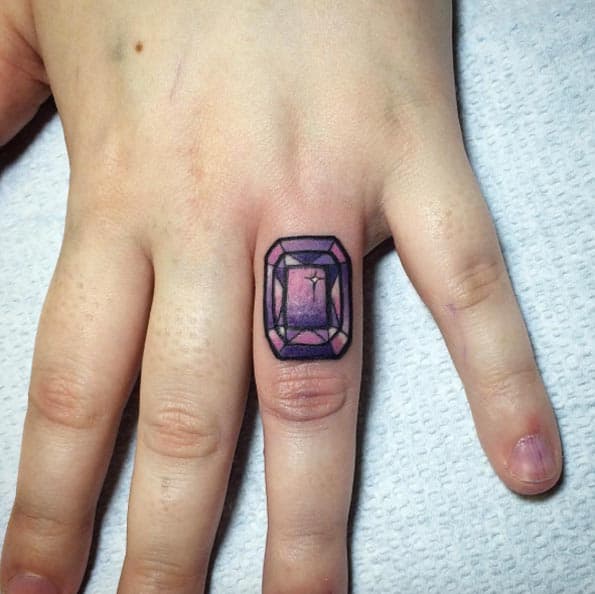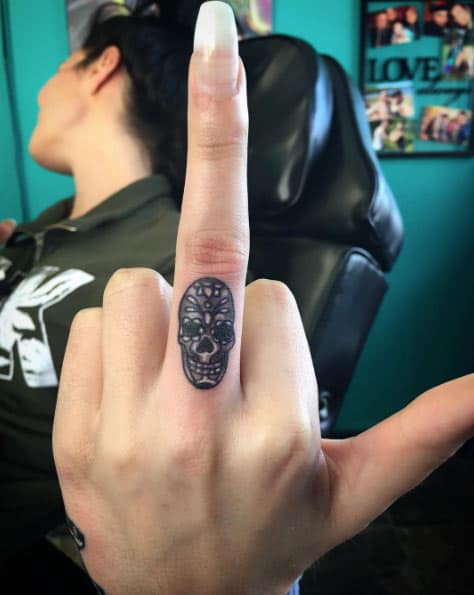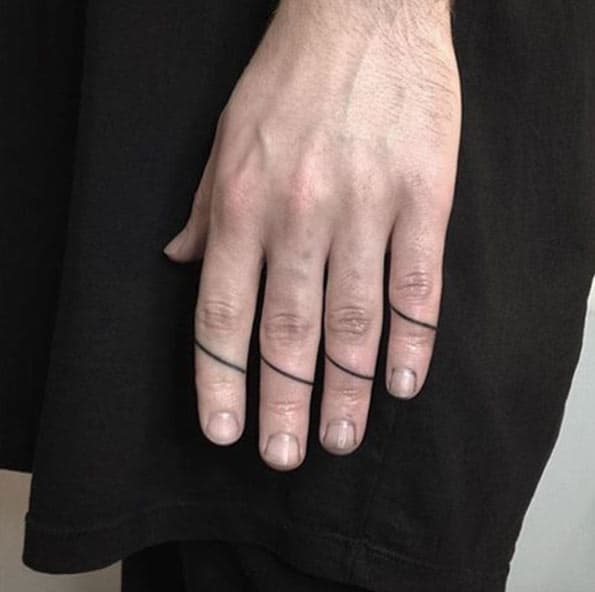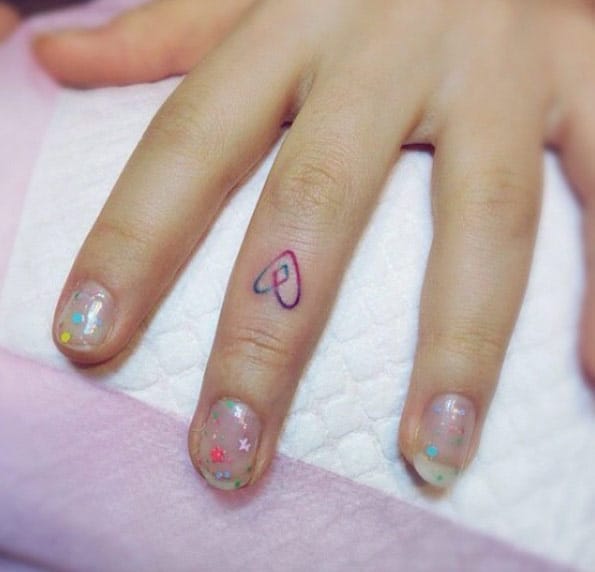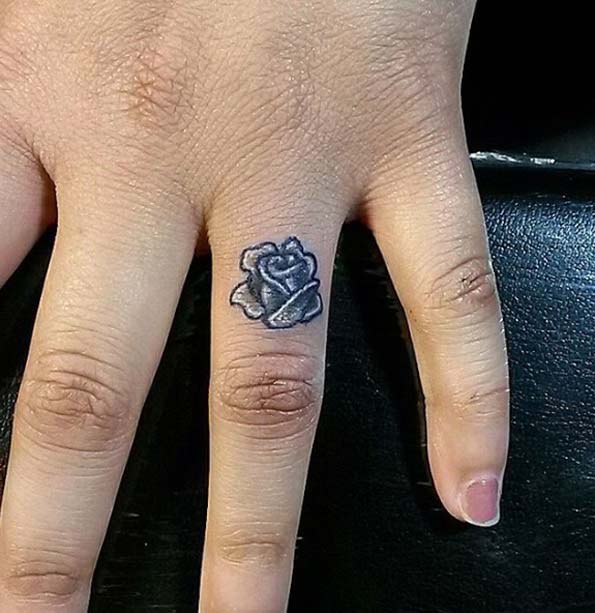 Choosing A Right Tattoo Design For Finger
Fingers offer a small area for creating tattoo designs but can be adorned with some amazing options, provided that one chooses the design to suit the shape of the fingers as well as one's personality. Another thing to bear in mind while choosing a tattoo design for finger is that the skin of the fingers is softer and thinner as compared to other parts of the body and moreover, it bears the brunt of continual exposure to the sun. For this reason, the design may fade away sooner. However, an expert tattoo artist can help one finalize a design for finger which will stay on longer on the fingers. Here are some ideal designs for tattoo lovers to pick from:
Lines and Patterns – The designing need not be very intricate and complex, even a simple combination of shapes and patterns can look good . Placement is something which matters the most, as well placed lines can create an amazing effect even if the lines are simple in looks.
Different Symbols – Another cool option is symbols such as anchors, compasses which look mysterious as well as attractive when showcased.
Alphabets Design – One can have this tattoo design which features some words or alphabets, as one's own name or initials. The design can be made more attractive by combining some solid patterns, lines or objects along with the alphabets.
Animals Design – Another attractive option is small images of animals or insects such as fish, lion, tiger, beetle, butterflies and anything else according to one's choice. One can even go for some portraits, traditional character and even cartoons for an exceptional effect. Zodiac signs make a great choice too.
Natural Objects – Natural objects like flowers, dreamcatcher, stars, feathers and other heavenly bodies can also be used on the finger by tattoo lovers. There are options galore, one just needs to look around for inspiration and there is a lot to explore.
Hearts Design – Hearts have been an eternal symbol of love and togetherness and these tattoos not only look good but also reminds one continuously about this wonderful feeling.
Final Words
The truth is, there are some more kinds and designs of finger tattoos that you can consider if you want to have one on your finger. Just make sure that you know the significance of every design, since putting a tattoo is more than just a fashion statement.
One of the most visible and prominent parts of human body are the fingers and a look at them gives a fair idea of the prosperity as well as the marital status of a person, as it is used to wear rings. Also, these tattoos are becoming a popular fashion statement around the globe
Finger tattoos can cater to the desires of both men and women. While men can pick some masculine designs like the horse, skull, and mustaches, women can choose delicate ones like the diamond, rose flower and butterfly. One can have matching tattoos on the finger with one's partner to depict the strength and longevity of the relationship. It is better to go for a simple finger design rather than a complex one, as it will be easier to create and the pain factor will also be influenced. There are lesser chances of error and flaws while etching a design which is simple and less complicated, in terms of design.