For centuries, people around the world have been using tattoo art to adorn their bodies and they have been drawing inspiration from some of the most amazing elements to create fabulous designs for the body. One of the most unusual and alluring tattoo designs is mermaid tattoos, which use this beautiful mythical creature as the basic element. Mermaids have been a part of folklore and fairy tales and no one knows whether they exist in real or not, but people keep coming up with stories of their sightings, which makes them even more fascinating for the human race. Today, these beautiful mermaid arts have become a great choice for tattoo enthusiasts as well as artists because they have a mysterious quality about them.
Mermaid art have been included in the list of most popular tattoos these days. One thing that made such tattoo very in demand is the fact that its design consists of a very gorgeous mythical creature known as mermaid. Just in case you do not know, such mythical creature is half human and half fish. From head to waist, it has a human part and the below part is fish including its tail. Even though there are no proven sightings of this creature in the ocean, it is still undeniable that this is a perfect subject for tattooing. Even so, before opting for these tattoos, it would be great if you will keep yourself well acquainted first about such creature.
Check this out: Find out more about geometric tattoos!
History Of Mermaids
Mermaids have had a close association with the seas as it is believed to be their home. Legends have reported mermaids to have been sighted by sailors and divers on many occasions, but there is no definite proof to their existence in the real world. A mermaid is described as half woman half fish, with the upper part being that of a woman and she has always been regarded as a stunning beauty, with lovely eyes, flawless skin and long beautiful tresses. Lower down, her body is that of a fish, covered with shiny scales and having a tail fin at the end. It is believed that she is not only been blessed with a beautiful face, but also a soulful voice and it is her song which she uses to entice men, as mentioned in the legends about this graceful creature. Legends have defined mermaids as captivating and deceitful creatures, first luring innocent men with their melodious song and then embracing them and taking them along into the depths of the ocean. Folklore has associated them with mystery and danger, saying that no one has yet come back alive from the clutches of a mermaid.
Recommended Reading: Don't miss our massive guide on breast cancer ribbon tattoo designs!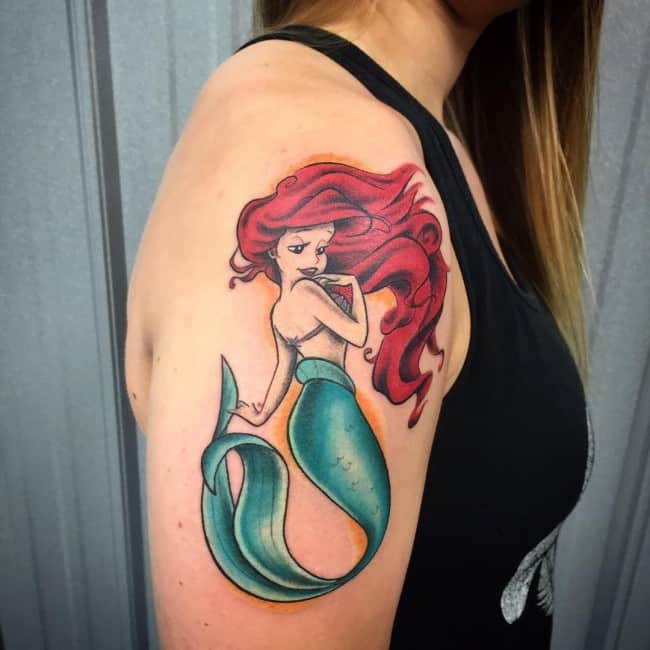 Mermaid Tattoos Meanings
In case you do not know, There are a number of symbolism that you should know regarding the ever gorgeous mermaid art work. These tattoos are not just for display purposes, of course. You must know that these have symbolism and meanings, so that you will have some ideas if these tattoos are ideal for you or not. You will also know the message of those people who are wearing these tattoos. In connection to this, here are some of the symbolism and meanings of mermaid designed tattoos that you should get well acquainted with:
Power – Power is one thing that a mermaid symbolizes. It is simply because mermaids are feared by many, not only human beings but also some other animals that you can find in the ocean where these creatures are dwelling. It is despite the fact that they have very gorgeous appearance. Mermaids are known to be the queens of the ocean, which is why they are powerful.
Beauty – Beauty is another thing that a mermaid is popularly symbolizing. Well, there is no question about that since by just looking at the mermaids in the ocean, you will surely be mesmerized by the beauty of these mythical creatures. They move gracefully even when they're swimming around, which is why a lot of humans are getting more curious about them.
Freedom – They also symbolizes freedom. The explanation for this is the fact that a mermaid is extremely free to roam around the ocean wherever it wants to since it is a royal creature in the ocean. Because of this, some other sea creatures will not make a mess with it. In case you are free and want to be free, then a mermaid art is for you.
Love – Love is another thing that they represent. It is definitely because mermaids are known to be very loving, specially if you are also loving to them. They will give back what you have given to them. Even so, you should be careful not to provoke them since they can also be very cruel, specially to humans.
Peace – Peace is another thing that a mermaid art is representing. It is simply because mermaids are peace loving creatures. Hence, if you want to let other people know that you are a peace-loving kind of a person, then having such tattoo would be great. The explanation for this is that mermaids are not violent, unless you will provoke them.
Recommended: Make sure to check out our guide to sparrow tattoos next!
Famous Personalities
You are surely aware that there are lots of famous personalities in the world who love getting tattooed. One of their favorite tattoo is a mermaid design tattoo. You cannot blame them since these tattoos are really fascinating. Here are some of their names:
Christina Ricci – Christina Ricci is a famous 36-year-old American actress who looks very stunning with her mermaid art that is located right there on her left ankle.
Bethany Cosentino – She is a 29-year-old American music artist who is also a big fan of a mermaid art. In fact, she has this tattoo on her right upper arm. It is actually a two-tailed mermaid art.
Zoe Kravitz – She is an American actress who has a mermaid located on her left forearm.
Recommended Next: Don't leave without reading our guide to wolf tattoos!
Placement Guide
The most popular design of mermaid tattoos is the full length picture of the mermaid, which is best suited to be inked on the legs, arms/forearm and shoulder area of the bearer. Such a tattoo demands more space, which makes it good for placements like the ribs (side), chest, stomach and the back area. Mermaid sleeve tattoos are also quite popular particularly among men, because they seem to narrate a tale of their own. Expert tattoo artists can make use of their creativity and imagination to make innovative designs in tattoos centered round the mermaid. Such tattoos actually have a story to narrate which makes them even more alluring and fascinating.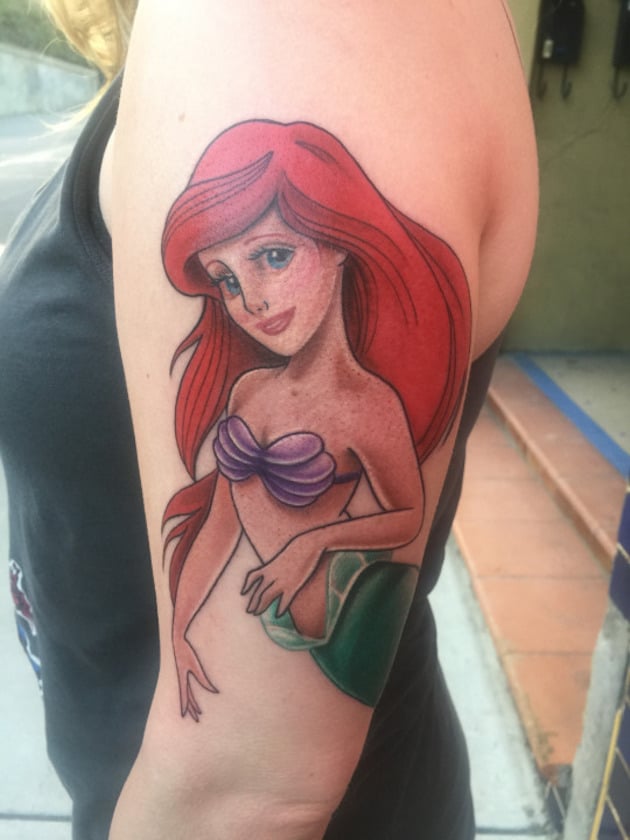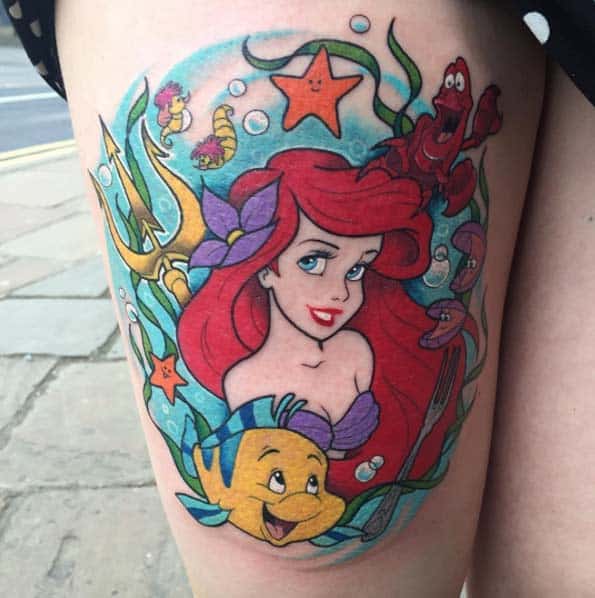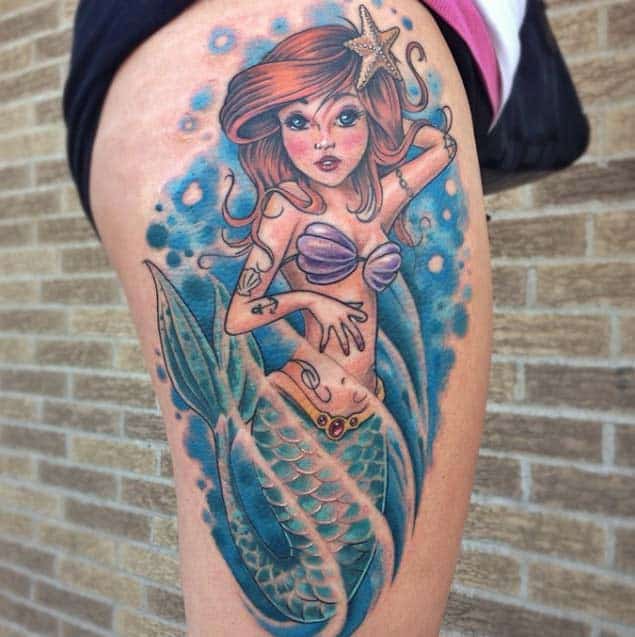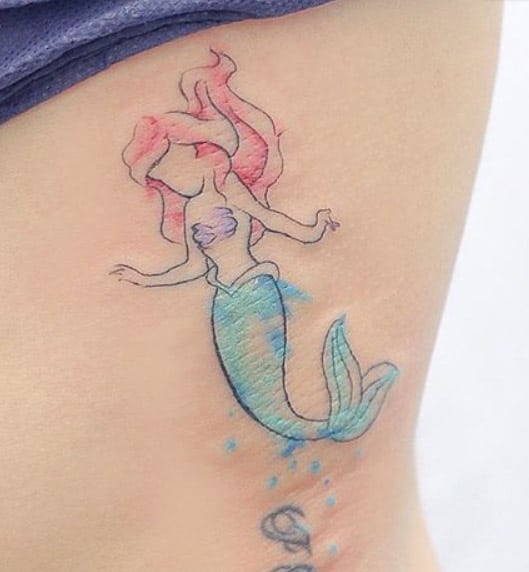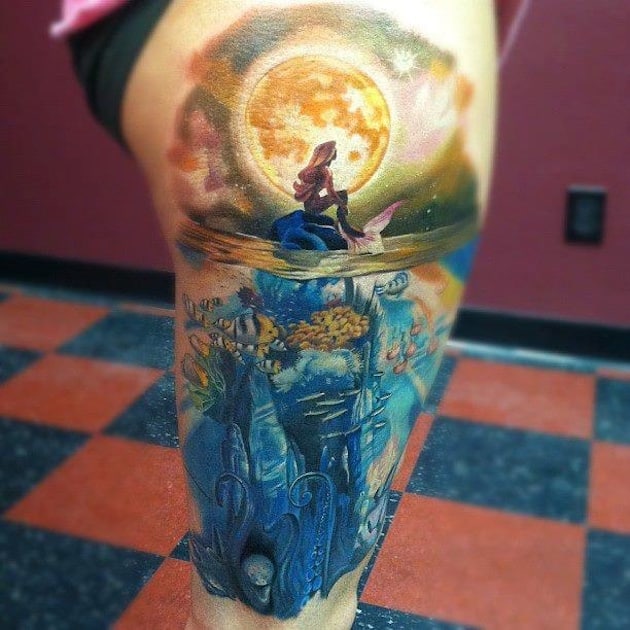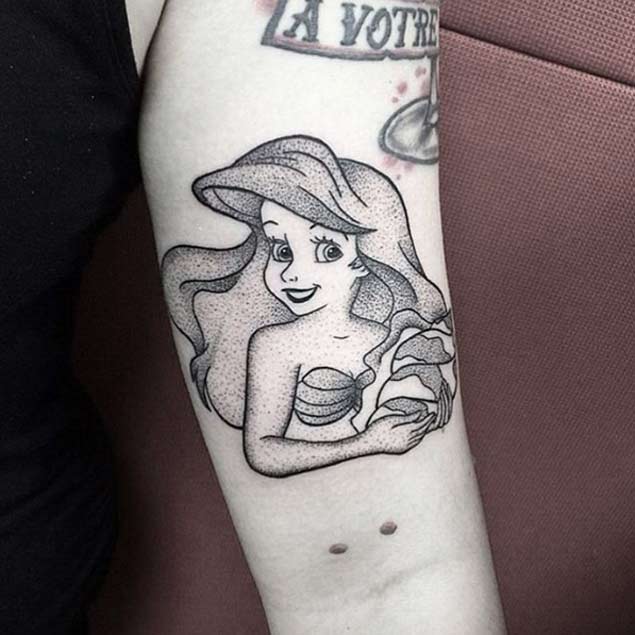 Popular Design Options
Mermaids are creatures who combine beauty and mystery, making one of the rare and attractive combinations which have always drawn attention. As a result, mermaid have attained a status of desirability and popularity among tattoo lovers. There was a time when mermaid were considered apt for people linked with the sea such as the sailors and fishermen, but today people from all walks of life are having these tattoos inked with great commitment. Women love these tattoos because of their aesthetic beauty as well as feminine qualities. These tattoos are also linked with playfulness and independence, which give a special symbolic meaning to them and enhance their popularity manifold. Various elements can be combined with the mermaid to create some amazing patterns. Here are a few wonderful and gorgeous mermaid art designs:
A Pin-up girl tattoo is a popular and attractive design. You can see more designs here.
Little tattoo is another popular option which is much loved because of its innocent looks
Mermaid on the rock is a classic design which depicts a mermaid, sitting on a rock by the sea side, waiting for her soul mate
A mermaid with flowing hair looks absolutely gorgeous when inked on the skin
Mermaids are regarded as the daughter of the Sea God, Poseidon. In such tattoo designs, the mermaid is shown sitting on the shell throne of her father.
Basically, the artist has to be very careful about the expression and facial look of the mermaid while inking this tattoo because mermaid is all about beauty and charm. Another thing that really has an impact on the grace of this tattoo design is the right use of colors. While men would generally prefer traditional black color in mermaid, these tattoos for women come in an array of bright colors to depict the real beauty of a mermaid. One should rely only on an expert who can put in his original ideas to create a art that is unique and has the ability to grab all the attention it can.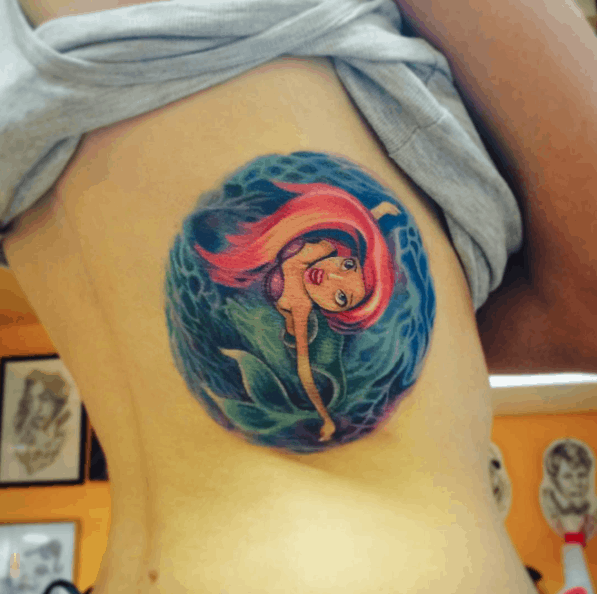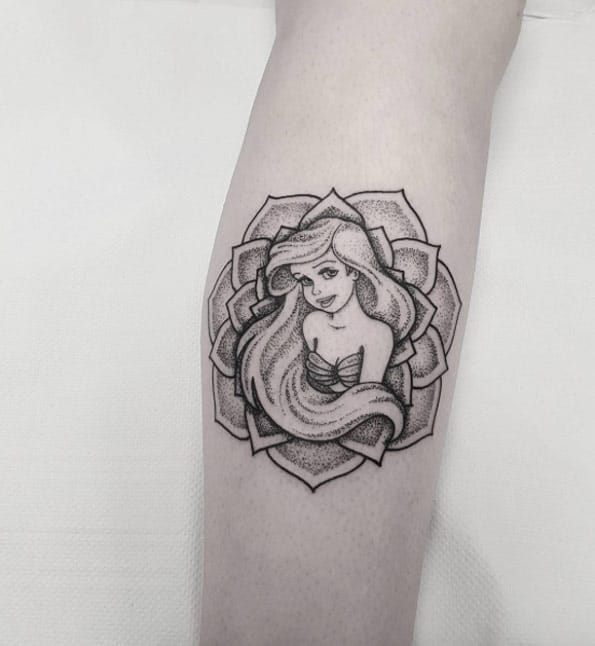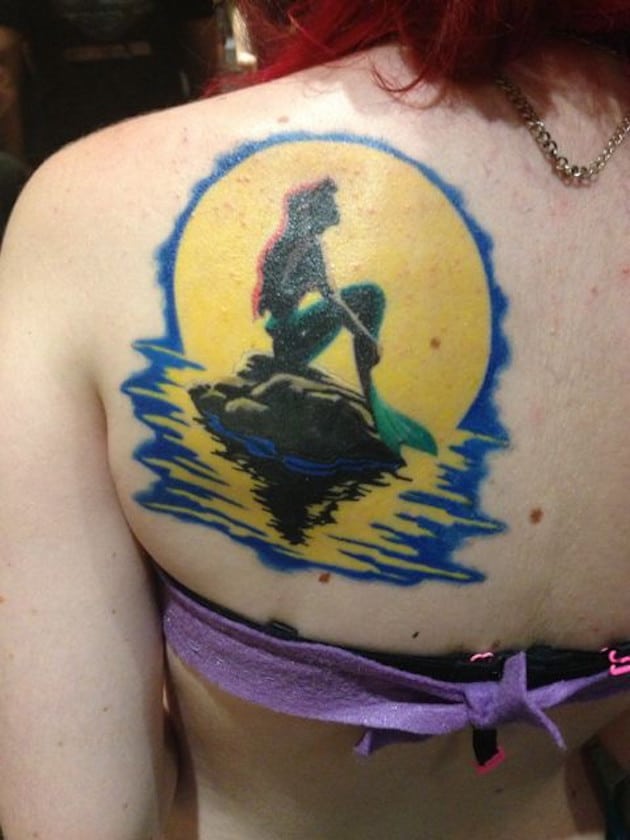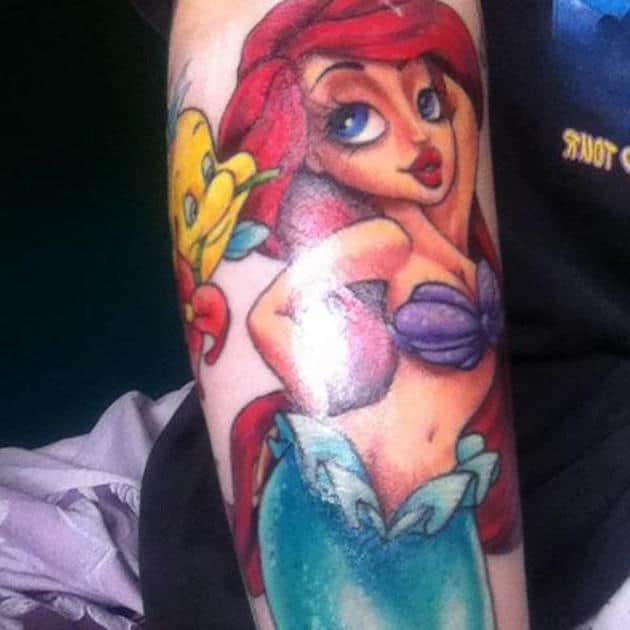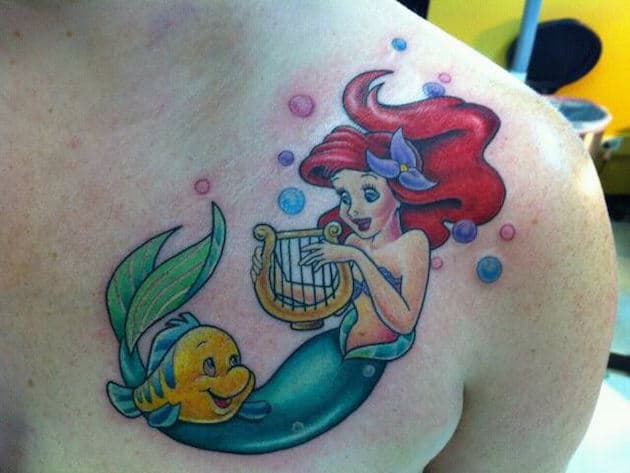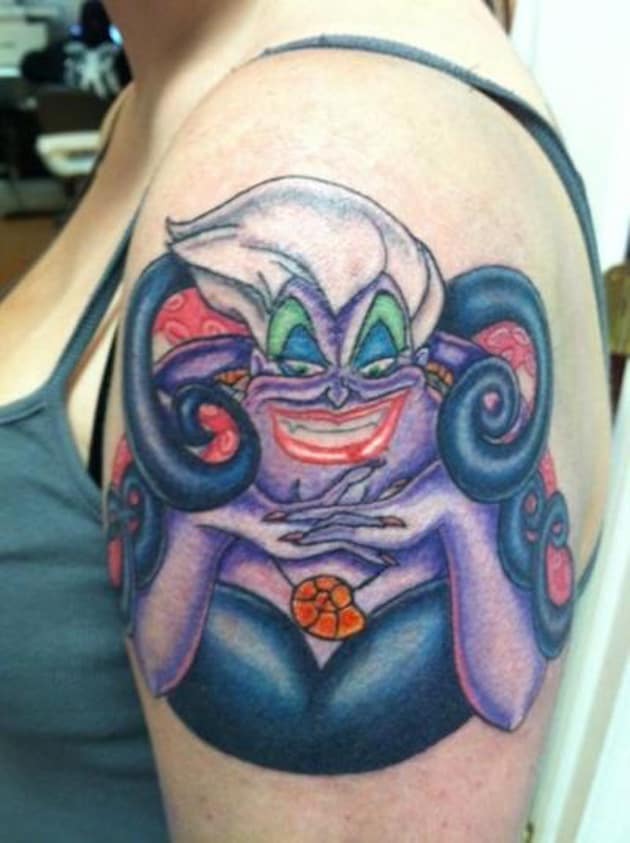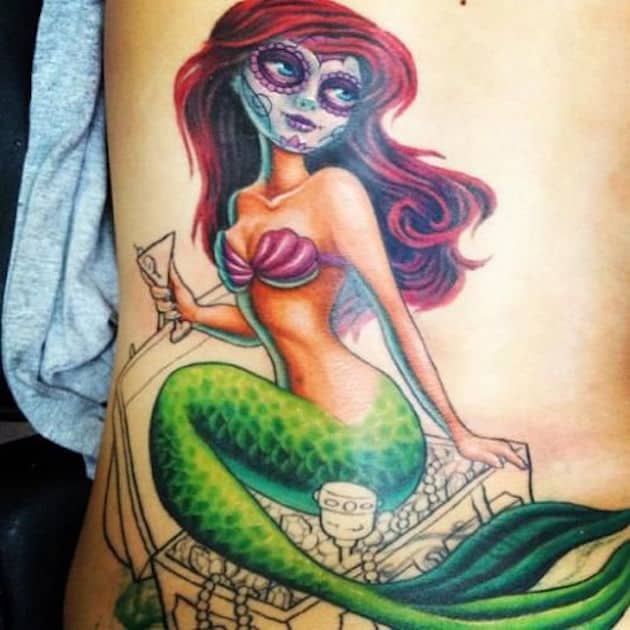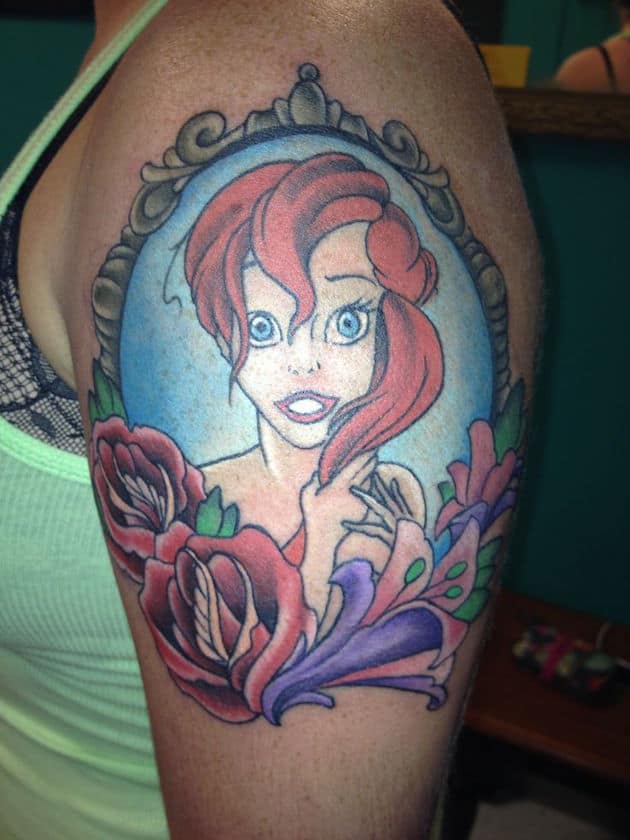 Different Variations
Any kind of tattoo has a lot of designs to offer. You are aware of that, right? This goes to show that you can also have a number of choices when it comes to mermaid art. Because of this, there is no way you cannot find the one that you like and the one that perfectly fits your unique personality. Here are some of the gorgeous and common designs:
Erotic Mermaid Art – As its name suggests, this design is kinda erotic in a way that it will show some skins on the images. One good example is a topless mermaid. Though there are many conservative people who will react on this design, you can never change the fact this this is one of the most gorgeous designs that you can ever have for your mermaid tattoos.
Mermaid and Maritime Symbol Design – Another very gorgeous design that will surely mesmerize you is the mermaid and maritime symbol design. Needless to say, the design is composed of a gorgeous image of a mermaid together with some maritime symbols such as the ship anchor. These two things are perfect combinations since they have strong connection, which is the sea. Such is the common choice of a number of seamen in the entire world.
Animated Mermaid Art – One other great design of a mermaid that you can take into account is the animated mermaid art. This is the one that you should choose in case you want to be playful with your tattoos. Of course, the images of the mermaids are more like of a cartoon character. One good example of this design is Princess Ariel, which is a famous cartoon character in the Disney show The Little Mermaid.
Summary
Mermaid tattoos are beautiful tattoos that you should consider having on your body. These will surely make you the center of the crowd. These have wide array of designs that you can select from. However, you need to be careful in choosing since you need to match these tattoos on your personality.