Collar bone piercing is undeniably one of those very unusual yet gorgeous piercings that can be seen on a person's body today. There are so many individuals in the world who want to wear such kind of piercing. Even so, some of these people were frustrated in having this piercing. What do you think is the reason then? Well, let's put it this way. Not all of those people who want this piercing can have it due to a number of reasons. Thus, if you already have this piercing, you should be thankful enough for it. Most of the wearers are teenage girls and boys. They incorporate this gorgeous piercing on their unique fashion statement.
The Collar Bone Piercing Procedure
For your own information, this piercing involves a very crucial procedure since this is an unusual one. This goes to show that only very few professional piercers are capable enough in performing the procedure. Hence, before undergoing its procedure, you must first find the best piercer for this particular piercing. It cannot be handled by a neophyte, for sure. It requires great expertise in this thing, so do not gamble your own safety to affordable unreliable piercers out there. When you arrive at the piercing clinic of your chosen piercer, you will be instructed to lie down or sit down, depending on your comfortable position. After that, he or she will ask if where exactly do you want to have the piercing; to the right, left, or both of the collar bones. Afterwards, the piercer will mark the exit and entry points of the piercing on the specific location, with the use of a surgical marking pen. A large piercing needle will then be pushed right into your skin, tracking the created markings to create a hole. But before it happens, make sure that the piercer has sterilized the needle first. Lastly, the jewelry you choose will then be inserted into the hole, and you are good to go.
Pain Factor
Just like some other piercing procedures done in your body, having a collar bone piercing can also make you feel some pain. In fact, the procedure of this piercing is way more painful compared to others. This is simply because it is very close to the bone, and when the piercing needle touches the bone, this is certainly very painful the same with have some collar bone tattoos. Bleeding is even expected during the piercing procedure, but rest assured that it will stop after some seconds or a minute maybe.
The Healing Process
Yes, the pain that you felt from the piercing procedure will just disappear after several days, and the wound caused by it will be healed in a certain period of time. But the big question is, how long will you wait for this moment to come? How much time it will take you? Well, in most cases, the minimum healing time is around 6 weeks and in a maximum of 8 weeks. Nevertheless, there may come an instance that you will feel that the wound on the pierced area is already healed, but please don't be so sure about it since it has a big possibility that the inside wound is not yet fully recovered. To be 100 percent sure about it, you can ask the assistance of a doctor to check the wound.
The Aftercares Needed
If you are one of those people who don't have any idea about aftercares, then you should know that these are the things that you should and should not do, so that the pierced area will remain in good condition until it heals completely. Doing the aftercares will also affect the healing process of the wound. Here is how you should take good care:
Removing or replacing the jewelry should not be done while the pierced area is on the process of recovery. Doing this thing will only give strain to the wound, making it to become infected and irritated.
Regularly clean the pierced area. It should be done once or twice a day. You must only use a cotton ball that is dipped into a warm saline water. After that, you should wipe and press the cotton into the wound and its surroundings.
Wash your hands prior to touching the pierced area or piercing. This is to make sure that bacteria will not cause any infection into it. And if possible, do not touch the piercing and the pierced area.
Make sure to also clean the piercing itself. It can be perfectly done when you take a bath. A running water from the faucet or from the shower will surely clean it well.
Avoid using products on the pierced area that contain very strong chemicals. Some examples of these products are beauty creams, lotions, ointments, and makeup.
In drying the pierced area, always use the pat drying method. It is gently done, so there is no way the wound can be strained and irritated.
How Much Does This Cost?
It is already not surprising for you to pay for a professional service fee from undergoing a collar bone piercing for sure. However, you surely don't have any idea what is the exact amount that you have to pay. Well actually, the cost of the procedure regarding this piercing will always vary from one professional piercer to another. It will all depend on the important factors considered by the piercer like the price of the chosen jewelry and the complexity of the procedure. But most of the time, the entire cost of this piercing will start from $35 up to $45. Thus, it is very important to prepare your budget before going for the piercing procedure.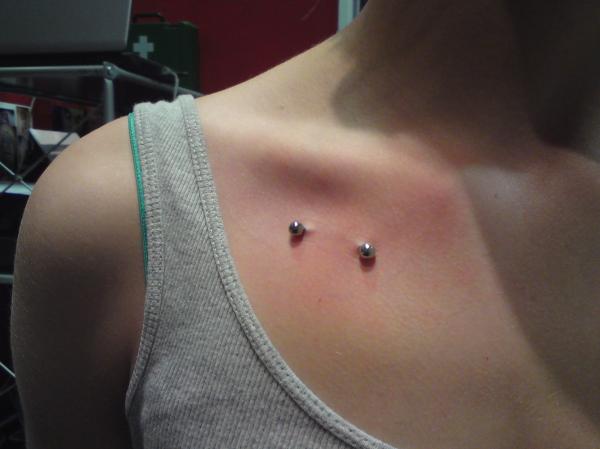 Final Words
Of course, a collar bone piercing will make you stand out specially if your outfit is intentionally designed to be open on the collar bone parts. But before having this piercing, you should make sure to consider a lot of important information about it first.