Here at The Style Up, we have compiled a list of the most amazing tattoos for women.
We even explain the meanings behind these special tattoos.
Read on to see some awesome female tattoos with their symbols and meanings!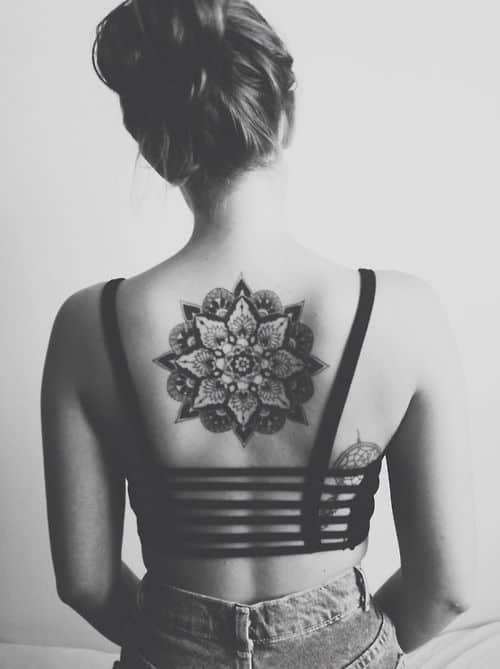 Feminine tattoos have come a long way from being regarded as just a declaration of rebellion.
Tattoos for women have been endorsed by many cool celebrities these days, which have made them even more popular amongst today's generation of stylish and attention-seeking women and girls.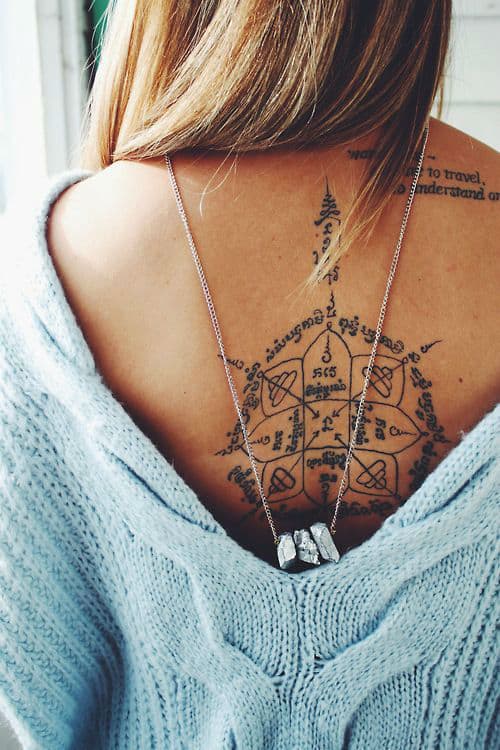 Also, with a great number of global celebrities bearing different kinds of tattoos, they have become socially acceptable for women in the past two decades or so.
Therefore, you will find an equal number of women following this trend as with men, because there is nothing uncool about girls and women having tattoos today, rather they are regarded as the fashion statement of the person bearing them.
Placement Ideas For Tattoos on Women
Since ancient times, the body of a woman has been regarded as a sacred creation of God and she has been worshipped as an icon of power and strength.
That is why people have been using various forms of embellishments to beautify the bodies of women.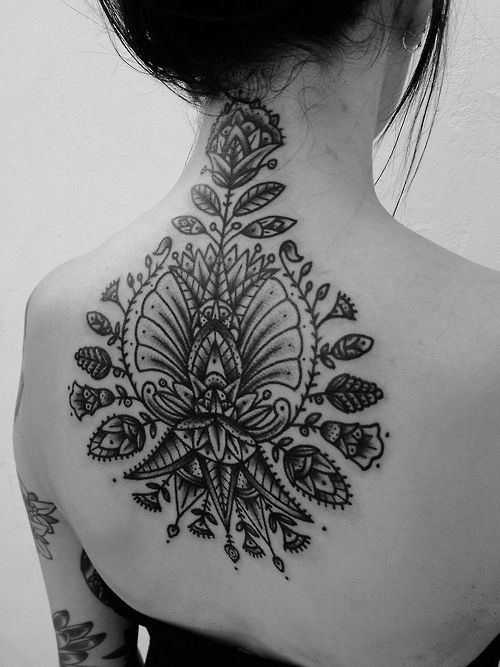 Various tattoos designs for women are used at different places on their body to make them more beautiful and to attract attention of the onlookers, which are the primary purposes of tattoo art.
Most of the designs created on women are delicate and feminine as compared to men, who like to flaunt large, prominent and masculine designs. Like the women themselves, the tattoo designs etched on them represent love, beauty and femininity and their placement should be chosen with care.
These tattoos are to be positioned in such a manner that their beauty, as well as symbolic meaning, is enhanced and the female tattoo is prominent without being loud. Many girls and women like to have tattoos etched on their chest, shoulders, back, side, stomach, arms, legs, thighs, spine, neck, wrist, sleeve, ankles, back of the neck and behind the ear. Very small designs are done in the form of finger tattoos for women.

Larger designs look good on the thigh, stomach, side and lower back, as they offer more space to have the design drawn on it. The placement of the tattoo should be such that the design is highlighted enough to grab the attention of the others and at the same time should be easy enough to conceal when the need arises, for professional reasons or otherwise.
Tattoos are a permanent form of body art, which are very hard to get rid of once made a part of the body. Therefore, the design, as well as placement of a tattoo design, should be chosen with great care due to the permanent nature of the tattoos.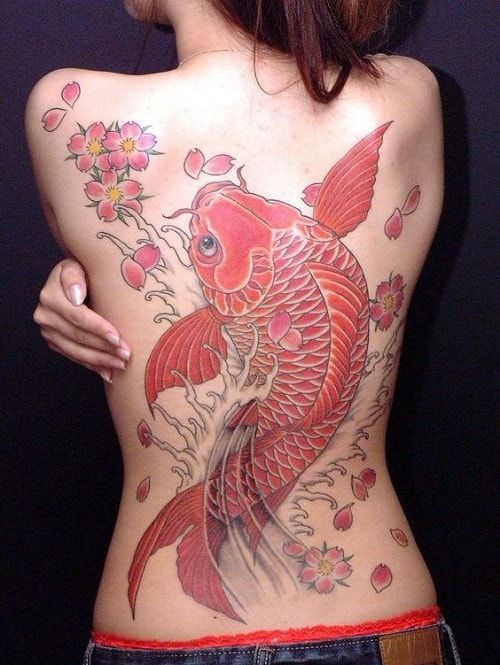 Most Popular Tattoos for Women
Basically, women need to choose tattoo designs which are delicate and feminine, yet they should also have a special symbolic value to convey the attitude and emotions of the bearer. Here are some of the most popular tattoo designs for women, which have been classified on the basis of elements used in making these unique designs for female tattoos:
Floral Tattoos
Flowers are one of the most beautiful and exquisite creations of nature, just like women. They represent love, purity, innocence and attraction, which make them the top choice for tattoo designs in women. Some of the most popular floral designs are the ones which bear flowers like rose, lotus, daffodil, sunflowers and cherry blossoms.
While each of the flowers has its own symbolic value, the general appeal behind floral designs lies in the purity and femininity of the designs. These tattoos can be done in traditional black ink or a range of vibrant colors, depending upon the choice of the bearer.
Also, the size and placement of the design will determine whether the design will feature a single flower or a bunch of them. Certain other design elements like bees, butterflies, leaves and thorns can be combines with the basic floral design to add to its symbolic value. Some names or text can also be included in the design.
Butterfly Tattoos
Like floral patterns, butterflies too make one of the most popular design elements for feminine tattoo designs. These alluring little insects add color and brilliance to life as they catch attention wherever they go. Similarly, a woman who sports a colorful butterfly tattoo is bound to be the center of attraction wherever she goes.
At the same time, butterflies stand for change and transition, as they come out of the ugly cocoon stage to become the most beautiful creatures on the earth. Women, particularly young girls, love to have this eye catching design, etched on various parts of their bodies. Most of the time, they are inked in vibrant colors and combined with floral designs.
Tribal Tattoos
Tribal tattoos have been rich in legend and history, in addition to being revered for their amazing and scintillating designs. Many tribal designs feature age old tribal elements such as the dreamcatcher and feathers.
A dream catcher is a tribal devise made of a circular piece of woven net adorned with colored beads or feathers. It was used as a tribal tradition to attract good dreams and repel bad ones. The dream catcher has been carried forward in tribal tattoo art as a symbol of good dreams and optimism and women love to have the trendy design etched on them till date.
Heart Tattoos
Heart has always been a symbol of love and passion and this is why hearts have made an important place in feminine tattoo designs as women love to express their emotions and there is no better way to do that than t have a heart tattoo inked. Heart tattoos can include the name of their loved ones or some special quotes which they would like to express and make the design more meaningful.
Tattoos with Heavenly Bodies
Celestial bodies like stars, sun and moon are also usually seen as a part of tattoo designs for women as they not only look beautiful but signify divinity, beauty and strength too, which every women would like to express through tattoo designs.
Zodiac Tattoos
Some women may like to opt for zodiac tattoos which are chosen on the basis of her zodiac sign. These tattoos define the general traits of a particular zodiac sign which they are linked too and are used by women to bring out their personality as well as attitude.
Bird Tattoos
Birds stand for freedom and flight, which the woman of today personifies. She wants to be a free bird and live life as she wants to. This is the reason why bird tattoos are making one of the most popular choices of tattoos among the women of today.
In addition to these designs, there is a countless variety in the tattoo design ideas for women as tattoo artists as well as tattoo lovers are constantly working on bringing out innovative concepts and ideas in tattoo designing. Some other popular design elements used in feminine designs are ribbons, bows, anchor, dragon fly, fairies, arrow, spiders, skull, music, koi fish and snake tattoos. Some women also love to bear ornamental tattoos such as wedding band tattoos on their fingers and bracelet tattoos on their wrists. The best thing about such tattoos is that they are less expensive as compared to jewelry and there is no fear of loss.
Tattoos on Women and Celebrities
The popularity of tattoos on women is attributed to the women celebrities who are bearing a lot many of such designs. Among the global female celebrities who have been spotted with some amazing tattoo designs are Katy Perry, Amber Rose, Megan Fox, Kendall Jenner, Miley Cyrus, Angelina Jolie, Pink and Rihanna, to name just a few.
500 Tattoos Ideas For Women
For better user experience we split the collection in several pages, please find pagination in the end to proceed on next pages.